September 27 - October 10, 2020: Issue 468

Saturday afternoon food choices at church point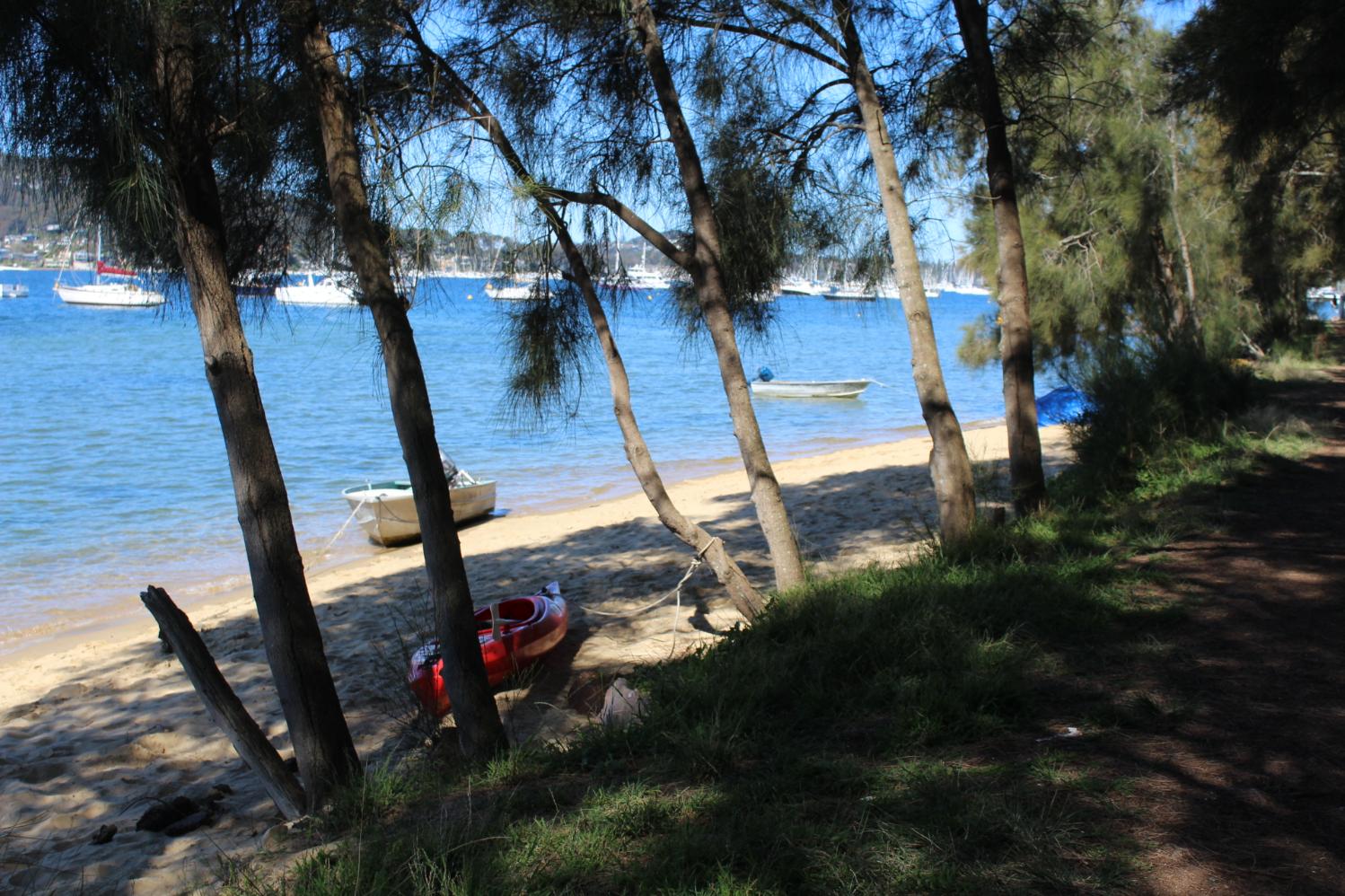 Bennett's Beach, Church Point A J Guesdon photo
Brilliant sunshine on Saturdays draws people to open spaces with waterviews like that found at Church Point and Thomas Stephens Reserve*, or just enjoying the water and passing boats from Bennett's Beach.
When you go to Church Point wharf and environs for lunch you have three great options to choose from – The Church Point Waterfront Store and Café, the brilliant little food truck offered by the crew from Pasadena Pantry and Fresh, and the Pasadena itself.
With a wedding on at The Pasadena, and great offerings from the Pasadena Pantry and Fresh food truck and the Waterfront Café, and a furry companion present, the takeaway burgers and views option was our choice. One of us chose a scrumptious steak sandwich from the food caravan – crunchy fresh baguette loaded with lashings of perfectly cooked steak and salad – while the other chose to give the Waterfront Café a whirl and selected a Chicken Schnitzel burger with chips and cold drink 'Combo' package – seriously good stuff!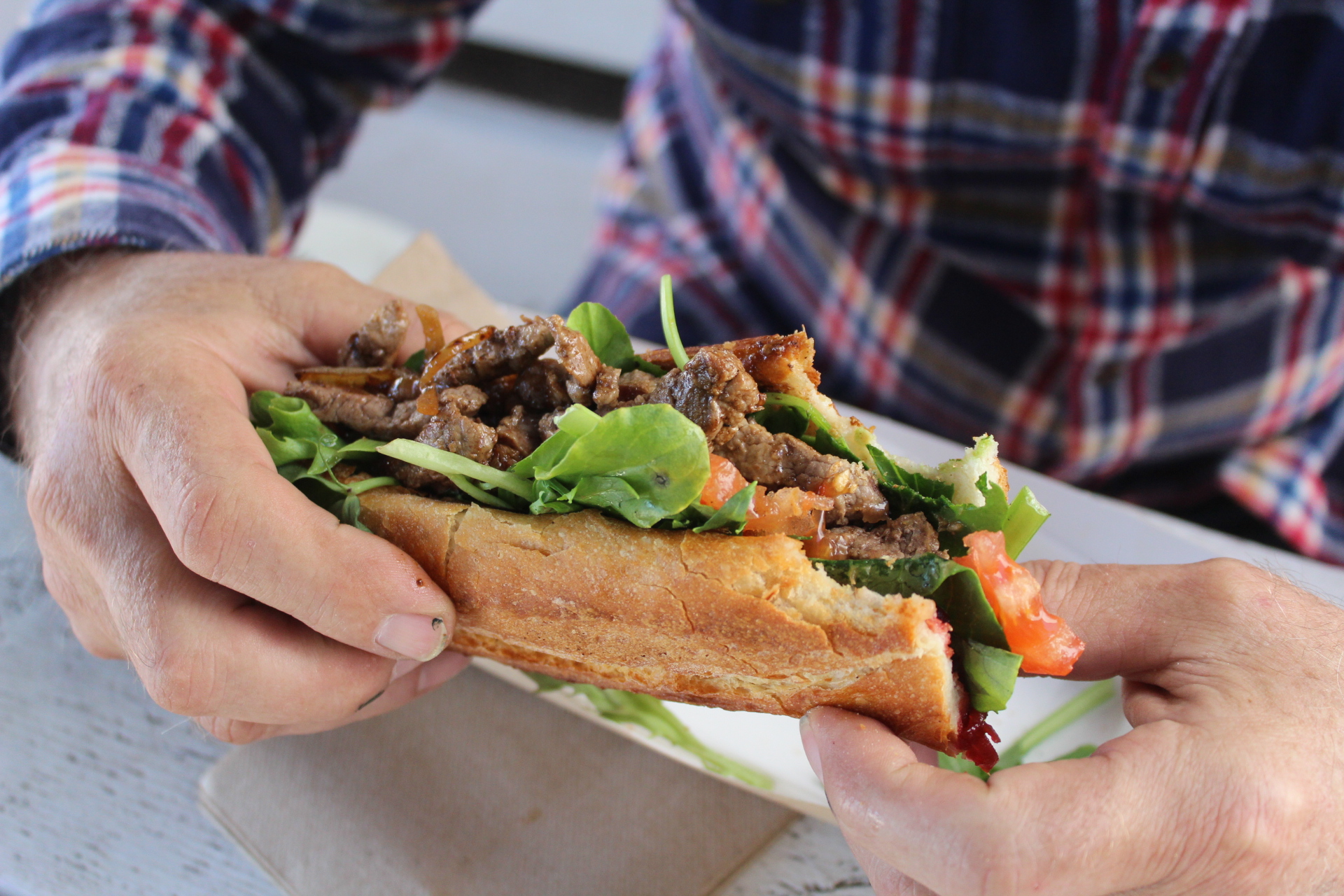 This was the basics of course, so we could sit by the ferry wharf and enjoy time with our dog and the passing parade – all these places have some of the best menus and food available in Pittwater.
At the Waterfront Store and Café there is a wonderful enclosed deck you can sit at (without dog in tow) where a choice between antipasto, Mains, Pizzas, Gourmet Burgers, Pastas and Salads will leave you spoilt for choice. There's also a great line up of musicians on Sundays – but you do need to book.
A few examples from the Waterfront's menu;
Mezze Plate; Five of the Waterfront kitchen's signature dips: Hommous, roast capsicum, avocado, beetroot and olive tapenade served with a hot, cheesy pizza crust. Or Salmon Pie; Atlantic salmon, potato, leek & feta in a signature bechamel sauce. Topped with puff pastry & served with a side of steamed green vegetables. The Mixed Seafood Platter; Fresh oysters, smoked salmon, flathead fillet (grilled or battered), prawns, crab claws, calamari, octopus carpaccio, chips and salad. Pasta lovers will be back again and again for the Crab Meat Risotto; Pan fried crab meat in olive oil, asparagus, garlic, chilli and fresh basil, served with napolitana sauce topped with aged Grana Padano (GF) or this personal favourite - Spinach & Ricotta Ravioli; House made ravioli, filled with spinach and ricotta finished in a fresh traditional tomato and basil napolitana sauce.
Lots more available - have a look at: www.waterfrontstore.com.au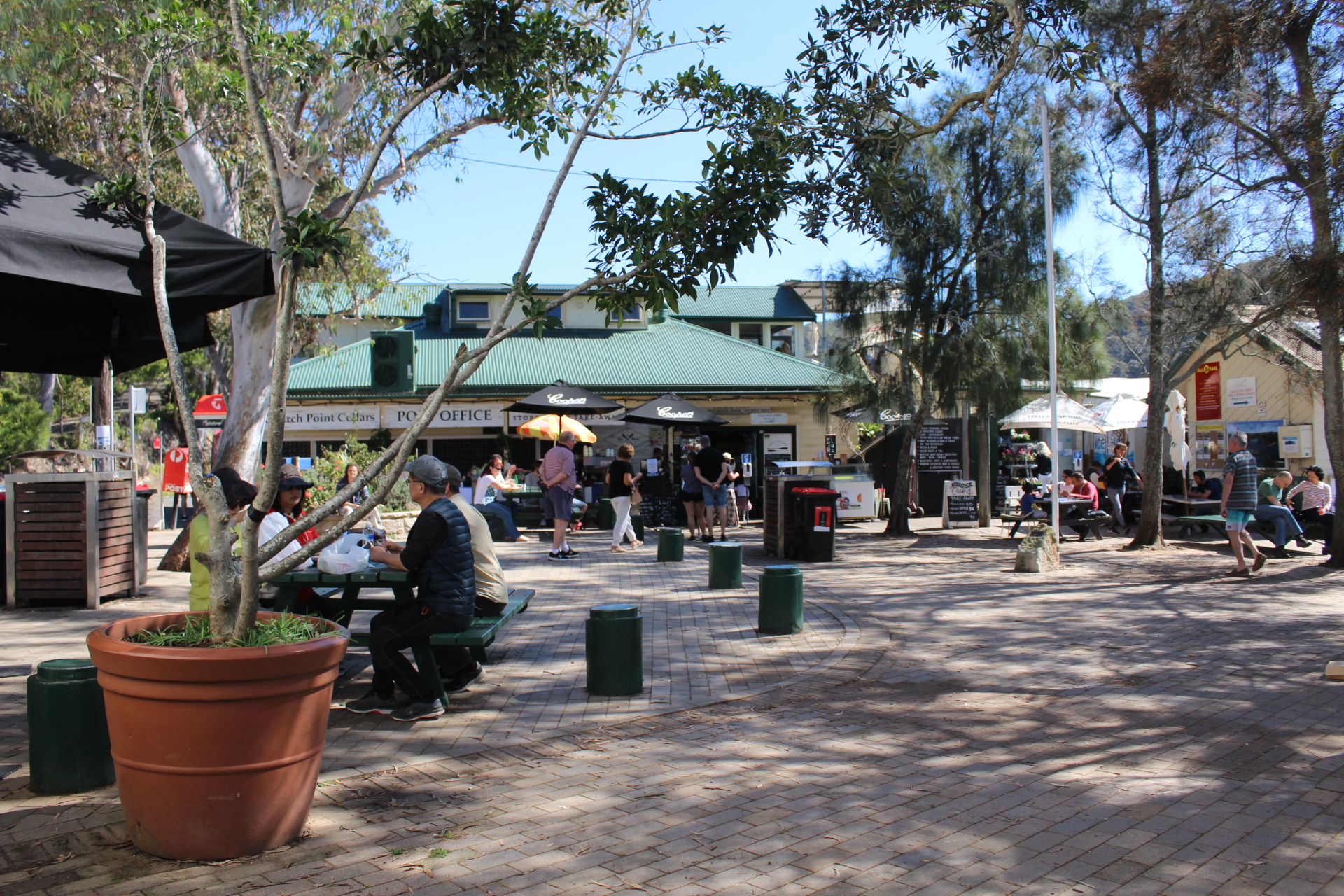 Pasadena Pantry and Fresh is an upmarket delicatessen and convenience store in the newly renovated Pasadena building at Church Point. Long-time offshorer Colin Pitstock is the entrepreneurial spirit behind this great store and food caravan. A Bon vivant, Woody Pointer, Christmas choir host for a phenomenal five years, and willing Elvina Bay fireshed kitchen hand, Colin says PP&F is aimed at making life easier, tastier, fresher and more convenient for residents of the Bays and Scotland Island.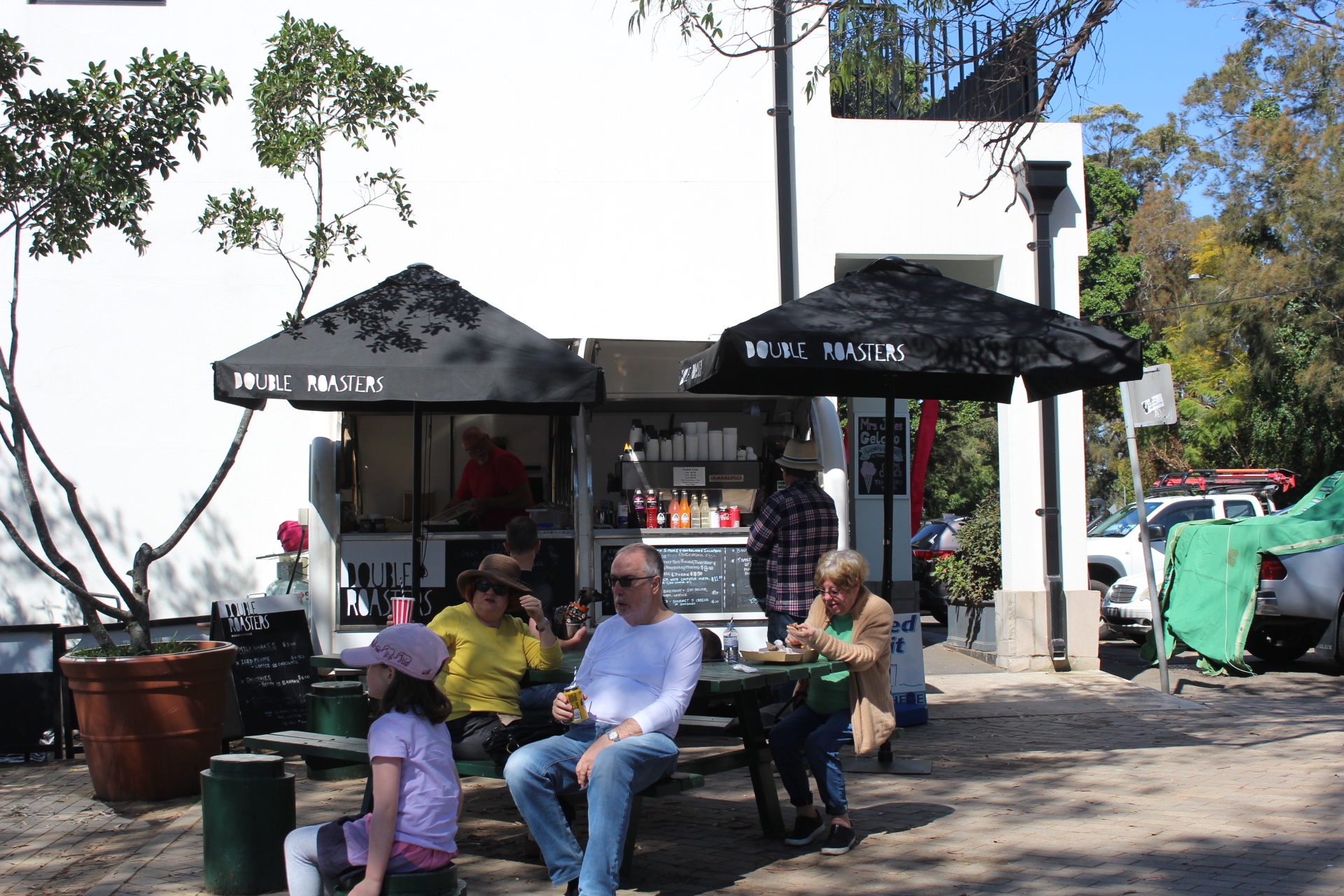 One word mumbled while the Steak sandwich was being consumed: YUM!
As the Pasadena was hosting a wedding there was no chance to sample their menu – so we'll have to head over the bay again – this time ringing in advance to see if we can get a table.
In the meantime, those interested can visit: pasadenasydney.com and peruse their current menu, which includes a selection for the littlies.
* named to honour Church Point resident and Town Planner and Shire Engineer of the former Warringah Shire Council from 1951 to 1961.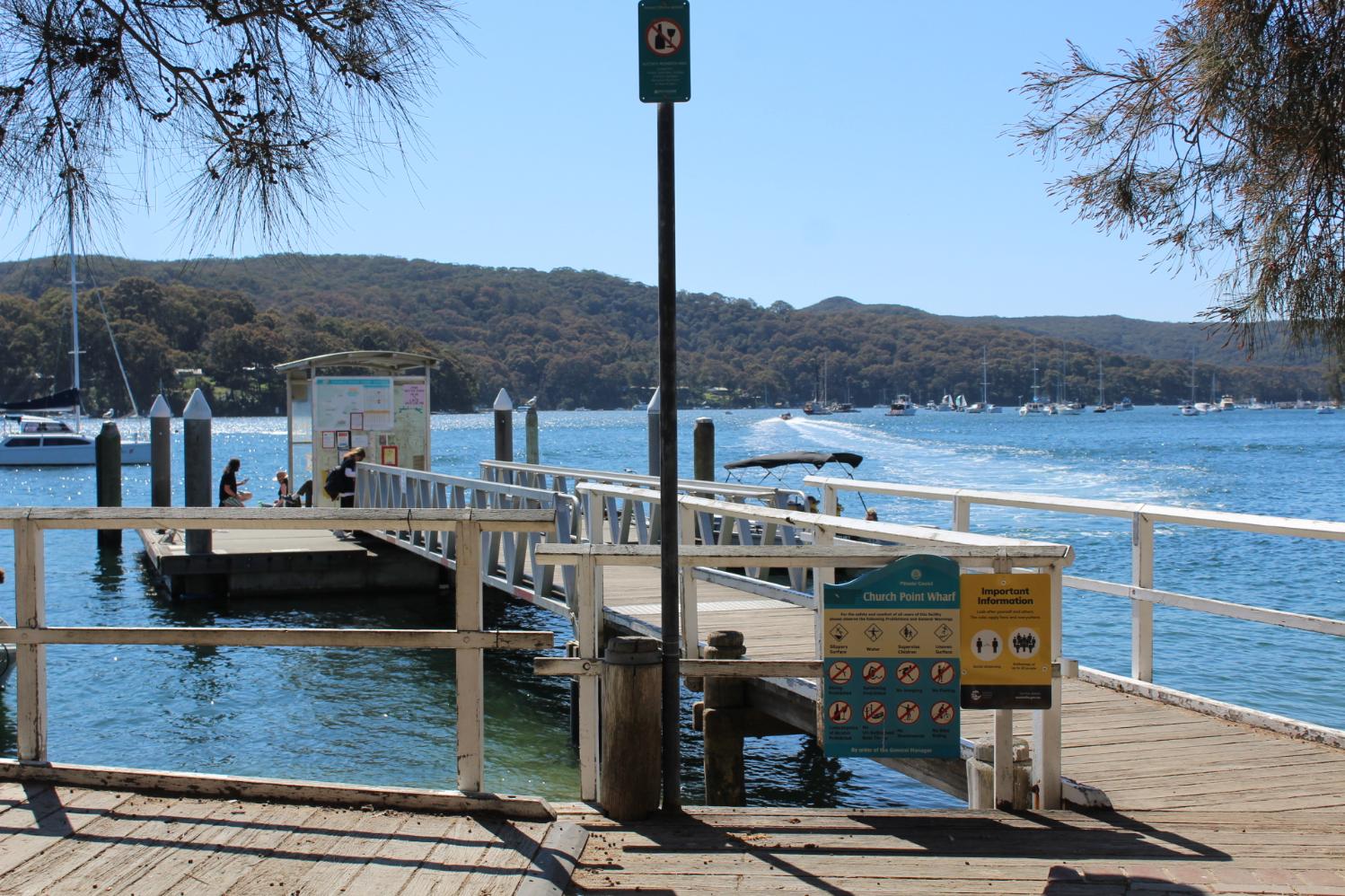 Recipe Ideas - Seasonal Fruits and Vegetables
Apricot - January Summer Fruits
Artichoke – The Flower Vegetable that Crops in Spring
Australian and Native Cherries (Summer Fruits) - the Duntroon Connection - Marrianne Collinson Campbell
Autumn Feast of Fresh Fruits and Vegetables for a Healthy Body
Autumn Tonic Soup: keep the chills out as we head into Winter with this simple seasonal recipe
Cherry - Australian summer Fruit

Chick Pea Burgers with Homemade Hummus

Easter Feast - modern and historic
Edible Weeds Eggs: Five Ways - Savoury
Full Fruit Bowl for Seasonal Health
Green Beans - Spring Vegetables
Healthful Cordials And Cleansing Tonics Hogmanay (New Year) Dinner - Australian Style Home Grown Food Program in Fruit and Veg Month by Jess Rosman Honey, Honey: Inaugural World Bee Day - Honey Cake Recipes Around the World
Kale: for Pure Energy Kale, Ricotta And Chicken Cannelloni
Make Your Own Treats For Christmas Gifts - Jaffa Rum Balls, White Christmas, Gingerbread People, Spicy Nut Mix, Strawberries Dipped in Christmas, Scottish Shortbread, Spanish Polverones, Melomakarona (Greek Christmas Honey Cookies), Kourabiedes (Greek Butter Biscuits), Italian Lemon Shortbread Squares (Shortbread con crema al limone)
Mandarins Spring Fruits Mandarins Winter Fruits
Mother's Day at Breakfast Menu for those who 'can't cook'

Mums Vegetable Soup with Macaroni
Nicoise Salad: An Autumn Salad
Old Australian Chocolates Back On The Market: The Cherry Ripe Song of MacRobertsons

Packham's Triumph Pears - The Australian Pear
Parsnip - Winter Vegetables Pear - Autumn Fruits
Potato Gnocchi Pumpkin Pumpkin Season 2015
Sage - the 'saving' herb Remembrance Day 2012 Food
Sensational Hot Scones For Cold Winter Mornings

Spring Salad Season Spring Strawberries Spring Salads
Summer Lilli Pillis Summer Passionfruit Summer Peaches, Quandongs (Wild Peach) - Marian Rowan Ellis Summer Peaches - From Wyong! Summer Plums - Greengages
Summer Raspberries Native Ones - Adam Forster
Ten Minute Spring Salads; Spring Fare
Whole Pumpkin Stuffed With Chorizo, Rice and Goat Cheese: Winter Food

Winter Crops Winter Vegetable Pies Zucchini Strawberries Cauliflower

To list your business, have a Pittwater Online News Food page run, or place a logo on the Pittwater Online News Food page, please contact us with details of your requirements. Logos may be embedded to redirect to your own website. Full pages include an overview of menus as well as beautiful images to make the food sampled look its best. Pages are archived into Permanent pages past their week of Issue.
Permanent pages in Pittwater Online News average 800 thousand visits per annum past their week of Issue ensuring diners will continue to view your eatery as a potential venue for breakfast, lunch or dinner or as the place to hold their larger functions.
For Rates and Packages Contact us at: pittwateronlinenews@live.com.au