October 13 - 19, 2019: Issue 424

Barrenjoey House: Spring 2019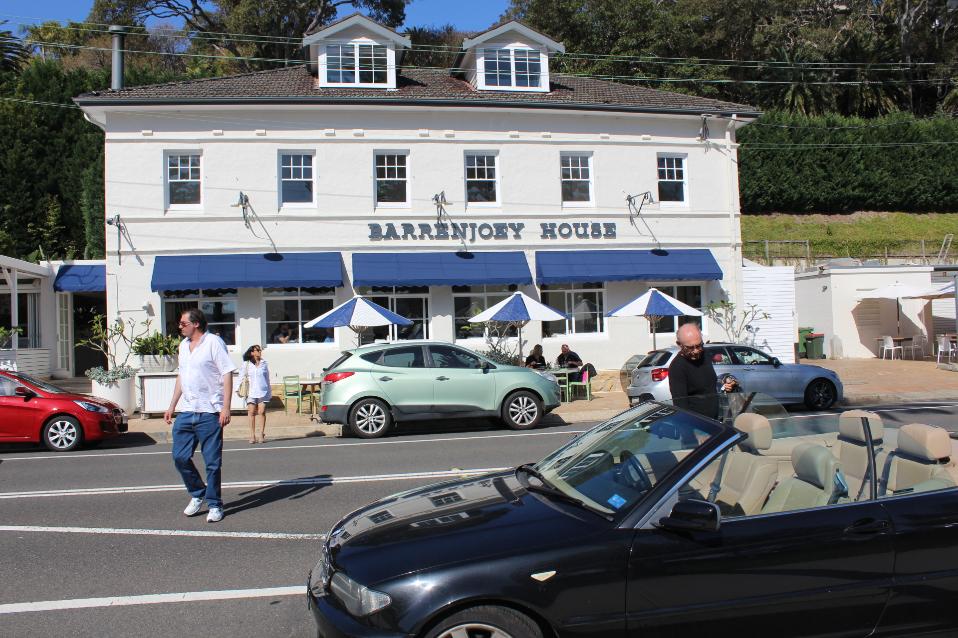 Barrenjoey House
1108 Barrenjoey Rd, Palm Beach
Ph: 9974 4001
Monday - Tuesday: Lunch 11.30am - 3.00pm
Wednesday - Sunday: Lunch 11:30am - 3:00pm / Dinner 5:00pm - 9:00pm
Website:
www.barrenjoeyhouse.com.au
For that special lunch with friends late during the week when it's nice and quiet, the food and location that are part of Barrenjoey House remain hard to beat. A brilliant view of the estuary across Pittwater Park, the smell of the ocean wafting over the hill, icy cold and just right cocktails, an extensive wine list and a menu that offers modern Australian dishes with a focus on fresh seafood - as well as some great vegetarian dishes.
We always start out with a few Margaritas as this sunny spot and that taste of citrus match each other. Since Barrenjoey House has changed hands these are even better; sharp, on point with the mix of liqueur to juice, icy - perfect!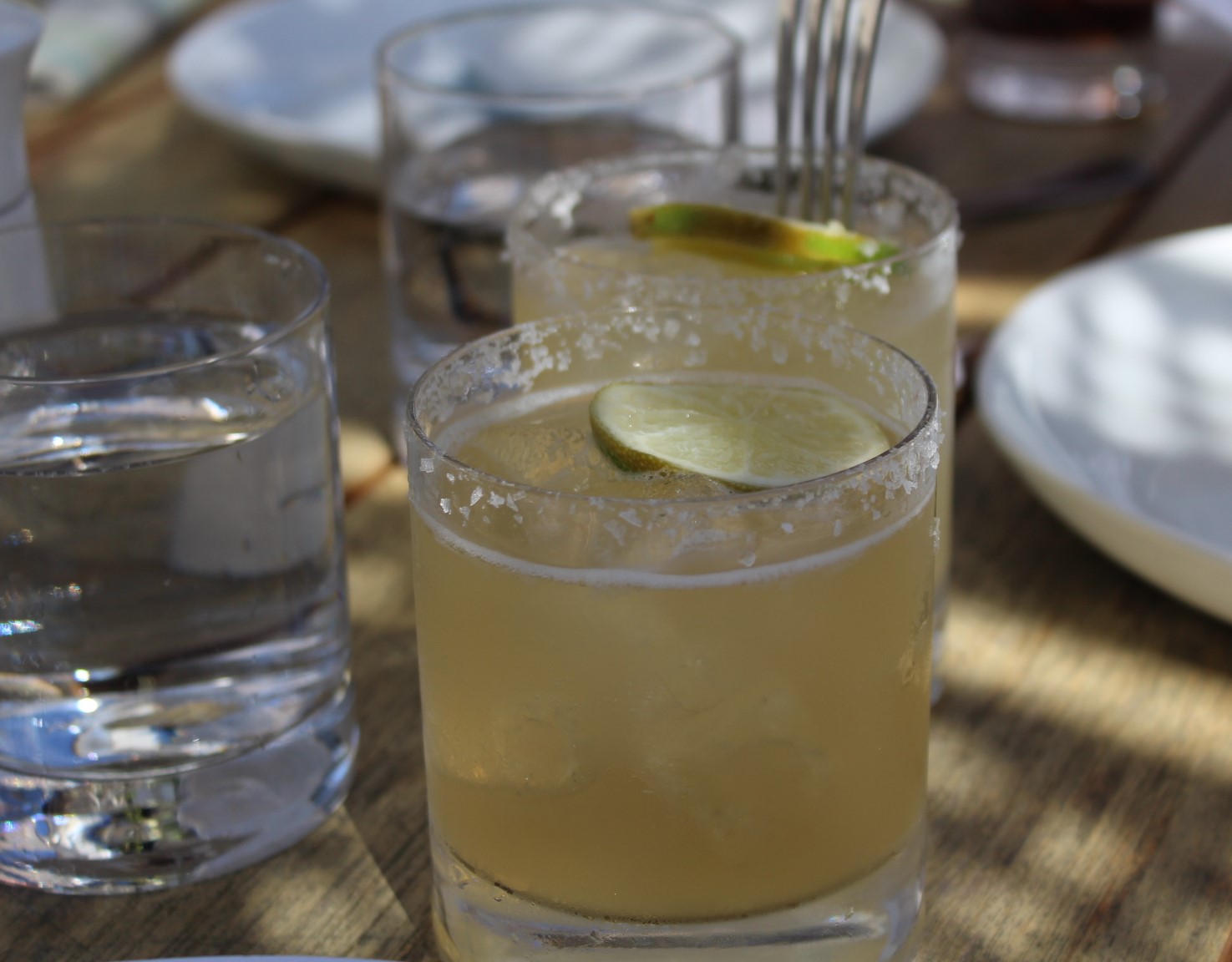 To go with these a mix if Entrees was ordered for the table. We tried the Zucchini Flowers - with sultanas, ginger + pecorino ($14), Fried Calamari - served with dill aioli + lemon ($22) and the Kingfish Ceviche - topped by fennel, cucumber + jalapeño ($24).
The table also ordered a sample of the House Baked Bread with handmade butter ($8).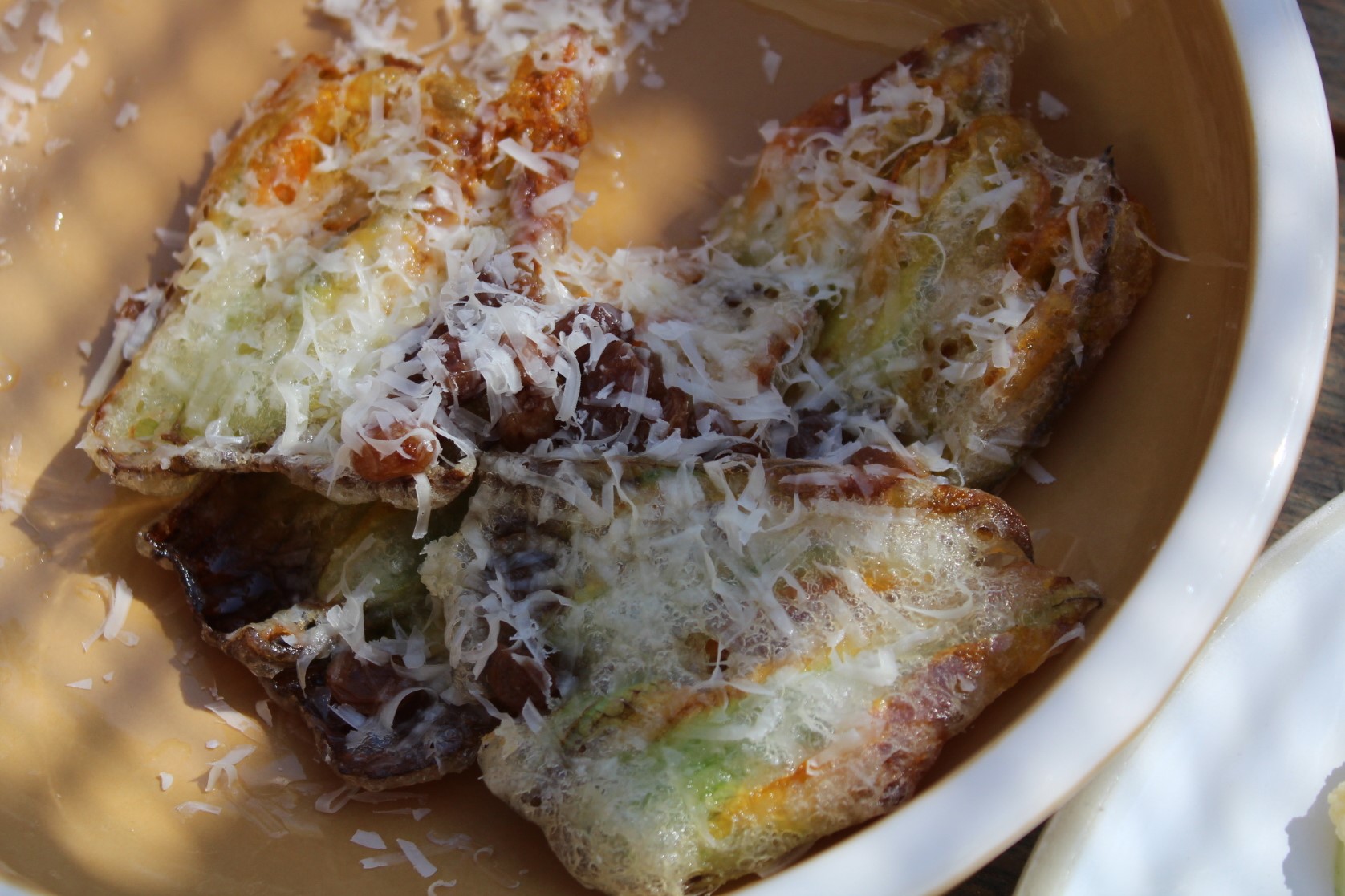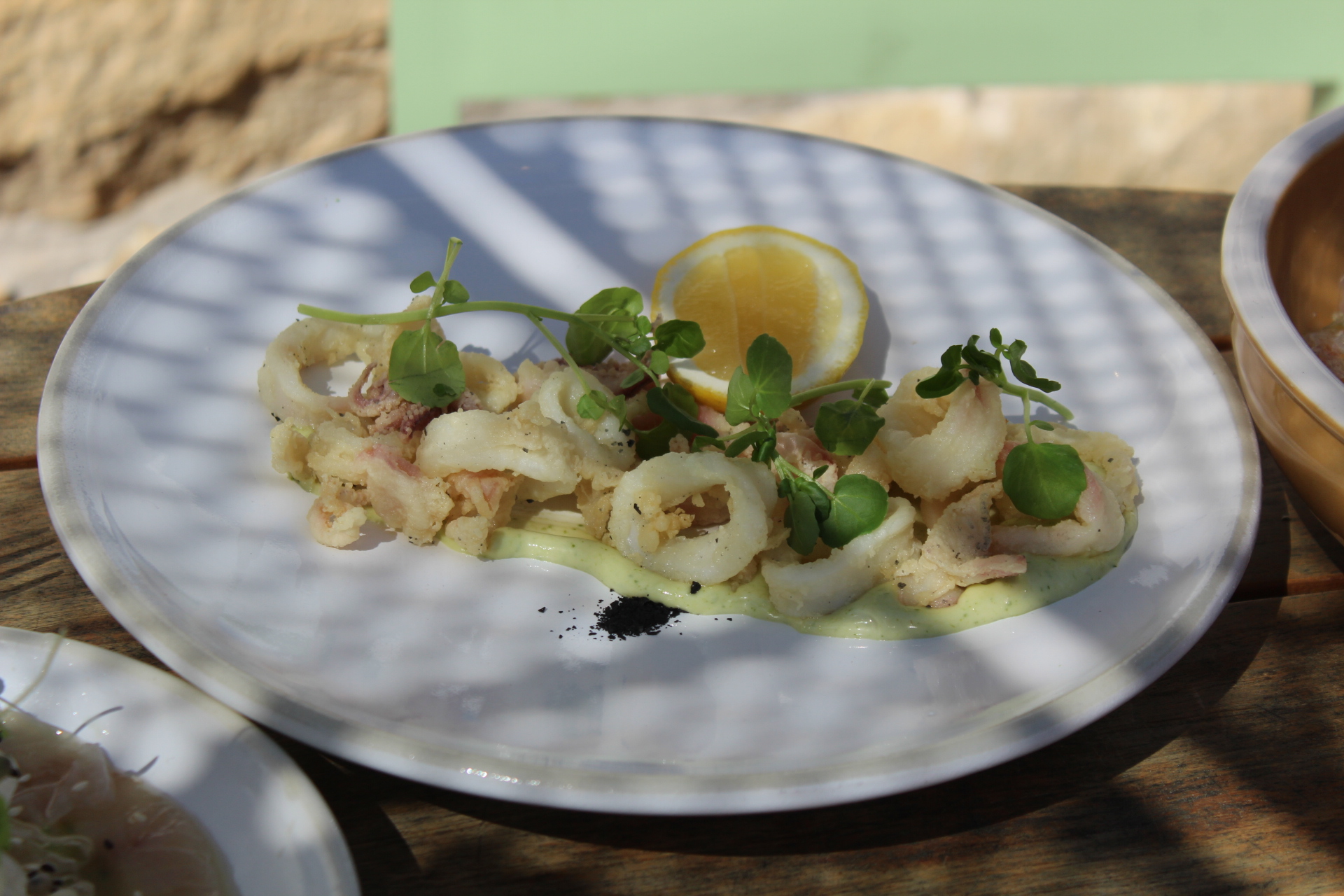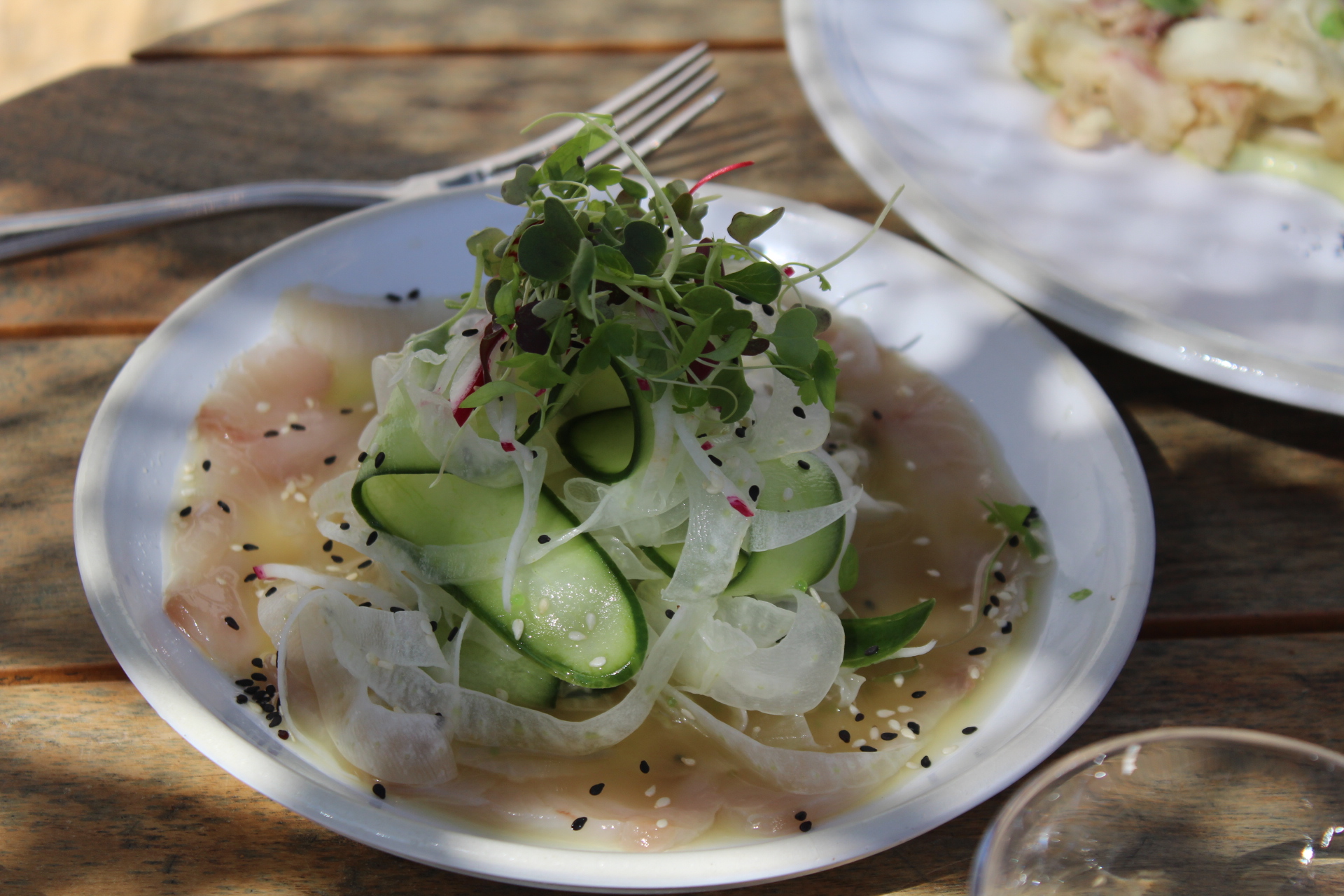 The Seafood dishes were so fresh you knew the seafood had come in that morning. A pile of salted and peppered calamari in a crisp batter with tender rings of white succulence was just superb.
The
Kingfish Ceviche was melt in the mouth tender with a cure that hadn't overridden the taste of the fish itself. The salad ingredients, likewise, had been chosen and combined so the seafood remained the star - scrumptious!
The Zucchini Flowers were a crisp take on this popular vegetable with the addition of the sultanas a sweet contrast with the savoury. The addition of that nice warm loaf meant any leftover sauces and accompaniments could be swept up - great bread - if someone knows how to make bread this good that's a great sign for the rest of any menu.
For Mains we ordered four different dishes simply to try the range out. Rare Yellowfin Tuna Spaghetti with parmesan, garlic, capers + chilli ($34), Beer Battered Flathead served with chips, tartare + lemon ($31), Eye Fillet with mashed potato + green bean ($38), and Duck Breast served with Crème Fraiche and Figs ($38). A bottle of Tasmanian sparkling was chosen to accompany the mains as it's always time for a good Tassie wine.
The wine menu itself offers the best of Australian wines and vintages with something to match every dish or taste.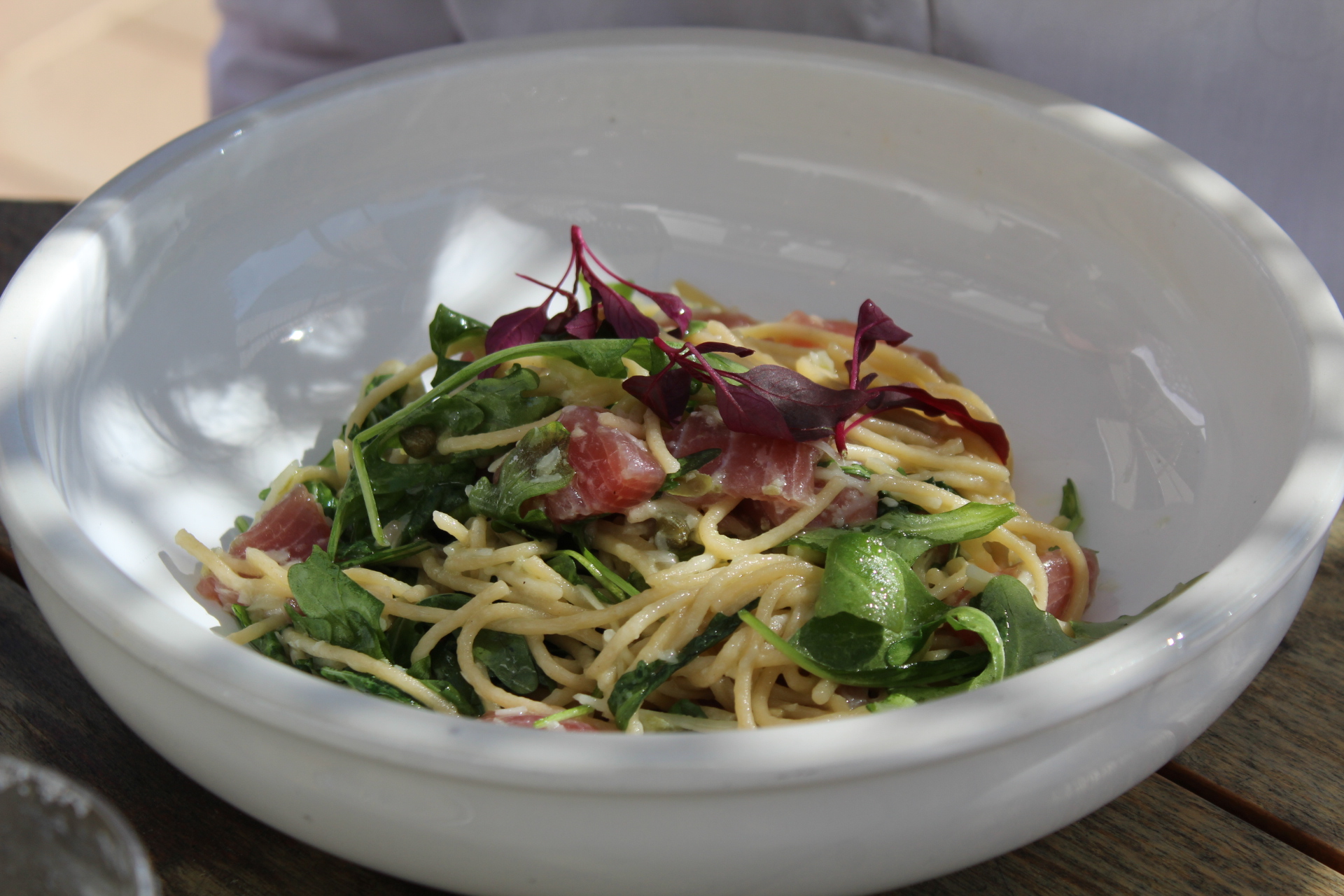 Rare Yellowfin Tuna Spaghetti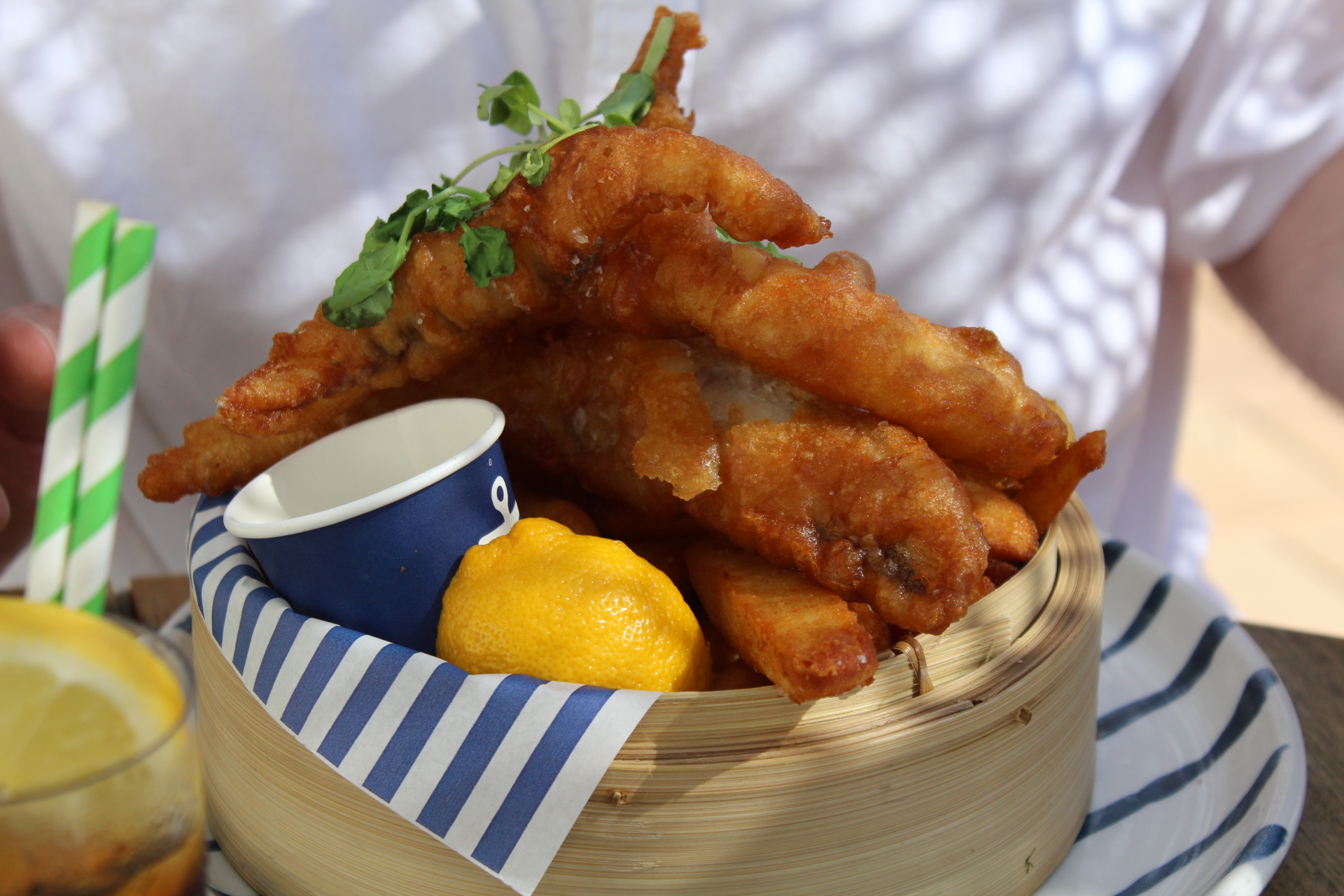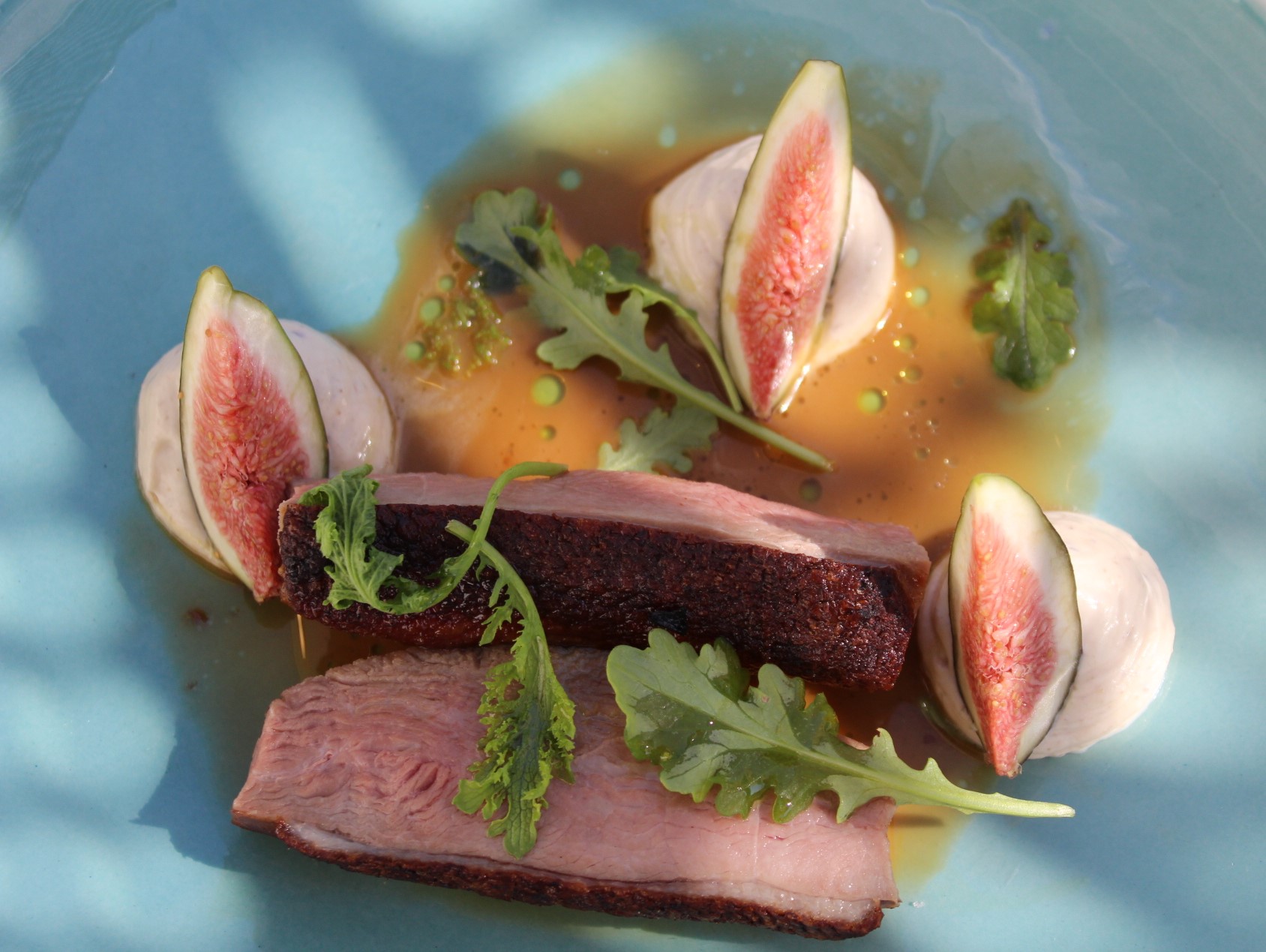 Duck Breast served with Figs
Barrenjoey House also caters to those who want to place a range of dishes on the table and enjoy some of those great cocktails and that view. Flatbreads topped with garlic, rosemary + manchego, or tomato, mozzarella + basil with Lobster, béchamel + fresh herbs or Cured Ham with fig + mozzarella are available.
There's a great range of deserts; a Strawberry Sundae, Banoffee Pie, Peanut Brittle Parfait and a Cheese plate are among the offerings - for those who can fit it in - we couldn't!
Vegetarians would enjoy the Ricotta Gnocchi with pumpkin, pine nuts + goats curd accompanied by one of the side salads; Tomato salad served with olives + manchego, an Avocado Salad with radicchio, cos + zucchini or the Asparagus Salad with pea + edamame + fetta.
The newly refurbished Barrenjoey House now has a bright breezy feel, comfortable chairs, umbrellas for sidewalk diners and the accommodation upstairs provides a must stay place for overseas visitors.
Afterwards you can take a stroll along Snapperman Beach and enjoy the estuary.
Well worth visiting again if you haven't been since this historic Pittwater icon became part of the Boat House Group, they have brought great food with friendly service and a brilliant barkeep back to Barrenjoey House.
Recipe Ideas - Seasonal Fruits and Vegetables
Apricot - January Summer Fruits
Artichoke – The Flower Vegetable that Crops in Spring
Australian and Native Cherries (Summer Fruits) - the Duntroon Connection - Marrianne Collinson Campbell
Autumn Feast of Fresh Fruits and Vegetables for a Healthy Body
Cherry - Australian summer Fruit

Chick Pea Burgers with Homemade Hummus

Easter Feast - modern and historic
Edible Weeds Eggs: Five Ways - Savoury
Full Fruit Bowl for Seasonal Health
Green Beans - Spring Vegetables
Healthful Cordials And Cleansing Tonics Hogmanay (New Year) Dinner - Australian Style Home Grown Food Program in Fruit and Veg Month by Jess Rosman Honey, Honey: Inaugural World Bee Day - Honey Cake Recipes Around the World
Kale: for Pure Energy Kale, Ricotta And Chicken Cannelloni
Make Your Own Treats For Christmas Gifts - Jaffa Rum Balls, White Christmas, Gingerbread People, Spicy Nut Mix, Strawberries Dipped in Christmas, Scottish Shortbread, Spanish Polverones, Melomakarona (Greek Christmas Honey Cookies), Kourabiedes (Greek Butter Biscuits), Italian Lemon Shortbread Squares (Shortbread con crema al limone)
Mandarins Spring Fruits Mandarins Winter Fruits
Mother's Day at Breakfast Menu for those who 'can't cook'

Mums Vegetable Soup with Macaroni
Nectarines - Summer crop Nicoise Salad: An Autumn Salad
Packham's Triumph Pears - The Australian Pear
Parsnip - Winter Vegetables Pear - Autumn Fruits
Potato Gnocchi Pumpkin Pumpkin Season 2015
Sage - the 'saving' herb Remembrance Day 2012 Food
Sensational Hot Scones For Cold Winter Mornings

Spring Salad Season Spring Strawberries Spring Salads
Summer Lilli Pillis Summer Passionfruit Summer Peaches, Quandongs (Wild Peach) - Marian Rowan Ellis Summer Peaches - From Wyong! Summer Plums - Greengages
Summer Raspberries Native Ones - Adam Forster
Ten Minute Spring Salads; Spring Fare
Winter Crops Winter Vegetable Pies Zucchini Strawberries Cauliflower

To list your business, have a Pittwater Online News Food page run, or place a logo on the Pittwater Online News Food page, please contact us with details of your requirements. Logos may be embedded to redirect to your own website. Full pages include an overview of menus as well as beautiful images to make the food sampled look its best. Pages are archived into Permanent pages past their week of Issue.
Permanent pages in Pittwater Online News average 800 thousand visits per annum past their week of Issue ensuring diners will continue to view your eatery as a potential venue for breakfast, lunch or dinner or as the place to hold their larger functions.
For Rates and Packages Contact us at: pittwateronlinenews@live.com.au