May 24 - 30, 2020: Issue 451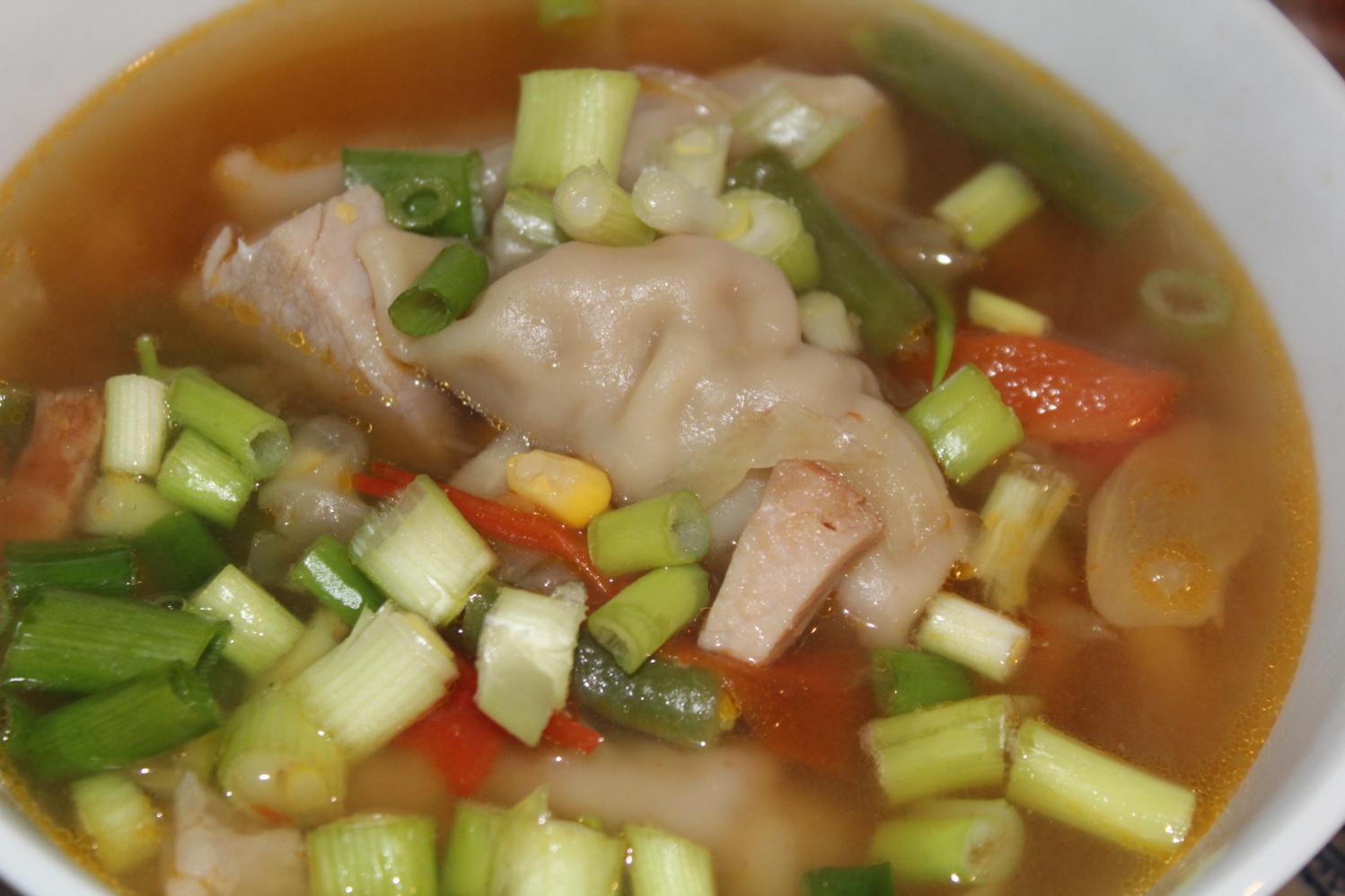 Autumn Tonic Soup
The family coming home from work, school or in from the surf chilled to the bone needs a big hot bowl of something scrumptious and good for them to chase out those chills and top them to the brim with seasonal goodness. The 'tonic' part of this 'adapt to suit self' recipe lies in the base cold chaser outerers of ginger, garlic, lemon, and lemongrass. This meal takes around a half hour to do from scratch and has become a firm favourite in this household. It's very simple but very effective for warming cold people and boosting immunity. It's also a great way to enjoy the vegetables in season as you can adapt it to suit what's at peak freshness. The slight lean towards a touch of Asian hot-sour-sweetness simply reflects the lighter smaller dishes we prefer ingesting at the end of day.
This is a simple idea for a soup, more a reminder of what you can easily do to look after you and your loved ones as we head into Winter, and with the long conversation free silence, amid the sounds of slurping that accompanies the eating of this soup, followed by rounds of 'Beautiful!', appreciation of the beauty in simple things will have been shared.
Enough preamble – the ingredients (adapt to suit yourself) to stave off sniffles and warm everyone up;
Ingredients
Broth base: we used a vegetable stock powder to make up 6 cups, that way you can choose level of salt, which we err in under recommended teaspoon to water ratio.
1 x parsnip (this is an Australian substitute for daikon – use if you like or find a daikon. The parsnip always adds body, fibre, taste and texture to any soup, roast – we love them!) – cut into small dice
1-2 small carrots cut into small dice
200 grams fresh cabbage, shaved
1 capsicum (roasted) – do up batches of these and store in olive oil in your fridge ready to go- cut into slivers
200 grams fresh green beans, washed, cut into 3-5cm lengths
1 x can of corn kernels
2-3 cloves of fresh garlic, crushed
Fresh ginger – 2-3cm piece – shaved into broth
1 x stem of Lemongrass
2 x tablespoons of light soy sauce
Juice of 1 ½ lemons
3 x Spring Onions – sliced thin for last moment garnish/taster boost
200-300 grams meat or Tofu of your choice – leftover pork lion roast, cut into small dice, 1 x chicken breast cut into small dice, or some fish. Just remember however long it was cooked (if using up leftovers) or how long may need if using fresh items. Or substitute some nice tofu if prefer meat free soup.
1 x packet of dumplings (pack of 8-9).- we used Szechuan Pork Dumplings to match in with leftover diced pork lion in broth.
Optional: 1 x packet rice noodles.
Serves: 3-4 (or two very hungry humans)
Step One
Make your broth base and put on to simmer. Add in the garlic, lemongrass, ginger, cabbage and root vegetables and allow to boil for 5 minutes. Add in capsicum strips, corn, meat or tofu, allow to simmer for 2 minutes. Season with the lemon juice and light soy sauce – taste to check is as you want it and adjust to your own palate.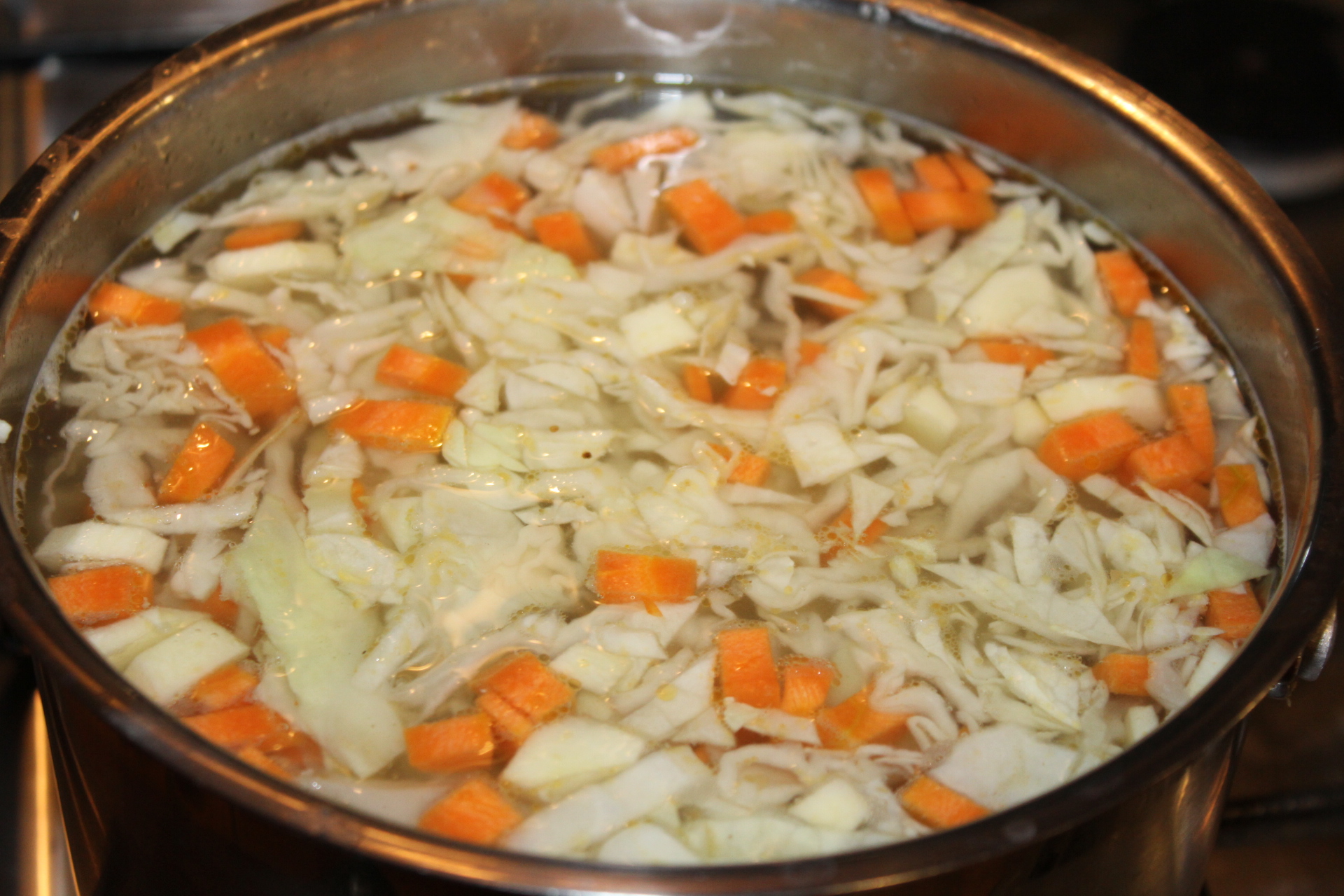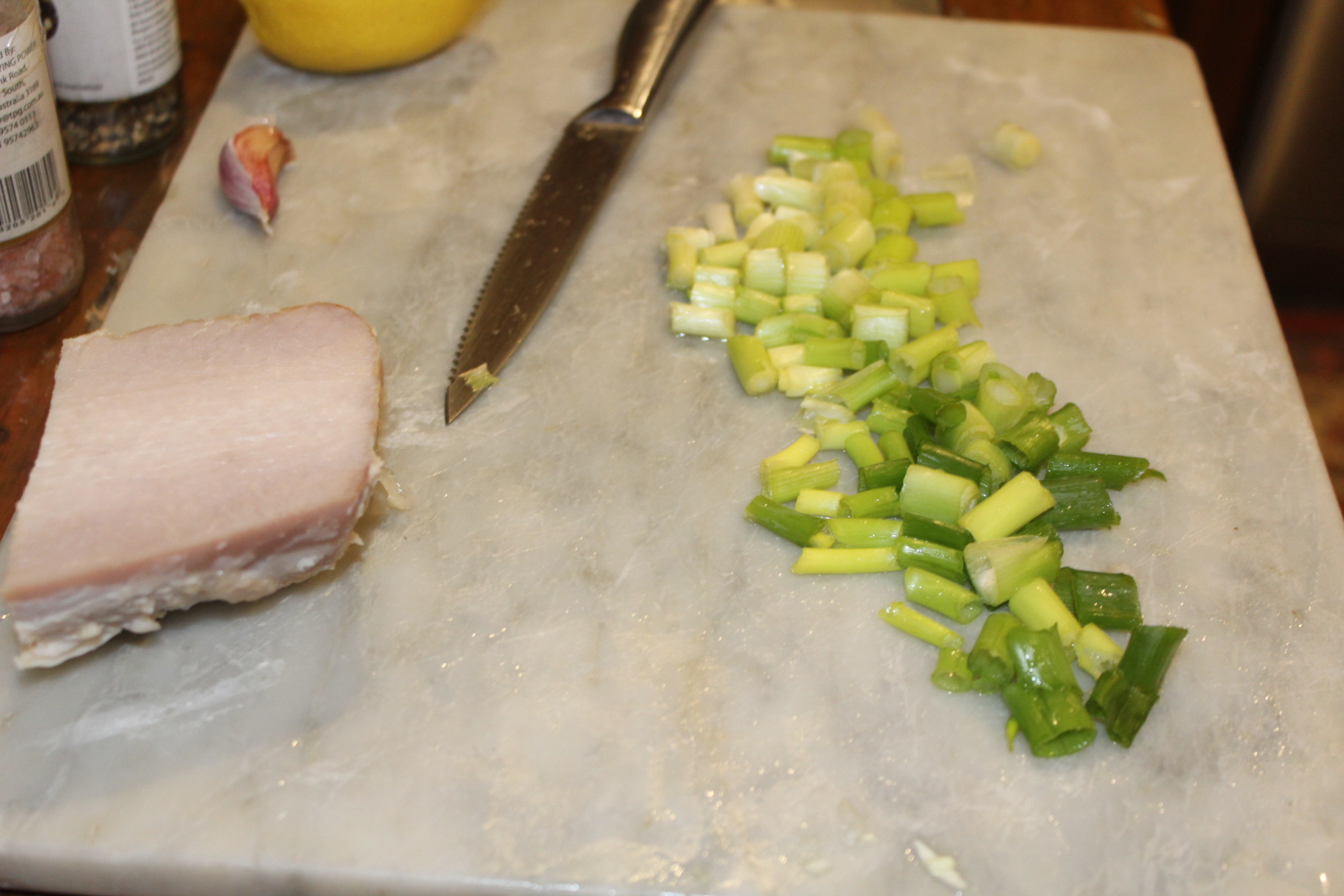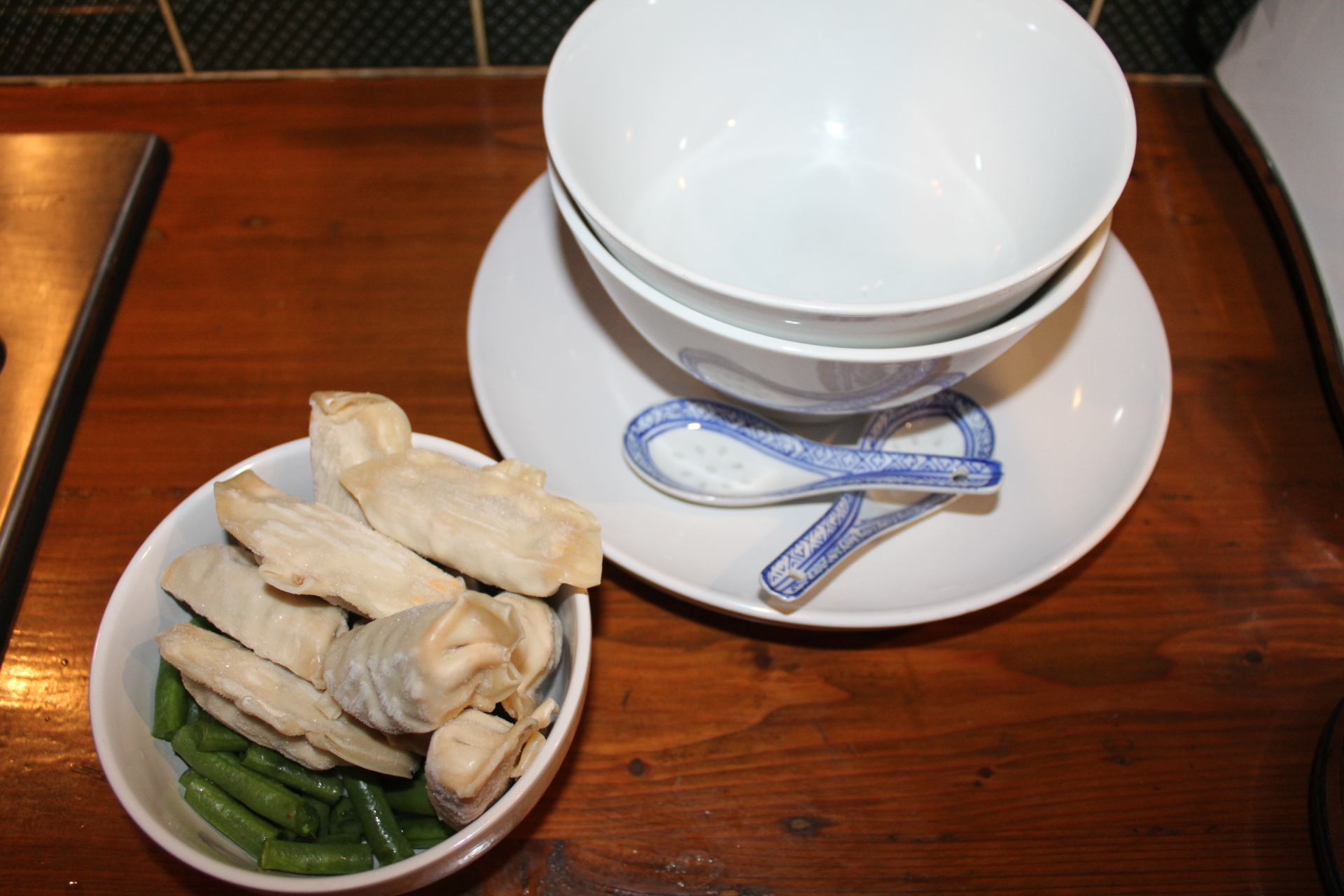 Step Two
Add in your green beans and dumplings(and rice noodles if using) – allow to simmer for around 5 minutes. Serve into soup bowls and garnish with the spring onions – eat while very very hot.
Recipe Ideas - Seasonal Fruits and Vegetables
Apricot - January Summer Fruits
Artichoke – The Flower Vegetable that Crops in Spring
Australian and Native Cherries (Summer Fruits) - the Duntroon Connection - Marrianne Collinson Campbell
Autumn Feast of Fresh Fruits and Vegetables for a Healthy Body
Autumn Tonic Soup: keep the chills out as we head into Winter with this simple seasonal recipe
Cherry - Australian summer Fruit

Chick Pea Burgers with Homemade Hummus

Easter Feast - modern and historic
Edible Weeds Eggs: Five Ways - Savoury
Full Fruit Bowl for Seasonal Health
Green Beans - Spring Vegetables
Healthful Cordials And Cleansing Tonics Hogmanay (New Year) Dinner - Australian Style Home Grown Food Program in Fruit and Veg Month by Jess Rosman Honey, Honey: Inaugural World Bee Day - Honey Cake Recipes Around the World
Kale: for Pure Energy Kale, Ricotta And Chicken Cannelloni
Make Your Own Treats For Christmas Gifts - Jaffa Rum Balls, White Christmas, Gingerbread People, Spicy Nut Mix, Strawberries Dipped in Christmas, Scottish Shortbread, Spanish Polverones, Melomakarona (Greek Christmas Honey Cookies), Kourabiedes (Greek Butter Biscuits), Italian Lemon Shortbread Squares (Shortbread con crema al limone)
Mandarins Spring Fruits Mandarins Winter Fruits
Mother's Day at Breakfast Menu for those who 'can't cook'

Mums Vegetable Soup with Macaroni
Nicoise Salad: An Autumn Salad
Old Australian Chocolates Back On The Market: The Cherry Ripe Song of MacRobertsons

Packham's Triumph Pears - The Australian Pear
Parsnip - Winter Vegetables Pear - Autumn Fruits
Potato Gnocchi Pumpkin Pumpkin Season 2015
Sage - the 'saving' herb Remembrance Day 2012 Food
Sensational Hot Scones For Cold Winter Mornings

Spring Salad Season Spring Strawberries Spring Salads
Summer Lilli Pillis Summer Passionfruit Summer Peaches, Quandongs (Wild Peach) - Marian Rowan Ellis Summer Peaches - From Wyong! Summer Plums - Greengages
Summer Raspberries Native Ones - Adam Forster
Ten Minute Spring Salads; Spring Fare
Winter Crops Winter Vegetable Pies Zucchini Strawberries Cauliflower

To list your business, have a Pittwater Online News Food page run, or place a logo on the Pittwater Online News Food page, please contact us with details of your requirements. Logos may be embedded to redirect to your own website. Full pages include an overview of menus as well as beautiful images to make the food sampled look its best. Pages are archived into Permanent pages past their week of Issue.
Permanent pages in Pittwater Online News average 800 thousand visits per annum past their week of Issue ensuring diners will continue to view your eatery as a potential venue for breakfast, lunch or dinner or as the place to hold their larger functions.
For Rates and Packages Contact us at: pittwateronlinenews@live.com.au