August 2 - 8, 2020: Issue 460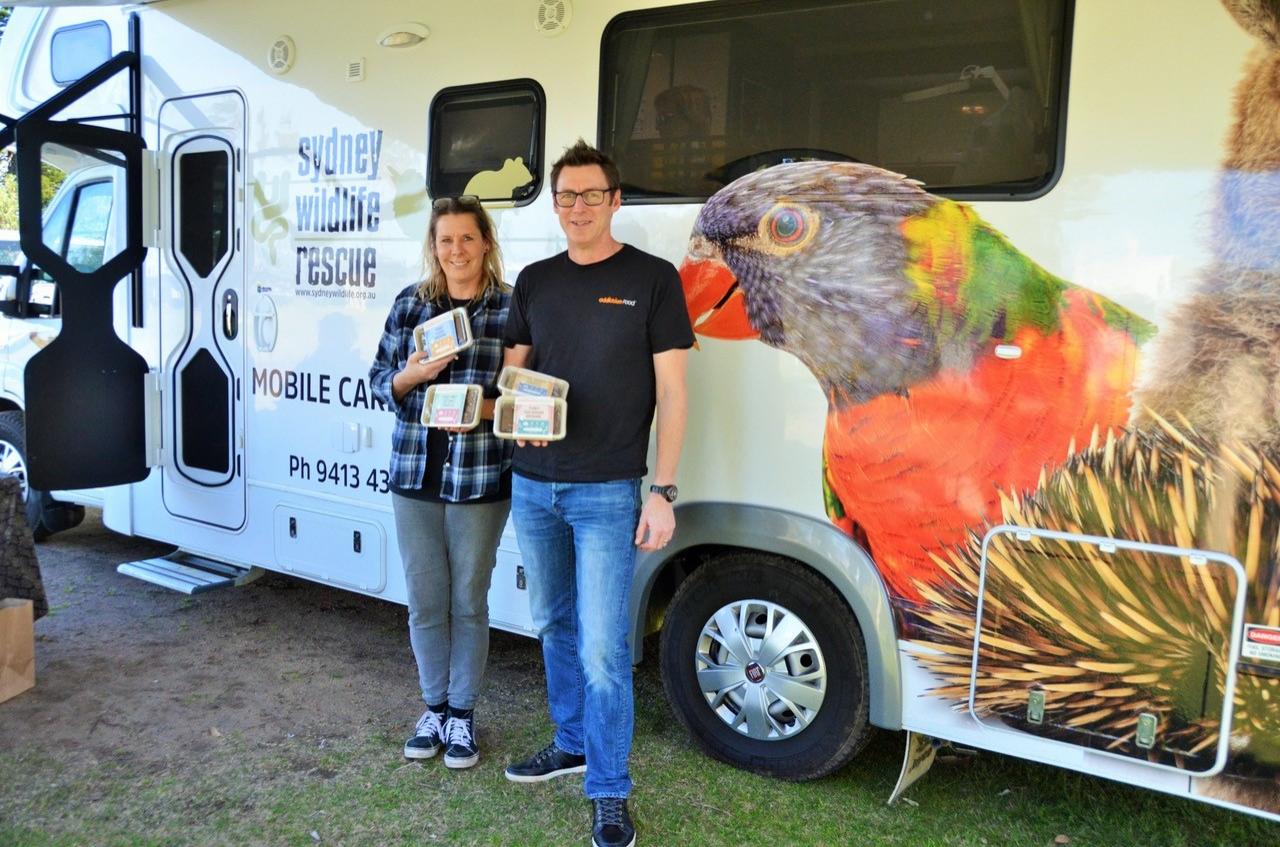 Georgie and Grant Campbell Addiction Food and Sydney Wildlife - photo by Margaret Woods
Addiction Food
Website: www.addictionfood.com.au
Our focus is on providing delicious, compassionate and sustainable plant based products that are ethical and gentle on the environment.
Addiction Food was founded in Sydney in the year 2000 by Georgie and Grant Campbell. We are a husband and wife team doing our absolute best to keep the dream of manufacturing in Australia alive!
As a 100% Australian owned and made family business we manufacture ethical planet friendly plant based sweets and treats that are gentle on our environment.
We are volunteer wildlife carers for over 20 years and continue to rescue and rehabilitate sick and injured wildlife in our Sydney home. We have been volunteers with Sydney Wildlife since 2002.
Australia has the most unique flora and fauna in the world and being carers and involved in such a wonderful organisation is truly rewarding.
We have designed special packs with proceeds going to Sydney Wildlife… our plant based gluten free Funky Fudge Brownies, Funky Macadamia Brownies, Choc Orange Truffles and Choc Mint Truffles. All packaging is completely biodegradable, compostable and made from plants.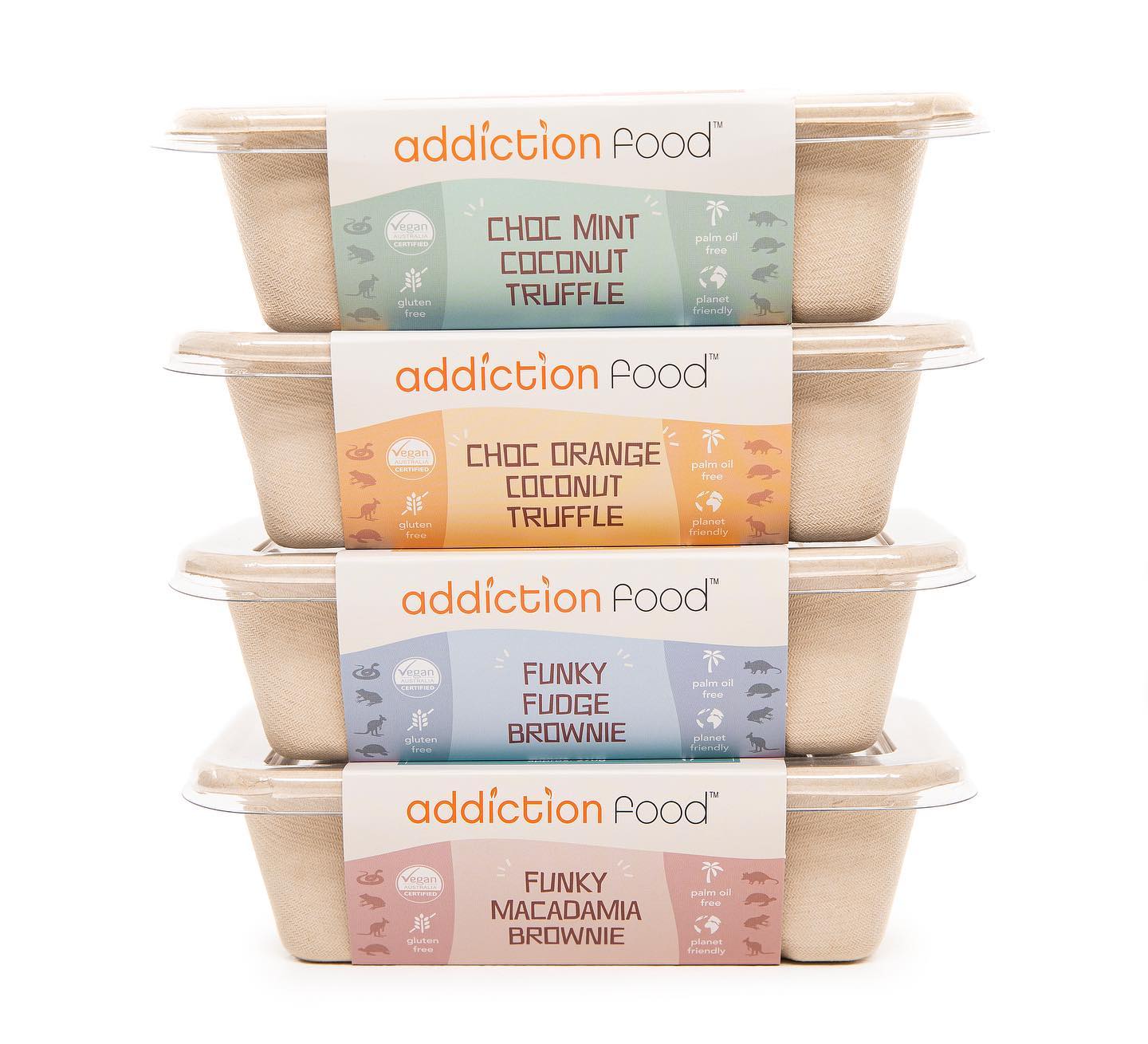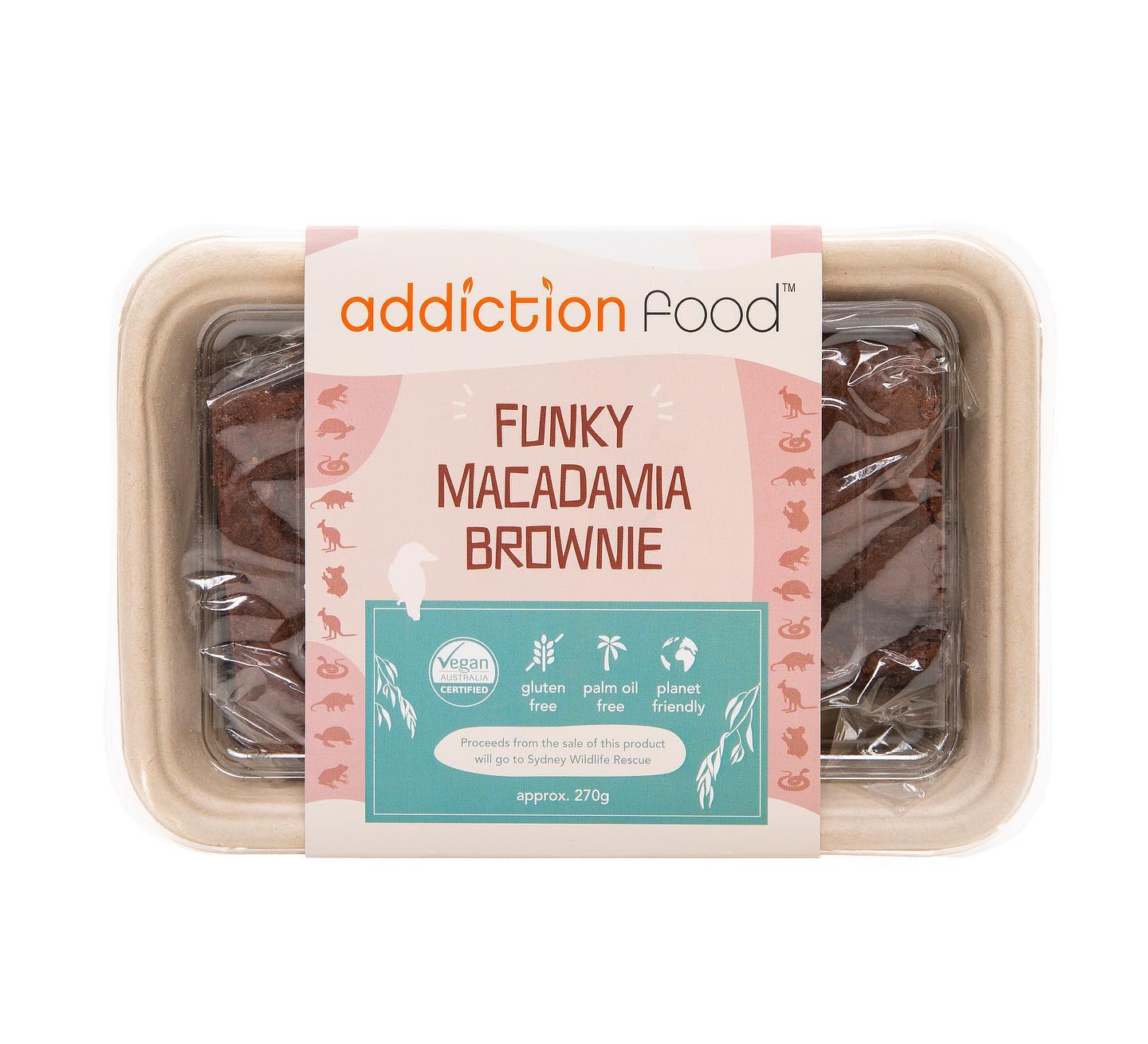 With Sydney Wildlife we are privileged to care for many species including birds, possums ,snakes turtles, lizards, dragons, echidnas, kangaroo, wallabies, bandicoots and we also have 5 permanent rescue frogs.
Sydney Wildlife is completely run by volunteers. They have absolutely no paid staff, 100% of the work is 100% for the wildlife.
I remember well our first brushtail possum rescue in Bondi. The poor darling had his head stuck in a Milo tin. Grant held him snugly while I pried it carefully, off his sweet little face. He snorted at me growled and took off thankfully unharmed but we knew he was thankful.
Grants early words; "No animals in the lounge room please"
As I reflect on this we have five frogs, 3 blue tongue lizards, a bearded dragon, a water dragon 3 snakes a rescued lab rat a turtle and that's just in the lounge room!
Most are on pain relief and antibiotics with heat pads. Everyone of them has their own story.
Apart from wildlife rescue and care, what I love the most is we have so much support from other dedicated volunteers always ready to support other members. If anyone is considering becoming a member of Sydney Wildlife I will say 'Go For It!' It is quite possibly the most rewarding work you may ever do in your life! Always expect the unexpected and keep a good sense of humour on you!!
As a volunteer you can do as much as you like. Not all volunteers care for wildlife in their own home and not all wildlife carers care for snakes. However snakes and other reptiles are sentient beings…the importance of them having a voice is equally important to us as it is any other animal. So it so happens that many of the animals Grant and I have in care happen to be reptiles.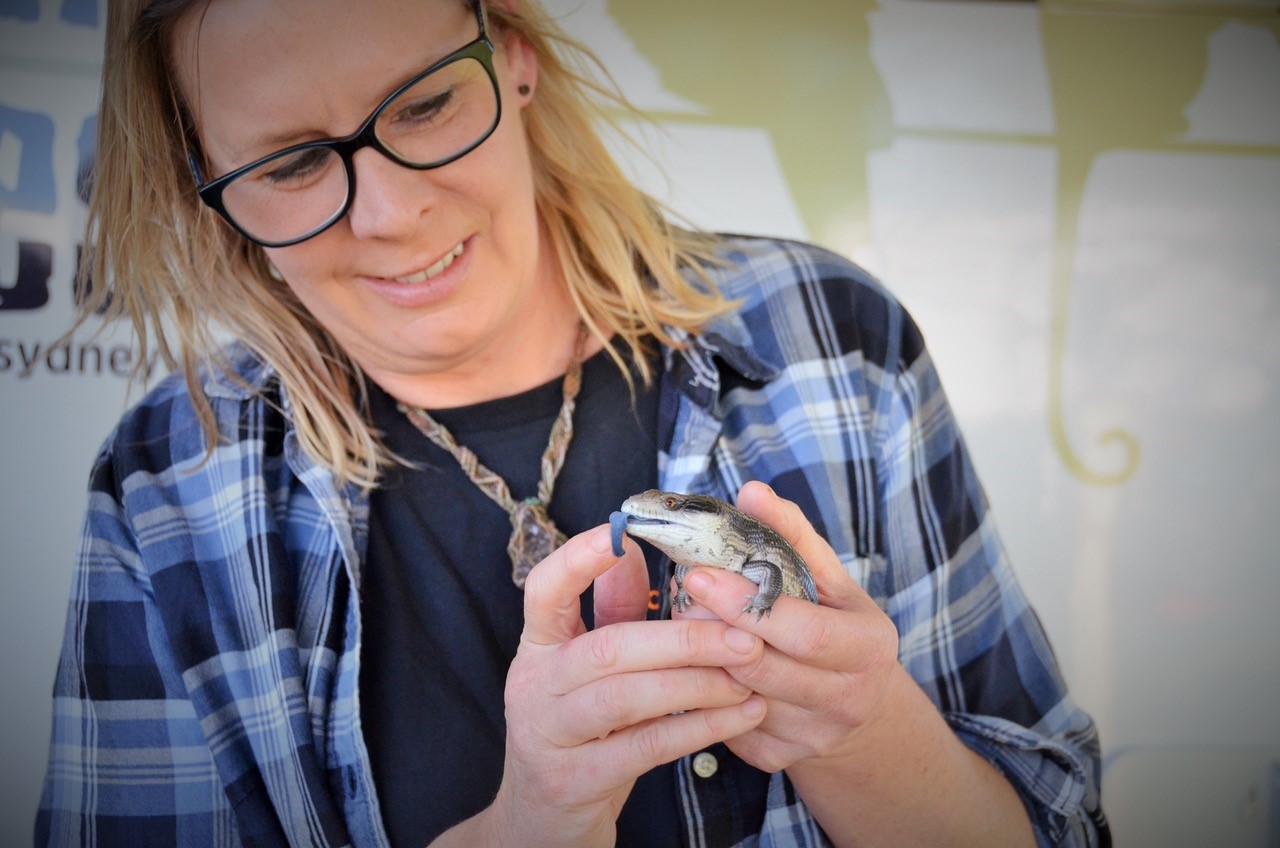 Georgie with a blue tongue lizard still in her care - photo by Margaret Woods
Not that I am an expert! Far from it! I am constantly leaning on my experienced co-ordinators and exotic vets for help! I wouldn't be able to do it otherwise.
A huge part of wildlife rescue is taking the opportunity to not only offer assistance to the animal needing care but also offering education for the caller as well as the general public. People always ask me what is my favourite animal that I have had in care… There are hundreds of them that have made such an impact… they are ALL my favourites.
All our products are certified by Vegan Australia and are gluten free and palm oil free. We love our planet and are conscious of walking softly.
Our motivation has always been and will continue to be a voice for the voiceless.
We are proud supporters of:
Animal Liberation since 1999
Sydney Wildlife since 2001
Sea Shepherd since 2006
Liberty Foundation since 2018
We have been proud supporters and sponsors of Sydney Gay and Lesbian Mardi Gras ,with Animal Liberation, Human Rights Conferences, Peanuts Funny Farm, Heart Acres, The Cruelty Free Festival, A Poultry Place, Animal Voices, Aussie Farms, Will Tuttle Tours, and continue our community work with the Rural Fire Service and education in our local community.
Addiction Food started in a tiny apartment kitchen in Willoughby. That is where we perfected the original Funky Fudge Brownie 100% Gluten Free and Plant based, also our choc mint and choc orange truffles.
These along with the Funky Macadamia brownies are what makes up the gift packs with proceeds to Sydney Wildlife Rescue.
We put a lot of love to develop four brand new packaging in partnership with Sydney Wildlife Rescue: Funky Fudge Brownie, Funky Macadamia Brownie, Choc Mint Coconut Truffle and Choc Orange Coconut Truffle. Every time you buy one of those products, proceeds from the sale go to Sydney Wildlife Rescue - how great is this?
You can buy them online at addictionfood.com.au and enjoy an introductory $12 flat rate delivery Australia wide!
Stockists - In our area:
Avalon Wholefood, 25 Old Barrenjoey Rd, Avalon
Cocco Rocco Deli & Café, 51 The Centre, Forestville
Cruise Espresso, 2/2 Moore Rd, Freshwater
Flannerys, 12/14 Park St, Mona Vale

Forest Brunch Bar, 26 The Centre, Forestville
Fuel Espresso Ba, 2/676 Pittwater Rd, Brookvale
Koto Avalon, 3/49 Old Barrenjoey Rd, Avalon Beach
Manly Farm, 16/17-25 Wentworth St., Manly
Manly Food Co-op, Lot 1/11-25 Wentworth St, Manly
Manly Health Foods, 8/23 Wentworth St, Manly
Mona Vale Wholefoods Store, 11/24 Waratah St, Mona Vale
Mr Vitamins Brookvale, Shop 241/145 Old Pittwater Rd, Brookvale

Roseberry Street Café, 2/62 Balgowlah Rd, Balgowlah

The Deli Bilgola, 211 Plateau Road, Bilgola Plateau

Two Sisters Pantry, 147 Sydney Rd, Fairlight

Wakehurst Golf Club, Upper Clontarf St, Seaforth
Wholesome Eatery, 17/64-68 Pitt Rd, North Curl Curl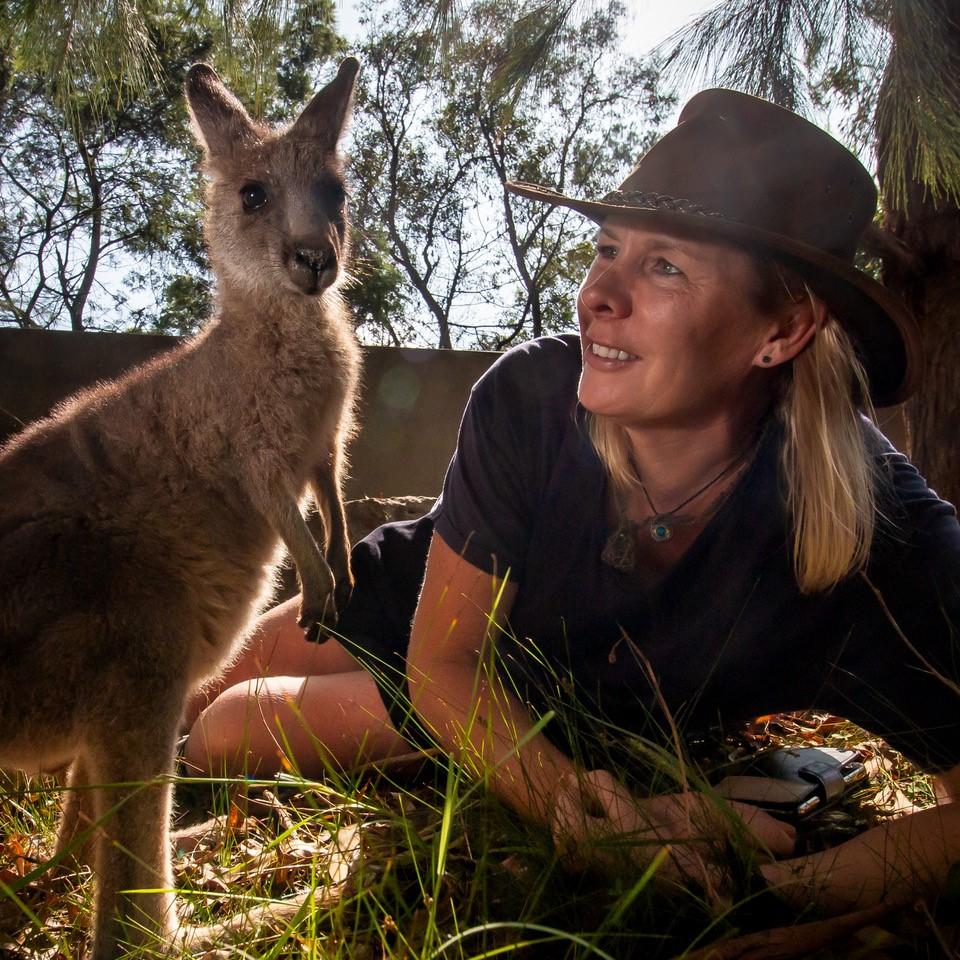 Recipe Ideas - Seasonal Fruits and Vegetables
Apricot - January Summer Fruits
Artichoke – The Flower Vegetable that Crops in Spring
Australian and Native Cherries (Summer Fruits) - the Duntroon Connection - Marrianne Collinson Campbell
Autumn Feast of Fresh Fruits and Vegetables for a Healthy Body
Autumn Tonic Soup: keep the chills out as we head into Winter with this simple seasonal recipe
Cherry - Australian summer Fruit

Chick Pea Burgers with Homemade Hummus

Easter Feast - modern and historic
Edible Weeds Eggs: Five Ways - Savoury
Full Fruit Bowl for Seasonal Health
Green Beans - Spring Vegetables
Healthful Cordials And Cleansing Tonics Hogmanay (New Year) Dinner - Australian Style Home Grown Food Program in Fruit and Veg Month by Jess Rosman Honey, Honey: Inaugural World Bee Day - Honey Cake Recipes Around the World
Kale: for Pure Energy Kale, Ricotta And Chicken Cannelloni
Make Your Own Treats For Christmas Gifts - Jaffa Rum Balls, White Christmas, Gingerbread People, Spicy Nut Mix, Strawberries Dipped in Christmas, Scottish Shortbread, Spanish Polverones, Melomakarona (Greek Christmas Honey Cookies), Kourabiedes (Greek Butter Biscuits), Italian Lemon Shortbread Squares (Shortbread con crema al limone)
Mandarins Spring Fruits Mandarins Winter Fruits
Mother's Day at Breakfast Menu for those who 'can't cook'

Mums Vegetable Soup with Macaroni
Nicoise Salad: An Autumn Salad
Old Australian Chocolates Back On The Market: The Cherry Ripe Song of MacRobertsons

Packham's Triumph Pears - The Australian Pear
Parsnip - Winter Vegetables Pear - Autumn Fruits
Potato Gnocchi Pumpkin Pumpkin Season 2015
Sage - the 'saving' herb Remembrance Day 2012 Food
Sensational Hot Scones For Cold Winter Mornings

Spring Salad Season Spring Strawberries Spring Salads
Summer Lilli Pillis Summer Passionfruit Summer Peaches, Quandongs (Wild Peach) - Marian Rowan Ellis Summer Peaches - From Wyong! Summer Plums - Greengages
Summer Raspberries Native Ones - Adam Forster
Ten Minute Spring Salads; Spring Fare
Winter Crops Winter Vegetable Pies Zucchini Strawberries Cauliflower

To list your business, have a Pittwater Online News Food page run, or place a logo on the Pittwater Online News Food page, please contact us with details of your requirements. Logos may be embedded to redirect to your own website. Full pages include an overview of menus as well as beautiful images to make the food sampled look its best. Pages are archived into Permanent pages past their week of Issue.
Permanent pages in Pittwater Online News average 800 thousand visits per annum past their week of Issue ensuring diners will continue to view your eatery as a potential venue for breakfast, lunch or dinner or as the place to hold their larger functions.
For Rates and Packages Contact us at: pittwateronlinenews@live.com.au