November 22 - 28, 2020: Issue 475

salad season: whole meals in a bowl ideas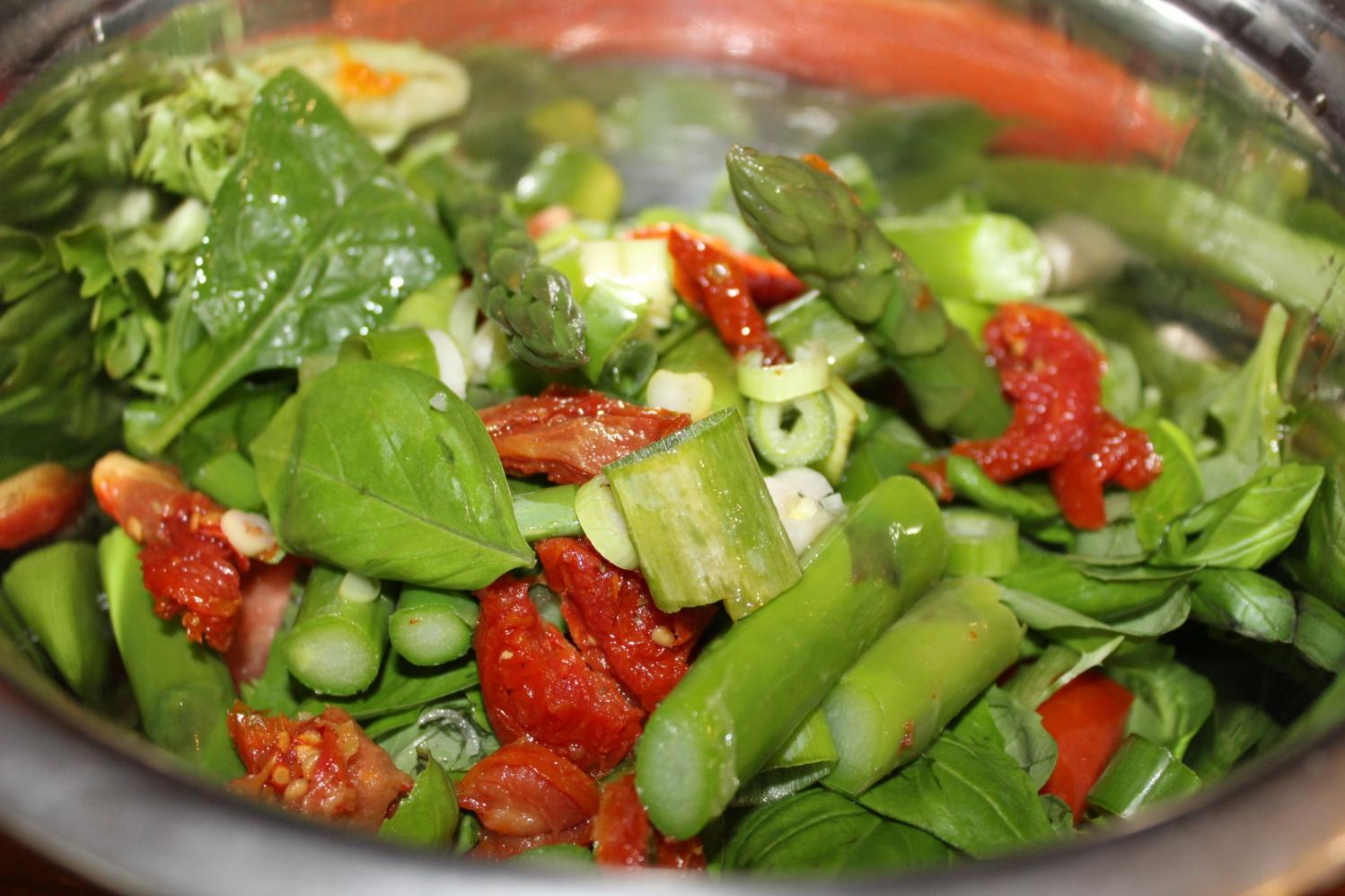 Spring and Summer lightness prompts us to go easier on the big Winter meals and opt for some less heavy fare. Below run a few tried and tested recipes and combinations for a whole meal salad that could also accompany something else as a side dish for those who have to have meat. These amounts are all made for 2 healthy eaters - adjust volumes to suit.
The whole meal in a bowl idea combines enough protein for energy, whole grains, and a range of nuts, seeds and colourful vegetables.
Wholegrains are foods that use the whole grain, like wholegrain bread, wholemeal pasta and oats. Eating wholegrains can help lower your risk of heart disease. ​The fibre in wholegrains can help reduce and regulate your cholesterol. Swapping refined grains for wholegrain foods can improve your heart health. The term 'grains' usually includes: Wheat, Corn (maize), Rice, Barley, Oats, Rye, Millet, Quinoa and Teff. We also include Spelt (Triticum spelta), also known as dinkel wheat or hulled wheat. This is a species of wheat that has been cultivated since approximately 5000 BC.
These grains can be eaten whole or made into products like couscous (wheat) and polenta (corn). Bread, breakfast cereals, pasta, and noodles are also made from different types of grains. To do yourself the best good opt for versions that have not been processed; brown rice instead of white rice for example.
Adding seeds such as sesame, flax, pumpkin, chia or sunflower will not only boost your immune system, and give you good sources of fibre and omega-3 fats, they also add crunch. Likewise nuts such as pine, almonds, cashews or even the humble but delicious peanut will give you good fat intake as well as added protein.
For a 'balanced bowl' aim to have half your ingredients as leafy greens and vegetables, one quarter allocated to protein and one quarter to complex carbohydrates. Your body also needs some oils so if you're not taking a supplement to boost your Vitamin D use the olive oil you make bake vegetables in as a base for your salad dressing. There are also some great options in the whole world of food we now live in to add taste, think ground and fresh spices, dried and fresh herbs, lemon, lime, onion, garlic, chilli, vinegar, mustard, nutritional yeast, miso, pepper and a little sea salt. If using store bought sauces and condiments, choose those lower in sodium, salt and sugar. We promise you, after a few weeks on a clean, whole diet you will feel 100% better and have energy to burn.
Here are some we've found are good combinations when experimenting at home and a few favourites that have been reappearing on our table each Spring and Summer for decades. We always swap in what's best seasonally, and usually cheapest, so use these as a guidelines, but as with all things, you're only limited by what your own tastes are.
Tomato, Tomato and Goats Cheese Salad
5 big handfuls of mixed salad greens
1 bunch of asparagus, lightly blanched
8 sundried tomatoes
2 whole tomatoes - either Truss or Roma for sweetness
100 grams goats cheese - we prefer the Australian brand Meredith goats cheese
400 grams chick peas
3 slices of bread
Vinaigrette
1 teaspoon Dijon mustard
1 teaspoon honey
1 tablespoons Balsamic vinegar
4 tablespoons Olive Oil
1 clove of garlic, crushed
The ratio for vinaigrette is 3-to-1: three parts oil to one part vinegar. You can add more vinegar to taste but if you stick to the age old measurements you will have a perfect dressing every time. Cut the bread into six equal pieces per slice and spread generously. Bake cheese croutons at 180 degrees for 10-15 minutes. Meantime, toss all you salad ingredients together and make your dressing. We keep an old jam jar and lid for making dressings in - that way you can not only shake it up you can also make up a triple batch and store it in the fridge for use on another salad a few days later. When the croutons are just golden brown on top pull them out, dress your salad and allocate half each to two plates and pop the croutons on top. This salad also works well as a side to roast lamb and compliments chicken dishes well too.
Warm roast vegetable couscous salad
An oldie but a goodie and one handed on by mum.
12 baby carrots, peeled
2 parsnips, peeled, quartered lengthways
2 beetroots, peeled
2 red onions, quartered
2 tablespoons olive oil
2 tablespoons balsamic vinegar
2 tablespoons pine nuts, lightly toasted
Couscous
1 cup (200g) instant couscous
400 grams chick peas
1 teaspoon cumin seeds
1 teaspoon ground coriander
1 teaspoon coriander seeds
1/4 cup (40g) sultanas
2 tablespoons olive oil
1 tablespoon lemon juice
Handful flat-leaf parsley leaves
Handful coriander leaves
Preheat oven to 200C. Line a baking tray with baking paper. Place carrots, parsnip and onion on tray. Drizzle with oil and vinegar, season, then toss to coat. Bake for 45 minutes or until tender and browned, turning once or twice.
Meanwhile, toss couscous in a heatproof bowl with spices, sultanas and salt. Stir in 400ml boiling water until combine. Cover with plastic wrap and stand for 5 minutes, then fluff with a fork. Add oil, lemon juice and herbs and lightly toss. Serve topped with vegetables and scattered with nuts. You can also add in some seasonally available asparagus to this one - just grill or toss in about 15 minutes prior to end of roast time with other vegetables. Remember to hold on to that oil and vinegar that comes out of the oven, it's loaded with good stuff.
Brown Rice Salad with Spinach, Tomato, Basil, and Mozzarella
4 tablespoons extra-virgin olive oil
1 clove of garlic, minced
1 1/2 cups short-grain brown rice
3 cups vegetable stock
Kosher salt
Freshly ground pepper
2 tablespoons white balsamic vinegar
1 bunch of spinach (kale may be swapped in if you prefer that - or if you like the little leaf English spinach, use that), washed and torn into smaller pieces
1 punnet cherry tomatoes, halved
200 grams fresh mozzarella, diced
1/2 cup of basil, torn
In a big saucepan sauté the garlic in 2 tablespoons of oil over moderate heat until softened. Add the rice and cook, stirring, until coated with oil. Add the stock, salt, and pepper and bring to a boil. Cover and simmer over low heat until the broth is absorbed and the rice is tender, about 45 minutes. Remove from the heat, add in your torn spinach leaves and let stand, covered, for 5-10 minutes. Fluff with a fork and toss with 2 tablespoons of olive oil, vinegar, tomatoes, mozzarella, and basil. Serve warm or chilled.
Sweet potato and Radicchio salad with Pear and walnuts
A great combination - add in your favourite legume for extra protein. If pears, now out of season, are unavailable, slect some great stone fruit such as nectarines and peaches as a substitute
4 x good sized sweet potatoes, washed, cut into 5cm slices (leave skin on for extra vitamins)
¼ cup extra-virgin olive oil
Kosher salt, freshly ground pepper
2 small heads of radicchio, leaves separated, torn if large
1 cup walnuts
½ medium pear, thinly sliced
1 Tbsp. fresh lemon juice
100 grams Parmesan, shaved
¼ cup parsley leaves
½ lemon
Vinaigrette
1 tsp. plus ½ cup extra-virgin olive oil; plus more for drizzling
Kosher salt
1 clove of garlic, crushed
¼ cup fresh lemon juice
2 tablespoons fresh orange juice
2 tablespoons Dijon mustard
4 tablespoons pure maple syrup
Freshly ground black pepper
Oven on to 180 degrees, toss your sweet potato and bake until golden - around 45 minutes. Toss nuts with 1 tsp. oil in a small bowl; season with salt. Toast on a rimmed baking sheet, tossing halfway through, until slightly darkened and fragrant, 8–10 minutes. Let cool, then coarsely chop. Set ½ cup aside for serving. Blend garlic, lemon juice, orange juice, mustard, maple syrup, and remaining nuts in a blender until mostly smooth. With motor running, gradually stream in ½ cup oil and blend until emulsified and smooth. Season the dressing with salt and pepper. Toss radicchio and half of dressing in a large bowl to coat; season with salt and pepper. Arrange on a platter. Toss sweet potato with remaining dressing in the same bowl to coat; season with salt and pepper. Arrange over radicchio. Toss pear with lemon juice in a small bowl. Top salad with pear, cheese, parsley, and reserved pecans. Squeeze juice from lemon half over and drizzle with oil; season with more salt and pepper.
Mixed Grain Salad
The pomegranate in this gives it a fresh zing - yum!
220g (1 cup) pearl barley
70g (1/3 cup) white quinoa, rinsed
400g can lentils, rinsed, drained
90g (2/3 cup) walnut pieces
60g (1/3 cup) pepita and sunflower seed mix
1/2 cup chopped fresh coriander, to serve
1/2 cup chopped fresh mint to serve
2 green shallots, thinly sliced
75g pomegranate seeds
Vinaigrette
160ml (2/3 cup) extra virgin olive oil
60ml (1/4 cup) fresh lemon juice
2 tablespoons dark brown sugar
2 teaspoons ground coriander
1 teaspoon ground cumin
45g (1/4 cup) currants
Bring a large saucepan of salted water to the boil. Add the pearl barley and cook for 20 minutes. Add the quinoa and cook for a further 15 minutes or until both barley and quinoa are tender. Drain and rinse under cold running water. Transfer to a bowl. Add the lentils and stir to combine. Meanwhile, to make the dressing, whisk together the oil, lemon juice, brown sugar, coriander and cumin in a jug. Season well. Stir in the currants and set aside to develop the flavours. Place the walnut pieces and seed mix in a small frying pan over high heat. Cook, tossing the pan often, for 4 minutes until toasted - just be careful doing this that you don't burn them. Set aside to cool slightly. Add the walnut mixture and dressing to the barley mixture. Toss to combine. Taste and season well. Add the coriander, mint and green shallot and toss to combine. Transfer to a serving platter. Sprinkle with the pomegranate seeds and extra coriander and mint leaves.
Recipe Ideas - Seasonal Fruits and Vegetables
Apricot - January Summer Fruits
Artichoke – The Flower Vegetable that Crops in Spring
Australian and Native Cherries (Summer Fruits) - the Duntroon Connection - Marrianne Collinson Campbell
Autumn Feast of Fresh Fruits and Vegetables for a Healthy Body
Autumn Tonic Soup: keep the chills out as we head into Winter with this simple seasonal recipe
Cherry - Australian summer Fruit

Chick Pea Burgers with Homemade Hummus

Easter Feast - modern and historic
Edible Weeds Eggs: Five Ways - Savoury
Full Fruit Bowl for Seasonal Health
Green Beans - Spring Vegetables
Healthful Cordials And Cleansing Tonics Hogmanay (New Year) Dinner - Australian Style Home Grown Food Program in Fruit and Veg Month by Jess Rosman Honey, Honey: Inaugural World Bee Day - Honey Cake Recipes Around the World
Kale: for Pure Energy Kale, Ricotta And Chicken Cannelloni
Make Your Own Treats For Christmas Gifts - Jaffa Rum Balls, White Christmas, Gingerbread People, Spicy Nut Mix, Strawberries Dipped in Christmas, Scottish Shortbread, Spanish Polverones, Melomakarona (Greek Christmas Honey Cookies), Kourabiedes (Greek Butter Biscuits), Italian Lemon Shortbread Squares (Shortbread con crema al limone)
Mandarins Spring Fruits Mandarins Winter Fruits
Mother's Day at Breakfast Menu for those who 'can't cook'

Mums Vegetable Soup with Macaroni
Nicoise Salad: An Autumn Salad
Old Australian Chocolates Back On The Market: The Cherry Ripe Song of MacRobertsons

Packham's Triumph Pears - The Australian Pear
Parsnip - Winter Vegetables Pear - Autumn Fruits
Potato Gnocchi Pumpkin Pumpkin Season 2015
Sage - the 'saving' herb Remembrance Day 2012 Food
Salad Season: Whole Meals In A Bowl Ideas

Sensational Hot Scones For Cold Winter Mornings

Spring Salad Season Spring Strawberries Spring Salads
Summer Lilli Pillis Summer Passionfruit Summer Peaches, Quandongs (Wild Peach) - Marian Rowan Ellis Summer Peaches - From Wyong! Summer Plums - Greengages
Summer Raspberries Native Ones - Adam Forster
Ten Minute Spring Salads; Spring Fare
Whole Pumpkin Stuffed With Chorizo, Rice and Goat Cheese: Winter Food

Winter Crops Winter Vegetable Pies Zucchini Strawberries Cauliflower

To list your business, have a Pittwater Online News Food page run, or place a logo on the Pittwater Online News Food page, please contact us with details of your requirements. Logos may be embedded to redirect to your own website. Full pages include an overview of menus as well as beautiful images to make the food sampled look its best. Pages are archived into Permanent pages past their week of Issue.
Permanent pages in Pittwater Online News average 800 thousand visits per annum past their week of Issue ensuring diners will continue to view your eatery as a potential venue for breakfast, lunch or dinner or as the place to hold their larger functions.
For Rates and Packages Contact us at: pittwateronlinenews@live.com.au