April 18 - 24, 2021: Issue 490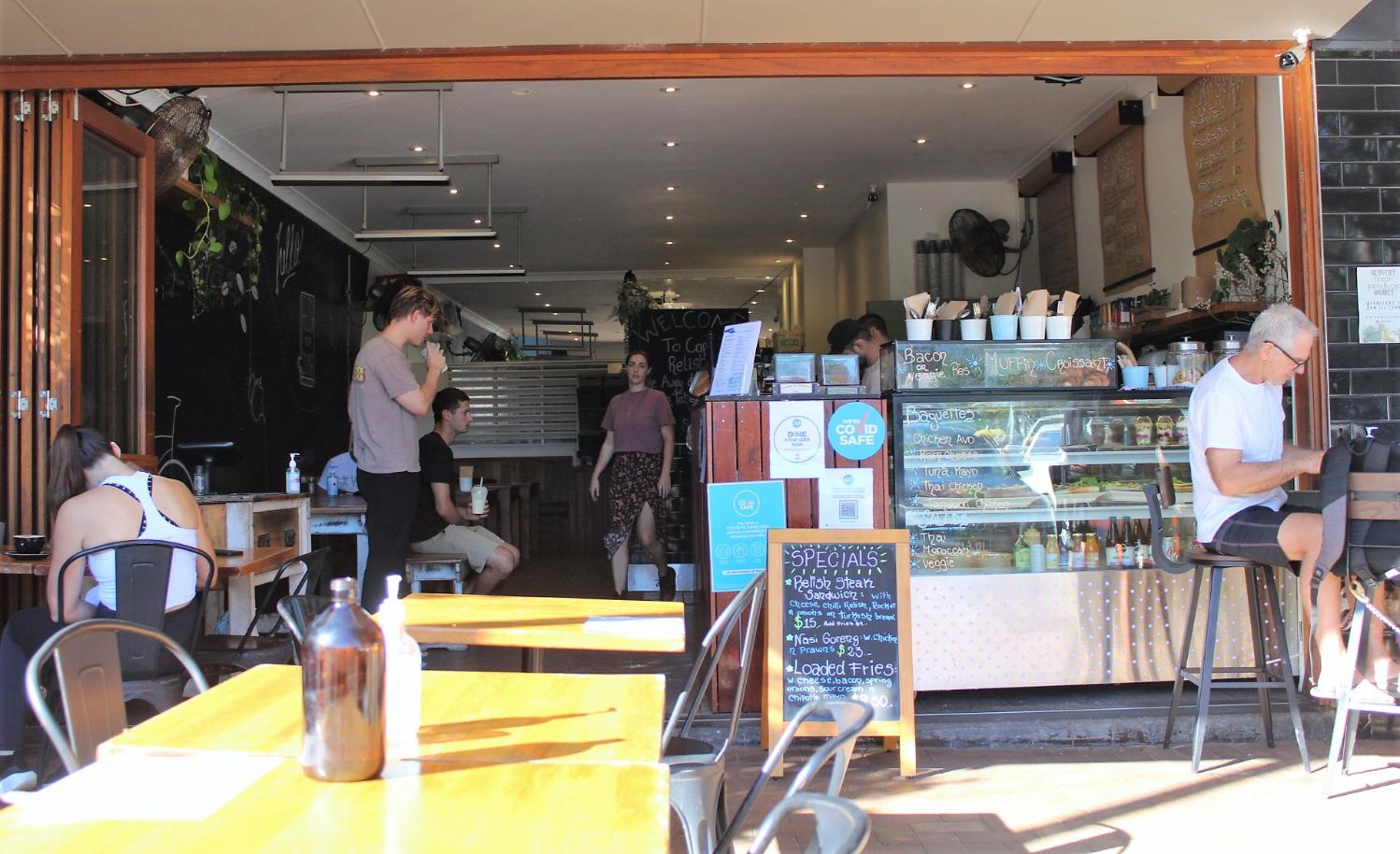 8/1 North Avalon Road, Avalon Beach
Ph: 9918 2145
Instagram: www.instagram.com/relishnorthavalon
Facebook: www.facebook.com/cafe.relish
As the days cool we all start looking for a nice sunny corner to enjoy a catch-up with friends and some great food. Café Relish in North Avalon road, which was opened in January 2012 by Phil and Nick Parr, has built a substantial following in our community solely due to delicious food incorporating the best ingredients each season has to offer and scrumptious coffees.
Café Relish will 'kick-start' your morning with the 'Labna, poached eggs, bacon and sourdough stack' which is sure to leave you satisfied. We chose the Eggs Benedict - perfect and no scrimping on the sauce; pure yum.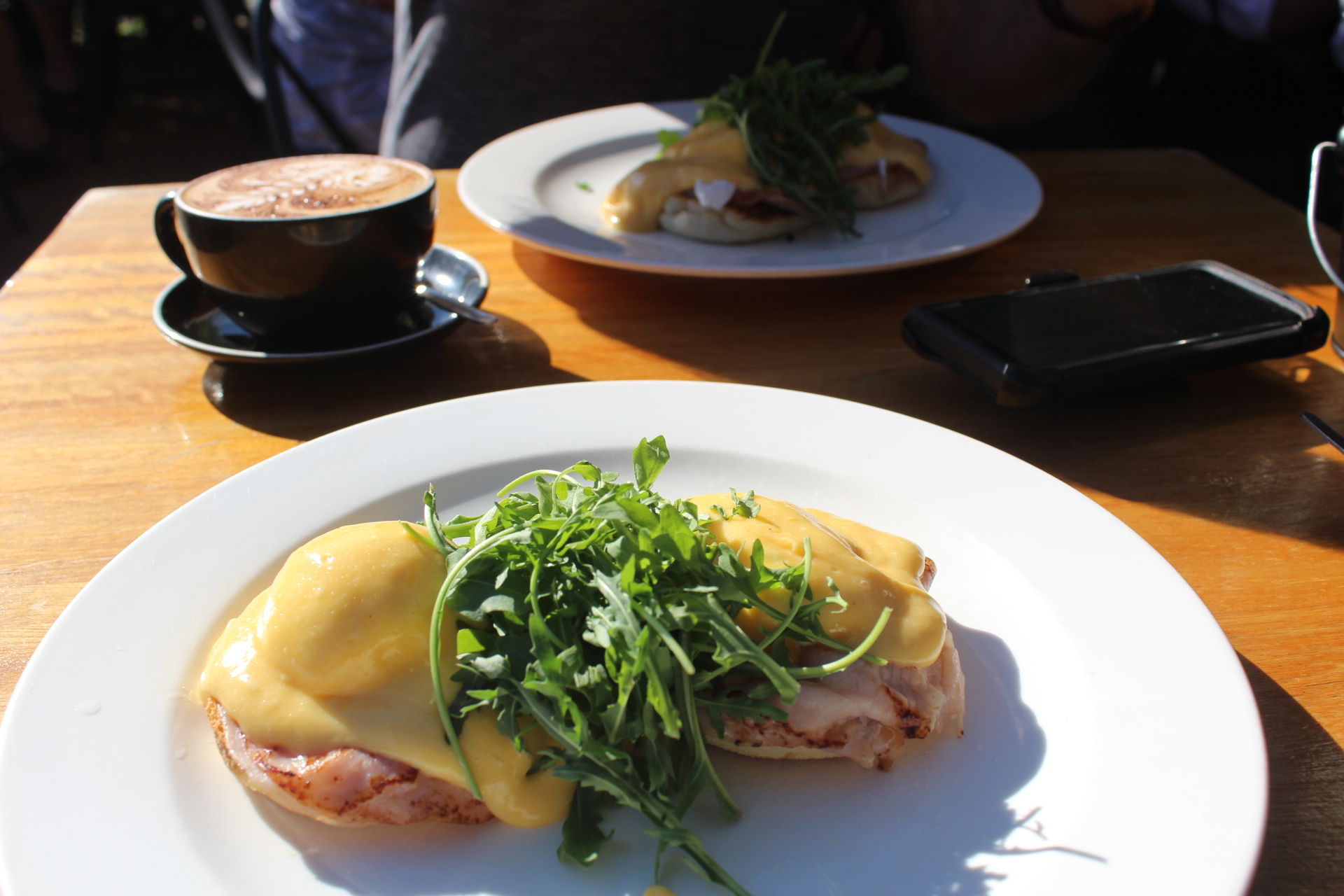 For something lighter try our in-house toasted muesli with fresh fruit and yogurt. If that doesn't get you going then one of our organic, fair trade No Label coffees will, made with attention to quality and consistency we believe we make a great cup of coffee.
For lunch try the famous lamb wrap or the 'best' club sandwich ever. From fresh seafood to take away baguettes for those on the run, Relish offers you a variety of flavour filled meals that wont leave your wallet needing an overdraft.
For those with a bit of a sweet tooth, the home made cakes and treats, and freshly baked muffins will meet your expectations and then some.
There's a great range of pies, vegetarian dishes, baguettes filled with just about anything you'd want and you can take them away to the beach.
Cold after a surf at North Av? Reinstall the heat with these loaded fries: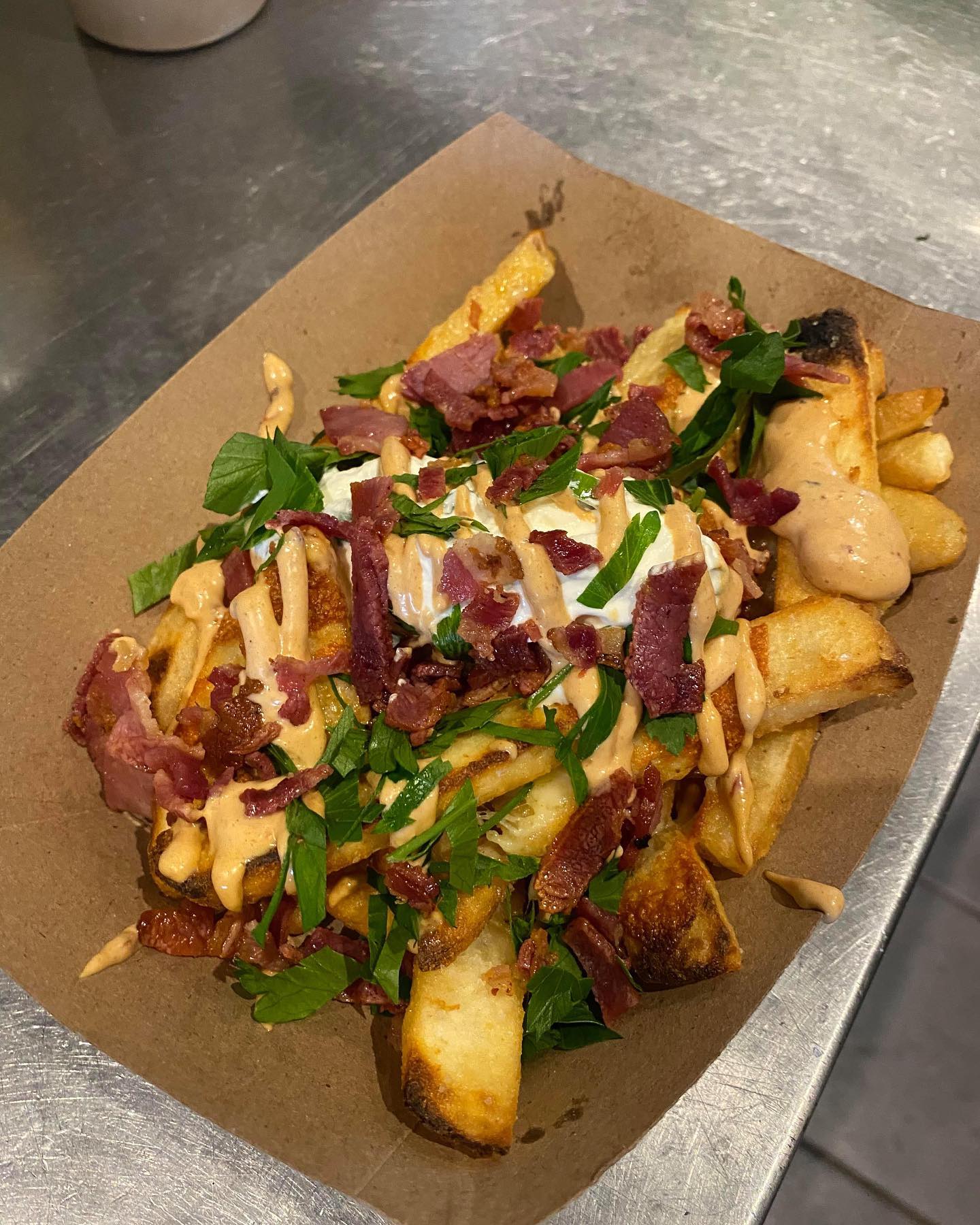 Not only that, the team is spot-on, there's a great range of specials, the outdoors area little people and furry companions friendly and, most importantly on cold days, it's a suntrap. Definitely a hidden little gem worth exploring next time you want to avoid the village traffic jams.
Current specials and menu: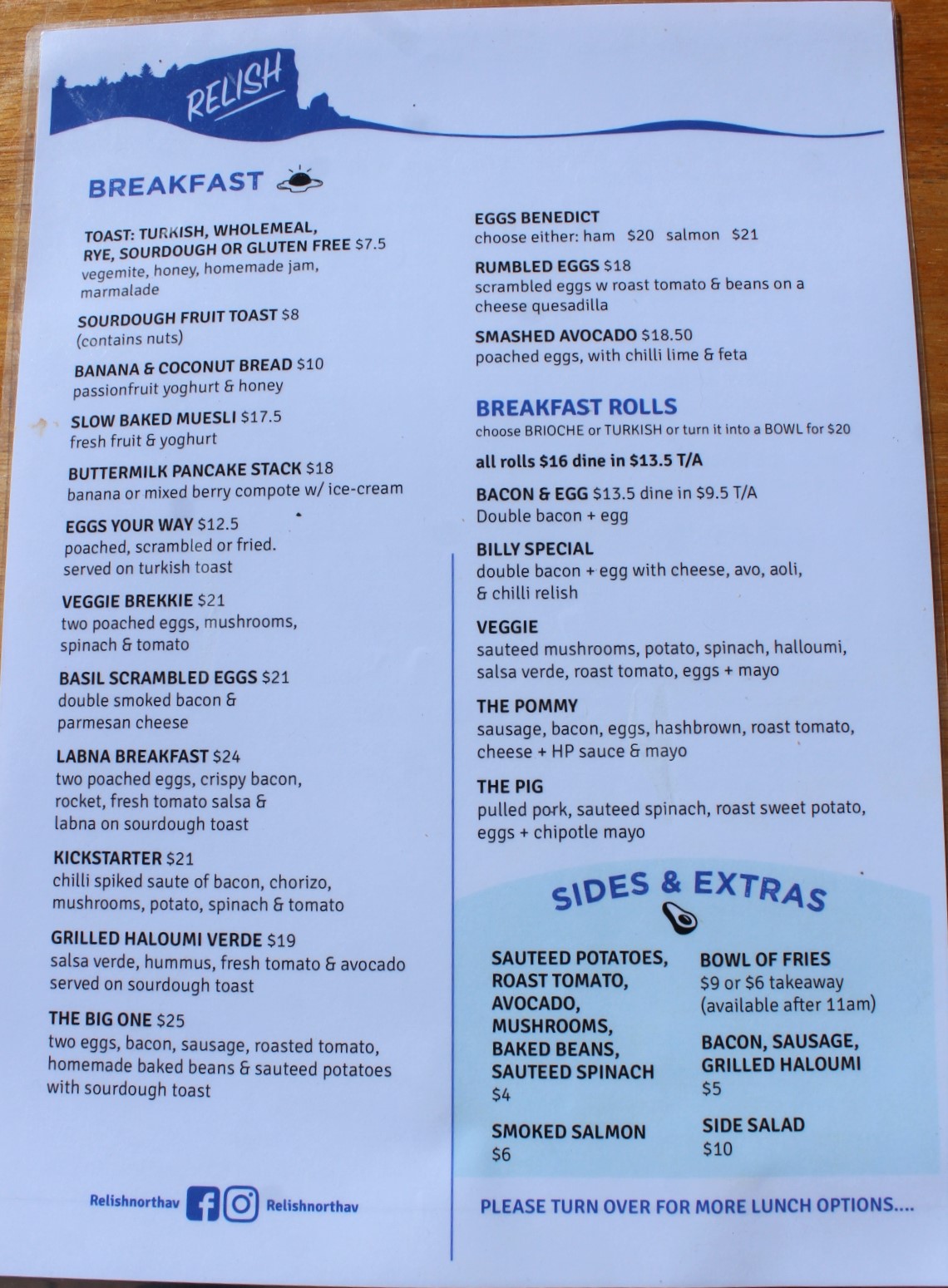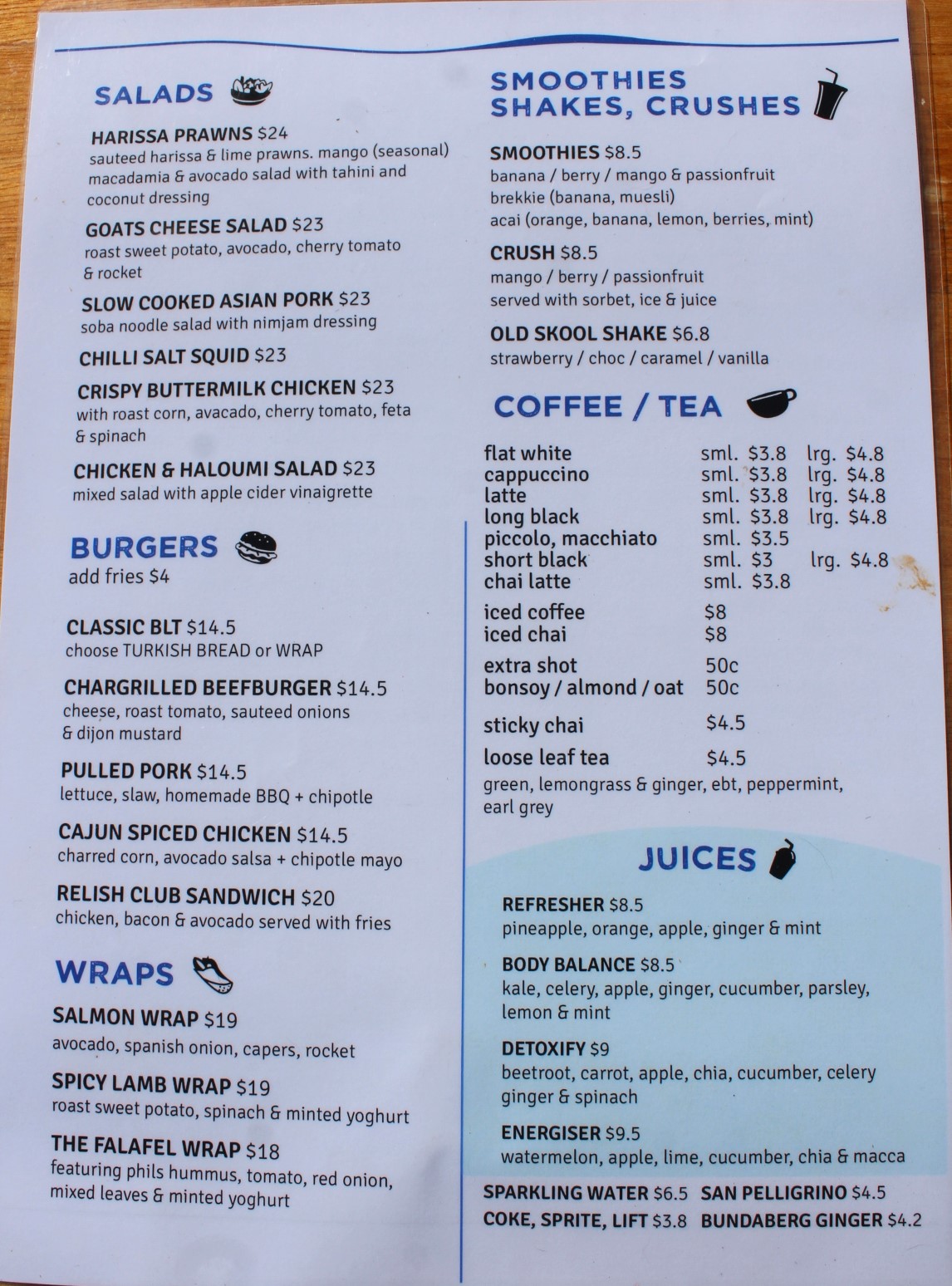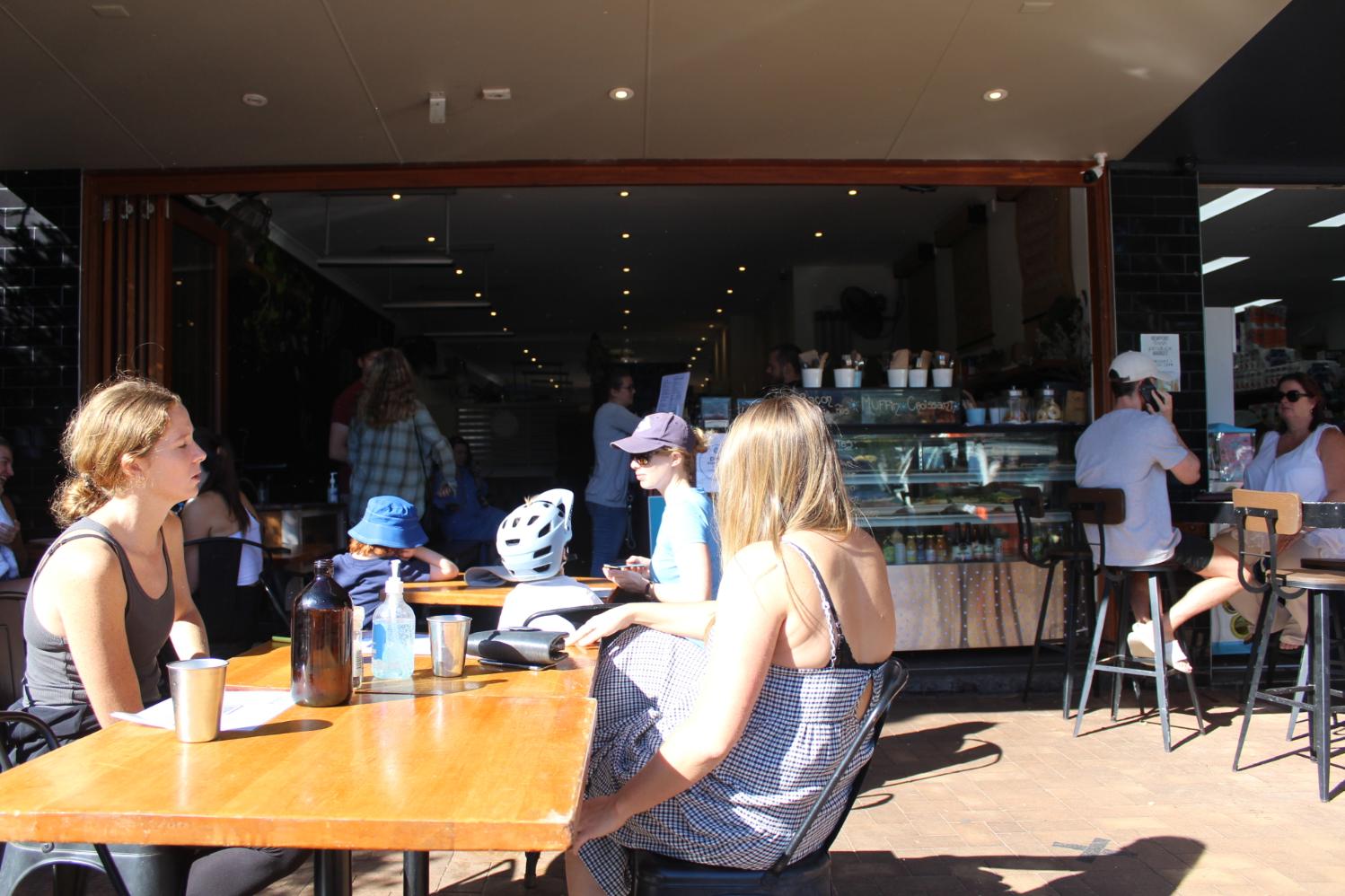 Recipe Ideas - Seasonal Fruits and Vegetables
Apricot - January Summer Fruits
Artichoke – The Flower Vegetable that Crops in Spring
Australian and Native Cherries (Summer Fruits) - the Duntroon Connection - Marrianne Collinson Campbell
Autumn Feast of Fresh Fruits and Vegetables for a Healthy Body
Autumn Tonic Soup: keep the chills out as we head into Winter with this simple seasonal recipe
Cherry - Australian summer Fruit

Chick Pea Burgers with Homemade Hummus

Easter Feast - modern and historic
Edible Weeds Eggs: Five Ways - Savoury
Full Fruit Bowl for Seasonal Health
Green Beans - Spring Vegetables
Healthful Cordials And Cleansing Tonics Hogmanay (New Year) Dinner - Australian Style Home Grown Food Program in Fruit and Veg Month by Jess Rosman Honey, Honey: Inaugural World Bee Day - Honey Cake Recipes Around the World
Kale: for Pure Energy Kale, Ricotta And Chicken Cannelloni
Make Your Own Treats For Christmas Gifts - Jaffa Rum Balls, White Christmas, Gingerbread People, Spicy Nut Mix, Strawberries Dipped in Christmas, Scottish Shortbread, Spanish Polverones, Melomakarona (Greek Christmas Honey Cookies), Kourabiedes (Greek Butter Biscuits), Italian Lemon Shortbread Squares (Shortbread con crema al limone)
Mandarins Spring Fruits Mandarins Winter Fruits
Mother's Day at Breakfast Menu for those who 'can't cook'

Mums Vegetable Soup with Macaroni
Nicoise Salad: An Autumn Salad
Old Australian Chocolates Back On The Market: The Cherry Ripe Song of MacRobertsons

Packham's Triumph Pears - The Australian Pear
Parsnip - Winter Vegetables Pear - Autumn Fruits
Potato Gnocchi Pumpkin Pumpkin Season 2015
Sage - the 'saving' herb Remembrance Day 2012 Food
Salad Season: Whole Meals In A Bowl Ideas

Sensational Hot Scones For Cold Winter Mornings

Spring Salad Season Spring Strawberries Spring Salads
Summer Lilli Pillis Summer Passionfruit Summer Peaches, Quandongs (Wild Peach) - Marian Rowan Ellis Summer Peaches - From Wyong! Summer Plums - Greengages
Summer Raspberries Native Ones - Adam Forster
Summer Stone Fruit: The Peaches, Apricots, Nectarines, Plums of things

Ten Minute Spring Salads; Spring Fare
Whole Pumpkin Stuffed With Chorizo, Rice and Goat Cheese: Winter Food

Winter Crops Winter Vegetable Pies Zucchini Strawberries Cauliflower
Pittwater Restaurants, Cafés and Bistros
Addiction Food - Sydney Wildlife Fundraiser
Beco at Mona Vale, Newport and Avalon: Winter 2020

Boathouse at Palm Beach: Simply Smashing Spring Lunches

Café By The Sea + Cellar By The Sea

Café Edelweiss and the German Butchery at Bassett Street: Mona Vale
Dine and Discover: Premier's Visit Highlights Support For Local Restaurants and Cafes: Dine & Discover NSW (& Pittwater) Commences Late January 2021
Dine & Discover In Pittwater: By Postcode - Suburb - March 2021

Duck Creek Macadamias - Orange Obsessions
Feed Me Too - Supplier Of Allergy Free Food & Services

Flannerys Organic & Wholefoods Market - Mona Vale
Home Grown Food Program in Fruit and Veg Month by Jess Rosman
Japanese Cuisine in Avalon: Four Options
Kindred Peanut Butter: Great Food For A Good Cause From A Local Producer

Laurie Bimson's Marinated Kangaroo Recipe
Lobster Nights at Club Palm Beach
Marina Café: Church Point - within The Quays Marina at Church Point

Mekong: Merchants of Taste - Vietnamese street food Avalon Beach

Mekong Merchant Restaurants In Mona Vale And Avalon Beach: Pho Specialists!

Modus Operandi Brewing Co., Brilliant Beers, Beautiful Burgers in Mona Vale

Oceana Traders - Seafood Merchants, Avalon Beach: For Fish & Chips Excellence

Palm Beach Fish and Chips Tops Scale at 10
Parkview Restaurant: Avalon Beach RSL Club
Pittwater COVID- 19 Restrictions Responses: Take Away from Restaurants and Cafes and Grocers and Food Available From Local Outlets Local food suppliers and cafes and restaurants are currently adapting to social-distancing requirements and the closure of public spaces to large gatherings. Listed this week are those that have food you can order for take away or delivery and also those who supplied these outlets who also have food available to purchase.

Premier's Visit Highlights Support For Local Restaurants And Cafes: Dine & Discover NSW (Pittwater)

Prontos Creative Food - Palm Beach Pronto Creative Food Celebrates 30 Years - Palm Beach Success Story for Local Lady Pronto Creative Food: Something Sweet
Riva Bar and Kitchen - Avalon Beach Riva Bar And Kitchen Autumn Lunch May 2019

RMYC Function Food at Rotary Club of Pittwater 52nd Changeover Dinner
RMYC Ladies Lunch for July(2012); 'Boosting Your Brain and turning Your Stress Into Success' by Dr. Helena Popovic
Rozana Mediterranean Cuisine - Avalon Beach

Salt Cove at RMYC Broken Bay Sky Thai Avalon Sushi Ichiri Sydney Edible Garden Trail Opens Next Weekend: March 21-22, 2020 - The Local Trail At Newport, Mona Vale, Elanora + More
The 2 Catherines Café, Catherine Park, Scotland Island

The Avalon On The Beach Restaurant and Kiosk Opens in Avalon Beach SLSC clubhouse
The Balcony Room at Palm Beach Golf Club
The Chick'n Shack Café at Careel Bay - For Lovers Of Old School Burgers and New School Ways

The Little Oak Tree Cafe at Careel Bay Shops

To list your business, have a Pittwater Online News Food page run, or place a logo on the Pittwater Online News Food page, please contact us with details of your requirements. Logos may be embedded to redirect to your own website. Full pages include an overview of menus as well as beautiful images to make the food sampled look its best. Pages are archived into Permanent pages past their week of Issue.
Permanent pages in Pittwater Online News average 800 thousand visits per annum past their week of Issue ensuring diners will continue to view your eatery as a potential venue for breakfast, lunch or dinner or as the place to hold their larger functions.
For Rates and Packages Contact us at: pittwateronlinenews@live.com.au