February 16 - 22, 2020: Issue 438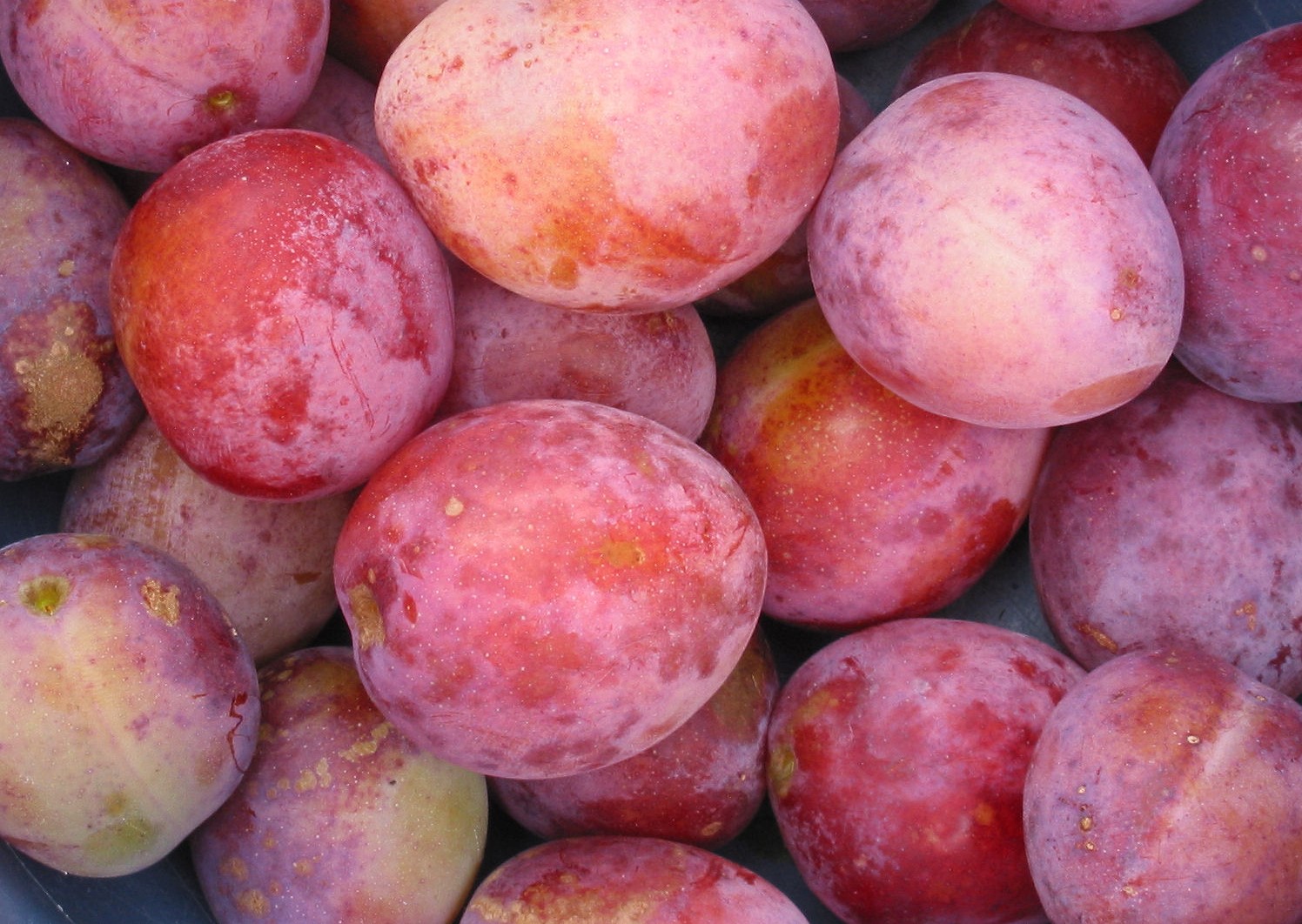 Prunus domestica 'Reine Victoria' - photo by Rasbak

Summer plums are appearing in local shops which means the crop is coming in and guarantees good prices and great quality. Plums may have been one of the first fruits domesticated by humans. Three of the most abundant cultivars are not found in the wild, only around human settlements: Prunus domestica has been traced to East European and Caucasian mountains, while Prunus salicina and Prunus simonii originated in Asia.
The name plum derived from Old English plume or "plum, plum tree," which extended from Germanic language or Middle Dutch, and Latin prūnum, from Ancient Greek proumnon, believed to be a loanword from Asia Minor. In the late 18th century, the word, plum, was used to indicate "something desirable", probably in reference to tasty fruit pieces in desserts.
Plum cultivars include:
Damson (purple or black skin, green flesh, clingstone, astringent)
Greengage (firm, green flesh and skin even when ripe)
Mirabelle (dark yellow, predominantly grown in northeast France)
Satsuma plum (firm red flesh with a red skin)
Victoria (yellow flesh with a red or mottled skin)
Yellowgage or golden plum (similar to greengage, but yellow)
Although they are simply divine eaten fresh but just in case you manage to get your hands on a large amount,
or
would like to adapt some of the other yummy plums currently in season, a few plum recipes, also quite
traditional
:
Plum and rosemary jam
4 lemons
8 just-ripe plums, halved, stoned, coarsely chopped
2 just-ripe white nectarines, stoned, coarsely chopped
2 Granny Smith apples, seeds reserved, coarsely chopped
3 cups (660g) white sugar
4 sprigs rosemary, rinsed
Cut the lemons in half. Juice the lemons, reserving the seeds. (You will need 3/4 cup lemon juice for this recipe).
Place the lemon juice, reserved seeds, plum, nectarine, apple and 8 cups (2L)water in a large saucepan. Place over high heat and bring to the boil. Reduce heat to low and cook, stirring occasionally, for 1 hour.
Line a large colander with 2 large pieces of muslin or clean kitchen wipes. Place over a large bowl. Spoon the plum mixture into the colander. Set aside for 6 hours to drain.
Place liquid in a saucepan. Add the sugar and rosemary. Place over low heat. Cook, stirring, for 5 mins or until sugar completely dissolves. Increase heat to medium-high and bring to the boil. Reduce heat to medium and cook, skimming the surface occasionally of any scum that rises to the top, for 1 hour or until jelly reaches setting point (or 105C on a sugar thermometer).
Remove from heat and set aside for 5 mins to cool slightly. Pour evenly among sterilised jars. Seal and turn upside down for 2 mins. Turn upright. Set aside to cool completely.
Serve with roasted meats or as part of a cheese platter.
Ingredients
100g butter, softened
1/2 cup (110g) caster sugar
1 Free Range Egg
1 Free Range Egg yolk
1 cup (120g) almond meal
1/4 cup (35g) plain flour
6 assorted plums, stoned, cut into wedges
Icing sugar, to serve
Double cream, to serve
Shortcrust Pastry
1 1/2 cups (225g) plain flour
1/3 cup (55g) icing sugar
125g chilled butter, chopped
1 Free Range Egg yolk
Make the shortcrust pastry; process the flour, icing sugar and butter in a food processor until the mixture resembles fine breadcrumbs. Add the egg yolk and 2 tsp chilled water. Process until dough just comes together. Turn onto a lightly floured surface and shape into a disc. Cover the dough with plastic wrap and place in the fridge for 30 mins to chill.

Preheat oven to 200C. Grease the base and side of a 22cm fluted tart tin with removable base. Roll dough out to a 3mm-thick disc on a lightly floured surface. Line the prepared pan with the pastry. Use a small sharp knife to trim the excess pastry. Place in the fridge for 15 mins to chill.
Line pastry with baking paper and fill with pastry weights or beans. Bake for 10 mins. Remove paper and weights. Bake for a further 10 mins or until light golden. Reduce oven to 180C.
Use an electric mixer to beat the butter and sugar until pale and creamy. Add the egg and egg yolk and beat to combine. Add the almond meal and flour and stir to combine. Spread the mixture evenly over the base of the pastry case.
Arrange the plum wedges over the filling. Bake for 30 mins or until golden and the filling is set. Set aside in the pan to cool completely.
Transfer the tart to a serving plate. Dust with icing sugar and serve with double cream.
Recipe from Better Health Channel - Victorian Government
500 g white fish fillets (flathead or snapper
canola or olive oil spray
4 medium ripe plums
2 tablespoons redcurrant jam
2 tablespoons salt reduced teriyaki sauce
Marinate white fish fillets in teriyaki sauce for 15 minutes.
Spray non-stick frypan with oil spray and pan-fry fish until just cooked.
Remove and keep warm.
Slice plums thickly, spray non-stick frypan with oil spray and fry for 2 to 3 minutes.
Stir in the redcurrant jelly and heat for 1 to 2 minutes.
Place fish on serving plate and spoon plum sauce over the fish. Serve.
255g (1 3/4 cups) self-raising flour
1/4 teaspoon bicarbonate of soda
110g (1/2 cup) caster sugar
2 eggs
375ml (1 1/2 cups) buttermilk
1 teaspoon vanilla extract
1 orange, zested
60g butter, melted,
100g butter, chopped
8 plums, halved, stoned
110g (1/2 cup) caster sugar
1 orange, zested, juiced
125ml (1/2 cup) maple syrup
Preheat oven to 180C. To make orange maple plums, line a small oven tray with baking paper, extending paper slightly up sides of tray. Top with plums, flesh-side up. Scatter with sugar and orange zest, then drizzle with orange juice. Bake for 15 minutes or until plums are tender. Cut plums into quarters and set aside. Pour cooking juices into a small jug and combine with maple syrup.
Reduce oven to 160C. To make pancakes, line an oven tray with baking paper. Sift flour, bicarbonate of soda, sugar and 1/4 teaspoon salt into a bowl. Place eggs, buttermilk, vanilla, orange zest and 60g melted butter in a second bowl and whisk to combine. Pour wet mixture onto dry mixture and whisk until smooth. (Once wet and dry mixtures are combined, the raising agents are immediately activated, so cook pancakes straight away.)
Melt 10g butter in a non-stick frying pan over low–medium heat. Pour slightly less than 1/3 cup batter into pan, then, using the back of a spoon, spread to a 12cm round.
Cook for 2 minutes or until bubbles appear on surface. Using a spatula, flip and cook for a further 30 seconds or until lightly browned underneath. Transfer to oven tray and keep warm in oven. Wipe pan clean. Repeat with remaining butter and batter.
Stack 2–3 pancakes on each plate, top with plums, then drizzle with orange maple syrup to serve.
Recipe Ideas - Seasonal Fruits and Vegetables
Apricot - January Summer Fruits
Artichoke – The Flower Vegetable that Crops in Spring
Australian and Native Cherries (Summer Fruits) - the Duntroon Connection - Marrianne Collinson Campbell
Autumn Feast of Fresh Fruits and Vegetables for a Healthy Body
Cherry - Australian summer Fruit

Chick Pea Burgers with Homemade Hummus

Easter Feast - modern and historic
Edible Weeds Eggs: Five Ways - Savoury
Full Fruit Bowl for Seasonal Health
Green Beans - Spring Vegetables
Healthful Cordials And Cleansing Tonics Hogmanay (New Year) Dinner - Australian Style Home Grown Food Program in Fruit and Veg Month by Jess Rosman Honey, Honey: Inaugural World Bee Day - Honey Cake Recipes Around the World
Kale: for Pure Energy Kale, Ricotta And Chicken Cannelloni
Make Your Own Treats For Christmas Gifts - Jaffa Rum Balls, White Christmas, Gingerbread People, Spicy Nut Mix, Strawberries Dipped in Christmas, Scottish Shortbread, Spanish Polverones, Melomakarona (Greek Christmas Honey Cookies), Kourabiedes (Greek Butter Biscuits), Italian Lemon Shortbread Squares (Shortbread con crema al limone)
Mandarins Spring Fruits Mandarins Winter Fruits
Mother's Day at Breakfast Menu for those who 'can't cook'

Mums Vegetable Soup with Macaroni
Nicoise Salad: An Autumn Salad
Old Australian Chocolates Back On The Market: The Cherry Ripe Song of MacRobertsons

Packham's Triumph Pears - The Australian Pear
Parsnip - Winter Vegetables Pear - Autumn Fruits
Potato Gnocchi Pumpkin Pumpkin Season 2015
Sage - the 'saving' herb Remembrance Day 2012 Food
Sensational Hot Scones For Cold Winter Mornings

Spring Salad Season Spring Strawberries Spring Salads
Summer Lilli Pillis Summer Passionfruit Summer Peaches, Quandongs (Wild Peach) - Marian Rowan Ellis Summer Peaches - From Wyong! Summer Plums - Greengages
Summer Raspberries Native Ones - Adam Forster
Ten Minute Spring Salads; Spring Fare
Winter Crops Winter Vegetable Pies Zucchini Strawberries Cauliflower

To list your business, have a Pittwater Online News Food page run, or place a logo on the Pittwater Online News Food page, please contact us with details of your requirements. Logos may be embedded to redirect to your own website. Full pages include an overview of menus as well as beautiful images to make the food sampled look its best. Pages are archived into Permanent pages past their week of Issue.
Permanent pages in Pittwater Online News average 800 thousand visits per annum past their week of Issue ensuring diners will continue to view your eatery as a potential venue for breakfast, lunch or dinner or as the place to hold their larger functions.
For Rates and Packages Contact us at: pittwateronlinenews@live.com.au