August 12 - 18, 2018: Issue 371

Avalon Boaties set for 24 hour row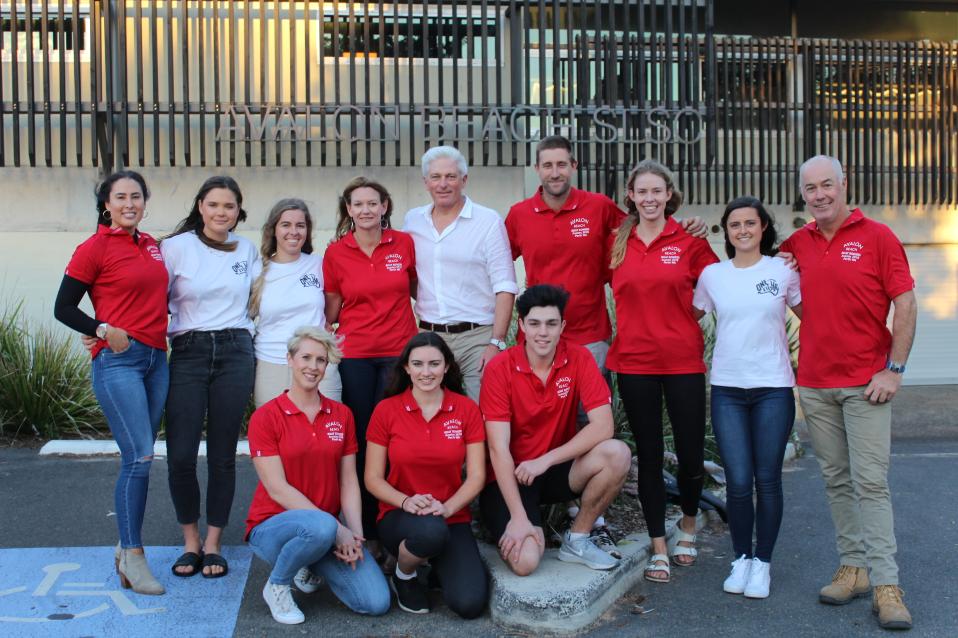 On Saturday 18/08/18, Avalon Beach SLSC boat rowers, will participate in a 24hour row (10am Sat to 10am Sun at Avalon Beach Surf Club) to raise awareness and funds for the amazing One Eighty and Gotcha 4 Life organisations.
Your donation will contribute to these inspiring groups, which focus on developing local projects to create awareness and equip teenagers and young adults with skills in mental health care, for themselves and others.
Every $10 donated gives you one entry in the draw to win a fabulous prize basket full of goodies!!!! Beckenham Optometrists in Avalon have donated his and hers sunglasses, there's Roxy gear, Lindner Quality Socks made from Merino Wool sourced locally in Crookwell, a Beach General Avalon voucher, Ecodownunder has donated 2x crisp white bath towels plus a $50 to spend in any Ecodownunder store, Circuitry Training in North Avalon have donated 2 personal training sessions OR 10 Group classes, Quiksilver have donated a pack of great stuff, Mona Vale Golf Club have donated a voucher for 4 players for a midweek round of 18 holes!
There will be a webcam set up with a live feed to the 24 Hour Row Facebook page so you can watch their progress. This week organisers Mel and Nathan Wellings announced a third machine has been added in and Rob Stokes MP for Pittwater is going for a row too, along with a few others who may 'drop in'.
Please donate at: avalonrowers24hr.raisely.com
Phil Walker's GIPA Application For KPMG 'Business Case' On Forcibly Amalgamated Councils: 'Refused'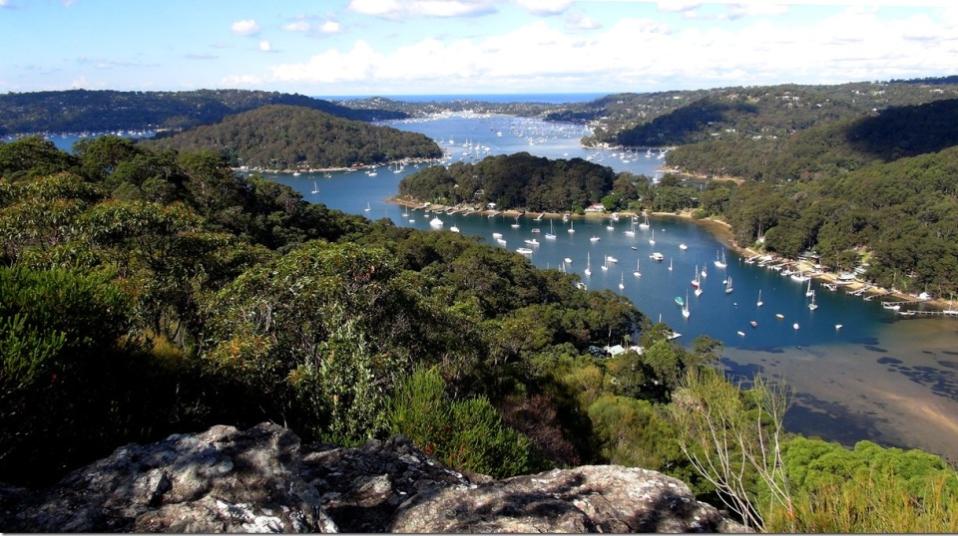 View from Lovett's Bay by John Illingsworth
PHIL JENKYN COMMENTS ON WALKER GIPA CASE
The judgement in the Phil Walker GIPA case seeking KPMG documents relating to forced council mergers was released 8 August 2018 – read thejudgement here.
In spite of Walker's contention that the Government had waived its 'Cabinet-in-confidence' privilege over KPMG reference documents including the Business Case, the Tribunal held that the privilege remained, and followed earlier 'KPMG' decisions.
So, how difficult is it for the public to get important information that it needs from the Department of Premier and Cabinet?
The answer is extremely difficult if the Government wants to hide controversial and embarrassing information.
First it makes it really hard for the public to find out what information and documentation it has in its records.
It will have already stamped everything that might cause it grief with 'Cabinet-in-confidence'.
If it receives a GIPA request for information, it designates staff that know little of the subject matter to make the decision and to do the searches. It then claims privilege or that the documents can't reasonably be found.
One might be tempted to say it is a sham process.
The important point is that the Government is still hiding the KPMG documents detailing the analysis and impacts of the forced merger proposals. No one was able to evaluate the Government's global claim of $2billion or any part of the alleged benefits, as they were based on these KPMG documents. These benefits in fact have not now materialised.
Good councils, including Pittwater and Tumbarumba to name just two of many, had their councils destroyed on a lie still being perpetrated by this Government.
All communities whose councils were forcibly merged are entitled to a referendum to get their councils back.
The Walker case was the last chance for the Government to release this information. Not to do so means that they will be forever condemned as a dishonest, deceptive, arrogant and incompetent government that fails to listen to communities and will never learn.
Clearly such a government does not deserve to govern.
Perhaps one can conclude with a learned Court of Appeal judge, Justice Basten in the Ku-ring-gai case on this very issue. To quote his words:
"The subject matter of the controversy is the amalgamation of local government areas. The proposals had to be the subject of examination and report, including a public inquiry. It would be incoherent for the Minister to assert that any material presented to Cabinet to support an amalgamation of local government areas should not be disclosed. Particularly is that so where the proposal expressly relied on financial information which was derived from an external report submitted to Cabinet."
Phil Jenkyn OAM
11 August, 2018
Hempel Sailing World Championships Aarhus 2018 - Denmark
Australian Sailors Secure Qualification Places For Tokyo 2020 Olympics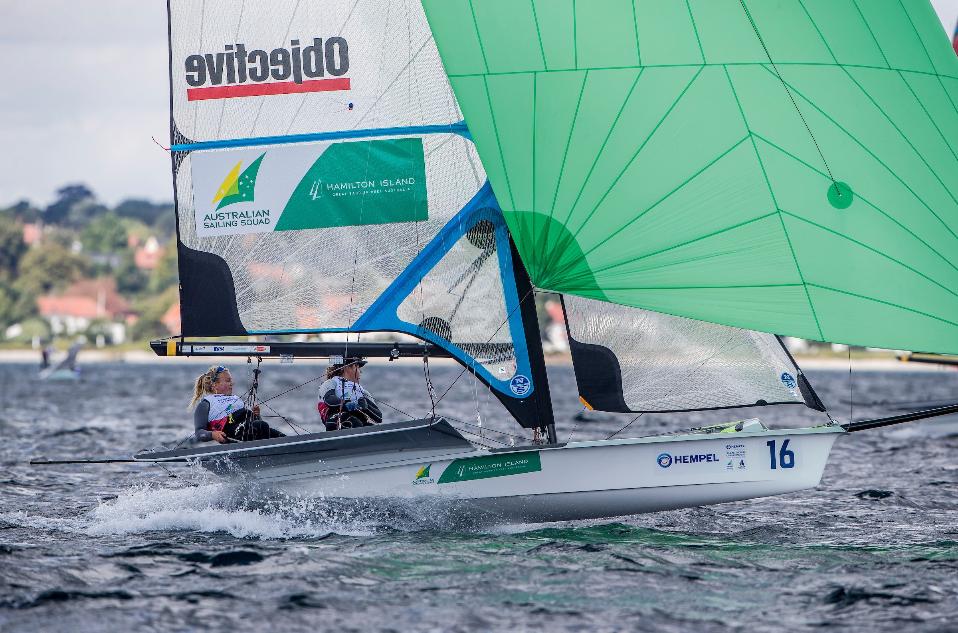 Natasha Bryant and Annie Wilmot have realised their dream and qualified Australia for the 49FX for the 2020 Tokyo Olympics; now they commence qualifying themselves to be the team that represents Australia in the 49FX - photo ©PEDRO MARTINEZ/SAILING ENERGY/AARHUS 2018
Our Nacra sailors have wrapped up gold fleet finals, with Jason Waterhouse & Lisa Darmanin and Nathan Outteridge & Haylee Outteridge qualifying forthe medal race on Sunday (European time).
They have also qualified Australia for a spot for Tokyo 2020!
Airlie Beach Race Week Starts At A Cracking Pace: Hooligan And Heat Win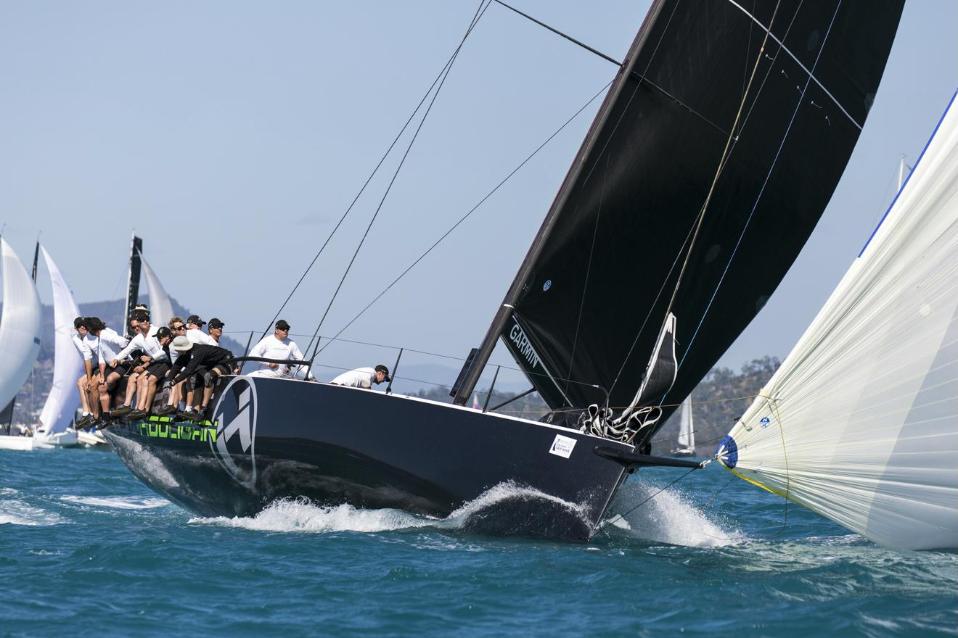 Hooligan crew gets down to work - photo by Andrea Francolini, ABRW 2018
What a way to start Whitsunday Sailing Club's 30th Airlie Beach Race Week – a mass two-line downwind start with billowing spinnakers sailing towards Double Cone Island in a light breeze – and a little sports boat, aptly named 'Heat' leading the fleet.
Geoff Williams cranked up Luke Ratcliff's Viper 640, Heat, thumbing his nose at the Tasmanian RP66, Alive, the two Sydney TP52s, Ichi Ban and Hooligan, along with others of that calibre, leading the entire fleet until the expected 15-20 knot breeze funnelled through and the bigger boats mowed the little sports boat down.
On board Heat from NSW were three Ratcliff siblings, Luke, Paul and Kristen - the combination obviously worked well, as they took out the Sports Boat division from Situation Normal, a Shaw 650 from Queensland which finished just shy of two minutes adrift.
Williams, who has been honing his steering in the Laser Masters class, said: "We really enjoyed the day – how could you not? There was lots of chaos at the start, having big and little boats, with some trimarans thrown in for good measure."
Marcus Blackmore's Hooligan won the highly anticipated stoush of the TP52's, winning IRC Passage by a mere 24 seconds from Matt Allen's Rolex Sydney Hobart winner, Ichi Ban.
The friendly rivalry between the two TP52's goes further than their two owners – as there is a Merrington brother aboard each one. Peter is aboard Hooligan while Anthony is racing on Ichi Ban. Their mother Rosemary is on the finish boat, and dad, Steve, is on the jury!
Blackmore, of course, enjoyed his win. "Interesting day – it'll be an interesting week between Matt's boat and mine. There was little in it today. I think we're a bit faster off the wind and we got a better start – they got boxed in a bit," he said.
"The breeze died off towards the end of the race, so we took a bit of time out of Ray's boat (Team Hollywood, a Botin 40 which finished third). I think they'll give us a bit of curry this week though," said Blackmore, whose crew includes Spanish sailing star Juan Vila navigating and Joe Turner on tactics, along with all-round man Richie Allanson.
Blackmore, with his usual candour, admitted, "Sailing on my boat is quite intense. I'm half deaf and have a few people yelling instructions at me, but we get there in the end. We debrief at dinner and discuss what we could have done better – we're a close knit crew."
A third Sydney entry, Ray 'Hollywood' Roberts' Team Hollywood filled out the top three, his Botin 40 more than 10 minutes adrift of Ichi Ban.
More from Airlie Beach Race Week - By Di Pearson HERE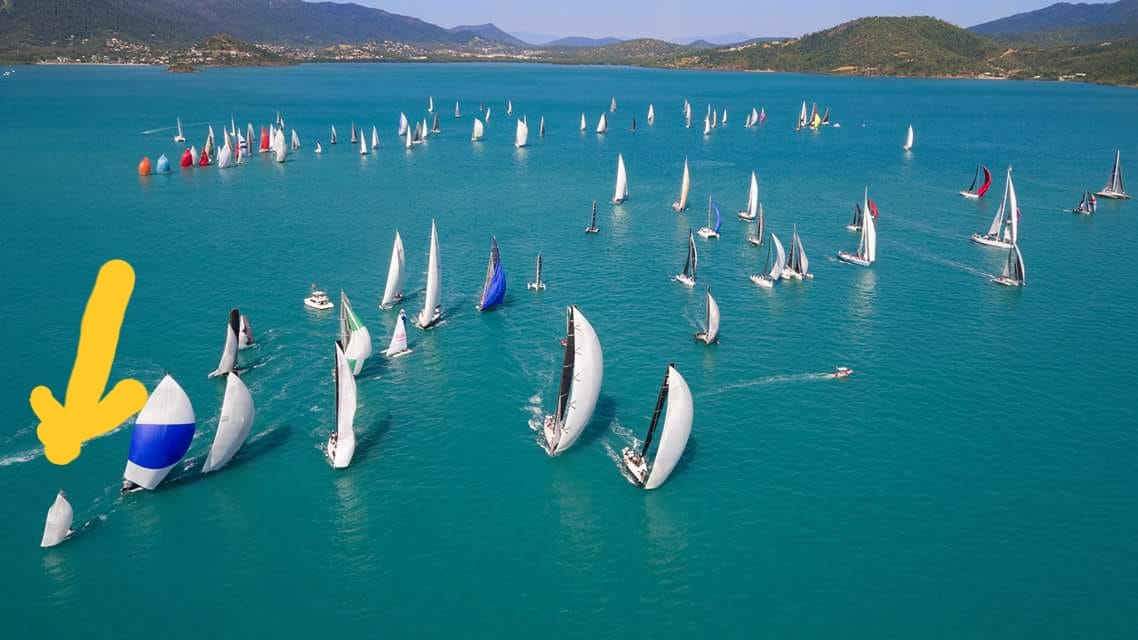 Heat leads the fleet! photo By Pic @WaspNQ
Church Point's

Jacquie Maynard

wins 2018 northern beaches art prize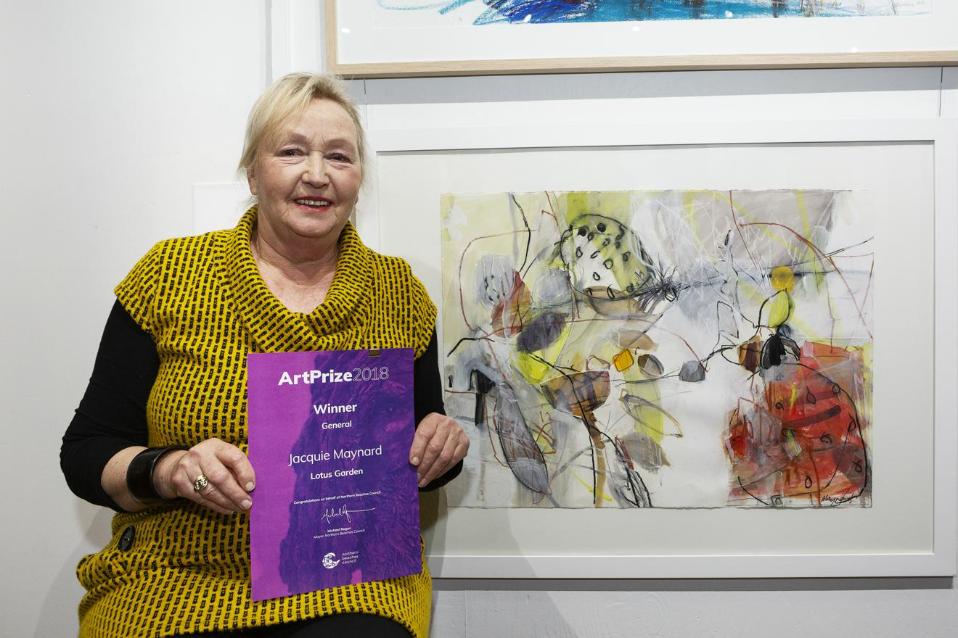 Jacquie Maynard from Church Point poses in front of her work Lotus Garden (Winner General Category 2018) - photo supplied
The winners of two categories of the Northern Beaches Art Prize 2018 were announced on Thursday night (August 9th) in a stellar awards ceremony.
The annual Northern Beaches Art Prize (formerly Warringah Art Prize) began in 1955. Since then, it has become the Northern Beaches' most prestigious art competition.
With over 900 submissions across all categories, a record number of entries in the competitions history, the curator and judging panel had a tough decision in narrowing down eight winners in the General and Small Sculpture categories to share in the $15,000 prize pool.
Northern Beaches Mayor Michael Regan said Council is incredibly supportive of the arts and culture community fostering opportunities for talented and up-and-coming individuals to launch their career and showcase their artworks.
"This is the region's most prestigious art competition open to all Australian residents as young as 10.
"It has been a launch pad for many artists over the years and its evident this is well received in the industry with the amount of entries growing every year." Mayor Regan said.
The General Category - includes original paintings, works on paper and photography. The winners for this year's competition include:
Major Winner, $6000 –Jacquie Maynard for Lotus Garden
Honourable Mention –Painting, $1000 - Tannya Harricks for Gladys
Honourable Mention – Works on Paper, $1000 – Julie Johnstone for Tamarisk and Thyme

Honourable Mention - Photography, $500 and $500 framing voucher – Orlando Luminere

for Degrees of Freedom
Encouragement Award, $500 – Susan Laurent Blau for Domestic Habitat 2
Tony Geddes, Former Director at Mosman Art Gallery and one of the two judges said Jacquie Maynard, who took out the top honour in the General category, was a convincing winner.

"A confident, poetic and playful work. There is a lovely sense of balance and fun with line and shape varying across the surface. Beautifully composed and judicious use of colour. Superbly resolved." Mr Geddes said.
Avalon Bulldogs Gala Day 2018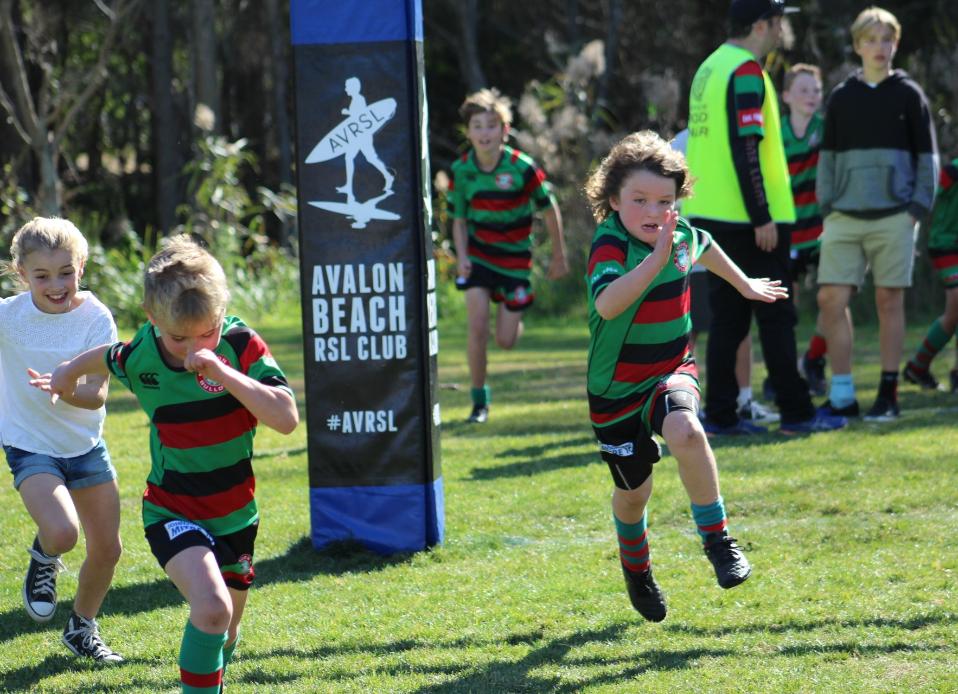 In an end-of-season celebration, the Manly-Warringah District Junior Rugby League held their annual under 6's, 7's and 8's Gala Day on a sunny Saturday August the11th at Hitchcock Park, home of the Avalon Bulldogs.
Games were played between guest teams from all over the peninsula and the forest. Umpiring one match 'Friendly' was heard to say – 'alright, let him through, let him score a try' to those youngsters he coaches year in year out, and has for decades, at the Bulldogs.
It's all about fun, making mates and getting out in the fresh air to run around playing footy here!
There was a BBQ and running races conducted with both age groups. The first three to finish in the running races for the different age groups took home a cup for 1st, 2nd and 3rd, respectively.
The young athletes then turned around and sprinted back to where they started – just for the love of it!
See if you can spot the winners among this crowd.
Under 8's, Under 12's and U/13's played afterwards.
Club Stalwarts Paul Collins and Brian Friend (Friendly) spent five hours marking out the oval Friday into smaller fields for the Under 7's and &'s, and then had to change that for the under 8's, who have straight across the ground size fields, and then again for the Under 12's and Under 13's, who use the full field.
They were there at 7 a.m. again this morning and would just be beginning to pack up now.
They're backed up by a team of always there mums and dads manning and womanning the BBQ and kiosk – as it is with every Junior Rugby League club here.
As one dad said about half an hour ago, "That's another season, another GREAT Season over – thank you everyone!"
Oh, and three cheers for PC and Friendly!
Under 7's action RUNS HERE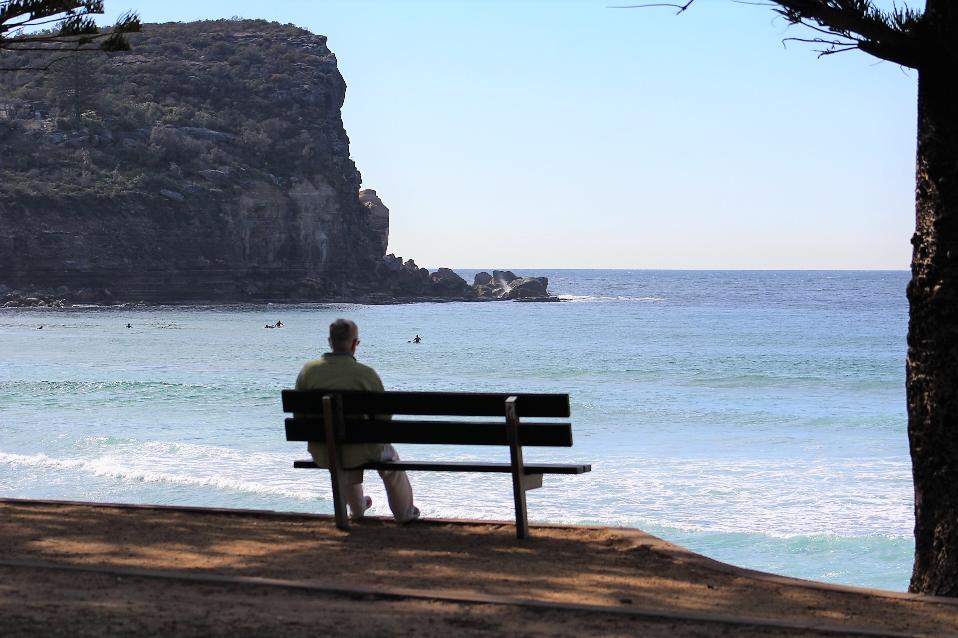 Just a quiet morning, enjoying the view - at Avalon Beach, Saturday August 11th, 2018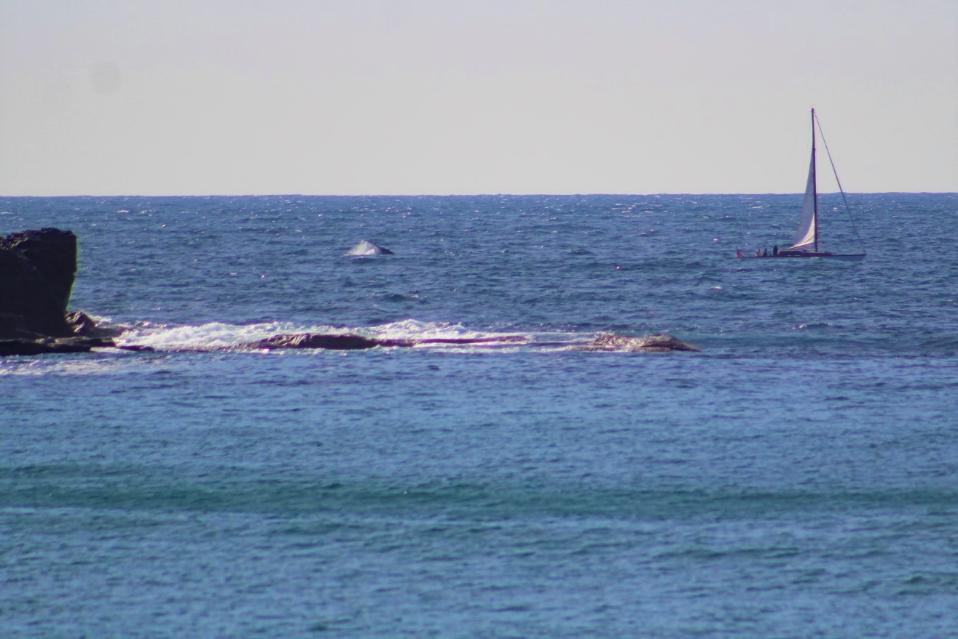 Just a whale, tail slapping a 'hi!' after a breach behind a yacht passing North Avalon Beach Headland, Saturday August 11th, 2018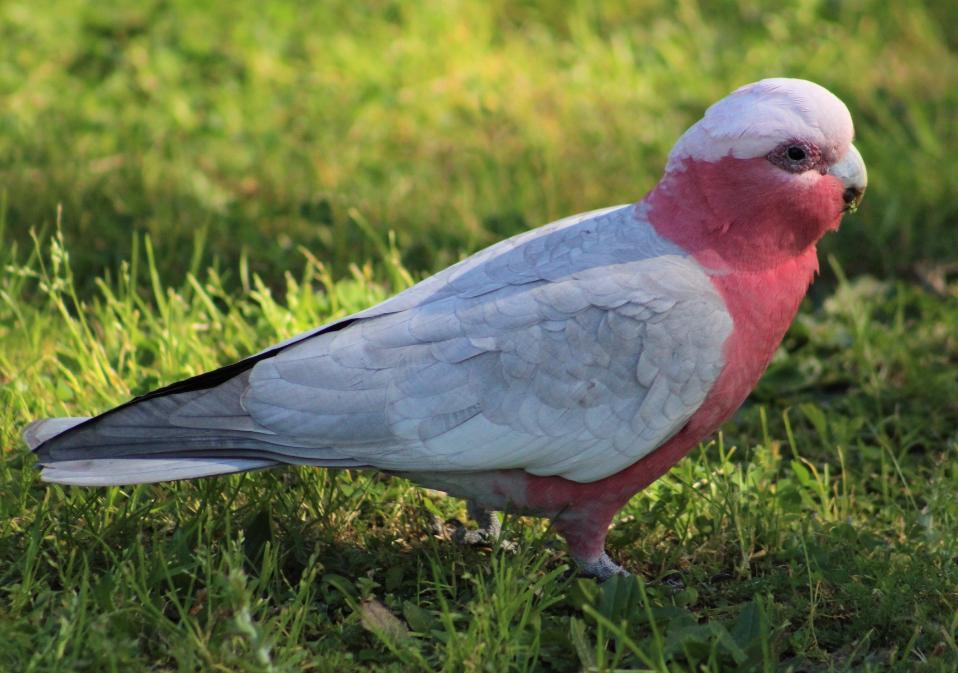 Resident Galah eating their greens, at Careel Bay, Saturday August 11th, 2018
Past Features Archives (pre 2014)
Pittwater Online News was selected for preservation by the State Library of New South Wales and National Library of Australia. This title is scheduled to be re-archived regularly.
Archived Issues (2014 on) may be accessed here: pandora.nla.gov.au/tep/143700
Search Pittwater Online Articles
Subscribe to receive Pittwater Online News Issue Notice