July 8 - 21, 2018: Issue 367

Features this Issue:
Park Bench Philosophers: The Quiet Revolution – Or Making Waves? by Roger Sayers, Life Member at Avalon Beach SLSC - in celebration of the gold medals won at 2018 IRB NSW States by club members, a reprise of Mr. Sayers insight into the father of the IRB

Pictures: A Body of Work - Photographs by Adrian Boddy - A major new exhibition will open July 18th featuring one of Pittwater's best photographers. This collection of photographs charting a life's journey as seen through a lens. 10 screens scrolling over 300 images of landscapes, fauna and portraits fill the space with haunting beauty; Wednesday 18 July 2018 - Sunday 2 December 2018 This Issue Adrian shares a collection of short essays, written to compliment the final curatorial selection
Gallivanting Around The Galapagos Islands by Robyn McWilliam

DIY Ideas Woodworking Projects for Beginners: School Holidays Fun for Winter 2018 - Simple Storage Box + Wood Tool Box one for big boys and girls and one for littlies!
More School Playgrounds Open To The Community These Winter Holidays
July 5th, 2018: NSW Government
Playgrounds, ovals, and sports courts at 166 NSW Government schools will be available for communities to use during the winter school holidays under an expansion of the successful Share Our Space Program, which will now become permanent.
An additional 85 schools have signed on to take part in the $30 million program since it was last held over the autumn school holidays. This is four times the number of schools taking part since it was first launched last summer.
Premier Gladys Berejiklian and Education Minister Rob Stokes were joined by local member John Sidoti today at Five Dock Public School to announce the winter Share Our Space Program.
"We know local communities have loved having access to school facilities after hours and that is why this successful program is here to stay," Ms Berejiklian said.
"Schools across our State offer such valuable open and green spaces and it is great that instead of being locked away from the community over the holiday period, they will open for the community to enjoy."
Mr Stokes said allowing access to school grounds and sports facilities during the holidays was a great way to encourage children to keep active.
"We are delighted that the Share Our Space Program has been so popular," Mr Stokes said. "We want to expand it so more people can be involved."
The Share Our Space Program is part of the NSW Government's recently announced $290 million Open Spaces and Green Sydney package.
Participating schools will receive a $5000 grant they can use to help upgrade their facilities for community and school use. Participating schools will be open during the upcoming school holidays from July 9 to 20, between 8am to 5pm.
Local school Playgrounds in Share Our Space Winter 2018
Elanora Heights Public School
Mona Vale Public School
Narrabeen North Public School
Narrabeen Sports High
Newport Public School
Red-capped Plovers: Pitt Town Lagoon (Windsor)
Published on 4 July 2018 by Birds in Back Yards TV
In late June 2018 we spotted a pair of Red-capped Plovers (Charadrius ruficapillus) at Pitt Town Lagoon, NSW. Although these diminutive birds are generally abundant across Australia, they are not a common sight at this freshwater lagoon. They are more likely to be seen at saline to brackish inland waters, tidal flats and ocean beaches. In certain locations they are resident, while some members of the species move between the coast and inland in response to rain. Red-capped Plovers have been categorised as beach-nesting shorebirds, but they are more flexible in their nest location than the Critically Endangered (NSW) Hooded Plover. Nests and chicks on ocean beaches face several threats.
The Red-capped Plovers we observed at
Pitt Town Lagoon
(near Windsor) were quite wary and hard to film due to their size. The male plover was more active in the area where we were based and a portable bird blind/hide enabled close-ups. The second photo (after the lagoon scene) and all the video footage show this rufous-headed male. The female (in the third photo) is comparatively muted in her colouring, although the sexes aren't always distinguishable on this basis. The more reliable indicator is the loral stripe (narrower and darker for the male). We also noticed that the plovers weren't as vocal as most birds around them (e.g. White-headed Stilts, Red-kneed Dotterels, Black-fronted Dotterels, Australasian Swamphens, Willie Wagtails and Magpie-larks). The only call we detected is included near the beginning of the third photo. Typically, their call is quite abrupt and not easily heard amongst other sounds.
The 2018 NSW Grandparents Day Photography Competition Is Now Open!
June 15, 2018: NSW Government
We're calling on grandparents and grandchildren of all ages to get involved in the NSW Grandparents Day Photography Competition. Now in its third year, the competition celebrates older people and their contributions, while encouraging connections between generations. It's open to all residents of NSW, young and old. We have two categories:
Open: open to all community members (NSW residents)
School: specifically for school-aged entrants in NSW, from Kindergarten to Year 12
Our judging panel will review all the entries and select one winner from each category who will be awarded a Microsoft Surface Pro tablet – the perfect tool to help you get creative and stay connected.
What's your creative take on 'Intergenerational'?
The theme for this year's competition is 'intergenerational'. All entries need to bring this theme to life in some way. This could be through the focus of your image, it could be the way you play with 'older' and 'younger' in the colour scheme, it could be the subject matter or part of your caption – feel free to get creative! We'd love to see what the older people in your life and community mean to you, whether it's a portrait of your superstar grandparent or an abstract image depicting your stereotype-defying neighbour.
Keep up to date with competition news and tips by following us on
Instagram
!
Do I have to be a great photographer to enter?
All residents of NSW are encouraged to enter the competition, no matter whether you're a beginner, an enthusiast or a professional. While artistic merit, composition and technical excellence form part of our judging criteria, entries will also be judged on their originality, their overall impact and their subject matter relevance – how they bring the 'Intergenerational' theme to life and celebrate the contribution of older people.
Do I need to be a grandparent to enter? Or does my photo need to be of my grandparent?
The competition is open to NSW residents of all ages, provided the entries bring the 'Intergenerational' theme to life. Entrants under the age of 18 need permission from their parent or guardian to enter.
Check out the full terms and conditions here
.
2018 Premier's Reading Challenge
The Challenge aims to encourage a love of reading for leisure and pleasure in students, and to enable them to experience quality literature. It is not a competition but a challenge to each student to read, to read more and to read more widely.
The Premier's Reading Challenge (PRC) is available for all NSW students in Kindergarten to Year 9, in government, independent, Catholic and home schools.
If help is required on how to do the Challenge or how to navigate the website and the answer cannot be found on the PRC Support site, please contact us at
prc@det.nsw.edu.au
The 2018 Challenge kicks off Monday 5 March and closes Friday 31 August
(midnight) for students. This year coordinators will have an extra week to finalise their students' Student Reading Records. The coordinator closing date is Friday 14 September (midnight).
Find out more and get involved here: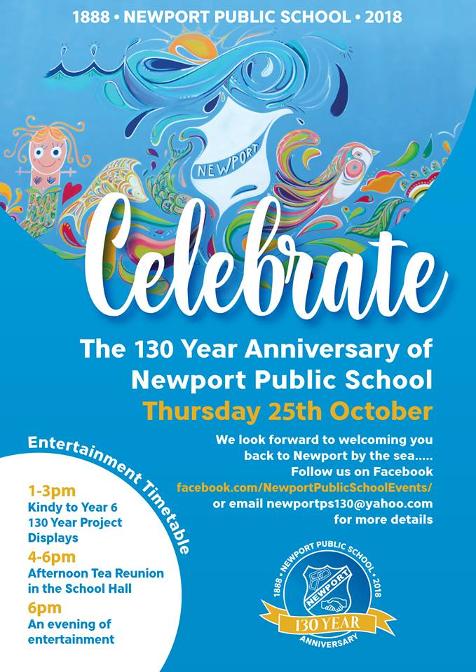 Green Team Beach Cleans 2018!
The Green Team is back for 2018!
These beach cleans are aimed at reducing the vast amounts of plastic from entering our oceans before they harm marine life.
Anyone and everyone is welcome! If you would like to come along, please bring a bucket, gloves and hat. Kids of all ages are also welcome!
The Green Team is a
Youth-run, volunteer-based environment initiative from Avalon, Sydney. Keeping our area green and clean.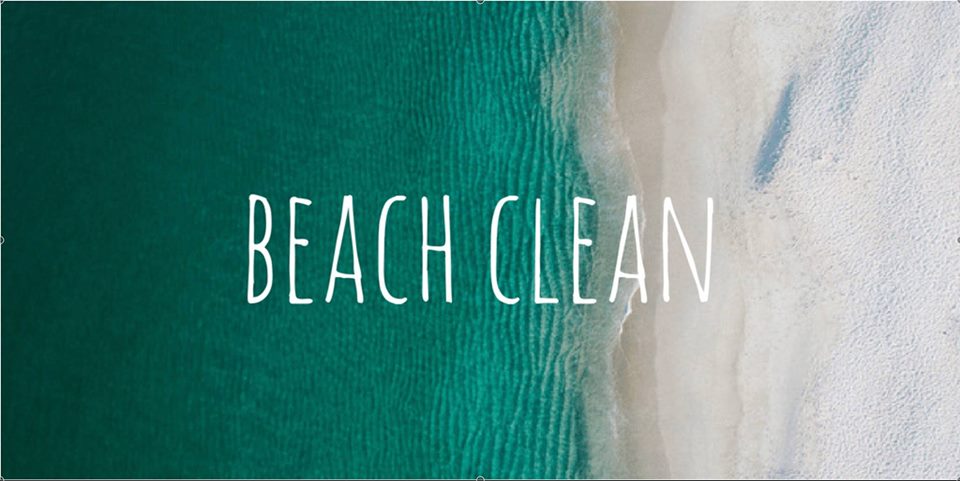 A Tale of Two Beasts read by Sarah Silverman

A Tale of Two Beasts written and illustrated by Fiona Roberton and read by Sarah Silverman.
There are two sides to every story. In Part One, a little girl finds a strange beast in the woods and takes it home as a pet. She feeds it, shows it off to her friends and gives it a hat. But that night it escapes. Then, in Part Two, the beast tells the story of being kidnapped by the girl, who force-fed it squirrel food, scared it with a group of beasts and wrapped it in wool. Can the two beasts resolve their differences? A Tale of Two Beasts is an eye-opening story that makes you look at things from a different perspective.
Saturday basketball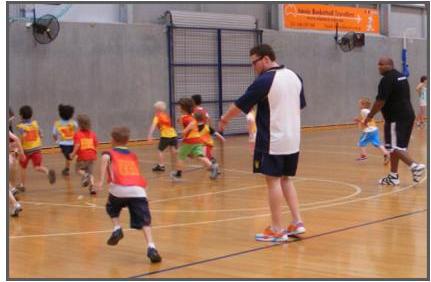 The Manly Warringah Basketball Association is holding basketball training & fun on Saturday afternoons, at the NBISC Jackson rd Warriewood with expert coaches. The programme is on each Saturday during school term.
There are two groups Biddy Ball for ages 7 and under 2.30-3.30pm & Lightning League for ages 8 & over 3.30-4.30pm.
The cost is $10.00 per week coaches are American professional Jerome Lee and Representative coaches Tim O'Sullivan and Mark Sommerville. No need to book just come on down.
2018 Sessions
Term 2: May 5 to July 7
Term 3: July 28 to September 29
Term 4: October 20 to December 8
The Caterpillar Lab: A Great Reminder that its summer in the Northern Hemisphere
In Marlborough, a town in Cheshire County, New Hampshire, United States, there's a great organisation called The Caterpillar Lab.
The Caterpillar Lab is passionate about showcasing the amazing diversity of northeastern caterpillars through educational programs, the arts, and sciences.
Mission Statement: The Caterpillar Lab fosters greater appreciation and care for the complexity and beauty of our local natural history through live caterpillar educational programs, research initiatives, and photography and film projects. We believe that an increased awareness of one's local environment is the foundation on which healthy and responsible attitudes towards the broader natural systems of this world is built.
You can visit their website to find out heaps of stuff and download resources too - even from here in Australia:
www.thecaterpillarlab.org
Who knew this before this organisation found it out for us?
A great reminder about why the Internet was created for free and how you can choose to find some brilliant insights into the Whole Wide World around us - around us here and around us outside of Oz.
This is why it ( the World Wide Web*)was shared in the first place - to share and grow Knowledge.
*The World Wide Web (abbreviated WWW or the Web) is an information space where documents and other web resources are identified by Uniform Resource Locators (URLs), interlinked by hypertext links, and accessible via the Internet. English scientist Tim Berners-Lee invented the World Wide Web in 1989.
The Caterpillar Lab is a
great reminder, during these cold weeks, that Spring will soon be here again with our own caterpillars and then - butterflies!
Ants interacting with a silvery blue butterfly caterpillar at The Caterpillar Lab!
One of the highlights of every summertime caterpillar lab show is watching these ant-caterpillar interactions play out under our digital microscopes. Last year we joined our audiences in awe as we observed inflating tentacular organs for the first time. Even our old-time caterpillar lab experts can still be surprised and delighted by these strange and complex little creatures.
Try Baseball At Pittwater Baseball Club
When Sunday, July 29 at 10 AM - 1 PM and Sunday, August 5 at 10 AM - 1 PM
At: Front field at Rat Park, North Narrabeen Reserve, Warriewood
Come along try T-Ball or Live Pitch Baseball on this day
Meet current coaches players and club officials
Have a go
Have a sausage and a chat about how it works and age groups
All current and new players welcome
Aussie T-ball 5-8 years - drills, skills and game play
Aussie T-ball U7s to U10s competition
Baseball U10s to U16s
Home Ground: North Narrabeen Reserve, Rat Park, Warriewood. Mobile - 0415 445 532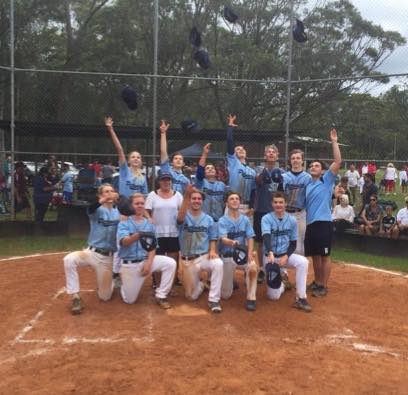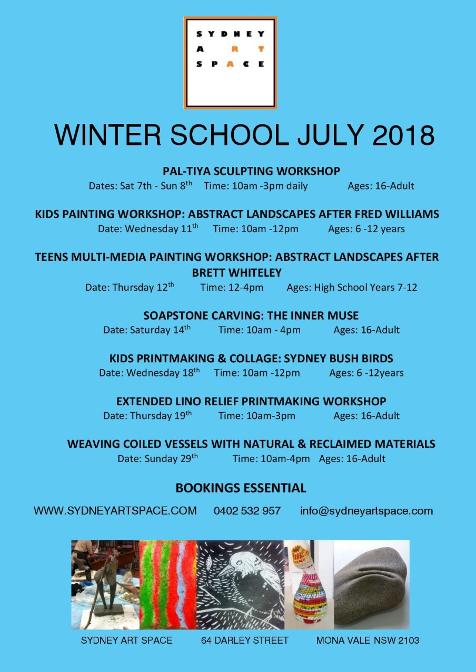 School holidays fun - Pittwater Golf Centre
Junior Information Day on July 21st
Would you like your child to learn a game for life?
Here is an opportunity for the kids to try golf for FREE!
Join us for our Junior Golf Information Day
Where: Pittwater Golf Centre
1500 Pittwater Road, Warriewood
When: 2pm – 4pm, Saturday July 21st 2018
FREE sausage sizzle for registered children under 14 years.
WIN prizes!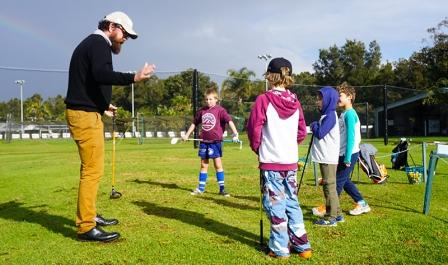 Young Writers Comp
To all those budding young authors with a story just waiting to be written, a 'tiny door' of opportunity is now open for the 10th Northern Beaches Young Writers' Competition.
General Manager Customer and Corporate Helen Lever said students up to and including those in Year 12 are invited to enter an original story containing the words 'tiny door'.
"Last year, there were more than 400 entries with a high standard set. For many, all it takes to unleash the imagination and allow a story to grow is an idea and a deadline," said Ms Lever.
The best entries will be published in an eBook to be included in the collections of Northern Beaches Council Library and the National Library of Australia.
There will also be an opportunity for the winner to shine in the spotlight at a special awards ceremony to be held at Dee Why Council Chambers in September.
In each age category there are awards for the winner and runner up as well as encouragement and highly commended awards.
Winning stories were submitted by students from schools including Harbord Public, Our Lady of Good Counsel, Kambora Public, Oxford Falls Grammar, NBSC Mackellar Girls and Pittwater High.
Submissions will be accepted from Wednesday 20 June to Wednesday 8 August.
Be sure to download an entry form with the competition details from the Northern Beaches Council
Library website
or grab a form from any one of the six Northern Beaches libraries.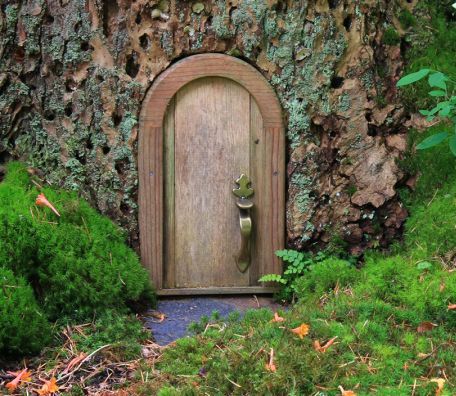 Peppa Pig Peppa Plays Dress Up

Profile Bayview Yacht Racing
Association (BYRA)
1842 Pittwater Rd,
Bayview
BYRA has a passion for sharing the great waters of Pittwater and a love of sailing with everyone aged 8 to 80 or over!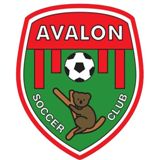 Profile:
Avalon Soccer Club
Avalon Soccer Club is an amateur club situated at the northern end of Sydney's Northern Beaches. As a club we pride ourselves on our friendly, family club environment. The club is comprised of over a thousand players aged from 5 who enjoy playing the beautiful game at a variety of levels and is entirely run by a group of dedicated volunteers.
LEGO AT THE LIBRARY
Local children will have the chance to join a club specialising in one of the most enduring playthings of childhood. Mona Vale Library has started a Lego club on the first Sunday of each month from 2pm to 4pm.
The club is open to children aged between seven and twelve years of age, with younger children welcome with parental supervision.
If you are interested in attending a Lego at the Library session contact the library on 9970 1622 or book in person at the library, 1 Park Street, Mona Vale.

Children's Storytime at Mona Vale Library: Mona Vale Library offers storytime for pre-school children every week during school terms. Children and their carers come and participate in a fun sing-a-long with our story teller as well as listen to several stories in each session, followed by some craft.
Storytime is held in the Pelican Room of the library in front of the service desk. Storytime is free and no bookings are required.
Storytime Sessions: Tuesdays 10.00am - 11.00am - Wednesdays 10.00am - 11.00am - Thursdays 10.00am - 11.00am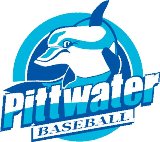 Profile:
Pittwater Baseball Club
The Season Start for 2017/2018 Pittwater Baseball Club commences Saturday, September 9th.
Their Mission: Share a community spirit through the joy of our children engaging in baseball.
Profile: Ingleside Riders Group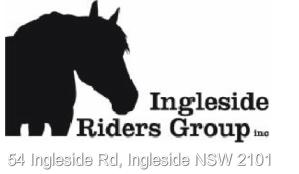 Ingleside Riders Group Inc. (IRG) is a not for profit incorporated association and is run solely by volunteers. It was formed in 2003 and provides a facility known as "Ingleside Equestrian Park" which is approximately 9 acres of land between Wattle St and McLean St, Ingleside.
IRG has a licence agreement with the Minister of Education to use this land. This facility is very valuable as it is the only designated area solely for equestrian use in the Pittwater District.
IRG promotes equal rights and the respect of one another and our list of rules that all members must sign reflect this.
Mona Vale Mountain Cub
Scouts Profile
Find out more about all the fun you can have at Mona Vale Mountain Cub Scouts Profile –
our Profile pages aren't just about those who can tell you about Pittwater before you were born, they're also about great clubs and activities that you too can get involved in!
Breakthrough PE Program Giving Kids Fitness And Focus: IPLAY!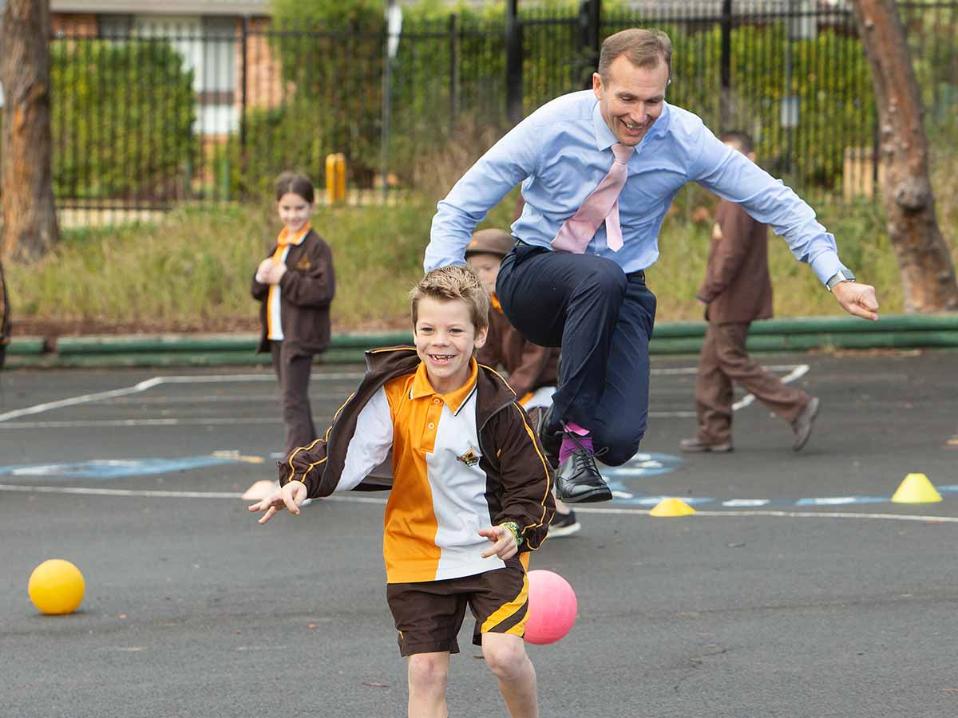 Photo: Education Minister Rob Stokes, MP for Pittwater, joined students at Marton Public School as they enjoyed an iPLAY session. Image courtesy NSW Education Department, Christo Depedu
Trials of an innovative physical activity program iPLAY have shown it can lift aerobic fitness in primary students by as much as 20 per cent and halve the number of students at risk of heart disease.
A new physical education program called iPLAY trialled in a small number of NSW public primary schools is showing such impressive results it will now be expanded across 150 schools.
Education Minister Rob Stokes and Member for Heathcote Lee Evans visited Marton Public School, a school where iPLAY is already used, to reveal researchers had found strong evidence the PE program was improving aerobic fitness and potentially reducing the risk of heart disease.
"All the evidence points to iPLAY being a genuine breakthrough for the health of many of our young people," Mr Stokes said.
The iPlay program aims to get students to do 150 minutes of high quality physical activity per week. Activity includes 2-3 classroom "energiser breaks", physically active homework once a week, after-school physical activity at least once a week and physical activity during recess and lunch.
The NSW Department of Education has funded the development of iPLAY with support from researchers at the University of Newcastle and the Australian Catholic University.
An initial trial involving 460 students in eight NSW public schools whose teachers undertook the iPLAY training found the students involved increased their aerobic fitness by more than 20 per cent over the 12-month period.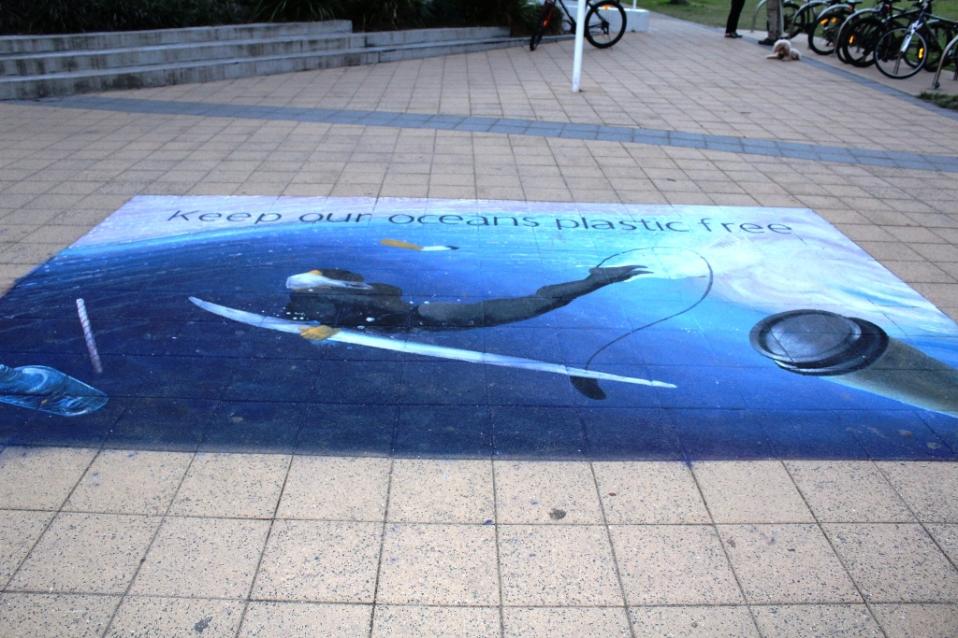 Spotted: Keep Our Oceans Plastic Free (Chalk art outside Avalon Rec. Centre)
There's a great Plastic Free Event hosted by Living Ocean coming up this Plastic Free July - visit -
Living Ocean's Community Celebrate Living A Plastic Free Life!:
For the first time, ocean conservation charity LIVING OCEAN will host a HUGE day of beach cleans, great food, live music, workshops, face painting, films and so much more to showcase all the great work our community is doing in order to live a Plastic Free Life. C
ome along to Barrenjoey High School, off Tasman Road in Avalon from 10am – 4pm on Saturday 28 July.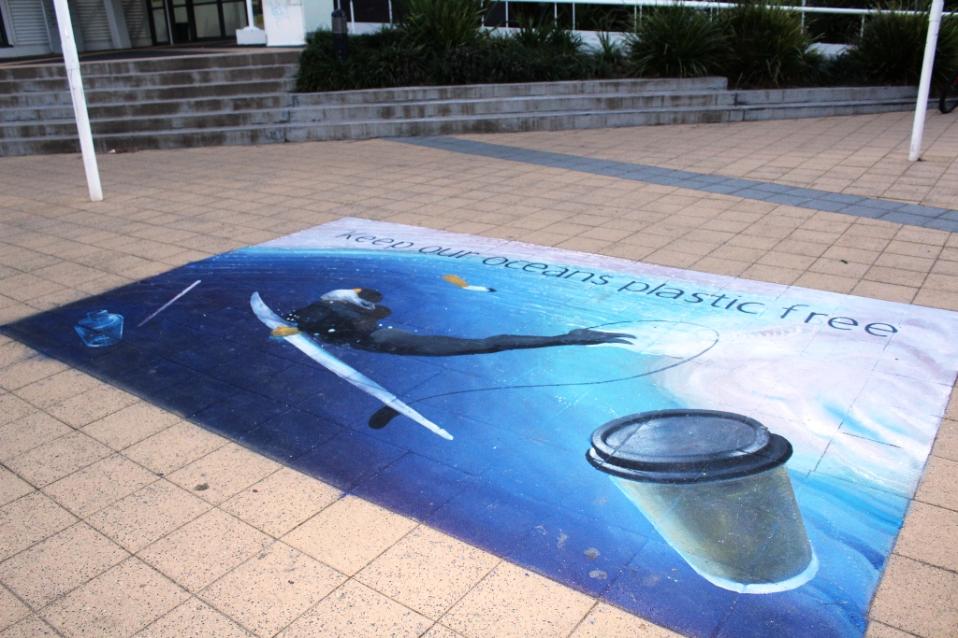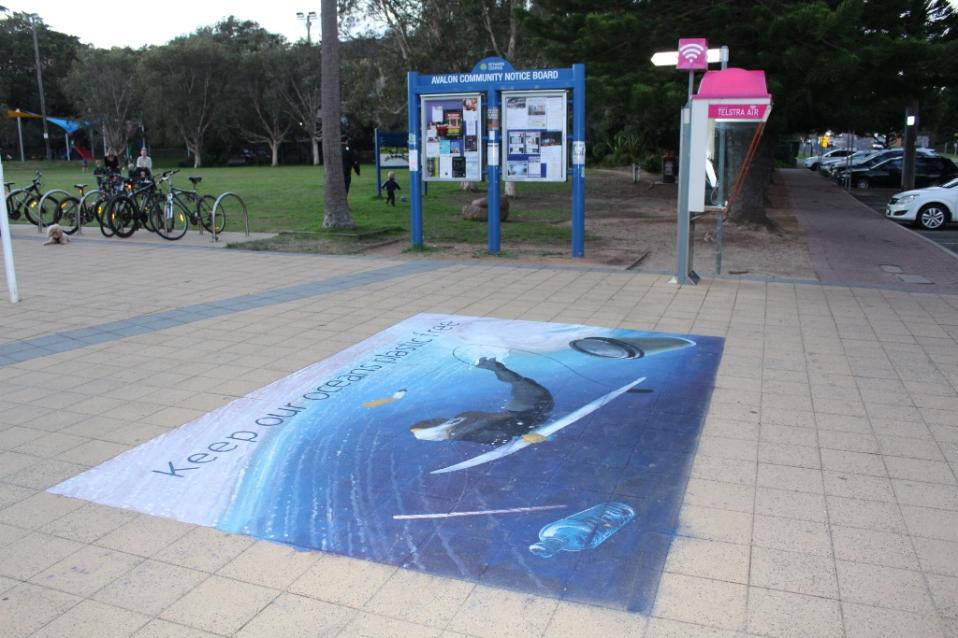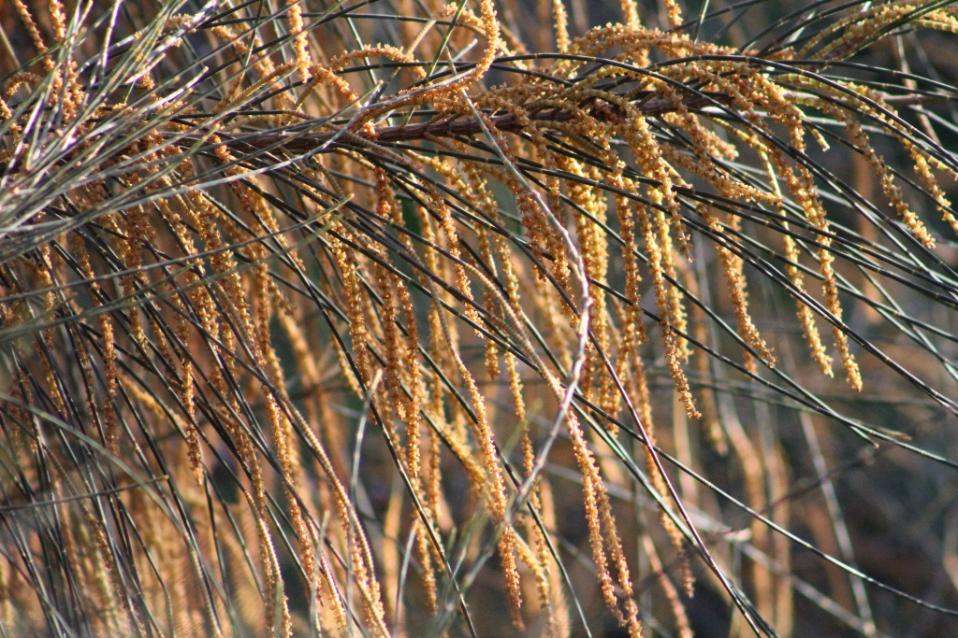 Winter Golds - She oaks in Pittwater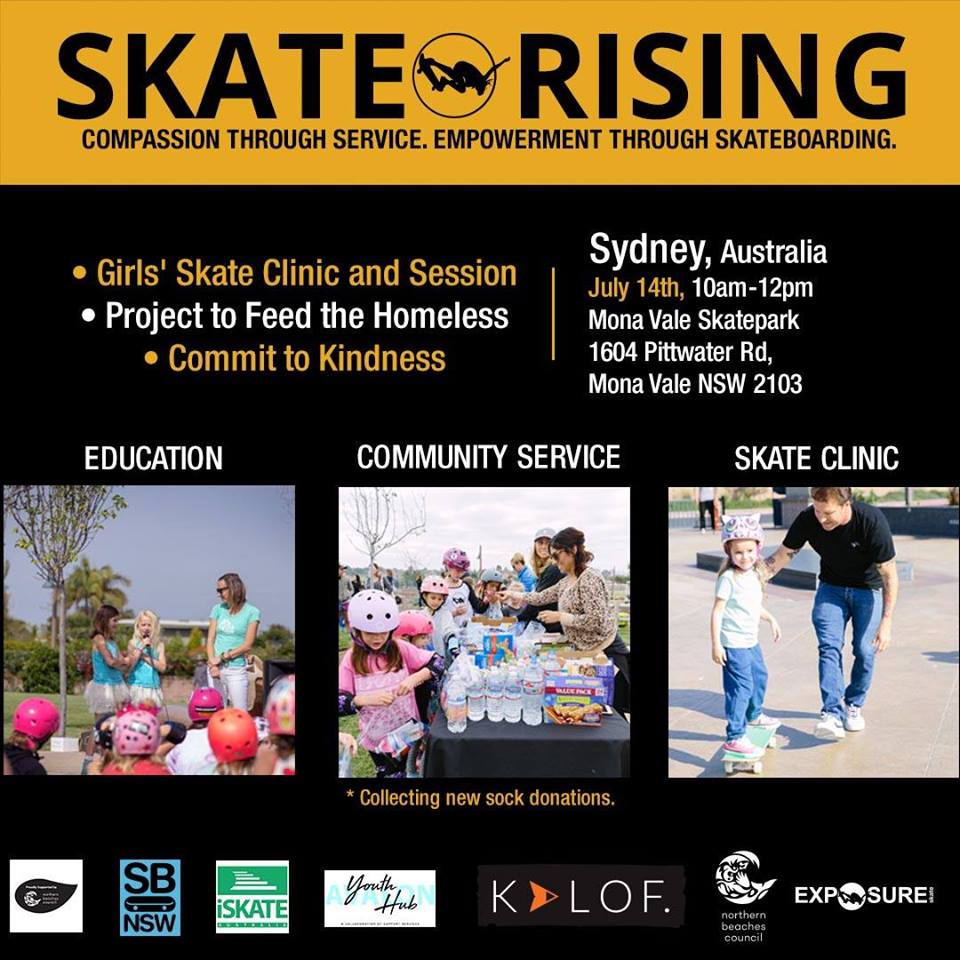 Skate Rising Mona Vale Event
Come join us on July 14th at the Mona Vale Skate Park in Sydney, Australia, for Skate Rising's International Day of Service, where we will be holding 6 events on the same day around the world!

Girls between ages 4-18 will help assemble homeless support kits, complete commit to kindness with anti-bullying contracts, and participate in a FREE learn-to-skateboard workshop with professional instructors!
We will have loaner skateboards, pads, and helmets available for those interested, and there will also be a free raffle with incredible prizes!
Seal of approval
Remember this video? - it's still wonderful a few years on.
We have a few resident seals in and around Pittwater - one is seen regularly on the rocks at Barrenjoey headland just as you come back into the estuary - others, smaller and fishing for food, have been filmed in the estuary itself, while we have seals as visitors too. These wonderful creatures are a great reminder that we share our home with all kinds of other creatures, furred, feathered, scaled - of the sea, the air and land - this is their home too.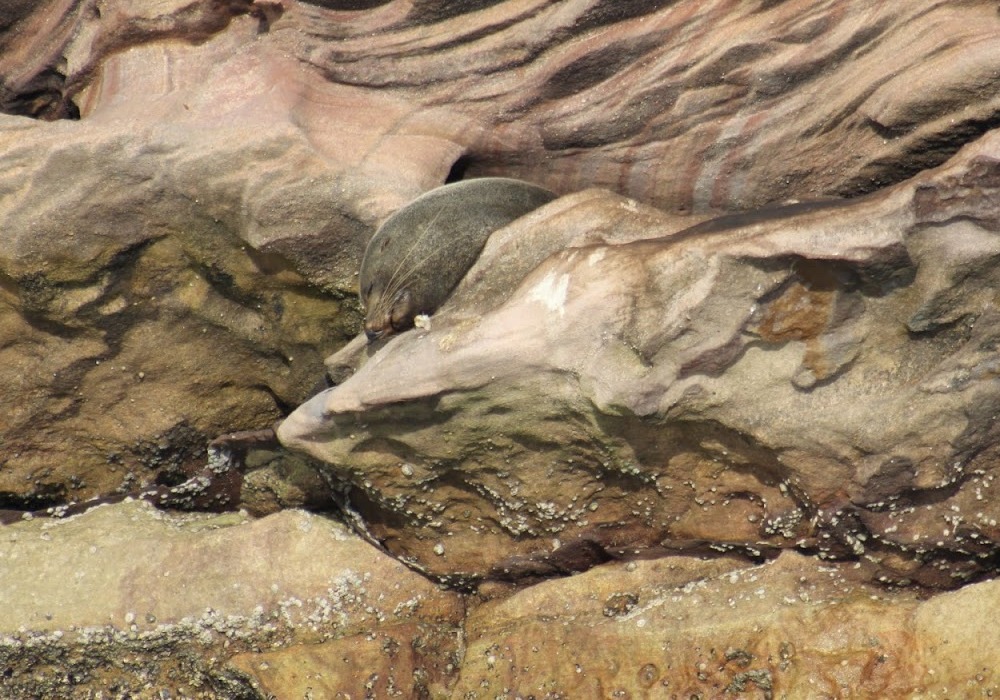 The Barrenjoey Seal - A J Guesdon Picture
If we want to keep encountering them in the creeks or on the playing fields, or on the beaches or atop the hills of Pittwater, we must be respectful of their place in our environment and be respectful of their places (where they live).
Hope you all have a truly spectacular Winter Break and allow yourselves a few moments or hours to get out there and enjoy where we live - that's when you open a door to something memorable happening, whether shared with friends or given just to you to keep forever during some just for you moment.
We live in one of the best places in the world - let's revel in it!
Urban Play in Urban Parks
Spotted....somewhere in Pittwater