November 11 - 17, 2018: Issue 383

Christmas Teddy Bears are back
It's still six weeks away until Christmas Day, so please don't start jumping around too much just yet...
BUT - in the meantime, Grandpa and Grandma Teddy Bear are back!
Spotted this week:
Bush2Beach Rugby Gala
Published November 5th, 2018 by NSW Office of Sport
The Sydney Academy of Sport at Narrabeen hosted the Bush2Beach Rugby Gala over last weekend to raise money for registration, insurance and running costs of clubs in drought affected communities.
The event not only provided an invaluable link between beaches and country clubs, but also raised over $15,000.
Turkey Trouble read by Marc Maron

Palm Beach Sailing Club - Beware The Bullets Regatta 2018

Saturday 17th and Sunday 18th November 2018
At: Palm Beach Sailing Club (formerly known as Pittwater Catamaran Club)
On Water Venue: Pittwater estuary between Governor Phillip Park, West Head, The Basin and Careel Bay.
This will be the 53rd consecutive running of the annual regatta
Classes/brands of boats attending: Hobie Cat 16, Hobie Cat 18, Taipan, Formula 18, A Class, Wetta
This year the regatta also incorporates the NSW State Titles for the Taipan Catamaran Class.
What Does Beware The Bullets mean?
The sailing course area near Barrenjoey Headland and the sand spit connecting it to the mainland allows the traditional nor-east seabreeze to blow over the sand spit, but also bend around the headland. At times there are freak gusts that bounce down onto the water in short bursts that can catch the sailors by surprise. These unexpected gusts are called Bullets. When sailing close to Barrenjoey Headland you therefore need to be careful or beware of the bullets. Every year we see catamarans flying a hull very high as a result of the bullets and, if you are not careful and react swiftly, the bullets can make the boat capsize and you will lose your position in the race. You've been warned! Beware the Bullets.
Macquarie Lightstation: Celebrating 200 Years Of Light with a family day
October 16, 2018: Sydney Harbour Trust
Australia's original navigational light source – Macquarie Lightstation in Vaucluse – is turning 200! To celebrate this significant milestone, the Harbour Trust will host a free Community Day on Saturday, 1 December, with lighthouse tours
*
plus a VR experience and kids activities.
Between 10am and 4pm, the Harbour Trust will host free 20-minute tours of Macquarie Lighthouse. Our volunteer guide will regale attendees with the lighthouse's storied history as they lead them up to the balcony for a panoramic views of Sydney.
*Note: All Community Day activities are free; however, we will only be releasing a LIMITED number of complimentary tickets for the lighthouse tours. These tickets will be released at 9am on Thursday, 1 November
(
online bookings essential
). Tickets will be available here:
https://outix.co/tickets/event/Macquariecommunityday
.
Attendees will have an opportunity to embark on an immersive virtual tour of the Vaucluse cliff side, courtesy of cutting-edge VR technology from Macquarie University. The tour will reveal an abandoned World War II gun emplacement, halfway down the cliff.
The Community Open Day will feature plenty of family-friendly activities. Kids can get their face painted, have their photo taken with Blinky the Lighthouse and engage in art making and other fun games.
About Macquarie Lightstation
Macquarie Lighthouse is Australia's first and longest operating navigational light source. Designed by convict Francis Greenway, it was completed in 1818 and named for Lachlan Macquarie, the Governor of NSW.
On Monday, 30 November, the lantern was lit for the first time, providing sailors with the means to safely navigate into and around Sydney Harbour.
Governor Macquarie was so pleased with the lighthouse that he granted the convict Greenway a pardon for his work. However, the locally-sourced sandstone used to build the lighthouse soon began to erode, and the tower was held together with iron hoops. In 1883 it was replaced by a new lightstation designed by James Barnet to closely resemble the original.
For a short time the two towers stood side-by-side (the original was eventually demolished).
In the 1880s, quarters were built for the head keeper, engineer, and other lightstation staff; many of these structures still stand today.
Collectively, these buildings are referred to as Macquarie Lightstation.
Frog ID Week: Citizen Scientists Needed
The 9th of November to 18th of November, is FrogID Week - Australia's biggest frog count. The count will provide Aussie scientists with valuable information on what's happening to our frogs.
To get involved, all you need is a smartphone and a keen ear. All around Australia, people are recording frog calls (with 37,245 calls already submitted, to be precise!) This information has been useful in helping researchers track the Cane Toad and identify where frogs are thriving, and where they aren't.
When it comes to #SavingSpecies, we all have a role to play in the fight against extinction, and this is a fantastic yet simple way in which we can all help out.
Did you know Australia has over 240 species of frog?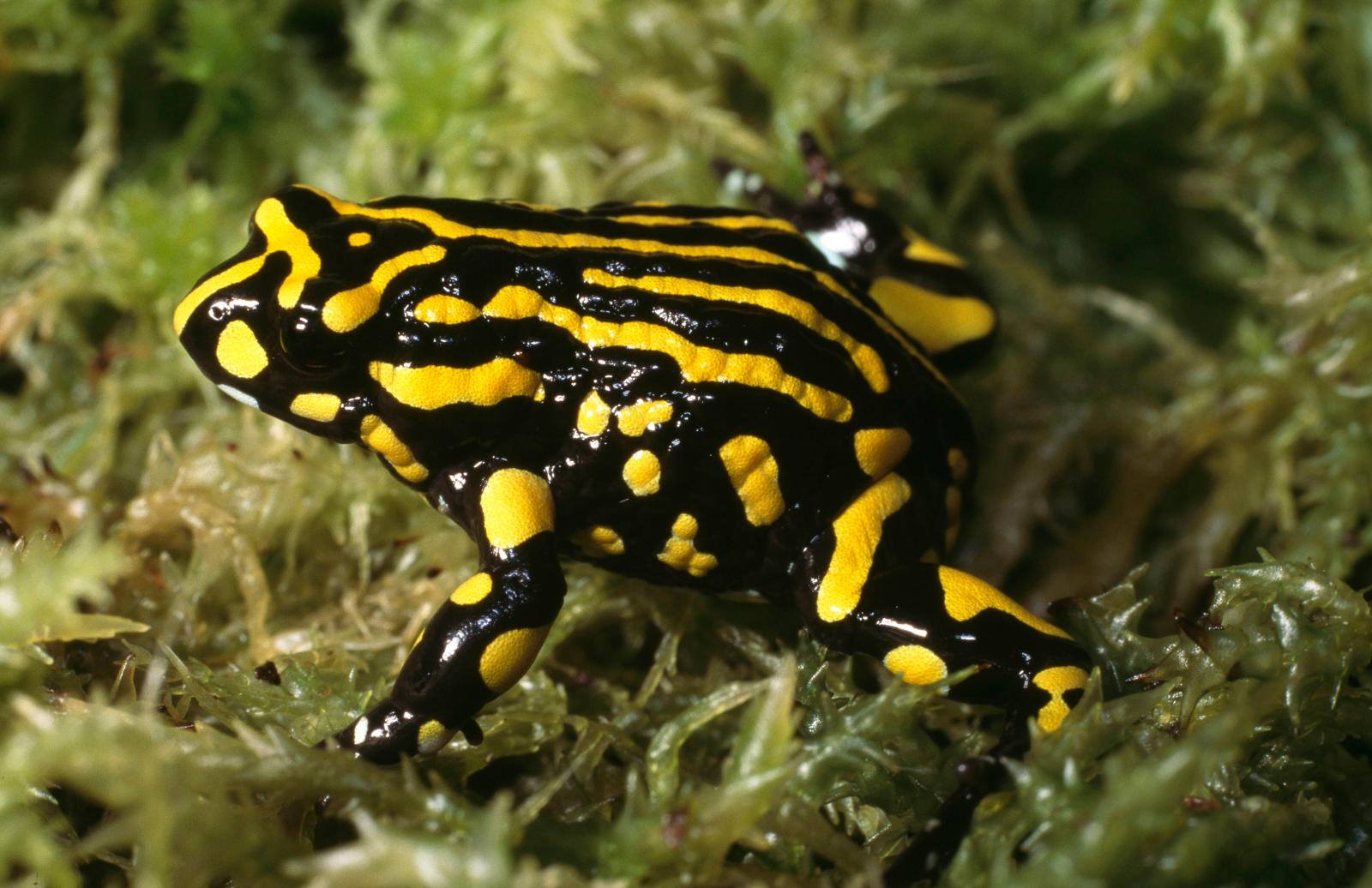 Pictured: Southern Corroboree Frog (Image Credit: Steve Wilson)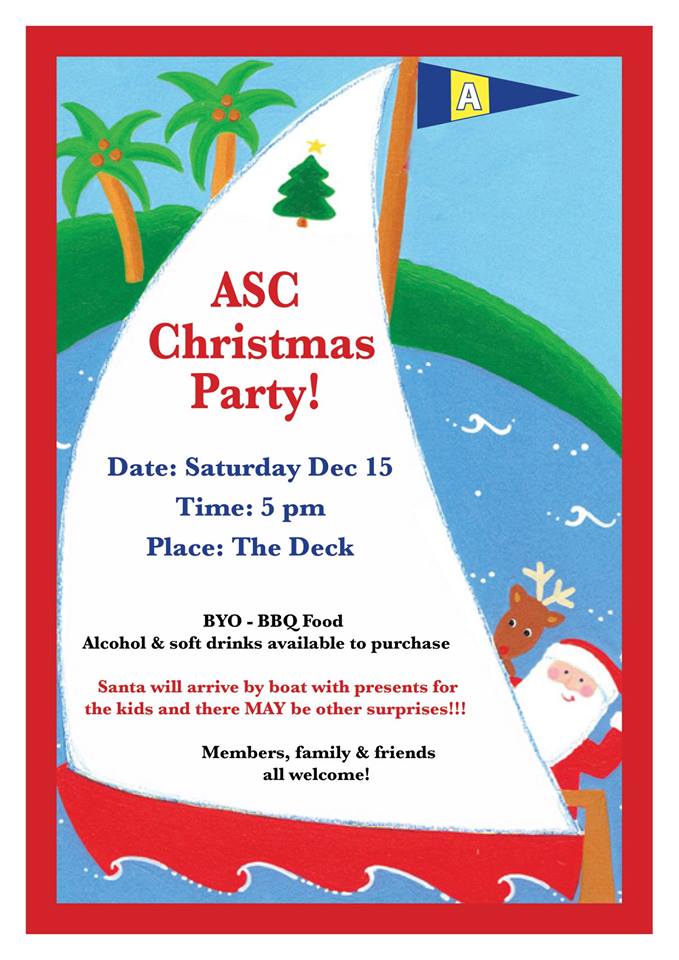 Kids Learn to Sail Holiday Camp January 2019
Hosted by Avalon Sailing Club
Tickets · $295
This sailing program will run during the Xmas school holidays with three options available:
7th-9th Jan
14th-16th Jan
21st-23rd Jan
Each day runs from 8.30am - 3.30pm and includes the use of the club sailing dinghies, PFD's, coaching staff and support vessels.
During the three days, the participants will learn:
• Water safety
• Parts of the boat and what rope pulls which sail
• Points of sail – upwind, downwind, reaching and running
• Rules of the water – Port and Starboard
• How to steer a tiller boat
• Crew and skipper positions and roles
• Tacking and gybing
Just bring your sense of fun and adventure, sun protection, suitable clothing (eg. wetsuit/ hat/ sunglasses) and lunch.
Follow the links below to book your spot using Visa or Mastercard:
Contact Paul on paulhardy@gmail.com for further information.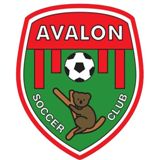 Profile:
Avalon Soccer Club
Avalon Soccer Club is an amateur club situated at the northern end of Sydney's Northern Beaches. As a club we pride ourselves on our friendly, family club environment. The club is comprised of over a thousand players aged from 5 who enjoy playing the beautiful game at a variety of levels and is entirely run by a group of dedicated volunteers.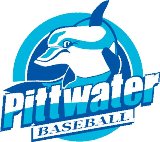 Profile:
Pittwater Baseball Club
The Season Start for 2017/2018 Pittwater Baseball Club commences Saturday, September 9th.
Their Mission: Share a community spirit through the joy of our children engaging in baseball.
Profile: Ingleside Riders Group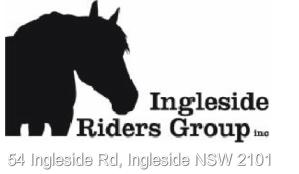 Ingleside Riders Group Inc. (IRG) is a not for profit incorporated association and is run solely by volunteers. It was formed in 2003 and provides a facility known as "Ingleside Equestrian Park" which is approximately 9 acres of land between Wattle St and McLean St, Ingleside.
IRG has a licence agreement with the Minister of Education to use this land. This facility is very valuable as it is the only designated area solely for equestrian use in the Pittwater District.
IRG promotes equal rights and the respect of one another and our list of rules that all members must sign reflect this.
Mona Vale Mountain Cub
Scouts Profile
Find out more about all the fun you can have at Mona Vale Mountain Cub Scouts Profile –
our Profile pages aren't just about those who can tell you about Pittwater before you were born, they're also about great clubs and activities that you too can get involved in!
LEGO AT THE LIBRARY
Local children will have the chance to join a club specialising in one of the most enduring playthings of childhood. Mona Vale Library has started a Lego club on the first Sunday of each month from 2pm to 4pm.
The club is open to children aged between seven and twelve years of age, with younger children welcome with parental supervision.
If you are interested in attending a Lego at the Library session contact the library on 9970 1622 or book in person at the library, 1 Park Street, Mona Vale.

Children's Storytime at Mona Vale Library: Mona Vale Library offers storytime for pre-school children every week during school terms. Children and their carers come and participate in a fun sing-a-long with our story teller as well as listen to several stories in each session, followed by some craft. Storytime is held in the Pelican Room of the library in front of the service desk. Storytime is free and no bookings are required. Storytime Sessions: Tuesdays 10.00am - 11.00am - Wednesdays 10.00am - 11.00am - Thursdays 10.00am - 11.00am

Profile Bayview Yacht Racing
Association (BYRA)
1842 Pittwater Rd,
Bayview
BYRA has a passion for sharing the great waters of Pittwater and a love of sailing with everyone aged 8 to 80 or over!
The Little Bugler Boy Saved By The First Australian-Born Captain Of The Royal Australian Navy
As an acknowledgement of the Centenary of Armistice Day and all who served in the conflict called WWI, we'd like to share a story from World War I we ran for you a few years back.
Drummer boys were children recruited as drummers for use on the battlefield on land. Until well into the 19th century, western armies recruited young boys to act as drummers. The drums were an important part of the battlefield communications system, with various drum rolls used to signal different commands from officers to troops. Although there were usually official age limits, these were often ignored; the youngest boys were sometimes treated as mascots by the adult soldiers. The life of a drummer boy appeared rather glamorous and as a result, boys would sometimes run away from home to enlist. Other boys may have been the sons or orphans of soldiers serving in the same unit. The image of a small child in the midst of battle was seen as deeply poignant by 19th-century artists, and idealised boy drummers were frequently depicted in paintings, sculpture and poetry. (1)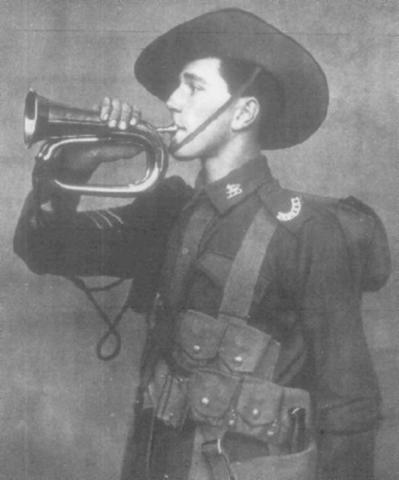 A similar role was fulfilled by Ship's Buglers. Listed as musicians on the Company Muster rosters, the bugler's role was to announce the daily duties outlined for those aboard ships. They became the mouthpiece of the Commanding Officer in Charge. The effectiveness of the bugler helped to determine the success of those serving, on and off the field.
Regulations called for the assignment of field musicians in each company and a principal musician (Chief Bugler) to be assigned at regimental levels. The Chief Buglers were responsible for training, appearance, and performance of buglers under him (the younger buglers). Chief Buglers were often typically closer in age to the officers. They were often quite literate and better educated than the average service personnel. Many even became officers. The officers and their buglers developed close special relationships.
Picture: "Fall in", 93rd Derwent Infantry Regiment - from the Tasmanian Mail, 20 August 1914, p 17 The first badge on the collar, a lion, which is the emblem of Tasmania. The shoulder title has the name "Derwent" which refers to the 93rd Derwent Infantry Regiment, Militia, one of three Tasmanian Militia Infantry Regiments. 93rd Derwent Infantry Regiment's Headquarters was located in Hobart with the companies located in these specific areas: "A" and "B" Companies - Hobart, "C" Company - Geeveston and Franklin, "D" Company - Glenochy, "E" Company - New Norfolk and Macquarie Plains, "F" Company - Lovett and Huonville. After the war the 93rd Derwent Infantry Regiment was renamed the 40th Derwent Infantry Regiment and later the 40th Battalion and 12/40 Battalion. Retrieved from: http://alh-research.tripod.com/Light_Horse/index.blog?topic_id=1104257
Their soundings of Attention, Assembly, To the Color, the Charge, Reveille, Retreat, First Call, Forward, In Retreat, Halt, Deploy, Commence, Firing, Cease Firing, Rally By Fours, and Taps were and are still used - some sources we researched cited over 100 calls a Ship's Bugler was required to know and be able to sound. It is a means of communication that dates back hundreds or possibly even thousands of years. - Manual For Buglers- U.S. Navy, Original edition 1919
An account of an Australian Ship's Bugler who served in WWII, Ordinary Seaman A. Gee, may be read on the excellent Naval Historical Society of Australia's pages HERE
The story of how an Australian helped one of these Ship's Buglers begins with a simple cable (telegram), as so many stories did during that before mobile phones!:
FIGHT IN THE NORTH SEA. THREE BRITISH CRUISERS SUNK GERMAN SUBMARINE'S WORK. Majority of crews saved.
MELBOURNE, Wednesday Afternoon. The following official cable message was received this afternoon by the Prime Minister from the High Commissioner in London, Sir George Reid: —''The armored cruisers Aboukir, Hogue, and Cressy have been sunk by a submarine in the North Sea. 'The Aboukir was torpedoed by the submarine, and while the Houge and Cressy were standing-by to save the crew of the Aboukir, they were also torpedoed.' Considerable numbers of the companies of the three ships were saved by a division of destroyers and by trawlers and boats.' The casualty list will be sent as soon as known.' FIGHT IN THE NORTH SEA. (1914, September 23). Evening News (Sydney, NSW : 1869 - 1931), p. 1. Retrieved from http://nla.gov.au/nla.news-article115804814
The first we hear about the Drummer boy aboard Aboukir:
COURAGEOUS CADETS.
The fate of the naval cadets, many of whom were only fifteen years old, was one of the most pathetic features of the disaster. These lads, who were at school at Osborne Naval College, had been recalled from their holidays when war: broke out, and were detailed, for service. The same spirit that possessed the mighty forbears of their race, and those on board the sinking cruisers displayed the complete self-forgetfulness that is the mark of truest heroism. Says one of the officers of the Aboukir who was saved; 'One midshipman' asked him quietly, with no thought of self, 'What can I do,sir?' The poor boys' call came early, but they were as cool as the old hands.' A sixteen-year-old drummer-boy from the Aboukir was saved on the ship's rum-tub, and when a' swimmer asked if he could do anything for him, the, youngster replied, 'No, thanks, old cocky,' . COURAGEOUS CADETS. (1914, September 26). The Farmer and Settler (Sydney, NSW : 1906 - 1957), p. 1. Retrieved from http://nla.gov.au/nla.news-article116689175
Was that 10-year-old drummer-boy saved from the sunken cruiser Aboukir one of the devil's own? The Temperance Alliance will hardly admit that it was a special Providence that set him afloat in the ship's rum tub. So one is forced back on the other explanation. A sailor swimming sturdily by asked, "Can I do anything for you, youngster?" "No thanks, old cocky," said the boy, cheerily. He knew that the man was busy, and therefore he didn't stop him. Any other time he would have asked Jack whether he had any cigarette-cards, but on account of things being pretty lively he just sat in the rum tub and waited for the first boat. If the stuff had been the same outside the tub as inside it he could have drunk enough and walked out. That's a little point the cableman forgot to mention, but we must make all allowances for him; he's doing his best for us in troublesome circumstances. So we may as well let the drummer and his rum tub go down with us, though it didn't go down in the North Sea. Truly the blue water is the one place from which romance is not yet banished. A NAVVY POEM. (1914, October 9). Rochester Express (Vic. : 1914 - 1918), p. 7. Retrieved from http://nla.gov.au/nla.news-article125659539
And of the Australian aboard:
LUCKY AUSTRALIAN SAVED FROM THE ABOUKIR.
The officers of the British cruiser Aboukir, which was, sunk by German submarines, included Lieut. Charles Farquar Smith, aged 26, son of Mr. A. G. Smith, of Kendall, on the North Coast (N.S.W.).His parents received a cable from the Admiralty announcing that he was among the saved. When quite a youngster: Lieut. Smith made up his mind to enter the navy, his love for sea being fed by the study of the life of Nelson. While other boys were reading "Deadwood Dicks" he was absorbing every printed line that he could find about England's naval hero. Winning a bursary at the local school, young Smith came to Sydney, to Fort-street, and thence to the High School. He extracted a promise from his aunt, Mrs. Sydenham, with whom he lived, that if he got through his examinations she would get him a ship. He passed, as he said he would, and Mrs. Sydenham, seeing that it was useless to try to dissuade him, obtained for him a berth as ship's boy on a vessel going to England. Young Smith was then only 17, but so hard did he study, that he passed every examination for which he sat. After securing an extra captain's certificate, in the White Star service, he joined the Royal Navy, and passed as lieutenant. He was for some time on H.M.S. Dominion, but a few months ago was transferred to the ill-fated cruiser Aboukir. LUCKY AUSTRALIAN. (1914, October 2).Queensland Times(Ipswich) (Qld. : 1909 - 1954), p. 5 Edition: Daily. Retrieved from http://nla.gov.au/nla.news-article123039732
Who then provided an eyewitness account:
ON THE ABOUKIR. AN AUSTRALIANS ACCOUNT. THE NORTH SEA DISASTER.
Councillor A. G. Smith, of Kendall, has received from his son a graphic account of the naval disaster In the North Sea, resulting In the loss of H.M.S's. Aboukir, Cressy, and Hogue. Lieutenant Farquhar Smith was an officer on the Aboukir, and he had a sensational experience, being in the water for three and a quarter hours, clad only in a suit of pyjamas. Lieut. Smith, who is now an officer in the R.A.N , and expects to take up duty in the Australian navy when the war is over, writes as follows:-
"Well, here we are back in England again, after a rather trying time. Of course, you received my telegram from Ymuleden, saying that I carne through quite safely. I suppose you would like to hear my experience of last week, so here goes.
"First of all, we had rather bad weather during the previous week-end, and had two boats smashed up, and three men hurt, one with a broken thigh. On the Monday night I had the first watch, from 8 o'clock till midnight, and at midnight turned In. I was awakened at 6.25 am. by an explosion. The explosion did not make much noise, but made the whole ship shake violently. I rather fancy I awakened simultaneously with the explosion, but the lights were all then out. Everyone rushed on deck, and found the ship heeling over to port, with the port sea boat in splinters, showing that we were hit abreast of the second funnel. The engine-room must have been flooded, for both engines stopped at once. The sick were at once got out of the sick bay, and put into the
remaining sea boat, which was then lowered. The picket boat and launch could not be got out on account of our not being able to get any steam. The Aboukir all this time was slowly going over. The stokers fell In on the forecastle, the marines on the quarterdeck, and the seamen amidships. The last I saw of Captain Field was when he was taking the confidential signal books to the bridge to be thrown overboard. The Fleet Paymaster was seen to have all his ledgers on deck. The captain then gave the order; 'Anybody may leave the ship.' Great numbers took advantage of this order. The rigging was soon horizontal, and a midshipman and myself walked up (or rather out) on the main rigging, and got as far as the 'fighting top ' The ship seemed to hang fire for a minute, and the middy remarked that he was sorry to lose his camera, as there were good 'snaps' of the commander and myself In It.
"Then occurred the strangest sight I have ever seen. The water began to pour Into the funnels, and as the water rushed into the lower part, huge volumes of black smoke were pouring out of the upper part. Then I found myself In the water, and was caught by a wire on one shoulder. I got clear of that, and then found myself tangled In another wire. I managed to clear myself, and then came to the surface. The middy had then disappeared, and after searching for him for about 10 minutes, I sadly concluded he must have been caught by something, and had gone down with the wreckage. How pleased I was on arriving at Chatham to hear that he had been saved, and had only been in the water about 10 minutes.
A target then came up from the sunken ship with a great swirl, so I swam and got on it. The Aboukir was still partly bottom up for another five minutes before she sank, with one propeller and one bilge keel high in the air.
We then set about gathering all the people we could on to the raft, and at one time had 35 on it. About an hour after we were struck the Hogue appeared to be hit in three places at once-on the starboard side, abreast of the second funnel and after 9.2 gun, and portside amidships, and in one minute her stern was under water, and stem high out of the water Her two steamboats floated off her deck. She remained thus for about a minute, and then turned over so sharply on to her star-board side that her funnels crumpled up like paper. Dozens of men fell right across her deck when she turned over.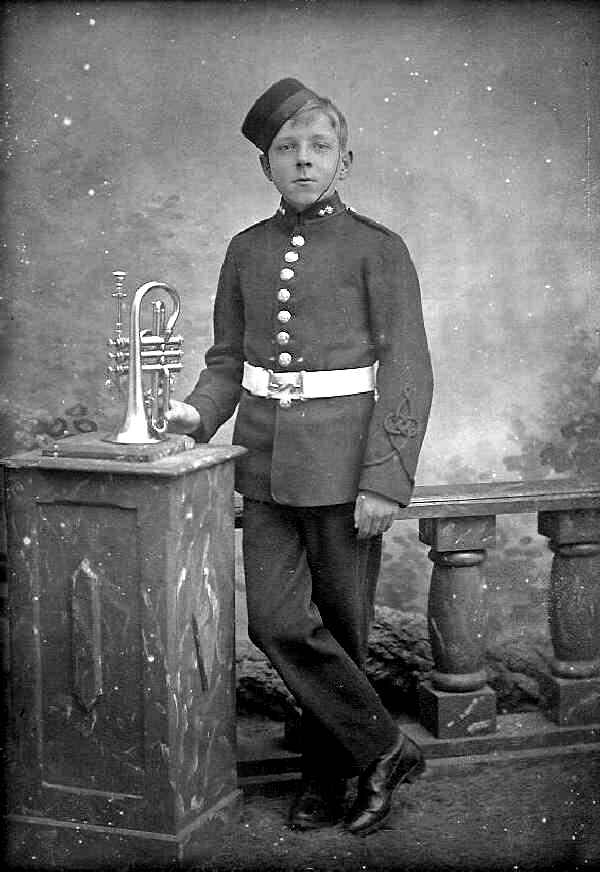 "The Cressy had all her boats in the water and had taken some people aboard before she was hit. She was hit twice with an interval of about ten minutes When the second torpedo was fired our target was in a line between the Cressy and submarine, for the torpedo passed directly underneath the target, and the Cressy was firing at the submarine, so that the projectiles were passing about three feet above our heads. I am sure that a great number of men gave in when they saw the Cressy sink, for there was nothing In sight except two sailing trawlers, which did not appear to get any closer. We had to be very rude to a couple on the raft to keep them from jumping off and going down.
A drummer boy, aged sixteen, who, when we first got him on the raft, lay in my arms for at least half an hour without moving, was as plucky as any. The worst job I had was when a man died and I wanted his shirt and singlet to put on one of the living. I did not like giving the order, so took them off myself, and then had to insist that they should be put on, for some of the men appeared quite helpless and hopeless. In all we had six die, and then took twenty-nine off the target. When the Flora came up the captain of the Hogue, who was In one of the cutters, put all the people except the boat's crew on the Flora and then came and took us off. We put them aboard the Flora. The captain also went aboard, then I took charge of the cutter and made four more trips to the Hogue's steamboats, which could not get up steam on account of both being damaged and leaking, the water being above the furnace bars. I cannot speak too highly of the Dutch skipper and his crew. We left not a particle of food on the vessel, and not an article of clothing aboard her-neither blanket, door- curtain, or anything else. We only had one die after we got aboard the Flora.
Right: Boys by the outbreak of World War I (1914), no longer appear to be in the British Army, but younger teenagers still served in the Royal Navy.
"We arrived at Ymuleden about 6.30 p.m., and after getting the names of the saved and sending them off it was nearly midnight and so passed perhaps the longest day I have ever spent. The next morning weleft at 9.30 for the Internment Camp by special train. At each station we were treated to cigarettes and chocolates. The Dutch could not do too much for us. At 4 p.m. we carne to the end of our train Journey, at 4.45 to the end of our tram journey, and were now at st. Nicholas, in the Friestland district; from there we had a sixteen mile walk to the camp arriving there about 930 p.m- quite done up. Our little drummer was quite done and I walked arm and arm with him for an hour to keep him going. He was a very plucky chap. A hot dinner awaited us at the camp, and from there we went the house and turned In on straw beds very soundly (Wednesday evening) . The arrangements made by the Dutch were very good. ON THE ABOUKIR. (1914, December 26). The Sydney Morning Herald (NSW : 1842 - 1954), p. 9. Retrieved from http://nla.gov.au/nla.news-article15562214
And did this experience, apart from being a 'trying time', influence Farquhar Smith?: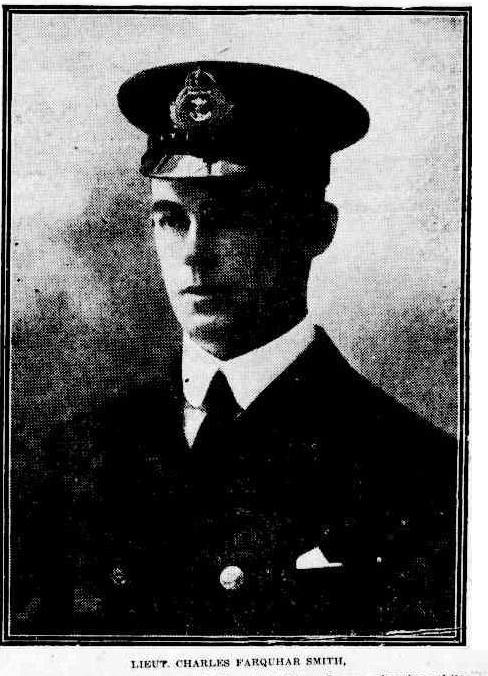 Portrait: HERO OF A SUBMARINE EXPLOIT- LIEUT. CHARLES FARQUHAR SMITH, Who, according to advices just to hand, accounted for a German submarine and its crew. He is the son of Mr. A.G. Smith of Kendall, Hastings River, and was educated at the Sydney Boys' High School. Lieut. Farquhar Smith is one of the survivors.of H.M.S. Aboukir, which was torpedoed, and is now employed in trapping enemy submarines. HERO OF A SUBMARINE EXPLOIT. (1916, January 11). The Sydney Morning Herald (NSW : 1842 - 1954), p. 5. Retrieved from http://nla.gov.au/nla.news-article15636305
Mr. W. G. Hopper local inspector A. and T. Association, L., has received word from his brother-in-law, Lt.- C. Farquhar-Smith, R.A.N., that after doing the long course of specialising-in torpedo work he came out first in his examination at Greenwich (Eng.),with the high average of 93 per cent., or 7per cent, above the second competitor. He ranks now as a torpedo lieutenant, and has the honor of being the first Australian in the R.A.N, to be a torpedo specialist. Lt. Farquhar-Smith. who is 32 years of age, has had a career full of interesting incidents. A son,of Mr. and Mrs. A. G. Smith, of Kendall, he won a bursary and completed his scholastic education at the Sydney High School. After matriculating at the age of 17 he shipped as ordinary seaman, and saw nautical-life at-sea in its various stages, taking his extra master's certificate and passing in steam at 24. He was an officer Of the White Star liner Arabic, when at the beginning, of 1913 he joined the English navy, getting his lieutenancy prior to the war. When the battleships Aboukir, Hogue and Cressy were torpedoed at the Dardanelles Lt. Farquhar-Smith was aboard the former, and had the good fortune to be one of the 40 to survive. He was next commander of a fleet of trawlers submarine hunting, and was responsible for the sinking of a German submarine, for which the English Government awarded him £100 prize money.After a term of mine sweeping he was given command of the destroyer Racehorse, and subsequently took a lower position aboard H.M.A.S. Sydney, in order to be in the R.A.N., holding this rank until just before the Sydney left for Australia after the war, when he resigned to enter the special course in torpedoing mentioned above. PERSONAL. (1920, October 11). Northern Star (Lismore, NSW : 1876 - 1954), p. 2. Retrieved fromhttp://nla.gov.au/nla.news-article93066551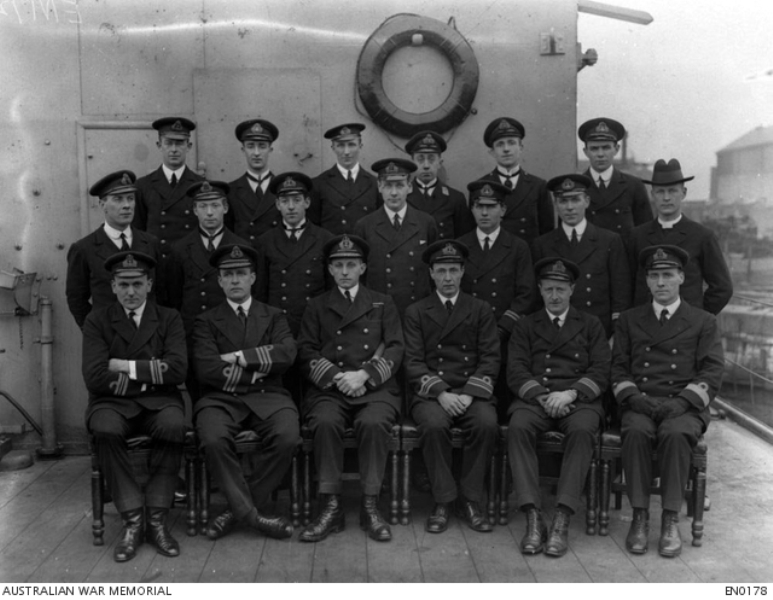 Group portrait of officers on board HMAS Sydney. Not all have been identified. Identified left to right: back row, unidentified lieutenant (gunnery officer); unidentified; possibly Chief Gunner William Chisholm; possibly Paymaster Midshipman Thomas F Maynard; unidentified midshipman, possibly from the Royal Australian Naval Reserve; unidentified. Middle row: possibly Lieutenant Frederick John Herbert, Royal Naval Reserve; unidentified; possibly Sub Lieutenant Harry L Howden; unidentified; two unidentified lieutenants; Chaplain Rev Hubert H Trigge. Possibly in these two rows are Lieutenant Charles Farquhar-Smith; Lieutenant Cyril E Lowther; Engineer Commander John N Allenby; Engineer Lieutenant Samuel L Beeston; Engineer Sub Lieutenant Raydon B Smith; Paymaster Sub Lieutenant Allen Freyer; Gunner Sydney J Scott; Boatswain Patrick Roache. Front row: Lieutenant Commander Rupert Clare Garsia; Commander Henry Priaulx Cayley; Captain John Saumarez Dumaresq, RN, holding a telescope under his arm; Lieutenant Commander Cuthbert John Pope; Surgeon Lieutenant Commander (Acting) William J Carr; Paymaster Lieutenant Commander Donald Andrew Peart. Picture: 21 January 1919 – Image No.: EN0178.courtesy Australian War Memorial.
RAN service people have a saying, 'once in the Navy, always in the Navy, and this sometimes becomes a whole family love for the sea. Farquhar Smith's other first for the Royal Australian Navy:
CAPTAIN FARQUHAR SMITH. The promotion of Commander Charles Farquhar Smith, R.A.N., to rank of captain has been announced by the Navy Board. He is the first Australian-born officer in the Australian Navy to reach that rank. CAPTAIN FARQUHAR SMITH. (1931, January 16). Dungog Chronicle : Durham and Gloucester Advertiser (NSW : 1894 - 1954), p. 2. Retrieved fromhttp://nla.gov.au/nla.news-article140906052
FARQUHAR-SMITH-AITKEN - The marriage of Bettwyne, daughter of the late Mr R. G. Aitken and of Mrs G. A. Aitken, Melbourne, to Lieut Alan Farquhar-Smith, RANR(S), eldest son of Capt C. Farquhar-Smith, RAN, and Mrs Farquhar-Smith, Hobart (T), took place at the RAN Dockyard Chapel, Garden Island, Sydney. Miss Aitken is a writer in the Women's Royal Australian Naval Service. She was attended by Miss Nan Sydney-Smith, who is also in the WRANS. Family Notices. (1943, September 18). The Argus (Melbourne, Vic. : 1848 - 1957), p. 8. Retrieved from http://nla.gov.au/nla.news-article11784495
WELCOME surprise early yesterday morning for Mrs Charles Farquhar-Smith, of Vaucluse when her son-in-law, Major J P C Curlewis arrived unexpectedly on leave from New Guinea. First thing he did was to go to St Luke's Hospital to see his wife and his son who was born on December 19 Mrs Curlewis was formerly Miss Joan Farquhar –Smith, Captain Charles Farquhar-Smith,RAN and Mrs Faiquhar-Smith have just returned to Sydney to make their home her again after 11 years absence in England and more recently in Hobart. Captain Farquhar-Smith has gone back to sea where his two sons are also serving Lieutenant Alan Farquhar-Smith RAN whose wife is living in Melbourne and Mr Ian Farquhar-Smith who is in the Merchant Navy both spent Christmas away from home. Marriage Preferred to Diplomatic Career... Daughter for Joyce Greer. (1944, December 27). The Sydney Morning Herald(NSW : 1842 - 1954), p. 6. Retrieved from http://nla.gov.au/nla.news-article17933066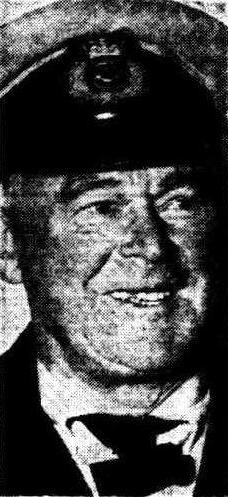 BACK AT SEA Mr. Charles Farquhar Smith, mate of the 1,500-ton Interstate freighter Kindur, who retired from the Royal Australian Navy three years ago with the rank of rear-admiral. He went to sea in 1904 at the age of17 In the barque Crompton, and later served as a captain In H.M.S. Iron Duke and in H.M.S. Delhi and as a commander in H.M.A.S. Australia. Early in World War II he was Naval Officer-in-Charge, Fremantle. When he retired Mr. Farquhar-Smith found that shore life was too dull and, against the wishes of his wife, took his present post. BACK AT SEA. (1951, July 17). The West Australian (Perth, WA : 1879 - 1954), p. 4. Retrieved from http://nla.gov.au/nla.news-article48980928
Mr. Charles Farquhar-Smith, mate of the 1,500-ton inter-state freighter Kindur. He went to sea from Sydney at 17 in 1904 aboard a barque, became a captain of H.M.S. Iron Duke and H.M.S. Delhi, and a commander in H.M.A.S. Australia, and retired a rear admiral three years ago. No title. (1951, July 13).The Mercury (Hobart, Tas. : 1860 - 1954), p. 3. Retrieved from http://nla.gov.au/nla.news-article27039136
Rear Admiral Charles Farquhar-Smith, R.A.N., retired, has been appointed to the board of directors of the Newcastle and Hunter River Steamship Co. Ltd. He fills a vacancy caused by the- death of Mr. W. D. M. Merewether. PERSONAL. (1953, August 12). Daily Commercial News and Shipping List (Sydney, NSW : 1891 - 1954), p. 1 Supplement: Supplement to "Daily Commercial News and Shipping List".. Retrieved from http://nla.gov.au/nla.news-article164048902
And just who was this little drummer boy, reported as 10, and then 16 and more accurately – 15 years of age,?:
Among a small party of rescued bluejackets and Royal Marines arriving at Chatham from Holland was a Royal Marines drummer-boy of the Aboukir-Cecil Kneller, aged fifteen, son of a railway porter living at Chatham. He said he was in the water about four hours, supporting himself with an empty rum cask, he was as rosy-cheeked as when he went away. WAR INCIDENTS. (1914, December 8). Clunes Guardian and Gazette (Vic. : 1918 - 1918), p. 4. Retrieved fromhttp://nla.gov.au/nla.news-article135780590
Who was not a Drummer boy but a cadet bugler: Kneller, Cecil, Bugler, CH 18128 - survivors of Abouki - from: http://www.naval-history.net/xDKCas1914-09Sept.htm
Baw Baw Frog Breakthrough
October 28, 2018: by Zoos Victoria
This is HUGE. This is exciting. This is the kind of thing that all Victorians should be celebrating!
After seven years of trying, our team of legends at Melbourne Zoo has bred Baw Baw Frogs in captivity - a world first!
Curious Kids: How do we smell?
This is an article from
Curious Kids
, a series for children. The Conversation is asking kids to send in questions they'd like an expert to answer. All questions are welcome – serious, weird or wacky! You might also like the podcast
Imagine This
, a co-production between ABC KIDS listen and The Conversation, based on Curious Kids.
How do we smell? – Audrey, age 6, Brisbane.
Answered by Rodrigo Suarez
ARC DECRA Research Fellow, The University of Queensland
Audrey, you have asked a question that humans have wondered about for centuries. And it's only pretty recently we have started to really understand the answer.
Whenever we smell something, our nose and brain work together to make sense of hundreds of very tiny invisible particles, known as molecules or chemicals, that are floating in the air. If we sniff, more of these molecules can reach the roof of our nostrils and it is easier to smell a smell.
The fact that we have two nostrils allows our brain to detect small differences in the number of molecules that reach each one, so we can follow a smell trail just like tracker dogs. Have you ever tried finding where a smell is coming from? See how hard it gets with one nostril blocked.
The sense of smell also help us taste food. That is why food tastes bland whenever your nose is blocked.
Inside your nostrils, there are tiny things called neurons that "talk" to each other using electrical messages (our brains are mostly made of neurons too, by the way).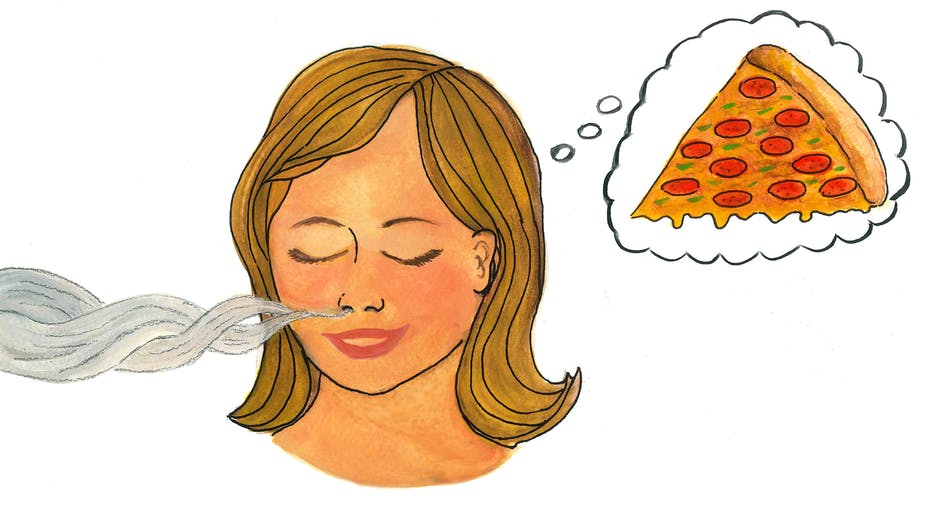 The sense of smell helps us know what and where things are, like yummy food. R. Suarez. Author provided

Smell memories
These type of tiny cells, called olfactory neurons (olfaction means smell), have long cable-like connections that send electrical messages to a spot at the front of the brain, known as the olfactory bulb. Each olfactory neuron connects with a different neuron in the olfactory bulb, which then sends this information to other areas of the brain.
The parts of the brain that get these signals also do other things, such as storing memories or provoking emotions. That is why some smells can bring back old memories.
Even some older adults can remember the smell of their kindy class, or their grandparent's house. Also, some smells can make us feel scared or happy, such as the smells of smoke or flowers. For example, the smell of freshly mowed lawn can help us relax.
Do you have nice memories of a place or food that you have smelt in the past?
How animals smell
The sense of smell is very important to almost all animals, as it helps them find food, recognise family members, and avoid danger.
For example, the nostrils of fish and sharks let them smell underwater, even though they breathe water through their mouths and gills. Some animals, like dolphins and whales, have lost the sense of smell as, over millions of years, their nostrils have moved to the top of their heads and evolved into blowholes.
The way smells are felt by the nose and brain is very similar in all animals. Even the way olfactory neurons work is also very similar to that of insects (but insects smell using their antennae, not with nostrils).
The way the brain deals with smells is very different to how it deals with other senses, such as seeing and hearing. For example, we can identify the different instruments playing in a band, or the different shapes and colours in a painting. But it is very hard for us to tell the individual parts of a smell mixture.
We can feel the smell "orange" or "coffee" as a single thing, but have trouble identifying the many different parts that make up those smells individually. However, it is possible to get better at this with practice. Professional wine-tasters or perfume-makers can detect more parts of a smell mixture than most people.
_________________________________________
Hello, curious kids! Have you got a question you'd like an expert to answer? Ask an adult to send your question to us. They can:
Please tell us your name, age and which city you live in. You can send an audio recording of your question too, if you want. Send as many questions as you like! We won't be able to answer every question but we will do our best.
Urban Play in Urban Parks
Spotted....somewhere in Pittwater