March 19 - 25, 2017: Issue 305

Australian pre-schoolers picking up foreign languages in lightning speed
Sunday 5 March 2017; Media Release, - Senator the Hon Simon Birmingham, Minister for Education and Training

New independent analysis of the Turnbull Government's early learning languages app has found children are grasping foreign languages at lightning speed by using the play-based program rather than conventional measures like flash cards.
Minister for Education and Training Simon Birmingham said the Evaluation of the Early Learning Languages Australia (ELLA) apps carried out by Swinburne University of Technology found children using the app were 26 per cent more engaged than those children using flash cards and were twice as likely to learn the sounds of many foreign words.
Minister Birmingham said he expected more than 55,000 children in almost 2,000 child care centres and pre-schools would learn Arabic, Chinese (Mandarin), French, Indonesian, Italian, Japanese or Spanish as part of the Early Learning Languages Australia (ELLA) program that the Turnbull Government is rolling out nationally for the first time in 2017.
"ELLA is proving to more successfully engage children with learning a language, improve word association and ultimately for them to be more comfortable with a foreign tongue," Minister Birmingham said.
"Learning a foreign language doesn't just give children the gift of the gab, it can boost other vital skills like problem solving and their literacy in English that ultimately carry through to their performance at school.
"The ELLA program has been a big hit with parents, educators and of course the children themselves, and pre-school services across the country have responded with almost one fifth of them rushing to apply to be part of the program in the first year of its national roll out.
"Australian families have fallen in love with ELLA and now we want to use that momentum to promote science, technology, engineering and maths subjects in a child's youngest years."
Minister Birmingham announced that following the success of the ELLA program and positive analysis of the program's impacts on children the Turnbull Government would today open Expression of Interests for the Early Learning STEM Australia (ELSA) app.
"We hope the ELSA app will similarly inspire students' interest in science, technology, engineering and mathematics," Minister Birmingham said.
"Programs like ELSA are critical for this and future generations of students because employment trends show that 75 per cent of Australia's fastest growing careers demand skills in digital literacy, science, technology, engineering or mathematics.
"One hundred centres will take part in the ELSA trials from 2018.
"We've seen the positive impact that ELLA has had on students across the country and the Turnbull Government has committed $6 million, on top of the already $15.7 million investment as part of the ELLA program, to pilot the ELSA program.
Minister Birmingham said 1986 centres had applied to be part of the ELLA national rollout and of the 1643 centres that had so far been approved 25 per cent of the preschools and child care centres would study Chinese, 17 per cent Japanese, 14 per cent French, 8 per cent Indonesian and 3 per cent Arabic while the two new languages for 2017, Italian and Spanish, had attracted 15 per cent and 17 per cent of applications respectively.
Minister Birmingham said the Evaluation of the Early Learning Languages Australia (ELLA) apps specifically found that:
After two weeks of practice, children who used ELLA were 11% faster at looking at a picture corresponding to an audibly played Indonesian word, compared to their first lab visit. By comparison, children who used Flash Cards were 15% slower after two weeks.

Brain activity indicated that the ELLA group were more likely to remember the context of the learnt words than the Flash Card group. For example, 77% of the ELLA group showed a typical brain response consistent with automatic association of word-meaning with word-sound, whereas only 33% of the Flash card group showed such response. This kind of learning may lead to longer-lasting gains in vocabulary for the ELLA group.

Children in both groups were initially reported by parents to be highly engaged in learning. By the last five days of home use, this engagement score was 26% higher for the children in the ELLA group.

Activity duration was 2.58 times longer for the ELLA group than for the Flash Card group, indicating greater interest in ELLA apps rather than Flash Card apps.
"Walking into classrooms and hearing children enjoying singing or counting in another language and even following recipes, you get a grasp of how engaging and entertaining the ELLA program is and why another independent evaluation released last year found 78 per cent of parents had seen their child using words from the language they learned through ELLA outside of preschool.
"We know life-long learning begins from the youngest years and our $15.7 million investment in the ELLA app and additional $6 million investment in the ELSA app highlights the Turnbull Government's commitment to reviving the study of languages and STEM subjects throughout Australia's early education centres, schools and universities."
Peppa Pig - New compilation 4 (1 hour) March 3, 2017

LEGO AT THE LIBRARY
Local children will have the chance to join a club specialising in one of the most enduring playthings of childhood. Mona Vale Library has started a Lego club on the first Sunday of each month from 2pm to 4pm. Next is March 5th, 2017. The club is open to children aged between seven and twelve years of age, with younger children welcome with parental supervision. If you are interested in attending a Lego at the Library session contact the library on 9970 1622 or book in person at the library, 1 Park Street, Mona Vale.
Children's Storytime at Mona Vale Library: Mona Vale Library offers storytime for pre-school children every week during school terms. Children and their carers come and participate in a fun sing-a-long with our story teller as well as listen to several stories in each session, followed by some craft. Storytime is held in the Pelican Room of the library in front of the service desk. Storytime is free and no bookings are required. Storytime Sessions: Tuesdays 10.00am - 11.00am - Wednesdays 10.00am - 11.00am - Thursdays 10.00am - 11.00am
Mona Vale Mountain Cub
Scouts Profile
Find out more about all the fun you can have at Mona Vale Mountain Cub Scouts Profile –
our Profile pages aren't just about those who can tell you about Pittwater before you were born, they're also about great clubs and activities that you too can get involved in!
Long Reef Guided Walks
Free guided walks
with Fishcare Volunteers
Sunday 26 Mar 2017
1.30 pm – 3.30 pm
Sunday 9 Apr 2017
12.30 pm – 2.30 pm
• Subject to weather conditions
Long Reef Fishcare Educational Walks
Long Reef Aquatic Reserve, on Sydney's northern beaches is a unique environment due to its geology and exposure to all four points of the compass. Protecting a huge variety of marine animals, birds and plants, it's a great place to enjoy learning about our natural environment.
Department of Primary Industries NSW Fishcare Volunteers offer free, guided, educational walks onto the rock platform where in just two hours you'll observe some of the vast variety of marine life.
You'll also gain an understanding of the geographical features of the area, look at trace fossils and learn why some migratory birds travel tens of thousands of kilometres from Siberia and Japan to spend time at Long Reef.
An ideal family outing!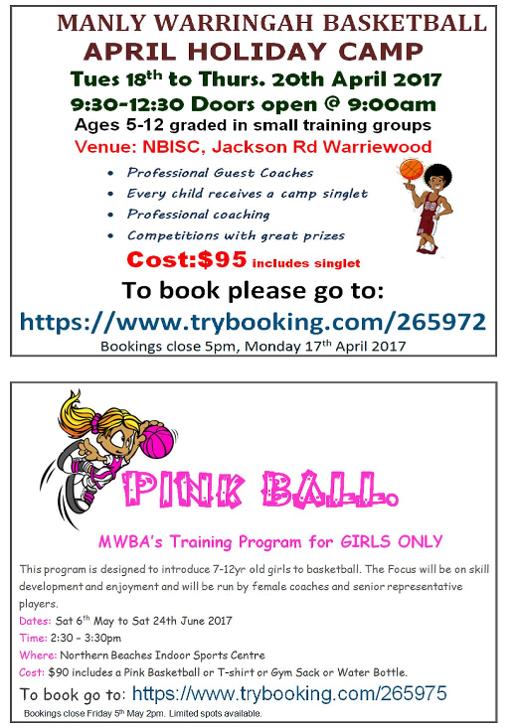 Dirk Hartog in National Library of Australia
A teacher resource for students to learn more about the arrival of Dutch explorer Dirk Hartog on the West Australian coast in 1616. This resource is aligned to the Australian Curriculum. Tell all your teacher friends!
We have two digital classroom modules available.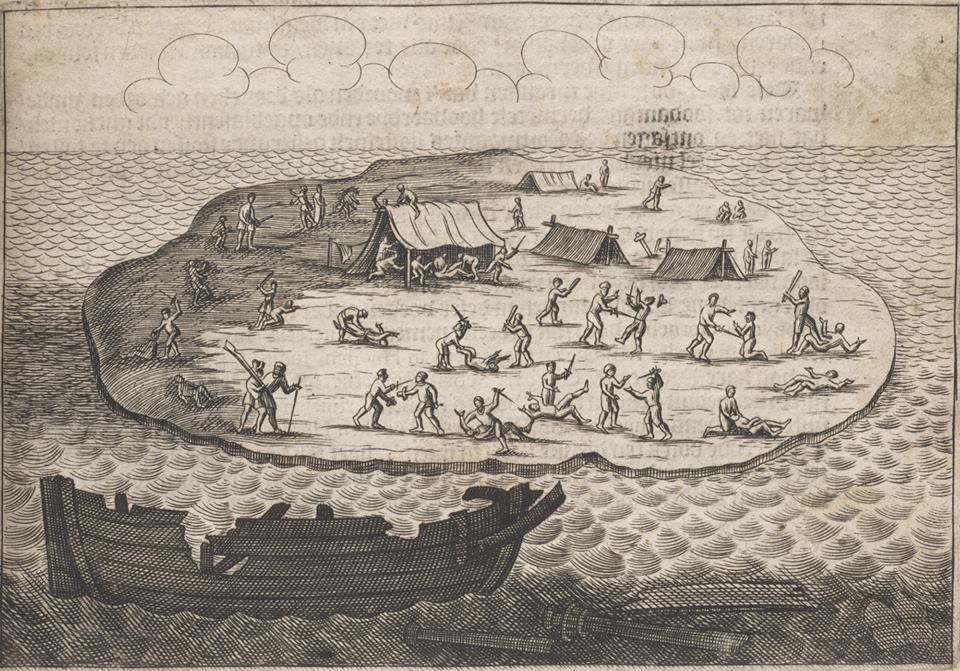 Be Part Of Something Beautiful
Bureau calls for Australian Weather Calendar 2018 entries
The Bureau of Meteorology's
Capture the Weather
photo competition gives entrants the chance to feature in the 2018 edition of the iconic Australian Weather Calendar.
This year, judges will be on the hunt for 13 unique images that capture Australian weather in a dramatic, captivating or creative setting. Interesting interpretations of frost, clouds, rainbows or sunshine have been the top picks in previous years.
The competition closes on 31 March 2017,
giving amateur and professional photographers one more month to scour the Australian countryside for the perfect cloud formation, rainbow or lightning strike and capture the moment to share with the world.
Winners could have their image displayed in homes across Australia and overseas as part of a weather calendar tradition that has spanned more than 30 years.
CEO and Director of Meteorology Dr Andrew Johnson is looking forward to seeing images submitted for the 2018 calendar, published jointly by the Bureau and the Australian Meteorological and Oceanographic Society.
"We encourage photographers to send in work showcasing the diversity of Australian landscapes and weather including images that show the interaction of extraordinary weather phenomena with industry, infrastructure or communities."
A Bad Case of Stripes read by Sean Astin

By David Shannon. Read by Sean Astin.
Camilla Cream loves lima beans, but she never eats them. Why? Because the other kids at her school don't like them. And Camilla is very, very worried about what other people think of her. In fact, she is so worried that she is about to break out in... A Bad Case of Stripes.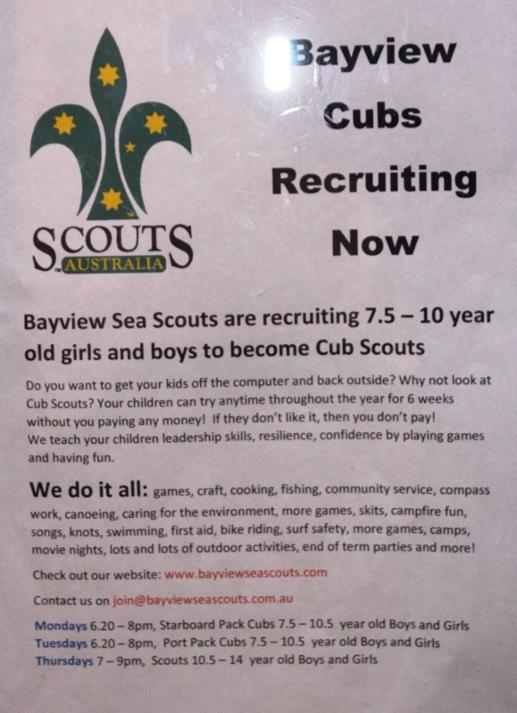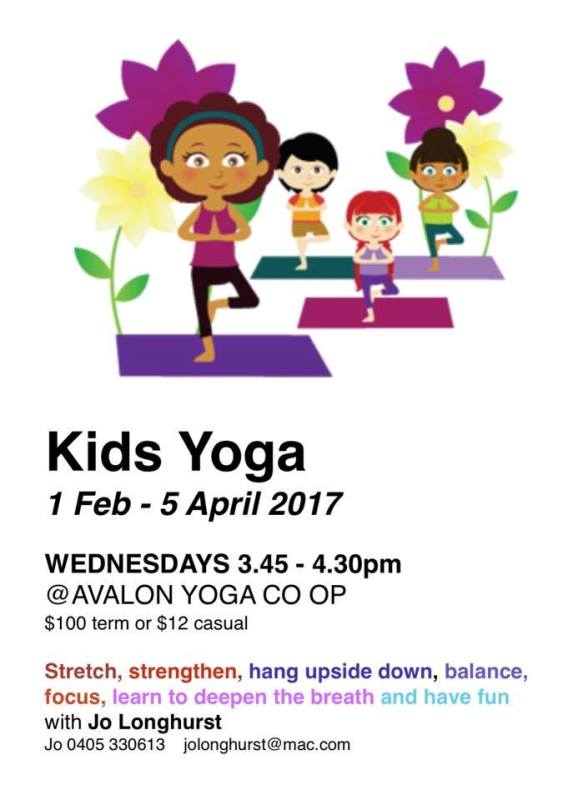 Sydney Harbour Bridge Celebrates 85th Birthday
That bridge across the harbour turns 85 today, Sunday March 19th.

The National Film and sound Archive has launched an Online

Exhibition

to celebrate (links below) and a great Intro film.
Plans to build a bridge were discussed as early as 1815, when convict and noted architect Francis Greenway reputedly proposed to Governor Lachlan Macquarie that a bridge be built from the northern to the southern shore of the harbour. In
April 1825
, Greenway wrote a letter to an earlier named "
The Australian
" newspaper stating that such a bridge would "give an idea of strength and magnificence that would reflect credit and glory on the colony and the Mother Country".
Nothing happened then but the idea stayed around. In 1840, naval architect Robert Brindley proposed that a floating bridge be built. Engineer Peter Henderson produced one of the earliest known drawings of a bridge across the harbour around 1857. One our research in TROVE, below, shows a version drawn up in 1873. A suggestion for a truss bridge was made in 1879, and in 1880 a high-level bridge estimated at $850,000 was proposed.
In 1900, the then Lyne government committed to building a new Central railway station and organised a worldwide competition for the design and construction of a harbour bridge. Local engineer Norman Selfe submitted a design for a suspension bridge and won the second prize of £500. In 1902, when the outcome of the first competition became mired in controversy, Selfe won a second competition outright, with a design for a steel cantilever bridge. This one didn't get built either though.
In 1914 Dr. John Bradfield, after whom the Bradfield Highway is named, was appointed "Chief Engineer of Sydney Harbour Bridge and Metropolitan Railway Construction". His idea for a cantilever bridge without piers, work which earned him the legacy as the "father" of the bridge, did gain more popular and government support but construction was suspended due to money available being poured in World War I.

After the cessation of hostilities, and a renewed demand for a bridge linking the city with the north shore, Dr. Bradfield and officers of the NSW Department of Public Works prepared a general design for a single-arch bridge based on New York City's Hell Gate Bridge. The tender was awarded to the English firm Dorman Long and Co Ltd, of Middlesbrough, known as the contractors who constructed the similar Tyne Bridge of Newcastle Upon Tyne, for an arch bridge at a quoted price of £4,217,721 11s 10d.
The building of the bridge coincided with the construction of that system of underground railways in Sydney's CBD, known today as the City Circle, and the bridge's design reflected this. The bridge was designed to carry six lanes of road traffic, flanked on each side by two railway tracks and a footpath. Both sets of rail tracks were linked into the underground Wynyard railway station on the south (city) side of the bridge by symmetrical ramps and tunnels. The eastern-side railway tracks were intended for use by a planned rail link to the Northern Beaches; in the interim they were used to carry trams from the North Shore into a terminal within Wynyard station, and when tram services were discontinued in 1958, they were converted into extra traffic lanes. The Bradfield Highway, which is the main roadway section of the bridge and its approaches, is named in honour of Bradfield's contribution to the bridge. [1.]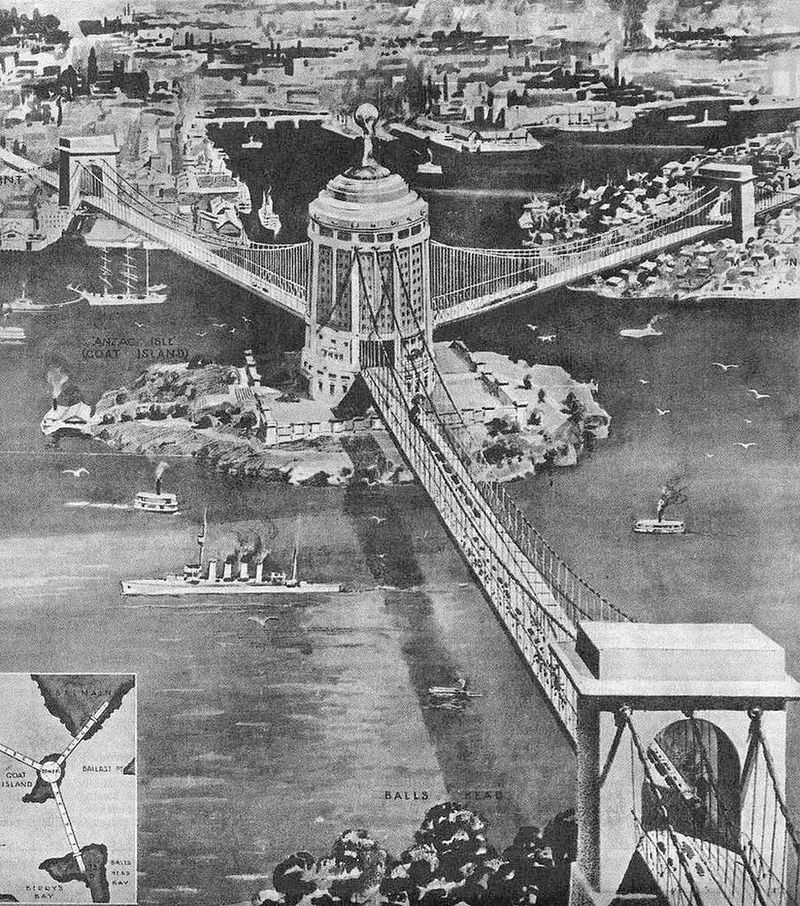 Stowe's 1922 Proposal - Original publication: National Archives of Australia
A unique three-span bridge was proposed in 1922 by Ernest Stowe with connections at Balls Head, Millers Point, and Balmain with a memorial tower and hub on Goat Island.
The official ceremony to mark the "turning of the first sod" occurred on 28 July 1923, on the spot at Milsons Point on the north shore where two workshops to assist in building the bridge were to be constructed.
An estimated 469 buildings on the north shore, both private homes and commercial operations, were demolished to allow construction to proceed, with little or no compensation being paid. Work on the bridge itself commenced with the construction of approaches and approach spans, and by September 1926 concrete piers to support the approach spans were in place on each side of the harbour.
Arch construction itself began on 26 October 1928. The southern end of the bridge was worked on ahead of the northern end, to detect any errors and to help with alignment. The cranes would "creep" along the arches as they were constructed, eventually meeting up in the middle. In less than two years, on Tuesday, 19 August 1930, the two halves of the arch touched for the first time. Workers riveted both top and bottom sections of the arch together, and the arch became self-supporting, allowing the support cables to be removed. On 20 August 1930 the joining of the arches was celebrated by flying the flags of Australia and the United Kingdom from the jibs of the creeper cranes.
The deck for the roadway and railway were built on top of the crossbeams, with the deck itself being completed by June 1931, and the creeper cranes were dismantled. Rails for trains and trams were laid, and road was surfaced using concrete topped with asphalt.
The last stone of the north-west pylon was set in place on 15 January 1932, and the timber towers used to support the cranes were removed.
On 19 January 1932, the first test train, a steam locomotive, safely crossed the bridge. Load testing of the bridge took place in February 1932, with the four rail tracks being loaded with as many as 96 steam locomotives positioned end-to-end. The bridge underwent testing for three weeks, after which it was declared safe and ready to be opened.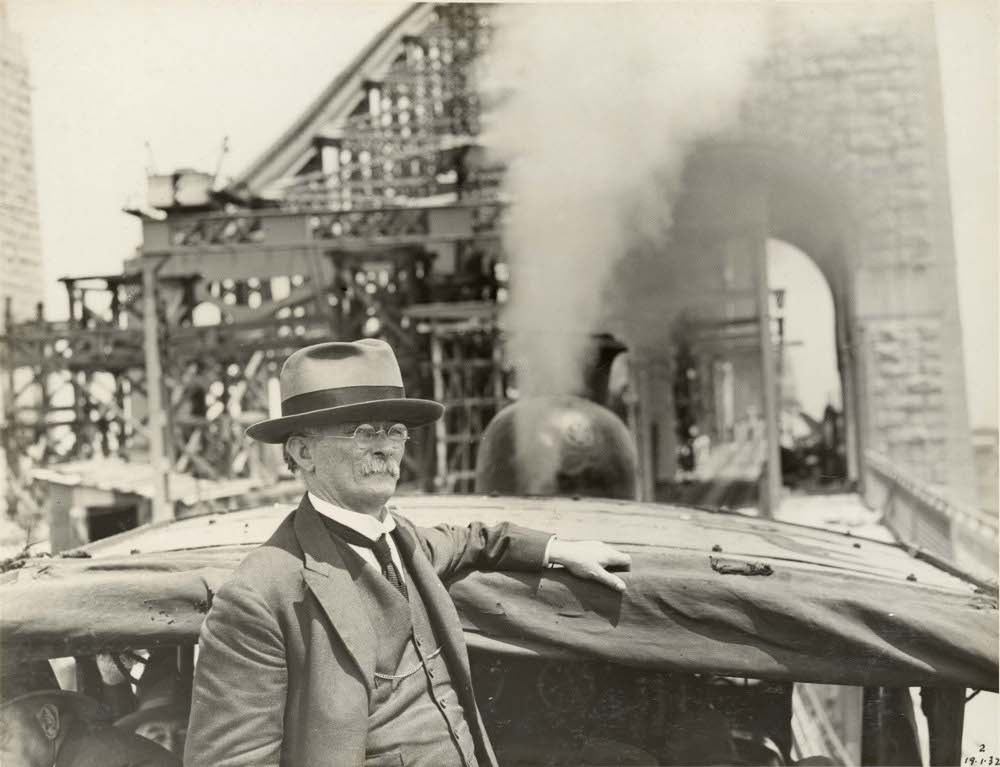 Dr. John Bradfield riding the first test train across the bridge on 19 January 1932, courtesy State Records of NSW Flickr collection.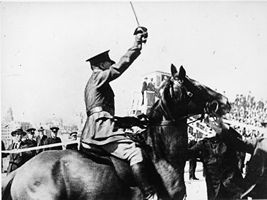 The construction worksheds were demolished after the bridge was completed, and the land that they were on is now occupied by Luna Park.
The bridge was formally opened on Saturday, 19 March 1932. The then Premier, Jack Lang, was meant to cut the ribbon, but some of you may well know that Captain Francis de Groot danced forward on his horse and cut the ribbon! de Groot was a member of the right-wing New Guard of Australia, formed in Sydney, Australia in February 1931 as a paramilitary offshoot from a conservative tradition defending loyalty to King and Empire, sound government, law and order, individual liberty and property rights. In particular, the movement was formed in response to the policies adopted by Jack Lang, the leader of the Labor Party and Premier of New South Wales.
DEMOLISHED FOR THE HARBOUR BRIDGE.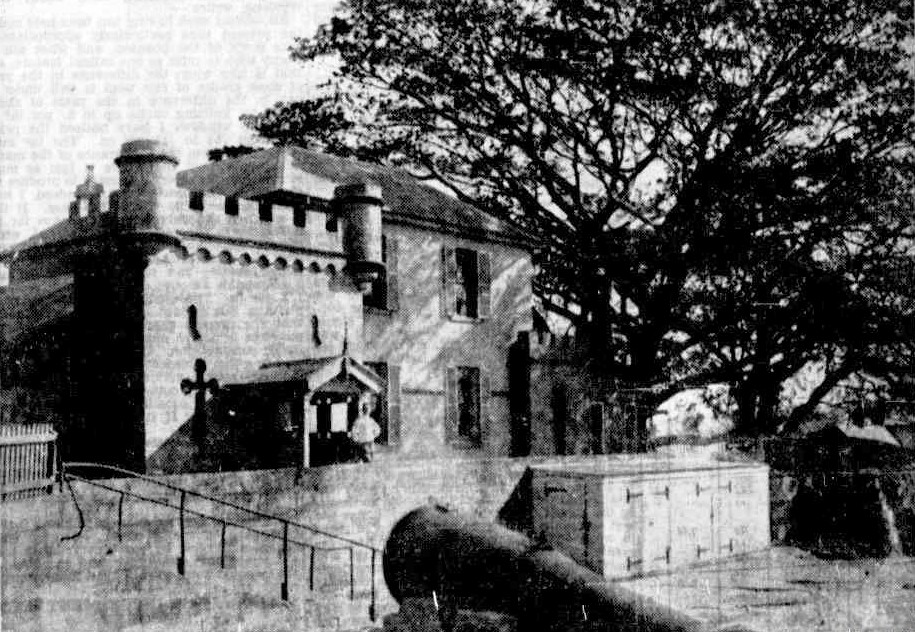 The Fort, the residence of the late Captain Hixson, at Dawes Point. At the right-hand end will be
seen the top of the old military quarters.
DEMOLITION OF HISTORIC BUILDING.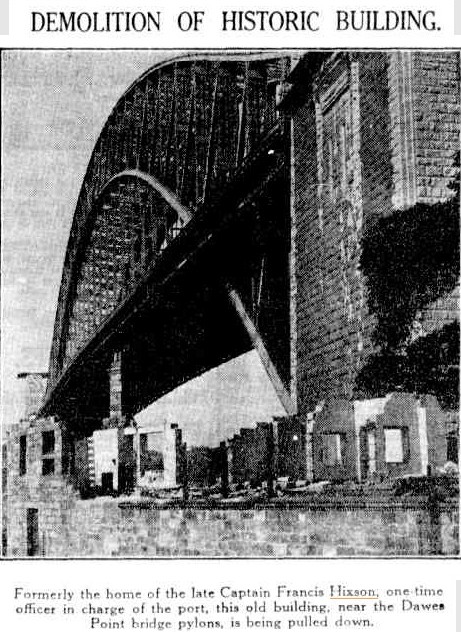 Formerly the home of the late Captain Francis Hixson, one-time officer in charge of the port, this old building, near the Dawes Point bridge pylons, is being pulled down. DEMOLITION OF HISTORIC BUILDING. (
1932, February 4
).The Sydney Morning Herald (NSW : 1842 - 1954), p. 12. Retrieved from
http://nla.gov.au/nla.news-article16838759
Yet more proof that every community is connected to every other community through threads that weave time's events. Such people, and threads, have enriched and continue to enrich us all, merely by making an acquaintance with these little parts of the whole picture.
Hannah Macluran and Dr. Bradfield on Sydney Harbour bridge prior to opening - courtesy Avalon Beach Historical Society
The 1873 Harbour Bridge notions and design:
BLUE'S POINT, NORTH SHORE, SYDNEY.
The scenery on the North Shore of Sydney Harbor is grand and beautiful in the
extreme. Early chroniclers informs us that the North Shore was considered in many respects the most suitable for
the founding of a city, and that it was only the stream of fresh water which was found flowing into Sydney Cove which led to the site on the southern side of tho harbor being chosen. Not long ago at a meeting of members of the Sydney Exchange, the chairman predicted that at no very dis-tant date their edifice would be in the centre of the city, and that St. Leonard's would be-come to Sydnoy what Brooldyn is to New York. A plan for a bridge to connect the city with the North Shore was prepared some time ago, and it is anticipated that before many years the population will have in
creased to such an extent on both sides of the harbor as to necessitate the erection of such a structure. The close proximity of North Shore to Sydney (712 yards from Dawes Point to Blue's Point, between which places steamers ply every five minutes) ren-ders it a pleasant haunt for spending a half holiday in enjoying magnificent views of the city, and in visiting some of the hundreds of places of interest with which the
district abounds.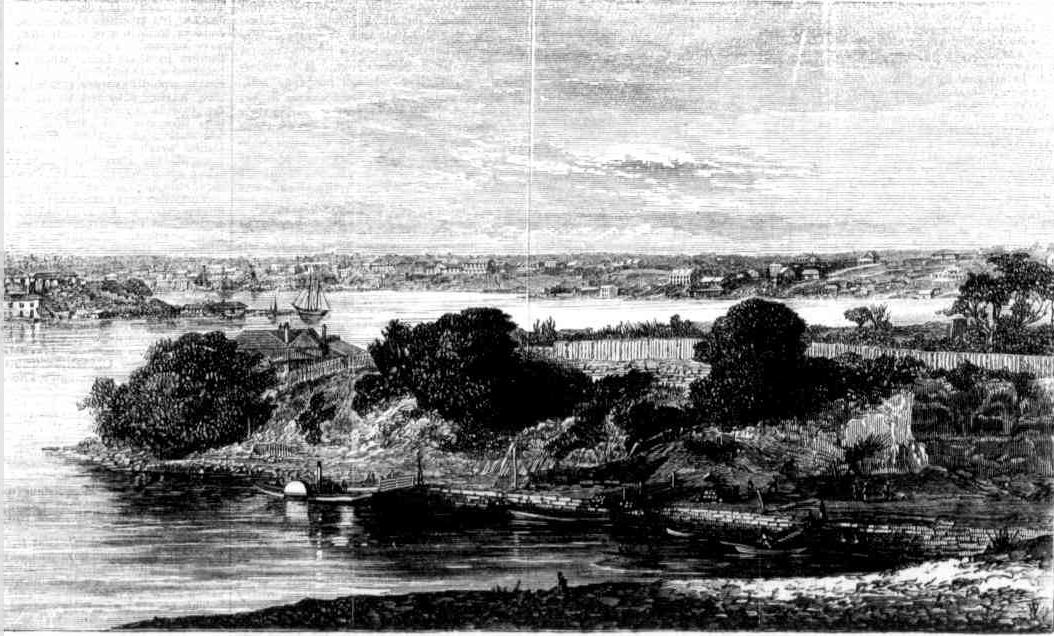 Blue's Point — the native name of which is Warung — is a prominent tongue of land on the North Shore, and situated in the western part of St. Leonard's, opposite Sydney. It derives its name from an old inhabitant, William Blue, a colored man — more familiarly known in days long past as " The Old Commodore." He resided for a great number of years on this point — which was granted to him — as also a con-
siderable tract of land, in the neighbourhood. In our sketch we show three of the 18 ton rifled guns recently received by the New South Wales Government per Thyatira from England. These are intended for the fortit-cations at North Shore, and are ready for conveyance to their respective positions, The dimensions of each are as follows : — Calibre of bore, 10 inches ; length over all, 15 feet 4 inches ; length of bore, 14 feet
5.75 inches ; number of grooves, 7 each 1.5 inches wide and about one-fourth of an inch deep. Twist in bore, 1 in 100 at the breech, increasing to 1 in 40 at the muzzle. Weight of projectiles, Palliser shot, 400 pounds ; Palliser shell, 390 pounds empty ; common shell, 368 lb. empty ; bursting charges of shells, Palliser 10 pounds ; common shell, 32 pounds ; charges of powder per gun, shot, 60 pounds ;
shell, 64 pounds. The work of landing those guns was one of considerable difficulty, and required more than ordinary forethought and care. The Thyatira was taken to Pyrmont and placed under the massive shears belong-ing to the A.S.N. Company, and the guns were then slung into punts fitted for their reception. By these they were conveyed to their landing places, three to the Circular Quay for the Southern Shore defences, and the three shown in our illustration to Blue's Point. BLUE'S POINT, NORTH SHORE, SYDNEY. (
1873, February 21
).
Illustrated Australian News for Home Readers
(Melbourne, Vic. : 1867 - 1875), p. 28. Retrieved from
http://nla.gov.au/nla.news-article60446036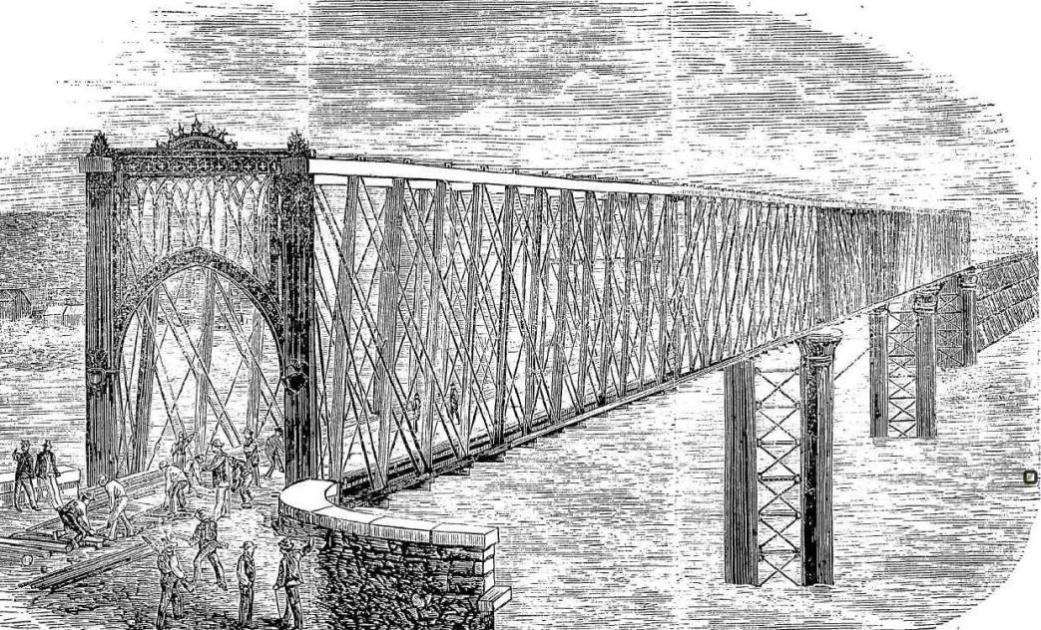 DESIGN FOR A BRIDGE TO CONNECT SYDNEY WITH NORTH SHORE
(SEE PAGE 181.) Sydney Town Talk. (
1873, August 9
).
Australian Town and Country Journal
(Sydney, NSW : 1870 - 1907), p. 17. Retrieved from
http://nla.gov.au/nla.news-article70480242
Sydney Harbour Bridge: The People's Bridge
Published on 16 Mar 2017 by National Film and Sound Archives (NFSA)
Sydney Harbour Bridge compile 2017.
Showcasing footage from the NFSA's Film Australia and National Collections. Edited by Richard Carter.
This Sydney icon will celebrate 85 years on 19 March, 2017.
The NFSA is launching a new online exhibition and curated collection to celebrate the Sydney Harbour Bridge!
Explore archival footage of the 'coathanger' throughout history - from its construction and controversial opening, to its multifaceted role as one of Australia's most recognisable icons. Listen to songs; see former bridge rigger Paul Hogan inviting the world to visit Australia from the top of the bridge, and more!
Corroboree Frog Habitat Trial Is A Hop In The Right Direction
Media release: 17 March 2017- NPWS
More than 300 Southern Corroboree Frogs were released into remote enclosures in Kosciuszko National Park yesterday as part of a massive effort to save this critically endangered species.
Gabriel Wilks from the National Parks and Wildlife Service (NPWS) said the frogs were successfully placed into specially-constructed frog enclosures within the park as part of efforts to return healthy populations of this species back into the wild.
"The newly built enclosures are in very remote locations in the national park where these frogs were once found," Ms Wilks said.
"The eight specially constructed enclosures are 7 meters in diameter and essentially look like a bottomless swimming pool with native vegetation, logs and small ponds placed inside.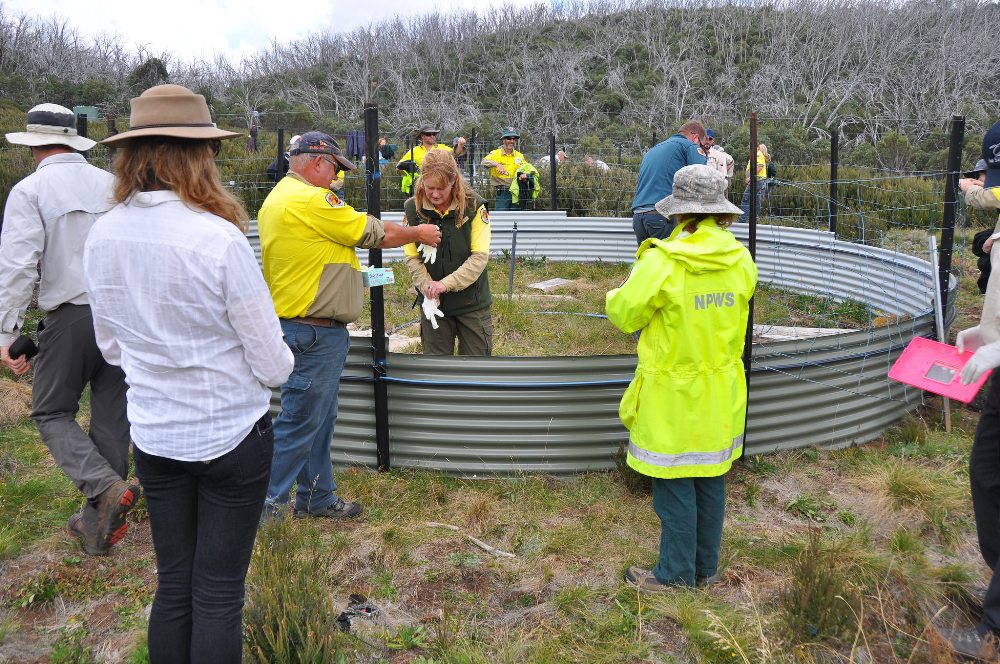 "Designing the enclosures to ensure the frogs and their mini-ecosystems remain healthy and survive the extreme weather conditions has been a challenge.
"Similar enclosures have been installed throughout Kosciusko National Park as part of a long term recovery plan to save this iconic species, but we've never before attempted to place them in such a remote area.
"The specialist skills and local knowledge of the NPWS Landforms and Rehabilitation Team was vital to work out how habitat and irrigation requirements could actually be achieved in the field.
NPWS Field officer Joel Fordham is part of the crew that constructed the enclosures and described these new frog homes as 'move-in-ready' for the tiny black and yellow striped frog.
"The enclosures are like frog resorts - ponds will have water in summer for breeding, the right vegetation for habitat shelter, plenty of ants for food and timber slabs for winter retreats," Mr Fordham said.
The construction of these enclosures was funded by the Australian Government through the Threatened Species Strategy and is part of a long term recovery plan to save this iconic species.
The frogs that were released yesterday were bred in captivity by the Taronga Zoo and Zoo Victoria.
Earlier trials with frog enclosures have already shown promising results with breeding observed at other locations.
For more information on efforts to save the iconic Southern Corroboree Frog in NSW, visit the
Saving our Species
.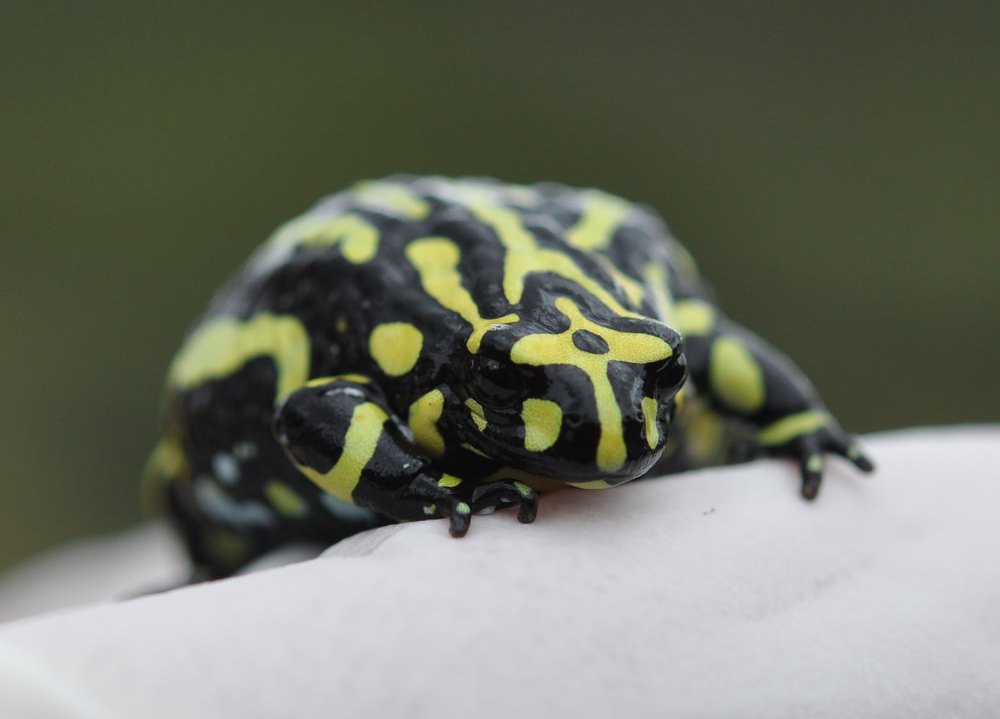 Top: One of the
specially constructed enclosures, Above:
Corroboree frogs are 2.5-3cms in length!. Photos courtesy NPWS and NSW Office of Environment and Heritage.
At Taronga:
Taronga is heavily involved in breeding and release of Corroboree frogs into the wild in a National Recovery Program to help save this species. The program involves breeding both species of frogs in at our breeding units that contain computerised temperature and water filtration systems. They are set up with dual thermostats and alarms to ensure the temperature stays within the optimal range. One of these breeding units can be seen next to Reptile World at Taronga Zoo, Sydney.
Corroboree Frogs are Australia's most iconic amphibian species and amongst the most visually spectacular frogs in the world. These tiny frogs can be readily distinguished by their bold yellow and black strips n the body and their marbled black, white and yellow belly. All known populations of the Southern Corroboree Frog inhabit Kosciuszko National Park, which is one of the best known and best loved National Parks in Australia, attracting around 3 million visitors each year. Living in marshlands and sclerophyll forests under logs and vegetation means that catching a glimpse of these stunning creatures is a rare and exciting occurrence.
Life as a Corroboree Frog
Diet
These frogs feed mainly on small invertebrates such as ants, beetles, insect larvae and mites. Tadpoles feed on algae and small bits of organic material.
Habitat
The Southern Corroboree Frog is found only within Kosciuszko National Park in the Snowy Mountains in New South Wales. This species is found at heights of between 1,300 and 1,760 metres above sea level. Habitat critical to the survival of Corroboree Frogs includes both breeding habitat and the surrounding woodland. Corroboree frogs use pools and sphagnum bogs, wet tussock grasslands, fens and wet heath for breeding. Some water bodies dry up outside of breeding season so frogs will shelter in dense litter and under logs and rocks. Northern Corroboree Frogs are known to move over 300 metres into surrounding woodland after breeding.
Breeding
Corroboree Frogs have a typical amphibian life-cycle with an aquatic tadpole stage and terrestrial frog stage. Adult males move into breeding areas in early to late summer, and call from small chambers (nests) in moss or other soft vegetation and soil at the edges of the breeding pools. The pools are often dry during the breeding season when the eggs are laid. If a female is attracted to a male, she will lay her eggs in his nest. Within the nest, the eggs develop to an advanced stage, before development stops and they enter 'diapause', where the embryos remain without developing further, until flooding of the nest following autumn or winter rains stimulates them to hatch.
After hatching, the tadpoles move out of the nest site and into the adjacent pool where they live for the remainder of the larval period as a free swimming and feeding tadpole. Corroboree Frog tadpoles are dark in colour, have a relatively long paddle shaped tail, and grow to 30 mm in total length. The tadpoles continue growing slowly, particularly over winter when the pool may be covered with snow and ice, until metamorphosis in early summer.
Behaviour
The Corroboree Frog is unusual in that this frog walks in a manner far more like a lizard than a frog and cannot hop. These frogs have no known predators due to its toxic skin secretions. Not only does it obtain pumiliotoxins from its diet, it also produces its own poisonous alkaloids, pseudophrynamines. The Corroboree Frog is a secretive creature and is often very hard to see in the wild. Adults become dormant during winter however the tadpoles remain active as the ice forms a layer of insulation that stops the bog freezing solid and they are able to survive with an extremely low body temperature, only a couple of degrees above freezing.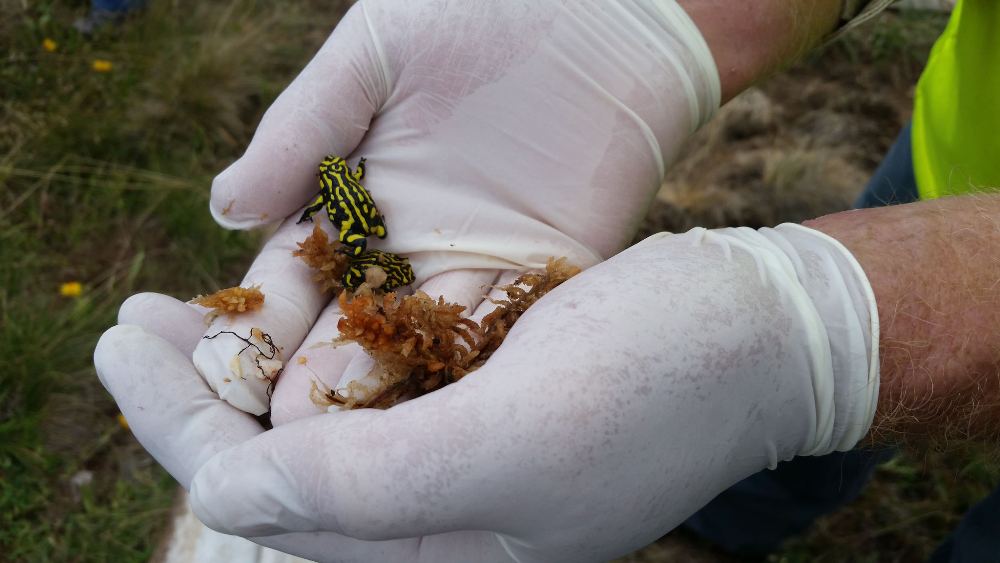 Above:
Corroboree frogs are 2.5-3cms in length!. Photo courtesy NPWS and NSW Office of Environment and Heritage.