March 29 - April 4, 2020: Issue 444

Kids' Audio Guide to State Library of NSW's paintings
A new audio guide adventure for the State Library of NSW's Paintings from the Collection exhibition was created by kids, for kids.
This project is part of the Library's commitment to including the voices of children and young people in their exhibitions and learning programs. The project was led by Pauline Fitzgerald, Senior Education Officer, who has a particular interest in student voice. Ten students from Summer Hill Public School were invited to be part of the project and were supported by teacher librarians Carmel Grimmett and Lyndall Whiley from Summer Hill Public School.
Turn your home into a gallery with our Paintings from the Collection kids audio guide adventures.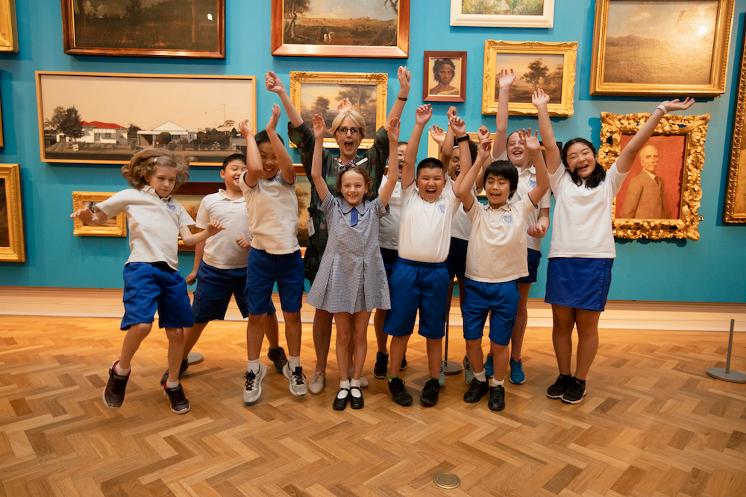 Fun and Games: New Wiggles Album + more - live streamed concerts and...
Did you know that a new Wiggles Album came out on Thursday this week?
It's Called 'Fun and Games' and that's just what the Wiggles are getting up to at present on their Facebook page and with lots of new add ins on their YouTube Channel and the Wiggles website.
On Wednesday they even did a live stream concert on their Facebook page from the Hot Potato studios - magic - if someone you know has a Facebook page maybe you can visit with them too at: www.facebook.com/thewiggles
There's some great news there and they seem to be putting up something for you every single day - thanks Wiggles.
Also posted this week was the news that Emma's Sign Language Time has begun! Get ready to enjoy your favourite wiggly songs translated in Auslan. That is Australian sign language! Todays song is 'Toot Toot, Chugga Chugga, Big Red Car!
Auslan translation and consultation by The Deaf Society NSW and Deaf Services.
Enjoy the new video here: https://bit.ly/TootTootAuslan
Subscribe to their channel for more Wiggly videos: http://ab.co/WigglesYouTube
When you have had a good romp around indoors to those head over to their website where you can find lots of games you can play online with the Wiggles - cool - at: https://www.thewiggles.com.au/play/
Here's that first new Emma's Sign Language Time to get you Wiggling!:
Archive of millions of Historical Children's Books All Digitised: Free to download or Read Online
Enter the 1: Baldwin Library of Historical Children's Literature here, where you can browse several categories, search for subjects, authors, titles, etc, see full-screen, zoomable images of book covers, download XML versions, and read all of the 2: over 6,000 books in the collection with comfortable reader views.
Find 3: more classics in the collection, 800 Free eBooks for iPad, Kindle & Other Devices.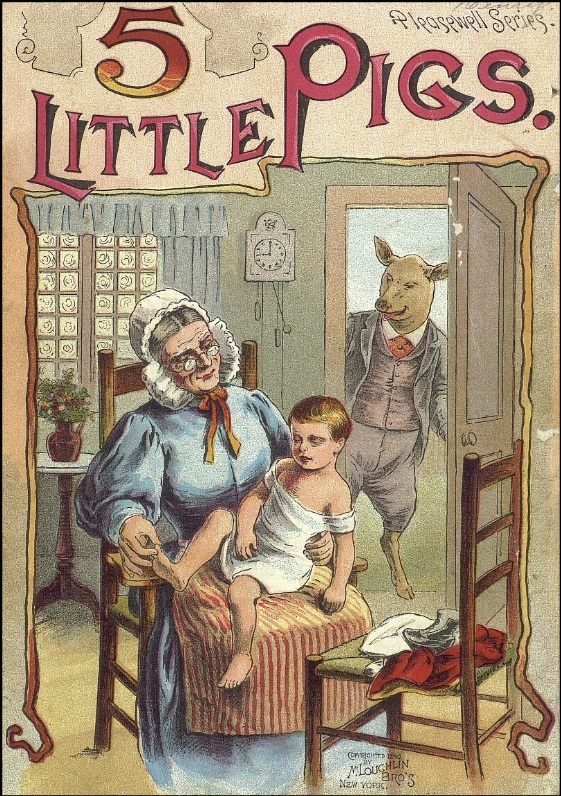 LEGO AT THE LIBRARY
Mona Vale Library runs a Lego club on the first Sunday of each month from 2pm to 4pm. The club is open to children aged between seven and twelve years of age, with younger children welcome with parental supervision. If you are interested in attending a Lego at the Library session contact the library on 9970 1622 or book in person at the library, 1 Park Street, Mona Vale.
Children's Storytime at Mona Vale Library: Mona Vale Library offers storytime for pre-school children every week during school terms. Children and their carers come and participate in a fun sing-a-long with our story teller as well as listen to several stories in each session, followed by some craft.
Storytime is held in the Pelican Room of the library in front of the service desk. Storytime is free and no bookings are required.
Storytime Sessions: Tuesdays 10.00am - 11.00am - Wednesdays 10.00am - 11.00am - Thursdays 10.00am - 11.00am
The House That Jane Built read by Kiernan Shipka

By Storyline Online - watch more stories here
The House That Jane Built is written by Tanya Lee Stone, illustrated by Kathryn Brown and read by Kiernan Shipka.
This is the story of Jane Addams, the first American woman to receive the Nobel Peace Prize, who transformed a poor neighborhood in Chicago by opening up her house as a community center.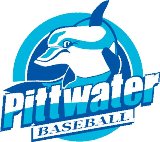 Profile:
Pittwater Baseball Club
Their Mission: Share a community spirit through the joy of our children engaging in baseball.

Profile Bayview Yacht Racing
Association (BYRA)
BYRA has a passion for sharing the great waters of Pittwater and a love of sailing with everyone aged 8 to 80 or over!
Profile: Ingleside Riders Group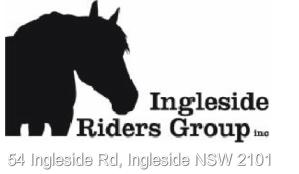 Ingleside Riders Group Inc. (IRG) is a not for profit incorporated association and is run solely by volunteers. It was formed in 2003 and provides a facility known as "Ingleside Equestrian Park" which is approximately 9 acres of land between Wattle St and McLean St, Ingleside.
IRG has a licence agreement with the Minister of Education to use this land. This facility is very valuable as it is the only designated area solely for equestrian use in the Pittwater District.
IRG promotes equal rights and the respect of one another and our list of rules that all members must sign reflect this.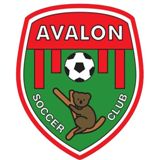 Profile:
Avalon Soccer Club
Avalon Soccer Club is an amateur club situated at the northern end of Sydney's Northern Beaches. As a club we pride ourselves on our friendly, family club environment. The club is comprised of over a thousand players aged from 5 who enjoy playing the beautiful game at a variety of levels and is entirely run by a group of dedicated volunteers.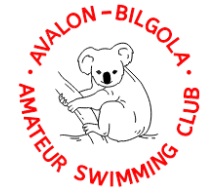 Avalon Bilgola Amateur Swimming Club Profile
We swim at Bilgola rock pool on Saturday mornings (8:45am till 11:30am). Our season runs between October and March
Making Masks with Peppa Pig

Published March 27, 2020 by Peppa Pig - Official Channel
Subscribe for more videos: http://bit.ly/PeppaPigYT
Bear Hunt In Postcode 2101
Elanora Heights Community Preschool is asking our neighbourhood friends to visibly place a teddy bear in their window, so that children can 'Go on a bear hunt' in their car or as they walk along the footpath. We're hoping this creates the ability for children in our community to develop positive and treasured memories during this difficult time.
Our community has many young children with a new daily schedule to spend more time at home and we're hoping our neighbours can help us in supporting young children through this experience by creating a new adventure in the community while also remaining at a physical distance.
We're asking our neighbourhood friends (2101) to visibly place a teddy bear in their window, so that children can 'Go on a bear hunt' in their car or as they walk along the footpath. We're hoping this creates the ability for children to develop positive and treasured memories during this time.
FOR CHILDREN THE BEAR HUNT RULES ARE AS FOLLOWS:
- Spot a bear whilst in the car or walking on the foot path. Take a picture and share your excitement with us in this group. If you have Instagram we'd also love you to tag us @elanorapreschool (Please don't knock on doors just look with your eyes.
- Practice safe physical distancing. If you spot another 'bear hunter' remember to keep a safe distance (1.5 metres) from each other.
- Remember we can't go over it, we can't go under it!
- Share the bears you've spotted throughout the neighbourhood and the street name, but not the house number. Please try to keep the exact bear location a surprise for other 'bear hunters'
-
Share our page
with your neighbours or print out our flyer as a letterbox drop invitation to invite your neighbours to participate.
- Remember to have fun and stay safe. We're not scared!
Your friends at Elanora Heights Community Preschool

Even if the parks are closed you can still go Google Trekking
On Friday Pittwater Online received a National Parks Notice that most of the public areas in our State National Parks have been closed in order to look after everyone and try and stop the spread of a disease that could you make you ill - a good idea - but it means we can't have bbq's and romp around in the parks as much as we'd like to - council has also done the same thing for ocean rock pools and local playgrounds as well - so how do we get to see our great outdoors even if we can't go strolling there at present?
Well, a few years ago Pittwater Online shared some great news about the state government working with Google in what is called 'Google Trekker' - our own local MP, Rob Stokes, Member for Pittwater was the State Environment Minister at that time, so it was great to hear about this first-hand from him - he loves the great outdoors!
Back in June 2014 the work began of mapping our National Parks - by actually walking through them with a camera - this is what the ranger walking with the camera looked like - they started with doing 16 parks to begin with:
OEH - NPWS photo
Then in November 2014 Environment Minister Rob Stokes launched Google Street View imagery of some of the most picturesque and visited national parks in NSW.
Mr Stokes said the NSW National Parks and Wildlife Service is the first organisation in Australia to be part of the Google program, which sees organisations borrow the Trekker technology to collect imagery of hard to reach places and help map the world.
"NPWS have captured 360-degree imagery of 25 parks from Kosciuszko to Cape Byron, covering over 400 kilometres of walking tracks and 700 kilometres of roads and trails," Mr Stokes said then.
"This new service means people can scope out walks before they travel, or get a glimpse of places they would otherwise find inaccessible.
"People who have been unable to make it to the bottom of that gorge or the top of that ridge can now see all the sites our national parks have to offer.
"In conjunction with the NSW National Parks website, this imagery will give people another great way to plan their park visits, check walking tracks for suitability and learn about the area beforehand.
"We have a lot to be proud of in NSW with some of the most beautiful and remote places on the planet.
"These maps will ensure people who may not have the ability to walk in some of these popular locations will still have the opportunity to experience our vast natural beauty from their lounge rooms on the other side of the world."
Basically, Google Trekker allows you to explore our National Parks as though you were on their bush tracks. You can Discover new places with a virtual tour of walking tracks, lookouts and campgrounds on the coast, deep within rainforests, and even in Outback NSW. You can get 360 degree views of these incredible landscapes and go on your own virtual adventure.
Working in partnership with Google, NSW National Parks (NPWS) has captured imagery in over 50 national parks using Google's special backpack-mounted trekker. With more than 1350km of Google Trekker footage, there are hundreds of experiences to discover.
You can also visit beautiful and historic places all over the world via Google Trekker - but let's start with places around us to begin with.
Where would you like to visit today?: Here are some of our favourite Street View virtual tours - just click on the links to take a look around for yourself
Sydney and Surrounds
North Coast NSW
South Coast NSW
Country NSW
Snowy Mountains- Kosciuszko National Park

Outback NSW and Murray-Riverina
Please note: The backpack-mounted trekker has been specifically designed to go off the grid. Occasionally, trained NPWS staff take Google Trekker into ecologically sensitive areas so we can give you a peek of places you would otherwise never see.
When you explore these walking tracks for yourself, remember to always to stay on marked tracks, so we can continue to protect these special places for generations to come.
How Tiger Got His Stripes (Animated Stories for Kids)
This humorous folktale from Vietnam, retold by Rob Cleveland, tells the story of Tiger, who was once the proudest animal of the jungle. He was even prouder than the peacock. Of course what Tiger was most proud of was his beautiful golden coat. But unfortunately for Tiger, he did not have wisdom and was jealous that only Man seemed to possess it. So Tiger approached Man and demanded that he give Tiger his wisdom. Man then uses his wisdom to outsmart Tiger when he finds himself tied to a tree with a rope. While trying to escape, Tiger burns his coat on the rope, leaving permanent stripes on his beautiful golden coat. This wisdom story will teach readers the importance of courage, caring and resourcefulness.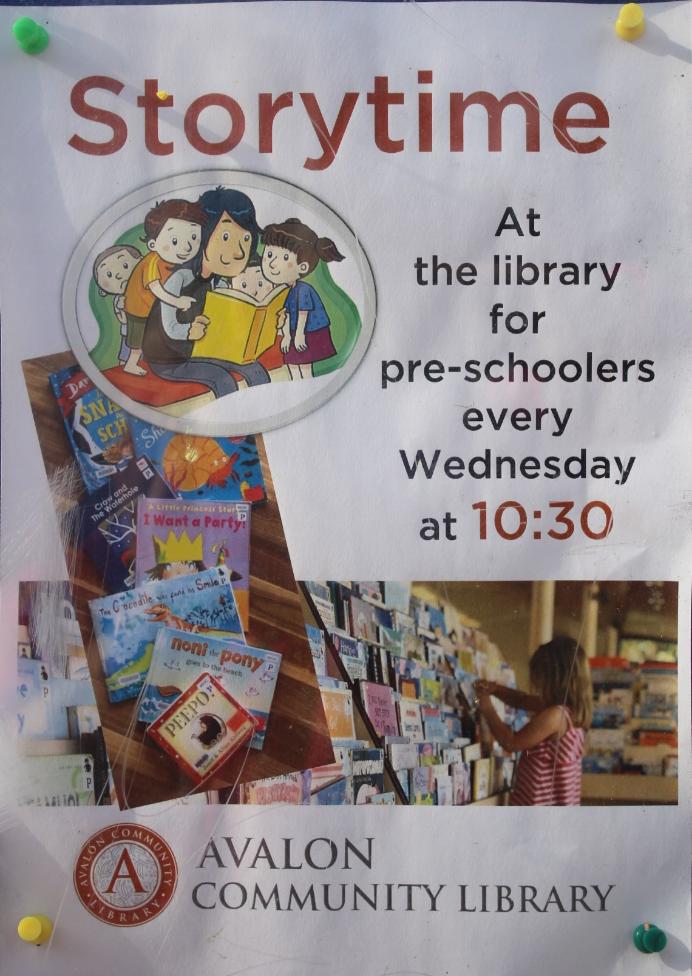 Mona Vale Mountain Cub Scouts


Find out more about all the fun you can have at Mona Vale Mountain Cub Scouts Profile –
our Profile pages aren't just about those who can tell you about Pittwater before you were born, they're also about great clubs and activities that you too can get involved in!
Giving our dog a bath
This story is about giving our dog a bath. Her name is Matilda Mae BooseBop Gumley-Guesdon. She is a Sydney Silk Terrier, born December 2nd, 2016, which makes her 3 years and 4 months old now.
Matilda was only very little when we first saw her, on Boxing Day 2016, so we had to wait until the middle of January 2017 before we could bring her home - and then she still needed lots and lots of puppy milk for months to grow up big and strong.
Silky Terriers are usually quite dark when babies and they get lighter in colour as they grow up.
This is her the morning after we first brought her home: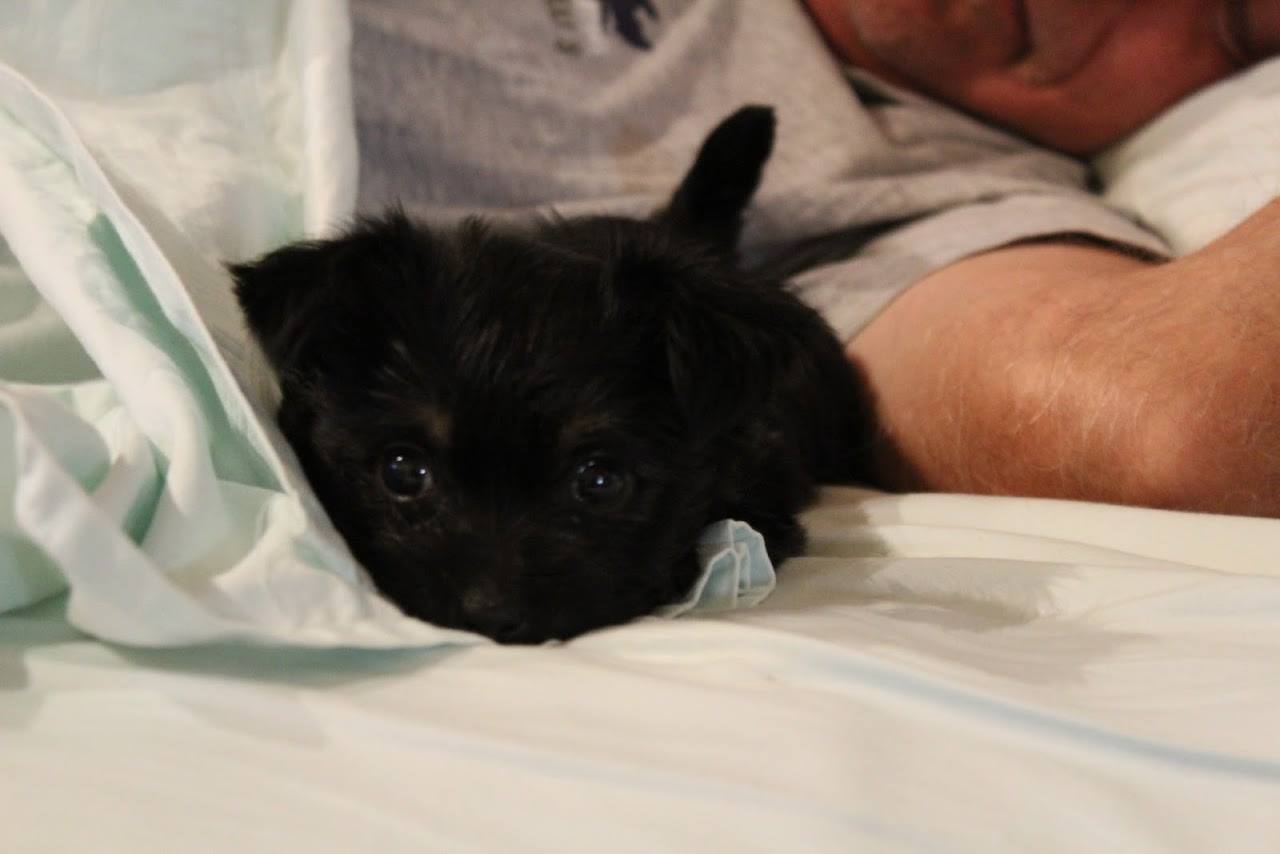 This is her as a puppy with one of her first toys: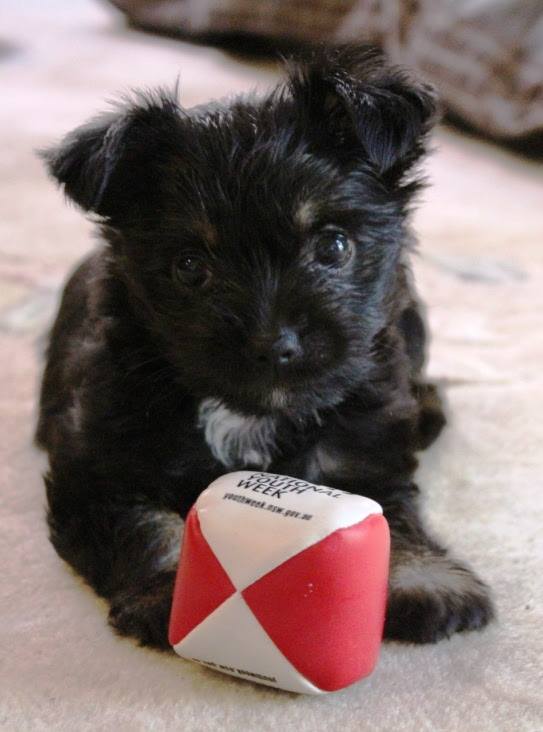 This is her chewing on my fingers as a puppy: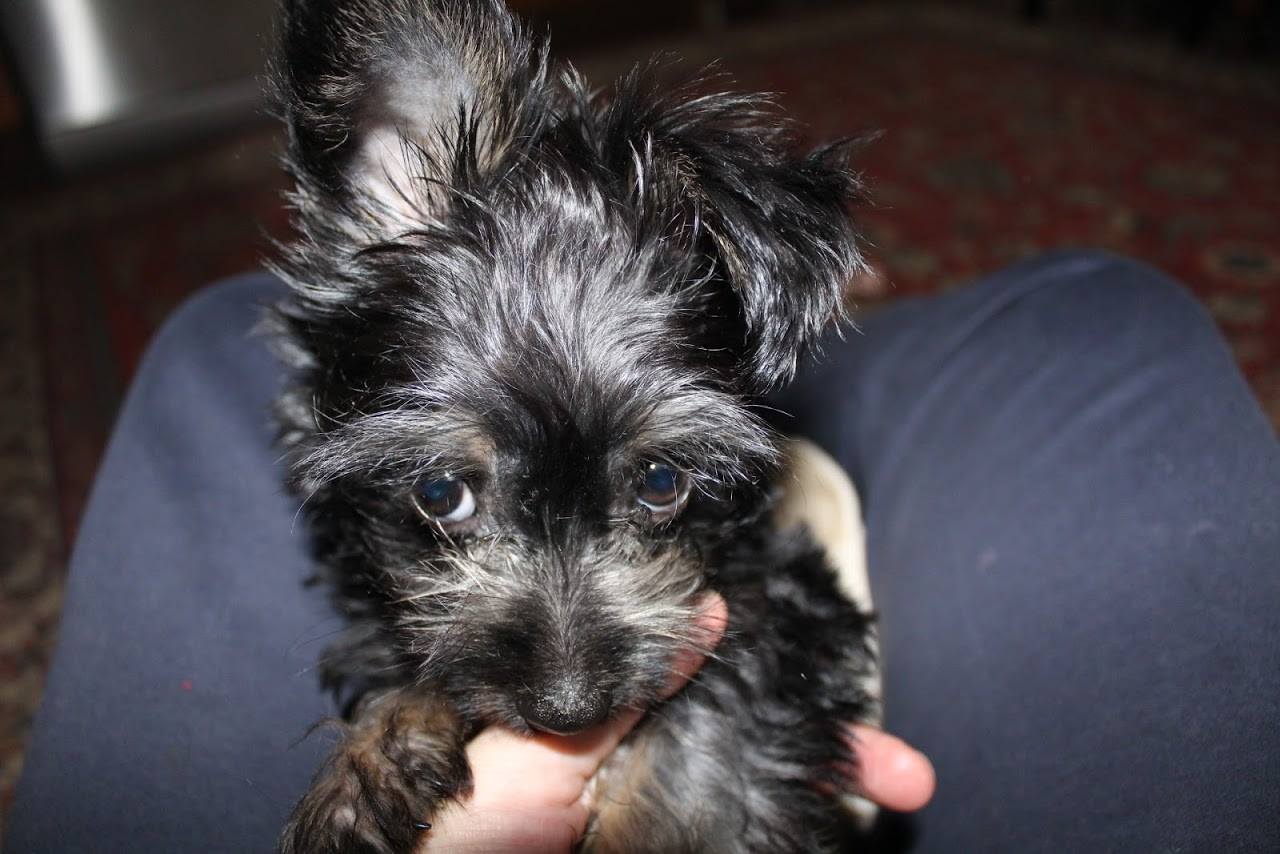 This is the first time we took her out to eat - she had a burger, down at the Beach House on Avalon Beach, and loved it - as you can see, she was still only one handful then: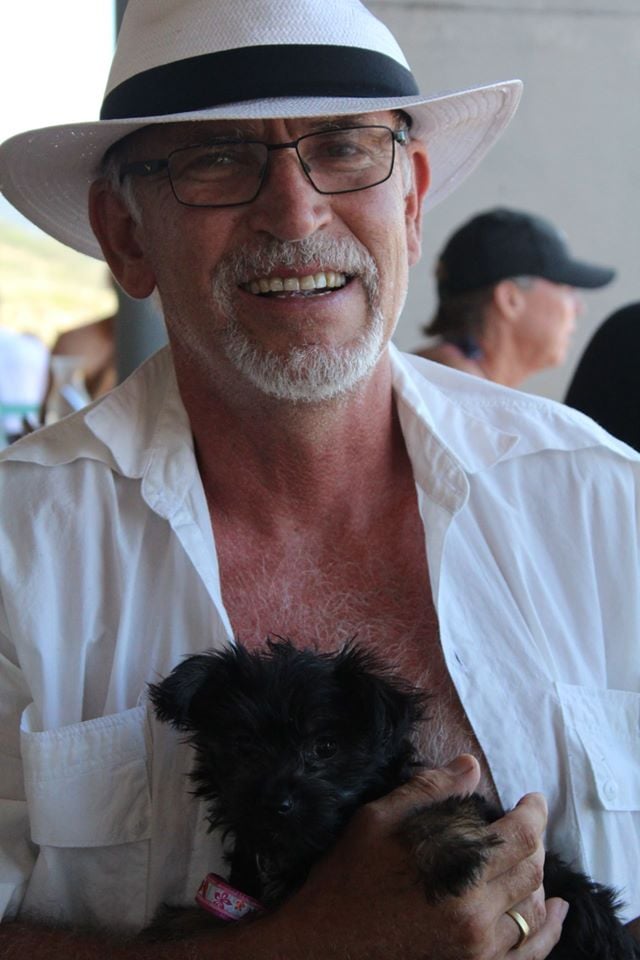 This is her around 16 weeks of age - she likes playing 'chasings' with leaves - a gum leaf, a Norfolk pine leaf - any old leaf will do - whatever falls into our yard!: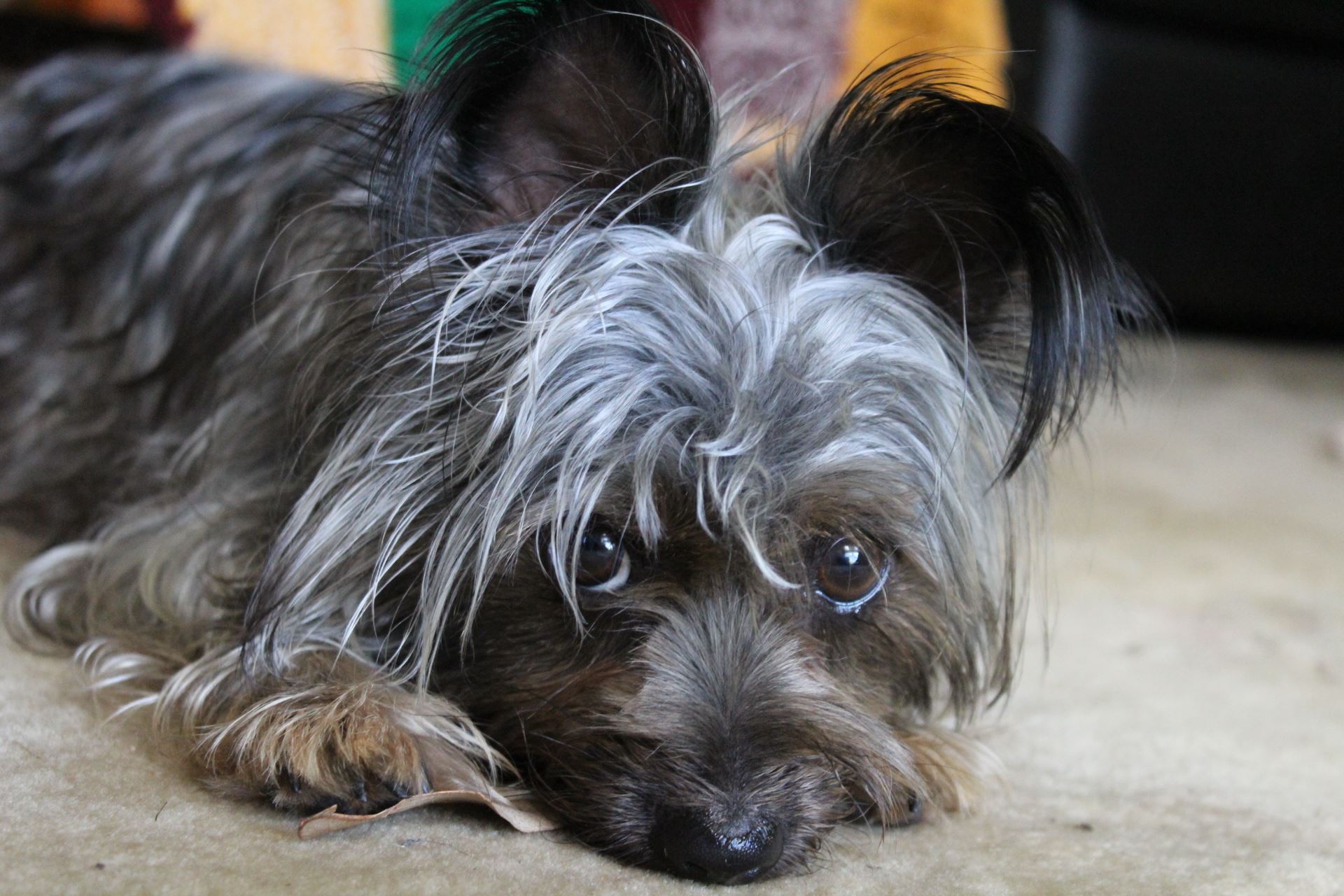 This is Matilda on her first birthday in 2017 - we did all the things she likes, a run in the park, a nice breakfast, lots of cuddles and tummy rubs, a long game of chasings, a burger for dinner - we let her just be a dog and do dog things, even rolling around in mud are ok because we can give her... a bath!: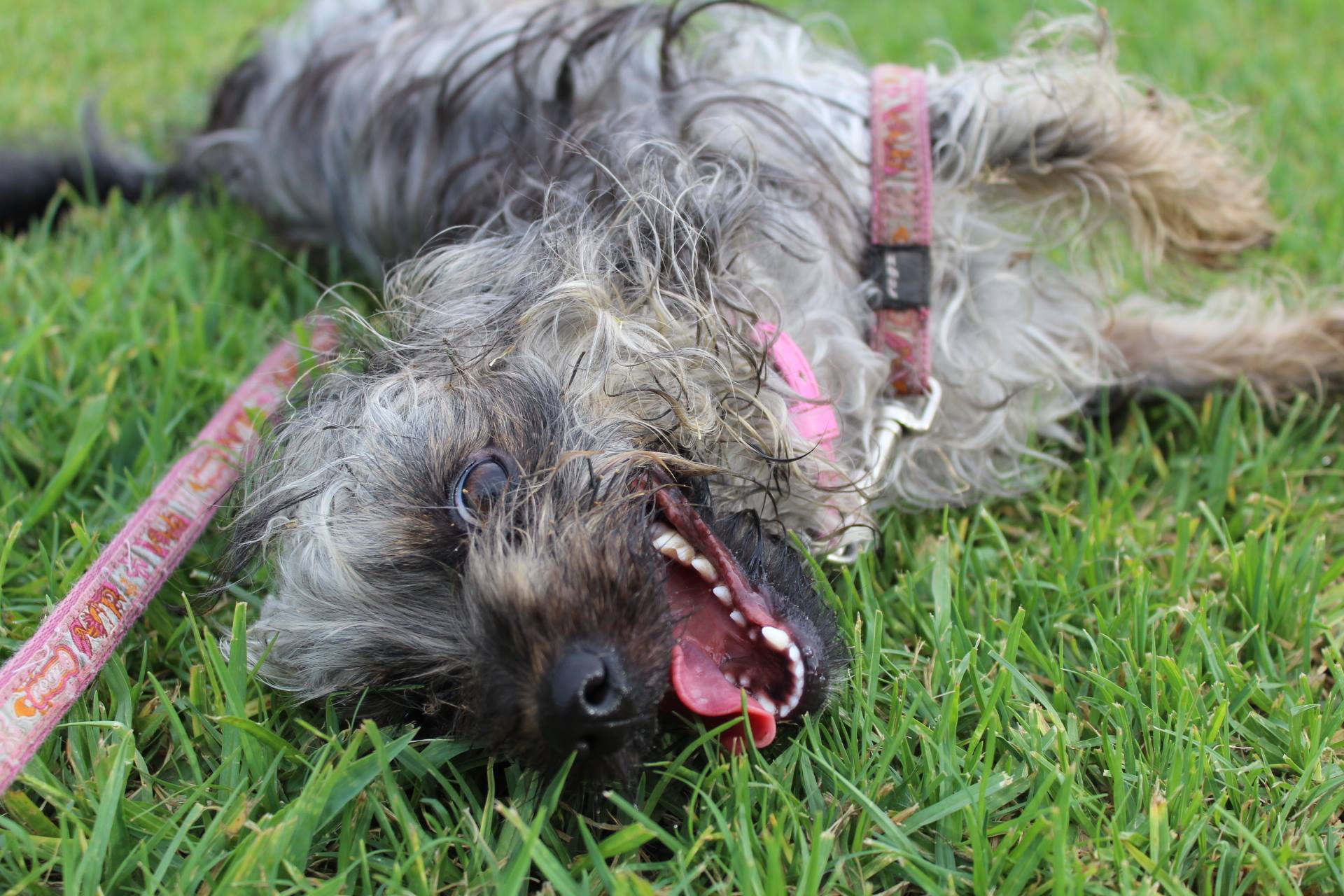 Matilda ('Tilly') is a very social dog and likes to come along to any story we're covering for Pittwater Online News. This is Tilly among the Avalon Bulldogs A Grade team as they try to do their warm-ups; she is giving as many as possible a good luck lick - and yes, that day and that match they won!: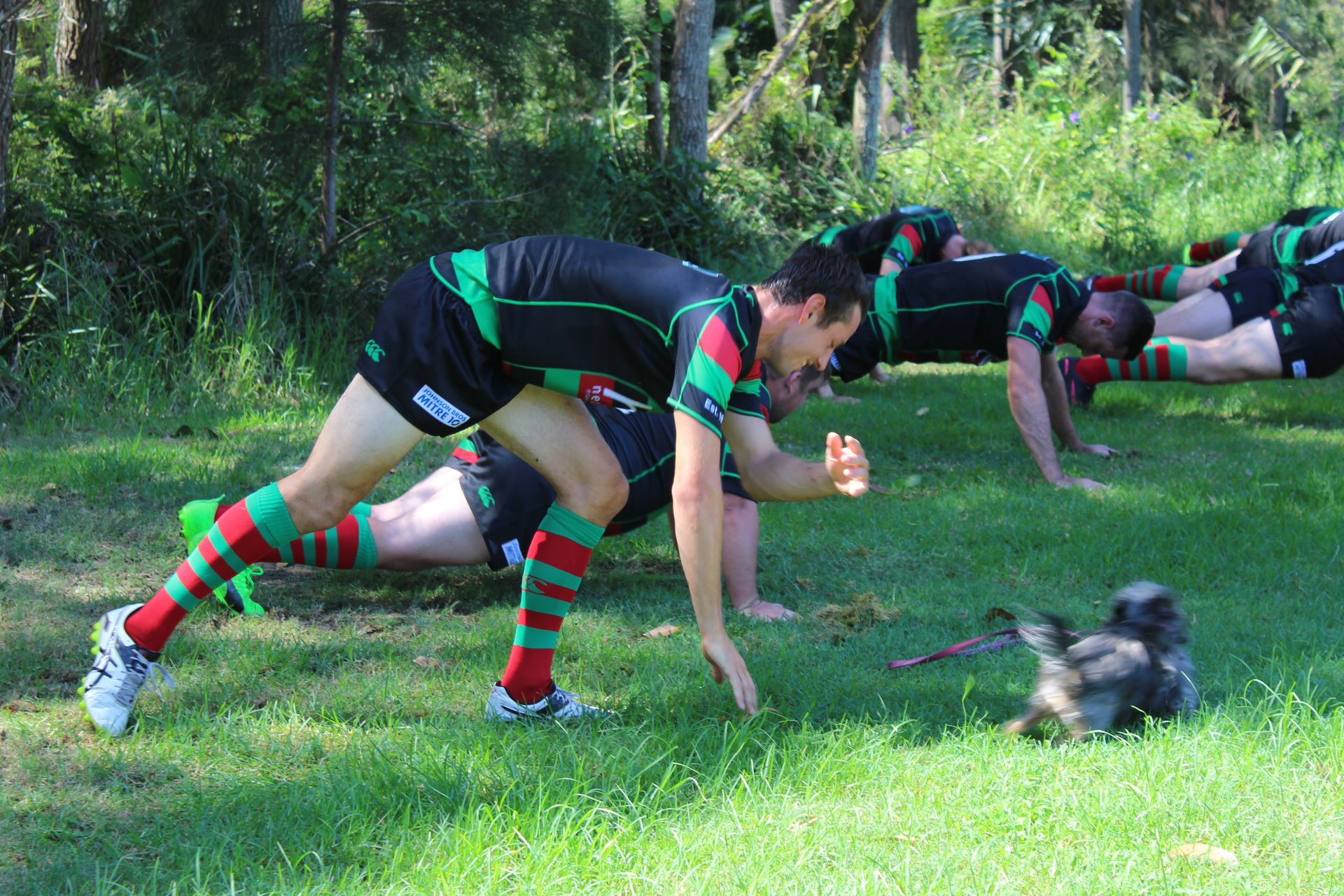 This is Tilly with The Green Team - they said I could take their photograph as long as they could give Matilda a cuddle - she'd already given them all a lovely puppy kiss: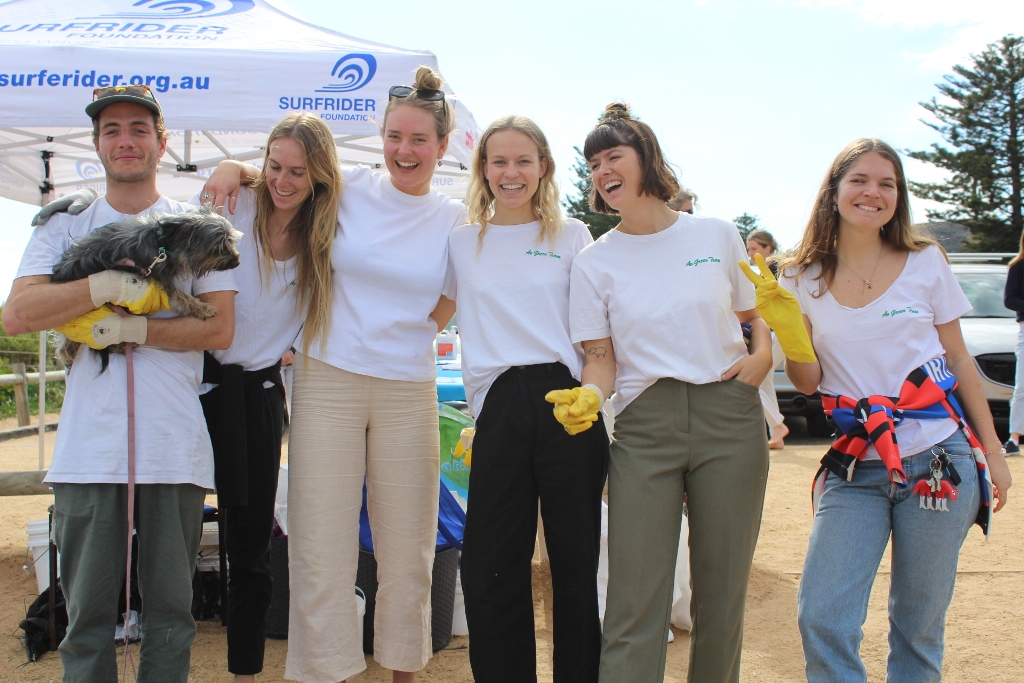 She's pretty involved in everything going on around here - when she gets the chance - and LOVES little boys and girls, who she also makes smile and laugh!

So, to give her a bath, we take off her collar and put the water on into the bathtub.
This is the look Matilda gives when I tell her she's going to 'have a bath' - although she looks a bit upset, after the bath she feels so much better with all that dirt and mud she has rolled in lately washed off: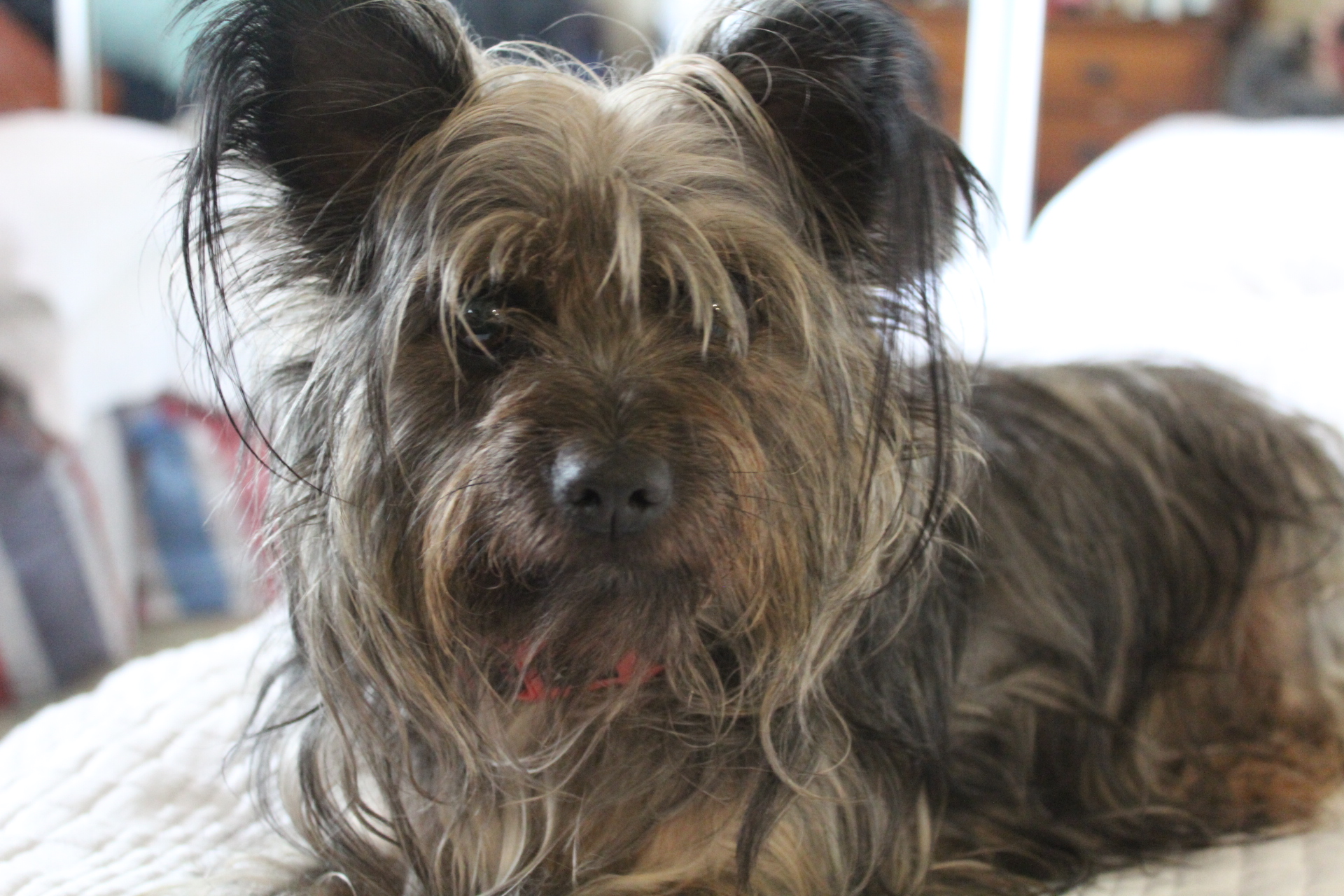 'Are you sure you need to give me a bath?' - you can almost hear her saying:
When we're giving her a bath we have a special washcloth that is hers to sponge her with - this is also good for wiping around her eyes as it gets the muck off that builds up around there and also you're unlikely to scratch your puppy dog with your fingernails if you use a washcloth or sponge. We also make sure the water temperature is just tepid - not too cold, not too hot, and not too deep - just over her furry little knees is ample for depth: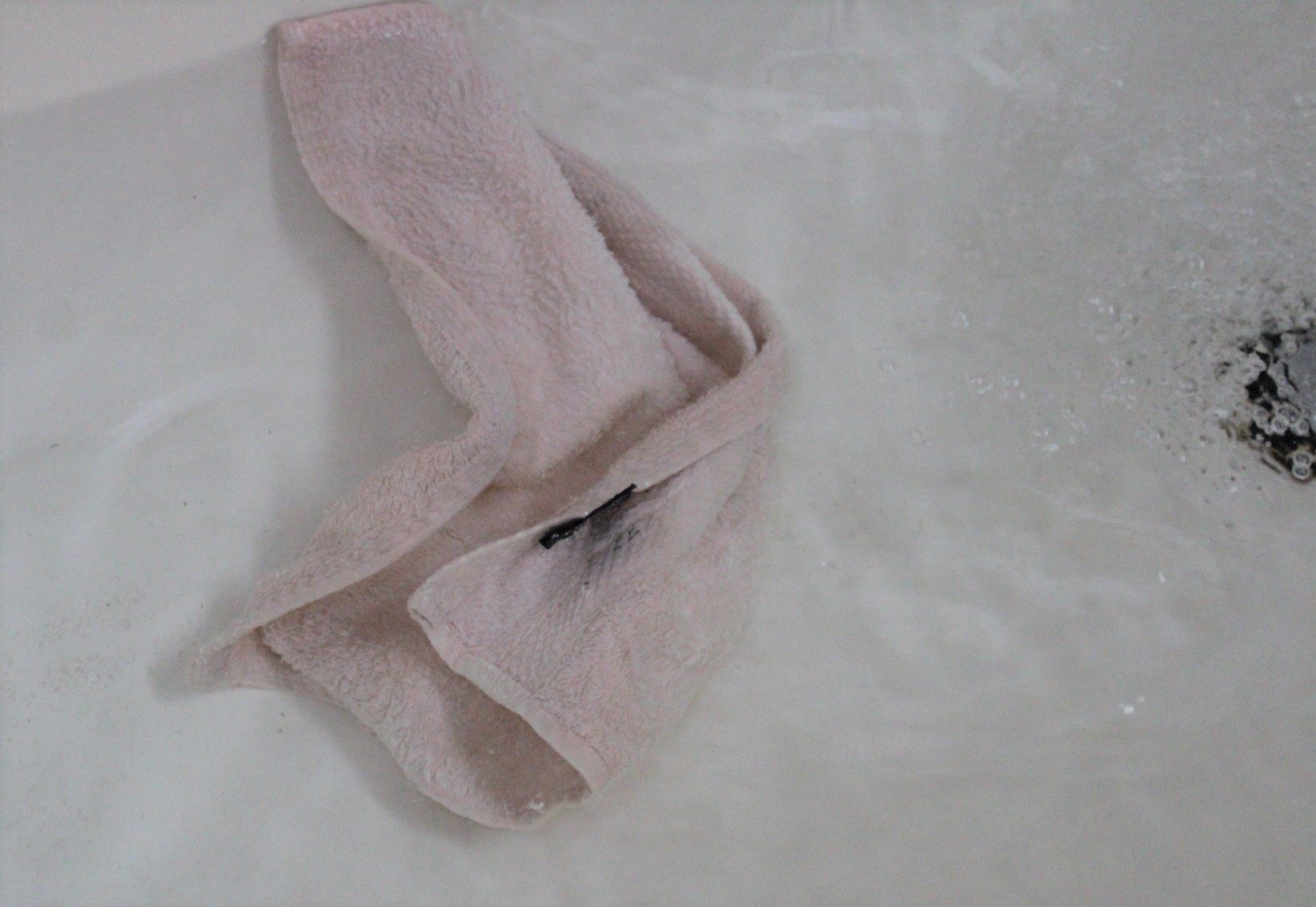 Her specialist dog doctor (called a 'Veterinarian') also spoke about using a good shampoo that won't irritate her skin when she was very little - soap and shampoo for humans can irritate your dog's skin, so we buy this one - it takes us about a year to get through the whole tube and most importantly, Matilda likes it as it isn't highly perfumed. We did try another type to start with but it reeked of something sweet and she would go out and roll in the mud immediately to 'get that stink off'.
This shampoo and conditioner are made by a company based at Warriewood - so that's a win for a local community business which usually turns out to be a win all round - her collars and leads are also from a local business, a lady at Bilgola Plateau started the business which makes her DOOG collars and lead and we like them as they're softer and won't cut into Tilly as some stiff leather collars or nylon ones may do - and they also have a great clip on the collar which makes it easy to take off - at any rate, her puppy shampoo: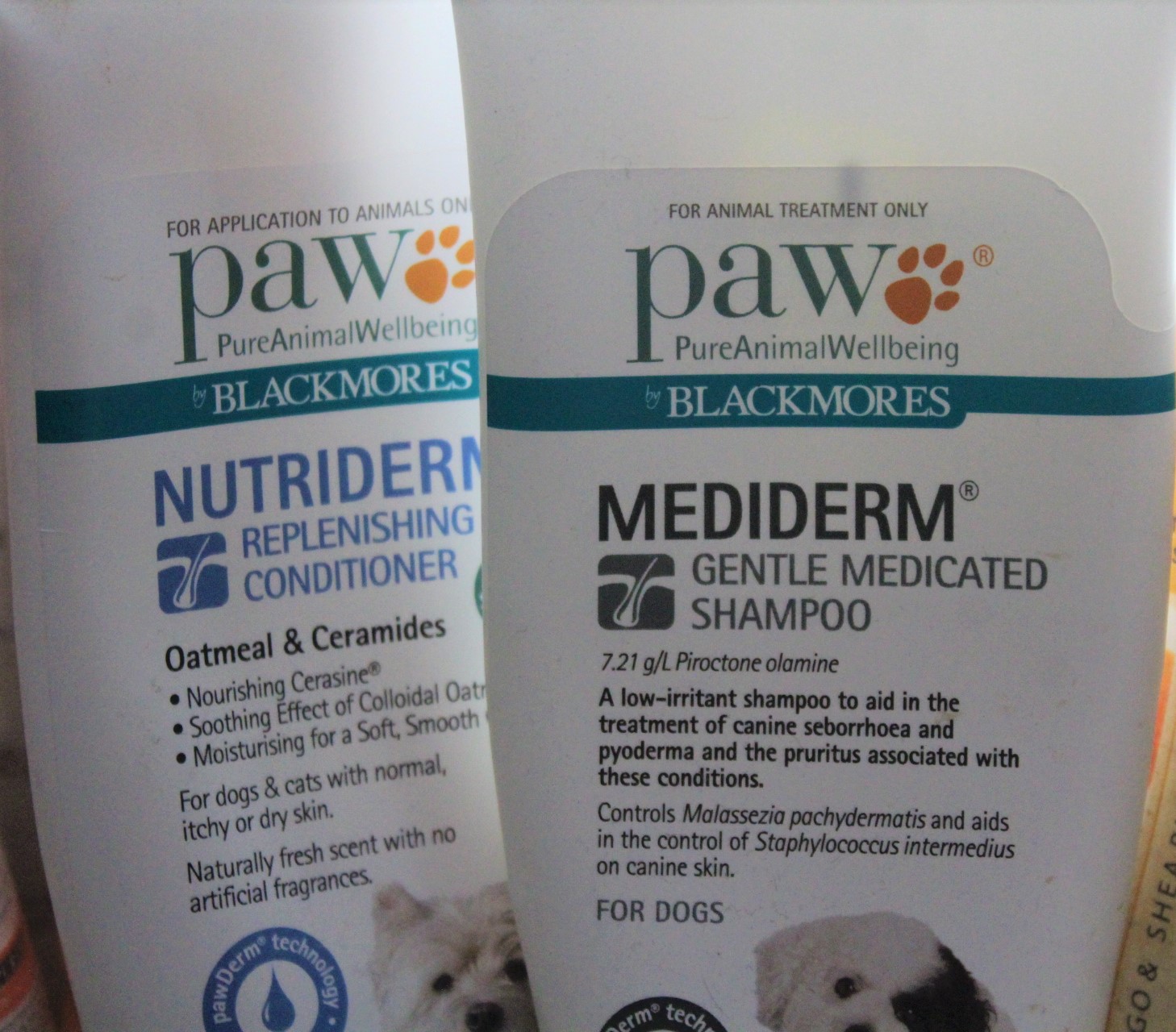 While Tilly is having her bath it's a perfect opportunity to give the hairs which grow longer around her eyes a bit of a trim to stop them bothering her or hurting her eyes: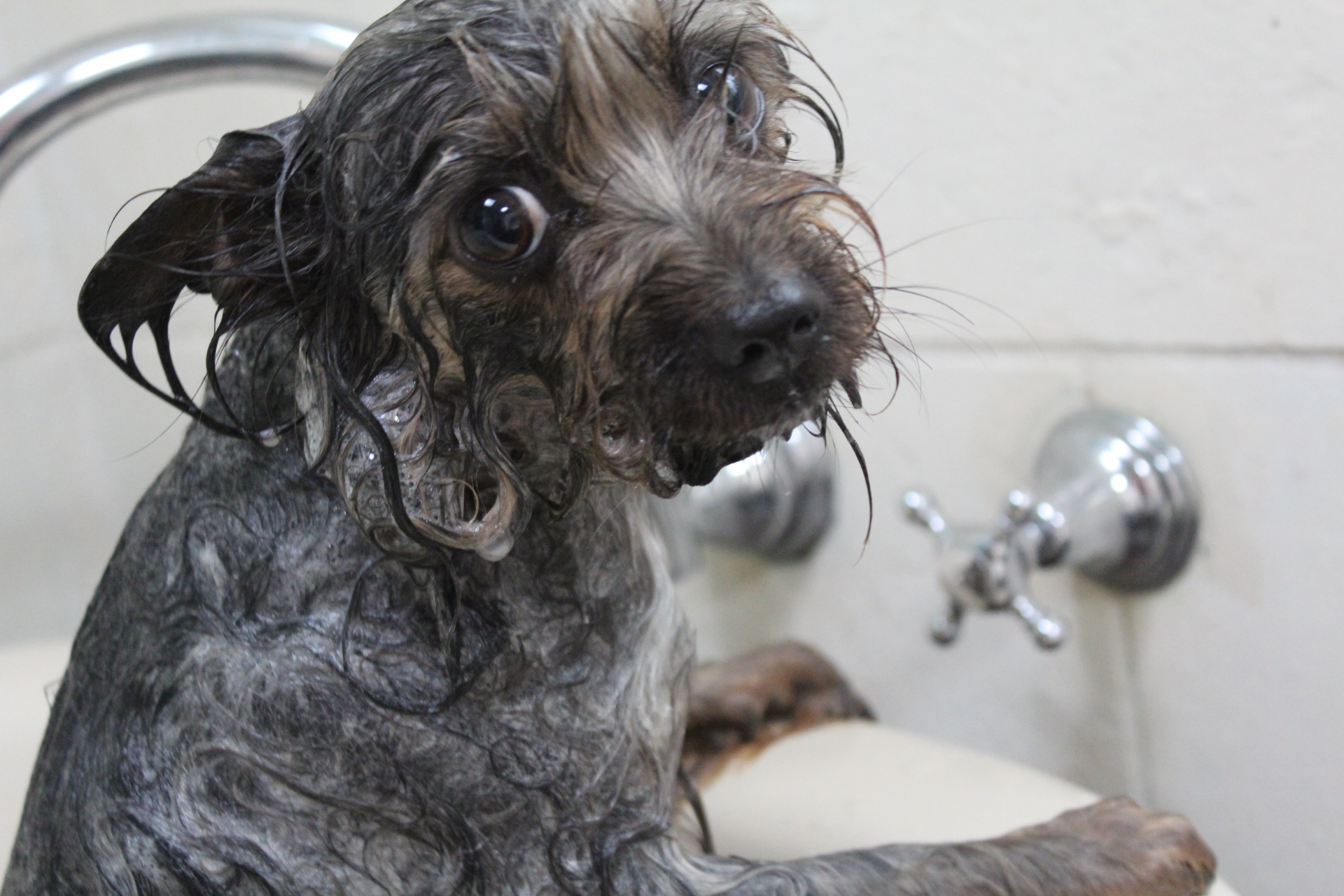 As you can see her expressive look of 'get me out of here' persists through the dog washing process: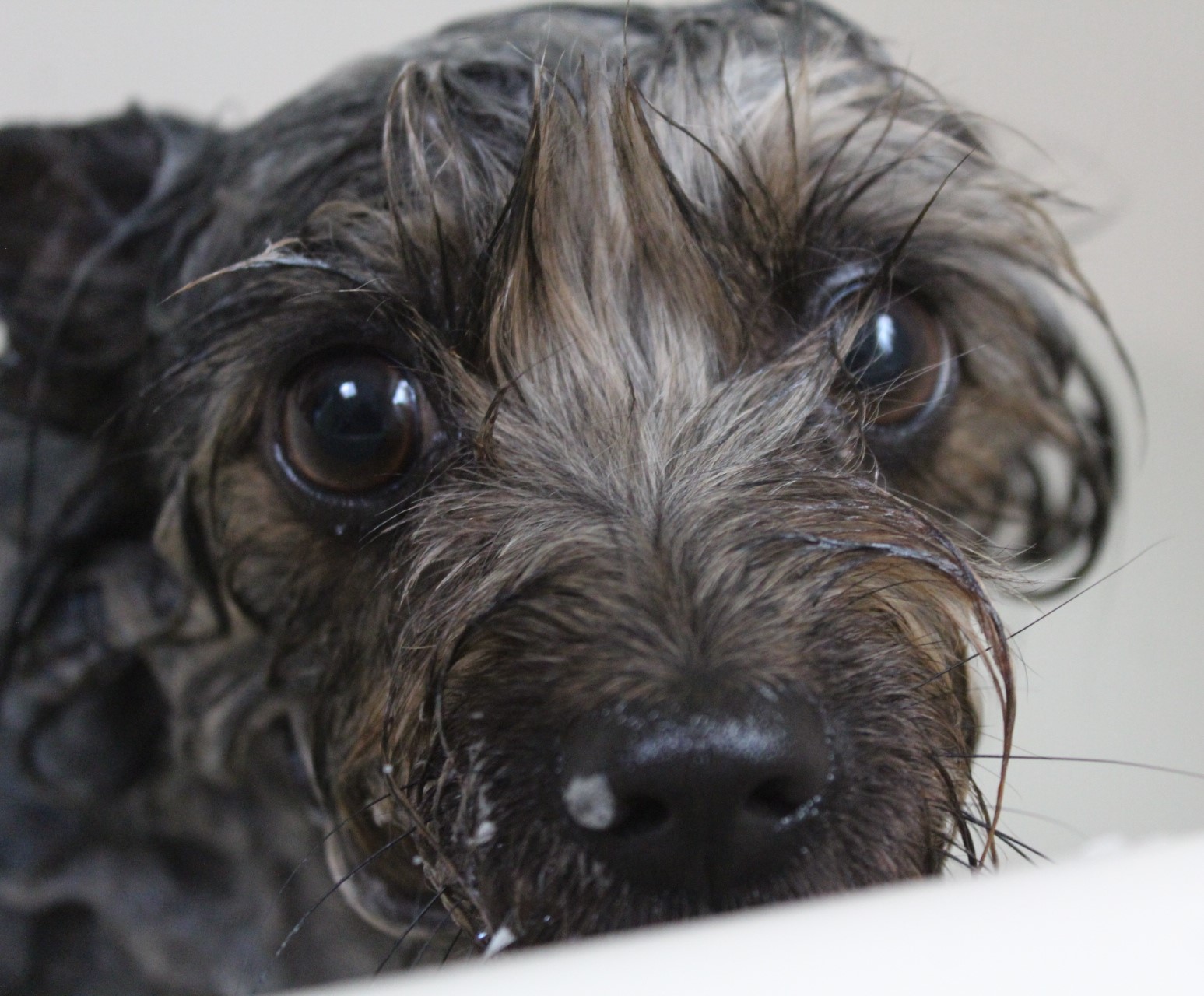 Once she has been shampooed and conditioner added then rinsed out, we give her a good towel dry and put a heater on for a little while for her to sit in front of so she doesn't get a chill. We also give her a few treats to get her to sit there for a little bit: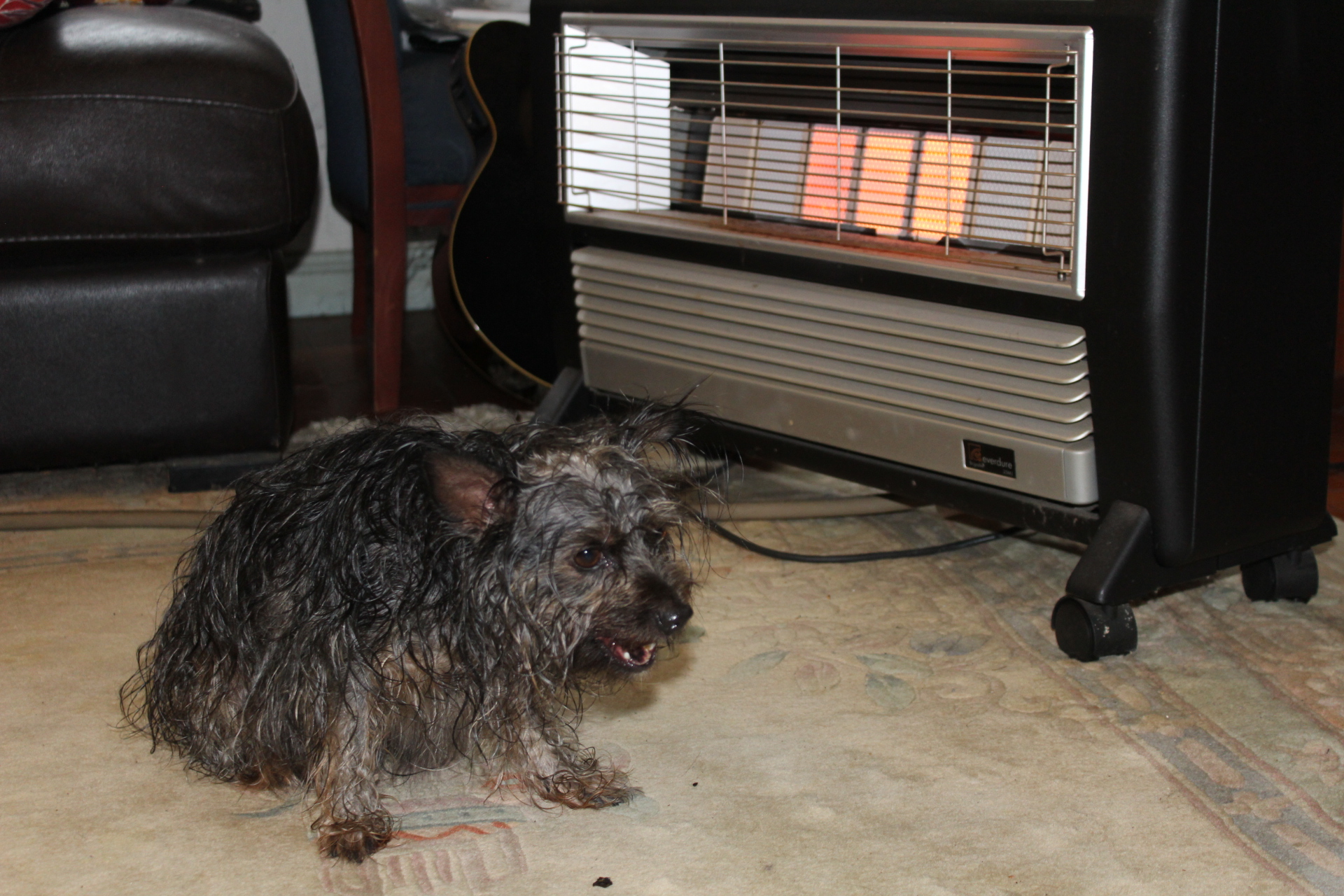 Tilly likes running around after that, will jump up onto the couch so she can rub her fur and roll around in cloth to dry herself off even more - even rolling around in her dog bed beside my desk here: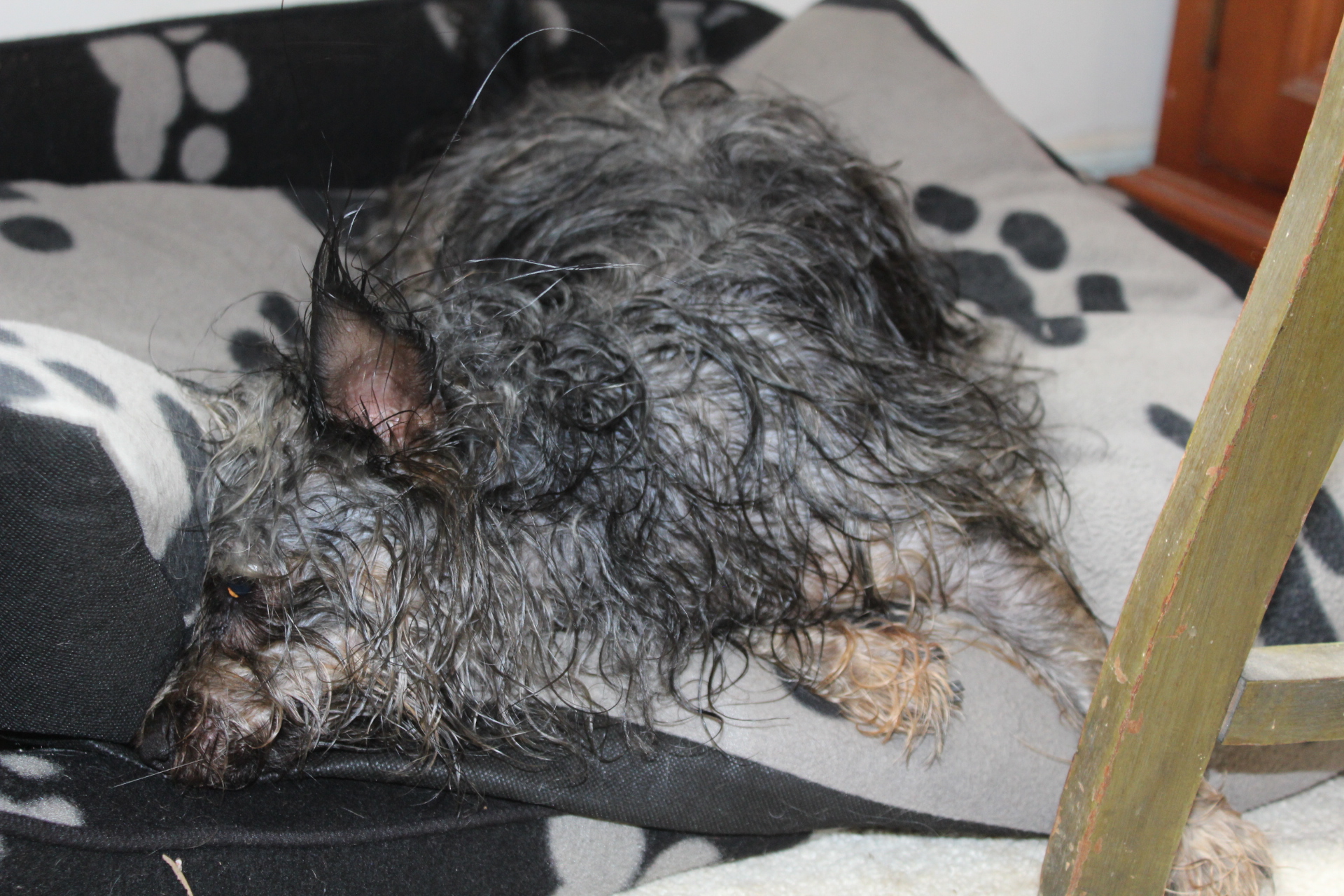 And then she's ready for a brush to get some tangles out - just like we give her a brush after rolling in leaves to get them out - and then it's back to her usual dog occupations - sitting by my side, sniffing around the garden or telling us it must be getting near time for her dinner: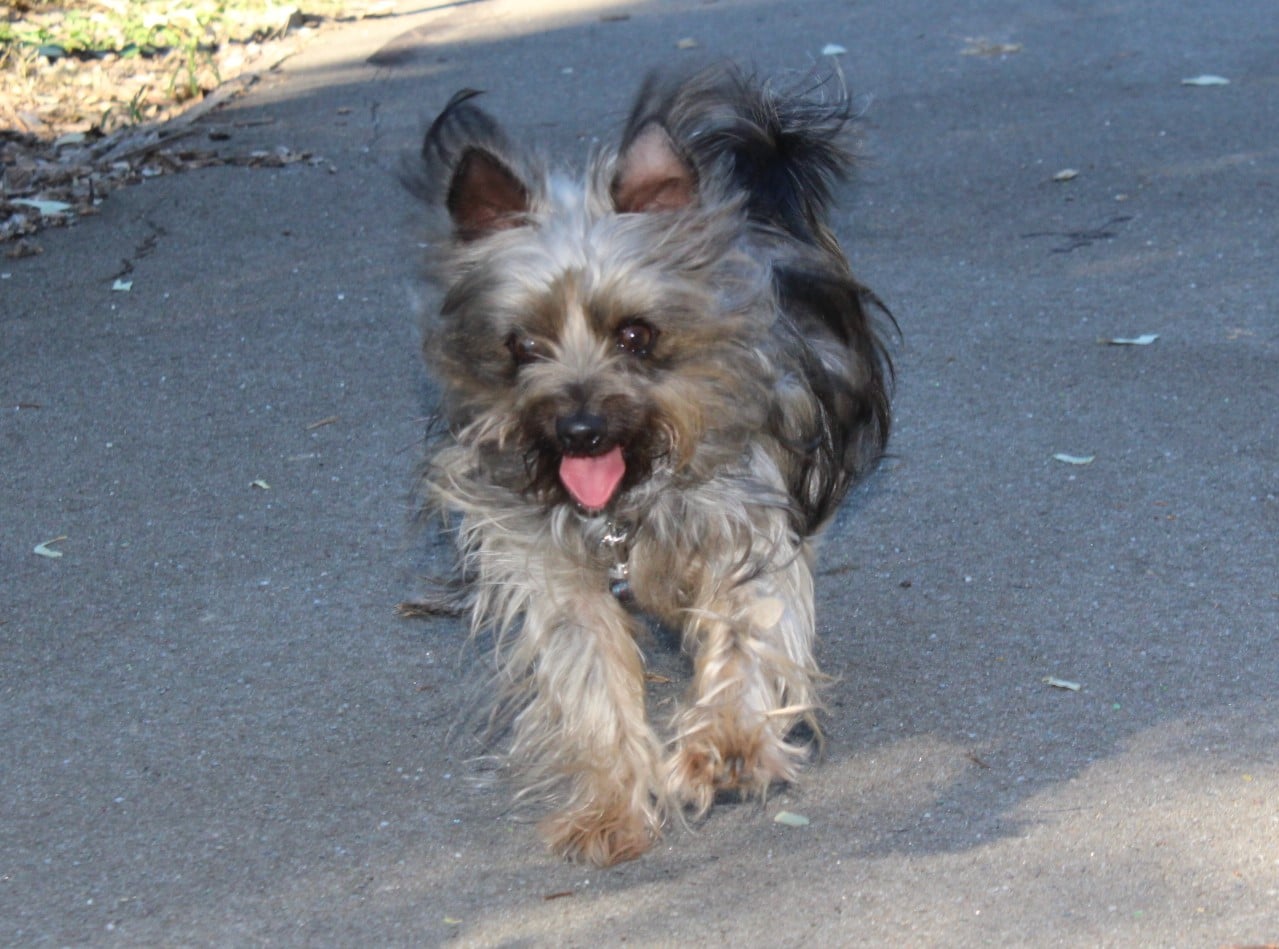 Zoos Victoria Now Live Streaming Animals: Bringing the zoo to you
On Wednesday this week Zoos Victoria commenced live streaming videos of some of the animals they look after so people can see what's happening without having to leave home.
''We've set up a few live stream cameras from Melbourne Zoo and Werribee Open Range Zoo, so you can enjoy the zoo from anywhere.'' Zoos Victoria stated on a webpage dedicated to the live streaming setups.
'See Melbourne Zoo's three baby Snow Leopard cubs as they play under mum's watchful eye in their den. Enjoy the penguins as they go about their busy day; look up high and spot the giraffes as they spend most of the day eating; and check out the lazy lions of Werribee Open Range Zoo as they lord over their very own Pride Rock.
Can't see them? That's because our animals live in areas that are much bigger than what a camera can capture and they have the choice to wander wherever they please. Check back in later to spot them.' Zoos Victoria says.
Pittwater Online has embedded the Penguin Cam below but you can also visit the Snow Leopard Cub Cam, Giraffe Cam and Lion Cam - just click on the links we've place here and enjoy!
Links to:
Dorothea Mackellar Poetry Awards 2020
It's been a few years since we reminded you of this one - but it's on again, entries close June 30th, and this may be the year you send yours in!
Named for a lady poet who had a lovely place at Lovett Bay and for whom our electorate is named - The Dorothea Mackellar Poetry Awards are back!
2020 OPTIONAL THEME: "WE USED TO LIVE THERE"
"Our poets are encouraged to take inspiration from wherever they may find it, however if they are looking for some direction, competition participants are invited to use this year's optional theme to inspire their entries."
In 2020, the Dorothea Mackellar Memorial Society has chosen the theme "We Used to Live There." Instantly a nostalgic feeling of home and belonging washes over you, but we're sure Australian students will surprise us with their interpretations. As always, it is an optional theme, so please write about whatever topic sparks your poetic genius.
For a copy of the wonderful theme poster, please click here.
About
In 1983, Mrs Maas (OAM PHF), with the support of volunteer judges Rosemary Dobson and Joan Phipson and local poet Anne Bell, orchestrated the foundation of the Dorothea Mackellar Memorial Society Inc. – the body that now hosts the Dorothea Mackellar Poetry Awards. It comprises a volunteer committee of community members from a wide range of backgrounds.
The poetry competition has grown from 300 entries in 1984 to tens of thousands of entries each year from school students across the nation. The competition also has a dedicated following from teachers whose support is integral to its continued success.
Jean Isherwood was also deeply touched by My Country and in 1983 set herself the task of painting a series of watercolours that she hoped would reflect the beauty described in the verses. This collection can be viewed at the Mackellar Centre.
THE DOROTHEA MACKELLAR SCULPTURE
The Dorothea Mackellar statue is now one of Gunnedah's most visited landmarks.
For the historians, the bronze statue was constructed in 1983 by a well know sculptor Dennis Adams and faces towards Kurrumbede and The Rampadells, the Mackellar family holdings in the early 20th century.
The parkland around the memorial has been developed and dedicated to the founder of the Dorothea Mackellar Memorial Society, Mrs Maas.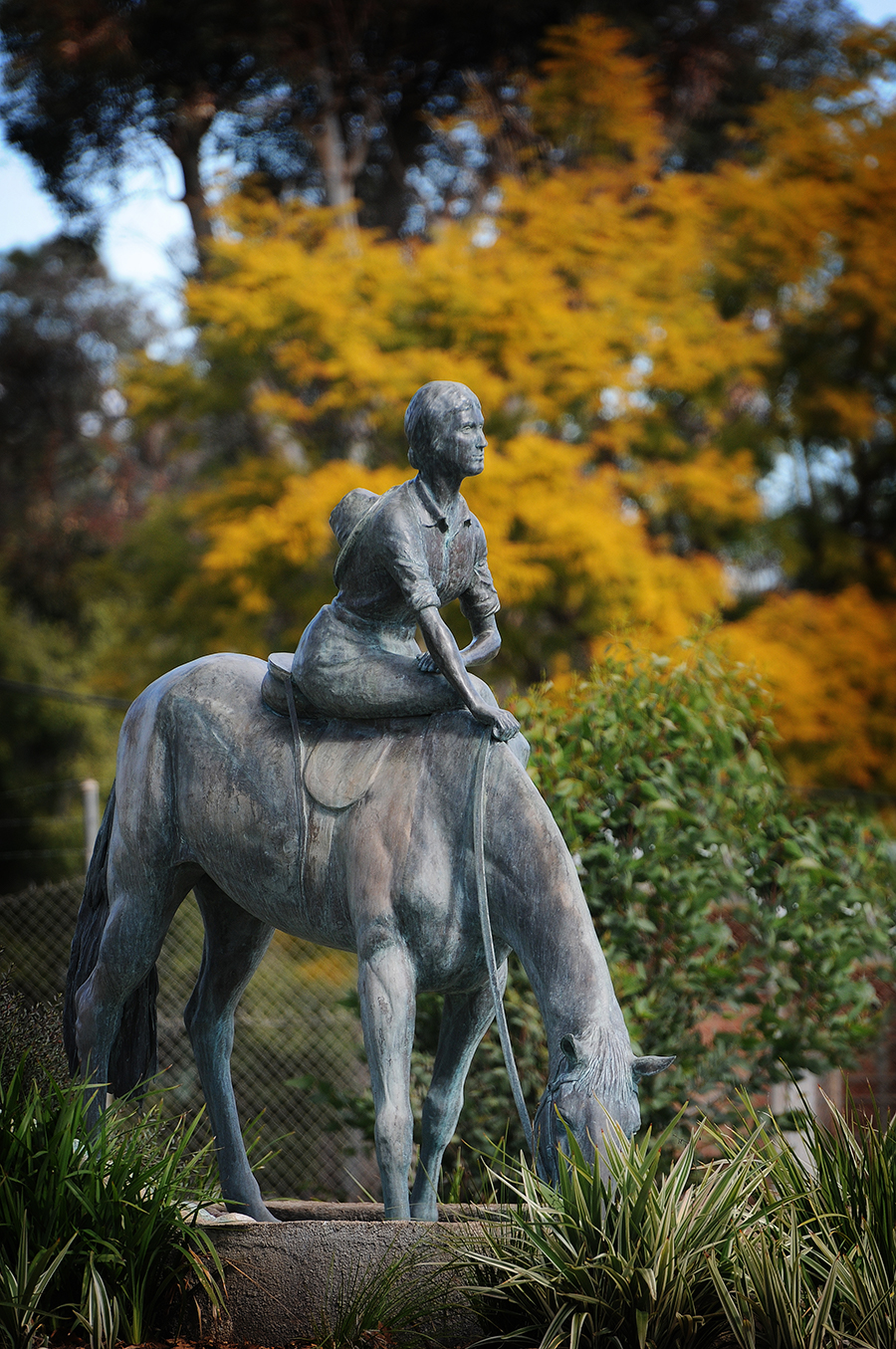 Dorothea Mackellar Statue
HOW TO ENTER
*PLEASE NOTE: If you're registering as an individual student, put your HOME address in your personal details and not your SCHOOL'S address! The address you list is where your participation certificate will be posted!*
ONLINE SUBMISSION
(primary school and secondary school, anytime during the competition period)
Teacher/parent - registration completed online (invoice will be emailed within 2 weeks of registration)
Log in to your page
Enter student details and submit poem(s) (cut and paste or type in poem content direct to the webpage) PLEASE DO NOT UPLOAD POEMS AS ATTACHMENTS AS THAT FUNCTION IS FOR POSTAL ENTRIES ONLY.
Repeat step 3 for every student/individual poem
SUBMISSION VIA MAIL (ADMINISTRATION FEE APPLIES- SEE CONDITIONS OF ENTRY FOR DETAILS)
(primary only)
PLEASE CONSIDER ONLINE ENTRY TO HELP US SAVE TIME AND REDUCE HUMANITY'S ENVIRONMENTAL FOOTPRINT.
Teacher/parent - registration completed online (invoice will be emailed within 2 weeks of registration)
Print out and complete entry form for/by each student. Entry form available here.
Print out poems (text must be in a easily distinguishable font – Arial, Times New Roman, hand-written poems not accepted)
Glue completed entry form to the back of each entry
Teacher to collate all entries, enclose entry fee or a confirmation of payment and mail to the Dorothea Mackellar Poetry Awards, PO Box 113, Gunnedah, NSW, 2380
Mailed entries are individually scanned and submitted online by the Awards' organisers. Please consider online entry to help us save valuable time during this hectic period and reduce our environmental footprint. We can all make a difference.
USEFUL TIPS
Have a read of the judges' reports from the previous year. They contain some very helpful advice for teachers and parents alike!
It is recommended for schools to appoint a coordinator for the competition.
Only a teacher/parent can complete the registration form on behalf of the student/child.
Log-in details: username is the email address and a password of your choice.
Log-in details can be given to other teachers/students for poem submission in class/at home.
Log-in as many times as necessary during the competition period.
Teachers can view progress by monitoring the number and content of entries.
Individual entries are accepted if the school is not participating or a child is home schooled. Parent needs to complete the registration form with their contact details. Please indicate 'individual entry' under school name and home postal address under school address.
Invoice for the entry fee will be sent to the registered email address within 2 weeks.
'Participation certificate only' option available for schools where pre-selection of entries has been carried out. Poems under this option will not be sent to judges, students will still receive participation certificate for their efforts.
Please read the Conditions of Entry before entering. Entries accepted: March 1 to June 30, results announced during early September.
NEED SOME INSPIRATION?
Check out our learning resources or browse the previous years' themes and winning entries.
For more, please visit: https://www.dorothea.com.au/How-to-Enter-awards
AWARD CATEGORIES AND PRIZES
Lower Primary (Years K – 3)
Winner: $300, trophy and prize pack
Runner-up: $150 and prize pack
Upper Primary (Years 4 – 6, Inc. Year 7 in SA)
Winner: $400, trophy and prize pack
Runner-up: $200 and prize pack
Assisted Learning Primary
Winner: $400, trophy and prize pack
Runner-up: $200 and prize pack
Entries to be submitted by the teacher, eligibility criteria:
students on assisted learning programs
students with English as a second language.
Junior Secondary (Years 7 – 9)
Winner: $500, trophy and prize pack
Runner-up: $300 and prize pack
Senior Secondary (Years 10 – 12)
Winner: $500, trophy and prize pack
Runner-up: $300 and prize pack
Assisted Learning Secondary
Winner: $500, trophy and prize pack
Runner-up: $300 and prize pack
Entries to be submitted by the teacher, eligibility criteria:
students on assisted learning programs
students with English as a second language.
Schools' Award
For schools that demonstrate effort, achievement and a high standard of entries, awarded at the judges' discretion.
Winner Primary: $1000, trophy and prize pack
Winner Secondary: $1000, trophy and prize pack
Prize Packs
Prize packs include a unique trophy and a wonderful collection of books from a number of publishing houses and local businesses.
Find out more at: www.dorothea.com.au