July 7 - 20, 2019: Issue 412

Are You A Young Person With A Great Business Or Community Idea?
Spark can help you make it happen! Share the Spark Inc. is hosting a business pitch event, similar to the TV show Shark Tank. In this event young people will present their ideas in front of an expert panel to win financial backing and professional business assistance.
Spark Tank contestants are segmented in two age brackets, roughly one for 8-16 year olds and one for 17-24 year olds. Contestants work in teams, with at least one of those people in the team going through (or recently gone through) a 'hard time'. They enter submissions outlining their idea to Share the Spark (submissions open on the website mid-July). Submissions will be evaluated on merit, uniqueness, community involvement etc. and winners will be selected by the Spark Tank Panellists to participate in the actual Spark Tank event in front of a live audience.
The winners for each pitch will receive a 10-week mentorship with an expert to progress their ideas. Hundreds, or even thousands of dollars of funding, will be offered to winning participants.
Make your pitch at our Spark Tank event on September 12th in Newport and earn investment dollars and expert business coaching advice!
Enquire now to get the event application emailed to you as soon as it is released. For more information on our Spark Tank Event, visit our website or email succeed@sharethespark.org.au.
Website: sharethespark.org.au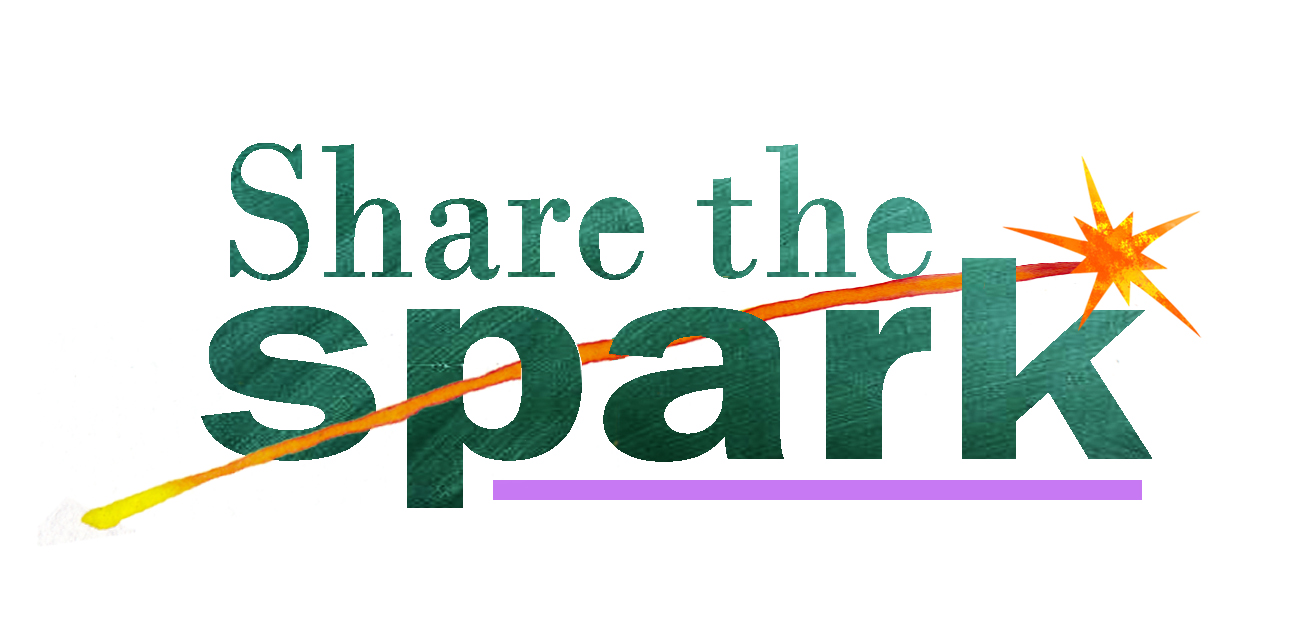 Peppa Pig's Having Great Fun at the Carnival!

No More Noisy Nights read by Tony Hale

2019 Hilarie Lindsay Young Writers Short Story Competition
For Australian School Children
Closing date: 31 August 2019
Section 1: Years 10, 11 & 12. Up to 2500 words. Prize $150
Section 2: Years 7, 8 & 9. Up to 2500 words. Prize $150
Section 3: Years 5 & 6. Up to 1500 words. Prize $100
Section 4: Year 4 and under. Up to 1500 words. Prize $50
The entry fee is $3.00 (please note that entries that do not include the fee will be disqualified)
Entries should be typed on A4 paper, double spaced in 12pt font.
The student's name should NOT appear on the entry.
Entries should be made via this online entry form where possible
Should an online submission not be available students may request an entry form from compconvenor@fawnsw.org.au. In that case, send entry by email to compconvenor@fawnsw.org.au, which must contain the entry as a MS Word attachment, a scanned copy of the entry form, and the Direct Deposit receipt number. Alternatively, posted entries will be accepted and should be mailed to the address on the entry form, and be accompanied by a cheque or postal order made out to The Fellowship of Australian Writers NSW.
The details for direct Deposit are as follows:
BSB: 082-936 Account No. 172389833 Account Name Fellowship of Australian Writers.
Please use the competitor's name and the competition as the payment details (ie J Doe Hilarie Lindsay), and attach a copy of the payment receipt to the entry form.
Entries must be student's own work, unpublished and not having won any competition at time of entry.
Closing date for the competition is 31st August 2019
Winners will be announced at the FAW NSW Annual Presentation Luncheon in November.
Results will be published in Writers Voice and on the FAW NSW website.
Hilarie Lindsay MBE OAM (born 1922) is an Australian toy manufacturer and writer of short stories, poetry, instructional texts, biography and other genres. She is a former president of the Toys and Games Manufacturers' Association of Australia and of the Society of Women Writers (Australia), who has been inducted into the Australian Toy Association Hall of Fame and the National Pioneer Women's Hall of Fame, Alice Springs. Her best-known work, The Washerwoman's Dream, described by one reviewer as "enthrallingly readable", has become an Australian classic.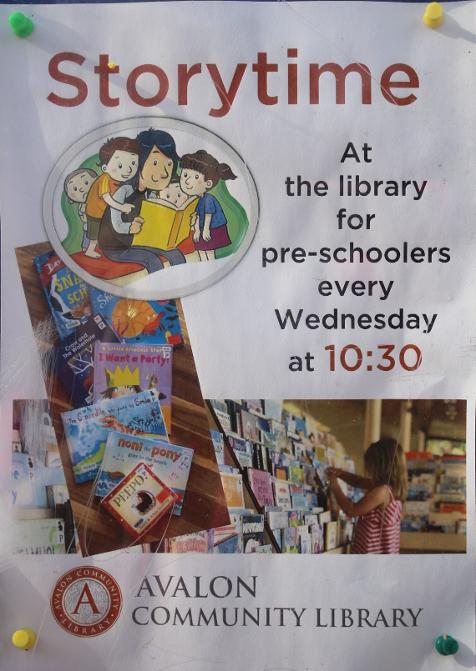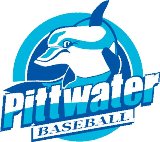 Profile:
Pittwater Baseball Club
The Season Start for 2017/2018 Pittwater Baseball Club commences Saturday, September 9th.
Their Mission: Share a community spirit through the joy of our children engaging in baseball.
Profile: Ingleside Riders Group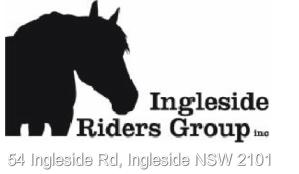 Ingleside Riders Group Inc. (IRG) is a not for profit incorporated association and is run solely by volunteers. It was formed in 2003 and provides a facility known as "Ingleside Equestrian Park" which is approximately 9 acres of land between Wattle St and McLean St, Ingleside.
IRG has a licence agreement with the Minister of Education to use this land. This facility is very valuable as it is the only designated area solely for equestrian use in the Pittwater District.
IRG promotes equal rights and the respect of one another and our list of rules that all members must sign reflect this.

Profile Bayview Yacht Racing
Association (BYRA)
BYRA has a passion for sharing the great waters of Pittwater and a love of sailing with everyone aged 8 to 80 or over!
Mona Vale Mountain Cub
Scouts Profile
Find out more about all the fun you can have at Mona Vale Mountain Cub Scouts Profile –
our Profile pages aren't just about those who can tell you about Pittwater before you were born, they're also about great clubs and activities that you too can get involved in!
LEGO AT THE LIBRARY
Local children will have the chance to join a club specialising in one of the most enduring playthings of childhood. Mona Vale Library runs a Lego club on the first Sunday of each month from 2pm to 4pm. The club is open to children aged between seven and twelve years of age, with younger children welcome with parental supervision. If you are interested in attending a Lego at the Library session contact the library on 9970 1622 or book in person at the library, 1 Park Street, Mona Vale.
Children's Storytime at Mona Vale Library: Mona Vale Library offers storytime for pre-school children every week during school terms. Children and their carers come and participate in a fun sing-a-long with our story teller as well as listen to several stories in each session, followed by some craft. Storytime is held in the Pelican Room of the library in front of the service desk. Storytime is free and no bookings are required. Storytime Sessions: Tuesdays 10.00am - 11.00am - Wednesdays 10.00am - 11.00am - Thursdays 10.00am - 11.00am
The secret language of trees
July 2nd, 2019: by TedX-Ed
Learn how trees are able to communicate with each other through a vast root system and symbiotic fungi, called mycorrhizae. Most of the forest lives in the shadow of the giants that make up the highest canopy. These are the oldest trees, with hundreds of children and grandchildren. They check in with their neighbors, share food, supplies and wisdom gained over their lives, all while rooted in place. How do they do this?
Camille Defrenne and Suzanne Simard explore the vast root system and intricate communication of trees.
Discover The Enjoyment Of Sailing On Pittwater With Avalon Sailing Club
Looking to give sailing a go, or get your kids involved at a young age at a fun, relaxed club? Then consider Avalon Sailing Club which is holding an
information and registration day for kids learn to sail on Sunday August 25th from 12 a.m. – 2 p.m at 28B Hudson Parade, Clareville
With a modest timber clubhouse on the shore between Clareville & Paradise beaches, Avalon SC is a unique part of Pittwater's world class sailing heritage. The Club which is over 80 years old is a volunteer run Club with 400 active members, ranging in age from 8 to 88. It has a comprehensive and professional sailing program which caters to all ages and skills.
Avalon is one of those iconic "wooden shed" sailing clubs which has a wonderfully inclusive culture that welcomes newcomers. No flash restaurants, bars or pokies. Just the best place for families to enjoy a BBQ and a drink post sailing whilst taking in the best views on Pittwater. Friday evenings on the deck or on the water in Summer are a popular family friendly way to end the working week.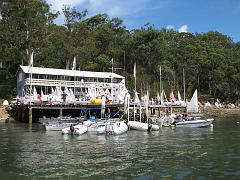 The Youth program which runs on Sunday mornings from September through to Easter,
starts with Blue Group which is aimed at beginners aged 7 – 12. The Club Nippas & Pacers are used for this program. Once the basics have been learnt, the children progress to the Red and Gold groups for further instruction and an introduction to racing. Race preparation for State & National Titles is also provided.
This season there will be club dinghies available for season hire so there's no pressure to commit to buying a boat straight away. For teenagers and adults, there is a very active group sailing Spirals and Waszps with dedicated coaching days. The Club also runs Spring/Summer school holiday camps, open to children of all ages.
Classes sailed at Avalon include, Nippas, Pacers, Bics, MJs, Flying 11s, Waszps & Spirals
.
Avalon Sailing Club also offers Adult learn to sail classes
with an emphasis on a fun activity which teaches many skills and provides opportunities for a lifetime. There are many sailors in their 80s who regularly enjoy cruising & racing! Not many other sports can claim that!!
The Club also has a healthy Yacht division
and a revamped racing program for the coming season will provide a diversity of events and casual entries are encouraged.
The addition of the Pittwater Couta boat fleet to Avalon Sailing Club last year was a great bonus.
The Couta fleet is always looking for crew on a Wednesday afternoon or Sunday!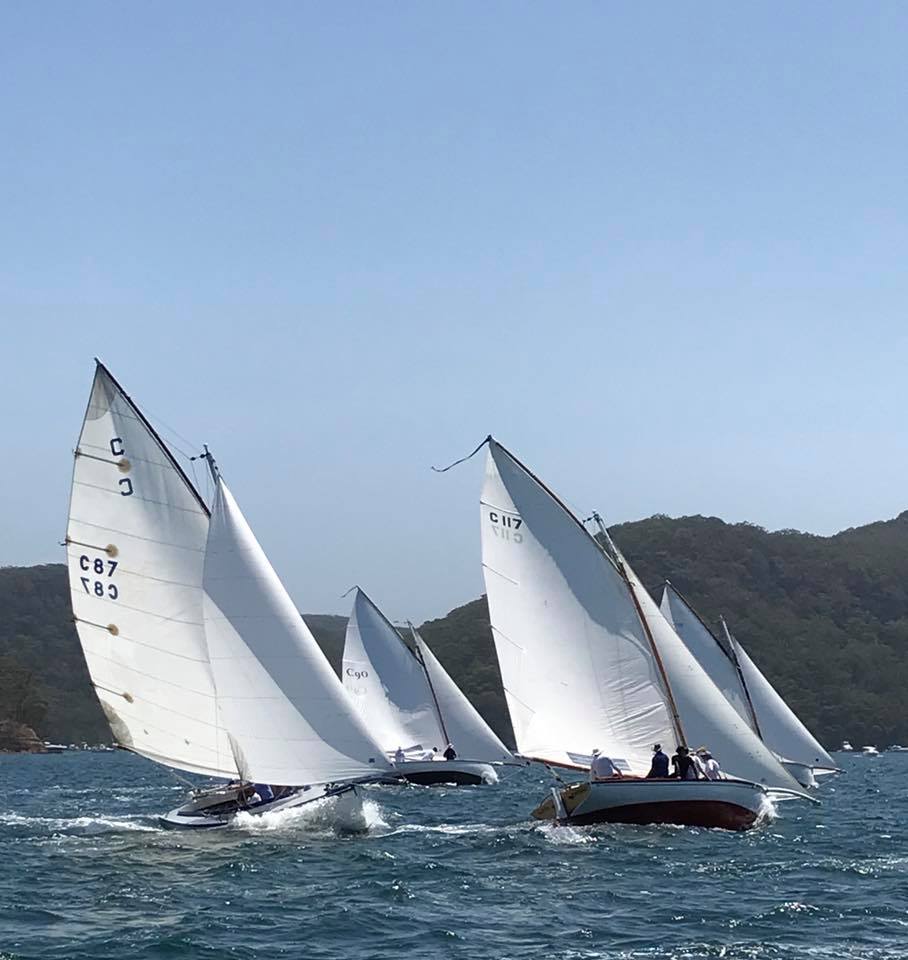 For those that like a more relaxed approach, the Cruising Division organises great weekends away. Members with yachts can take advantage of club moorings dotted around Pittwater.
Blue Group Learn to Sail is limited to 25 children
, and along with sailing camps, positions are provided on a first come, first in basis.
Be Wild – Enter The 2019 Young Writers' Competition
The challenge is on. Who will be the winners of this year's Northern Beaches Young Writers' Competition?

The theme for 2019 is 'wild', so think wild adventures, wild animals or even wild child. Entries must be an original story based around the word 'wild'.
Now in its tenth year, entry to the competition is open to students up to and including those in Year 12 and entrants must live or go to school on the Northern Beaches and be members of the library.
The best entries will be published in an eBook to be included in the collections of Northern Beaches Council Library and the National Library of Australia. There will also be a special awards ceremony to be held at Dee Why Council Chambers in September.
In each age category, there are awards for the winner and runner up as well as encouragement and highly commended awards.
Mayor Michael Regan urged all budding young authors to enter the competition.
"In 2018, we received nearly 600 entries with winning entries coming from students at Harbord Public, Our Lady of Good Counsel, Kambora Public and Pittwater High to name a few.
"You never know; it might be the beginning of the next Harry Potter-like blockbuster. The standard of entries keeps getting higher every year."
Entry forms with competition details are available on Council's Library website and in branches of libraries across the Northern Beaches.
Entries open Wednesday 19 June and close Wednesday 7 August.
The Steam Team: Marion And The Pipe
Day Out With Thomas
NSW RAIL MUSEUM
Thomas and Friends return to the NSW Rail Museum for a feature-packed weekend of family fun. Meet The Fat Controller as he oversees all of the exciting activities on offer! Day Out With Thomas is a great outing for the entire family…and don't forget the grandparents!
WHAT YOUR TICKET INCLUDES -
'Museum only' ticket:
Meet Thomas – climb into the driver's cab and toot his whistle
Meet Henry the green engine and visit his driver's cab
Ride Toby the Railmotor from Sodor Station up to the Roundhouse
Meet the Fat Controller alongside Thomas
Unlimited mini-train rides
Unlimited jumping castle rides – 3 castles to cater for different age groups
Face painting
Visit the Imagination Station – children can enter the colouring competition, play some Thomas games and listen to our Storyteller read Thomas stories.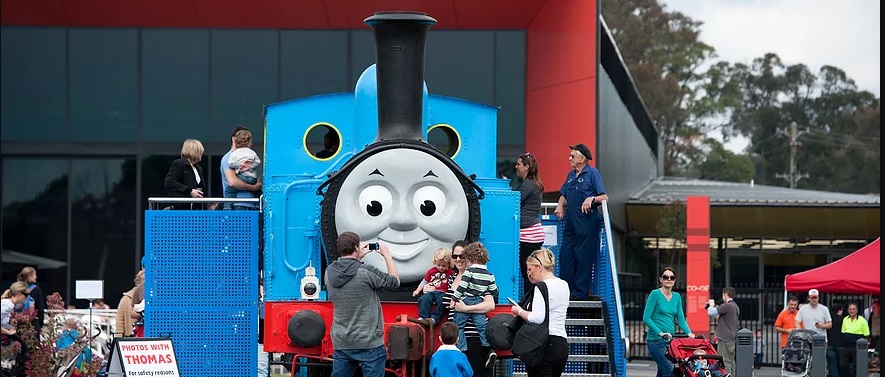 'Museum + Train Ride' ticket:
All of the above 'museum only' ticket inclusions, plus . . .
45-minute steam train ride hauled by Donald the black engine from Thirlmere to Buxton and return.
Both ticket offers include entry to the NSW Rail Museum where kids of all ages love exploring the biggest display of heritage trains in NSW!
NSW Rail Museum
10 Barbour Road
Thirlmere NSW 2572
​Tel: 1300 11 55 99​
Monday to Friday 10am - 4pm
Saturday and Sunday 9am - 5pm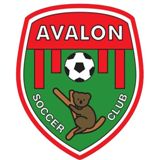 Profile:
Avalon Soccer Club
Avalon Soccer Club is an amateur club situated at the northern end of Sydney's Northern Beaches. As a club we pride ourselves on our friendly, family club environment. The club is comprised of over a thousand players aged from 5 who enjoy playing the beautiful game at a variety of levels and is entirely run by a group of dedicated volunteers.
NSW'S Best Junior Surfers To Call Coffs Harbour Home For The 2019
Woolworths NSW Junior State Titles
Over 250 competitors will call Coffs Harbour home when the Woolworths NSW Junior State Titles pres. by Ocean and Earth kicks off from 19th – 25th July 2019.
Competitors will be vying for an NSW Junior Title and in turn, earn their position into the upcoming 2019 Australian Junior Surfing Titles, which will take place in Western Australia at the end of the year.
All qualifiers for the Woolworths NSW State Junior Titles pres. by Ocean and Earth were determined by eight individual regional titles, which took place up and down the NSW coastline earlier in 2019.
Coffs Harbour City Council's Mayor Denise Knight was elated that the region would continue to build on its long and rich history of hosting junior surfing events.
"I'm thrilled that Coffs Harbour will again be hosting the Woolworths NSW Junior State Titles later this year. An event like this further strengthens our great relationship with Surfing NSW, and the event itself is a brilliant way to encourage and support youth participation in sports. As a destination, I know the local tourism sector will look forward to welcoming competitors and their families from all over the state to enjoy the beautiful Coffs Coast."
Surfing NSW CEO Luke Madden echoed similar sentiments.
"The Woolworths NSW Junior Titles pres. by Ocean and Earth is one of the most fiercely contested events on our calendar with competitors hungry to gain themselves an NSW Title in a region that consistently delivers decent surf and has a variety of quality breaks for whatever Mother Nature dishes up."
The last two days of the event will comprise of the NSW School Surfing Titles.
2019 will be the ninth year Surfing NSW will combine the NSW School Surfing Titles into the event.
Former competitors in the NSW Junior State Titles include current World Surf League (WSL) Championship Tour (CT) surfers Owen, Mikey and Tyler Wright, Sally Fitzgibbons, Matt Wilkinson, Wade Carmichael and Connor O'Leary.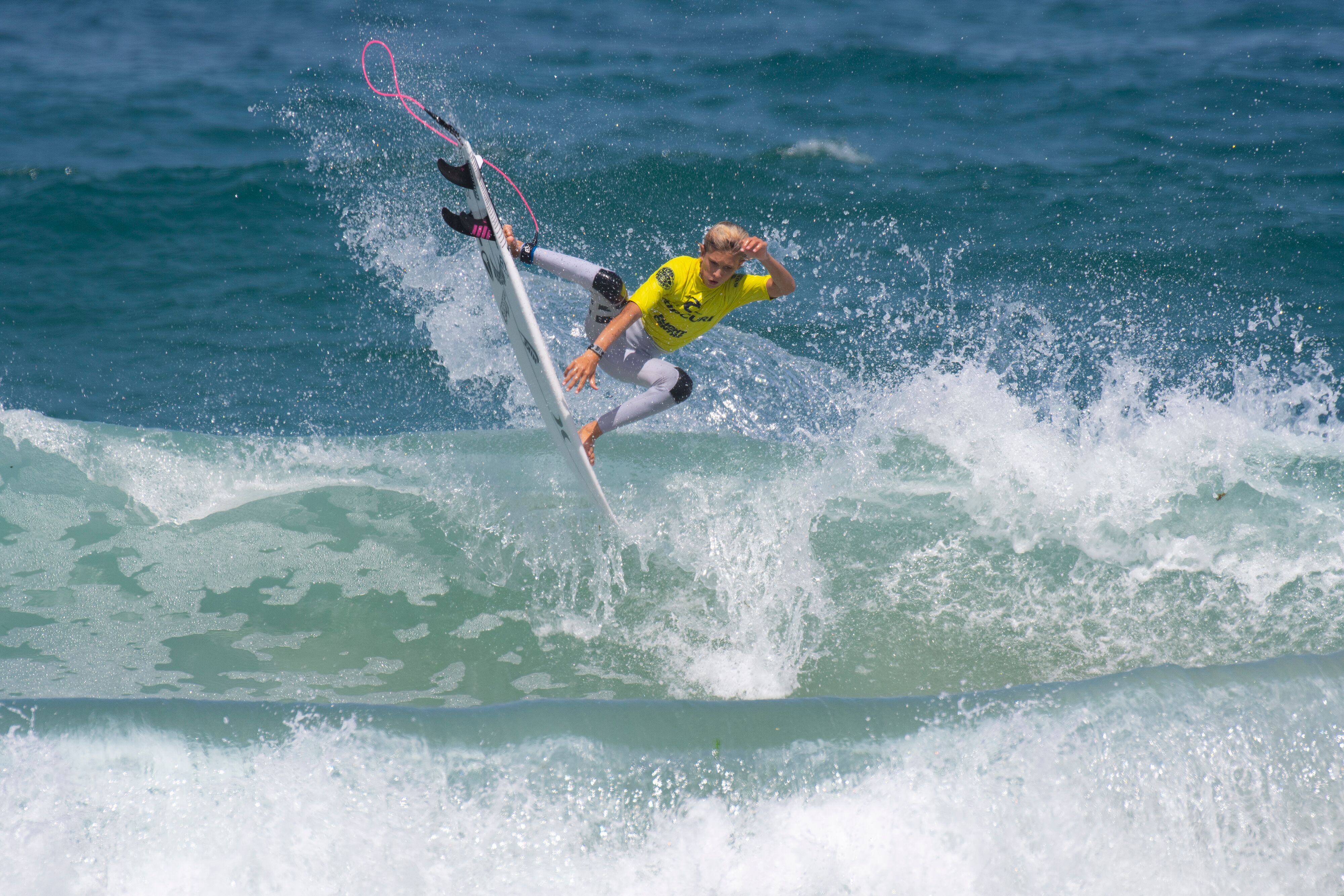 Winter Vincent getting airborne - photo by Ethan Smith/Surfing NSW
The daily schedule and location will be confirmed via the event hotline at 6:45am each day. The event hotline is 0458 247 212.
The event will be fully mobile in the Coffs Harbour area with Macauleys, Park Beach, Diggers, Gallows and Sawtell all venue options.
The Woolworths NSW Junior Titles pres. by Ocean and Earth will be proudly supported by Woolworths, Ocean and Earth, Coffs Harbour City Council, Carve, Australian Skin Cancer Clinics, Mothernest, Volkswagen, H2Coco, Reflections Holiday Park and Surfing NSW.
ABOUT WOOLWORTHS
Future Australian surfing champions will receive further help to ride the wave to success, with Woolworths expanding its commitment to the sport to include Surfing Australia's six affiliated State branches Woolworths State Junior Surfing Titles, with 18 events to be run nationally across six States in 2019.
Avalon Surf Boat And Whale - Media Student Vid.
Published June 3rd, 2019 - AV - IPT Multimedia Video Component by Lachlan Mills - Avalon Beach SLSC Member
Song Credit: Trap Nation, Star Wars - The Force Theme (Far Out Remix)
Moon Landing Broadcast Donated To CSIRO By NASA Now Donated To NFSA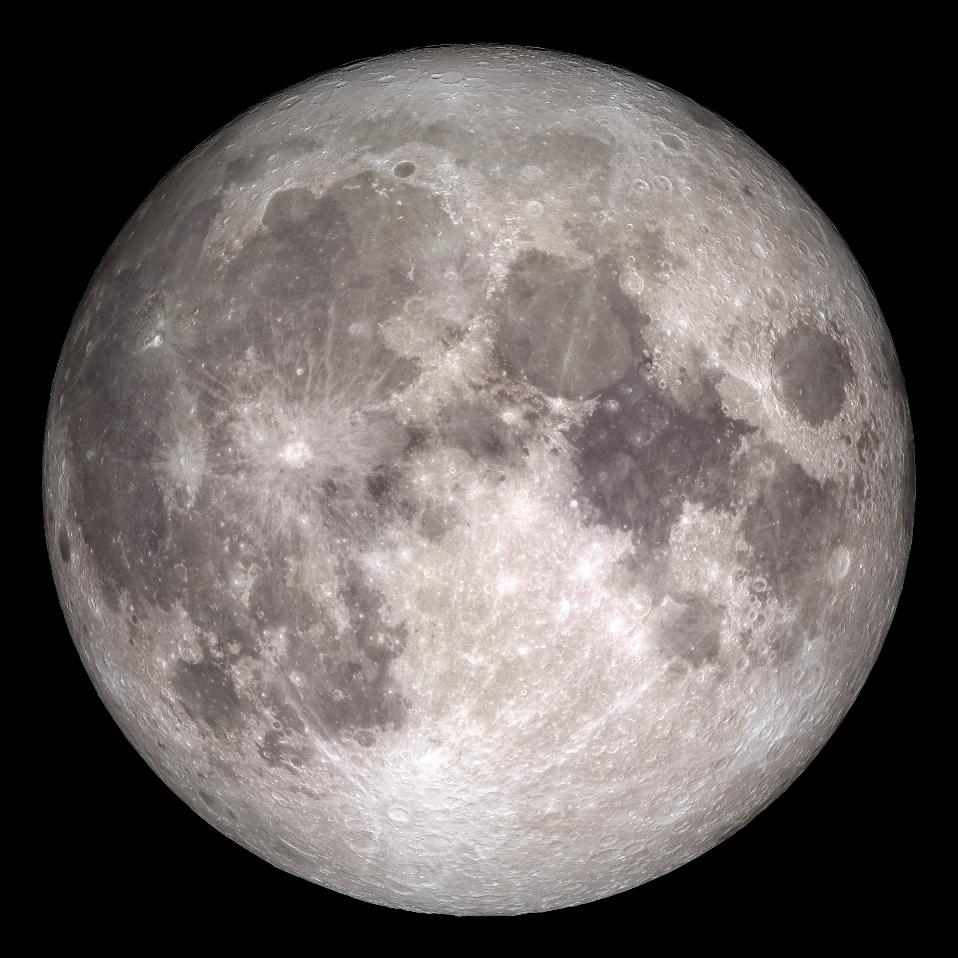 Vision of the Apollo 11 Moon landing was seen by more than 600 million people. Photo Credit: NASA.
As the 50th anniversary of the Apollo 11 Moon landing approaches on July 21st, CSIRO and the National Film and Sound Archive of Australia have ensured the original TV broadcast will be preserved for future generations.

NASA gifted the only official copy of the footage held outside of the United States to CSIRO, Australia's national science agency, in recognition of Australia's crucial role supporting the Apollo 11 mission.
To mark the anniversary, a new digitally restored version of Australia's official copy of the broadcast was today donated by The Hon Karen Andrews MP, Minister for Industry, Science and Technology, to The Hon Paul Fletcher MP, Minister for Communications, Cyber Safety and The Arts at an event at Parliament House.
A delegation of NASA officials led by Mr Badri Younes, Deputy Associate Administrator for Space Communications and Navigation, were present to witness the donation.
Ground stations in Australia played an essential role in the success of the Apollo 11 mission, receiving and relaying images to the world, tracking spacecraft and monitoring astronauts' health.
Sharing this historic event, which was seen by over 600 million people around the world, would not have been possible without this strong US and Australia partnership.
Communicating with the Apollo 11 lunar module Eagle and sharing news of the 'giant leap' was made possible by the technology and teams at NASA's tracking stations at Goldstone, California and Honeysuckle Creek near Canberra, and CSIRO's Parkes radio telescope in NSW.
For the first nine minutes of the broadcast, NASA switched from Goldstone to the signals from Honeysuckle Creek – the latter capturing the first foot-step on the Moon.
The strong signal being received by CSIRO's Parkes radio telescope – with its large surface area and sensitive technology – was then used to share the remainder of the two-and-a-half-hour broadcast with the world.
Executive Director of CSIRO's space programs Dr Dave Williams said Australia's unique geographical location made it a natural choice for NASA to establish ground tracking stations, which need to be located at equal distances around the world to maintain constant contact with spacecraft.
"Our collaboration with NASA extends for almost sixty years," Dr Williams said.
"Australia continues to play a pivotal role in NASA's Deep Space Network, tracking more than 40 spacecraft from the Canberra Deep Space Communication Complex – which CSIRO manages on NASA's behalf – and lending our Parkes radio telescope to support missions such as Voyager 2, which recently entered interstellar space.
"It was an honour to receive the official copy of the footage from NASA in recognition of the support Australia provided to the Apollo 11 mission, and to donate this footage to the National Film and Sound Archive for the benefit of future generations."
CEO of the National Film and Sound Archive Jan Müller said in addition to a significant scientific and engineering achievement, the broadcast of the moonwalk was a powerful collective experience for those watching here on Earth.
"Nearly fifty years ago, the world came together to watch these images and celebrate a landmark human achievement. The broadcast had huge impact inspiring others to follow their passion in science and engineering, and to make a difference to the world," Ms Müller said.
"Today we're delighted to accept this donation from CSIRO to add to our collection, which preserves key moments in Australia's history."
Vision of the moonwalk was transmitted via a 66cm radio dish on top of the lunar module that used just 20 watts of power – the same energy output as two LED light bulbs.
The faint signals then travelled 384,000 kilometres to Earth where they were received and converted to a signal normal TVs could receive.
The conversion meant TV audiences never saw the comparatively high-quality video direct from the Moon that engineers at Goldstone, Honeysuckle Creek and Parkes witnessed.
Decades later, NASA worked with Hollywood film restoration specialists to enhance the footage, which is now included in the collection of the National Film and Sound Archive of Australia, ensuring its ongoing preservation.
The donated footage is one of just three copies in the world and the only copy to be held outside of the United States.
Minister Fletcher, who accepted the footage from Minister Andrews on behalf of the NFSA, said 'The moon landing inspired millions of people and the Apollo 11 mission also had significant practical effects. It really marked the beginning of the digital age, driving dramatic advances in computing and communications.'
Astronauts Armstrong and Aldrin remained on the surface of the Moon for approximately two-and-a-half hours, during which time they collected about 47 pounds of samples, and deployed four experiments. You can watch the three-hour Restored Apollo 11 Moonwalk (Original NASA EVA Mission Video on the NASA YouTube channel).
Excerpt From NASA's Restored Footage Of The Apollo 11 Moonwalk
The Original Three-Hour Restored Apollo 11 Moonwalk
Join CSIRO To Celebrate The Apollo 11 Moon Landing At 'The Dish'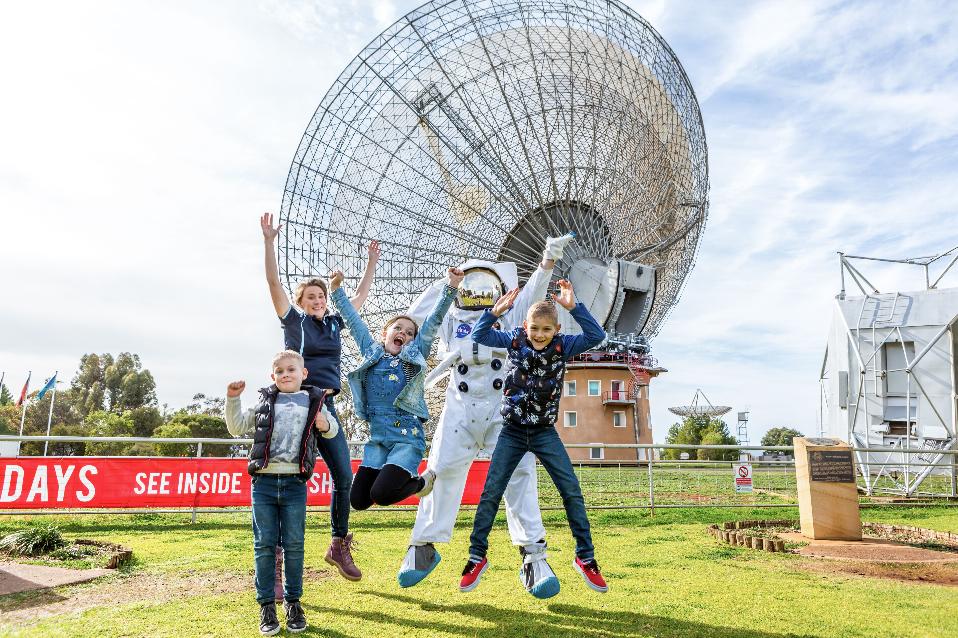 For those of us who were knee high to a grasshopper when made to watch this by mum and dad, on an old PYE television in our case, this will be of interest -
To mark the 50th anniversary of the historic Apollo 11 Moon landing, CSIRO – Australia's national science agency, will be celebrating with open days at its Parkes radio telescope on Saturday 20 and Sunday 21 July.
At 12.56pm on 21 July 1969 (AEST), humankind took its 'one giant leap' onto the Moon's surface and the incredible images were broadcast to 600 million people around the world.
While it was NASA's moment, it was Australia's too: sending astronauts to the Moon and sharing the momentous occasion couldn't have happened without the pivotal role Australia played.
The initial TV pictures from the Moon and Neil Armstrong's first steps on the lunar surface were broadcast through NASA's Honeysuckle Creek tracking station near Canberra.
After a few minutes, the higher quality television signal received by CSIRO's Parkes radio telescope was relayed around the world.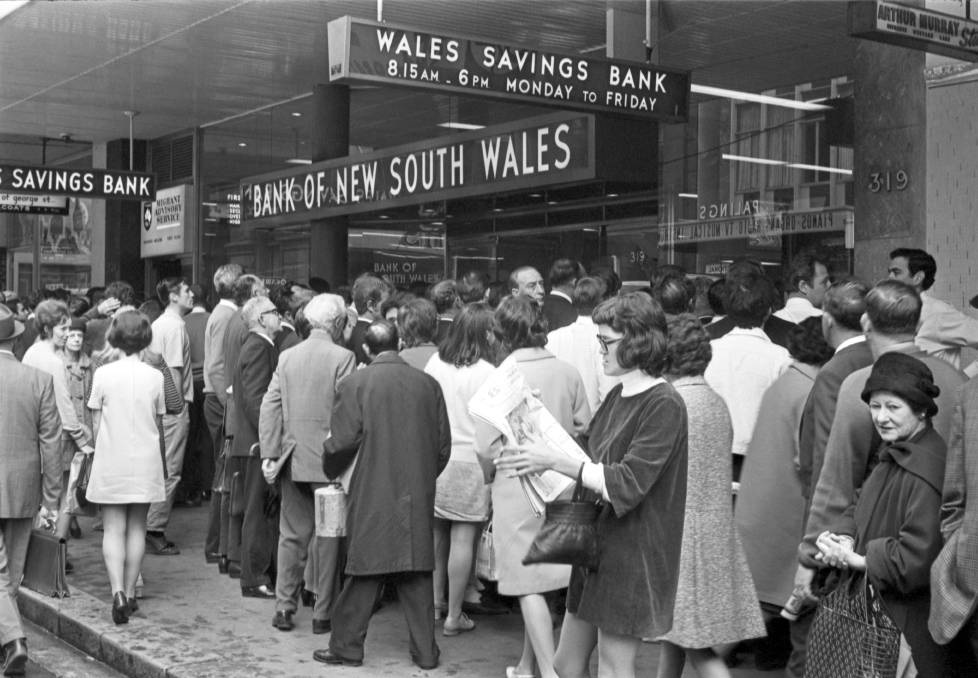 Crowds gather around a television set in the window of the Bank of New South Wales in Sydney to watch the the broadcast of American astronaut Neil Armstrong becoming the first man to land on the moon, July 21 1969. Picture: SMH Staff

On 20 and 21 July, you're invited to join CSIRO for the open days at 'The Dish' and take the rare opportunity to enjoy a tour inside the telescope.
As well as tours of the telescope, CSIRO will be offering plenty of fun-filled activities including the chance to drive the telescope to detect pulsars in real time.
Visitors will also have the opportunity to hear from representatives from the Australian Space Agency, as well as Australian-born NASA astronaut Dr Andrew Thomas, who will be in attendance thanks to support from the U.S. Embassy in Canberra.
"The Apollo 11 Moon landing inspired humanity to dream bigger and even imagine solving the impossible using science and technology," CSIRO Chief Executive Larry Marshall said.
"This too is CSIRO's purpose, solutions from science and our science-driven national challenges and missions of today will inspire our children to solve the challenges of tomorrow, knowing no boundaries but their own imaginations, dreaming as big as space itself."
There will be a special treat for visitors on the Saturday evening, with a screening of the movie 'The Dish', to be introduced by one of the movie's stars – Roy Billing, who played the Mayor of Parkes in the movie.
CSIRO has also partnered with ABC Radio for a live broadcast during both days of the event, and Parkes Shire Council to ensure everyone visiting the open days has a fantastic visit to the region.
For more information about the open days visit www.csiro.au/apollo11
NB: NSW Winter School Holidays: Saturday, 6 July 2019 to Sunday, 21 July 2019
We acknowledge the Wiradjuri people as the traditional owners of the CSIRO Parkes Observatory site.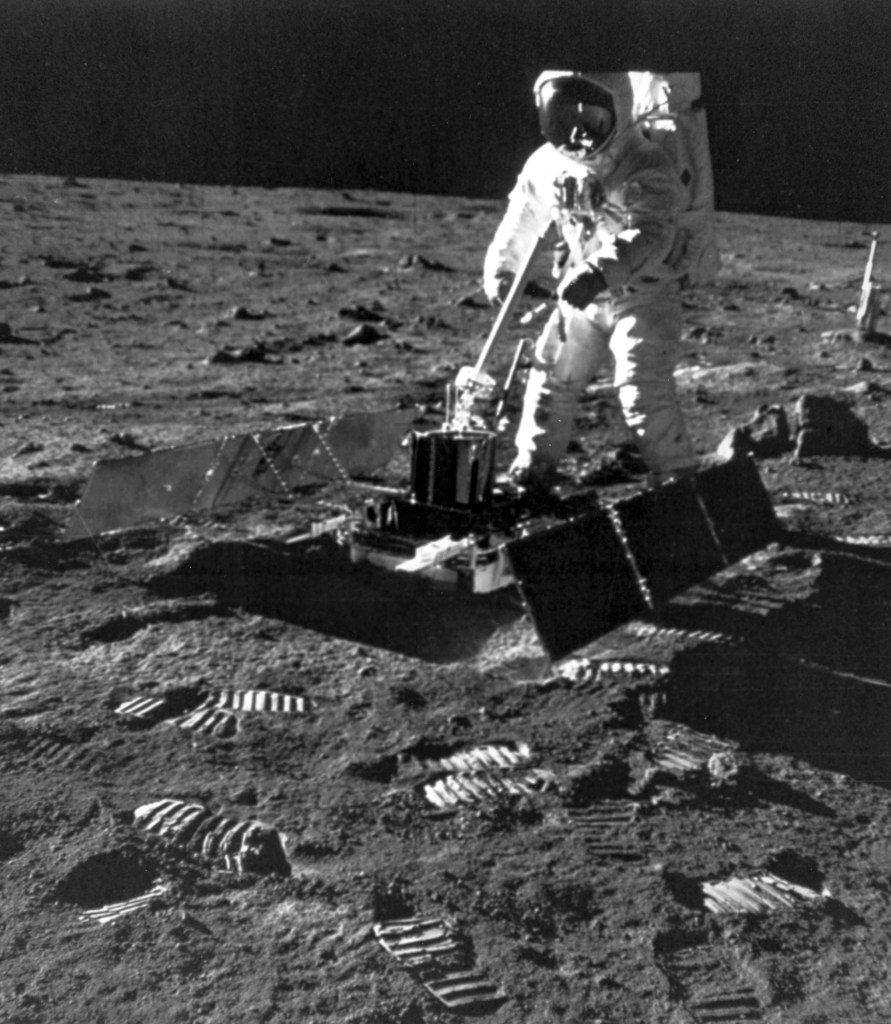 Buzz Aldrin with the Passive Seismic Experiment Package (PSEP). Credit: NASA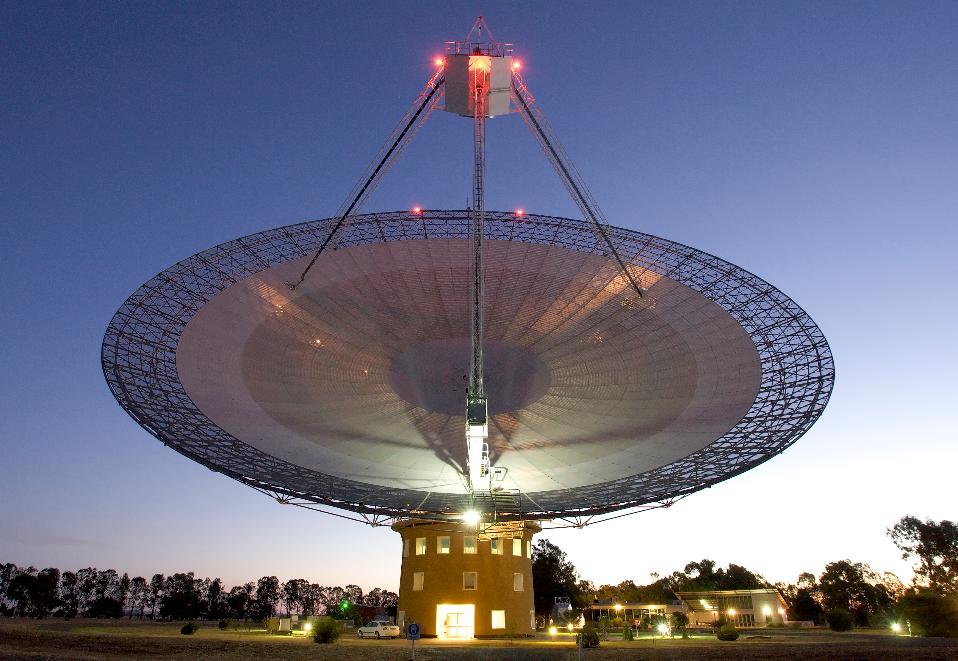 CSIRO Parkes radio telescope. Credit: S.Amy.
Australian Jumping Spider Named After Fashion Czar Karl Lagerfeld
New to science species of Australian jumping spider was named after Hamburg-born fashion icon Karl Lagerfeld (1933-2019) after the arachnid reminded its discoverers of the designer. Intrigued by its distinct 'downplayed' black-and-white colours, the Hamburg-Brisbane-Melbourne team likened the spider's appearance to Lagerfeld's trademark style: his white hair and Kent collar that contrasted with the black sunglasses and gloves.
Thus, the curious species, now officially listed under the name Jotus karllagerfeldiI was described in the open-access journal Evolutionary Systematics by Dr Danilo Harms of the Center for Natural History of the University of Hamburg (CeNak), Dr Barbara Baehr, Queensland Museum (Brisbane, Australia) and Joseph Schubert, Monash University (Melbourne).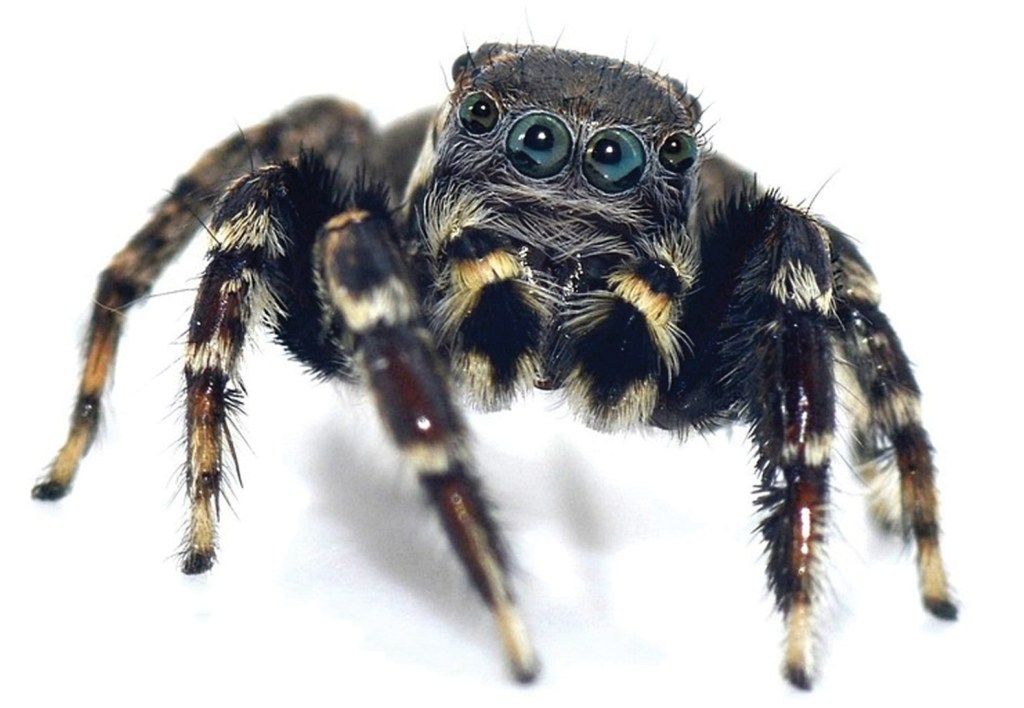 Newly described 'brushed' jumping spider species Jotus karllagerfeldi.
Photo by Mark Newton, CeNak
When compared with other members in the 'brushed' jumping spider genus Jotus, the novel species clearly stands out due to its black-and-white legs and tactile organs (pedipalps), whereas the typical representative of this group demonstrates striking red or blue colours.
"The animal reminded us with its colours of the reduced style of Karl Lagerfeld. For example, we associate the black leg links with the gloves he always wore," Danilo Harms explains.
In fact, what was to be now commonly referred to as Karl Lagerfeld's Jumping Spider was identified amongst specimens in the Godeffroy Collection. Kept at CeNak, the historical collection was originally compiled by the inquisitive and wealthy tradesman from Hamburg Johann Cesar Godeffroy, who financed several expeditions to Australia back in the 19th century. Here, the research team identified another link between Australia, Godeffroy, Hamburg and Jotus karllagerfeldi.
Besides the tiny (4 to 5 mm) arachnid, whose pedipalps resemble a white Kent collar, the scientists describe another seven new to science species and add them to the same genus. Two of those, Jotus fortiniae and Jotus newtoni, were also named after inspirational figures for their hard work and creativity: educator, molecular biologist and science communicator Dr Ellen Fortini (Perth College, Western Australia) and keen naturalist and photographer Mark Newton. All novel species were found either in the Godeffroy Collection or amongst the jumping spiders housed at Queensland Museum.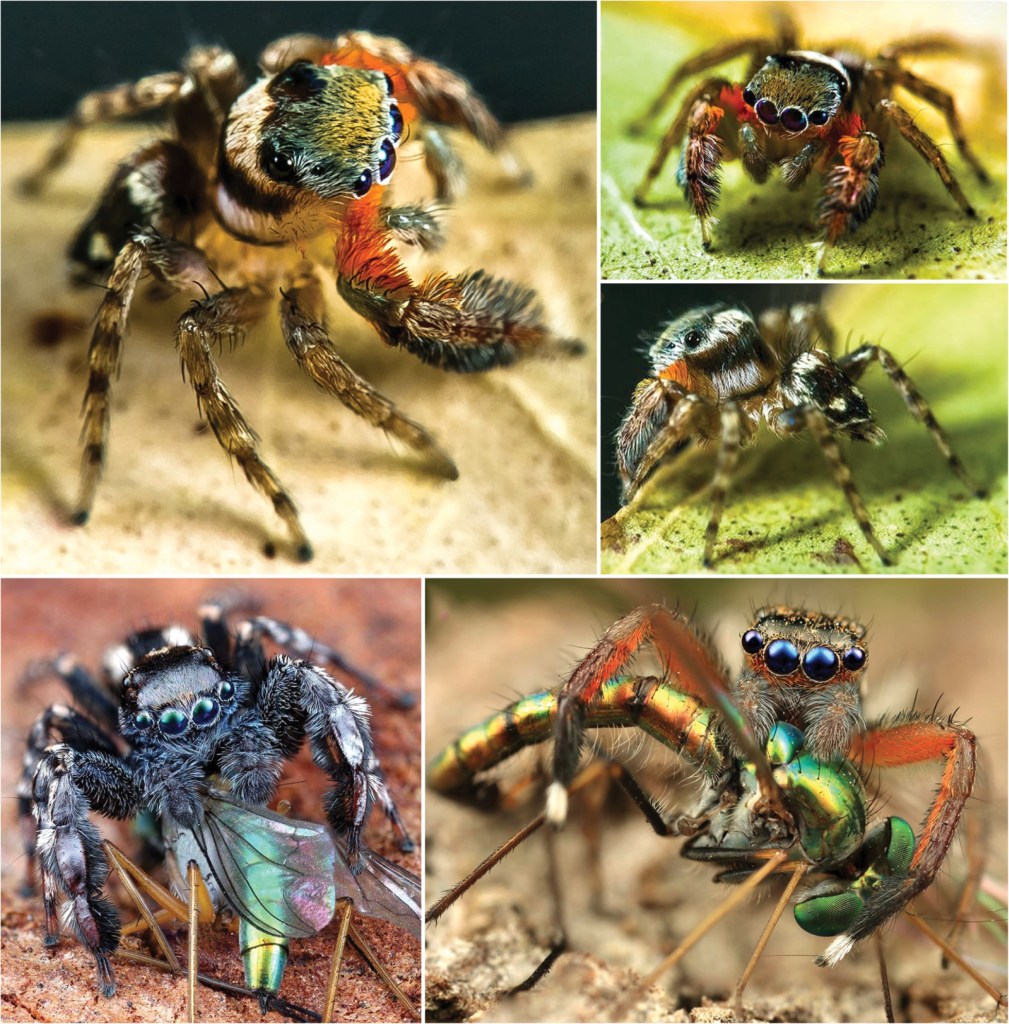 Typically, the members of the jumping spider genus Jotus demonstrate striking red and blue colours. Photos by Robert Whyte (Jotus fortiniae sp. nov., top row) and Michael Doe (unidentified species, bottom row), CeNak.

Surprisingly, even though the genus Jotus comprises numerous species found all over Australia, there is not much known about these spiders. An interesting feature, according to the scientists behind the present study, are the huge telescopic eyes, which allow for spatial vision. The Jotus species need this ability in foraging, since they do not weave webs, but rather hunt in the open. Thus, they have evolved into extremely fast and agile hunters, capable of jumping short distances.
Curiously, back in 2017, the team of Barbara and Danilo, joined by Dr Robert Raven from Queensland Museum, described another previously unknown, yet fascinating species: a water-adapted spider, whose sudden emergence at the coastline of Australia's "Sunshine State" of Queensland during low tide in January brought up the association with reggae legend Bob Marley and his song "High Tide or Low Tide." The species, scientifically known as Desis bobmarleyi, was also published in Evolutionary Systematics.

Female individual of the marine spider Desis bobmarleyi, named after reggae legend Bob Marley. The species was also described in the open-access Evolutionary Systematics in 2017 by the team of Barbara and Danilo. Photo by R. Raven.

Barbara C. Baehr, Joseph Schubert, Danilo Harms.
The Brushed Jumping Spiders (Araneae, Salticidae, Jotus L. Koch, 1881) from Eastern Australia.
Evolutionary Systematics, 2019; 3 (1): 53 DOI:
10.3897/evolsyst.3.34496
Archie's Pittwater Clean Up
I am a Seabin Ambassador, I started this campaign because I want to take a stand against ocean plastics!
My goal is to raise enough money to bring a minimum of 20 Seabins to Pittwater
as I want to give The Northern Beaches the opportunity to reduce its plastic pollution impact on the ocean. Its amazing how much accidental rubbish comes down our creeks and into our waterways
I need your help to raise money to buy the Seabins a revolutionary ocean cleaning technology which is essentially a floating rubbish bin that operates 24/7 catching all floating debris in the water.
The Seabin helps clean the ocean of floating debris which in turn creates cleaner oceans and we all benefit from this in one way or another. I mean, who really wants to swim in pollution? Not me that's for sure!
Did you know that 300 million tons of plastic are produced in the world every year, half of which is for single use products, from this more than 8 million tons of plastic is dumped into our oceans every year. We need to do something about it and now with the purchase of a Seabin we can all participate and make a difference!
Join me and my campaign to help ensure cleaner oceans!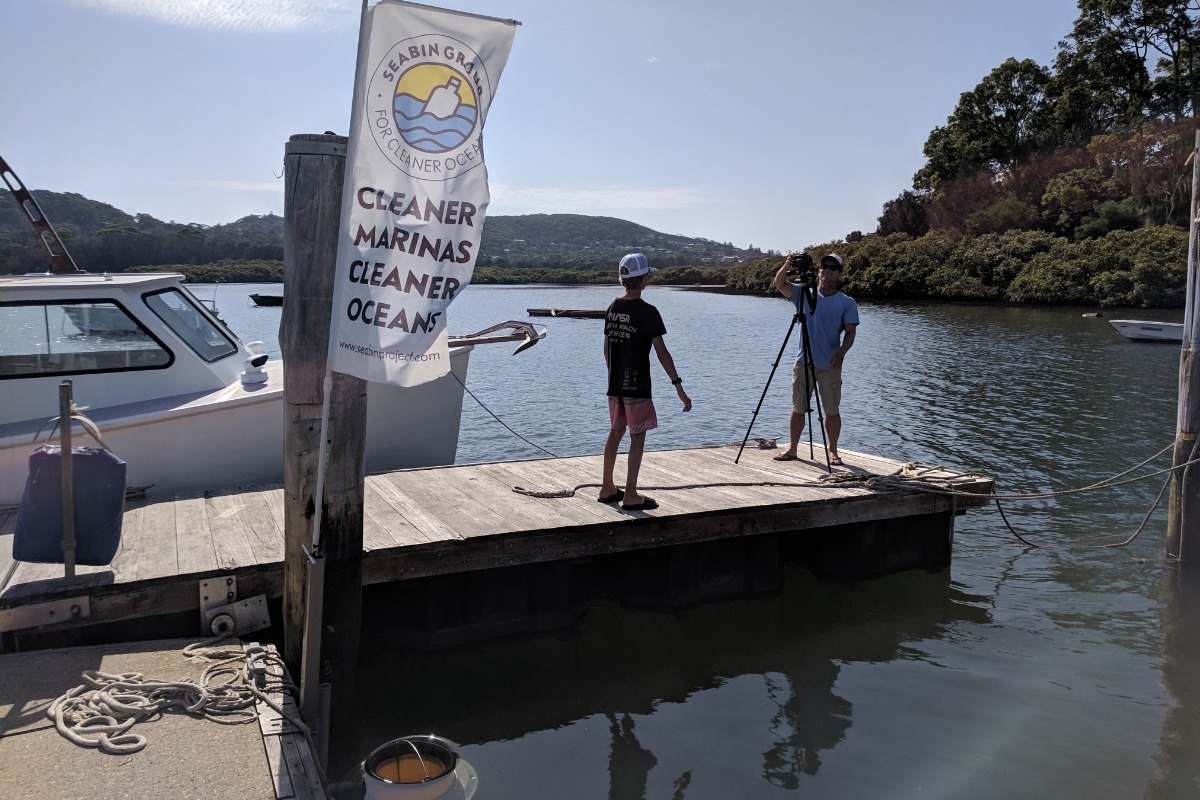 The Seabin is a floating rubbish bin that is located in the water at marinas, docks, yacht clubs and commercial ports.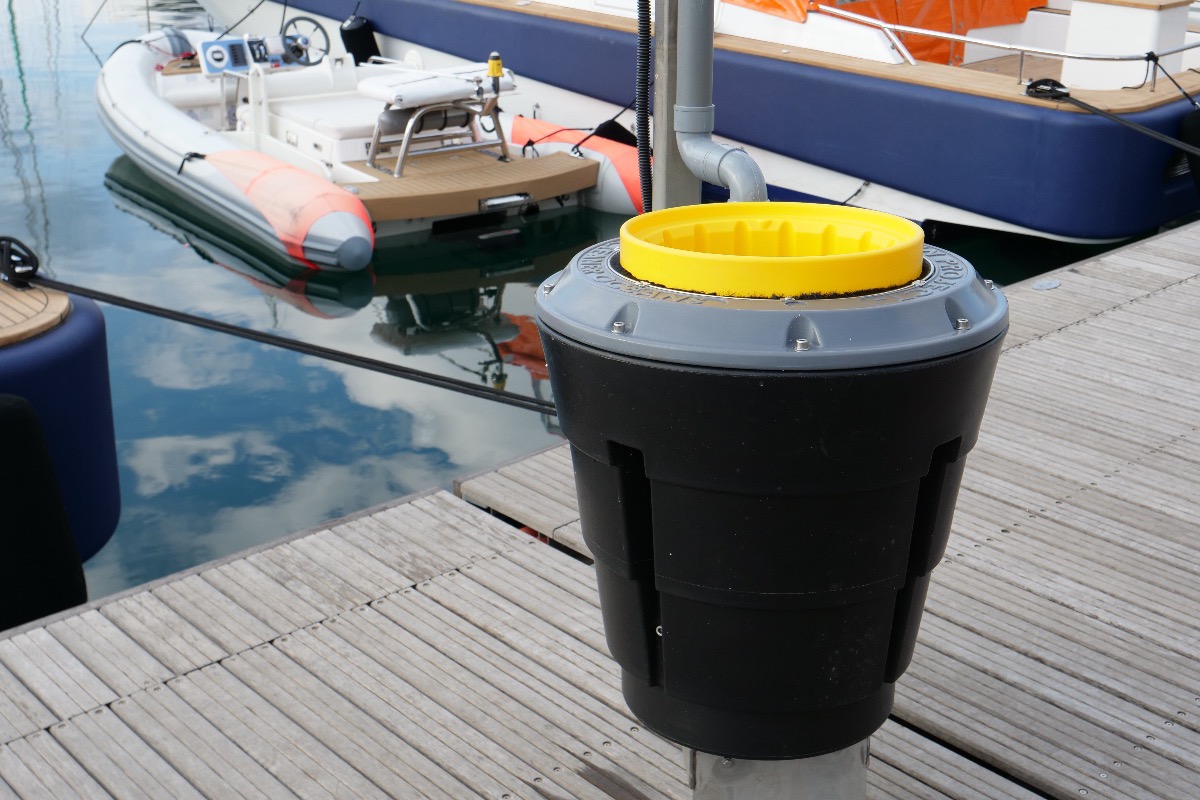 The Seabin can catch an average of 3.9kgs of floating debris per day which adds up to 1.4 tons per year. (depending on weather conditions and debris volumes) The Seabins is catching large plastic bags, bottles, plastic straws, coffee cups, food wrappers, surface oils and micro plastics down to 2 mm small.
How can a Seabin contribute to cleaner oceans?
The Seabin contributes to cleaner oceans by removing 1.4 tons of floating debris per unit per year. The location of the Seabin in marinas is ideal and where it matters most, close to the source of entry for floating debris. Ports and Marinas are perfect locations to stop floating debris from entering the open ocean and ocean plastics are also brought in by wind and currents.
Are the Seabins a danger to marine life?
The fish According to the team at Seabin, stay away from the surface of the water where the Seabin sucks in the water. They are deterred by the force of the water current. If there are swarms of jellyfish or bait fish it is recommended that the Seabins are turned off until the swarms pass. If a fish was to accidentally go into the Seabin, it would be caught in the Seabin and stay submerged in water until the marina staff retrieve the filter and throw the fish still alive back into the water.
Water is sucked in from the surface and passes through a catch bag inside the Seabin, with a submersible water pump capable of displacing 25.000 LPH (liters per hour). The water is then pumped back into the marina leaving litter and debris trapped in the catch bag to be disposed of properly.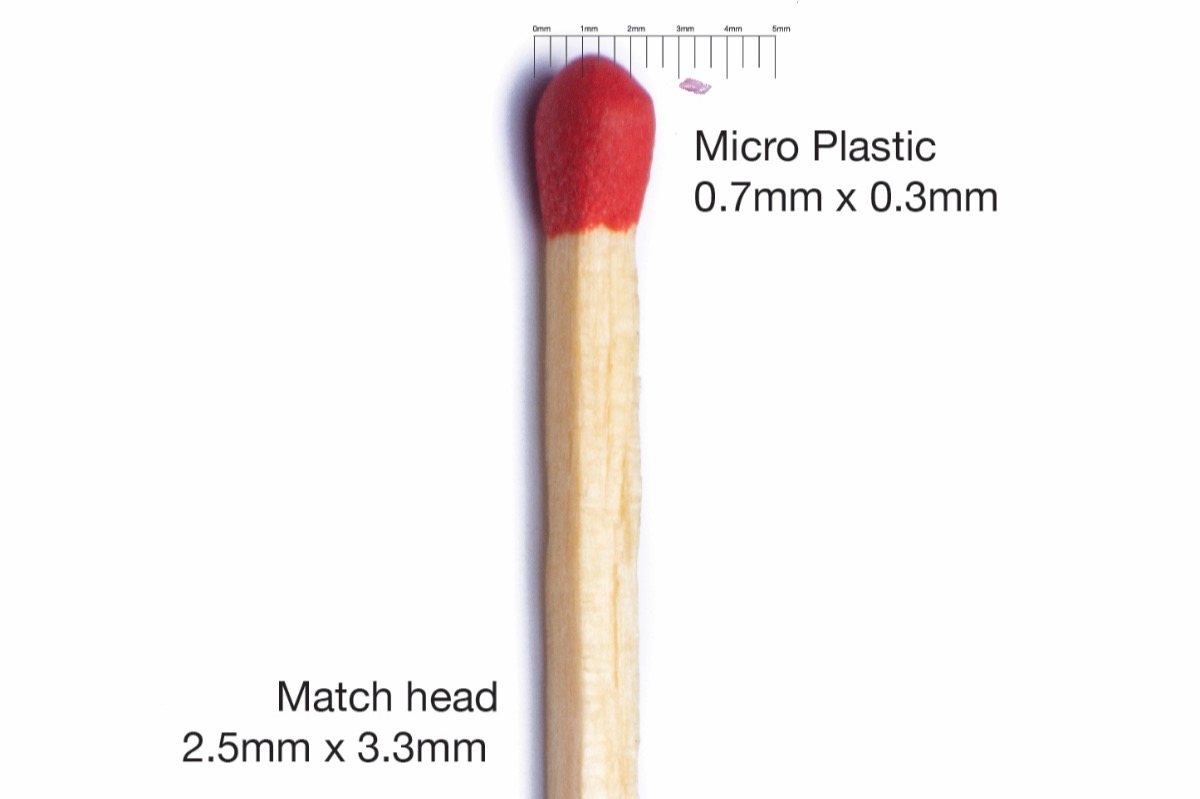 Who is responsible for the Seabin?
This is the best part of it all, the marina will be the one responsible for the upkeep of the Seabins and also they will be paying for the energy consumption of the Seabin which is around $2 - $3 a day.
The marina enjoys a cleaner marina and the rest of us and the marine life enjoy cleaner oceans with less floating debris polluting our oceans!
Seabins part of a whole solution
Seabins whole solution is Technology, Education, Science, Research and Community. The reason for this is that Technology alone is not the solution to stopping ocean plastics, education is the real solution.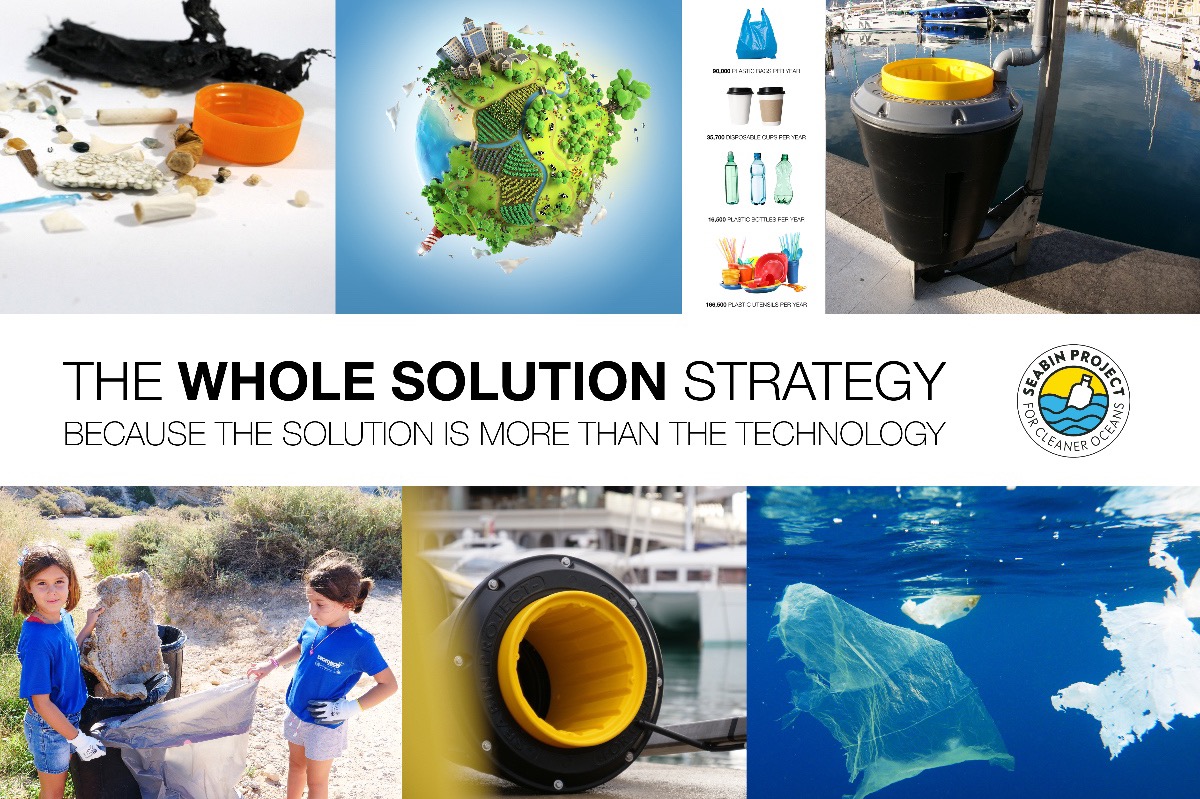 Great! Can our local community be involved also?
Yes! The team at Seabin have interactive programs and lessons designed for schools, community and youth to interact with the Seabins and have over 2000 school students engaged around the world, this is something that we can do locally also with support from the team at Seabin Project.
What will we be doing if we participate in these programs?
You would be joining an international community contributing important data and feedback on ocean plastics to the Seabin central data base. Renowned scientists, universities and environmental agencies are all a part of the programs also.
The lessons range from identifying ocean plastics to data collection of what the Seabins are catching weekly. The data collection is a very easy activity and where we can all see the measurable impact of debris the Seabins are taking out of the water in all weather conditions.
It's as simple as counting how many plastic bags, plastic particles, food wrappers and then noting it down on a spreadsheet or app. Weather conditions and location information is also entered into the data base.
How can you help our campaign and make a difference in the world?
Every contribution to this crowdfunding campaign helps, be it $1 or $50 dollars, it all adds up and bring us closer to our goal.
Even if you cannot afford a donation, please help by sharing this campaign with your friends and family on social media. The more people that know about the campaign the better!
Thanks everyone for taking the time to check out our campaign!
FAQS SHEET
Seabin Project FAQs
Q: Can someone pay out the crowdfunding campaign goal?
A: Yes! We need help! The more money we can raise, the more Seabins we can buy.
Q: Why crowdfund a Seabin?
A: Until now, the Seabins were not for the everyday person to purchase because marinas ports and yacht clubs are the target market for Seabin Group. This is a way where everyday people can give something back to the oceans.
Q: How do Seabins work in tidal areas?
A: Seabins at present are designed for floating docks and pontoons. The Seabins move up and down with the tide on the floating dock.
Q. How are the pumps run?
A. The pumps are currently electric, and around $2-$3 a day to run.
Q: When are the Seabins available?
A: Depending on your countries location, Seabins will be available Feb 2019.
Q: Do any fish get sucked into the Seabins? What about smaller marine life?
A: There is a possibility of fish to enter the Seabins, however in the last 2 years of development, the Seabins have only caught a handful of small bait fish. Most of which have been thrown back into the water alive. The fish simply stay away from the flow of water entering the Seabin and with the current fine tuning of the Seabin, the risk is now minimal.
Q: I don't have any money to donate, how can I help?
A: Don't worry! Your amazing anyways and thanks for even contacting us. We need help to share this project around with any media we can. Social media platforms like Facebook, Instagram, Twitter, websites, bloggers. Also with newspapers, magazines, tv, radio and journalists. Also friends and family!