April 23 - 29, 2017: Issue 309

Human: Child Artist Response Project
7 April, 2017

Manly Art Gallery & Museum is delighted to present this unique exhibition which is the result of a special partnership that began five years ago when artist Lilly Blue approached the Gallery to discuss new ways of engaging with young people in our region through art.
Lilly has since brought innovative ideas and rigour to the way we have presented a range of our creative learning programs. For Manly's annual Big Draw event, the community has been invited to collaborate on large murals with the focus on process and a professional looking outcome, elevating the final result to a resolved artwork. Lilly has also developed creative workshops for our school holiday program. Images from Big Kids Magazine's Child Artist Response Project have also graced The Great Wall of Manly public art project in the Gallery's courtyard.
HUMAN: The Child Artist Response Project Exhibition provides audiences with an opportunity to engage with the work of contemporary artists and children who have responded to each other's work which are shown side by side. Their collaborative and creative journeys are articulated in their written statements. Each pairing features a window to art and the artistic process, opening new ways of seeing, thinking and mark making.
Lilly values and respects children's abundant creativity, encouraging and guiding us to elevate the art of young people within the gallery context, creating a new dialogue between artworks and the audience that is thought provoking and inspiring.
As part of the project, Manly Art Gallery & Museum Society has also supported a creative arts pilot program by enabling Lilly Blue to work with local primary school students at in-school workshops as they explored the theme Human, creating the unique responses in this exhibition.
Exhibition dates: 7 April – 21 May 2017
Art Talk + Walk: Sun 9 Apr, 3pm, join the curator and artists on a walk through the exhibition exploring the ideas behind the project and their collaborations.

School Holiday Creative Workshop: Thu 13 Apr, 10am – 12 noon OR 2 – 4pm. Led by Lilly Blue, children respond creatively to the Child Artist Response Project artworks and explore for themselves what it is to be human. Cost: $30 (all materials and refreshments included). Bookings: 9976 1421
CARP Celebration: Sun 21 May, 3 – 4.30pm, on the last day of the exhibition, artists, family, friends and the community is invited for afternoon tea and to help create a mural.
Peppa Pig - Earth Day Compilation (new 2017!!)

LEGO AT THE LIBRARY
Local children will have the chance to join a club specialising in one of the most enduring playthings of childhood. Mona Vale Library has started a Lego club on the first Sunday of each month from 2pm to 4pm. Next is May 7th, 2017. The club is open to children aged between seven and twelve years of age, with younger children welcome with parental supervision. If you are interested in attending a Lego at the Library session contact the library on 9970 1622 or book in person at the library, 1 Park Street, Mona Vale.
Children's Storytime at Mona Vale Library: Mona Vale Library offers storytime for pre-school children every week during school terms. Children and their carers come and participate in a fun sing-a-long with our story teller as well as listen to several stories in each session, followed by some craft. Storytime is held in the Pelican Room of the library in front of the service desk. Storytime is free and no bookings are required. Storytime Sessions: Tuesdays 10.00am - 11.00am - Wednesdays 10.00am - 11.00am - Thursdays 10.00am - 11.00am
Mona Vale Mountain Cub
Scouts Profile
Find out more about all the fun you can have at Mona Vale Mountain Cub Scouts Profile –
our Profile pages aren't just about those who can tell you about Pittwater before you were born, they're also about great clubs and activities that you too can get involved in!
"Let's go fly a kite" from Mary Poppins Movie
Palm Beach Whistling Kites Inspire sharing How to Make Standard, Box and Whistling Boy Kites - school holidays fun with a bit of Australian and Narrabeen history
Thank you, Mr. Falker read by Jane Kaczmarek

By Patricia Polacco. Read by Jane Kaczmarek.
Little Trisha is overjoyed at the thought of starting school and learning how to read. But right from the start, when she tries to read, all the letters and numbers just get jumbled up. Her classmates make matters worse by calling her "dummy" and "toad."
Published by Storyline Online
Anzac Day Schools' Awards 2017
The Anzac Day Schools' Awards are open to all Australian primary and secondary schools. Schools can enter as an individual class or the whole school, with a limit of one entry per school.
The Anzac Day Schools' Awards are designed to encourage initiative and creativity in the way schools commemorate Anzac Day, with an emphasis on innovation balanced with tradition.
Closing date: Friday 26 May 2017
Note: It is strongly recommended that participants include a veteran in their activities, as the impression that learning first hand from an ex-service person can have on students is profound.
The Anzac Day Schools' Awards are open to all Australian primary and secondary schools. Schools can enter as an individual class or the whole school, with a limit of one entry per school.
Schools with both a primary school campus and a secondary school campus can enter both categories, but the activities must be separate activities undertaken by the primary school and secondary school campuses respectively. If the activity incorporates the whole school, the most appropriate category (i.e. primary or secondary) must be entered.
Schools may combine to submit a single entry if all the schools participated in the same commemorative event and/or learning activities. If this is a winning entry, all participating schools will receive a certificate but the winning plaque and cheque will only be awarded to the school which submitted the entry.
Entries must be coordinated and submitted by a teacher with the Principal's authorisation.
What qualifies as an entry?
Broadly, any activity undertaken to commemorate Anzac Day may qualify for entry, provided that it:
• is relevant to the audience; and
• shows due care and competence.
To enter, your school's activity must be supported by:
Visual evidence, which may take the form of
Photographs

Examples of students' work

PowerPoint presentations

Videos, USB presentations (30 mins max)

Websites (hardcopy print-out or USB); and

A 500 word description of the activities.
It is preferred that multimedia presentations be provided on a USB with other entry documentation.
It is anticipated that for future competitions, from 2018 onwards, DVA will accept only electronic entries.
Contact information
133 254 email :
education@dva.gov.au
Forms, Details and more information
HERE
Junior Lifesavers Crowned NSW Best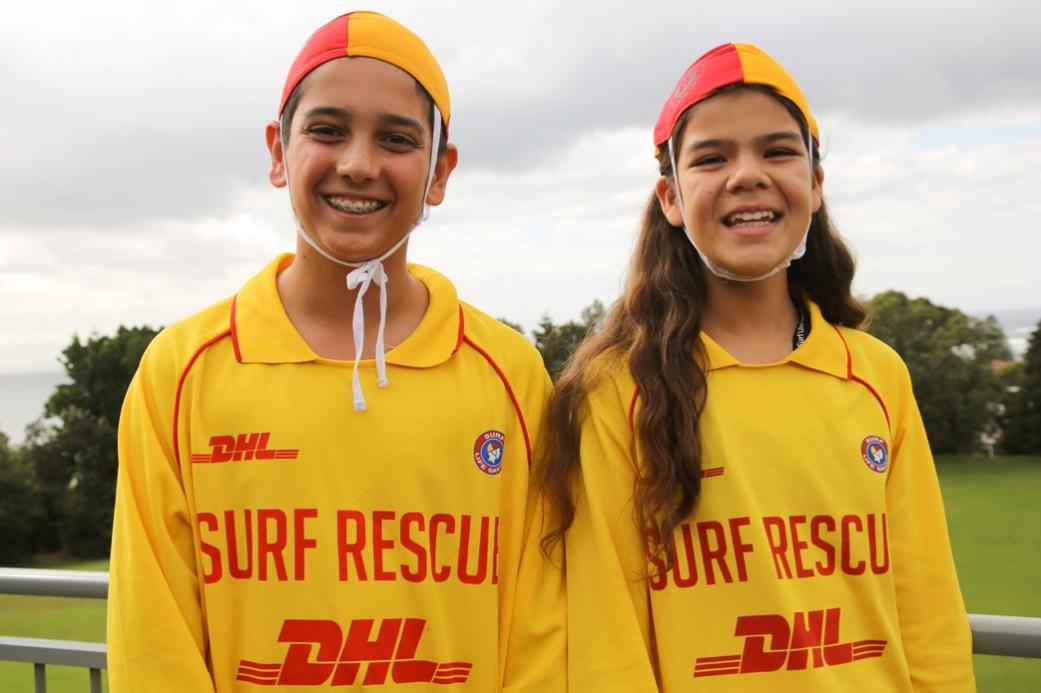 Sydney Northern Beaches - Elliott Prasad - Narrabeen Beach and Mandela Raj-Seppings - Dee Why - photo courtesy SLS NSW
Junior Lifesavers Crowned NSW Best
Thursday 13 April 2017 – from Surf Life Saving NSW
It's been a memorable day for two young lifesavers who capped off their Nipper careers in impressive style by winning the Junior Lifesaver of the Year award (JLOTY) in Sydney on Thursday.
Matilda Shirley (Byron Bay SLSC) and Elliott Prasad (Narrabeen Beach SLSC) were awarded the prestigious prize after impressing the judging panel during this week's development program at the Collaroy Learning Centre in what was a very close competition.
The duo were among 22 Under 14 finalists from the eleven branches in NSW nominated to take part in the annual leadership and development program, which brings together like-minded young lifesavers in their final year of Nippers. To make it this far into the process, these young club members must have demonstrated strong leadership potential and a commitment to Surf Life Saving and their community.
"When they announced the winners, I was very surprised and it was totally unexpected. I'm just so honoured to represent my club and branch and to do everyone proud who I hold dear. It's just an amazing moment," Matilda Shirley said.
The young Far North Coast lifesaver has certainly covered plenty of distance in her time in Surf Life Saving having started her career as a U6 Nipper in Broome, Western Australia before moving to Brisbane.
"I moved from Broome to Brisbane and I really loved Surf Life Saving and I couldn't it give up so my dad once again drove me to Kurrawa SLSC every single Sunday and I stuck with it before I joined Byron Bay two years ago and it's a massive part of my life and I will never give it up, Matilda said.
Throughout the JLOTY program the young lifesavers participated in a variety of workshops as well as recreational activities all designed to develop the leadership potential of the lifesavers and highlight the many opportunities in Surf Life Saving.
Narrabeen Beach SLSC continued their success in the program with their second win in as many years after Ella Cook was crowned the 2016 JLOTY and Elliot Prasad taking out the title this season.
"There was friendly pressure coming into the program as Ella won JLOTY last year. Hopefully we can get the hat trick in 2018," Elliott said.

Elliott Prasad has been involved in Nippers since Under 9s and believes this week's program has been one of the highlights of his years in surf life saving.

"It's quite different to anything I've ever done before. Being from a small surf club and winning a NSW award means a lot to me and everyone who has supported me along the way," Elliott said.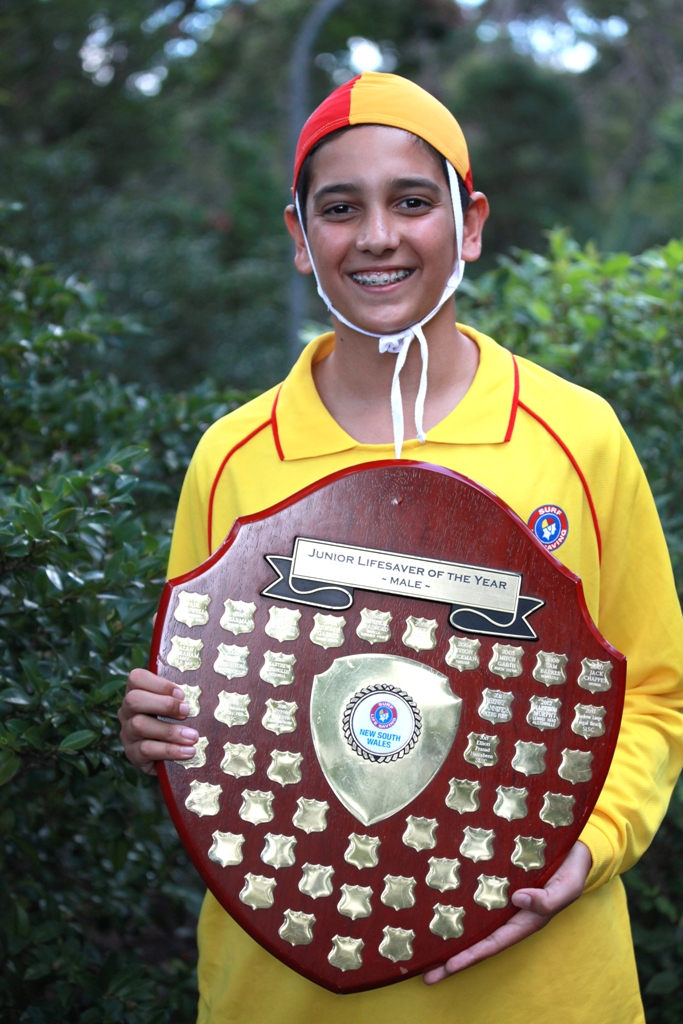 Elliot Prasad - Narrabeen Beach SLSC

The experience of the JLOTY Program reinforced both Matilda's and Elliott's ambitions to stay involved with their clubs.
"Of course I want to continue on to obtain my Bronze Medallion and stay highly involved in Byron Bay Surf Club, and just do whatever I can to give back to my club and community who have done so much for me," said Matilda.
Elliott also wants to take advantage of the range of opportunities offered in surf lifesaving.
"I would like to be build on my experiences in lifesaving and bring back to my club what I've learnt this week," Elliott said.
Both Matilda and Elliott will be honoured as part of the annual NSW Awards of Excellence to be held on Saturday 5 August at Four Seasons Hotel, Sydney.
2016-17 NSW Junior Lifesaver of the Year Finalists
• Cooper Taylor - Cabarita Beach (FNC)
• Matilda Shirley - Byron Bay (FNC)
• Nicholas Bulloch - Coffs Harbour (NC)
• Ashleigh Slater - Woolgoolga (NC)
• Kye Gill - Wauchope-Bonny Hills (MNC)
• Elizabeth Duffy - Port Macquarie (MNC)
• Kady Tritton - Forster (LNC)
• Kynan Witherow-Strutt - Pacific Palms (LNC)
• Kaitlyn McMahon - Cooks Hill (HUN)
• Jayden Wright - Redhead (HUN)
• Hayden Doyle - Ocean Beach (CC)
• Skye O'Mara - Terrigal (CC)
• Elliott Prasad - Narrabeen Beach (SNB)
• Mandela Raj-Seppings - Dee Why (SNB)
• Bridget Crick - South Maroubra (SYD)
• Asher Wilson - Coogee (SYD)
• Alyssa Norris - Windang (ILL)
• Fletcher Atkins - Corrimal (ILL)
• Liam Furney - Shellharbour (SC)
• Zoe Anderson - Nowra-Culburra (SC)
• Joel Doble - Batemans Bay (FSC)
• Darcy Coppin - Moruya (FSC)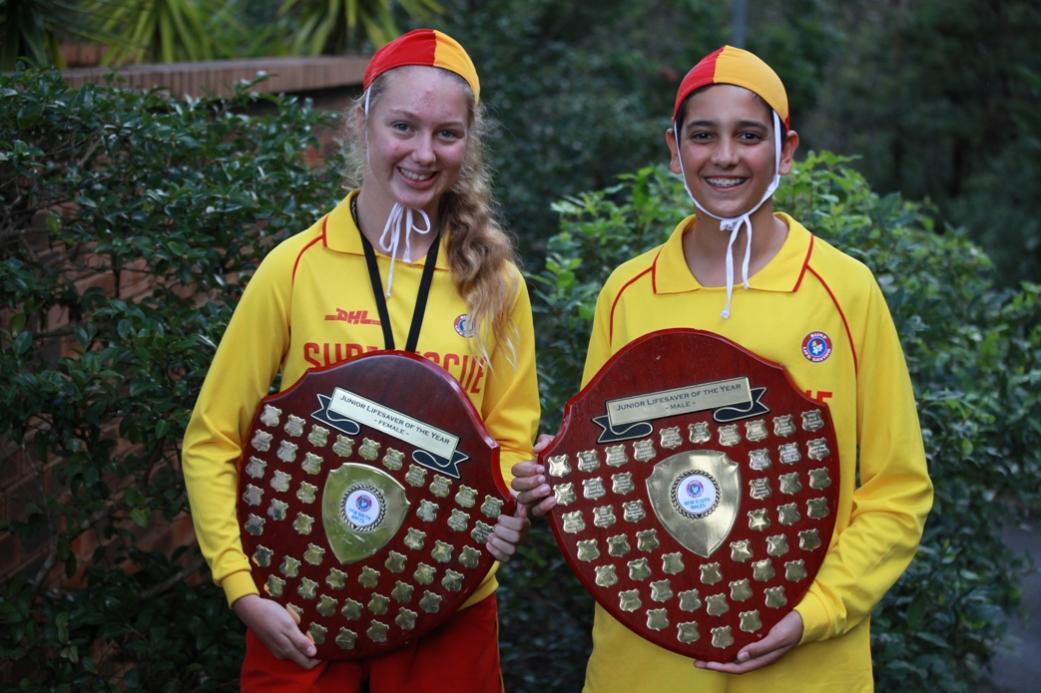 JLOTY Winners 2017 -
Matilda Shirley (Byron Bay SLSC) and Elliott Prasad (Narrabeen Beach SLSC). Photo courtesy SLS NSW