May 21 - 27, 2017: Issue 313

Australian Bandstand 1963
at Avalon Beach SLSC!
2017 Premier's Reading Challenge
The Challenge aims to encourage a love of reading for leisure and pleasure in students, and to enable them to experience quality literature. It is not a competition but a challenge to each student to read, to read more and to read more widely.
The Premier's Reading Challenge (PRC) is available for all NSW students in Kindergarten to Year 9, in government, independent, Catholic and home schools.
If help is required on how to do the Challenge or how to navigate the website and the answer cannot be found on the PRC Support site, please contact us at
prc@det.nsw.edu.au
The 2017 Challenge kicks off Monday 6 March and closes Friday 25 August (midnight) for students. This year coordinators will have an extra week to finalise their students' Student Reading Records. The coordinator closing date is Friday 8 September (midnight).
New books added to the PRC booklists
Welcome to Term 2 of the Premier's Reading Challenge. This term we are adding 164 new books to the PRC Booklists. Students reading new books recently acquired in your library may now be able to add these to their Student Reading Records as Booklist reads rather than Personal Choice reads. The same process will take place in Term 2, with more books added to the Booklists in early Term 3. We are aiming to make our Booklists as current as possible to reflect current reading patterns and new acquisitions in your library. We hope you enjoy this change to the PRC. You
can download the list of the new books here
.
Book Bonus is the only online read-a-thon directly associated with the NSW Premier's Reading Challenge. Book Bonus is a way for students to be the heroes of their schools and communities by seeking sponsorship for the books they've read from their friends and family.
Our goal is to place thousands of new books in the libraries and classrooms of the NSW's schools and further support students from schools that serve the highest concentrations of low socio-economic status communities in NSW, through DCC literacy support programs.
Dymocks Children's Charities will provide 50% of the value of the funds you raise for new books for selected schools in need across NSW.
In summary, Book Bonus:
Raises funds for new books for YOUR school,

Helps DCC give books to kids who really need them

Rewards students for their fundraising!
For additional information
contact us
or view the FAQ's.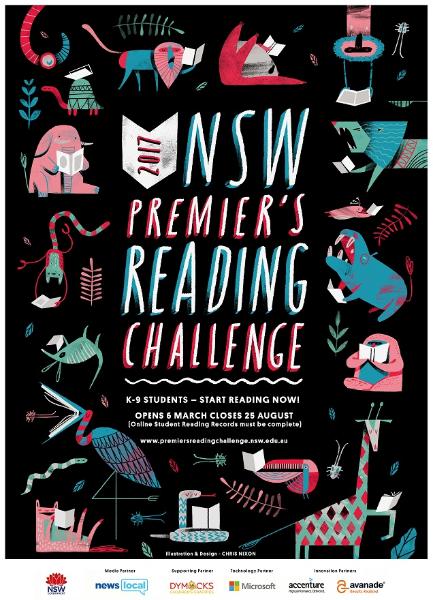 Pelican with its mouth open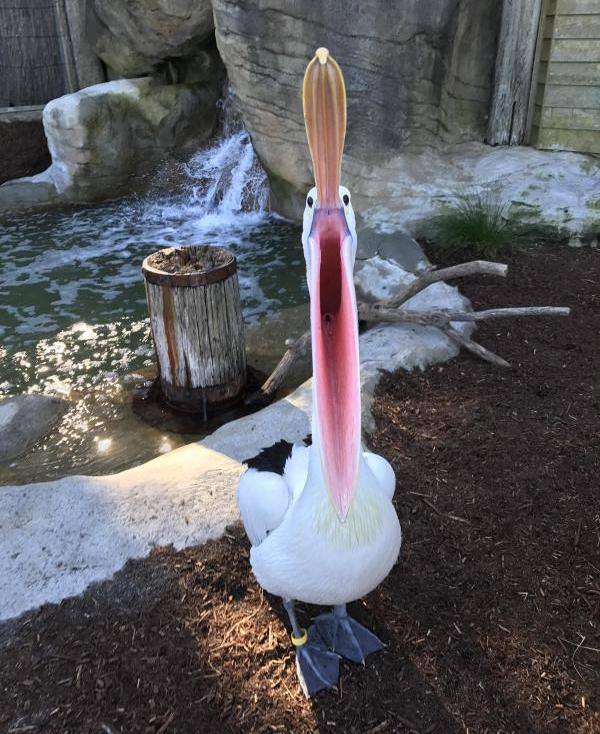 Peppa Pig - Earth Day Compilation (new 2017!!)
LEGO AT THE LIBRARY
Local children will have the chance to join a club specialising in one of the most enduring playthings of childhood. Mona Vale Library has started a Lego club on the first Sunday of each month from 2pm to 4pm. Next is June 4th, 2017. The club is open to children aged between seven and twelve years of age, with younger children welcome with parental supervision. If you are interested in attending a Lego at the Library session contact the library on 9970 1622 or book in person at the library, 1 Park Street, Mona Vale.
Children's Storytime at Mona Vale Library: Mona Vale Library offers storytime for pre-school children every week during school terms. Children and their carers come and participate in a fun sing-a-long with our story teller as well as listen to several stories in each session, followed by some craft. Storytime is held in the Pelican Room of the library in front of the service desk. Storytime is free and no bookings are required. Storytime Sessions: Tuesdays 10.00am - 11.00am - Wednesdays 10.00am - 11.00am - Thursdays 10.00am - 11.00am
Tractor Tom - Puppy Problems
Mona Vale Mountain Cub
Scouts Profile
Find out more about all the fun you can have at Mona Vale Mountain Cub Scouts Profile –
our Profile pages aren't just about those who can tell you about Pittwater before you were born, they're also about great clubs and activities that you too can get involved in!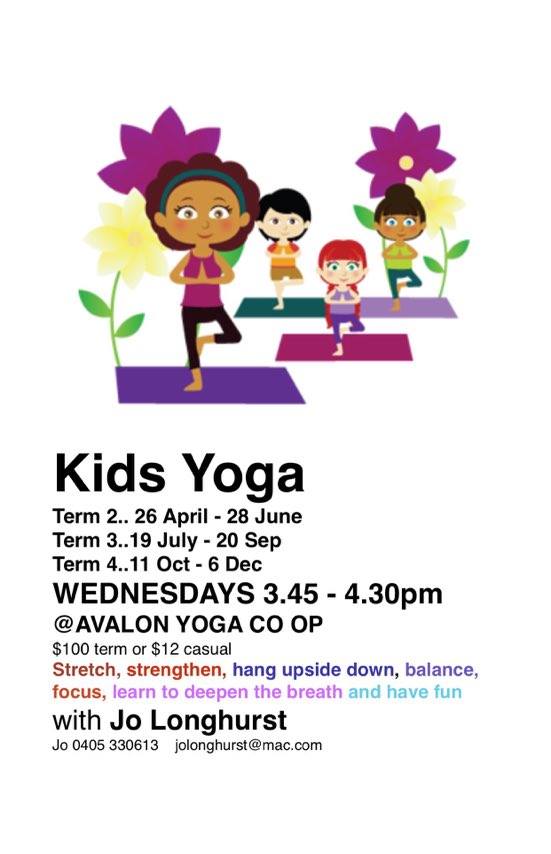 Code Club at Mona Vale Library
Sunday, 28 May 2017 - 2:00pm to 3:00pm
Kids 9-11yrs are welcome to come for some free coding fun!
It is held on the 2nd and 4th Sundays of the month (during school terms)
Code Club is for kids to learn to make computer games, interactive stories, animations and websites.
It is about fun, creativity and problem solving - you can work with a buddy too! We will provide the project materials, a trained volunteer and iPads (or please bring along a laptop if you have one).
Free!
More information: Mary Anderson 9970 1600
Code Club at Mona Vale Library
Sunday, 11 June 2017 - 2:00pm to 3:00pm
Kids 9-11yrs are welcome to come for some free coding fun!
It is held on the 2nd and 4th Sundays of the month (during school terms)
Code Club is for kids to learn to make computer games, interactive stories, animations and websites.
It is about fun, creativity and problem solving - you can work with a buddy too! We will provide the project materials, a trained volunteer and iPads (or please bring along a laptop if you have one).
National Simultaneous Storytime: May 24th, 2017
Wednesday, 24 May 2017 - 10:00am to 11:00am

Little library lovers are getting ready to join in with thousands of others across the country during National Simultaneous Storytime to read The Cow Tripped Over the Moon written by Tony Wilson and illustrated by Laura Wood.
Held annually by the
Australian Library and Information Association
, National Simultaneous Storytime aims to encourage more young Australians to read and enjoy books. Now in its 16th successful year, it is a colourful, vibrant, fun event that aims to promote the value of reading and literacy, using an Australian children's book.
10 - 11am: Mona Vale Library
10.15 - 11am: Pop-up Library at Glenrose Village Shopping Centre, Dee Why Library and Warringah Mall Library
11am reading: Pop-up Library at Manly Corso
(In the event of wet weather unfortunately this storytime will not take place.)
Enquires: 9942 2449.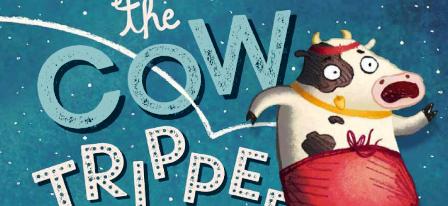 2017 Eco Schools Grants Program Open For Applications
Media release: 26 April 2017
Educators and school communities are once again encouraged to apply for an Eco Schools Grant to ignite and nurture their students' passion to learn about the environment.
Eighty grants of $3,500 each are now available under the NSW Environmental Trust Eco Schools Grants program, which has supported a variety of environmental projects in schools from waste management to worm farms for nearly 20 years.
Office of Environment and Heritage Executive Director Ian Hunter said the grants help provide curriculum-based environmental education for children and the program proudly funded its 1000th project last year.
"Eco Schools Grants recognise the important work of educators in environmental conservation projects and I encourage schools to apply for one of the eighty grants," Mr Hunter said.
"Research shows that when young people develop an appreciation of the environment early on it influences their behaviours later in life.
"Schools are uniquely placed to teach students about sustainability, why it's important to take care of our environment and what good environmental citizenship looks like," Mr Hunter said.
Teachers from Bonnyrigg High School in Sydney's west used their Eco Schools Grant to bring history and science to life through environmental education with a medieval food garden.
"Students learned about garden functionality, soil health and sustainable living. Science students also used the plants to study photosynthesis and helped their school create a resource to facilitate hands-on learning for years to come," Mr Hunter said.
"Grants this year will be offered to student-focused environmental management projects, including water and energy conservation, recycling, bush regeneration, habitat improvement and food gardens.
"Schools are also encouraged to develop projects for students with special needs," Mr Hunter said.
Interested schools in NSW are encouraged to register on the Sustainable Schools NSW website and grant applications can be submitted until Monday 19 June, 2017.
All registered schools in NSW can apply for funding for new projects or a separate additional stage of a previous project. Schools currently delivering an existing Eco Schools Grant funded project are not eligible.
Photo - Bonnyrigg Highschool Eco Schools Grants Garden
Educators and school communities are once again encouraged to apply for an Eco Schools Grant to ignite and nurture their students' passion to learn about the environment. Photo
Courtesy OEH
Crested Pigeon pair - Centennial Park biodiversity

When Pigasso Met Mootisse read by Eric Close

By Nina Laden. Read by Eric Close.
What begins as a neighborly overture between a painterly pig and an artsy cow escalates into a monumental modern art mess! Before you can say paint-by-numbers, the two artists are calling each other names and building a fence between them. But it turns out that what divides them also reunites them.
Published by Storyline Online
Anzac Day Schools' Awards 2017
The Anzac Day Schools' Awards are open to all Australian primary and secondary schools. Schools can enter as an individual class or the whole school, with a limit of one entry per school.
The Anzac Day Schools' Awards are designed to encourage initiative and creativity in the way schools commemorate Anzac Day, with an emphasis on innovation balanced with tradition.
Closing date: Friday 26 May 2017
Note: It is strongly recommended that participants include a veteran in their activities, as the impression that learning first hand from an ex-service person can have on students is profound.
The Anzac Day Schools' Awards are open to all Australian primary and secondary schools. Schools can enter as an individual class or the whole school, with a limit of one entry per school.
Schools with both a primary school campus and a secondary school campus can enter both categories, but the activities must be separate activities undertaken by the primary school and secondary school campuses respectively. If the activity incorporates the whole school, the most appropriate category (i.e. primary or secondary) must be entered.
Schools may combine to submit a single entry if all the schools participated in the same commemorative event and/or learning activities. If this is a winning entry, all participating schools will receive a certificate but the winning plaque and cheque will only be awarded to the school which submitted the entry.
Entries must be coordinated and submitted by a teacher with the Principal's authorisation.
What qualifies as an entry?
Broadly, any activity undertaken to commemorate Anzac Day may qualify for entry, provided that it:
• is relevant to the audience; and
• shows due care and competence.
To enter, your school's activity must be supported by:
Visual evidence, which may take the form of
Photographs

Examples of students' work

PowerPoint presentations

Videos, USB presentations (30 mins max)

Websites (hardcopy print-out or USB); and

A 500 word description of the activities.
It is preferred that multimedia presentations be provided on a USB with other entry documentation.
It is anticipated that for future competitions, from 2018 onwards, DVA will accept only electronic entries.
Contact information
133 254 email :
education@dva.gov.au
Forms, Details and more information
HERE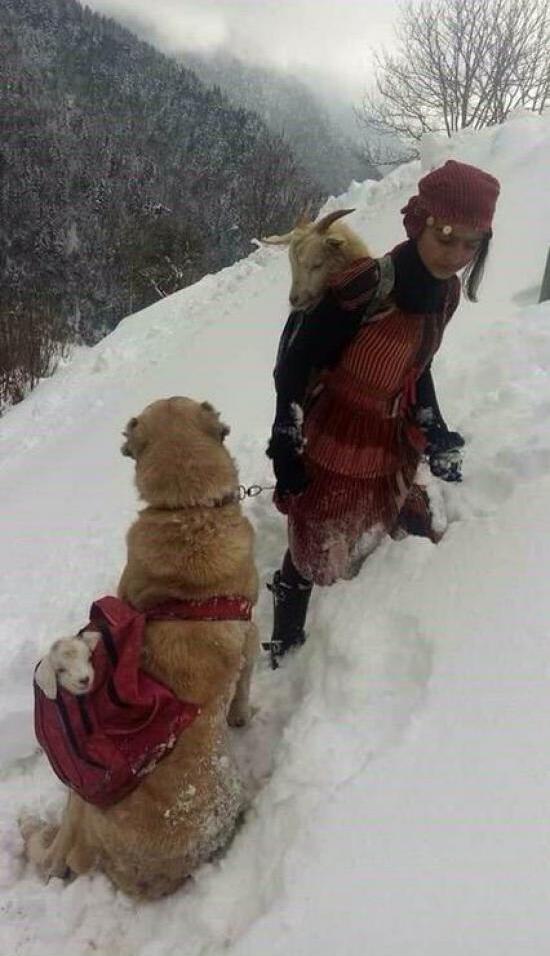 Turkish girl carrying a goat on her back that just gave birth and her dog carrying the baby. Rize, Turkey
Tiny Wild Boar in Tiny Mud Puddle
The wild boar (Sus scrofa), also known as the wild swine or Eurasian wild pig, is a suid native to much of Eurasia, North Africa, and the Greater Sunda Islands. Human intervention has spread its range further, making the species one of the widest-ranging mammals in the world, as well as the most widely spread suiform. Its wide range, high numbers, and adaptability mean that it is classed as least concern by the IUCN and it has become an invasive species in part of its introduced range. The animal probably originated in Southeast Asia during the Early Pleistocene, and outcompeted other suid species as it spread throughout the Old World.
As of 1990, up to 16 subspecies are recognised, which are divided into four regional groupings based on skull height and lacrimal bone length. The species lives in matriarchal societies consisting of interrelated females and their young (both male and female). Fully grown males are usually solitary outside the breeding season. The grey wolf is the wild boar's main predator throughout most of its range except in the Far East and the Lesser Sunda Islands, where it is replaced by the tiger and Komodo dragon respectively. It has a long history of association with humans, having been the ancestor of most domestic pig breeds and a big-game animal for millennia.
Industrial finds unearth palaeontological past from 112 million years ago
As one of the best places in the world for fossil preservation and discovery, Alberta is an exciting window into prehistoric life. The museum's new exhibit, Grounds for Discovery, showcases some of the most significant fossils that have been discovered through industrial work.
Thousands of cubic metres of soil, gravel, and bedrock are excavated in Alberta every year through road construction, urban development, mining and other industrial activity. When fossils are exposed during these activities, Royal Tyrrell Museum scientists and industrial workers cooperate to safely excavate and protect Alberta's fossils for scientific study and display.
Each discovery that has been reported and excavated contributes to global research.
"The new Grounds for Discovery exhibit shows visitors first-hand the positive outcomes of reporting fossil discoveries and working with industry. Through personal stories and exceptional specimens, the Royal Tyrrell Museum shows us once again why it is a premier palaeontological research centre and a world-class tourist attraction in this province."
– Ricardo Miranda, Minister of Culture and Tourism
The centrepiece of the exhibit is a new species of dinosaur discovered at the Suncor Millennium Mine near Fort McMurray in 2011.
A Suncor employee spotted something unusual while excavating in the mine. Little did he know that this would turn out to be one of the most significant dinosaur discoveries in the world.
This new species of nodosaur (armoured dinosaur) is the oldest dinosaur known from Alberta – approximately 112 million years old – and is the best preserved armoured dinosaur ever found.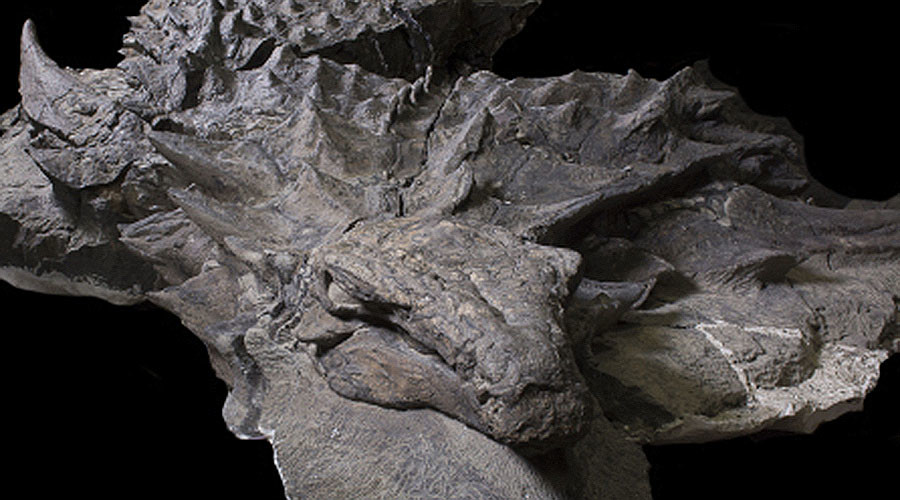 nodosaur (armoured dinosaur) - copyright
Royal Tyrrell Museum
Since its discovery, the public have been able to share in the nodosaur's journey by watching its painstaking preparation by technicians through the lab gallery window. For the first time, all the pieces have been put together so it can finally share its story.
Shawn Funk, a heavy-equipment operator, noticed the fossil because the texture and color looked different than the surrounding rock, according to National Geographic.
"It was a very slow reveal, but it was a very exciting one nonetheless," said Caleb Brown, a postdoctoral fellow at the museum, and a co-author of a study describing the new species, which he expects to be published in a peer-reviewed journal this summer (northern hemisphere).
When the dinosaur died, Alberta was warm and sat on the coast of a shallow inland seaway that stretched from the Gulf of Mexico to the Arctic Ocean. It's unclear if the dinosaur drowned in the seaway or died on land and then got swept out to sea. Either way, the carcass would have undergone a phenomenon called "bloat and float" as the body decomposed and filled with gases.
After severe bloating, the carcass would have exploded and sunk to the bottom of the seaway. "It must have been a very quiet, a very muddy, fine-grained and low-oxygenated environment where it settled, because there is no scavenging on the animal," Brown said.
"It must have fallen pretty rapidly, because we actually have a little impact crater from where it hit the bottom," Brown said. "It hit the bottom pretty hard."
Because the specimen was covered in marine sediment, museum researchers didn't know the specimen was a dinosaur. At first, they thought that the fossils belonged to a prehistoric marine creature, such as an ichthyosaur or a plesiosaur, because "we were getting marine reptiles from another mine about 20 kilometers [12 miles] away," said Donald Henderson, the curator of dinosaurs at the museum and co-author of the forthcoming study.
But after getting a good look at part of the specimen, museum technician Darren Tanke made the right call: The beast was a dinosaur, no doubt about it, Henderson said.
Mr. Henderson spent 17 days at the Millennium Mine in 2011, taking safety classes with Tanke so they could go into the mine to help excavate the specimen. The dinosaur was encased in a block of extremely hard rock known as a concretion, but the fossil inside was as soft as talcum powder, Henderson said.
The crew learned that the hard way, when they tried to remove the entire 35,000-lb. (15,800 kilograms) concretion at once. The insides were so soft, the block broke in two as they tried to remove it from the mine. After that, the paleontologists opted to remove the fossils in several thousand-pound chunks, which were then covered in burlap and plaster for protection.
After a 12-hour truck ride, the fossils arrived at the museum, still shrouded in stone. Museum technician Mark Mitchell has spent almost six years revealing the spectacular specimen, and because it was so fragile, "he's put a drop of glue or more on every square millimeter that you see," Mr. Henderson said.
The 3,000-lb. (1,360 kg) nodosaur is so complete, it looks like a statue.
"It was very low to the ground, very squat on very short legs," Brown told Live Science. "The entire back, sides, neck and tail were covered in large osteoderms — bony plates that are embedded in the skin."
Normally, osteoderms fall off and become displaced when a dinosaur dies. "In this case, those osteoderms are still preserved in the skin," Brown said. "Not only that, the osteoderms are capped with layers of keratin, the same stuff your fingernails are made of. Normally, it doesn't fossilize."
This herbivore probably ate conifers, cycads (woody plants with seeds) and ferns. "They had very wimpy teeth," Mr. Henderson explains. "They had a beak like a turtle, and they would just gather the food. [There was] very little chewing, a system of stomachs would have processed the fibrous food," he said.
The researchers found a soccer-ball-size mass of fossilized food in the stomach of the specimen that he hopes to analyze soon.
The earliest nodosaurs are known from the Jurassic (a period lasting from 199.6 million to 145.5 million years ago), but most, including the newfound beast, lived during the Cretaceous period (145.5 million to 65.5 million years ago), Brown said.
Nodosaurs have been found on every continent except Antarctica.
Though the nodosaur specimen is in superb condition, it's not the most well-preserved dinosaur on record. That honor likely goes to one of the bird-like dinosaurs with fossilized feathers that farmers and researchers have discovered in China's Liaoning province.
Research on this extraordinary nodosaur was supported through the National Geographic Society and is being featured in their June 2017 issue of National Geographic magazine,
available online today
and on print news-stands on May 30. The magazine feature includes an interactive featuring a 3D model of the nodosaur, both how it looked and lived in its day, and how it came to be fossilized for millions of years before its discovery.
Newly Unveiled Dinosaur Fossil is Best Preserved Of Its Kind
Published on 15 May 2017 by
National Geographic
See the remains of a nodosaur, the best preserved fossil of its kind ever found. Discovered by miners in Alberta, Canada, it's a 110 million-year-old type of plant-eating armored dinosaur. The animal has two 20-inch-long spikes on its shoulders, and, in life, it was 18 feet long and nearly 3,000 pounds.
About National Geographic:
National Geographic is the world's premium destination for science, exploration, and adventure. Through their world-class scientists, photographers, journalists, and filmmakers, Nat Geo gets you closer to the stories that matter and past the edge of what's possible.
Get More National Geographic:
Click here to read more about the amazing discovery.
Ex-HMAS Sydney retires to Western Australia
17 May 2017:Media Release - Dept. of Defence
Minister for Defence Personnel Dan Tehan said Ex-HMAS Sydney would leave Sydney Harbour today to be towed to Western Australia for recycling by Australian company Birdon Pty Ltd.
"Ex-HMAS Sydney had an illustrious career during her 32 years in service with the Royal Australian Navy," Mr Tehan said.
"The Adelaide Class Frigate was involved in operations spanning the Middle East, East Timor, Fiji and the Solomon Islands and earned a Meritorius Unit Citation during the First Gulf War in 1991.
"She was built at the Todd Pacific Shipyards in Seattle, Washington, USA, and commissioned there on 29 January 1983.
"The former Sydney was decommissioned from the Royal Australian Navy on 7 November 2015 to make way for the Hobart class guided missile destroyers, which will provide Australia with an improved war fighting capability."
Ex-HMAS Sydney's journey from Sydney to the Common User Facility at Henderson, Western Australia, will take up to 22 days.
Sydney had been offered to States and Territories for use as a dive wreck, however, there was no interest in the ship, so the Government decided to recycle her by scrapping.
HMAS Sydney (FFG 03)
HMAS Sydney (FFG 03) was an Adelaide-class guided-missile frigate of the Royal Australian Navy (RAN). The frigate was one of six modified Oliver Hazard Perry-class frigates ordered from 1977 onwards, and the third of four to be constructed in the United States of America. Laid down and launched in 1980, Sydney was named for the capital city of New South Wales, and commissioned into the RAN in 1983.
During her operational history, Sydney has been involved in Australian responses to the 1987 Fijian coups d'état and the Bougainville uprising. The frigate was deployed to the Persian Gulf on five occasions in support of United States operations during the Gulf War, War in Afghanistan, and the 2003 invasion of Iraq, and has completed two round-the-world voyages.
Sydney was originally expected to remain in service until 2013, but was retained in service until 2015; ceasing active deployments on 27 February and serving as a moored training ship until her decommissioning on 7 November. The frigate will be replaced in service by a Hobart-class destroyer.
Following the cancellation of the Australian light destroyer project in 1973, the British Type 42 destroyer and the American Oliver Hazard Perry-class frigate were identified as alternatives to replace the cancelled light destroyers and the Daring-class destroyers. Although the Oliver Hazard Perry class was still at the design stage, the difficulty of fitting the Type 42 with the SM-1 missile, and the success of the Perth-class acquisition (a derivative of the American Charles F. Adams-class destroyer) compared to equivalent British designs led the Australian government to approve the purchase of two US-built Oliver Hazard Perry-class frigates in 1976. A third (Sydney) was ordered in 1977, followed by a fourth, with all four ships integrated into the USN's shipbuilding program. A further two ships were ordered in 1980, and were constructed in Australia.
As designed, the ship had a full load displacement of 3,605 tons, a length overall of 135.6 metres (445 ft), a beam of 13.7 metres (45 ft), and a draught of 24.5 metres (80 ft). Starting in February 1989, Sydney was modified from the Oliver Hazard Perry FLIGHT II design to FLIGHT III, requiring a lengthening of the helicopter deck for the RAST helicopter recovery system, which increased displacement to 4,100 tons and pushing the overall length to 138.1 metres (453 ft). Propulsion machinery consisted of two General Electric LM2500 gas turbines, which provided a combined 41,000 horsepower (31,000 kW) to the single propeller shaft. Top speed was 29 knots (54 km/h; 33 mph), with a range of 4,500 nautical miles (8,300 km; 5,200 mi) at 20 knots (37 km/h; 23 mph). Two 650-horsepower (480 kW) electric auxiliary propulsors were used for close manoeuvring, with a top speed of 4 knots (7.4 km/h; 4.6 mph). Standard ship's company was 184, including 15 officers, but excluding the flight crew for the embarked helicopters.
Sydney was the first ship of her class to carry female sailors and officers
, requiring the installation of partitioning to some mess decks.
Original armament for the ship consisted of a Mark 13 missile launcher configured to fire RIM-66 Standard and RGM-84 Harpoon missiles, supplemented by an OTO Melara 76-millimetre (3.0 in) gun and a Vulcan Phalanx point-defence system. As part of the mid-2000s FFG Upgrade Project, an eight-cell Mark 41 Vertical Launch System was fitted, with a payload of RIM-162 Evolved Sea Sparrow missiles. For anti-submarine warfare, two Mark 32 torpedo tube sets were fitted; originally firing the Mark 44 torpedo, the Adelaides later carried the Mark 46, then the MU90 Impact following the FFG Upgrade. Up to six 12.7-millimetre (0.50 in) machine guns could be carried for close-in defence, and since 2005, two M2HB .50 calibre machine guns in Mini Typhoon mounts were installed when needed for Persian Gulf deployments. The sensor suite included an AN/SPS-49 air search radar, AN/SPS-55 surface search and navigation radar, SPG-60 fire control radar connected to a Mark 92 fire control system, and an AN/SQS-56 hull-mounted sonar.Two helicopters could be embarked: either two S-70B Seahawk or one Seahawk and one AS350B Squirrel.
The last ship of the Oliver Hazard Perry Flight II design, Sydney was laid down at Todd Pacific Shipyards on 16 January 1980. She was launched on 26 September 1980, and commissioned into the RAN on 29 January 1983. During construction, the ship was identified by the United States Navy hull number FFG-35.
From commissioning until mid-1984, Sydney was attached to the United States Navy's Pacific Fleet as a unit of Destroyer Squadron 9. During this time, the frigate conducted working-up and training exercises.
In May 1987, Sydney visited Fiji, and was alongside in Suva when the first of the 1987 Fijian coups d'état occurred on 14 May. Sydney and sister ship Adelaide, alongside in Lautoka, were instructed to remain off Fiji to aid in any necessary evacuation of Australian citizens; the first component of what became Operation Morris Dance. Sydney remained on station until at least 29 May, when a phased withdrawal began.
Following the acquisition of the Vulcan Phalanx close-in weapon system and the Seahawk helicopter, Sydney underwent a modification refit to be capable of using these weapons. This refit occurred over 1987 and 1988, and also saw the installation of fin stabilisation systems.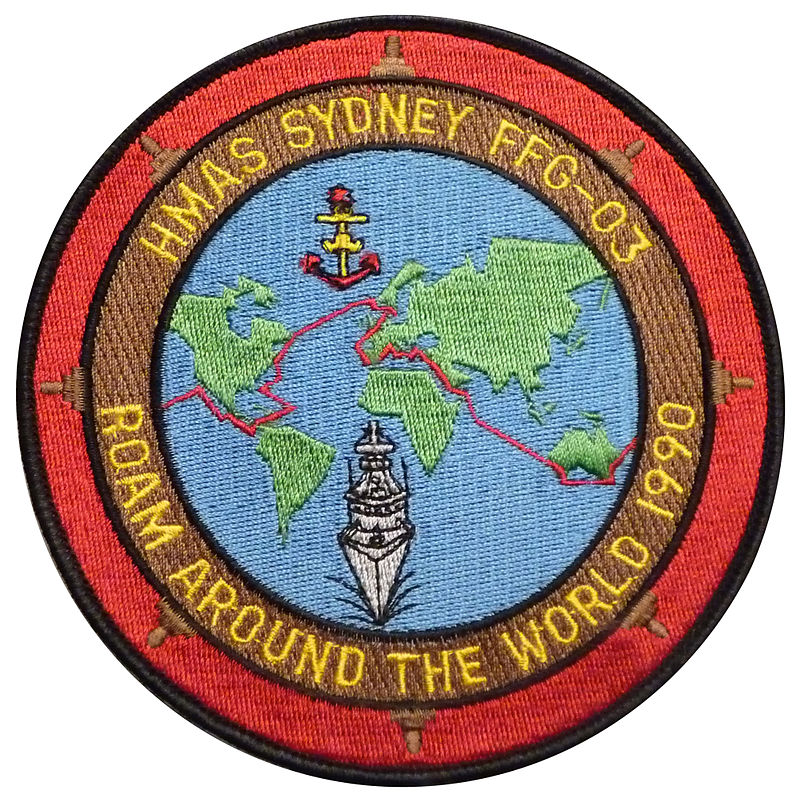 Commemorative badge of the 1990 world voyage, on display in the Australian National Maritime Museum, Sydney.
In January 1990, Sydney, Tobruk, and Jervis Bay were placed on standby to evacuate civilians from Bougainville Island following the Bougainville uprising. Sydney and Tobruk stood down in February, and the two ships departed with the submarine Oxley on a deployment to Turkey to commemorate the 75th anniversary of the landing at Anzac Cove. Following Anzac Day, Sydney continued on a round-the-world voyage, which included numerous diplomatic visits to European and American ports, the first visit of a RAN vessel to Sweden, and participation in a United States counter-narcotics operation in the Caribbean. The frigate arrived home in September.
On 3 December 1990, Sydney and the Perth-class destroyer Brisbane arrived in the Persian Gulf to relieve HMA Ships Adelaide and Darwin as part of Operation Damask; the Australian military contribution to the Gulf War. Sydney was assigned to the escort screen around Battle Force Zulu (Task Force 154), a naval force built around four United States Navy aircraft carriers, and also participated in surveillance and boarding operations.The two Australian warships remained in the area until 26 March 1991. Sydney was awarded the Meritorious Unit Citation on 4 November 1991 for this deployment, and later received the battle honour "Kuwait 1991"
Sydney was deployed back to the Persian Gulf for Operation Damask from September 1991 to February 1992, and again from June 1993 to December 1993.
On 14 March 1994, Sydney rescued the crew of a yacht which had been participating in the Trans-Tasman Yacht Race before encountering difficulties.In early October, the frigate was called on to search for survivors of a light aircraft that ditched into the Tasman Sea.
In May 1995, Sydney became the first RAN warship to visit the Russian port of Vladivostok, as support for a diplomatic and trade mission.
In 1997, Sydney was one of several RAN vessels placed on standby following the outbreak of political disturbances in Papua New Guinea as part of the Sandline affair. No action was required by the Australian warships.
Sydney was deployed to East Timor as part of the Australian-led INTERFET peacekeeping taskforce from 3 November to 19 December 1999. She received the battle honour "East Timor 1999" for this deployment.
On 1 October 2000, Sydney took over from sister ship Newcastle as the RAN vessel assigned to support the peace negotiation process in the Solomon Islands that resulted in the signing of the Townsville Peace Agreement.
In October 2001, Sydney returned to the Persian Gulf to operate in support of Operation Enduring Freedom as part of the War in Afghanistan. The frigate was joined by sister ship Adelaide and the amphibious warfare vessel Kanimbla in early December, and returned to Australia in March 2002. Sydney was sent back to the Gulf in support of 2003 invasion of Iraq, operating from May to August 1993 as part of Operations Falconer and Catalyst. The battle honours "Persian Gulf 2001–03" and "Iraq 2003" recognise these deployments.
Sydney was the first of four frigates selected to go under the A$1 billion FFG Upgrade, with HMA Ships Darwin, Melbourne and Newcastle following. The upgrade features an 8-cell Mark 41 Vertical Launch System (VLS) for 32 Evolved Sea Sparrow Missiles (ESSM), upgrades to fire control and air warning radars, and replacement of the hull-mounted sonar and diesel generators. This refit commenced in 2002, but problems with integrating the frigates' anti-missile and anti-torpedo detection and defence systems meant that when Sydney was finished in 2007, she was initially not accepted back into service. By November 2008, the problems with the upgrade had been solved.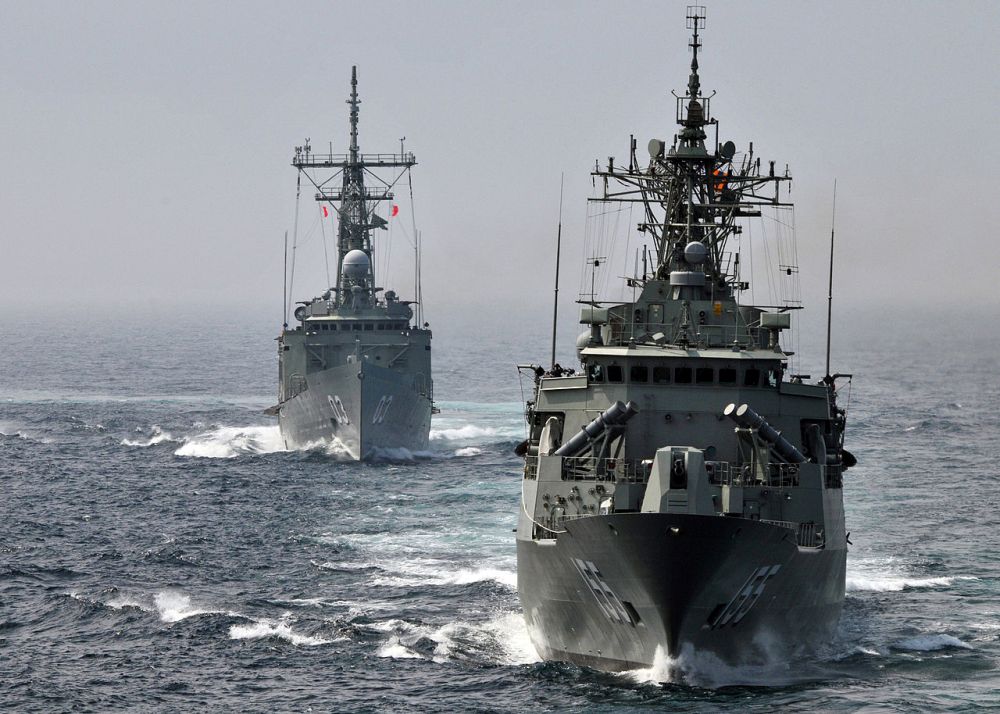 Sydney (rear) maneuvers with Ballarat in 2009 - U.S. Navy photo by Mass Communication Specialist 3rd Class Chad R. Erdmann
On the morning of 13 March 2009, Sydney was one of seventeen warships involved in a ceremonial fleet entry and fleet review in Sydney Harbour, the largest collection of RAN ships since the Australian Bicentenary in 1988. The frigate led the line of thirteen ships involved in the ceremonial entry through Sydney Heads, and anchored in the harbour for the review.
On 20 April 2009, Sydney and the Anzac-class frigate HMAS Ballarat departed from Sydney as part of Operation Northern Trident, a six-month round-the-world voyage by the two vessels, with numerous diplomatic visits and joint exercises with foreign navies. On 17 May, Sydney and Ballarat provided aid to two merchant vessels in the Gulf of Aden, driving off two separate groups of Somali pirates attacking the ships. Sydney remained in the area to report the incidents to Combined Task Force 151, while Ballarat escorted an impromptu convoy of eight ships, including the two that were attacked, to safety. The two warships visited ports in Western Europe, North America, the Pacific and northern Asia, with Sydney arriving back in her namesake city on 19 September.
In May 2013, Sydney began a three-month deployment with the United States Seventh Fleet, attached to Carrier Strike Group Five as an escort for the carrier USS George Washington.
In October 2013, Sydney participated in the International Fleet Review 2013 in Sydney.
Sydney visited Hobart in February 2015 for the Royal Hobart Regatta. During the weekend of 7–8 February,[date missing] the frigate was anchored in the River Derwent to free up wharf space for a civilian vessel. On attempting to return to Macquarie Wharf, the anchor chain broke, leaving the anchor 25 metres (82 ft) below. The anchor was later recovered by divers. The loss of the anchor prevented Sydney from fulfilling duties as the regatta flagship, as the ship would be unable to maintain a stationary position during the event.
Sydney sailed into her namesake city for the final time on 27 February 2015. Despite flying a decommissioning pennant, the ship was not paid off until 7 November 2015; two years later than originally expected. In the interim, she was moored at Fleet Base East as an alongside training ship.
On 6 November, the day prior to paying off, a parade of 350 current and former personnel from the ship marched in Sydney. At the time of decommissioning, Sydney had travelled 959,627 nautical miles (1,777,229 km; 1,104,319 mi). She will be replaced by one of the three Hobart-class destroyers.
Five ships of the Royal Australian Navy (RAN) have been named HMAS Sydney, after Sydney, the capital city of New South Wales.
HMAS Sydney (1912), a Town-class light cruiser launched in 1912, decommissioned in 1928, and broken up for scrap
HMAS Sydney (D48), a Leander-class light cruiser launched in 1934, and sunk following a battle with the German auxiliary cruiser Kormoran on 19 November 1941
HMAS Sydney (R17), a Majestic-class light aircraft carrier launched in 1944, decommissioned in 1973, and broken up for scrap
HMAS Sydney (FFG 03), an Adelaide-class guided missile frigate launched in 1980, and decommissioned in 2015
HMAS Sydney (DDGH 42), a Hobart-class air warfare destroyer slated to enter service in 2020
HMAS Sydney (FFG 03). (2017, January 21). In Wikipedia, The Free Encyclopedia. Retrieved from https://en.wikipedia.org/w/index.php?title=HMAS_Sydney_(FFG_03)&oldid=761135160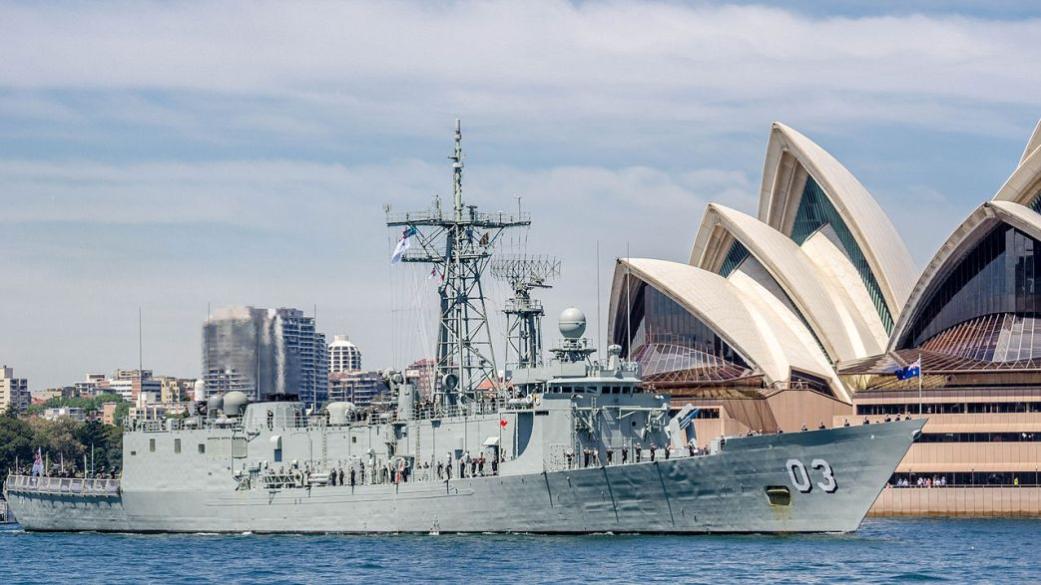 HMAS Sydney (FFG 03) during the International Fleet Review 2013 - photo courtesy H Peterswald
Australian Students Chance To Fly To Antarctica: Name Our Icebreaker!
Media release: 3 May 2017 - The Hon. Josh Frydenberg MP, Minister for the Environment and Energy
An Antarctic experience of a lifetime is on offer for Australian students who win a national competition to name the nation's new icebreaker vessel, with a flight to Antarctica on offer to the winning entry.
Up to 12 students will fly to Antarctica for a day, becoming the first children to set foot on the icy continent as part of the Australian Antarctic Program.
The winning students will fly from Hobart to Australia's Wilkins Aerodrome where they will meet Antarctic scientists, as well as expeditioners living and working at nearby Casey research station.
The 'Name our Icebreaker' competition has two categories: primary (years 5 and 6) and secondary (years 7 and 8) with classes able to enter their suggested name in a written or video format.
The competition will give young Australians the opportunity to name the sophisticated new Antarctic resupply and research vessel which will shape the future of Australia's Antarctic Program.
The icebreaker will be more than 156 metres long and accommodate 116 expeditioners. It will be equipped with an array of cutting-edge scientific equipment including a moon pool, multi-beam bathymetric echo sounders, hydrophones and underwater cameras.
Seven new curriculum-aligned modules about the icebreaker have also been developed on the Australian Antarctic Division's website, 'Classroom Antarctica'.
It is my hope this competition will inspire the Antarctic scientists and policy makers of the future, engaging them to learn about the Antarctic environment, climate, history and Australia's role there.
Entries in the 'Name our Icebreaker' competition will be judged by a panel of eminent Australians on criteria including originality, creativity, sincerity, appropriateness and alignment with the values, objectives and activities of the Australian Antarctic Program.
The competition opens today and closes on Friday 9 June.
The icebreaker name and winners of the competition will be publicly announced in September 2017, with the prize flight taking place in November - December 2017.
The new icebreaker will replace the current ship Aurora Australis, also named by Australian school children, which has been an integral part of the Australian Antarctic Program since 1989.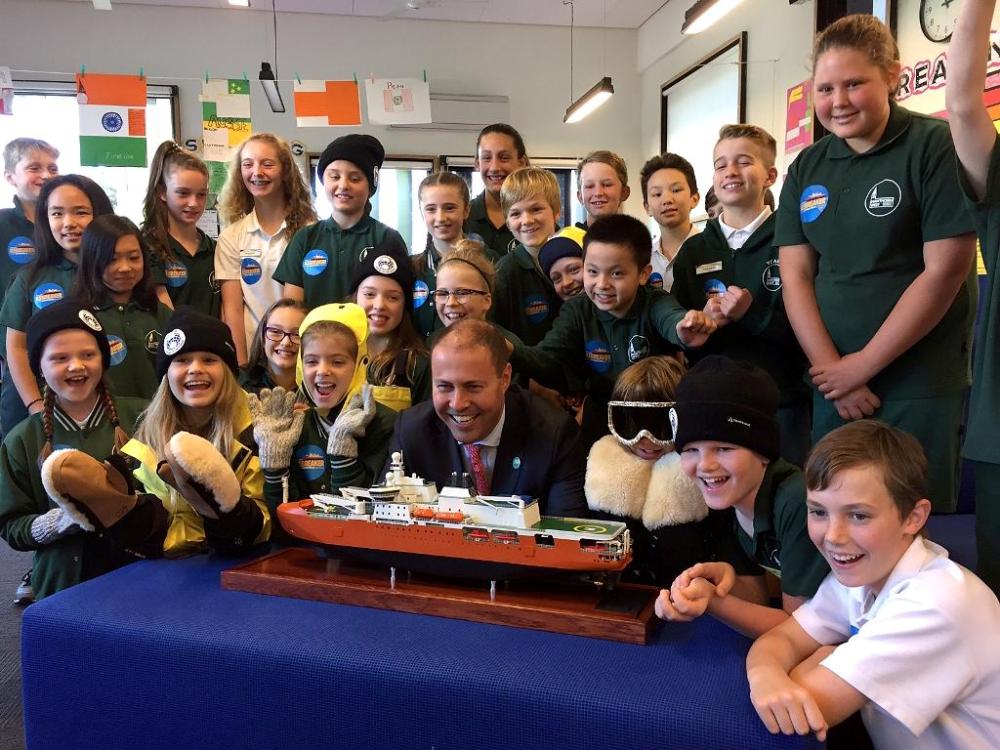 Josh Frydenberg MP, Minister for the Environment and Energy with Hawthorn West (Vic.) students at launch of Name our Icebreaker competition