June 16 - 22, 2019: Issue 409

SANDS OF MORNING.

by Ella McFadyen.
Summer breathed over the hills to-day,
A waft of the bush and a wind from the bay,
And my truant thoughts went straying:
Pittwater flickered with nor'east flaws,
The surf ran high 'tween the Lion's paws,
And the spring-fed runnels' were playing.
I saw the hills that drop to the sea,
And a honey-bird's call was a call for me
And the great grey sandstone boulders
Were elephant's browsing, heath to the knees.
And the rosy waxflowers, clotted with bees,
Fondled their lichened shoulders.
To-morrow I'll rise and be ready to roam
In the starlit hour when the cats come home,
Ere ever the birds are waking,
When each needlewood thorn is a dewdrop's place,
And her thread-like blossoms arc fairy lace,
And the whole world's mine for taking! I must seek the lairs where I used to lie,
Curtained by trees and under the sky;
I must find and touch and recover
The sights and sensations laid away,
Where the Lion lies couchant at Broken Bay,
To welcome me back like a lover.
The strong white feet of the winter rains
Have trodden the campfire's cold remains,
The lizards my hearth are keeping;
I must find the cave where the fairy-mouse
And her wee pouched kindred kept their house,
And-the nest where her babes are sleeping.
Grape-blue the hills in the dawn shall be,
And the sun shall rise from a white-gold sea,
With light for the day's adorning,
Where the rain-washed track is a virgin sheet
For the printed tale of a pilgrim's feet;
My feet on the sands of morning.
SANDS OF MORNING. (1935, March 14). The Sydney Morning Herald (NSW : 1842 - 1954), p. 2 Supplement: Women's Supplement. Retrieved from http://nla.gov.au/nla.news-article17171195
Peppa Pig's 2019 FIFA Women's World Cup Special

Arnie the Doughnut read by Chris O'Dowd

2019 Hilarie Lindsay Young Writers Short Story Competition
For Australian School Children
Closing date: 31 August 2019
Section 1: Years 10, 11 & 12. Up to 2500 words. Prize $150
Section 2: Years 7, 8 & 9. Up to 2500 words. Prize $150
Section 3: Years 5 & 6. Up to 1500 words. Prize $100
Section 4: Year 4 and under. Up to 1500 words. Prize $50
The entry fee is $3.00 (please note that entries that do not include the fee will be disqualified)
Entries should be typed on A4 paper, double spaced in 12pt font.
The student's name should NOT appear on the entry.
Entries should be made via this online entry form where possible
Should an online submission not be available students may request an entry form from compconvenor@fawnsw.org.au. In that case, send entry by email to compconvenor@fawnsw.org.au, which must contain the entry as a MS Word attachment, a scanned copy of the entry form, and the Direct Deposit receipt number. Alternatively, posted entries will be accepted and should be mailed to the address on the entry form, and be accompanied by a cheque or postal order made out to The Fellowship of Australian Writers NSW.
The details for direct Deposit are as follows:
BSB: 082-936 Account No. 172389833 Account Name Fellowship of Australian Writers.
Please use the competitor's name and the competition as the payment details (ie J Doe Hilarie Lindsay), and attach a copy of the payment receipt to the entry form.
Entries must be student's own work, unpublished and not having won any competition at time of entry.
Closing date for the competition is 31st August 2019
Winners will be announced at the FAW NSW Annual Presentation Luncheon in November.
Results will be published in Writers Voice and on the FAW NSW website.
Hilarie Lindsay MBE OAM (born 1922) is an Australian toy manufacturer and writer of short stories, poetry, instructional texts, biography and other genres. She is a former president of the Toys and Games Manufacturers' Association of Australia and of the Society of Women Writers (Australia), who has been inducted into the Australian Toy Association Hall of Fame and the National Pioneer Women's Hall of Fame, Alice Springs. Her best-known work, The Washerwoman's Dream, described by one reviewer as "enthrallingly readable", has become an Australian classic.
Shaun the sheep: collection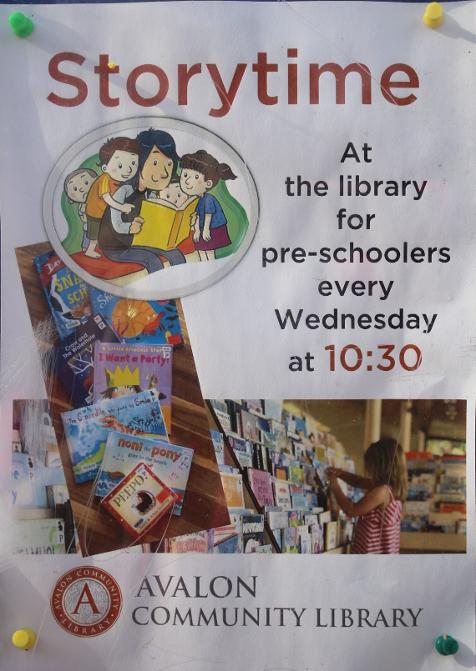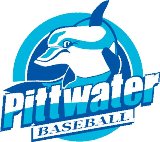 Profile:
Pittwater Baseball Club
The Season Start for 2017/2018 Pittwater Baseball Club commences Saturday, September 9th.
Their Mission: Share a community spirit through the joy of our children engaging in baseball.
Profile: Ingleside Riders Group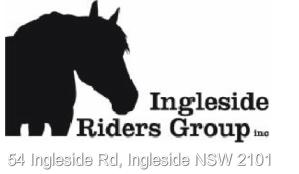 Ingleside Riders Group Inc. (IRG) is a not for profit incorporated association and is run solely by volunteers. It was formed in 2003 and provides a facility known as "Ingleside Equestrian Park" which is approximately 9 acres of land between Wattle St and McLean St, Ingleside.
IRG has a licence agreement with the Minister of Education to use this land. This facility is very valuable as it is the only designated area solely for equestrian use in the Pittwater District.
IRG promotes equal rights and the respect of one another and our list of rules that all members must sign reflect this.
Gosford Steam Weekend
June 29-30, 2019 at 10 AM – 3 PM
Australia's largest operating steam engine returns to Gosford for one weekend only!
The NSW Rail Museum will be operating 1-hour steam train rides from Gosford for two days only on Saturday 29 and Sunday 30 June 2019.
Take a ride behind Australia's most powerful operating steam engine, Beyer-Garratt 6029, from Gosford Station to Hawkesbury River and return taking in the Brisbane Waters and historic Hawkesbury River Bridge along the way.
This is one unique experience not to be missed!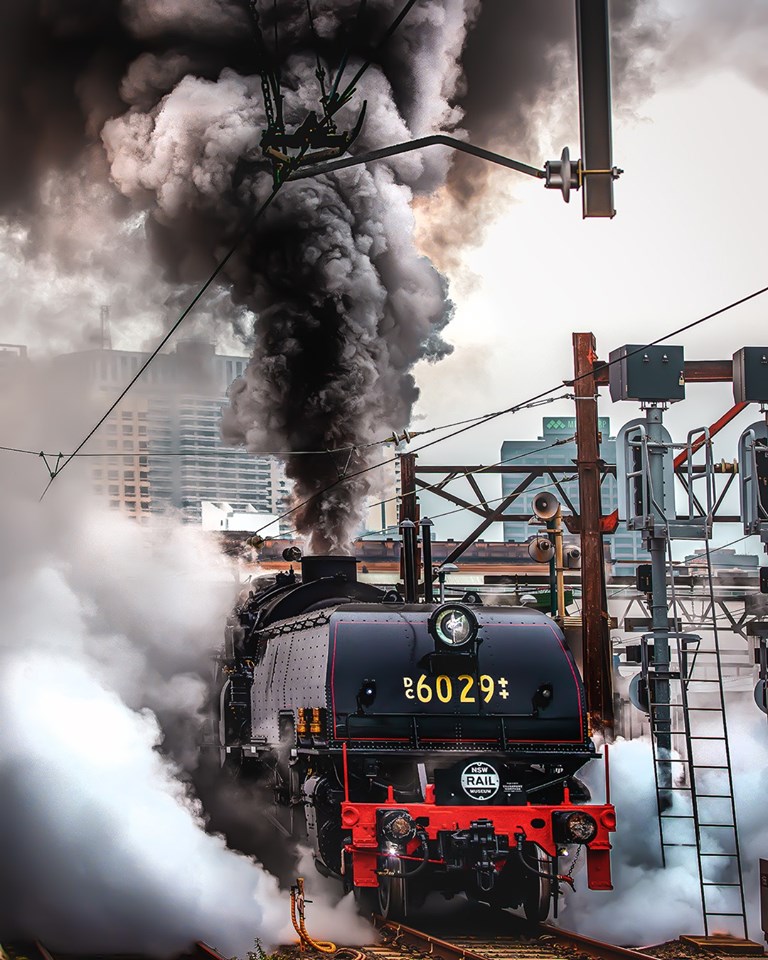 Have A Whale Of A Time With Fantasea Cruising
Winter has never given you a better reason to get rugged up and out of the house than for the highly anticipated annual whale migration.
Fantasea Cruising offers our Central Coast and Northern Beaches guests, an unforgettable opportunity for a scenic, educational and up-close encounter with our favourite charismatic creatures of the sea, the 'humpback' whale.
This guided adventure is hosted by our very own Marine Naturalist Lisa. Alongside our highly skilled whale watching crew, Lisa will share her love and extensive knowledge of all thing's whales, wildlife and some Northern Beaches history too.
Our well known catamarans 8 Seasons and Escapade provide for a thrilling whale watching experience. Both boasting plentiful seating and spacious observation areas, in no time at all you are sure to be as in awe of these graceful, gentle giants as we are.
With cruises departing from Palm Beach and Ettalong most weekends of both the Northern and Southern Migrations, now is the perfect time to book your whale watching cruise. So get on board, the whales are waiting for you.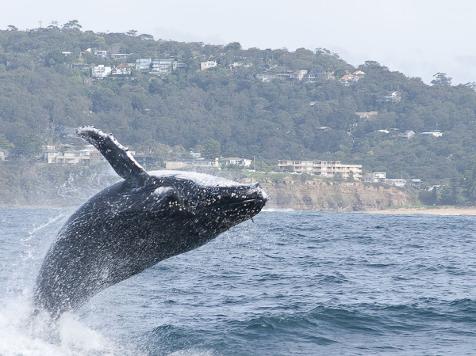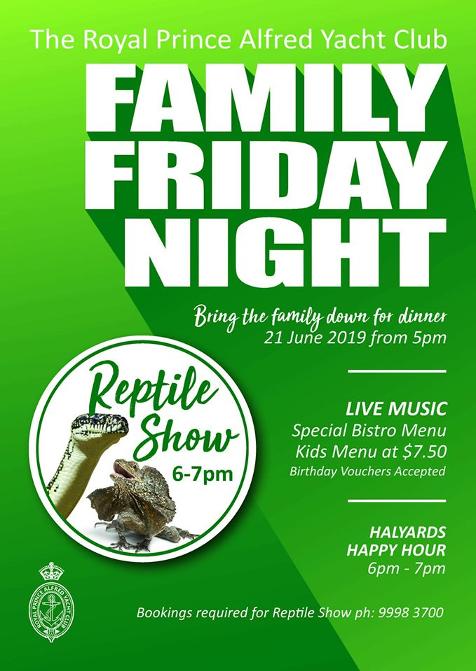 The Steam Team: Old Reliable Edward
By Thomas & Friends
Gordon is the No. 4 blue engine who pulls the express. As the senior member of the engine family, he is the fastest and most powerful of Sir Topham Hatt's team - and he knows it. He's goodhearted, always willing to forgive, and uses his superior strength to help smaller engines out of trouble.

Day Out With Thomas
NSW RAIL MUSEUM
Thomas and Friends return to the NSW Rail Museum for a feature-packed weekend of family fun. Meet The Fat Controller as he oversees all of the exciting activities on offer! Day Out With Thomas is a great outing for the entire family…and don't forget the grandparents!
WHAT YOUR TICKET INCLUDES
'Museum only' ticket:
Meet Thomas – climb into the driver's cab and toot his whistle
Meet Henry the green engine and visit his driver's cab
Ride Toby the Railmotor from Sodor Station up to the Roundhouse
Meet the Fat Controller alongside Thomas
Unlimited mini-train rides
Unlimited jumping castle rides – 3 castles to cater for different age groups
Face painting
Visit the Imagination Station – children can enter the colouring competition, play some Thomas games and listen to our Storyteller read Thomas stories.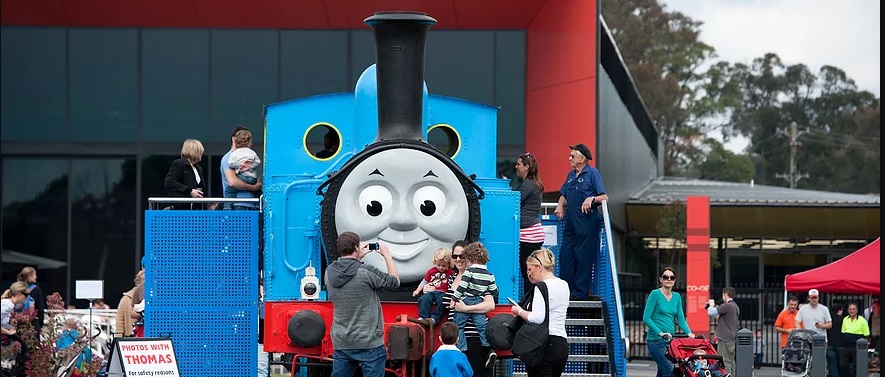 'Museum + Train Ride' ticket:
All of the above 'museum only' ticket inclusions, plus . . .
45-minute steam train ride hauled by Donald the black engine from Thirlmere to Buxton and return.
Both ticket offers include entry to the NSW Rail Museum where kids of all ages love exploring the biggest display of heritage trains in NSW!
NSW Rail Museum
10 Barbour Road
Thirlmere NSW 2572
​Tel: 1300 11 55 99​
Monday to Friday 10am - 4pm
Saturday and Sunday 9am - 5pm

Profile Bayview Yacht Racing
Association (BYRA)
BYRA has a passion for sharing the great waters of Pittwater and a love of sailing with everyone aged 8 to 80 or over!
Mona Vale Mountain Cub
Scouts Profile
Find out more about all the fun you can have at Mona Vale Mountain Cub Scouts Profile –
our Profile pages aren't just about those who can tell you about Pittwater before you were born, they're also about great clubs and activities that you too can get involved in!
LEGO AT THE LIBRARY
Local children will have the chance to join a club specialising in one of the most enduring playthings of childhood. Mona Vale Library runs a Lego club on the first Sunday of each month from 2pm to 4pm. The club is open to children aged between seven and twelve years of age, with younger children welcome with parental supervision. If you are interested in attending a Lego at the Library session contact the library on 9970 1622 or book in person at the library, 1 Park Street, Mona Vale.
Children's Storytime at Mona Vale Library: Mona Vale Library offers storytime for pre-school children every week during school terms. Children and their carers come and participate in a fun sing-a-long with our story teller as well as listen to several stories in each session, followed by some craft. Storytime is held in the Pelican Room of the library in front of the service desk. Storytime is free and no bookings are required. Storytime Sessions: Tuesdays 10.00am - 11.00am - Wednesdays 10.00am - 11.00am - Thursdays 10.00am - 11.00am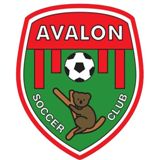 Profile:
Avalon Soccer Club
Avalon Soccer Club is an amateur club situated at the northern end of Sydney's Northern Beaches. As a club we pride ourselves on our friendly, family club environment. The club is comprised of over a thousand players aged from 5 who enjoy playing the beautiful game at a variety of levels and is entirely run by a group of dedicated volunteers.
Six forgotten Wood Giants
With Council getting closer to putting a call out for sculptures and statues for a walking trail that will stretch from Palm Beach to Manly Pittwater Online is investigating examples from here in Australia and overseas. This week a lovely example from the wooded places around Copenhagen. Next week an insight into some cows that stand in bronze before the new Camden council chambers and tell a story of the Cowpasture road.
It's a way to start thinking about what treasures could stand as markers along our ways - things that relate to and celebrate our indigenous peoples, our history, our environment, our people - OUR Place.
Check this out:
Danish artist
Thomas Dambo
creates larger than life sculptures hidden around his hometown of Copenhagen.
His sculptures require secret poems and clues in order to locate them. He says each has its own treasure map or poem engraved into stone to steer people onto unfamiliar paths where they'll discover them.
Each is made of recycled wood consisting of roughly 600 pieces taken from pallets, fences, and even an old wooden shed. With the help of local volunteers, Thomas was able to complete his series of giant wooden sculptures.
All six sculptures are part of the first chapter of Thomas Dambo's ongoing story: "The great story of the little people and the giant trolls".
The project wants to bring art out of the museum, show the beautiful and often overlooked nature spots, and at the same time give an exciting and different experience.
TEDDY FRIENDLY
Høje Taastrup, 2016
Teddy Friendly is a recycle sculpture Thomas Dambo made as a part of the larger project "Forgotten Giants". The project consists of 6 large sculptures made in the outskirts of Copenhagen. Common for all sculptures is that they are made solely from local scrapwood and recycled materials, and made in a hidden beautiful location. This way it invites the viewers to go on a treasure hunt, not only to see the sculptures, but also to discover hidden gems in nature.

Teddy friendly is made from local scrapwood, including cut offs from cut down local trees, which has been used for his fur. He is standing at a water stream, at a lake holding out his hand helping people to cross.
The Thomas Dambo team had help from a local activation center, which provided four unemployed people and a teacher to assist in building the sculpture. The teachers name was Teddy, he was a super friendly and hardworking guy, and together with his team he made a huge effort, therefore Thomas Dambo decided to name the sculpture after him.
LITTLE TILDE
Little Tilde is located in the area of Vallensbæk Mose, a beautiful area filled with wild nature and animal life. She watches through the trees at the other side of a small lake, from where you will be able to catch a glimpse of her at a distance.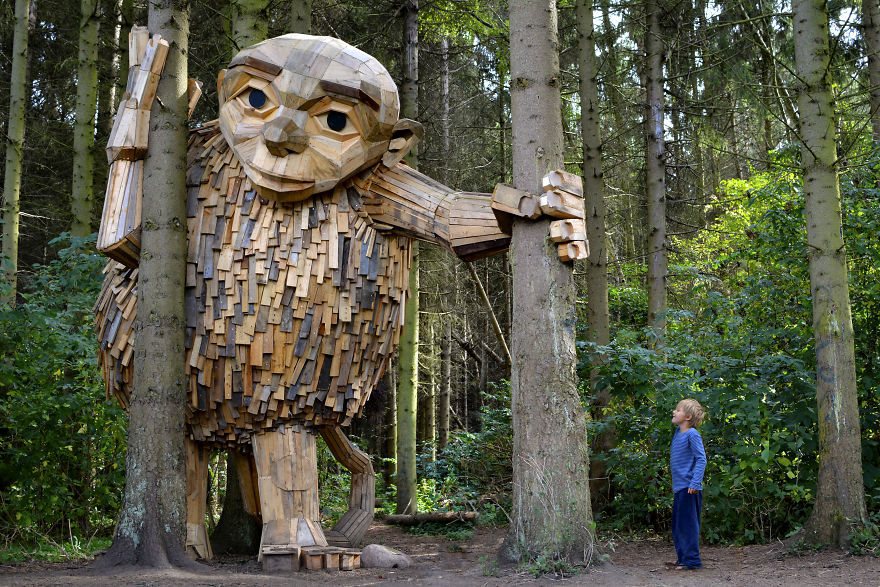 Tilde is made solely from local scrapwood scavenged by the Thomas Dambo team. To build the sculpture the team had help from a group of volunteers including two senior craftsmen (one of which was aged 86), and a couple of locals including Tilde, from whom the sculpture got her name.
As a little bonus Thomas Dambo made 28 birdhouses inside the sculpture, for the birds and maybe a squirrel to seek shelter when winter hits Vallensbæk Mose.
OSCAR UNDER THE BRIDGE
Ishøj, 2016
Oscar under the bridge is made from scrapwood from a torn down watermill and broken pallets from local industries. He is named after an artist from Chile who came to visit Thomas and help him in his work during the time that Thomas and his team was building the sculpture.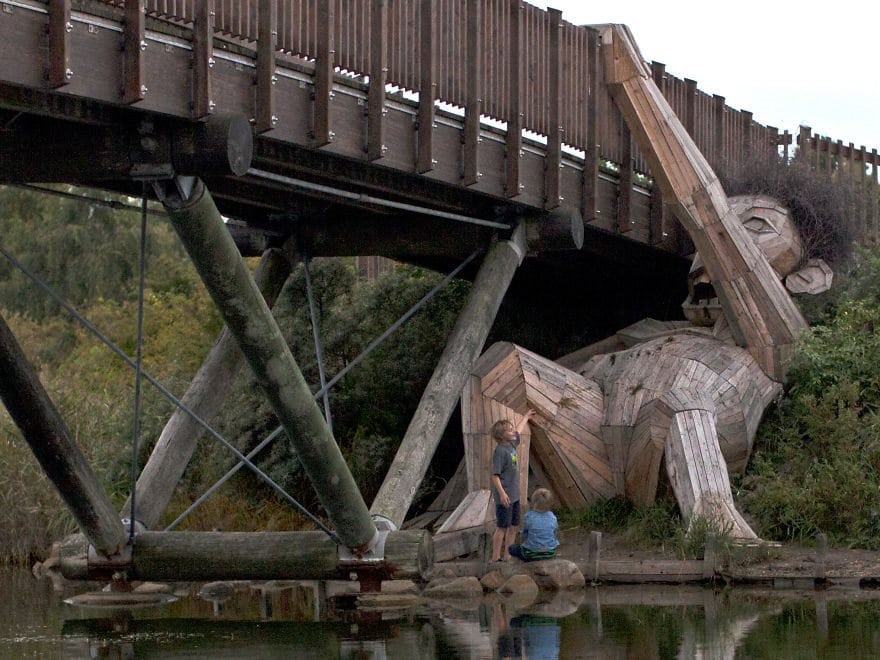 HILL TOP TRINE
Copenhagen, 2016
Hill Top Trine is resting on top of a little hill in Hvidovre, Copenhagen, where you can crawl into the palms of her hands and get a beautiful viewpoint overlooking Avedøresletten. She is named after one of the volunteers who worked on one of the other hidden giants.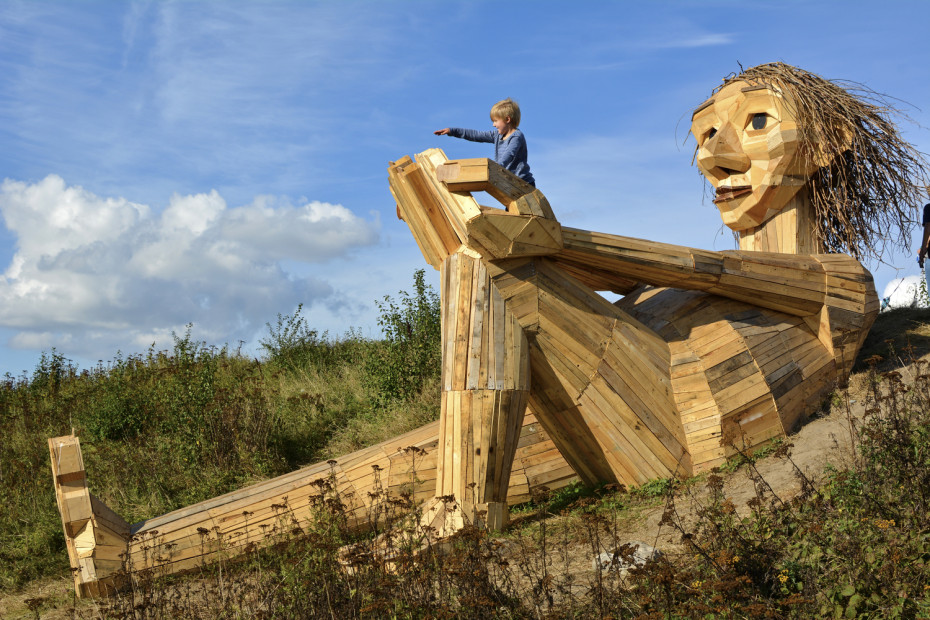 Just like her siblings, Hill Top Trine is made from scrapwood, branches and old pallets from Stark. The Thomas Dambo team have had help building the wooden sculpture from a handful of local volunteers.
THOMAS ON THE MOUNTAIN
Copenhagen, 2016
Thomas On The Mountain has found a good place to chill on top of a hill. From here he has a great view of the municipality of Albertslund, and so can you if you join him. His legs are long, and a good place to sit with your friends.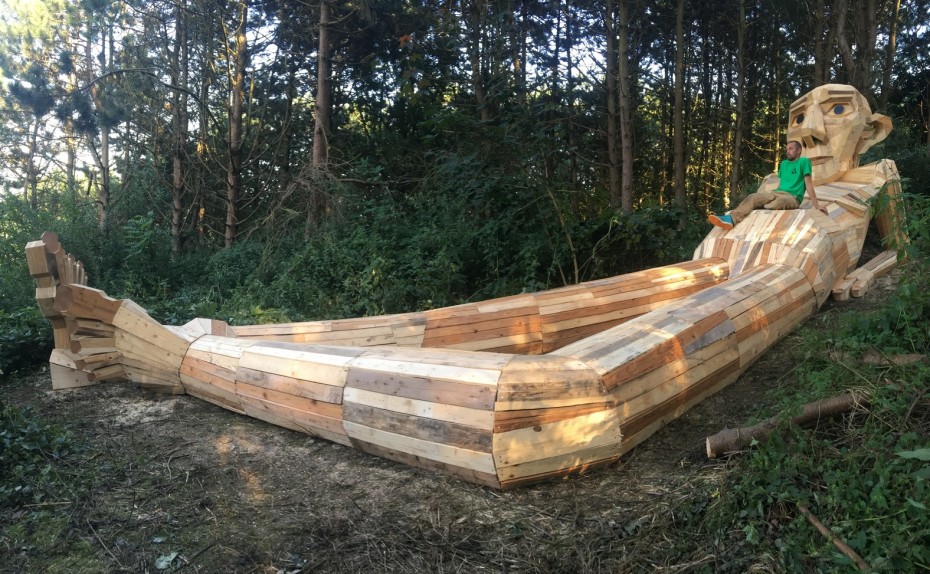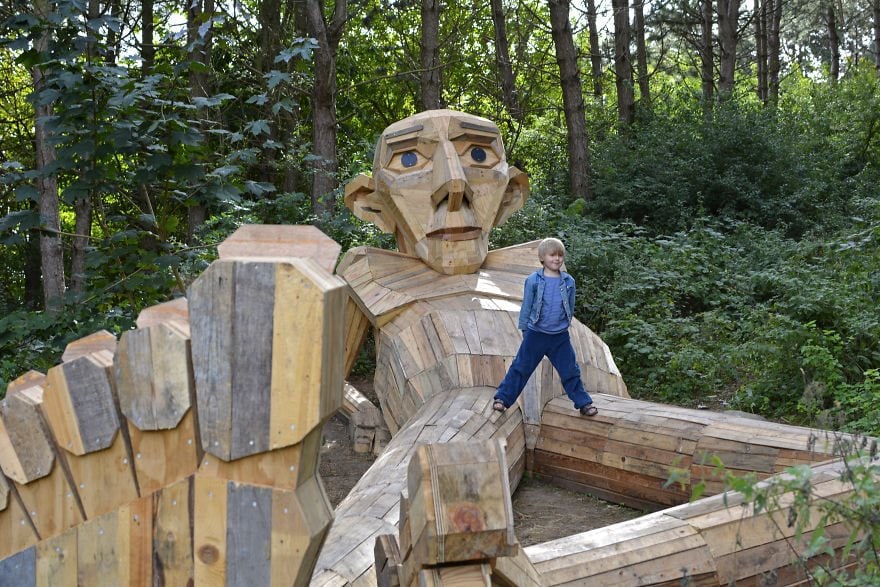 The giant sculpture is made solely from local scrapwood scavenged by the Thomas Dambo team. To build the sculpture the team had help from a group of young volunteers from a local school as well as a couple of seniors. The giant is named after Thomas Dambos intern also named Thomas, who has been a huge part of the Forgotten Giants project, and helped create all six sculptures.
SLEEPING LOUIS
Copenhagen, 2016
Sleeping Louis is taking a nap on a hill, covered in trees and nature, in a secret place in Rødovre outside of Copenhagen. People can crawl into his gaping mouth, and play or even sleep inside of him.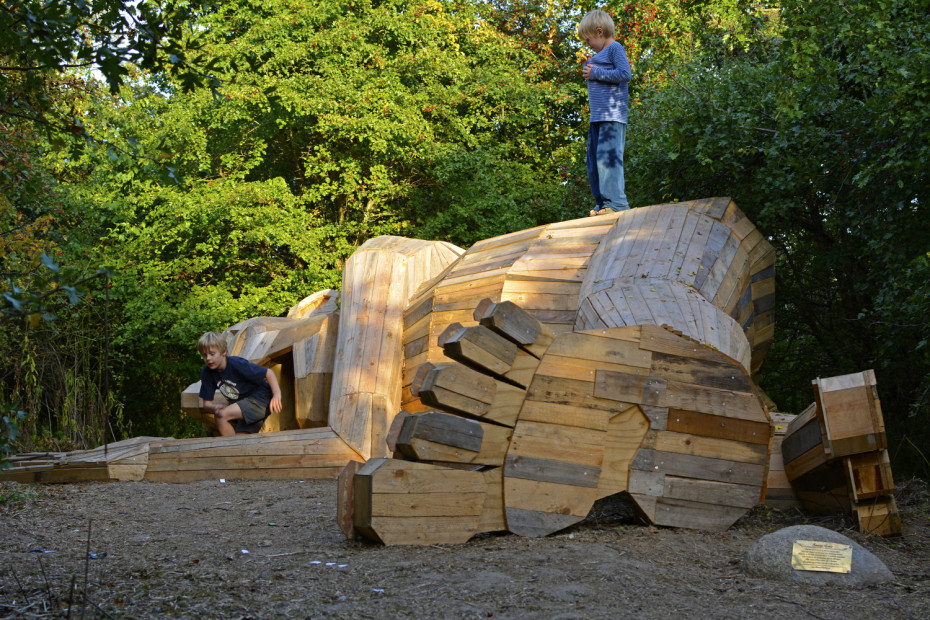 Sleeping Louis is made solely from local scrapwood scavenged by the Thomas Dambo team. To build the sculpture the team had help from a group of young volunteers from an organisation helping young unemployed people get work experience before reentering the work market. Thomas' old assistant Louis from Bristol, England came back to Copenhagen for a visit, and worked hard to help finish the sculpture, why Thomas and the team decided to name the sculpture after him.
Curious Kids: why did the dinosaurs die?
June 12, 2019
Answered by Caitlin Syme
PhD Candidate, Vertebrate Palaeontology, The University of Queensland
Why did the dinosaurs die? – Whitaker, age 4.
That's a great, and tricky question!
We know that dinosaurs ruled the Earth for about 180 million years. Then, around 66 million years ago, a huge rock from outer space (called an asteroid) smashed into the Earth.
It crash-landed near Mexico. It shook the ground. It made big waves in the sea. Any animals and plants that were nearby would have gotten squashed or washed away!
The asteroid made lots of dust and dirt and rocks to fly up into the air. All that dust and dirt covered the planet and made the sky dark. There were many forest fires too.
Before the asteroid hit Earth, there were lots of volcanoes erupting in what we now call India. They made smoke, and ash, and gases fill up the air. We are not sure if the asteroid then hitting Earth made more volcanoes erupt. Maybe it was just very bad timing.
From cold to hot
It was so dusty and dark that the warm sunshine couldn't reach the ground. This made the Earth very cold.
But after the dust settled and the sun came out, the Earth got very hot indeed. The sea creatures, plants, and land animals didn't like that very much. The plants probably had a hard time growing. The plant-eating animals ran out of plants to eat, and then the animals that ate other animals also ran out of food. So it became very hard for dinosaurs to survive.
But it's still really hard to know for sure exactly why the dinosaurs died. Dinosaur-scientists (palaeontologists) still wonder whether it was because of the asteroid, or the volcanoes, or both the asteroid and volcanoes. Did the animals get too cold or too hot? Did they run out of food?
We might not ever know for sure, but we will always keep looking for answers!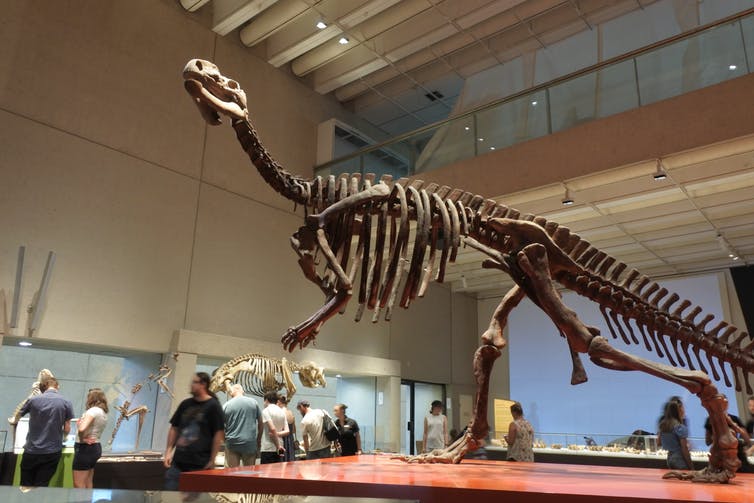 Here is a life-size skeleton of Muttaburrasaurus in the Queensland Museum. Muttaburrasaurus was a large, plant-eating dinosaur that lived in eastern Australia. Shutterstock
Who went extinct and who didn't?
Most of the dinosaurs died. We call this going "extinct". An animal is extinct when it doesn't exist anymore anywhere in the world.
It wasn't just most dinosaurs that went extinct 66 million years ago. Among others that went extinct were: flying reptiles called pterosaurs, huge reptiles that swam in the ocean called plesiosaurs and pliosaurs, creatures with curled, spiral shells called ammonites, and lots of other plants and animals.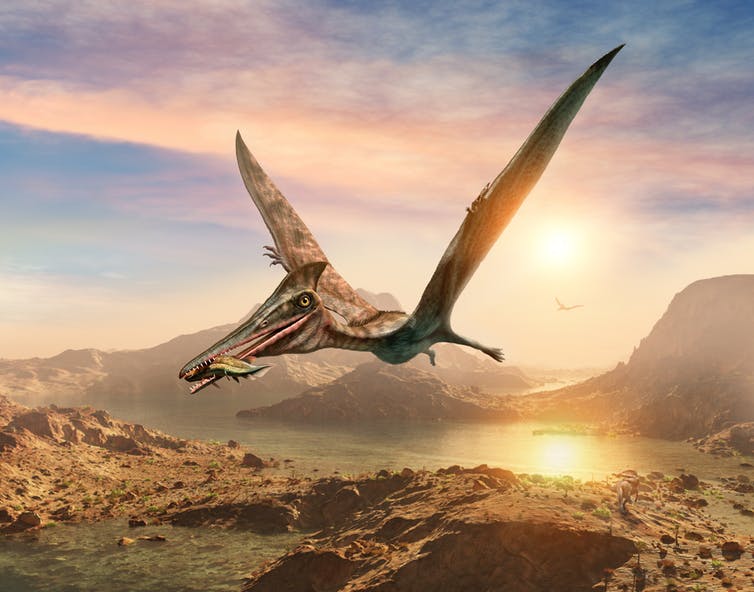 Here's an artist's impression of a pterosaurs. Shutterstock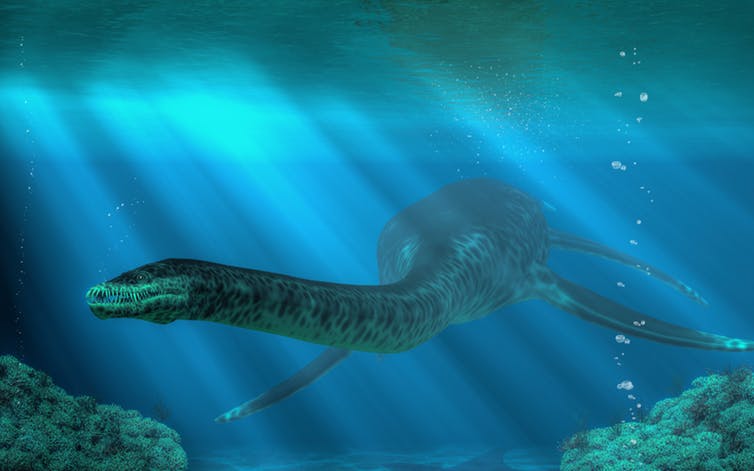 Huge reptiles called plesiosaurs once swam in the ocean. Shutterstock
But others survived. Different types of insects, lizards, crocodiles, mammals, birds, sharks, fish, crabs, snails, flowers, ferns and trees all made it through.
How? We don't really know.
It could be because the animals were small and didn't need much food. Maybe it was because they could eat crunchy seeds the dead plants left behind, or mushrooms growing on the dead plants, or tiny scraps of old, dry meat. Maybe it was because they could burrow into the ground to keep warm. Maybe it was because they could swim far away to keep safe. And maybe some of those dry, crunchy seeds could grow into plants after they were buried for a long time.
But we know they survived.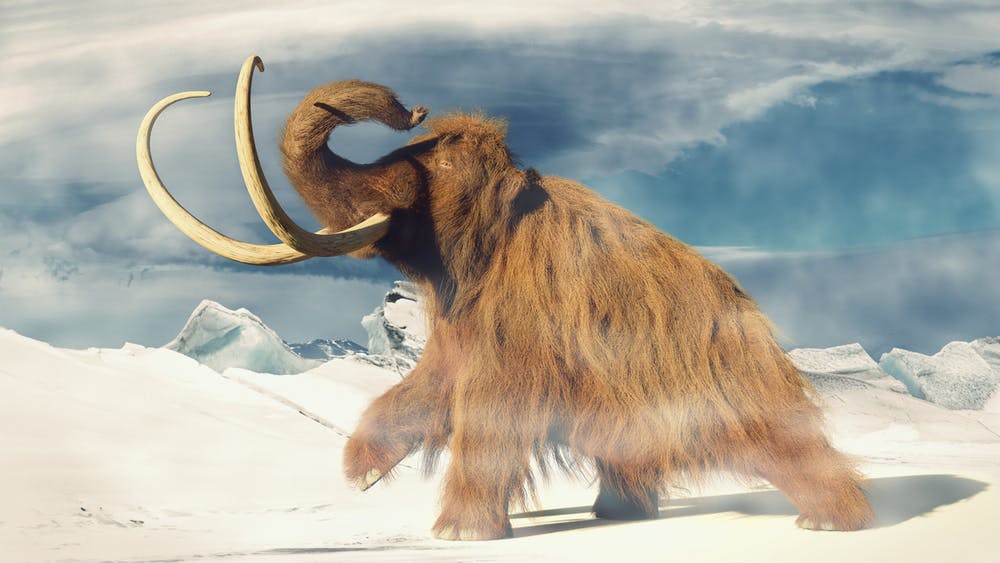 Woolly mammoths once roamed the Earth. Shutterstock
Those animals and plants found new homes. And as the plants grew bigger and stronger, the animals could grow bigger too. They could take the place of the big dinosaurs that had died. Big woolly mammoths, giant kangaroos, and whales now roamed the land and sea. New types of plants grew, like grass. And a long time later, human beings evolved – that's us!
Now mammals rule the Earth.
Not all the dinosaurs died
Did you know that not all the dinosaurs went extinct 66 million years ago? They're not the type of dinosaurs you might be thinking of, like Tyrannosaurus, or Brachiosaurus, or Muttaburrasaurus. The dinosaurs that survived were… birds!
That's right! All birds are actually dinosaurs.
Ancient birds lived beside other dinosaurs. They survived the asteroid and volcanoes. And now birds live alongside us today.
I think it's sad that all the other dinosaurs went extinct so long ago. But we can remember them by visiting museums and looking at fossils, or by reading books about them, or by watching birds fly through the sky.
But if it weren't for all the other dinosaurs going extinct so long ago, fluffy little mammals wouldn't have had room to grow and evolve. And there wouldn't be any humans.
Helping Aussie Birds - The Birds in Backyards Program
Birds in Backyards is a research, education and conservation program focusing on the birds that live where people live. Get involved by becoming a member and taking part in our online surveys. Learn how you can create bird-friendly spaces in your garden and local community. Refer to the Birds in Backyards website (
http://www.birdsinbackyards.net
) for more information. Produced by Focus Films Australia (http://www.focusfilmsaustralia.com).
Archie's Pittwater Clean Up
I am a Seabin Ambassador, I started this campaign because I want to take a stand against ocean plastics!
My goal is to raise enough money to bring a minimum of 20 Seabins to Pittwater
as I want to give The Northern Beaches the opportunity to reduce its plastic pollution impact on the ocean. Its amazing how much accidental rubbish comes down our creeks and into our waterways
I need your help to raise money to buy the Seabins a revolutionary ocean cleaning technology which is essentially a floating rubbish bin that operates 24/7 catching all floating debris in the water.
The Seabin helps clean the ocean of floating debris which in turn creates cleaner oceans and we all benefit from this in one way or another. I mean, who really wants to swim in pollution? Not me that's for sure!
Did you know that 300 million tons of plastic are produced in the world every year, half of which is for single use products, from this more than 8 million tons of plastic is dumped into our oceans every year. We need to do something about it and now with the purchase of a Seabin we can all participate and make a difference!
Join me and my campaign to help ensure cleaner oceans!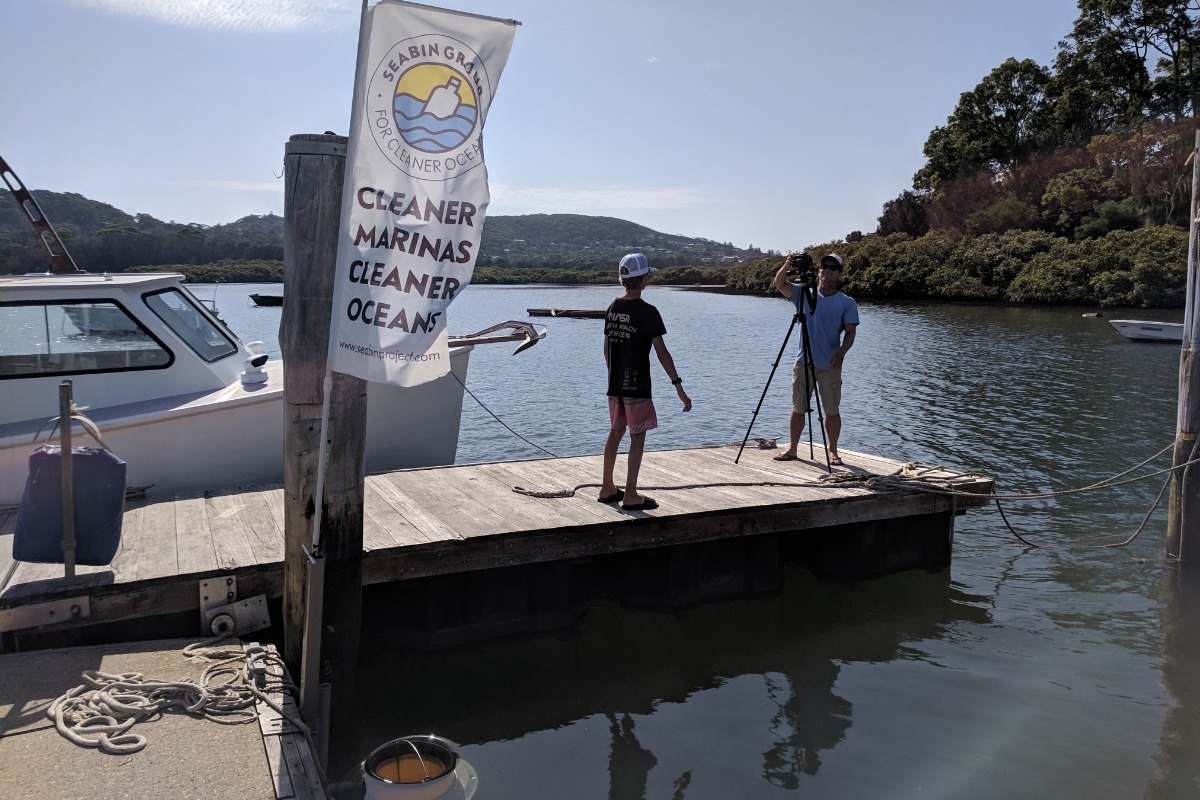 The Seabin is a floating rubbish bin that is located in the water at marinas, docks, yacht clubs and commercial ports.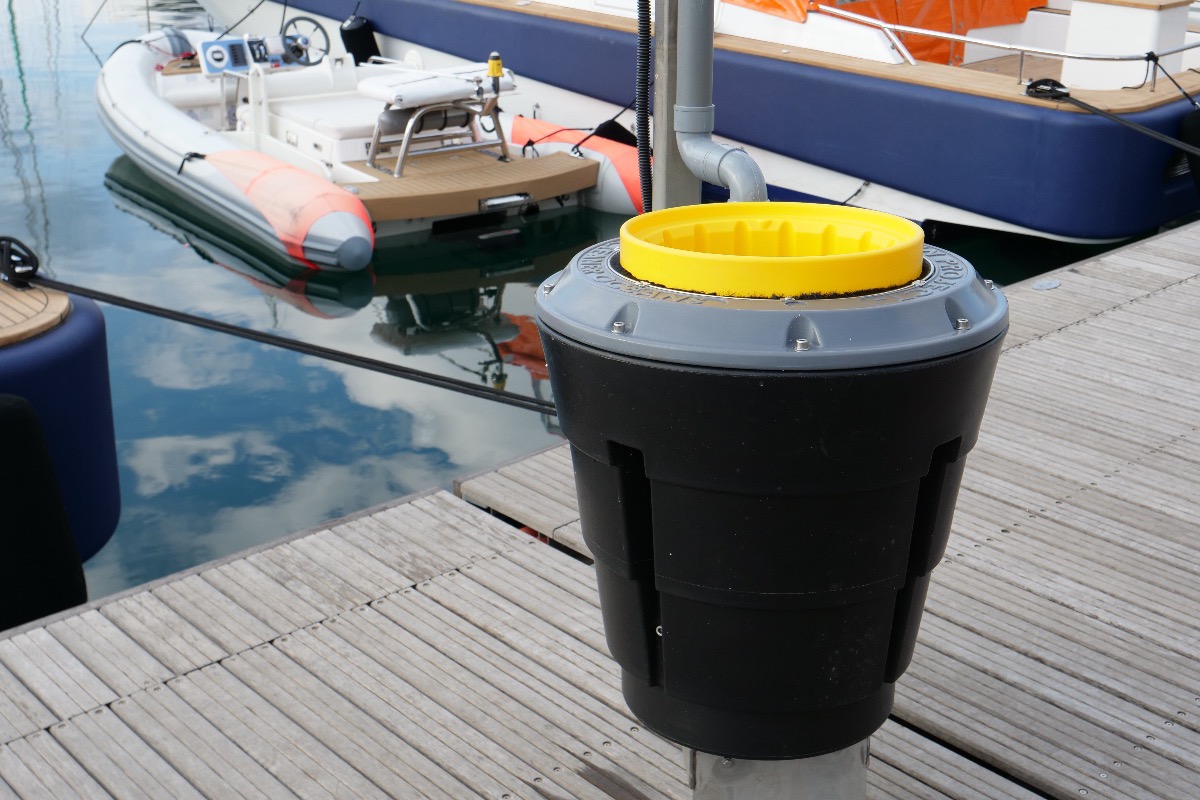 The Seabin can catch an average of 3.9kgs of floating debris per day which adds up to 1.4 tons per year. (depending on weather conditions and debris volumes) The Seabins is catching large plastic bags, bottles, plastic straws, coffee cups, food wrappers, surface oils and micro plastics down to 2 mm small.
How can a Seabin contribute to cleaner oceans?
The Seabin contributes to cleaner oceans by removing 1.4 tons of floating debris per unit per year. The location of the Seabin in marinas is ideal and where it matters most, close to the source of entry for floating debris. Ports and Marinas are perfect locations to stop floating debris from entering the open ocean and ocean plastics are also brought in by wind and currents.
Are the Seabins a danger to marine life?
The fish According to the team at Seabin, stay away from the surface of the water where the Seabin sucks in the water. They are deterred by the force of the water current. If there are swarms of jellyfish or bait fish it is recommended that the Seabins are turned off until the swarms pass. If a fish was to accidentally go into the Seabin, it would be caught in the Seabin and stay submerged in water until the marina staff retrieve the filter and throw the fish still alive back into the water.
Water is sucked in from the surface and passes through a catch bag inside the Seabin, with a submersible water pump capable of displacing 25.000 LPH (liters per hour). The water is then pumped back into the marina leaving litter and debris trapped in the catch bag to be disposed of properly.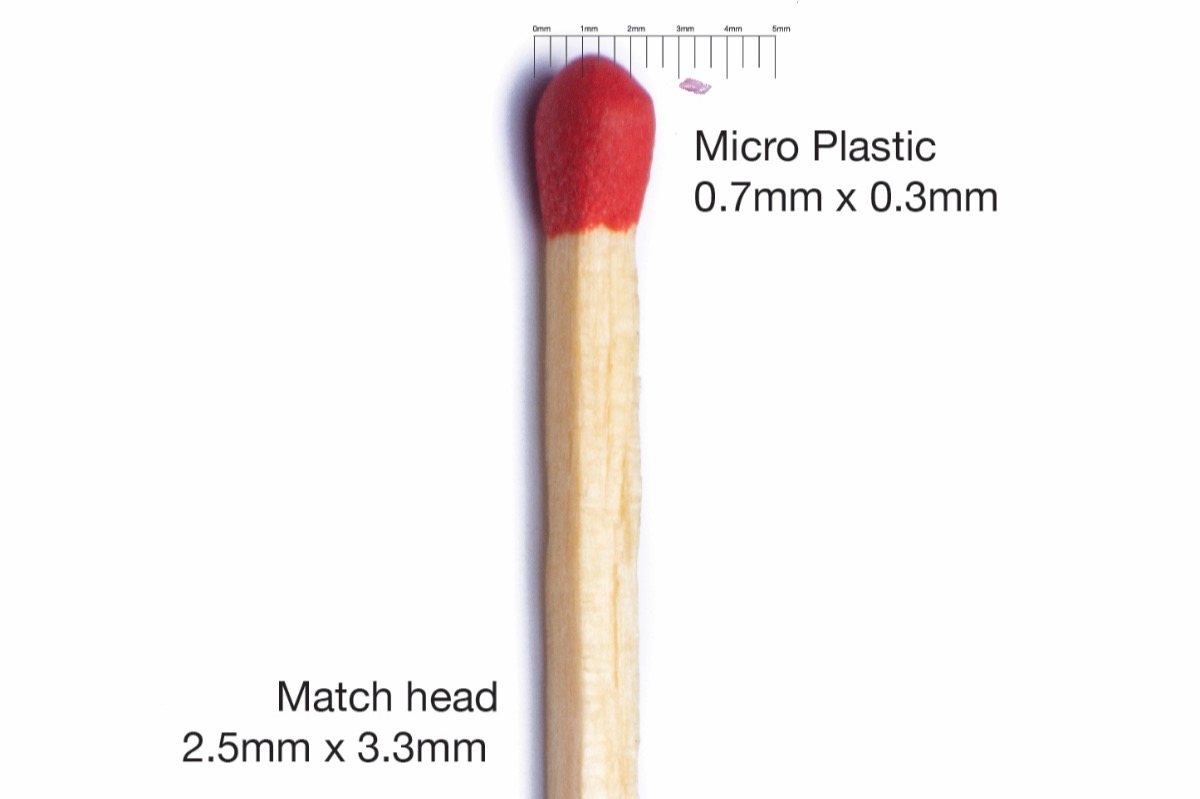 Who is responsible for the Seabin?
This is the best part of it all, the marina will be the one responsible for the upkeep of the Seabins and also they will be paying for the energy consumption of the Seabin which is around $2 - $3 a day.
The marina enjoys a cleaner marina and the rest of us and the marine life enjoy cleaner oceans with less floating debris polluting our oceans!
Seabins part of a whole solution
Seabins whole solution is Technology, Education, Science, Research and Community. The reason for this is that Technology alone is not the solution to stopping ocean plastics, education is the real solution.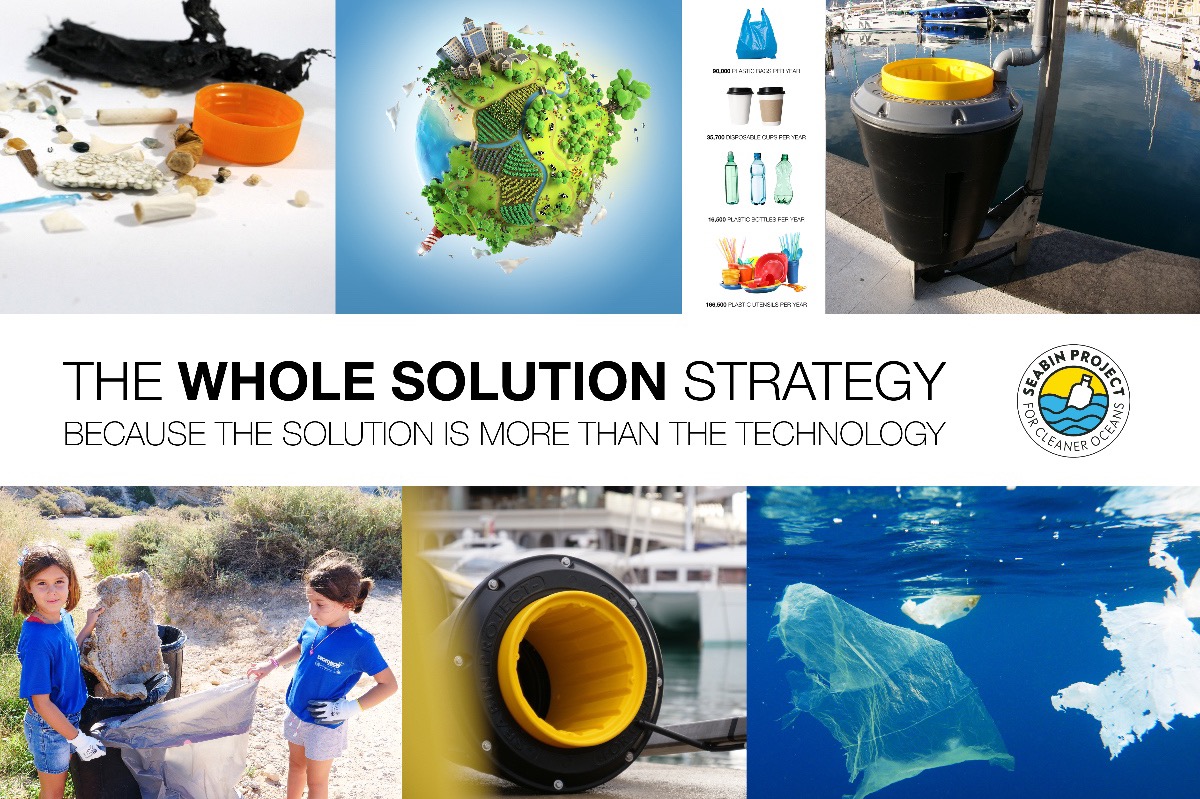 Great! Can our local community be involved also?
Yes! The team at Seabin have interactive programs and lessons designed for schools, community and youth to interact with the Seabins and have over 2000 school students engaged around the world, this is something that we can do locally also with support from the team at Seabin Project.
What will we be doing if we participate in these programs?
You would be joining an international community contributing important data and feedback on ocean plastics to the Seabin central data base. Renowned scientists, universities and environmental agencies are all a part of the programs also.
The lessons range from identifying ocean plastics to data collection of what the Seabins are catching weekly. The data collection is a very easy activity and where we can all see the measurable impact of debris the Seabins are taking out of the water in all weather conditions.
It's as simple as counting how many plastic bags, plastic particles, food wrappers and then noting it down on a spreadsheet or app. Weather conditions and location information is also entered into the data base.
How can you help our campaign and make a difference in the world?
Every contribution to this crowdfunding campaign helps, be it $1 or $50 dollars, it all adds up and bring us closer to our goal.
Even if you cannot afford a donation, please help by sharing this campaign with your friends and family on social media. The more people that know about the campaign the better!
Thanks everyone for taking the time to check out our campaign!
FAQS SHEET
Seabin Project FAQs
Q: Can someone pay out the crowdfunding campaign goal?
A: Yes! We need help! The more money we can raise, the more Seabins we can buy.
Q: Why crowdfund a Seabin?
A: Until now, the Seabins were not for the everyday person to purchase because marinas ports and yacht clubs are the target market for Seabin Group. This is a way where everyday people can give something back to the oceans.
Q: How do Seabins work in tidal areas?
A: Seabins at present are designed for floating docks and pontoons. The Seabins move up and down with the tide on the floating dock.
Q. How are the pumps run?
A. The pumps are currently electric, and around $2-$3 a day to run.
Q: When are the Seabins available?
A: Depending on your countries location, Seabins will be available Feb 2019.
Q: Do any fish get sucked into the Seabins? What about smaller marine life?
A: There is a possibility of fish to enter the Seabins, however in the last 2 years of development, the Seabins have only caught a handful of small bait fish. Most of which have been thrown back into the water alive. The fish simply stay away from the flow of water entering the Seabin and with the current fine tuning of the Seabin, the risk is now minimal.
Q: I don't have any money to donate, how can I help?
A: Don't worry! Your amazing anyways and thanks for even contacting us. We need help to share this project around with any media we can. Social media platforms like Facebook, Instagram, Twitter, websites, bloggers. Also with newspapers, magazines, tv, radio and journalists. Also friends and family!