October 13 - 19, 2019: Issue 424

For you this Issue: Back to school week
Local Surfers Excel In Rip Curl GromSearch 2019 Newcastle Event taking 4 out of 6 Firsts
DIY Ideas
National Garden Week's 2019 Focus Is On Children (Oct 13-19)
G . E. Archer Russell (1881-1960) and His Passion For Avifauna From Narrabeen To Newport - From 21-27 October 2019, Australians will head into their backyards for BirdLife Australia's annual Aussie Backyard Bird Count. Pittwater is known for being one of those places where you can count many species of birds - everything from shorebirds, to coastal heath warblers and birds found in the bush among trees or those that visit seasonally are found within these green hills, along the estuary and on our beaches. Even those who forget we have a Heron Cove, Currawong Beach, Whipbird Circuit, Heron Place, Swallow, Cockatoo, Robin and Songlark Way, a Honeyeater Grove, Shearwater Drive and Fantail Way will still be awoken at the first brimming of light by a chirp and a cheep.
Pittwater is also known for having a high number of early bird-watchers, and this is not just Neville Cayley, author of 'What Bird is That?', who once lived in Marine Parade at North Avalon, or Church Point's Mr. Wheeler who lauds and applauds the symphony of bird song found in McCarr's creek.
There is also another sometimes forgotten champion of the doe-eyed feathered ones who once lived at 'Suncot' in Idaline Street, Collaroy Plateau, in the form of George Ernest 'Archer' Russell, who said in one article 'The bird-lover never tires of watching birds in flight; I myself used to spend hours doing little else in pre-war days.'
Library Lion read by Mindy Sterling

Peppa Pig: ice cream at the fish pond

Published September 19th 2019 by official Peppa Pig Channel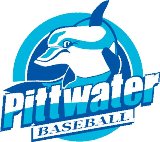 Profile:
Pittwater Baseball Club
The Season Start for 2017/2018 Pittwater Baseball Club commences Saturday, September 9th.
Their Mission: Share a community spirit through the joy of our children engaging in baseball.
Profile: Ingleside Riders Group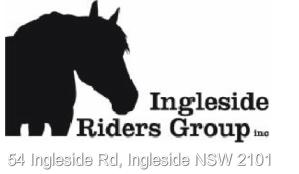 Ingleside Riders Group Inc. (IRG) is a not for profit incorporated association and is run solely by volunteers. It was formed in 2003 and provides a facility known as "Ingleside Equestrian Park" which is approximately 9 acres of land between Wattle St and McLean St, Ingleside.
IRG has a licence agreement with the Minister of Education to use this land. This facility is very valuable as it is the only designated area solely for equestrian use in the Pittwater District.
IRG promotes equal rights and the respect of one another and our list of rules that all members must sign reflect this.
Mona Vale Mountain Cub
Scouts Profile
Find out more about all the fun you can have at Mona Vale Mountain Cub Scouts Profile –
our Profile pages aren't just about those who can tell you about Pittwater before you were born, they're also about great clubs and activities that you too can get involved in!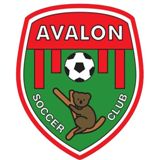 Profile:
Avalon Soccer Club
Avalon Soccer Club is an amateur club situated at the northern end of Sydney's Northern Beaches. As a club we pride ourselves on our friendly, family club environment. The club is comprised of over a thousand players aged from 5 who enjoy playing the beautiful game at a variety of levels and is entirely run by a group of dedicated volunteers.

Profile Bayview Yacht Racing
Association (BYRA)
BYRA has a passion for sharing the great waters of Pittwater and a love of sailing with everyone aged 8 to 80 or over!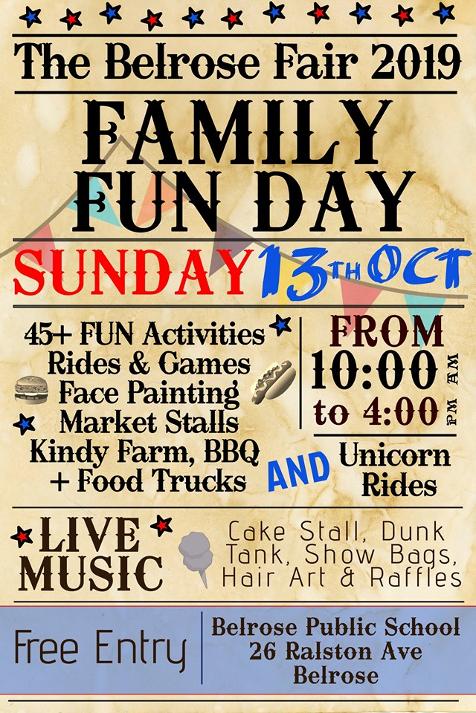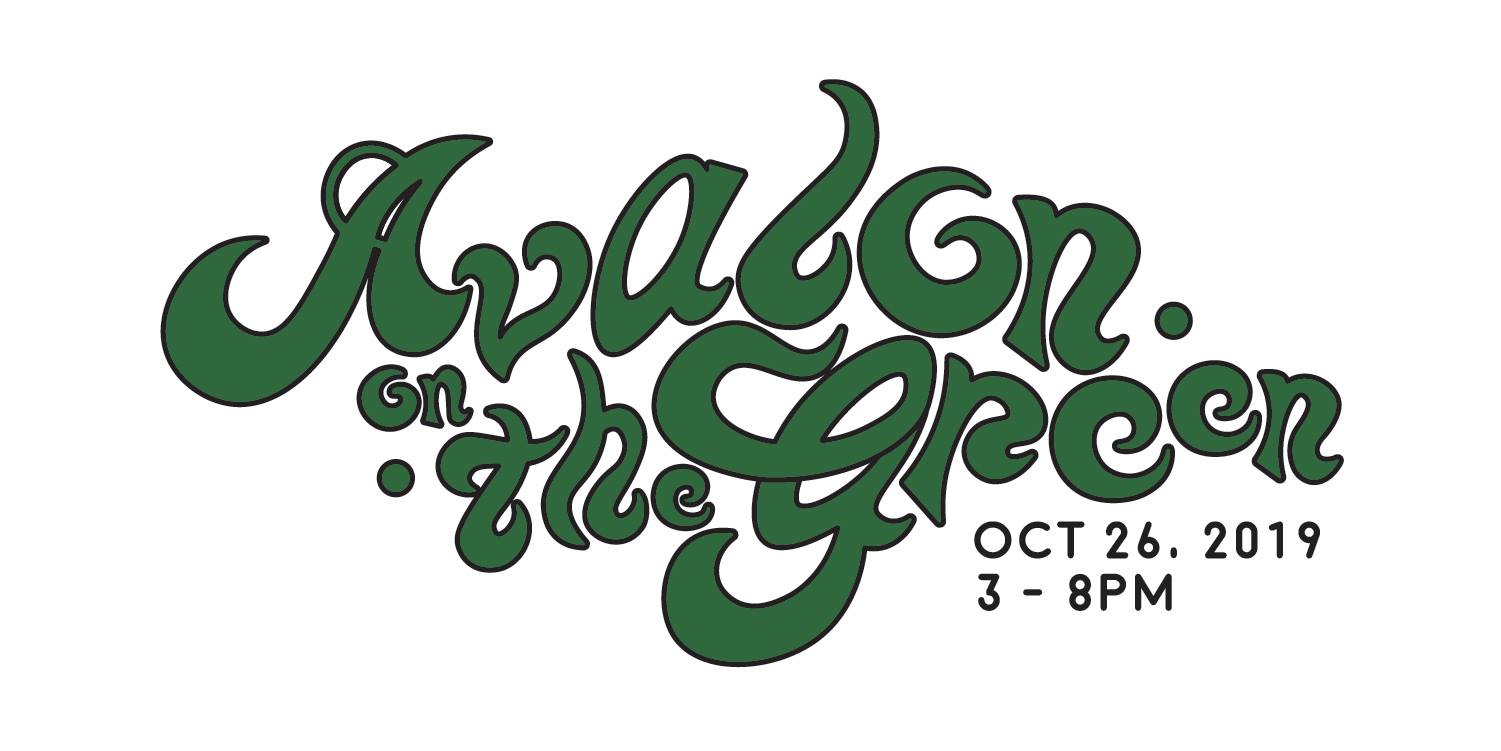 Pittwater Baseball Club Ratpackers
Pittwater Baseball Club Ratpackers season starts in October and we want to see boys and girls come and be part of this great club and great sport. Register now at: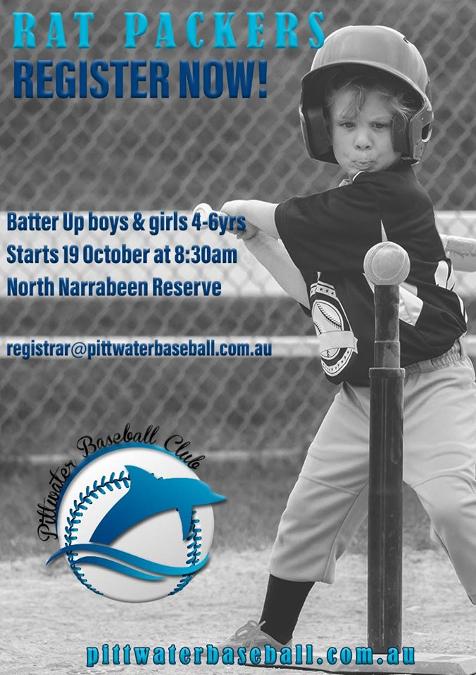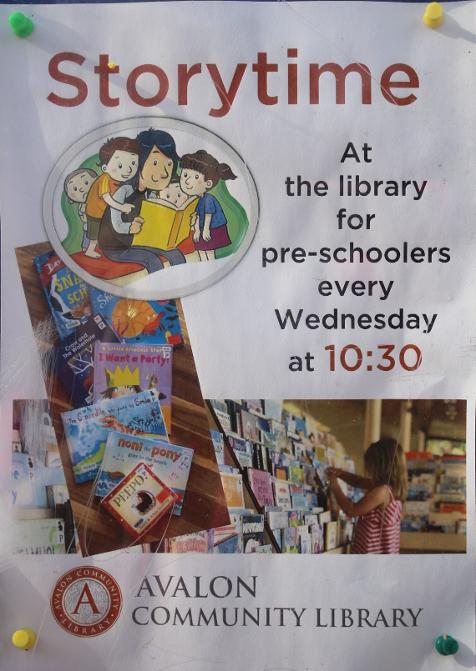 LEGO AT THE LIBRARY
Mona Vale Library runs a Lego club on the first Sunday of each month from 2pm to 4pm. The club is open to children aged between seven and twelve years of age, with younger children welcome with parental supervision. If you are interested in attending a Lego at the Library session contact the library on 9970 1622 or book in person at the library, 1 Park Street, Mona Vale.
Children's Storytime at Mona Vale Library: Mona Vale Library offers storytime for pre-school children every week during school terms. Children and their carers come and participate in a fun sing-a-long with our story teller as well as listen to several stories in each session, followed by some craft. Storytime is held in the Pelican Room of the library in front of the service desk. Storytime is free and no bookings are required. Storytime Sessions: Tuesdays 10.00am - 11.00am - Wednesdays 10.00am - 11.00am - Thursdays 10.00am - 11.00am
Mary Had A Little Lamb Based on a True Story
Did you know that this poem was based on a real life incident?
Some say this actually happened to
Mary Elizabeth Sawyer, of Sterling, Massachusetts.
In 1815 Mary, aged nine, was helping her father with farm chores when they discovered a sickly newborn lamb in the sheep pen that had been abandoned by its mother. After a lot of pleading, Mary was allowed to keep the animal, and managed to nurse the lamb back to health.
"In the morning, much to my girlish delight, it could stand; and from that time it improved rapidly. It soon learned to drink milk; and from the time it would walk about, it would follow me anywhere if I only called it," Mary would later write in the 1880s.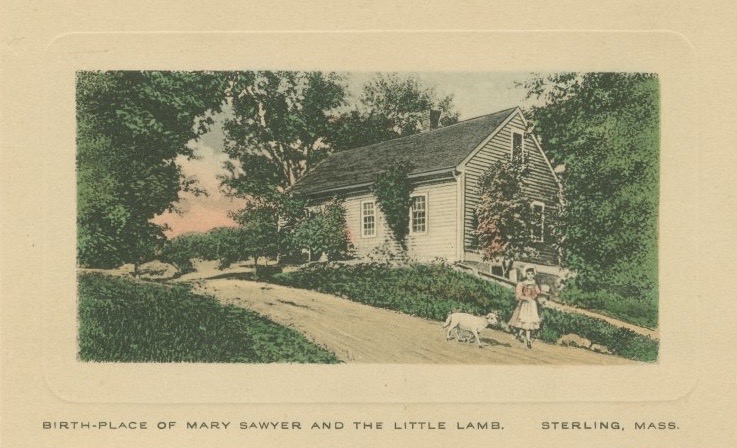 Birth-place of Mary Sawyer and the little lamb. Sterling, Mass. From: Photography Art and Picture Collection, The New York Public Library.

Sometime later, it's uncertain exactly when, Mary was heading to school with her brother when the lamb began following them. The siblings apparently weren't trying very hard to prevent the lamb from tagging along, even helping it over a large stone fence they had to cross to get to Redstone School, the one-room schoolhouse they attended.
Once there, Mary hid her pet under her desk and covered her with a blanket. But when Mary was called to the front of the class to recite her lessons, the lamb popped out of its hiding place and, much to Mary's chagrin and to the merriment of her classmates, came loping up the aisle after her. The lamb was shooed out, where it waited outside until Mary took her home during lunch. The next day, John Roulstone, a student a year or two older, handed Mary a piece of paper with a poem he'd written about the previous day's events. You know the words:
Mary had a little lamb;
Its fleece was white as snow;
And everywhere that Mary went,
The lamb was sure to go.
It followed her to school one day,
Which was against the rule;
It made the children laugh and play
To see a lamb at school.
And so the teacher turned it out;
But still it lingered near,
And waited patiently about
Till Mary did appear.
The lamb grew up and would later have three lambs of her own.
As documented by poet Sarah Josepha Hale, the story, published in her book
Poems for Our Children on May 1st in 1830
, goes like this: Mary's lamb, unnamed, follows her everywhere, and follows her to school one day. But that's not the end. Lambs at school being frowned on by the educational establishment, the teacher kicked her out. But Mary's little lamb waits for her outside the school. "
What makes the lamb love Mary so?
" her classmates ask. "
Mary loves the lamb, you know
," the teacher replies, saying that kindness to animals will gain their loyalty.
During their lifetimes there was a bit of a debate over who wrote the original version; Sarah Hale or John Roulstone. Some have said Mr. Roulstone's original was based on an old English poem as well.
The New England Historical Society states t
he first version of the poem wasn't written by Hale but by John Roulstone, who was there that day. Fourteen years after that, Sarah Hale added three stanzas incorporating the moral lesson, the Society writes, and published the poem in her book.
Some side with Sarah though.
The nursery rhyme, first published by the Boston publishing firm Marsh, Capen & Lyon, is described in one of Hale's biographies:
"Sarah began teaching young boys and girls in a small school not far from her home [in Newport, New Hampshire]...It was at this small school that the incident involving 'Mary's Lamb' is reputed to have taken place. Sarah was surprised one morning to see one of her students, a girl named Mary, enter the classroom followed by her pet lamb. The visitor was far too distracting to be permitted to remain in the building and so Sarah 'turned him out.' The lamb stayed nearby till school was dismissed and then ran up to Mary looking for attention and protection. The other youngsters wanted to know why the lamb loved Mary so much and their teacher explained it was because Mary loved her pet. Then Sarah used the incident to get a moral across to the class:
And you each gentle animal,
In confidence may bind,
And make them answer to your call,
If you are always kind."
Of course, others also claimed to be that first 'Mary' with the little lamb. In Wales, Mary Hughes, of Llangollen, Denbighshire, was credited with being the subject of the nursery rhyme supposedly penned by a woman from London by the name of Miss Burls. The only problem with this U.K. version of events is that Mary Hughes wasn't born until 1842, twelve years after Hale's version of the poem was published. Still, those claims persisted, even in the newspapers of here:
THE Mary who claims to be the original one who 'had a little lamb', celebrated her 88th birthday recently. She lives in Llangollen, Denbighshire (Wales), where she was born.
An Ornithologist's Death (1929, September 18). Sydney Mail (NSW : 1912 - 1938), p. 14. Retrieved from http://nla.gov.au/nla.news-article160391896
The nursery rhyme took on a life of it's own after it was set to music and became very popular from the mid-1800s on. The poem even became the first audio recording in history when Thomas Edison recited it on his newly invented phonograph in 1877 in order to see if the machine actually worked. It did. You can listen to that below.
Mary Sawyer even capitalised on her fame later in life, writes the
New England Historical
Society—if for a good cause. A group of locals was raising money to restore the Old South Meeting House, a historic building in Boston. Mary donated the stockings that her mother made for her from the pet lamb's wool years earlier. "The stockings were picked apart and wool was attached to cards that said, '
knitted wool from the first fleece of Mary's Little Lamb
,'" the Society writes.
In Sterling, Mass., they continue to celebrate Mary Sawyer. There's a statue of the famous lamb in town, and a restored version of Mary's home (the original was destroyed by a pair of arsonists back in 2007). Her descendants continue to farm the land.

Still one of the most famous nursery rhymes of all time, whoever really gifted this to all generations reminds many young Australians of the bush schools where children would ride their horses to reach class and a pet lamb was always a possibility!

In the 1830s, Lowell Mason, an American composer, set the nursery rhyme to a melody adding repetition in the verses - and this is how we still sing about Mary and her Little Lamb today:
Mary had a little lamb,
Little lamb, little lamb,
Mary had a little lamb
Whose fleece was white as snow.
And everywhere that Mary went,
Mary went, Mary went,
Everywhere that Mary went
The lamb was sure to go.
He followed her to school one day,
School one day, school one day,
He followed her to school one day
Which was against the rules.
It made the children laugh and play,
Laugh and play, laugh and play,
It made the children laugh and play,
To see a lamb at school.
And so the teacher turned it out,
Turned it out, turned it out,
And so the teacher turned it out,
But still it lingered near,
He waited patiently about,
Patiently about, patiently about,
He waited patiently about,
Till Mary did appear.
"Why does the lamb love Mary so?
Love Mary so? Love Mary so?
Why does the lamb love Mary so?"
The eager children cried.
"Why, Mary loves the lamb, you know,
Lamb, you know, lamb, you know,
Why, Mary loves the lamb, you know,"
The teacher did reply.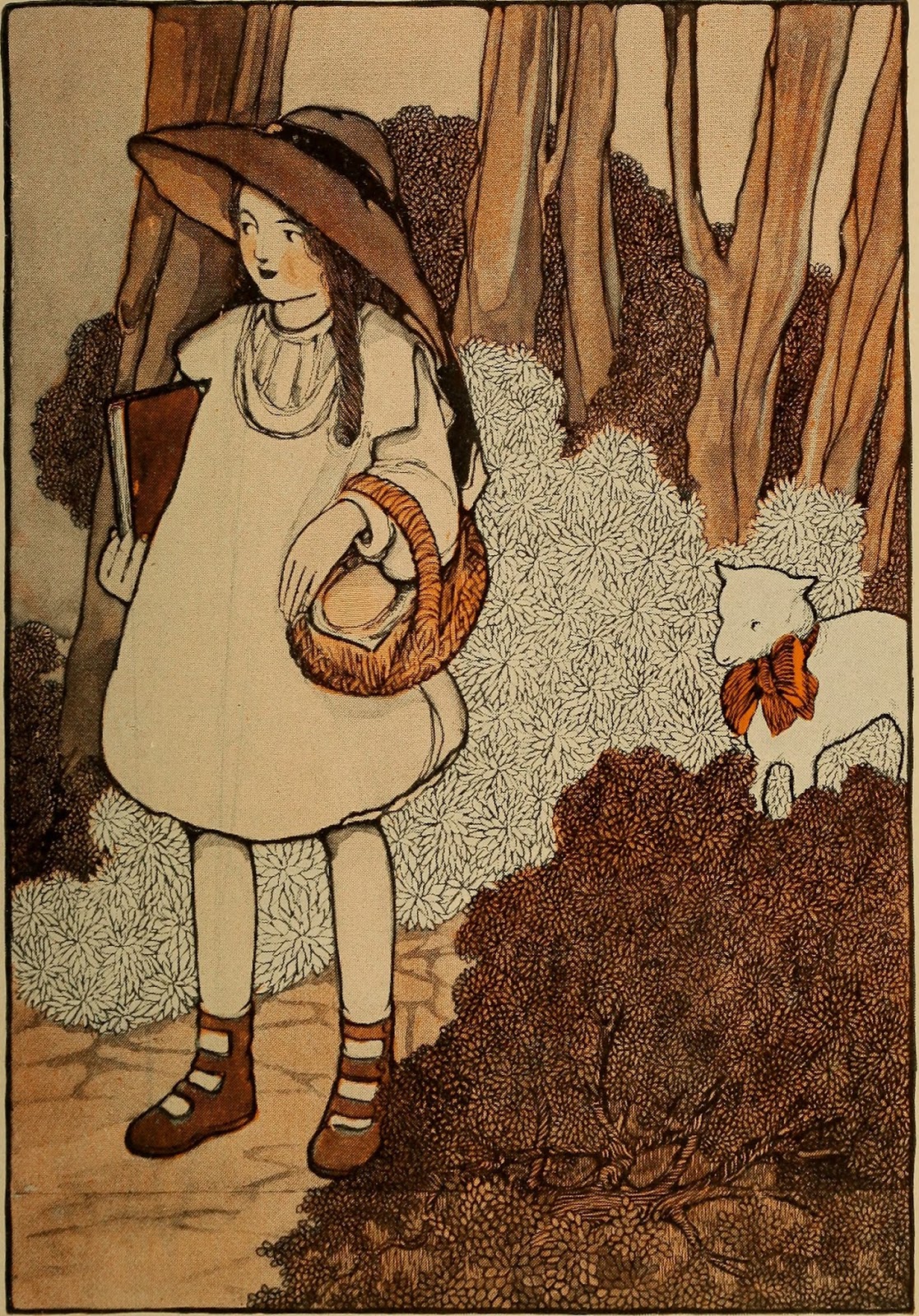 Mary and Her Lamb By Internet Archive Book Images, from Poems my children love best of all(1917)

Reference
Andrew Amelinckx. The True Story Behind "Mary Had a Little Lamb". DEC 19, 2017., Modern Farmer. Retrieved from
NSW National Parks And Wildlife Service First All Female Hazard Reduction Burn
Published 8 Oct 2019 by Office Of Environment And Heritage
NSW National Parks and Wildlife Service (NPWS)'s first all-female hazard reduction burn at Scheyville National Park in 2019. These women are blazing a trail as the number of females taking on firefighting roles with NPWS continues to increase. Congratulations to the team!