January 26 - February 1, 2020: Issue 435

Sports Registrations 2020
Those sent in are listed in the Events page this Issue.
The Kissing Hand read by Barbara Bain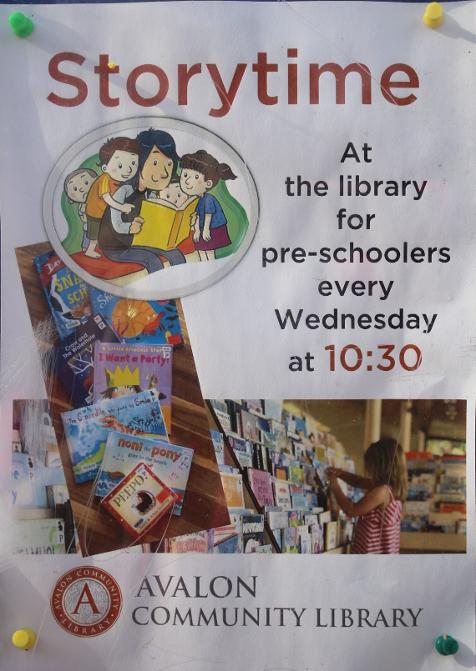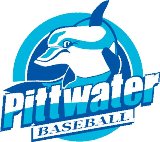 Profile:
Pittwater Baseball Club
Their Mission: Share a community spirit through the joy of our children engaging in baseball.

Profile Bayview Yacht Racing
Association (BYRA)
BYRA has a passion for sharing the great waters of Pittwater and a love of sailing with everyone aged 8 to 80 or over!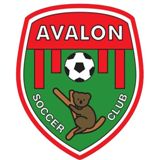 Profile:
Avalon Soccer Club
Avalon Soccer Club is an amateur club situated at the northern end of Sydney's Northern Beaches. As a club we pride ourselves on our friendly, family club environment. The club is comprised of over a thousand players aged from 5 who enjoy playing the beautiful game at a variety of levels and is entirely run by a group of dedicated volunteers.
Profile: Ingleside Riders Group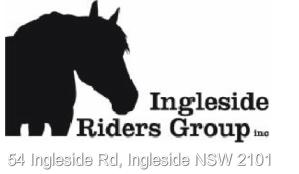 Ingleside Riders Group Inc. (IRG) is a not for profit incorporated association and is run solely by volunteers. It was formed in 2003 and provides a facility known as "Ingleside Equestrian Park" which is approximately 9 acres of land between Wattle St and McLean St, Ingleside.
IRG has a licence agreement with the Minister of Education to use this land. This facility is very valuable as it is the only designated area solely for equestrian use in the Pittwater District.
IRG promotes equal rights and the respect of one another and our list of rules that all members must sign reflect this.
Mona Vale Mountain Cub Scouts


Find out more about all the fun you can have at Mona Vale Mountain Cub Scouts Profile –
our Profile pages aren't just about those who can tell you about Pittwater before you were born, they're also about great clubs and activities that you too can get involved in!
Back To School 2020: Have A Great Term 1!
It was built of bark and poles, and the floor was full of holes
Where each leak in rainy weather made a pool;
And the walls were mostly cracks lined with calico and sacks –
There was little need for windows in the school.
Then we rode to school and back by the rugged gully-track,
On the old grey horse that carried three or four;
And he looked so very wise that he lit the master's eyes
Every time he put his head in at the door.
He had run with Cobb and Co. – "that grey leader, let him go!"
There were men "as knowed the brand upon his hide",
And "as knowed it on the course". Funeral service: "Good old horse!"
When we burnt him in the gully where he died.
And the master thought the same. 'Twas from Ireland that he came,
Where the tanks are full all summer, and the feed is simply grand;
And the joker then in vogue said his lessons wid a brogue –
'Twas unconscious imitation, let the reader understand.
And we learnt the world in scraps from some ancient dingy maps
Long discarded by the public-schools in town;
And as nearly every book dated back to Captain Cook
Our geography was somewhat upside-down.
It was "in the book" and so – well, at that we'd let it go,
For we never would believe that print could lie;
And we all learnt pretty soon that when we came out at noon
"The sun is in the south part of the sky."
And Ireland! that was known from the coast-line to Athlone:
We got little information re the land that gave us birth;
Save that Captain Cook was killed (and was very likely grilled)
And "the natives of New Holland are the lowest race on earth".
And a woodcut, in its place, of the same degraded race
Seemed a lot more like a camel than the blackfellows that we knew;
Jimmy Bullock, with the rest, scratched his head and gave it best;
But his faith was sadly shaken by a bobtailed kangaroo.
But the old bark school is gone, and the spot it stood upon
Is a cattle-camp in winter where the curlew's cry is heard;
There's a brick school on the flat, but a schoolmate teaches that,
For, about the time they built it, our old master was "transferred".
But the bark school comes again with exchanges 'cross the plain –
With the Out-Back Advertiser; and my fancy roams at large
When I read of passing stock, of a western mob or flock,
With "James Bullock", "Grey", or "Henry Dale" in charge.
And I think how Jimmy went from the old bark school content,
With his "eddication" finished, with his pack-horse after him;
And perhaps if I were back I would take the self-same track,
For I wish my learning ended when the Master "finished" Jim.
Appears in: The Bulletin vol. 18 no. 901 22 May 1897 periodical issue pg. 28
Appears in: Verses, Popular and Humorous Henry Lawson, Sydney London : Angus and Robertson Australian Book Co., 1900 selected work poetry pg. 216-219
NB:
Henry Lawson
(1867-1922), the man who would become one of Australia's most famous and loved writers in fact only received three years of formal schooling.
There wasn't even a school when the Lawsons moved to Eurunderee – it was his mother, Louisa Lawson who pushed for one to be built. And even though young Henry only attended the Eurunderee Provisional School for a few years, he had a soft spot for the 'old bark school', writing about it, visiting it years later and even entering an impromptu poem in the visitors' book. - State Library of New South Wales.
Photographs of Henry Lawson in North Sydney including his former residence, 1922 photographed by Phillip Harris- Henry Lawson talking to children. Image No.: a6161007h, courtesy State Library of NSW
LEGO AT THE LIBRARY
Mona Vale Library runs a Lego club on the first Sunday of each month from 2pm to 4pm. The club is open to children aged between seven and twelve years of age, with younger children welcome with parental supervision. If you are interested in attending a Lego at the Library session contact the library on 9970 1622 or book in person at the library, 1 Park Street, Mona Vale.
Children's Storytime at Mona Vale Library: Mona Vale Library offers storytime for pre-school children every week during school terms. Children and their carers come and participate in a fun sing-a-long with our story teller as well as listen to several stories in each session, followed by some craft.
Storytime is held in the Pelican Room of the library in front of the service desk. Storytime is free and no bookings are required.
Storytime Sessions: Tuesdays 10.00am - 11.00am - Wednesdays 10.00am - 11.00am - Thursdays 10.00am - 11.00am
Robey Carter's Swim Squad & Iron Man At Palm Beach
Robey, along with farther Johnny Carter, has been conducting swim classes at Palm Beach Rock Pool over the past weeks - a school holiday program that always gets the big splash of Summer fun spreading among youngsters.
Each year they hold an Ironman-Ironwoman Competition at the close of the their Swim season. Bernadette Kelly was at Palm Beach early on the morning of Wednesday, January 22nd and sent in these photos of Robey Carter's Swim Squad and Ironman Comp with the children there.
Thanks Bernadette - great captures!
There are more 'Summer in Pittwater' photos as this week's Pictorial - including some great Summer Bugs!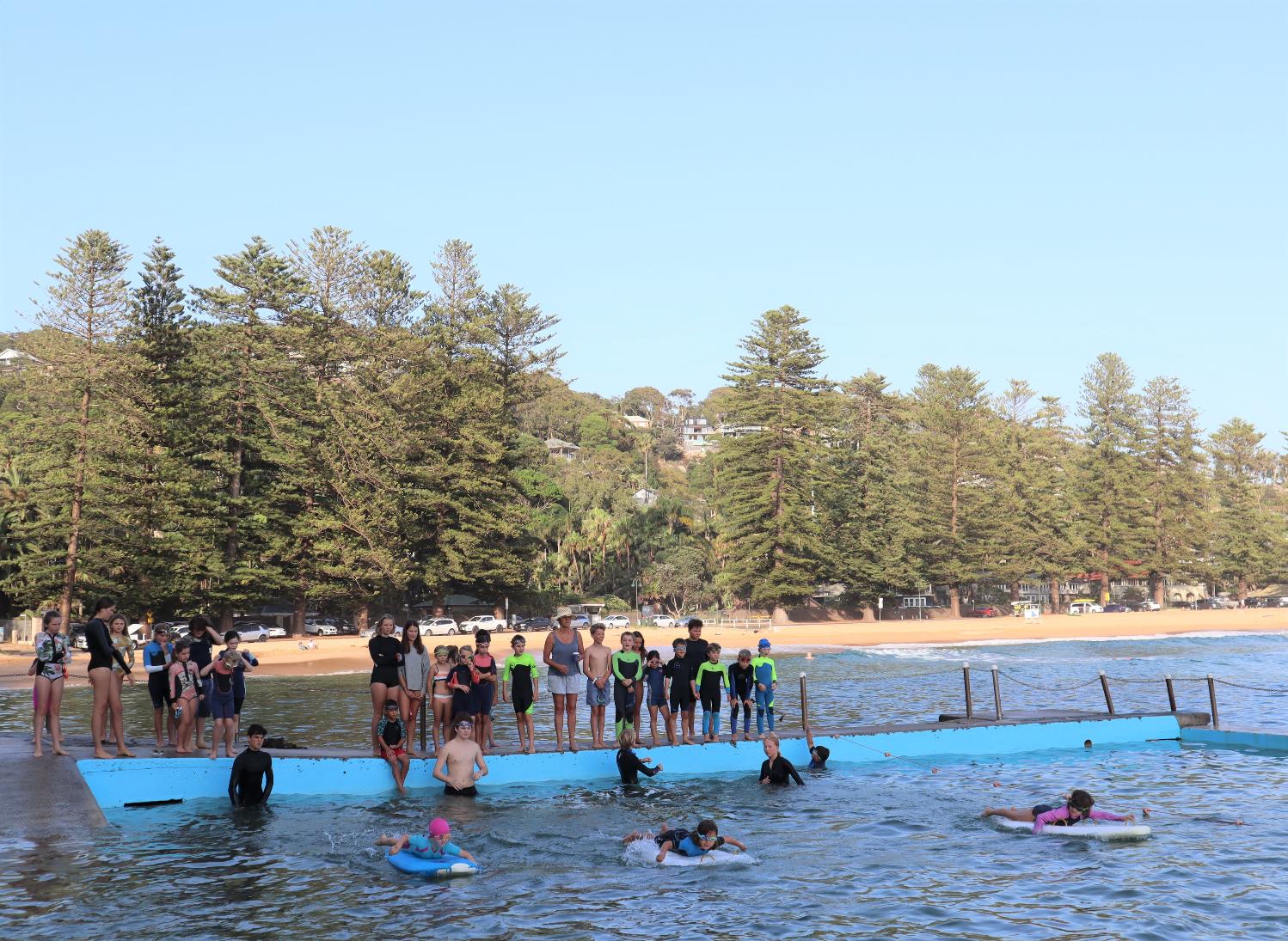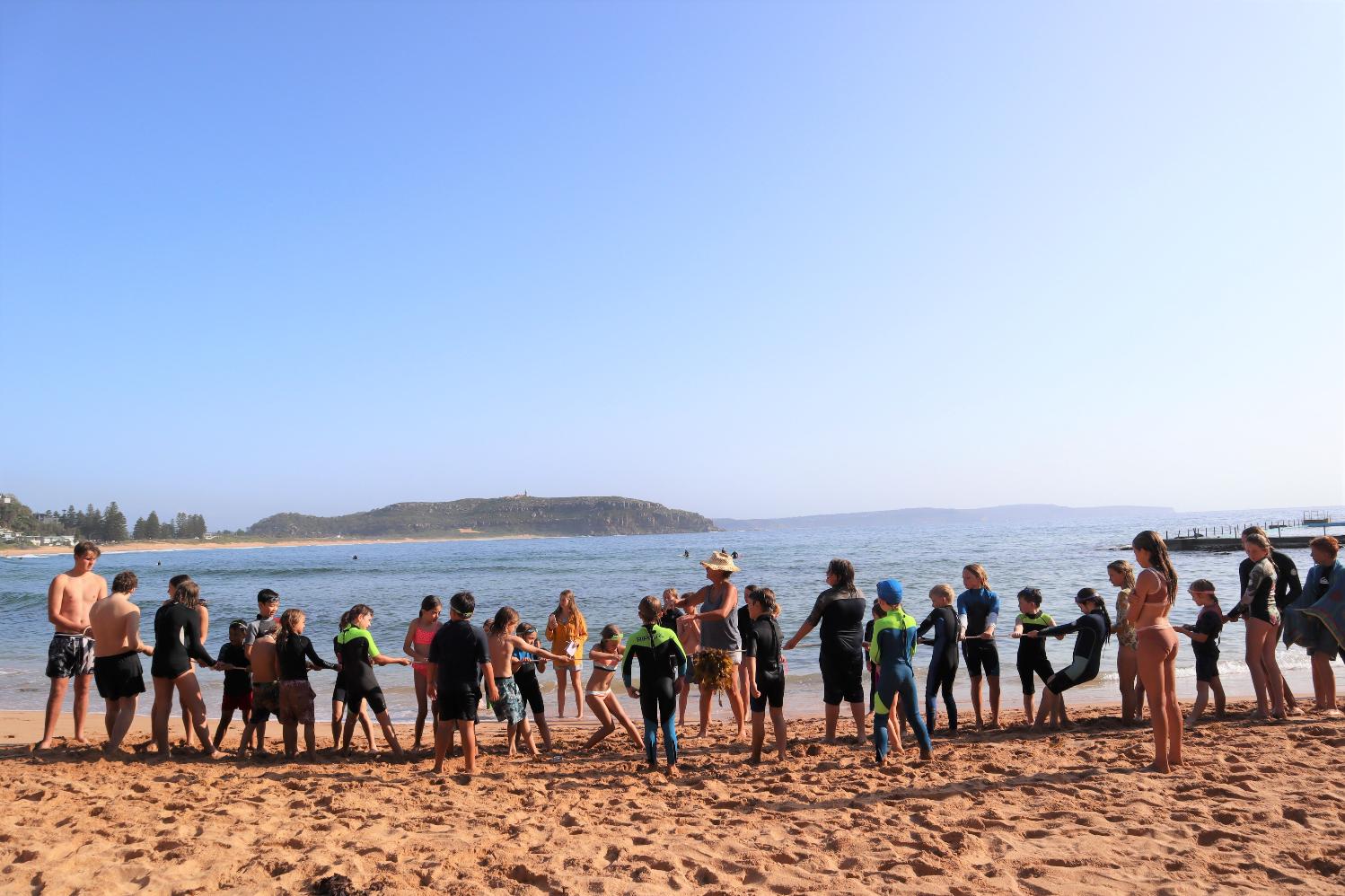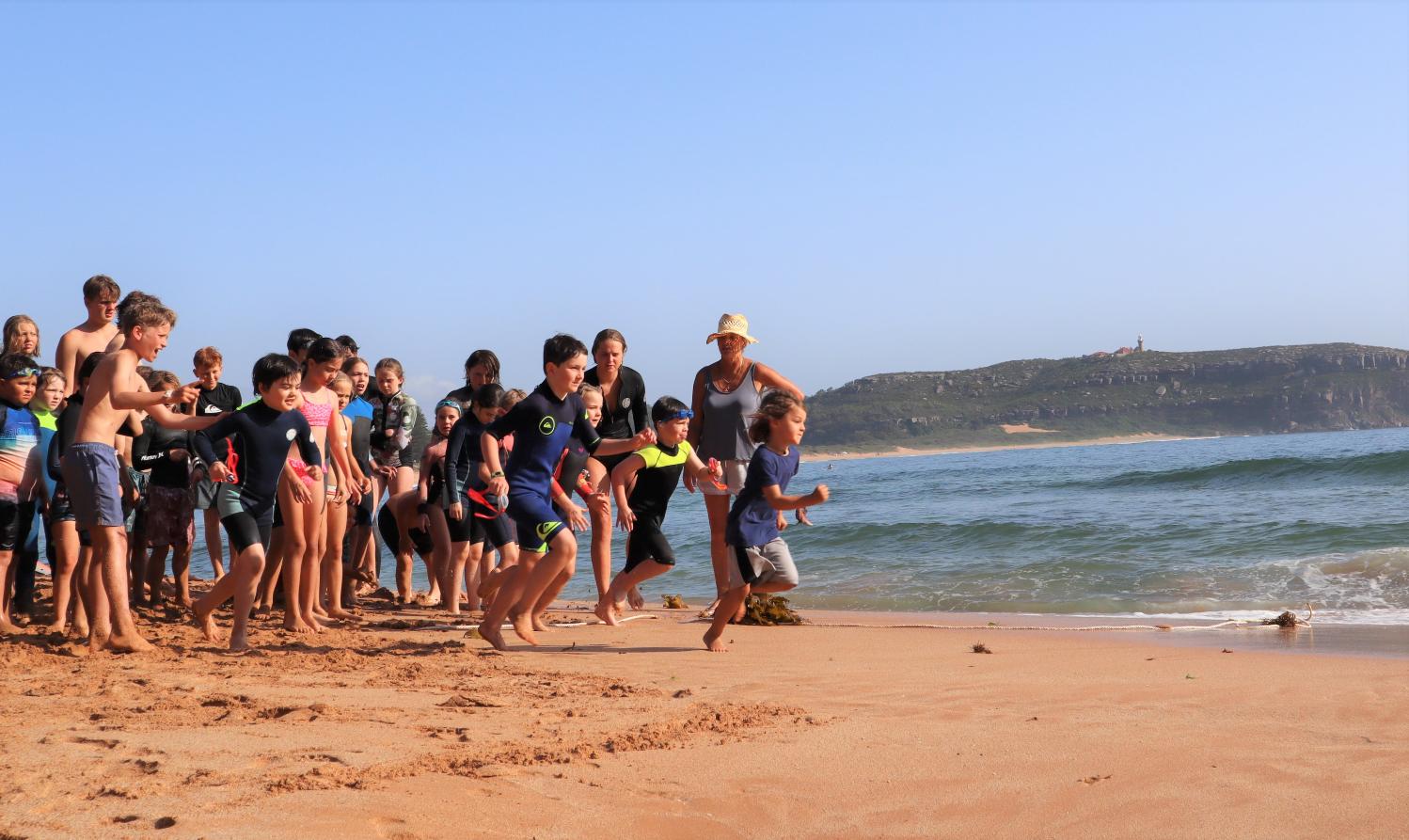 PNHA Bushcare Grants For Mona Vale Dunes And Avalon Golf Course: A Great Option For Duke Of Ed. 2020 Aspirants
In mid December 2019 the Pittwater Natural Heritage Association (PNHA) received a grant of $12 215 for bush regeneration on Mona Vale Dunes. This comes from the Federal electorates Communities Environment Program and will pay for contract bush regenerators to tackle more of the awful weeds on the dunes. Work will begin in February 2020. Northern Beaches Council will provide about 800 native plants to speed revegetation of the very degraded site.
The grant is very welcome to the volunteers of the Mona Vale Bushcare group who have been planting and weeding on the dunes near the end of Golf Ave since 2005 and seen huge improvements. The Yellow area on photo shows where first work will begin. The volunteers have been working north of this area toward Golf Ave. All hands are welcome to join this bushcare group - they meet on the
2nd Saturday +3rd Thursday each month 8:30 - 11:30am - they're morning teas have become the stuff of
legends
- find out more in:
Mona Vale Beach Dunes Bushcare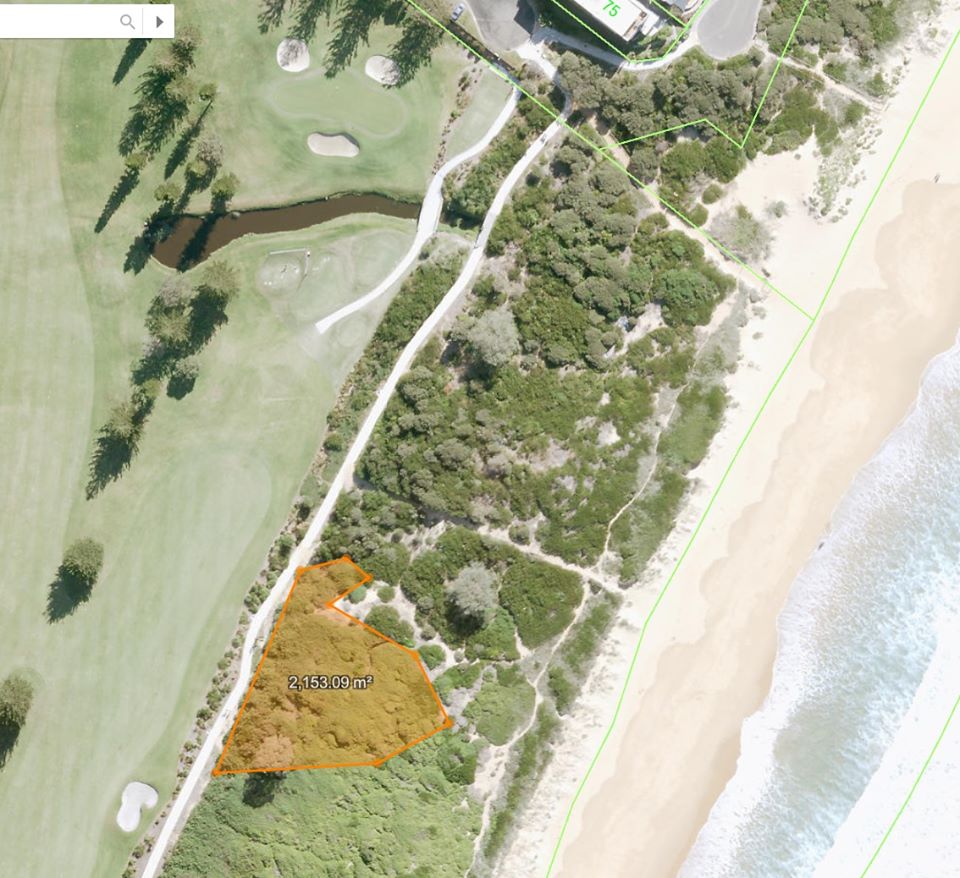 Just before Christmas 2019 PNHA, on behalf of Avalon Preservation Association, received a very welcome grant of $10 000 for bush regeneration in the bushland of Avalon Golf Course.
Over 120 native species, including some unusual ones in the Pittwater area, grow on this land. The project will be managed in partnership with Northern Beaches Council; work will probably start in early February.
The grant comes from the Communities Environment Program, through the Federal Electorates. More hands are welcome here too,
Duke
of Ed. 2020 aspirants; maybe this could be for you?
Photos: Flannel Flowers and the shrub Jacksonia scoparia, or Dogwood (from its strong odour when burning, not tested by us!!) -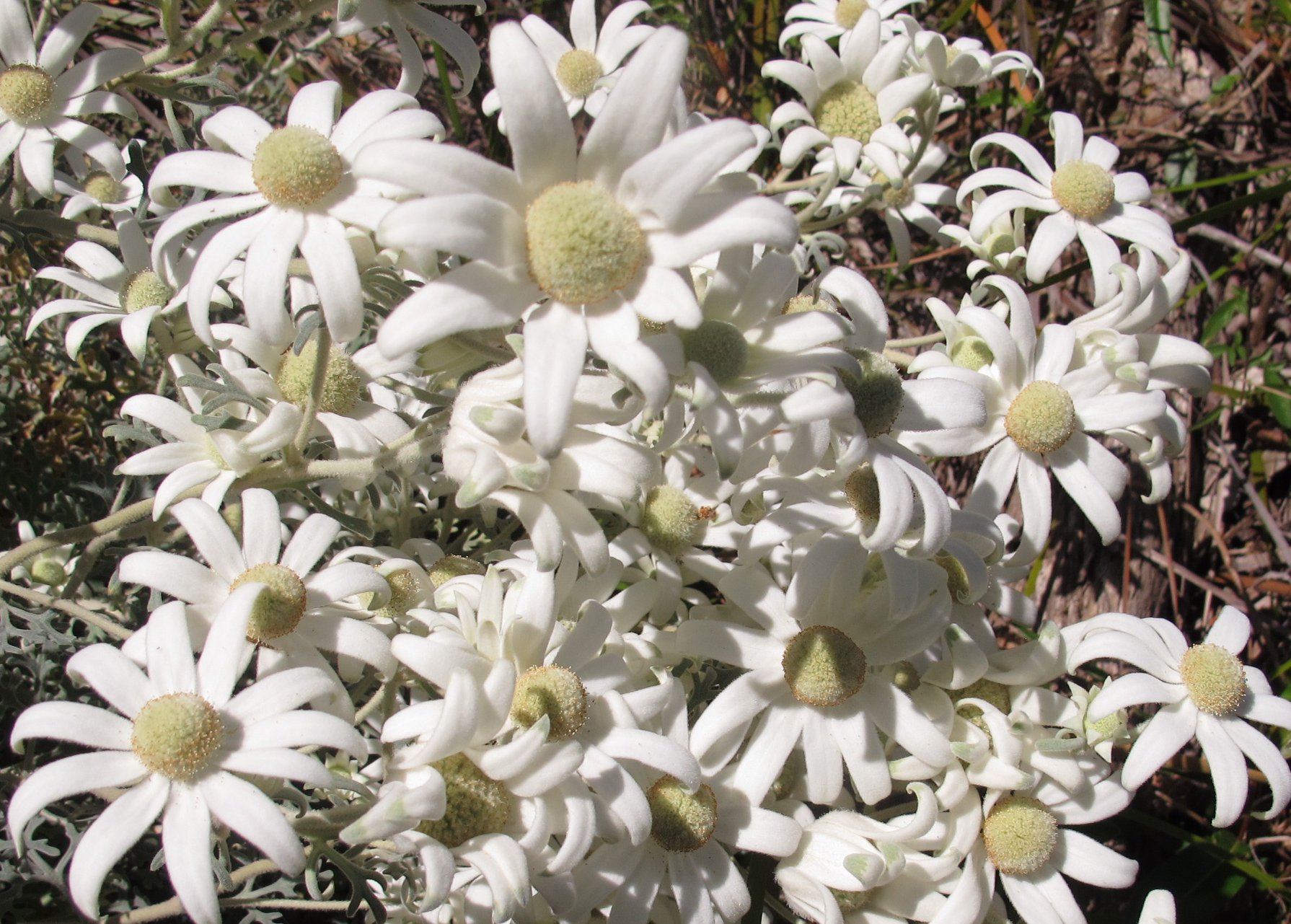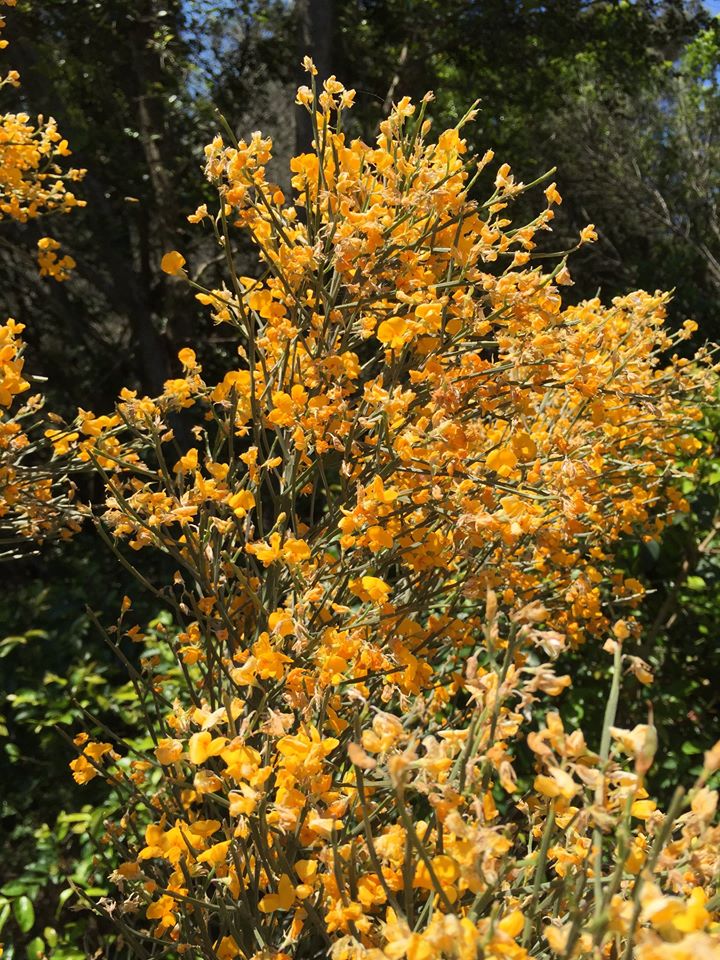 A cicada on a Sydney Red Gum in Elanora - what could be more Pittwater in Summer than that? Photo by Pittwater Natural Heritage Association (PNHA)
Pittwater Natural Heritage Association (PNHA) Activities for 2020, on Fridays and Sundays. The first is on Friday February 21, 2020. Free guided Irrawong Waterfall Track walk. Booking through Eventbrite
Free guided Irrawong Waterfall Track bird and plant walk on Sunday February 23rd, 2020. Booking through Eventbrite.
These free guided walks along Mullet Creek will be with bird and plant experts who'll help you see and hear birds and look at the plants. Binoculars a good idea. A mostly level bush track of moderate difficulty with some steps, not suitable for strollers or wheelchairs. Older children very welcome accompanied by a carer. Only 20 tickets available for these events. Please let Eventbrite know if you need to cancel as there may be a waiting list.
Discover Seven Worlds, One Planet in VR360
Published by BBC Earth, January 23rd, 2020
Immerse yourself in an incredible artist's visualisation of our seven continents. Best experienced with headphones and Google Cardboard, or a similar VR device.
Curious Kids: why does reading in the back seat make you feel sick?
January 16, 2020
Answered by Wayne Wilson, Associate Professor in Audiology, The University of Queensland
Why does reading in the back seat make you feel sick? – Jane, aged 10, from Coburg North, Australia.



Hi Jane, your question about why reading in the back seat makes you feel sick is a very good one. The answer has to do with our eyes, our ears and our brain.
Reading in the back seat can make you feel sick because your eyes and ears are having an argument that your brain is trying to settle!
When you're reading in the back seat, your eyes see that your book is still. Your eyes then tell your brain you are still.
But your ears feel the car is moving. Your ears then tell your brain you're moving.
How can your ears tell you're moving?
Your ears don't just hear, they help with your balance too.
Your ear has three main parts:
the outer ear is the bit you can see on the side of someone's head
the middle ear is your eardrum and some tiny bones and muscles
the inner ear is the part of your ear that can help with your balance.
The ear includes more than what you see on the outside. sanjayart/Shutterstock
Your inner ear contains cells that have hairs sticking out the top. Scientists call these "hair cells".
Some of these hair cells help us to hear. When sound hits those hair cells, the hairs move and the cells send signals to the brain. Our brains use those signals to hear.
Other hair cells help us to keep our balance. When the car we're sitting in moves, that movement makes the hairs on those hair cells move too, and they send different signals to the brain. Our brain uses those different signals to tell we're moving.
Why doesn't the brain like this?
Some people's brains don't like it when their eyes say they're still but their ears say they're moving.
When eyes and ears argue like this, the brain can think that something dangerous might be about to happen.
If this happens, the brain can get the body ready to fight or run away (scientists call this the "fight or flight" response).
The conflict between our eyes and ears make the brain think something dangerous might happen. wavebreakmedia/Shutterstock
One of the things the brain can do is take blood away from the stomach to give to the muscles.
Giving blood to the muscles can help us to fight or run away. But taking blood away from the stomach can make us feel sick.
What can you do about it?
If reading in the back seat makes you feel sick, you might need to settle the argument between your eyes and your ears.
One way to do this is to stop reading and to look out the car window. This could help your eyes to tell your brain that you're moving as you see the world whizz by, and your ears to tell your brain that you are moving as you feel the car moving.
But this suggestion won't work for everyone. Some people will still feel sick when they ride in a car, even if they aren't reading.
This is because while our eyes and our ears help us to balance, so do our skin and our muscles. This creates many opportunities for arguments that our brain has to settle!
This Curious Kids article originally was published in The Conversation. Read the original article
here
. Republished under Creative Commons licence.
The Mysterious Legendary Giant Squid's Genome Is Revealed
January 16, 2020: Marine Biological Laboratory
How did the monstrous giant squid -- reaching school-bus size, with eyes as big as dinner plates and tentacles that can snatch prey 10 yards away -- get so scarily big?
Today, important clues about the anatomy and evolution of the mysterious giant squid (Architeuthis dux) are revealed through publication of its full genome sequence by a University of Copenhagen-led team that includes scientist Caroline Albertin of the Marine Biological Laboratory (MBL), Woods Hole.
Giant squid are rarely sighted and have never been caught and kept alive, meaning their biology (even how they reproduce) is still largely a mystery. The genome sequence can provide important insight.
"In terms of their genes, we found the giant squid look a lot like other animals. This means we can study these truly bizarre animals to learn more about ourselves," says Albertin, who in 2015 led the team that sequenced the first genome of a cephalopod (the group that includes squid, octopus, cuttlefish, and nautilus).
Led by Rute da Fonseca at University of Copenhagen, the team discovered that the giant squid genome is big: with an estimated 2.7 billion DNA base pairs, it's about 90 percent the size of the human genome.
Albertin analysed several ancient, well-known gene families in the giant squid, drawing comparisons with the four other cephalopod species that have been sequenced and with the human genome.
She found that important developmental genes in almost all animals (Hox and Wnt) were present in single copies only in the giant squid genome. That means this gigantic, invertebrate creature -- long a source of sea-monster lore -- did NOT get so big through whole-genome duplication, a strategy that evolution took long ago to increase the size of vertebrates.
So, knowing how this squid species got so giant awaits further probing of its genome.
"A genome is a first step for answering a lot of questions about the biology of these very weird animals," Albertin said, such as how they acquired the largest brain among the invertebrates, their sophisticated behaviours and agility, and their incredible skill at instantaneous camouflage.
"While cephalopods have many complex and elaborate features, they are thought to have evolved independently of the vertebrates. By comparing their genomes we can ask, 'Are cephalopods and vertebrates built the same way or are they built differently?'" Albertin says.
Albertin also identified more than 100 genes in the protocadherin family -- typically not found in abundance in invertebrates -- in the giant squid genome.
"Protocadherins are thought to be important in wiring up a complicated brain correctly," she says. "They were thought they were a vertebrate innovation, so we were really surprised when we found more than 100 of them in the octopus genome (in 2015). That seemed like a smoking gun to how you make a complicated brain. And we have found a similar expansion of protocadherins in the giant squid, as well."
Lastly, she analysed a gene family that (so far) is unique to cephalopods, called reflectins. "Reflectins encode a protein that is involved in making iridescence. Color is an important part of camouflage, so we are trying to understand what this gene family is doing and how it works," Albertin says.
"Having this giant squid genome is an important node in helping us understand what makes a cephalopod a cephalopod. And it also can help us understand how new and novel genes arise in evolution and development."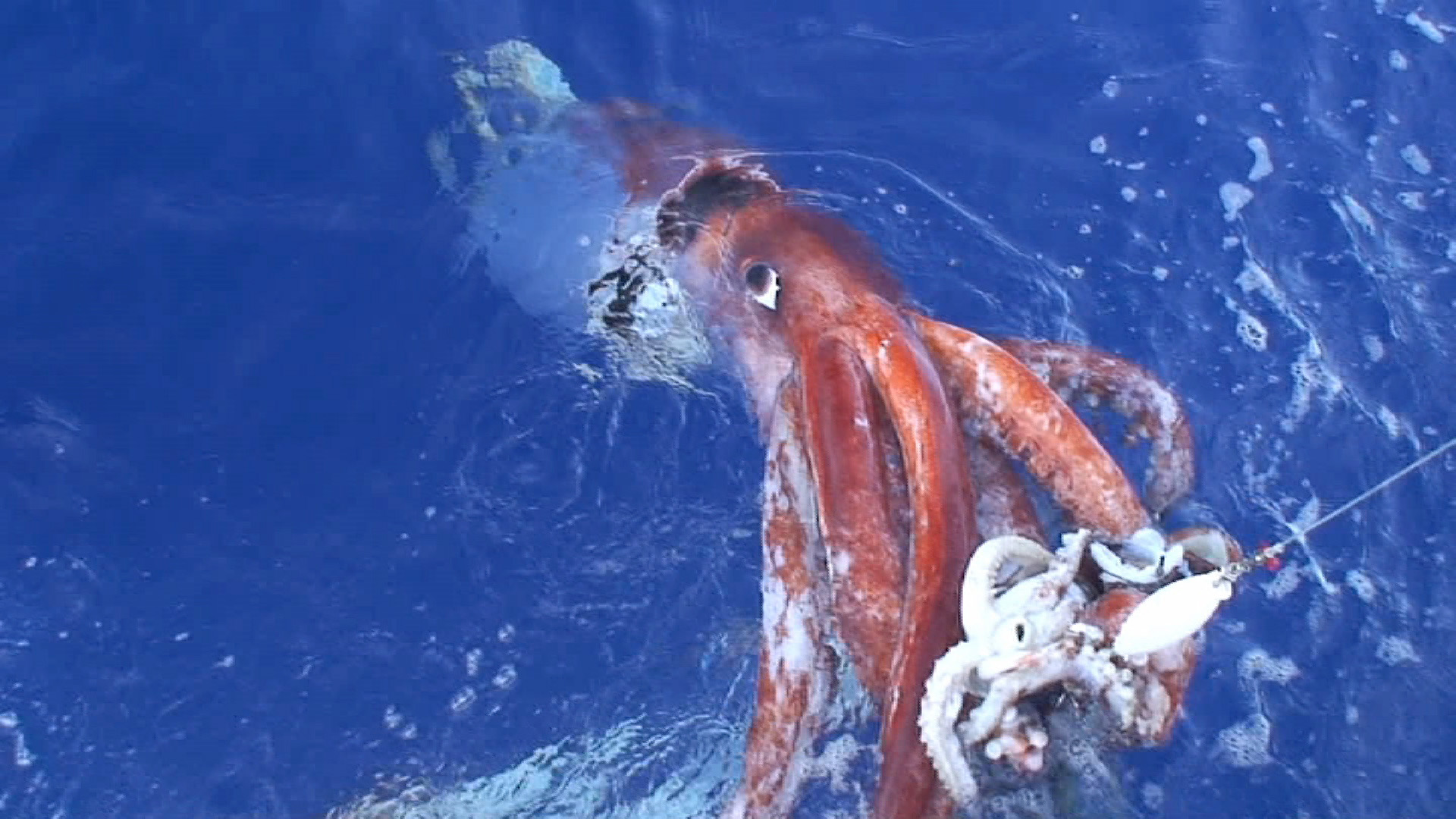 In a rare event, a live giant squid (Architeuthis dux) is hauled to the surface on a baited hook in Japan. The giant squid can be 40 feet long tip-to-tail and weigh nearly a ton. Credit: Tsunemi Kubodera

Rute R da Fonseca, Alvarina Couto, Andre M Machado, Brona Brejova, Carolin B Albertin, Filipe Silva, Paul Gardner, Tobias Baril, Alex Hayward, Alexandre Campos, Ângela M Ribeiro, Inigo Barrio-Hernandez, Henk-Jan Hoving, Ricardo Tafur-Jimenez, Chong Chu, Barbara Frazão, Bent Petersen, Fernando Peñaloza, Francesco Musacchia, Graham C Alexander, Hugo Osório, Inger Winkelmann, Oleg Simakov, Simon Rasmussen, M Ziaur Rahman, Davide Pisani, Jakob Vinther, Erich Jarvis, Guojie Zhang, Jan M Strugnell, L Filipe C Castro, Olivier Fedrigo, Mateus Patricio, Qiye Li, Sara Rocha, Agostinho Antunes, Yufeng Wu, Bin Ma, Remo Sanges, Tomas Vinar, Blagoy Blagoev, Thomas Sicheritz-Ponten, Rasmus Nielsen, M Thomas P Gilbert.
A draft genome sequence of the elusive giant squid, Architeuthis dux.
GigaScience, 2020; 9 (1) DOI:
10.1093/gigascience/giz152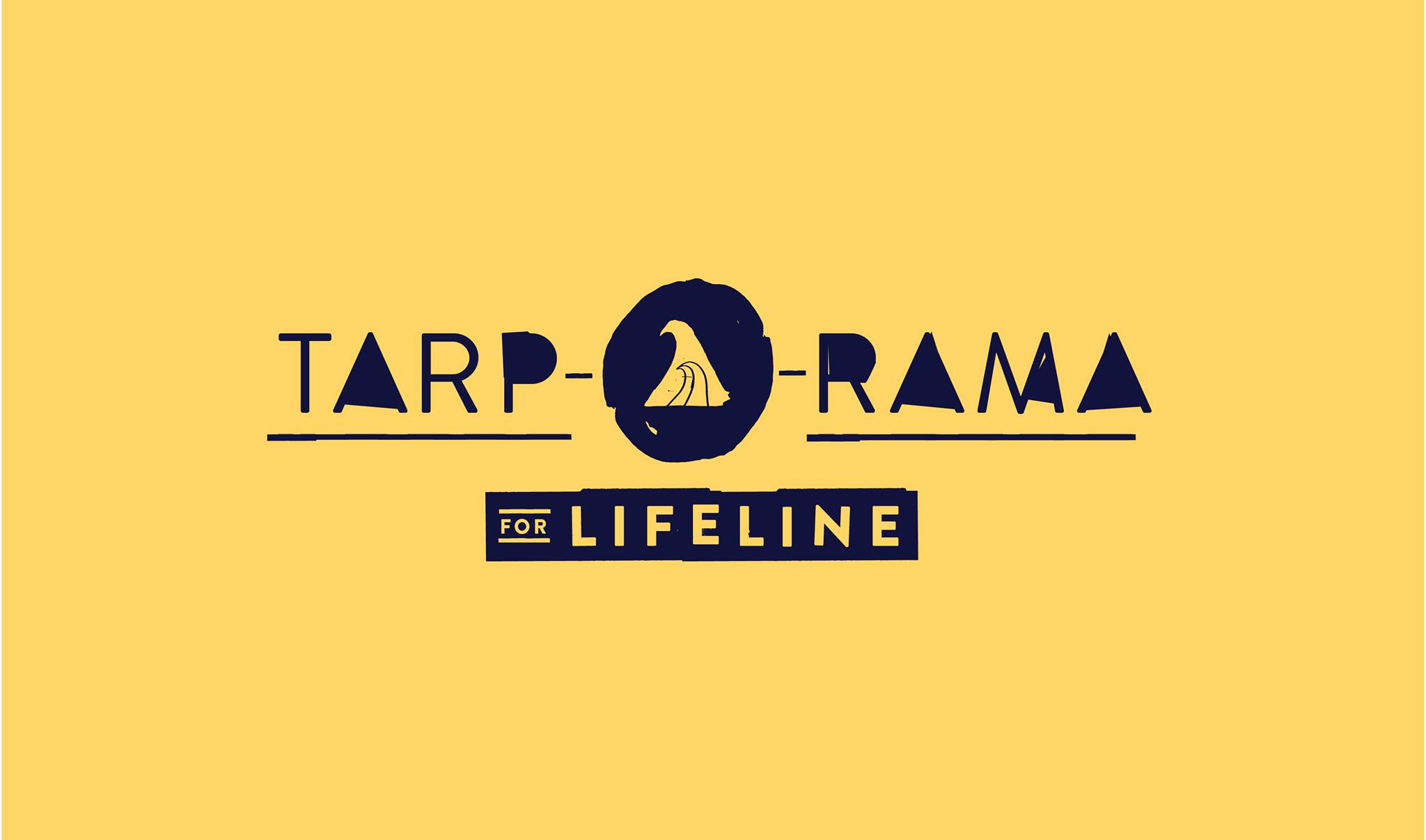 Saturday, February 8, 2020 at 11 AM – 6 PM
Curl Curl Youth & Community Centre - Sydney, Australia
ENTRY FEE $15 for all ages with all proceeds donated to Lifeline Northern Beaches
Tarp-O-Rama for Lifeline is a community event to engage, educate and empower our community about mental health and wellbeing.
The festival will include live bands and DJ's, food trucks of all kinds, merchandise and market stalls, local art, chillout zones, photobooth, live artist, demos, mini ramps, kids' zone, plus loads of prizes and giveaways.
With Cooper Chapman and Alex Hayes confirmed on the judging panel, WIN yourself cool prizes for best tarp surfing! Bring your skateboard, skates, scooter, roller blades, paddle skateboards, surfboards with wheels, anything!
Get yourself and your kids riding the plastic blue wave!
Heats: Mini Groms 5-10 years, Groms 11-16 years, Open 16+ plus free ride sessions. Get epic shots and video taken by our unstoppable media team!
Tarp surf for a purpose with funds raised supporting Lifeline Northern Beaches so that they can continue to create connection with people in crisis and empower individuals and communities to be safe from suicide.
Not only will it be fun, but we are opening up more talk about mental health, support and education. Come down for some Northern Beaches all ages fun! Get involved, get connected and get the conversation started. Tarp-O-Rama for Lifeline welcomes our local community and beyond, and aims to ensure the day is as welcoming, safe and accessible as possible for all.
All ages welcome.
Netball Courts 1-7, Abbott Road, North Curl Curl (outside Curl Curl Youth and Community Centre)
CAR: Located 500m from North Curl Curl Beach and under 40 minutes from Sydney's CBD on the B-Line, with loads on and off-street parking, plus access for people with disability.
BUS: 159 from Manly, Stop Abbott Rd opposite Hudson Oval, North Curl Curl, 7-minute walk to event
BUS: 136 from Manly & North, Stop Griffin Rd at Abbott Rd, North Curl Curl, 12-minute walk to event
Google Map: https://goo.gl/maps/ukALYvsRoLitgPTq7
Are you a brand or local business that wants to be involved?