Seal Pup Birubi Makes Her Debut at Taronga Zoo Sydney!

Published by Taronga Zoo Sydney March 31, 2021
WilderQuest online fun
The NSW National Parks and Wildlife Service is pleased to present the WilderQuest program for teachers, students and children.
The WilderQuest program includes a website and apps with game and video content, Ranger led tours and activities in national parks across NSW. It provides opportunities for families to experience nature, science and Aboriginal culture in classrooms, online, at events and in national parks. The Teacher portal and free primary school resources have been produced with support from our Environmental Trust partners.
LEGO AT THE LIBRARY
Mona Vale Library runs a Lego club on the first Sunday of each month from 2pm to 4pm. The club is open to children aged between seven and twelve years of age, with younger children welcome with parental supervision. If you are interested in attending a Lego at the Library session contact the library on 9970 1622 or book in person at the library, 1 Park Street, Mona Vale.
Children's Storytime at Mona Vale Library: Mona Vale Library offers storytime for pre-school children every week during school terms. Children and their carers come and participate in a fun sing-a-long with our story teller as well as listen to several stories in each session, followed by some craft.
Storytime is held in the Pelican Room of the library in front of the service desk. Storytime is free and no bookings are required.
Storytime Sessions: Tuesdays 10.00am - 11.00am - Wednesdays 10.00am - 11.00am - Thursdays 10.00am - 11.00am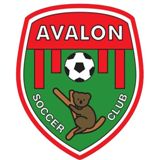 Profile:
Avalon Soccer Club
Avalon Soccer Club is an amateur club situated at the northern end of Sydney's Northern Beaches. As a club we pride ourselves on our friendly, family club environment. The club is comprised of over a thousand players aged from 5 who enjoy playing the beautiful game at a variety of levels and is entirely run by a group of dedicated volunteers.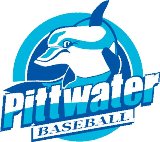 Profile:
Pittwater Baseball Club
Their Mission: Share a community spirit through the joy of our children engaging in baseball.
National Geographic for Australian Kids
Find amazing facts about animals, science, history and geography, along with fun competitions, games and more. Visit National Geographic Kids today!
This week the National Geographic for Kids has launched a new free digital resource platform called NatGeo@Home to entertain and educate children affected by school closures.
The three main categories of content on the
NatGeo@Home
site aim to educate, inspire and entertain. For parents and teachers, there are also separate resources and lesson plans covering everything from getting to grips with Google Earth to learning to label the geological features of the ocean.
For the National Geographic at Home site, visit: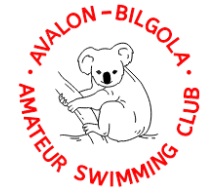 Avalon Bilgola Amateur Swimming Club Profile
We swim at Bilgola rock pool on Saturday mornings (8:45am till 11:30am). Our season runs between October and March

Profile Bayview Yacht Racing
Association (BYRA)
BYRA has a passion for sharing the great waters of Pittwater and a love of sailing with everyone aged 8 to 80 or over!
Profile: Ingleside Riders Group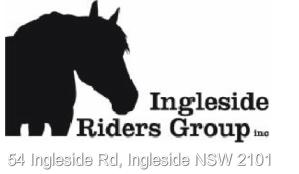 Ingleside Riders Group Inc. (IRG) is a not for profit incorporated association and is run solely by volunteers. It was formed in 2003 and provides a facility known as "Ingleside Equestrian Park" which is approximately 9 acres of land between Wattle St and McLean St, Ingleside.
IRG has a licence agreement with the Minister of Education to use this land. This facility is very valuable as it is the only designated area solely for equestrian use in the Pittwater District.
IRG promotes equal rights and the respect of one another and our list of rules that all members must sign reflect this.
Woodland Babies – Special scenes of six bird species in the Capertee Valley
Published April 12, 2021 by BIBY TV
These delightful woodland "babies" (aka fledglings or juveniles) of the species Jacky Winter (Microeca fascinans), Restless Flycatcher (Myiagra inquieta), Hooded Robin (Melanodryas cucullata), White-winged Chough (Corcorax melanorhamphos), Noisy Friarbird (Philemon corniculatus) and Speckled Warbler (Pyrrholaemus sagittatus) were filmed during three visits (late November 2020, early January 2021 and early February 2021) to the stunning Capertee Valley (NSW). This geological marvel is not only Australia's largest enclosed valley or canyon (in fact, widest in the world), it is also recognised internationally as an Important Bird Area (IBA). Fragmented or remnant Box Gum Woodland (an EEC - Endangered Ecological Community) and adjoining wilderness areas provide refuge for several threatened or declining bird species. Moreover, decades of tree-planting (largely for the critically endangered Regent Honeyeater) has extended or recreated woodland vegetation on various (often covenanted) private properties.
The filming site is one such property and one of the first in the planting program. As such, it is reaping the benefits of maturing planted trees (1995 – 2013), original woodland and open forest bordering Wollemi National Park, a magnificent old paddock tree (Yellow Box) looming over its offspring, remnant stands (e.g. on a small hill) and natural regrowth of trees, shrubs and native grasses in once denuded paddocks. The retention of standing and fallen dead timber also contributes to habitat quality. Many BIBY TV productions showcase the success of this revegetation (enter "Capertee Valley" into the search function on this channel). Again, this video is just a small window onto the way birds survive and thrive at this location. It's particularly heartening to observe that the six species here (and many others) forage and nest in both existing and restored woodland (and often in transition zones, such as the lightly-timbered house area). The opening photo and scene at the 3.14 mark give a glimpse of relatively natural woodland, while the final photo reveals a regeneration area.
Except for the Speckled Warbler section, the footage includes parent(s) and/or carers (in the case of the communal breeders, White-winged Choughs). The starring "babies" range from recently fledged (see early Jacky Winter scenes, White-winged Chough and Noisy Friarbird) to an older juvenile that closely resembles its parents (i.e. Speckled Warbler). Most of the families had two visible offspring; only the Speckled Warbler and Noisy Friarbird seemed to be without a sibling. Five out of six families were filmed across one to three days during a specific visit (i.e. late Nov for choughs, early Feb for warbler, and early Jan for robins, flycatchers and friarbirds). Only the Jacky Winter section includes "follow-up" footage (i.e. early Jan and early Feb). We are quite sure it's the same family because of the short walking distance between the second filming location and the nesting/fledging area. We can though happily report sightings of older juveniles of other species in subsequent months. Given the "Vulnerable" status of Hooded Robins in NSW, it was especially cheering to see at least one of the youngsters in March 2021.
Credits: Bird footage and editing – Darren Broughton; Landscapes and text – Thalia Broughton
AUSSIES Wrap – Day 1 Youth Championships – 16 April
More than 700 young surf life savers from the U14 and U15 age groups gathered from across the country, with Maroochydore and Mooloolaba Beaches hosting the first day of competition.
In the U14's it was Cooks Hills' Alexander Walker who had the crowd on their feet, claiming the triple crown with gold in the U14 Ironman, Swim and Board.
"It's incredible, it is so overwhelming it is such an amazing feeling to have completed the triple," Walker said.
"The team at Cooks Hill and everyone is just so friendly, and we all work together at training to help each other improve as athletes and it is just a great atmosphere. It was great to come out here today and do it for them," he said.
In the U15 Male Ironperson Newport's Conner Maggs has commenced his club's campaign with a bang securing silver and then following that up with gold in the U/15 Male Surf Race.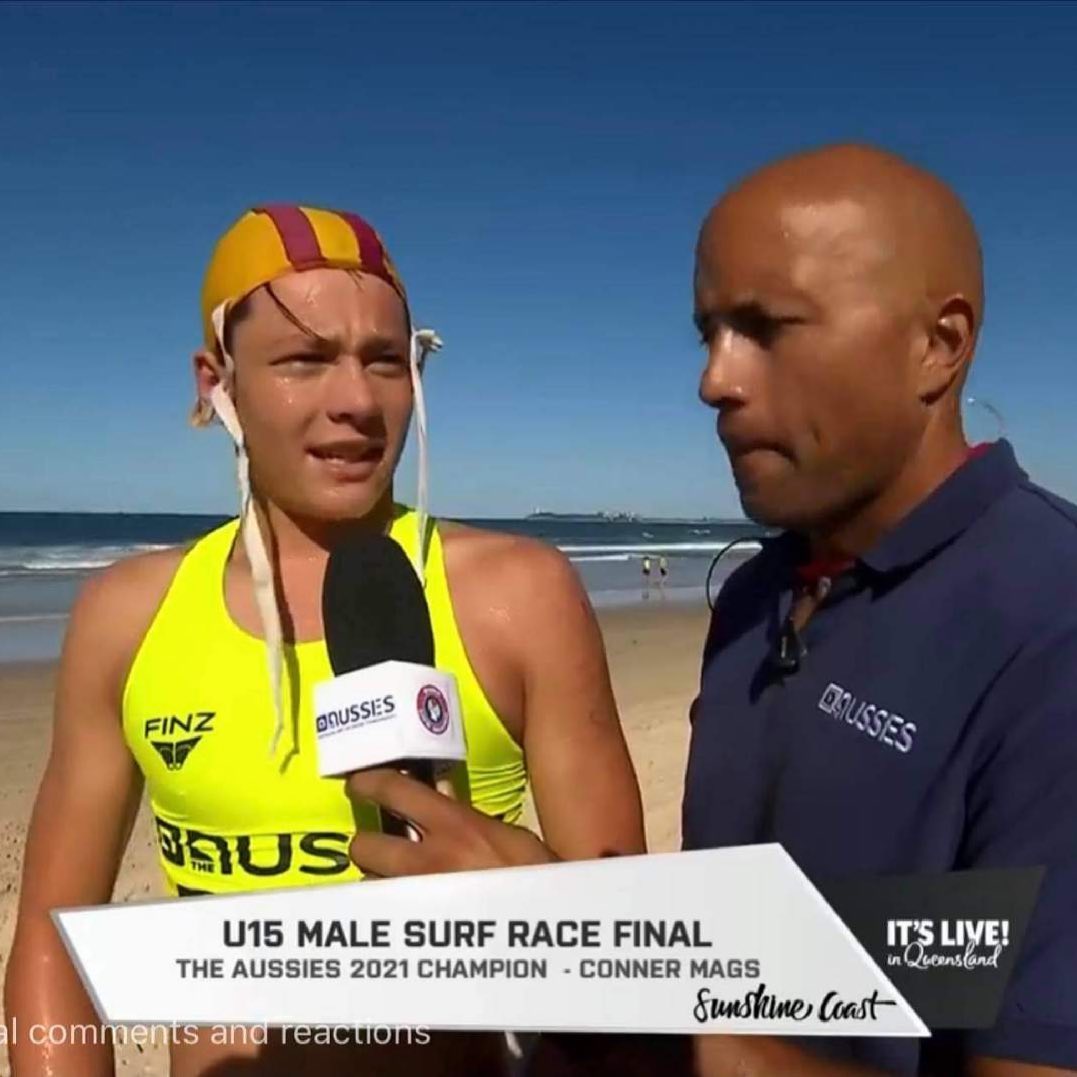 In the U14 Ironwoman final, a close run up the beach saw North Curl Curl's Dominique Melbourn claim her first Australian gold medal after taking silver earlier in the day in the swim race.
"It's such an unreal experience and I'm so lucky to have achieved the Australian title," Dominique said.
"It's surf and anything can happen, so I wasn't confident until the end – but once I got down that last wave I got pretty excited.
"The club is really a team environment and we all work together so well, pushing each other through training. But nothing pushes us more than our coach Michael Clues.
"He's such a determined coach and he just wants the best out of us and as it's shown so far this weekend he's definitely done that," she said.
Former NSW Ironman legend and proud Wanda man Nathan Smith is helping usher through the next generation, with one of the Club's stars Fletcher Warn taking out the U15 Ironman crown.
"Shout out to Nathan Smith and Greg Pierce for entering all the kids, none of this would have happened without you guys so thank you very much," Warn said.
"To win it is just incredible. That was one of the scariest moments I have ever been in, I can't, I pulled up onto the wave and I was like oh no cause I know he could run fast, so I had to get off and just run to get there."
Jayda Kempton from Burleigh Heads Mowbray Park SLSC won the U15 Female Surf Race, a win that took her a bit by surprise.
"I'm a bit shocked actually – I went in to just have a go and I had no expectations to do as well as I did so I'm super happy," Kempton said.
In the beach arena at Maroochydore the crowd was on it's feet for the teams from Coogee, taking out both the U15 Female Beach Relay and the U15 Mixed Beach Relay Aussies titles and a Bronze medal in the U15 Male Beach Relay.
Eden Levitt from Coogee SLSC also took out a Bronze in the U15 Female Sprint and said she had no doubt in her mind that the two Beach Relay teams could get the Gold.
"Definitely two, I trust the relay team a lot, but it's all experience it's all new for all of us, there's a lot to learn and A lot more to go," Levitt said.
The local crew from Maroochydore took out the U15 Male Beach Relay ahead of Metropolitan Calounrda and Coogee with their coach saying the crew practiced changeovers multiple times to make sure they got it right.
"It's exceptional for the young lads, they raced their hearts out and in such amazing competition awesome stringing a run together like that," the Maroochydore coach said.
"The practiced over and over and over on the wrong side, upside down and forward and backwards and they've done it."
The Australian Surf Life Saving Championships will be held on the Sunshine Coast from 16-24 April, with more than 5,900 competitors going head-to-head across three beaches and nine action packed days of competition.
Results
For a full list of today's results, click here.
Live stream
To watch today's livestream, featuring the U14 and U15 Surf, Board and Ironperson Finals, click here.
Event Updates
For any updates and changes to schedules and timetables please download the Team App and join – Aussies 2021 to stay up to date with all the latest changes.
For further details about the Aussies and any other information head to – https://sls.com.au/aussies/
Ant Lion
About 3cm long, this is an adult Ant Lion, near Avalon Beach. In its earlier life in its pitfall trap it fed on ants and other small insects. Using its strong jaws it could grip the prey, suck out its vital juices and fling the carcass up out of the trap.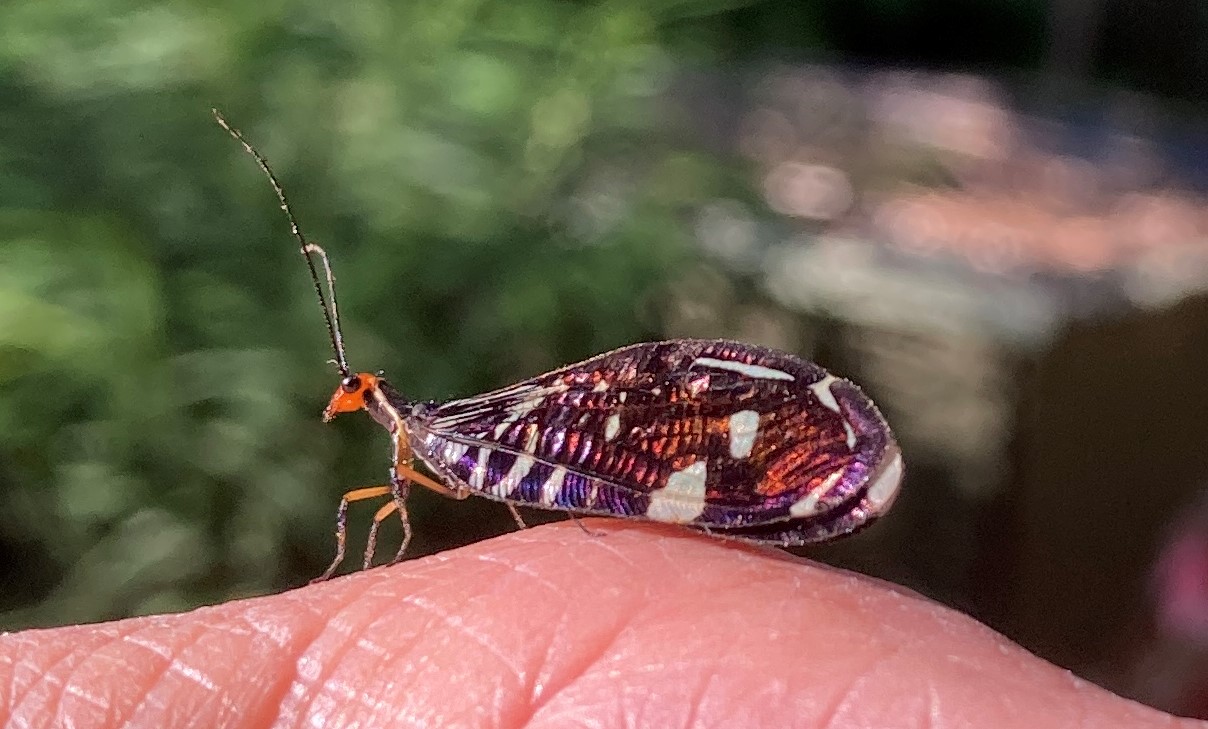 The pitfall trap: cleverly constructed with very fine sand at the angle of repose. As soon as an ant steps onto it, down it slides into the jaws of the antlion, invisible jaws open at the bottom of the pit.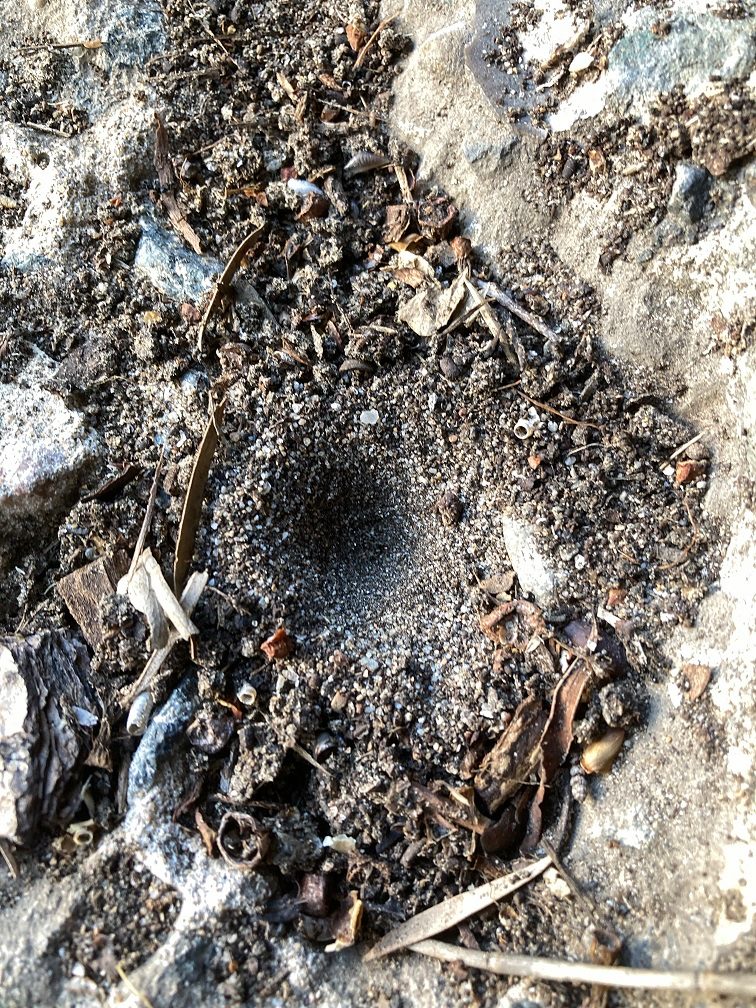 Photos and text courtesy Pittwater Natural Heritage Association (PNHA)
Sculptural Trees: 100 Year Old Angophora Kept In Local Park
Here's an idea spotted during our Autumn School Holidays break while visiting Lane Cove/Greenwich. This tree is now Art as well as an adventure playground for local children.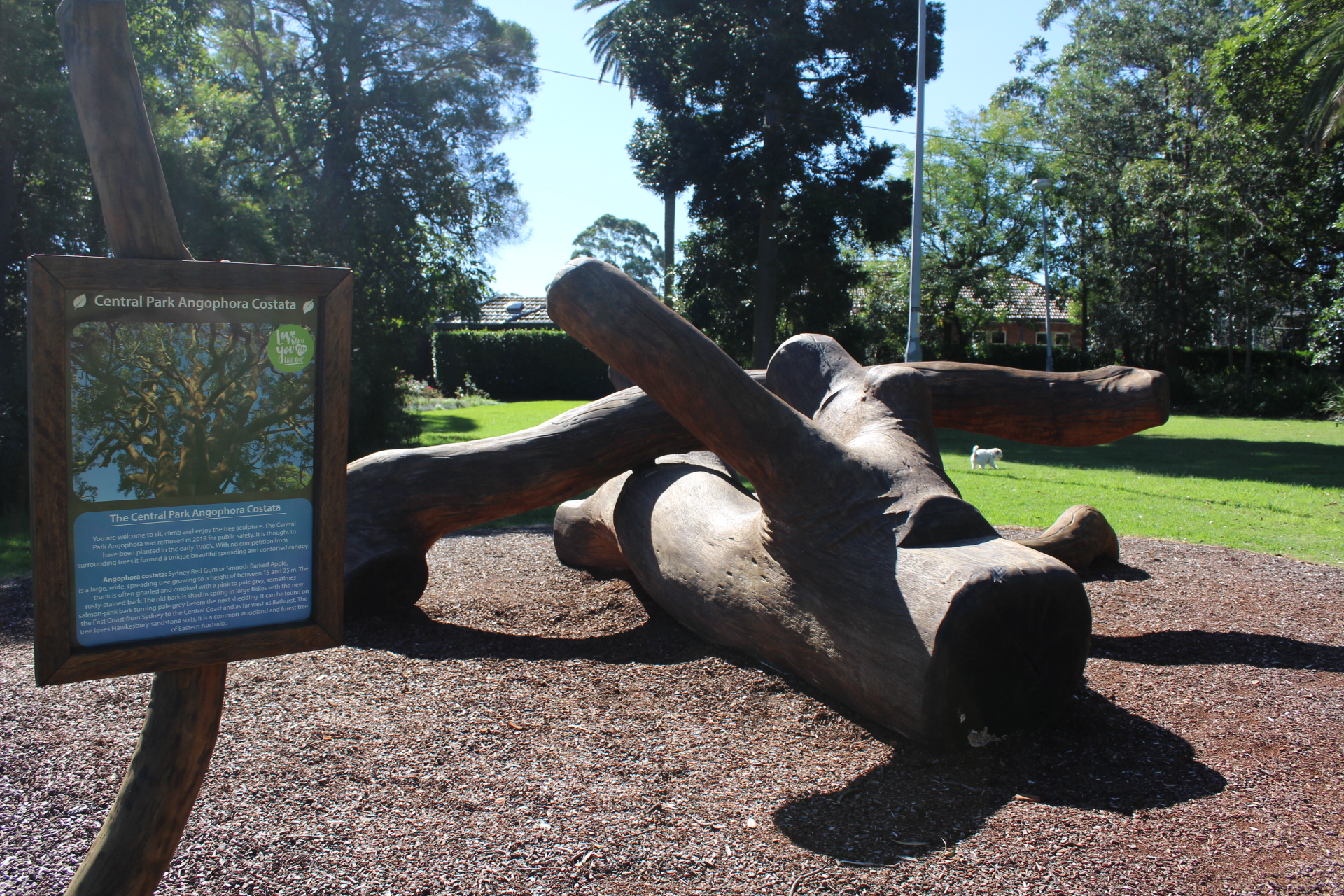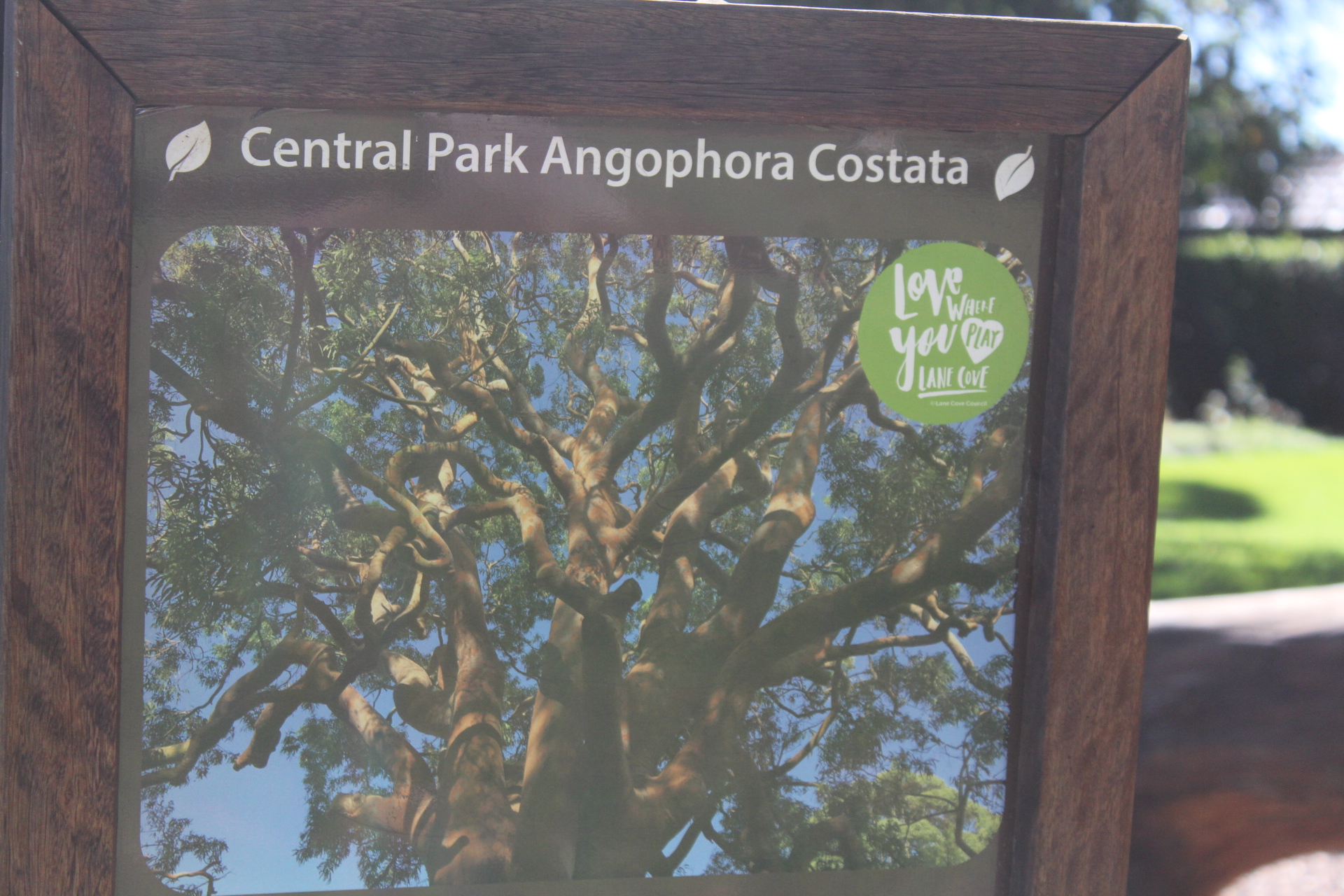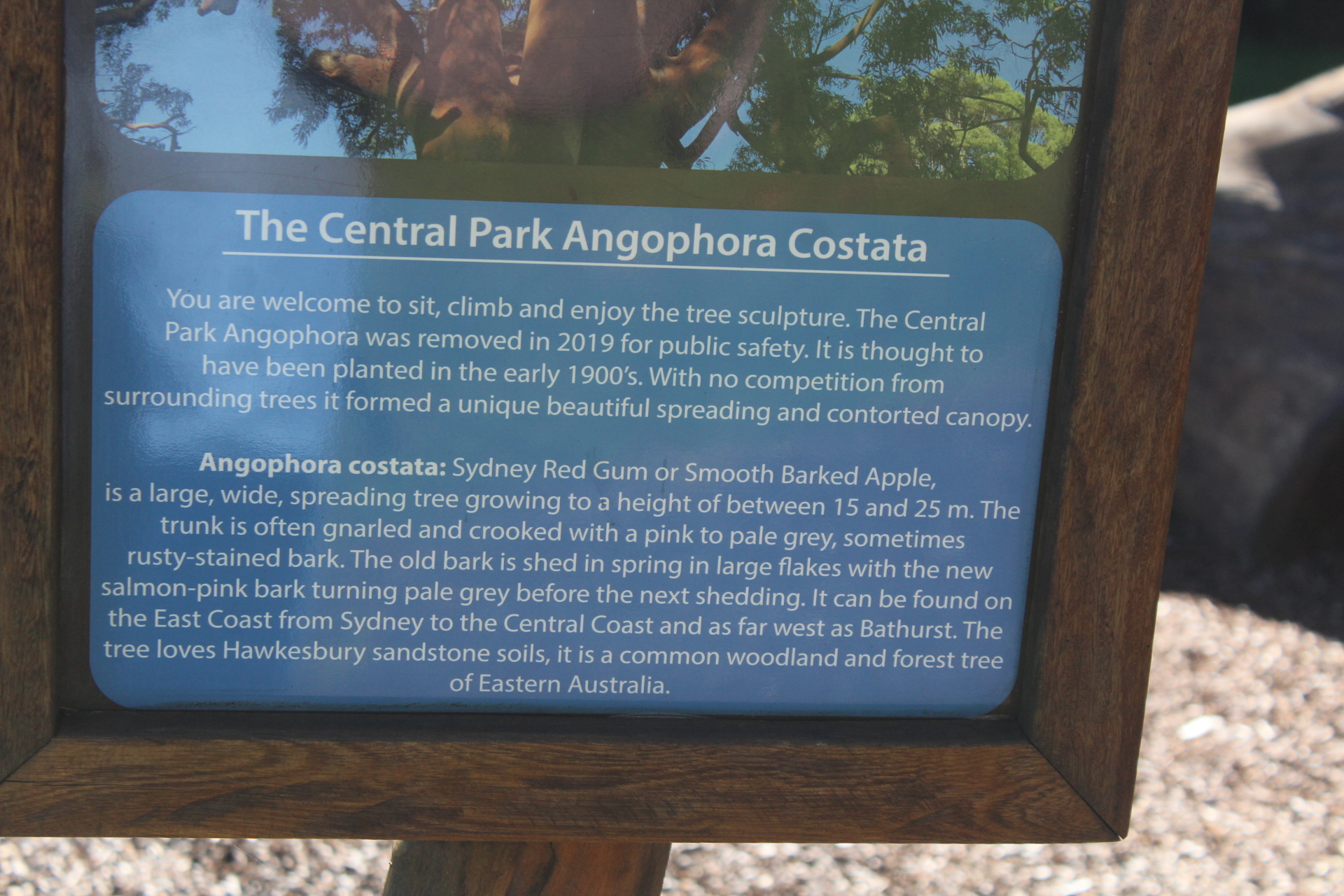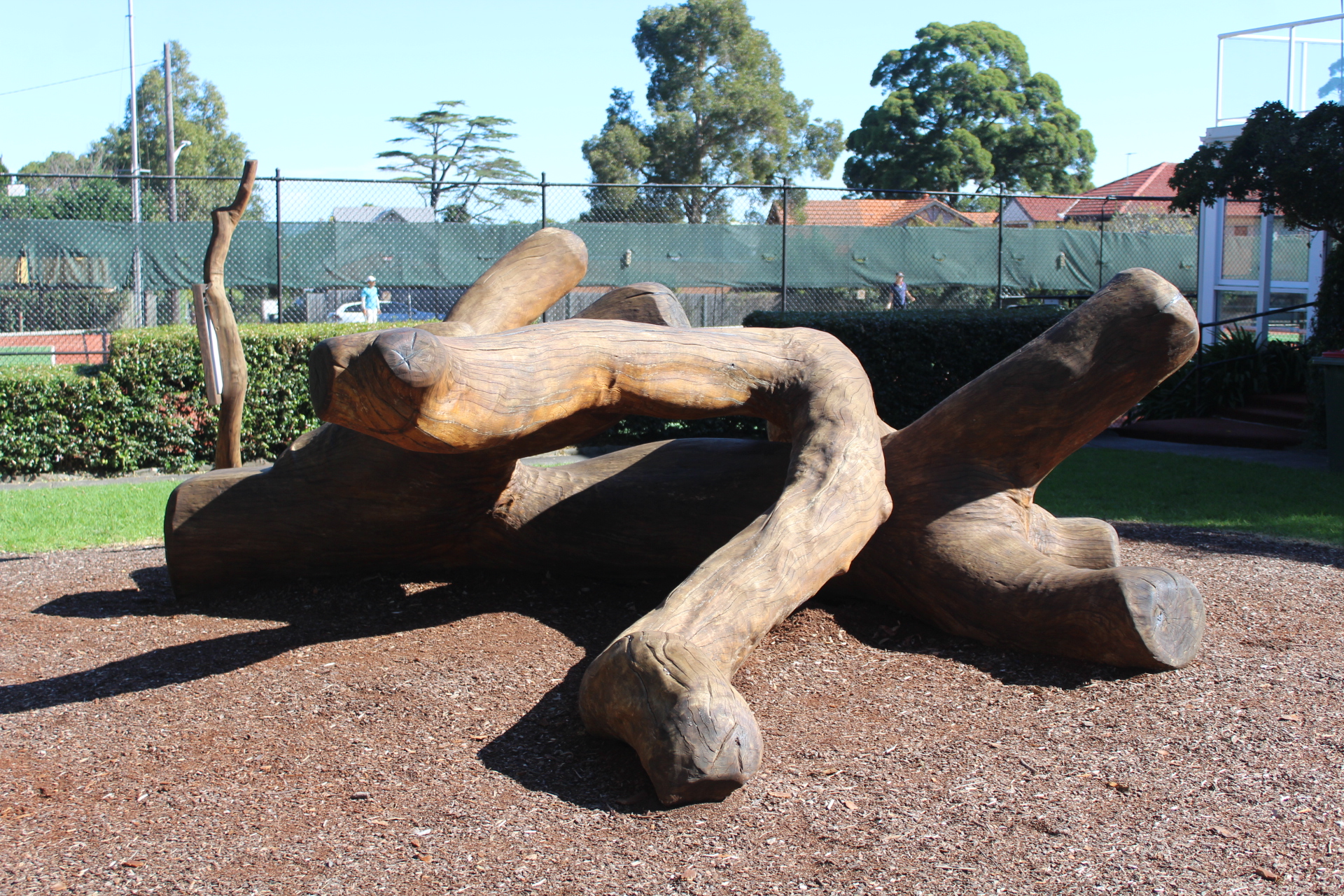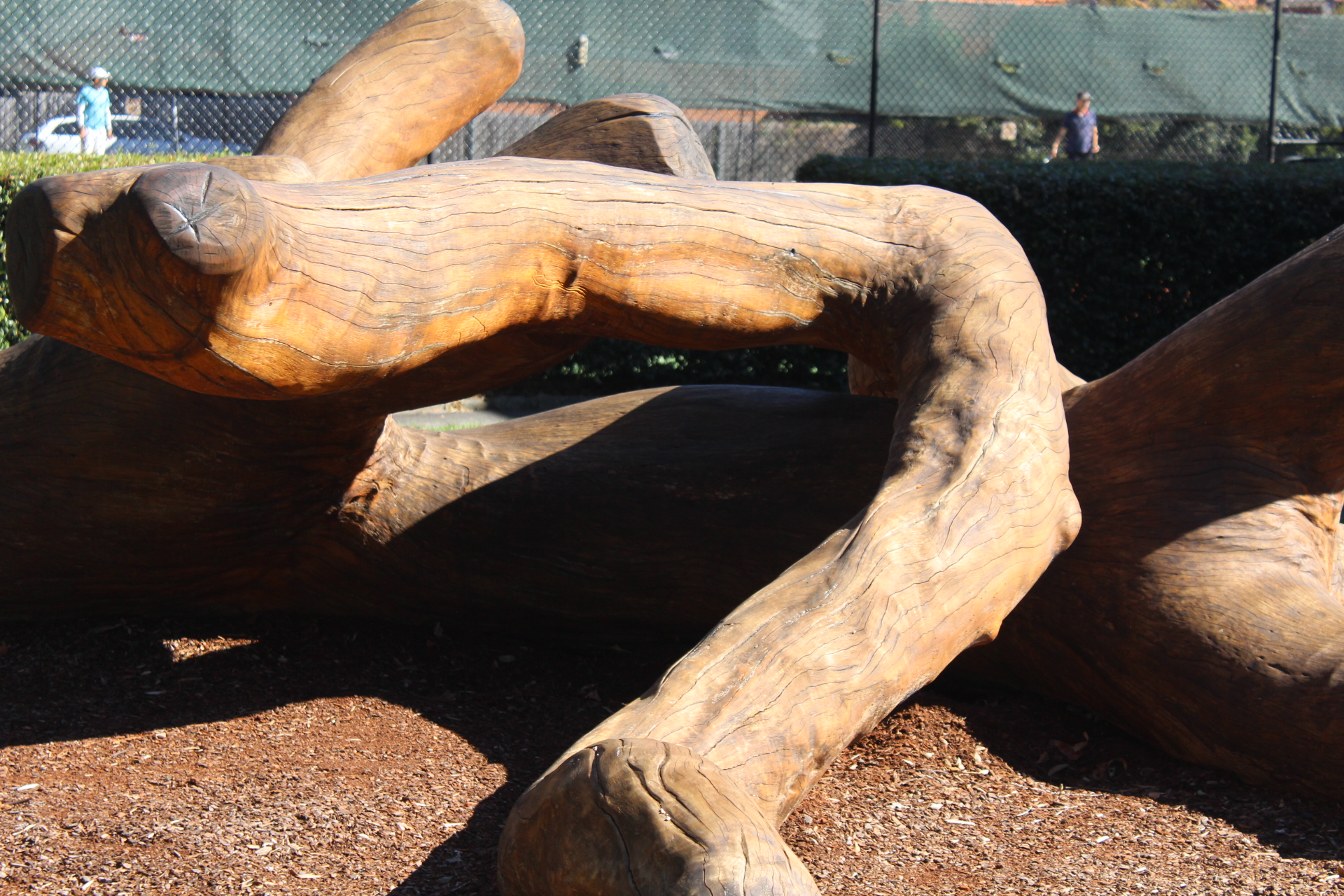 Nine new champions crowned at the 2021 Billabong Oz Grom Cup
April 11, 2021 at Park Beach, Coff Harbour
Nine new champions were crowned today at the 2021 Billabong Oz Grom Cup pres. by Coopers Surf Australia following a giant day of action in playful two-foot surf.
Lennix Smith (Barrack Point, NSW) wrapped up his final year in the 2021 Billabong Oz Grom Cup pres. by Coopers Surf Australia with a bang, taking out the 16-and-Under Boys division. Smith surfed impeccably over the course of the event, consistently posting mammoth scores for mature manoeuvres and the final was no exception with the Illawarra natural-footer finishing the final with a solid 15.67 two-wave heat total.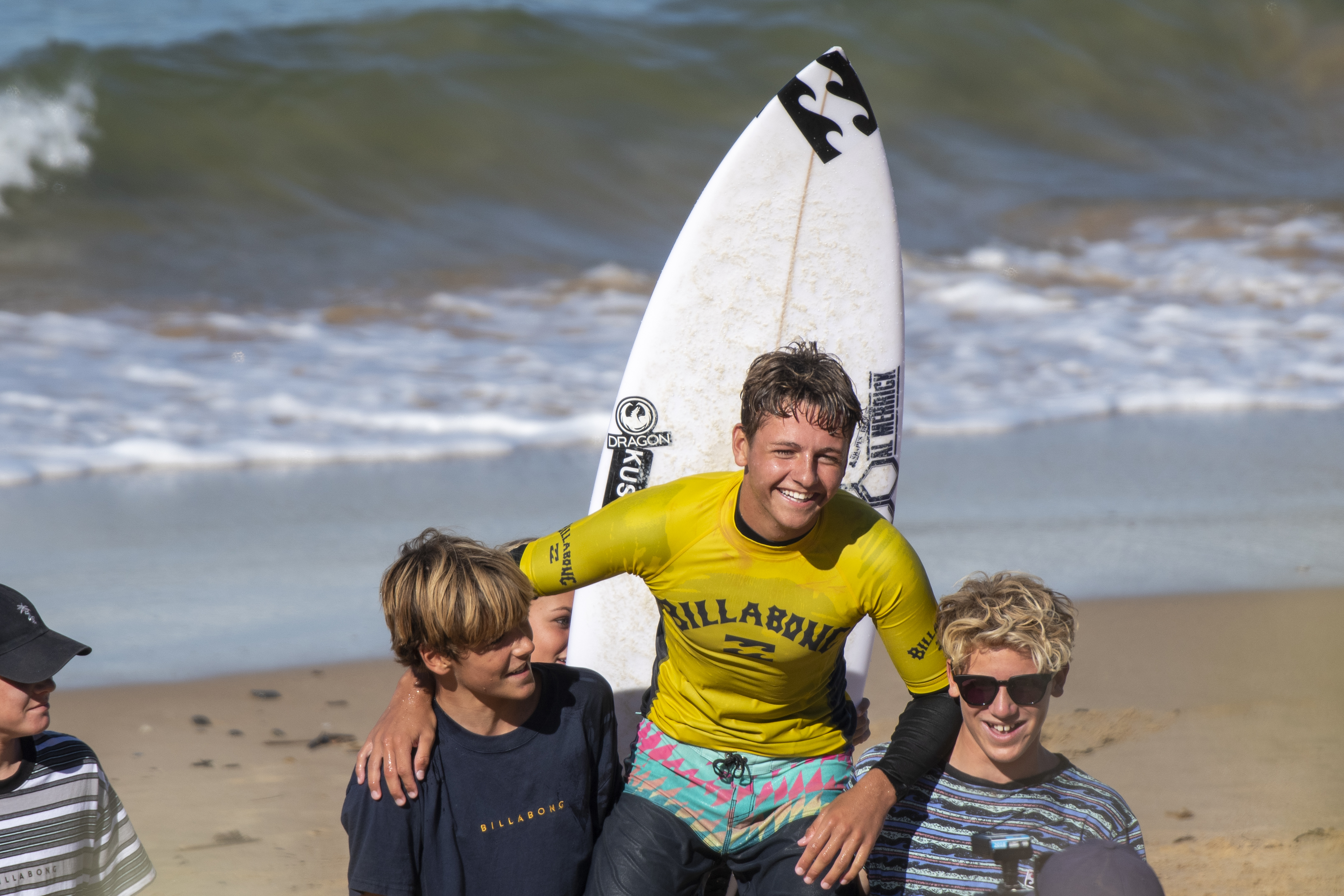 Lennix Smith (Barrack Point, NSW) wrapped up his final year in the 2021 Billabong Oz Grom Cup pres. by Coopers Surf Australia with a bang taking out the 16-and-Under Boys division. photo by Ethan Smith / Surfing NSW
Charlotte Mulley (Burleigh Waters, Qld) surfed like a seasoned veteran who had honed their backhand on the long righthanders of the Gold Coast as she claimed victory in the 16-and-Under Girls division. Mulley nailed a chain of massive backhand snaps to finish the heat with a 17.23 two-wave total and take the win ahead of Oceanna Rogers (Shellcove, NSW) who claimed the runner-up position.
Sierra Kerr (USA) capped off a stellar Billabong Oz Grom Cup campaign, taking victory in the 14-and-Under Girls division. Despite a slow start in the final, Kerr was able to maintain composure in the dying moments of the heat and notch up a near-perfect 9.33 wave score for a chain of powerful snaps and carves – that appeared eerily similar to the same style as her Dad (former Championship Tour surfer Josh Kerr) – to jump from third position into the winner's chair.
Following on Sierra Kerr's victory, Samuel Lowe (Port Kembla, NSW) became the second child of a former WSL Championship Tour star to take a win. Samuel appeared to channel his father Michael's performance at the 2004 Quiksilver Pro at Snapper Rocks as he found a handful of beautifully tapered righthanders to post a massive 9.00 wave score and gain the upper-hand against some fancied opposition, including perennial standout Fletcher Kelleher (Freshwater, NSW).
Following the recent Rip Curl Newcastle Cup that wrapped up yesterday, Ocean Lancaster (Newcastle, NSW) made sure he did his best to continue representing Novocastrian surfing abroad, smashing the 12-and-Under Boys division. Lancaster dominated the impressive final, executing a barrage of gigantic snaps and carves to finish the heat with a 17.07 two-wave heat total.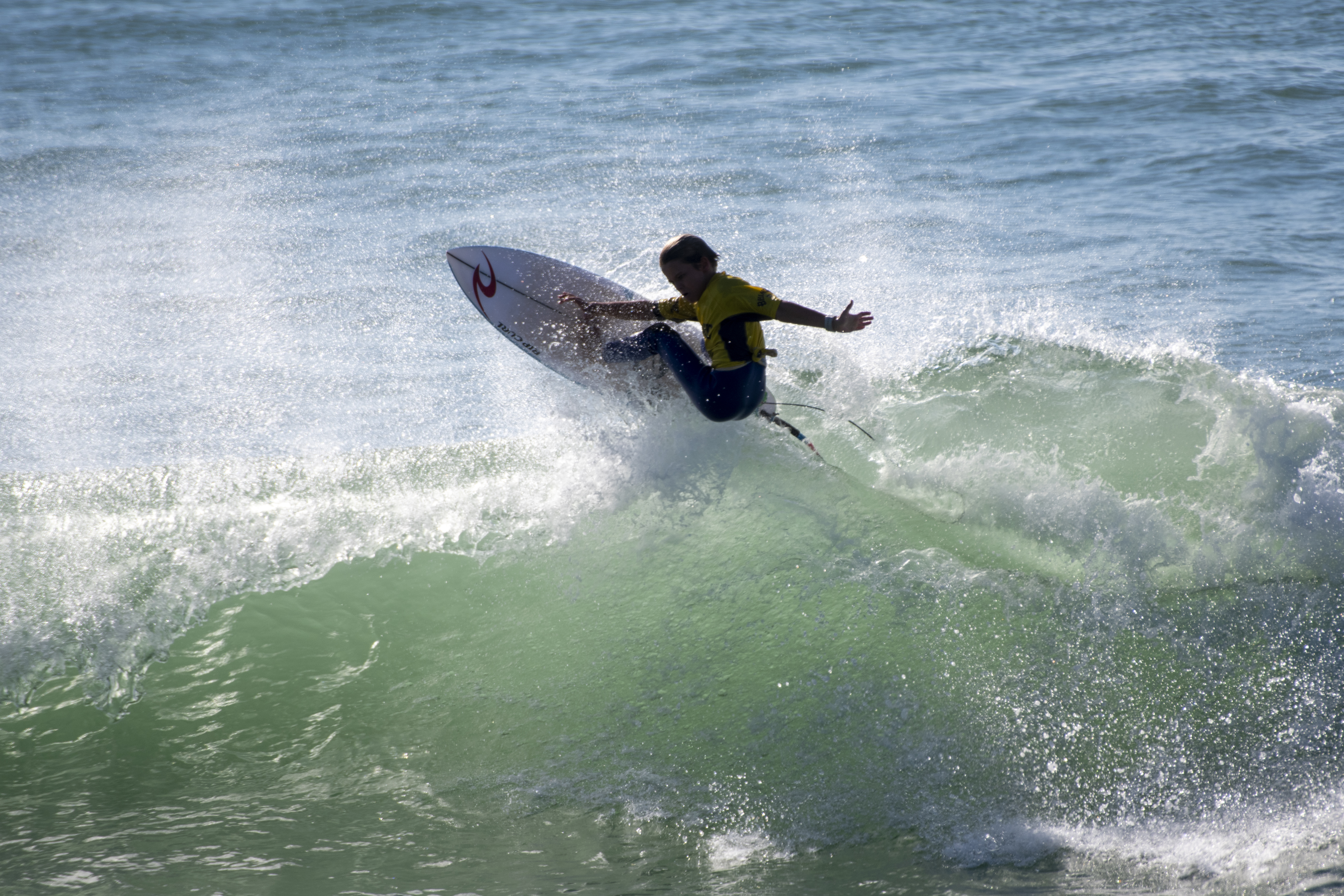 Ocean Lancaster. photo by Ethan Smith / Surfing NSW
Pipi Taylor (Peregian Beach, Qld) did the Sunshine Coast proud as she took out the 12-and-Under Girls division. Taylor posted a respectable 9.10 total to take the win ahead of her fancied opponents.
Lucas Deffenti (Miami, Qld) showed he is a star on the rise as he took out the highly contended 10-and-Under Boys division. Deffenti stood out in the final, effortlessly linking a chain of giant snaps and carves to post a 15.23 two-wave total and earn the top spot on the dais.
Leihani Kaloha Zoric (Byron Bay, NSW) claimed her second Billabong Oz Grom Cup title, taking out the 10-and-Under Girls division. Zoric surfed well beyond her years in the final exchange, nailing an array of beautiful snaps and carves to finish with a giant 16.34 two-wave heat total.
Pheonix Talbot (Yamba, NSW) will be heading back to Yamba with his head held high after an impressive victory in the 8-and-Under Mixed division with a heat total of 10.60. The victory confirmed Talbot's nous in Coffs beachbreak conditions, with the young up-and-comer taking out the same division in the Woolworths Surfer Groms Comp event back in late 2020.
The prestigious five-day event – now in its eighth year – ran from the 7th – 11th April and catered for over 200 competitors in nine different divisions.
Former champions include 2016 World Junior Champion and current WSL World Championship Tour surfer Macy Callaghan who claimed her respective division in the event's inaugural year. Since then, the event has been won by a range of Australia's best and most promising junior surfers.
In addition to all the action in the ocean, the final days of the event were webcast through Surfing NSW's social channels.
All event presentations were hosted at the Hoey Moey.
Boys and Girls divisions for the event included 8-and-Under Mixed, 10-and-Under, 12-and-Under, 14-and-Under and 16-and-Under.
The Billabong Oz Grom Cup pres. by Coopers Surf Australia is proudly supported by Billabong, Coopers Surf Australia, Coffs Harbour Boardriders, Coffs Harbour City Council, Park Beach Plaza, Hoey Moey and Surfing NSW.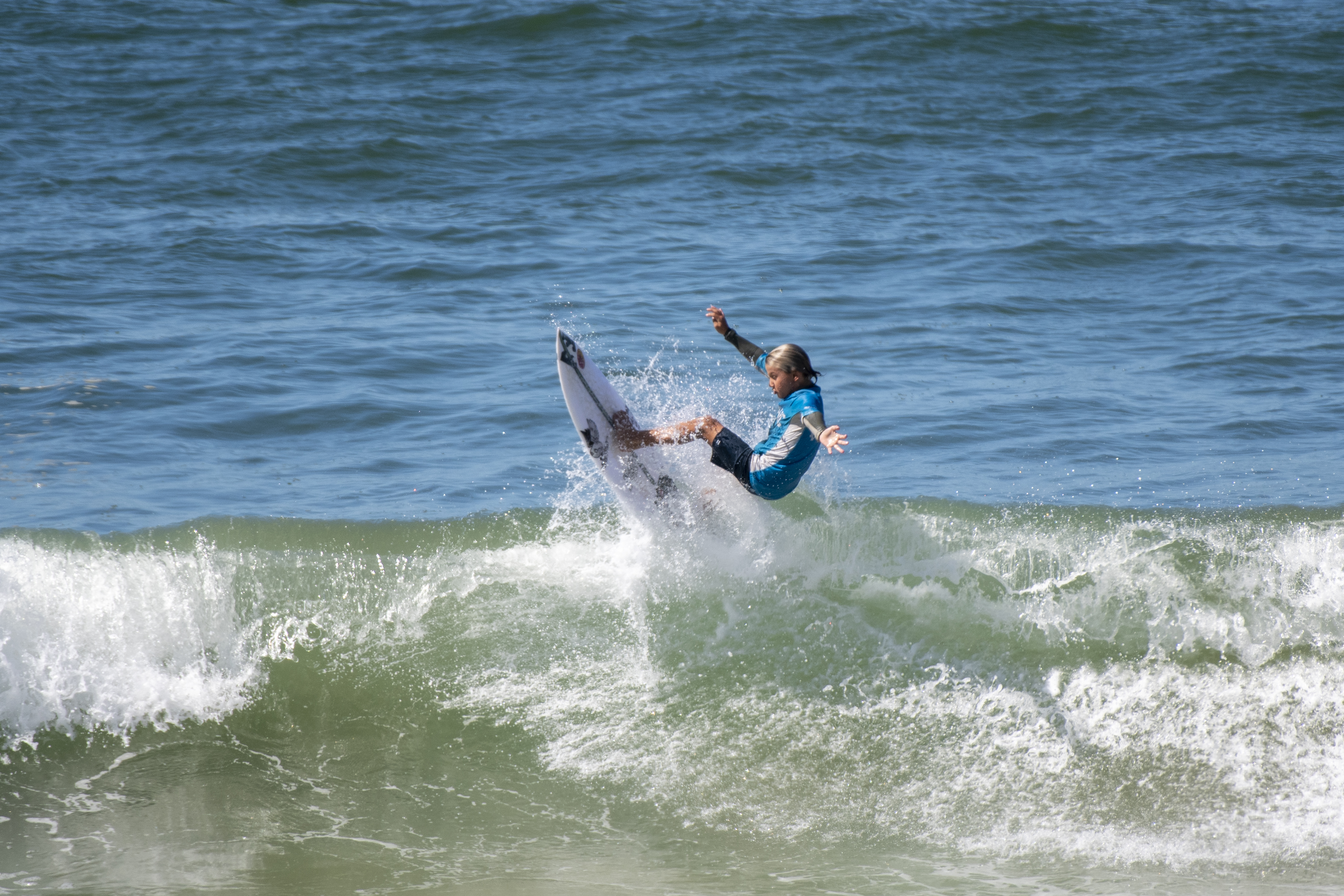 Locana Cullen. photo by Ethan Smith / Surfing NSW
Event results:
16-and-Under Boys
1 – Lennix Smith (Barrack Point, NSW)
2 – Eden Hasson (Port Stephens, NSW)
3 – Ty Richardson (Palm Beach, Qld)
4 – Kyan Falvey (Cabarita, NSW)
16-and-Under Girls
1 – Charlotte Mulley (Burleigh Waters, Qld)
2 – Oceanna Rogers (Shell Cove, NSW)
3 – Holly Wishart (Gerringong, NSW)
4 – Imojen Enfield (Port Macquarie, NSW)
14-and-Under Boys
1 – Samuel Lowe (Port Kembla, NSW)
2 – Fletcher Kelleher (Manly, NSW)
3 – Joshua Marsh (Barrack Point, NSW)
4 – Landen Smales (Peregian Beach, Qld)
14-and-Under Girls
1 – Sierra Kerr (USA)
2 – Shyla Short (Austinmer, NSW)
3 – Juniper Harper (Lennox Head, NSW)
4 – Ruby Trew (Manly, NSW)
12-and-Under Boys
1 – Ocean Lancaster (Newcastle, NSW)
2 – Hunter Anderson (Moffatt Beach, Qld)
3 – Ben Zanatta Creagh (Dee Why, NSW)
4 – Caden Francis (Palm Beach, Qld)
12-and-Under Girls
1 – Pipi Taylor (Peregian Beach, Qld)
2 – Avalon Vowels (Scotts Head, NSW)
3 – Charli Hatley (Currumbin, Qld)
4 – Lucy Darragh (Gerringong, NSW)
10-and-Under Boys
1 – Lucas Deffenti (Miami, Qld)
2 – Locana Cullen (Avalon, NSW)
3 – Luca Martin (Coffs Harbour, NSW)
4 – Jaggar Phillips (Maroubra, NSW)
10-and-Under Girls
1 – Leihani Kaloha Zoric (Byron Bay, NSW)
2 – Talia Tebb (Kincumber, NSW)
3 – Malia Watson (Tweed Heads, NSW)
4 – Henley Smith (Suffolk Park, NSW)
8-and-Under Mixed
1 – Pheonix Talbot (Yamba, NSW)
2 – Sage Lewis (Sandy Beach, NSW)
3 – Jaya Suhendra (Byron Bay, NSW)
4 – Bali Dobson (Byron Bay, NSW)
Book of the month: April 2021 - The Childrens Dickens
by Charles Dickens and Gilbert Scott Wright. Publication date 1909
Archive of millions of Historical Children's Books All Digitised: Free to download or Read Online
Enter the 1: Baldwin Library of Historical Children's Literature here, where you can browse several categories, search for subjects, authors, titles, etc, see full-screen, zoomable images of book covers, download XML versions, and read all of the 2: over 6,000 books in the collection with comfortable reader views.
Find 3: more classics in the collection, 800 Free eBooks for iPad, Kindle & Other Devices.