August 20 - 26, 2017: Issue 326

Avalon Beach North Headland Indian Face 'Falls': an everchanging coastline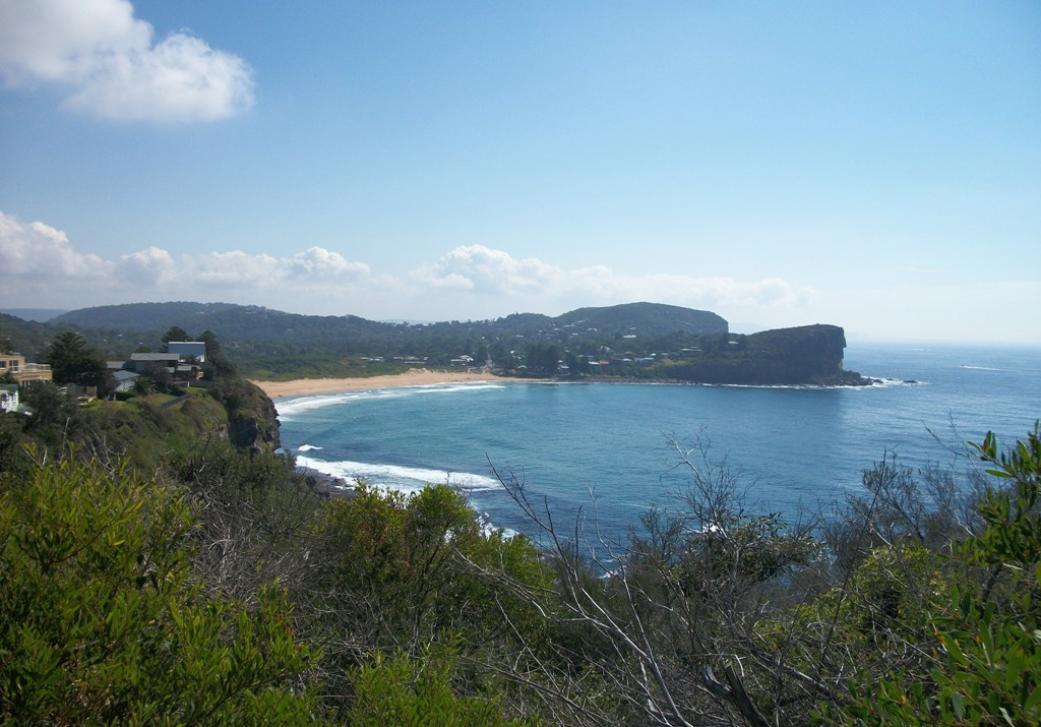 Before - taken from A J Small Lookout and path to, showing the Indian Head silhouette of North Avalon headland - taken 3/12/2011 - A J Guesdon photo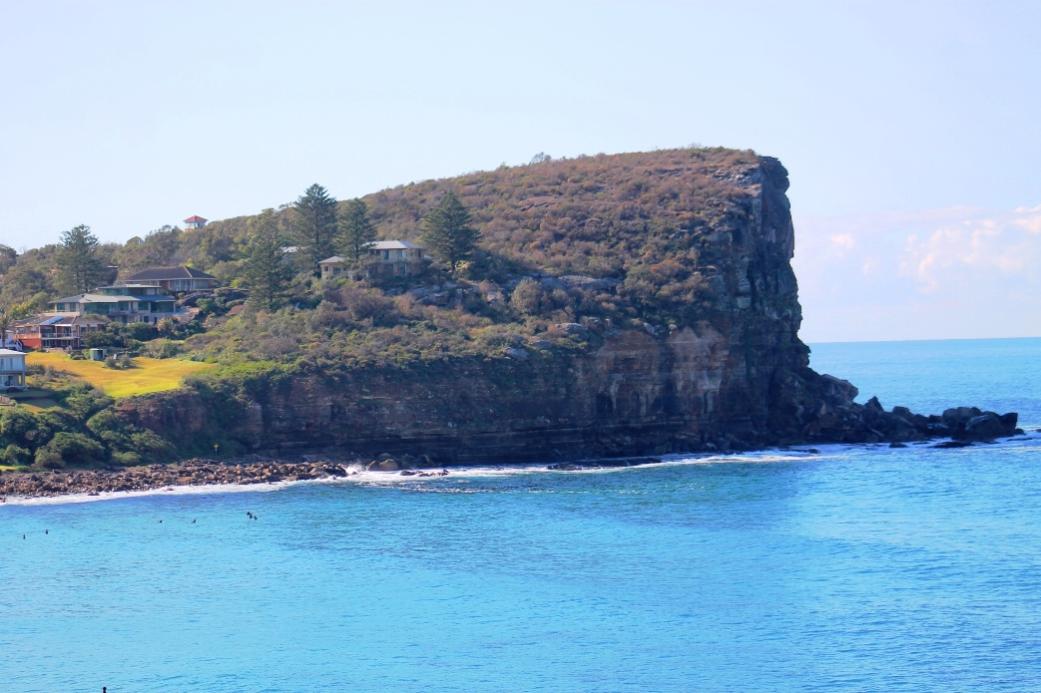 Before (above and below) - June 2015 - A J Guesdon photos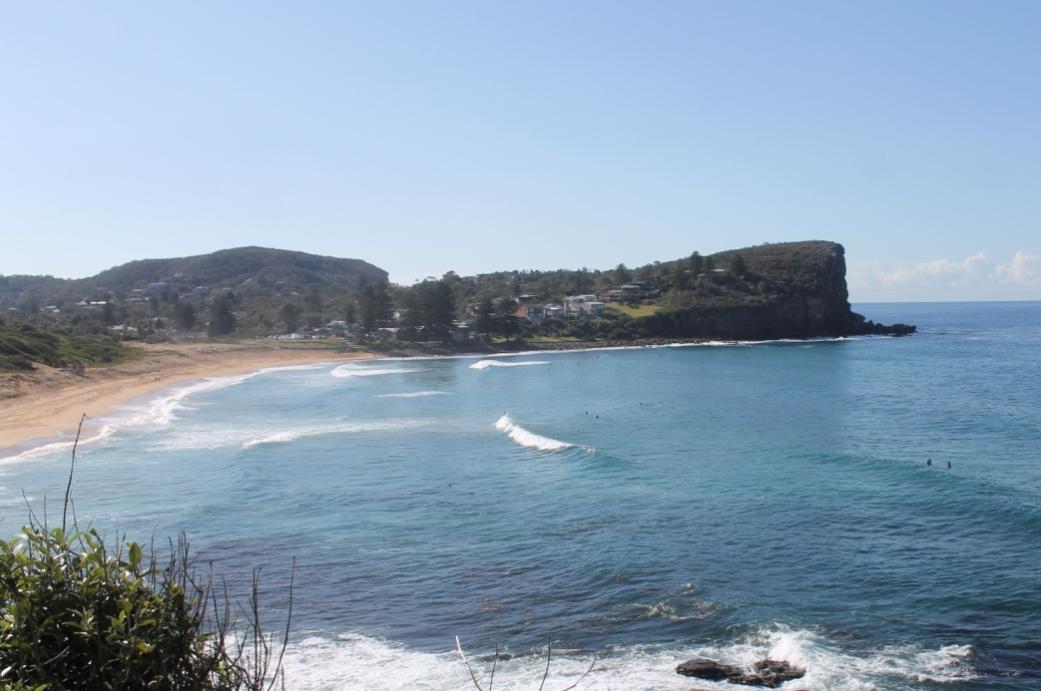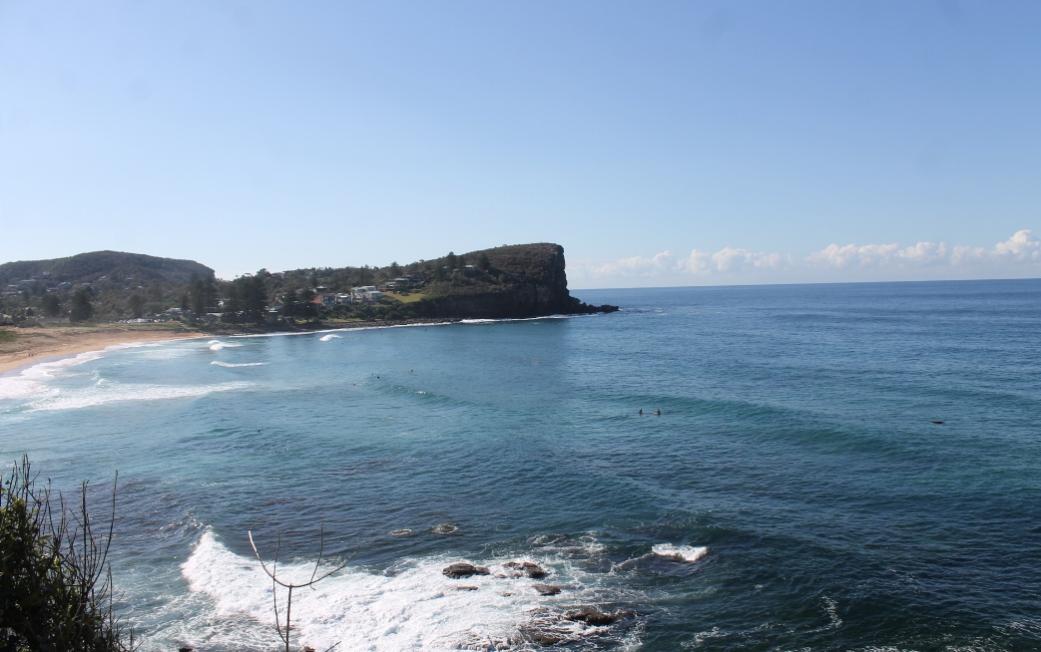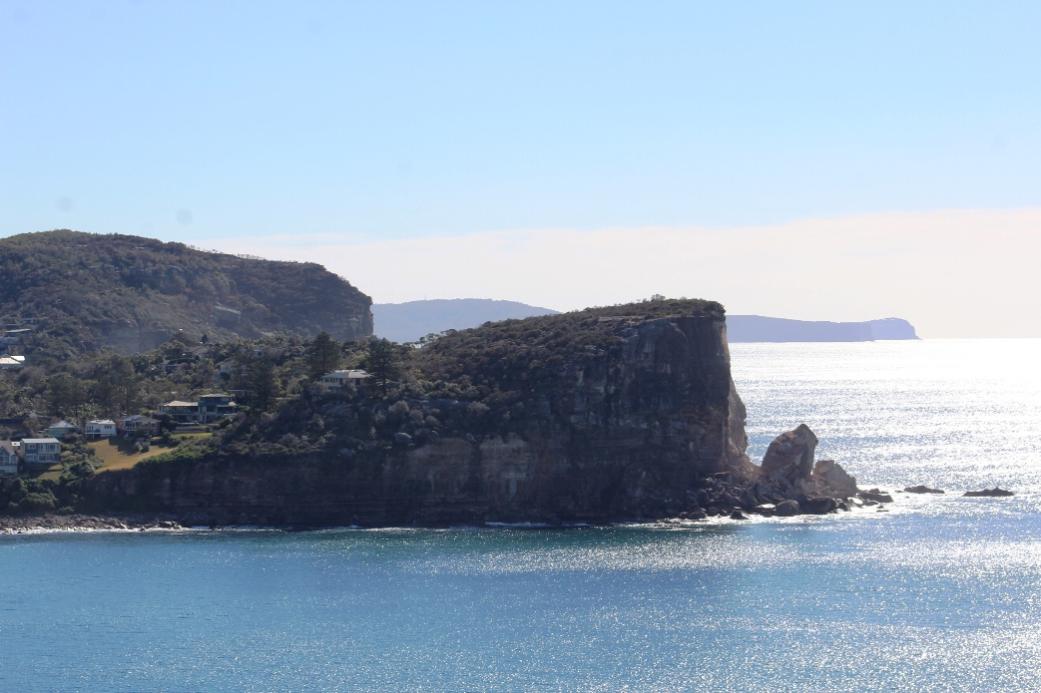 After August 11, 2017 - from South Avalon Beach Headland and A J Small Lookout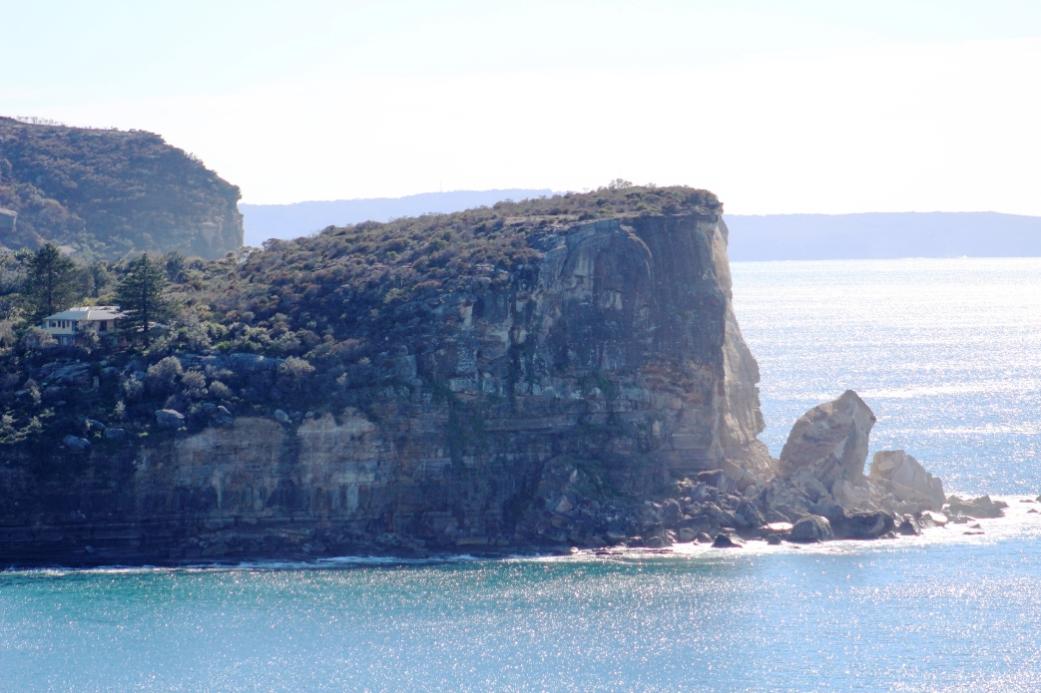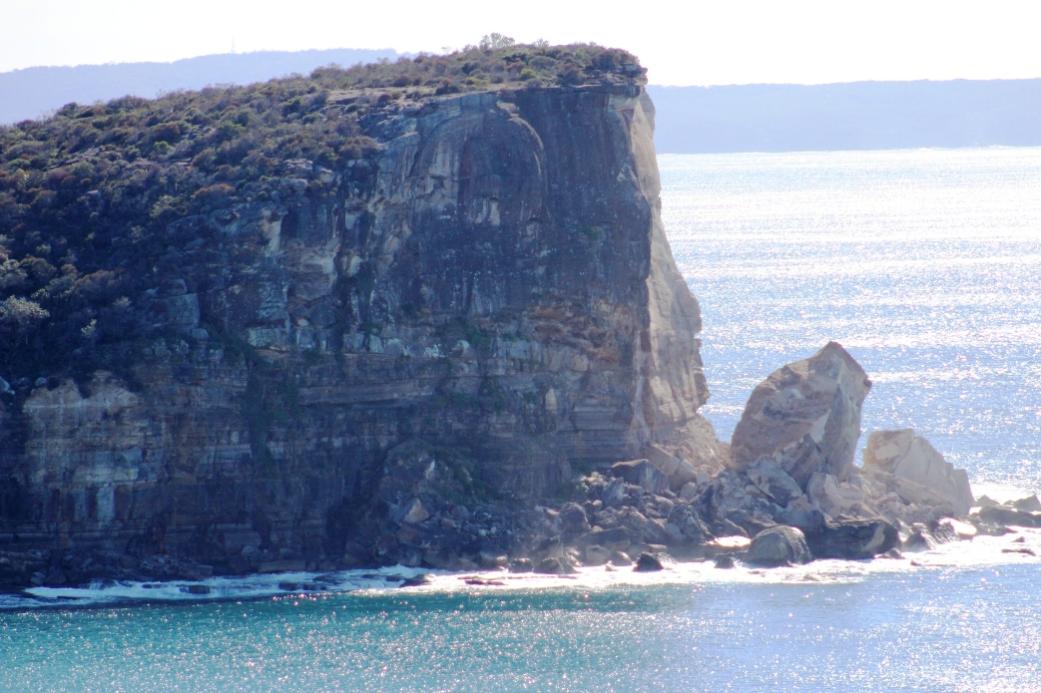 Avalon Beach Headless Headland
Published August 12th, 2017
The 'Indian Head' rock face of North Avalon Beach headland fell just on dusk, on Friday, August 11th 2017, a massive rock fall apparently which 'surprised' the surfers in the water at the time.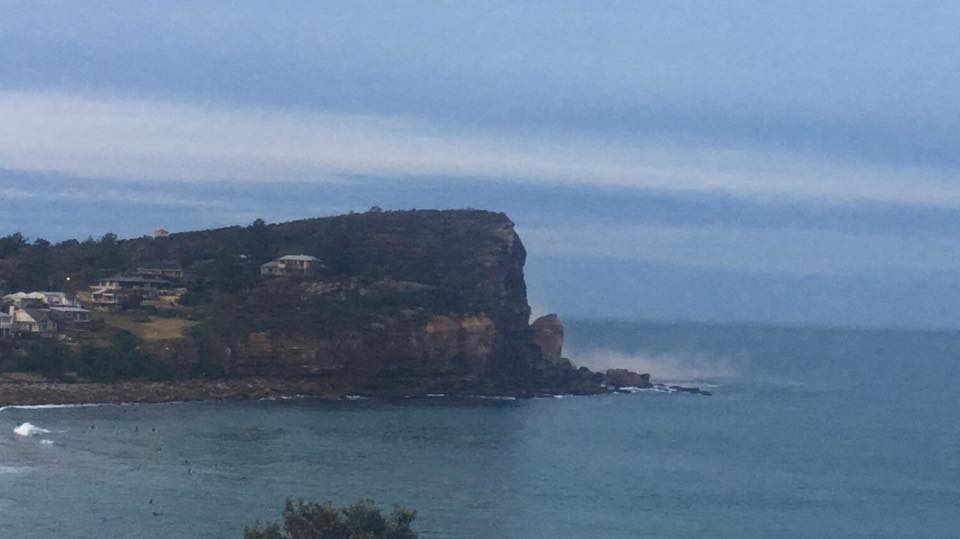 The moment of falling dusk - photo courteys Spencer/facebook
" No more Indian Head Geoff! Massive rock fall earlier this evening." Nina Gow, long term Secretary of Avalon Beach Historical Society, and daughter of
Bert Cowell, the gentleman who was greengrocer at Avalon Beach post WWII service in New Guinea, messaged Geoff Searl.
"New Jump rock!" Adriaan van der Wallen said.
Robbi Luscombe-Newman, "The cliff 'face' has collapsed...bit of an icon gone..."
Geoscience Australia (Earthquakes) recorded a
1.8 magnitude earthquake:
11 August 2017 @ 07:19:43
-33.629
151.342
0,
Avalon, Sydney Surrounds, NSW (Reported Felt).
Origin time: 1.79 seconds
Semi-major axis: 17 km
Semi-minor axis: 7 km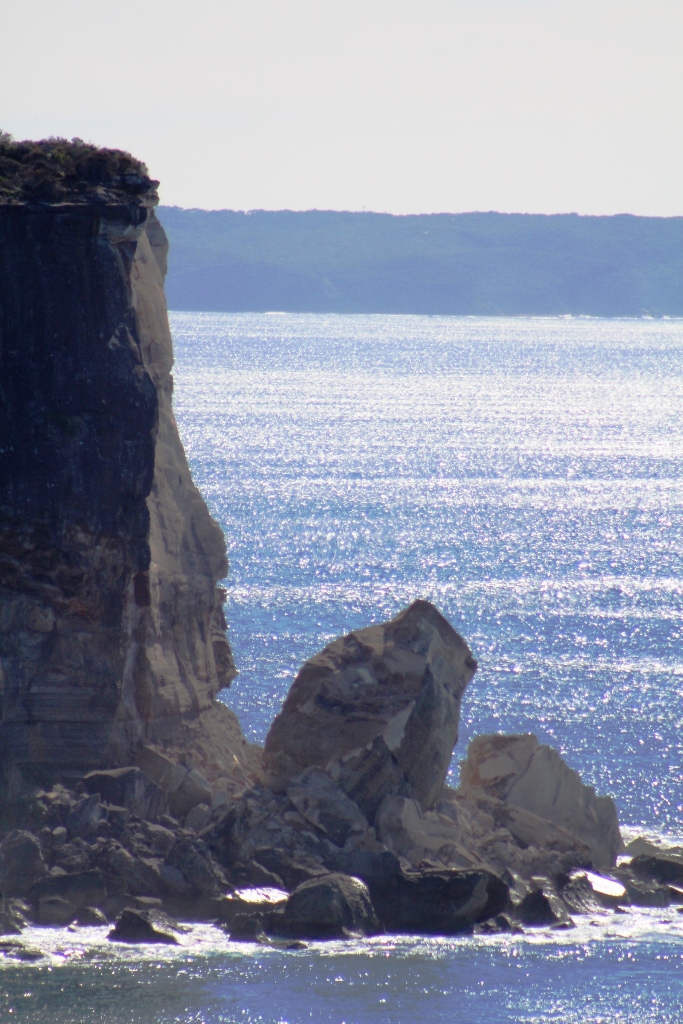 from South Avalon Headland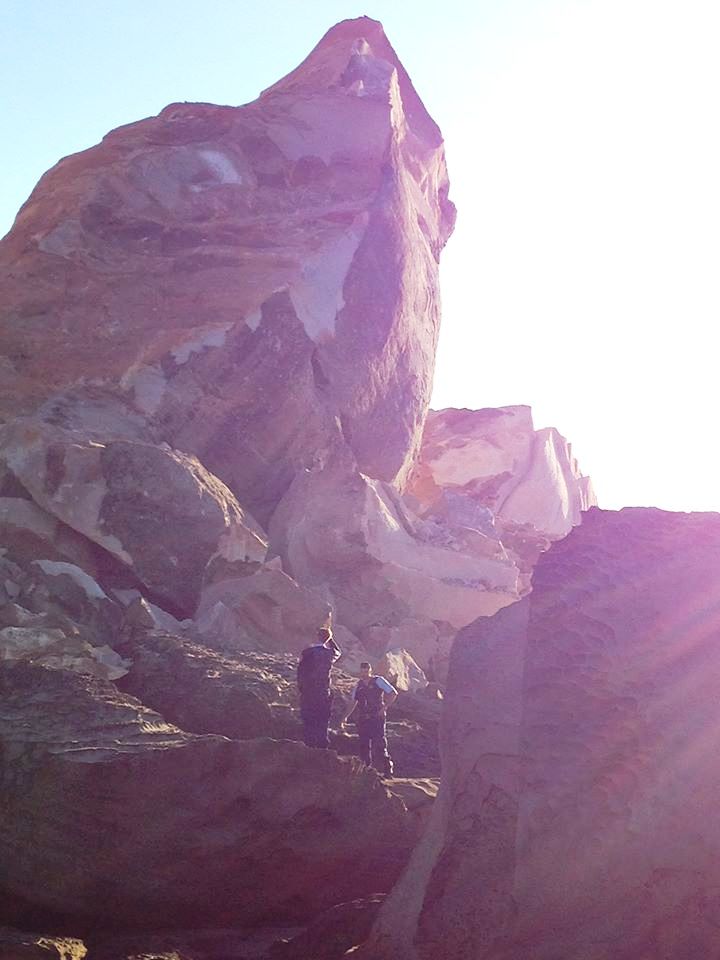 A close up of the rockfall - courtesy Adriaan van der Wallen
This was preceded on Monday July 17th by a magnitude 3.2 earthquake. This too was felt with locals from Avalon Beach contacting Geoscience Australia to report feeling movement, although many did not feel it, joking on facebook with images shared such as a plastic chair that's fallen over - pushed it looked like.
Geoscience Australia recorded that the earthquake struck just off the coast at 10.39am and could be felt across a 28 kilometre radius.
Geoscience Australia duty seismologist Andrea Thom said those who felt the quake noted a "rolling sensation and small vibrations".
The historic change rendered by these series of minor earthquakes loosening what has now fallen, and time itself, is a reminder to take notice of the signs placed by council around our cliff areas - these may be beautiful places to get a broader view from, but they are places that will change in a moment. There is a large crack remaining in one section of the rocks, which will fall during the next few weeks -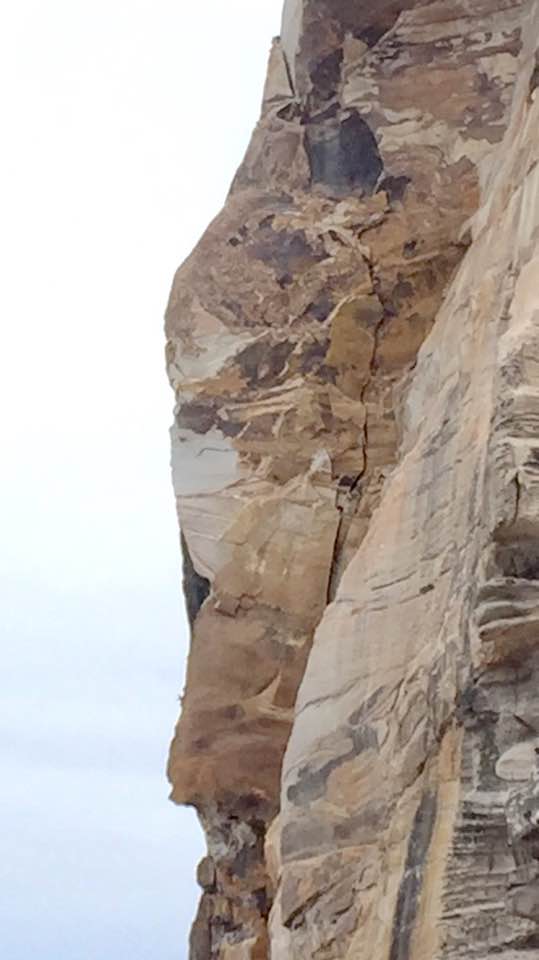 North Avalon headland, August 12th, 2017 - showing crack in rock post-fall Photo courtesy Greg Webber
In 2004 a visitor to our area was tragically killed when the rock he and a friend were standing on, to take photos at sunrise from Bangalley Headland, began sliding and he was caught beneath the rock.
The event and the permanent change it has made is also a good reminder that this is not the first time that north Avalon Beach rockshelf has been the place of changes or the first time its outline has been likened to human features in Profile - in 1980 a rock fall changed what some had dubbed an Abraham Lincoln profile, whereby the 'chin' dropped -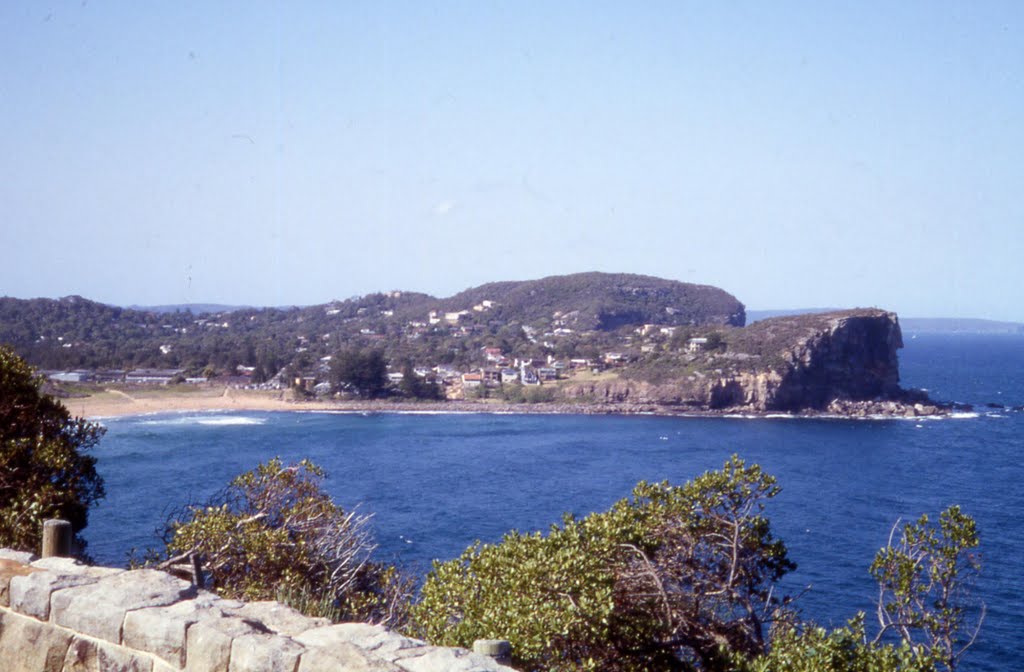 From A J Small Lookout, circa 1975-1979 - supplied
Prior to that, the 1960's/1970's, the Profile was called by some 'The Lions Head' - although this may be too close to Lion Island. Another, from even further back :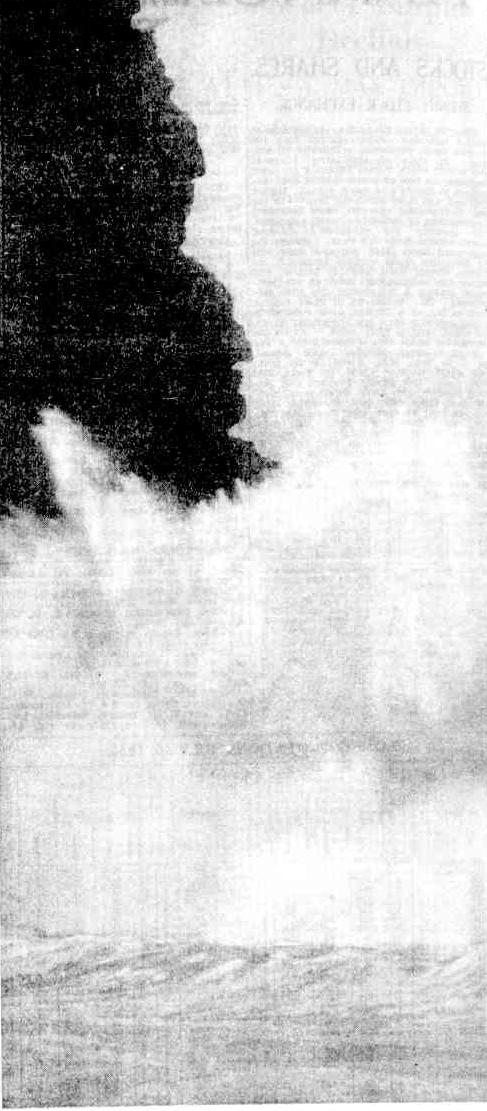 The rock formations on the cliffs at the northern end of Avalon beach bear a remarkable resemblance to human faces, and there are those who are able to imagine a likeness to Mr. W. M. Hughes and Mr. S. M. Bruce in them. From; HOME AGAIN FROM THE SEA—NEW ROYAL AIR FORCE BOMBING 'PLANE—PROFILES ON THE CLIFFS AT AVALON. (
1936, July 17
).
The Sydney Morning Herald
(NSW : 1842 - 1954), p. 14. Retrieved from
http://nla.gov.au/nla.news-article17252446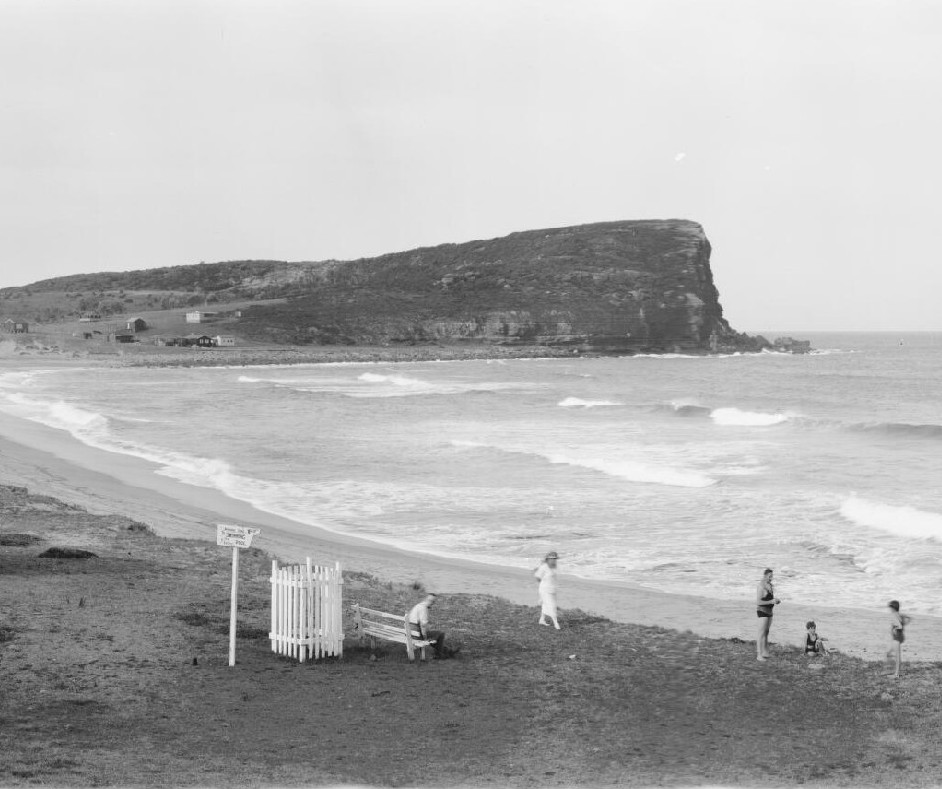 Panorama of beachgoers at Avalon Beach, New South Wales, ca. 1925 [picture] / EB Studios, PIC P865/212/1, section from enlarged, courtesy National Library of Australia.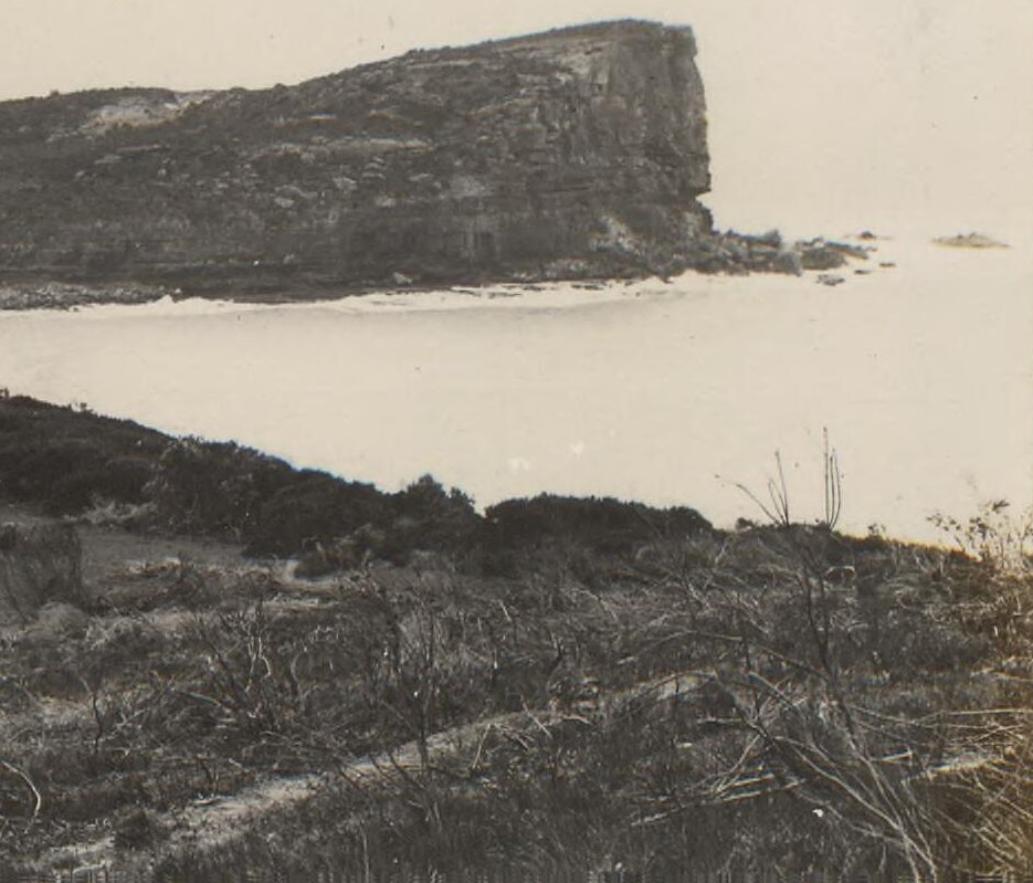 Panorama of Avalon with Avalon Beach in the background, New South Wales, circa 1925-1930, 2 - PIC/8140/2 LOC Album 1059 from Prospectus photographs of Avalon, 1930. Courtesy National Library of Australia.
nla.obj-147287084-1
a
nd enlarged sections from shows North Avalon headland as it was in mid 1920's - visit:
Avalon Beach Golf Links: Pittwater Fields of Dreams II
.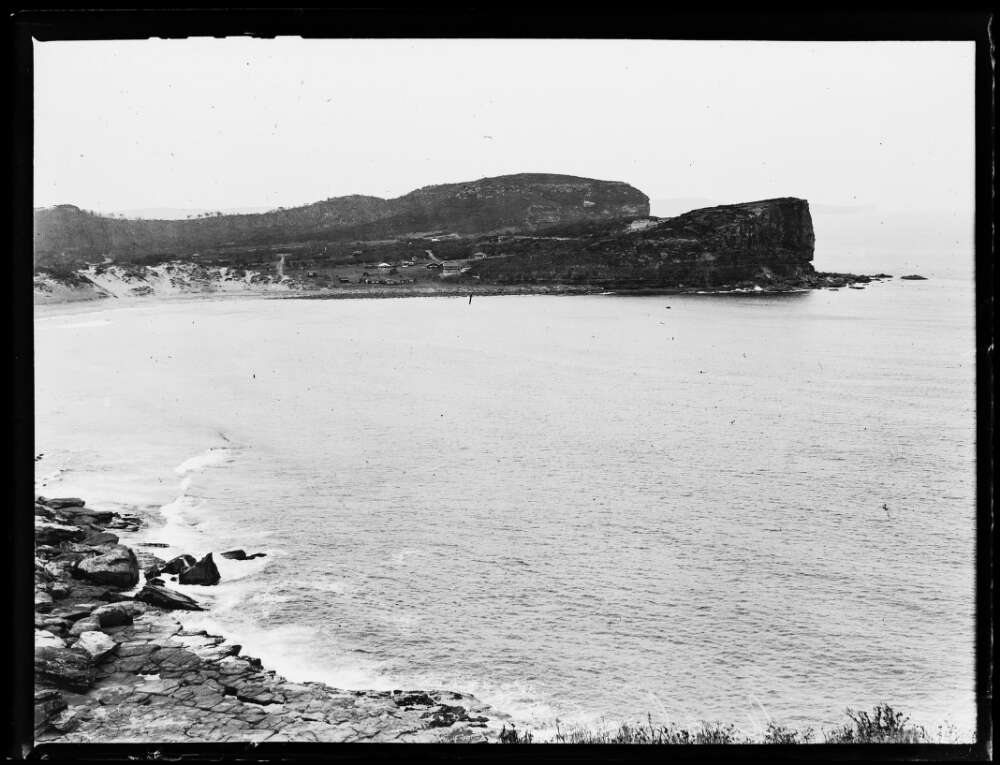 Avalon Beach looking north, New South Wales, 8 January 1928 PIC/15611/9858, courtesy National Library of Australia

One of the more dramatic of these changes is what was referred to as 'Hole in the Wall' by many sailing up and down our coasts to Sydney when Pittwater was a food bowl growing produce for the 'town' or a place sped to for recreation. Then the 'Hole in the Wall, Barrenjoey' was a landmark for all those at sea:
ST. MICHAEL'S ARCH.
This beautiful Arch is situated on the estate of the late Very Reverend J. J. Therry, about three miles south of Broken Bay. As the scenery along. the coast from Manly Beach to the Bay is of the loveliest description, we advise all lovers of the picturesque to hire a spring cart from Mr. Miles - who lives about half a mile from the Pier Hotel - and proceed, early in the morning, to Mr. Collins' house, about thirteen miles distance, so as to be able to inspect this extraordinary specimen of natural architecture, and to return to Manly the same day if necessary.
As this excursion may gradually become fashionable, we quote a description of the places on the road from the late Postmaster- General Raymond's valuable work, the "Post Office Directory for 1855."
"Seven and a half miles from North Harbour, - Jenkins' house; the road for the last mile along a level sandy beach. On the left is Narabeen lagoon. Mr. Jenkins has a snug house here, and much land in cultivation, which is an agreeable prospect from the sea. Eleven and a half miles from North Harbour -Hut on the sea shore. The path from the Pennant Hills Road reaches the sea, and joins this coast road at the farm of one Foley - a tenant of. Mr. Wentworth's; the distance from thence being twelve miles. About half a mile further on is the south-east arm of Pitt Water, on which there are some small cultivated farms. The head of Pitt Water as seen from the heights along which the road or path leads, is equal to any lake scenery, and there are many romantic spots, with good land, on its banks, which might be converted into good farms. Thirteen miles from North Harbour - Several farms and cottages. Fourteen miles- The Rev. Mr. Therry has a grant here. Fourteen and three-quarter miles - The Hole-in-the-Wall, being a rocky projection forming a rude archway with the shore."
The arch mentioned by Mr. Raymond is about twenty-two feet across the inside, and between thirty and forty feet high underneath. The rocks, of which it forms a part, are seventy feet in height - the colours of these rocks are exceedingly beautiful. At low water the visitor can pass through the arch.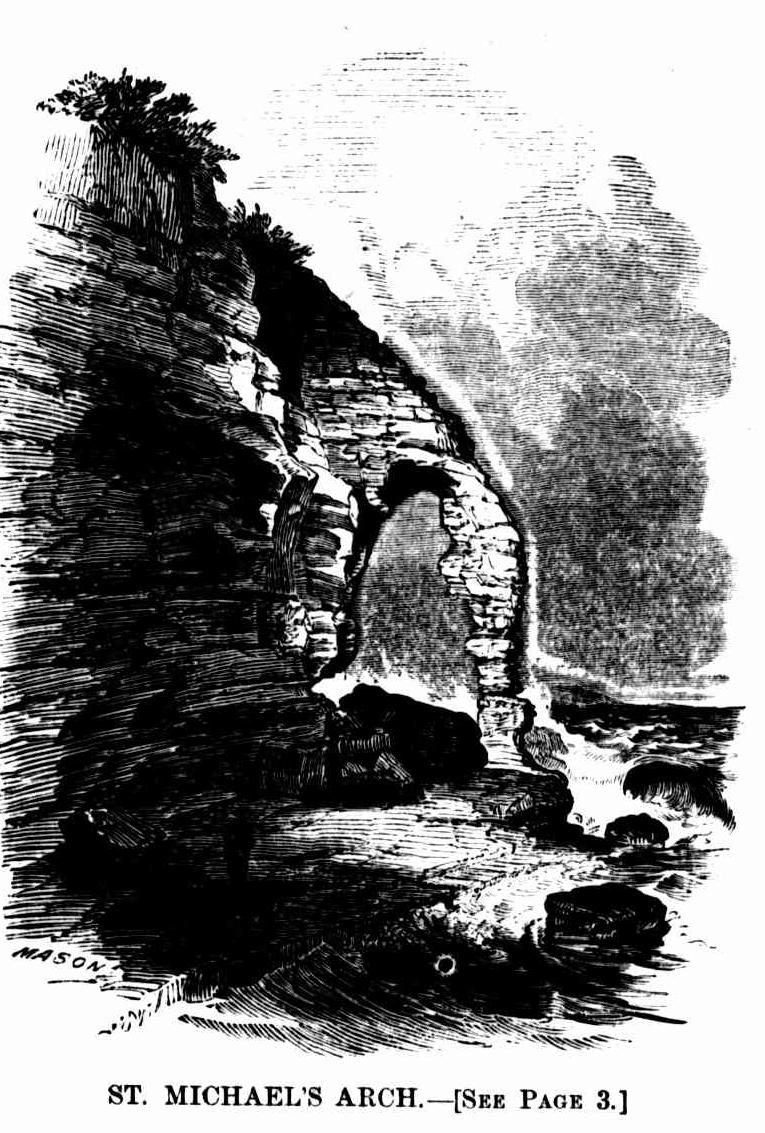 Ascending the cliffs, a view of Pitt Water is beheld, being the harbour belonging to this estate. If an arrangement were madeto have a small steamer plying along the beautifully wooded, lofty, and precipitous shores of the Hawkesbury River, parties of travellers could meet it at this spot, avoiding the disagreeable sea voyage by coming from Manly by land. The steamer could convey them from Mr. Collins' house to Windsor, and the trainwould take them back to Sydney - it being understood that the Windsor railway will shortly be completed.
Illustration: ST. MICHAEL'S ARCH.
ST. MICHAEL'S ARCH. (1864, October 15). Illustrated Sydney News (NSW : 1853 - 1872), p. 3. Retrieved from http://nla.gov.au/nla.news-article63512130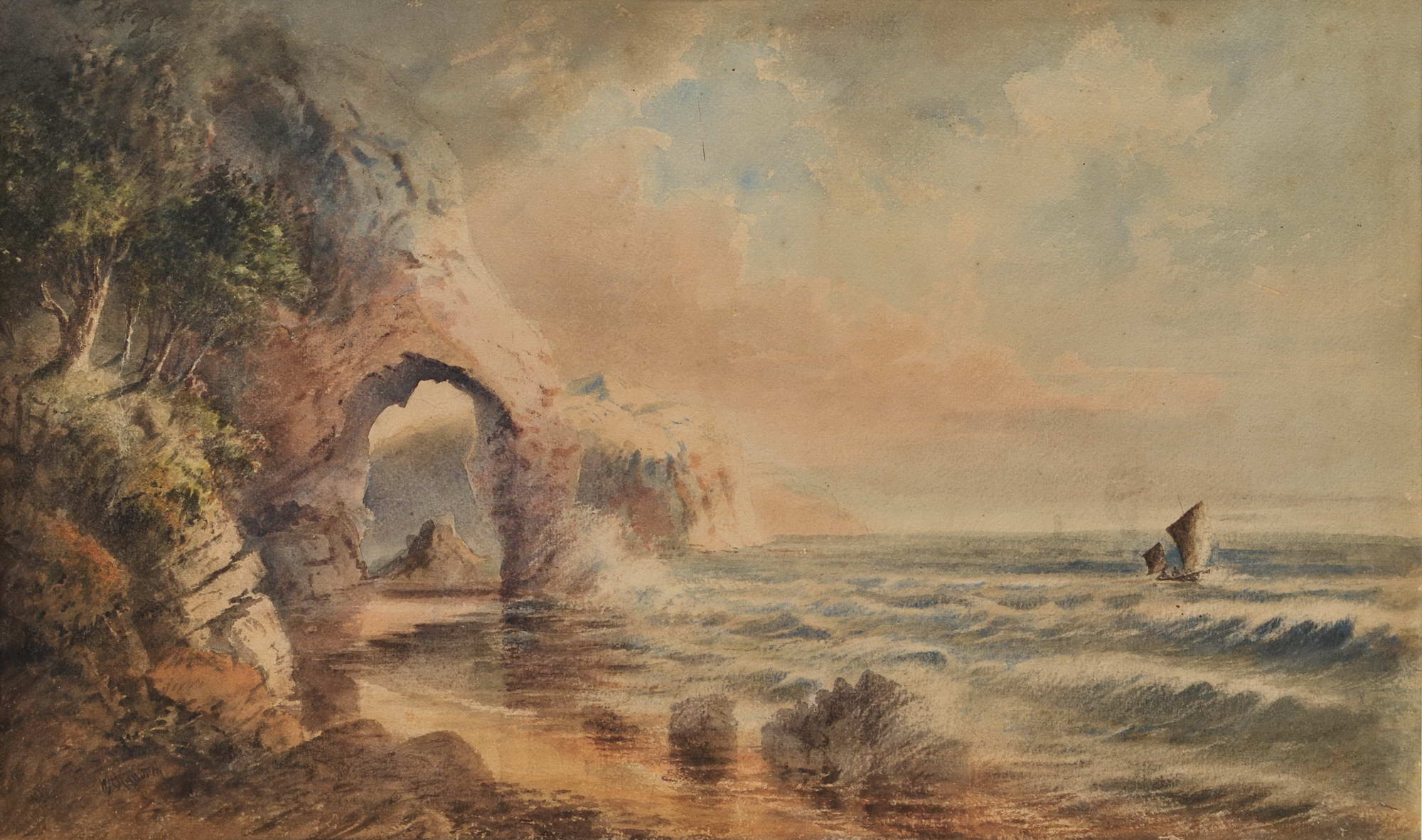 W.H. Raworth (Brit./Aust./NZ, c1821-1904). St Michael's Arch, NSW [Avalon] c1860s. Watercolour, signed lower left, obscured title in colour pencil verso, 34.2 x 56.5cm. Tear to left portion of image, slight scuffs and foxing to upper portion. Price (AUD): $2,900.00 at: https://www.joseflebovicgallery.com/pages/books/CL181-53/w-h-raworth-c-brit-aust-nz/st-michaels-arch-nsw-avalon
St. Michael's Arch 1867 - The storm that turned an arch into a pedestal:
BROKEN BAY. [From the Herald's Correspondents.]
June 24. — We have had tremendous weather, but, as far as Pitt Water is concerned, no damage has been done, with the exception to one of our picturesque curiosities, St. Michael's Arch. It has at length yielded to the too mighty elements and the destroying influence of time,— that which, was the admiration of all who have beheld it is now almost a baseless fabric,— there is only about one half of the outer support left, looking at it at a distance it has the resemblance of a colossal pillar. In its fall it carried a large portion of the overhanging rock with it, a thousand tons of gigantic boulders, and in such masses that I think it will stop the ingress from that part to the cave, but as yet we have had no close inspection, for the rollers are dashing to the height of the stupendous rocks. The only idea I can give of the gale is, that the froth of (not spray) the sea came over Mount St. Joseph, opposite the house, half a foot in size, and spread itself down to the dam, at times shading the heights of the mountain, — its resemblance was that of an overwhelming snow storm. The sea at Barranjoey washed away the flower garden in front of the Chinamen's huts, taking soil and all, so that the beach comes close up to their door. There must have been awful havoc in the Hawkesbury, for all the beaches from Barrenjoey to the Long Reach are strewed with fragments of houses, boxes, chairs, doorframes, dead pigs, hay, wheat, broken bedsteads, weatherboard sides of houses, oranges with large branches, pumpkins, melons, corn cobs, and other debris, that scarcely any portion of the beaches can be seen. Mr. Conolly picked up a workbox, in which was contained a number of receipts and letters directed to Mr. Moss, Windsor. The beaches on which are the debris is Barrenjoey, Whale Beach, Collins's Beach, Mick's Hollow Beach, Farrell's Beach, Mona Beach, and Long Reach, so it may be imagined the great extent of destruction. BROKEN BAY. (1867, June 29). Sydney Mail (NSW : 1860 - 1871), p. 11. Retrieved from http://nla.gov.au/nla.news-article166799304
Many resident historians are fairly certain that the above was written by then resident in this region John Collins, or his brother Frank, who worked occasionally at the Broken Bay Customs Station, Barrenjoey headland during these years. Mr. Conolly, who is also mentioned, became a relative by marrying one of the Collin's daughters.
The stone itself was composed of soft sandstone, which doesn't do too well under a constant onslaught of sea and wind. Today there is very little left of any of this stone, you would need to compare the pictures to see what remnant remains.
St. Michael's Arch was one of those landmarks that may have been used by all the many coastal boats that used to carry produce from Pittwater and the Hawkesbury when using this way to transport crops and fish from what was essentially a rural area was much easier then trying to use tracks prior to the building of roads.
Geoff Searl of the Avalon Beach Historical Society tells us this arch had other names too - 'Hole in the Wall' (which it was in reality until 1867 when it lost the top of the arch). It was then called the 'Pedestal', the 'Stone Lady', 'Lot's Wife' and the foreign legion soldier (before it lost the very top of the stone column) until around 1962 (our last reliably dated photo of the column). Geoff remembers the geological term of 'sea arch' being used originally.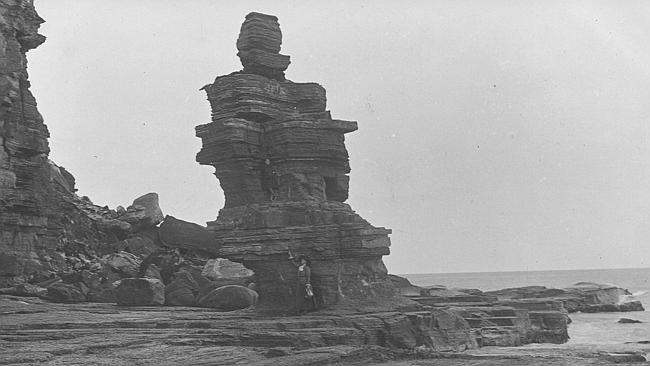 circa 1900 when 'the Pedestal'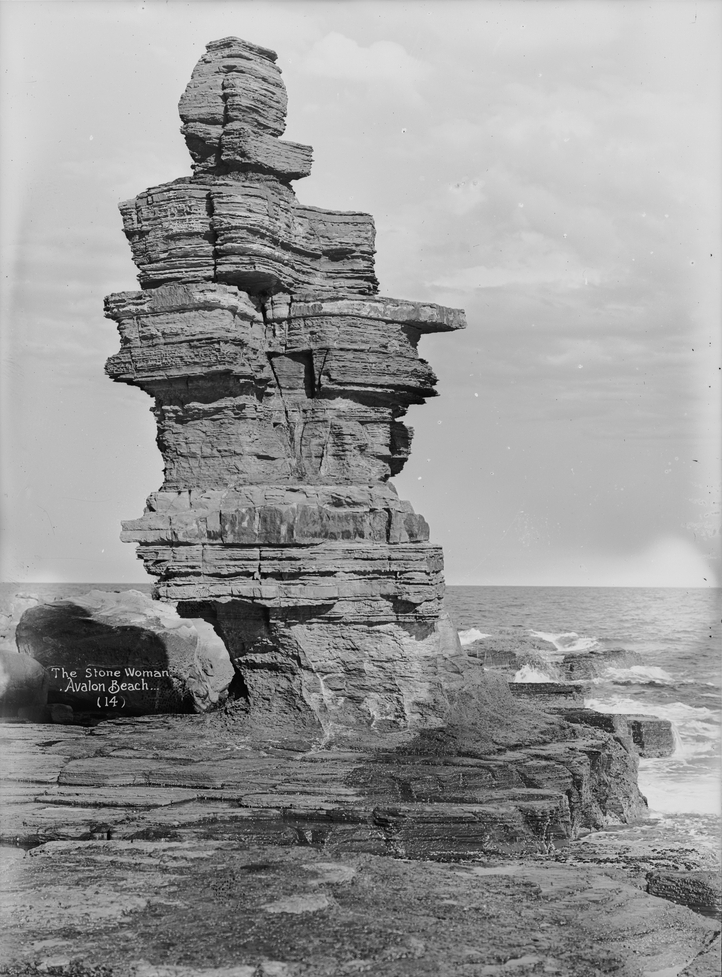 The Stone Woman. Avalon Beach
-
photo by Rex Hazlewood, circa 1921.
Image Courtesy The Mitchell Library, State Library of NSW, No.:
c046220004h
These images from a 1922 sales brochure show not only the change to 'The Pedestal' but also changes in the silhouette of North Avalon Beach headland itself: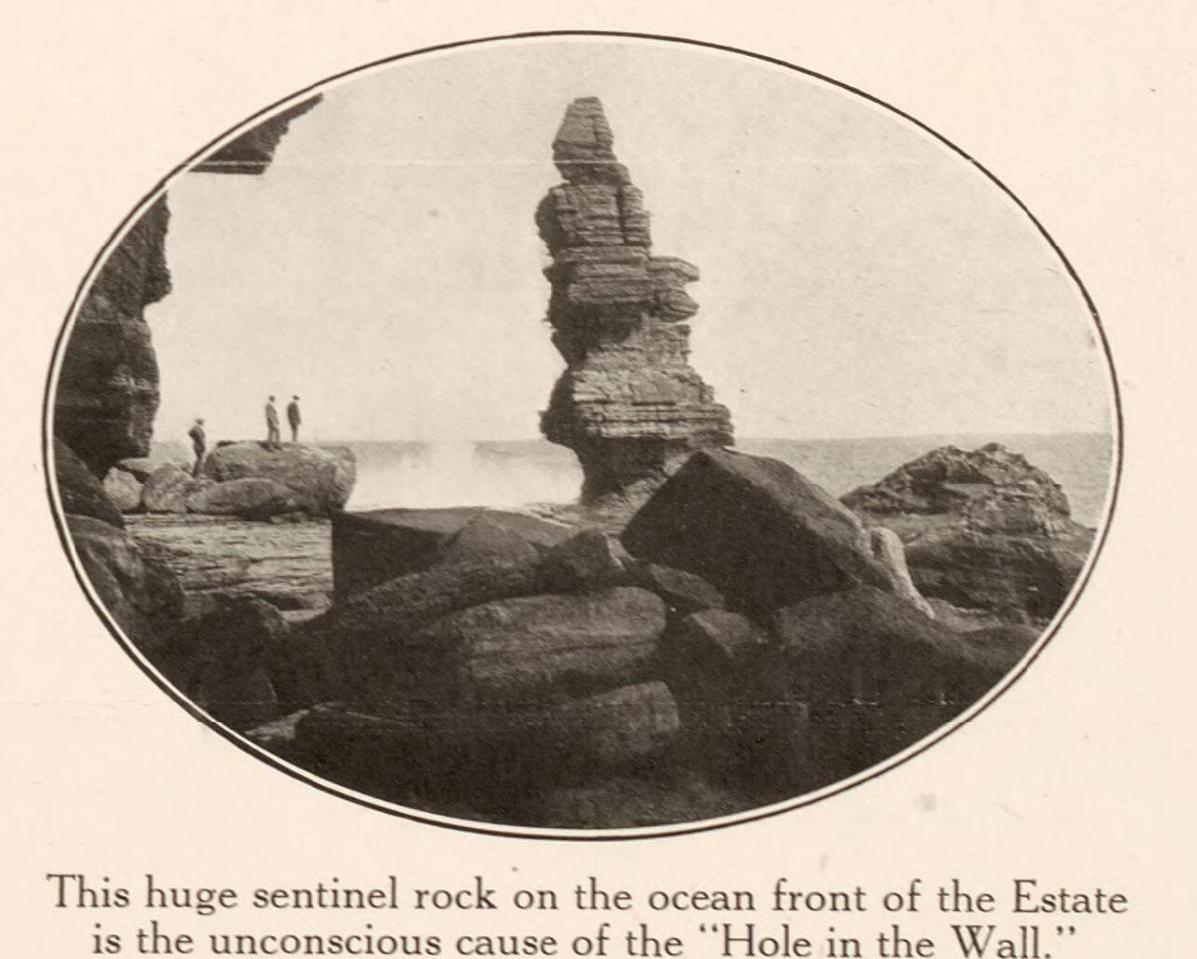 From 1922: from Stanton & Son. Careel Ocean Beach estate [cartographic material] : "The hole in the wall", 2nd subdivision, 1922. MAP Folder 37, LFSP 499. Part 1. and Stanton & Son. Careel Ocean Beach estate [cartographic material] : "The hole in the wall", 2nd subdivision 1922. MAP Folder 37, LFSP 499. Part 2., courtesy National Library of Australia.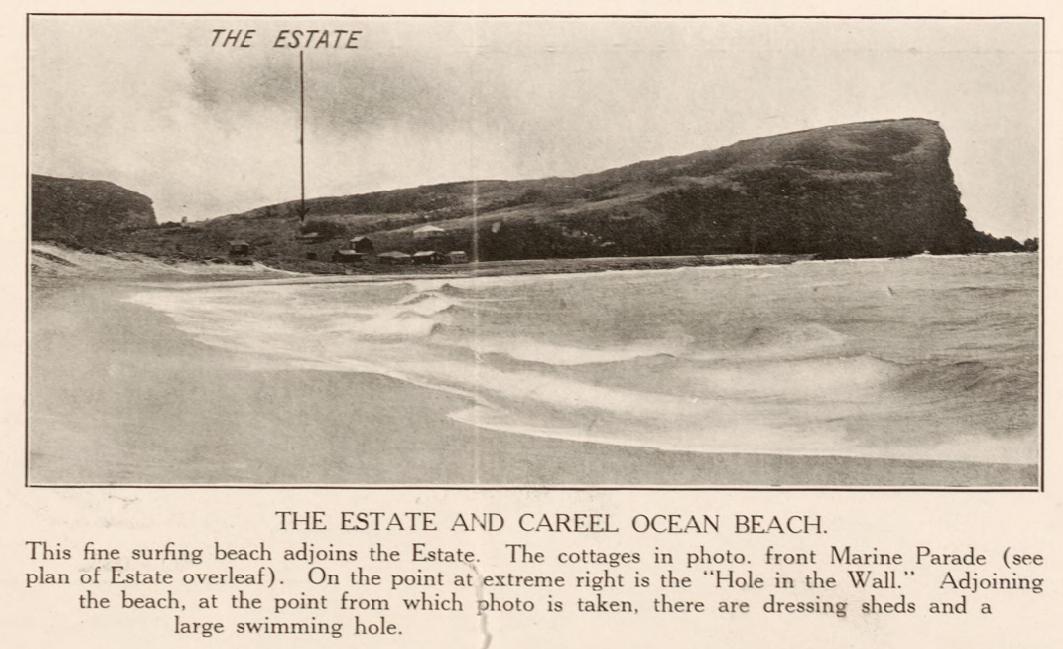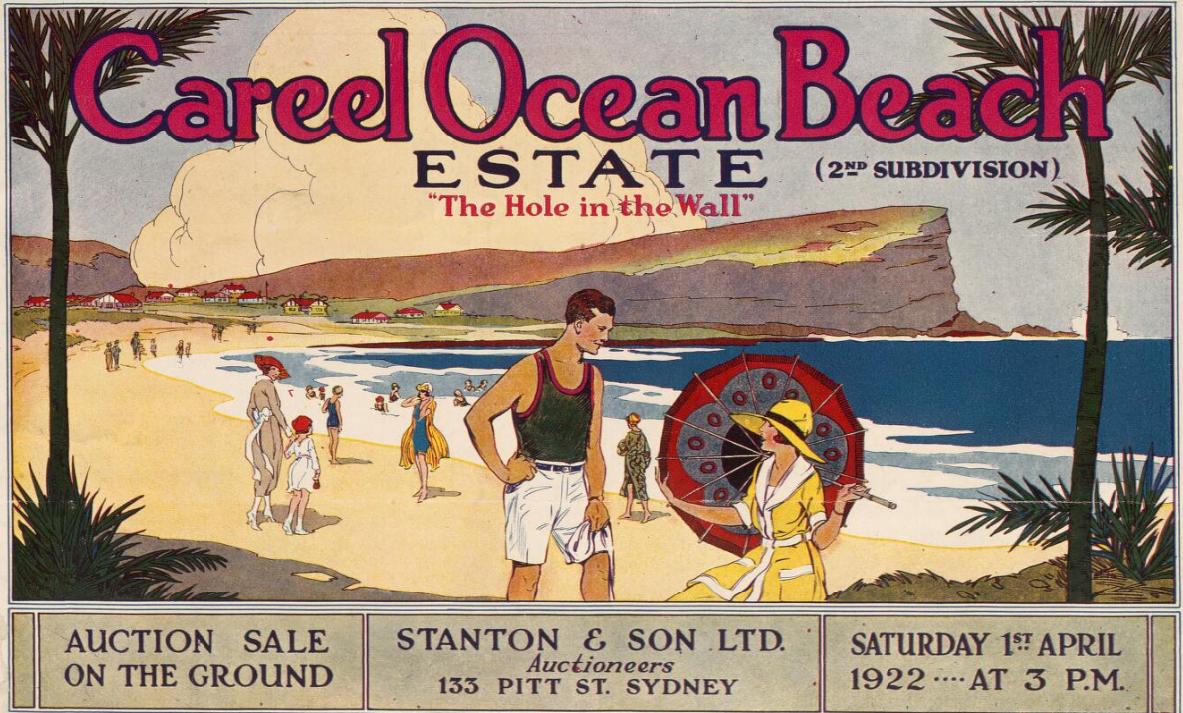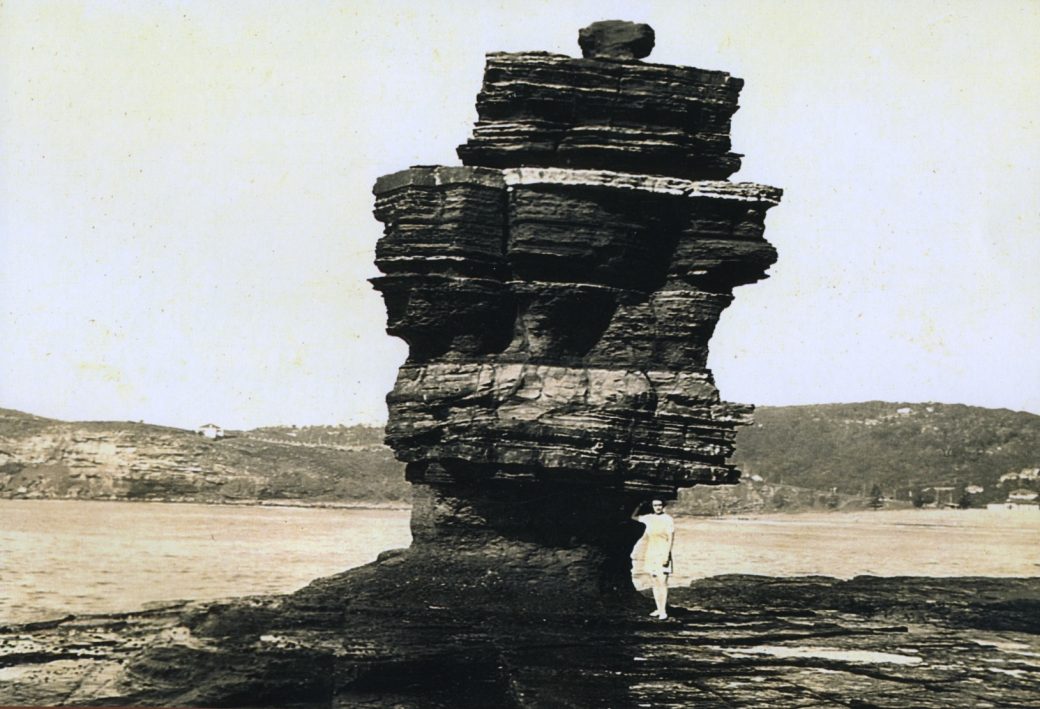 Stone Lady, 1944 - ABHS, Geoff Searl photo
"This rather dramatic photo shows what remained after the 'Hole in the Wall' (St Michael's Arch) collapsed in 1867.The structure stood on the North Avalon rockshelf and was given a variety of names by the locals – 'The Stone Lady' and 'Lot's Wife' being the most popular.
During the 1920s the single weathered stone on top had more the shape of a peaked cap which gave the formation the title "The Foreign Legion's Soldier'. This particular photo shows Gwen Searl posing by the structure in 1944 whilst on her honeymoon. The Norfolk Pines and the surf club, including the dressing sheds show on the extreme right of the picture. The last reliably dated photo of the 'Stone Lady' indicates that she stood at least until 1962. " – Geoff Searl, President Avalon Beach Historical Society
We spoke to Geoff on Saturday morning while taking photographs for the record.
"This place is always changing," Geoff said, 'It's the way these rock formations are and the effect of sea, tide and the occasional earthquake as much as time on them. This is the same effect that occurs on our Western Foreshores and gives us those magnificent 100 metre cliffs."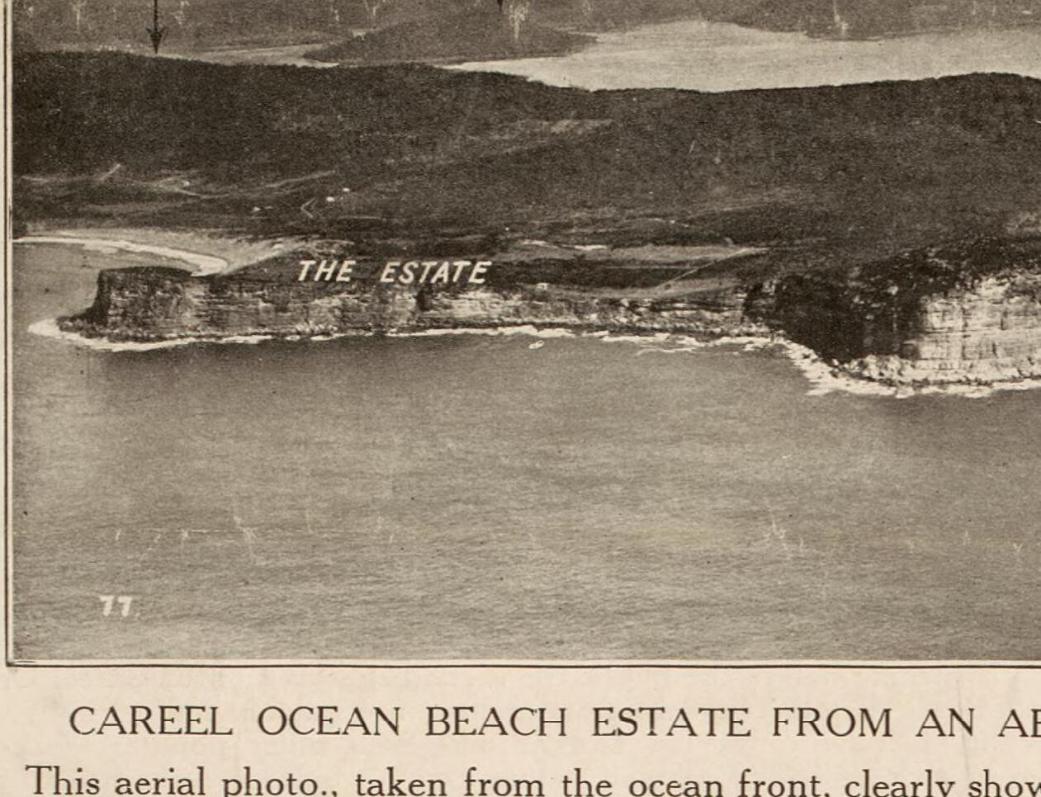 Section showing the shape of North Avalon Headland in 1992, also John Collins Dairy Fields
From S
tanton & Son. Careel Ocean Beach estate [cartographic material] : "The hole in the wall", 2nd subdivision,
1922.
MAP Folder 37, LFSP 499. Part 1. and Stanton & Son. Careel Ocean Beach estate [cartographic material] : "The hole in the wall", 2nd subdivision 1922. MAP Folder 37, LFSP 499. Part 2., courtesy National Library of Australia.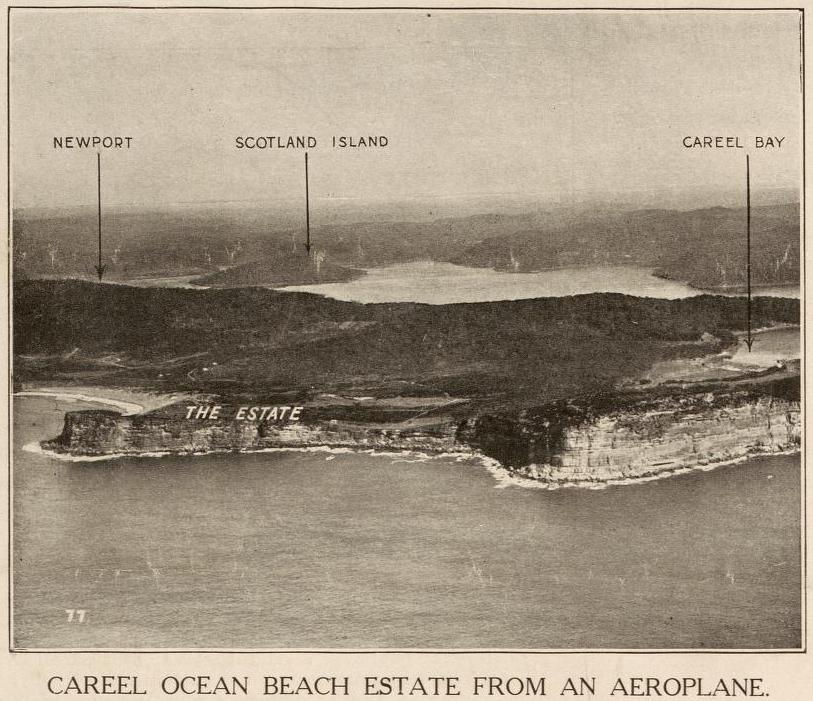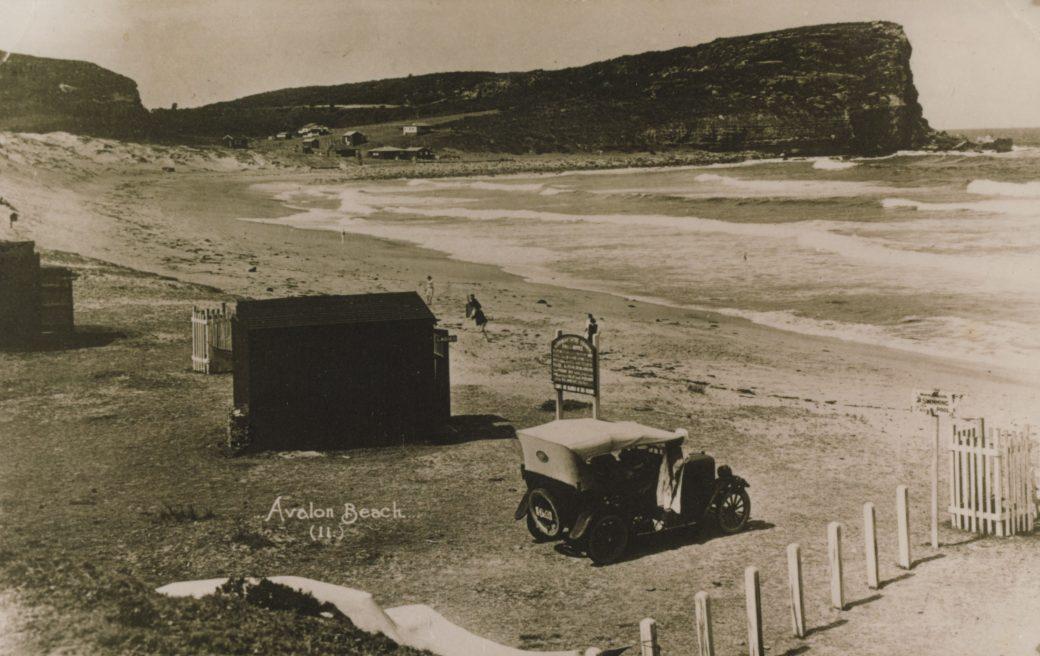 A Rex Hazlewood photo of Avalon Beach and north Headland, early 1920's - courtesy ABHS - find out more about Rex in:
Another storm, and its effects, gives you some idea of the quirks of ocean, tide and wind and how they affect what places look like:
Surf Full Of Melons - Hundreds of big jam melons that had been carried out to sea by the Hawkesbury River flood, were washed up in the surf at Avalon Beach yesterday. Most of them were in sound condition despite their long journey - possibly 50 miles. They were quickly snapped up by scores of local residents and visitors. Mr. Ronald Hogg, who lives nearby, said that people went to the beach on foot and in cars and trucks, which they loaded with melons. Others staggered away with chaff bagsfull. Apparently the melons had been swept by floodwaters from farms along the upper parts of the Hawkesbury. Surf Full Of Melons. (1949, June 20). The Sydney Morning Herald(NSW : 1842 - 1954), p. 4. Retrieved from http://nla.gov.au/nla.news-article18119781
North Avalon has another rock infused landmark, the cave named 'St. Michael's'. This has had many stories written about it through the century and a half or more since its discovery by Europeans – including being once slated for use as a chapel or meeting place for worship. For many years it was one of the places to visit for people coming to Avalon.
One recurring theme in these stories is how if you're standing within it and looking out the silhouette looks slightly like a map of Australia – a very big landscape indeed – constantly changing by being an island always met by ocean waters:
Among the places visited by the members of the. R.A.H.S. was Bilgola, the beautiful home of Mrs. Maclurcan which has been erected on the site of the residence of William Bede Dalley, who was prominent in the political life Members of the Royal Australian Historical Society on Saturday visited Avalon Beach, between Newport and Barrenjoey. and inspected some of the historic spots in the district. The party was escorted by Mr. Arthur J. Small'. The site of a coal bore on Avalon golf links was inspected, and St. Michael's Cave, on the seashore, was viewed by the party. The latter spot was named by Archpriest Therry, who, it was stated, intended to build a chapel in the cave.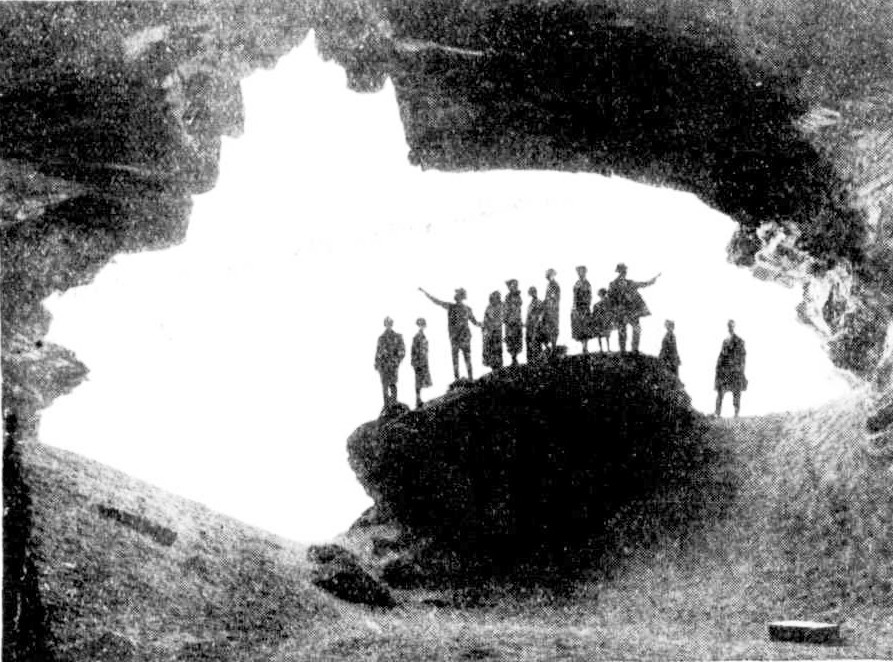 ENTRANCE TO ST. MICHAEL'S CAVE.
MEMBERS OF THE HISTORICAL SOCIETY IN THE CAVE.
A Week-End Miscellany : History, Charity, and Sport. (1926, August 25). Sydney Mail (NSW : 1912 - 1938), p. 10. Retrieved from http://nla.gov.au/nla.news-article166523535
ST. MICHAEL'S CAVE — Avalon's Map of Australia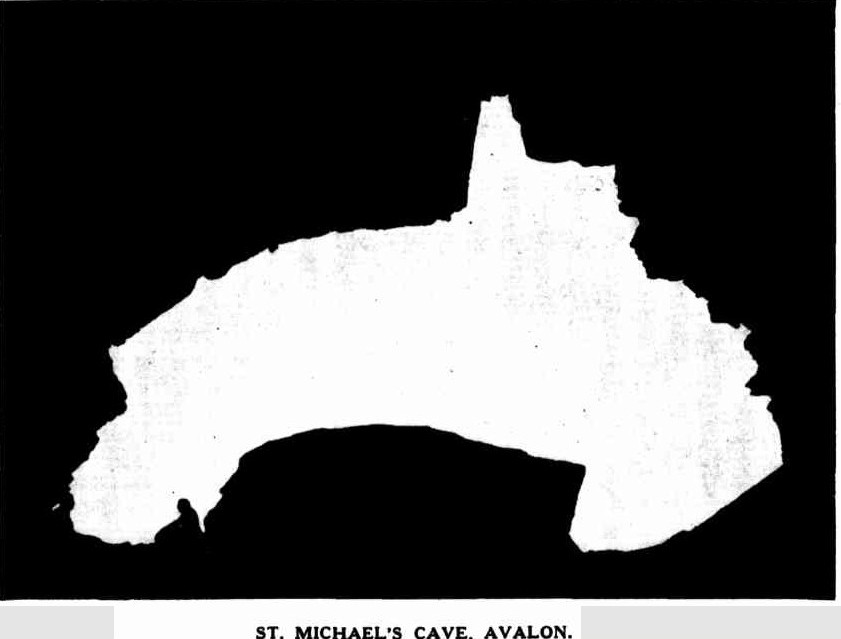 ST. MICHAEL'S CAVE, AVALON.
A SMUGGLER'S cave in Sydney? Yes!... St. Michael's Cave at Avalon —an ideal spot for an unusual picnic. Those who own cars can go direct; others, to Manly by ferry and then by motor-bus to Avalon. A scramble down the descending cliff face at North Avalon and a longish stiff walk over huge boulders honey-combed by the ceaseless action of the waves lead eventually to a cave with a wide, gaping entrance. As the picture shows, it is almost a perfect reproduction in silhouette of the outline of Australia. This is not noticeable until you enter its portals and look seawards. Reputed to be the largest coastal cave in New South Wales, it is said to be capable of holding 2000 people. Its full length is about 325ft, tapering to a narrow point and ending in darkness. The highest point from floor to roof is approximately 30ft.
RECENTLY members of the Naturalists' Society of New South Wales visited the cave, and Mr. A. J. Small acted as pilot and recalled its history. It appears that in 1833 the Rev. John Joseph Therry had a Crown grant of about 1200 acres in the Barrenjoey Peninsula, most of it then occupying what is now known as the district of Avalon Beach. This reverend gentleman founded the first St. Mary's Roman Catholic Church in Sydney, which, when burnt down some years afterwards, became the site of the present Cathedral. He is credited with the intention of building a chapel above the cave and constructing a passage to the subterranean cavity. This original plan never developed further than the idea and the name St. Michael's Cave, which he bestowed upon it. It is believed by some people that in later years enterprising smugglers accidentally discovered it and used it for their 'unlawful occasions,' quite unknown to the Rev. John Joseph Therry. Others say this is only a legend. Geologists love to delve into the black volcanic dyke which traverses the full length of the roof. This is the result of enormous pressure from unknown depths forcing it upwards. It makes a striking colour streak in the 'ceiling' —almost a modern art decor.
THE floor of the cave is well above sea level. The coastline in this locality has risen far beyond its former level during the ages, and portion of the roof falling in at different times has helped to build up the floor. Several huge boulders now furnish good picnic tables and seats, and gazing upwards you can see marks on the ceiling showing the line of detachment. Breathing an inward prayer that several overhanging projections will remain 'put' during your occupancy, you can picture what a fright the bats must have when these shocks happen. Today the cave with the land above is in the hands of private ownership. It has been suggested that it should be resumed by the State. On a wild stormy winter's day the honey-combed cliffs on the way to the cave, and the exceptionally rugged coast in the vicinity, give a picture of magnificent and unusual beauty. The grandeur of towering waves hurling themselves against the seemingly impregnable fortress of rock is a sight to behold. The naturalists, however, saw it in perfect weather, and the visit to St. Michael's Cave will always remain a memory of delight and adventure and romance in a ;calendar of many happy outings. — M. ST. MICHAEL'S CAVE. (1937, September 1). Sydney Mail (NSW : 1912 - 1938), p. 44. Retrieved from http://nla.gov.au/nla.news-article160498432
We have written a little more on St Micheal's cave ( you cannot go in there anymore, it is considered too dangerous and has been fenced off). See: www.pittwateronlinenews.com/avalon-headland-landmarks-history
So as you can see in just this one spot, our area is always changing its cliff 'faces' and the rock shelfs that meet these cliffs, something that has been recurring since the world, and we, were young - a timely reminder that however dynamic and immediate our lives seem, we are also witnessing History: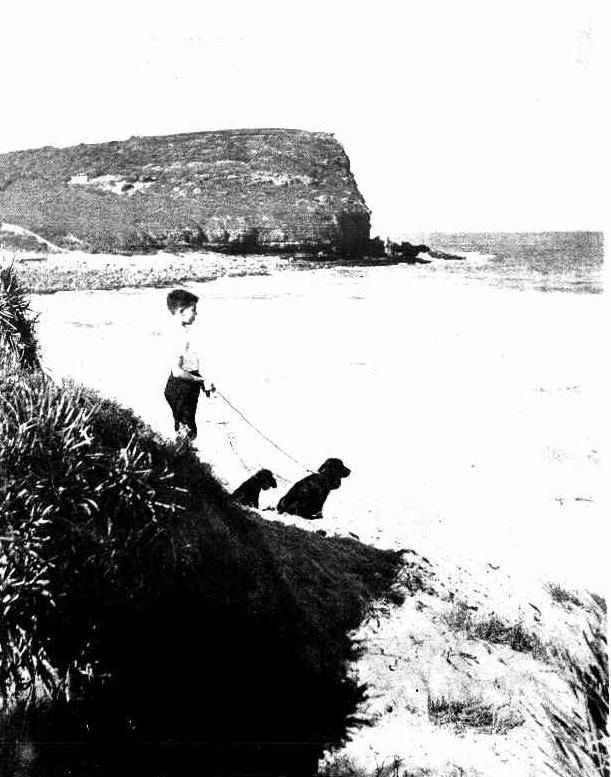 The advent of spring is heralded by the sunshine glinting on the breakers and sands
at Avalon Beach.
Soon the water will be warm enough for surfing, and the places of this small boy and his dusky pets will be taken by a joyous multitude. ' It wont be long now ' sums up the thoughts of this party of investigators. Spring Peeps Over the Horizon (
1938, August 31
).
Sydney Mail
(NSW : 1912 - 1938), , p. 5. Retrieved from
http://nla.gov.au/nla.news-article166525531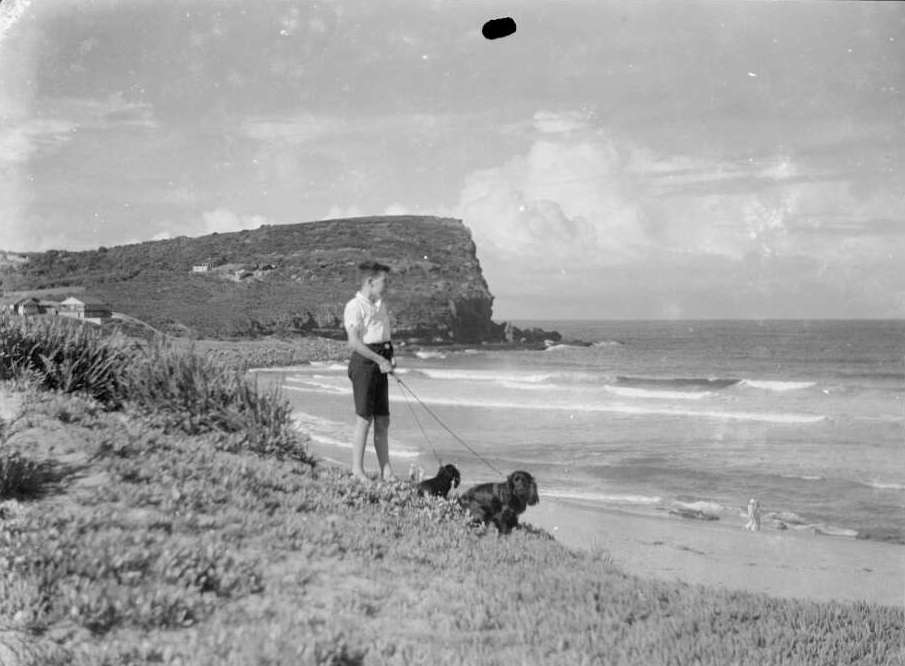 Harold with his two dogs at Avalon Beach
, New South Wales, 1934 [picture] / Harold Cazneux, PIC P1067/279, courtesy National Library of Australia.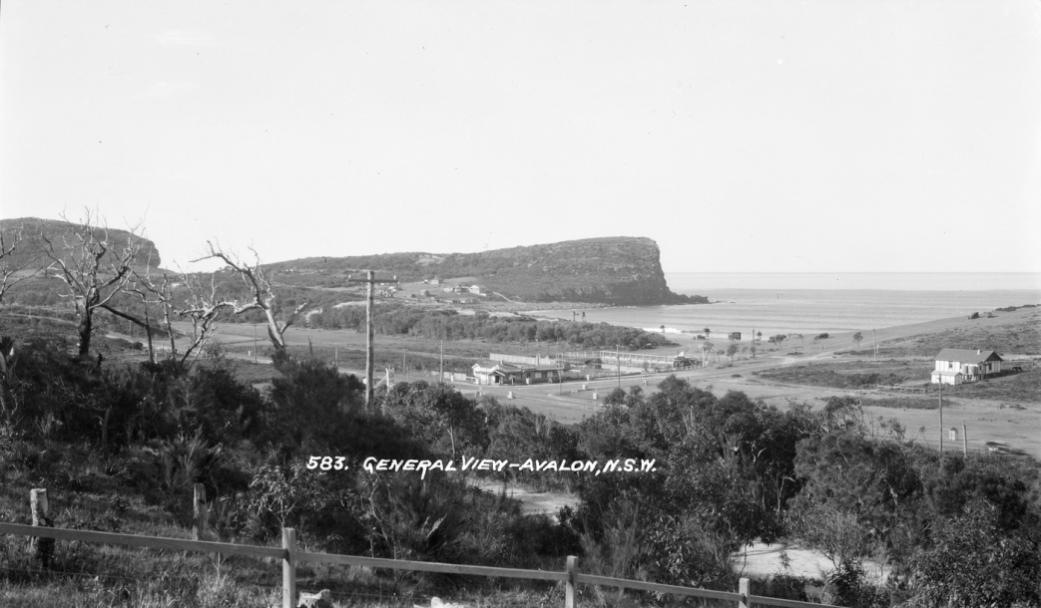 General View, Avalon - from Album: Samuel Wood - postcard photonegatives of Avalon, Bilgola and Newport, circa. 1928, Image No.: a1470004h, courtesy Mitchell Library, State Library of New South Wales.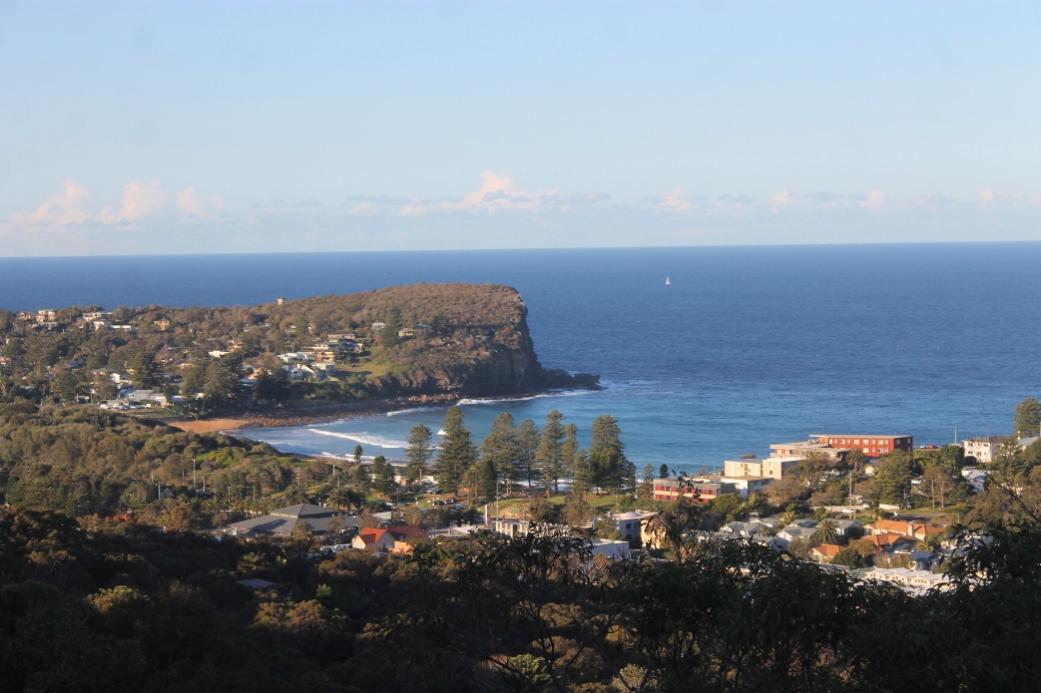 Avalon Beach from Bilgola Plateau (a bit further up same rise of hill) - August 2015 - A J Guesdon photo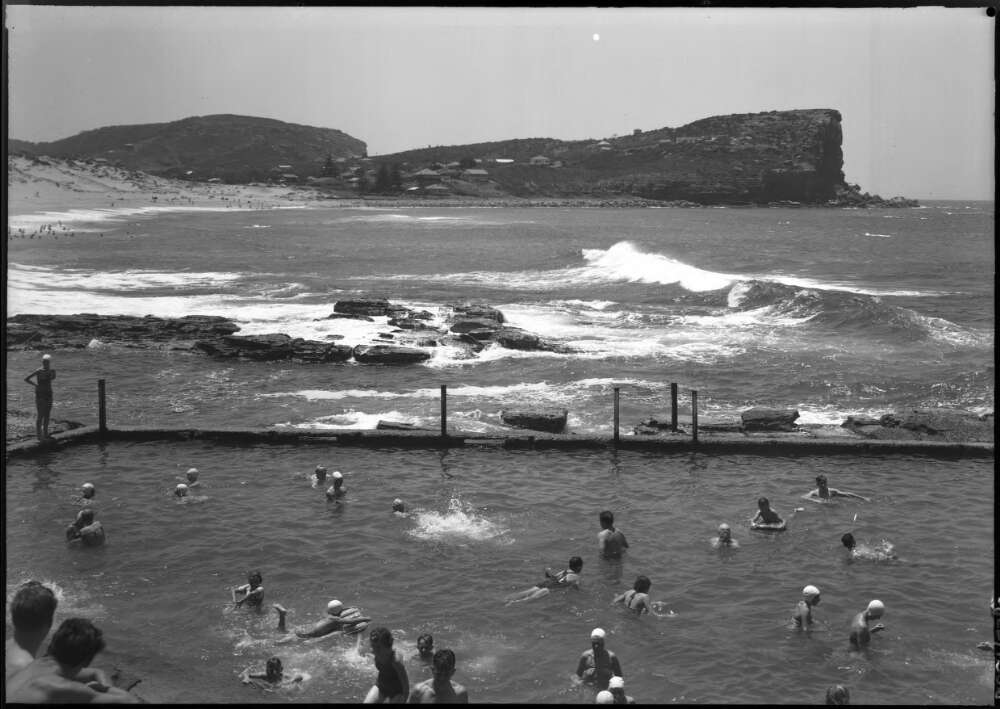 Sea baths, Avalon, New South Wales- photo by Frank Hurley, circa 195?, PIC FH/7790, courtesy National Library of Australia.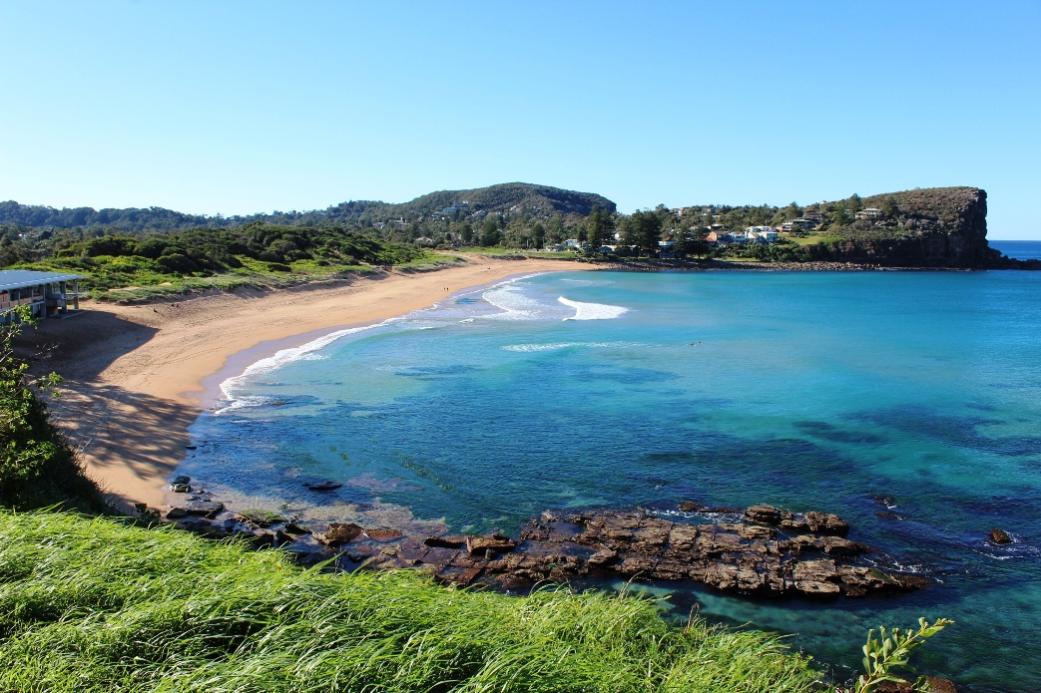 Avalon Beach, July 23rd, 2016 - A J Guesdon photo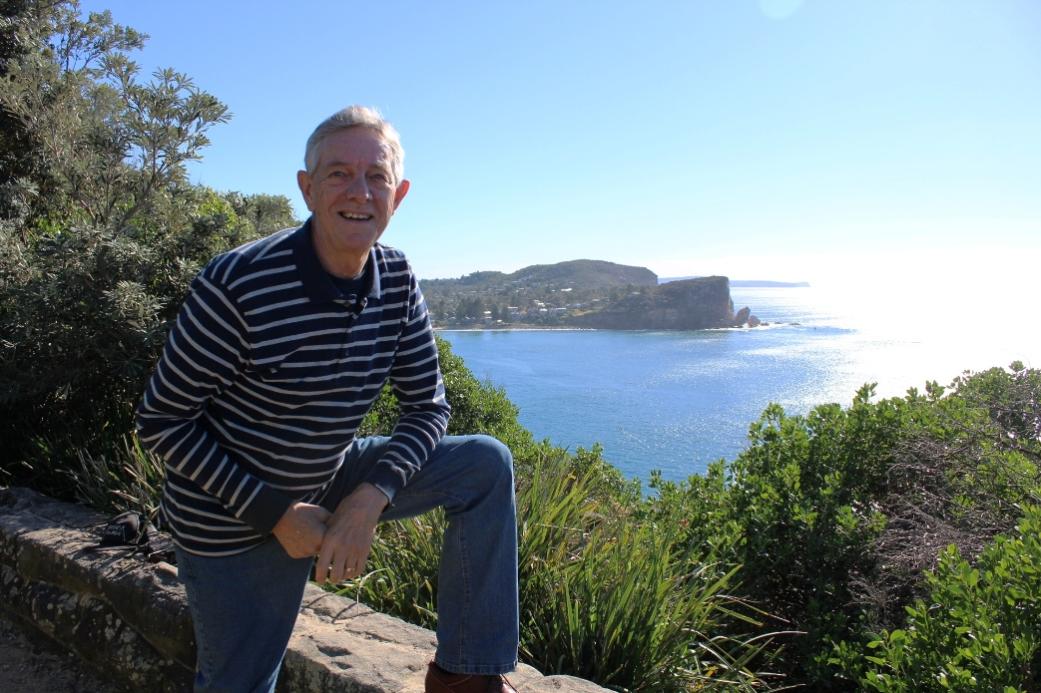 Avalon Beach Historical Society President Geoff Searl having a look from A J Small Lookout on Saturday, August 12th, 2017.
A Historian becomes part of a Historical photograph!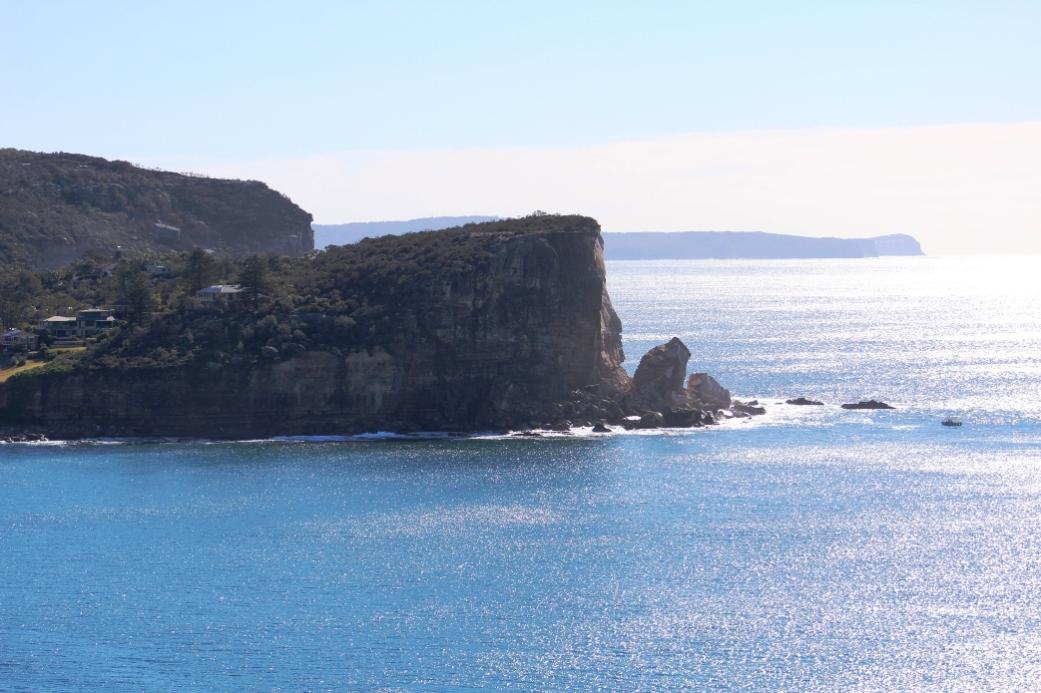 Avalon Beach North Headland Indian Face 'Falls': An Everchanging Coastline by A J Guesdon, 2017.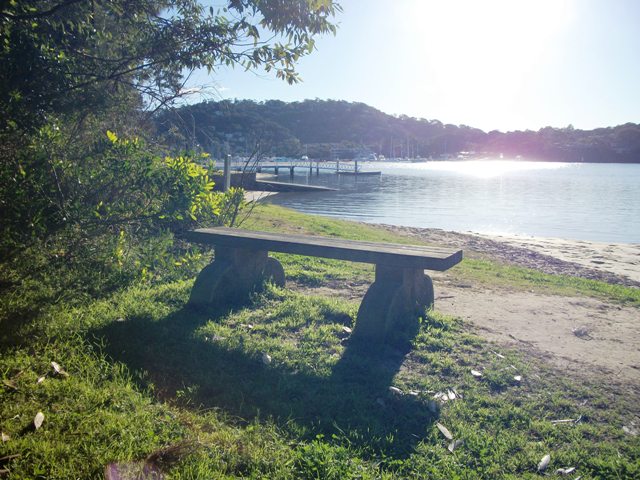 Park Bench Philosophers
We welcome contributions from all Pittwater residents in the form of anecdotes, memories, stories, poems or even matters you'd like to see addressed or changed in our area.
If you have something you'd like to share, something you'd like to start a discussion about, or even just a poem or story from yesterday or today we want to hear from you.
Contact us at: pittwateronlinenews@live.com.au
Please note that Pittwater Online News does not endorse any of the content of works contributed. Articles which contain swearing or may offend others will not be accepted. Please note that all works are posted unedited; you are the author, this isyour page. Word Limit: 2000.