October 23 - 29, 2011: Issue 29
Pittwater Natural Heritage Association

Since Pittwater Online News commenced one of the organisations turned to for advice or clarification on plants and animals in Pittwater is the Pittwater Natural Heritage Association. With a Charter that seeks to raise awareness and provide information to members on a wide range of environmental aspects, including keeping our waterways healthy, living with native animals, bush friendly gardens and even building and landscaping to protect the visual qualities of local landforms, PNHA works hard to preserve and protect our natural heritage. Their regular 'weeds out' days have ensured many of our local bush reserves and dunes aren't choked by the likes of lantana or asparagus fern. Bushwalks when native flowers are in bloom seek to share insights on local flora as well as enjoy our beautiful natural parks. This week we have the opportunity to share a little more on one of most valued local assets, the PNHA.
Your emphasis is on raising awareness of the conservation value and natural heritage of beautiful Pittwater. How is this best put into action?
Our emphasis is on raising public awareness of the conservation value and natural heritage of beautiful Pittwater. We do this by our Activities program, our quarterly newsletter, website, (www.pnha.org.au) and stalls at Market Days – this year at the Sustainable Living in Pittwater Expo on October 9th
A consistently popular activity is Breakfast with the Birds, usually held at Warriewood Wetlands. Many people like seeing native birds, but this activity relates the birds to their habitat. We explain the birds' habitat needs, and people become aware of why so few of the small bush birds, such as Fairy Wrens, Eastern Spinebill and other insectivorous birds can be seen in developed suburban areas now dominated by bigger "bully" birds.
What is the range of projects you are currently engaged in or will be in the future?
Our projects:
A Community Action Grant project, Pittwater Estuary Care, from Hawkesbury Nepean Catchment Management Authority, is helping to fund our campaign against Asparagus Fern and control weeds along Careel Creek and around Careel Bay. Tubestock of local native plants is being planted to replace weeds and recreate habitat for fauna.
We are assisting with the establishment of a Landcare Group engaging landholders who are neighbours of Bangalley and Careel Head reserves in north Avalon.
We give input to Pittwater Council on environmental issues in the local government area, for example the plan of management of Ingleside Chase Reserve, on the escarpment behind Mona Vale and Warriewood.
We do on-ground bush regeneration, targeting Asparagus Fern, Pittwater's worst weed at various sites, eg Rocky Point, Governor Phillip Park (Barrenjoey Dunes), Turrimetta Headland. Our fourth Rocky Point Asparagus Fern Out day will be on November 12th. Last year about 60 people participated and enjoyed a fabulous lunch afterwards. You need to book by November 7 to pnhainfo@gmail.com or Phone 0439 409 202.
We've produced a DVD, Weed War I , to help people identify and control several noxious weeds in our area. Lantana, Cassia, Madeira Vine, Asparagus Fern and others are not hard to deal with after you've seen a demonstration. Available from PNHA for $10.
We have published an Introductory Field Guide to the birds of Warriewood Wetland and Irrawong Reserve, with about 70 birds photographed and described. The book introduces people to the area and helps beginning bird watchers. RRP $20
PNHA cards highlight the flora, fauna and scenery of our area. You write your own message. These are very popular at market days and so on.$2.00
We are a registered Landcare group, with insurance suitable for our activities
Do you have places on your crew for new members or participants to join in on activities?
We certainly do – in our bush regeneration and other activities and we encourage new members into our organisation. Quite a few people participate from outside the Pittwater area too.

Do you have a Youth Training Program or activities to engage the next generation of conservationists?
We don't at present but are mindful of the need to bring younger people into the environmental movement and are always looking for ideas of how to engage with the younger generation.

What is the Association's favourite place in Pittwater?
The history of PNHA is tied in with the campaign to save the Warriewood escarpment bushland from subdivision in the early 2000s and the restoration of the Warriewood Wetlands and Irrawong Reserve. These are oases of natural ecosystems in our increasingly urban environment. There is always a new facet of nature to observe, and the good feeling that habitat is saved for fauna such as migratorbirds, Sugar Gliders, endangered frogs and so on. In Warriewood Wetland only 100m away from a busy shopping centre, you have the chance to see some of the 170 birds species recorded for this area, or a walk along the escarpment reveals Eucalypt woodland with original heathland understorey of flowering grevilleas, boronia, wattles, peas, native fuchsias and flannel flowers.

What is PNHA's motto ?
A heritage too good to lose.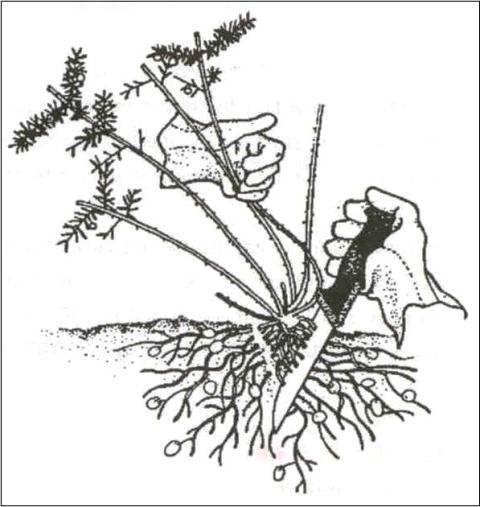 Above: PNHA has been active in attacking Asparagus Fern for several years. We think it's Pittwater's worst weed. It can survive the worst drought, can grow in many different types of bushland and in gardens, smothering other plants. It usually has to be dug out plant by plant. This can be a big job. However, you only need to cut out the crown or central growing point. The white bulbs on the roost are only for water storage and can't grow when the rest of the plant is gone.
Just released Weed War I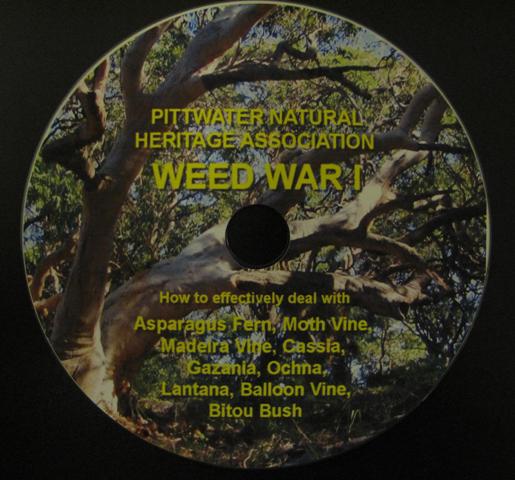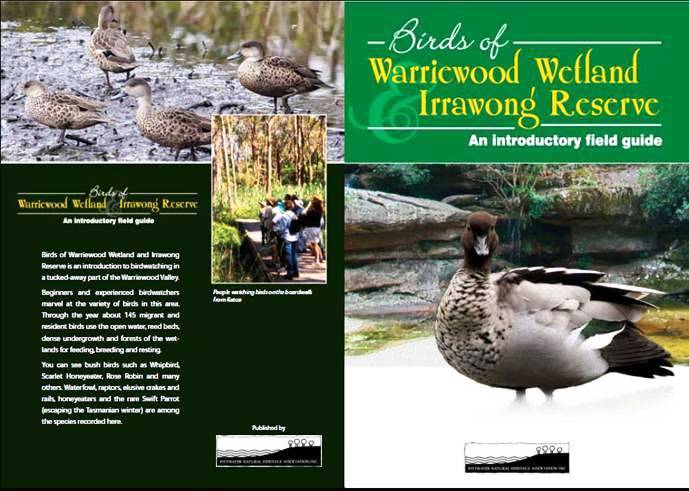 Introductory Field Guide to the Birds of Warriewood Wetland and Irrawong Reserve will give you a good start on birdwatching here, $20, available from PNHA. All proceeds go to conservation work in the wetlands. Available at: http://pnha.org.au/publications/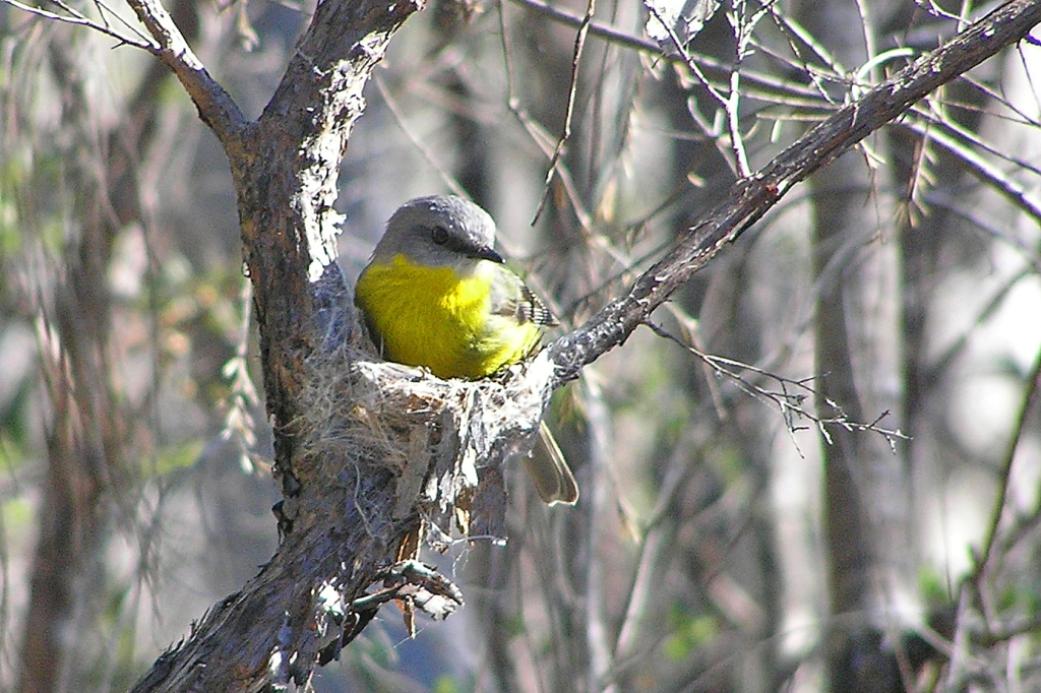 Above: Eastern Yellow Robin on nest at Ingleside. One of our most popular cards. Photo: David Palmer.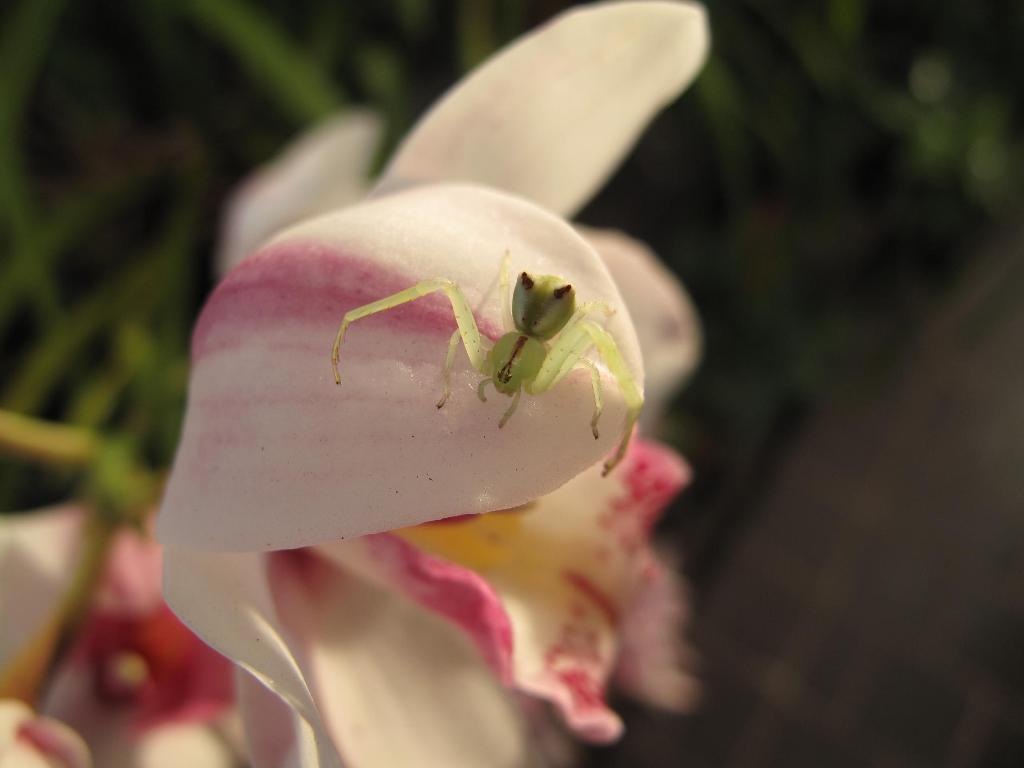 Above: Crab Spider. Sit and Wait is this spider's hunting strategy. It's a female Crab Spider, Sidymella rubrosignata. Its front legs are much longer than the rest, used for grabbing its prey, an insect visiting the flower. It doesn't spin a web, but uses a silk thread to secure its position on the petal. This spider is one of the gardener's many tiny allies. A good reason not to use insecticides in the garden.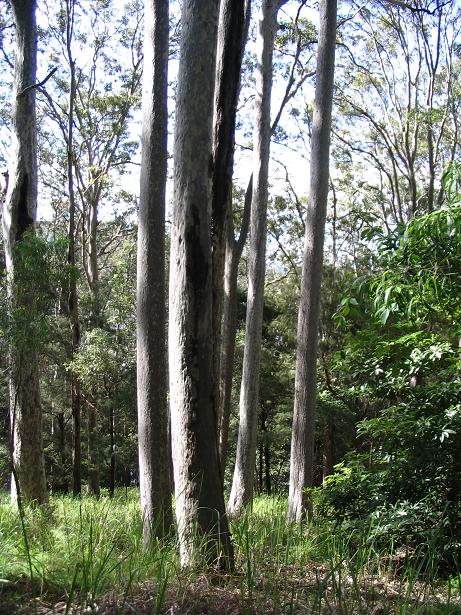 Above: Pittwater Spotted Gum (Corymbia Maculata) forest near Rocky Point. Photo by Marita Macrae.
All Images Copyright PNHA and Friends. All Rights Reserved. Click on Logo to visit their website. Copyright Pittwater Natural Heritage Association.