inbox and

environment

news: Issue 596
August 27 - September 2, 2023: Issue 596
Avalon Beach SLSC Boat Crew Looking For Members
Peter Carter and Nathan Wellings are Sweeps and Surf Boat Captains for the Avalon Beach SLSC Boat Crew, a division of the club which has members from U19's through to Masters. Currently Pete and Nathan are seeking new members to join the team and crews for the upcoming Season- anyone from Avalon to Newport is welcome to come and have a try rowing and see if they like it. After all, Summer sports are a great way to keep fit and with rowing a surf boat, you will also keep cool.
We spoke to ABSLSC's Sweeps this week about what's involved.
So Pete you're looking for new members for the Boat Crew?
Peter:
Always, always looking for new members to come and join in in this great sport.
It sounds as though you're looking for young innocents to induct this Season?
Peter:
Not necessarily. If we can get older members involved as well then they can tell their kids how good it is, and that brings the kids in as well.
Doesn't Avalon Beach SLSC already have one of the larger Boat Crews in our area?
Peter:
yes and no, we go through periods when members have other commitments they need to meet and as we try to keep it local – we were always taught by
Rick (Millar)
to keep the local kids involved so they can help build great boat crews.
The sport has been good to us so we're trying to give that back to the community by offering new spots for new members. There's some details in that poster and they can just contact us via the numbers listed there and come and have a go and have some fun.
What are you two looking forward to this Surf Boat Season and Patrol Season?
Nathan:
We're looking forward to getting some new members involved and setting up the Avalon Boat Crew for a great future. Most years all the kids coming in either lived in Avalon beach, Bilgola, Clareville or Newport. So we do try to take members from the local community and get the kids here involved, give them that opportunity to have a go and be a part of it.
What's the best part about being involved in a surf boat crew or division within a surf club?
Peter:
It's a variety of things;' the camaraderie, the getting top meet and spend time with people from different interests and all ages. Within a crew itself you have a tight knit team – you have 4 people in a boat and you can't let each other down and this really promotes a mindset where you have 4 people committed to a cause, to each other and doing their best. Then you have the community side of that where you become a member of a Volunteer Patrol where you become an integral part of a bigger team, all working together to fulfil their Patrols. There again you meet great people who are doing something for the community and building a community, even by each person doing their bit. You get to learn how to save a life, you get to learn how the water works, you get to meet and work with the people you see on the street in the village and be a part of what this community does. Just through giving back to the community a little bit you learn some self discipline and how you can apply that in every other part of your life. It's great stuff. Come and have a row!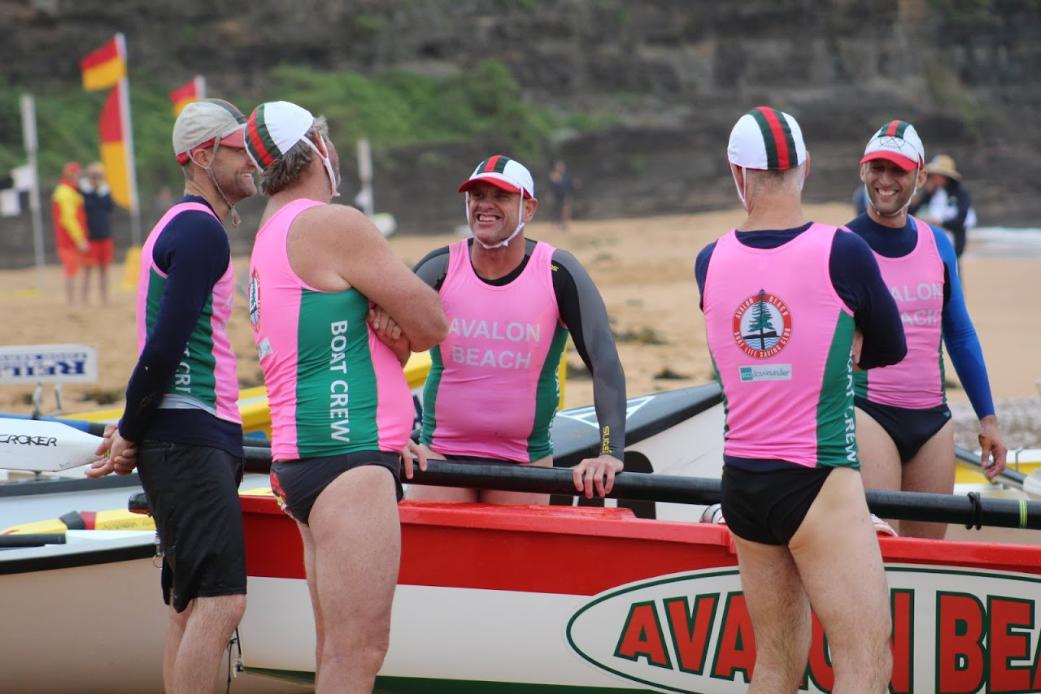 Pete Carter(centre) at Bilgola Surf Boat Carnival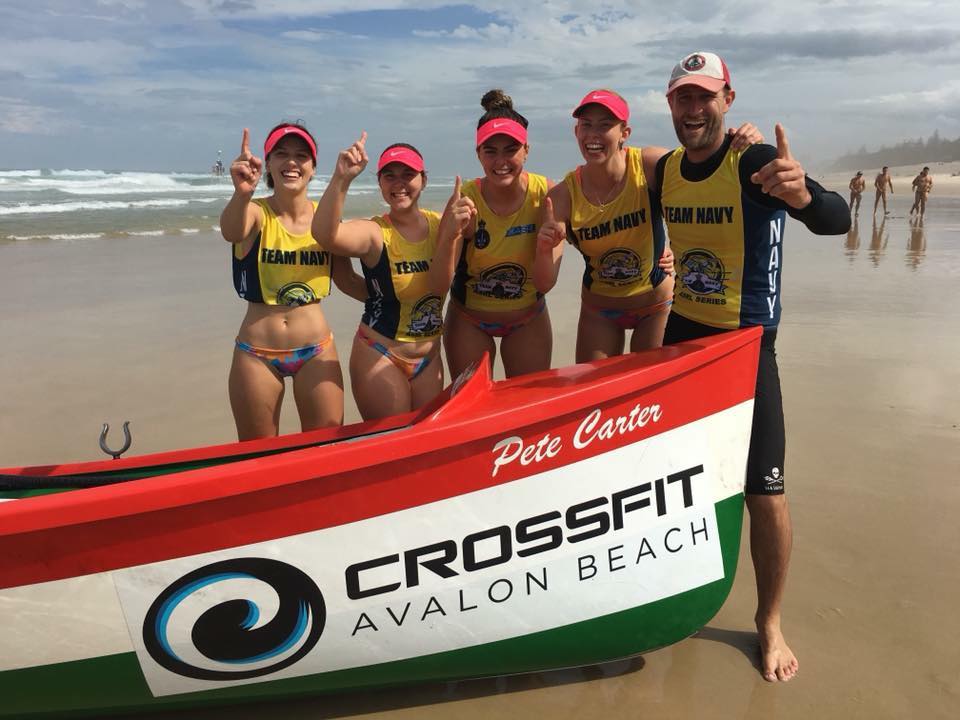 Nathan with one of his women's crews - winning at Aussies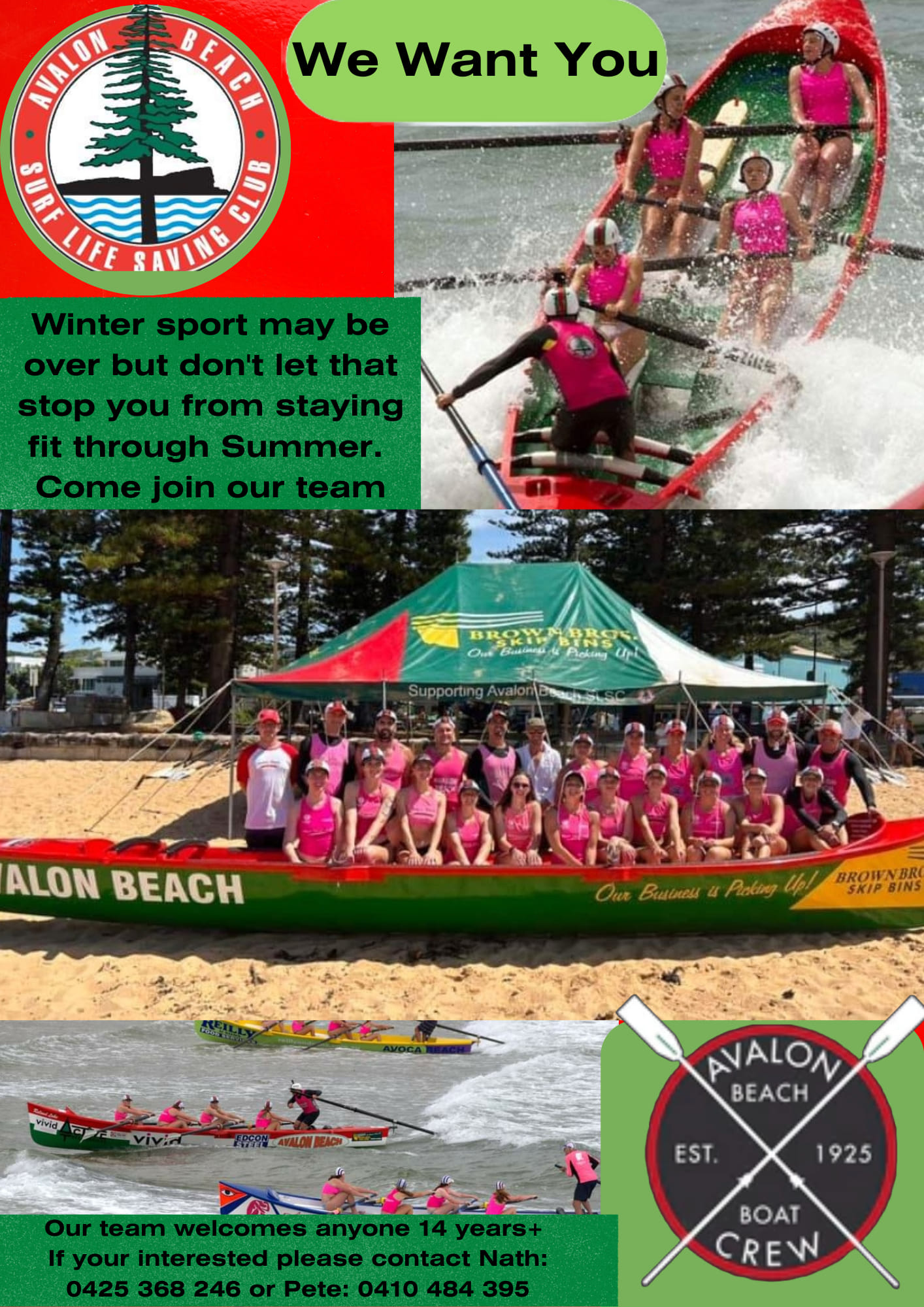 Fire And Rescue NSW Delivers Car Crash Simulations To 'Drive Home' Safety Lessons For Teenagers
Thursday August 24, 2023
Fire and Rescue NSW (FRNSW) and its emergency services partners have shared information with thousands of teenagers in an effort to make them smarter and safer drivers, staging confronting car crash simulations to press home the potential consequences of poor decisions behind the wheel.
The realistic demonstrations have formed part of the three-day 'bstreetsmart' event, an initiative of the Trauma Service at Westmead Hospital, held at Qudos Bank Arena in Sydney's west.
It is aimed at reducing the fatality and injury rates among young people on our roads.
The demos begin with the audience, comprising 16 to 18 year olds, being shown a video with a number of young people inside a moving car and discussing a party they had just attended.
The driver is heard saying he's fine to drive despite having drank alcohol, before one of his passengers is seen unclipping her seatbelt to show him a text message she received.
The dangerous antics result in a 'fatal' crash with a bike before a dramatic rescue operation plays out on-stage involving firefighters and other first-responders.
The mock scenario involves FRNSW crews using hydraulic tools to cut 'trapped passengers' from the vehicles as paramedics treat the injured; police interview witnesses, inspect the scene and subsequently arrest the driver; and an undertaker removes the body of the deceased.
The entire production is narrated and embedded with life-saving lessons for the students.
The 'bstreetsmart' event has also included moving presentations from Melissa McGuinness, whose son Jordan and four other people were killed in a car crash in Queensland in 2012.
Jordan had been speeding and driving under the influence of alcohol. The students also gained unique insights from a spinal injury patient, brain injury experts and a learner driver instructor.
FRNSW Acting Assistant Commissioner – Community Safety, Dave Felton, highlighted that people aged 15 to 30 are disproportionally represented in road trauma.
"The 'bstreetsmart' initiative is critical to developing good drivers, riders and passengers, as it demonstrates to young people how quickly and easily things can go wrong on our roads," Acting Assistant Commissioner Felton said.
"The crash simulations are shocking, but they're designed to be, because too many young people ignore other road safety messaging and aren't alert to the dangers.
"Fire and Rescue NSW is proud to be involved with 'bstreetsmart' and it's extraordinary to think how many lives have likely been saved as a result of the lessons this program has been rolling out over the past two decades."
For more information, visit https://bstreetsmart.org/ or https://onthemove.nsw.edu.au/ Online lessons available at: https://bstreetsmartonline.org/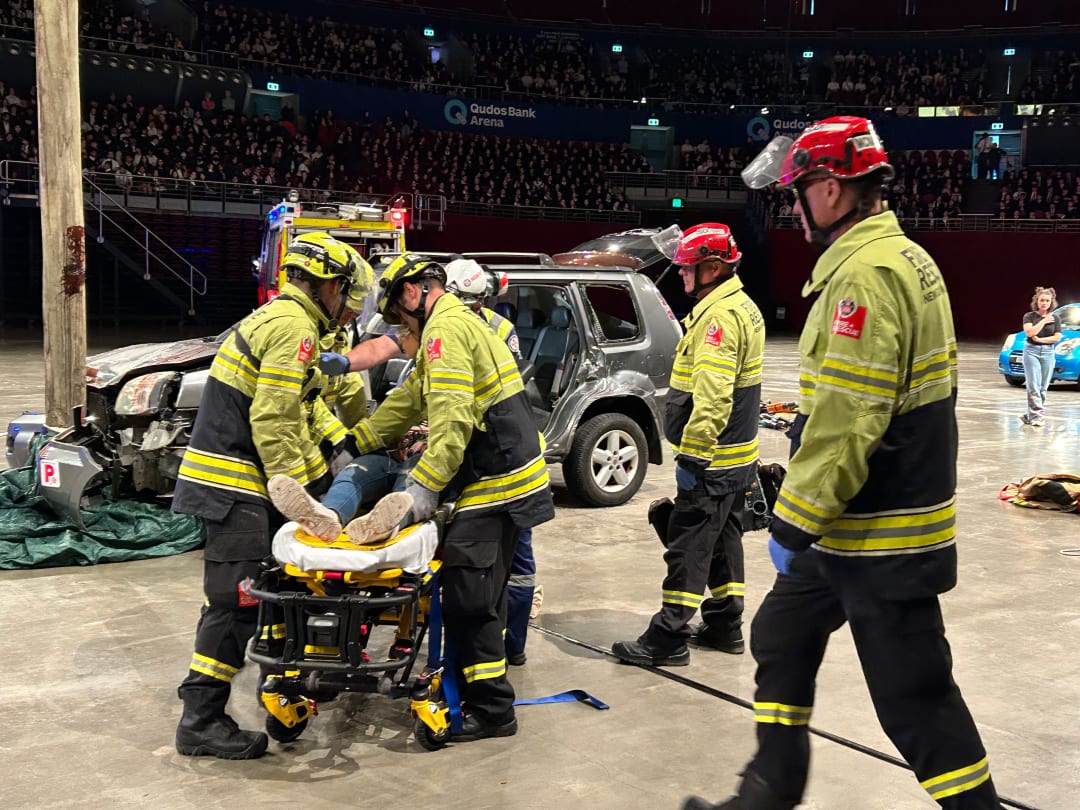 Students Name Final Mega-Boring Machine For Western Sydney Airport Metro After Dr Marlene Kanga AO
The fourth and final name of the tunnel boring machine (TBM) for the Sydney Metro – Western Sydney Airport project has been unveiled during a special launch ceremony at the Orchard Hills metro station site.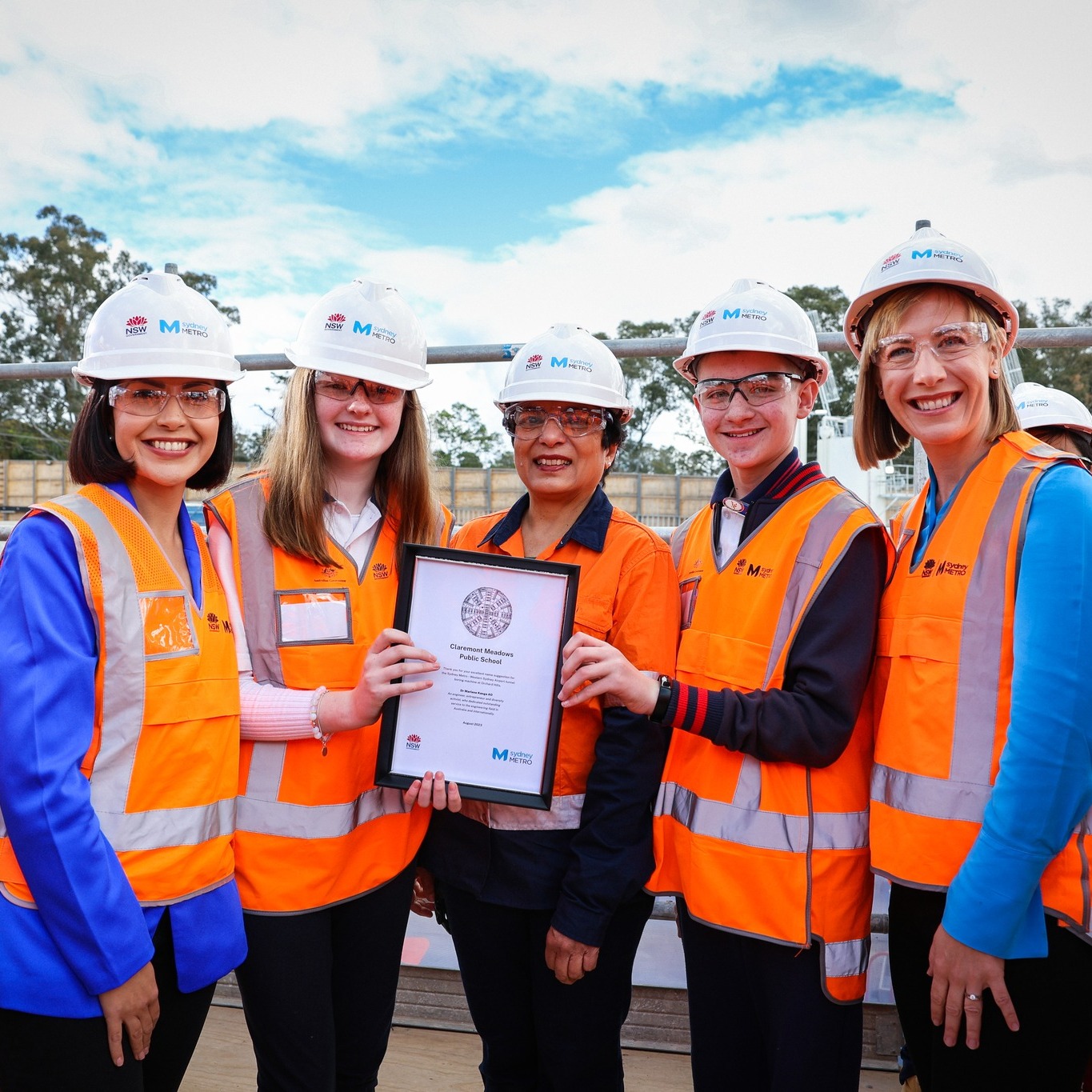 NSW Deputy Premier Prue Car, Marlene Kanga AO flanked by Claremont Meadows Public School students, and NSW Minister for Transport Jo Haylen,
On hand to witness the launch were representatives from six local primary schools who participated in a Sydney Metro competition to name the machine. The students were the first to be introduced to TBM Marlene, the winning name submitted by Claremont Meadows Public School.
The machine is named in honour of Dr Marlene Kanga AO, recognising her significant contribution as a global leader in engineering and role model to women in STEM (science, technology, engineering and mathematics).
TBM Marlene will tunnel 4.3km, carving out the metro tunnel from Orchard Hills to St Marys alongside TBM Catherine, which is currently about 100m into its journey.
The 900-tonne TBM will tunnel on average 120m per week and is expected to arrive at the St Marys metro station site in mid-2024.
The naming competition was an opportunity for local primary school students to learn more about the new 23km metro line currently under construction from St Marys to the Aerotropolis that will transform travel in their area.
It also provided a chance for students to explore achievements of inspiring Australian women in the community, with all names submitted required to be female – a tunnelling tradition stemming from the 1600s when miners working underground prayed to Saint Barbara for protection.
All six schools that participated in the competition - Claremont Meadows Public School, Our Lady of the Rosary Primary, Kurrambee School, St Marys South Public School, St Marys North Public School and Orchard Hills Public School - were commended for the significant thought and effort they put into their suggested names.
The launch of TBM Marlene means all four TBMs for the mega project are now in the ground, with TBMs Eileen and Peggy 1275m and 386m into excavating the 5.5km of tunnels between the Airport Business Park and the Aerotropolis, respectively.
New metro rail will become the transport spine for Greater Western Sydney, connecting communities and travellers with the new Western Sydney International (Nancy-Bird Walton) Airport and the growing region.
The Australian and NSW Governments have a shared objective of having Sydney Metro – Western Sydney Airport operational when Western Sydney International Airport opens for passenger services.
There is more information on the Western Sydney Airport Metro project available here
About Marlene Kanga AO
Dr Marlene Kanga AO is listed among Australia's top 10 women engineers and top 100 engineers. A chemical engineer, she was National President of Engineers Australia in 2013 and President of the World Federation of Engineering Organisations in 2017-2019.
Dr Kanga has had an executive career in complex systems safety in the oil and gas and chemical industry. She is now a non-executive director and a board member at Endeavour Energy, Business Events Sydney, Standards Australia and formerly, Sydney Water Corporation and Innovation Australia. She is a director of iOmniscient Pty Ltd which has developed advanced video analytic technologies and Rux Energy Pty Ltd which is commercialising new materials for hydrogen storage.
She is Chair of the global Institution of Chemical Engineers Safety Centre, advancing complex system safety engineering internationally.
Dr Kanga is an Honorary Fellow of Engineers Australia, an Honorary Fellow of the Institution of Chemical Engineers (UK), a Foundation Fellow of the International Science Council, a Fellow of the Australian Academy of Technological Sciences and Engineering and a Fellow of the Australian Institute of Company Directors.
She was the Engineers Australia 2018 Professional Engineer of the Year, received the Chemeca Medal in 2019 for contributions to chemical engineering and the Ada Lovelace Medal as an outstanding women engineer, in 2023. She is an Officer of the Order of Australia "for distinguished service to engineering, as a global leader and role model to women."
Deputy Premier Prue Car said:
"The students have done a great job naming this tunnelling machine after such an inspiring leader in STEM.
"The name Marlene was suggested by Claremont Meadows Public School, and it is fitting that students from nearby schools were here at today's launch as this project will serve many generations to come.
"It has been a joy to have these local school children attend the launch and send the fourth and final TBM for this transformational project off in style.
"The entries from local schools demonstrated an awareness of the contributions and successes of many outstanding women, and I'm so pleased to see Dr Marlene Kanga AO recognised in this way.
"The naming of TBM Marlene is a tremendous legacy for its namesake, and I look forward to tracking the machine's progress as the tunnel advances from Orchard Hills to St Marys."
Minister for Transport Jo Haylen said:
"Major construction is well underway on the Western Sydney Airport Metro, with the fourth and final tunnel boring machine launching its journey to build Sydney's newest rail tunnels.
"It is fantastic to see local schools get involved and learn more about this vital transport link that will revolutionise how people will move in the area putting Western Sydney on the doorstep of the rest of the world."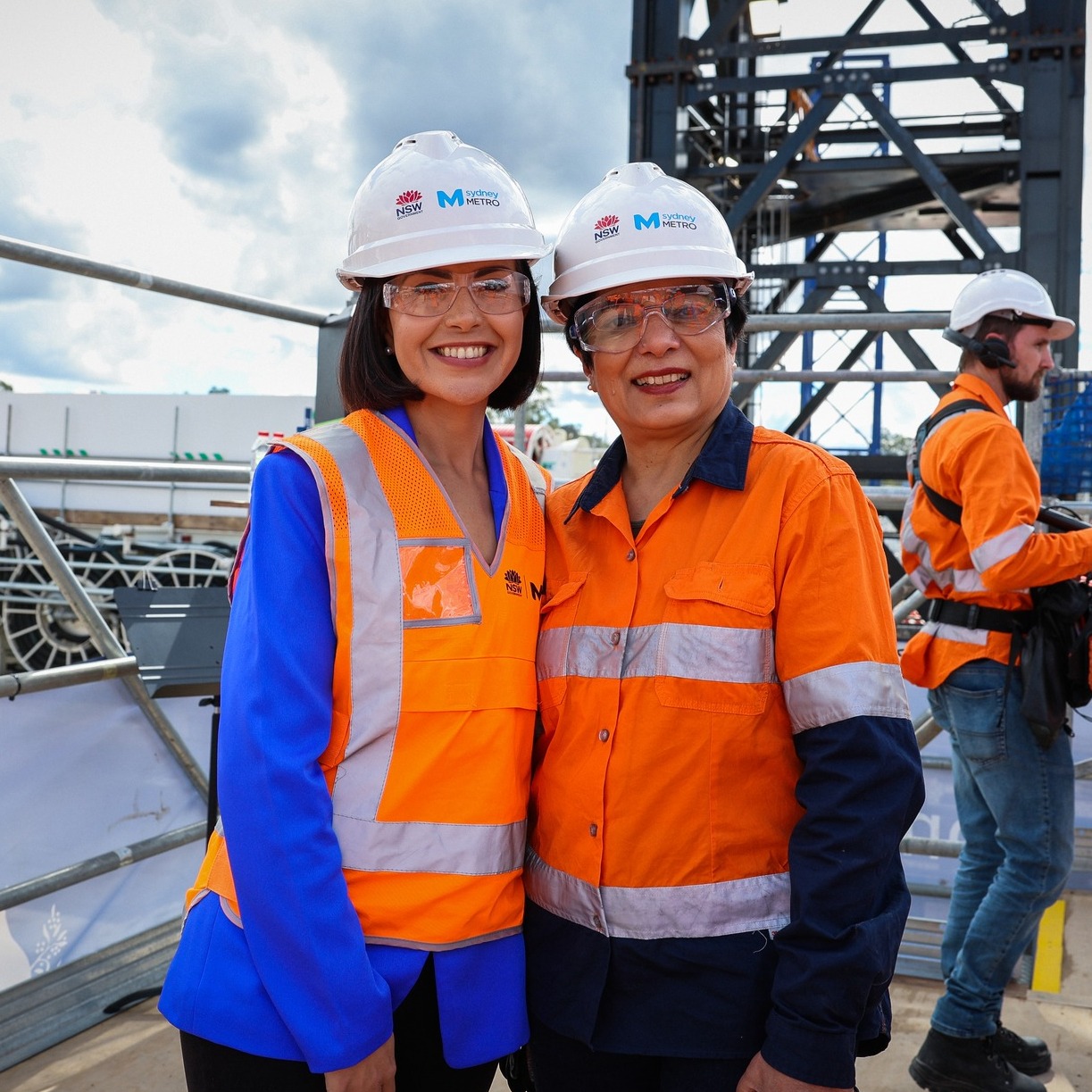 Deputy Premier Prue Car and Marlene Kanga AO. Photos: NSW Government
School Leavers Support
Explore the School Leavers Information Kit (SLIK) as your guide to education, training and work options in 2022;
As you prepare to finish your final year of school, the next phase of your journey will be full of interesting and exciting opportunities. You will discover new passions and develop new skills and knowledge.
We know that this transition can sometimes be challenging and the COVID-19 pandemic has presented some uncertainty. With changes to the education and workforce landscape, you might be wondering if your planned decisions are still a good option or what new alternatives are available and how to pursue them.
There are lots of options for education, training and work in 2022 to help you further your career. This information kit has been designed to help you understand what those options might be and assist you to choose the right one for you. Including:
Download or explore the SLIK here to help guide Your Career.
School Leavers Information Kit (PDF 5.2MB).
School Leavers Information Kit (DOCX 0.9MB).
The SLIK has also been translated into additional languages.
Download our information booklets if you are rural, regional and remote, Aboriginal or Torres Strait Islander, or living with disability.
Support for Regional, Rural and Remote School Leavers (PDF 2MB).
Support for Regional, Rural and Remote School Leavers (DOCX 0.9MB).
Support for Aboriginal and/or Torres Strait Islander School Leavers (PDF 2MB).
Support for Aboriginal and/or Torres Strait Islander School Leavers (DOCX 1.1MB).
Support for School Leavers with Disability (PDF 2MB).
Support for School Leavers with Disability (DOCX 0.9MB).
Download the Parents and Guardian's Guide for School Leavers, which summarises the resources and information available to help you explore all the education, training, and work options available to your young person.
School Leavers Information Service
Are you aged between 15 and 24 and looking for career guidance?
Call 1800 CAREER (1800 227 337).
SMS 'SLIS2022' to 0429 009 435.
Our information officers will help you:
navigate the School Leavers Information Kit (SLIK),
access and use the Your Career website and tools; and
find relevant support services if needed.
You may also be referred to a qualified career practitioner for a 45-minute personalised career guidance session. Our career practitioners will provide information, advice and assistance relating to a wide range of matters, such as career planning and management, training and studying, and looking for work.
You can call to book your session on 1800 CAREER (1800 227 337) Monday to Friday, from 9am to 7pm (AEST). Sessions with a career practitioner can be booked from Monday to Friday, 9am to 7pm.
This is a free service, however minimal call/text costs may apply.
Call 1800 CAREER (1800 227 337) or SMS SLIS2022 to 0429 009 435 to start a conversation about how the tools in Your Career can help you or to book a free session with a career practitioner.
Word Of The Week: Rascal
Word of the Week returns in 2023 simply to throw some disruption in amongst the 'yeah-nah' mix.
Noun
1. : a mean, unprincipled, or dishonest person. 2. : a mischievous person or animal. 3. a cheeky person or creature; a troublemaker.
From Middle English (in the senses 'a mob' and 'member of the rabble'): from Old French rascaille 'rabble', of uncertain origin. mid-14c., rascaile "people of the lowest class, the general mass; rabble or foot-soldiers of an army" (senses now obsolete), also singular, "low, tricky, dishonest person," from Old French rascaille "rabble, mob" (12c., Modern French racaille), as Cotgrave's French-English Dictionary (1611) defines it: "the rascality or base and rascall sort, the scumme, dregs, offals, outcasts, of any company."
This is of uncertain origin, perhaps a diminutive from Old French rascler, from Vulgar Latin rasicare "to scrape" on the notion of "the scrapings." "Used in objurgation with much latitude, and often, like rogue, with slight meaning" [Century Dictionary]. Used also in Middle English of animals unfit to chase as game on account of some quality, especially a lean deer. Also formerly an adjective.
Compare: rapscallion (n.); "A rascally, disorderly, or despicable person" [Century Dictionary], 1690s, alteration of rascallion (1640s), a fanciful elaboration of rascal (q.v.). It had a parallel in now-extinct rampallion (1590s), from Middle English ramp (n.2) "ill-behaved woman." Also compare rascabilian (1620s). Rapscallionry "rascals collectively" is marked "[Rare.]" in Century Dictionary (1897); Galsworthy used rapscallionism.
Compare Rascar - Etymology; From Old Spanish rascar, from Vulgar Latin rāsicāre, a frequentative verb based on Latin rāsus ("shaven").

"Ain't Misbehavin'" is a 1929
stride jazz/early swing song. Andy Razaf wrote the lyrics to a score by Thomas "Fats" Waller and Harry Brooks for the Broadway musical comedy play
Connie's Hot Chocolates
.
Terence Trent D'Arby ~ Right Thing, Wrong Way
Cricket Story
Published by NFSA - From the Film Australia Collection. Made by the Commonwealth Film Unit 1961.
An account of the part cricket plays in Australian life, showing facilities for learning the game and highlights from famous matches. Narrated by former Australian Captain Victor Richardson. Today's players as well as players from the past, like Bradman, O'Reily, Miller, Lindwall and Oldfield are shown playing or coaching. Young cricket enthusiasts learn the game at school and can progress to competitive matches if they show promise. Later, they may be selected for a national team. Filmed during the 1960 / 61 series between Australia and the West Indies.
Council's Support For Young Writers Produces 'Promising' Results In 2023 Competition
Quest Haven Primary School, at Mona Vale during the 1930's - photographed by Max Dupain, courtesy Mitchell Library, State Library of New South Wales
The winners of this year's Young Writers Competition were announced on Saturday 19 August at Dee Why Council Chambers.
Now in its fourteenth year, the challenge this year was to write a short story based on the theme 'promise'… and the students certainly kept their promise rising to the occasion.
Northern Beaches Mayor Sue Heins presented the awards to the aspiring writers, encouraging a new generation to continue their commitment to writing in an increasingly technologically focused world.
"Writing is so important for children. It's the fuel that drives communication, and writing enhances problem-solving and critical thinking skills.
"I was so impressed by the depth of talent and passion of students from kindergarten to year 12. It was terrific to see such a diverse range of uplifting, and creative interpretations of the theme.
"Thank you to all the judges who had the very difficult job of selecting 24 finalists as well as the many teachers, school librarians and parents who inspire a love of literacy in our young people.
"Congratulations to all the winners and equally well done to all those who submitted entries in this year's competition.
This year 400 entries from across 50 schools were received with 24 finalists selected.
The winners are:
Year K-2
Olivia Pollrock "The Story of the Witch and the Broken Promise"
Year 3-4
Ashley Smith "The Promise of Safety"
Year 5-6
Frankie Boulter "The Last Promise"
Year 7-8
Nico Clausen "Don't Reach Me"
Year 9- 10
Lillian Hamilton "Evening Rounds"
Year 11-12
Quinn Campbell "Infallible Memories"
All the finalists run below.
The students' compelling stories explore space, witches, astronauts and robots. They invoke feelings of family, safety, self-belief, love and heartbreak. From War to art theft and cuddly ninja penguins, the creative pieces capture a range of themes and adventures across this world and beyond.
The Young Writers' Competition is an annual competition open to students up to and including year 12 who live or go to school in our area and are members of the Northern Beaches Council Library Service.
Entries are judged according to characterisation, originality, plot and use of language. Stories are arranged into six different age group categories with highly commended, runner up and winner.
Congratulations to this year's winners and finalists:
Kindergarten - Year 2, judged by Author Ashling Kwok:
Winner: Olivia Pollrock for The Story of the Witch and the Broken Promise
Runner Up: Isabelle Jones for Space
Highly Commended: Jasper Cook for The Missing Painting
Highly Commended: Teddy Brown for Revenge of the T-Rex
Years 3 – 4, judged by Authors Beck & Robin Feiner:
Winner: Ashley Smith for The Promise of Safety
Runner Up: Lily Elliott for The Promise
Highly Commended: Ella Harding for The Promise
Highly Commended: Maya Gaffney for Prometheus
Years 5 - 6, judged by Author Deborah Abela:
Winner: Frankie Boulter for The Last Promise
Runner Up: Anoushka Dymock for What Becomes of a Promise?
Highly Commended: Bronte McDevitt for The Endless Trek for Water
Highly Commended: Harriet Soper for A Dog's Promise
Years 7 – 8, judged by Author Jeremy Lachlan:
Winner: Nico Clausen for Don't Reach Me
Runner Up: Lauren Kuiper for I Promise
Highly Commended: Lachlan Kline for An Unexpected Battle
Highly Commended: Lam Nhi Catalinotto for It's Me
Years 9 - 10, judged by Author Leanne Yong:
Winner: Lillian Hamilton for Evening Rounds
Runner Up: Lexie McCoy for Switch
Highly Commended: Annika Schulte-Paterson for To Heal a Broken Heart
Highly Commended: Laura Piper for All that I am
Years 11 – 12, judged by Author Gary Lonesborough:
Winner: Quinn Campbell for Infallible Memories
Runner Up: Otto Maxwell for Bronze Pocket Watch
Highly Commended: Jared Kimpton for The Farm at the Edge of Human Space
Highly Commended: Lachlan Ginger for Shadow
Coiuncil asked some of this year's winners what they think makes a good story:
"A good story is something that anyone can see a part of themselves in" Quinn Campbell, Winner of Year 11-12 Category.
"A story needs a hooking start and emotion" Frankie Boulter, Winner of Year 5-6 Category.
Nine out of Council's 24 finalists this year have been finalists in previous Young Writers' Competitions, demonstrating the student's commitment to creative writing each year across multiple theme words and by different author judges.
All 24 finalists' stories will feature in the 2023 Young Writers' Competition 'Promise' e-book, which is available in the library's collection.
Thank you to all the students who entered this year's competition. For those interested in entering next year, this year's finalists have offered the following advice:
"Choose your idea, write about your passion and make the theme fit it" Lachlan Kline, Highly Commended for Year 7-8 Category.
"Be brave and just keep going!" Ashley Smith, Winner for Year 3-4 Category.
"Just keep writing!" Annika Shulte-Paterson, Highly Commended for Year 9-10 Category.
Council look forward to seeing what wonderful stories next year's competition brings!
World's Biggest Lego Store Coming To Sydney + Lego Braille Bricks Launched
Australia is set to be the home of the Worlds Largest LEGO Branded Store, opening in coming months, with a new store opening in the Sydney Arcade, overlooking the Pitt St Mall in Sydney.
Spread across 2 floors, and covering 900 square meters, the store will be bringing some new experiences to the the Australian LEGO scene, including the Minifigure Factory, where you can have a minifigure printed with torsos and stickers that are unique to the store.
The store will feature models designed and built by Ryan 'Brickman' McNaught and his team, along with a new Story Telling Table: LEGO fans can go behind-the-scenes of the LEGO design process with a new storytelling table including interactive areas that allow access 'behind-the- scenes' through interviews and videos displayed on screens.
The store will also feature the stalwarts of LEGO Branded Stores:
Pick and Build Wall: an enormous signature brick experience where visitors select the exact LEGO brick elements required to create personalised builds;
Hands-on play opportunities: including a LEGO play wall and free LEGO build challenges and in-store events every month;
Brick Specialists: whether visitors are picking out a gift, looking for the latest set or bringing a LEGO fan in for a special treat, Brick Specialists can help find the perfect LEGO set.
Troy Taylor, Vice President and General Manager, LEGO Australia and New Zealand, comments: "We're really looking forward to opening the LEGO Sydney CBD store as the world's biggest LEGO store.
"Supporting the LEGO Group's mission to inspire and develop builders of tomorrow, the immersive new store will feature creative play experiences, with playful nods to Australian culture, that are sure to create lasting memories for every Aussie or visitor from around the world."
Richard Facioni, Executive Chairman, Alquemie Group, said the new store would capitalise on the enduring appeal of the LEGO brand and bring a world-class retail concept to Australia. "We're incredibly excited to unveil our flagship store and the world's largest LEGO store, in partnership with the LEGO Group ANZ, right in the heart of Sydney.
"This globally unique store will offer an immersive LEGO experience for local and international brick fans, with a number of features new to this market. It will have something for LEGO fans of all ages and will definitely put Sydney on the LEGO world map!"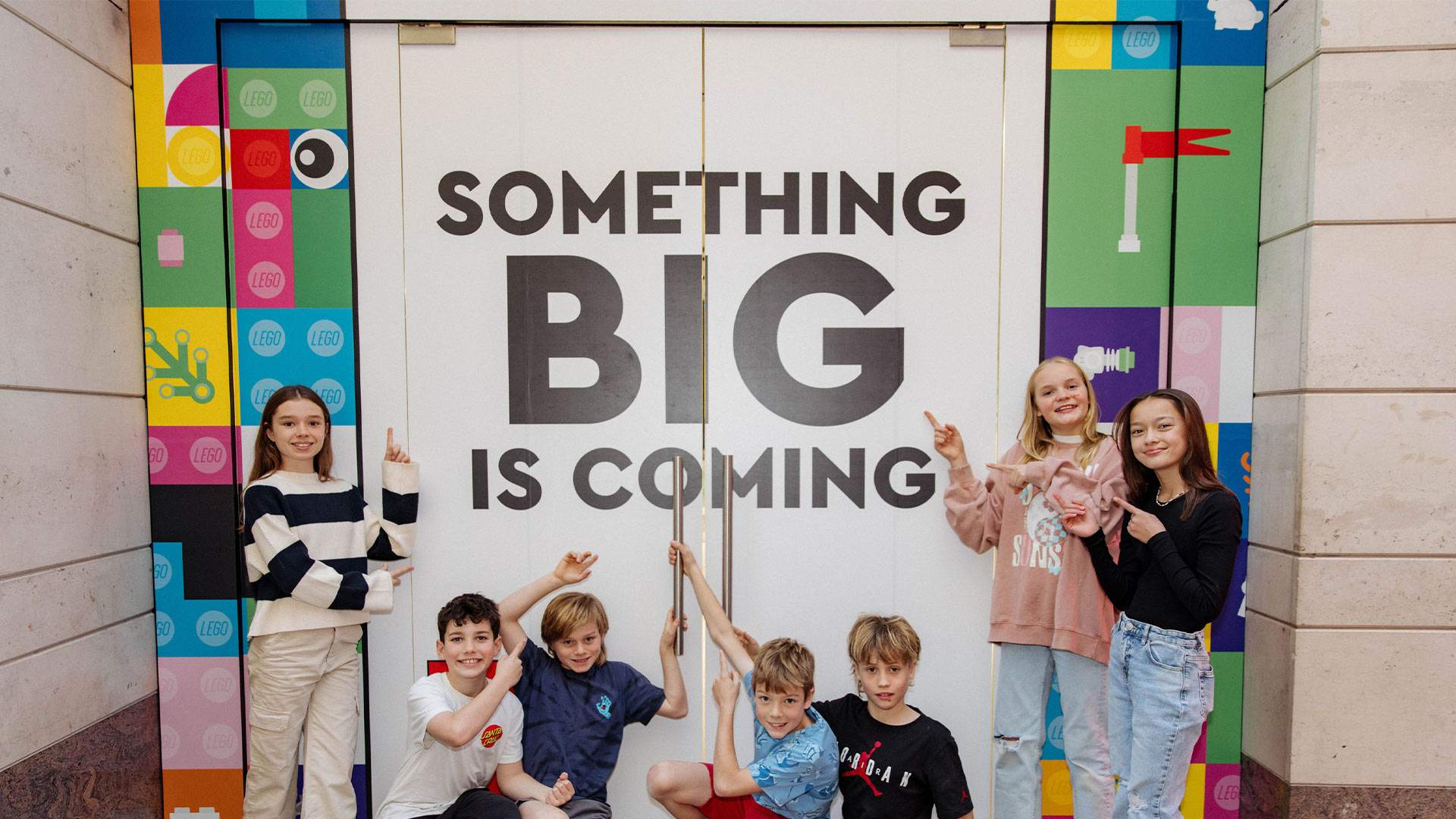 LEGO Braille bricks now available
In related news, Lego announced on Thursday August 24 LEGO® Braille Bricks are on Sale now for the first time. Ahead of World Blind Awareness Month this October and in response to global demand, the LEGO Group announces LEGO® braille bricks are available to purchase for the first time through LEGO.com. The new product - LEGO® Braille Bricks – Play with Braille – is aimed at kids aged 6+ and has been designed so that anyone who is curious about braille, be they blind, partially-sighted or sighted, can have fun getting to know the braille system at home with their family members in a playful, inclusive way.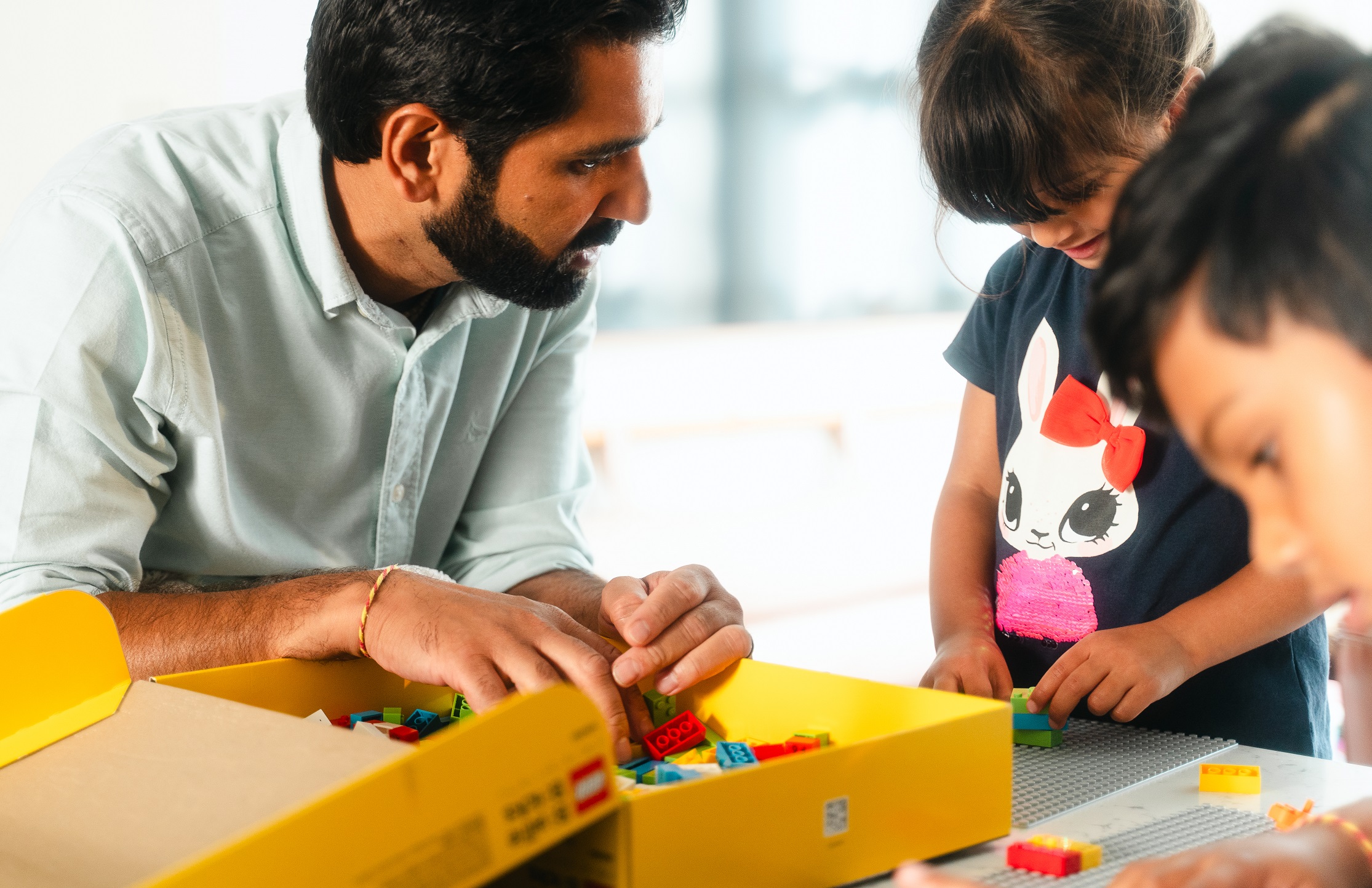 Martine Abel-Williamson, President, World Blind Union, commented: "For blind and partially sighted children, and adults for that matter, it makes all the difference if they can share their journey of learning braille with the people they love the most. For the blind community, braille is not just literacy, it's our entry to independence and inclusion into this world, and to have LEGO Braille Bricks made available for the wider public is a massive step forward to ensuring more children will want to learn braille in the first place. And because it's based on a product that so many families already know and love, this is really an invitation for all family members to have fun building tactile skills and getting familiar with braille using the same tool."
Until now, LEGO Braille Bricks have only been distributed free of charge by the LEGO Foundation to organisations* specializing in the education of children with vision impairment. Since the launch of these educational kits in 2020, feedback from parents, carers, grandparents, children, and educators has continually highlighted the positive impact the bricks have and how they transform the way children with vision impairment can learn braille. This overwhelming response has led to the creation of LEGO Braille Bricks - Play with Braille to give families the opportunity to enjoy the benefits and practice their tactile skills at home.
Lisa Taylor, mum to 7-year-old Olivia and 4-year-old Imogen, commented: "Olivia first discovered LEGO braille bricks at school and they had such a big impact on her curiosity for braille. Before then, she found it hard to get started with the symbols but now she's improving all the time. To have a set at home changes everything. We can play with braille together as a family and she can introduce braille to her little sister in a way they both love. LEGO braille bricks are accessible for her without being really different for other kids, so she gets to play and learn just like every other child. That makes her feel included which is so important, not just to Olivia but any child."
LEGO Braille Bricks – Play with Braille includes 287 bricks in five colours: white, yellow, green, red and blue. All bricks are fully compatible with other LEGO products and the studs on each brick are arranged to correspond to the numbers and letters in the braille system, with the printed version of the symbol or letter situated below the studs.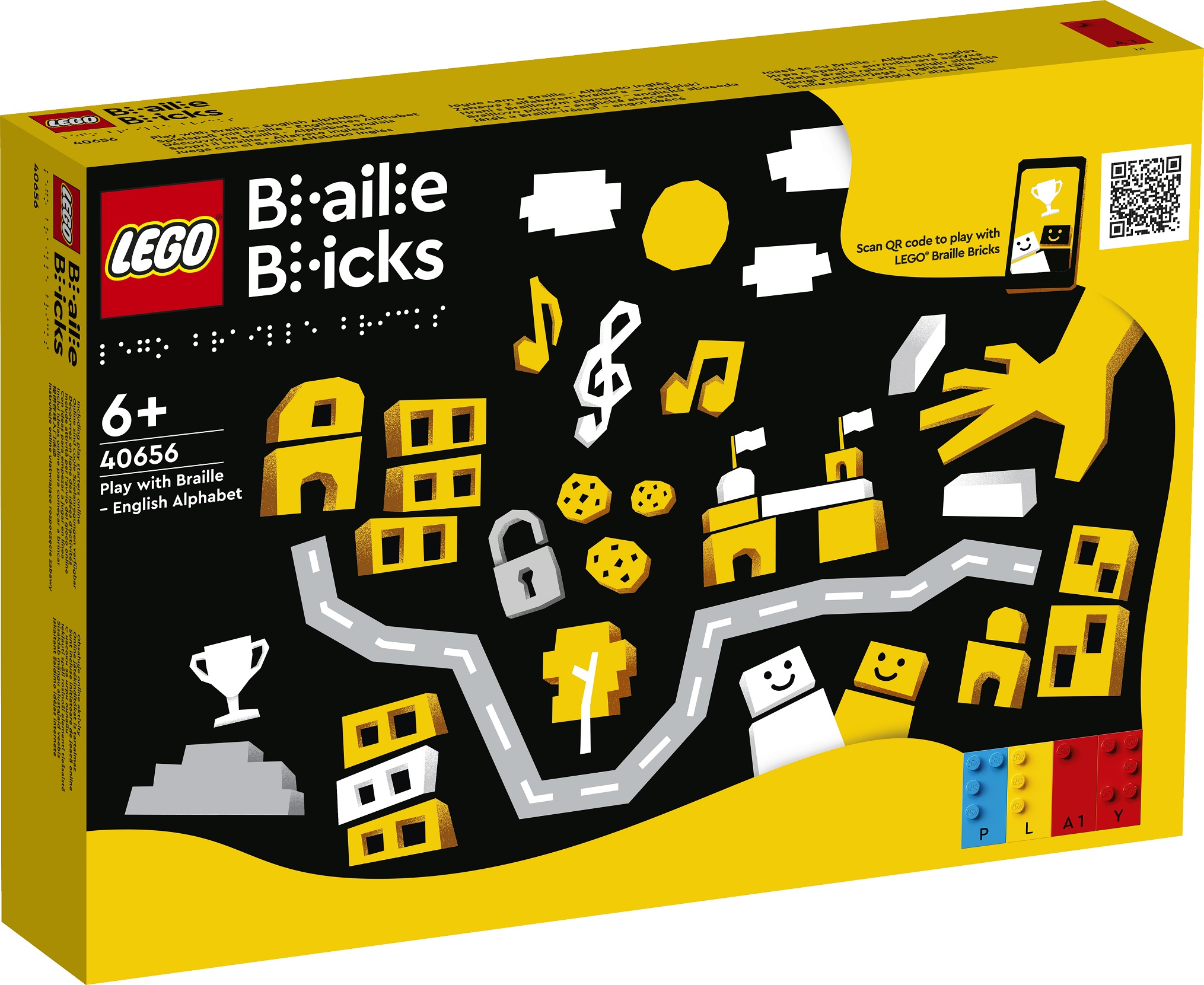 The set also includes two baseplates to build on and comes in packaging with braille embossing. To enhance the play experience and support pre-braille skill development, a series of supporting play starters are available on LEGO.com and will teach players how to orient, attach and stack the bricks through well-loved games such as Rock, Paper, Scissors, which all members of the family can take part in.
Rasmus Løgstrup, LEGO Group Lead Designer on LEGO Braille Bricks said: "Play has the power to change lives; when children play, they learn vital life-long skills, so we were thrilled by the reception that LEGO Braille Bricks received in educational settings. We've been inundated with thousands of requests to make them more widely available, so we just knew we had to make it happen!"
"It's been a fantastic journey collaborating with children, families and experts from around the world to develop the product and online activity packs. Our partners have been instrumental also in advising on what colourways should be used for the bricks, product packaging and digital experiences to ensure this is optimised for individuals who experience low vision and vision loss. We know this is a strong platform for social inclusion, and can't wait to see families get creative and have fun playing with braille together."
With its ongoing commitment to make its play experiences more inclusive, the LEGO Group has also partnered with the free mobile app Be My Eyes. The popular app connects blind and partially sighted people with companies to help with everyday tasks through a live video call. As part of the partnership, LEGO Customer Service colleagues will provide confidential, live visual assistance through the app covering support from a wide range of topics from unboxing, to general product support.
Mike Buckley, Chairman and CEO, Be My Eyes, commented: "The fact that the LEGO Group is investing in inclusion is huge because so many people in the blind and low vision community already love and enjoy LEGO products. Be My Eyes is incredibly honoured to partner with the LEGO Group to enable and inspire the creativity of blind and low vision builders across the globe."
The LEGO Group is also pleased to announce that LEGO® Audio & Braille Building Instructions will now become a permanent offering. Inspired and co-developed by entrepreneur Matthew Shifrin who is blind, this experience gives builders the option of having select LEGO building instructions available as audio or text for braille readers.
LEGO Braille Bricks – Play with Braille is priced at $149.99 and now available for pre-order in English and French versions ahead of launch September 1st 2023. In early 2024, the set will also be available in Italian, German and Spanish versions.
LEGO® Braille Bricks Play with Braille – English version availability:
United Kingdom: £79.99: GBP
Ireland: 89.99 EUR
United States: $89.99 USD
Canada: $119.99 CAD

Australia: $149.99 AUD

New Zealand: $169.99 NZD
The LEGO Foundation will continue to carry out research and distribute LEGO Braille Bricks educational kits free of charge through partnering national blindness associations and other partnering organisations.
*LEGO Braille Bricks as a concept has been tested and developed in close collaboration with partnering blind organisations from around the world.
LEGO Braille Bricks educational toolkits are distributed free of charge to select institutions, schools and services catering to the education of children with vision impairment. In each country where they are available, the LEGO Foundation works with an Official Partner to distribute them to these institutions.
The LEGO Group's mission is to inspire and develop the builders of tomorrow through the power of play. The LEGO System in Play, with its foundation in LEGO bricks, allows children and fans to build and rebuild anything they can imagine.
The LEGO Group was founded in Billund, Denmark in 1932 by Ole Kirk Kristiansen, its name derived from the two Danish words LEg GOdt, which mean "Play Well". Today, the LEGO Group remains a family-owned company headquartered in Billund. However, its products are now sold in more than 130 countries worldwide.
Photos for report supplied by LEGO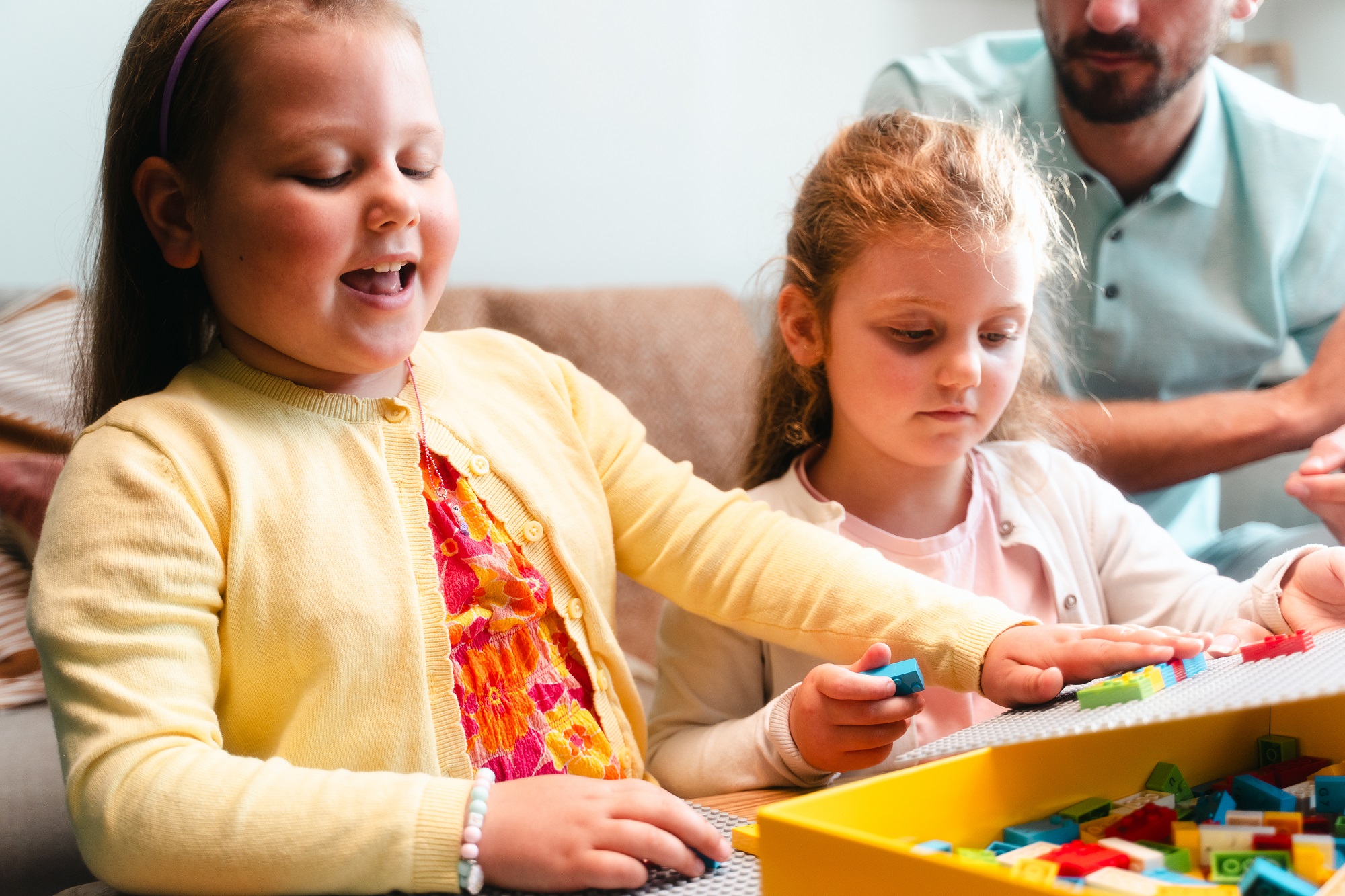 10th Reunion Day On The Gold Coast: Local Legends Get Together
Past Profilee of the Week
Paul Cunningham
shares some photos this week of a get together that happened August 17 in what Paul describes as 'a top day at Manos restaurant in Surfer's Paradise.'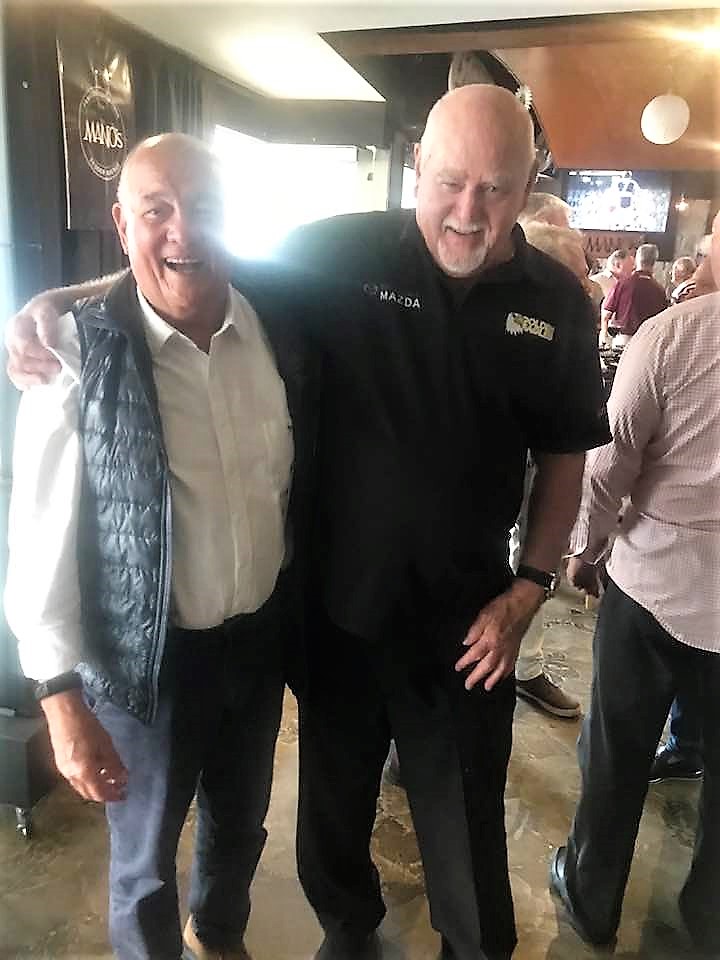 North Palm Beach surf champion in the sixties Peter Lewis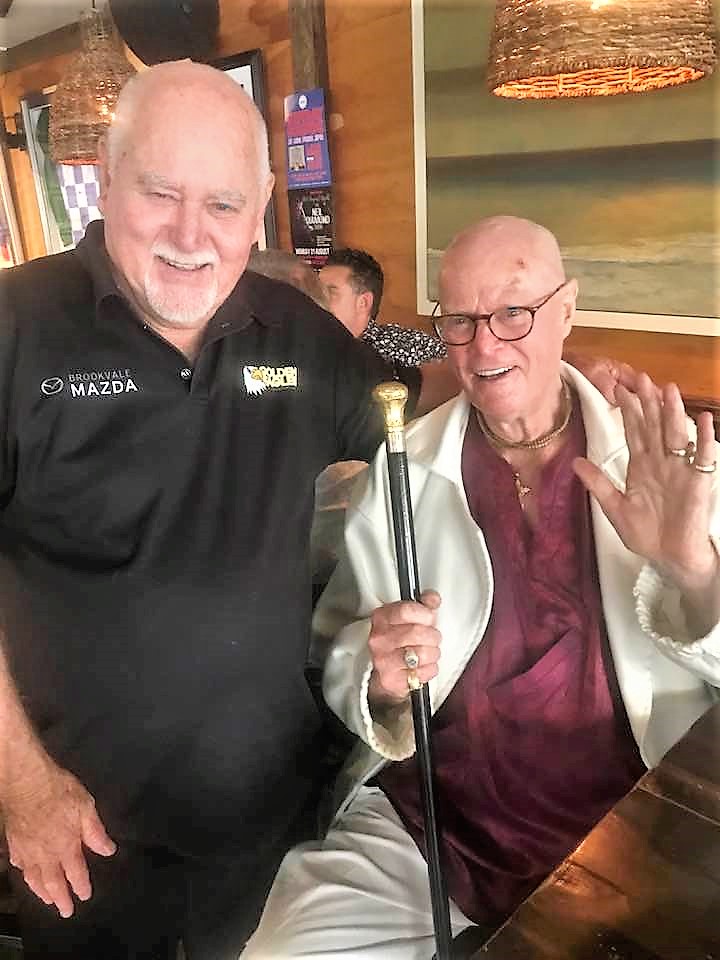 With Tony Holt; a lot of fond memories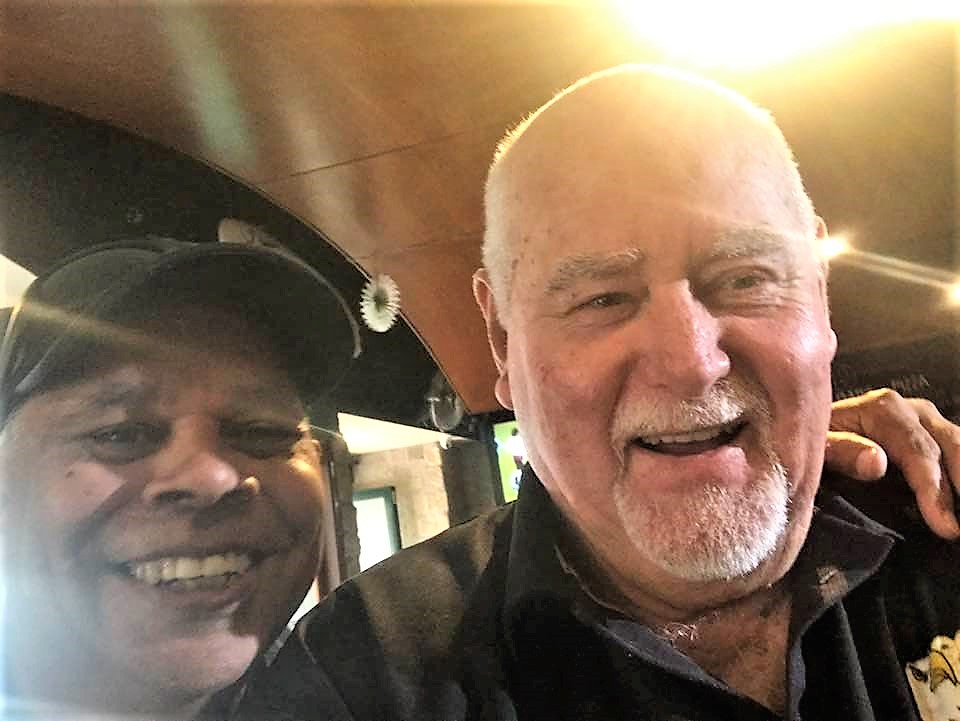 With the legend Larry (Flash) Corowa
Larry Corowa MBE (born 5 August 1957 in Murwillumbah, New South Wales) is an Indigenous Australian former professional rugby league footballer who played in the 1970s, 1980s and 1990s. An Australian international and New South Wales representative winger, he played club football at the Balmain Tigers for six seasons between 1978 and 1983, with two games for the Gold Coast Seagulls in the 1991 New South Wales Rugby League Premiership. Playing on the wing, Corowa became one of Rugby League's most prolific try scorers of his era. He is one of a select few players to have scored more than a try a game in a season of football in Australia.
He was appointed Member of the Order of the British Empire (MBE) in the 1980 New Year Honours for service to sport.
Larry was selected as a member of the 1978 Kangaroo tour, though he did not play a test on tour. He made his test debut for Australia during the 1979 Ashes series against the touring Great Britain Lions at Lang Park in Brisbane with the Kangaroos winning 35–0. He played in the first two games of the series for his only test appearances, scoring a try on debut at Lang Park. Nicknamed "The Black Flash", Corowa was considered during his time with Balmain to be 'the fastest player in the game' not only in Australia but the rest of the rugby league world. Larry Corowa is listed on the Australian Players Register as Kangaroo No. 516.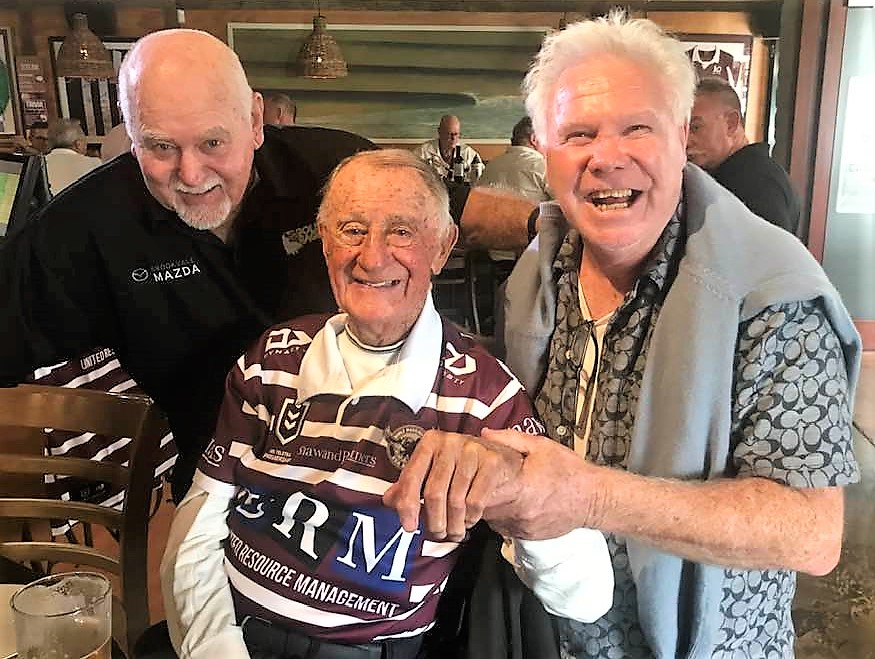 Catching up with Ken Arthurson and legend Peter 'Hollywood' Byrnes at Manos Surfer's Paradise brought back a lot of good memories.
Kenneth Richard "Arko" Arthurson AM is an Australian rugby league football identity. Affectionately known as "The Godfather of Manly", he played, coached and was later an administrator at the Manly-Warringah Sea Eagles club in the New South Wales Rugby League premiership.

Peter played for the Newtown and the Manly Warringah Sea Eagles. Bradman Best, who plays as a centre for the Newcastle Knights in the NRL, is his grandson.

Great photos of those still kicking up their heels - thanks Paul!
Federal Government Needs To Lead Action To Improve Services For Australians Of All Ages
The Federal Government needs to use the Intergenerational Report released today as the springboard we need to start taking real action to improve services for Australians of all ages, COTA Australia – the leading advocacy organisation for older Australians says.
Patricia Sparrow, Chief Executive Officer of COTA Australia says the intergenerational reports crystallises the fact that we have a policy design challenge to ensure we harness older people to support the growth and improvements of our nation.
"Given the long-term outlook outlined in the Intergenerational Report, a renewed focus on fundamental services and systems such as retirement incomes, health and aged care is crucial," Ms Sparrow said.
"The Treasurer outlined his government's commitment to focusing on both the retirement, as well as the accumulation, phase of superannuation which is overdue and welcome.
"COTA Australia has been calling for action to support older people better plan for retirement. Financial literacy and retirement income products are key elements to make sure people are confident to spend more than the legislated minimum draw down and support them to have a dignified retirement."
Ms Sparrow said it's also crucial action is taken to address ageism and other issues preventing older people from maximising the contribution they wish to make to society.
"Older Australians are a resource with valuable experience and expertise that can and should be shared. Without harnessing that we're robbing every generation.
"Older people can and do continue to contribute to the economy. However, ageism keeps older people who want to work out of our workforce.
"We look forward to seeing the Federal Government's Employment White Paper and how it intends to give older workers choices and chances. Addressing ageism will have to form part of that approach so that older Australians can make the meaningful contribution they want to."
Intergenerational Report - Opportunity For Change
Thursday's release of Treasury's 2023 Intergenerational Report (IGR) is an opportunity to change the way Australians view older people, their capacity, and contribution to our country, states National Seniors.
Chief Advocate Ian Henschke said while the report predicts an ageing population will increase government spending on health and aged care, this is an opportunity, not a burden.
Mr Henschke said he agrees with the Treasurer's view that: "The future is full of possibilities for Australia if we understand the big changes happening in our economy and our society and we position ourselves to make Australians the major beneficiaries rather than victims."
"Too often we hear negative language when describing older people. Not only does this reflect poorly on society, but it also fuels the misconception they are a financial burden," Mr Henschke said.
"Older people have made significant contributions to society and the economy throughout their lives and continue to do so in later life as workers, carers and volunteers.
"As Australians grow old, many if not most will rely on health and aged care services. In this regard, we all have common interest in ensuring there is adequate services available in later life.
"The focus on costs must be balanced with an acknowledgment that supporting older people is what a good society does."
Mr Henschke said it's important for government to adjust its policy settings and to make the most of our ageing population. There's a vast number of willing older people with experience and skills who could significantly help solve workforce shortages. Yet, the current system penalises pensioners and Veterans who work more than about one day per week. This must change.
"Intergenerational reports are not foolproof, they're estimations that have in the past proven wrong as was the prediction with the cost of the Age Pension which has been going down, not up, because of increased superannuation returns," he said.
"There have also been savings because more people are staying in their own homes and not going into aged care.
"Actuary Michael Rice suggests the best approach is to set a target of total cost of pension and aged care as percentage of GDP and work towards that over the next 30 years in terms of sustainable economic management."
Act Now For A Dementia-Friendly Future This Dementia Action Week
Local councils, businesses and community organisations will be asked to consider the steps they can take to be more dementia-friendly during this year's Dementia Action Week (18 - 24 September).
The Dementia Action Week theme is 'Act Now for a Dementia-Friendly Future' – because communities that take action to become dementia-friendly have less fear and a greater understanding of dementia.
It also results in less stigma and discrimination, as well as more support for people living with dementia to live well in their communities for longer.
During Dementia Action Week, which includes World Alzheimer's Day on Thursday 21 September, Dementia Australia is encouraging communities to think about and ask people living with dementia, their families and carers what they need to help them live well.
While two-thirds of people with dementia live in the community, Dementia Australia research shows 81 per cent of people with a loved one living with dementia felt people in shops, cafes and restaurants treated people with dementia differently.
Dementia Australia CEO Maree McCabe AM said it was important for communities to be dementia-friendly, so people living with dementia could access the services, activities and spaces to which we are all entitled.
"So, ahead of Dementia Action Week, start thinking about the small steps you can take, to include people living with dementia and create a better experience for all in your community," Ms McCabe said.
Dementia Action Week is a major leadership, awareness and advocacy campaign led by Dementia Australia as the peak body for people living with dementia, their families and carers. In the coming weeks businesses and local councils will have access to a digital toolkit full of resources with information on how they can act now to make their organisation more dementia-friendly.
Dementia Australia is the source of trusted information, education and services for the estimated more than 400,000 Australians living with dementia, and the more than 1.5 million people involved in their care. We advocate for positive change and support vital research. We are here to support people impacted by dementia, and to enable them to live as well as possible. No matter how you are impacted by dementia or who you are, we are here for you.
For support, please contact the National Dementia Helpline on 1800 100 500. An interpreter service is available. The National Dementia Helpline is funded by the Australian Government. People looking for information can also visit
dementia.org.au
2024 NSW Seniors Festival Grants Program Applications Open
From art classes to information sessions, we're calling for applications to fund activities that provide seniors with opportunities to be active and engaged in their local communities.
$200,000 in funding is available for local councils and not-for-profit organisations to run events and activities during the festival. Do you know a local organisation or council that should apply? Let them know today so they don't miss their chance!
Applications close at 5pm on Monday 28 August.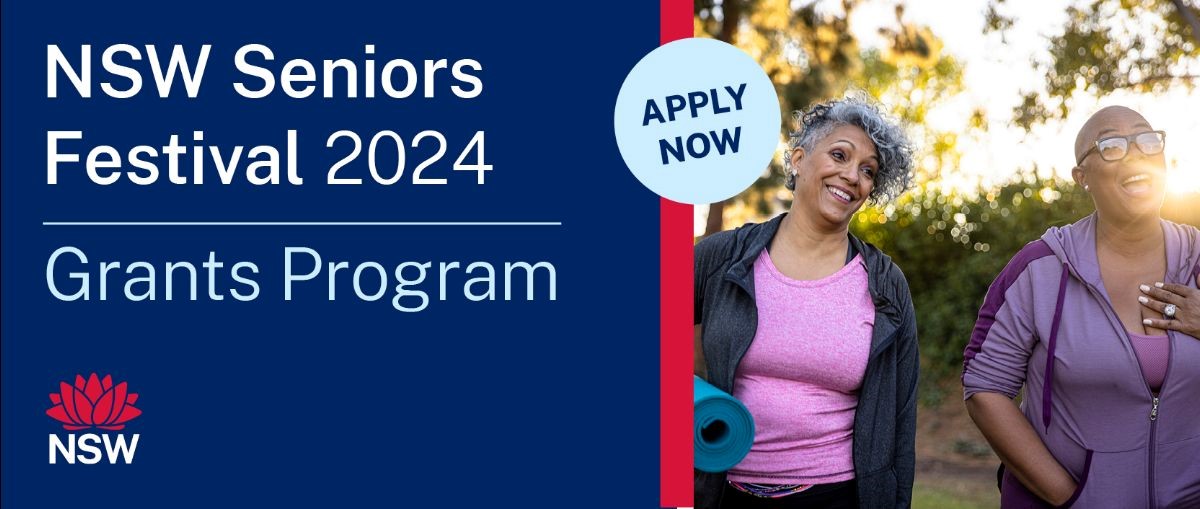 Save the Date!
The 2024 NSW Seniors Festival will run from 11 – 24 March and you're invited!
The Premier's Gala Concerts and Seniors Festival Expo will be held at ICC Sydney on 13 and 14 March.
Gala Concerts' performers and on-sale ticket dates will be announced in late 2023.
NSW Seniors Festival Grant Program 2024
The NSW Seniors Festival Grants program provides $200,000 in funding for community programs and activities that enable older Australians to remain active, healthy, and engaged during the NSW Seniors Festival.
The grants program is a key part of the 2024 NSW Seniors Festival. The festival will run from Monday, 11 March – Sunday 24 March 2024.
The NSW Seniors Festival Grant program encourages Seniors in NSW to enjoy new experiences, continue learning, stay active and connect to their communities. It does this by:
supporting a broad range of local community organisations
supporting programs and activities in regional NSW
fostering partnerships with community groups and services
providing programs and activities for diverse communities in NSW
supporting projects that empower older people to stay connected
assisting organisations to increase capacity of current programs and activities.
Applications can be for small scale, multiple and larger activities throughout the NSW Seniors Festival.
There are two funding levels that applicants can apply for:
Up to $5,000 for local community programs and activities.
$5,001 - $10,000 to local government organisations for large scale community and regional programs and activities – funding is available to local government organisations only.
Projects must be located within NSW and conducted between 11-24 March 2024.

Concessions Now Available To Pensioners For Council Rates
Eligible pensioners across NSW can now apply for a rebate on their council rates to help with the rising cost of living.
An annual concession of up to $250 per property is available to pensioners for ordinary rates and domestic waste charges.
A further rebate of up to $87.50 is available for annual water rates and up to $87.50 for annual sewerage rates, where councils provide those services.
The NSW Government funds 55 per cent of the pensioner rebate, while councils pay the remaining 45 per cent. The Government's share of the funding is provided to councils, which administer the entire rebate to eligible ratepayers.
Eligibility for the pensioner concessions is determined in accordance with the Australian Government's policies on pensioner eligibility and income thresholds.
A range of further savings and support is available from the Government to help ease the cost of living for NSW pensioners.
Applications for payment of the Pensioner Concession Subsidy to local councils are now open. Councils have until Friday 6 October 2023 to submit their claims covering concessions provided to pensioners for the 2023-24 year.
Minister for Local Government Ron Hoenig said:
"The NSW Government understands people are doing it tough right now, with pensioners especially vulnerable to rising cost of living.
"The rate rebates provided each year by the Government and councils are an important relief measure to help ease the financial burden of day to day living expenses for pensioners.
"Councils also have the discretion to provide and fund further rebates for pensioners should they wish to do so.
"I encourage councils to submit their concession subsidy forms to the Office of Local Government before the October deadline and take full advantage of the funding available."
Val's Story – Ageing Against Adversity
By Department of Health and Aged Care
2022 Senior Australian of the Year Val Dempsey shares her story of overcoming ageism and how she continues to achieve her dreams.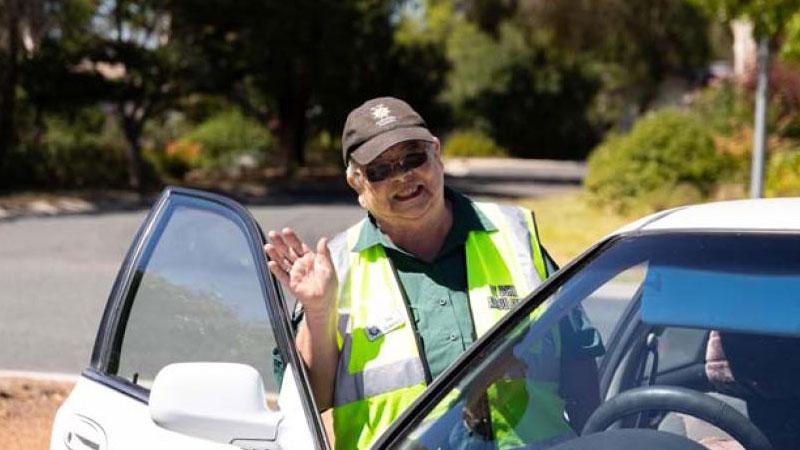 Fragile. Disabled. Lost their minds. Past their prime.
These are all words that Valmai 'Val' Dempsey has heard about older people in Australia. As a senior Australian herself at 72 (and 2022 Senior Australian of the Year to boot), she says this couldn't be further from the truth.
In 2021, the Australian Human Rights Commission reported that ageism (stereotypes, prejudice or discrimination based on age) remains the most accepted form of prejudice in Australia, with 63% of Australians having experienced ageism in the last few years. For Val, ageism is something that has become more and more evident as she's aged.
'As a culture, we generally don't idealise ageing very well. When we grow older, we aren't prepared to cope with the discrimination, prejudice and biases against us when we try to remain active members of the community and workforce,' Val said.
'I've discovered that it's a wonderful thing to be an older person and engage in the community. There is so much for us to do, but trying to get into that role you certainly do experience ageism and the absolute prejudice that comes with it.'
A registered nurse and dedicated volunteer with St John Ambulance for more than 50 years, age has never stopped Val from achieving her goals – although this has become increasingly difficult when faced with society's expectations around the retirement age.
'While ageism is not attached to any one role, I look at people who are employed in nursing and they are not in their 70s. Turning 65 isn't a use by date! I'm in my 70s, but really I'm 21 at heart with 50 odd years of experience.'
'As part of St John Ambulance, I've been actively involved in the bush fires, the Lismore floods and supporting people through COVID-19 – the most dreadful time this nation has faced in recent years. I can say that I've done that as someone over the age of 65!'
She says although overcoming ageism is a daunting task, it is made easier when Australians of every age work together with kindness and respect to achieve equity.
'If somebody puts a barrier up in front of me, I'll work out a thousand ways to get around it without shooting down the people who've put those barriers up. When people are standing as a hurdle in front of you, it might be reasonable to knock them down and push them aside. But I like to think you can gather them in your embrace and work together to let them know your worth and value.'
'Everyone should have the ability to age gracefully, which involves connection to community, good health and mental wellbeing, financial freedom, housing, access to healthcare and food, and the ability to give back. Most of all, everyone deserves love and respect, both given and received.'
Ageing well is something you can begin planning for from a young age. Val recommends you consider how to achieve your short-term and long-term goals while also setting up your older self for success.
'You need to look at where your life is going long-term and begin planning for the future. If I was to go back to when I was 21, I would start saving early and consider my health and mental wellbeing as a chart to greatness.'
'Believe in yourself and your dreams. When you get to the age I am now, you're going to hold your head up high and say I worked hard for this. I would be so proud to tell my 21-year-old self that they set this up for me and thank them for looking after me in my old age."
Reflecting on her own experiences, Val says having a positive mindset and continual learning is the key to ageing well and dispelling the myths and barriers of ageism.
'There is a mindset that learning is only about academic achievement. Learning life experience is a whole different kettle of fish altogether. You need to build resilience in your own heart and develop skills within yourself about how to persevere, how to be resilient, how to take challenges on board and how to fail. You don't always win, and how you accept that is part of life.'
'It really matters that you see ageing as moving into a new phase of your life, not looking at the end of it. It's your next chapter – the gold at the end of the rainbow where you can say 'I've joined the club and boy, isn't it wonderful!'.'
Since being named the 2022 Senior Australian of the Year, Val continues to achieve her dreams and is using her platform to advocate for every learner driver in Australia to undertake compulsory first aid training.
In November 2022, thanks to Val's calls for change, it was announced that learner drivers in the ACT will be offered a free 30-minute online first-aid course in exchange for a reduction in the mandatory 100 hours of supervised driving.
'My rainbow is glowing and I'm not looking at the end of it yet. The gratitude I feel for having this life has never been so wondrous as in the last few years, where I've been able to step up and be heavily involved with my community and the work that I love to do. I still pinch myself every day.'
Val is one of many older people in Australia achieving incredible things as they age. She is sharing her story with the
Department of Health and Aged Care
as part of their sponsorship of the
Senior Australian of the Year category
of the Australian of the Year Awards.
Wyvern Music Forestville: Delightful Discoveries
With the 2023 Sydney Symphony Fellows
For over 20 years the Sydney Symphony Fellowship program has helped develop the careers of Australia's next generation of professional musicians.
Join us for an afternoon of musical delights, featuring a diverse and captivating program of works by Elliott Carter, Jacques Castérède, Bohuslav Martinů and Robert Schumann. You will hear the virtuosic and expressive 6 Etudes from Carter's "8 Etudes and a Fantasy", a collection of pieces that explore the possibilities of counterpoint and harmony. You will also enjoy the witty and playful Concertino for trumpet, trombone and piano by Castérède, a work that showcases the contrasting timbres and characters of the brass instruments. Next, you will be transported to the world of Martinů's La Revue de Cuisine, a ballet suite that depicts the love affairs of various kitchen utensils, with a charming and colourful score that blends jazz, tango and Charleston influences. Finally, you will be moved by the sublime and powerful Piano Quintet in Eb Op 44 by Schumann, with pianist Alexander Yau joining the Fellows in one of the masterpieces of Romantic chamber music that combines lyrical melodies, rich harmonies and brilliant virtuosity. Don't miss this opportunity to experience these wonderful works performed by talented musicians.
When: Sunday 27th August 2023 at 4:00pm
Where: Our Lady of Good Counsel Catholic Church, 9 Currie Rd, Forestville
Tickets: Full:$30 Concession/Students: $20 Children under 16 Free
Bookings: www.ticketebo.com.au/wyvernmusicforestville
Enquiries: Wyvern Music Forestville Tel: 9416 5234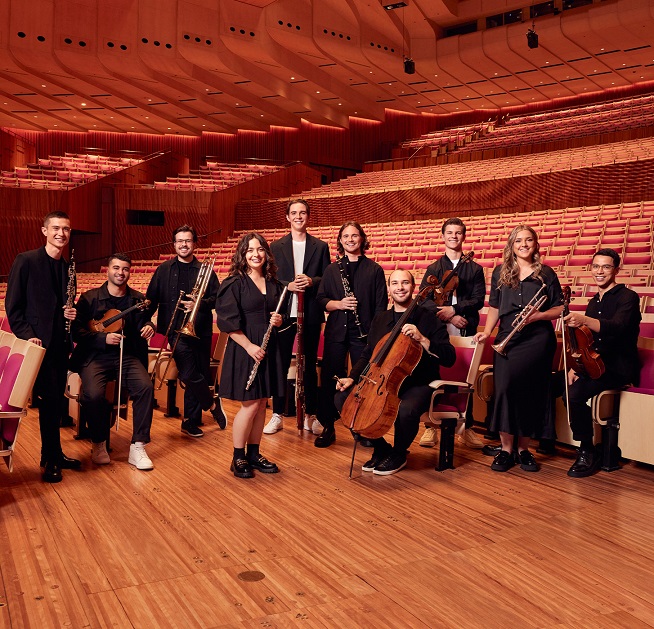 Hotline To Report Food Quality In Aged Care Now Live
Australians now have a simple and efficient way to report food concerns in aged care, with the launch of a dedicated Food, Nutrition and Dining Unit hotline at the Aged Care Quality and Safety Commission.
The hotline is active and callers will have access to experts in the areas of food, nutrition, and dining, including dietitians and speech pathologists.
A good meal with good nutrition is crucial to quality of life for everyone but especially older people.
The Food, Nutrition and Dining Hotline is also available to aged care providers to access food and nutrition advice, support and education to deliver improved food, nutrition and dining experiences for older people in their care.
Older people, their families and carers, providers and aged care workers can call the Food, Nutrition and Dining Hotline on 1800 844 044.
The hotline builds on the Federal Government's grant to the Maggie Beer Foundation to build the capability of aged care chefs and cooks working in aged care.
Minister for Aged Care, Anika Wells stated;
"What older Australians consume and their dining experience has a significant impact on their overall wellbeing.
"Australians were shocked when the Royal Commission into Aged Care Quality and Safety found that 68% of aged care residents were malnourished or at risk of malnourishment on the Coalition's watch.
"I can't be clear enough, food must be a priority in aged care.
"The Food, Nutrition and Dining Unit hotline is another important step in the Albanese Government's mission to make sure older people have access to nourishing food that improves their quality of life."
E-Scooters Roll Into Armidale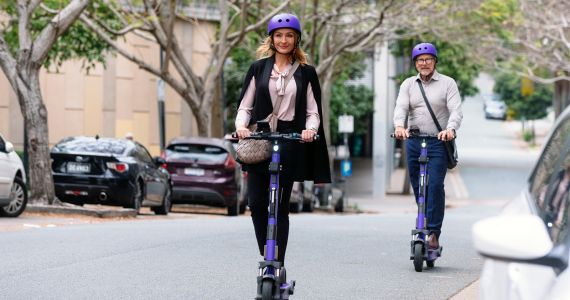 Armidale locals will soon be able to scoot to their destinations, becoming the newest location in NSW to welcome a trial of shared scheme e-scooters.
The trial, which is expected to run for 12 months from Thursday 7 September, allow e-scooters, hired through Beam Mobility, to be ridden across most of Armidale, including from The University of New England to the city centre.
The scooters are limited to a maximum of 20km/h on bicycle paths, or roads with a speed limit up to 50 km/h, and a speed limit of 10km/h for shared paths. E-scooters are not permitted for use on footpaths.
Riders must adhere to the rules of the trial, wear a helmet, remain below the speed limits and must not be under the influence of drugs or alcohol.
Privately owned e-scooters remain illegal on NSW roads and road-related areas, including footpaths, shared paths and bicycle lanes.
Minister for Transport Jo Haylen said:
"This e-scooter trial will open up a new mode of transport for the people of Armidale, giving people the option of a convenient, low cost and low emission journey.
"These scooters will be a great option to jump on and get to your destination or to get out and explore this beautiful city.
"We look forward to seeing how the e-scooters are used and enjoyed by locals and visitors over the next 12-months."
Armidale Regional Council Mayor Sam Coupland said:
"Trialing e-scooters across the city is a step in the right direction to our region achieving its Zero30 carbon emissions goals.
"The use of e-scooters is gaining momentum across the globe and provides a cheap and accessible mode of transportation and importantly a sustainable one that cuts back on our Co2 emissions."
Beam's General Manager (ANZ) Tom Cooper said:
"We have seen shared micromobility take off in other cities and towns across the country, with data showing a shift from cars to our climate neutral e-scooters for shorter trips under 5 km, and we look forward to seeing the same modal shift benefits in Armidale.
"As we prepare to commence the city's first shared micromobility service, we are committed to forming partnerships with local community members and organisations, and engaging in discussions around the safe operation of e-scooters to ensure the safety of riders, pedestrians and other road users.
"Our e-scooters feature safety-first technology that will support both rider education and enforcement, including GPS tracking, geofencing and speed limiting technology to ensure micromobility's safe integration into the city's transport network.
"We know e-scooters are new to the community, and we are committed to working closely with the local community to ensure riders know their responsibilities when on an e-scooter."
Parliament Must Give Immediate Relief To Stop GP Clinics Closing: NSW Liberal Party
The Opposition has stated it will move an amendment in Parliament this week to provide an immediate exemption from payroll tax on payments to GPs and other health practitioners to ensure that essential medical clinics are not forced to close.
Shadow Treasurer Damien Tudehope said some GP clinics are facing demands for retrospective payroll tax bills of a half a million dollars or more, and many medical clinics are now discovering that operating in a particular way made them liable to additional payroll tax.
"Retrospective audits leading to demands for payments of payroll tax covering five years of operation are creating a crisis for these clinics that must be addressed," Mr Tudehope said. "The best solution to this urgent problem is to provide an amnesty from all such payroll tax for the past five years and an exemption for the next two years while a satisfactory solution is found."
Shadow Minister for Health Matt Kean said he was concerned about the impacts on hospitals.
"Combined with other pressures on the health system there is a real danger that these clinics may need to close," Mr Kean said. "This will put serious additional pressure on emergency departments and could result in patients having to wait even longer to receive care."
Shadow Minister for Regional Health Bronnie Taylor said "the Government is offering $20,000 to get health workers to move to the regions while simultaneously threatening some regional medical clinics with massive tax bills that will force them to close, leaving people in regional NSW without needed health services."
Shadow Minister for Finance Eleni Petinos said that local GP clinics provide invaluable community services across the state, and the immediate tax relief will help ensure survival of many clinics. "With growing waiting lists across NSW hospitals and ongoing industrial chaos in the health sector, NSW should be seeking to support medical clinics, not imposing a retrospective tax that will see a number wiped out."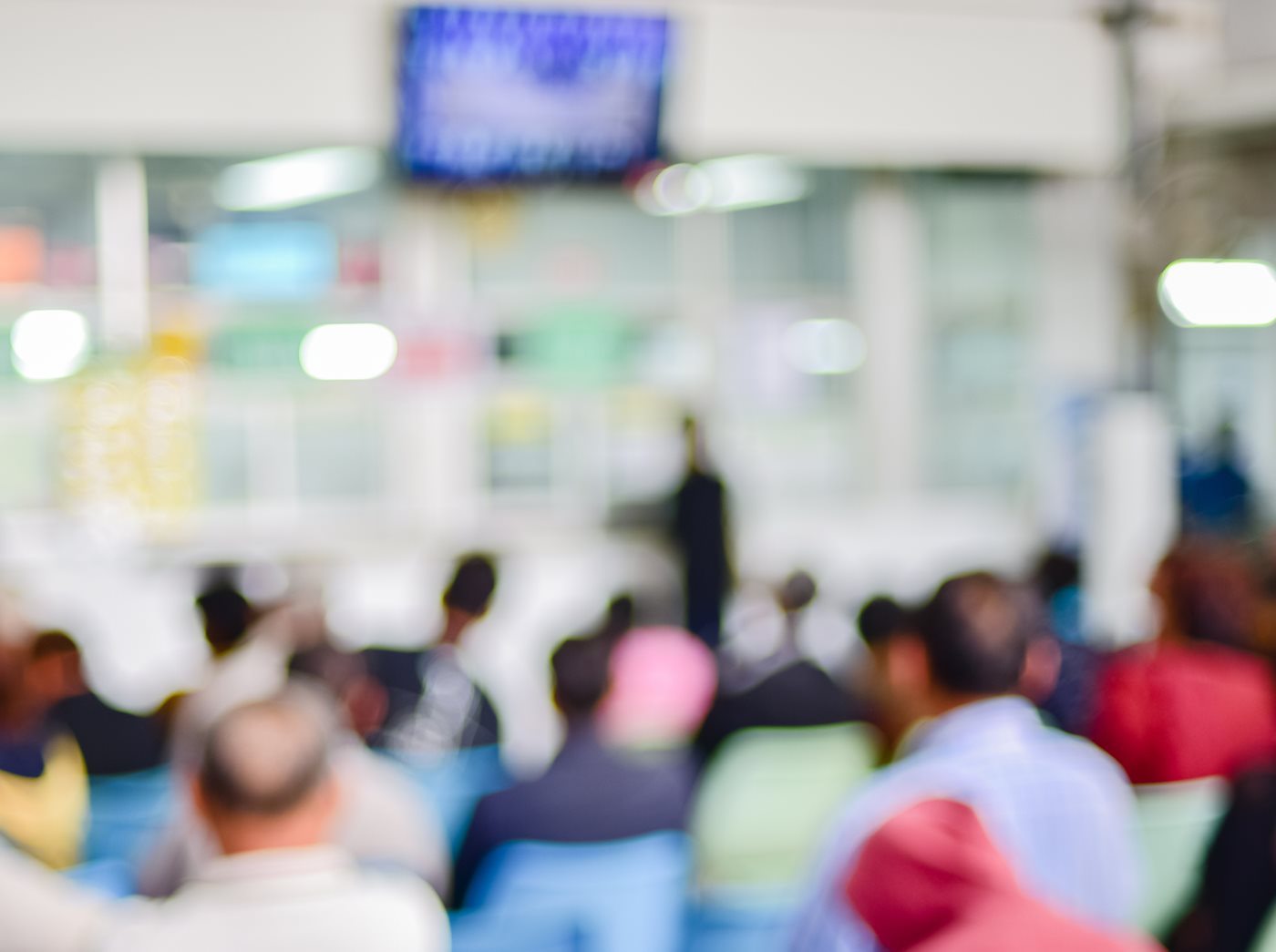 Collaboration To Deliver For Community At Rozelle Parklands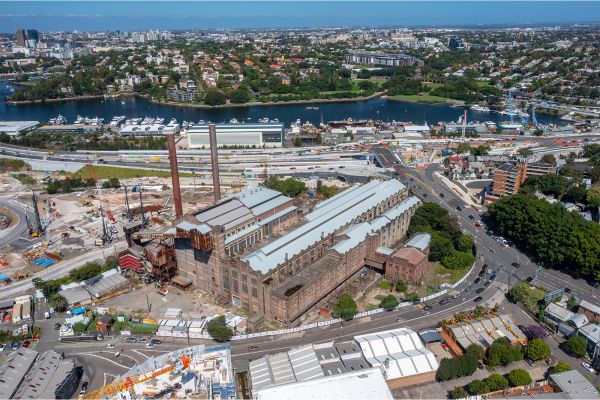 The Minns Labor Government will work with Inner West Council and Transport for NSW to undertake a new masterplan for Rozelle Parklands to salvage the project.
A new masterplan is necessary after the former government left behind a parklands project that was not going to provide the sporting facilities, accessibility and car parking that the community had been promised.
This included the failure to deliver on a promised facilities including:
An all-weather sporting field for use by local sporting clubs
Sufficient car parking to allow for the utilisation of the park
Four multipurpose sports courts
Toilet facilities for the inclusive playground
All-weather sporting fields benefit local clubs and communities as they can be used all year round in various weather conditions and had been the preference of local sporting clubs and Inner West Council.
The former government's Rozelle Parklands plan placed the field above a power cable that would cost more than $57 million to relocate to safely install the field.
The review will also consider disability parking near the Parklands, which had not been planned for previously.
The Minns Labor Government has agreed to address this failure through a new masterplan for the Parklands.
The parklands are due to open with the Rozelle Interchange of WestConnex later in the year.
With the park due to open in only a few months, the masterplan will identify ongoing improvements that will need to be made to the parklands after it has opened.
The masterplan will finalise next steps and ensure the inner west community is getting the best possible outcome from Rozelle Parklands.
The community, who weren't consulted properly by the previous government, will be involved in the development of this masterplan. The recurrent costs of maintaining the parkland will be transparently disclosed so that Inner West Council can take care, control and management of the site in the future.
Plans are also being developed to ensure an accessible toilet is provided in the children's play area and a review is underway to assess how to progress plans that had promised up to 150 new car parking spots around the perimeter of the parklands on Lilyfield Road.
People in NSW are doing it tough right now with the cost of living rising sharply all over Australia, and it's becoming increasingly difficult for families in NSW to make ends meet. The last thing our community needs is more disruptions and delayed plans.
Minister for Roads John Graham said:
"The Inner West, and specifically the Rozelle community, has accepted much more than its fair share of disruption during the construction of WestConnex.
"The former government promised their reward would be a new parkland that met the wishes of the community.
"What was left behind was not that – and what is worse is that the previous government had given up on communicating directly with the community.
"We are working with council to salvage this project and make sure the community really does get the best facilities as promised.
Mayor of Inner West Council Darcy Byrne said:
"The former Government promised the Rozelle Parklands as compensation to our community but now we know they were planning to off-load a half-finished park to us.
"With no parking provided and multiple sporting facilities and basic amenities deleted, our community was being ripped off.
"The Inner West will now undertake a Masterplan with the new Government to clean up this mess and ensure that the high-quality park that was promised is actually delivered."
Driverless Cars Are No Place To Relax New Study Shows
Early data on activities that will be unsafe to undertake in automated vehicles has been released. From doing work to watching the world, from social media to resting -- preliminary results are in.
Research led by RMIT University looked at what happens if a driver is suddenly required to take control of an automated vehicle, such as in an emergency.
The series of papers examines how experience and three types of distractions (work, social media and rest) impacted on the driver's ability to respond.
Study lead author in the School of Engineering, Dr Neng Zhang, said authorities need to begin drafting policies to regulate the responsible use of automated vehicles before Level 3 and 4 automated vehicles appear on Australian roads.
While the National Transport Commission has outlined a regulatory framework for automated vehicles in Australia, driver training, licensing and obligations are still being considered.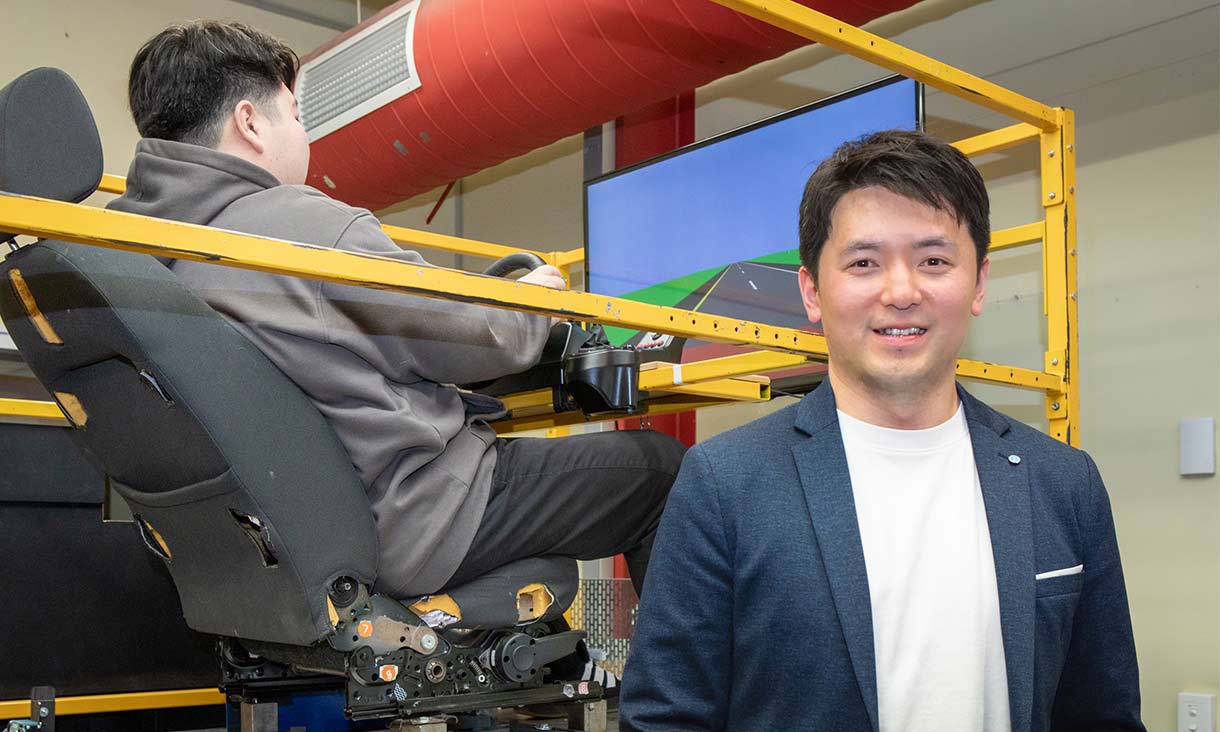 Lead study author, Dr Neng Zhang, in front of the automated vehicle simulator used in the research on the effect of distraction and experience on driver takeover response. Photo: RMIT Australia

Laying the road to regulation
There are five levels of vehicle automation. Already, Level 1 and Level 2 are common through features such as lane keeping, automated parking and cruise control.
More advanced automated vehicles -- what we think of when we say 'driverless cars' -- are currently being trialled but are not yet commercially available in Australia.
"In Level 3 and 4 automated driving, the human driver will still need to respond in an emergency, taking control of the vehicle," said Zhang.
"This data is a starting place for regulation and could lead to data-backed legislation that ensures drivers are given enough time to respond quickly and flawlessly to emergency events."
Using a Level 3 automated vehicle simulation, the researchers tested participants' speed and effectiveness in taking over the vehicle in the event of an emergency.
"We had them writing business emails (working condition), watching videos (entertaining condition), and taking a break with their eyes closed (resting condition)," said Zhang.
"These tasks required drivers to invest high, moderate, and low levels of mental workload. We tested their responses after a short interval (5 minutes) or long interval (30 minutes) of participating in one of these tasks. All of these tasks worsened the takeover and led to a period of poorer driving.
"We found that resting resulted in the worst takeover response, followed by working. Social media was less disruptive. However, the longer the participant engaged in an activity, the worse their response was to an emergency."
The cross-disciplinary research team brought together RMIT expertise in human body vibration, automotive engineering and cognitive psychology from the School of Engineering, School of Health and Biomedical Sciences and School of Science.
Biomedical researcher and author on the papers, Professor Stephen Robinson, warned that emergencies require a high level of cognition.
"As soon as something unexpected happens, such as a child running across the road, we need to be able to use our full cognitive abilities to assess the situation and take appropriate action," said Robinson.
"Takeover requests in automated vehicles occur when the onboard computer lacks the capacity to deal with changed or complex driving conditions. Such conditions are potentially dangerous and require the driver to focus quickly and act decisively to keep our roads safe."
Young drivers to struggle with emergency takeovers
In addition to distractions, the study looked at the experience of drivers with a focus on young people.
"We found that driving experience and takeover performance were highly correlated, with inexperienced drivers (with less than 20,000 kilometres of driving experience) responding more slowly and less effectively. The distance driven since gaining a driver's licence is more important than the number of years since the licence was issued," said Zhang.
"Our findings highlight the need for vehicle manufacturers and licencing authorities to develop solutions that ensure that conditionally automated vehicles are safe for drivers with varying experience levels."
Driving research to back legislation
The paper, "Is driving experience all that matters? Drivers' takeover performance in conditionally automated driving" (DOI 10.1016/j.jsr.2023.08.003), with lead author Neng Zhang, was published in the Journal of Safety Research this month.
It builds on "Influence of non-driving related tasks on driving performance after takeover transition in conditionally automated driving" (DOI 10.1016/j.trf.2023.05.009) published in Transportation Research Part F: Traffic Psychology and Behaviour in mid-2023.
The team is now investigating how to stimulate alertness and improve effectiveness of driver takeovers.
Engineering expert and author on the papers, Professor Mohammad Fard, explained that seamless and safe transition between vehicle automation and human is the goal.
"The aim of our work is to enhance 'human-automation interaction' for autonomous vehicles and significantly improve the way humans interact with and control these advanced autonomous vehicles, leading to enhanced efficiency and safety in their operation," said Fard.
However, there is a limit to what the engineering and design of autonomous vehicles can achieve. The researchers emphasised that regulations must also address issues such as distraction, alertness and experience before Level 3 automation can be successfully adopted in Australia.
"Governments can effectively safeguard road safety by acknowledging these detrimental effects and regulating non-driving activities in the context of autonomous driving."
Neng Zhang, Mohammad Fard, John Laurence Davy, Sibashis Parida, Stephen R. Robinson.
Is driving experience all that matters? Drivers' takeover performance in conditionally automated driving.
Journal of Safety Research, 2023; DOI:
10.1016/j.jsr.2023.08.003
Breast Size Affects Australian Women's Attitudes To Exercise
Women with larger breasts tend to exercise less frequently and avoid high-intensity exercise and a new study has found much improved participation in recreational group exercises after breast reduction surgery.
The new study published in the international Journal of Reconstructive Surgery (JPRAS Open) further strengthens calls for more accessible, publicly funded breast reduction and other interventions in some cases.
Based on research at Flinders University, the questionnaire was conducted with support from the free community Parkrun UK research board, an organisation aiming to promote 5km running and walking events around the world -- for all ages and fitness levels.
The survey was completed by almost 2000 women involved in the Parkrun program in Australia, England and South Africa found women with bigger breasts believe that reducing their breast size would improve their exercise performance and participation
As well, all 56 women who had undergone breast reduction surgery in the group of 1987 surveyed women reported leading more healthy and active lifestyles.
"Women who had undergone breast reduction reported increased overall frequency, enjoyment and willingness to exercise in a group," says lead author Dr Claire Baxter, a clinical registrar in reconstructive surgery at the Flinders Medical Centre.
"Our study found that breast size affects exercise habits and that breast reduction surgery changes their willingness to exercise."
Excluding women with a history of breast cancer, the study aimed to investigate how breast size impacts the exercise habits of women and how this compares to women who have undergone breast reduction surgery.
The South Australian study, including Flinders University Associate Professor Nicola Dean, promotes the importance of regular exercise for weight and ischemic heart disease and points out barriers for Australian Government subsidies for reduction mammoplasty as determined in the Australian Medicare Benefits Schedule.
"As well as the need for patients to have macromastia, experiencing pain in the neck of shoulder region, there are a number of state-based requirements for breast reduction to be performed," says Associate Professor Dean.
"For example, there are body mass index (BMI) restrictions in Queensland, Victoria and Tasmania which can lead to wait times of 12 months or more.
"In the UK, breast reduction surgery via the National Health Service varies across locations, resulting in a 'postcode lottery' as breast reduction is considered a lower priority procedure."
As well as comparisons between 5km parkrun competition times and bra size, the BREAST-Q study also looked at the cup size satisfaction levels -- which showed more self-satisfaction with AA, A, B and C cup sizes than DD, E, F, G and H or greater.
In addition, life satisfaction and happiness was significantly related to bra size, with cup sizes greater than E reliably reporting lower mean results.
"The benefits of breast reduction surgery need more awareness and academic support," concludes Dr Baxter.
Claire R. Baxter, Tamara A. Crittenden, Nicola R. Dean.
Self-reported breast size, exercise habits and BREAST-Q data – an international cross-sectional study of community runners.
JPRAS Open, 2023; 37: 92 DOI:
10.1016/j.jpra.2023.06.013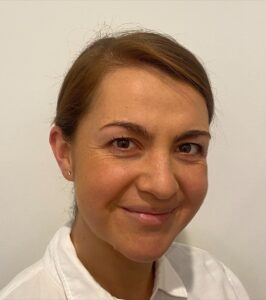 Dr Claire Baxter, clinical registrar, Plastic and Reconstructive Surgery, Flinders Medical Centre.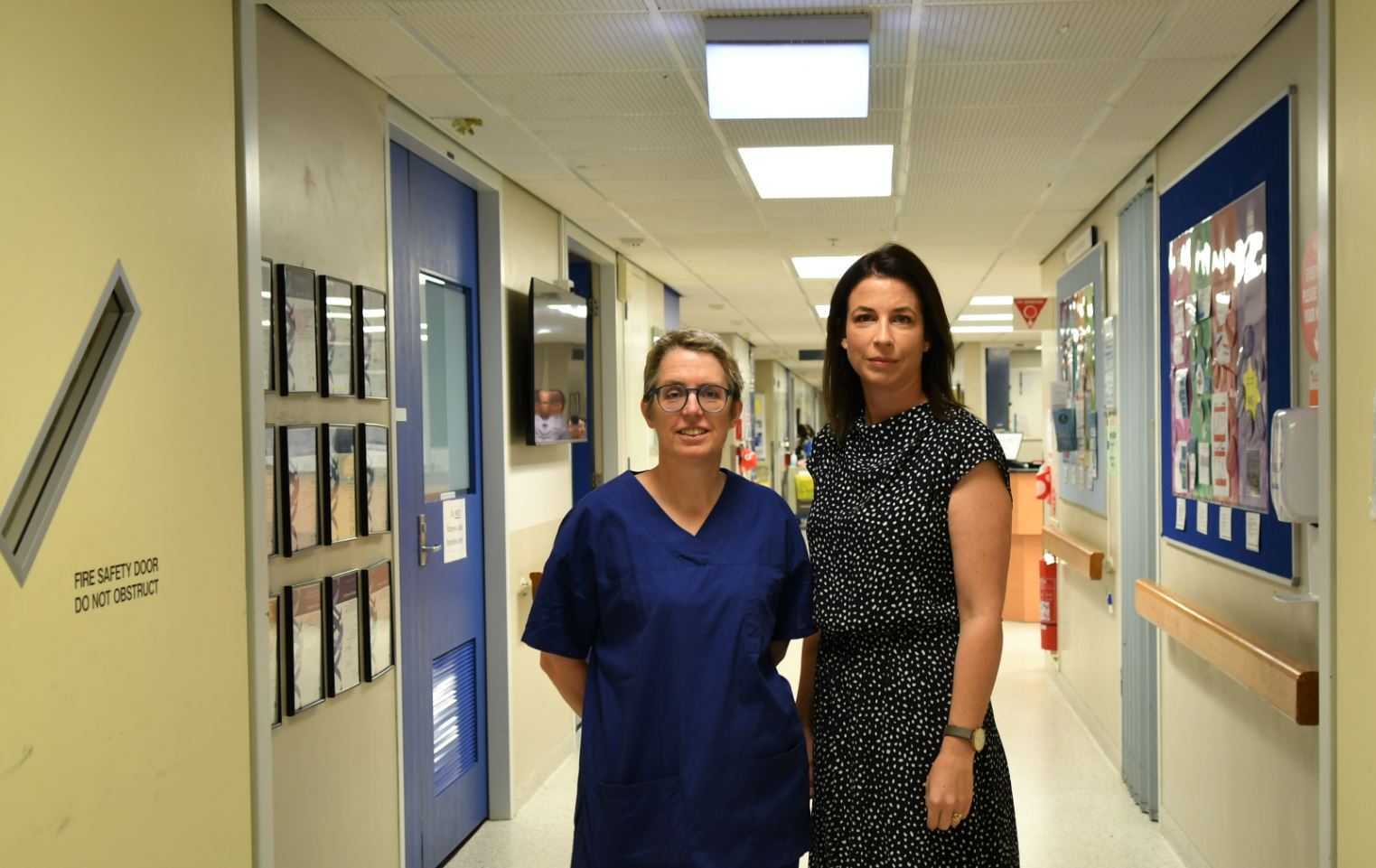 Associate Professor Nicola Dean, left, and researchers including Dr Tamara Crittenden, right, and Dr Claire Baxter have evaluating the long-term benefits of breast reduction surgery on a mixed cohort. Photos: Flinders University
Poor Report Card For Children's Wellbeing Post Lockdowns: University Of SA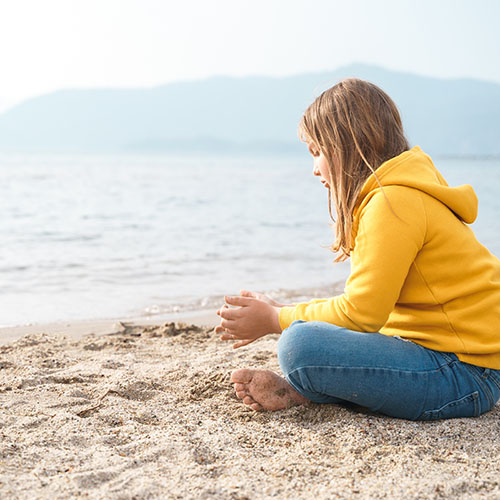 While COVID-19 lockdowns are no longer mandated, the stress and anxiety of the pandemic still lingers, especially among young South Australians, say health experts at the University of South Australia.
In a new study released today, researchers show that children's mental health and wellbeing have gradually worsened over the past six years, particular during and post the pandemic.
Examining measures of wellbeing – life satisfaction, optimism, happiness, cognitive engagement, emotional regulation, perseverance, worry, and sadness – among more than 56,000 South Australian school children (in grades four to nine and aged 9-14) the study found that most wellbeing measures declined over time, consistently worsening from 2020 onwards which correlated with COVID-19.
It also found that female students, children in higher year levels, and students from lower socioeconomic cohorts were more likely to have poor wellbeing than their counterparts.
Wellbeing covers various dimensions of psychological, physical, emotional, cognitive, and social experiences. Higher wellbeing is associated with healthy lifestyle behaviours like exercise, healthy eating, and self-esteem; and lower wellbeing is associated with smoking, alcohol, and drug use.
Lead researcher, UniSA's Dr Dot Dumuid, says the COVID-19 pandemic has had long-lasting disruptions for Australian children.
"During the pandemic, children had to change the way they learn, play and socialise, all the while living in an environment of widespread uncertainty and anxiety," Dr Dumuid says.
"Children and young people have dealt with school closures, isolation, social distancing and cancelled extracurricular activities, and this has led to decreased levels of physical activity and increased sedentary time.
"Now that pandemic restrictions have been lifted, life has not necessarily gone back to how it was pre-pandemic. And when we assessed how children have fared in terms of wellbeing across this period, the news was not good.
"
Wellbeing clearly dropped during covid and has shown little signs of improvement since then. But certain groups were more affected than others, with worsening wellbeing particularly worrying for female students, students in later school grades, and students with socioeconomic disadvantage.
"
Co researcher, Prof Carol Maher, says that while the data originates from South Australia, the implications are likely to be globally relevant.
"The COVID-19 pandemic, sweeping changes in children's lifestyles - from physical activity and screen time to sleep and diet - and the pervasive influence of social media aren't regional anomalies. They're global phenomena likely impacting children's wellbeing worldwide."
Dr Dumuid says now is a particularly critical time to support young people's wellbeing.
"There is a clear indication that urgent and equitable support is needed to improve the wellbeing of all young people, particularly those facing disparity," Dr Dumuid says.
"This is not only important for children's present experiences, but also their future potential.
"Of particular concern is that the data shows worsening of wellbeing in children of the same age, which indicates that children aged 9-14 are at-risk age groups for poor mental health.
"While there are suggestions that reduced physical activity and increased use of social media and screens may be contributing to poor wellbeing, more research in this area is needed."
Initiatives such as the Federal Government's release of a new National Wellbeing Framework, and the South Australian Department for Education's School Mental Health Service are welcomed, Dr Dumuid says.
"Managing wellbeing and mental health in young people requires a whole-of-community approach, Dr Dumuid says.
"Government and school wellbeing programs are certainly a step in the right direction, but a lot more needs to be done to ensure this young group of Australians does not slip through the cracks.
"Everyone has a responsibility to look out for the next generation. We all play a role in the overall wellbeing of our kids."
Strict Tech Rules At Boarding School A Bonus For Teens' Sleep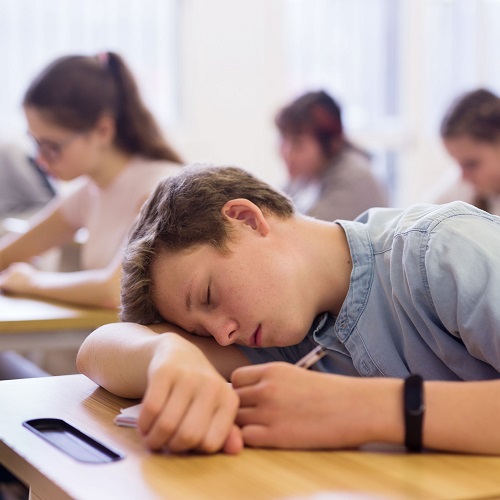 Struggling with a teenager who refuses to ditch digital devices at night and wakes up grumpy? Boarding school could be the answer according to a new study
by University of South Australia researchers which shows that boarders get 40 minutes more sleep most nights than day students, due to fixed bedtimes and stricter policies around technology use.
They go to bed earlier and wake up later, despite sleeping in shared, sometimes noisy, dormitories -- factors that are normally associated with disrupted sleep.
The findings are based on a survey of 309 students from a co-educational school in Adelaide, including 59 boarders and 250 day students.
Published in the British Journal of Educational Psychology, the study also found that despite teen boarders getting more sleep, they experienced similar levels of stress, anxiety, and depression to their day peers.
UniSA researcher Dr Alex Agostini says the structured routine of a boarding school -- with set times for sport, dinner, study, socialising, and lights out -- was more conducive to sleep.
"Night-time routine and restricting technology seem to be the key to better sleep and this was borne out by feedback both from the students surveyed and the focus groups we interviewed," Dr Agostini says.
While homesickness can often disrupt sleep for new boarders, once they settle into their new environment and make friends, this usually settles down.
Boarding school is a double edged sword for many students, the researchers say. While it can promote social connections, life satisfaction and better academic outcomes, it is also associated with loneliness, behavioural problems, and isolation.
These issues are especially common in adolescence, which is well recognised for the onset of mental health issues, with a clear link to sleep disruption.
Female boarders reported higher stress levels and loneliness than their male counterparts, but there were no significant gender differences in any of the sleep or technology use variables.
Alexander Reardon, Kurt Lushington, Andrew Junge, Jonathan Crichton, Alex Agostini.
Boarding versus day‐students: A mixed‐methods analysis of sleep and its relationship with psychological distress.
British Journal of Educational Psychology, 2023; DOI:
10.1111/bjep.12624
Disclaimer: These articles are not intended to provide medical advice, diagnosis or treatment. Views expressed here do not necessarily reflect those of Pittwater Online News or its staff.