inbox and environment news: Issue 575
March 12 - 18 2023: Issue 575
History Of The Balmoral Beach Tramline
Published March 11, 2023 by BackTracks.Channel
The Balmoral Beach Tramline was one of the last tramlines to open in Sydney - in the last decade of the line trams ran from both Athol Wharf and Chatswood - and during peak hours some ran from Wynyard.
Express Yourself 2023
Manly Art Gallery & Museum is proud to present Express Yourself from March 3 – April 16 2023.
Express Yourself is comprised of over 50 artworks by HSC Visual Arts students, selected from the 20 secondary schools across our area.
At its core, the exhibition displays the voice of our youth – raw and authentic and presents young artists as commentators and advocates, who are questioning the status quo, and opening minds and conversations to help us imagine new futures.
Mayor Michael Regan said the exhibition has been an important part of the Gallery's program since 1995 and demonstrates Council's continuing commitment to supporting visual arts education.
"Express Yourself provides a chance every year to connect with the artists emerging from secondary schools across the region. It's a loved centrepiece of the annual program and an exhibition that brings new life and ideas into the Gallery to be celebrated and exposed to new audiences.
"I'd like to congratulate each and every artist selected to take part in 2023 and to acknowledge the tremendous work they have put in to be included," Mayor Regan said.
The works by 2022 HSC students show incredible diversity, depth and skill.
Featuring a broad range of expressive artforms, the high technical and artistic calibre of the works reflect the continuum of creativity in our region, and helps to reveal the quality of teaching and learning in Visual Arts at this level.
Some artworks reflect very personal themes of family and relationships, or draw on their cultural heritage; some explore the environmental crisis, and our connection to the land and to place; while others reflect on all that it is to be human in an ever-changing world.
Now in its 29th year, Express Yourself is presented by MAG&M and the Council in partnership with local secondary schools and the MAG&M Society.
To learn more about the programmed events, awards and to view a catalogue
click here
.
Express Yourself 2023 events
Meet The Artists:

From 2-5pm on Sunday, 26 March 2023
RSVP here
Express Yourself 2023 offers a unique opportunity to Meet the Artists and enjoy some Live Music and Performance. Here visitors can engage with selected Express Yourself 2023 artists as they move through the gallery, listening to stories of inspiration and the creative process (2-3pm) and are then invited to sit back and enjoy live performances by top young local musicians and performers (3-5pm).
Manly Art Gallery & Museum West Esplanade Reserve, Manly NSW 2095
Open Tue – Sun, 10am – 5pm (closed Mondays & Public Holidays)
Free entry
T: 02 9976 1421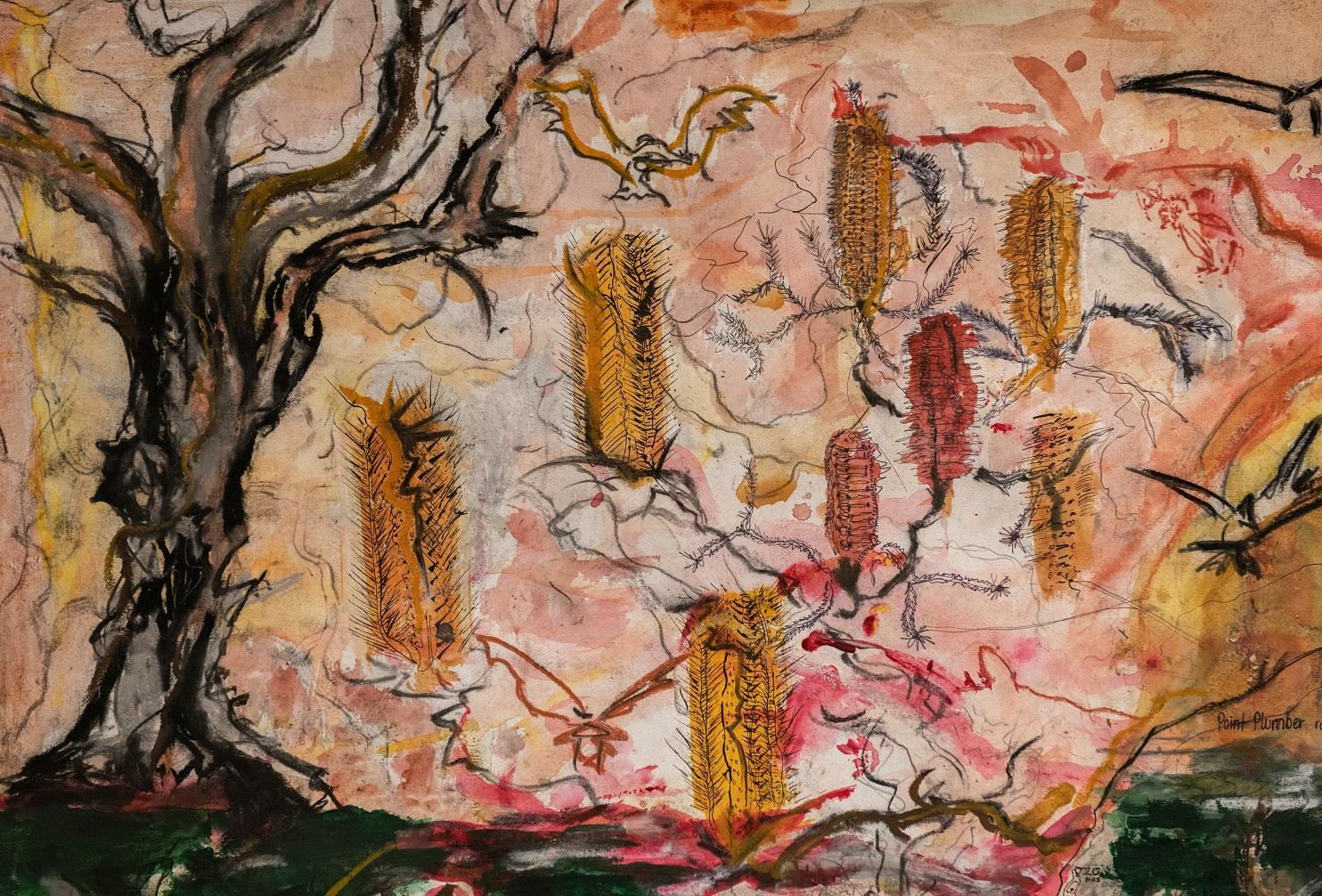 Joe Boaler, The land is ours; this land owns me, Barrenjoey High School
Newport - Circa 1880-1890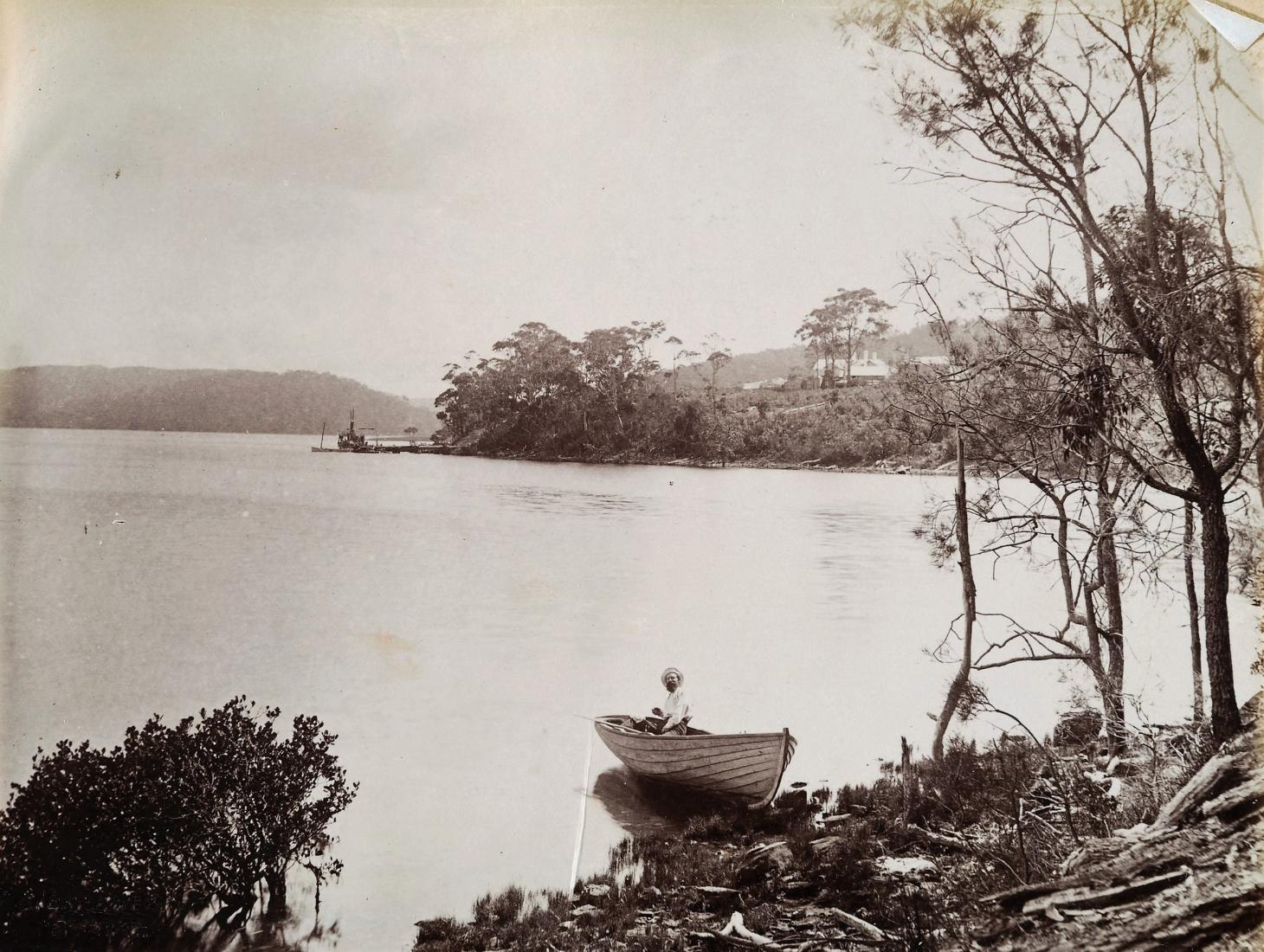 Photograph of 'Newport wharf', circa 1880-1890 (probably by Henry King who photographed numerous places around Pittwater during these years)
This photograph is one of 147 albumen prints made by some of the most significant photographers who worked in New South Wales during the 19th century. This object is also part of the Royal Australian Historical Society (RAHS) collection which was donated to the Powerhouse Museum in 1981. From Album containing photographic prints of New South Wales scenes.
Visit: Photographers of Early Pittwater: Henry King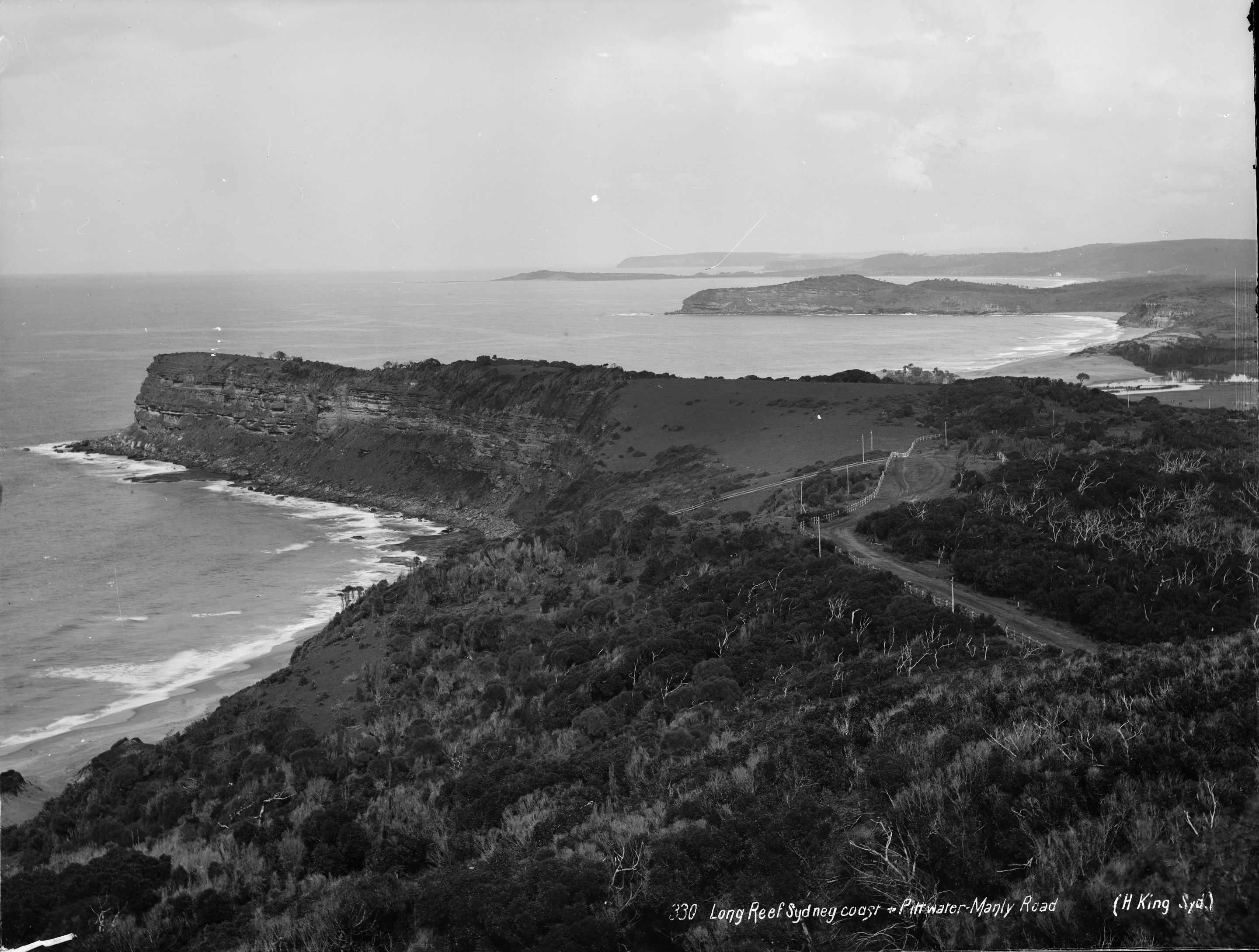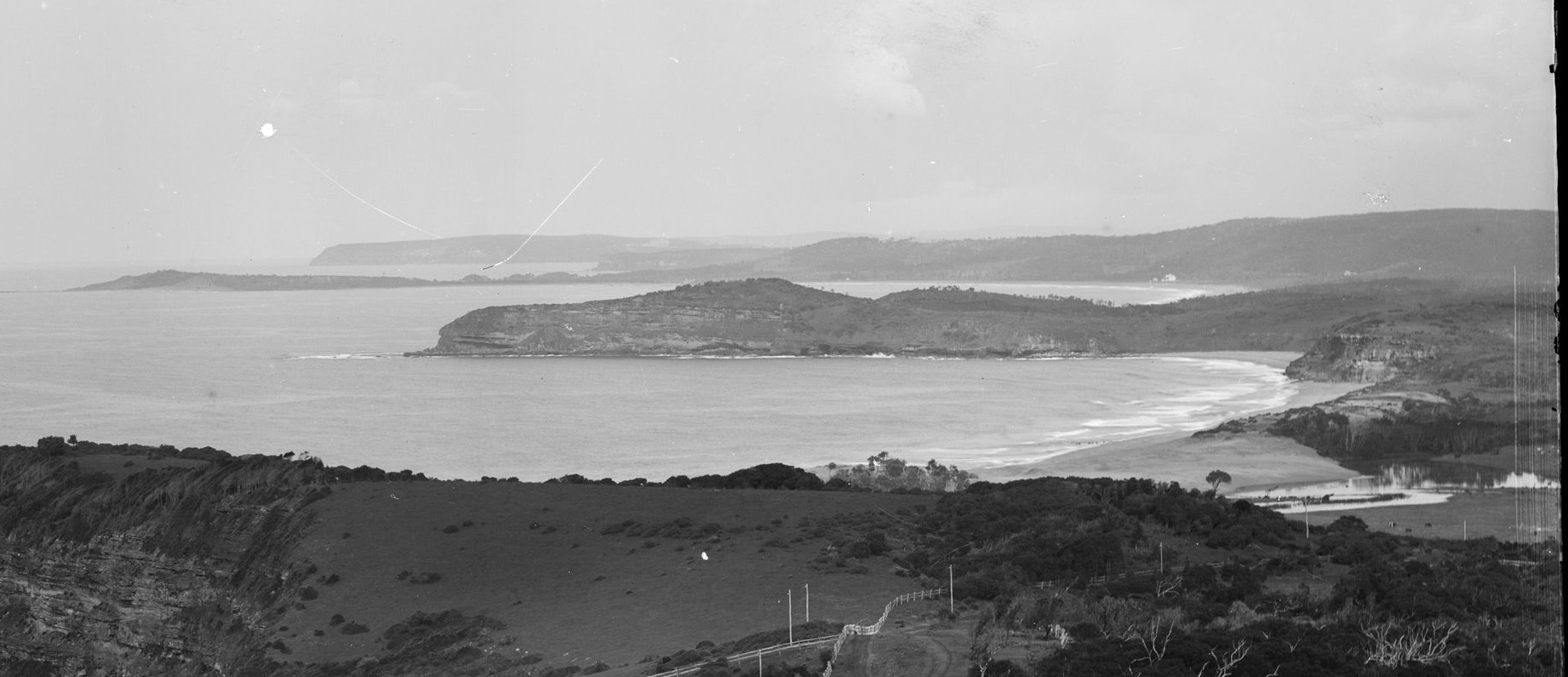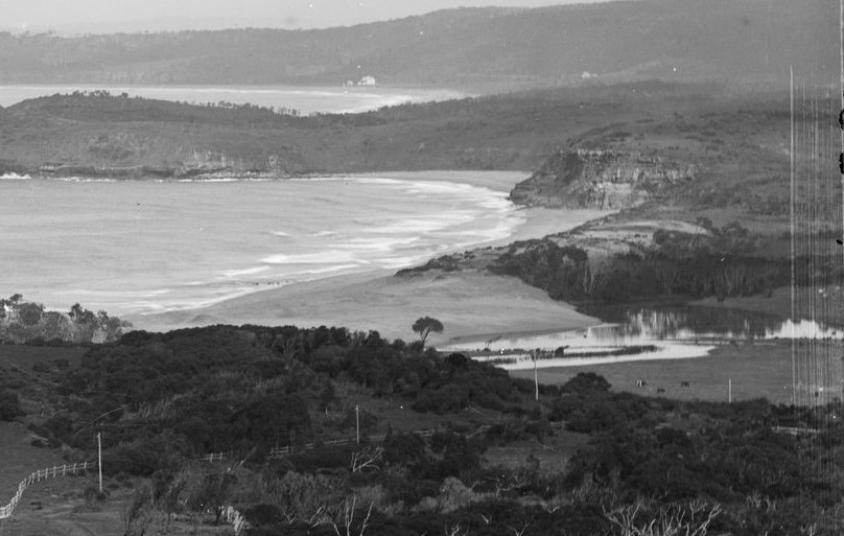 No 330. 'Long Reef Sydney Coast, Pittwater - Manly Road' - this is actually Bungan Beach looking south towards Mona Vale and Long Reef from Bushranger's Hill. by Henry King, circa 1880. The enlarged sections shows what was called the 'Black Swamp' at M.V.
Northern Composure Band Competition 2023
Due to the pandemic, Council have had the 20th anniversary on hold but pleased to say that the competition is open and running again.
Northern Composure is the largest and longest-running youth band competition in the area and offers musicians local exposure as well as invaluable stage experience. Bands compete in heats, semi finals and the grand final for a total prize pool of over $15,000.
Over the past 20 years we have had many success stories and now is your chance to join bands such as:
Ocean Alley
Lime Cordiale
Dear Seattle
What So Not
The Rions
Winston Surfshirt
Crocodylus
And even a Triple J announcer plus a wide range of industry professionals
About the Competition
In 2023, the comp looks a little different.
All bands are invited to enter our heats which will be exclusively run online and voted on by your peers and community by registering below and uploading a video of one song of your choice. (if you are doing a cover, please make sure to credit the original band) We are counting on you to spread the word and get your friends, family, teachers voting for you!
The top 8-12 bands will move on through to our live semi finals with a winner from each moving on to the grand final held during National Youth Week. Not only that but we have raised the age range from 19 to 21 for all those musicians who may have missed out over the past two years.
Key dates
Voting open for heats: Mon 13 Feb – Sun 26 Feb

Band Briefing: Mon 6 March, Dee Why PCYC
Semi 1: Sat 18 March Mona Vale Memorial Hall
Semi 2: Sat 25 March, YOYOs, Frenchs Forest
Grand Final: Fri 28 April, Dee Why PCYC
For more information contact Youth Development at youth@northernbeaches.nsw.gov.au or call 8495 5104
Stay in the loop and follow Northern Composure Unplugged on KALOF Facebook.
School Leavers Support
Explore the School Leavers Information Kit (SLIK) as your guide to education, training and work options in 2022;
As you prepare to finish your final year of school, the next phase of your journey will be full of interesting and exciting opportunities. You will discover new passions and develop new skills and knowledge.
We know that this transition can sometimes be challenging and the COVID-19 pandemic has presented some uncertainty. With changes to the education and workforce landscape, you might be wondering if your planned decisions are still a good option or what new alternatives are available and how to pursue them.
There are lots of options for education, training and work in 2022 to help you further your career. This information kit has been designed to help you understand what those options might be and assist you to choose the right one for you. Including:
Download or explore the SLIK here to help guide Your Career.
School Leavers Information Kit (PDF 5.2MB).
School Leavers Information Kit (DOCX 0.9MB).
The SLIK has also been translated into additional languages.
Download our information booklets if you are rural, regional and remote, Aboriginal or Torres Strait Islander, or living with disability.
Support for Regional, Rural and Remote School Leavers (PDF 2MB).
Support for Regional, Rural and Remote School Leavers (DOCX 0.9MB).
Support for Aboriginal and/or Torres Strait Islander School Leavers (PDF 2MB).
Support for Aboriginal and/or Torres Strait Islander School Leavers (DOCX 1.1MB).
Support for School Leavers with Disability (PDF 2MB).
Support for School Leavers with Disability (DOCX 0.9MB).
Download the Parents and Guardian's Guide for School Leavers, which summarises the resources and information available to help you explore all the education, training, and work options available to your young person.
School Leavers Information Service
Are you aged between 15 and 24 and looking for career guidance?
Call 1800 CAREER (1800 227 337).
SMS 'SLIS2022' to 0429 009 435.
Our information officers will help you:
navigate the School Leavers Information Kit (SLIK),
access and use the Your Career website and tools; and
find relevant support services if needed.
You may also be referred to a qualified career practitioner for a 45-minute personalised career guidance session. Our career practitioners will provide information, advice and assistance relating to a wide range of matters, such as career planning and management, training and studying, and looking for work.
You can call to book your session on 1800 CAREER (1800 227 337) Monday to Friday, from 9am to 7pm (AEST). Sessions with a career practitioner can be booked from Monday to Friday, 9am to 7pm.
This is a free service, however minimal call/text costs may apply.
Call 1800 CAREER (1800 227 337) or SMS SLIS2022 to 0429 009 435 to start a conversation about how the tools in Your Career can help you or to book a free session with a career practitioner.
Word Of The Week: Viola
Word of the Week returns in 2023 simply to throw some disruption in amongst the 'yeah-nah' mix.
noun
1. an instrument of the violin family, larger than the violin and tuned a fifth lower.2. a wooden musical instrument with four strings, held against the shoulder and played by moving a bow across the strings. It is slightly larger than the violin. 3. a bowed stringed instrument chiefly of the 16th and 17th centuries made in treble, alto, tenor, and bass sizes and distinguished from members of the violin family especially in having a deep body, a flat back, sloping shoulders, usually six strings, a fretted fingerboard, and a low-arched bridge
Also - Viola
noun
1. any of various garden hybrids with solitary white, yellow, or purple often variegated flowers resembling but smaller than typical pansies - a violet.
Viola - the musical instrument:
Etymology - From: Noun - borrowed from Italian, "viola, viol," borrowed from Old Occitan viola, viula "viol". Middle English vial, borrowed from Anglo-French viel, viele, viole, corresponding to continental Old French viele (by suffix substitution vielle) and viole, from a Gallo-Romance base vi-, attested earliest in Old Occitan viola, viula "viol," of uncertain origin
First known use: 15th century
NOTE: It has been claimed that the base vi- is of onomatopoeic origin, originally in verbal derivatives (Old French vieller, Old Occitan violar "to play a stringed instrument"), from which the noun designating the instrument is derived. However, it is unlikely that the resemblance between the viola words and Germanic *fiþlō- (whence Old High German fidula, Old English *fiðele; fiddle), a noun probably designating a string instrument, is pure chance, and borrowing from Germanic into Gallo-Romance seems more plausible than the reverse direction (despite the unexplained voicing of initial f). Medieval Latin vitula, vidula (best attested in English documents) are not necessarily indicative of an earlier Gallo-Romance form of viola, as the Germanic etymon may have contaminated the Romance word. There is no likely relation between the Medieval Latin words and Latin Vītula "goddess of joy," vītulārī "to utter a cry of exultation," which should have developed quite differently in Romance.
OTHERS STATE: The word "violin" was first used in English in the 1570s. The word "violin" comes from "Italian violino, [a] diminutive of viola. The term "viola" comes from the expression for "tenor violin" in 1797, from Italian and Old Provençal viola, [which came from] Medieval Latin vitula as a term which means "stringed instrument," perhaps [coming] from Vitula, Roman goddess of joy..., or from related Latin verb vitulari, "to cry out in joy or exaltation." The related term "Viola da gamba" meaning "bass viol" (1724) is from Italian, literally "a viola for the leg" (i.e. to hold between the legs)." A violin is the "modern form of the smaller, medieval viola da braccio." ("arm viola").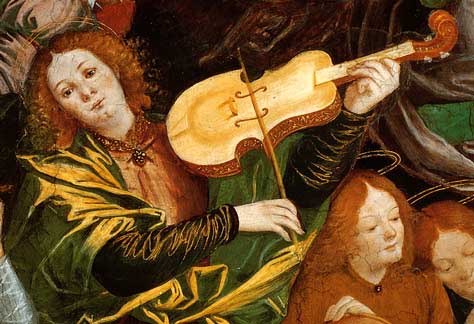 Viola da braccio (from Italian "arm viola", plural viole da braccio) is a term variously applied during the baroque period to instruments of the violin family, in distinction to the viola da gamba ("leg viola") and the viol family to which the latter belongs. At first "da braccio" seems to encompass the entire violin family. Monteverdi's Orfeo (printed 1609) designates an entire six-part string section "viole da brazzo", apparently including bass instruments held between the knees like the cello and bass violin. His Selva morale (1641) contains a piece calling for "due violini & 3 viole da brazzo ouero 3 Tronboni" (2 violins & 3 viole da braccio or trombones), reflecting a general shift in meaning towards the lower instruments. Eventually it came to be reserved for the alto member, the viola. A famous example is Bach's Sixth Brandenburg Concerto (1721), combining two viole da braccio with two viole da gamba. The German word for viola, Bratsche, is a relic of this last use.
Image: Viola da braccio in detail from a fresco by Gaudenzio Ferrari in Santa Maria dei Miracoli, Saronno (c. 1534)

Old Occitan (Modern Occitan: occitan ancian, Catalan: occità antic), also called Old Provençal, was the earliest form of the Occitano-Romance languages, as attested in writings dating from the eighth through the fourteenth centuries. Old Occitan generally includes Early and Old Occitan. Middle Occitan is sometimes included in Old Occitan, sometimes in Modern Occitan. As the term occitanus appeared around the year 1300, Old Occitan is referred to as "Romance" (Occitan: romans) or "Provençal" (Occitan: proensals) in medieval texts.

The viola is a string instrument that is bowed, plucked, or played with varying techniques. Slightly larger than a violin, it has a lower and deeper sound. Since the 18th century, it has been the middle or alto voice of the violin family, between the violin (which is tuned a perfect fifth above) and the cello (which is tuned an octave below). The strings from low to high are typically tuned to C3, G3, D4, and A4.
The viola was first introduced in northern Italy between 1530 and 1550. It is generally assumed that the alto, tenor and bass versions emerged soon after the soprano instrument. During this early period the word "viola" referred to any bowed Western classical stringed instrument. The word viola originates from the Italian language. The Italians often used the term viola da braccio meaning literally: 'of the arm'. "Brazzo" was another Italian word for the viola, which the Germans adopted as Bratsche. The French had their own names: cinquiesme was a small viola, haute contre was a large viola, and taile was a tenor. Today, the French use the term alto, a reference to its range.
The forerunner of the instruments of the violin family, it had low ribs, a rounded back, F-shaped sound holes, a fretless fingerboard, a neck raised from the body with a scroll and four strings across a curved bridge, which meant that they could be bowed individually.
Around 1800, because music was now being performed more often in concert halls, and also because François Tourte (1747–1835) had strengthened the bow, a succession of changes to the construction of the instruments in the violin family, including the viola, were made. Strings were made heavier and their tension increased to improve projection. The neck was set at a slight backward angle to the body and was now longer, retaining the same circumference along its whole length making it easier for the left hand to slide up and down to different positions. The body and bridge were also reinforced during this period.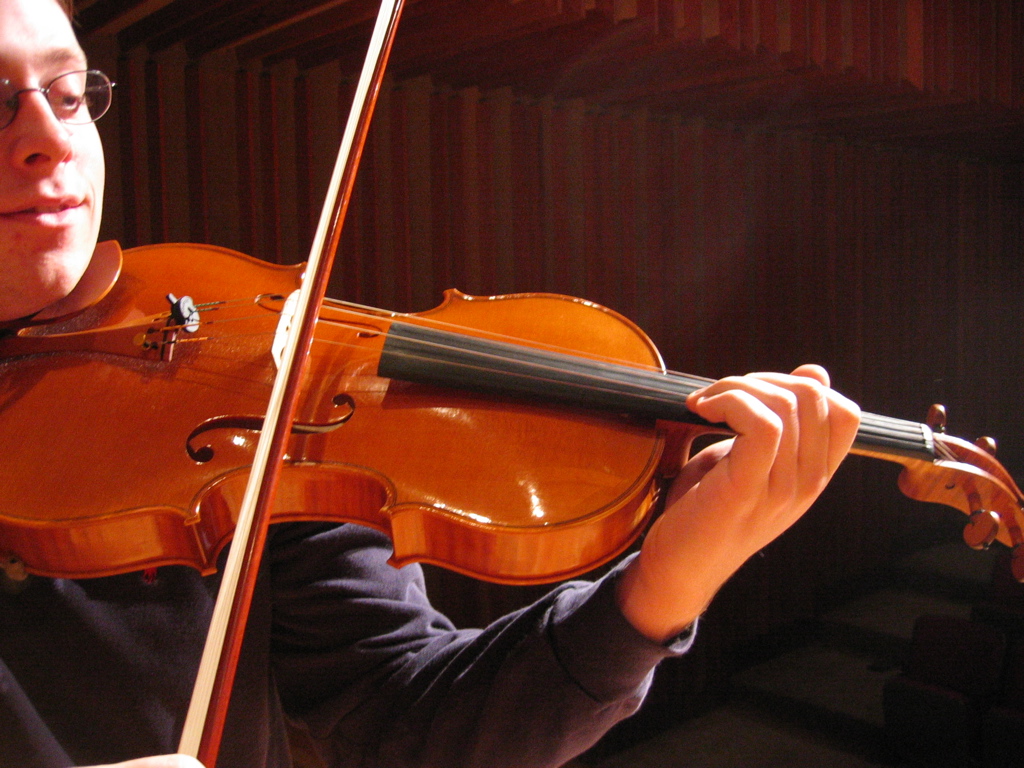 Playing a 43 cm (17 in) viola in 3rd position.
The viola was popular in the heyday of five-part harmony, up until the eighteenth century, taking three lines of the harmony and occasionally playing the melody line. Music for the viola differs from most other instruments in that it primarily uses the alto clef. When viola music has substantial sections in a higher register, it switches to the treble clef to make it easier to read.
The viola often plays the "inner voices" in string quartets and symphonic writing, and it is more likely than the first violin to play accompaniment parts. The viola occasionally plays a major, soloistic role in orchestral music. Examples include the symphonic poem Don Quixote, by Richard Strauss, and the symphony/concerto Harold en Italie, by Hector Berlioz. In the earlier part of the 20th century, more composers began to write for the viola, encouraged by the emergence of specialized soloists such as Lionel Tertis and William Primrose. English composers Arthur Bliss, York Bowen, Benjamin Dale, Frank Bridge, Benjamin Britten, Rebecca Clarke and Ralph Vaughan Williams all wrote substantial chamber and concert works. Many of these pieces were commissioned by, or written for, Lionel Tertis. William Walton, Bohuslav Martinů, Tōru Takemitsu, Tibor Serly, Alfred Schnittke, and Béla Bartók have written well-known viola concertos. The concerti by Béla Bartók, Paul Hindemith, Carl Stamitz, Georg Philipp Telemann, and William Walton are considered major works of the viola repertoire. Paul Hindemith, who was a violist, wrote a substantial amount of music for viola, including the concerto Der Schwanendreher.
The viola is sometimes used in contemporary popular music, mostly in the avant-garde. John Cale of The Velvet Underground used the viola, as do some modern groups such as alternative rock band 10,000 Maniacs, Imagine Dragons, folk duo John & Mary, British Sea Power and others. Jazz music has also seen its share of violists, from those used in string sections in the early 1900s to a handful of quartets and soloists emerging from the 1960s onward. It is quite unusual though, to use individual bowed string instruments in contemporary popular music.

John Davies Cale OBE (born 9 March 1942) is a Welsh musician, composer, singer, songwriter and record producer who was a founding member of the American rock band the Velvet Underground. Over his six-decade career, Cale has worked in various styles across rock, drone, classical, avant-garde and electronic music.
He studied music at Goldsmiths College, University of London, before relocating in 1963 to New York City's downtown music scene, where he performed as part of the Theatre of Eternal Music and formed the Velvet Underground. Since leaving the band in 1968, Cale has released sixteen solo studio albums, including the widely acclaimed Paris 1919 (1973) and Music for a New Society (1982). Cale has also acquired a reputation as an adventurous record producer, working on the debut albums of several innovative artists, including the Stooges and Patti Smith.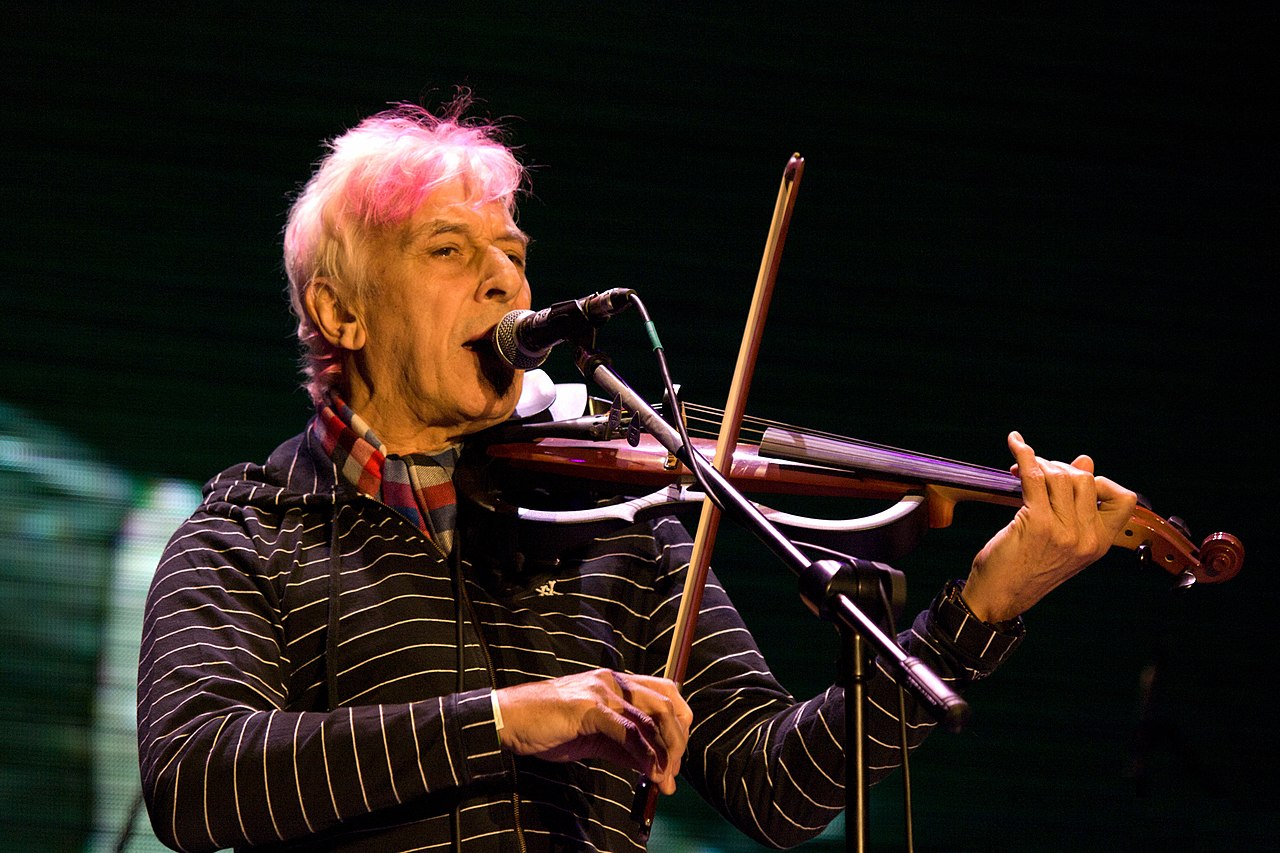 Cale performing at Urban SimpleLife Festival in 2010. Photo: Rex Huang
Viola - the flower:
noun
Middle English, borrowed from Latin, "violet" - Violet.
Viola is a genus of flowering plants in the violet family Violaceae. It is the largest genus in the family, containing between 525 and 600 species. Most species are found in the temperate Northern Hemisphere; however, some are also found in widely divergent areas such as Hawaii, Australasia, and the Andes.
Some Viola species are perennial plants, some are annual plants, and a few are small shrubs. Many species, varieties and cultivars are grown in gardens for their ornamental flowers. In horticulture the term pansy is normally used for those multi-coloured, large-flowered cultivars which are raised annually or biennially from seed and used extensively in bedding. The terms viola and violet are normally reserved for small-flowered annuals or perennials, including the wild species.
Etymology - From: 1300, from Old French violete (12c.), diminutive of viole "violet," from Latin viola "the violet, a violet colour," cognate with Greek ion (see iodine), probably from a pre-Indo-European substrate Mediterranean language. From Middle English violet, vyolet, vyolette, from Old French violette, from Latin viola ("violet"). Cognate with Lithuanian violetinė ("purple, violet").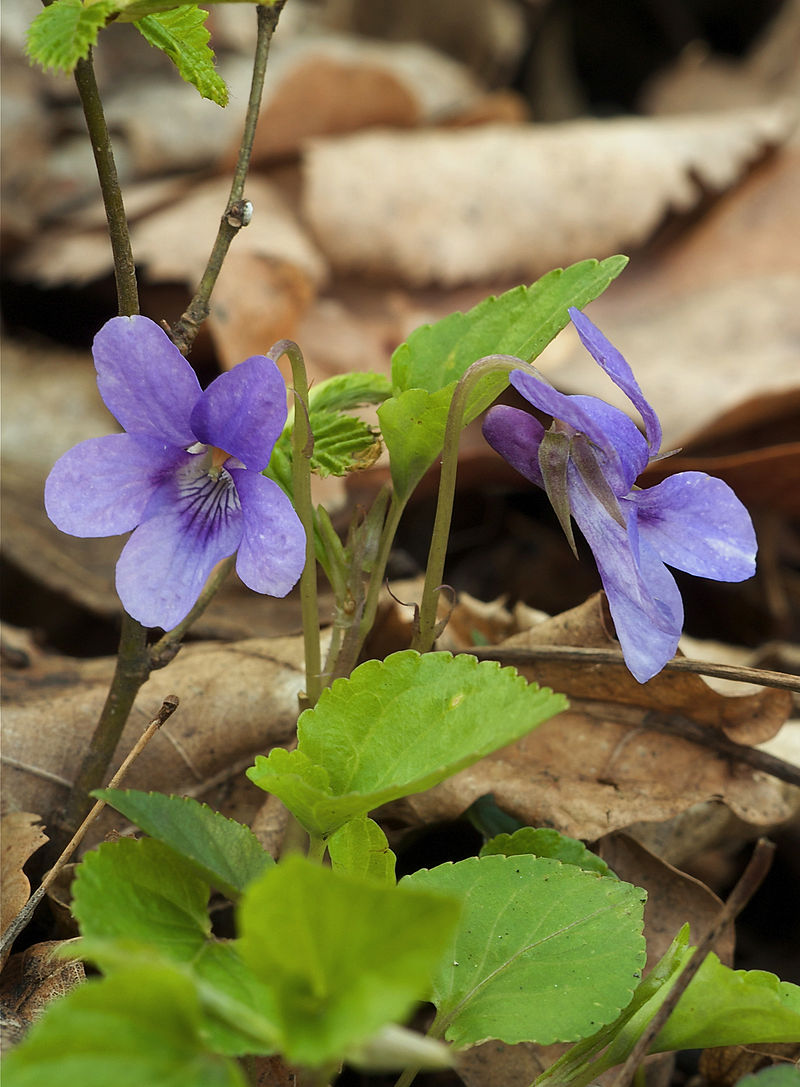 Viola reichenbachiana, Chemnitz, Germany. Photo: , Jörg Hempel

John Weldon
"J. J." Cale
(December 5, 1938 – July 26, 2013) was an American guitarist, singer, songwriter and sound engineer. Though he avoided the limelight, his influence as a musical artist has been acknowledged by figures such as Mark Knopfler, Neil Young, Waylon Jennings, and Eric Clapton, who described him as "one of the most important artists in the history of rock".
He is one of the originators of the Tulsa sound, a loose genre drawing on blues, rockabilly, country, and jazz. In 2008, Cale and Clapton received a Grammy Award for their album The Road to Escondido.
The World's First Horse Riders
March 2023
The earliest evidence of horse riders has likely been found by an international team of archaeologists and bioanthropologists.
The researchers discovered evidence of horse riding by studying the remains of human skeletons found in burial mounds called kurgans, which were between 4500-5000 years old. The earthen burial mounds belonged to the Yamnaya culture. The Yamnayans had migrated from the Pontic-Caspian steppes to find greener pastures in today´s countries of Romania and Bulgaria up to Hungary and Serbia.
Yamnayans were mobile cattle and sheep herders, now believed to be on horseback.
"Horseback-riding seems to have evolved not long after the presumed domestication of horses in the western Eurasian steppes during the fourth millennium BCE. It was already rather common in members of the Yamnaya culture between 3000 and 2500 BCE," says Volker Heyd, Professor of Archaeology at the University of Helsinki and a member of the international team, which made the discovery.
These regions west of the Black Sea constitute a contact zone where mobile groups of herdsmen from the Yamnaya culture first encountered the long-established farmer communities of Late Neolithic and Chalcolithic traditions. For decades, the Early Bronze Age expansion of steppe people into southeastern Europe was explained as a violent invasion.
With the advent of ancient DNA research, the differences between these migrants from the east and members of local societies became even more pronounced.
"Our research is now beginning to provide a more nuanced picture of their interactions. For example, findings of physical violence as were expected are practically non-existent in the skeletal record so far. We also start understanding the complex exchange processes in material culture and burial customs between newcomers and locals in the 200 years after their first contact," explains Bianca Preda-Bălănică, another team member from the University of Helsinki.
Horse riding is a pivotal moment in human history
The use of animals for transport, in particular the horse, marked a turning point in human history. The considerable gain in mobility and distance had profound effects on land use, trade, and warfare. Current research has mostly focused on the horses themselves. However, horse-riding is an interaction of two components -- the mount and its rider -- and human remains are available in larger numbers and more complete condition than early horse remains. Since horseback riding is possible without specialized equipment, the absence of archaeological finds with regard to earliest horsemanship does not come unexpected.
Traces of horsemanship can be found in the skeletons
"We studied over 217 skeletons from 39 sites of which about 150 found in the burial mounds belong to the Yamnayans. Diagnosing activity patterns in human skeletons is not unambiguously. There are no singular traits that indicate a certain occupation or behaviour. Only in their combination, as a syndrome, symptoms provide reliable insights to understand habitual activities of the past.," explains Martin Trautmann, Bioanthropologist in Helsinki and the lead author of the study.
The international team decided to use a set of six diagnostic criteria established as indicators of riding activity (the so-called "horsemanship syndrome"):
Muscle attachment sites on pelvis and thigh bone (femur);
Changes in the normally round shape of the hip sockets;
Imprint marks caused by pressure of the acetabular rim on the neck of the femur;
The diameter and form of the femur shaft;
Vertebral degeneration caused by repeated vertical impact;
Traumata that typically can be caused by falls, kicks or bites from horses.
To increase the diagnostic reliability, the team also used a stricter filtering method and developed a scoring system that takes into account the diagnostic value, distinctiveness and reliability of each symptom. Altogether, out of the 156 adult individuals of the total sample at least 24 (15.4%) can be classified as 'possible riders', while five Yamnaya and two later as well as two possibly earlier individuals qualify as 'highly probable riders'. "The rather high prevalence of these traits in the skeleton record, especially with respect to the overall limited completeness, show that these people were horse riding regularly," Trautmann states.
If the primary use of horseback riding was as a convenience in a mobile pastoral lifestyle, in allowing a more effective herding of cattle, as means of swift and far-ranging raids or just as symbol of status needs further research.
Could it all have happened even earlier?
"We have one intriguing burial in the series" remarks David Anthony, emeritus Professor of Hartwick College USA and also senior co-author in the study.
"A grave dated about 4300 BCE at Csongrad-Kettöshalom in Hungary, long suspected from its pose and artifacts to have been an immigrant from the steppes, surprisingly showed four of the six riding pathologies, possibly indicating riding a millennium earlier than Yamnaya. An isolated case cannot support a firm conclusion, but in Neolithic cemeteries of this era in the steppes, horse remains were occasionally placed in human graves with those of cattle and sheep, and stone maces were carved into the shape of horse heads. Clearly, we need to apply this method to even older collections."
Who were the Yamnayans?
The Yamnayans were a population and culture that evolved in the Pontic-Caspian steppes at the end of the fourth millennium BCE.
By adopting the key innovation wheel and wagon, they were able to greatly enhance their mobility and exploit a huge energy resource otherwise out of reach, the sea of steppe grass away from the rivers, enabling them to keep large herds of cattle and sheep. Thus committing to a new way-of-life, these pastoralists if not first true nomads in the world expanded dramatically within the next two centuries to cover more than 5000 kilometers between Hungary in west and, in form of the so-called Afanasievo culture, Mongolia and western China in the east. Having buried their dead in grave pits under big mounds, called kurgans, the Yamnayans are said to be the first having spread proto-Indo-European languages.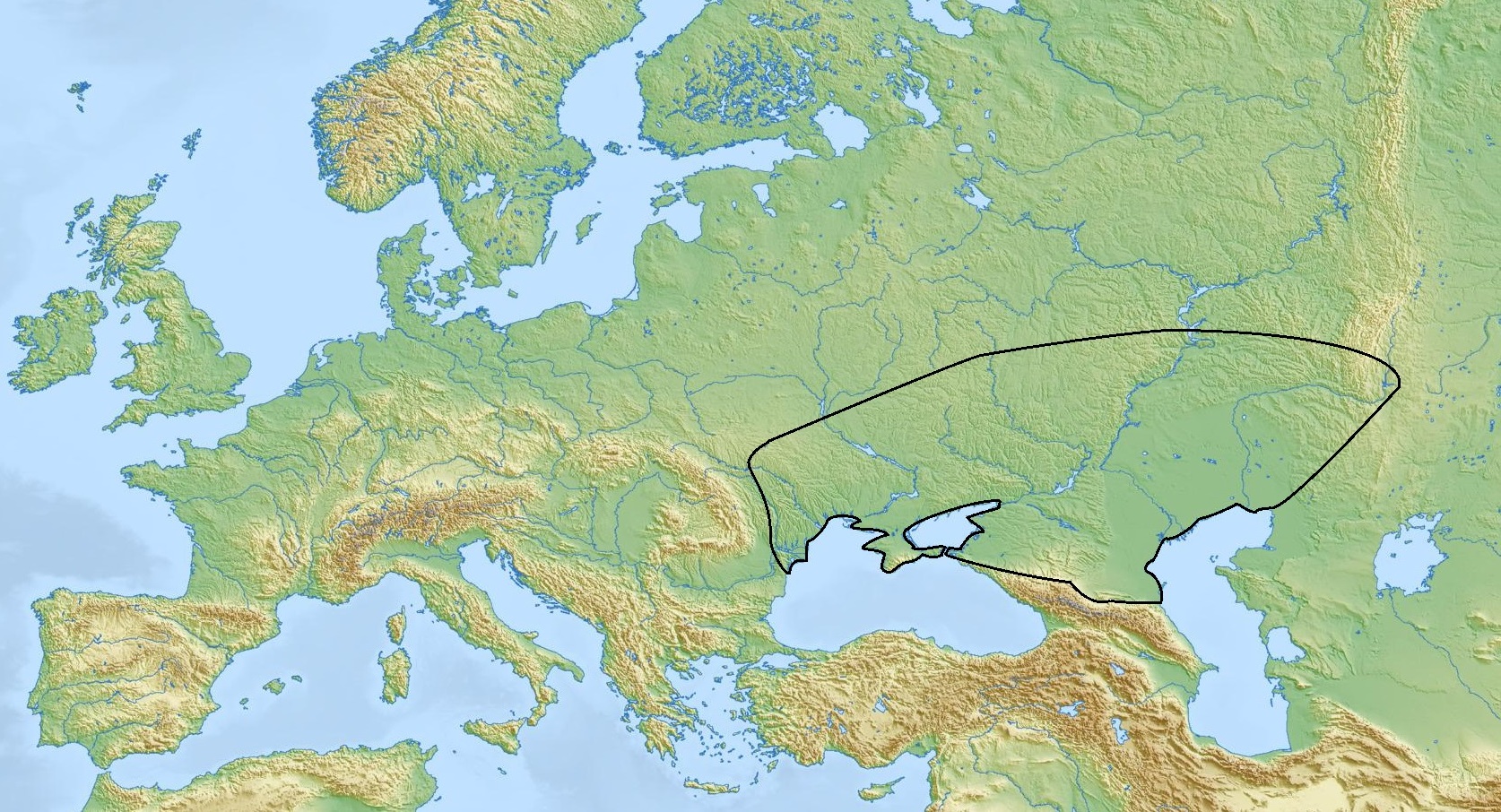 Map of the Yamnaya culture, based on map printed at page 651 in Encyclopaedia of Indo-European Culture, which was edited by J. P. Mallory and Douglas Q. Adams, and published by Taylor & Francis in 1997.
Martin Trautmann, Alin Frînculeasa, Bianca Preda-Bălănică, Marta Petruneac, Marin Focşǎneanu, Stefan Alexandrov, Nadezhda Atanassova, Piotr Włodarczak, Michał Podsiadło, János Dani, Zsolt Bereczki, Tamás Hajdu, Radu Băjenaru, Adrian Ioniță, Andrei Măgureanu, Despina Măgureanu, Anca-Diana Popescu, Dorin Sârbu, Gabriel Vasile, David Anthony, Volker Heyd. First bioanthropological evidence for Yamnaya horsemanship. Science Advances, 2023; 9 (9) DOI: 10.1126/sciadv.ade2451
Phoracantha Semipunctata: The Australian Eucalyptus Longhorn
This week an insect with a pretty shell came inside the house. After taking a photo and looking it up we found out it is a Eucalyptus longhorn, and a species of beetle in the family Cerambycidae.
Longhorn beetles (Cerambycidae), also known as long-horned or longicorns (whose larvae are often referred to as roundheaded borers), are a large family of beetles, with over 35,000 species described. Most species are characterized by extremely long antennae, which are often as long as or longer than the beetle's body.

Native to Australia, the Australian Eucalyptus Longhorn has now spread to many parts of the world, including practically all countries where tree species of Eucalyptus have been introduced. It has been classified as an invasive pest species of Eucalyptus outside Australia.
Within Australia, Phoracantha semipunctata primarily seeks decaying trees and branches.
Phoracantha semipunctata are typically dark brown and beige in colour and are approximately similar in size measuring at around 2.3cm long. They are most active during the early dusk hours, and are found in populations within host trees, which are predominantly male-oriented. These host trees are determined according to the suitability of adult mating and oviposition, and the viability of larvae development.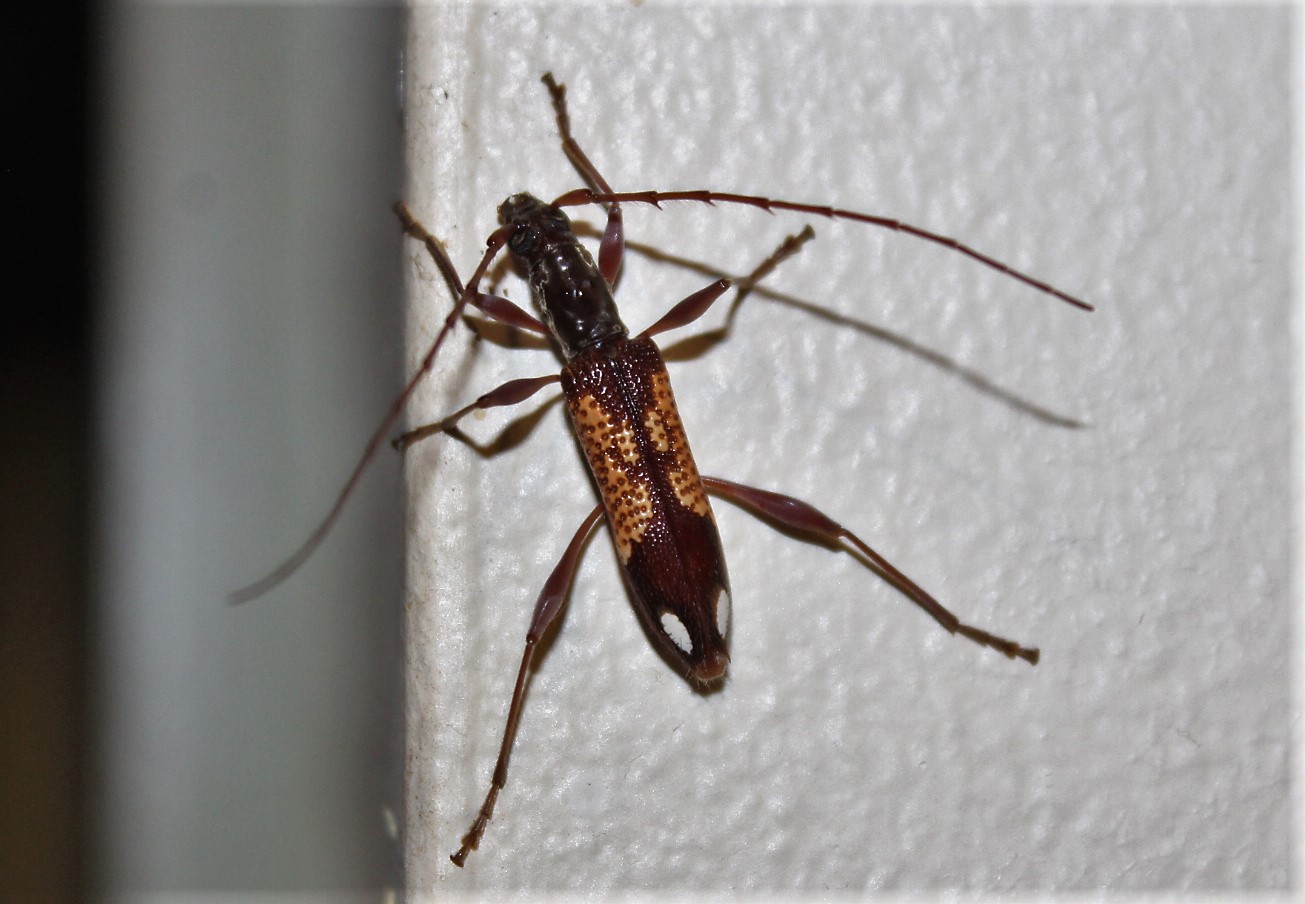 There are 4 key processes that occur within its lifecycle — Egg, larval, pupation and adult.
Female Phoracantha semipunctata lay approximately a batch of 40 eggs, where eggs are laid below detached bark, present within stressed host trees.
After the eggs hatch, larvae emerge and begin acquiring nutrients from the cambium and phloem segments, excavating through the external layer of bark to consume in the inner bark and exterior xylem tissues.
Pupation will occur after larvae development. Larvae Phoracantha semipunctata, will establish pupal chambers, within the sapwood or in some cases the heartwood, where they will develop into adult beetles. Pupation may take up to 10 days.
After pupation, adult Phoracantha semipunctata will then begin digging themselves out the pupal chamber in which they will then create a 8-10mm opening in the external bark layer. The total life cycle of P. semipunctata varies; however, in host trees with high larvae competition, their total lifecycle may be significantly depleted and only span up to two months.
Phoracantha semipunctata eggs and larvae are subject to various natural predators which may diminish their viability during the development process. Braconid parasites, including Syngaster lepidus, and Bracon capitator have been recorded to have negative effects. These female wasps infuse a certain venom within the larvae, stopping any further development and feeding that can be done.
There are also other species of beetle which lower larvae survivorship, including Trogodendron fasciculatum and Aeschyntelus vittatus.
Trogodendron fasciculatum, the yellow-horned clerid, is a small beetle of the family Cleridae (checkered beetles). It too is native to Australia, and feeds on other insects.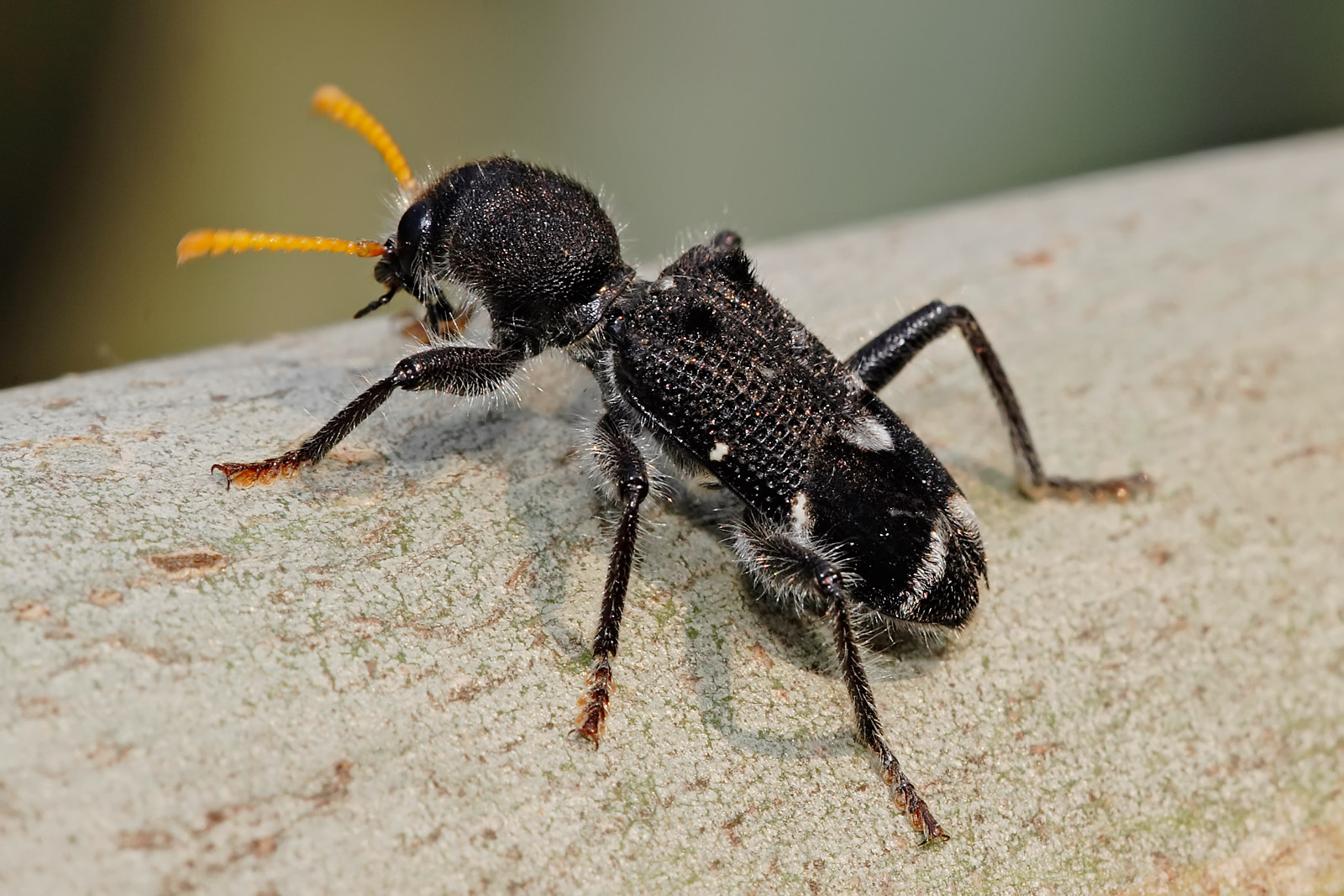 Clerid beetle of the species Trogodendron fasciculatum (Schreibers) or yellowhorned clerid. Taken in January 2007 on a eucalyptus tree in Swifts Creek, Victoria, Australia. Photo: Fir0002/Flagstaffotos
Ants are also a problem for them as they simply carry the beetle eggs within Eucalyptus trees off to their own nest.
The resilience of Eucalyptus species to these insects is best achieved by looking after these. Making sure there is sufficient water during long durations of dry condition helps as longhorns need dry trees that are not too well to thrive and 'bore' into them.
Certainly not a 'boring' place to be though - seeing what comes indoors or what lives in the garden.
We'll add this into the collection for you and keep it in: Insects, Bugs & Local Wildlife Insights For Youngsters: 2023
LITTLE SHIPS OF BAYVIEW.
The little ships of Bayview they are bravely slim and small,
They go out by Barrenjoey, where they shouldn't go at all;
You may watch their bowsprits tossing, where the coastal steamers go
These little ships of Bayview, with their sails as white as snow.
The little ships of Bayview, they come sailing In at night,
With a silver path behind them, and the moon to mark their flight;
There are shaky lights at Newport, and an arch of stars that know
The little ships of Bayview, with their sails as -white us snow.
There are songs across the water, as the little ships go by,
To their anchor-buoys at Bayview, where the sleepy houses lie;
Faint and drowsy nod their anchors, and the stars lean very low,
On the little ships of Bayview, with their sails as white as snow.
-GILBERT MANT.
LITTLE SHIPS OF BAYVIEW. (1925, August 22). The Sydney Morning Herald (NSW : 1842 - 1954), p. 11. Retrieved fromhttp://nla.gov.au/nla.news-article16237249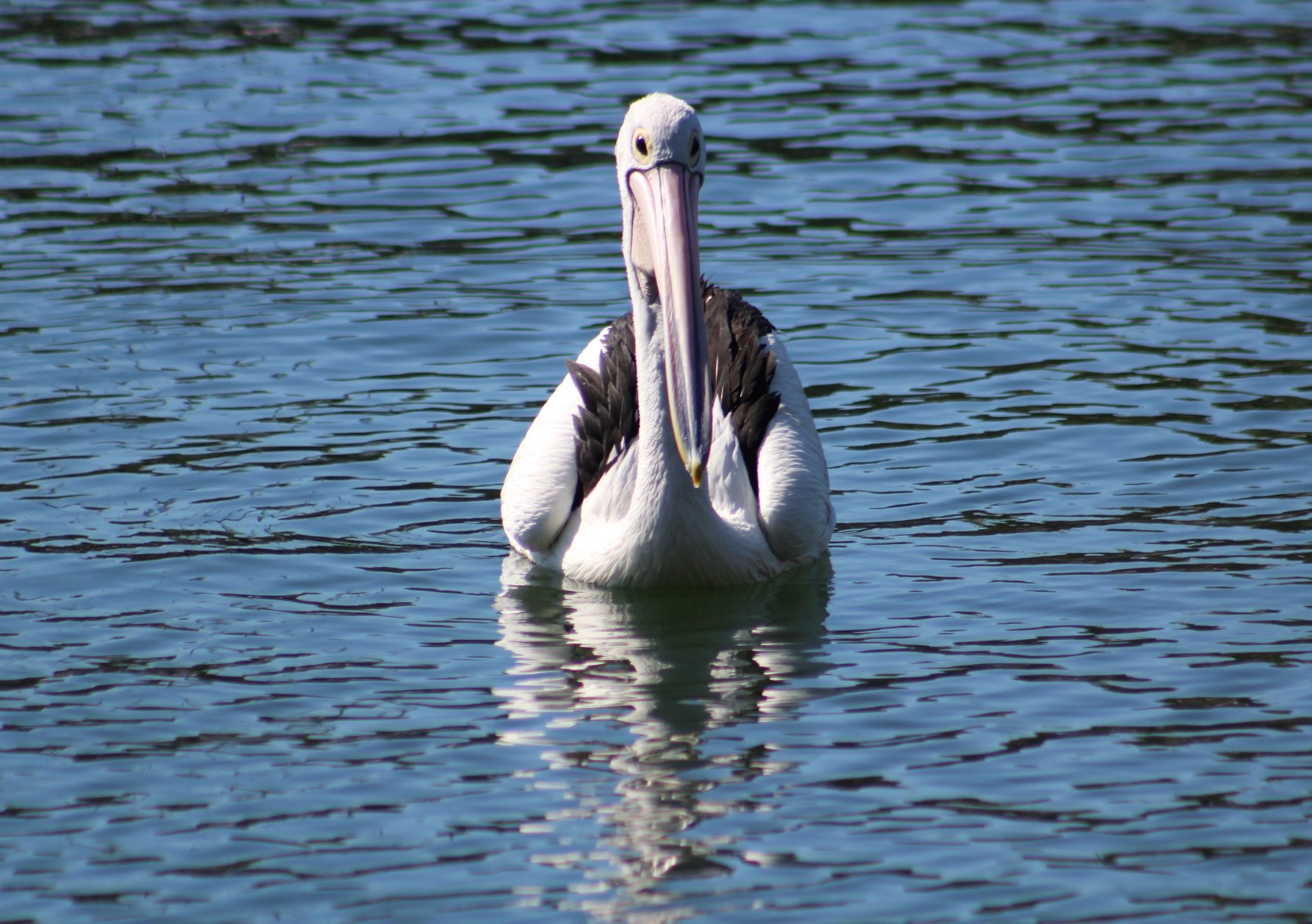 Pelican, Bayview, Pittwater - Saturday March 11, 2023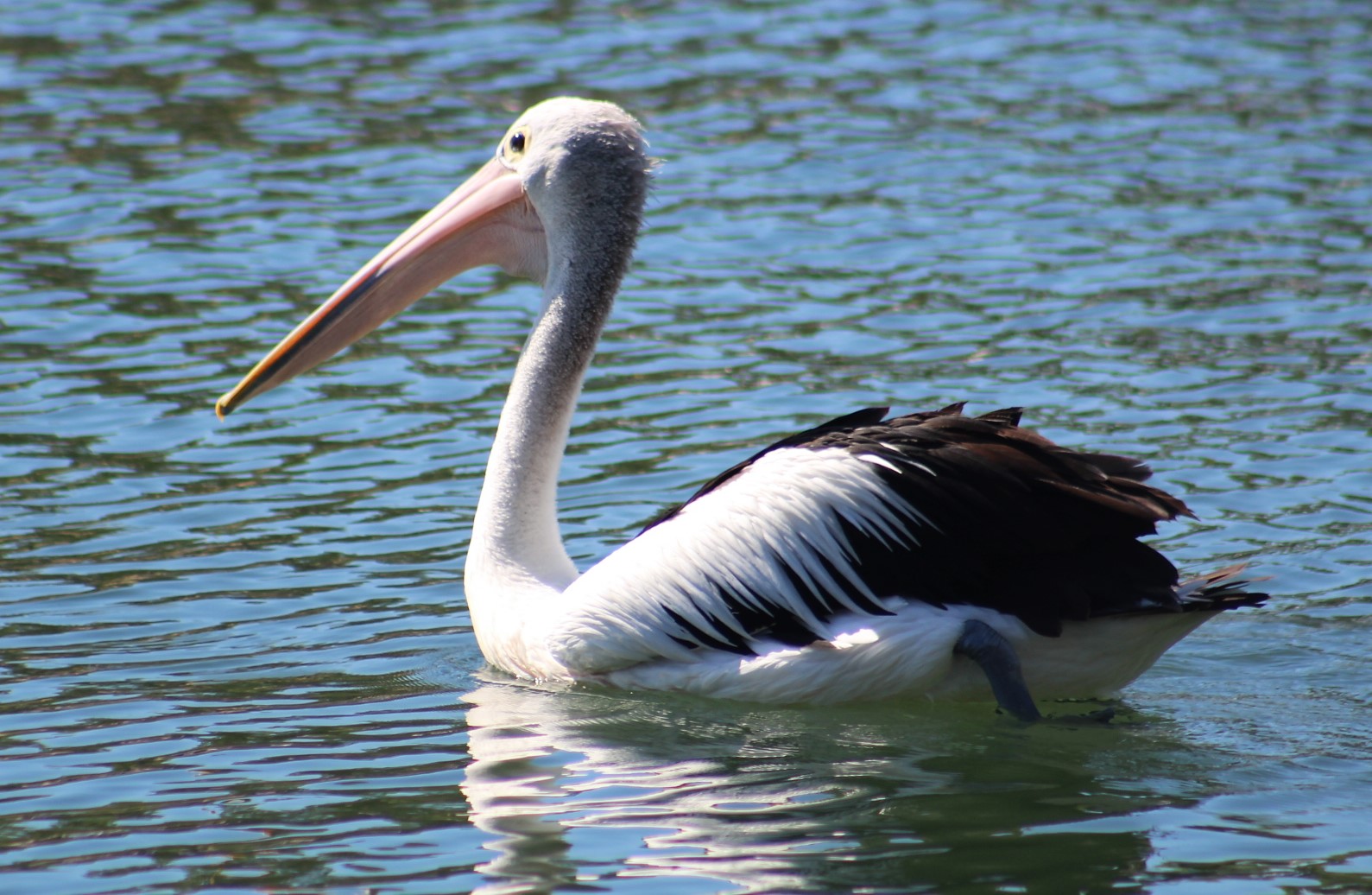 Armidale Provincial City
From the Film Australia Collection of the National Film and Sound Archive. Made by the Commonwealth Film Unit 1958. Directed by Ralph Hogg, Richard Mason.
An overview of the thriving city of Armidale, it's rural life, educational institutions and the highly regarded University of New England. Outlines the interconnection between the city and the land.
Poor Sleep Linked To Years Of Poor Cardiovascular Health
Poor sleep could lead to between two and seven years worth of heightened heart disease risk and even premature death, according to a new study led by researchers at the University of Sydney in collaboration with Southern Denmark University.
The study analysed data from over 300,000 middle-aged adults from the UK Biobank and found that different disturbances to sleep are associated with different durations of compromised cardiovascular health later in life compared to healthy sleepers.
In particular, men with clinical sleep-related breathing disorders lost nearly seven years of cardiovascular disease-free life compared to those without these conditions, and women lost over seven years. Importantly, even general poor sleep, such as insufficient sleep, insomnia complaints, snoring, going to bed late, and daytime sleepiness is associated with a loss of around two years of normal heart health in men and women.
"Anyone who's had a few rough nights of sleep knows how it can lead to bad mood and not feeling one's best. Our research shows that, over time, regular poor sleep can lead to significantly compromised cardiovascular health in middle and old age, said Professor Emmanuel Stamatakis from the Charles Perkins Centre and Faculty of Medicine and Health, senior author of the paper in BMC Medicine.
"Sleep apnoea is well known to increase the risk of cardiovascular disease and other chronic conditions, but these findings are a wake-up call that poor sleep in general can pose significant risk to heart health."
How does snoring affect long term health?
The team used an established composite sleep score comprising self-reported sleep duration, insomnia complaints, snoring, daytime sleepiness and whether the person was a night owl or an early bird to come up with three sleep categories: poor, intermediate, and healthy at age 40, and compared this with their overall cardiovascular disease-free health expectancy.
By combining the study participants' self-reported data with clinical data from their doctors in the two years preceding the study, the researchers were able to compare health outcomes for self-reported sleep patterns and clinically diagnosed conditions such as sleep-related breathing disorders. The team categorised participants as poor, intermediate, and healthy sleepers at age 40, and compared their health outcomes at old age.
Women with poor sleep were likely to experience two years more of compromised cardiovascular health compared to healthy sleepers, while men experienced more than two years. Intermediate sleepers lost almost one year of heart disease-free life among women, and men lost slightly more.
This means that snoring and trouble falling asleep or staying asleep can be a warning sign of potential health issues in the future.
"While the average life expectancy of the UK study participants is around 80 years, people with clinically diagnosed sleep-related breathing disorders like sleep apnoea lost over seven years of cardiovascular-disease free life," said the study's lead author Dr Bo-Huei Huang, an epidemiologist recently graduating from the Charles Perkins Centre and Faculty of Medicine and Health.
A wake-up call for health and policy
Professor Peter Cistulli, the ResMed Chair of Sleep Medicine at the Charles Perkins Centre and Royal North Shore Hospital, said that these findings are significant because they extend the findings of previous studies linking poor sleep to important health outcomes.
"Sleep is a vital biological function that has been under-appreciated in public health policy to date. It's gratifying that these findings shine a light on the importance of sleep, and the need for it to be recognised as a pillar of good health, alongside physical activity and nutrition. The time is right to ensure that sleep is recognised in public health policy," said Professor Cistulli.
Bo-Huei Huang, Borja del Pozo Cruz, Armando Teixeira-Pinto, Peter A. Cistulli, Emmanuel Stamatakis.
Influence of poor sleep on cardiovascular disease-free life expectancy: a multi-resource-based population cohort study.
BMC Medicine, 2023; 21 (1) DOI:
10.1186/s12916-023-02732-x
Spinal Cord Stimulation Doesn't Help With Back Pain, Says New Review
Spinal cord stimulation, a medical technology suggested to treat people with chronic back pain, does not provide long-term relief and may cause harm, according to a Sydney University Cochrane Review released today.
Spinal cord stimulation is thought to work by implanting a device that sends electrical pulses to the spinal cord to interrupt nerve signals before they get to the brain.
The study reviewed published clinical data on spinal cord stimulation. This included randomised controlled trials, considered to be the most robust method to measure effectiveness of a treatment in medical research.
The researchers analysed the results of 13 clinical trials, looking at data from 699 participants, comparing spinal cord stimulation treatment with placebo or no treatment for low back pain.
Cochrane reviews are trusted by researchers, medical professionals and policymakers because they use robust methodologies to combine evidence from multiple sources, reducing the impact of bias and random error that can make individual studies less reliable.
The review concluded that spinal cord stimulation is no better than a placebo for treating low back pain, with probably little to no benefit for people with low back pain or improvement in their quality of life.
There was little to no clinical data regarding the long-term effectiveness of spinal cord stimulation.
The researchers also found that adverse side effects to the surgery were poorly documented overall, preventing them from concluding the level of risk involved. Harms from spinal cord stimulation could include nerve damage, infection, and the electrical leads moving, all of which may need repeated surgeries.
The review findings have been submitted to the Federal Department of Health and Aged Care prosthesis list review taskforce. The taskforce is reviewing the eligibility of current prostheses subsidised by Medicare.
In Australia, the devices' long-term safety and performance are also being re-assessed by The Therapeutic Goods Administration (TGA), the country's regulatory authority for therapeutic goods.
"Spinal cord stimulation is invasive and has a great financial cost to people who choose surgery as a last resort to alleviate their pain. Our review found that the long-term benefits and harms are essentially unknown," said lead researcher Dr Adrian Traeger from Sydney Musculoskeletal Health, an initiative of the University of Sydney, Sydney Local Health District and Northern Sydney Local Health District.
"Our review of the clinical data suggests no sustained benefits to the surgery outweigh the costs and risks.
"Low back pain is one of the leading causes of disability worldwide. Our findings further emphasise the urgent need to review funding arrangements for chronic pain care to help patients in their search for relief. There are evidence-based physical and psychological therapies for back pain; ensuring access to these is essential."
The review team found multiple gaps in clinical data.
There were no studies that investigated the long-term (more than 12 months) impact of spinal cord stimulation on low back pain. The longest was a single six-month trial.
The majority of clinical trials only looked at the immediate impact of the device, which is a time frame of less than a month.
The review team provided a list of recommendations, including that future spinal cord stimulation clinical trials be at least 12 months, clearly document the number of people who experience adverse events and make comparisons with other pain treatment options.
Professor Chris Maher,Co-Director of Sydney Musculoskeletal Health, said:
"Our review found that the clinical benefit of adding spinal cord stimulation to treat low back pain remains unknown. When coupled with the reality that these devices are very expensive and often break down there is clearly a problem here that should be of concern to regulators."
A separate Cochrane review, in which the researchers were not involved, examined the effect of spinal cord stimulation versus placebo in people with chronic pain. Similar to this review, it concluded there was a lack of evidence to suggest long-term benefits in treating chronic pain.
Adrian C Traeger, Stephen E Gilbert, Ian A Harris, Christopher G Maher.
Spinal cord stimulation for low back pain.
Cochrane Database of Systematic Reviews, 2023; 2023 (3) DOI:
10.1002/14651858.CD014789.pub2
Applications Now Open For Inaugural $10,000 Military History Prize
Applications are now open for the inaugural $10,000 Anzac Memorial Trustees Military History Prize – a new annual award within the prestigious NSW Premier's History Awards.
Minister for Transport, Veterans and Western Sydney David Elliott said the establishment of the award highlighted the importance of recording our military history to honour and remember our veterans.
"Capturing our military history is vital in ensuring future generations are educated on the service and sacrifice of Australians in armed conflicts," Mr Elliott said.
"This prize is not only an important acknowledgement of the work which is already being done to record the events and stories of those who served in conflict and peacekeeping missions but also provides an avenue for that work to be shared more widely.
"This is another step in ensuring the sacrifices of all those who have served in the defence forces and military operations continue to be profiled as part of the nation's military history, so our veterans will not be forgotten.
"I encourage all historians with an interest in our military history to apply for this award as it will help future generations learn about and understand the bravery, dedication and legacy of our veterans," Mr Elliott said.
The Military History Prize is for a work of non-fiction on the involvement of Australians in wars, campaigns, battles and/or peacekeeping operations which are represented in the Anzac Memorial's Hall of Service. The Hall of Service displays 100 international sites of military significance for NSW service personnel from the 19th Century to more recent military operations.
Pension Increase: How Often Important As How Much
Today's announcement of an increase to the age pension is a welcome relief. But the system needs to be adapted to ensure pensioners are better able to cope with inflation, states National Seniors.
From 20 March 2023 the maximum rate of the single age pension will rise by $37.50 per fortnight (taking the single age pension from $1026.50 to $1064) and for couples, by $56.40 per fortnight (taking their payment from $1547.60 to $1604 combined).
Chief Advocate Ian Henschke said under the current system, pensions are adjusted every six months, in March and September but this leaves recipients playing a costly game of catch up when inflation is unusually high.
"The Federal Government should index the pension every three months during times of high inflation to help those most vulnerable," Mr Henschke said.
"Pensioners will welcome today's increase yet rightly worry there won't be another rise in payment until September. They'll have to wait six months and then play catch-up again. The increase in pension is because the cost of living has been driven by an inflation rate of 7.8% over the past six months."
Other payments will also increase. The maximum rate of Commonwealth Rent Assistance for a single without children will increase by $5.60 to $157.20 per fortnight.
Some income and asset limits may also change due to indexation.
"National Seniors Australia recognises our system adjusts for rising cost of living, but it is critical during times of high inflation that we adjust four times a year instead of two," Mr Henschke said.
"For pensioners struggling to cover necessities such as food, fuel, and electricity, how often is as important as how much.
"We also want a two-year trial for pensioners who want to work and work more. We need an NZ style system that eliminates Centrelink reporting and requires pensioners to pay an agreed rate of income tax. It's simple, fair, will help solve critical workforce shortages and boost the budget bottom line.
"We will continue to fight for a system that improves people's lives. In our budget submission we have called on the government to index the pension quarterly during times of high inflation and to let pensioners work. Both measures will boost confidence in the retirement system and grow the economy."
About The Warfarin Shortage 2023
The TGA is aware of several warfarin product shortages due to manufacturing issues.
Viatris Pty Ltd has advised the Therapeutic Goods Administration (TGA) of shortages of several warfarin products due to manufacturing issues. The shortages currently affect Coumadin (warfarin sodium) 2 mg and 5 mg tablets.
Warfarin is an anticoagulant used to prevent blood from excessive clotting or forming harmful clots for patients at risk of heart attack and stroke. While the two brands of warfarin marketed in Australia (Coumadin and Marevan) are both available in various strengths, they are not bioequivalent and should not be interchanged unless under medical supervision.
The shortage of the Coumadin 5 mg tablets is expected to continue until 31 July 2023. The shortage of the Coumadin 2 mg tablets is expected to continue until 20 March 2023. To minimise disruption to patients, Viatris is working to increase supply of Coumadin 1 mg and 2 mg tablets to allow patients to maintain their prescribed dose using a combination of the lower strengths available, in consultation with a health professional.
The TGA is working closely with Viatris and other stakeholders to minimise the shortage impact. The TGA is seeking advice from relevant stakeholders on details to include in a proposed Serious Scarcity Substitution Instrument. The instrument, if made, will allow pharmacists to dispense an alternative strength of the same warfarin brand if the prescribed strength is unavailable.
To ensure access to the limited stock is maintained as widely as possible, the TGA urges pharmacists and consumers not to stockpile Coumadin or Marevan.
The latest information about the shortages and the expected return to supply dates is available on the Medicine Shortage Reports Database- external site on the TGA website.
The TGA is also aware of concerns raised about the new packaging of the warfarin product range (blue bottle presentation). We are working closely with Viatris to further differentiate the different strengths of each product label without disrupting supply.
Information for consumers
Consumers who are having difficulty accessing warfarin products should consult their pharmacist or GP for advice.
Viatris holds limited emergency stock of Coumadin that can be shipped directly to pharmacies in urgent cases.
Consumers can talk to their pharmacist and, if needed, ask them to call Viatris on 1800 314 527 to enquire about access.
Information for health professionals
Due to the narrow therapeutic index of warfarin and the lack of data on bioequivalence between Coumadin and Marevan, these products are not considered interchangeable. If substituting or switching is unavoidable, close monitoring with frequent INR testing is recommended.
Viatris holds limited emergency stock of Coumadin that can be shipped directly to pharmacies in urgent cases. Pharmacists can call Viatris on 1800 314 527 to enquire about access.
If a Serious Scarcity Substitution Instrument (SSSI) is made, information will be published on the TGA website and communicated to pharmacists as a priority.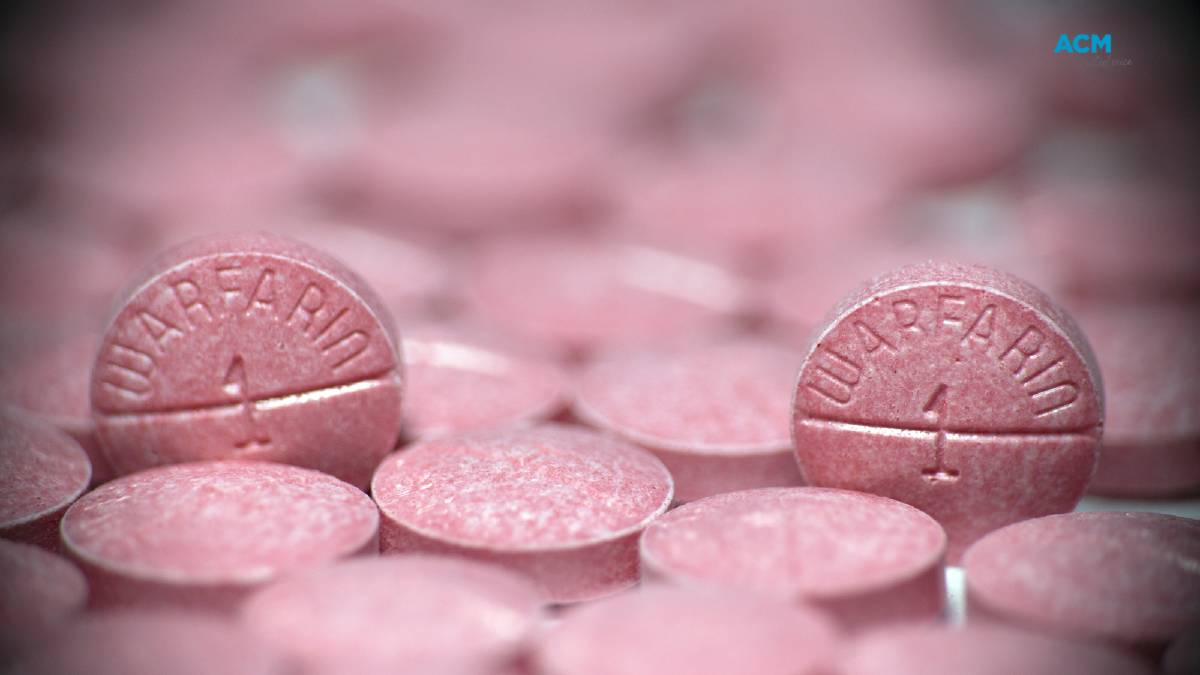 From The COTA NSW CEO: People Over 50 Largest Voter Group In NSW
There are only 2 weeks until the people of NSW vote for their next government. Many are saying it is too tough to call. Others are saying it is going to fall one way or another. For COTA NSW what really matters is that the barriers to positive ageing are removed - whoever gets elected.
Last week a small group of COTA NSW members met to discuss NSW State election and help launch our election platform,
Listen Up!
They were seeking to meaningfully contribute to political discourse and to be taken seriously.
People over 50 represent the largest voter group in the NSW electorate representing 34% of the total NSW population or 2.9 million people. We are a diverse group and although many of us don't consider ourselves old, systemic ageism means that we are often excluded from meaningful contribution and opportunities.
Based on our extensive engagement and research, older voters in the upcoming NSW election are most likely to be influenced by integrity in government, care for the environment and funding for essential services such as hospitals, education, transport and housing. They are also concerned about community connections and the "digital first" approach that government is taking.
Access and affordability of specialists continues to be a key health concern among older voters, particularly in regional and remote NSW and among people aged 50-59. Dental health, public hospital waiting times, appropriate exercise programs and mental health services were other main areas that were issues of importance. Poor public hospital experiences- particularly for those with cognitive impairment is a major concern.
Most older people felt it is vital to prepare for the transition to retirement in a wholistic way, encompassing financial, legal and social planning.
While most respondents to our research owned their own home (82%), homelessness and the lack of social housing were a concern for all age groups in all areas. Many expressed frustration and alarm that these issues had not been addressed more effectively and called for more investment and a solutions focussed approach.
Social Isolation continues to be a major concern, particularly in the light of COVID restrictions and the proliferation of natural disasters. Corresponding with previous COTA NSW research, isolation was nominated as a priority by more people in the 50-59 age group than older groups.
Our election platform isn't just a list of everything that is going wrong for older people. It is packed with solutions that helps make ageing a time of possibility, opportunity and influence.
Vote wisely and enjoy the celebration of democracy on March 25th with a sausage sizzle or cup cake.
Marika Kontellis
COTA NSW CEO
Housing Crisis: Five Initiatives That Should Be On The NSW Election Agenda - UNSW Housing Experts Weigh In
UNSW housing experts weigh in on the policies that could provide relief from the state's housing crisis.
With rampant rent inflation triggering crisis conditions for many low-income renters across Australia, numerous tenancy horror stories are circulating in media right now. And with 800,000 home-owners facing steep mortgage increases as they exit fixed-rate deals this year, prospects for many home-owners are also dire.
With a NSW election looming, housing policy has become a battleground for the major parties.
But what kind of short-term and long-term pledges should we demand from the rival contenders if they are serious about confronting the housing and rental crisis?
UNSW housing policy experts, Professor Hal Pawson and Dr Chris Martin from the City Futures Research Centre, have five key policy reform recommendations.
1. Emergency packages and regulatory relief
Many renters are struggling right now and there are regulatory options available to state and federal governments to provide immediate relief in the short-term. These include legislating a limit or control on rental increases, which was done quickly by some states during COVID.
Significantly increasing Rent Assistance would be another quickly deliverable way to provide relief, pending the implementation of longer-term solutions. Recognising that decades of inadequate up-rating have drastically devalued the payment, such a boost is backed by voices as diverse as the Grattan Institute, the Australian Council of Social Service and the Productivity Commission. While formally beyond the power of state governments to deliver, the NSW party leaders should be committing their support for this campaign.
Better regulating Airbnb is another policy option that costs no money to the government to implement.
"In some parts of NSW and the rest of the country, perfectly good long-term rentals are becoming Airbnbs - causing more strain on the housing and rental market," says Prof. Pawson.
A broad-based land tax, including on owner-occupied housing, is a key reform for improved housing affordability and economic productivity in NSW, according to Prof. Pawson and Dr Martin.
"Widening land tax would bring more under-utilised land to market, improve housing supply, and discourage speculative hoarding," says Dr Martin.
It also captures, for the public, some of the land value gains that result from public investment in infrastructure. Land tax can be designed to avoid hardship to low-income owner-occupiers, by allowing tax liabilities to be deferred until a property is finally sold or inherited.
"The Coalition took the big step of committing to land tax reform but came close to flubbing it with a badly compromised policy which is that first home buyers can opt in and avoid stamp duty," says Dr Martin.
"Its election promise to allow other owner-occupiers to opt in, while keeping stamp duty for multiple property owners, would go some way to getting this reform back on track.
"NSW Labor on the other hand is opposing land tax reform in this election, which is disappointing. Phased introduction of a broad-based land tax is a pro-affordability, pro-productivity, pro-fairness policy they should endorse."
Recent City Futures research found strong support among economists for shifting to a broad-based land tax, both to reduce wealth inequality and enhance productivity.
3. Enhance tenants' rights
As more people are renting longer or expect to rent indefinitely, a range of law reforms are needed to help them make a rental into a long-term home.
The essential step is prohibiting landlords from terminating tenancies without grounds – especially because, at the moment, tenants' advice services are reporting many more no-grounds terminations, as landlords push up rents.
"No-grounds terminations are unfair, give cover for bad reasons for termination – such as discrimination or retaliation – and undermine tenants' legal rights to get repairs done and challenge rent increases," explains Dr Martin.
Labor has promised law reform to require 'reasons for evictions'. The Coalition has lately promised to get rid of no-grounds terminations for periodic tenancies, but would still allow no-grounds terminations at the end of a fixed term.
Under the Coalition's proposal, tenants could be on a string of fixed terms and still experience the insecurity of no-grounds termination hanging over them. The ACT is proposing to abolish no-grounds terminations altogether – this is the approach NSW should take too, Dr Martin and Prof. Pawson say.
"Reformed tenancy laws must also ensure that the tribunal has discretion to decline termination, considering the circumstances of the parties and the balance of hardship. Termination of a tenancy should never be mandatory," Dr Martin says.
Recent City Futures research for AHURI put concerns about law reform and 'disinvestment' to the test, and found previous rounds of tenancy law reform have not caused landlords to disinvest.
But, says Dr Martin, it would be no bad thing if stronger laws prompted substandard landlords to leave the market.
"That would create more space for first home buyers, and for a better sort of landlord – one that delivers higher standard housing services and doesn't sell out whenever it suits them," he says.
The research also shows gaps and problems across a range of tenancy legal topics, and sets out a detailed reform agenda.
4. Scale up investment into social housing
Social housing stock has barely increased in NSW in the last 25 years. While official figures show apparent growth in the past decade, that is mainly due to a 2016 state government statistical re-definition. As a proportion of all housing, the state's stock of public and community properties has in fact continued to dwindle.
Meanwhile, a recent City Futures report shows that 144,000 households around NSW are currently experiencing unmet need for social housing.
"This election, looking at the platforms of both major parties, we see a glaring absence of any pledge to confront the mounting problem of unmet housing need – or even to stabilize social housing representation within the overall property market," says Prof. Pawson.
"Unlike Victoria and Queensland, NSW also resisted calls for a state-funded social housing program as part of post-pandemic economic recovery plans in 2020 and 2021.
"NSW could expand the existing Social and Affordable Housing Fund, enabling it to underpin an additional cohort of newly developed homes - emulating Queensland which recently doubled its own housing future fund by pledging another $1 billion to its stake."
5. Mandatory developer contributions to affordable housing
In line with standard practice in many other countries, Australia's planning systems could mandate the routine inclusion of affordable housing within private residential developments. Alternatively, emulating the system that has operated successfully in the City of Sydney for 25 years, developer financial contributions to affordable housing could be managed through the scheme approval process.
The UNSW experts say it's time to consider a Sydney-wide scheme of the same sort where, for instance, it's required that five to 10 per cent of floorspace of private developments are dedicated to social or affordable housing.
"This was proposed by the Greater Sydney Commission as long ago as 2016, but never actioned by the Coalition Government," says Prof Pawson. "Properly implemented, the cost of such a measure will be borne by landowners, not builders or consumers. It's no substitute for government-funded social housing subsidies.
"But when you consider that it could enable affordable housing provision to be hard-wired into market housing development at no cost to government, surely this is a no-brainer that has been largely ignored in Australia for far too long".
Drunk Mice Sober Up After A Hormone Shot
A hormone called fibroblast growth factor 21 (FGF21) protects mice against ethanol-induced loss of balance and righting reflex, according to a study publishing on March 7 in the journal Cell Metabolism.
"We've discovered that the liver is not only involved in metabolizing alcohol but that it also sends a hormonal signal to the brain to protect against the harmful effects of intoxication, including both loss of consciousness and coordination," says co-senior study author Steven Kliewer of the University of Texas Southwestern Medical Cen
ter.
"We've further shown that by increasing FGF21 concentrations even higher by injection, we can dramatically accelerate recovery from intoxication. FGF21 does this by activating a very specific part of the brain that controls alertness," says Kliewer.
The consumption of ethanol produced by the natural fermentation of simple sugars in ripening fruits and nectars can cause intoxication, impairing mobility and judgement. Animals that consume fructose and other simple sugars have evolved liver enzymes to break down ethanol.
FGF21 is a hormone that is induced in the liver by a variety of metabolic stresses, including starvation, protein deficiency, simple sugars, and ethanol. In humans, ethanol is by far the most potent inducer of FGF21 described to date. Previous studies showed that FGF21 suppresses ethanol preference, induces water drinking to prevent dehydration, and protects against alcohol-induced liver injury.
In the new study, Kliewer and co-senior study author David Mangelsdorf of the University of Texas Southwestern Medical Center show that FGF21 plays a broader role in defending against the harmful consequences of ethanol exposure than previously thought. In mice, FGF21 stimulated arousal from intoxication without changing the breakdown of ethanol. Mice lacking FGF21 took longer than their littermates to recover their righting reflex and balance following ethanol exposure. Conversely, pharmacologic FGF21 administration reduced the time needed for mice to recover from ethanol-induced unconsciousness and lack of muscle coordination.
Surprisingly, FGF21 did not counteract sedation caused by ketamine, diazepam, or pentobarbital, indicating specificity for ethanol. FGF21 mediated its anti-intoxicant effects by directly activating noradrenergic neurons in the locus coeruleus region in the brain, which regulates arousal and alertness. Taken together, the results suggest that the FGF21 liver-brain pathway evolved to protect against ethanol-induced intoxication. According to the authors, this pathway may modulate a variety of cognitive and emotional functions to enhance survival under stressful conditions.
Yet it remains to be determined whether activation of the noradrenergic system contributes to FGF21's other effects, including those on metabolism and ethanol and sweet preference. Although both FGF21 and noradrenergic nervous system activity are induced by ethanol in humans, additional studies will also be required to determine whether FGF21's anti-intoxicant activity translates to humans.
"Our studies reveal that the brain is the major site of action for FGF21's effects," Mangelsdorf says. "We are now exploring in greater depth the neuronal pathways by which FGF21 exerts its sobering effect."
Mihwa Choi, Marc Schneeberger, Wei Fan, Abhijit Bugde, Laurent Gautron, Kevin Vale, Robert E. Hammer, Yuan Zhang, Jeffrey M. Friedman, David J. Mangelsdorf, Steven A. Kliewer.
FGF21 counteracts alcohol intoxication by activating the noradrenergic nervous system.
Cell Metabolism, 2023; 35 (3): 429 DOI:
10.1016/j.cmet.2023.02.005
Plastic Containers Can Contain PFAS - And It's Getting Into Food
Researchers at the University of Notre Dame are adding to their list of consumer products that contain PFAS (per- and polyfluoroalkyl substances), a toxic class of fluorine compounds known as "forever chemicals."
In a new study published in Environmental Science and Technology Letters, fluorinated high-density polyethylene (HDPE) plastic containers -- used for household cleaners, pesticides, personal care products and, potentially, food packaging -- tested positive for PFAS. Following a report conducted by the EPA that demonstrated this type of container contributed high levels of PFAS to a pesticide, this research demonstrates the first measurement of the ability of PFAS to leach from the containers into food as well as the effect of temperature on the leaching process.
Results also showed the PFAS were capable of migrating from the fluorinated containers into food, resulting in a direct route of significant exposure to the hazardous chemicals, which have been linked to several health issues including prostate, kidney and testicular cancers, low birth weight, immunotoxicity and thyroid disease.
"Not only did we measure significant concentrations of PFAS in these containers, we can estimate the PFAS that were leaching off creating a direct path of exposure," said Graham Peaslee, professor of physics in the Department of Physics and Astronomy at Notre Dame and an author of the study.
It's important to note that these types of containers are not intended for food storage, but there is nothing preventing them from being used for food storage at the moment. Although not all HDPE plastic is fluorinated, the researchers noted, it's often impossible for a consumer to know whether a container has had that treatment. And indeed, Peaslee added, if substances like pesticides are stored in these containers, and then are used on agricultural crops, these same PFAS will get into human food sources that way.
In 2021 the EPA announced its PFAS Strategic Roadmap -- promising to act on widespread exposure to PFAS. The plan includes developing a more comprehensive understanding of the health and environmental effects of PFAS exposure, preventing further contamination of air, land and water and addressing the need for cleanup of PFAS already in the environment.
PFAS is often used in association with stain- or water-resistant products. For the study, Peaslee and graduate student Heather Whitehead tested HDPE containers that were treated with fluorine to create a thin layer of a fluoropolymer, as a means to impart chemical resistance and improve container performance over long storage periods. While these materials generally stay in the container wall, the manufacturing process can generate lots of smaller PFAS molecules, which are not polymers. Experiments were designed to measure the ability of these chemicals to migrate from the container to samples of different foods and solvents.
Analysis of the containers found parts-per-billion levels of PFAS that could migrate into both solvents and food matrices in as little as one week.
"We measured concentrations of PFOA that significantly exceeded the limit set by the EPA's 2022 Health Advisory Limits," said Peaslee. "Now, consider that not only do we know that the chemicals are migrating into the substances stored in them, but that the containers themselves work their way back into the environment through landfills. PFAS doesn't biodegrade. It doesn't go away. Once these chemicals are used, they get into the groundwater, they get into our biological systems, and they cause significant health problems."
Peaslee and Whitehead measured PFAS concentrations in olive oil, ketchup and mayonnaise that had been in contact with the fluorinated containers for seven days at various temperatures. Based on the amount found in the different food samples, the study estimates enough PFAS could be ingested through food stored in the containers to be a significant risk of exposure.
The containers are the latest products in a long list of those tested by Peaslee and his lab at Notre Dame, including cosmetics, firefighting gear, school uniforms and fast food wrappers.
Heather D. Whitehead, Graham F. Peaslee.
Directly Fluorinated Containers as a Source of Perfluoroalkyl Carboxylic Acids.
Environmental Science & Technology Letters, 2023; DOI: 10.1021/acs.estlett.3c00083
Fledgling Chronic Back Pain Therapy Needs More Rigorous Study
A systematic review of relatively new treatment for chronic back pain -- Cognitive Functional Therapy -- has found that it is no better than traditional therapies based on evidence from past studies.
Leading the review was Mr Jack Devonshire, a PhD candidate with UNSW Sydney and Neuroscience Research Australia (NeuRA). He looked at studies of Cognitive Functional Therapy (CFT) as a treatment for chronic back pain which, for the purposes of his research, was defined as pain experienced continuously for three months or more in the region between the 12th rib and the crease of the buttocks.
CFT has been growing in popularity and gaining attention among practitioners since the first clinical trial in 2013 based on theory developed in 2005. There have been multiple trials across the world on CFT since, says Mr Devonshire.
"CFT integrates treatments that may be helpful in managing chronic lower back pain, such as pain education, exercise, and lifestyle coaching, into a model of care informed by a contemporary understanding of a person's entire pain experience," he says.
"The therapy aims to build upon the biopsychosocial model to provide health professionals with what we call a clear 'clinical reasoning framework' to tailor strategies to manage this chronic condition."
Despite the therapy being integrated into healthcare systems in the UK and Finland, as well as having multiple training courses online for clinicians, there hasn't yet been a comprehensive analysis of research into this therapy.
"So we decided to perform a systematic review and meta-analysis, the highest level of evidence, to look at past studies to find out how effective the treatment is on pain, disability and safety," Mr Devonshire says.
After examining all the studies that fit the research criteria, Mr Devonshire and his fellow authors found that ultimately the effectiveness of CFT remains unknown at this stage, and the group calls for future trials featuring blinded participants -- those who are unaware whether the therapy being administered is actual or sham -- and studies that recruit larger sample sizes.
"The results of our study found that CFT may not reduce pain intensity and disability in people with chronic low back pain, compared to manual therapy and core exercises, either at the end of treatment or at the 12-month follow-up," Mr Devonshire says.
"This is important as we want our exercise physiologists, physios and other health professionals who manage people with low back pain to be armed with the best available information on the available effective treatments -- especially since learning to deliver CFT as a therapist is quite intensive, taking an average 106 hours of training to properly deliver the treatment."
The researchers otherwise found that no adverse events were reported among patients after receiving the CFT treatment.
Mr Devonshire notes that certainty in the researchers' systematic review was limited by differences between study controls, small sample sizes and a high risk of bias across all included studies, impacting the trustworthiness of the findings from these studies. The group looks forward to further research that improves current evidence via clinical trials on CFT.
Jack J Devonshire, Michael A Wewege, Harrison J Hansford, Hasibe A Odemis, Benedict M Wand, Matthew D Jones, James H McAuley.
Effectiveness of cognitive functional therapy for reducing pain and disability in chronic low back pain: a systematic review and meta-analysis
. Journal of Orthopaedic & Sports Physical Therapy, 2023; 1 DOI:
10.2519/jospt.2023.11447
How Heavy Alcohol Consumption Increases Brain Inflammation
For people with alcohol use disorder (AUD), there is a constant, vicious cycle between changes to the brain and changes to behaviour. AUD can alter signalling pathways in the brain; in turn, those changes can exacerbate drinking.
Now, scientists at Scripps Research have uncovered new details about the immune system's role in this cycle. They reported in the journal Brain, Behaviour and Immunity on Feb. 28, 2023, that the immune signalling molecule interleukin 1β (IL-1β) is present at higher levels in the brains of mice with alcohol dependence. In addition, the IL-1β pathway takes on a different role in these animals, causing inflammation in critical areas of the brain known to be involved in decision-making.
"These inflammatory changes to the brain could explain some of the risky decision-making and impulsivity we see in people with alcohol use disorder," says senior author Marisa Roberto, PhD, the Schimmel Family Chair of Molecular Medicine and a professor of neuroscience at Scripps Research. "In addition, our findings are incredibly exciting because they suggest a potential way to treat alcohol use disorder with existing anti-inflammatory drugs targeting the IL-1β pathway."
AUD is characterized by uncontrolled and compulsive drinking, and it encompasses a range of conditions including alcohol abuse, dependence and binge drinking. Researchers have previously discovered numerous links between the immune system and AUD -- many of them centered around IL-1β. People with certain mutations in the gene that codes for the IL-1β molecule, for instance, are more prone to developing AUD. In addition, autopsies of people who had AUD have found higher levels of IL-1β in the brain.
"We suspected that IL-1β was playing a role in AUD, but the exact mechanisms in the brain have been unclear," says first author Florence Varodayan, PhD, an assistant professor at Binghamton University and former postdoctoral fellow in the Roberto lab.
In the new study, Roberto, Varodayan and their colleagues compared alcohol-dependent mice with animals drinking moderate or no alcohol at all. They discovered that the alcohol-dependent group had about twice as much IL-1β in the medial prefrontal cortex (mPFC), a part of the brain that plays a role in regulating emotions and behaviours.
The team then went on to show that IL-1β signaling in the alcohol-dependent group was not only increased, but also fundamentally different. In mice that had not been exposed to alcohol, as well as in mice that had drunk moderate amounts of alcohol, IL-1β activated an anti-inflammatory signaling pathway. In turn, this lowered levels of the inhibitory neurotransmitter gamma-aminobutyric acid (GABA), a signaling molecule known to regulate neural activity in the brain.
However, in alcohol-dependent mice, IL-1β instead activated pro-inflammatory signalling and boosted levels of GABA, likely contributing to some of the changes in brain activity associated with AUD. Notably, these changes in IL-1β signalling in the alcohol-dependent mice persisted even during alcohol withdrawal.
Drugs that block the activity of IL-1β are already approved by the U.S. Food and Drug Administration to treat rheumatoid arthritis and other inflammatory conditions. More work is needed to determine whether these existing drugs could have utility in treating AUD.
"We plan to follow up on this study with more work on exactly how targeting specific components of the IL-1β pathway might be useful in treating alcohol use disorder," says Roberto.
F.P. Varodayan, A.R. Pahng, T.D. Davis, P. Gandhi, M. Bajo, M.Q. Steinman, W.B. Kiosses, Y.A. Blednov, M.D. Burkart, S. Edwards, A.J. Roberts, M. Roberto.
Chronic ethanol induces a pro-inflammatory switch in interleukin-1β regulation of GABAergic signaling in the medial prefrontal cortex of male mice.
Brain, Behavior, and Immunity, 2023; 110: 125 DOI:
10.1016/j.bbi.2023.02.020
What Is A Cultural Policy And Why Does Australia Need One?
Bold cultural visions can be useful for society and give certainty to the arts sector, says UNSW cultural data expert.
The federal government recently announced a new National Cultural Policy for Australia, with further details to come as part of the federal budget in May.
The National Cultural Policy, titled Revive, will be implemented over a five-year period and it aims to "renew and revive Australia's arts, entertainment and cultural sector."
This is Australia's third ever cultural policy and so, you might be wondering: what exactly is the purpose of a cultural policy?
"We've had a cultural policy vacuum on a national level for over a decade and this new policy picks up on this, as well as addressing post-pandemic discontent in the arts," says Dr Scott East, lecturer in museum studies and expert in cultural data from the UNSW School of Art & Design. Dr East also made a submission to the formation of the National Cultural Policy.
"When they work well, cultural policies can facilitate an important vision - bringing the entire arts sector together to work towards something bold and exciting."
What makes a cultural policy successful?
Cultural polices are strategies and actions governments take to promote and support Australia's cultural activities and industries in areas like film, theatre, music and museums. Such strategies and actions can include funding, legislation and creating ministries and independent bodies.
"Cultural policies can play an important role in shaping and promoting Australian identity," says Dr East. "They can also nurture the creativity of domestic talent and help increase access and participation of everyday citizens in cultural activities."
Given that cultural policies vary from country to country and depend on society's values of the day, it's difficult to pin down exactly what it takes for a cultural policy to be successful.
"It's fair to say that a good cultural policy creates the right conditions for creative freedom to emerge," says Dr East.
"This means that cultural policies have the tough task of straddling two ends of the spectrum: enough autonomy for artists to do what they want versus a shared vision that everyone works towards. Ideally this vision is not too prescriptive.
"Ultimately, cultural policies can work well when they inspire the arts sector by identifying a cultural moment and giving people something to work towards."
What makes this cultural policy unique?
Revive sets out five pillars connected to broader government objectives breathing new life into the previous national cultural policy.
"Broader federal government visions such as the Uluru Statement from the Heart and tackling sexual misconduct have been folded into this cultural policy, which is an interesting approach in itself," says Dr East.
The first priority is a commitment to First Nations-led initiatives like a dedicated, publicly funded national Indigenous art gallery, says Dr East.
"This policy takes an expansive and non-restrictive view of culture and what it looks like in Australia today," says Dr East. "It's also the first policy to explicitly aim to support and nurture more diversity in the arts sector, and that's exciting."
Previous approaches to regional access to the arts were ad hoc and uncertain. This policy packages together funding commitments that allow public collections to tour the regions – increasing access to art and culture.
Another feature of this policy is the recognition of the centrality of the artist.
"Previous policy approaches were criticised for putting too much emphasis on large institutions, while this new cultural policy is the first to view artists as workers and the wheels are in motion for award wages and workplace reforms for artists, with a focus on ending sexual harassment," says Dr East.
Previously it was understood that the government's responsibility is to fund areas of the arts that experience market failure. This new policy, however, aims to do not only that but also invest in commercially viable projects, particularly in the spaces of music and literature.
"By embracing commercial aspects of the sector, this policy collapses high vs low art distinctions," Dr East says.
This cultural policy acknowledges the whole ecosystem of arts and culture and it is inclusive of small, independent artist run initiatives as well as big institutions and commercial operations.
Another interesting feature is that this policy values the arts sector for its instrumental and intrinsic purposes – that is valuing art for what it does for other parts of society like health, wellbeing and national identity, as well as valuing art for its own sake, he says.
Bipartisan support needed for stability in the arts
Though the new national cultural policy has been welcomed by the arts sector, it has also drawn criticism regarding its political certainty.
"Australian cultural policies don't happen often on a federal level and traditionally the Coalition don't pursue a national cultural policy, it's an ALP initiative," says Dr East. "The Coalition tends to undertake arts planning with more of an ad hoc approach as they believe cultural statements can be blockers."
Many see Australia's modern cultural policy as commencing with Gough Whitlam's 1973 announcement of funds to establish what would become the Australia Council for the Arts, the primary arts funding and advisory body for the country. The Australia Council's transformation into Creative Australia is one of the major features of the new policy.
Since then, the Keating government implemented the Creative Nation policy in 1994 and the Gillard government launched Creative Australia in 2013, but it was only in place for six months before being discontinued by the incumbent Coalition government.
"Given the contentious history of cultural policies in this country, there's debate about whether these large federal cultural policies provide any additional certainty," says Dr East.
He says there has been caution from some in the arts sector because they believe that if there is a change of government, they won't stick by the previous government's cultural policies.
Dr East, however, believes that certainty on direction and funding gives the cultural sector security and allows those industries to grow and thrive. Bipartisan support of the national cultural policy would cement this certainty.
How can cultural data help inform future policies?
Given the political situation, there is a lot of pressure on cultural policies to succeed. Luckily, the advent of cultural data can assist with creating and assessing the success of cultural policies.
Artists, arts organisations, government bodies, researchers and social media produce various cultural data and information such as artist biographies and details of artwork and exhibitions. Storing such information via a cultural database can strengthen the arts sector.
"Having well organised and robust data in linked databases allows us to take advantage of 'big data' methods which help us see interesting trends, stories and analysis we simply couldn't otherwise," says Dr East.
With improved data, we can better determine the value of the arts, and measure its dissemination and impact in communities and internationally – informing our arts policies, he says.
"For example, the Australian Cultural Data Engine (ACD-E) is currently examining biographical data on over 150,000 artists, architects and performers, and studying the rise and fall of arts organisations since 1945."
Dr East is part of a team of academics who work on ACD-E – together, they made a submission to the development of the Revive national cultural policy.
"One of the things we were keen to see was an increased priority towards collecting cultural data. The commitment to report on the state of Australian Culture every three years provides such a mechanism for accountability reminding us policy is only as successful as its implementation."
Age Of First Exposure To Tackle Football And Years Played Associated With Less White Matter In Brain
Chronic traumatic encephalopathy (CTE) is not the only problem football players should be aware of. Long careers in American football are linked to less white matter in the brain and associated with problems with impulsive behaviour and thinking according to a new study from the Boston University CTE Center.

This finding is independent of whether football players had chronic traumatic encephalopathy (CTE).
CTE is a progressive neurodegenerative disease frequently found in contact sports athletes. However, many former contact sports athletes suffer from thinking problems and impulsive behaviour in the absence of CTE, or with very mild CTE. This new study suggests that a separate type of brain damage, which can appear earlier than CTE, may underlie some of these symptoms.
"Damage to the white matter may help explain why football players appear more likely to develop cognitive and behavioural problems later in life, even in the absence of CTE," said corresponding author Thor Stein, MD, PhD, a neuropathologist at VA Boston Healthcare System and assistant professor of pathology and laboratory medicine at Boston University Chobanian & Avedisian School of Medicine.
The researchers studied the brains of 205 deceased American football players donated to the Veterans Affairs-Boston University-Concussion Legacy Foundation (VA-BU-CLF) Brain Bank and measured levels of myelin, a component of white matter that covers, protects and speeds up the connections in the brain. They then interviewed family members on measures of cognition and impulsivity and then compared how career length and age of beginning tackle football related to levels of myelin, and how myelin levels related to cognition and impulsivity. In addition to more years of football played, the researchers found that starting tackle football at a younger age was also related to more white matter loss, independent of career length.
"These results suggest that existing tests that measure white matter injury during life, including imaging and blood tests, may help to clarify potential causes of changes in behaviour and cognition in former contact sport athletes. We can also use these tests to better understand how repeated hits to the head from football and other sports lead to long term injury to the white matter," said co-author Michael L. Alosco, PhD, associate professor of neurology.
The researchers hope these findings help reinforce the idea that more needs to be done to protect the brains of athletes, especially children, from repeated hits to the head.
These finding appear online in the journal Brain Communications.
Michael L Alosco, Monica Ly, Sydney Mosaheb, Nicole Saltiel, Madeline Uretsky, Yorghos Tripodis, Brett Martin, Joseph Palmisano, Lisa Delano-Wood, Mark W Bondi, Gaoyuan Meng, Weiming Xia, Sarah Daley, Lee E Goldstein, Douglas I Katz, Brigid Dwyer, Daniel H Daneshvar, Christopher Nowinski, Robert C Cantu, Neil W Kowall, Robert A Stern, Victor E Alvarez, Jesse Mez, Bertrand Russell Huber, Ann C McKee, Thor D Stein.
Decreased myelin proteins in brain donors exposed to football-related repetitive head impacts.
Brain Communications, 2023 DOI:
10.1093/braincomms/fcad019
When It Comes To Food Allergies, Trust Your Gut
There's a close link between gut health and food allergies, UNSW food and health expert says.
For most people, when they think of their gut, the first thing that comes to mind is the area around the stomach – which is half true.
When doctors or health professionals talk about the gut, they refer to the billions of microbiomes and other microorganisms that exist in the intestinal tract. As one of the most important organs in your body, the gut is responsible for the digestion, absorption and utilisation of nutrients. It also makes up 70 per cent of a person's immune system.
So, it's safe to say that poor gut health can lead to a string of negative effects on the body – including the increased risk of a food hypersensitivity to certain proteins - and it could mean the body lacks the types of colonies in the microbiome that are crucial for a healthy digestive system.
Those microbiomes are especially important when it comes to allergies. But what does gut health have to do with allergies?
Food and health expert, Associate Professor Alice Lee from UNSW School of Chemical Engineering, has devoted her career to researching this area.
"Generally, if you have good gut health, then typically your chances of developing allergies are lower compared to someone with poor gut health," says A/Prof. Lee.
"We now know that the epithelial cell, the single cell layer that forms the lining of both the small and large intestine of our gut, looks very different in people with food allergies compared to those without and this can be attributed to the microbiome and how those cells process food proteins."
Food allergies are hypersensitive reactions to a specific food antigen with most people developing them from a very young age. In Australia, almost every two in 100 people live with a nut allergy and approximately three per cent of infants have a peanut allergy. It's becoming so common that many schools and early learning centres have banned peanuts from school lunches altogether.
A/Prof. Lee says while genetics do play a role in the development of allergies, epigenetics, such as the environment factors, also dictate how the infant immune system develops.
"The gut microbiomes found in people with allergies is less diverse than people without allergies," she says.
"The maternal diet can influence the immune system of the infant. During pregnancy, avoiding allergens altogether is no longer recommended, and it's important for the mother to have a balanced diet to ensure their baby gets a good share of the nutrients needed to support healthy gut bacteria.
"Whether it's through breastmilk, or infant formula, the protein in the milk is the first thing babies are exposed to and this can influence their child's hypersensitivity towards that protein as their immune system develops.
"We also see the development of allergies through other epithelial cells such as the skin.
"Kids can present with a weak skin barrier or some kind of skin microbiome deficiency. And at a young age, they can be exposed to allergens through things such as almond oils which are found in baby creams, lotions, or body wash or traces of wheat protein in oatmeal baby bath soak – so it's not always through the consumption of these proteins."
Living with a food allergy
There is still some hope for young kids living with an allergy. About 80 per cent of babies allergic to egg and milk grow out of it by the age of four. This is a stark contrast to children with nut allergies where only 20 per cent grow out of it and the remaining 80 per cent of people carry it into adulthood. For these people, absolute avoidance of their allergens is very important.
Recently, the Food and Agriculture Organisation of the United Nations and the World Health Organisation recommended setting the regulatory levels for each allergen to standardise the allergen regulation policy worldwide. This work is crucial in supporting the development of international food safety standards and guidelines relevant to the management of food allergens.
Is there a way to outgrow allergies quicker?
"Science hasn't yet taught us how to speed up the process of growing out of an allergy. The best treatment option we currently have is allergen-specific immunotherapy which has shown promising results," says A/Prof. Lee.
"Currently, at least 60 per cent of patients who have gone through immunotherapy successfully develop desensitisation and can consume their allergens in much higher doses after the therapy. However, we're continually striving to improve the efficacy and safety of the treatment."
Since the increase in production of plant-based protein alternatives, such as pea and other legume proteins, as well as novel substitutes such as insect proteins, new food allergies have also been on the rise.
A/Prof. Lee says people might be sensitised to certain foods but don't know it. She theorises that people can still consume foods they are sensitised to because it's at levels lower than their tolerance level.
"For example, you can be sensitised or even allergic to soy protein, but you can still have a small amount of soy protein in foods without any reaction," she says.
"On the flip side, even trace amounts of the allergenic food protein can trigger a life-threatening reaction."
While probiotic supplements are touted to help maintain digestive health, it doesn't mean they are the magic pill to end allergies altogether.
"These days, there are supplements or health-conscious drinks such as probiotic or kombucha promising to correct problems in our gut. This is only one small piece of a large pie," says A/Prof. Lee.
"We know that your gut microbiome changes when you have an allergy and restoring the gut microbiome could help the body respond better to the therapy, but there are other parts to this puzzle.
"There is current research looking at the efficacy of combining immunotherapy with both probiotic and prebiotic supplements and initial analysis of the data has shown positive results.
"However, there's still a way to go before we know the exact dosage of those supplements and in which combinations are needed to have that impact and how they work in the body.
"In the allergy prevention and treatment space, it's the billion dollar question."
Bald Eagles Aren't Fledging As Many Chicks Due To Avian Influenza
Bald eagles are often touted as a massive conservation success story due to their rebound from near extinction in the 1960s. But now a highly infectious virus may put that hard-fought comeback in jeopardy. New research showed highly pathogenic avian influenza, also known as H5N1, is killing off unprecedented numbers of mating pairs of bald eagles.
Published in Nature's Scientific Reports, new research from the University of Georgia showed highly pathogenic avian influenza, also known as H5N1, is killing off unprecedented numbers of mating pairs of bald eagles.
"Even just one year of losses of productivity like we've documented regionally is very concerning and could have effects for decades to come if representative of broader regions," said Nicole Nemeth, lead author of the study and an associate professor in the College of Veterinary Medicine. "There were nights where I couldn't sleep based on what we were hearing and seeing. We have already lost unprecedented numbers of wild birds due to this virus in the U.S. and it appears here to stay."
Less than half of Georgia bald eagle nests fledged one chick in 2022
The researchers found that just under half of bald eagle nests along coastal Georgia successfully fledged at least one eaglet in 2022. That's 30% below average for the region.
The study also showed the success rate for nests was halved in one Florida county, dropping to 41% from an average of 86.5%. Another Florida county experienced a less dramatic but still concerning decrease from an average of approximately 78% to 66.7%.
"We had reports from people who faithfully monitor eagle nests year after year with these heart-breaking stories of an adult eagle found dead below their nest. Within a few days, often its mate and the chicks were also found dead below the nest. It is clear the virus is causing nest failures," said Nemeth, who is part of the UGA-based Southeastern Cooperative Wildlife Disease Study (SCWDS).
The collaboration is the first diagnostic and research service established specifically to investigate wildlife diseases.
Number of infected wild birds likely an undercount
In April 2022, SCWDS researchers confirmed highly pathogenic avian influenza had hit Georgia's eagle populations for the first time.
The three dead eagles were found in Chatham, Glynn and Liberty counties in March.
At the time, the U.S. Department of Agriculture (USDA) had confirmed around 660 cases of the H5N1 virus in wild birds, only 11 of which were from Georgia.
That number has since skyrocketed to more than 6,200 reported cases across the country, according to the USDA's Animal and Plant Health Inspection Service.
Those cases include a variety of vultures and other raptors, waterfowl like geese and ducks, as well as other aquatic birds like pelicans and herons, and even some songbirds, though they are less common victims of the virus. (Tens of millions of commercially farmed poultry have died or been culled due to risk of infection.)
"I think the number of wild bird cases is drastically underreported," Nemeth said. "People will submit one snow goose, for example, and it will test positive for the virus. And then they'll tell you, 'Well, there are thousands of geese dying at the same site.' But it only goes down as one infected bird."
H5N1 doesn't pose massive threat to humans but may to other species
The birds at biggest risk of infection are those that live in coastal or other aquatic areas inland or prey on other birds that do.
The virus can persist in water for over a year, given the proper conditions. While not a risk to people, birds can pick up the virus from spending time in the water and carry it to new locations through migration.
Raptors like eagles and vultures then catch the virus when they consume the infected birds.
"Worst case scenario, we get into a scary place with some of these bird species," Nemeth said. "We could see a lot more decline in the numbers of eagles, raptors, waterfowl and other birds than what we've already seen. It could be devastating."
Bears, red foxes and coyotes among animals infected with virus
Avian influenza has hopped species as well.
H5N1 has infected wild mammals such as red foxes, coyotes, racoons, seals, opossums and even some bears in North America. However, very few people have been infected with the virus in the U.S. and have recovered with minimal symptoms, according to the Centers for Disease Control and Prevention.
"A virus that can spread and be maintained as this virus can, it's everywhere now," Nemeth said. "We can't contain the virus, and we can't vaccinate wild birds. But we can document the losses and try to help conserve affected species and populations the best we can."
The study was co-authored by the University of Georgia's Mark Ruder, Rebecca Poulson and David Stallknecht. Additional co-authors include Robert Sargent of the Georgia Department of Natural Resources, Shawnlei Breeding of Audubon's EagleWatch, Meaghan Evans, Jared Zimmerman, Rebecca Hardman, Mark Cunningham of Florida Fish and Wildlife Conservation Commission and Samantha Gibbs of U.S. Fish & Wildlife.
Nicole M. Nemeth, Mark G. Ruder, Rebecca L. Poulson, Robert Sargent, Shawnlei Breeding, Meaghan N. Evans, Jared Zimmerman, Rebecca Hardman, Mark Cunningham, Samantha Gibbs, David E. Stallknecht.
Bald eagle mortality and nest failure due to clade 2.3.4.4 highly pathogenic H5N1 influenza a virus.
Scientific Reports, 2023; 13 (1) DOI:
10.1038/s41598-023-27446-1
A healthy bald eagle soars through the air. (Georgia DNR)

Disclaimer: These articles are not intended to provide medical advice, diagnosis or treatment. Views expressed here do not necessarily reflect those of Pittwater Online News or its staff.