October 30 - November 5, 2022: Issue 560

Manly's Little Penguins: Warden Program Update
By Taylor Springett
In Issue 559 a report ran on the
Northern Beaches Eco Awards 2022 Announced
which shared that the 2022
Achievement Award - Youth
Winner is Taylor Springett.
Taylor is a tireless devotee of the Manly Penguin Wardens who serve to protect the endangered Little Penguin colony from predators. She is seeking to foster greater public awareness via education to help protect them.
This award acknowledges a young person between the ages of 16yrs - 25yrs who demonstrate a dynamic approach to increasing awareness and taking action on environmental conservation or resource issues either at school or in the community.

A few weeks ago Taylor shared a Warden Program Update on Manly's Little Penguins in the North Sydney Council Winter 2022 Issue 54 Bushcare Newsletter.
Taylor has kindly allowed us to share her insights from that Newsletter.
LITTLE PENGUIN
WARDEN PROGRAM UPDATE
By Taylor Springett
The quack of a Little Penguin is without a doubt the cutest thing I have ever heard. Just after the sun sets behind the city skyline and the water turns navy blue, the Little Penguins start to call. From the shore they purr like a seagull. The chicks are hungry, and the adult is tiring of parenting duty. The returning mate quacks back, letting them all know that they have brought food. As night settles in, so to do the penguins in their nests along the rocky shores of North Head in the Sydney Harbour National Park.
As a Penguin Warden volunteer with National Park & Wildlife Service (NPWS), it is my job to protect this population of Little Penguins, the last mainland breeding colony in NSW. The population is currently in a very critical situation with lowest numbers ever recorded and the number of breeding pairs, now just 27, falling below the number needed to sustain the population. The work of volunteers is now more important than ever.
I became involved in the volunteering program through my high school, Mosman High, and the school environment committee which frequently collaborated with Mel Tyas from NPWS. I participated in the annual Penguin Warden training day when I was in Year 7 and then became a volunteer at Manly Wharf and then in the National Park. I absolutely loved being a volunteer and I asked if I could be more involved in the Penguin Warden program. This is how I became responsible for monitoring the population with motion-sensing cameras and servicing these cameras for NPWS. It is quite rare to see the penguins during the day when they are at sea, however we are lucky to have cameras on land that capture adorable pictures of the penguins at night.
The Penguin Wardens monitor in Spring Cove (including Collins Flat and Store Beach) as well as at Little Manly. The beaches in the National Park are all closed at sunset so as Penguin Wardens, it is our job to close the beaches and ensure no one is staying past sunset. We also check for dog and fox prints on the beach as these animals pose a huge threat to the Little Penguins.
Last season we lost two penguins from Store Beach to a fox that was particularly clever and managed to evade us for a couple months. Finding those dead penguins was one of the hardest things I have ever done. Both were adult penguins from different pairs with chicks still in the nest which means two adults were left to care for their chicks on their own.
Those chicks were likely not as healthy when they left the nest and will have a lower chance of surviving to adulthood. Their parents were also left without a mate and penguins mate for life. So, in losing two penguins to the fox, we have another four or five penguins that may never return to breed. This is the butterfly effect that really puts pressure on our population.
Fortunately, we have a great camera monitoring system with NPWS to keep an eye out for foxes. We know that young males tend to enter the National Park in between May and July looking for new territory. When a fox has been identified, we set up an immediate emergency fox-watch roster with the Penguin Wardens. This involves going down to the beaches early in the morning to check for any fox prints or other signs that might suggest fox activity overnight.
During the day penguins are at sea fishing for food. It is harder for us to keep an eye on them, but the risks remain. At sea they are vulnerable to boat strikes and seal attacks, and it is harder for us to document and record any incidents at sea. Luckily there is a Penguin Recovery Team with members from Taronga Zoo, penguin experts, Maritime Police and ferry operations (among many others) that do a lot of work behind the scenes for our penguins. We do a lot of work with ferry drivers and educating boat drivers to watch for penguins, particularly in the evenings when the Little Penguins group together on the surface to form a raft in Spring Cove.
I think the Little Penguins are lucky to have such a dedicated group of people working hard to look after them. The collaboration between volunteers, NPWS, Northern Beaches Council, the Penguin Recovery Team and the community is a testament to how much these special penguins are appreciated.
Going forward, we hope to gain a bigger picture of what is happening to our penguin population and to understand if the declining numbers are exclusive to our population or if it's happening across the state. We hope to uncover new breeding sites around Sydney Harbour as it is possible that numbers are declining simply because penguins are moving to new locations that we are not currently monitoring.
And this is where you can help! If you see a penguin, let us know so we can get a better understanding of where these guys are hanging out.
Please also keep your dogs out of the National Park and off the beaches and keep your cats inside at night - our penguins are only small and don't stand a chance against dogs or cats.
If you are on a boat, drive slowly around Spring Cove and look out for penguin rafts, particularly in the evening.
The work of volunteers has a massive impact on our population of Little Penguins, and we put in a lot of time and effort so that both you and our penguins can enjoy our beautiful harbour.
If you would like to get involved, you can contact me at taylor_springett@iinet.net.au.
Follow @friendsofmanlypenguins on Instagram to keep up to date with warden activities and Little Penguins at Manly.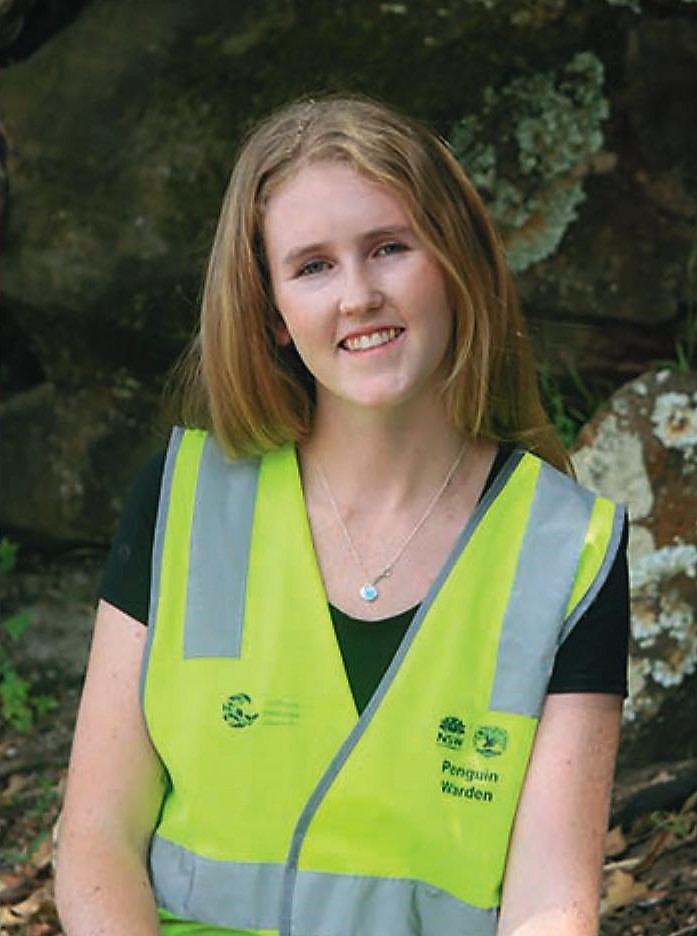 Taylor Springett – NPWS Penguin Warden at Collins Flat by Craig Springett, 5 Feb 2022.

Also available:
Pittwater's Little Penguin Colony: The Saving Of The Fairies Of Lion Island Commenced 65 Years Ago This Year - 2019

Lion Island's Little Penguins (Fairy Penguins) Get Fireproof Homes - 2019

Manly Cove Upgrade Proposal Open For Feedback Until January 28th 2022

Project Penguin 2017 Expo Day – Taronga Zoo by Kylie Ferguson

Great News: More Little Penguins Out And About: April 2020
If you do see them please marvel at this great news from a distance and remember this is a protected species we all would like to see more of in the estuary (where they are often seen further south at Clareville and across to the western shores) and along the beaches. All native birds, reptiles, amphibians and mammals are protected in NSW by the Biodiversity Conservation Act 2016.
Standing about 30 to 35cm in height, the little penguin weighs approximately one kilogram when fully grown.
Its upper body and flippers are slate blue or blue-grey in colour, with the underside and throat being white. The little penguin's bill is black, its feet are pale pink, and its eyes are silvery-grey. The males of the species are slightly bigger than the females, and have a deeper bill and larger head.
The little penguin makes a variety of noises for different situations. It has a short, sharp bark when at sea; it uses a variety of throbbing growls and hoarse whoops when attracting a mate; and if it is disturbed it lets out a sharp, snorting yelp. [1.]
If you are near a little penguin colony, you can help protect these native seabirds:
never allow your dog or cat to roam free in areas where the little penguin may have its breeding sites or burrows
if you see little penguins when you are near the coast, keep your distance - you may be near breeding sites or habitat areas which can easily be disturbed [1.]
Just remember the Manly colony of Little (Fairy) penguins was declared Endangered in 1997 and work is still going on to protect them.
Photo: These little penguins at North Curl Curl beach were treated by the Sydney Taronga Zoo wildlife clinic after suffering injuries from a dog attack. (Reuters: David Gray (File picture) -
2008 Taronga Zoo
)
1. NSW Department of Planning, Industry and Environment
Our Local Wildlife Feels Too
A good reminder that those we share this paradise with have lives too.
The lighter penguin is an elderly female whose partner died this year (2019). The darker one is a younger male who lost his partner two years ago. Biologists have followed them as they meet every night to comfort each other. They stand for hours together watching the lights in Melbourne.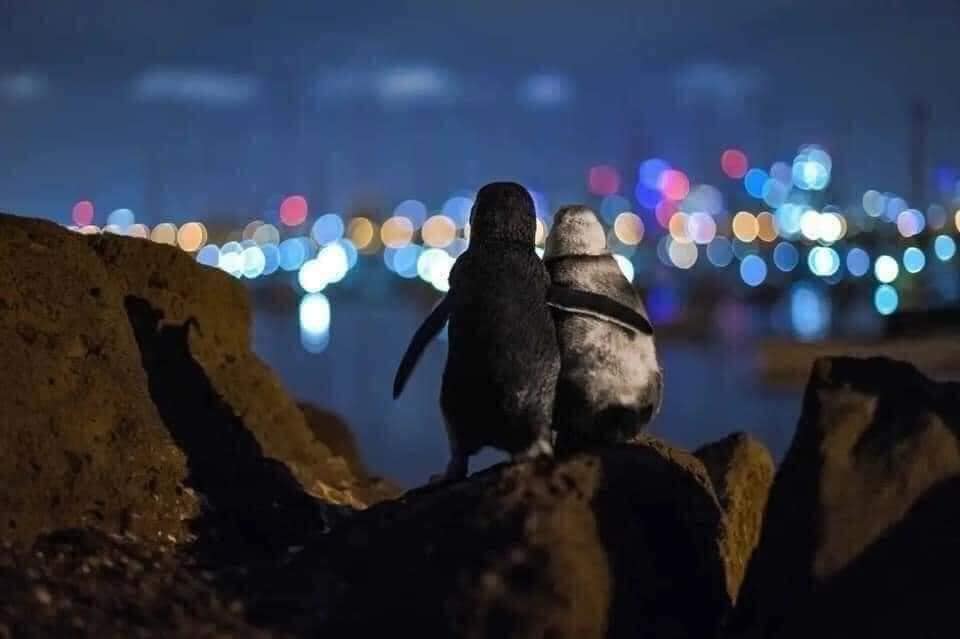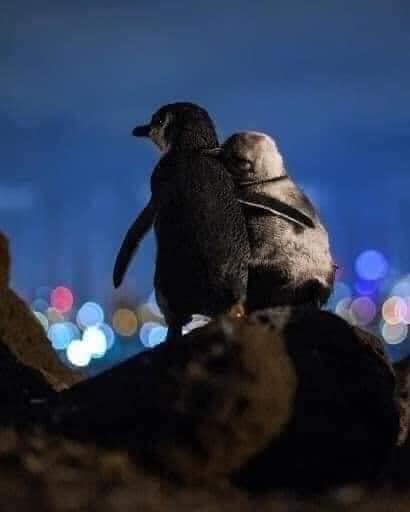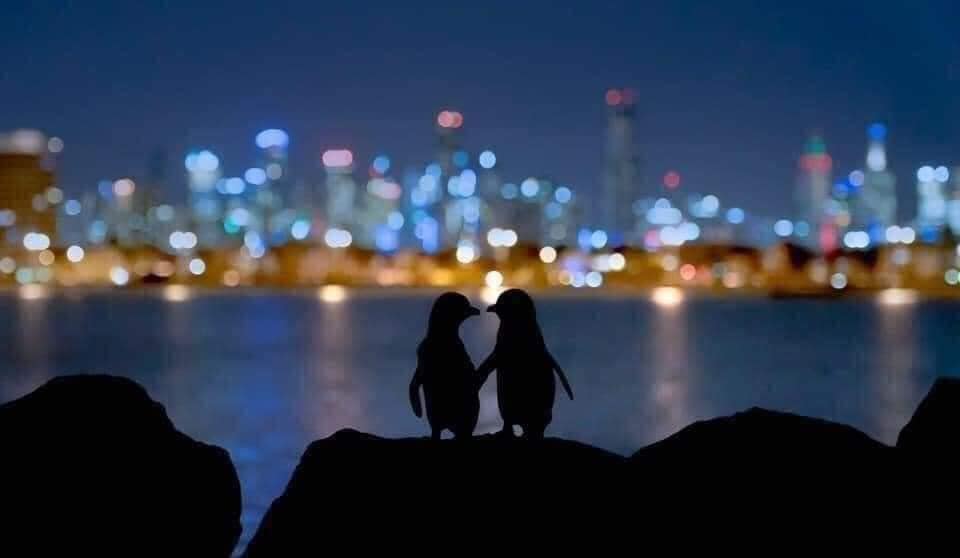 Photographer Tobias Baumgaertner captured this image of two widowed fairy penguins looking over the Melbourne skyline. It won an award in Oceanographic magazine's Ocean Photography Awards 2020.
Captured by photographer Tobias Baumgaertner in early 2019, these photographs are authentic. Fact Checked by the Editor.
Captured by Tobias Baumgaertner, the photograph was dubbed the Community Choice winner in the 2020 Ocean Photography Awards for Oceanographic Magazine and made headlines after receiving the award.
"I originally intended to capture an image that shows the pressures that human developments can have of wild animal populations," said Baumgaertner, who added that the two fairy penguins were surrounded by hundreds of others at their rocky territory near St. Kilda. "This image is so much more. It communicates togetherness and love."
The photo was first taken in early 2019 and shared on Instagram on March 25, 2020. In the original caption, Baumgaertner noted that he had spent hours observing the two penguins "flipper in flipper" when a volunteer approached him, saying that the white penguin was an "elderly lady who had lost her partner and apparently so did the younger male" pictured on the left side.
"Since then they meet regularly comforting each other and standing together for hours watching the dancing lights of the nearby city," wrote Baumgaertner.
Northern Beaches Eco Awards 2022 Award Winners Shows Next Generation Have Protection Of Wildlife Firmly In Their Sights
Issue 559 report - October 2022
Congratulations to the young men who are known as the Alpine Odyssey group on receiving a Special Commendation in this year's Eco Awards.
Readers may recall our earlier Profile on these young men and their aims to help our native wildlife, visit: Alpine Odyssey - Trekking For Wildlife
Earlier this year six local men trekked 680km over six weeks, through rugged terrain, across three states and raised $20,000 to purchase a Search and Rescue ATV (all- terrain vehicle) for Sydney Wildlife. This vehicle will assist rescuers on the Northern Beaches to reach distressed wildlife in difficult locations, especially after flooding and fires. The Alpine Odyssey group included: Connor Greig, Ben Harris, Yannick Muller, Harry Peters, Alex Burton and Jonty Earp.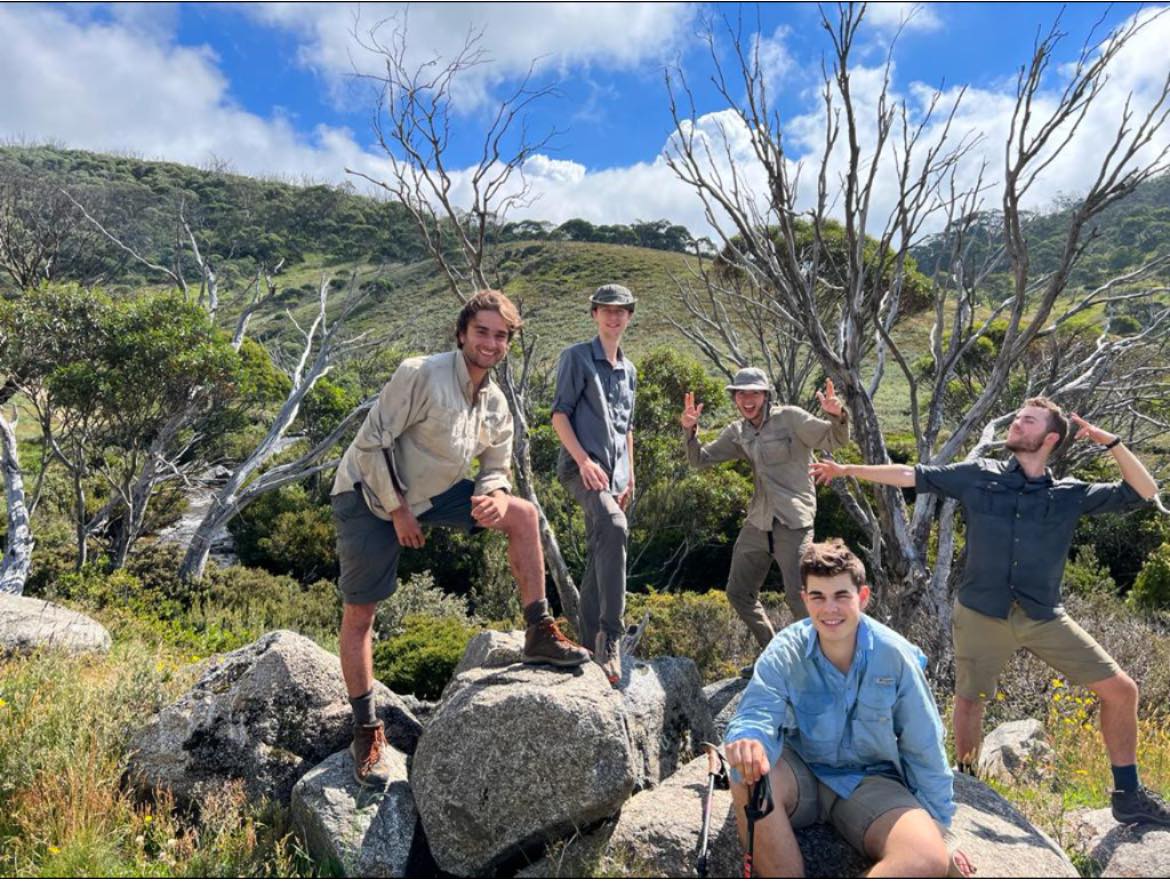 We'd also like to recognise Little Penguin Warden volunteer with National Park & Wildlife Service (NPWS)Taylor Springett who won this years' award in the Youth category
Taylor became involved in the volunteering program through her high school, Mosman High, and the school environment committee which frequently collaborated with Mel Tyas from NPWS. She participated in the annual Penguin Warden training day when in Year 7 and then became a volunteer at Manly Wharf and then in the National Park.
The Penguin Wardens monitor and keep safe the Little Penguins in Spring Cove (including Collins Flat and Store Beach) as well as at Little Manly.

Thank you Taylor!
Did you know that we once had Little Penguins right along coast - that they would come ashore on every beach to make nests and raise young? Yes - we did. You may even see some offshore when surfing - they're still around, although increasingly at risk from predators such as introduced foxes or those who take their dogs offleash into their homes. This si the prime reason we need Penguin Wardens.
A few insights from just a few years ago.
In June 2019 we brought you some news about a project to put fireproof burrows on Lion Island for the colony that lives there - these penguins are seen in the Pittwater estuary and right along the coastal beaches. They used to have nests and colonies on the beaches all along our coast as well - at Turimetta Beach, Narrabeen and Long Reef in particular.
Here's some at Narrabeen in 1955 - and reports of them at Long Reef as well:
When summer comes . . .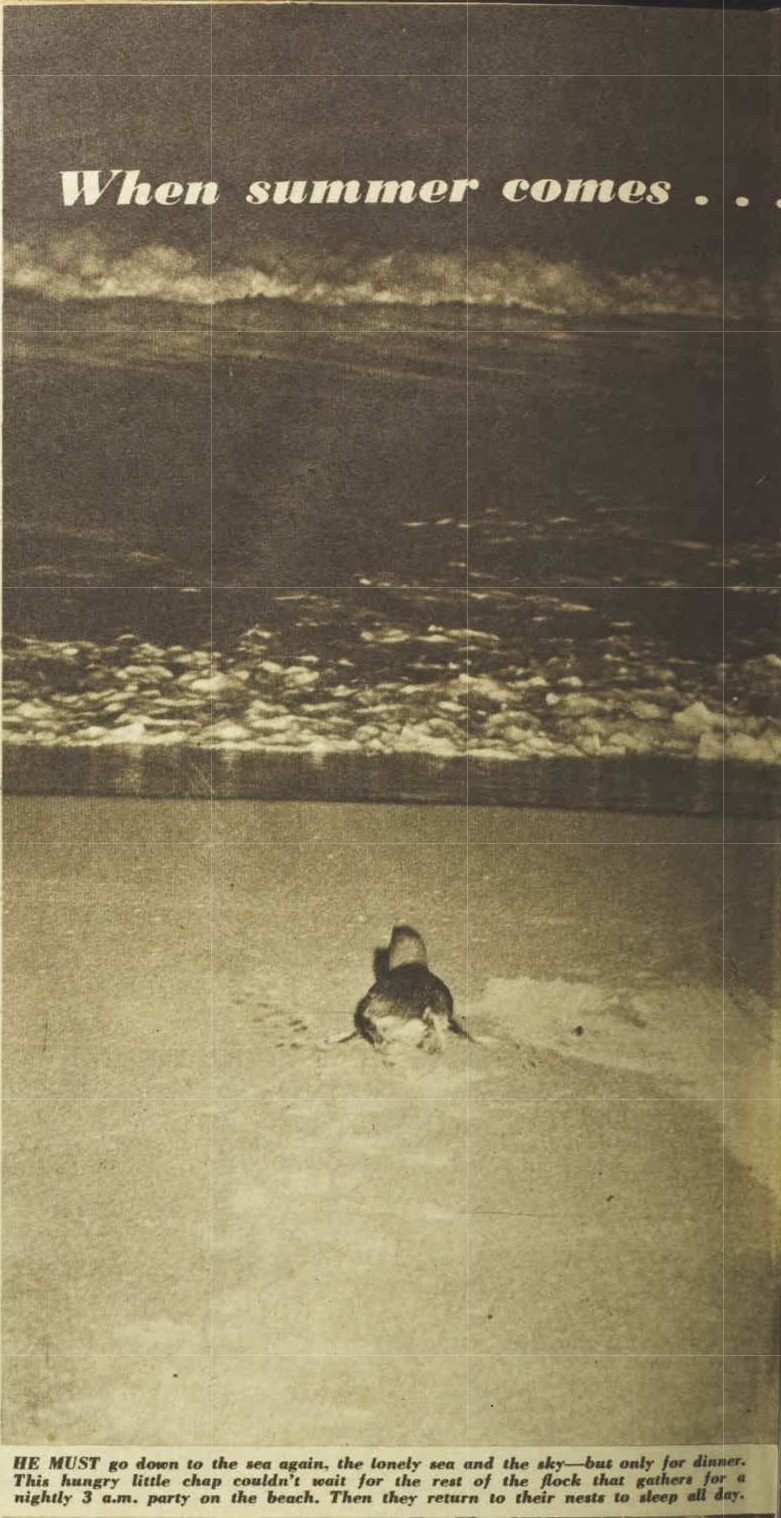 HE MUST go down to the sea again, the lonely sea and the sky- but only for dinner. This hungry little chap couldn't wait for the rest of the flock that gathers for a nightly 3 a.m. party on the beach. Then they return to their nests to sleep all day.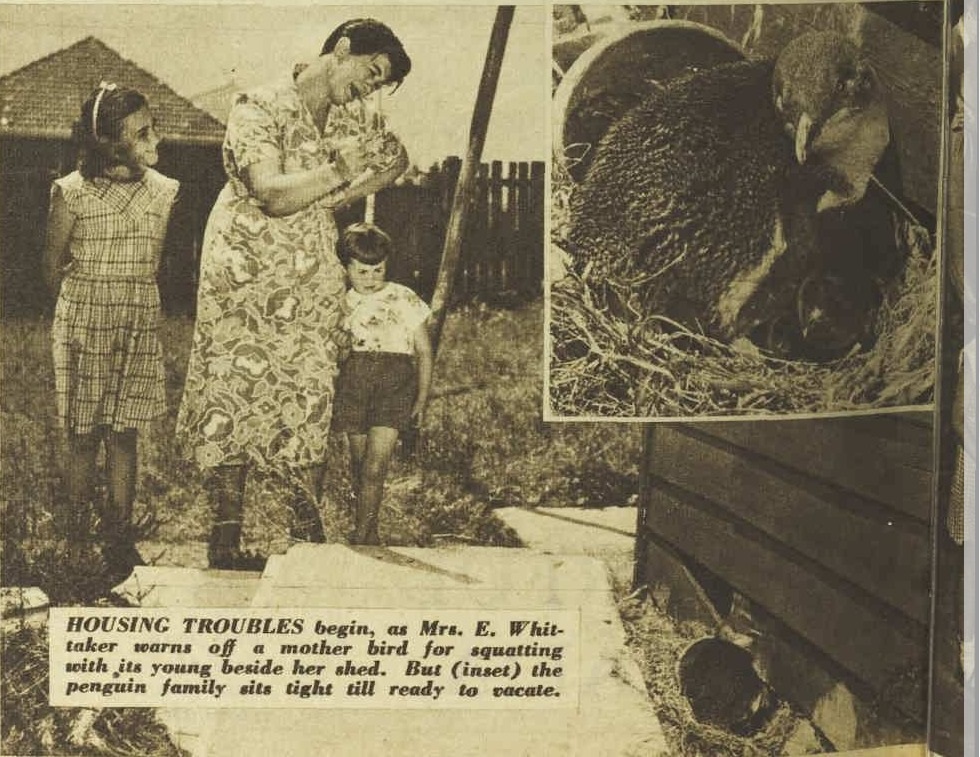 HOUSING TROUBLES begin, at Mrs. E. Whittaker warns off a mother bird for squatting with its young beside her shed. But (inset) the penguin family sits tight till ready to vacate.
PENGUINS at the bottom of their garden
Spring comes with a difference to the gardens of waterfront homes in Ocean Street, Narrabeen, north of Sydney. It brings flocks of fairy penguins-the smallest of the breed-sauntering in from the sea to take up residence for their nesting season. As daytime guests they're welcome, but at nightfall they head down to the sea for food-making noises that keen everyone else awake, too. They stay for a few months.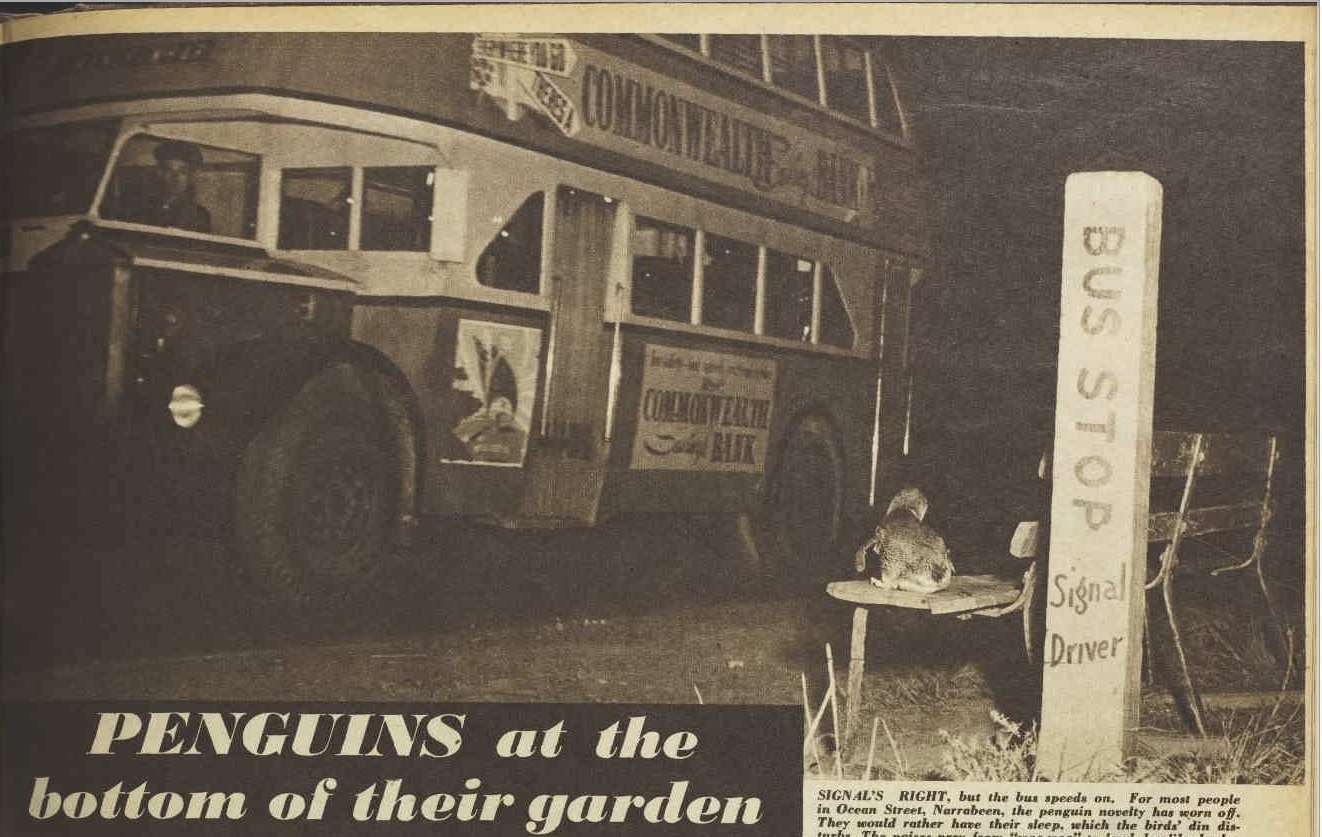 HUNTING for invaders under the house, this family is helped by neighbors. Householders have M tried fencing and boarding around their houses, but still the penguins come to nest each year.
SIGNAL'S RIGHT, but the bus speeds on. For most people in Ocean Street, Narrabeen, the penguin novelty has worn off. They would rather have their sleep, which the birds' din disturbs. The noises vary from "woo-woo" to loud dog-like barks.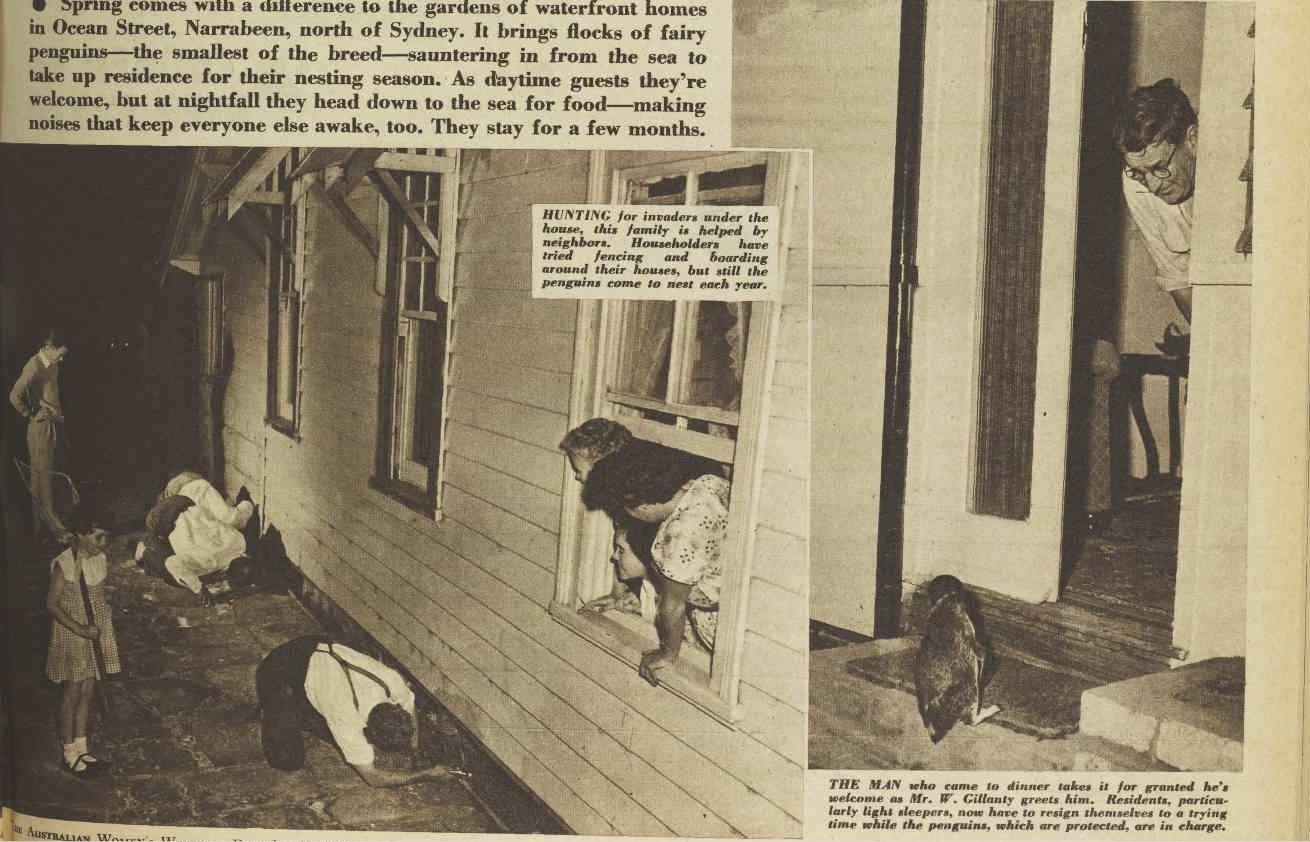 THE MAN who came to dinner takes it for granted he's welcome as Mr. W. Gillanty greets him. Residents, particularly light sleepers, now have to resign themselves to a trying time while the penguins, which are protected, are in charge. PENGUINS at the bottom of their garden (1956, December 12). The Australian Women's Weekly (1933 - 1982), p. 23. Retrieved from http://nla.gov.au/nla.news-article41852332
Marine Parade North Avalon resident and ornithologist Neville Cayley is mentioned in this one:
Two Little Penguins
AS Mr. Neville Cayley mentions in the 'Mail' that there is very little known regarding the length of time these penguins care for their young before turning them out, I thought the following account would be of especial interest to readers of 'Outdoor Australia.'
At a crowded Museum lecture Mr. Kinghorn told us this unusual incident. One morning towards the end of August, 1921, the peace and serenity of some dwellers at Collaroy Beach were disturbed by extraordinary noises and weird cries at the back door. When the astonished owner of the house opened the door in rushed two little penguins, which with loud voices announced their intentions of staying. Then they danced about and waved their little wings in a most ingratiating way. After a short time these noisy visitors were shown the door, and they disappeared for a while. But, having chosen their home, Mr. and Mrs. Penguin returned later, and as they could not get inside the house they went underneath as far as they could get, and there made their nest of seaweed. The noise every night was almost unbearable; they would scream and cackle, and later, after about six weeks their songs of joy were terrific, for two youngsters were hatched.
About four months after their arrival the penguin family suddenly departed. Where they wintered is their own secret: but late in the following August a terrible cackling outside advised these householders that they were back. When the door was opened Mr. and Mrs. Penguin marched triumphantly in, followed by two grown chicks, which were inquisitive and rather shy. Then followed extravagant dances of greeting and vociferous songs of 'Here we are again,' etc., in which the young ones also joined.
They could not be quietened, and the neighbours hastened across to see if someone had gone mad. The owners of the house put the whole family down on the beach and drove them away. It was then that the parents sent off the chicks to fend for themselves, and they themselves returned later and went under the house to their old nest. The celebrations were so overpowering that the householders took down some boards next day, got the noisy pair out, and drove them at night by car to Palm Beach, about twelve miles distant, and there left them. But next morning saw them back.
They were taken a second time, but returned, and were allowed lo stay; but a home was made for them in the far corner of the garden. The house side was netted off and a hole cut in the fence to allow them free access to the beach. They made a nest of seaweed, and later two eggs were laid. The birds look it in turn to sit on them, and there was always much shouting and scolding when one returned from the sea at night.
After about six weeks two sooty-brown chicks appeared, and the noise that night and the next few days while the celebrations lasted was tremendous. The parents took it in turn to fish and swim during the day that followed, but at night they often went out together to find a suitable supper, and about 9 p.m. would return, arguing together as they came up the beach. The following summer my father saw a young penguin land on the rocks at Coogee. I think it quite likely that it was one of the young ones turned out at Collaroy. It was evidently not very used to fending for itself, for a patch of feathers was torn from its shoulder, possibly through not being an adept at landing.
At the time of the lecture these queer visitors were still in residence at Collaroy, and what became of them I do not know. It is likely enough that the nesting-place on North Head mentioned by Mr. Cayley is occupied by these little penguins or their descendants. Outdoor Australia (1925, March 18).Sydney Mail (NSW : 1912 - 1938), , p. 10. Retrieved from http://nla.gov.au/nla.news-article159721727
It is recorded that two Fairy penguins for a number of years made seasonal visitations to Collaroy, near Sydney, and often laid their eggs under the floor of one of the houses there. — F.J.B. Quaint and Beautiful Sea Birds (1934, October 31). Sydney Mail (NSW : 1912 - 1938), , p. 56. Retrieved from http://nla.gov.au/nla.news-article166107257
The Lion Island colony was officially first protected 65 years ago - although they had been protected decades prior to then:
PROTECTION OF PENGUINS.
Mr. Oakes (Chief Secretary), who is in charge of the Act relating to wild life, desires it to be generally known that all species of penguins are absolutely protected by law, and that anyone interfering with the birds is liable to a penalty. Apart from this he says citizens are requested to refrain from molesting this interesting bird, or driving it back to the sea, as, naturally, no water fowl liked getting wet when half-feathered.
Mr. Oakes remarked yesterday that fairy penguins, which were frequently seen off the coast, came ashore at this period of the year for moulting purposes for about three weeks. During that time they had not been observed to feed or enter the water. Many persons had offered specimens of the birds as exhibits to the Taronga Zoological Gardens, while others had made inquiries how to keep them alive in captivity. As this species of penguin only lived on live fish they could not be kept alive away from the sea. PROTECTION OF PENGUINS. (1923, December 18). The Sydney Morning Herald (NSW : 1842 - 1954), p. 8. Retrieved from http://nla.gov.au/nla.news-article16127509
PENGUINS ON COAST ARE PROTECTED
A penguin caught to-day near Palm Beach v/as refused' by Zoo authorities. The birds are common along the coast at present, are protected by law, and do not live in captivity.
The secretary of the Zoo (Mr. H. B. Brown) said today that the public had been warned against molesting the birds. PENGUINS ON COAST ARE PROTECTED (1936, December 30). The Sun (Sydney, NSW : 1910 - 1954), p. 12 (COUNTRY EDITION). Retrieved from http://nla.gov.au/nla.news-article230907746
Surfers and people on boats report seeing them on an almost daily basis in our area. There is also a Fairy Penguin Colony at Manly.
The ladies from the Fix It Sisters community group have extended their project beyond Lion Island to the South Coast of NSW. In March 2021 they reported that:
Success at Snapper Island!
(This is part of the Eurobodalla Shire Council - which is on the South Coast of NSW)
Update on our Penguin Burrow project. Since installation of the first burrows at Snapper Island (Batemans Bay), some of the penguins have taken up residence and in 2020, gave birth to chicks. Exciting development for our burrow project.
In the meantime, FiS has been working hard in partnership with Pink Cactus on improving the design of the original burrows.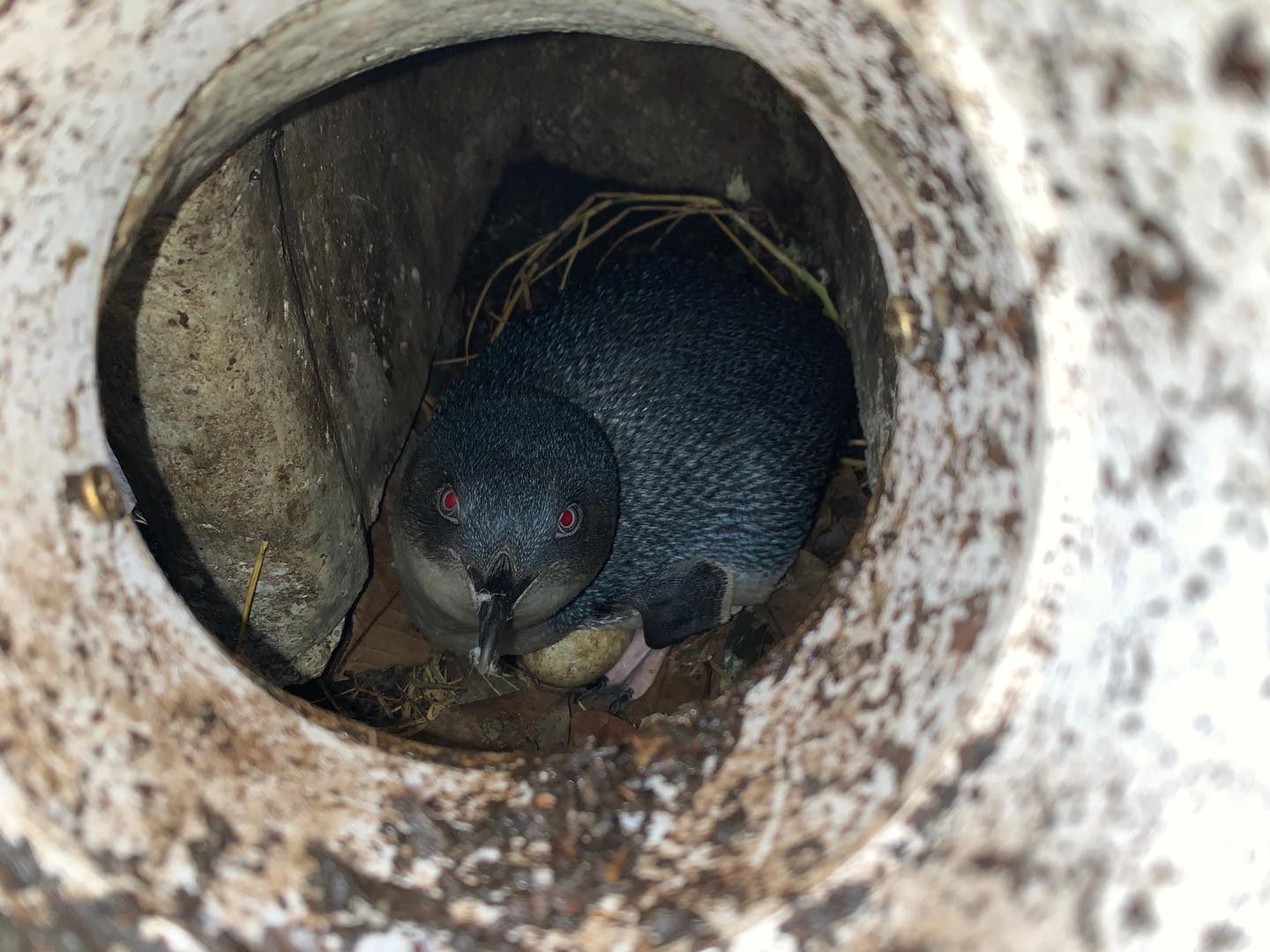 Fix It Sisters photo, March 16, 2021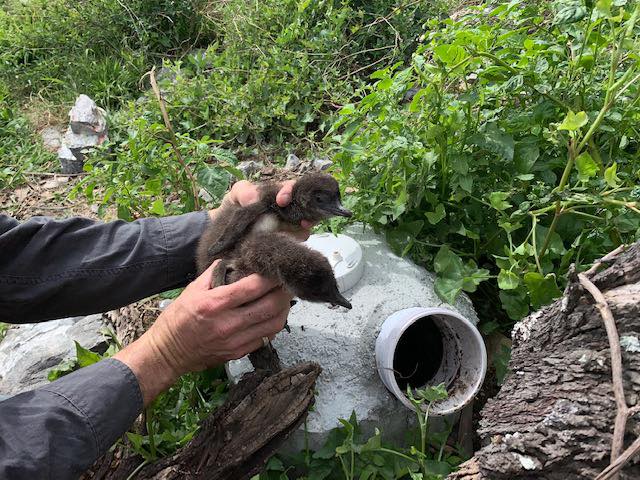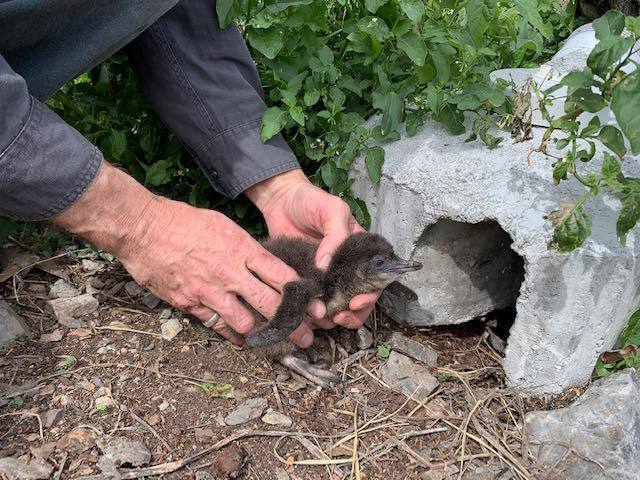 Fix It Sisters photos, March 16, 2021

In 2019 the Eurobodalla Shire Council said:
The Snapper and the Tollgate Islands add scenic beauty to the idyllic seascape of Batemans Bay. Aside from their aesthetic value they hold another surprise which even locals are often unaware – breeding colonies of little penguins.
Eurobodalla Council's invasive species supervisor Paul Martin said little penguins were the world's smallest, up to 30cm tall, with an iridescent blue back, snow-white belly, and pink legs and feet.
Paul said the birds could spend days or even weeks at sea before returning to recover and enjoy island time between fishing trips.
"The penguins scrape out their love pads among the low-lying vegetation in early September. Mating, laying eggs, hatching chicks and teaching young penguins the way of the ocean takes until the end of summer," Paul said.
"Because the eggs and chicks, hidden in vegetation, are so vulnerable to being stepped on, there is a no landing policy on these islands."
Paul said the penguins local to Batemans Bay were found only on islands, where there were no cats, foxes, dogs or humans.
"About 15 percent of the this population live on Snapper Island, just a stone throw away from the Batemans Bay CBD, so we're putting a lot of our efforts there," he said.
"It's not only the penguins at risk from visiting humans. Sooty oystercatchers – with their black plumage and bright orange bills – also nest on Snapper Island.
Paul said the 'sooties' were a threatened species that typically lay two eggs on a flat area just above the high water mark.
"The eggs look exactly like surrounding rocks and are easily stepped on when people walk the tideline around the island," Paul said.
"The other big risk to both penguins and other shorebirds is entrapment; by plastic pollution like fishing line and drinking bottles or by weeds like kikuyu and turkey rhubarb. These vine-like weeds form loops and birds get entangled and eventually starve to death. That's not a good way to go in anyone's book."
Paul said Council's sustainability team and Landcare volunteers had commenced work on Snapper Island, clearing environmental weeds and plastic pollution and providing additional nesting opportunities for the little penguins.
"During the summer months, there is nothing better than a kayak paddle around Snapper Island," Paul said. "However, to ensure our penguins and oystercatchers continue to breed here, Snapper Island is definitely a look but don't land affair – take your binoculars for a closer view."