September 10 - 16, 2017: Issue 329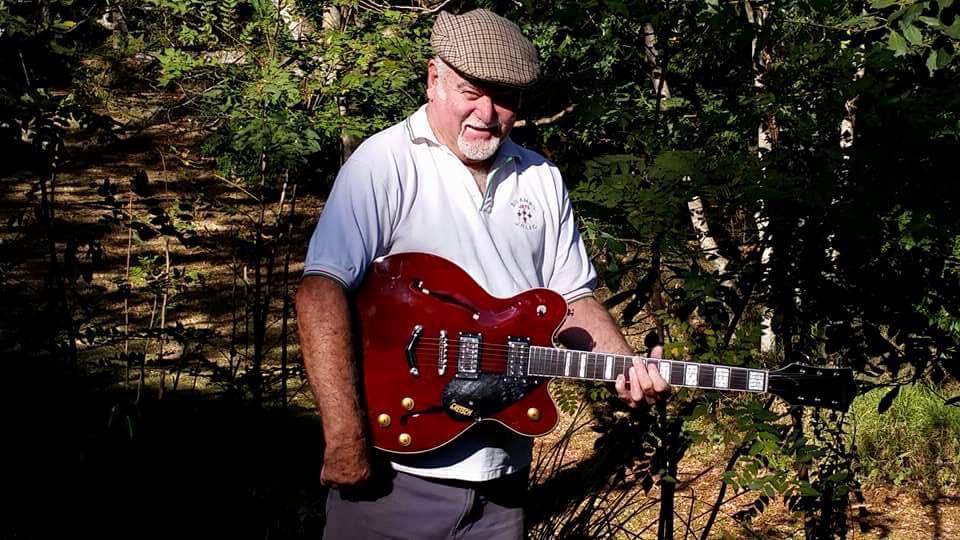 Recently we had the pleasure of being introduced to a great Narrabeen local who shared some insights into schools, music, surfing and growing up around here during the 1950's, '60's and '70's.
Apart from being a superlative sportsman Paul Cunningham has a love of music inherited from his mum that he has in turn enriched his own children and grandchildren with.
When and where were you born?
In a private hospital in Mosman on the 17th of January, 1945.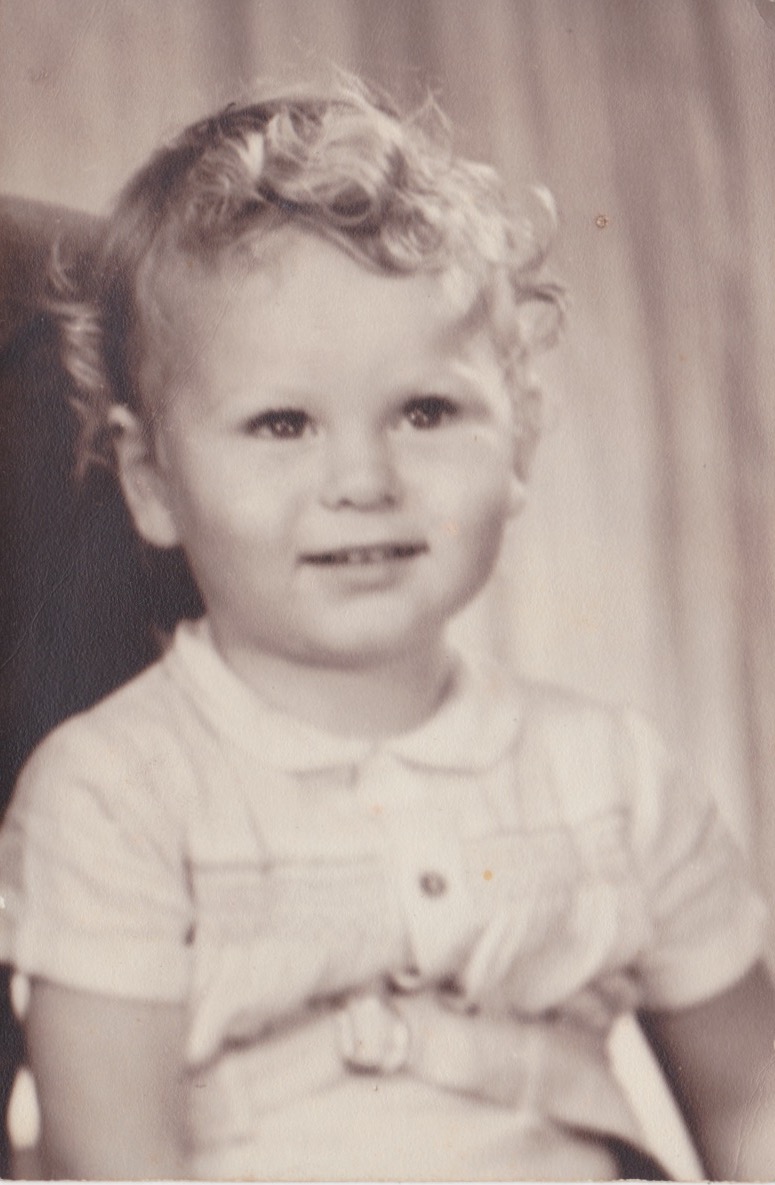 Paul Cunningham 2 years of age North Narrabeen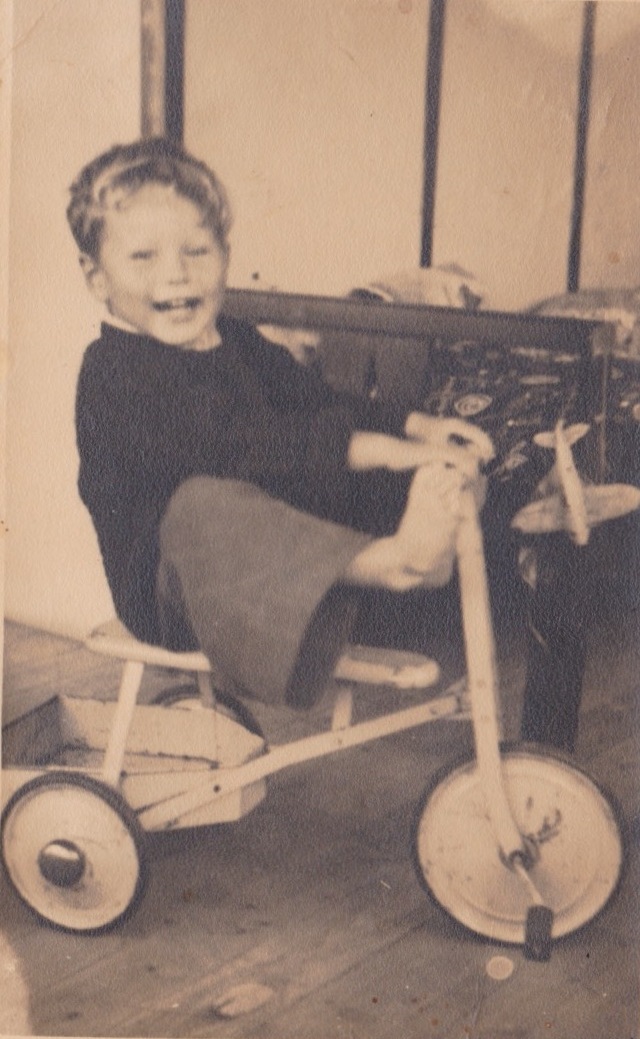 Paul Cunningham 3 years of age North Narrabeen

I grew up in Narrabeen, in Wimbledon Avenue. My parents moved from Bankstown to North Narrabeen in 1937. My sister Dian was born in 1936, and lives in Mosman with her family. Terrey Hills and Ingleside were still mostly bush when they moved.
ENJOYING THE SUN AT BONDI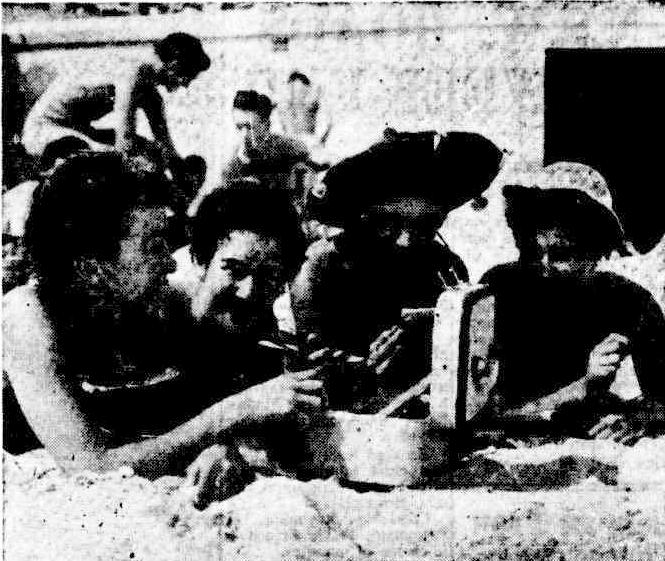 Among the hundreds who visited Sydney beaches yesterday were (left to right) Joanne Grimble, 20, of Gladesville, Mavis Chapman, 19, of Gladesville, Patricia Duggan, 19, of Gladesville
and Dian Cunningham, 19, of
Narrabeen.

They enjoyed the sun at Bondi. ENJOYING THE SUN AT BONDI (

1954, November 1

). The Sydney Morning Herald (NSW : 1842 - 1954), p. 6. Retrieved from http://nla.gov.au/nla.news-article27503783
My mother's and her brother and her sister's father John McConnell, had his arm blown off in the landing in Gallipoli – then was affected by mustard gas. He came home and lived for 20 years but succumbed to the effects of the mustard gas.
Where did you go to school?
I attended North Narrabeen Public School, a very good school. We had the first rugby league side to win the northern division – we then went on to win against the southern division, against Manly Vale, beating them in the two divisions Grand Final.
I was quite tall, six foot by the time I was 11 years of age.
By the time I was 21 I'd grown another three inches and the doctor said there was something wrong with me – I went from 6'1 to 6'4.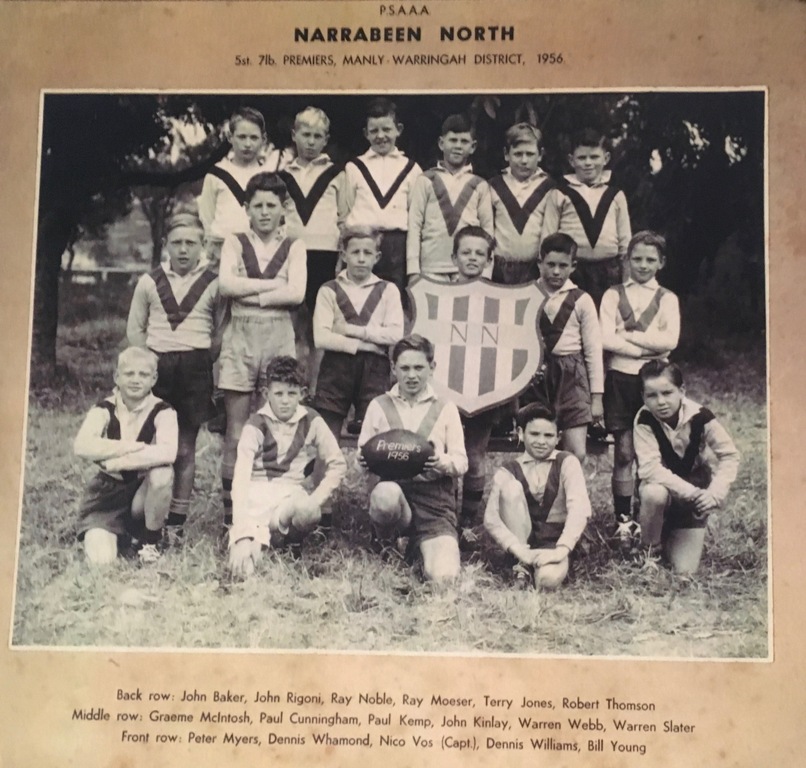 Narrabeen North - 1956 Premiers
- Beat Mona Vale 3-Nil and Beat Manly Vale 8-5 in combined Grand Final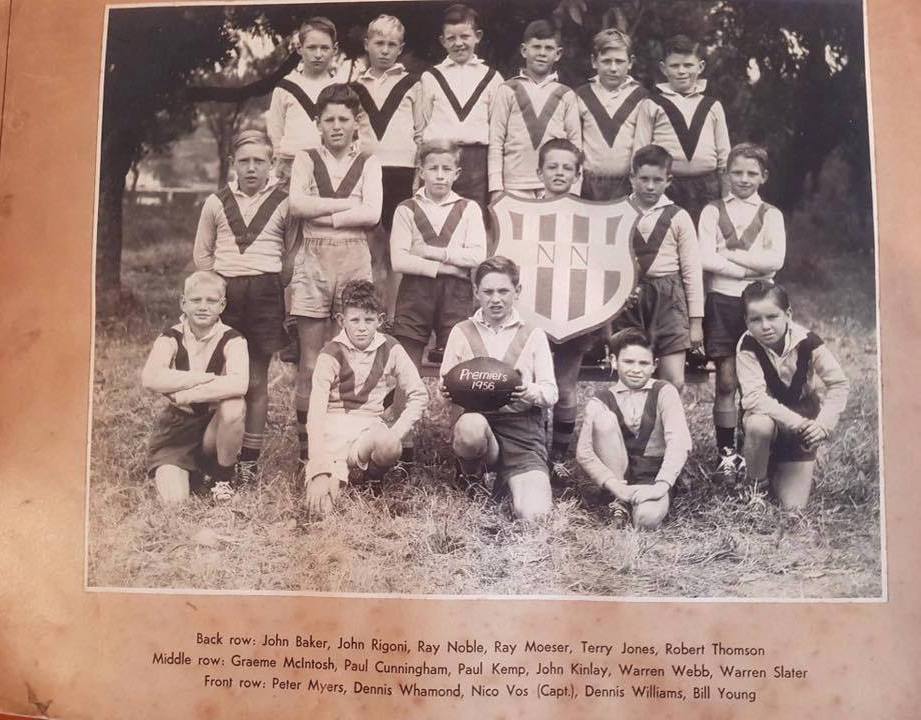 What did you do for fun when growing up in Narrabeen?
It was all surfing and fishing for us. We used to fish in Narrabeen Lagoon. We'd go to The Basin at Easter and Christmas time holidays.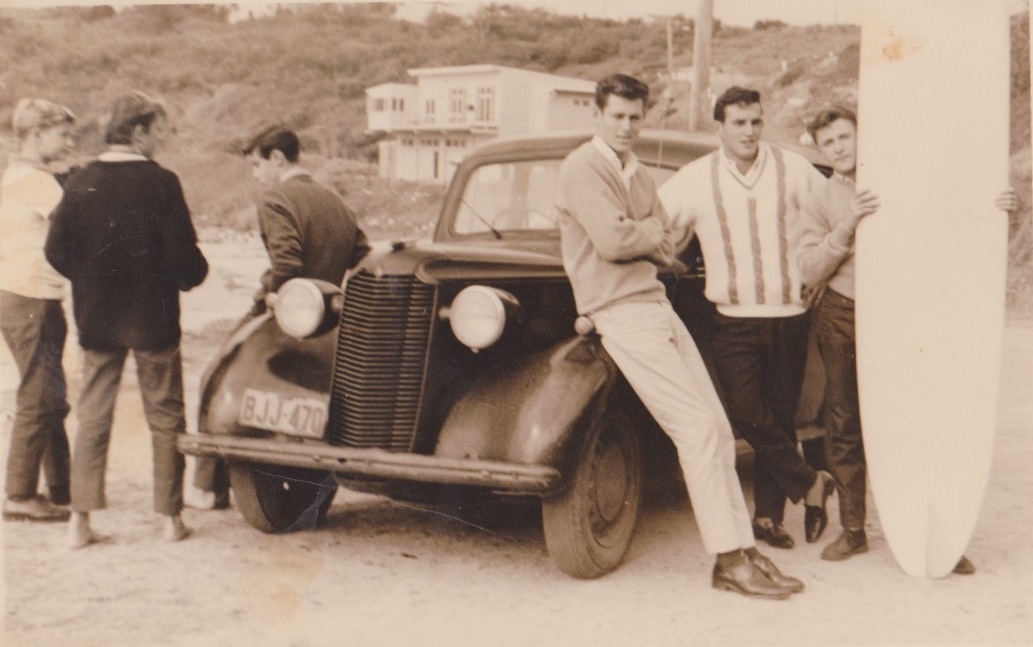 Warriewood Beach,
1960
;
the old surf club in the background. L-R: Butch Mowbray, Jim Bourke, John E Wright , Paul Cunningham, Billy Godden, Frank Broughton (and Billy Godden's old Vauxhall).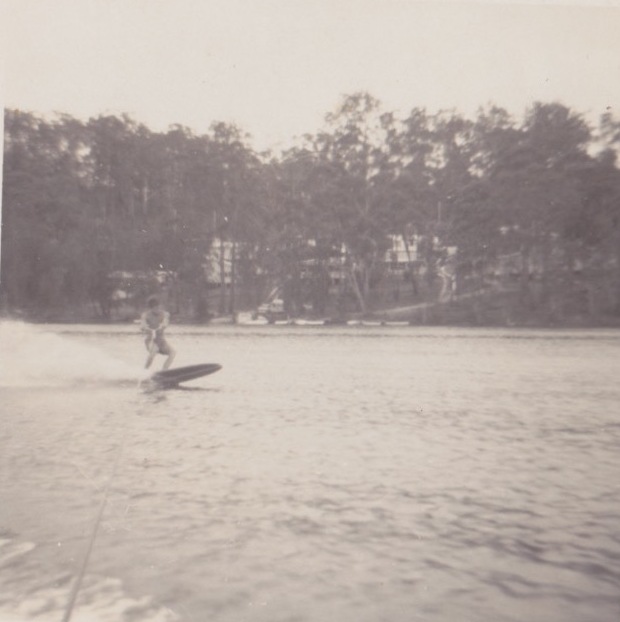 Paul Wake Boarding Narrabeen Lagoon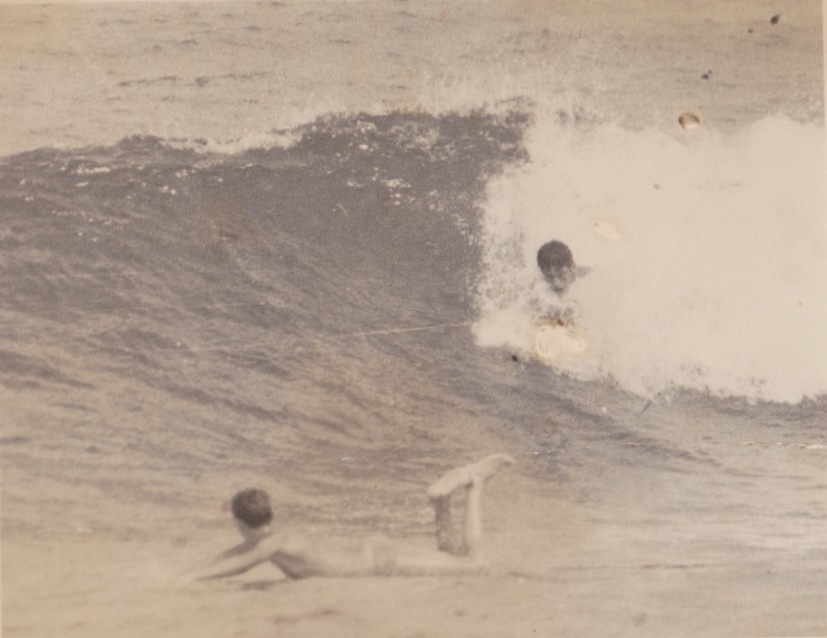 North Narrabeen Alley Body Surfing 1964

Motor Bike Racing with Ian Hay Racing team for M.W.M.C 1964

What board were you riding?
I used to ride a 9 foot 6 Dillon surfboard, then I had a 9 foot Gordon Woods surfboard and then I had a lovely red
Keyo surfboard
, which was 9 foot six too.
They were heavy but they were lovely fintail boards, great to ride, especially for big waves.
You had a nickname – 'The Streak'? Where did that come from?
That's right, that was because of my exceptional height and I could run fast, was a very fast runner.
Where did you go to high school?
I first went to Manly High and then when Narrabeen opened in 1959 I went there. This was a great school and I formed a lot of friendships there that I still have.
Basically, from Palm Beach to Narrabeen, in fact the whole of the Manly-Warringah district, everyone was friendly, the kids could play sports without having to pay thousands of dollars in insurances.
What sports were you playing then?
We used to play tennis, rugby league. I was a member of the 1961 Manly Warringah H Jersey Flegg Memorial Cup Winners. This was the first year this was run and we won the whole competition.
The Jersey Flegg Cup was a junior rugby league competition played in New South Wales, contested among teams made up of players aged under 20. The competition was administered by the New South Wales Rugby League (NSWRL) and run concurrently with the National Rugby League (NRL).
The Cup began as an Under 19s age group competition, changing to Under 20s with the advent of the NRL in 1998. It was originally held as part of the NSWRL's Junior Representative Competition, which was played over 9–12 weeks early in the season. It then evolved to become a full season competition played over 26 rounds, culminating with the Grand Final held on the same day as the First Grade Premiership decider.
The competition was named for Harry "Jersey" Flegg, a former player (playing in 1908 and 1909 for Eastern Suburbs) and prominent administrator of the game between 1909 and 1960.
I then represented in the junior league in Manly nearly every year, playing against Western Australia in 1963. I was in the Presidents Cup side in 1965 and got 'Best and Fairest' in that Presidents Cup side.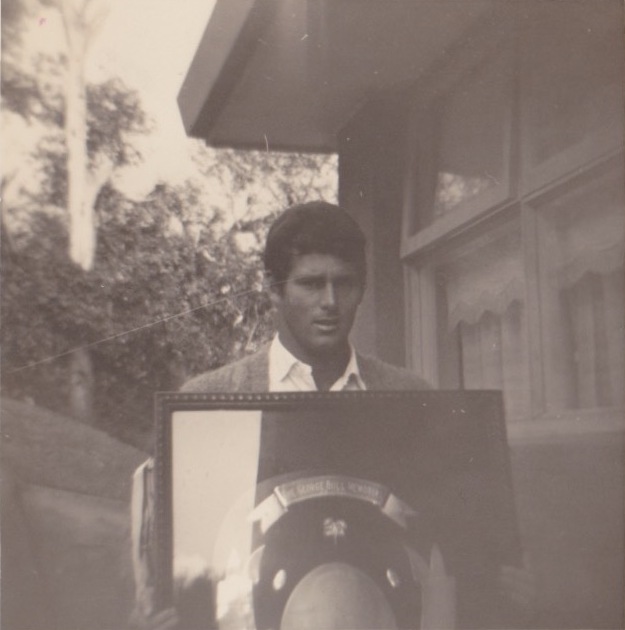 Presidents Cup Best & Fairest - 1965

Then Ken Arthurson brought me up into Grade in 1965, in the lower grades, and then I got offered a position to play with Wynnum Manly, in Brisbane, Queensland and so went and played with them.
All this time I was also playing in bands as well as we loved our music as well.
Eventually I got an offer to join a band called the Outcasts, which I was with for quite a while. We did all the big shows.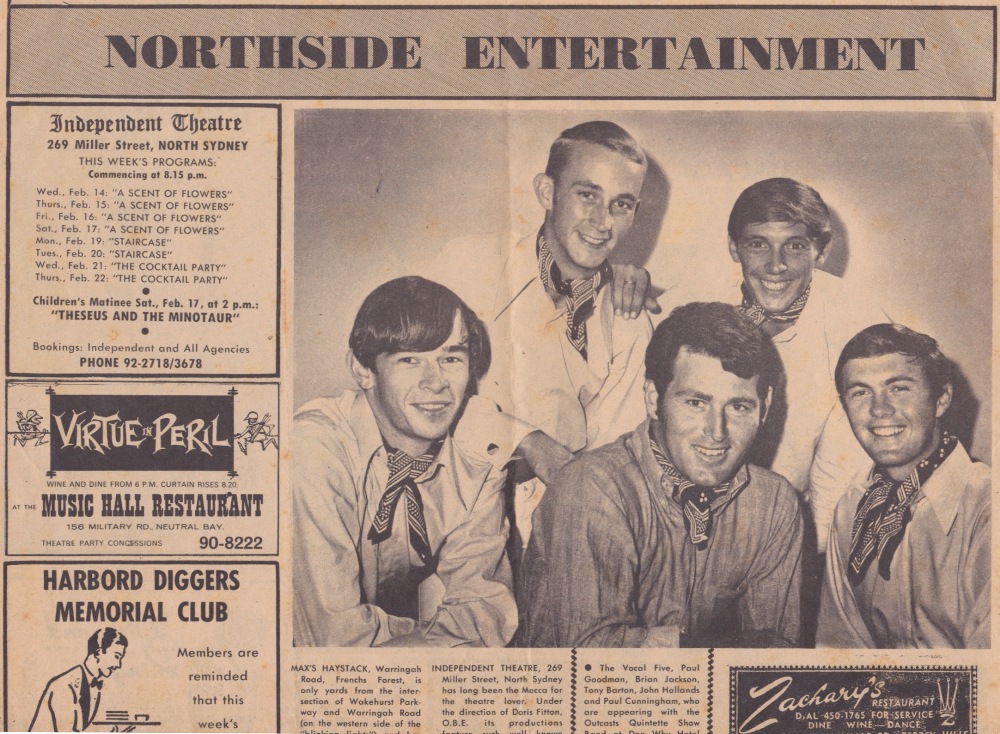 Sydney Show Band 'The Outcasts' 1967-1970

I then got talked into going back into football and playing with Narraweena and in 1972 we made the Grand Final and were beaten by Valley United 22 to 6. I'd been out of football for 5 years then and found it very hard so that was my last year.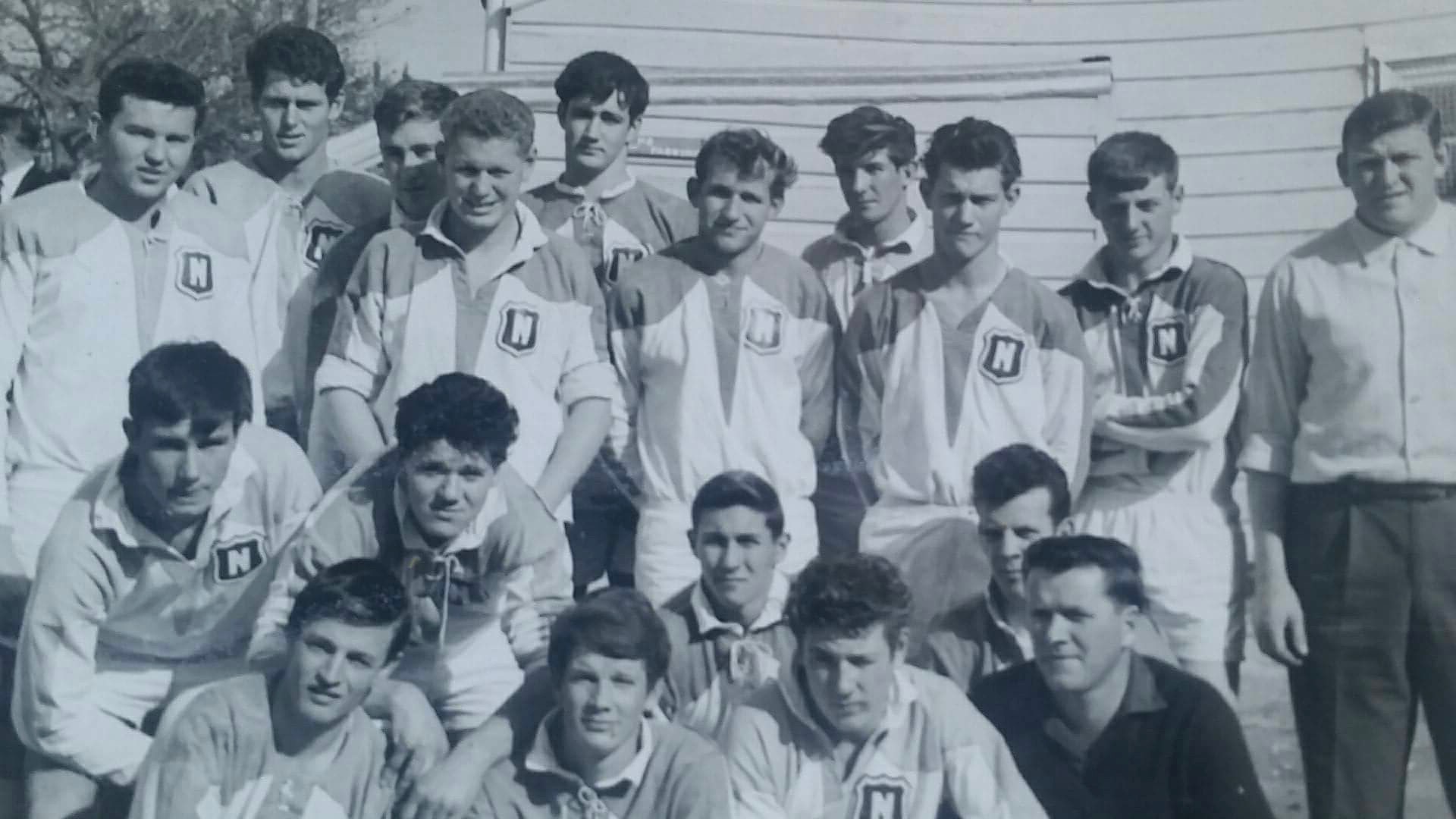 Narraweena
C Grade - 1963
I married my wife in 1973, a girl from New Zealand, Trina. Her father, Rex Cunningham, played for the Kiwis in New Zealand League from 1946 to 1949.
I met her after we'd finished a show at Harbord Diggers, with the Bob Ramsay trio. I play guitar. I went to a 21st birthday party afterwards, Ken Saville (Savo's), where I was playing piano, and there was Trina.
Where did the love of music begin?
It began with my mother who was a piano player and loved to sing. Her name was Mary 'Billie' Cunningham, a nickname given to her because she used to ride a horse. She sang prior to marrying as Mary McConnell. Her brother,
Jack 'Bluey' McConnell
, won the Premiership in 1934 for the Western Suburbs, then went and coached in the country and came back to be part of the inaugural Canterbury-Bankstown First Grade side in 1936.
He was a very very good footballer.
I look a lot like him, the resemblance is remarkable.
Did your dad play football too?
Yes, in the Bankstown-Canterbury area. Dad, Ernest (Ernie) Cunningham played for Bathurst too. He had a gold mine with his two brothers during The Depression. They made good money looking for gold during The Depression, making around £10 each a week. What he found then would have funded the home bought at Narrabeen.
I remember when we got flooded out, and that happened a few times, so we moved to Wakehurst Parkway, up on the hill. Dad said he's had enough of being flooded and so bought a big block of land and built us a beautiful home which is still in the family.
What did you do when you left school?
I got my Intermediate certificate and started an apprenticeship with my father, who was a Plasterer Contractor. I finished my time with my dad but also took advantage of so many other opportunities on offer.
I did two years radio with Eric Wright, who used to teach Ward 'Pally' Austin and Graham Webb, among many others. He secured a job for me in Bathurst, with really good money. He said, 'you ready to go now?' to which I replied, 'I can't leave the surf Eric.' To which he replied, 'you have wasted two years of my time'.
Paul Cunningham 18 years of age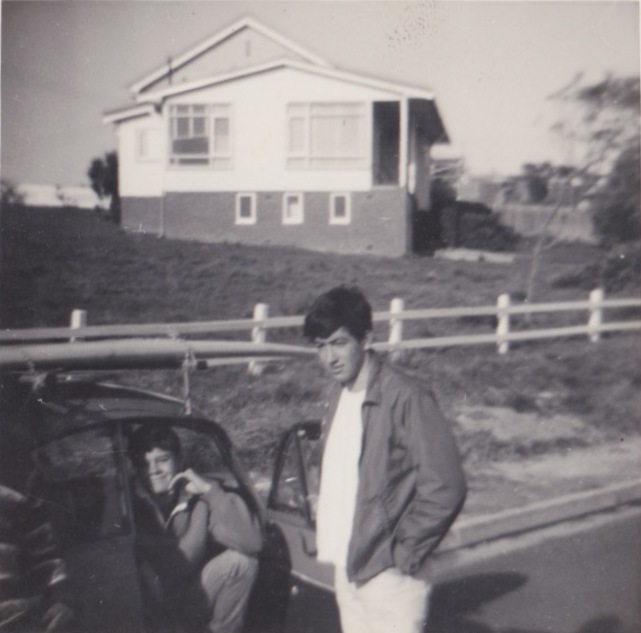 Mates: Ian Drew and Jeff Crawford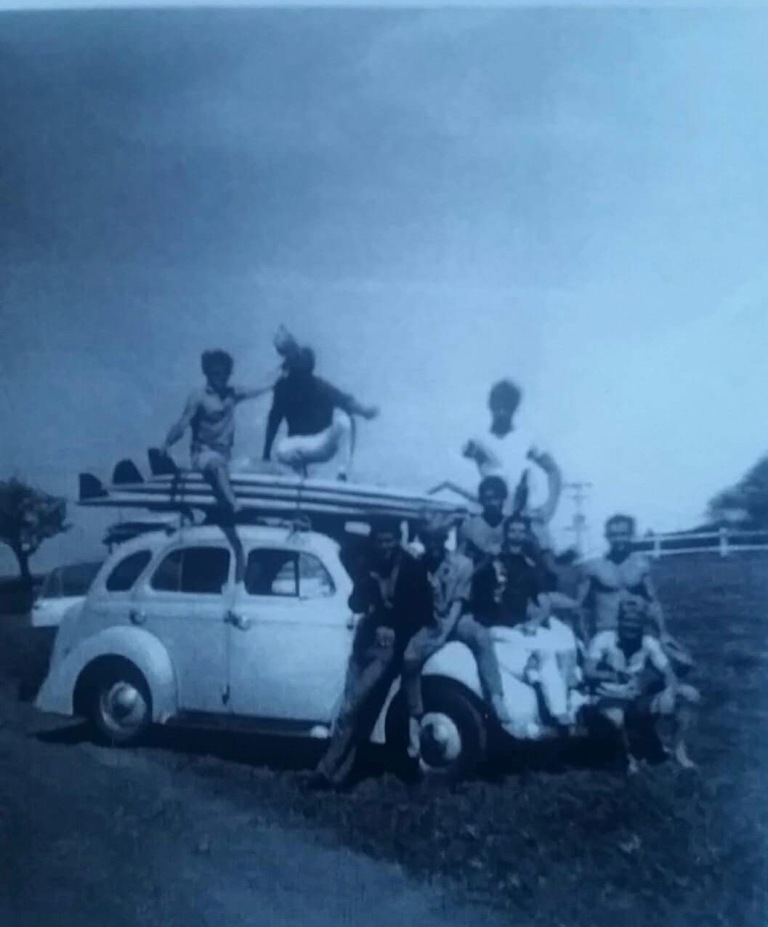 Warriewood Surf Riders 1964

How many singing footballers are there?
There's a few. There's a very good winger from Parramatta, Eric Groth, he's a good singer, as dis his son. There's a very good cricketer from Narrabeen, Siddy Barnes who manages him and the Screaming Jets. He (Siddy) was a drummer for Doug Parkinson when he first started playing on the Northern Beaches. He plays at all the clubs now.
Can you tell us about the bands you played in on the peninsula?
I was lucky enough to be in the Jim Kelly Band until he said one day, as I used to surf on a Saturday, 'It's the surf or music' and for me it was the surf.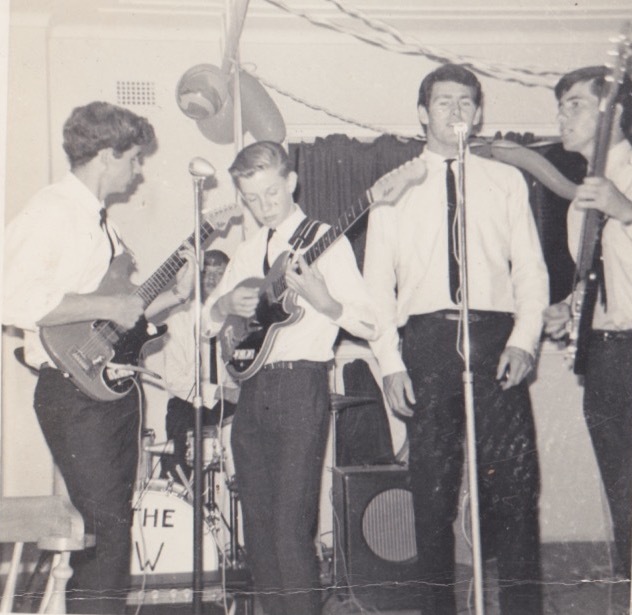 Jim Kelly Band 1961

Jino Cunicoe took my spot in the Jim Kelly Band. Jino then joined the Executives and then went to America and Ray Burton, who wrote 'I am Woman', played with Jino throughout the States.
I had the privilege of being in the Narrabeen Folk Club, at the North Narrabeen camping area, and sang with Greg Quill and the Thatcher family who started the folk club there.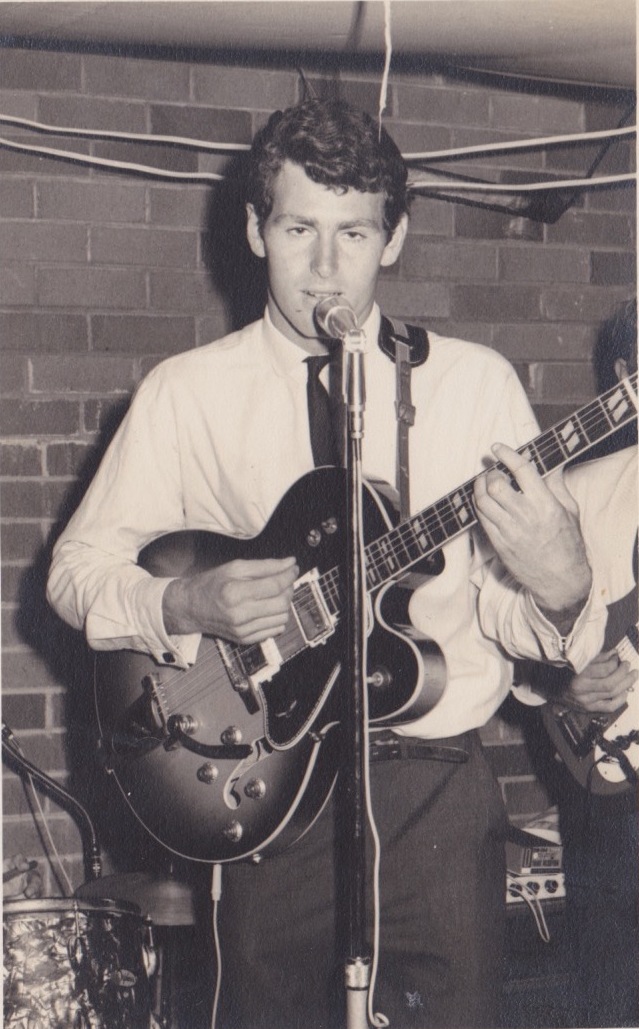 Paul Cunningham Sydney 1965

I then joined Dave Sands Fendermen. We'd play the Skiff club at Manly, the Skiff Club at The Spit at Mosman. We had a terrific band.
I then moved and sang with The Twilights which went on tour with Brian Cadd. So I had a good time.
When I came back I joined
Paul 'Sheepy' Wheeler
's band – there was Ray Moore, a very good footballer, Peter Barrett, he was the drummer, and myself. We used to play at all the Surf Club Roman nights, all the big New Year's Eve functions at local surf clubs.
Billy Thorpe then offered Paul top dollar to go and join Billy Thorpe and The Aztecs. He said, 'what do you reckon Paul?' and I said 'grab it with open arms'.
He never looked back and did very well, Sheepy.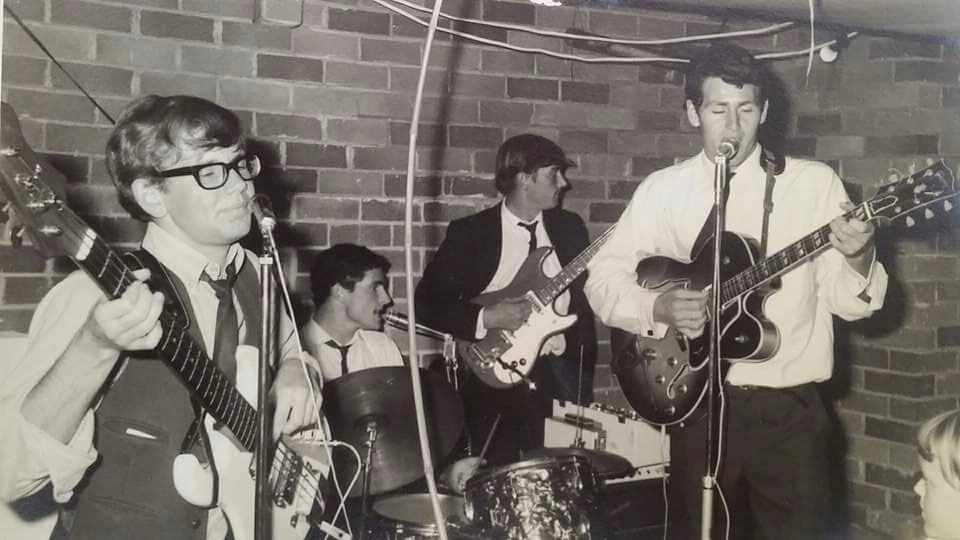 The Paul Sheepy Wheeler Band - Peter Browett Drums, Ray Moore Lead Guitar, Paul Cunningham Lead singer 1965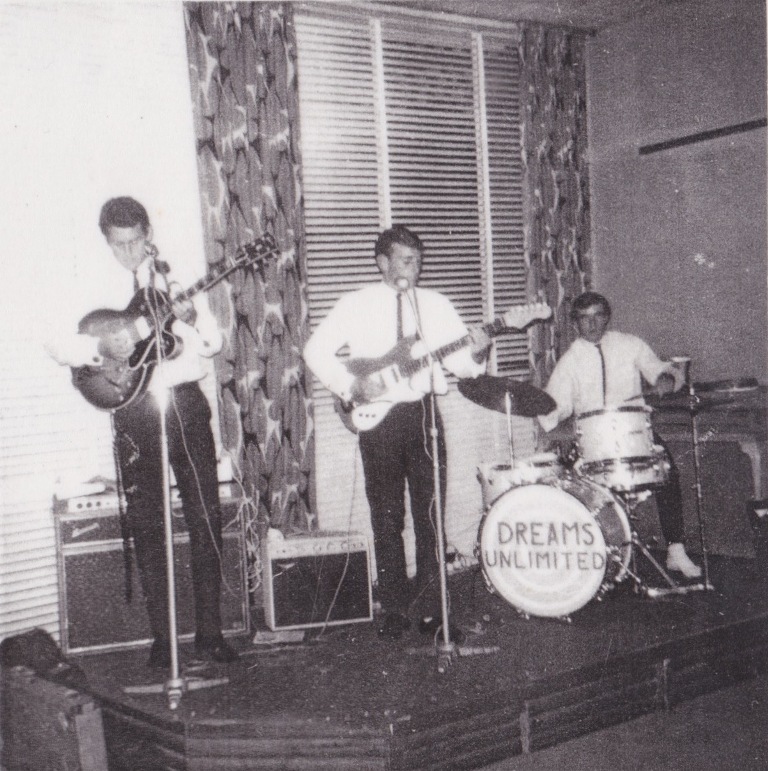 Kirra Hotel 1966: Dreams Unlimited was Paul Cunningham, Ray Moore & Peter Brand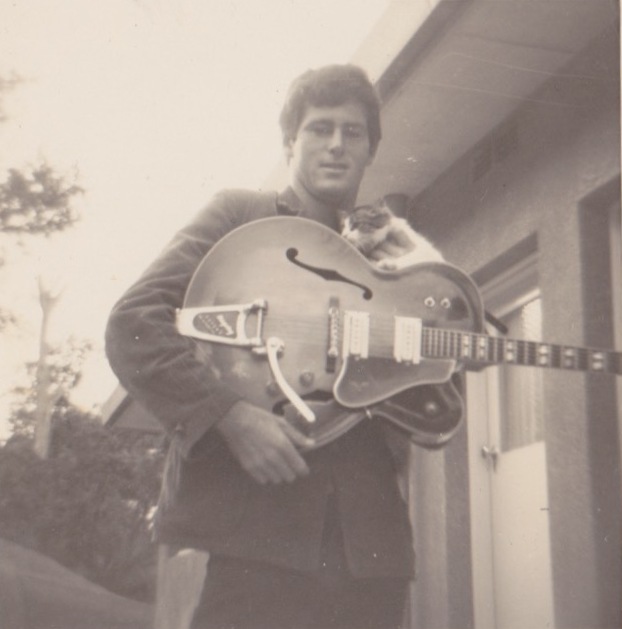 At Home At Narrabeen 1966

What bands would you go and see?
I used to see to line up and see The Flowers with Iva Davies out front at the Royal Antler. One of Midnight Oils first ever gigs was at The Antler.
My favourite band at present is B B Factory – they're a Gold Coast based band who focus on Soul Music. My other fave, Blues band Hip/Shooters, also based on the Gold Coast. Both bands can be found on the Internet – so check them out!
What was the best thing about growing up in Narrabeen for you?
The beautiful friendships and all the surfing. We'd go to Green Island, down south, or we'd go up to the Gold Coast. We had some great old cars and we'd load these up, all the boards on top, and off we'd go. We had wonderful times. We were members of the North Narrabeen Boardriders – and formed Warriewood Surf Riders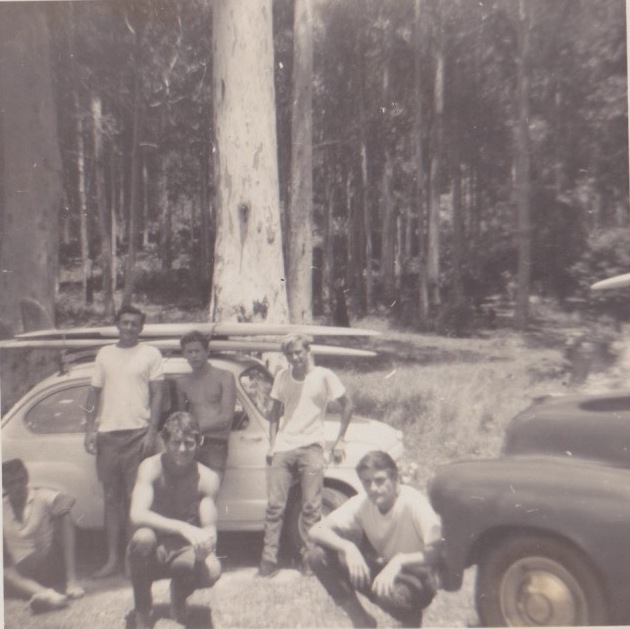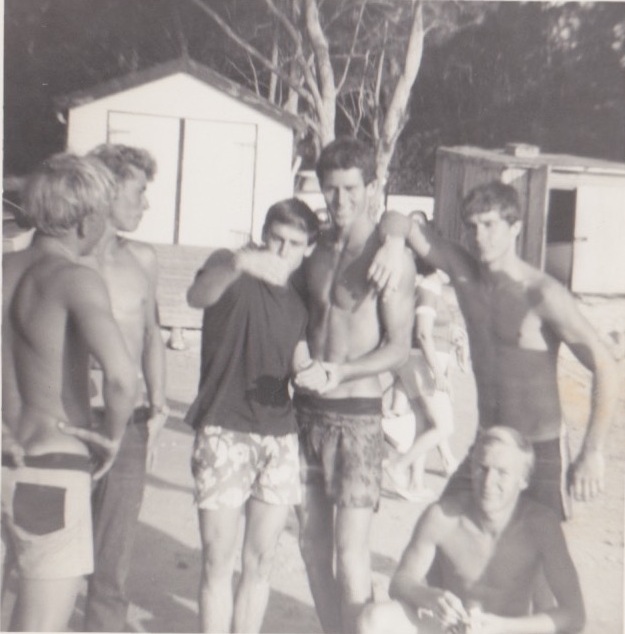 Warriewood Surf Riders – South Coast 1963 and 1964 - including Paul with Frankie Broughton, Ian Drew, John Wright, John Price, Peter Chessel,
Did you and Trina have children?
We've had three lovely children. My eldest daughter Zardi is a very good singer, she lives on a farm out at Murwillumbah now. My youngest daughter,
Taren Cunningham
, has been in movies (
The Curious Case of Benjamin Button
, 2008 -
The Last Saint
, 2014) and was a model with Ford for years and now lives in the Emirates. My son Jake also writes music and puts out CD's under Jake Cunningham Music, one being
Living Red
.
My favourite track is 'The Captain' – the feel of his music is very Irish.
We moved to Nimbin in 1980 and bought a 20 acre farm with cattle and horses. We had seven years there but there was not enough work so we bought a house at Bilambil Heights in 1988 and I coached three winning sides there with the Bilambil Junior Rugby League. I'm now a Life Member of that club.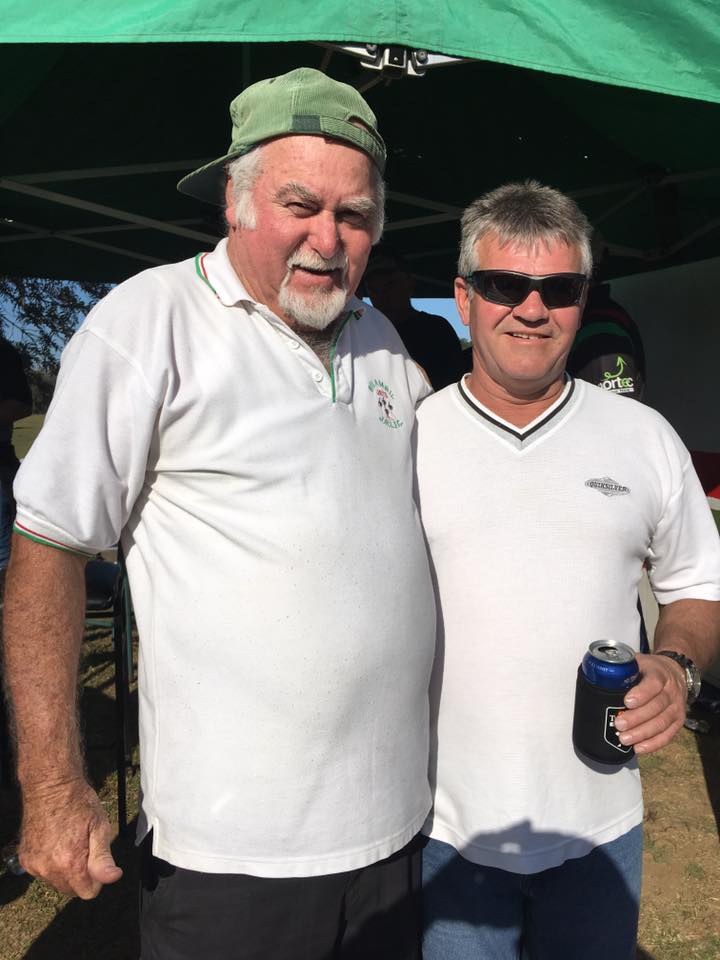 Paul Cunningham and Steve Lawler at Bilambil Jets 40th reunion - August 2017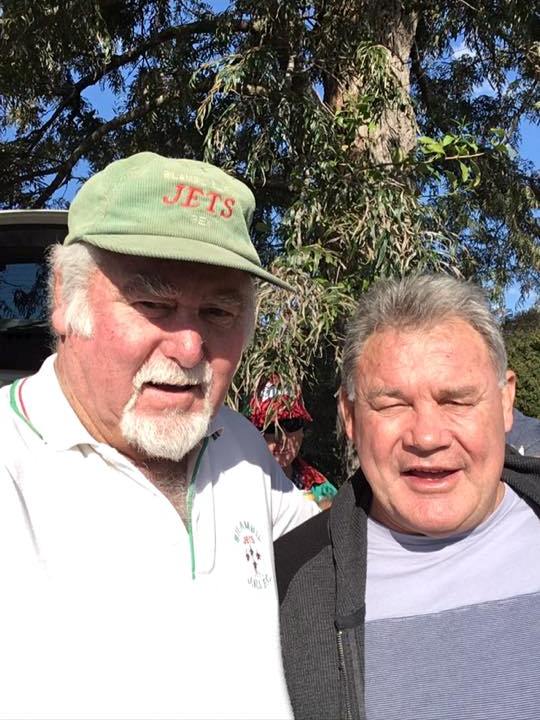 Paul Cunningham and Graham Eadie at Bilambil Jets 40th reunion - August 2017

We sold the Bilambil place and bought a 12 acre farm at Duroby, which is just a little bit outside of Bilambil. Here we have fruit trees, pecans and oranges – it's very very nice. I'm a country boy now.
We do some travelling too though – because my daughter is living in the Emirates, in Abu Dhabi with her husband and child, with another due in September, we're going over. We were there last year, a very hot place but very nice.
We've also been to America, I sang in New York. We went there when Taren was with Ford and shouted us a month in New York. That was fabulous, I went to all the Blues clubs, saw Prince at the Bronx at 2 in the morning. We were introduced to so many people, Ziggy Stack, lead guitarist for George Benson, whom I got to sing with. John Paris, a legendary guitar player who played with John Lee Hooker. It was a wonderful time.
Have you continued on with your own music?
Yes, we play for a lot of charity events now. On the 19th of this month we're playing for the Queensland Cancer Foundation up in Brisbane. We sing a lot of Elvis and Beatles songs for these. We've also been playing with Dave Cavanagh - he has a great album out,
released this year, 'Time'.
So you're a grandfather now?
Yes, I have four grandchildren and one on the way. My eldest grandchild is
Danjo Dillon
and his music is currently playing on Triple Jay.
My grandchildren are 8th generation Australians. Mum's side come from Tipperary and dad's side came from Cork, both in Ireland. They had the Cunningham Manor with 500 acres at Cork. They came out just after the First Fleet.
What is your favourite place in Pittwater and why?
Well, I actually like Newport Arms; we used to love being there on a Saturday afternoon. Some of my earliest memories based there were when a band called 'Goldrush', with Phil and Tommy Emmanuel on guitars. There would be thousands there.
One of the best times I had was in high school, aged 16. I went to school with Bill Barry-Cotter, founder of Maritimo boat-building up on the Gold Coast. He got me to join Bayview Yacht Racing Association (BYRA) and taught me how to sail VJ's and Moths. Bill is one of the best boat builders in Australia and now races ocean yachts and is known for his boats all over the world.
Sailing on Pittwater was lovely then – we'd sail around Scotland Island in those little VJ's – very fast they were.
What is your 'motto for life' or a favourite phrase you try to live by?
Do unto others as they do unto you.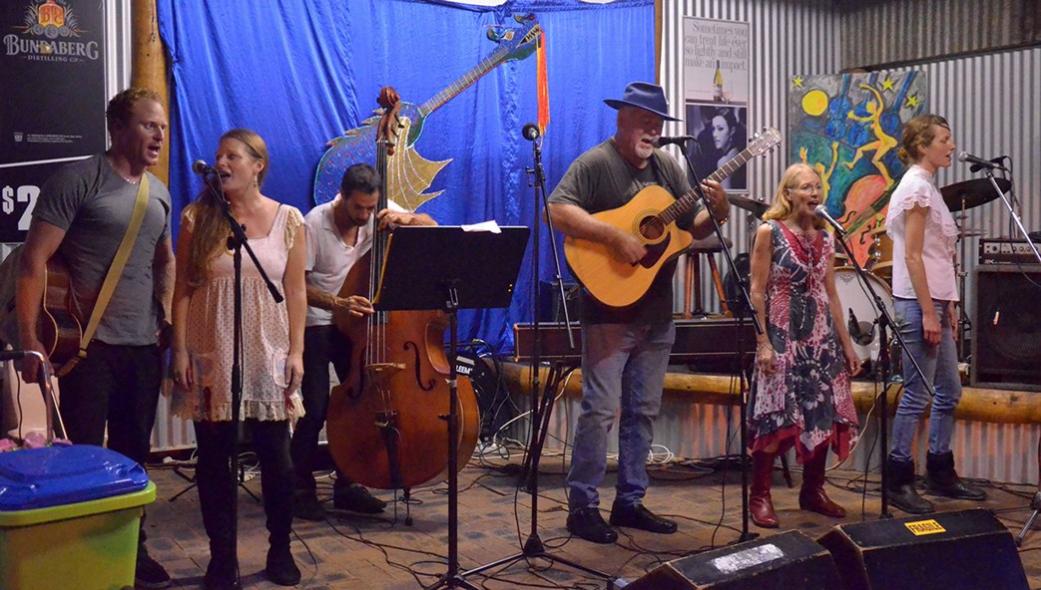 Cunningham family on stage together Left to right: Jake, Zardi (Bass player is Jamie Kastaglis) Paul, Trina and Taren - photo courtesy Marea Ryan
Bourke N' Back - Written By Dave Cavanagh
Celebrating Paul and Zardi Cunningham's birthday's at the Bilambil Sports Club earlier this year.
Bourke N' Back - Dave Cavanagh's original song.
Paul, Trina, Taren & Zardi Cunningham along with Brent Moetara, Dan Barron and Dave Cavanagh performing
Bourke N' Back.