inbox and environment news: Issue 591
July 23 - 29 2023: Issue 591
Inside The Lighthouse On Barrenjoey Headland
Tours generally run every Sunday. Tour times: 11am to 11.30am, 12pm to 12.30pm, 1pm to 1.30pm, 2pm to 2.30pm and 3pm to 3.30pm. Price: Adult $10 per person. Concession $8 per person. Child $5 per person. Children must be accompanied by an adult. Accompanying adults need to book and pay.
Meeting point: Barrenjoey Lighthouse. Give yourself at least 40mins to walk from the carpark to the lighthouse before your tour departs.
Bookings: Bookings required. Phone 1300 072 757 or book online here: www.nationalparks.nsw.gov.au/things-to-do/guided-tours/barrenjoey-lighthouse-tour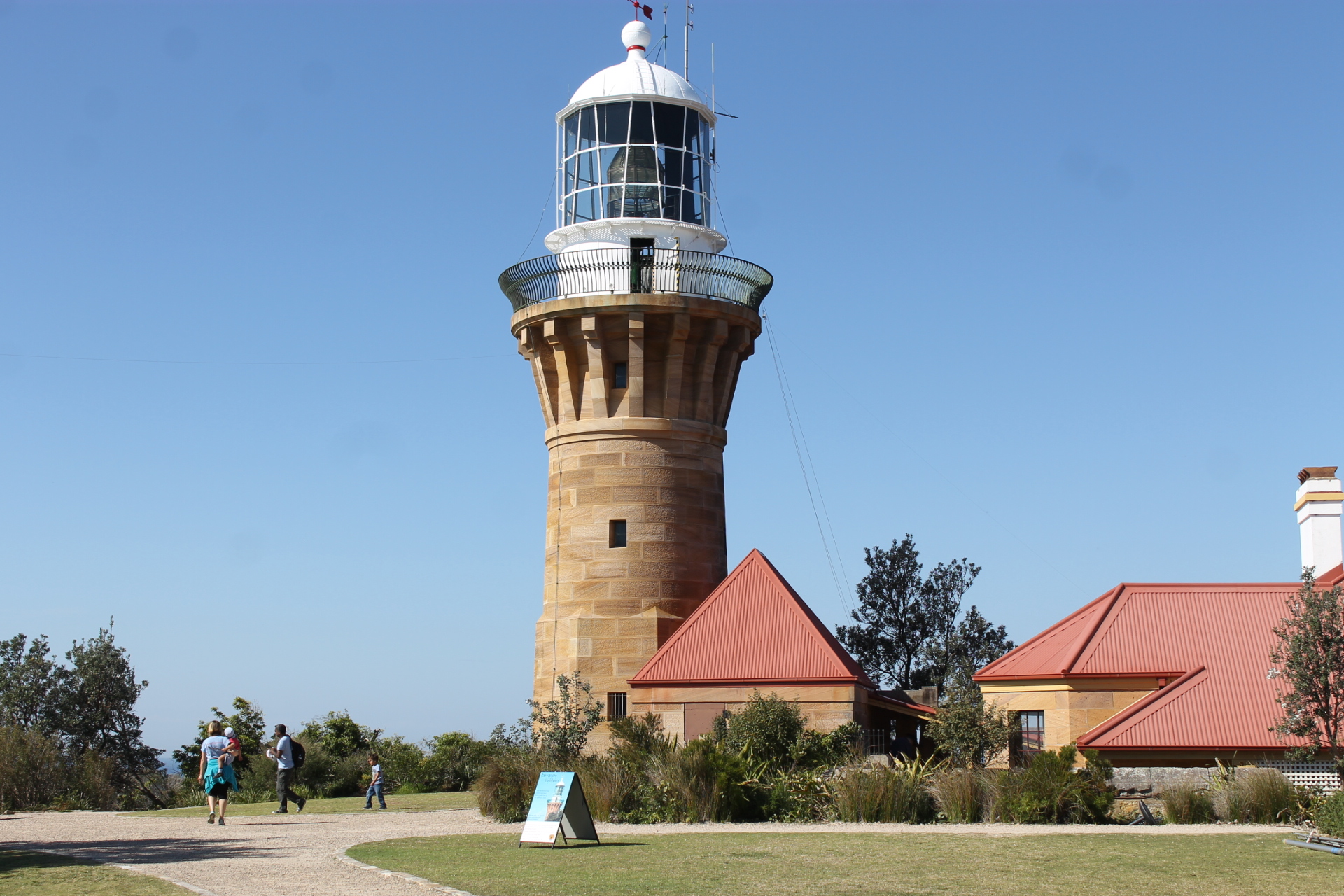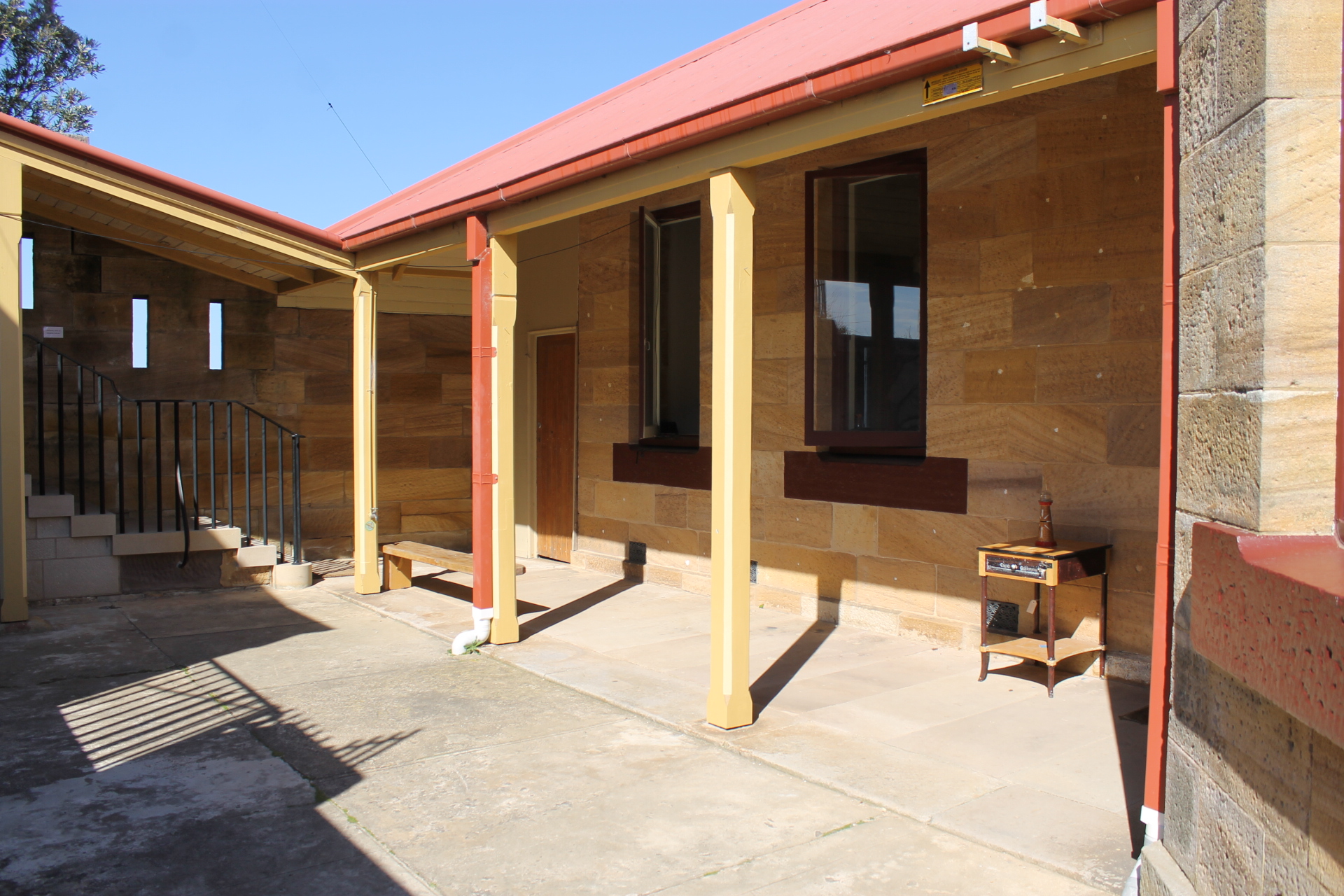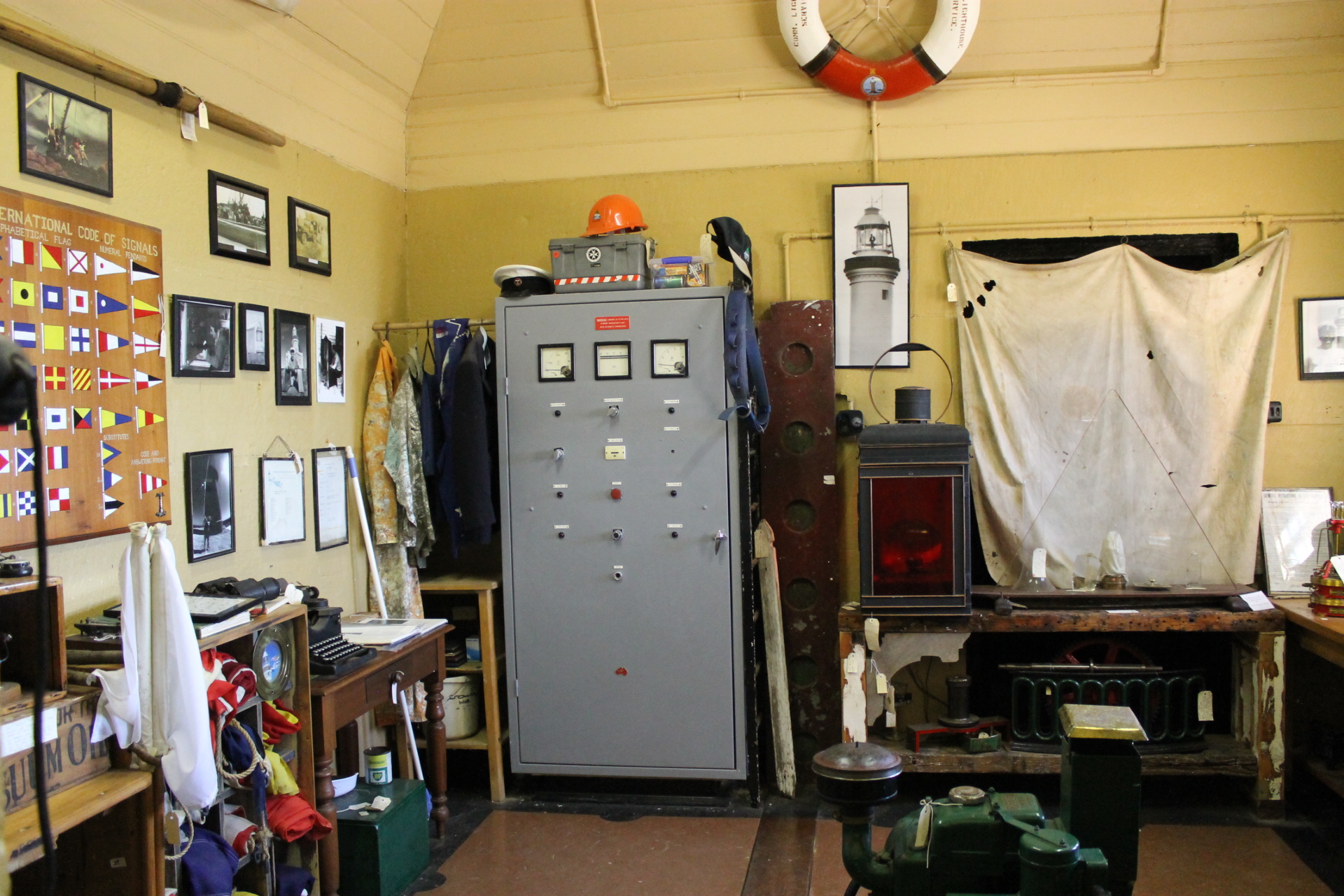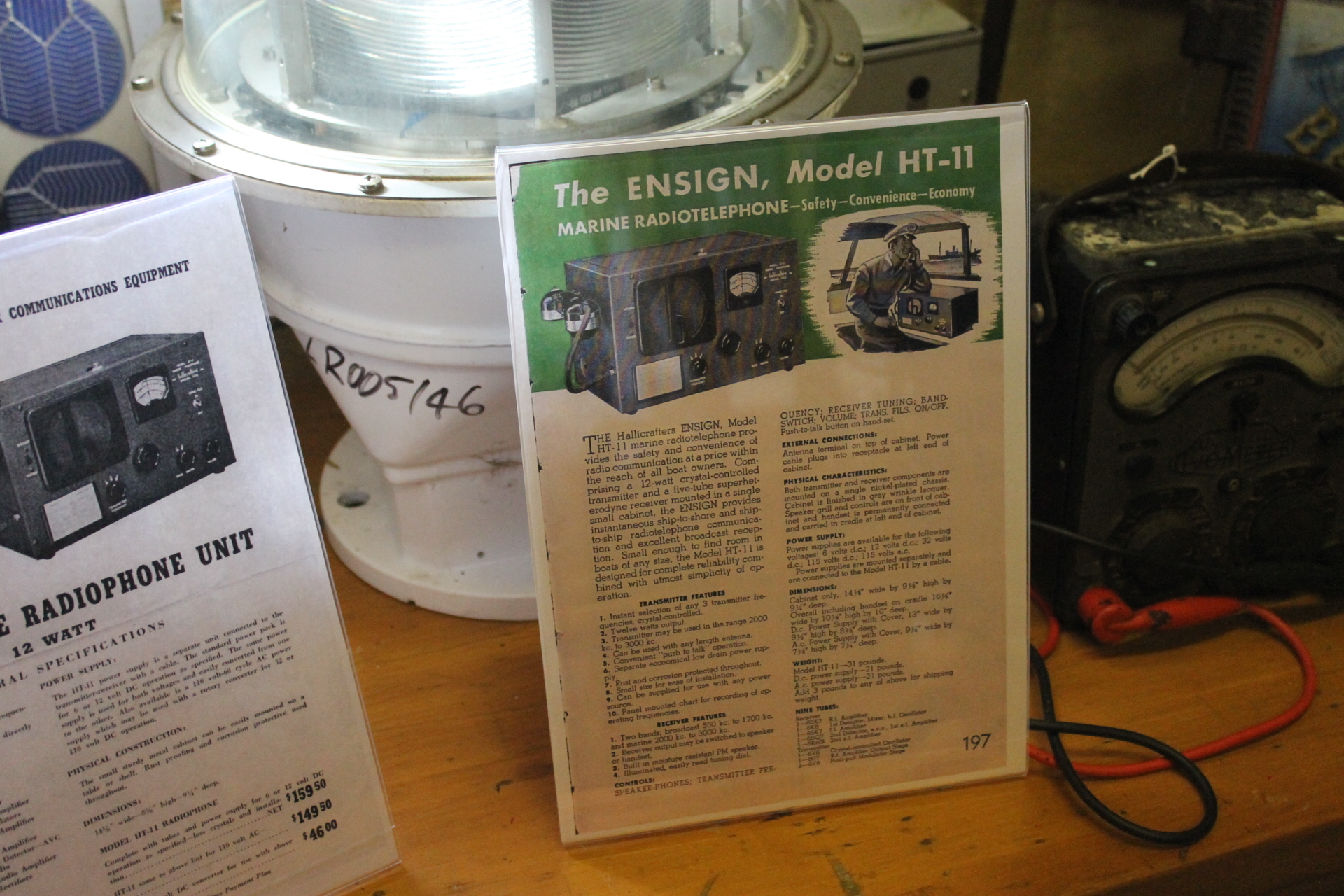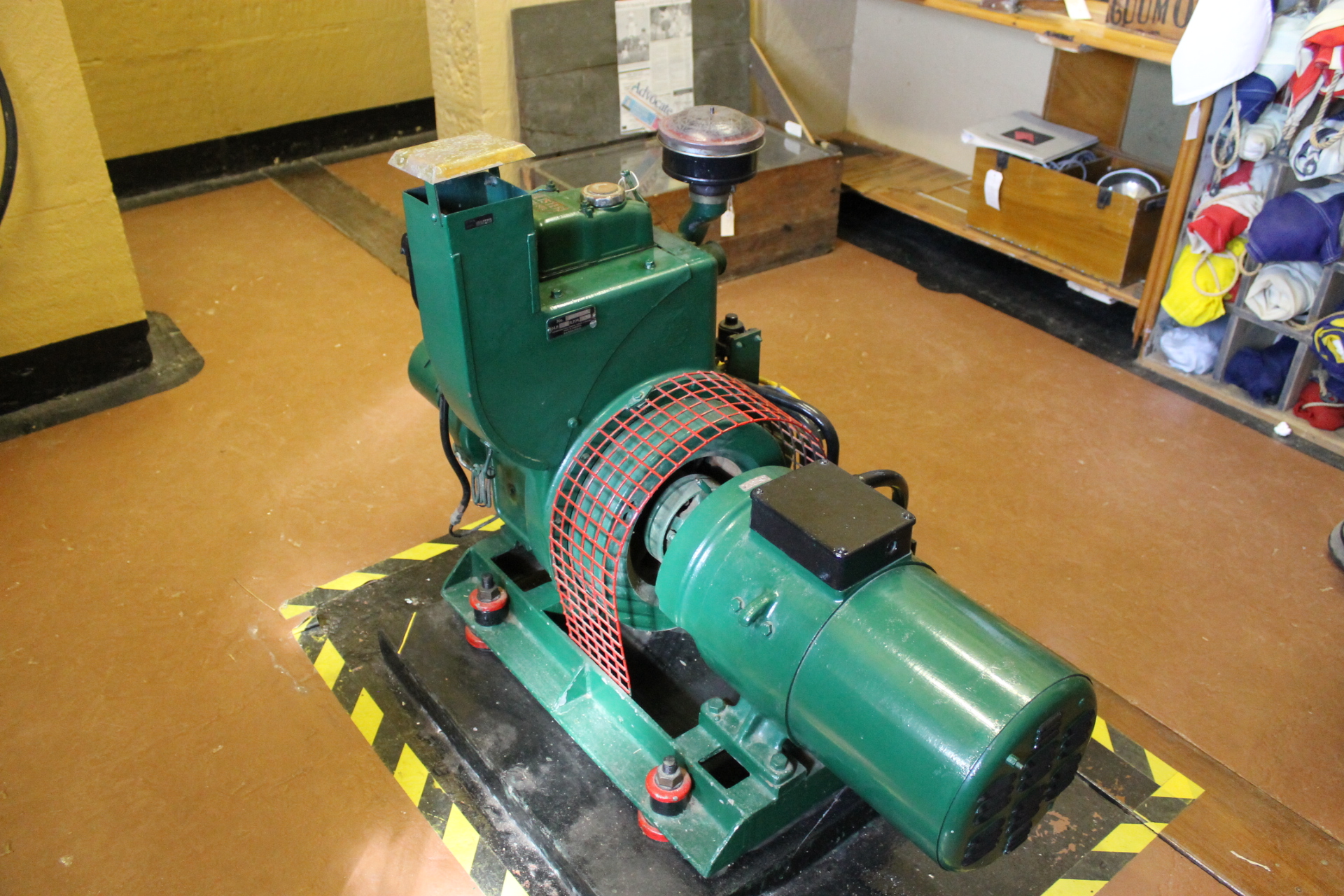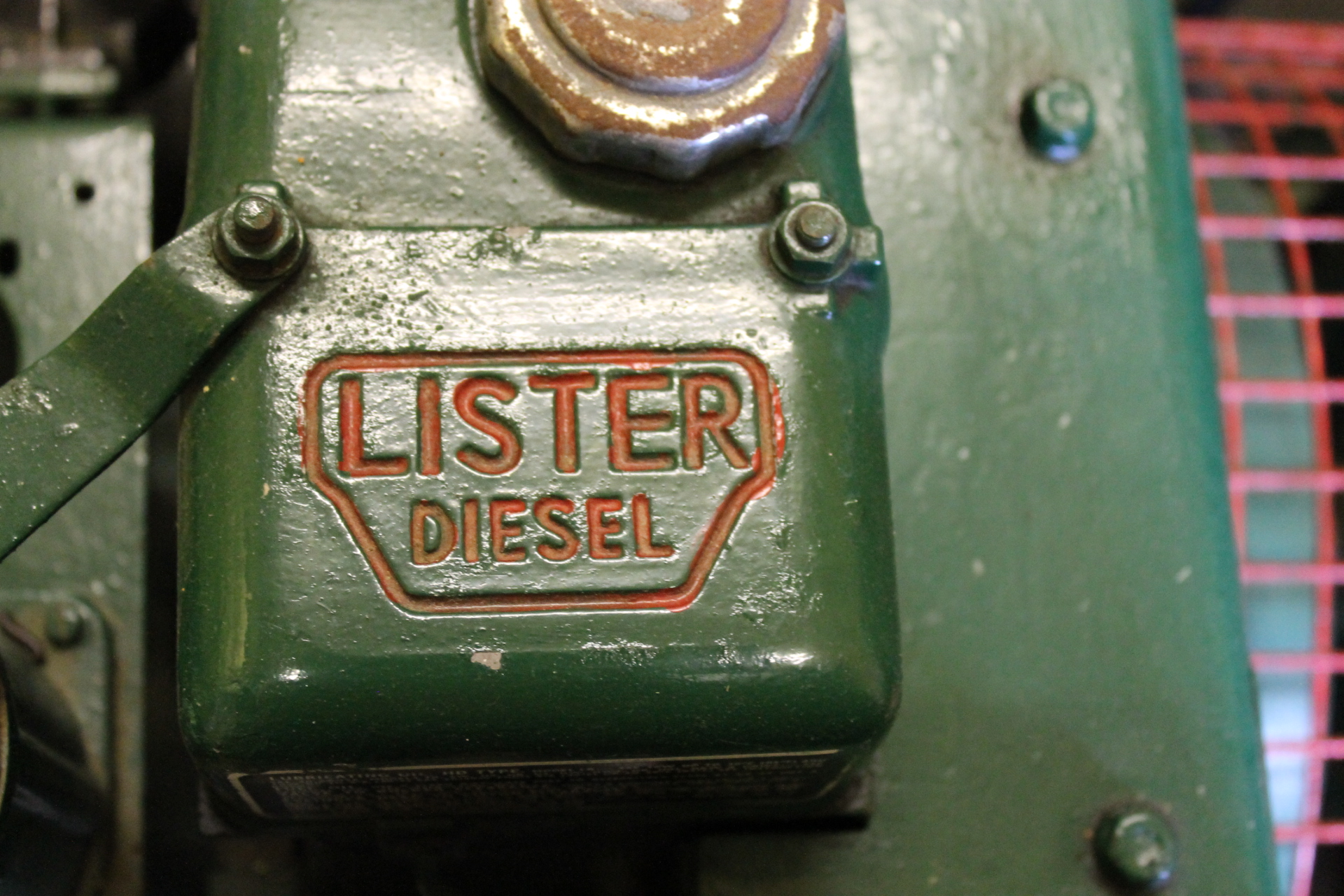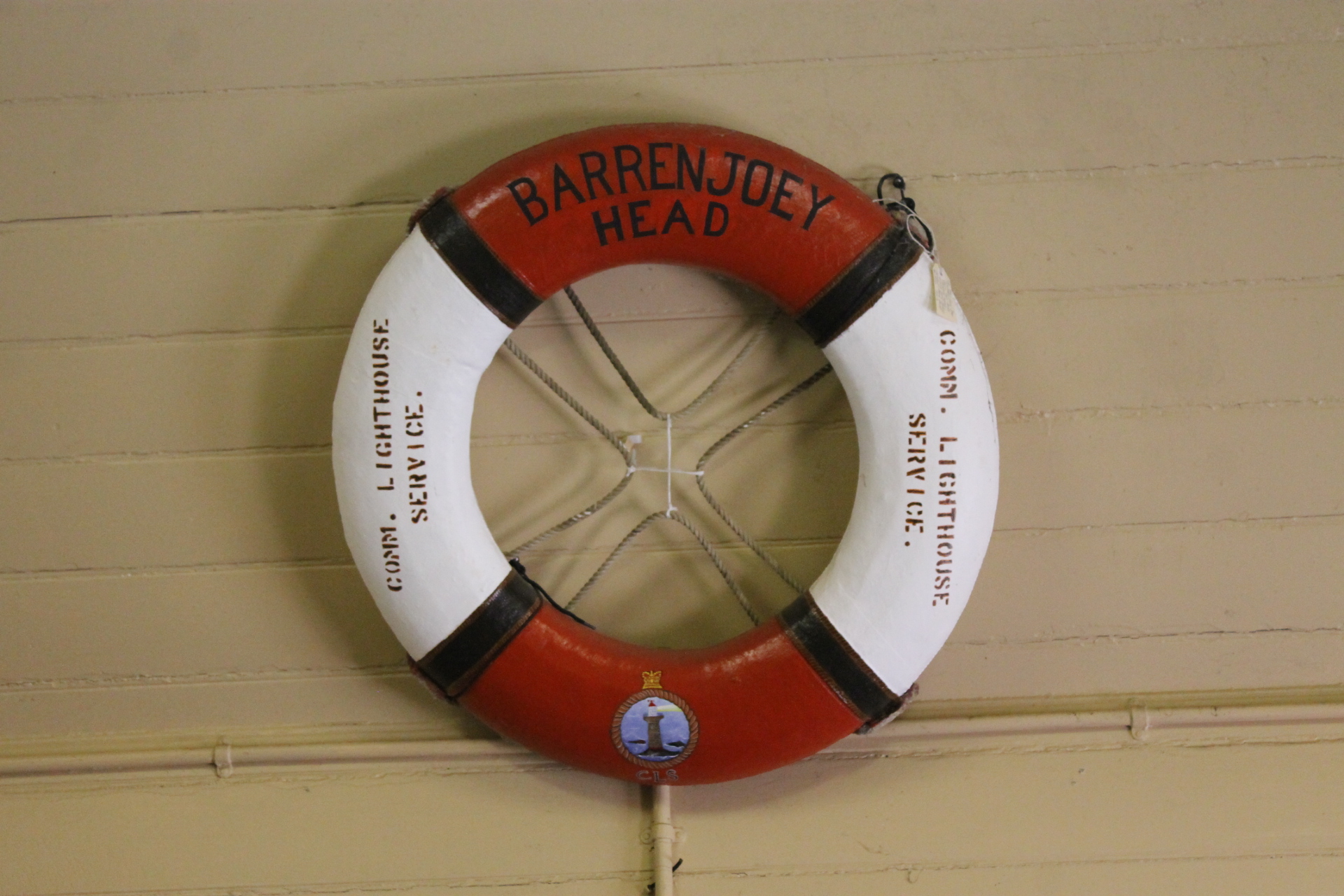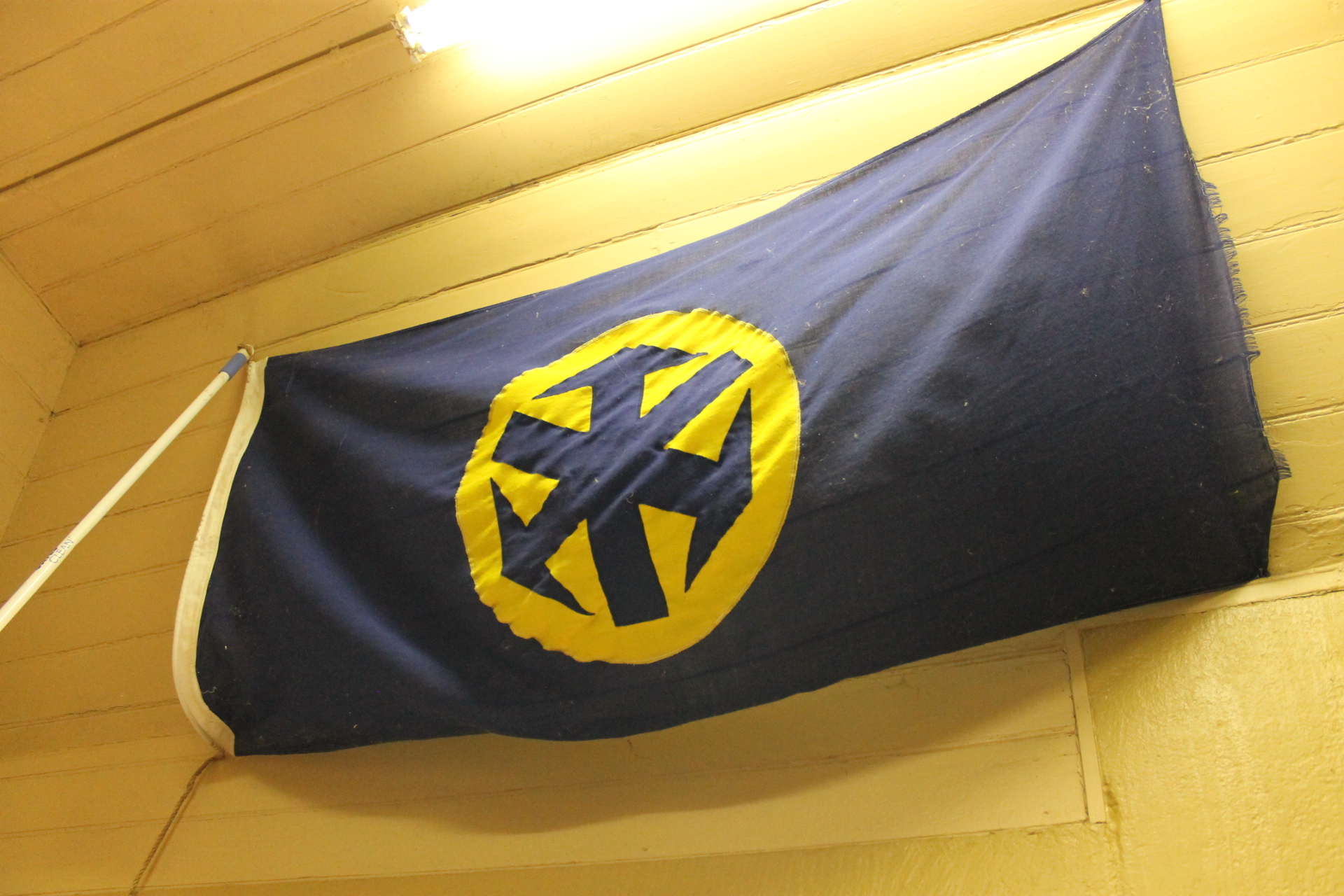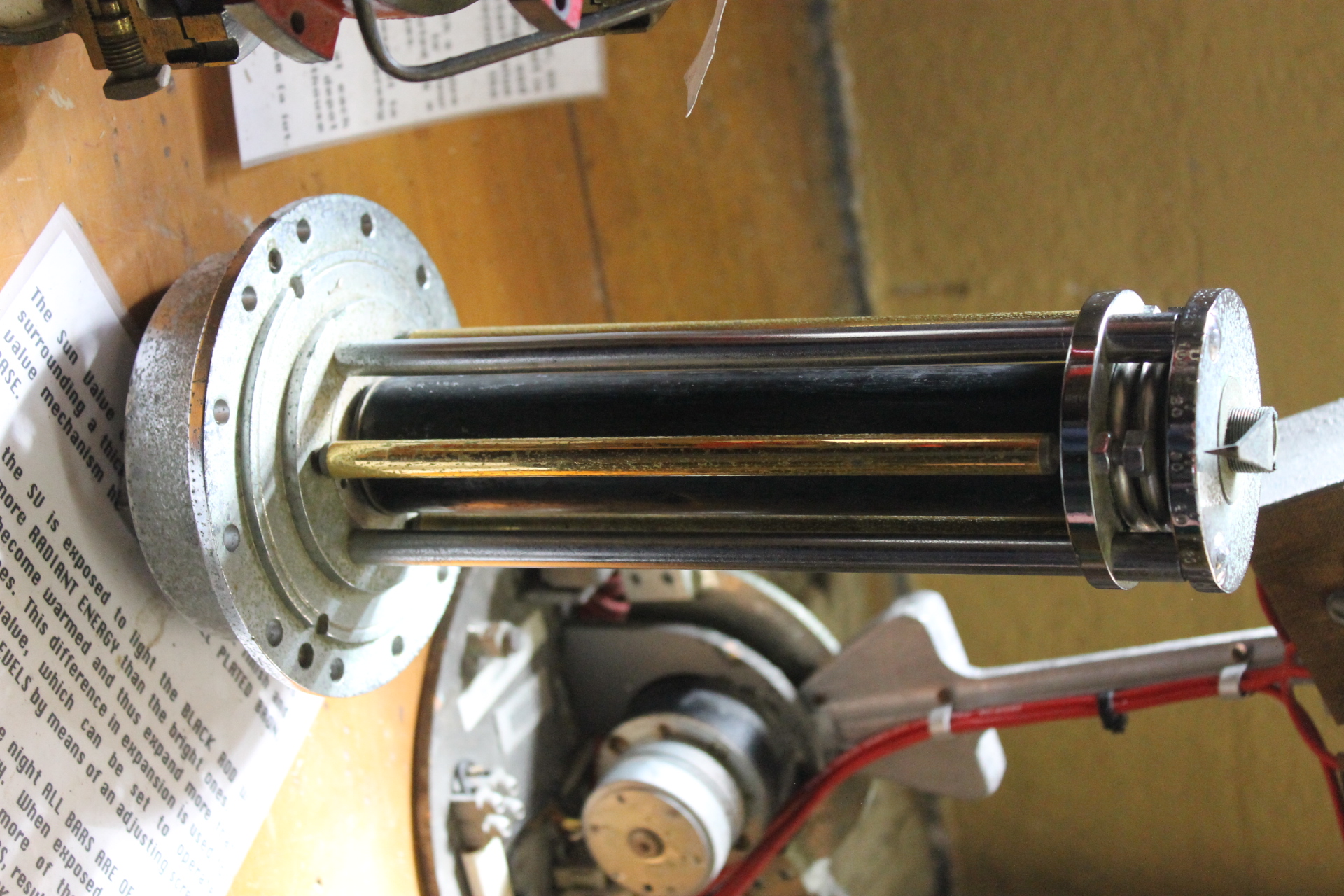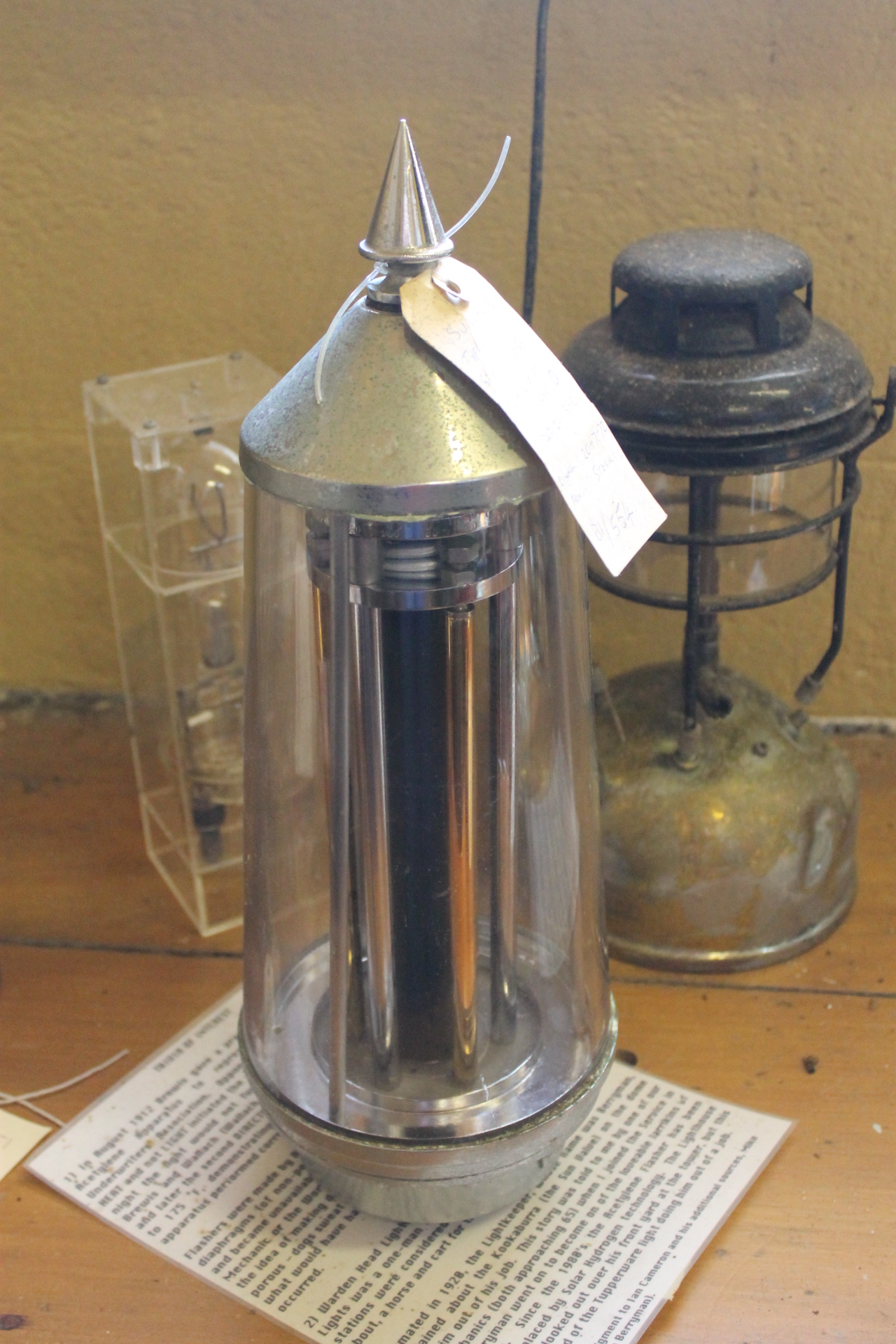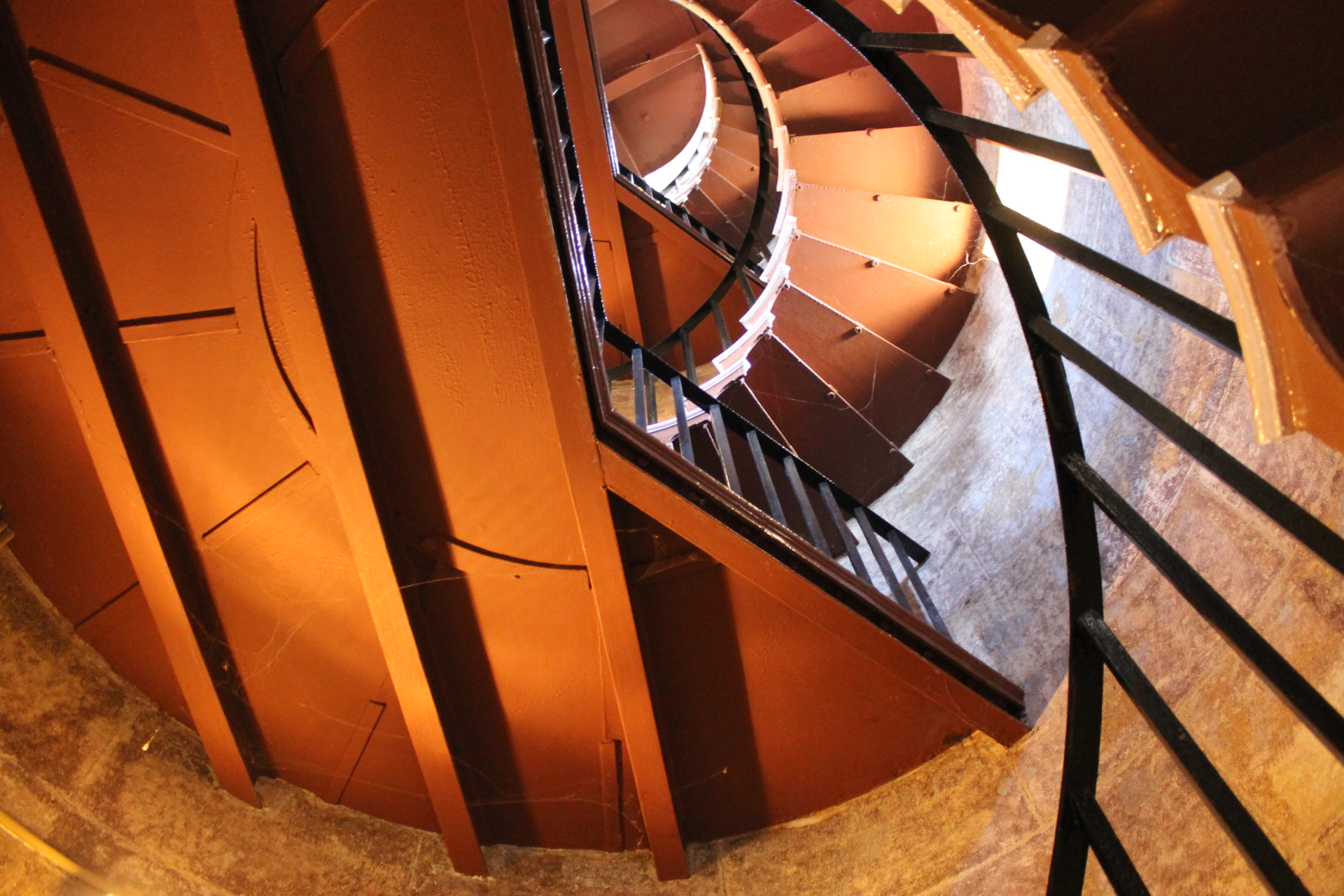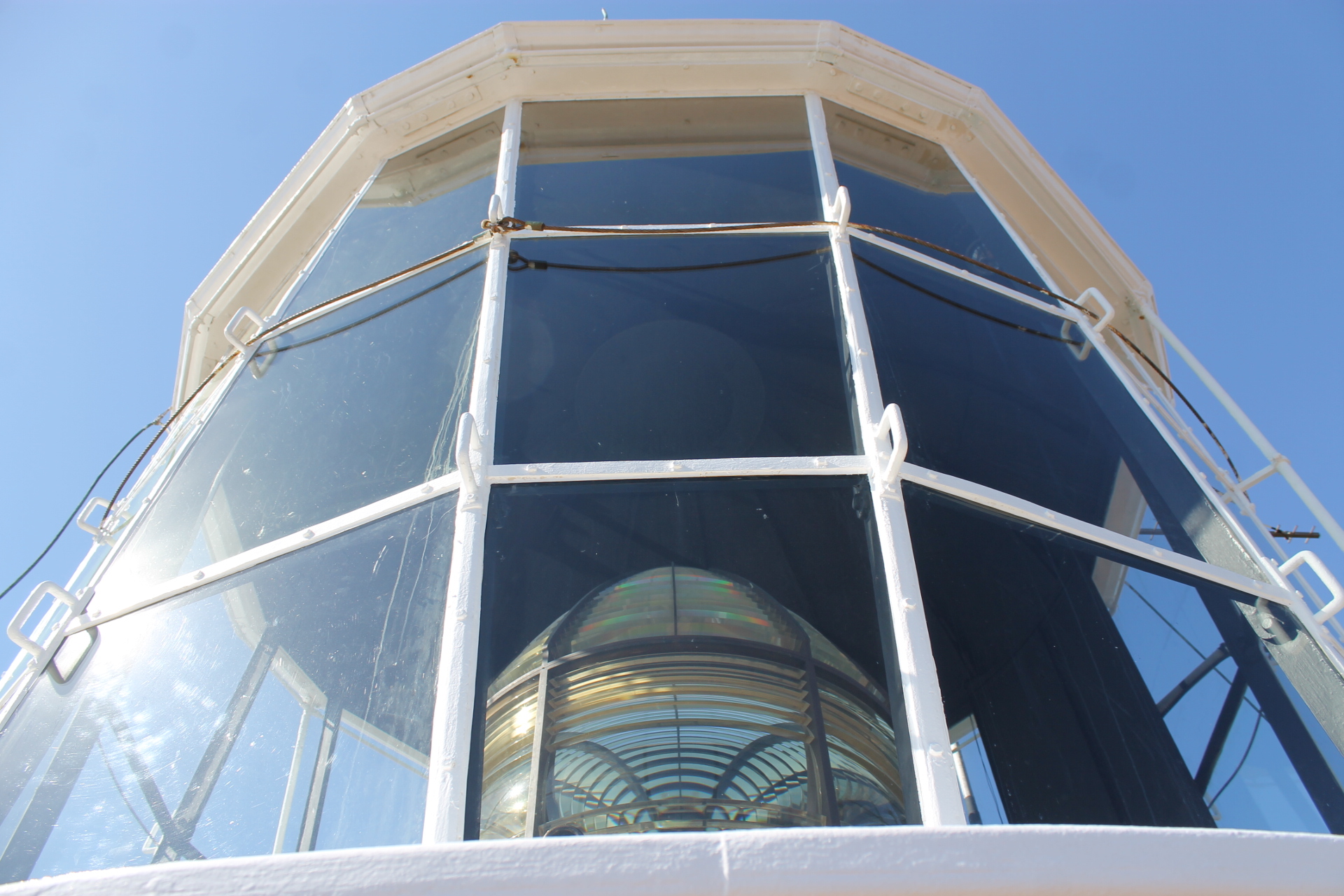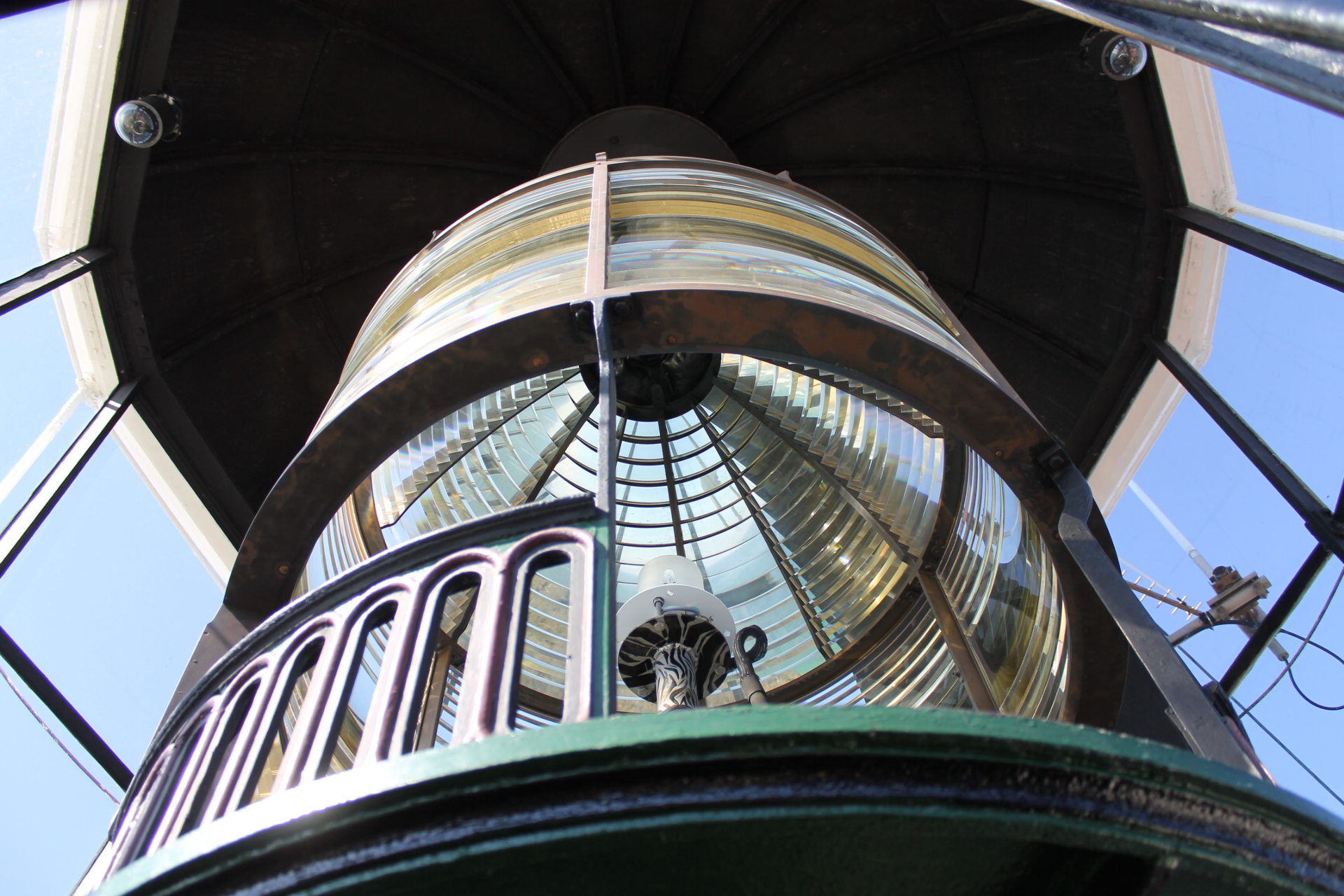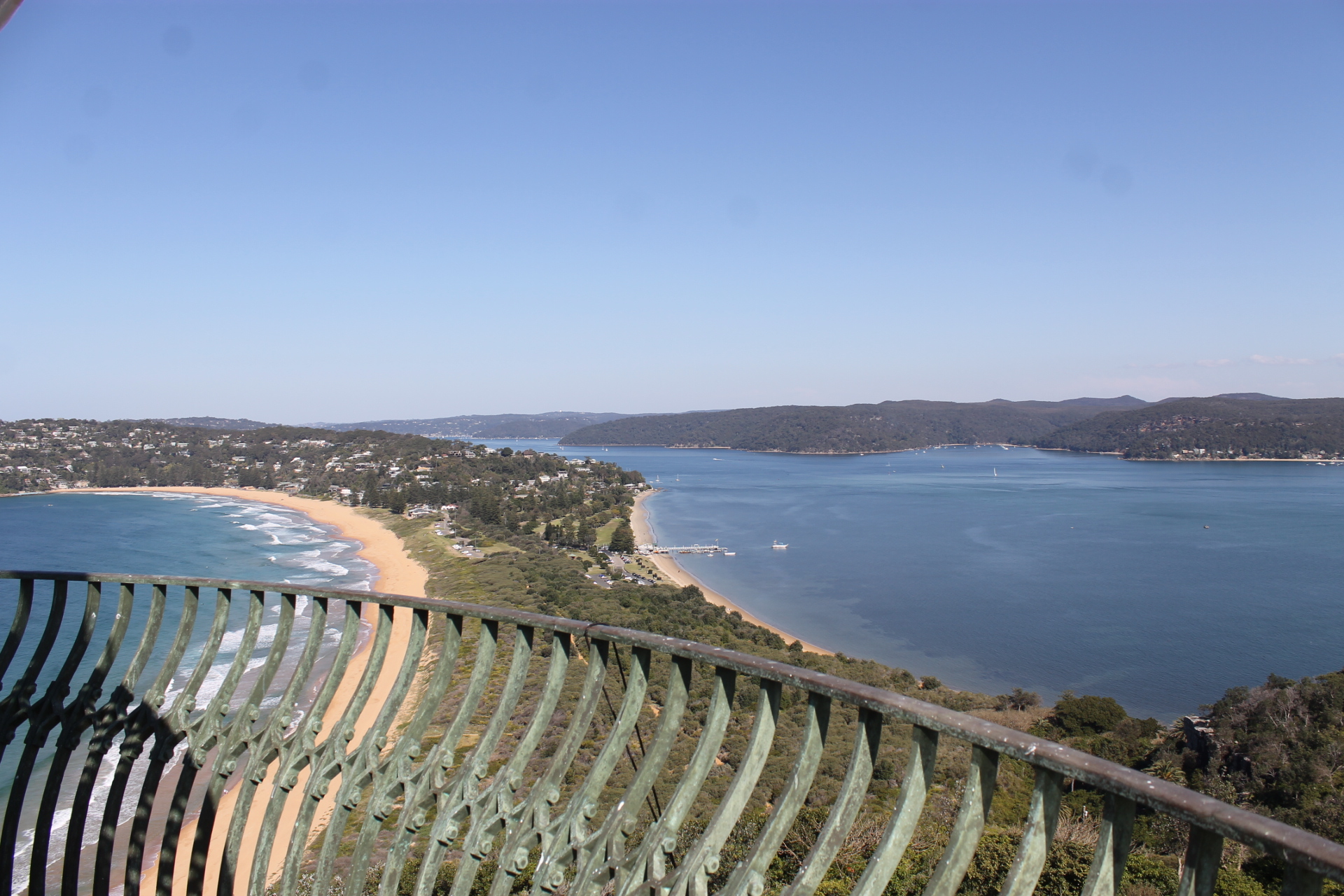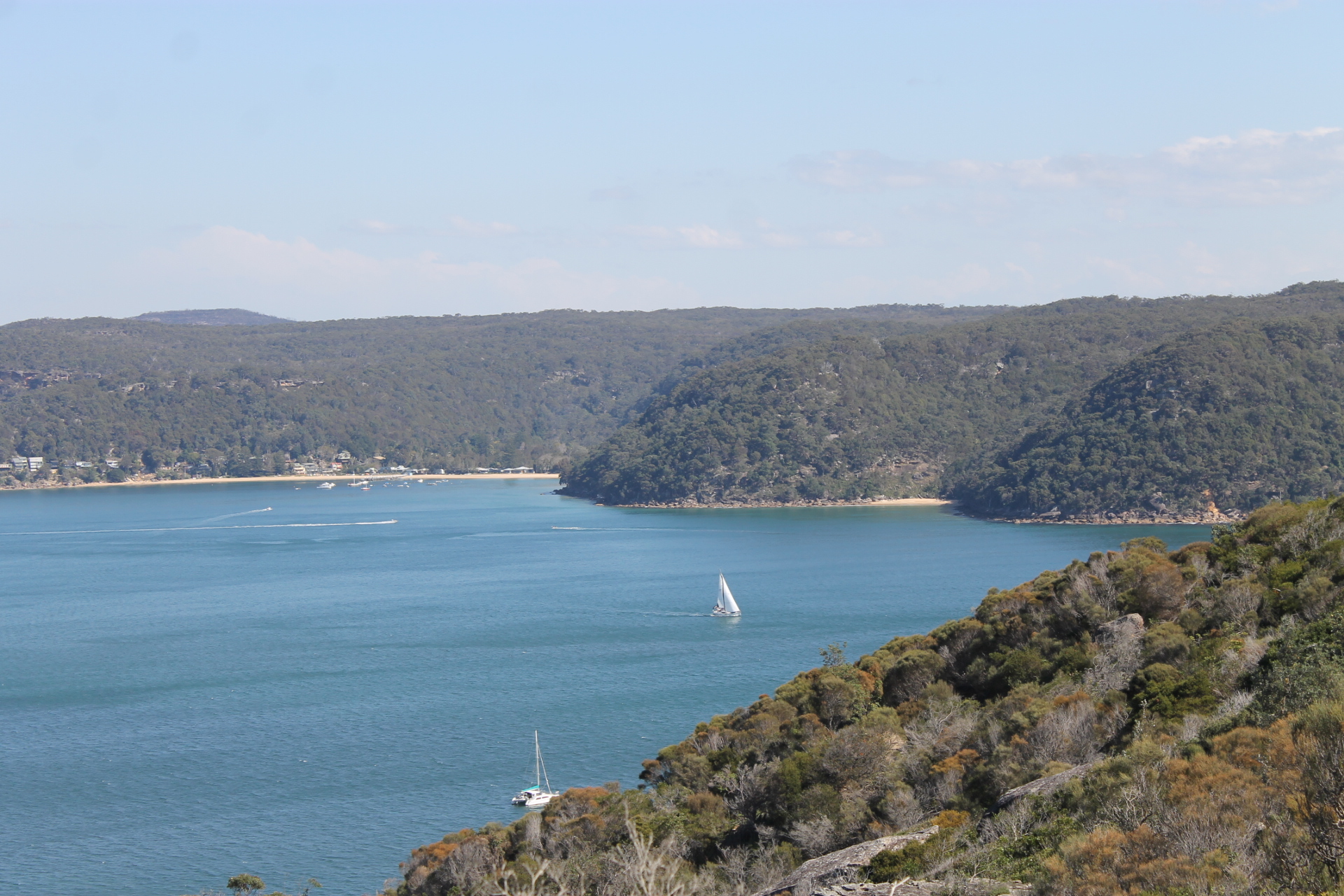 Photos; AJG/PON - International Lighthouse and Lightship weekend 2013
International Lighthouse Heritage Weekend
August appears to have become Lighthouse month around the world – here in the southern hemisphere in Spring while in Autumn in the Northern Hemisphere. Both seasons are wonderful for visiting a lighthouse and its surrounds. As part of the Lighthouses of Australia's Charter to Promote, Protect and Preserve Australia's lighthouse heritage, the organisation are proud to promote the weekend celebrations of Lighthouse Heritage.
International Lighthouse and Lightship Weekend (ILLW) is an annual 48 hour amateur radio event held on the third full weekend in August where Radio groups operate from Lighthouses around the world with the aim to communicate with as many other Lighthouse based radio operator groups over the duration of one weekend. It is very much through the role of Kevin Mulcahy's work (with Mike Dalrymple [dec]) in promoting this world wide popular radio event, that other groups associated with Lighthouses are adopting August as Lighthouse Month. See also the ILLW Facebook page.
Many of our own Australian Lighthouses now also use that weekend to run special events at sites where towers are already open to the public as well as the few extra towers that gain permission to open a tower for just that weekend. Some, but not all of these Lighthouse Heritage celebrations are accompanied by radio operators.
Universities Of Australia
Published July 2023 by NFSA
From the Film Australia Collection. Made by the National Film Board 1951. Directed by Malcolm Otton. This survey of Australian Universities is another of the films produced by the Australian National Film Board to celebrate the Jubilee of Federation. It shows that the young Universities which have grown up over the last hundred years have absorbed the traditions of intellectual freedom and exploration which are those of the great and very much older Universities or Great Britain and America. The film tells something of their story but most of the action is devoted to explaining why graduates are so important to the general community. We see them being trained for the professions, in the arts and crafts which together make up the cultural fabric of a people. We learn that the social and industrial progress of the nation is partly in the hands of the young people who emerge from the cloistered halls of the Universities. The film breaks down the old illusion that the Universities are sequestered, that they are apart from the community. The film, in fact, stresses that these institutions are main cogs in the machine of society. At the same time it emphasises that the Universities of Australia are suffering a financial famine which must be eased if they are to accomplish all of their aspirations.
Parli-Flicks Short Film Award 2023
​Lights, camera, action!
NSW high school students, it's time to shoot your shot for the 2023 Parli-Flicks Short Film Award.
The brief? Create a one-minute short film that takes a stand on whether the voting age should be lowered or kept at 18 in NSW.
Animation, music, comedy, drama, what's your angle? This is your chance to be creative!
The winner will take home a $250 cash prize, with the finalists invited to an exclusive awards night at the Parliament of NSW.
Entries are open to Year 7 – 12 NSW high school students and close Friday August 11th 2023.
Want your school to participate? Visit our Education website for entry details and more information to share with your school administration.

Your First Speech To The Australian Parliament
Your first speech is a great way to speak about issues you are passionate about. You could enter as an individual or get your whole school involved!
Australian students enrolled in years 10 to 12 are invited to enter the 'My First Speech' competition.
You can enter as a school or as an individual.
Imagine yourself as a newly elected Member of the House of Representatives. Your task is to write a 90 second speech about issues you are passionate about then record yourself presenting the speech on video.
The video should be in MPG, MPEG, M4V, MPEG 4, AVI, WMV or MOV format with a resolution of 640 x 480 pixels or above and no longer than 90 seconds in length. Opening titles or end credits are not required.
A winner from each year, 10, 11 and 12, will be invited to Canberra to deliver their speeches live and undertake a program of meetings at Parliament House.
To enter the competition, submit your video via email, along with a written transcript of your speech and completed competition forms. The scanned forms can be pdf or jpg format.
If your video is too large to be emailed (over 30mb) send it via Dropbox, Google Drive or even a USB along with a transcript of your speech and completed competition forms.
For mailed entries send to:
My First Speech competition
House of Representatives
PO Box 6021
Parliament House
Canberra ACT 2601
Entries must be received by Friday, 11 August 2023
Competition forms and more here: https://www.aph.gov.au/myfirstspeech/enter
Cartoon
A cartoon is a type of visual art that is typically drawn, frequently animated, in an unrealistic or semi-realistic style. The specific meaning has evolved, but the modern usage usually refers to either: an image or series of images intended for satire, caricature, or humour; or a motion picture that relies on a sequence of illustrations for its animation. Someone who creates cartoons in the first sense is called a cartoonist, and in the second sense they are usually called an animator.
The concept originated in the Middle Ages, and first described a preparatory drawing for a piece of art, such as a painting, fresco, tapestry, or stained glass window. In the 19th century, beginning in Punch magazine in 1843, cartoon came to refer – ironically at first – to humorous artworks in magazines and newspapers. Then it also was used for political cartoons and comic strips. When the medium developed, in the early 20th century, it began to refer to animated films which resembled print cartoons.
A cartoon (from Italian: cartone and Dutch: karton—words describing strong, heavy paper or pasteboard) is a full-size drawing made on sturdy paper as a design or modello for a painting, stained glass, or tapestry. Cartoons were typically used in the production of frescoes, to accurately link the component parts of the composition when painted on damp plaster over a series of days (giornate). In media such as stained tapestry or stained glass, the cartoon was handed over by the artist to the skilled craftsmen who produced the final work.
Such cartoons often have pinpricks along the outlines of the design so that a bag of soot patted or "pounced" over a cartoon, held against the wall, would leave black dots on the plaster ("pouncing"). Cartoons by painters, such as the Raphael Cartoons in London, and examples by Leonardo da Vinci, are highly prized in their own right. Tapestry cartoons, usually colored, were followed with the eye by the weavers on the loom.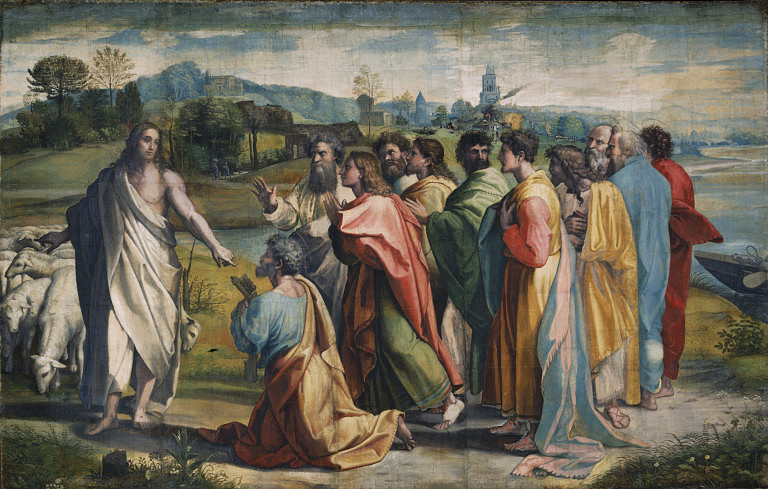 Christ's Charge to Peter, one of the Raphael Cartoons, c. 1516, a full-size cartoon design for a tapestry
The Raphael Cartoons are seven large cartoons for tapestries, surviving from a set of ten cartoons, designed by the High Renaissance painter Raphael in 1515–16, commissioned by Pope Leo X for the Sistine Chapel in the Vatican Palace. The tapestries show scenes from the Gospels and Acts of the Apostles and are hung (on special occasions) below the frescoes of the Life of Christ and the Life of Moss commissioned by Pope Sextus. The cartoons belong to the British Royal Collection but since 1865 are on loan to the Victoria and Albert Museum in London.
In print media, a cartoon is a drawing or series of drawings, usually humorous in intent. This usage dates from 1843, when Punch magazine applied the term to satirical drawings in its pages, particularly sketches by John Leech. The first of these parodied the preparatory cartoons for grand historical frescoes in the then-new Palace of Westminster.
Sir John Tenniel—illustrator of Alice's Adventures in Wonderland—joined Punch in 1850, and over 50 years contributed over two thousand cartoons.
Cartoons can be divided into gag cartoons, which include editorial cartoons, and comic strips.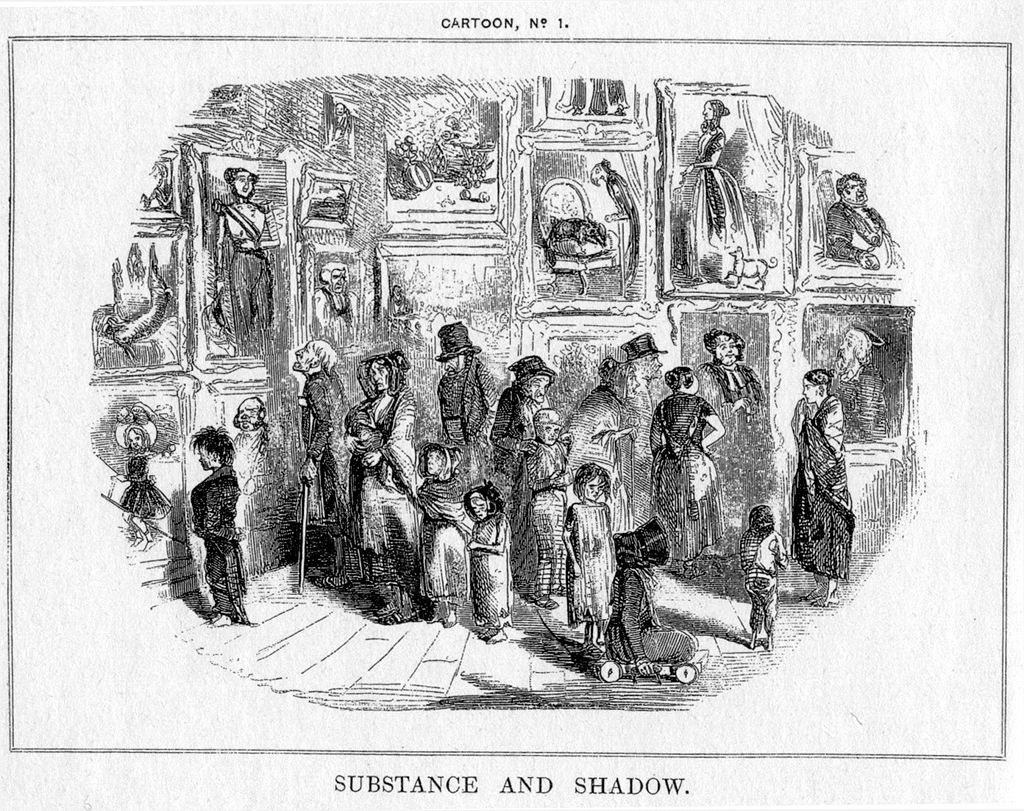 John Leech, Substance and Shadow (1843), published as Cartoon, No. 1 in Punch, the first use of the word cartoon to refer to a satirical drawing
Because of the stylistic similarities between comic strips and early animated films, cartoon came to refer to animation, and the word cartoon is currently used in reference to both animated cartoons and gag cartoons. While animation designates any style of illustrated images seen in rapid succession to give the impression of movement, the word "cartoon" is most often used as a descriptor for television programs and short films aimed at children, possibly featuring anthropomorphised animals, superheroes, the adventures of child protagonists or related themes.
In the 1980s, cartoon was shortened to toon, referring to characters in animated productions. This term was popularised in 1988 by the combined live-action/animated film Who Framed Roger Rabbit, followed in 1990 by the animated TV series Tiny Toon Adventures.
From Wikipedia
A Brief History Of Animation
by Will Seymopur Murphy: 'I made this video essay for school.'
School Leavers Support
Explore the School Leavers Information Kit (SLIK) as your guide to education, training and work options in 2022;
As you prepare to finish your final year of school, the next phase of your journey will be full of interesting and exciting opportunities. You will discover new passions and develop new skills and knowledge.
We know that this transition can sometimes be challenging and the COVID-19 pandemic has presented some uncertainty. With changes to the education and workforce landscape, you might be wondering if your planned decisions are still a good option or what new alternatives are available and how to pursue them.
There are lots of options for education, training and work in 2022 to help you further your career. This information kit has been designed to help you understand what those options might be and assist you to choose the right one for you. Including:
Download or explore the SLIK here to help guide Your Career.
School Leavers Information Kit (PDF 5.2MB).
School Leavers Information Kit (DOCX 0.9MB).
The SLIK has also been translated into additional languages.
Download our information booklets if you are rural, regional and remote, Aboriginal or Torres Strait Islander, or living with disability.
Support for Regional, Rural and Remote School Leavers (PDF 2MB).
Support for Regional, Rural and Remote School Leavers (DOCX 0.9MB).
Support for Aboriginal and/or Torres Strait Islander School Leavers (PDF 2MB).
Support for Aboriginal and/or Torres Strait Islander School Leavers (DOCX 1.1MB).
Support for School Leavers with Disability (PDF 2MB).
Support for School Leavers with Disability (DOCX 0.9MB).
Download the Parents and Guardian's Guide for School Leavers, which summarises the resources and information available to help you explore all the education, training, and work options available to your young person.
School Leavers Information Service
Are you aged between 15 and 24 and looking for career guidance?
Call 1800 CAREER (1800 227 337).
SMS 'SLIS2022' to 0429 009 435.
Our information officers will help you:
navigate the School Leavers Information Kit (SLIK),
access and use the Your Career website and tools; and
find relevant support services if needed.
You may also be referred to a qualified career practitioner for a 45-minute personalised career guidance session. Our career practitioners will provide information, advice and assistance relating to a wide range of matters, such as career planning and management, training and studying, and looking for work.
You can call to book your session on 1800 CAREER (1800 227 337) Monday to Friday, from 9am to 7pm (AEST). Sessions with a career practitioner can be booked from Monday to Friday, 9am to 7pm.
This is a free service, however minimal call/text costs may apply.
Call 1800 CAREER (1800 227 337) or SMS SLIS2022 to 0429 009 435 to start a conversation about how the tools in Your Career can help you or to book a free session with a career practitioner.
Word Of The Week: Apricity
Word of the Week returns in 2023 simply to throw some disruption in amongst the 'yeah-nah' mix.
Noun
(obsolete) The warmth of the Sun in winter.
From the Latin aprīcitās, noun of quality from aprīcus ("warmed by the sun").
Noun
aprication - (rare) The act of apricating, or basking in the sun.
Verb - apricate; 1. (intransitive, rare) To bask in the sun. 2. (transitive, also figuratively, rare) To disinfect and freshen by exposing to the sun; to sun.
Apricity appears to have entered our language in 1623, when Henry Cockeram recorded (or possibly invented) it for his dictionary The English Dictionary; or, An Interpreter of Hard English Words. Despite the fact that it is a delightful word for a delightful thing it never quite caught on, and will not be found in any modern dictionary aside from the Oxford English Dictionary.
Compare Hiemal - adjective (rare) - of, characteristic of, or occurring in winter. "pertaining to winter,"
From 1550s, from Latin hiemalis "of winter, wintry," from hiems "winter," from PIE root gheim- "winter."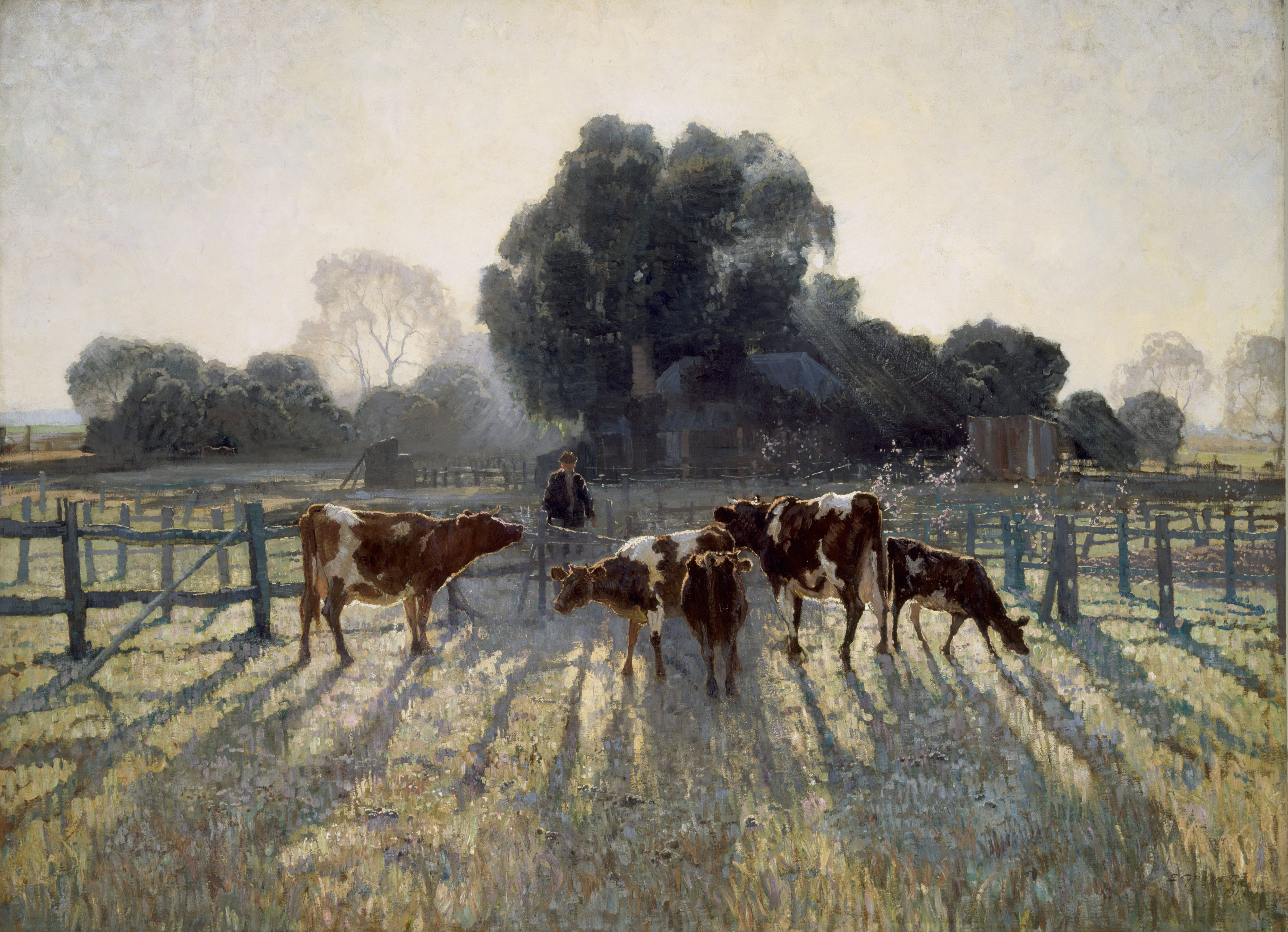 Spring Frost is a 1919 painting by the Australian artist Elioth Gruner. The painting depicts a small herd of dairy cows in the early morning. Gruner's most well-known painting, Spring Frost was awarded the Wynne Prize in 1919. Dimensions 131.0 cm × 178.7 cm (51.6 in × 70.4 in)
Spring Frost was largely painted en plein air at Emu Plains—now an outer western suburb of Sydney but then a rural area—on the farm built by Isaac Innes and inherited by his son Jim Innes. It is Jim Innes in this painting with his cattle. Elioth Gruner's 1916 painting Morning Light also shows this farm. To compose the painting Gruner built a small structure on site to protect the canvas and, to avoid frostbite, he wrapped his legs with chaff bags. Elioth Lauritz Leganyer Gruner (16 December 1882 – 17 October 1939) was an Australian artist. Gruner won the Wynne Prize for landscape painting seven times, the most of any Australian artist besides Hans Heysen.
The work is on permanent display in the Art Gallery of NSW - South Building, ground level, Grand Courts - and is considered the most favourite Australian landscape in the gallery. This work was acquired by the Gallery in 1939, a Gift of F G White.
First Moon Landing 1969: 54 Years Ago
On Friday 21 July 2023, it was 55 years since the Apollo 11 mission landed on the Moon. It was the first time humans set foot on another world. The Apollo Moon program was an enormous feat of technological ingenuity. Many nations, including Australia, contributed to its success.
Australia has a long history of providing space tracking support to the United States, starting in 1957 before NASA. By 1969, Australia hosted the greatest number NASA tracking stations outside the US, employing around 700 people. This included the largest tracking station outside North America, at Carnarvon in Western Australia.
Australian tracking stations played important roles in the Apollo 11 mission.
The Carnarvon station provided the 'go/no go' confirmation that sent the Apollo spacecraft out of Earth orbit and on its way to the Moon. Honeysuckle Creek and Tidbinbilla, in the ACT, provided vital telecommunications and telemetry links throughout the mission. During the operations at the Moon, Tidbinbilla supported the Command Module, Columbia, in lunar orbit, while Honeysuckle Creek maintained contact with the Lunar Module. Carnarvon, Honeysuckle Creek and the Orroral Valley tracking station received the data from scientific instruments that the astronauts left on the Moon.
Australia also played a crucial role in helping NASA bring TV images of the first Moonwalk to the world. As Neil Armstrong climbed out of the Lunar Module, 3 stations received the signals: Goldstone, in California, Honeysuckle Creek and Parkes radio Telescope, in NSW.
During the first 9 minutes of the broadcast, NASA alternated between the Goldstone and Honeysuckle Creek signals, searching for the best quality images. They began with the Goldstone pictures, but the image quality was poor, due to technical issues.
The Honeysuckle Creek pictures were very grainy because of the low signal strength received by the smaller dish. But these were the images transmitted to the world when Neil Armstrong took that 'giant leap for Mankind'.
Finally, 8 minutes and 51 seconds into the broadcast Houston switched to Parkes. This telescope was now relaying higher quality signals, as the Moon had risen far enough for the main detector to view.
NASA stayed with the Parkes transmission for the rest of the 2.5-hour telecast. During the Apollo 11 broadcast, the radio telescope staff resolutely operated the antenna well outside its safety parameters while a violent windstorm struck the area.
With help from the Overseas Telecommunications Commission and Postmaster General's Department, the signals received in Australia were relayed to NASA in Houston. They were then broadcast around the world to an estimated audience of 600 million people. At the time this was the largest ever TV audience, and the event created a powerful collective experience viewers.
The Australian movie The Dish, created by Rob Sitch and the Working Dog Productions team, the 2000 film is an Aussie classic. It features Sam Neill, Tom Long and Kev Harrington as staff at our Parkes radio telescope, Murriyang in rural New South Wales, and how they supported receiving and relaying the live TV broadcast images of the Apollo 11 Moon landing.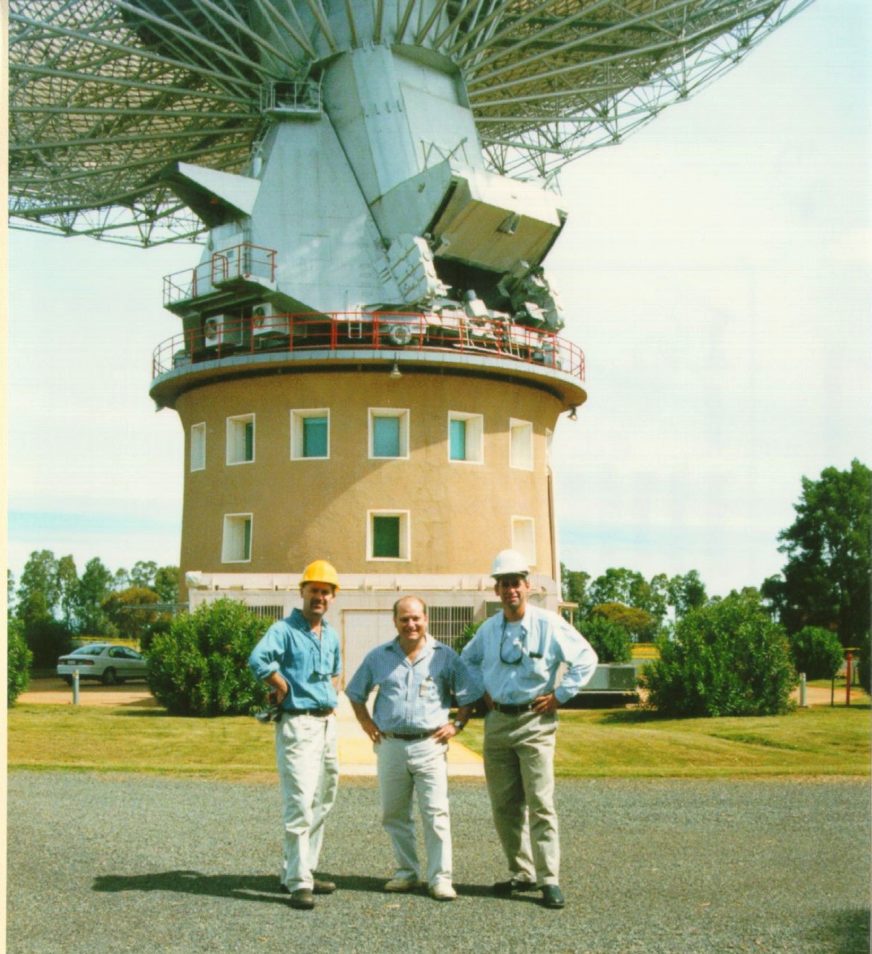 Throwback to the filming of The Dish. Working Dog Production's Tom Gleisner (left) and Rob Sitch (right) with John Sarkissian OAM, Operations Scientist at the CSIRO Parkes Radio Observatory, who also oversees the CWAS David Malin Awards. Photo courtesy CSIRO
The Parkes 64-metre radio telescope at the Parkes Observatory in New South Wales. Picture credit: CSIRO
Fast facts about Parkes radio telescope, Murriyang
The selection of the Parkes telescope site took several years and had to fulfil key technical requirements, such as a stable geology and low radio-frequency interference.
It took three years to design and two years to build the telescope; it was officially opened on 31 October 1961.
The moving part of the telescope, above the concrete tower, weighs 1000 tonnes – more than two Boeing 747 aircraft. This moving part is not fixed to the top of the tower but just sits on it.
The telescope only receives signals from space, but never sends them.
Because the large surface of the dish catches the wind like a sail, the telescope must be 'stowed' (pointed directly up) when the wind speed exceeds 35 kilometres an hour.
It can detect radio waves from seven millimetres to four metres long, and be pointed with an accuracy of better than 11 arcseconds – about the width of a finger seen 150 metres away.
The telescope operates twenty four hours per day, through rain and cloud.
About 85 per cent of all time each year is scheduled for observing. Less than five per cent of that time is lost because of high winds or equipment problems. Most of the rest of the time each year is used for maintenance and testing.
In 2020 local Wiradjuri elders gave the 64-metre telescope the name Murriyang, which represents the 'Skyworld' where a prominent creator spirit of the Wiradjuri Dreaming, Biyaami (Baiame), lives. Two smaller telescopes at CSIRO's Parkes Observatory also received Wiradjuri names.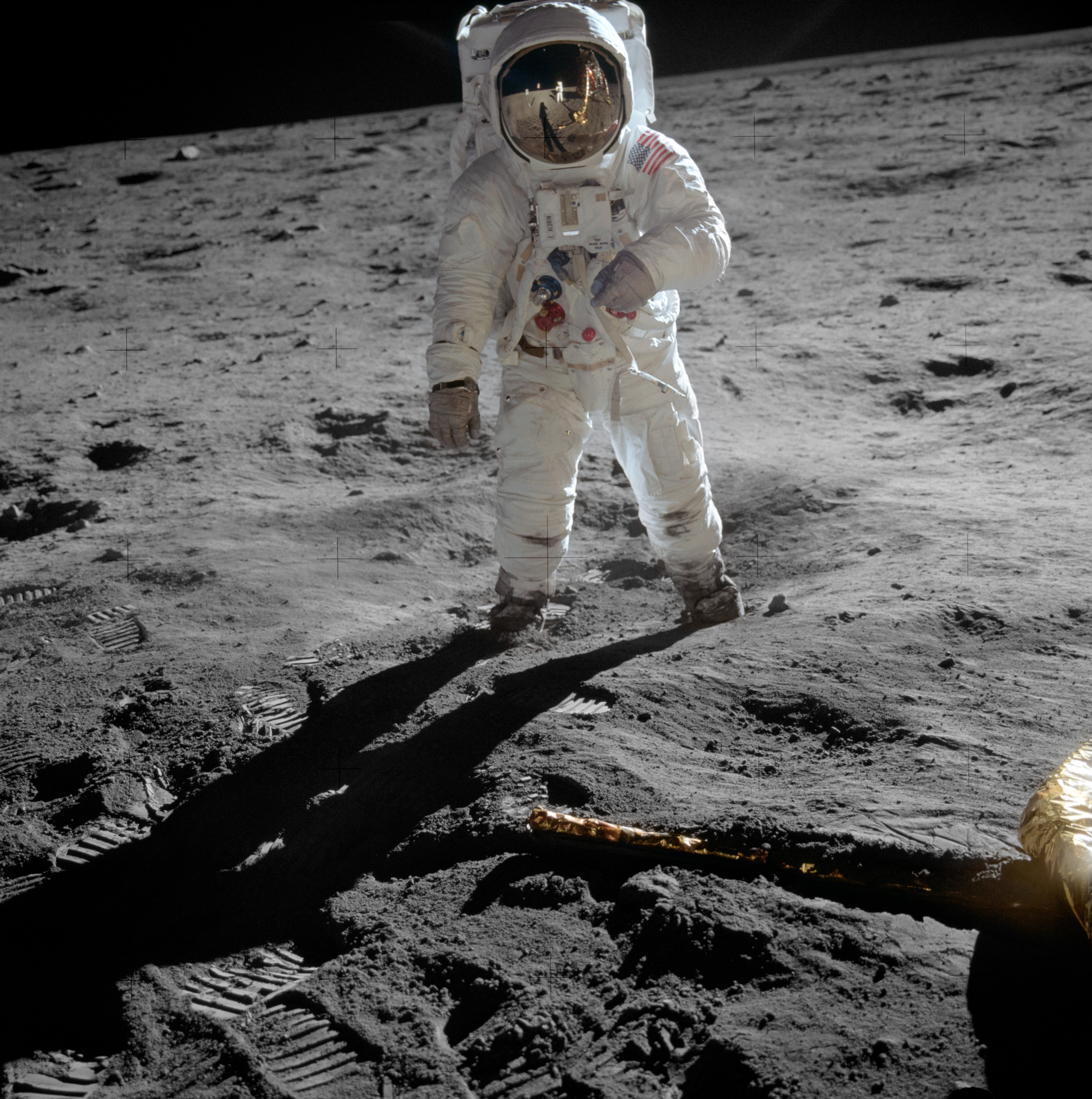 Astronaut Buzz Aldrin, lunar module pilot, stands on the surface of the moon near the leg of the lunar module, Eagle, during the Apollo 11 moonwalk. Astronaut Neil Armstrong, mission commander, took this photograph with a 70mm lunar surface camera. While Armstrong and Aldrin descended in the lunar module to explore the Sea of Tranquility, astronaut Michael Collins, command module pilot, remained in lunar orbit with the Command and Service Module, Columbia. The picture features additionally to Aldrin, in his visor as reflections, Armstrong, Earth, the lander, as well as the placed flag and instruments. This is the actual photograph as exposed on the moon by Armstrong. He held the camera slightly rotated so that the camera frame did not include the top of Aldrin's portable life support system ("backpack"). A communications antenna mounted on top of the backpack is also cut off in this picture. When the image was released to the public, it was rotated clockwise to restore the astronaut to vertical for a more harmonious composition, and a black area was added above his head to recreate the missing black lunar "sky". The edited version is the one most commonly reproduced and known to the public, but the original version, above, is the authentic exposure.

Editor's note: mum made us sit in front of the television and watch this - had just turn 4 years old - and still remember this.

Information from the Australian Government's Dept. of Industry, Science and Resources and CSIRO

As the video in the above report does not work - below runs another version we can watch in this country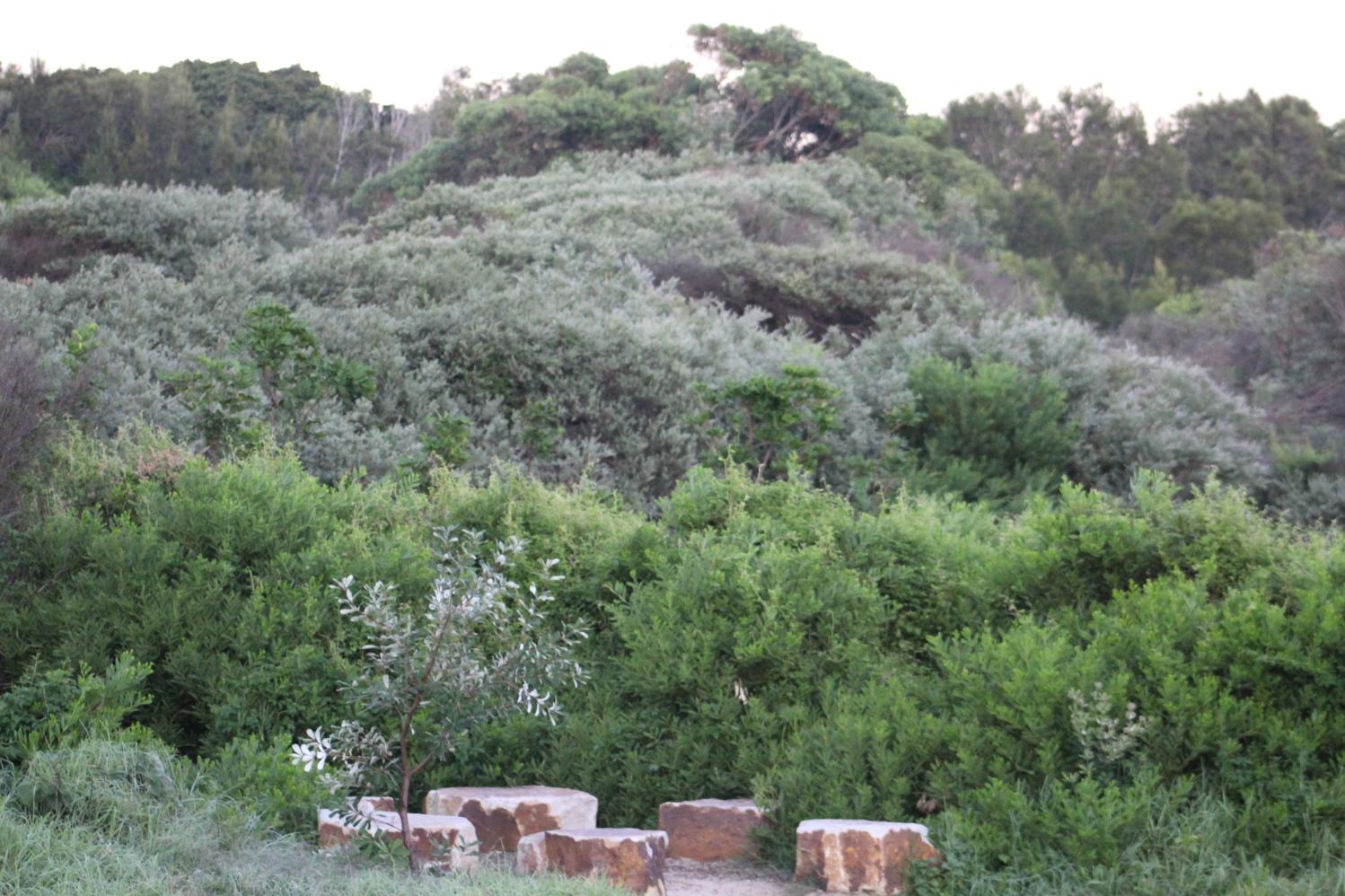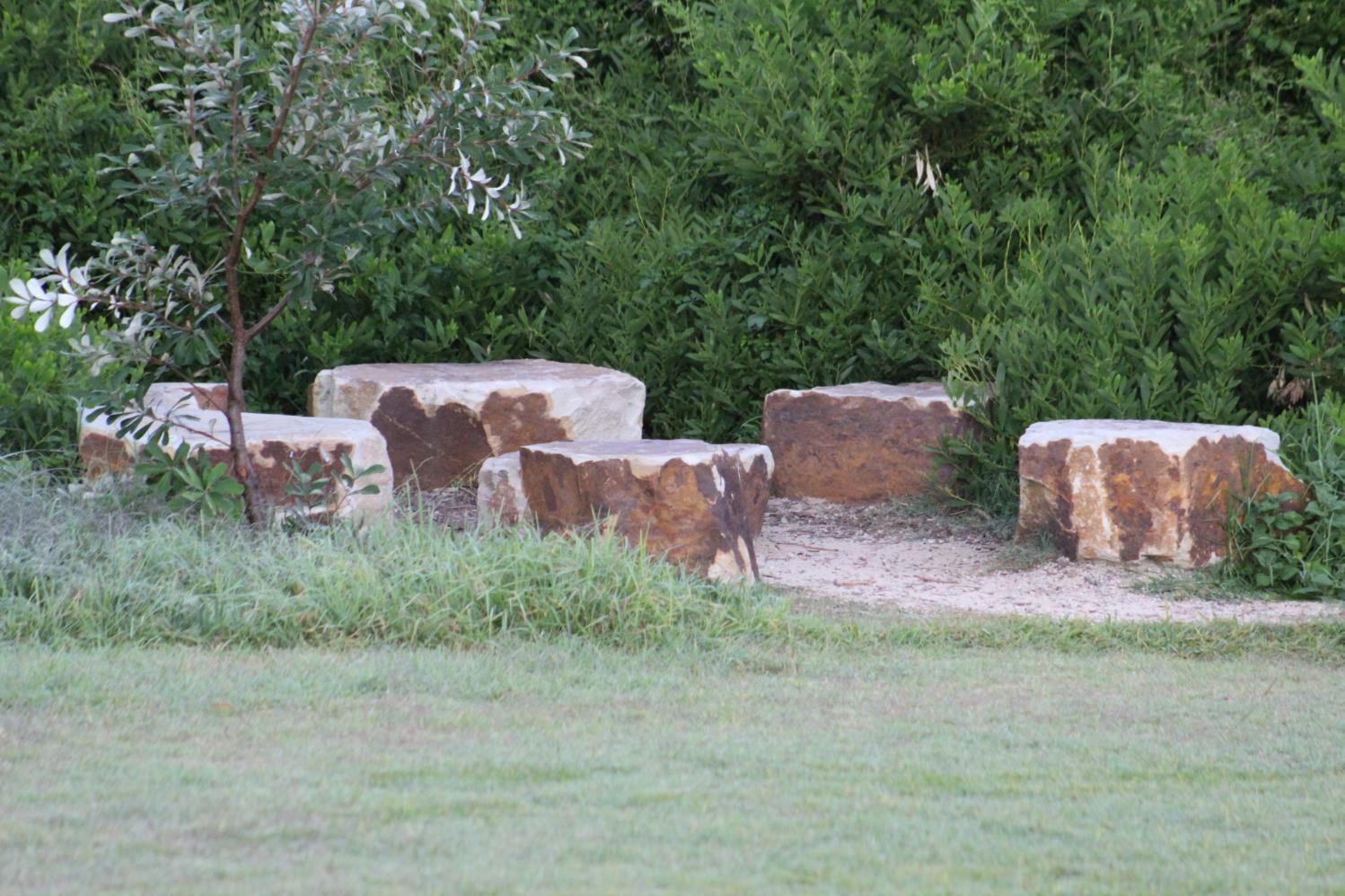 The Wide West
Published by NFSA - From The National Collection of the NFSA. Made for The Postmaster-General's Department 1955. Directed by Jennie Blackwood. A film surveying the lifestyle and industries of Western Australia and the role of the Royal Australian Mail Service throughout the state.
Reducing The Stigma Of Elder Abuse To Improve Older People's Health
Elder abuse causes declining physical and mental health in older people. But older people are often too ashamed to report it. Professor Bianca Brijnath is trialling a new model of care to help older people report abuse and improve their health.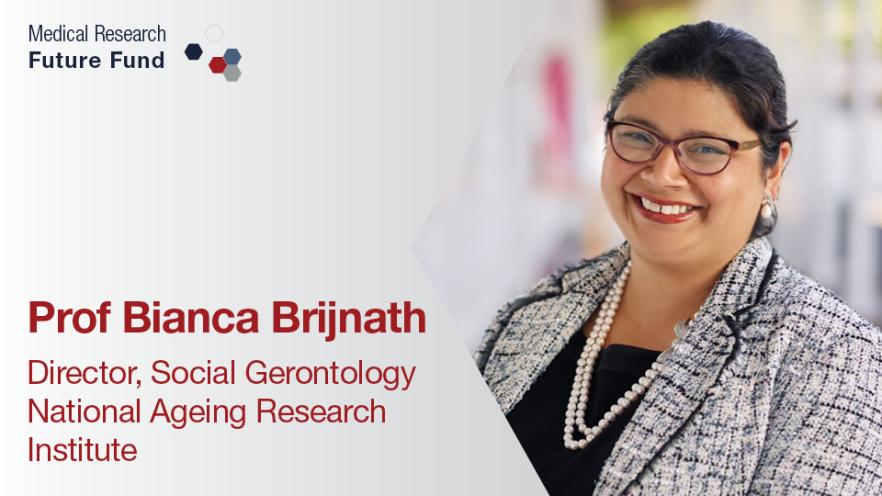 Elder abuse is usually done by family members
'One in six older Australians experience elder abuse,' says Professor Bianca Brijnath, Director of Social Gerontology at the National Ageing Research Institute.
Elder abuse is where an older person experiences some form of abuse. It can be physical, financial, social, sexual, or psychological.
'Sadly, elder abuse often occurs in a relationship of trust,' Bianca tells us. 'The main perpetrators of abuse of older people are their family members, often their adult children.'
Elder abuse can happen on a small or large scale
'An adult child might visit their parent and say, "I'll do the shopping for you." Mum gives her child her credit card and they use it to buy groceries for their family as well. Or Mum gives them $100. They spend $80 on groceries and keep the change.
'On a larger scale, families might tell older parents, "Sell your house and move in with us. You can live in a granny flat out the back. We'll look after you as you're getting a bit older and need more care at home."
'Families also use psychological manipulation. They might say, "If you don't transfer your assets into my name, I won't let you see the grandchildren."
'What can happen is the older person transfers their assets and then the family reneges on their commitment. Older people can end up in very difficult circumstances. They could be in their 80s and have no money or home.'
Older people can be ashamed and desperate
Older people who find themselves in this situation often don't seek help. This is because it is their own family perpetrating the abuse.
'Older people experience a great deal of shame and sadness when family members abuse them,' Bianca explains. 'It's a source of embarrassment. They think it's a reflection on their own parenting.
'Even if they are desperate, older people don't want to report their children to the police. They don't want to seek legal intervention.'
Health care providers can help
Health care providers are a trusted source of information and help for older people. For this reason, older people are more likely to disclose abuse to their health care provider.
'But often health care providers don't know how to look for signs of abuse,' Bianca says. 'They don't know what to do when the disclosure happens. That is a missed opportunity.'
Bianca's research will address this problem by upskilling health care providers to recognise the signs of elder abuse and make a timely referral to specialist care and social workers.
Specialist professionals can give the older person the help they need. They can offer wrap-around services including family mediation to stop the abuse, and financial and housing assistance.
A model of care for change
Bianca co-designed a support model of care for hospital health care providers. The model includes:
training for health care providers on elder abuse and how to screen for it
a screening tool
a site champion for more help and support.
Bianca worked with family carers, older people, hospital health care providers and elder abuse experts on the design of the model.
'Stakeholders at the co-design workshops gave us great advice on the skills that heath care providers will need,' Bianca says.
'They talked about empathy, respect and putting older people at the centre. They said the provider must have absolute loyalty to the older person.'
Creating greater awareness of elder abuse
Bianca hopes her new support model will achieve:
greater awareness of elder abuse across the health system
more confidence and knowledge in health care providers about engaging in this issue
willingness of health and social care providers to use the screening tool.
If the trial creates these results, stakeholders want to roll out the program in the community. 'We'd love to see this used in residential aged care and community-based aged care,' Bianca agrees.
The MRFF funded Bianca's No More Shame project with $1.5 million.
Get help now:
Call the elder abuse phone line - 1800 ELDERHelp (1800 353 374) is a free call phone number that automatically redirects callers seeking information and advice on elder abuse with the phone service in their state or territory.
The phone line has been set up in collaboration with state and territory governments.
Cell Protein Discovery Points To Healthier Aging
University of Queensland Researchers have found an anti-aging function in a protein deep within human cells. Researchers have discovered that a protein called ATSF-1 controls a fine balance between the creation of new mitochondria and the repair of damaged mitochondria.
Associate Professor Steven Zuryn and Dr Michael Dai at the Queensland Brain Institute have discovered that a protein called ATSF-1 controls a fine balance between the creation of new mitochondria and the repair of damaged mitochondria.
Mitochondria, with their own DNA, produce energy within cells to power biological functions but the toxic by-products of this process contribute to the rate at which the cell ages.
"In conditions of stress, when mitochondrial DNA has been damaged, the ATSF-1 protein prioritises repair which promotes cellular health and longevity," Dr Zuryn said.
As an analogy, Dr Zuryn likened the relationship to a race car needing a pitstop.
"ATSF-1 makes the call that a pitstop is needed for the cell when mitochondria need repairs," he said.
"We studied ATFS-1 in C. elegans, or round worms and saw that enhancing its function promoted cellular health, meaning the worms became more agile for longer.
"They didn't live longer, but they were healthier as they aged."
"Mitochondrial dysfunction lies at the core of many human diseases, including common age-related diseases such as dementias and Parkinson's.
"Our finding could have exciting implications for healthy ageing and for people with inherited mitochondrial diseases."
Understanding how cells promote repair is an important step towards identifying possible interventions to prevent mitochondrial damage.
"Our goal is to prolong the tissue and organ functions that typically decline during ageing by understanding how deteriorating mitochondria contribute to this process," Dr Dai said.
"We may ultimately design interventions that keep mitochondrial DNA healthier for longer, improving our quality of life," Dr Dai said.
This research was published in Nature Cell Biology.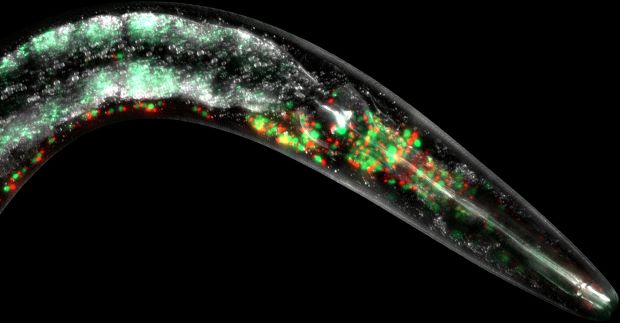 Chuan-Yang Dai, Chai Chee Ng, Grace Ching Ching Hung, Ina Kirmes, Laetitia A. Hughes, Yunguang Du, Christopher A. Brosnan, Arnaud Ahier, Anne Hahn, Cole M. Haynes, Oliver Rackham, Aleksandra Filipovska, Steven Zuryn.
ATFS-1 counteracts mitochondrial DNA damage by promoting repair over transcription.
Nature Cell Biology, 2023; DOI:
10.1038/s41556-023-01192-y
Image above left: UQ researchers studied proteins in the mitochondria of cells in round worms, lit up red and green, and found one which prioritises repair promoting cellular health and longevity.

Release Of The Independent Capability Review Of The Aged Care Quality And Safety Commission
The Hon Anika Wells MP, Minister for Aged Care:
Quality and safety in aged care is of utmost importance.
In October last year, the Australian Government brought forward this review because it is critical that the Commission is fit-for-purpose and can uphold best practice care for older people.
Mr Tune's report acknowledges the Commission has achieved a great deal, including in its implementation of new functions. But there remain gaps to overcome to ensure the Commission can successfully undertake its important role of ensuring the safety and wellbeing of older Australians.
I welcome the practical and constructive recommendations from Mr Tune, and will be carefully considering each of them as a matter of priority.
As a first step, I have directed the department to establish a senior level Steering Group (Recommendation 2.1) to advise Government on prioritisation and implementation of the recommendations.
Urgent matters raised by Mr Tune's preliminary report, also captured in his final report, were funded in the 2023–24 Budget, including $1.3 million for implementation support for the report and $19.8 million for the Aged Care Quality and Safety Commission for assessors.
Changing Perspectives: Testing An Ageism Intervention (2023)
July 13, 2023 - report by the Australian Human Rights Commission
The Commission's research aimed to contribute to a greater understanding of how negative perceptions of ageing and older adults may be shifted. The Commission set out to evaluate the effectiveness of a brief, one-off educational intervention in reducing ageist attitudes among workers in aged care and community settings.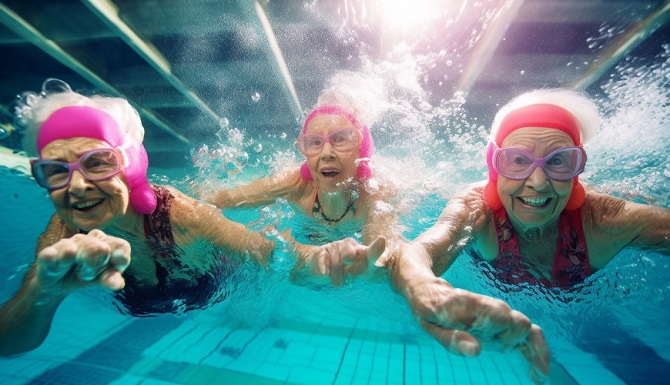 Surveys were conducted pre-workshop and at two follow-up points: immediately after the workshop and 2–3 months post-workshop. The age awareness survey was a single 2.5-hour interactive session that covered topics including common assumptions about ageism and older adults, and what we can do to reduce ageism. A total of 329 aged care and community workers participated in the research by doing at least one survey.
The results provide support for a brief, targeted intervention to drive positive changes in attitudes and behaviour that may be sustained over time.
Ageism is a serious problem. The World Health Organisation's 2021 Global Report on Ageism found that one in two people worldwide are ageist, and called ageism 'prevalent, ubiquitous, and insidious'. It's also widespread in Australia. The Australian Human Rights Commission's 2021 What's age got to do with it? report found that 90% of adults agree ageism exists in Australia, 83% consider it to be a problem, and 65% believe it affects people of all ages.
Ageism – particularly against older adults – is so deeply ingrained in our societal norms and values that it can be difficult to recognise within ourselves and our surroundings. For example, ageist language is often hidden behind humour and good intentions, and used without any intent or awareness of implicit bias against older adults.
Ageism can have serious consequences for older people's health and wellbeing. Studies have consistently shown links between ageism and adverse health outcomes such as shorter lifespan, reduced quality of life and wellbeing, physical and mental health conditions, and cognitive impairment.
A brief, one-off educational intervention can be a powerful tool in creating positive changes in attitudes and behaviours towards older people that may last over time.
We found statistically significant reductions in ageist attitudes and improvements in ageing expectations upon completion of the workshop, and these improvements remained at follow-up 2–3 months later.
These were the results in the follow-up survey: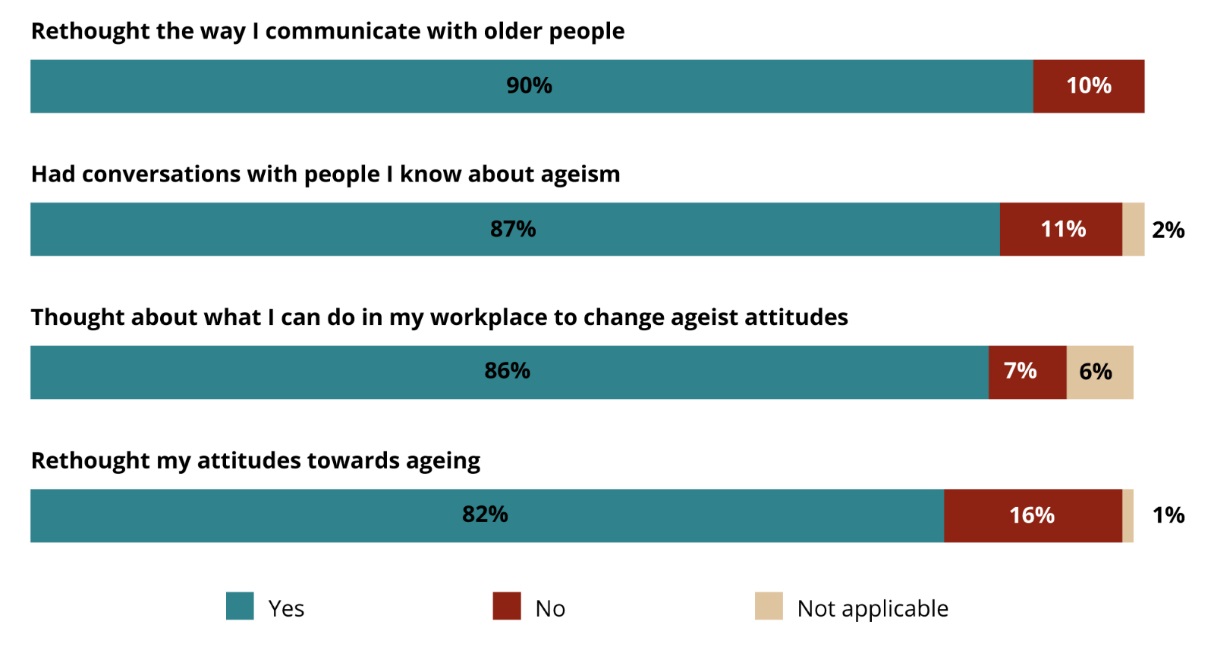 Post-workshop focus groups provided further examples of specific changes that occurred as a result of the workshop, including:
Avoiding making assumptions about people based on age.
Changing the language they use – e.g., not using elderspeak, not making unnecessary references to someone's age.
Being more collaborative in their interactions with older clients.
Respecting clients' autonomy and independence.
Seeing and treating each older person as an individual, focusing on people's capabilities, rather than their limitations.
Ramses & The Gold Of The Pharaohs
The Australian Museum, in cooperation with Egypt's Ministry of Tourism and Antiquities and World Heritage Exhibitions/Neon Global, is proud to present the blockbuster Ramses & the Gold of the Pharaohs, which will be the largest cultural exhibition to visit Australia in over a decade when it opens in Sydney on 18 November this year.

Exclusive to Sydney, Ramses & the Gold of the Pharaohs features 181 priceless artefacts including Egyptian treasures and one-of-a-kind relics, many representing the exceptional pharaoh himself and many of which have never left Egypt before. On this immersive journey visitors will discover a stunningly preserved collection of artefacts, including sarcophagi, animal mummies, magnificent jewellery, spectacular royal masks, exquisite amulets, and ornate golden treasures of the tomb, showcasing the superb workmanship of Egyptian artisans.
The exhibition also features a virtual reality experience that takes you on a whirlwind tour of two of Ramses' most impressive monuments: the temples of Abu Simbel and the Tomb of Queen Nefertari, the favourite Royal Consort of Pharaoh Ramses II. In cinematic motion chairs, viewers will fly through temples, sandstorms, and even come face-to-face with Ramses' mummy in this electrifying animated journey. Purchase the VR experience during your Ramses & the Gold of the Pharaohs ticket purchase checkout as an add-on.
This once-in-a-lifetime opportunity is both educational and exhilarating. Ramses & the Gold of the Pharaohs will give visitors an up-close look into the life, achievements, and stunning monuments of Ramses the Great.
Australian Museum Members have access to FREE and discounted tickets for Ramses & the Gold of the Pharaohs.
Become a Member today!
Australian Museum, Sydney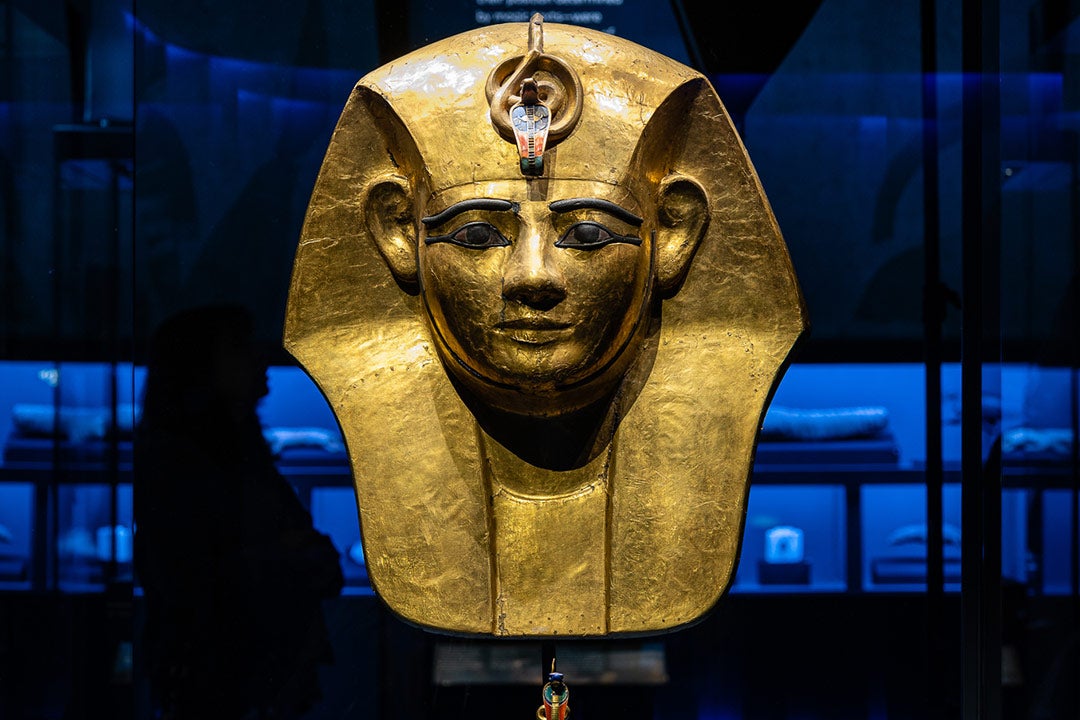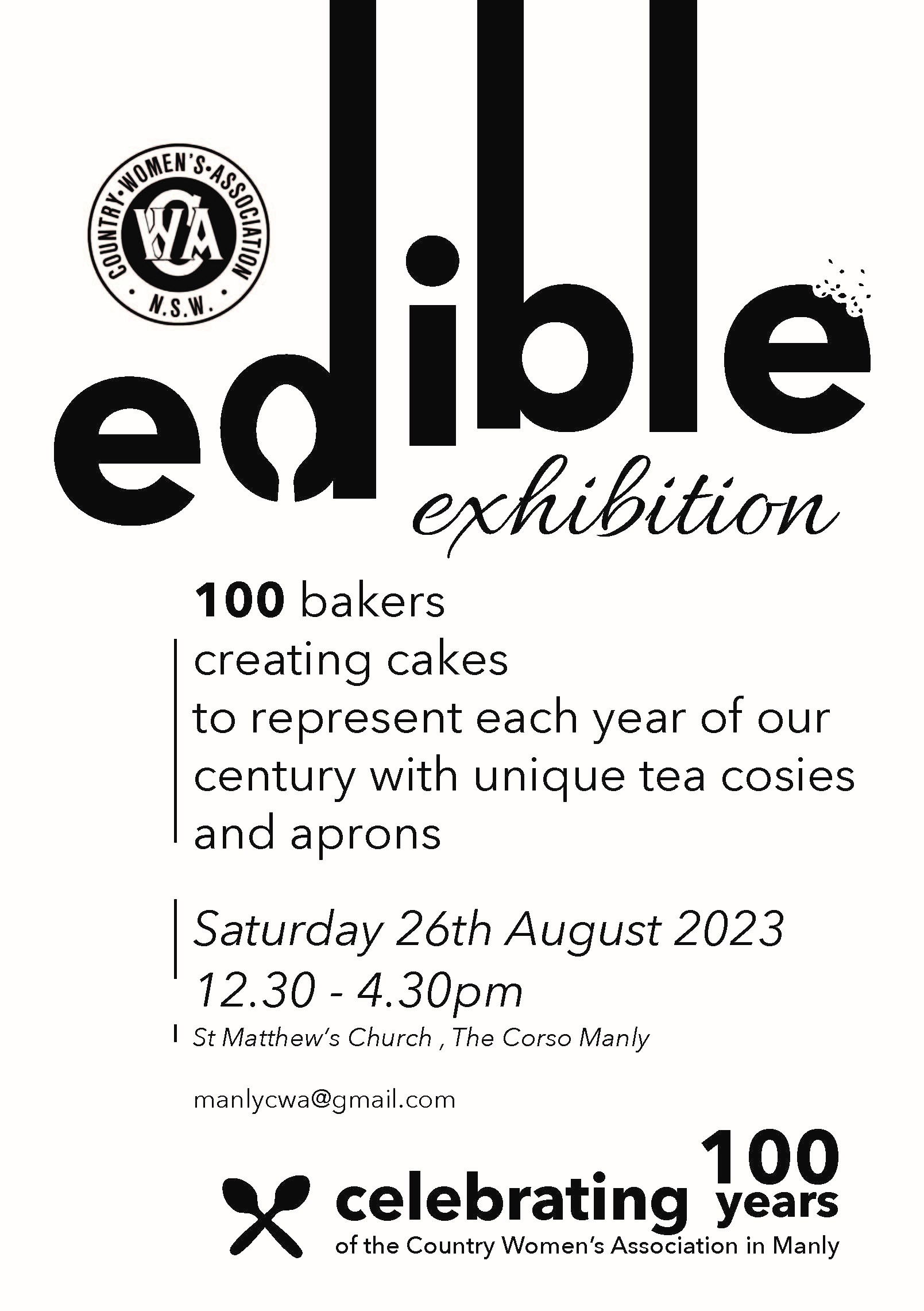 AvPals Term 3 At Newport
Register Online for Newport courses
Add your name to the list of others interested in one-to-one training at Avalon for future school terms. Please complete the form at the link below.
Remember to click the Submit button after completing the form. You will not be enrolled or be required to pay until you hear from our coordinator.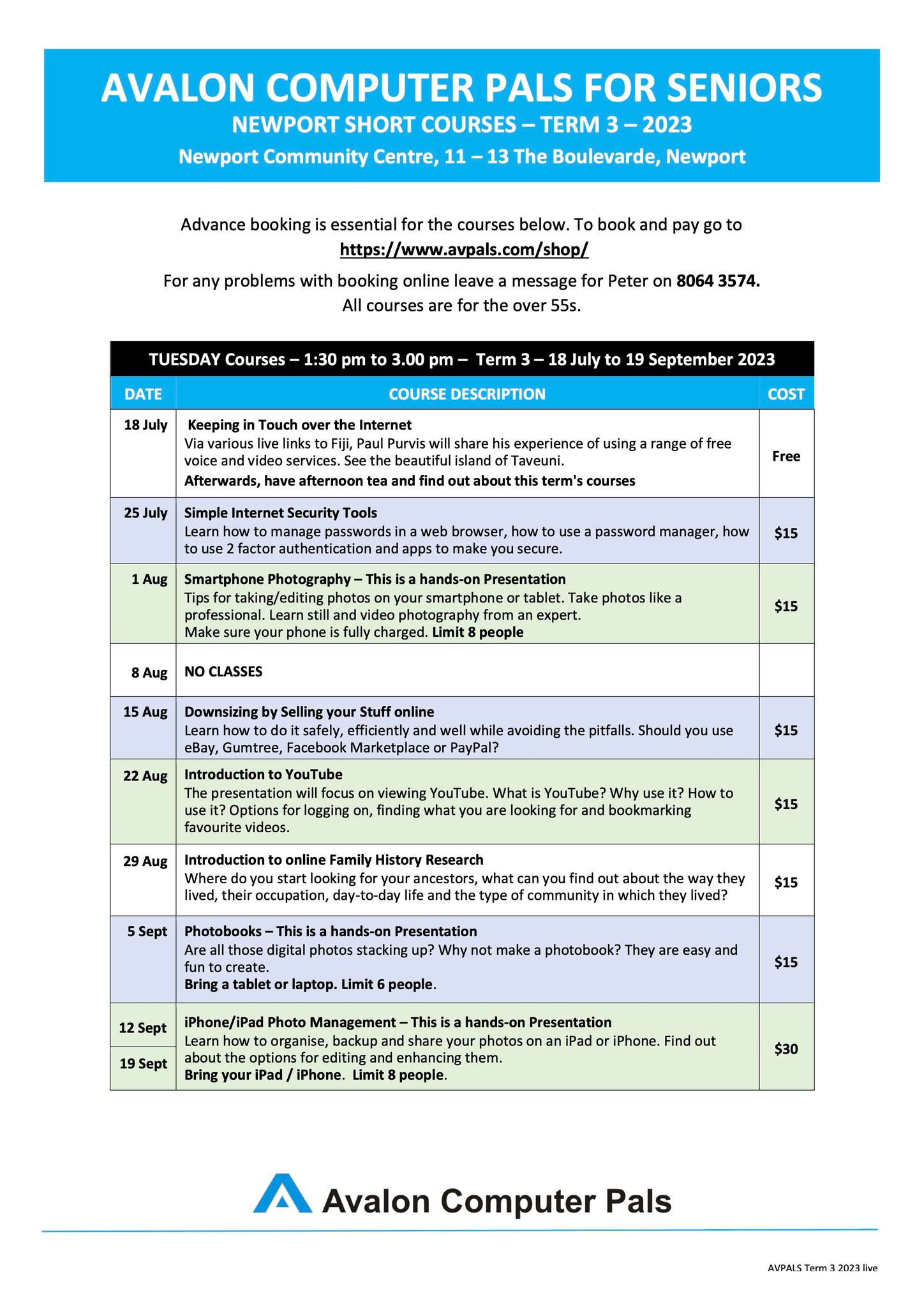 Australian Of The Year – Have Your Say
If you can think of somebody who deserves to be named Australian of the Year, Senior Australian of the Year, Young Australian of the Year or the Local Hero of the Year, you have until the end of July to nominate them.
By putting someone forward, you are showing that the efforts of a fellow Australian have not gone unnoticed. It takes only one nomination to elevate their voice, help them access more support, or give them the recognition they deserve.
Shortlisted nominees will be considered – and the four category recipients selected – by State or Territory selection panels comprised of people who reflect the diversity of the population.
National recipients will then be selected by the National Australia Day Council Board.
Nominations for the 2024 Awards close at midnight Australian Eastern Standard Time on 31 July 2023.
State and Territory winners will be announced in October and November, ahead of the main event in January, which will see all finalists invited to Canberra for four days of activities.
Clinical Trial To Help Millions With Penicillin Allergies
Many low-risk patients with a penicillin allergy were able to have their penicillin allergy label removed through a simple procedure known as 'directorial challenge' as part of a world-first multicenter randomized control trial known as the Penicillin Allergy Clinical Decision Rule (PALACE) study.
The study, undertaken by a team of researchers from specialised centres in North America and Australia, enrolled 382 adults who were assessed using a specialized risk assessment tool called PEN-FAST. Participants were randomly assigned to receive either a direct oral penicillin challenge or the standard approach (penicillin skin testing followed by an oral challenge). The primary goal was to determine if the direct oral penicillin challenge was no worse than the standard method of skin testing followed by oral challenge which needs to be performed in an allergist's office.
Penicillin allergy affects more than 25 million people in the United States (up to 1 in 10 Americans) and has been shown to lead to particularly poor health outcomes in pregnant women and surgical patients. It is also a public health threat, leading to antibiotic resistance and infections in hospitalized patients that can be life threatening.
Seventy-five% or more penicillin allergy labels come on by age 3 due to, for example, confusion with a viral rash. The majority of these rashes were never allergic, but the labels 'stick' into adulthood and carry many adverse consequences."
Many low-risk patients with a penicillin allergy were able to have their penicillin allergy label removed through a simple procedure known as "direct oral challenge" as part of a world-first multicenter randomized control trial known as the Penicillin Allergy Clinical Decision Rule (PALACE) study.
In the PALACE study, investigators randomized low-risk penicillin allergic patients to two different approaches to remove their allergy label. They either underwent the current standard of care to have skin testing followed if negative by oral challenge with a penicillin or they went straight to oral challenge ("direct oral challenge") without preceding skin testing.
"The majority of patients labelled as penicillin allergic, more than 90%, have low-risk histories, meaning they did not have a history to suggest a severe or more recent reaction to a penicillin," said PALACE study protocol member and Vanderbilt University Medical Center principal investigator Elizabeth Phillips, MD, the John Oates Professor of Clinical Research. "We would expect more than 95% of these patients to have negative testing and be able to take penicillin in the future."
Only one patient (0.5%) in each group experienced a positive reaction to the penicillin challenge, demonstrating that the direct oral penicillin challenge performs just as well as the standard method. Importantly, there were no significant differences in adverse events between the two groups, and no serious adverse events were reported.
The findings have wide-ranging implications for patients. By accurately identifying low-risk penicillin allergy patients, health care providers can ensure appropriate antibiotic prescriptions. Patients with a documented penicillin allergy are more likely to be prescribed alternative antibiotics, known as second-line antibiotics, which are often not as effective against certain infections and may have more side effects.
"Patients with penicillin allergy are more likely to get second-line or broader spectrum antibiotics that lead to risk of antibiotic resistance and serious infections such as antibiotic-associated diarrhea due to Clostridioides difficile, which can spread through hospitals and become a major public health problem." Phillips said. "In the U.S. increasingly we also have a major problem with other antibiotic-resistant 'superbugs' such as multi-resistant gram-negative infections, Candida auris and even a resurgence of syphilis for which penicillin is the best treatment and the only treatment that should be used in pregnancy to prevent transmission to an unborn child.
"The evidence provided by the PALACE study will change clinical practice. Many patients in the United States do not have direct access to an allergist to provide specialized testing such as skin testing. Therefore, the ability to go to direct oral challenge with a penicillin in low-risk patients which can be carried out in any observed setting will make it easier for patients in the United States to access health care to safely and effectively remove the label of penicillin allergy," she said.
The PALACE study was led by Ana-Maria Copaescu, MD, PhD, McGill University Health Centre, Montréal, and senior author Jason Trubiano. PhD, Center for Antibiotic Allergy and Research, Department of Infectious Diseases at Austin Health. Cosby Stone, MD, assistant professor of Medicine in the Division of Allergy, Pulmonology, and Critical Care Medicine, was a co-investigator for VUMC.
Ana Maria Copaescu, Sara Vogrin, Fiona James, Kyra Y. L. Chua, Morgan T. Rose, Joseph De Luca, Jamie Waldron, Andrew Awad, Jack Godsell, Elise Mitri, Belinda Lambros, Abby Douglas, Rabea Youcef Khoudja, Ghislaine A. C. Isabwe, Genevieve Genest, Michael Fein, Cristine Radojicic, Ann Collier, Patricia Lugar, Cosby Stone, Moshe Ben-Shoshan, Nicholas A. Turner, Natasha E. Holmes, Elizabeth J. Phillips, Jason A. Trubiano.
Efficacy of a Clinical Decision Rule to Enable Direct Oral Challenge in Patients With Low-Risk Penicillin Allergy
. JAMA Internal Medicine, 2023; DOI:
10.1001/jamainternmed.2023.2986
Discovery Could Lead To More Treatments To Prevent Cancer And Infectious Diseases
Researchers have cracked how a particular type of immune cell develops in the body and protects against infection and disease. And the discovery could help in the development of more preventive treatments, according to a new study.
The research, led by Murdoch Children's Research Institute and Federation University Australia, has uncovered how these specialised white blood cells operate and can produce an immune response.
Associate Professor Dan Pellicci said by understanding the function of these cells, they could be harnessed to help prevent cancer and highly infectious diseases such as COVID-19, Strep A and tuberculosis.
Published in Science Immunology, the study involved samples donated to the Melbourne Children's Heart Tissue Bank from heart surgery patients up to 16 years old. From these samples, the researchers looked at the role of 'gamma delta T cells' within the thymus gland, a small organ located within the chest, close to the heart.
Associate Professor Pellicci said the study showed for the first time how this organ produced these infection-fighting immune cells.
"We have large numbers of these specialised cells in our blood and tissues, which accumulate as we become adults. Until our study, it was unclear how these cells develop in the body," he said.
"We have shown how these cells are trained over three stages, similar to receiving a primary, secondary and tertiary education, and fully formulate within the thymus. Following this education, the cells are ready to enter the rest of the body and are completely capable of fighting infections."
Associate Professor Pellicci said previous studies suggested that these immune cells were mainly derived in the liver during a baby's development in the womb, but this research debunked that theory.
"Many experts assumed that after birth, the thymus played little role in the development of these cells as we age, but we now know this little unsung organ helps the body prepare for a lifetime of good health," he said.
"The more we know about these cells the greater the likelihood of unlocking new ways to treat infectious diseases and cancer."
Researchers from the University of Melbourne, The Fiona Elsey Cancer Research Institute, Federation University, Peter Doherty Institute for Infection and Immunity, Melbourne Centre for Cardiovascular Genomics and Regenerative Medicine, The Royal Children's Hospital and the Walter and Eliza Hall Institute of Medical Research also contributed to the findings.
Louis Perriman, Naeimeh Tavakolinia, Sedigheh Jalali, Shuo Li, Peter F. Hickey, Daniela Amann-Zalcenstein, William Wing Ho Ho, Tracey M. Baldwin, Adam T. Piers, Igor E. Konstantinov, Jeremy Anderson, Edouard G. Stanley, Paul V. Licciardi, George Kannourakis, Shalin H. Naik, Hui-Fern Koay, Laura K. Mackay, Stuart P. Berzins, Daniel G. Pellicci.
A three-stage developmental pathway for human Vγ9Vδ2 T cells within the postnatal thymus
. Science Immunology, 2023; 8 (85) DOI:
10.1126/sciimmunol.abo4365
Ketamine Effective For Treatment-Resistant Depression Study Suggests
A low-cost version of ketamine to treat severe depression has performed strongly in a double-blind trial that compared it with placebo.
In research published today in the British Journal of Psychiatry, researchers led by UNSW Sydney and the affiliated Black Dog Institute found that more than one in five participants achieved total remission from their symptoms after a month of bi-weekly injections, while a third had their symptoms improve by at least 50 per cent. The study was a collaboration between six academic clinical mood disorder units in Australia and one in New Zealand and was funded by the Australian National Health and Medical Research Council (NHMRC

).
"For people with treatment-resistant depression -- so those who have not benefitted from different modes of talk-therapy, commonly prescribed antidepressants, or electroconvulsive therapy -- 20 per cent remission is actually quite good," lead researcher Professor Colleen Loo says.
"We found that in this trial, ketamine was clearly better than the placebo -- with 20 per cent reporting they no longer had clinical depression compared with only 2 per cent in the placebo group. This is a huge and very obvious difference and brings definitive evidence to the field which only had past smaller trials that compared ketamine with placebo."
The researchers recruited 179 people with treatment-resistant depression. All were given an injection of either a generic form of ketamine that is already widely available in Australia as a drug for anaesthesia and sedation -- or placebo. Participants received two injections a week in a clinic where they were monitored for around two hours while acute dissociative and sedative effects wore off -- usually within the first hour. The treatment ran for a month and participants were asked to assess their mood at the end of the trial and one month later.
As a double-blind trial, neither participants nor researchers administering the drug were aware which patients received generic ketamine or placebo, to ensure psychological biases were minimised. Importantly, a placebo was chosen that also causes sedation, to improve treatment masking. Midazolam is a sedative normally administered before a general anaesthetic, while in many previous studies the placebo was saline.
"Because there are no subjective effects from the saline, in previous studies it became obvious which people were receiving the ketamine and which people received placebo," Prof. Loo says.
"In using midazolam -- which is not a treatment for depression, but does make you feel a bit woozy and out of it -- you have much less chance of knowing whether you have received ketamine, which has similar acute effects."
Other features of the recent trial that set it apart from past studies included accepting people into the trial who had previously received electroconvulsive therapy (ECT).
"People are recommended ECT treatment for their depression when all other treatments have been ineffective," Prof. Loo says.
"Most studies exclude people who have had ECT because it is very hard for a new treatment to work where ECT has not."
Another difference about this trial was that the drug was delivered subcutaneously (injected into the skin) rather than by drip, thus greatly reducing time and medical complexity. The study is also the largest in the world to date that compares generic ketamine with placebo in treating severe depression.
Much more affordable
Apart from the positive results, one of the standout benefits of using generic ketamine for treatment-resistant depression is that it is much cheaper than the patented S-ketamine nasal spray currently in use in Australia. Where S-ketamine costs about $800 per dose, the generic ketamine is a mere fraction of that, costing as little as $5, depending on the supplier and whether the hospital buys it wholesale. On top of the cost for the drug, patients need to pay for the medical care they receive to ensure their experience is safe -- which at Black Dog Institute clinics, comes to $350 per session.
"With the S-ketamine nasal spray, you are out of pocket by about $1200 for every treatment by the time you pay for the drug and the procedure, whereas for generic ketamine, you're paying around $300-350 for the treatment including the drug cost," Prof. Loo says.
She adds that for both S-ketamine and generic ketamine treatments, the positive effects often wear off after a few days to weeks, so ongoing treatment may be required, depending on someone's clinical situation. But the prohibitive costs of the drug and procedure make this an unsustainable proposition for most Australians.
"This is why we're applying for a Medicare item number to fund this treatment now, because it's such a powerful treatment.
"And if you consider that many of these people might spend many months in hospital, or be unable to work and are often quite suicidal, it's quite cost effective when you see how incredibly quickly and powerfully it works. We've seen people go back to work, or study, or leave hospital because of this treatment in a matter of weeks."
The researchers will next be looking at larger trials of generic ketamine over longer periods, and refining the safety monitoring of treatment.
Participating trial sites
UNSW / Black Dog Institute
Royal Prince Alfred Hospital / University of Sydney
NeuroCentrix Research Institute
Royal Adelaide Hospital / University of Adelaide
Monash Alfred Psychiatry Research Centre / Monash University
University of Otago
Gold Coast University Hospital
Institutions of non-site collaborators
Deakin University
University of Newcastle
The George Institute for Global Health
University of Western Australia
If you or someone you know needs help please contact
Colleen Loo, Nick Glozier, David Barton, Bernhard T. Baune, Natalie T. Mills, Paul Fitzgerald, Paul Glue, Shanthi Sarma, Veronica Galvez-Ortiz, Dusan Hadzi-Pavlovic, Angelo Alonzo, Vanessa Dong, Donel Martin, Stevan Nikolin, Philip B. Mitchell, Michael Berk, Gregory Carter, Maree Hackett, John Leyden, Sean Hood, Andrew A. Somogyi, Kyle Lapidus, Elizabeth Stratton, Kirsten Gainsford, Deepak Garg, Nicollette L. R. Thornton, Célia Fourrier, Karyn Richardson, Demi Rozakis, Anish Scaria, Cathrine Mihalopoulos, Mary Lou Chatterton, William M. McDonald, Philip Boyce, Paul E. Holtzheimer, F. Andrew Kozel, Patricio Riva-Posse, Anthony Rodgers.
Efficacy and safety of a 4-week course of repeated subcutaneous ketamine injections for treatment-resistant depression (KADS study): randomised double-blind active-controlled trial.
The British Journal of Psychiatry, 2023; 1 DOI:
10.1192/bjp.2023.79
Music To Our Ears! New Study Reveals Musical Rhythms Can Improve Language Processing Of Children With Developmental Language Disorder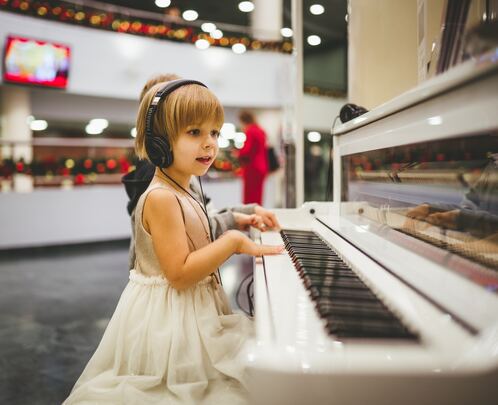 A new study led by a Western Sydney University researcher has found that musical rhythms can help children with speech and language processing difficulties in finding their voice by improving their capacity to repeat sentences they just heard.
Published in Springer Nature's npj: Science of Learning, the study was conducted at the Lyon Neuroscience Research Center in France with 15 French speaking children with Developmental Language Disorder (DLD) and 18 typically developing French speaking children without language processing difficulties between the ages of 5 and 13 years.
Co-lead author, cognitive psychologist Dr Anna Fiveash from Western Sydney University's MARCS Institute for Brain, Behaviour and Development said the children listened to music with regular and irregular rhythms for 30 seconds before being asked to repeat back sets of six sentences as accurately as they could, with remarkable results.
"We found that across all of the children – including those with language problems – the sentences were better able to be repeated out loud after the children had heard the regular musical rhythms compared to the irregular musical rhythms," said Dr Fiveash.
"This finding that regular rhythms can boost sentence repetition is striking, considering that children with developmental language disorder have particular difficulty in repeating sentences out loud, especially when they are grammatically complex."
Dr Fiveash said there was no difference in performance on a control task that did not involve language, suggesting that the benefit of the regular musical rhythm was specific to the language task itself.
Researchers used regular rhythms (opens in new window)Opens in a new window that were at 120 beats per minute in 4/4 time, so that the listener would feel the beat two times per second. Irregular rhythms were created by scrambling the regular rhythms used so that it was not possible to extract a beat.
Co-author of the study, Dr Enikő Ladányi from Vanderbilt University Medical Centre said the results of the study are an exciting breakthrough that has shed new light on neurodevelopmental disorders, specifically for the advancement of DLD research and speech therapy practice.
"Limitations in language processing in children with DLD can result in a struggle to understand their peers, teachers, and parents; making it difficult to efficiently express thoughts, which can lead to lifelong consequences in individuals' academic and social lives," said Dr Ladányi.
"Effective speech-language therapy is essential to mitigate these consequences to improve developmental outcomes for children, and our latest findings could help supplement and improve current speech therapy guidelines and practices."
Examples of the regular and irregular musical rhythms used in the study can be accessed here (opens in new window)Opens in a new window.
The study, 'Regular rhythmic primes improve sentence repetition in children with developmental language disorder', was supported by the National Institute on Deafness and Other Communication Disorders of the United States National Institutes of Health, and the French National Centre for Scientific Research (CNRS). To access the online paper with full funding details and disclaimers,
click here
.
Dr Anna Fiveash previously worked at the Lyon Neuroscience Research Center in France and completed the study there together with co-authors CNRS Research Director, Professor Barbara Tillmann, and Associate Professor Nathalie Bedoin.
The following opinion piece co-authored by Associate Professor Awais Piracha and Adjunct Associate Professor George Greiss, both from the School of Social Sciences of Western Sydney University , and was first published with full links on The Conversation
The following opinion piece co-authored by Naama Blatman, Research Theme Fellow, Urban Living Futures & Society, Western Sydney University, and was first published with full links on The Conversation
Fungi Blaze A Trail To Fireproof Cladding
Scientists have shown it's possible to grow fungi in thin sheets that could be used for fire-retardant cladding or even a new kind of fungal fashion. Mycelium, an incredible network of fungal strands that can thrive on organic waste and in darkness, could be a basis for sustainable fireproofing. RMIT researchers are chemically manipulating its composition to harness its fire-retardant properties.
Associate Professor Tien Huynh, an expert in biotechnology and mycology, said they've shown that mycelium can be grown from renewable organic waste.
"Fungi are usually found in a composite form mixed with residual feed material, but we found a way to grow pure mycelium sheets that can be layered and engineered into different uses -- from flat panels for the building industry to a leather-like material for the fashion industry," said Huynh, from the School of Science.
The novel method of creating mycelium sheets that are paper-thin, like wallpaper, works without pulverising the mycelium's filament network. Instead, they used different growth conditions and chemicals to make the thin, uniform and -- importantly -- first resistant, material.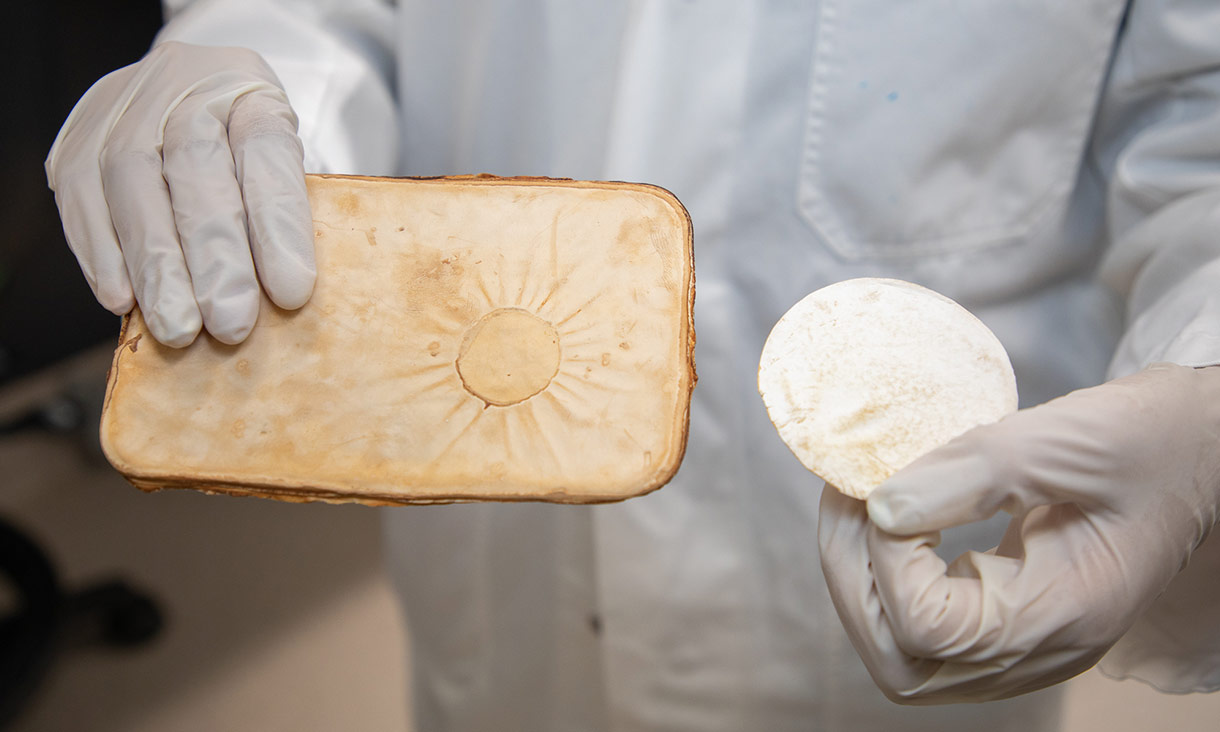 Chulikavit shows off the compressed mycelium sheets she created for the project. Photo: RMIT

Fungi fireproofing our buildings
The researchers are focused on creating bio-derived, fire-retardant cladding for buildings to prevent tragedies like the Grenfell Tower fire, in which the deadly blaze was accelerated by a highly combustible cladding component.
Associate Professor Everson Kandare, an expert in the flammability and thermal properties of biomaterials and co-author of the paper, said the mycelium has strong potential as a fireproofing material.
"The great thing about mycelium is that it forms a thermal protective char layer when exposed to fire or radiant heat. The longer and the higher temperature at which mycelium char survives, the better its use as a fireproof material," said Kandare.
Beyond being effective, mycelium-based cladding can be produced from renewable organic waste and is not harmful to the environment when burned, he explained.
Where composite cladding panels are used, they usually contain plastics -- which produce toxic fumes and heavy smoke when they burn.
"Bromide, iodide, phosphorus and nitrogen-containing fire retardants are effective, but have adverse health and environmental effects. They pose health and environmental concerns, as carcinogens and neurotoxins that can escape and persist in the environment cause harm to plant and animal life," said Kandare.
"Bioderived mycelium produces naturally occurring water and carbon dioxide."
Bringing the research to life
This research could eventually lead to improved and eco-friendly cladding for buildings.
"Plastics are quick and easy to produce, whereas fungi is slow to grow and relatively harder to produce at scale," said Huynh.
"However, we've been approached by the mushroom industry about using their fungal-incorporated waste products. Collaborating with the mushroom industry would remove the need for new farms while producing products that meet fire safety needs in a sustainable way."
The researchers are now looking to create fungal mats reinforced by engineering fibres to delay ignition, reduce the flaming intensity and improve fire safety ranking.
This project is a major collaboration involving RMIT University, the University of New South Wales, the Hong Kong Polytechnic University and the Australian Research Council Training Centre in Fire Retardant Materials and Safety Technologies.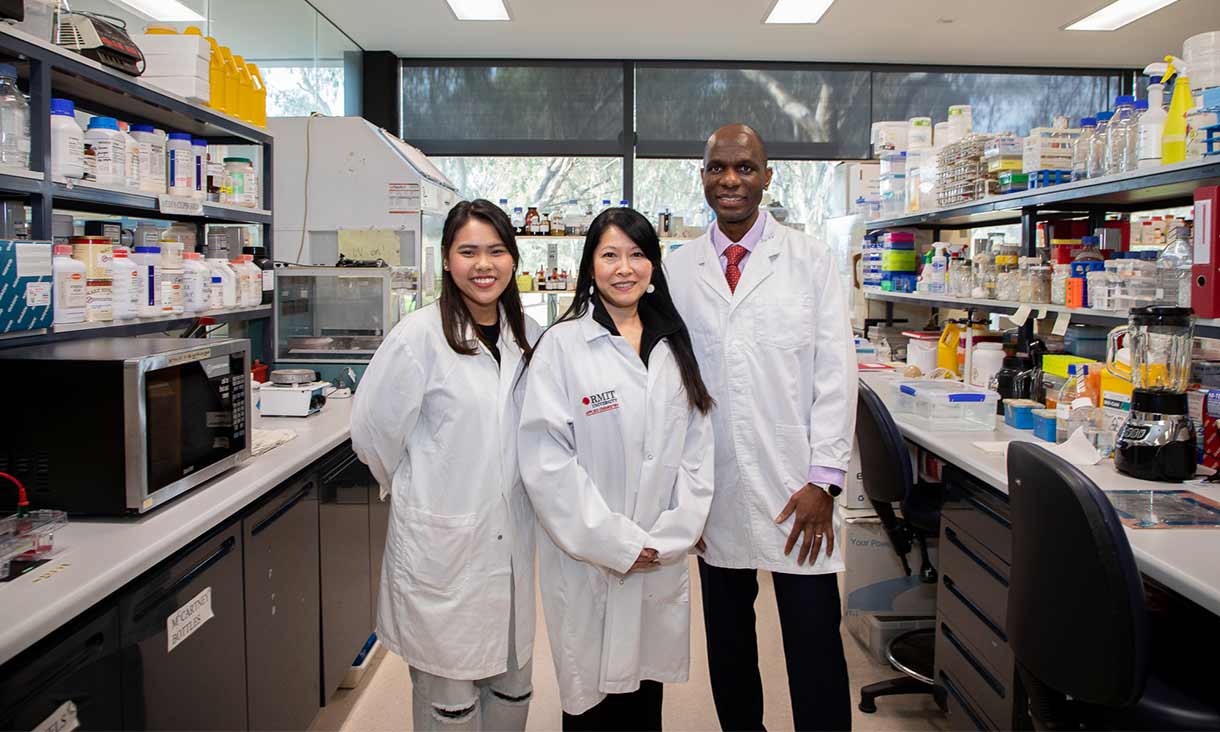 The research team Nattanan (Becky) Chulikavit (left), Associate Professor Tien Huynh (middle) and Associate Professor Everson Kandare (right) in their lab at RMIT's Bundoora campus. Photo: RMIT

Nattanan Chulikavit, Cheng Wang, Tien Huynh, Anthony Chun Yin Yuen, Akbar Khatibi, Everson Kandare.
Fireproofing flammable composites using mycelium: Investigating the effect of deacetylation on the thermal stability and fire reaction properties of mycelium.
Polymer Degradation and Stability, 2023; 215: 110419 DOI:
10.1016/j.polymdegradstab.2023.110419
PFAS Reduce The Activity Of Immune Cells Study Suggests
Because they are persistent, per- and polyfluoroalkyl substances (PFAS) are also known as "chemicals for eternity." They can lead to liver damage, thyroid disorders, obesity, hormonal disorders, and cancer. A team of researchers from the Helmholtz Centre for Environmental Research (UFZ) has now shown that PFAS can also reduce the activity of human immune cells and thus impair health. The study was recently published in Chemosphere. The method developed at the UFZ could be used to reveal the immunomodulatory effects of other chemicals.
Whether in cosmetics, coated pans, or outdoor clothing -- PFAS are used in many everyday products. This is because PFAS are water- and fat-repellent, heat resistant, and extremely durable. PFAS have been produced since the 1950s and there are now around 10,000 different compounds. "PFAS are poorly to hardly biodegradable -- and that is a real problem," says UFZ environmental immunologist Dr Gunda Herberth. "They therefore accumulate in the environment -- in soils and bodies of water. They can even be found in Antarctica. They can enter the human body via food, drinking water, or the air. Studies have shown that PFAS can be detected in the blood of almost everyone in the world. What this means for our long-term health is not yet known.."
However, exposure to PFAS is known to cause liver damage, hormonal disorders and lower birth weights. Many epidemiological studies have shown an association between increased PFAS exposure and reduced immune responses after childhood vaccinations. Could PFAS be affecting our immune systems? And if so, how exactly? What happens in the immune cells? These were the questions that Gunda Herberth and further scientists set out to answer in their study.
Targeted look inside immune cells
To find out exactly what happens at the cellular level after PFAS exposure, the researchers used a special immunological measurement method they developed. "Using multiparameter spectral flow cytometry, we can detect up to 30 markers in a blood sample using different fluorescent dyes and thus identify many different immune cell types and their activation," explains UFZ environmental immunologist Dr Arkadiusz Pierzchalski, who developed the method together with Gunda Herberth. The team used immune cells from the blood of healthy donors. First, the isolated immune cells were exposed to different PFAS mixtures for 20 hours in the laboratory. "We selected six PFAS that are particularly common in the environment and prepared three mixtures. One mixture with three short-chain PFAS, one with three long-chain PFAS and one with all six PFAS," explains Ambra Maddalon, a toxicologist at the University of Milan and first author of the study with Arkadiusz Pierzchalski. "The immune cells were then stimulated using standard activation methods. The researchers then determined how active they were at the cellular level by using multi-parameter spectral flow cytometry.
PFAS significantly reduce the activity of T cells
The result: immune cells previously exposed to PFAS showed significantly lower activity than untreated cells. This was particularly true of T-cells. " For example, the T-cells produced less of the messenger substances they normally use to communicate with each other and to recruit other immune cells or to trigger inflammation" says Gunda Herberth. "The strongest effects occurred when all six PFAS were mixed. Here, the effects of the different PFAS are clearly compounded. PFAS reduced the activity of two out of five types of immune cells in particular: MAIT cells (mucosa-associated invariant T cells) and T-helper cells. MAIT cells are found in the mucous membranes and form the first effective defence response. "If the activity of MAIT cells is restricted, it is much easier for pathogens to invade the body," says Gunda Herberth. "T-helper cells are involved in the production of antibodies. If they are inhibited by PFAS, it is likely that fewer antibodies are produced -- which could explain the reduced immune response to vaccination.
Further investigations carried out at the genetic level were consistent with the results at the cellular level: genes that normally play a role in T-cell activation were down-regulated after PFAS exposure. "Our study clearly shows that PFAS reduce the activity of immune cells," says Gunda Herberth. "If a person is exposed to high levels of PFAS, this is likely to be reflected in their health. For example, through a higher susceptibility to infections."
The immunomodulating effect should not be underestimated
In February 2023, the European Chemicals Agency (ECHA) published a proposal to further restrict the use of PFAS. A decision by the European Commission is expected in 2025. "Unfortunately, even if PFAS are completely banned, they will not disappear from the environment any time soon," says Gunda Herberth. "It is therefore important to gain a better understanding of the effects these substances can have on our health. In further studies, the UFZ team plans to simulate in vitro PFAS mixtures and concentrations as they occur "naturally" in human blood and determine their effects on immune cells.
"So far, tests for immunotoxic or immunomodulatory effects are not part of the regulatory testing and assessment procedures for chemicals. However, as many diseases -- from allergies to cancer -- can be traced back to a dysregulated immune system, we believe this is urgently needed," says Gunda Herberth. "We hope that with our study and our new and practical testing method, we can help pave the way for this to happen."
Ambra Maddalon, Arkadiusz Pierzchalski, Tobias Kretschmer, Mario Bauer, Ana C. Zenclussen, Marina Marinovich, Emanuela Corsini, Gunda Herberth.

Mixtures of per- and poly-fluoroalkyl substances (PFAS) reduce the in vitro activation of human T cells and basophils

. Chemosphere, 2023; 336: 139204 DOI: 10.1016/j.chemosphere.2023.139204
Arkadiusz Pierzchalski, Ana C. Zenclussen, Gunda Herberth.

OMIP‐94: Twenty‐four‐color (thirty‐marker) panel for deep immunophenotyping of immune cells in human peripheral blood.

Cytometry Part A, 2023; DOI: 10.1002/cyto.a.24766
Detecting Nanoplastics In Fractions Of A Second
It is well known that microplastics are a problem: They are tiny, barely visible plastic particles that can harm the environment, for example, if they are eaten by animals. However, it has been difficult to assess the effect of even smaller particles, which can hardly be detected using conventional methods: Plastic particles with a diameter of less than one micrometer commonly referred to as "nanoplastics." Such tiny particles can even be absorbed into living cells.
TU Wien (Vienna) has now succeeded in developing a measurement method which can even detect individual nanoplastic particles -- orders of magnitude faster than previous techniques. These results have now been published in the journal Scientific Reports. The new method now has the potential to become the basis for new measurement devices for environmental analysis.
Detecting molecules by wavelength
"We use a physical principle that has also often been used in chemical analysis, namely Raman scattering," explains Sarah Skoff, group leader of the "Solid State Quantum Optics and Nanophotonics" research group at TU Wien. In this process, molecules are illuminated with a laser beam, causing them to vibrate. Part of the energy of the laser light is thus converted into vibrational energy, while the rest of the energy is re-emitted in the form of light.
By measuring this light and comparing its energy with the laser light that was originally emitted, the vibrational energy of the molecule is determined -- and because different molecules vibrate in different ways, it is possible to find out which molecule it is.
"Ordinary Raman spectroscopy, however, would not be suitable for detecting the smallest nanoplastics," says Sarah Skoff. "It would be far too insensitive and take far too long." The research team therefore had to search for physical effects that could significantly improve this technique.
The trick with the gold grid
To do this, they adapted a method that has already been used in a similar form to detect biomolecules. The sample is thereby put onto an extremely fine grid made of gold. The individual gold wires are only 40 nanometers thick and about 60 nanometers apart. "This metal grid acts like an antenna," says Sarah Skoff. "The laser light is amplified at certain points -- so there is a much more intense interaction with the molecules there. There is also an interaction between the molecule and the electrons in the metal lattice, which ensures that the light signal from the molecules is additionally amplified."
In ordinary Raman spectroscopy, the light that is then emitted by the molecules is normally broken down into all its wavelengths to identify which molecule it is. However, the TU Wien team was able to show that the technique can also be simplified: "We know what the characteristic wavelengths of the nanoplastic particles are, and so we look very specifically for signals at precisely these wavelengths," Skoff explains. "We were able to show that this can improve the measurement speed by several orders of magnitude. Previously, you had to measure for ten seconds to get a single pixel of the image you were looking for -- with us, it takes just a few milliseconds." Experiments with polystyrene (Styrofoam) showed that even at this very high speed, the nanoplastic particles can be reliably detected -- even at extremely low concentrations. Unlike other methods, this technique even allows the detection of individual particles.
The basis for new measurement devices
The research team now wants to investigate the potential applications of the new technique in more detail -- for example, how it can be used to detect nanoplastics in environmentally relevant and biological samples, such as blood. "In any case, we have now been able to show that the basic physical principle works," says Sarah Skoff. "In principle, this lays the foundation for the development of new measurement devices that could be used to examine samples directly in nature outside the laboratory in the future."
This research work was supported by the Austrian Research Promotion Agency (FFG, PhoQus2D) and the Austrian Science Fund (FWF, Quantoom).
Ambika Shorny, Fritz Steiner, Helmut Hörner, Sarah M. Skoff.
Imaging and identification of single nanoplastic particles and agglomerates.
Scientific Reports, 2023; 13 (1) DOI:
10.1038/s41598-023-37290-y
Into The Unknown: NASA Space Laser Provides Answers To A Rainforest Canopy Mystery
The space laser GEDI has allowed researchers to 3D map Earth's rainforests for the first time ever, helping us understand the forest canopy and providing vital information for understanding Earth's carbon cycle and how it is changing.
We know less about the rainforest canopy, where most of the world's species live than we do about the surface of Mars or the bottom of the ocean. However, that is about to change thanks to GEDI -- a NASA space laser that has provided a detailed structure of the world's rainforests for the first time ever.
"Tropical forests are mainly unstratified especially in Amazonia and regions with lower fertility or higher temperatures" reads the title of the recently published paper in Environmental Research Ecology that details the laser's findings. Authored by researchers from the U.S., the U.K. and Singapore, Christopher Doughty, professor in NAU's School of Informatics, Computing, and Cyber Systems and first author on the study, believes this research is crucial -- and long overdue -- in finding out more about the tropical ecosystems.
"Most of the world's species live in tropical forests and most of those make use of the canopy, and yet, we know so little," Doughty said. "Rainforest structure matters because it controls how animals access resources and escape predators, and these findings will help us understand tropical forest animal's susceptibility to climate change."
Research into forest canopies has come a long way. Early western visitors described tropical forests as horror vacui (nature abhorring a vacuum) since vegetation was "anxious to fill every available space with stems and leaves." Later, as scientists began to study tropical forests, they categorized the lush flora into forest layers -- a thick upper crown and a thick mid-layer with a thin layer in between. However, this was only observed in a few well-studied locations. The structure across most tropical forests was still unknown.
Then came GEDI, the Global Ecosystem Dynamics Investigation.

Image credit: Nicolle Fuller and Chris Doughty

"A key difference between GEDI and many other satellites is its measurement of three-dimensional canopy structure," said Hao Tang, professor in the Department of Geography at the National University of Singapore (NUS) and co-author on the paper. Tang, who is also a principal investigator at the NUS Centre for Nature-based Climate Solutions, added, "Conventional satellites, while providing valuable data on land cover and canopy greenness, often lack the detailed vertical information offered by GEDI. This vertical information is crucial for understanding ecosystem dynamics, carbon storage and biodiversity that cannot be easily seen from typical satellite images."
Launched in late 2018, NASA's GEDI shoots an invisible laser from the International Space Station into Earth's forests thousands of times a day. Depending on the amount of energy returned to the satellite, it can provide a detailed 3D map that shows where the leaves and branches are in a forest and how they change over time. This will help researchers understand the amounts of biomass and carbon forests store and how much they lose when disturbed -- vital information for understanding Earth's carbon cycle and how it is changing.
Doughty, Tang and the other authors of the paper analyzed GEDI data across all tropical forests and found that the structure was simpler and more exposed to sunlight than previously thought. Data also revealed that most tropical forests (80 percent of the Amazon and 70 percent of Southeast Asia and the Congo Basin) have a peak in the number of leaves at 15 meters instead of at the canopy top, debunking the fullest-at-the-top theory of early researchers. While forests vary, a key finding that seemed to remain constant in every scenario was that deviation from more ideal conditions (like lower fertility or higher temperatures) leads to shorter, less stratified forests with lower biomass.
"It was really surprising to see the dominance of this structure type because it differs from what we had learned in the classic textbooks on the topic," Doughty said. "These finding will not only help us understand how the millions of species that live in a rainforest canopy might acclimate to changing temperatures, but also how much carbon these forests hold and how good they are at fighting climate change."
Christopher E Doughty, Camille Gaillard, Patrick Burns, Jenna Keany, Andrew Abraham, Yadvinder S Malhi, Jesus Aguirre-Gutierrez, George Koch, Patrick Jantz, Alexander Shenkin, Hao Tang.
Tropical forests are mainly unstratified especially in Amazonia and regions with lower fertility or higher temperatures.
Environmental Research: Ecology, 2023; DOI:
10.1088/2752-664X/ace723
Disclaimer: These articles are not intended to provide medical advice, diagnosis or treatment. Views expressed here do not necessarily reflect those of Pittwater Online News or its staff.