February 10 - 16, 2013: Issue 97
Bayview Wharf
Where current day Bayview Anchorage is was once a very long wharf jutting out into the estuary of Pittwater. Alongside it was the first Bayview Baths, a wire fenced enclosure, where people may swim without fear of being bitten by the sharks that were once prevalent in Pittwater. Constructed at the turn of the century in order for food producers and fisher families to load up their goods onto steamers, it was built after the Church Point wharf and the Victoria Wharf below current day Newport Hotel.
As with so many rural enterprises, as Pittwater was considered 'country' then, residents had to step up and speak for themselves through their local MP;
MESSRS, BURNS AND CULLEN, members for St Leonards, brought under the notice of the Minister for Works yesterday the movement at Pittwater for the erection of a publio wharf at Newport .They presented an influentially-signed petition in favour of the erection of a wharf at Sunnyside, and stated that another petition, praying that the wharf be erected at the foot of Queen's-parade, in the same quarter, had been sent to the Minister for Lands. Mr. Bruce Smith promised to make the necessary inquiries as to the necessity for the wharf, and to let the deputation know the result. The Sydney Morning Herald. (1889, May 22). The Sydney Morning Herald (NSW : 1842 - 1954), p. 8. Retrieved from http://nla.gov.au/nla.news-article13725373
THE WHARF AT PITTWATER.
Messrs. Burns and Cullen, M.L.A., introduced to the Minister for Public Works yesterday a number of the residents of Pittwater, who wished to bring under his notice certain matters concerning the erection of a wharf at Sunnyside, Pittwater. Mr. Bauer Smith told the deputation that there were already two reports in the Department, and these were in opposition to the erection of the wharf. However, he was not quite satisfied as to what was the best course to adopt, and he would therefore direct an officer of the department to specially report on the project. THE WHARF AT PITTWATER. (1889, July 26). The Sydney Morning Herald (NSW : 1842 - 1954), p. 4. Retrieved from http://nla.gov.au/nla.news-article13726589
There were already two wharves on the Newport side of the estuary, one towards where Waterview Street Mona Vale is now, and the Victoria Wharf built by Piles and Jeannerett in 1880 and named for Queen Victoria. This was the place her sons boarded a steamer for their visit and a day trip up the Hawkesbury River in 1881. It would take more lobbying of their representatives to get a public wharf built for the people on the western shores, and years of it before Tenders were called and a contractor selected - the reasoning was there weren't enough people or produce on the Bayview side and the Church Point wharf could service those needing to land here - it had been built in 1885:
DEPUTATIONS TO THE MINISTER FOR WORKS.— A number of deputations will wait upon the Minister for Works this morning. At 11.30 Mr. D. Thomson, M.L.A. will introduce a number of residents of Bayview with reference to a wharf at Bayview. At noon the residents of Narrabeen and Pittwater will press upon the Minister the necessity of tramway traffic being provided between Manly and Narrabeen. The Sydney Morning Herald. (1898, October 13). The Sydney Morning Herald (NSW : 1842 - 1954), p. 4. Retrieved from http://nla.gov.au/nla.news-article14152336
WHARF ACCOMMODATION AT BAYVIEW. A deputation was introduced by Mr Dugald Thomson to the Minister for Works yesterday. It comprised representatives of Bayview, who urged the Minister to provide adequate wharfage accommodation for local requirements. There was at present a wharf at Church Point, but that was too far removed from the centre of population and trade. If there had been deep water right up to the shore that deputation would not have troubled the Government, but owing to the existence of long mudflats the cost of erecting a suitable wharf would be so great that it would not pay private enterprise to undertake the work. Fishermen and settlers generally were seriously handicapped now because of the cost and the difficulty of shipment of their fish and produce.
The Minister said he recognised that the construction of a wharf would be convenient to many persons, and he thought a case had been made out for further inquiry. He would not make any promise however, because he saw from the papers before him that the undertaking would be an expensive one, and he would not be justified in sanctioning it unless it appeared on further inquiry that the results which would follow would justify the expenditure. WHARF ACCOMMODATION AT BAYVIEW. (1898, October 14).The Sydney Morning Herald (NSW : 1842 - 1954), p. 6. Retrieved from http://nla.gov.au/nla.news-article14154847
Construction of wharf, &c , at Bayview. Pittwater, 5 tenders received, M J. Woodbury, £686 6s 5d, lowest PUBLIC TENDERS. (1900, April 25). The Sydney Morning Herald (NSW : 1842 - 1954), p. 5. Retrieved from http://nla.gov.au/nla.news-article14307801
M J Woodbury was Matthew James Woodbury of Wyong, a pioneer settler of that region who resided on Mangrove Creek. He was also responsible for the Tuggerah Wharf (sometimes called Woodbury's wharf) which was built for fisherman circa 1900 too. He was partners with a man named 'Smith' in Smith & Woodbury - Timber Merchants. As with so many Pittwater histories, the Central Coast and Hawkesbury people are intertwined. Many of the steamers that carried produce away took it to be offloaded onto trains at Brooklyn. Much of the timber and tin that was needed for local structures was milled on this great river and transported down it to Pittwater.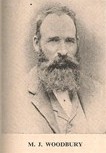 MATTHEW JAMES WOODBURY. THE GRAND OLD MAN OF WYONG. (1838-1921) There passed away at 11 o'clock on Sunday night, 20th March, 1921, a man who will never be forgotten as long as Wyong endures, for he was the father of Wyong, and every inhabitant loved him as a child loves a parent. He truly possessed every virtue in high degree; he was gentleness personified; a man of truth, and his word was his bond. Born on the Mangrove over 83 years ago, his father being an Australian, he came of long-lived people, for his mother died at about 89 and his grandmother at 100. Remaining on the Mangrove till he was 18 years of age, he then proceeded to the Snowy River gold fields at the very time when the white diggers had made a raid upon the Chinese, gold miners, and cut their long pig tails off. Some time later he found his way to the Wollombi, and thence to the Cedars, Wyong, where and at his late residence he resided 55 years. Hence he was one of the first pioneers that settled in the Wyong district. For half a century the dear old 'Cedars' was his home. In the far away days only two kinds of wood were extensively used, oak and cedar, the former for shingles and the latter for fine cabinet work . The timber and the shingles were carted to Maitland, and even slides were much in use when roads were impassable for drays. Away via Yarramalong and the Wollombi to Maitland was the route. In the bush 50 years ago there were practically no timber- getters, except shingle splitters and cedar cutters. When about 27 years of age he married Miss Eliza O'Neill, of The Cedars. She was a lady beloved by to her husband. Great was his grief when some seven years ago she passed away. He never ceased to mourn his loss, even though his children continually ministered unto his comfort in the most loving manner. His sorrowing daughters are Miss Woodbury, Mrs. W. A. Chapman, Mrs. W. Baldwin, and Miss O. Woodbury, and his sons, Councillor W. B. Woodbury, and Mr. Edwin Woodbury, to whom we extend our deepest sympathy. Our late friend was the Chairman of the Directors of the Wyong Butter Factory, and had been Chairman from the inception of the company. Hisvery last conversations were about the re-building of the factory on the ideal old site. He possessed a wonderful memory, and up to within a few hours of his end, his mental faculties were unimpaired. He knew he was nearing The Bar, and was much comforted to see a number of his devoted children round his bedside. The remains were brought to his beloved church, where service was conducted by Rev. Father Herlihy, and thence removed, by procession to the Jilliby cemetery, where a very solemn service was followed by a most eloquent ad-dress by the priest, which will be treasured in the memory of Protestants and Catholics alike. for years to come as a grand tribute to a good man. The immense concourse, testified to the worth and to the nobility of character of Matthew James Woodbury. Numerous wreaths and floral , tributes were offered by loving friends. — 'Gosford Times.' MATTHEW JAMES WOODBURY. (1921, April 1). Windsor and Richmond Gazette (NSW : 1888 - 1954), p. 10. Retrieved from http://nla.gov.au/nla.news-article85877526
The price for this new wharf seems substantial until you see what was built (above). A later picture:
The lemons, which are of the Lisbon variety, and are very juicy, are simply superb, and grow close to the salt water in the greatest profusion ; and oranges, which are of the Siletta variety, are among the sweetest and best ever grown.
On March 7th, 1906, Warringah Shire Council was declared by the NSW Government. Keeping the wharves in a good state of repair became part of their duties. A tram line was added to the wharf for easy transport of goods to and from steamers, a storage shed and shelter became part of its fixtures; from some of their Council Minutes;
Before long this much used wharf needed repairs:
Our wharves were also public meeting places for community or landmarks referred to by those who use the estuary for races in all manner of vessels;
Bayview wharf was lit by hand until electric light came into the district. Initially this duty was performed by the Williams who had premises, a boathsed etc., next to the wharf. From Warringah Council Minutes:
The wharf need updating or extending. All of its parts; piles, rails and tram track needed constant renewing, an indication of how much it was used. Warringah Council Minutes chart these:
The state of the wharf, so often in need of repairs, caused a case of litigation to be brought against Warringah Council by one of its users:
World War II effectively closed public wharves to residents. Repairs could not be undertaken as all materials were for the war effort: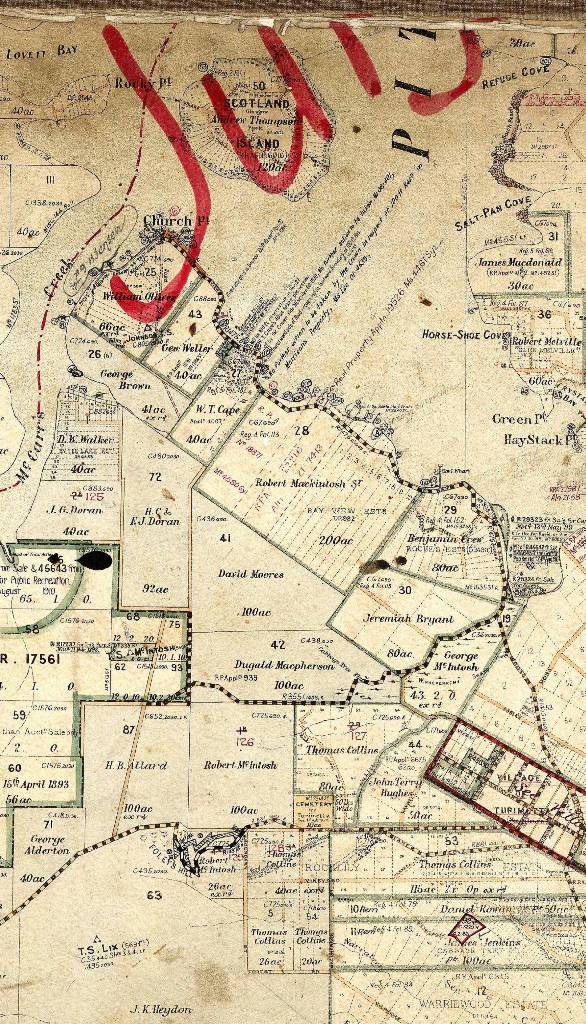 1905 Land Titles Map - showing Government Wharf at Bayview out from Benjamin Crew acreage and other landholders. Courtesy Land Titles Office Historic records of NSW.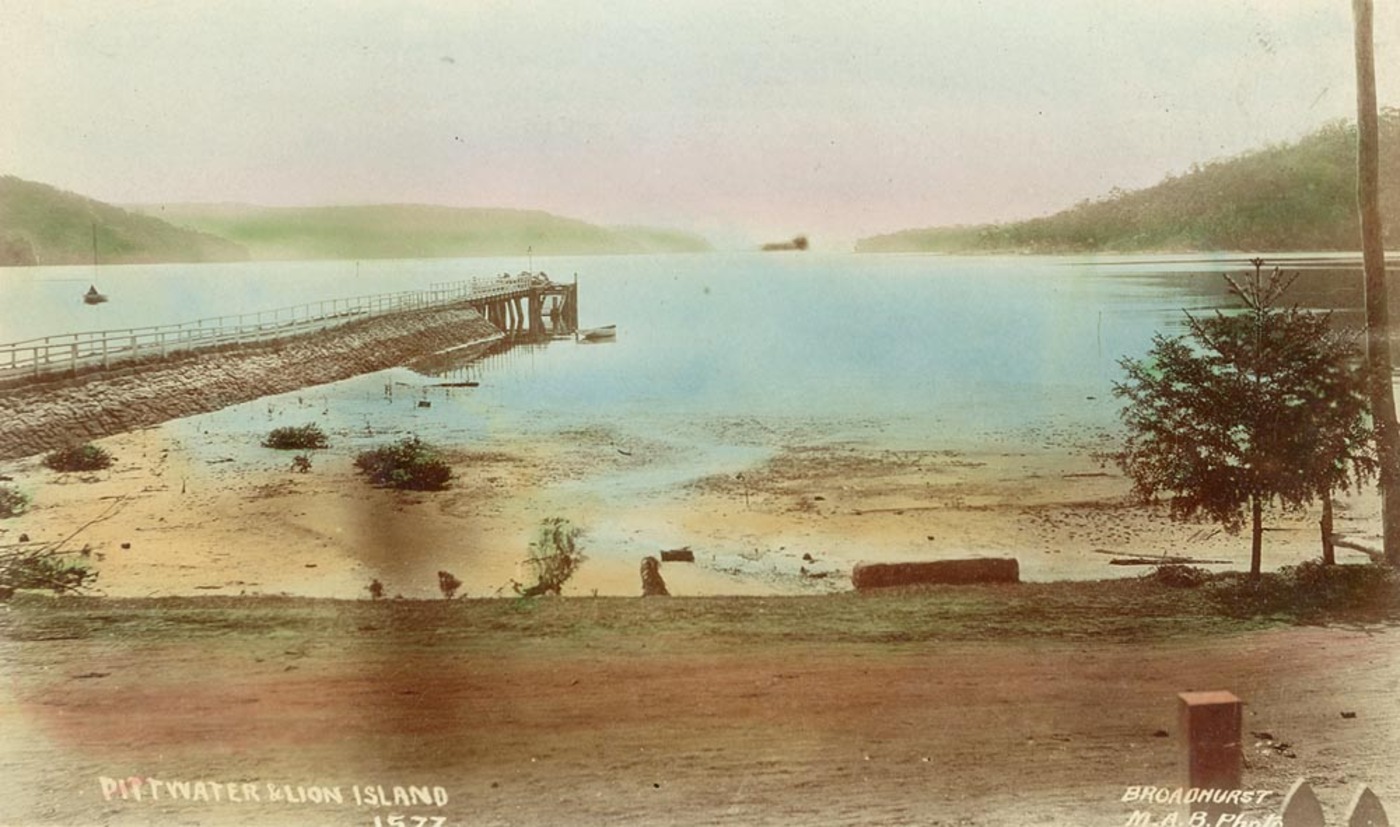 Bayview Wharf, circa 1900. Broadhurst Image a106165h, Courtesy State Library of NSW.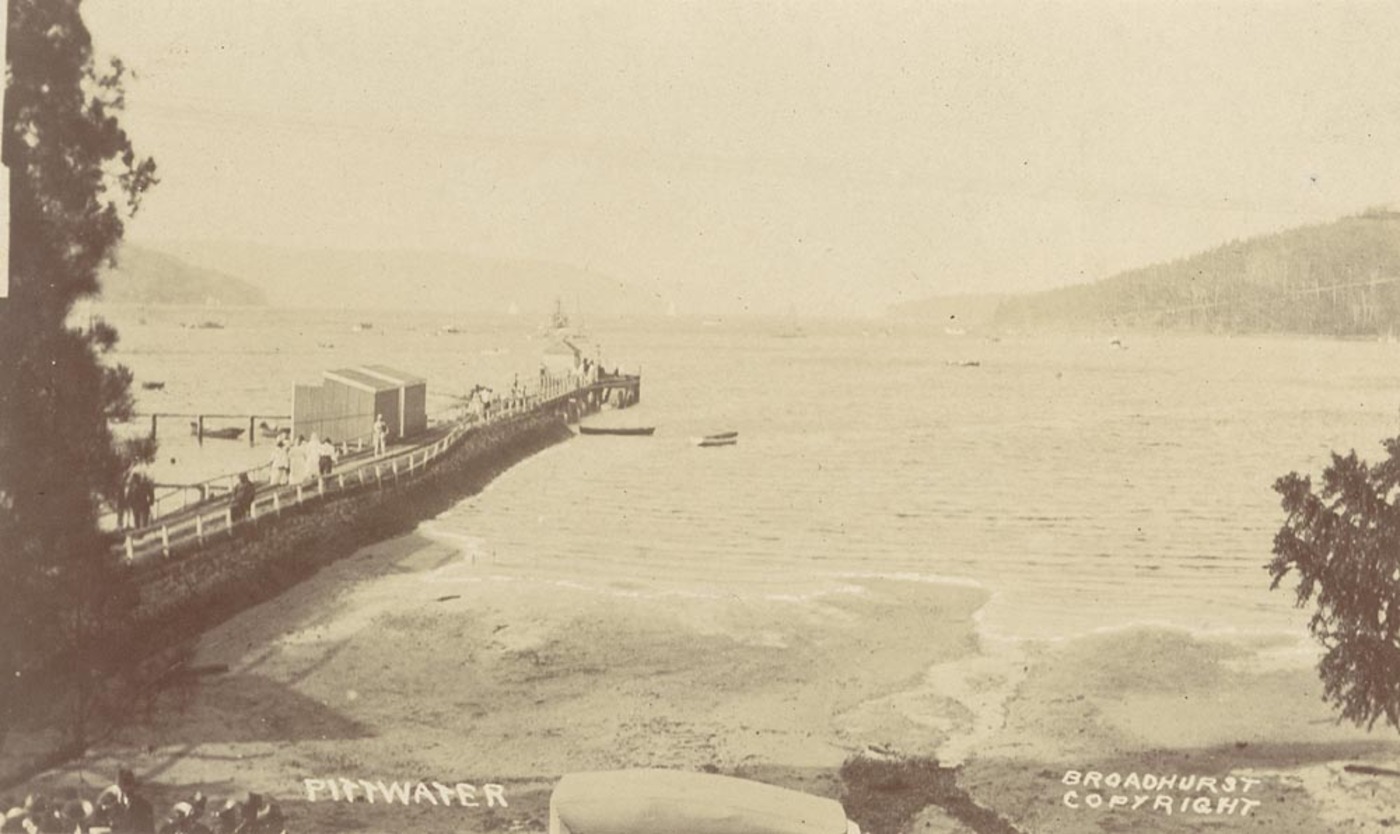 Bayview Wharf, circa 1909. Broadhurst Image 11061661h, courtesy State Library of NSW.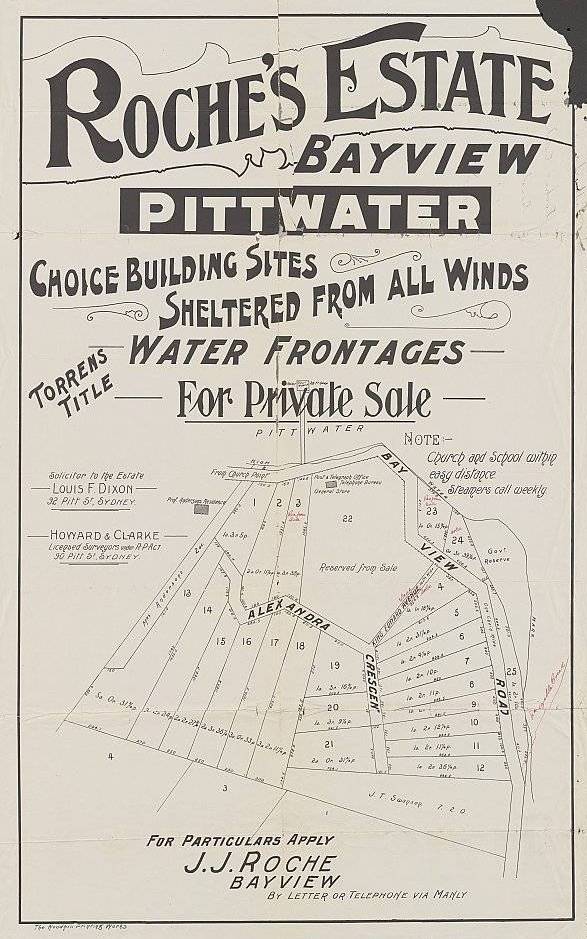 Roche's Estate, Bayview, Pittwater [cartographic material] : choice building sites, sheltered from all winds, water frontages : for private sale. 1910 - 1919. MAP Folder 135, LFSP 2174, courtesy National Library of Australia. Showing Professor Anderson's property, where Maybanke Anderson lived.
Visit associated pages: Katherine Roche, John Roche, John Collins, Williams Family: Champion Rowers, Cedric Vincent Williams Profile, or Pittwater Regatta related History pages listed under Contents.
Also available - Bayview Baths Centenary Celebration - November 2016
Bayview Baths and Wharf - Warringah Council Minutes - 1906 to 1986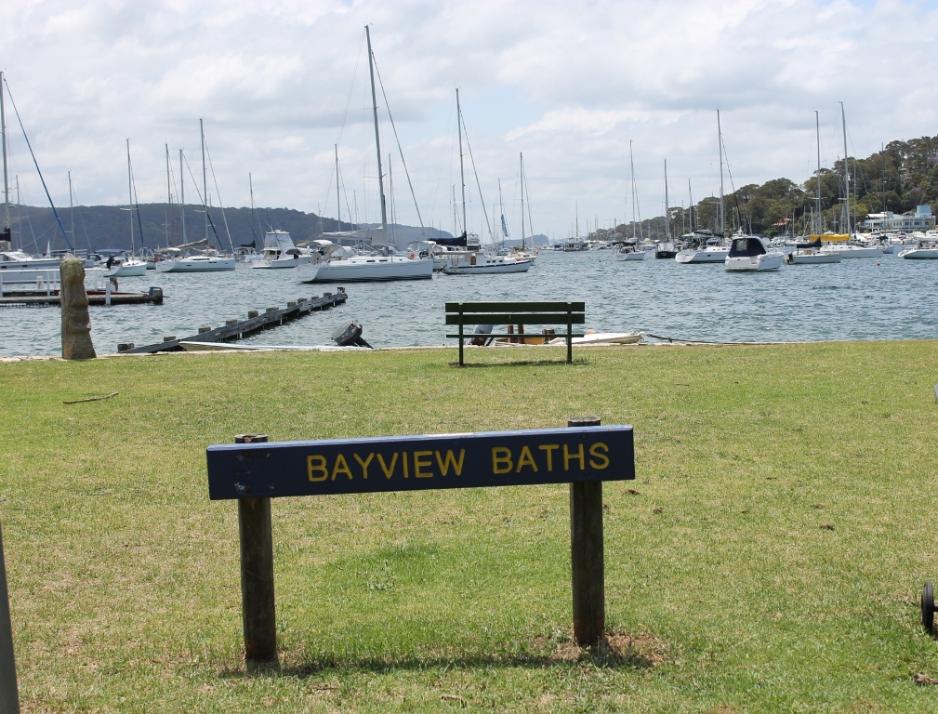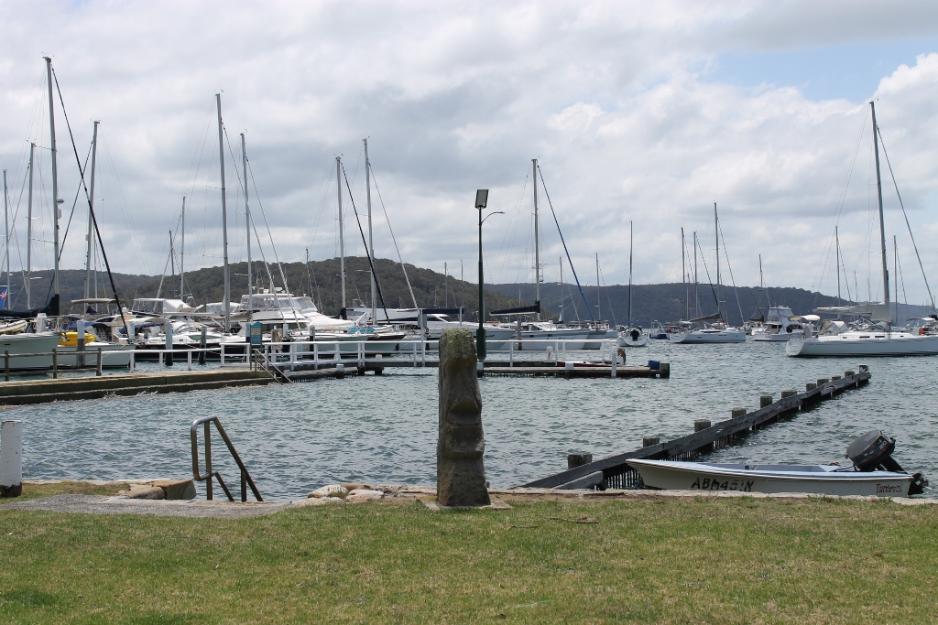 Current site of Bayview Baths and Top: with Lion Island to front and RMYC seen at right of shot on Newport side. Below: shown from Bayview Heights. Pictures by A J Guesdon, 2012.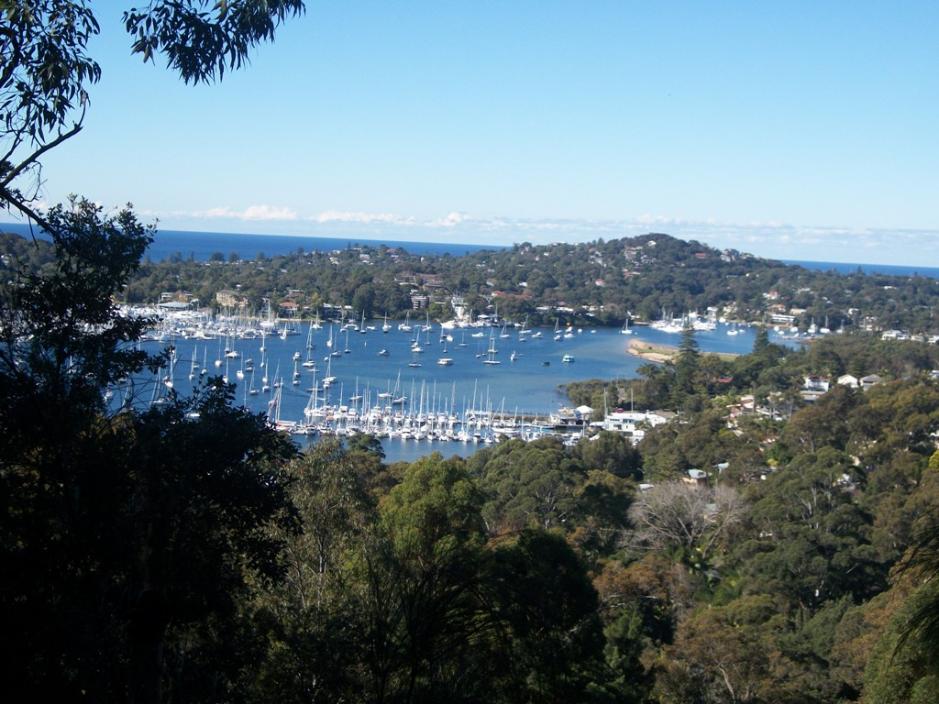 Bayview Wharf threads collected and collated by A J Guesdon, 2013.