inbox and environment news: Issue 584
May 21 - 27 2023: Issue 584
Wildlife Photography Thrills At The Australian National Maritime Museum
Exhibition of over 100 stunning images from the 58th Wildlife Photographer of the Year open now - runs until October 31, 2023.
The world-renowned exhibition, on loan from the Natural History Museum in London, is once again on show at the Australian National Maritime Museum from April 1. In its 58th year, this exhibition explores a spectacular array of plant and animal species and a micro-view of the natural world.
The arresting power of the photographic medium shines a light on places, plants and creatures from around the world, inspiring audiences and fostering connections, toward a future of advocating for the planet.
Judges of the Natural History Museum's 58th Wildlife Photographer of the Year competition had the challenging task of reviewing 38,575 entries from 93 countries, which were assessed and judged anonymously by an international panel of experts, on criteria including originality, narrative, technical excellence, and ethical practice.
Australian National Maritime Museum CEO and Director Ms Daryl Karp said, 'This exhibition gives us an insight into the hidden lives of these creatures and habitats that have often been affected by human activity. I'm always inspired and moved by the impact these images have both on me and our many visitors. I'm in awe of the talent, tenacity and, the instincts of nature photographers of this calibre who go above and beyond for the perfect shot.'  
Wildlife Photographer of the Year is the one of the world's most prestigious photography competitions, providing a global platform that showcases the natural world's most astonishing and challenging sights. Launched in 1965 with an initial 365 entrants, today the competition draws thousands of entries from all over the world.
The Wildlife Photographer of the Year is developed and produced by the Natural History Museum, London.
This year's exhibition features a number of images by Australian photographers including Up a gum tree by Callum Hockey, Double interest by Scott Portelli, The snake tree by Juergan Freund and Wombat lockdown by Douglas Gimesy.
Want to learn how to take great pictures of wildlife on your phone? Read this amazing article by London's Natural History Museum!
To visit or find out more, go to: https://www.sea.museum/wildlife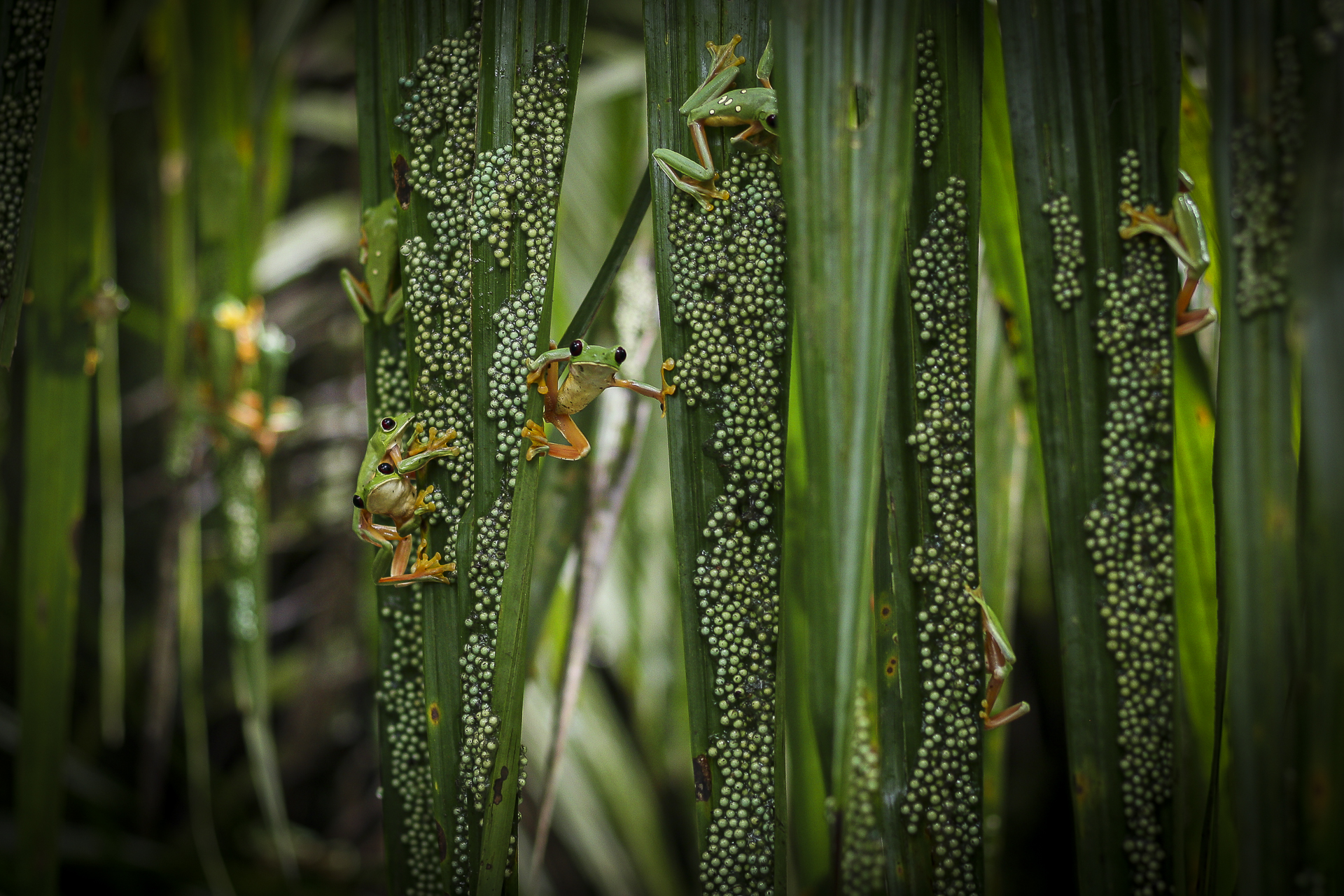 Image credit: © Brandon Güell, Wildlife Photographer of the Year - A male gliding treefrog, Agalychnis spurrelli, in search for mates and reproductive opportunities amidst thousands of potential offspring. Thousands of adults aggregate to reproduce on Costa Rica's Osa Peninsula after torrential wet-season rainstorms over a large pond. There, females lay clutches of over 200 eggs and often lay them next to eggs already on leaves creating huge egg masses on palm fronds that overhang forest pools, as seen here.
Northern Beaches Police Area Command: E-Scooter And E-Bike Safety Operation
Commencing at 8am today (Wednesday 17 May 2023), officers from Northern Beaches Highway Patrol will be conducting a high-visibility operation on e-scooter and e-bike safety along the Northern Beaches.
The aim of this operation is to educate the public on traffic laws associated with e-scooters, e-bikes and pedestrian safety.
Police will also be running this operation across May through to July 2023.
🚲 For more information on E-Bikes: https://roadsafety.transport.nsw.gov.au/stayingsafe/bicycle-riders/petrol-powered-bicycles.html
🛴 For more information on E-Scooters: https://roadsafety.transport.nsw.gov.au/stayingsafe/e-scooters/index.html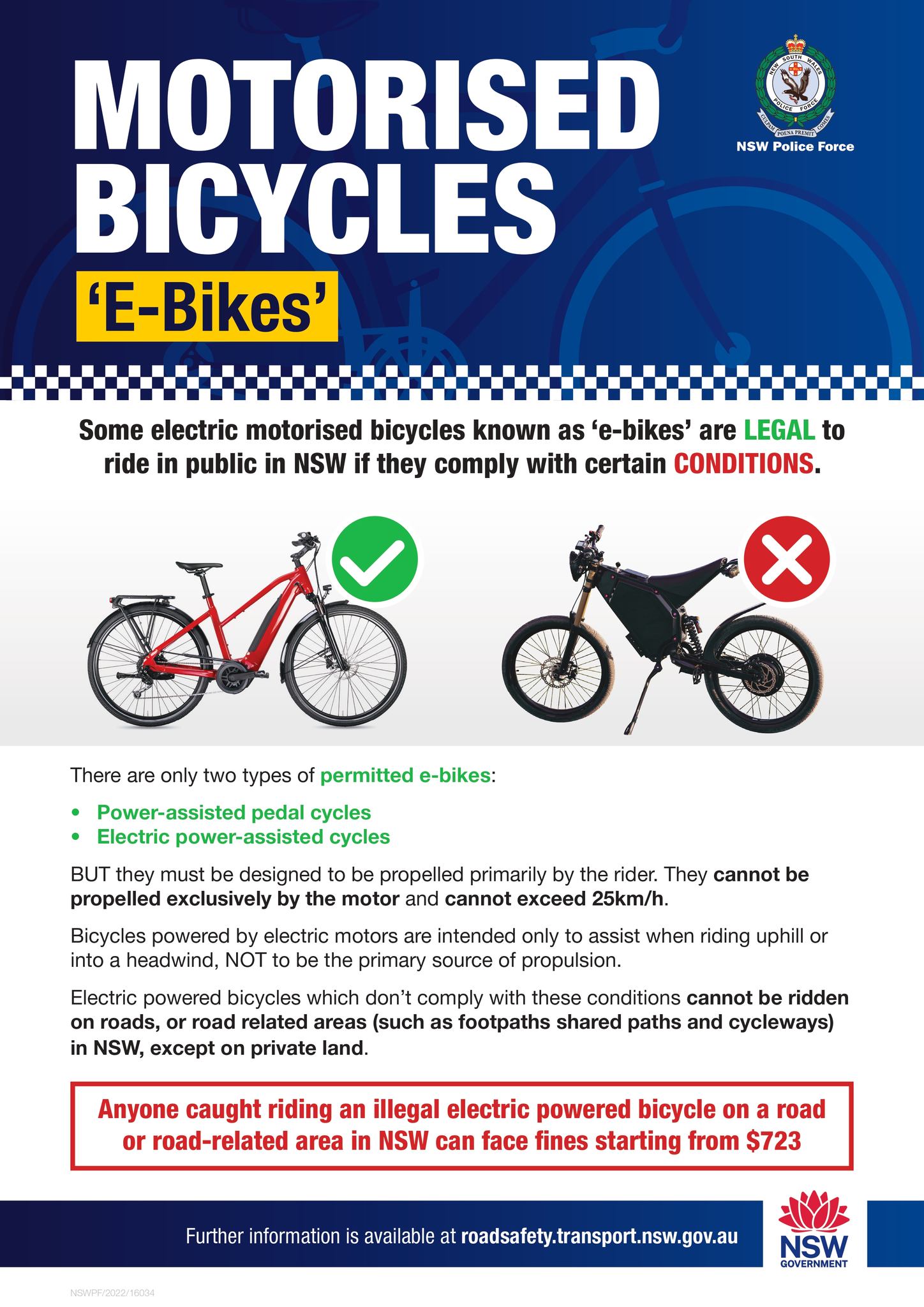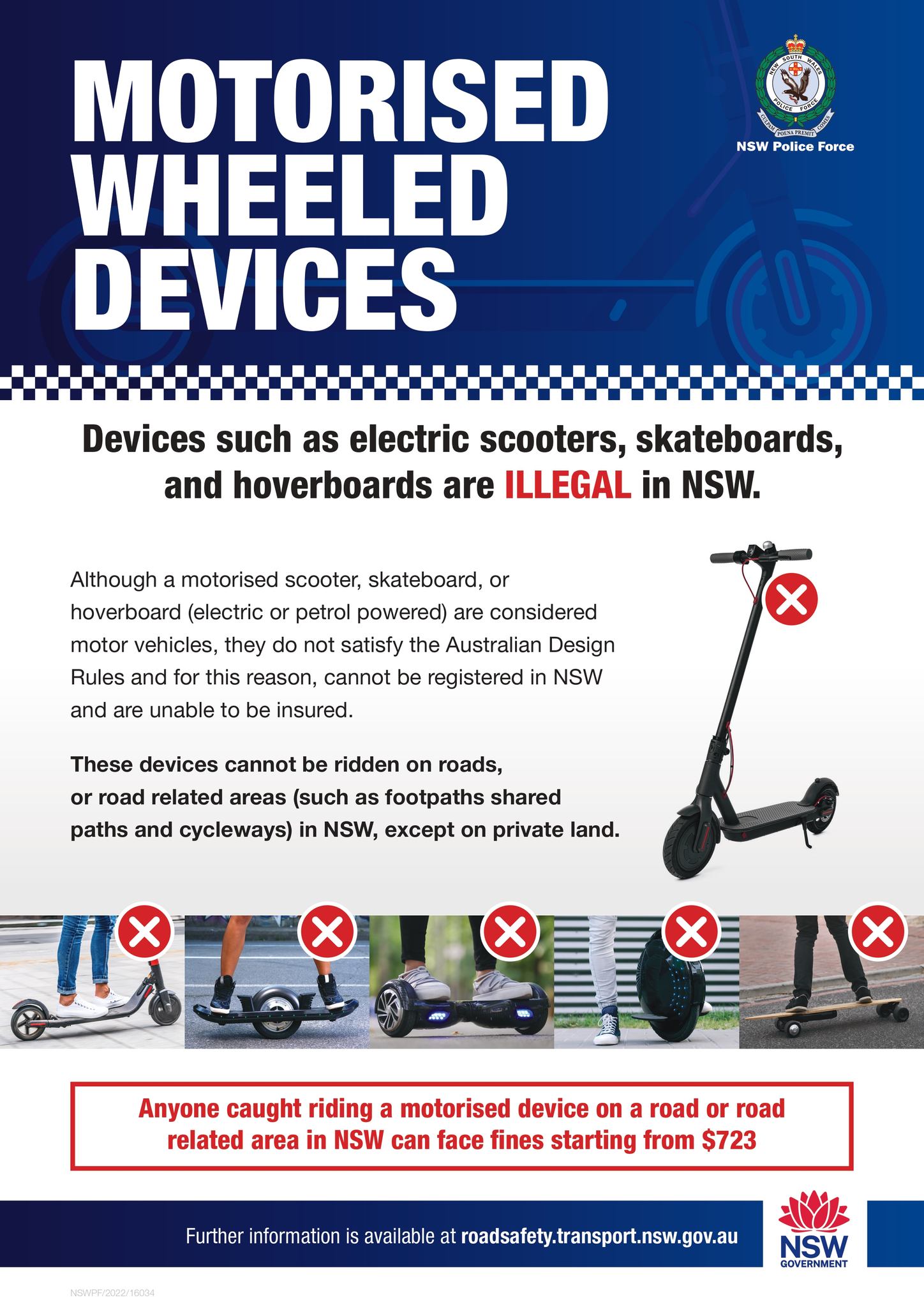 The 2023 CWAS "David Malin Awards"
Entries close Wednesday, 31 May 2023
The Central West Astronomical Society is proud to announce the 2023 CWAS Astrophotography Awards - the "David Malin Awards".
The competition will continue with the new judging structure, introduced last year. In order to build on the experience of previous years, and to continue as the premier competition of its kind in Australia, a panel of distinguished Australian astrophotographers will judge the category entries. Dr David Malin will judge the Overall Winner from the list of these winners. We are honoured that the judging panel will include Phil Hart, Alex Cherney, and Peter Ward, previous winners of the "David Malin Awards" and numerous other national and international astrophotography competitions.
There are three sections of entry - General Section, Open Themed Section, and a Junior Section (18 or younger). The general section is divided into six categories; Wide-field (camera shots), Deep Sky (telescope shots), Solar System, Nightscapes, Animated Sequences, and Smartphone Astrophotography. The Junior Section will have one open category and entries can be of any astronomical subject, and can be an animated sequence.
The Competition Structure:
General Section:
Wide-Field
Deep Sky
Solar System
Nightscapes
Animated Sequences
Smartphone Astrophotography
Junior Section (18 or younger) - One Open Category (can be of any astronomical subject)
Open Themed Section - "The Zodiac"
The "David Malin Innovation Prize" may be awarded, at Dr Malin's discretion, for a striking astronomical image that shows exceptional imagination, innovation or an unusual approach in any of the categories.
An additional prize, "The Photo Editor's Choice", will also be awarded. This will be judged by a major news organisation's photo editor or editors.
The Solar System category is for images of solar system objects taken with a telescope. Wide-field solar system shots may be entered in the Wide-Field or Nightscape categories depending on the subject and composition.
The Nightscapes is intended to showcase the increasing popularity and evolution of this relatively new genre of astrophotography, combining beautiful terrestrial foregrounds with a night sky scene - often in a single exposure (HDR is OK) or as a multi-shot panorama. NOTE: Any image that contains terrestrial foregrounds will be considered to be a nightscape image.
Animated Sequences should be videos that are intriguing or highlight concepts and events not obvious or significant in stills. Astrophotographers are invited to submit animations, produced as either time-lapse sequences or with other forms of video. They can be of any subject, provided there is a distinct astronomical link. All animations must be submitted as MOV, MPEG, AVI or MP4 files. Today, smartphones are ubiquitous and some are capable of impressive low light-level photography.
In Smartphone Astrophotography we are looking for images that have been taken with only a smartphone, and without telescopes, of an astronomical scene that has some aesthetic appeal and/or that has captured something you might not expect to see from such a tiny camera.
There is no strict delineation between Deep Sky and Wide-Field images. Wide-field images are typically produced with DSLR and interchangeable lens cameras at a focal length of less than ~400mm, but this characterisation is becoming less clear as equipment evolves. Wide-field images are typically constellations or "scenes" rather than deep sky "objects" but entrants are free to submit images to either category.
Judges reserve the right to move images between categories.
The Open Themed Section is open to all astrophotographers. They are encouraged to see who can be the most inventive and creative in evoking the theme, which this year will be "The Zodiac". Photographs could be of the dusty zodiacal light or gegenschein, portraits of the zodiac constellations with or without planets amongst them, or anything else that symbolises the zodiac, one of the earliest astronomical concepts in our understanding of the sky. We are looking for eye-catching images that are also aesthetically pleasing and/or challenging.
All entries must be images that faithfully reflect and maintain the integrity of the subject. Image manipulations or composites that produce works that are more "digital art" than true astronomical images, will be deemed ineligible.
All still images must be submitted as digital files via a dedicated web site that can be accessed at this myphotoclub web page. For judging purposes, still images must be submitted as JPG files with the longest side having a dimension no greater than 4,950 pixels. All images must be in Adobe 1998 RGB colour space and will be judged using a calibrated monitor. Similarly, winning images will be printed from the files as-received, so it would be prudent for entrants to calibrate their monitors if possible. It does make a difference. Click here for an example of a very detailed set of calibration procedures for all platforms. For Mac users, a useful monitor calibration program can be found under "Monitors" in System Preferences, and the ideal solution for monitor calibration is a stand-alone device such as the Spyderexpress.
Submission of entries will close at 24:00 (AEST) on Wednesday, 31 May 2023. Entrants must first create an account on the MyPhotoClub submission page, by clicking on the green entry button. Follow the links to create the account and password.
Entry fees are $15 per entry and should be paid by the PayPal gateway on the entry website. Credit and debit cards can be used on this gateway.
The photographs will be judged by a panel of distinguished astrophotographers, who will judge the category winners. Dr David Malin will judge the overall winner from this list of winners.
Submitted image files should not contain identifying metadata. If anonymity of the judging process is important to the entrant, then images should not be shared in public forums prior to completion of judging. The winners will be notified and presented with the "David Malin Awards" during a special ceremony, held during the 2023 CWAS AstroFest, in the presence of invited dignitaries on Saturday, 22 July 2023. All winners should make every effort to attend the presentation of the awards.
A selection of the finest astrophotographs received will be professionally printed courtesy of Sunstudios and exhibited for the entire year at the CSIRO Parkes Observatory's Visitors Centre. In addition, a second set will tour the country in a travelling exhibition, organised by the Museum of Applied Arts and Sciences, to selected venues across Australia.
There is a limit of five (5) entries per category per photographer. All photographs must have been taken no more than 2 years before the closing date of entry, and no re-entries from previous DMA competitions will be accepted. All entries must be submitted in electronic form via the MyPhotoClub submissions web site. The entrants must provide brief details of the equipment, exposure times, processing, and where relevant, the location where the image was taken.
It is not just technical skill that the judges will be looking for, but an aesthetically pleasing picture that reflects and captures the beauty, inspiration and interest of astronomy. All images will be judged by these criteria.
More details here: https://www.cwas.org.au/astrofest/DMA/
Enter here: https://cwasdma.myphotoclub.com.au/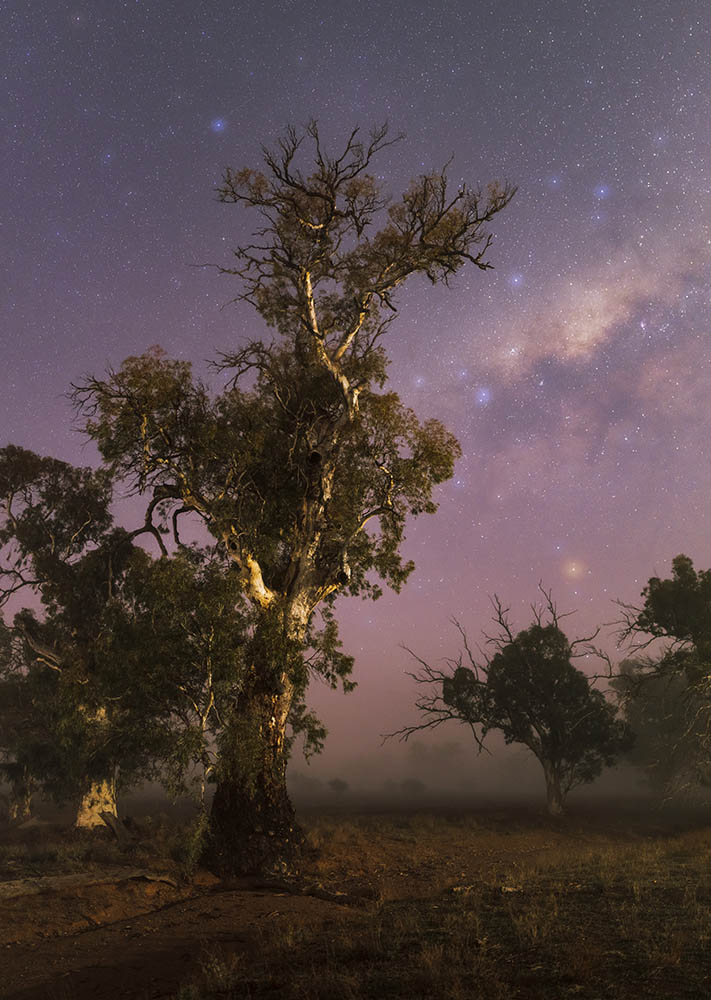 2022 Winner: Ian Inverarity - Nightscapes; OVERALL WINNER "Old Giant in the Fog"
Citation: "This is the finest image I have seen in this competition. It is simply beautiful, and no more needs to be said. No sign of stitching, either."
The Big Bike Film Night At Warriewood
United Cinemas Warriewood
Let the good times roll; they're riding into town!
What's the Big Bike Film Night all about? They're on a mission- bringing the best cycling short films from around the world together for you!
Showcasing their 2023 collection that has everything a cycle-centric audience could want - action, drama, humour, and plenty of inspiration; the evening is unashamedly and utterly designed and devised for the two-wheel devotee!
Their stellar line-up includes an Australian bikepackers learnings from completing a scenic trip to Hell; follows a 74-year old rider whose spirit personifies cycling; a packrafting odyssey with a first descent; an adventure exploring interior Iceland, a cyclist's eyes are opened to the healing power of the bicycle; we join a family that chooses to live life to the fullest in the face of adversity; and we find out what happens when you combine an ultra-distance 320 km gravel race and parenting together over a 24-hour period; all in the mix!
Thanks to Presenting Partner Ngā Haerenga Great Rides of New Zealand you could win a cycling holiday to New Zealand.
NATIONAL COMPETITION
Along with these films to make you fizz.... you could win BIG!
Purchase a ticket to any Australian screening and, thanks to our presenting partner Ngā Haerenga Great Rides of New Zealand, you'll go in the draw to win an epic cycling holiday in New Zealand on the wonderful West Coast Wilderness Trail Great Ride.
Grab your mates, grab your tickets and go on, grab your bike and come along for the ride!

Adults $27.50, Under 17-year-olds $18, and Under 12-year-olds $13.50 (plus booking fees)

available online only

.
Australian Flies: There Are 30 Thousand Species - Here's Two That Look Like Bees That You Will See During Winter
Did you know that flies form one of the five most diverse insect orders, including about 150,000 described species in 150 families?
It is estimated that there are 30,000 species of fly in Australia, of which only 6400 have been described!
Although we don't see too many around as it gets colder, they are still here - here are just two you will see in your area even in Winter, both of which can often be mistaken for bees.
Hoverfly Feasting On Nectar At Palm Beach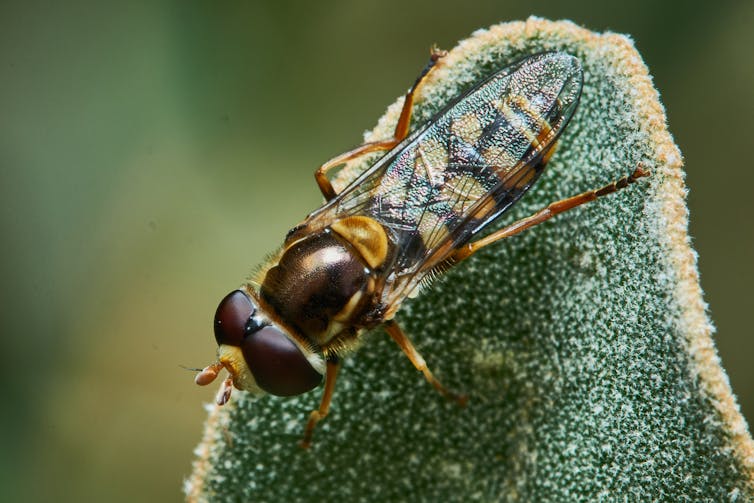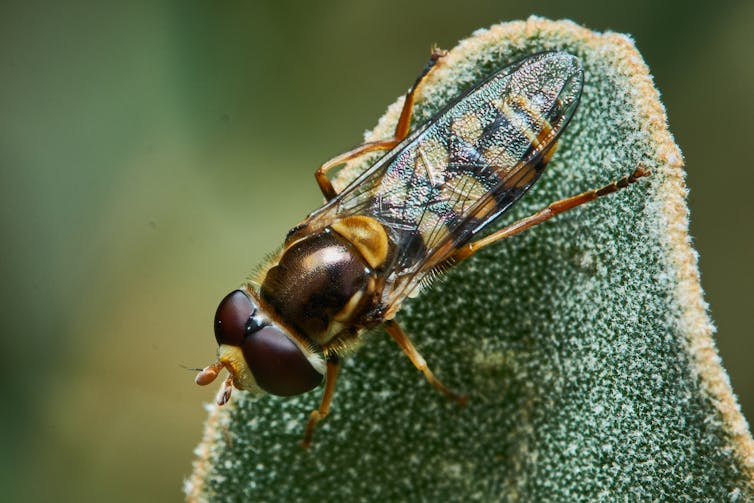 Hoverflies, sometimes called flower flies, or syrphid flies, make up the insect family Syrphidae. As their common name suggests, they are often seen hovering or 'nectaring' at flowers; the adults of many species feed mainly on nectar and pollen, while the larvae (maggots) eat a wide range of foods. In some species, the larvae are saprotrophs, eating decaying plant and animal matter in the soil or in ponds and streams. In other species, the larvae are insectivores and prey on aphids, thrips, and other plant-sucking insects.
Aphids alone cause tens of millions of dollars of damage to crops worldwide every year; because of this, aphid-eating hoverflies are being recognised as important natural enemies of pests, and potential agents for use in biological control. Some adult syrphid flies are important pollinators of flowering plants in a variety of ecosystems worldwide.
About 6,000 species in 200 genera have been described. Hoverflies are common throughout the world and can be found on all continents except Antarctica. Hoverflies are harmless to most other animals, despite their mimicry of more dangerous wasps and bees to ward off predators.
Bombyliidaes



Bee-fly (Bombylius major). Photo: Richard Bartz




The Bombyliidae are a family of flies, commonly known as

bee flies

. Adults generally feed on nectar and pollen, some being important pollinators. Larvae are mostly parasitoids of other insects.

The Bombyliidae are a large family of flies comprising hundreds of genera, but the life cycles of most species are known poorly, or not at all. They range in size from very small (2 mm in length) to very large for flies (wingspan of some 40 mm). When at rest, many species hold their wings at a characteristic "swept back" angle.




Adults generally feed on nectar and pollen, some being important pollinators, often with spectacularly long proboscises adapted to plants such as Lapeirousia species with very long, narrow floral tubes. Unlike butterflies, bee flies hold their proboscis straight, and cannot retract it. In parts of East Anglia, locals refer to them as beewhals, thanks to their tusk-like appendages.




Many Bombyliidae superficially resemble bees and accordingly the prevalent common name for a member of the family is bee fly. Possibly the resemblance affords the adults some protection from predators.




The larval stages are predators or parasitoids of the eggs and larvae of other insects. The adult females usually deposit eggs in the vicinity of possible hosts, quite often in the burrows of beetles or wasps/solitary bees. Although insect parasitoids usually are fairly host-specific, often highly host-specific, some Bombyliidae are opportunistic and will attack a variety of hosts.




The Bombyliidae include at least 4,500 described species, and certainly thousands more remain to be described. However, most species do not often appear in abundance, and compared to other major groups of pollinators they are much less likely to visit flowering plants in urban parks or suburban gardens. As a result, this is arguably one of the most poorly known families of insects relative to its species richness. The family has a patchy fossil record, with species being known from a handful of localities, the oldest known species are known from the Middle Cretaceous Burmese amber, around 99 million years old.
"French Roast" - By Fabrice O. Joubert
When it is time to pay the check at a chic Parisian brasserie, a stiff businessman realizes, with horror, that he's forgotten his wallet. How is going to pay the check?
This little ditty shows how the poorest are often the most generous, without even waiting for a thank you.
The animation was directed by the great French Animator Fabrice O. Joubert, known for his work on "The Prince of Egypt", "Wallace & Gromit", "Star Wars: The Clone Wars", "Despicable Me" and "A Monster in Paris".
This french animated short film won numerous awards and was nominated at the Academy Award (Oscar) for Best Animated Short Film in 2010
School Leavers Support
Explore the School Leavers Information Kit (SLIK) as your guide to education, training and work options in 2022;
As you prepare to finish your final year of school, the next phase of your journey will be full of interesting and exciting opportunities. You will discover new passions and develop new skills and knowledge.
We know that this transition can sometimes be challenging and the COVID-19 pandemic has presented some uncertainty. With changes to the education and workforce landscape, you might be wondering if your planned decisions are still a good option or what new alternatives are available and how to pursue them.
There are lots of options for education, training and work in 2022 to help you further your career. This information kit has been designed to help you understand what those options might be and assist you to choose the right one for you. Including:
Download or explore the SLIK here to help guide Your Career.
School Leavers Information Kit (PDF 5.2MB).
School Leavers Information Kit (DOCX 0.9MB).
The SLIK has also been translated into additional languages.
Download our information booklets if you are rural, regional and remote, Aboriginal or Torres Strait Islander, or living with disability.
Support for Regional, Rural and Remote School Leavers (PDF 2MB).
Support for Regional, Rural and Remote School Leavers (DOCX 0.9MB).
Support for Aboriginal and/or Torres Strait Islander School Leavers (PDF 2MB).
Support for Aboriginal and/or Torres Strait Islander School Leavers (DOCX 1.1MB).
Support for School Leavers with Disability (PDF 2MB).
Support for School Leavers with Disability (DOCX 0.9MB).
Download the Parents and Guardian's Guide for School Leavers, which summarises the resources and information available to help you explore all the education, training, and work options available to your young person.
School Leavers Information Service
Are you aged between 15 and 24 and looking for career guidance?
Call 1800 CAREER (1800 227 337).
SMS 'SLIS2022' to 0429 009 435.
Our information officers will help you:
navigate the School Leavers Information Kit (SLIK),
access and use the Your Career website and tools; and
find relevant support services if needed.
You may also be referred to a qualified career practitioner for a 45-minute personalised career guidance session. Our career practitioners will provide information, advice and assistance relating to a wide range of matters, such as career planning and management, training and studying, and looking for work.
You can call to book your session on 1800 CAREER (1800 227 337) Monday to Friday, from 9am to 7pm (AEST). Sessions with a career practitioner can be booked from Monday to Friday, 9am to 7pm.
This is a free service, however minimal call/text costs may apply.
Call 1800 CAREER (1800 227 337) or SMS SLIS2022 to 0429 009 435 to start a conversation about how the tools in Your Career can help you or to book a free session with a career practitioner.
Word Of The Week: Blue
Word of the Week returns in 2023 simply to throw some disruption in amongst the 'yeah-nah' mix.
adjective
1. of a colour intermediate between green and violet, as of the sky or sea on a sunny day. 2. INFORMAL (of a person or mood) melancholy, sad, or depressed.
noun
1. blue colour or pigment. 2. a small butterfly, the male of which is predominantly blue while the female is typically brown.
verb
1. make or become blue. 2. HISTORICAL wash (white clothes) with bluing.
Also:
(health care) Having a bluish or purplish shade of the skin due to a lack of oxygen to the normally deep red blood cells.
(politics) Supportive of, run by (a member of), pertaining to, or dominated by a political party represented by the colour blue;

(US politics) Supportive of, run by (a member of), pertaining to, or dominated by the Democratic Party. [late 20th c.];

(Australian politics) Supportive of or related to the Liberal Party;

(UK politics) Supportive of or related to the Conservative Party.

(astronomy) Of the higher-frequency region of the part of the electromagnetic spectrum which is relevant in the specific observation.
(of steak) Extra rare; left very raw and cold.
(of a dog or cat) Having a coat of fur of a slaty gray shade.
(archaic) Severe or overly strict in morals; gloomy.
(archaic, of women) literary; bluestockinged.
(particle physics) Having a color charge of blue.
(informal) Risqué; obscene; profane.
(slang, dated) Drunk.
(symbology) true blue
(joke name for redheads) coined in Australia more than anywhere else in the world, 'bluey' is used as an affectionate nickname for a redhead. It is thought by some to have derived from the early 1900s as a form of irony. Blue is evidently contrasting with red, thus being used as a joke.
From Middle English blewe, from Anglo-Norman blew ("blue"), from Middle French bleu, from Old French blöe, bleve, blef ("blue"), from Frankish blāu ("blue") (perhaps through a Medieval Latin blāvus, blāvius ("blue"), from Proto-Germanic blēwaz ("blue, dark blue"), from Proto-Indo-European bʰlēw- ("yellow, blond, grey"). Cognate with dialectal English blow ("blue"), Scots blue, blew ("blue"), North Frisian bla, blö ("blue"), Saterland Frisian blau ("blue"), Dutch blauw ("blue"), German blau ("blue"), Danish, Norwegian and Swedish blå ("blue"), Icelandic blár ("blue"), Latin flāvus ("yellow"), Middle Irish blá ("yellow"). Doublet of blae.
Possibly related also to English blee ("colour"), from Old English blēo ("colour"); but direct derivatives of Proto-Germanic blēwaz ("blue, dark blue") in Old English include: Old English blāw and blēo ("blue"), Old English blǣwen ("bluish, light-blue"), blǣhǣwen ("blue-coloured, bluish, violet or purple colour", literally "blue-hued"). There seems to be a parallel connection in Germanic between words for blue and colour, dually exemplified by Proto-West Germanic *blīu ("colour, blee") and *blāu ("blue"); and Proto-Germanic *hiwją ("colour, hue") and *hēwijaz ("blue, purple").
The modern English word blue comes from Middle English bleu or blewe, from the Old French bleu, a word of Germanic origin, related to the Old High German word blao (meaning 'shimmering, lustrous'). In heraldry, the word azure is used for blue.

Blue is one of the three primary colours in the RYB colour model (traditional colour theory), as well as in the RGB (additive) colour model. It lies between violet and cyan on the spectrum of visible light. The eye perceives blue when observing light with a dominant wavelength between approximately 450 and 495 nanometres. Most blues contain a slight mixture of other colours; azure contains some green, while ultramarine contains some violet. The clear daytime sky and the deep sea appear blue because of an optical effect known as Rayleigh scattering. An optical effect called the Tyndall effect explains blue eyes. Distant objects appear more blue because of another optical effect called aerial perspective.
Blue has been an important colour in art and decoration since ancient times. The semi-precious stone lapis lazuli was used in ancient Egypt for jewellery and ornament and later, in the Renaissance, to make the pigment ultramarine, the most expensive of all pigments. In the eighth century Chinese artists used cobalt blue to colour fine blue and white porcelain. In the Middle Ages, European artists used it in the windows of cathedrals.
Europeans wore clothing coloured with the vegetable dye woad until it was replaced by the finer indigo from America. In the 19th century, synthetic blue dyes and pigments gradually replaced organic dyes and mineral pigments. Dark blue became a common colour for military uniforms and later, in the late 20th century, for business suits. Because blue has commonly been associated with harmony, it was chosen as the colour of the flags of the United Nations and the European Union.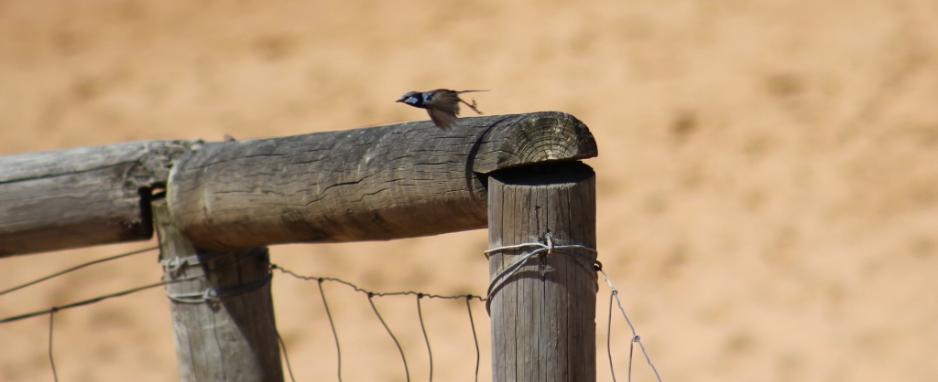 Above: Superb Fairywren, Malurus cyaneus, also known as the Superb Blue-wren or colloquially as the Blue Wren, seen with another male and two females flitting around Avalon Dunes and over to sand.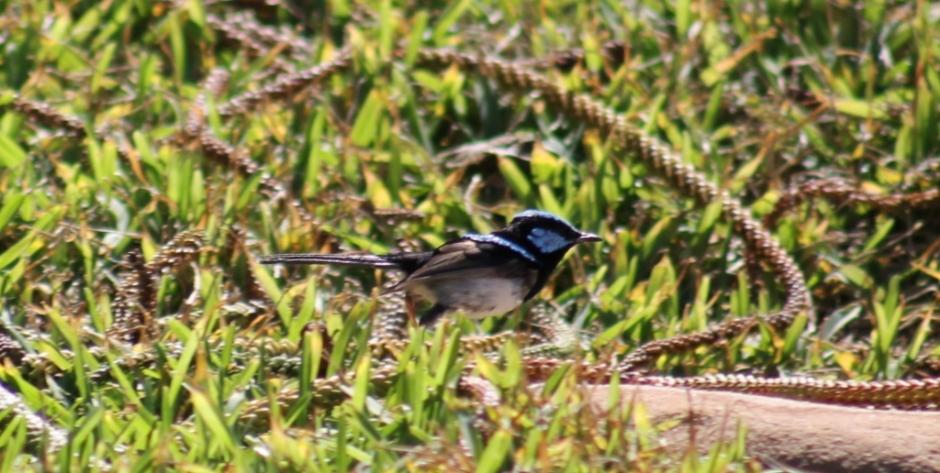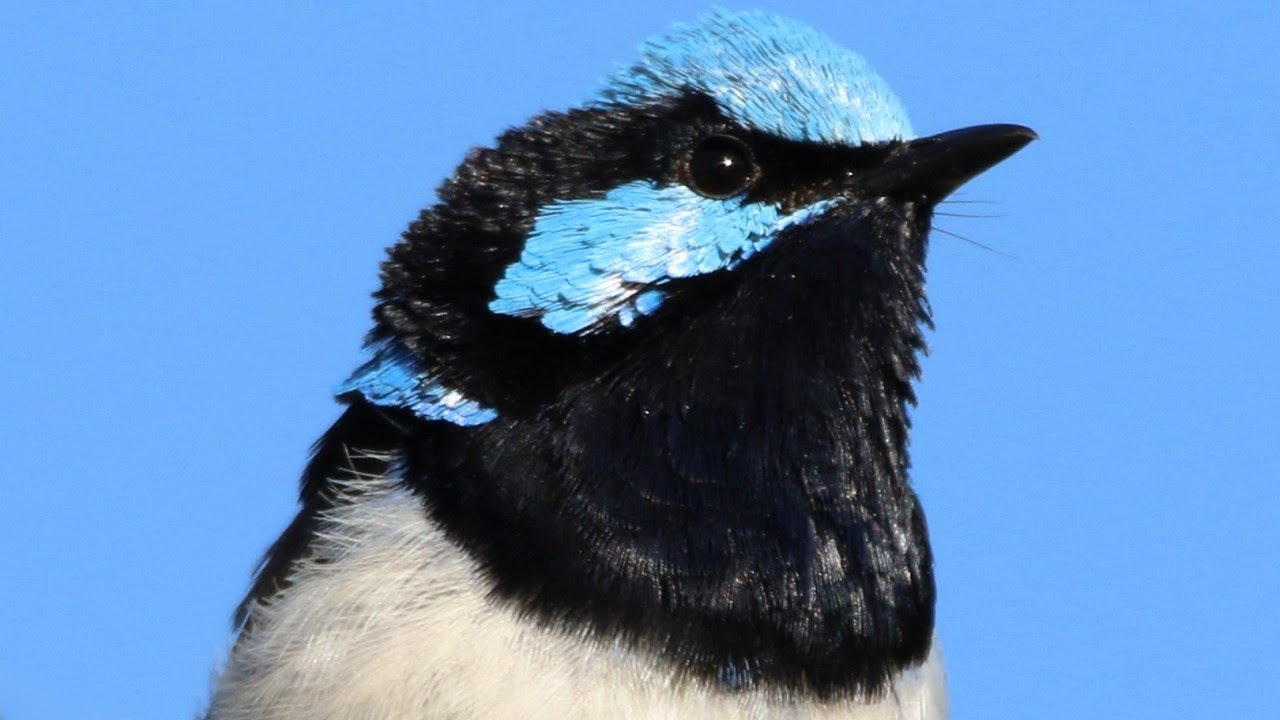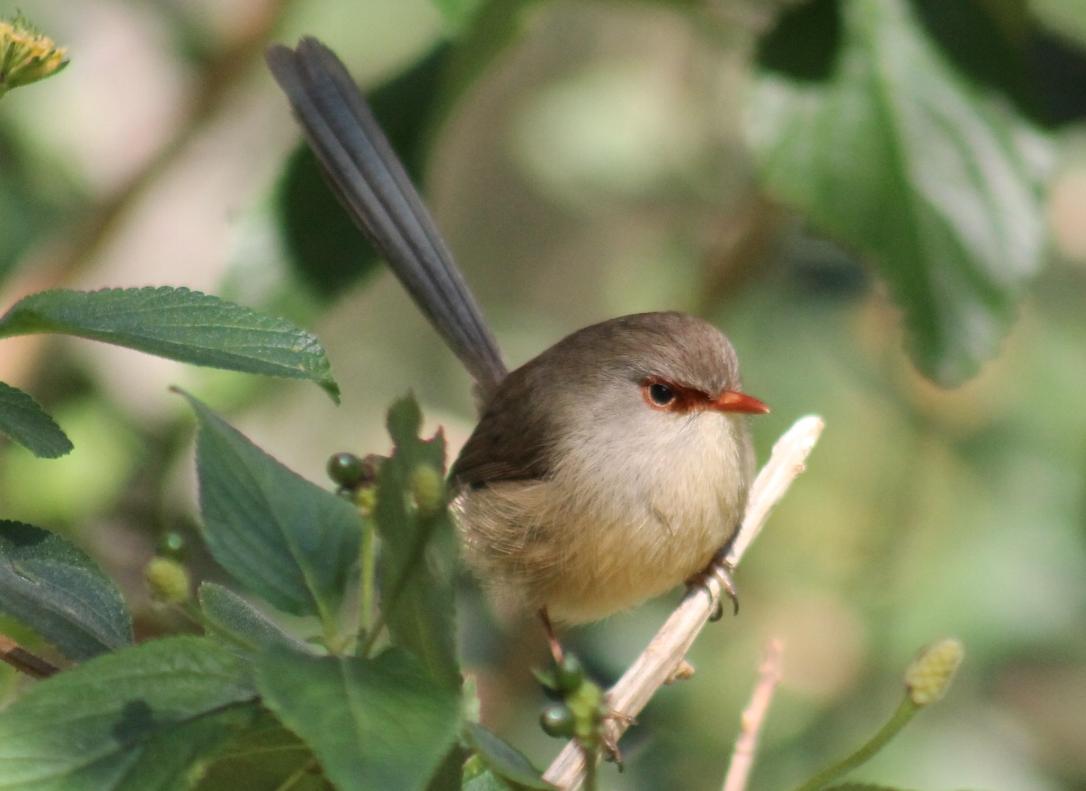 Superb Fairy-wren (Malurus cyaneus) - female
Vale George Annells CHAMPION
b. 10th March 1930 - d. 28th April 2023
Passed Away peacefully at Northern Beaches Hospital.
Loved husband of Shelagh Champion (d. 2017.)
Father to Bruce and Ian; Father-in-law to Patricia and Heather. Papa to four grandchildren and two great grandchildren.
Remembered for his dedicated work as a teacher, environmentalist and historian.
''The northern beaches has lost a giant of local history research and writing.'' - John Morecombe, esteemed local journalist and Honorary Fellow of the Manly Warringah Pittwater Historical Society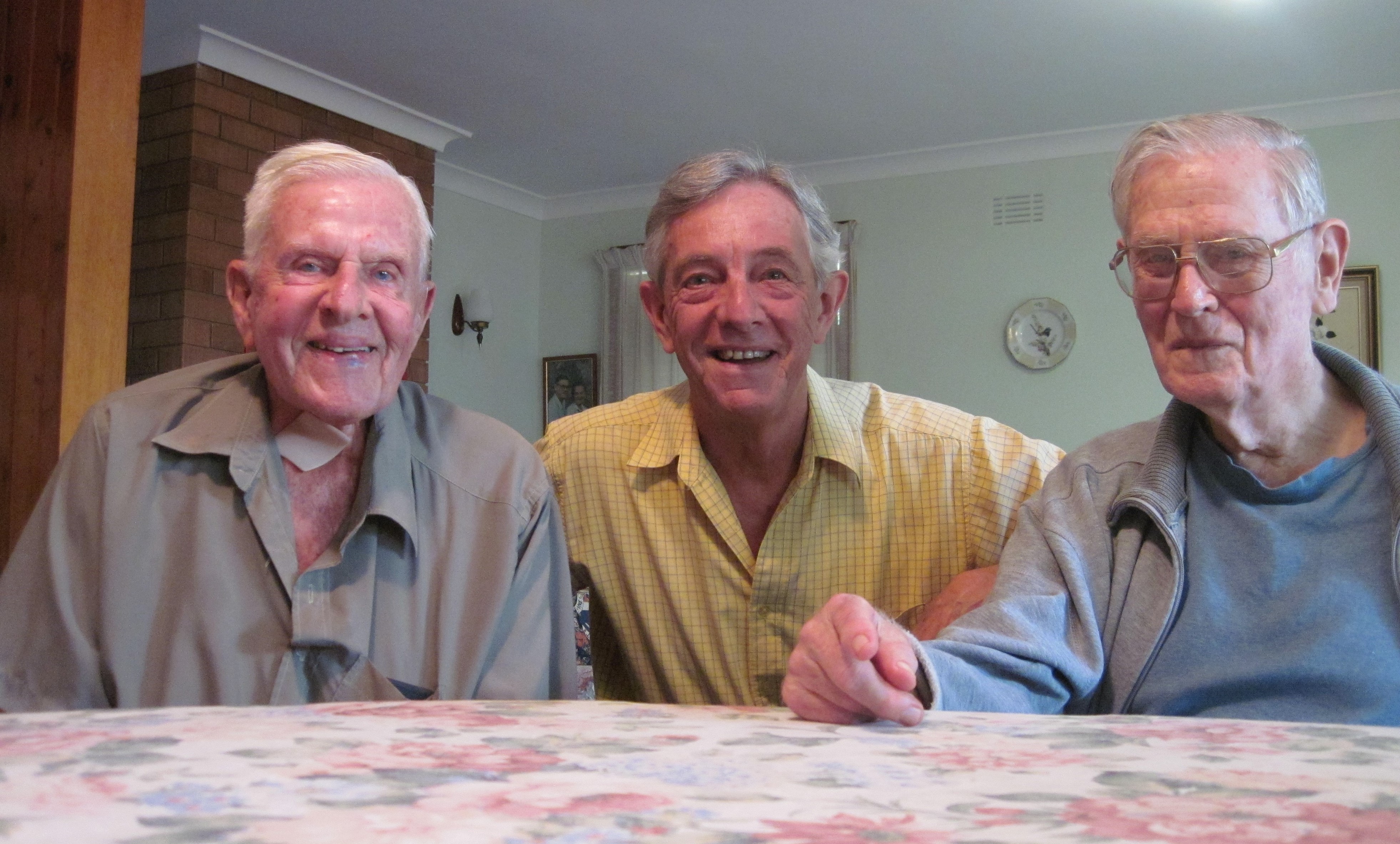 Photo: The Hon. James (Jim) Macken R.I.P., Geoff Searl OAM and George Champion OAM in January 2019. Photo: Geoff Searl OAM
Lifting The Standard Of Food And Nutrition In Aged Care
The Federal Government is increasing its commitment to improve food, nutrition and the dining experience in residential aged care by establishing a food unit in the Aged Care Quality and Safety Commission.
The $12.9 million funding, part of a historic $36 billion aged care budget, will deliver a range of meaningful measures to enhance the quality of food for older people.
A new food 'hotline' for food complaints and advice will be established and staffed by specialists.
The support unit will also help providers build capability by linking them with support and education programs, including those delivered by accredited practising dietitians.
The support unit will:
triage food hotline calls based on the nature and level of risk to older people
coordinate up to 720 provider spot checks annually, with 10% of spot checks of the highest risk services to have accompanying dietitians
support providers to build capability by linking them with education programs
engage Dementia Australia experts to promote nutrition and food enjoyment for people with dementia.
To further enhance the capability of providers, up to 500 menu and mealtime assessments will be conducted by independent practising dietitians to increase providers' knowledge and capability to deliver nutritionally balanced menus.
New dietary guidelines and resources for older people will also be developed. These guidelines will support good nutritional intake and reduce malnutrition risk.
Older people receiving in-home care, and in-home care providers delivering food services, will benefit from these guidelines and other resources.
Minister for Aged Care, Anika Wells stated:
"The Albanese Government is committed to ensuring everyone living in residential aged care receives nutritious meals.
"Older people have a right to enjoy quality food and will now have a simple way to report inadequate food.
"This $12.9 million investment will increase the capability and accountability of aged care providers to deliver good food and nutrition.
"The new Food, Nutrition and Dining Advisory Support Unit in the Aged Care Quality and Safety Commission will be staffed by specialists, including those with dietetic clinical expertise.
"They will support consumers with a dedicated food hotline for food complaints and advice, and providers, by linking them with education programs, and we recognise the need to work lock-step with dietitians to lift the quality of food and nutrition in residential aged care."
Care Finders Program Launches In Northern Sydney
Your Side and Sydney North Health Network (Northern Sydney PHN) are delighted to announce a new partnership delivering the Commonwealth Department of Health and Aged Care's new care finder program, commencing April 2023, and serving Northern Sydney PHN region as a part of a national network of care finders.
Your Side believes that every life can be a good one and is passionate about supporting people to navigate and access the support they need to live independently and contribute to our community.
Sydney North Health Network is focused on people who are at risk of poor health outcomes, and we work to improve the coordination of their care, in the right place, at the right time.
Care finders will connect people to quality and appropriate aged care. These will be older people who are experiencing things like homelessness, mental illness, alcohol or drug dependence, care leavers, people leaving incarceration, and minority groups. Assistance can take various forms, ranging from providing guidance on the necessary paperwork to register with My Aged Care, to discussing with individuals the various options offered by local service providers. Additionally, some individuals may require support in navigating the assessment process, which may involve attending an assessment at home with a care finder who can help those who find the process challenging.
Care finders can also help find and connect people to other services like homelessness programs, mental health support, peer groups, alcohol and other drug programs, transport services, or social groups. Whatever the need is and whoever most needs it, care finders will be there.
"Your Side knows that for some people who have experienced trauma or other disadvantages in their life, accessing the mainstream support designed to help everyone can be confusing, intimidating, or trigger past bad experiences with institutions. Care finders will make sure that those most in need of the aged care services available to all, can access that support," said Danielle Ballantine, Your Side's CEO.
The aged care system is complex, and some people find it more difficult than others to navigate and access the services they need. This is especially true for people who have had negative experiences in healthcare or institutional settings. While My Aged Care is the single-entry point for people to find out about and access aged care services. The community has asked for more localised and face-to-face support to help people to navigate and access aged care.
"Our purpose is to increase the efficiency and effectiveness of healthcare and other services for the local community, which we achieve through partnerships. You can have the best services in the world, but that means little to people who experience significant barriers in accessing them. Care finders will locate the most vulnerable older people in the Northern Sydney region and connect them to meaningful and life-changing care," said Lynelle Hales, CEO of Sydney North Health Network.
Care finders is a free service that helps people to set up:
Aged care services for the first time or if they want to change services.
Community supports.
Care finders visit clients in their homes or in the community. It is just for vulnerable older people.
Care finder services are provided at no cost.
Care finders can sit alongside you, logging onto the computer and making phone calls with you, or on your behalf.
We can help you to:
Phone or visit My Aged Care and arrange an assessment.
Attend and provide support at the assessment.
Find and short-list aged care providers in your area.
Complete forms and understand aged care service agreements.
Check in once services are up and running to make sure everything is OK.
Help arrange reassessments where needed.
Solve other challenges and connect you to supports in the community, such as health, mental health, housing and homelessness, Carer Gateway, drug and alcohol services and community groups.
Your Side care finders will work together with local health providers and community organisations to provide high-level support and assistance to vulnerable members of the community.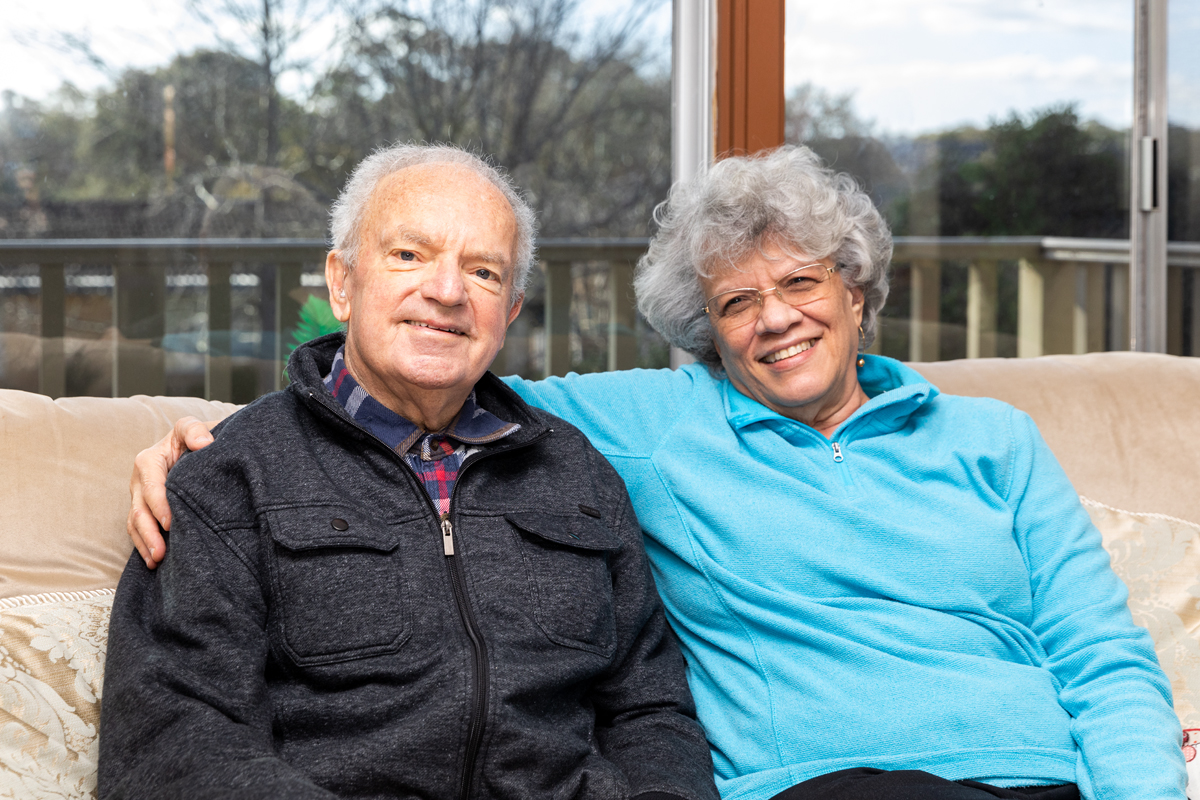 Giving Up Driving Is A Senior's Nightmare – But Smart Help Is Here
UNSW and National Seniors launched a joint research report this week about older people and advanced driver assistance systems (ADAS).
The study surveyed 1,300 NSA members and affiliates aged 60-98 who had a current driver's licence.
Generally, older drivers do not use ADAS technologies regularly, except for conventional cruise control.
Most of those surveyed welcomed the new technology but question its reliability and safety in all conditions.
When it comes to driving, what do young adults and seniors have in common? Both groups are more often at fault in vehicle accidents.
Younger drivers are more likely to drink drive, speed or engage in risky behaviour. Older driver crashes are often due to lack of awareness, faulty perception or onset of sudden illness.
This National Road Safety Week (14-21 May), we ask: can older drivers be safer drivers?
Driving is a complex task and driving ability can be affected by ageing in the following ways:
Diminished hearing and eyesight.
Slower decision making.
Slower reflexes and reduced agility.
Reduced muscle strength and response.
Chronic conditions requiring medications that affect reflexes and reaction times.
Older drivers who are aware of their age-related limits may reduce driving to familiar areas and short distances or give it up entirely. Some states and territories impose licensing limitations, which can lead to older drivers losing their licence as well as their mobility and wellbeing.
What if there were ways to make driving safer for older people, and other road users, by reducing some of the age-related risks of driving?
Newer model cars offer a mesmerising range of technology assistance that can improve driver safety.
With that in mind, researchers at the University of New South Wales (UNSW) are evaluating whether these Advanced Driver Assistance Systems (ADAS) help improve safety for older drivers.
Members have their say on driving technology
The study included more than 1,300 National Seniors Australia (NSA) members and online subscribers aged 60 to 98 and investigated their use of 12 driver assistance technologies.
"There has been very little research into older people and advanced driver assistance systems, so this UNSW study is breaking new ground," NSA's Head of Research, Dr Diane Hosking said.
The results show older people welcome driver assistance features in new cars, but they don't fully use or trust them.
The technologies include conventional cruise control, which has been around since the 1970s, and newer features like parking assistance, automatic emergency braking, and blind spot monitoring.
Cruise control was far and away the most well-known and popular ADAS – more than 40% of participants regularly use it.
Traffic-assist – which warns of oncoming traffic when reversing – and lane change warning tied for second at a much lower 23%.
Park assist was least popular, used by fewer than 5% of study participants.
More participants said they have park assist in their car but they don't use it than those who do regularly use it.
When asked if they would use advanced driver assistance systems if they came standard in their vehicle, 76% said they would, and 60% intended to use them in the future.
Findings also challenged the stereotype of older people shying away from technology, as 65% of participants agreed that advanced driver assistance systems would be easy to learn and to use.
Similarly, 75% agreed that having such systems in cars is a good idea and around 60% felt that using them would decrease their personal risk of crashes or traffic violations.
Sure, but can you trust them?
Despite welcoming the technologies, participants were still concerned about the risks, especially with self-driving cars.
Drivers were worried about the reliability of the systems and their ability to perform safely in all conditions.
In addition, about 35% of people responded to these questions by selecting the "neutral" option, likely indicating that many participants were unsure about the capabilities and risks of the technologies.
They are not alone. As recently as December 2022, Austroads published a new guideline about advanced driver assistance systems to help driver trainers and driver's licence assessors better understand them. Austroads intends to publish another guideline this year, aimed at consumers.
In the meantime, enjoy your cruise control and prepare for a brave new world of driving.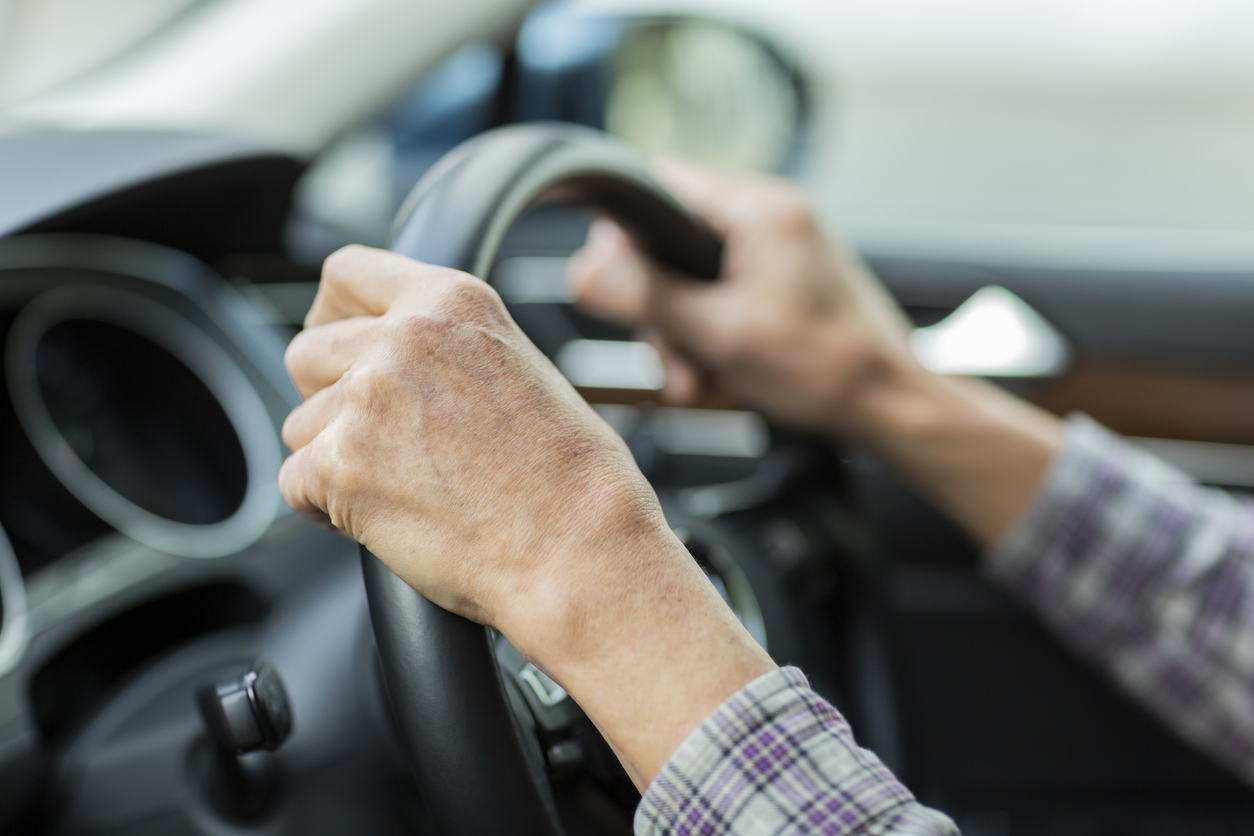 Seniors Miss Out On Vital Crohn's And Colitis Support
May is Crohn's and Colitis Awareness Month and seniors with these conditions are urged to insist on better medical support.
Did you know more than 100,000 people in Australia live with Crohn's disease or ulcerative colitis, collectively known as inflammatory bowel disease (IBD)?
Seniors are often not getting the resources and support the need, and in some cases are living with undiagnosed IBD.
It's a disease often associated with children and young people but this Crohn's and colitis Awareness Month it's worth noting that by 2030 one third of people with IBD will be aged 60 or over.
Crohn's and Colitis Australia (CCA) is urging older people to be more insistent with their doctors to ensure they are effectively diagnosed and treated.
The association says there's a worrying gap in knowledge and support for those with the diseases.
While there is no identified cause or cure, new treatments are available and diagnosis methods have changed significantly in recent years.
When it comes to treatment, the main goal is to reduce inflammation and symptoms. The good news is that research has led to more treatment options in both medication and diet. In some cases, however, Crohn's disease complications may have to be treated with surgery.
The impact of the disease on older people was revealed through recent Royal Australian College of Physicians research, which found those with IBD were less likely to experience steroid-free remission, be prescribed biologics, or have a specialist IBD nursing contact and/or a multidisciplinary IBD team.
This lack of support within the medical sector makes living with IBD much more disruptive and painful, and much less manageable.
Seniors are advised they should insist on further exploration when it comes to their diagnosis and treatment.
CCA chief executive Leanne Raven says, "Our health system needs to step up with a real focus on personalised care across the lifespan for people living fearlessly with complex chronic conditions.
"Older people deserve to have the best care available wherever they live, it should be integrated and inclusive of nurses within a multidisciplinary team".
CCA recently interviewed two older Australians, Jan and Tony, living with IBD to gain more insight into their experience of the disease and the process of getting a diagnosis.
Both Jan and Tony were diagnosed later in life following a lifetime of illness. Three years ago, when the pandemic hit, Tony's circumstances meant that managing his Crohn's became crucial.
Working as a professional entertainer meant that he was out of a job, which he says really taught him to deal with stress.
Jan was diagnosed with Crohn's disease in her late 50s. She says that finally receiving a formal diagnosis has made a huge difference to her life.
"The pain has become better since the diagnosis. Just knowing exactly what's causing the pain makes it much easier to deal with and I'm now in a position where I can develop more informed and effective strategies for coping. New medication has also made a difference.
"How helpful it would have been 70 years ago to have received definitive diagnoses of these conditions. My hope is that no one will now need to live so long with undiagnosed IBD and that better diagnostic methods and treatments will continue to be reflected in the lives of those suffering with this disease."
Symptoms of Crohn's disease can be different for each person and can be serious or mild. Symptoms will depend on where inflammation appears in your gut. 
The most common symptoms during a flare are:
Abdominal pain.
Frequent diarrhoea (sometimes mixed with mucus and blood) and need to use the toilet.
Tiredness, fatigue.
Raised temperature, fever.
Loss of appetite, weight loss.
Anaemia (reduced level of blood cells).
Inflammation in the gut can make it harder for the body to absorb nutrients from food, leading to many of these symptoms. 
Less common symptoms during a flare are: 
Joint pain.
Mouth ulcers (sores).
Eye inflammation (uveitis and episcleritis).
Liver inflammation (Primary Sclerosing Cholangitis).
Skin rashes.
Always ask your doctor if you are worried about any of your symptoms. 
State Of The Older Nation (SOTON) 2023: New Research Shows Age-Related Discrimination Is Rampant In Western Australia
Research released by the COTA Federation has revealed over one third of Western Australians have faced age-related discrimination since turning 50 (37%), and a further 28% have experienced employment-related discrimination.
In its third edition, State of the Older Nation (SOTON) details the experiences and views of 2,750 Australians aged 50 and over, and this year paints a bleak picture with almost half (45%) of older Australians believing that things are getting worse for them, which is a sentiment mirrored by older Western Australians (46%).
The COTA Federation 2023 Report highlights an overarching pessimism that is underpinned by fewer older Australians feeling financially secure, more reporting difficulties accessing health services, reports of age discrimination and worries about their risk of homelessness, with sentiments even worse among vulnerable people.
"Though these findings are upsetting, they are perhaps unsurprising. Every time we talk about the issues that affect older Western Australians age-related discrimination comes up", explains COTA Western Australia CEO Christine Allen.
Age-related discrimination is insidious and impacts the everyday life of older Western Australians, from housing to health through to access to information and digital inclusion. With government and service providers increasingly expecting clients to act and engage online older Western Australians are getting left behind.
"It can be subtle, but the fact of the matter is ageism is an endemic issue and permeates every aspect of the lives of older Western Australians. Tackling ageism is essential, particularly in education and awareness, as older Western Australians have made significant contributions to the community throughout their lives. As a community, we must look at ways to better utilise the skills and experience of older members of our community"
"Another major issue for older Western Australians is digital inclusion which remains a key area of concern. While digital technology has the potential to greatly enhance the lives of older Australians in Western Australia, we constantly hear about difficulties accessing ever increasing amounts of information and a lack of digital literacy, particularly evident in rural and remote areas."
COTA (WA) has been aware of these issues for some time and has taken every opportunity to raise them whenever appropriate. We will continue to be active in this area and are hopeful that the recently released WA Government's Seniors Strategy 2023-2033 will provide a springboard for discernible progress in these and other aspects of the lives of older Western Australians.
This research was commissioned by the Federation of nine Councils on the Ageing (COTA) across Australia – including all eight COTA state and territory organisations and COTA Australia – in order to understand the views, life experiences and needs of Australians aged 50+.
The contents of this report present an opportunity for policy makers to represent Older Australians in their interventions. Older Australians are increasingly feeling like things are getting worse for them, fewer feel financially secure, and more are reporting difficulties accessing health services – with experiences even worse among vulnerable people. The COTA Federation is proud to present the information in this report to inform policy debates now and into the future.
The full 2023 report explored a range of topics including Quality of Life and Sentiment about the Future; Financial Security and Cost of Living; Employment for older workers; Ageism, Age Discrimination and Elder Abuse; Health and Health Services; Intentions to Travel; Housing; the ongoing effects of COVID-19 on older people; and older people use, skills and access to Technology.
Key findings from the study include:
Negative personal expectations for the future reflects a broader pessimistic outlook
As well as overarching worries and concerns, there has been a steady wave on-wave decline in the proportion of those feeling positive above what the future personally holds for them, from 70% in 2018 to 65% in 2021 and only 60% in 2023. Reported social, mental, and physical health does not seem to have bounced back to pre-COVID levels. Of concern, nearly one in five older Australians (19%) feel quite worried about what the future holds for them, and this is linked to poorer mental, physical and financial health.
Cost of living pressures are impacting the quality of life
As the cost of living continues to rise, older Australians are becoming increasingly pessimistic about their financial prospects, with fewer now seeing themselves as very financially secure. Older Australians who report being in a poor financial situation are particularly affected, with financial stress being the key reason for feeling like things are getting worse (59% mentioned this, compared to 31% in the previous survey).
One in in five (18%) have overdue bills due to payment difficulties, and overdue electricity or gas bills are most common (11% have these overdue). The rates of Older Australians having overdue electricity or gas bills has increased wave on wave as Australia now battles an energy crisis – and these people often have multiple overdue bills rather than just one. Among those who had payment difficulties, the average number of bills overdue was 3.5 and 14% were worried about their risk of homelessness in the next 12 months (compared to 3% of those without overdue bills).
Older people continue to contribute a lot of their time to unpaid labour. They are now reporting to spend less time volunteering (5.7 hours a week, down from 6.3 hours in 2021), and more time caring for grandchildren while their parents work (11.1 hours per week, compared to 9.1 in 2021).
Increasing difficulty in accessing health services
Older Australians have faced increasing difficulty accessing medical services, especially vulnerable groups. Reasons include long waiting lists and costs. Difficulty in access is markedly more likely to be experienced by some more vulnerable groups such as those who are unemployed, living with a disability, speak a language other than English or have experienced a significant loss of income in the last 12 months.
Satisfaction with health services is also on the decline with 83% rating their satisfaction a 7 or more out of 10, down significantly from 88% in 2018 (the last time this question was asked). Those who reported to have poorer access to healthcare services were generally less satisfied.
Significantly more Older Australians reported accessing mental healthcare services in the previous year (8% have), compared to 2018 (6%) – this highlights a growing need for mental health services equipped to support Older Australians, noting that 39% reported to have experienced feelings of depression or anxiety in the last 12 months.
1 in 4 workers feel they will never retire, with vulnerable groups especially likely to feel this way
Around a quarter (24%) of older Australians who are still working feel they will never retire, with those in financially precarious or vulnerable positions significantly more likely to feel this way.
Employment-related discrimination
35% of older Australians have experienced some form of age-related discrimination since turning 50
Employment-related discrimination is the most common form, either in the workplace or when seeking employment – 24% of older Australians have experienced it, which remains consistent with the previous survey (26%).
Over 1 in 5 (22%) Older Australians surveyed are renting, with many vulnerable groups significantly more likely. Renters were significantly less likely to be satisfied with not only their living arrangements, but also their ability to afford the home in which they live and keep up with bills. Further, concerningly, over 2 in 3 (67%) of those worried about their risk of homelessness are renters.
Renting is more prevalent among Older Australians who:
Identify as Aboriginal or Torres Strait Islander: 55% are renters
Are not in paid employment: 47% are renters
Have a disability: 38% are renters
Identify as LGBTQ+: 38% are renters
Are single: 37% are renters
Their primary source of income is a government pension: 34% are renters.
Download the 2023 edition of State of the Older Nation at: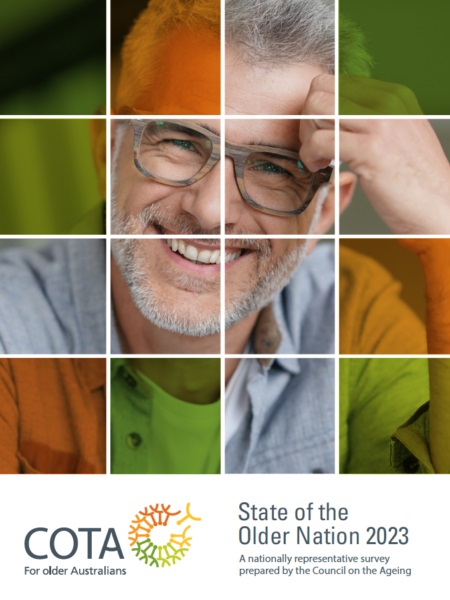 Pittwater RSL: Seniors Show + Lunch 2023
Our Seniors Shows are on every last Monday of month!
LIVE in the auditorium.
Two course luncheon in the Glasshouse PLUS a show special: $20pp
Doors open from 10am for an 11am show.
May 29th
: Tony and Joe with special guest - Susannah Mirana PLUS we will have the Pittwater Memorial Women's Bowling Club here to host a bake sale for the Biggest Morning Tea from 10-11am on the day!
26th June 2023
: Tony and Joe with special guest - Christoper Booth
31st July 2023
: Tony and Joe with special guest - Davidia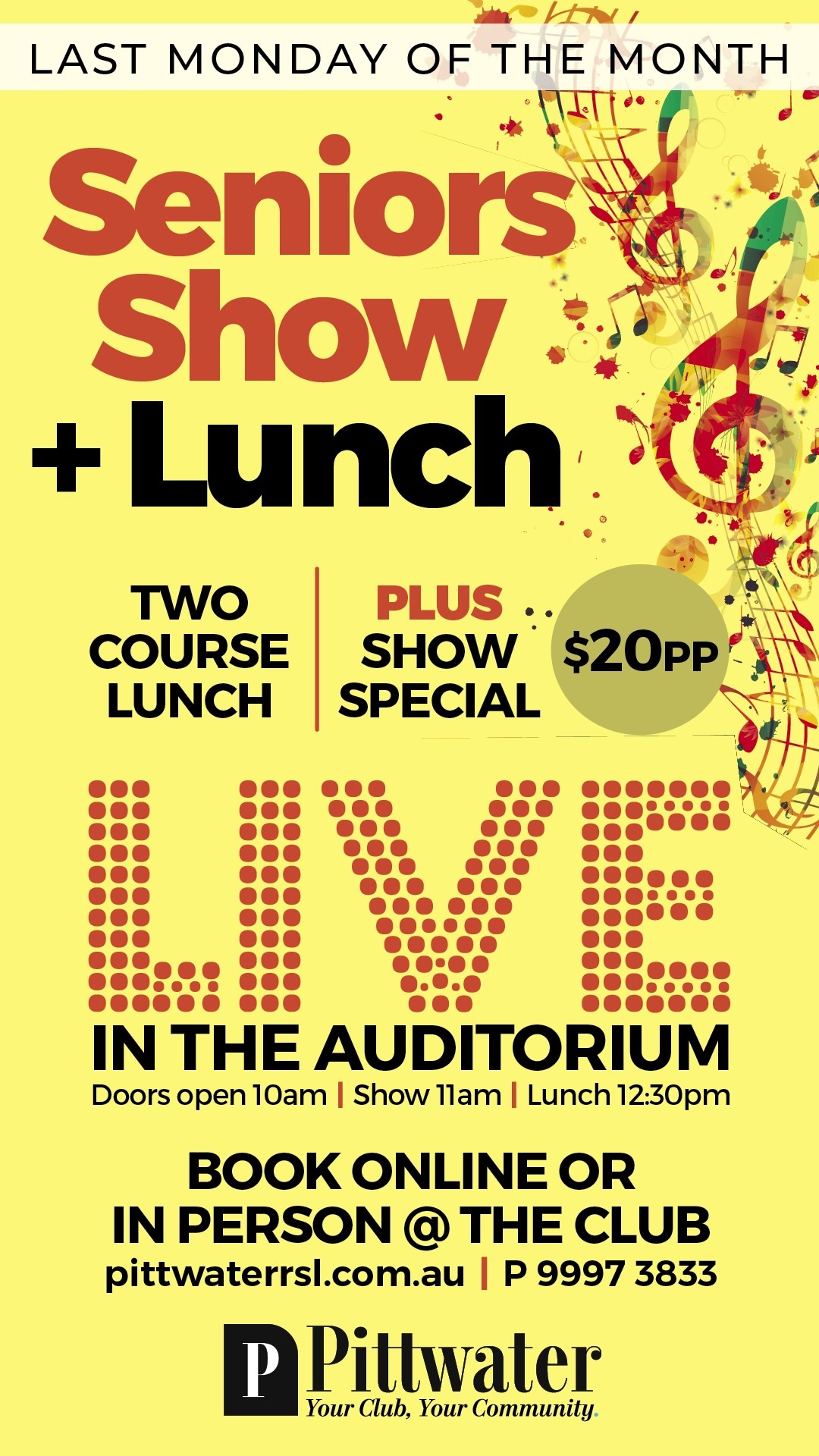 MEN'S TABLE FOR PITTWATER, MONA VALE AND SURROUNDING AREAS
The Men's Table in an organisation made up of groups of 8-12 men who meet over dinner in the same place and same time of the month to share the highs and lows of their lives. There are now more than 100 Tables all over Australia with more than 1,000 men of all age groups, professional and personal backgrounds and orientations, stories and histories who are enjoying this unique experience and making friends, potentially for life. In the northern beaches there are now 3 Tables in Manly and 1 in Dee Why. As requested, they are now forming a Tables for areas further up from the existing Tables!
The Men's Table are holding an Entrée or an intro dinner at the Pittwater RSL on the evening of Tuesday, May 30.
You don't pay for anything except your own meal. But registration is required as seats are limited.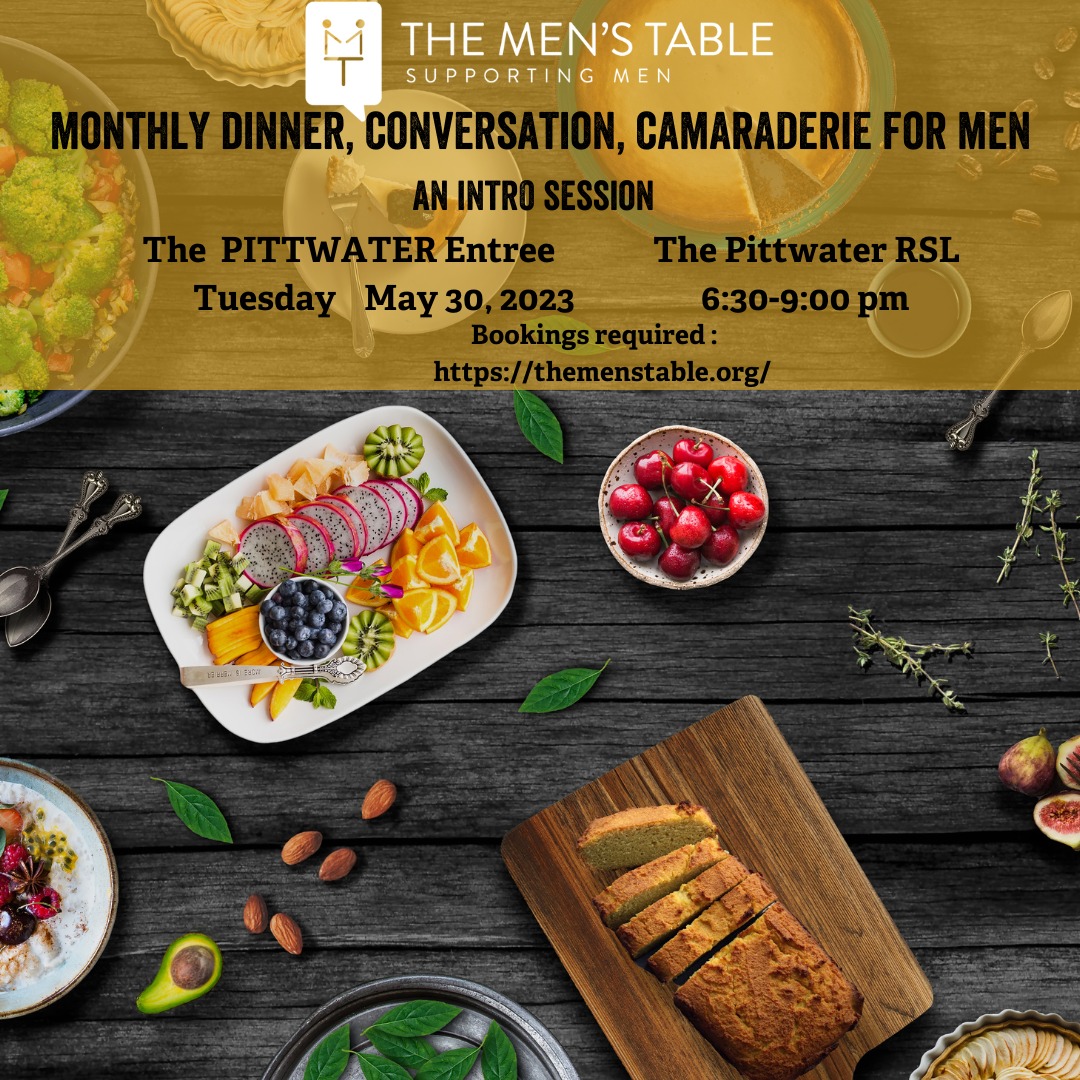 Heart Health Assessment Rebate Extended
Everyone knows a regular medical checkup is good for them, but often there are good reasons we do not get them. Anxiety, social pressure, and cost are real issues that keep people away from doctors.
Thankfully, in case of heart health, the Federal Government is taking away one of those excuses, by extending the Heart Health Assessment rebate.
Many Australians don't know they are at risk of heart disease, as some factors – such as high blood pressure or high cholesterol – might not be noticeable without a medical assessment.
Every heart matters, and too much heart disease in Australia has been going undetected until it is too late.
"Heart disease is Australia's biggest killer, one Australian has a heart attack or stroke every four minutes.
About 2.5 million Australians have a high chance of suffering a heart attack or stroke in the next five years, and many don't know it," said Federal Health Minister, Mr Mark Butler.
"Talking to your GP about your heart health save lives, helping to prevent or catch heart disease early so that patients and doctors can take action to reduce the risk before it's too late."
To get your heart checked, talk to your GP. If you don't have a GP, you can find one using the
Health Direct website.
Volunteers In Aged Care Consultation Open
The Federal Dept. of Health are seeking feedback from aged care volunteers, volunteer managers, and aged care providers to shape the future of aged care volunteering.
Volunteers are essential to the well-being of socially isolated older people and complement the paid aged care workforce in our aged care sector.
As part of the Australian Government's response to the Royal Commission into Aged Care Quality and Safety, we are seeking the views of: 
all people who volunteer in the aged care sector
all those who work with volunteers in their role as a volunteer manager or as an aged care provider.
Call 1800 318 209 to complete the survey over the phone or request a paper copy
For translating and interpreting services, call 131 450
Consultations close on 26 May 2023.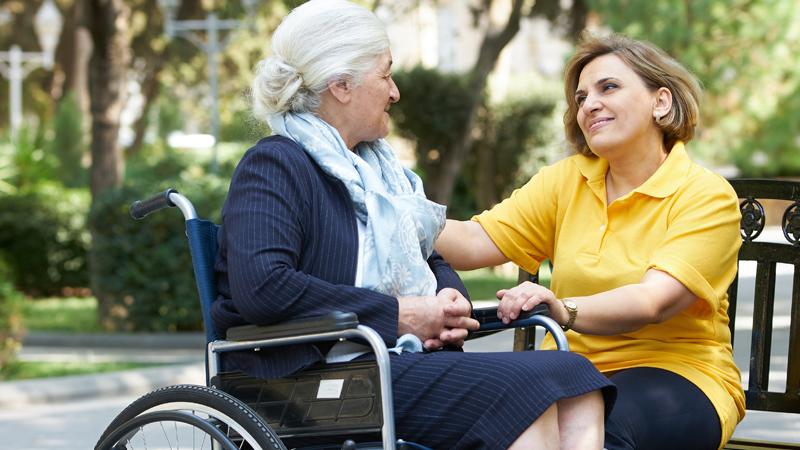 Plastic Pervasive In Food Supply: New Study
Micro and nanoplastics are pervasive in our food supply and may be affecting food safety and security on a global scale, a new study led by CSIRO, Australia's national science agency, has found.
The study is one of the first to analyse the academic literature on microplastics from a food safety and food security risk viewpoint, building on past studies which primarily tracked plastics in fish.
It shows that plastics and their additives are present at a range of concentrations not only in fish but in many products including meat, chicken, rice, water, take-away food and drink, and even fresh produce.
CSIRO analytical chemist, food safety specialist and lead author of the paper, Dr Jordi Nelis, said these plastics enter the human food chain through numerous pathways, such as ingestion as shown in the fish studies, but one of the main ways is through food processing and packaging.
"Fresh food for example can be plastic free when it's picked or caught but contain plastics by the time it's been handled, packaged and makes its way to us," Dr Nelis said.
"Machinery, cutting boards, plastic wrapping can all deposit micro and nanoplastics onto our food that we then consume. This study highlights the need to understand what plastic could end up in food to manage food safety and security," he said.
Another important pathway for these contaminants to enter our agriculture system is through biosolids sourced from wastewater treatment.
Biosolids are a rich fertiliser for agricultural land, but they can contain plastic particles from many sources, such as from the washing of synthetic clothing.
These particles could build up in the soil and change the soil structure over time, which may affect crop production, food security and ecosystem resilience. For example, plastic materials can 'trick' the good bacteria in the soil into thinking they are the roots of plants, meaning the plants end up with less of the nutrients they need.
The study also discussed how additives in plastics that help make plastic work in our modern world can leach into our environment, potentially contaminating our food supply. Additives that make plastic flexible or resistant to UV radiation, for example, can include flame retardants, heavy metals, phthalates, hardeners or other chemical compounds.
There are currently no definitive studies that demonstrate micro and nanoplastics in the environment cause harm to humans, however more research is needed to fully understand health effects.
More research is also needed to better understand the effects of plastics and their additives on food safety and security as well as to develop better analytical techniques to monitor, assess and establish safe levels in food, drinking water and agroecosystems.
"The key missing information is determining safe levels of microplastics. We currently don't know exactly what the microplastic flux through the food system is or which levels can be considered safe," Dr Nelis said.
He said there are things that consumers can do to help reduce micro and nanoplastics from cycling through the environment.
"On average Australians discard 100 kg of plastic waste each year, so use fewer plastics especially in the kitchen and wash your clothes a little less often, on shorter cycles," Dr Nelis said.
CSIRO is on a mission to end plastic waste, with a goal of an 80 per cent reduction in plastic waste entering the Australian environment by 2030.
The study, ''The measurement of food safety and security risks associated with micro- and nanoplastic pollution'' is available to read in full at: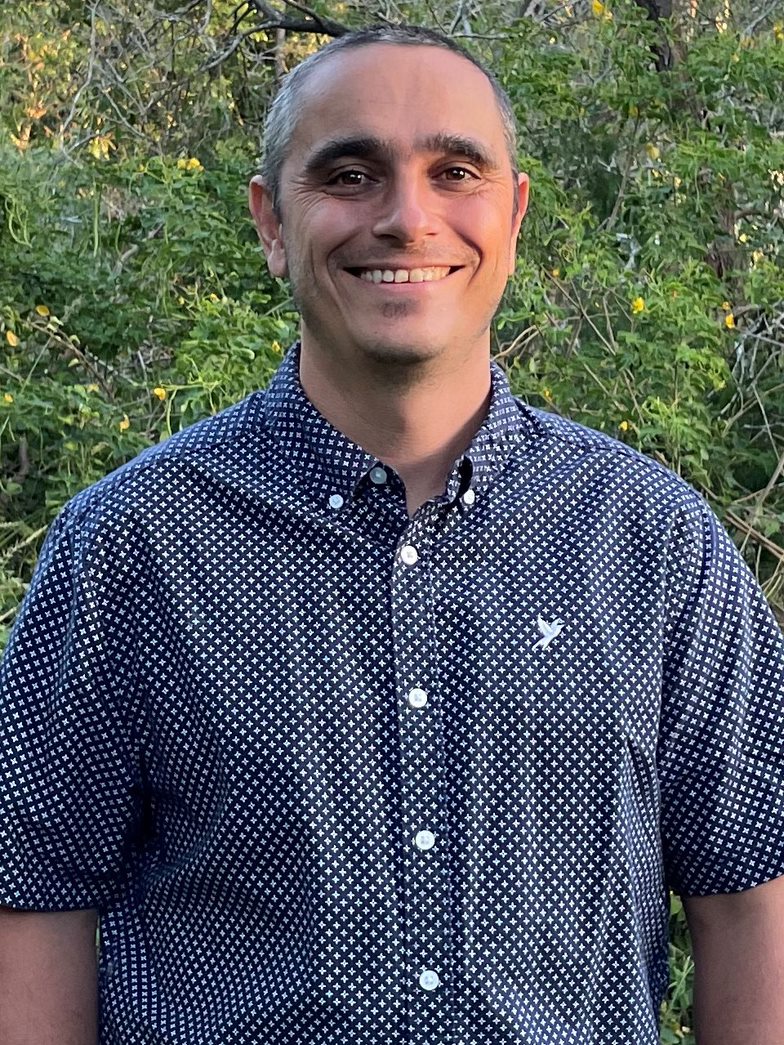 CSIRO analytical chemist, food safety specialist and lead author of the paper, Dr Jordi Nelis.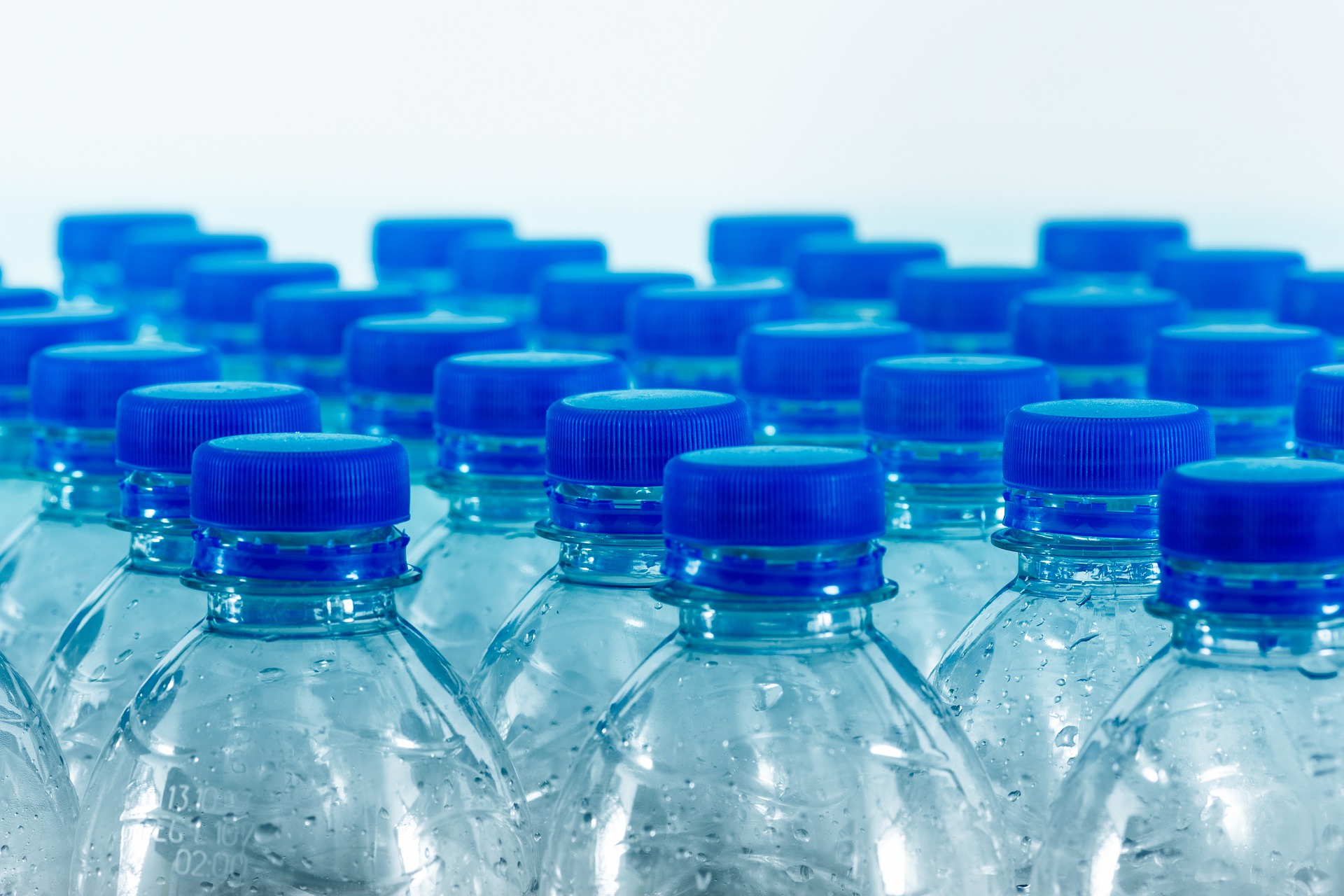 Support For Women Living With Hyperemesis Gravidarum: NSW Health
Pregnant women struggling to cope with the severe effects of hyperemesis gravidarum will be provided with more support and care through the expansion of the MotherSafe telephone service.
Hyperemesis gravidarum (HG) is a condition that causes severe nausea and vomiting during pregnancy for around 1 in 100 women during their pregnancy.
Minister for Health Ryan Park said the expanded MotherSafe service will have extended hours of operation on weekdays from 9am to 9pm, giving women more access to counsellors and pharmacists, as well as more specific support and advice.
The expanded service also increases accessibility for women living outside of metropolitan Sydney or who may be too unwell to travel, to have a consultation with a MotherSafe doctor.
"Women suffering with hyperemesis gravidarum during pregnancy are often so sick they can't go to work, care for themselves or someone else, but we want people to know that advice and management options are available," Mr Park said.
"This condition can cause significant emotional, psychological, physical and financial distress for women and their families, and is the main cause for hospitalisation in the first half of pregnancy."
"That is why we are acting to help pregnant women and their families. Expanding the successful MotherSafe service means more women will be able to receive tailored advice in relation to this condition."
Dr Marjorie O'Neill MP for Coogee said under the expanded service, women with significant symptoms will be contacted over the phone by the MotherSafe team within 48 hours of their last call to see how they are feeling and to re-assess what support they may need based on severity of symptoms.
"This newly expanded service ensures women can receive support in managing their hyperemesis gravidarum regardless of where they live in NSW," Dr O'Neill said.
An investment of $17 million has been committed over four years to improve awareness of hyperemesis gravidarum, and access to support and services for women experiencing the condition.
Cancer Survival Rates For Young Australian People At An All-Time High
Survival rates for adolescents and young adults (AYA) with cancer are at an all-time high, with 90 per cent of young people diagnosed with cancer alive five years after diagnosis.
NSW Health Minister Ryan Park said NSW's cancer specialists, hospitals and community agencies are committed to supporting young people with cancer and helping them thrive as adults.
"NSW has some of the best cancer survival rates in the world and that simply wouldn't be possible without the dedication and passion of our state's health professionals and cancer researchers," Mr Park said.
"To see so many young people survive cancer is incredibly encouraging, but work continues to achieve our vision of a time when no young person loses their life to this disease, and they can go on to live long productive lives not overshadowed by ongoing side-effects or fear of another cancer diagnosis."
Professor Tracey O'Brien, NSW Chief Cancer Officer and CEO of Cancer Institute NSW says that while the overall survival increase has been dramatic there is still much to do to improve survival rates and address the long-term impacts experienced by these young people.
"On average in NSW, one adolescent or young adult will be told they have cancer every day. Hearing this at any age is devastating, but it is tougher when you are also dealing with heightened physical, emotional, social, educational and sexual changes," Professor O'Brien said.
"Facing cancer treatment while also having to consider the impact their diagnosis and treatment could have on their future health, fertility and careers is challenging and heartbreaking."
Between 1984 and the current reporting period, rates of colorectal cancer increased almost fourfold (nine to 33 cases per million) and for thyroid cancers almost threefold (13 to 35 cases per million). Survival for these cancers, which rank in the top five most common cancers seen in this age group, was high at 95 per cent and 99 per cent respectively.
While overall survival had improved dramatically, there were certain cancers where survival rates remain lower, such as brain, bone and soft tissue sarcomas.
"Overall, these results are very encouraging and give great hope, but we need to be mindful that people are not statistics, and progress made in treatment of some cancers like bone cancer is less positive, with a third of young people not surviving to five years after their diagnosis," Professor O'Brien said.
"We will continue to focus on research and innovation to improve outcomes for all young people diagnosed with cancer."
NSW has a state-wide multidisciplinary youth cancer service with hubs at Prince of Wales Hospital, Sydney Children's Hospital, Randwick, Westmead Hospital, The Children's Hospital at Westmead, John Hunter Hospital, Calvary Mater Hospital, Royal Prince Alfred Hospital and Chris O'Brien Lifehouse.
Over the last five years, the NSW Government through the Cancer Institute NSW has invested $4 million in AYA cancer research and $5 million annually into Cancer Clinical Trials.
Construction Complete At Tamworth Ambulance Station
Local paramedics will soon be handed the keys to Tamworth's new ambulance station with construction now complete on the state-of-the-art facility.
Minister for Health Ryan Park said the new station on Piper Street is replacing the station on Marius Street, which has been faithfully serving the community for almost 100 years.
Mr Park said the Marius Street ambulance station, which opened in 1926, will remain operational until the new Piper Street station assumes operational duties.
"We have now reached the final milestone in the delivery of Tamworth's new ambulance station, with construction now complete," Mr Park said.
"This is a big step towards providing local paramedics with a high-quality base and the latest facilities and equipment to meet the current and future emergency care needs of the local community.
"In the coming months, we can expect to see NSW Ambulance operations transition over to the new station.
"This is part of our commitment to invest in rural and regional health infrastructure to support better health outcomes for local communities," Mr Park said.
NSW Ambulance will shortly commence operational commissioning activities, which includes testing systems and adding the finishing touches to the internal fit-out, ahead of the station becoming operational in the coming months.
The new station includes internal parking for up to 12 emergency ambulance vehicles, staff rest facilities, administration and office areas, logistics and storage areas, an internal wash bay and staff parking.
The $232 million RAIR program is delivering 54 new or upgraded ambulance stations. It is the single largest investment in regional NSW Ambulance's 127-year history.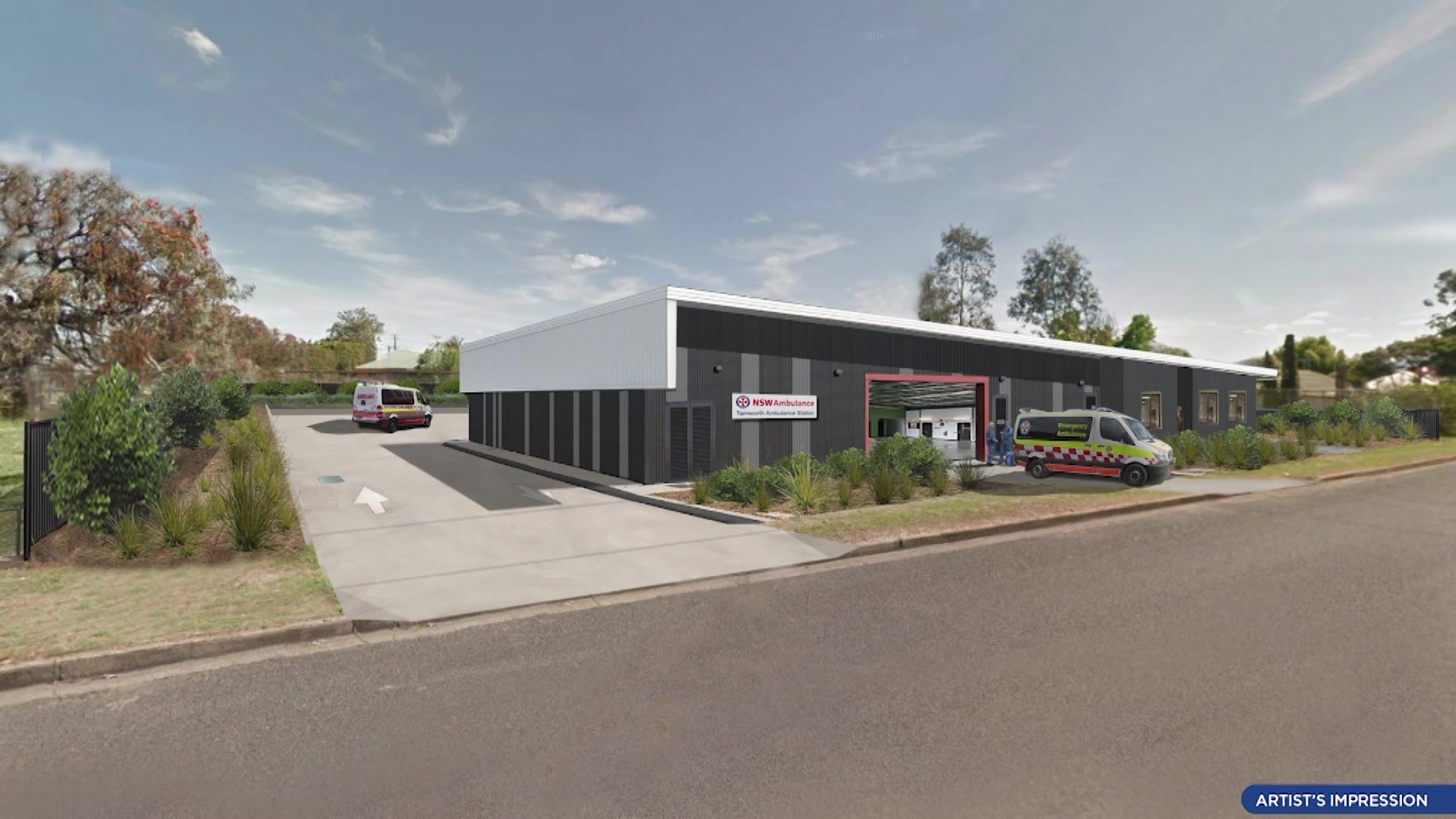 New Guide For Estimating Space Requirements For Hospital Departments In Australia
New Australasian Health Facility Guidelines (AusHFG) Spatial Benchmarks are now available to support the development of high level area estimates for clinical, clinical support and non-clinical services such as acute inpatient units, medical imaging departments and back of house services.
According to the newly released AusHFG guide for estimating space requirements for common hospital departments or services, a mininum area of 51m2 is required per Emergency Department (ED) bay, excluding inter-departmental areas including lifts and engineering requirements.
The benchmarks outline minimum requirements, and support capital project teams in the initial planning stages to inform early cost planning and indicative footprint requirements prior to developing detailed area requirements . They can also be used to advise early investment decisions, as well as site selection and staging strategies.
As administrator of the Australasian Health Infrastructure Alliance (AHIA), Health Infrastructure oversees the development of AusHFG that form the basis for the planning and design of healthcare facilities across Australia and New Zealand.
Out Of This World Control On Ice Age Cycles
A research team, composed of climatologists and an astronomer, have used an improved computer model to reproduce the cycle of ice ages (glacial periods) 1.6 to 1.2 million years ago. The results show that the glacial cycle was driven primarily by astronomical forces in quite a different way than it works in the modern age. These results will help us to better understand the past, present, and future of ice sheets and the Earth's climate.
Earth's orbit around the Sun and its spin axis orientation change slowly over time, due to the pull of gravity from the Sun, the Moon, and other planets. These astronomical forces affect the environment on Earth due to changes in the distribution of sunlight and the contrast between the seasons. In particular, ice sheets are sensitive to these external forces resulting in a cycle between glacial and interglacial periods.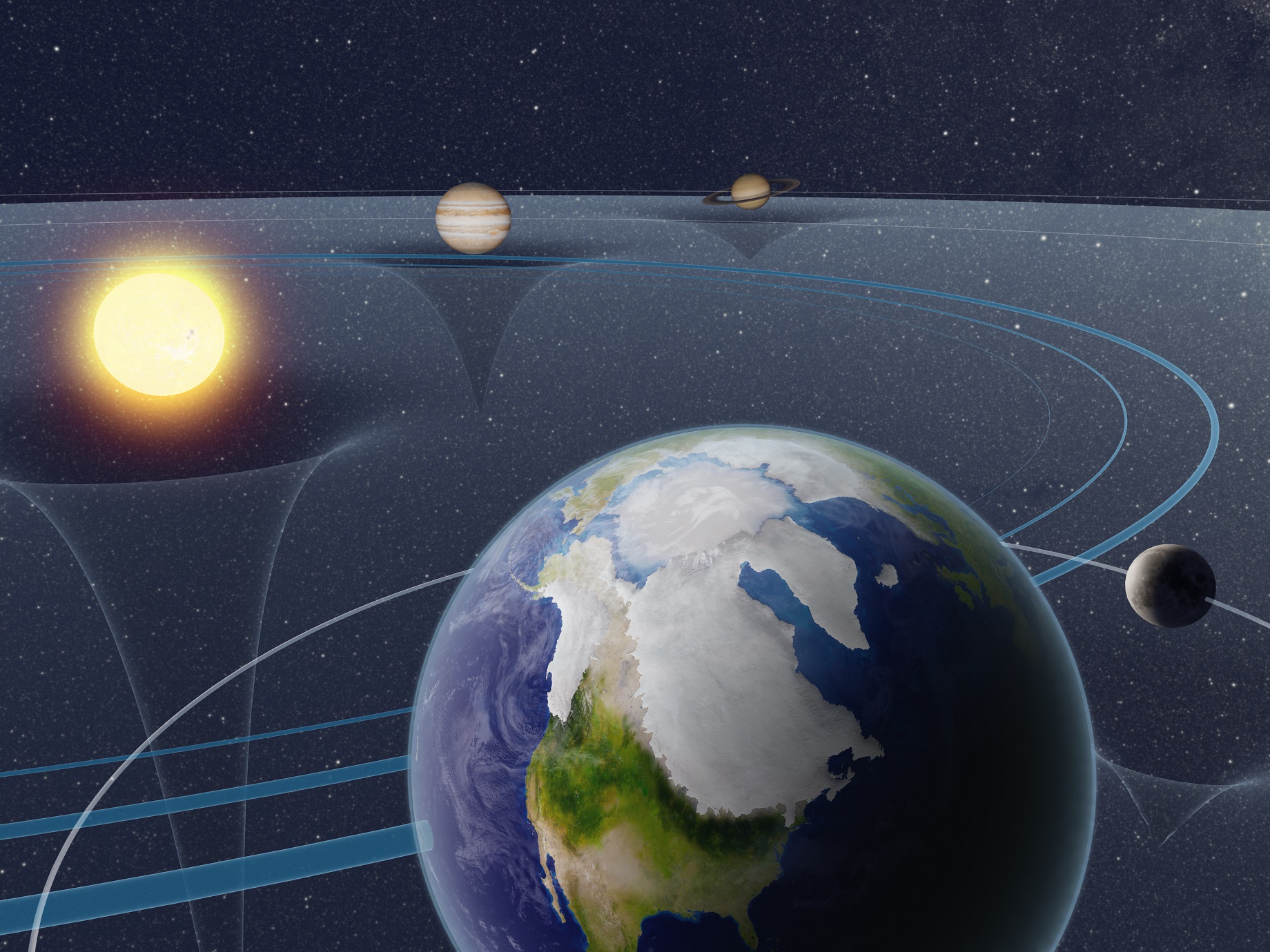 Figure: Artist's impression of how astronomical forces affect the Earth's motion, climate, and ice sheets. (Credit: NAOJ)
The present-day glacial-interglacial cycle has a period of about 100,000 years. However, the glacial cycle in the early Pleistocene (about 800,000 years ago) switched more rapidly, with a cycle of about 40,000 years. It has been believed that astronomical external forces are responsible for this change, but the details of the mechanism have not been understood. In recent years, it has become possible to investigate in more detail the role of astronomical forces through the refinement of geological data and the development of theoretical research.
A team led by Yasuto Watanabe at the University of Tokyo focused on the early Pleistocene Epoch from 1.6 to 1.2 million years ago using an improved climate computer model. Astronomical forces based on modern state-of-the-art theory are considered in these simulations. The large numerical simulations in this study reproduce well the glacial cycle of 40,000-year of the early Pleistocene as indicated by the geological record data.
From analysis of these simulation results, the team has identified three facts about the mechanisms by which astronomical forces caused changes in climate in those times. (1) The glacial cycle is determined by small differences in the amplitude of variation of the spin axis orientation and the orbit of the Earth. (2) The timing of deglaciation is determined mainly by the position of the summer solstice on its orbit, which is at perihelion, not only by the effect of periodical change of the tilt of the Earth's axis. (3) The timing of the change in the spin axis orientation and the position of the summer solstice on its orbit determines the duration of the interglacial period.
"As geological evidence from older times comes to light, it is becoming clear that the Earth had a different climatic regime than it does today. We must have a different understanding of the role of astronomical forcing in the distant past," says Takashi Ito from the National Astronomical Observatory of Japan, a member of this research team who led the discussion on astronomical external forces. "The numerical simulations performed in this study not only reproduce the Pleistocene glacial-interglacial cycle well, but also successfully explain the complex effects of how astronomical forcing drove the cycle at that time. We can regard this work as a starting point for the study of glacial cycles beyond the present day Earth."
Yasuto Watanabe, Ayako Abe-Ouchi, Fuyuki Saito, Kanon Kino, Ryouta O'ishi, Takashi Ito, Kenji Kawamura, Wing-Le Chan.
Astronomical forcing shaped the timing of early Pleistocene glacial cycles.
Communications Earth & Environment, 2023; 4 (1) DOI:
10.1038/s43247-023-00765-x
Butterfly Tree Of Life Reveals Origin
About 100 million years ago, a group of trendsetting moths started flying during the day rather than at night, taking advantage of nectar-rich flowers that had co-evolved with bees. This single event led to the evolution of all butterflies.
Scientists have known the precise timing of this event since 2019, when a large-scale analysis of DNA discounted an earlier hypothesis that pressure from bats prompted the evolution of butterflies after the extinction of dinosaurs.
Now, scientists have discovered where the first butterflies originated and which plants they relied on for food.
Before reaching these conclusions, researchers from dozens of countries had to create the world's largest butterfly tree of life, assembled with DNA from more than 2,000 species representing all butterfly families and 92% of genera. Using this framework as a guide, they traced the movements and feeding habits of butterflies through time in a four-dimensional puzzle that led back to North and Central America. According to their results, published this Monday in the journal Nature Ecology and Evolution, this is where the first butterflies took flight.
For lead author Akito Kawahara, curator of lepidoptera at the Florida Museum of Natural History, the project was a long time coming.
"This was a childhood dream of mine," he said. "It's something I've wanted to do since visiting the American Museum of Natural History when I was a kid and seeing a picture of a butterfly phylogeny taped to a curator's door. It's also the most difficult study I've ever been a part of, and it took a massive effort from people all over the world to complete."
There are some 19,000 butterfly species, and piecing together the 100 million-year history of the group required information about their modern distributions and host plants. Prior to this study, there was no single place that researchers could go to access that type of data.
"In many cases, the information we needed existed in field guides that hadn't been digitized and were written in various languages," Kawahara said.
Undeterred, the authors decided to make their own, publicly available database, painstakingly translating and transferring the contents of books, museum collections and isolated web pages into a single digital repository.
Underlying all these data were 11 rare butterfly fossils, without which the analysis would not have been possible. With paper-thin wings and threadlike, gossamer hairs, butterflies are rarely preserved in the fossil record. The few that are can be used as calibration points on genetic trees, allowing researchers to record timing of key evolutionary events.
The results tell a dynamic story -- one rife with rapid diversifications, faltering advances and improbable dispersals. Some groups traveled over impossibly vast distances while others seem to have stayed in one place, remaining stationary while continents, mountains and rivers moved around them.
Butterflies first appeared somewhere in Central and western North America. At the time, North America was bisected by an expansive seaway that split the continent in two, while present-day Mexico was joined in a long arc with the United States, Canada and Russia. North and South America hadn't yet joined via the Isthmus of Panama, but butterflies had little difficulty crossing the strait between them.
Despite the relatively close proximity of South America to Africa, butterflies took the long way around, moving into Asia across the Bering Land Bridge. From there, they quickly covered ground, radiating into Southeast Asia, the Middle East and the Horn of Africa. They even made it to India, which was then an isolated island, separated by miles of open sea on all sides.
Even more astonishing was their arrival in Australia, which remained sutured to Antarctica, the last combined remnant of the supercontinent Pangaea. It's possible butterflies once lived in Antarctica when global temperatures were warmer, making their way across the continent's northern edge into Australia before the two landmasses separated.
Farther north, butterflies lingered on the edge of western Asia for potentially up to 45 million years before finally migrating into Europe. The reason for this extended pause is unclear, but its effects are still apparent today, Kawahara explained.
"Europe doesn't have many butterfly species compared to other parts of the world, and the ones it does have can often be found elsewhere. Many butterflies in Europe are also found in Siberia and Asia, for example."
Once butterflies had become established, they quickly diversified alongside their plant hosts. By the time dinosaurs were snuffed out 66 million years ago, nearly all modern butterfly families had arrived on the scene, and each one seems to have had a special affinity for a specific group of plants.
"We looked at this association over an evolutionary timescale, and in pretty much every family of butterflies, bean plants came out to be the ancestral hosts," Kawahara said. "This was true in the ancestor of all butterflies as well."
Bean plants have since increased their roster of pollinators to include various bees, flies, hummingbirds and mammals, while butterflies have similarly expanded their palate. According to study co-author Pamela Soltis, a Florida Museum curator and distinguished professor, the botanical partnerships that butterflies forged helped transform them from minor offshoot of moths to what is today one of the world's largest groups of insects.
"The evolution of butterflies and flowering plants has been inexorably intertwined since the origin of the former, and the close relationship between them has resulted in remarkable diversification events in both lineages," she said.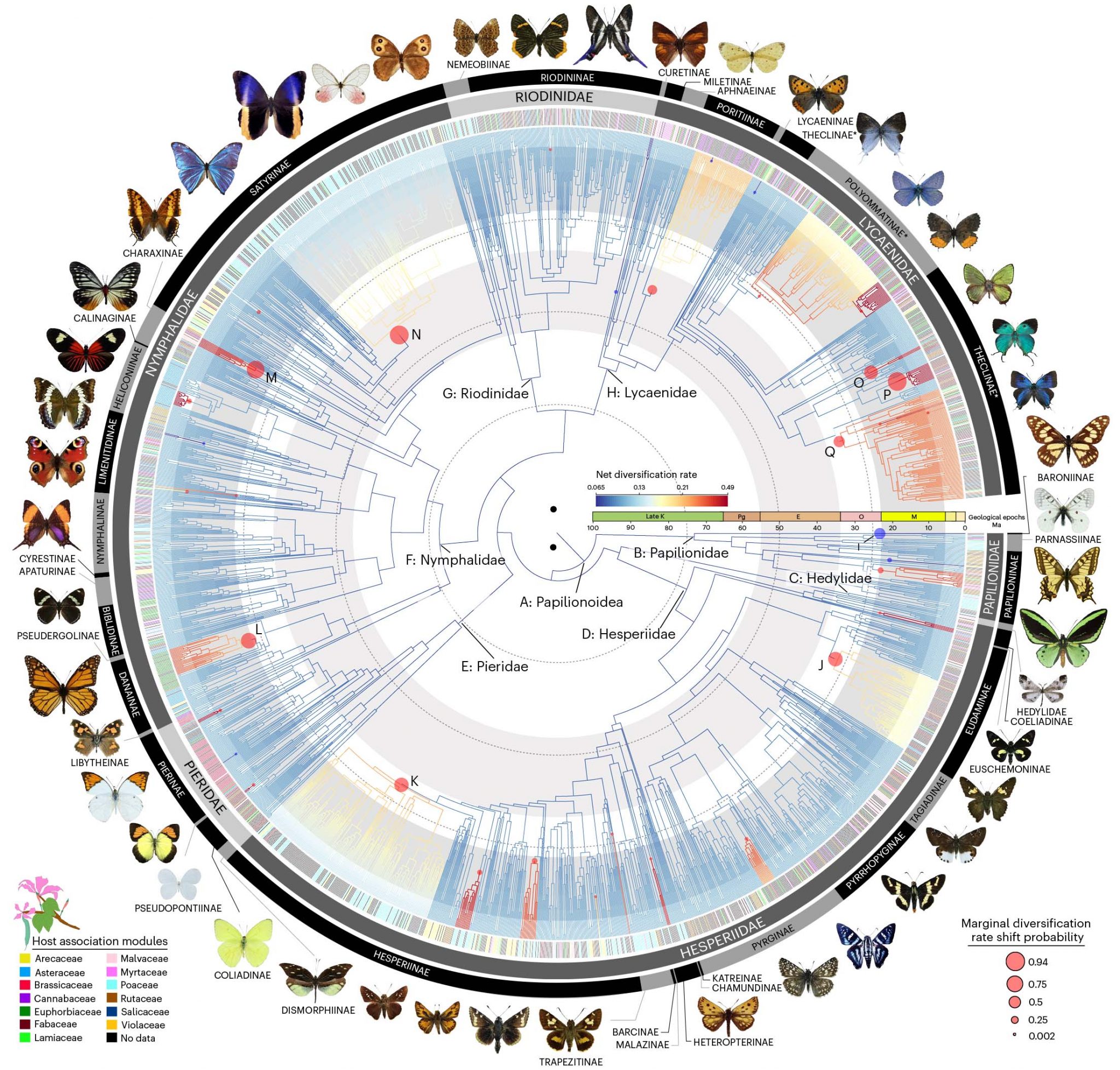 Researchers used DNA from more than 2,000 species to create a robust phylogeny, from which they could infer the age of butterflies and their movements through time. FIGURE BY KAWAHARA ET AL., 2023 (CC BY 4.0)

Akito Y. Kawahara, Caroline Storer, Ana Paula S. Carvalho, David M. Plotkin, Fabien L. Condamine, Mariana P. Braga, Emily A. Ellis, Ryan A. St Laurent, Xuankun Li, Vijay Barve, Liming Cai, Chandra Earl, Paul B. Frandsen, Hannah L. Owens, Wendy A. Valencia-Montoya, Kwaku Aduse-Poku, Emmanuel F. A. Toussaint, Kelly M. Dexter, Tenzing Doleck, Amanda Markee, Rebeccah Messcher, Y-Lan Nguyen, Jade Aster T. Badon, Hugo A. Benítez, Michael F. Braby, Perry A. C. Buenavente, Wei-Ping Chan, Steve C. Collins, Richard A. Rabideau Childers, Even Dankowicz, Rod Eastwood, Zdenek F. Fric, Riley J. Gott, Jason P. W. Hall, Winnie Hallwachs, Nate B. Hardy, Rachel L. Hawkins Sipe, Alan Heath, Jomar D. Hinolan, Nicholas T. Homziak, Yu-Feng Hsu, Yutaka Inayoshi, Micael G. A. Itliong, Daniel H. Janzen, Ian J. Kitching, Krushnamegh Kunte, Gerardo Lamas, Michael J. Landis, Elise A. Larsen, Torben B. Larsen, Jing V. Leong, Vladimir Lukhtanov, Crystal A. Maier, Jose I. Martinez, Dino J. Martins, Kiyoshi Maruyama, Sarah C. Maunsell, Nicolás Oliveira Mega, Alexander Monastyrskii, Ana B. B. Morais, Chris J. Müller, Mark Arcebal K. Naive, Gregory Nielsen, Pablo Sebastián Padrón, Djunijanti Peggie, Helena Piccoli Romanowski, Szabolcs Sáfián, Motoki Saito, Stefan Schröder, Vaughn Shirey, Doug Soltis, Pamela Soltis, Andrei Sourakov, Gerard Talavera, Roger Vila, Petr Vlasanek, Houshuai Wang, Andrew D. Warren, Keith R. Willmott, Masaya Yago, Walter Jetz, Marta A. Jarzyna, Jesse W. Breinholt, Marianne Espeland, Leslie Ries, Robert P. Guralnick, Naomi E. Pierce, David J. Lohman.
A global phylogeny of butterflies reveals their evolutionary history, ancestral hosts and biogeographic origins
. Nature Ecology & Evolution, 2023; DOI:
10.1038/s41559-023-02041-9
Disclaimer: These articles are not intended to provide medical advice, diagnosis or treatment. Views expressed here do not necessarily reflect those of Pittwater Online News or its staff.