Inbox and

environment

news: Issue 583
May 14 - 20 2023: Issue 583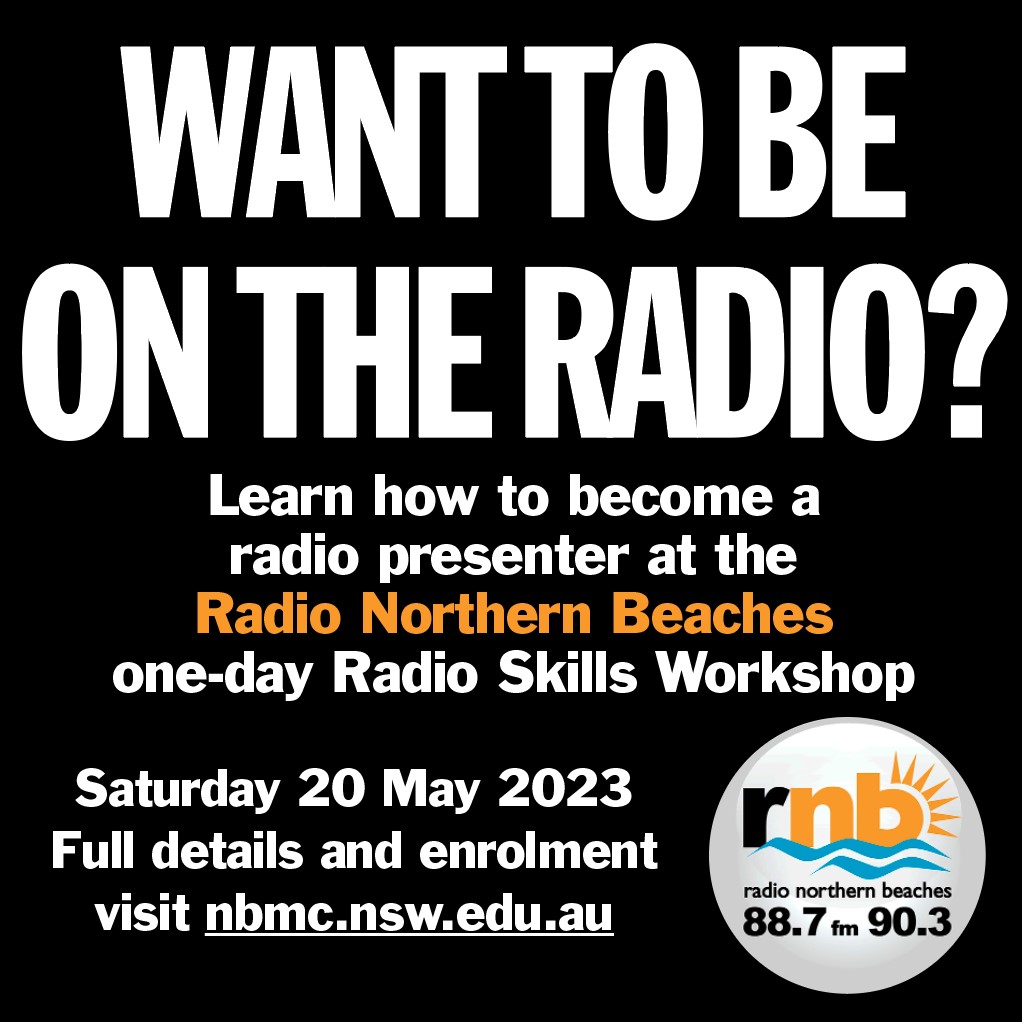 Radio Northern Beaches, the Peninsula's own community radio station, is putting on a one-day Radio Skills Workshop on
Saturday 20th May at the Station's studios in Terrey Hills
.
If the May Workshop is booked out, you can book ahead for the
Workshop on Saturday 24th June
.
NSW Youth Advisory Council: Applications Close 21 May 2023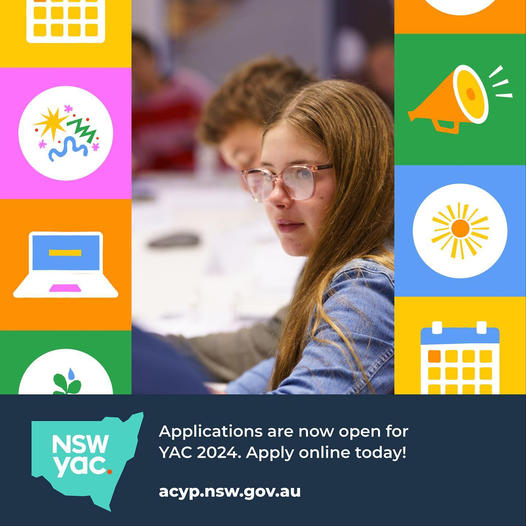 The NSW Youth Advisory Council (YAC) plays an important role in advising the NSW Government on issues that are relevant to young people across the state.
Membership of the YAC is open to all children and young people between 12 and 24 years of age residing in NSW. Applications are sought from diverse locations, backgrounds and life experiences.
The 12 member YAC provides a direct avenue of communication between young people and the NSW Government.
The YAC meets regularly throughout the year to provide advice to the Minister responsible for Youth, the Hon. Natasha Maclaren-Jones BN, MHSM MLC and to myself as the Advocate for Children and Young People on issues, policies and laws that affect children and young people in NSW.
Membership of the YAC provides an opportunity for children and young people to contribute to the work of the NSW Government.
Part four of the The Advocate for Children and Young People Act 2014 sets out the Council's responsibilities and main function.
Advise the Minister and the Advocate on the planning, development, integration and implementation of government policies and programs concerning young people.
Consult with young people, community groups and government agencies on issues and policies concerning young people.
Monitor and evaluate legislation and government policies and programs concerning young people and recommend changes if required.
Conduct forums, approved by the Minister, on issues of interest to young people.
Collect, analyse and provide the Minister and the Advocate with information on issues and policies concerning young people.
How to become a member of the Youth Advisory Council
Part four of The Advocate for Children and Young People Act 2014 details that the Minister appoints members of the Youth Advisory
Members must have such experience, skills and qualifications as the Minister considers necessary for them to make a contribution to the work of the Council.
The Big Bike Film Night At Warriewood
United Cinemas Warriewood
Let the good times roll; they're riding into town!
What's the Big Bike Film Night all about? They're on a mission- bringing the best cycling short films from around the world together for you!
Showcasing their 2023 collection that has everything a cycle-centric audience could want - action, drama, humour, and plenty of inspiration; the evening is unashamedly and utterly designed and devised for the two-wheel devotee!
Their stellar line-up includes an Australian bikepackers learnings from completing a scenic trip to Hell; follows a 74-year old rider whose spirit personifies cycling; a packrafting odyssey with a first descent; an adventure exploring interior Iceland, a cyclist's eyes are opened to the healing power of the bicycle; we join a family that chooses to live life to the fullest in the face of adversity; and we find out what happens when you combine an ultra-distance 320 km gravel race and parenting together over a 24-hour period; all in the mix!
Thanks to Presenting Partner Ngā Haerenga Great Rides of New Zealand you could win a cycling holiday to New Zealand.
NATIONAL COMPETITION
Along with these films to make you fizz.... you could win BIG!
Purchase a ticket to any Australian screening and, thanks to our presenting partner Ngā Haerenga Great Rides of New Zealand, you'll go in the draw to win an epic cycling holiday in New Zealand on the wonderful West Coast Wilderness Trail Great Ride.
Grab your mates, grab your tickets and go on, grab your bike and come along for the ride!

Adults $27.50, Under 17-year-olds $18, and Under 12-year-olds $13.50 (plus booking fees)

available online only

.
Surfing NSW Supports The New Wave Of Female Surf Coaches And Judges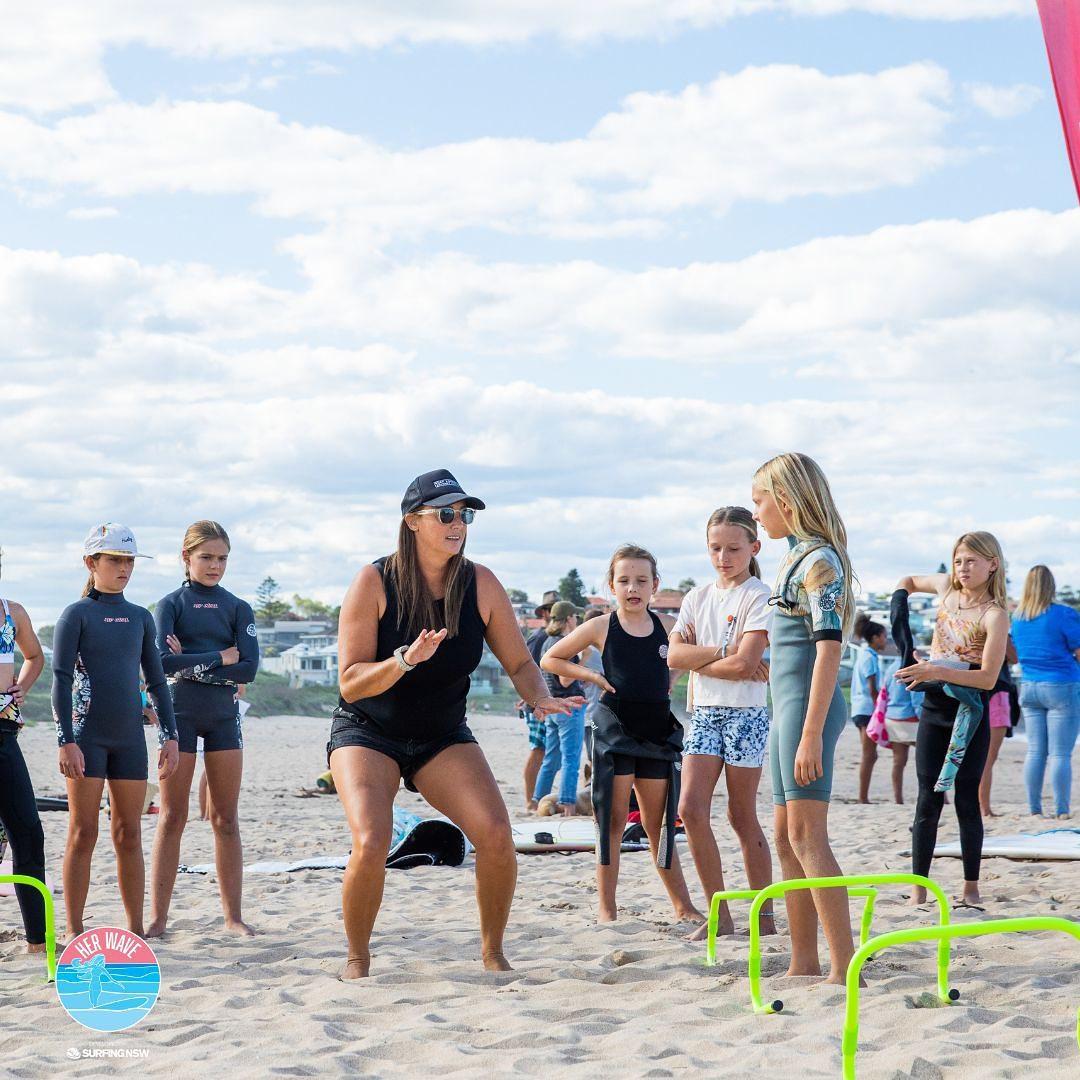 Surfing NSW is pleased to announce that it has received funding from the NSW Government's 'Investing in Women' initiative. The funding will go towards Surfing NSW's Coaching Career Development Strategy, aimed at improving economic opportunities and advancement for women and supporting diverse and flexible employment opportunities for women in NSW.
The Coaching Career Development Strategy is focused on increasing opportunities for women and girls in the area of surf coaching. It will grow and open pathways for women who may wish to enter or return to the surf industry. The initiative will increase the number of women coaches and encourage and develop the participation of females in the sport.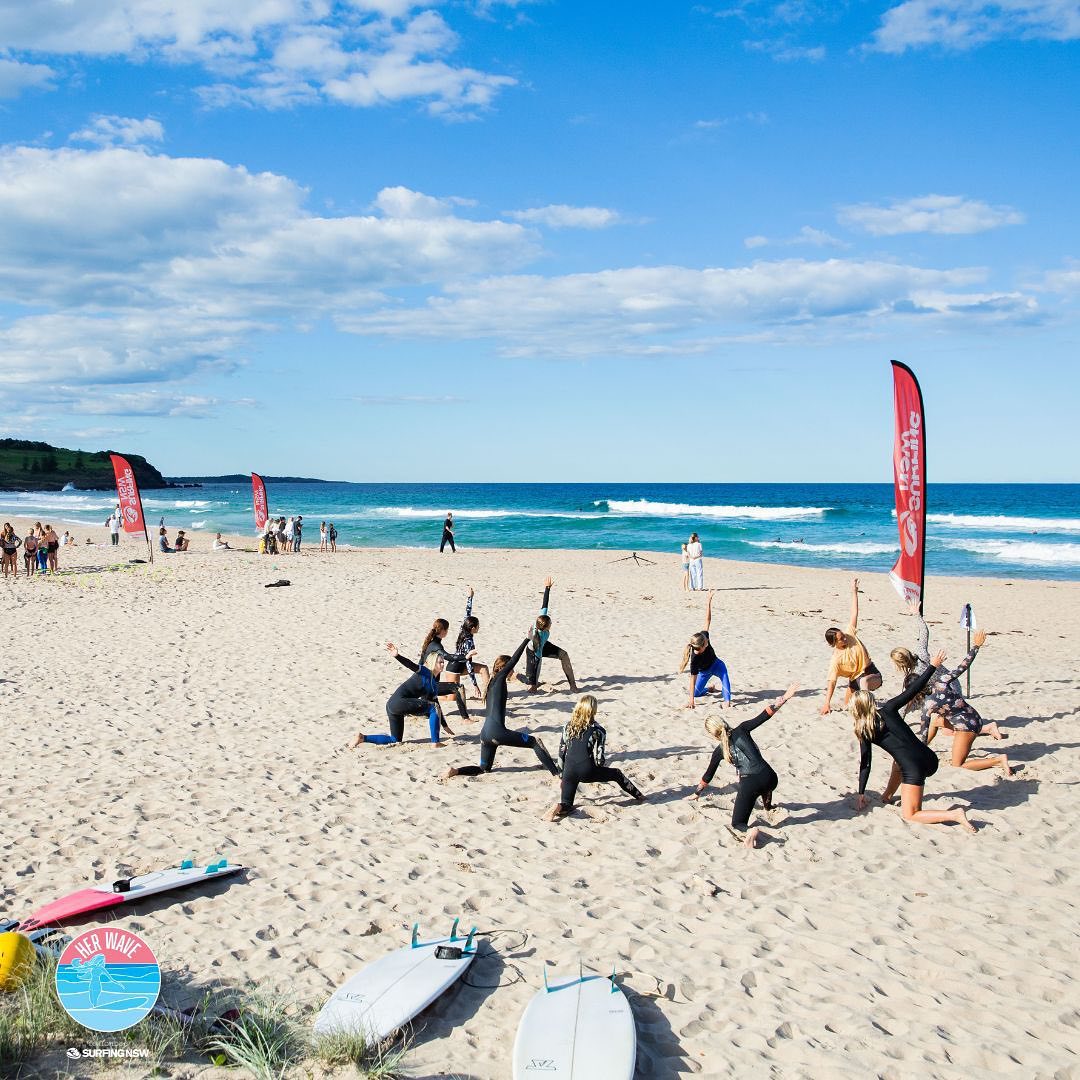 "We are thrilled to receive this funding from the NSW Government's 'Investing in Women' initiative," said Matt Lawson, Surfing NSW's Head of Programs and Community. "This funding will enable us to expand our Coaching Career Development Strategy and create more opportunities for women to pursue a career in the surf industry. We are committed to promoting gender equality and empowering women in surfing, and this funding will help us achieve our goals."
The funding comes after the recent success of the Her Wave Teams Classic events, two weekend events that saw over 500 females participate in surfing, with an all-female judging panel. The success of these events highlights the growing interest in women's surfing and the need for greater opportunities for women in the sport.
"We are excited to build on the success of the Her Wave Teams Classic events and use this funding to support the development of women in surfing," said Kate Cass, General Manager at Surfing NSW. "We believe that this initiative will not only increase the number of female coaches but also create a more inclusive and diverse surfing community."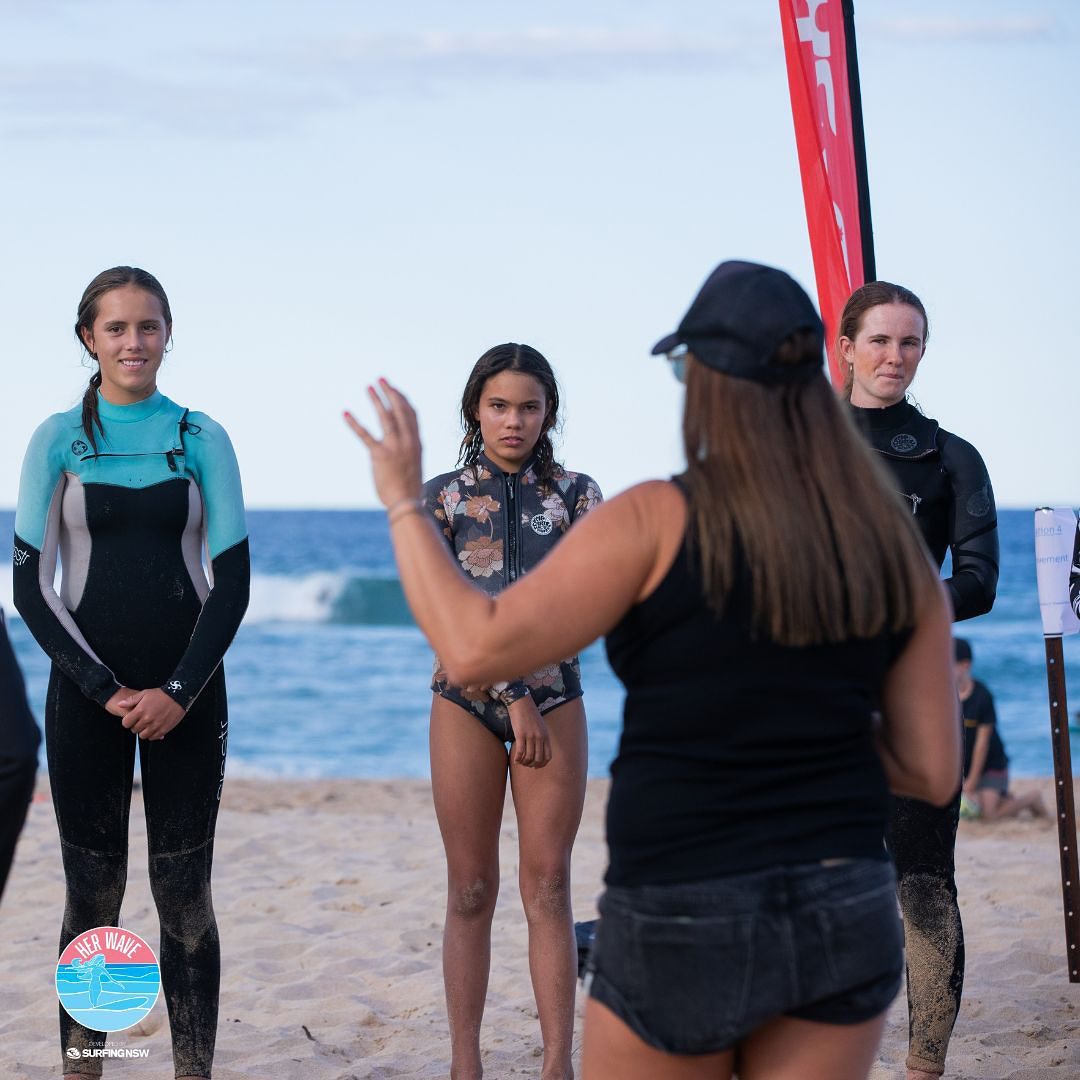 The Coaching Career Development Strategy is part of Surfing NSW's commitment to creating a better community through surfing. The goal is to increase the number of coaches that are desperately needed within our system, by supporting the interest and need for females to be included in this space. Surfing NSW looks forward to working with the NSW Government and surfing community to create a more equitable future for passionate members.
Under the Surfing NSW Her Wave banner, this crucial funding provides the organisation with the opportunity to provide 150 aspiring female coaches to undertake the necessary courses to be accredited for free.
The Foundation Surf Coaching Course will increase the number of female coaches in NSW by 150, in addition to the surf coaching course Surfing NSW is offering a range of other training and accreditation courses that will equip coaches with crucial knowledge and expertise in this field.
These courses include:
CPR
First Aid
Surf Safety Supervisor Course
Surfers Rescue 24/7 Course
Spinal Management
Trauma Bleeding Control Overview.
Surfing NSW will then organise to provide this training in regions where the applying coaches reside. Collectively the above resources and training are valued at over $600 per person.
For more information on the free foundation courses, please email Surfing NSW's Programs and Community Manager, Adam Seminara at adams@surfingnsw.com.au or apply via the link here.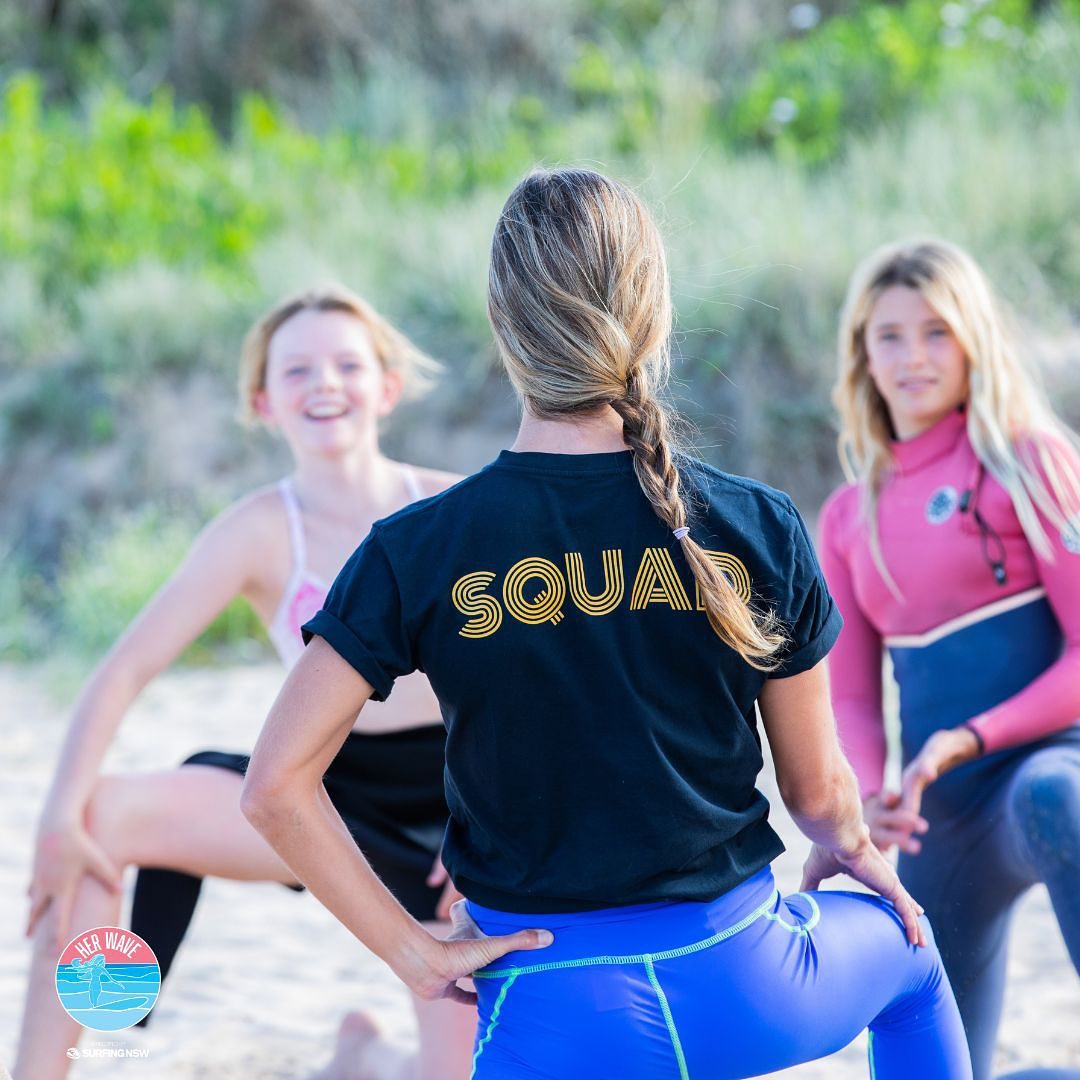 History Of The Harbord Beach Tramline

Webb Looks For Fomalhaut's Asteroid Belt And Finds Much More
Astronomers used NASA's James Webb Space Telescope to image the warm dust around a nearby young star, Fomalhaut, in order to study the first asteroid belt ever seen outside of our solar system in infrared light. But to their surprise, the dusty structures are much more complex than the asteroid and Kuiper dust belts of our solar system. Overall, there are three nested belts extending out to 14 billion miles (23 billion kilometers) from the star; that's 150 times the distance of Earth from the Sun. The scale of the outermost belt is roughly twice the scale of our solar system's Kuiper Belt of small bodies and cold dust beyond Neptune. The inner belts -- which had never been seen before -- were revealed by Webb for the first time.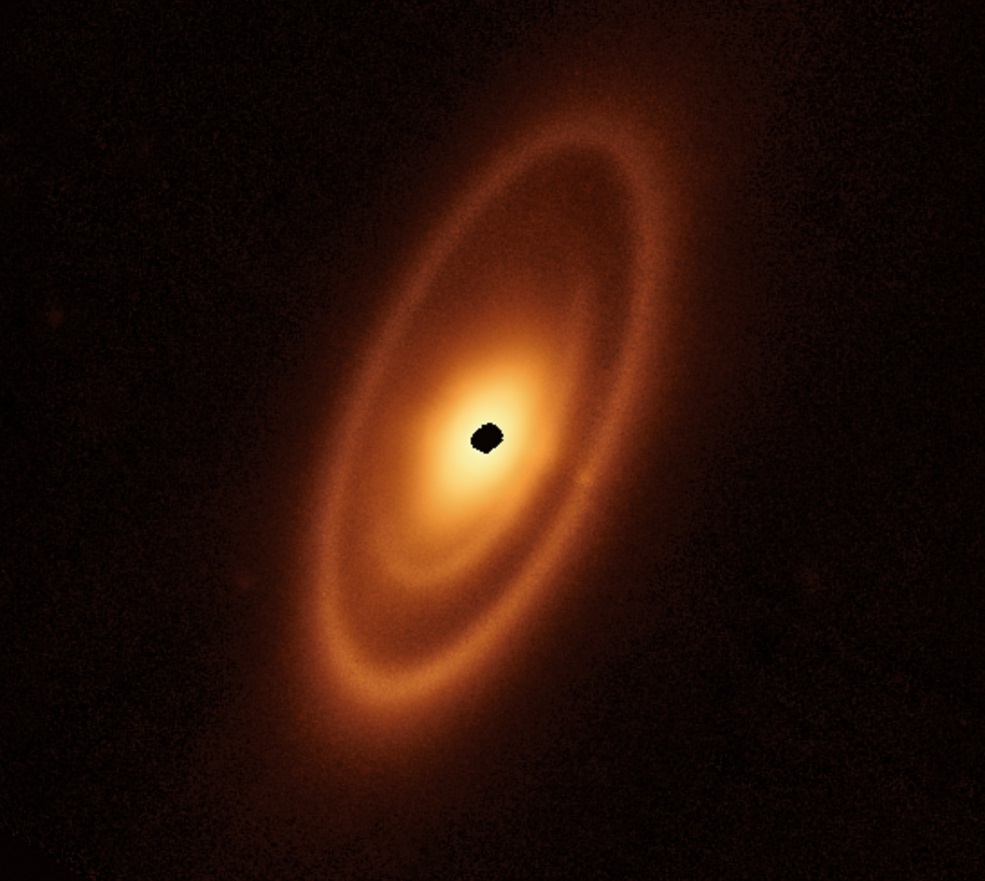 This image of the dusty debris disk surrounding the young star Fomalhaut is from Webb's Mid-Infrared Instrument (MIRI). It reveals three nested belts extending out to 14 billion miles (23 billion kilometers) from the star. The inner belts – which had never been seen before – were revealed by Webb for the first time. Credits: NASA, ESA, CSA, A. Gáspár (University of Arizona). Image processing: A. Pagan (STScI)
The belts encircle the young hot star, which can be seen with the naked eye as the brightest star in the southern constellation Piscis Austrinus. The dusty belts are the debris from collisions of larger bodies, analogous to asteroids and comets, and are frequently described as 'debris disks.' "I would describe Fomalhaut as the archetype of debris disks found elsewhere in our galaxy, because it has components similar to those we have in our own planetary system," said András Gáspár of the University of Arizona in Tucson and lead author of a new paper describing these results. "By looking at the patterns in these rings, we can actually start to make a little sketch of what a planetary system ought to look like -- If we could actually take a deep enough picture to see the suspected planets."
The Hubble Space Telescope and Herschel Space Observatory, as well as the Atacama Large Millimeter/submillimeter Array (ALMA), have previously taken sharp images of the outermost belt. However, none of them found any structure interior to it. The inner belts have been resolved for the first time by Webb in infrared light. "Where Webb really excels is that we're able to physically resolve the thermal glow from dust in those inner regions. So you can see inner belts that we could never see before," said Schuyler Wolff, another member of the team at the University of Arizona.
Hubble, ALMA, and Webb are tag-teaming to assemble a holistic view of the debris disks around a number of stars. "With Hubble and ALMA, we were able to image a bunch of Kuiper Belt analogs, and we've learned loads about how outer disks form and evolve," said Wolff. "But we need Webb to allow us to image a dozen or so asteroid belts elsewhere. We can learn just as much about the inner warm regions of these disks as Hubble and ALMA taught us about the colder outer regions."
These belts most likely are carved by the gravitational forces produced by unseen planets. Similarly, inside our solar system Jupiter corrals the asteroid belt, the inner edge of the Kuiper Belt is sculpted by Neptune, and the outer edge could be shepherded by as-yet-unseen bodies beyond it. As Webb images more systems, we will learn about the configurations of their planets.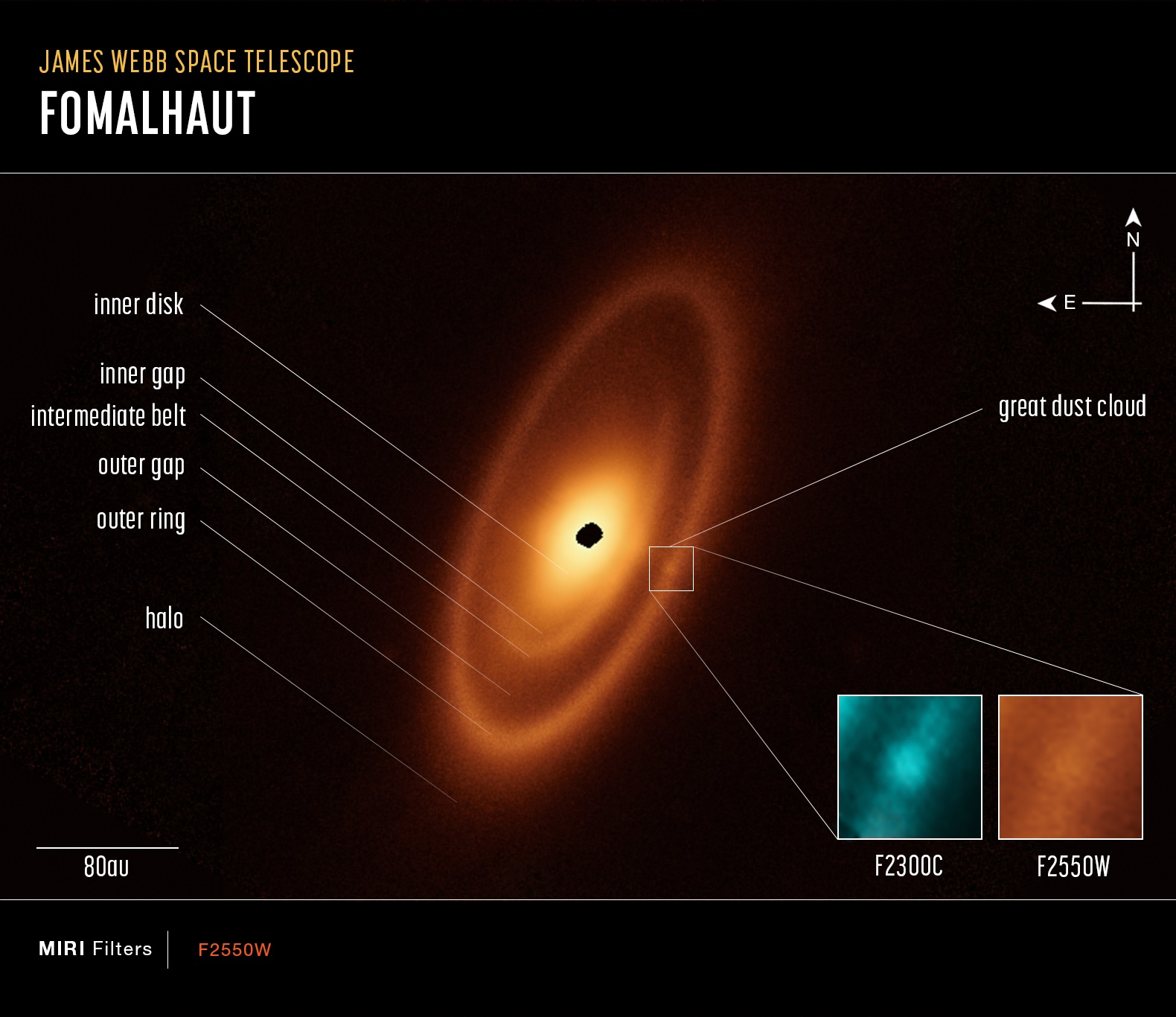 This image of the dusty debris disk surrounding the young star Fomalhaut is from Webb's Mid-Infrared Instrument (MIRI). It reveals three nested belts extending out to 14 billion miles (23 billion kilometers) from the star. The inner belts – which had never been seen before – were revealed by Webb for the first time. Labels at left indicate the individual features. At right, a great dust cloud is highlighted and pullouts show it in two infrared wavelengths: 23 and 25.5 microns. Credits: NASA, ESA, CSA, A. Gáspár (University of Arizona). Image processing: A. Pagan (STScI)
Fomalhaut's dust ring was discovered in 1983 in observations made by NASA's Infrared Astronomical Satellite (IRAS). The existence of the ring has also been inferred from previous and longer-wavelength observations using submillimeter telescopes on Mauna Kea, Hawaii, NASA's Spitzer Space Telescope, and Caltech's Submillimeter Observatory.
"The belts around Fomalhaut are kind of a mystery novel: Where are the planets?" said George Rieke, another team member and U.S. science lead for Webb's Mid-Infrared Instrument (MIRI), which made these observations. "I think it's not a very big leap to say there's probably a really interesting planetary system around the star."
"We definitely didn't expect the more complex structure with the second intermediate belt and then the broader asteroid belt," added Wolff. "That structure is very exciting because any time an astronomer sees a gap and rings in a disk, they say, 'There could be an embedded planet shaping the rings!'"
Webb also imaged what Gáspár dubs "the great dust cloud," which may be evidence for a collision occurring in the outer ring between two protoplanetary bodies. This is a different feature from a suspected planet first seen inside the outer ring by Hubble in 2008. Subsequent Hubble observations showed that by 2014 the object had vanished. A plausible interpretation is that this newly discovered feature, like the earlier one, is an expanding cloud of very fine dust particles from two icy bodies that smashed into each other.
The idea of a protoplanetary disk around a star goes back to the late 1700s when astronomers Immanuel Kant and Pierre-Simon Laplace independently developed the theory that the Sun and planets formed from a rotating gas cloud that collapsed and flattened due to gravity. Debris disks develop later, following the formation of planets and dispersal of the primordial gas in the systems. They show that small bodies like asteroids are colliding catastrophically and pulverizing their surfaces into huge clouds of dust and other debris. Observations of their dust provide unique clues to the structure of an exoplanetary system, reaching down to earth-sized planets and even asteroids, which are much too small to see individually.
András Gáspár, Schuyler Grace Wolff, George H. Rieke, Jarron M. Leisenring, Jane Morrison, Kate Y. L. Su, Kimberly Ward-Duong, Jonathan Aguilar, Marie Ygouf, Charles Beichman, Jorge Llop-Sayson, Geoffrey Bryden.
Spatially resolved imaging of the inner Fomalhaut disk using JWST/MIRI.
Nature Astronomy, 2023; DOI:
10.1038/s41550-023-01962-6
School Leavers Support
Explore the School Leavers Information Kit (SLIK) as your guide to education, training and work options in 2022;
As you prepare to finish your final year of school, the next phase of your journey will be full of interesting and exciting opportunities. You will discover new passions and develop new skills and knowledge.
We know that this transition can sometimes be challenging and the COVID-19 pandemic has presented some uncertainty. With changes to the education and workforce landscape, you might be wondering if your planned decisions are still a good option or what new alternatives are available and how to pursue them.
There are lots of options for education, training and work in 2022 to help you further your career. This information kit has been designed to help you understand what those options might be and assist you to choose the right one for you. Including:
Download or explore the SLIK here to help guide Your Career.
School Leavers Information Kit (PDF 5.2MB).
School Leavers Information Kit (DOCX 0.9MB).
The SLIK has also been translated into additional languages.
Download our information booklets if you are rural, regional and remote, Aboriginal or Torres Strait Islander, or living with disability.
Support for Regional, Rural and Remote School Leavers (PDF 2MB).
Support for Regional, Rural and Remote School Leavers (DOCX 0.9MB).
Support for Aboriginal and/or Torres Strait Islander School Leavers (PDF 2MB).
Support for Aboriginal and/or Torres Strait Islander School Leavers (DOCX 1.1MB).
Support for School Leavers with Disability (PDF 2MB).
Support for School Leavers with Disability (DOCX 0.9MB).
Download the Parents and Guardian's Guide for School Leavers, which summarises the resources and information available to help you explore all the education, training, and work options available to your young person.
School Leavers Information Service
Are you aged between 15 and 24 and looking for career guidance?
Call 1800 CAREER (1800 227 337).
SMS 'SLIS2022' to 0429 009 435.
Our information officers will help you:
navigate the School Leavers Information Kit (SLIK),
access and use the Your Career website and tools; and
find relevant support services if needed.
You may also be referred to a qualified career practitioner for a 45-minute personalised career guidance session. Our career practitioners will provide information, advice and assistance relating to a wide range of matters, such as career planning and management, training and studying, and looking for work.
You can call to book your session on 1800 CAREER (1800 227 337) Monday to Friday, from 9am to 7pm (AEST). Sessions with a career practitioner can be booked from Monday to Friday, 9am to 7pm.
This is a free service, however minimal call/text costs may apply.
Call 1800 CAREER (1800 227 337) or SMS SLIS2022 to 0429 009 435 to start a conversation about how the tools in Your Career can help you or to book a free session with a career practitioner.
Word Of The Week: Hope
Word of the Week returns in 2023 simply to throw some disruption in amongst the 'yeah-nah' mix.
noun
from late Old English hopa "confidence in the future," especially "God or Christ as a basis for hope," from hope (v.). From c. 1200 as "expectation of something desired;" also "trust, confidence; wishful desire;" late 14c. as "thing hoped for," also "grounds or basis for hope." Personified since c. 1300. Compare Old Frisian and Middle Dutch hope, Danish haab, Dutch hoop, all from their respective verbs. ARCHAIC: a feeling of trust.
Compare; In English, hope is a somewhat abstract idea of expectation. The word for hope in Hebrew, Tikvah, is more concrete. In Hebrew, the word means expectation—and it also means cord or rope, which comes from a root word that means to bind or to wait for or upon.
verb
Old English hopian "have the theological virtue of Hope; hope for (salvation, mercy), trust in (God's word)," also "to have trust, have confidence; assume confidently or trust" (that something is or will be so), a word of unknown origin. Not the usual Germanic term for this, but in use in North Sea Germanic languages (cognates: Old Frisian hopia, Middle Low German, Middle Dutch, Dutch hopen; Middle High German hoffen "to hope," which is borrowed from Low German).

Hope is also a given name derived from the Middle English hope, ultimately from the Old English word hopian referring to a positive expectation or to the theological virtue of hope. It was used as a virtue name by the Puritans. Puritans also used Hope as an element in phrase names, such as Hope-for, Hopeful, and Hope-still.
Faith, Hope and Charity, the three theological virtues, are names traditionally given to triplet girls, just as Faith and Hope remain common names for twin girls.
Hope is an optimistic state of mind that is based on an expectation of positive outcomes with respect to events and circumstances in one's life or the world at large. As a verb, its definitions include: "expect with confidence" and "to cherish a desire with anticipation".

Hope, and more specifically, particularised hope, has been shown to be an important part of the recovery process from illness; it has strong psychological benefits for patients, helping them to cope more effectively with their disease. For example, hope motivates people to pursue healthy behaviours for recovery, such as eating fruits and vegetables, quitting smoking, and engaging in regular physical activity. This not only helps to enhance people's recovery from illnesses but also helps prevent illness from developing in the first place. Patients who maintain high levels of hope have an improved prognosis for life-threatening illness and an enhanced quality of life. Belief and expectation, which are key elements of hope, block pain in patients suffering from chronic illness by releasing endorphins and mimicking the effects of morphine. Consequently, through this process, belief and expectation can set off a chain reaction in the body that can make recovery from chronic illness more likely. This chain reaction is especially evident with studies demonstrating the placebo effect, a situation when hope is the only variable aiding in these patients' recovery.
Overall, studies have demonstrated that maintaining a sense of hope during a period of recovery from illness is beneficial. Additionally, having a greater amount of hope before and during cognitive therapy has led to decreased PTSD-related depression symptoms in war veterans. Hope has also been found to be associated with more positive perceptions of subjective health.
Hope is the thing with feathers that perches in the soul and sings the tune without the words and never stops at all. — Emily Dickinson
A classic reference to hope which has entered modern language is the concept that "Hope springs eternal" taken from Alexander Pope's Essay on Man, the phrase reading "Hope springs eternal in the human breast, Man never is, but always to be blest:" Another popular reference, "Hope is the thing with feathers," is from a poem by Emily Dickinson.
The swallow has been a symbol of hope, in Aesop's fables and numerous other historic literature. It symbolizes hope, in part because it is among the first birds to appear at the end of Winter and the start of Spring. Other symbols of hope include the anchor and the dove.
Professor of Psychology Barbara Fredrickson argues that hope comes into its own when crisis looms, opening us to new creative possibilities. Frederickson argues that with great need comes an unusually wide range of ideas, as well as such positive emotions as happiness and joy, courage, and empowerment, drawn from four different areas of one's self: from a cognitive, psychological, social, or physical perspective. Hopeful people are "like the little engine that could, [because] they keep telling themselves "I think I can, I think I can". Such positive thinking bears fruit when based on a realistic sense of optimism, not on a naive "false hope".
The psychologist Charles R. Snyder linked hope to the existence of a goal, combined with a determined plan for reaching that goal. As a specialist in positive psychology, Snyder studied how hope and forgiveness can impact several aspects of life such as health, work, education, and personal meaning. He postulated that there are three main things that make up hopeful thinking:
Goals – Approaching life in a goal-oriented way.
Pathways – Finding different ways to achieve your goals.
Agency – Believing that you can instigate change and achieve these goals.
In other words, hope was defined as the perceived capability to derive pathways to desired goals and motivate oneself via agency thinking to use those pathways. Snyder argues that individuals who are able to realise these three components and develop a belief in their ability are hopeful people who can establish clear goals, imagine multiple workable pathways toward those goals, and persevere, even when obstacles get in their way.
Derived from Wikipedia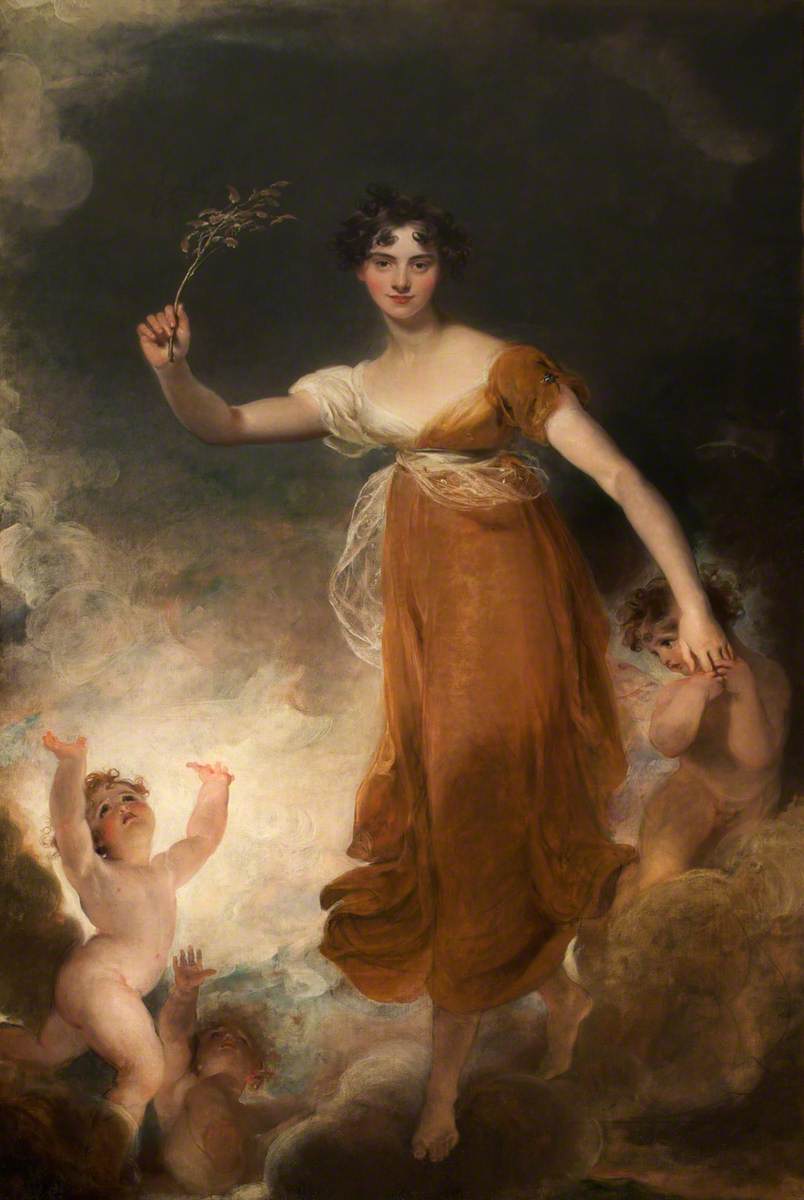 Georgiana Maria Leicester as Hope, by Thomas Lawrence, c. 1811

Delivering The Largest Ever Pay Rise To Aged Care Workers: Federal Government Statements
$11.3b to deliver 15% pay increase
$487m to extend Disability Support for Older Australians
$98.7m for provider viability support
$12.9m to strengthen nutrition for aged care residents
The Australian Government is restoring dignity to aged care and ensuring older Australians are treated with the respect they deserve, with $11.3 billion to increase the wages of aged care workers, roll out a new regulatory model, and embed new aged care assessment arrangements.
The Government recognises the complex and previously undervalued work of the aged care workforce which is why we are investing to fund the Fair Work Commission's interim decision for a 15% pay increase.
This is the largest ever pay increase for aged care workers. It signifies real progress towards genuinely valuing their dedication and skill, and will help aged care providers attract and retain staff.
Better, fairer pay will help attract and retain workers, while training programs will advance skills, enrich aged care careers and improve quality care.
The Government funds and regulates residential aged care providers to ensure they are well-staffed, financially viable, and deliver high quality, safe care. This Budget delivers a historic increase to the daily rate for aged care residents. The Australian National Aged Care Classification (AN-ACC) funding will be increased by 17%, per resident, per day, meeting the real cost of delivering care.
Many aged care providers are facing ongoing viability issues, with added pressures to adapt to reforms. This Budget will fund continued advisory services to aged care providers to improve capability, better manage financial risk, and expand professional support to providers in small to medium rural towns.
Additionally a new grant will be offered to aged care providers at greatest financial risk, to help them improve their performance.
The Budget also delivers stronger regulation, reporting and improved data so that older Australians, their families and carers will have the right information to choose their provider.
A new regulatory framework, to be reflected in the new Aged Care Act, will improve the quality and safety of aged care services, as well as restore trust and confidence in aged care providers. Funding is provided to upgrade Star Ratings and uplift food standards.
Older Australians increasingly want to receive aged care and live independently in their own homes for longer. Measures in this Budget provide additional Home Care Packages and establish new aged care assessment arrangements from July 2024.
First Nations elders, their families and carers, will have better access to culturally safe care where it is needed and an interim First Nations Aged Care Commissioner will help address barriers to accessing care.
Aged care workers will receive their largest ever pay rise, with the Government investing $11.3 billion to fund the Fair Work Commission's interim decision for a 15% increase.
The wage rise will deliver cost-of living relief for over 250,000 aged care workers. It is the largest ever pay increase in the history of the Fair Work Act.
Funding arrangements with providers will be put in place to deliver the increased wages to aged care workers.
We will progress the National Worker Registration Scheme with $59.5 million over 4 years.
A new regulatory framework and prudential model ($72.3 million in 2023–24) will enable changes in how providers are regulated, and be complemented by action to:
improve aged care residents' dining experiences and food and nutrition reporting ($12.9 million over 2 years)
require residential aged care services to provide residents with Monthly Care Statements on care provided and occurrences of significant change.
enable continuous improvement and enhance Star Ratings for older Australians, and work to expand the Quality Indicator program to

in-home care services ($139.9 million over

4 years)
The Government will invest $166.8 million for an additional 9,500 home care packages in
2023–24, to meet the growing preference for older people to remain in their own home.
A newly established single assessment system will use existing assessment organisations to simplify and improve access to aged care services. Older people will no longer be bounced between different organisations to assess need.
A new Aged Care Taskforce will be established to review aged care funding arrangements and develop options to make the system fair and equitable for all Australians.
The Taskforce will also inform the final design of the Support at Home program which will be postponed to commence on 1 July 2025, in response to feedback and to allow time to further refine the design.
Existing grant arrangements for the Commonwealth Home Support Programme will be extended for a further 12 months to 30 June 2025.
The Disability Support for Older Australians program will be extended and made ongoing with $487 million in funding over 4 years. Older people with disability will benefit from delivery of consistent, timely, and high quality disability services so they can live in their homes and communities.
Aged care recipients will have greater choice and control in decision making with $41.3 million in funding for systems that will assign residential care places to people, not providers.
$112 million over 4 years will increase access to primary care for aged care residents, with new incentives for GPs. Aged care residents will benefit from more integrated care delivered by their chosen primary care provider, including regular visits to their aged care home and annual care planning. Their GPs can address health concerns as they arise, which reduces risk of avoidable hospitalisations.
Rural and remote areas, in particular, will benefit from $98.7 million over 2 years to support the viability of local aged care providers. Rural and remote communities around Australia, will also benefit from $47.2 million over 4 years to strengthen access to care and support through integrated services and workforce.
The National Aboriginal and Torres Strait Islander Flexible Aged Care Program will be further funded $77.3 million over 4 years to ensure First Nations elders access high quality, culturally safe care and we will build the capacity of Aboriginal Controlled Organisations including $8.2 million to ensure on Country services. $1.6 million will fund an interim First Nations Aged Care Commissioner.
Fair Work Commission – Aged Care Work Value Case $11.3 billion over 4 years

Residential Aged Care funding increase $8.5 billion over 4 years
Home Care Packages program subsidy increase $2.2 billion over 4 years
Commonwealth Home Support Programme grant increase $310 million over 4 years
Flexible aged care programs funding increase $236.8 million over 4 years
Veterans' Home Care and Community Nursing fees increase $82.5 million over 4 years
Funding for leave liabilities $98.7 million in 2023–24
Establish a National Worker Registration Scheme for Aged Care $59.5 million over 5 years
Building a strong regulatory framework for aged care $59.4 million in 2023–24
Improving transparency, Star Ratings $139.9 million over 4 years
Strengthening nutrition $12.9 million over 2 years
Development and delivery of a Bill for a new Aged Care Act and associated ICT changes $81.9 million over 3 years
Home Care Reform (Support at Home) $172 million over 4 years

Aged Care Taskforce $0.7 million in 2023–24
Trial of an assistive technology loans program $10.9 million over 2 years
ICT Capability Development $73.1 million in 2023–24
Single Comprehensive Assessment $15.7 million over 2 years

Additional Home Care Packages $166.8 million in 2023–24
Places to People: Embedding Choice in Residential Aged Care $41.3 million over 4 years
General Practice Incentive in Aged Care $112 million over 4 years
Aged Care Viability Support $98.7 million over 2 years
Aged Care Prudential Reform $12.9 million in 2023–24
Preliminary Report on the capability review of the Aged Care Quality and Safety Commission $25.3 million in 2023–24
Supporting First Nations Elders in Aged Care $77.3 million over 4 years
Disability Support for Older Australians $487 million over 4 years
A Tripartite Approach To Address Workforce Shortages In Aged Care
The Federal Government states it has strengthened its commitment to boost the aged care workforce, developing a new approach for employers to sponsor direct care workers on skilled visas.
Working alongside business and unions, the new Aged Care Industry Labour Agreement will promote increased recruitment and retention in the aged care workforce.
Growing the aged care workforce is essential for increasing care minutes, improving care systems, and restoring safety and dignity to older Australians. The Skills Priority List defines direct care occupations in the aged care sector in national shortage.
This Government understands the complementary role that migration can play to relieve workforce pressures along with investment in skills and training for the sector and in response to the Royal Commission.
Access to the Agreement will be provided to employers who have entered into a Memorandum of Understanding with the relevant industry union. The agreement will be negotiated directly between unions and employers, promoting transparency and collaboration across the sector.
The Agreement provides additional incentives for employers to attract workers, including an expedited two-year pathway to permanent residency. In addition, ongoing business and union engagement will promote transparency.
In recognition of the increased vulnerability of temporary migrants, newly sponsored care workers will have an opportunity to speak to their union shortly after commencing, should they wish to do so.
Employers can apply for an Aged Care Labour Agreement immediately. These applications, as well as the associated visa applications, will be processed by the Department of Home Affairs as a matter of priority.
Minister for Immigration, Citizenship and Multicultural Affairs, Andrew Giles said,
"This is a new approach, founded in a tripartite process. Australia can both address workforce shortages for crucial jobs in our society while also protecting workers and promoting good jobs.
"This process speaks to the broader goals of the Albanese Government's approach to migration and visas, facilitating important social and economic outcomes for all Australians.
"This labour agreement is only possible due to the work undertaken over the past 10 months to clear the visa backlogs and reset Australia's approach to visa policy.
"The Aged Care Labour Agreement settings have been designed to strike a balance between the opportunities migration can facilitate to build a workforce while recognising the vulnerabilities faced by workers on temporary sponsored visas."
Minister for Aged Care, Anika Wells said,
"Older people in Australia need a skilled, diverse and valued workforce so they can receive safe, high-quality, care.
"The new labour agreement will benefit aged care providers and the workforce by streamlining the employment and visa process for overseas workers.
"We are continuing to build a skilled aged care workforce which from 1 July will receive a historic 15 per cent pay rise to the award wage.
"We want every older person in Australia to have access to aged care that is high quality, safe and meets the needs of older people as their needs change."
COTA: Budget 2023 Delivers Positive News For Older Australians – Particularly Older Women
The Federal Government's 2023 Budget provides relief on the pressures many older Australians are experiencing.
Council on the Ageing (COTA) Australia – the leading advocacy organisation for older Australians – Chief Executive Officer, Patricia Sparrow, said the introduction of budget measures designed to ease the cost-of-living pressures on Australians are important, particularly for older Australians struggling to make ends meet.
"There are many direct benefits that older Australians will receive in their wallets out of this year's budget including energy relief of up to $500 per year, cheaper medicines, more GPs bulk billing pensioners and healthcare card holders without a co-payment, $15 a week more rent assistance, $20 a week more in JobSeeker payments, and an additional $46 more a week in JobSeeker if you're 55 years old or older battling ageism when looking for a job for more than 9 months," Ms Sparrow said.
"We know that older women are disproportionately impacted by unemployment and are unfortunately the fastest growing group at risk of homelessness, so budget measures that address those issues are not just welcomed, they're crucial.
"55% of older JobSeekers and those receiving Rent Assistance are women. They're 6% less likely to have a superannuation account and if they do, their balances are about a quarter lower than men's.
COTA Australia welcomed the new health initiatives in the Budget.
"Reforming Medicare to ensure that every Australian, no matter their age or where they live, can get access to the support they need is an important step.
"It's particularly pleasing to see Government act to improve access to bulk billing by tripling the incentive payment to GPs. Older people have told us that they can't afford to see their doctor because bulk billing is now only available through limited services, so this commitment is timely and very welcome.
Ms Sparrow acknowledged that the Government's commitment to aged care reforms continue with an overall aged care spend increasing to $36B in 2023/24."We've seen substantial action taken in the aged care space in the form of a long overdue increased pay for aged care workers and reforms which include 24/7 nursing in facilities and a guaranteed 215 care minutes. We know from older people that having enough well-trained staff makes a huge difference in the quality of care provided.
"There's no question that there's still a need for far greater reform in aged care, so it's disappointing that the creation of the new Support at Home Program has been delayed yet again in this budget.
"Older people want to remain living in their own homes and often have to wait for months before they can get the support they need. However, it is good to see an increase of 9500 home care packages and the foundations for a new home care program being laid with work continuing on a single assessment system.
"We look forward to the new Aged Care Taskforce taking action to deliver on the next set of fundamental reforms, particularly ensuring a rights based system, self-management, improved support at home, sustainability and increased transparency in the sector.
"We would also encourage the independent interim Inspector-General to take a broad ranging view in his role to ensure that the contemporary needs of older people are at the heart of these reforms and that the reshaped system delivers the quality care older Australians are waiting for.
"The Government has extended public dental services which is important. Older Australians wait for long periods of time on public dental waiting lists and can ill afford to seek dental treatment through private practice. We will be looking for how the Federal Government will deliver more accessible dental care for older Australians in future budgets.
"The budget includes measures that strengthen digital protections and education which older Australians will benefit from. Consideration is being given to acceptance of digital ID which will hopefully assist the 2.1 million older people without a driver's license who currently struggle to prove who they are just because they have a proof of age card instead.
"Requiring superannuation to be paid on pay day is a simple measure that will benefit workers and improve retirement savings for older Australians. Everyone deserves to live comfortably in retirement and while of course this won't solve all the problems people face when it comes to retirement income, it's certainly a very sensible step forward.
"Funding to ensure the ATO has the teeth to be able to ensure compliance around the new superannuation requirements is crucial and it's good to see that included in budget."
Heart Health Assessment Rebate Extended
Everyone knows a regular medical checkup is good for them, but often there are good reasons we do not get them. Anxiety, social pressure, and cost are real issues that keep people away from doctors.
Thankfully, in case of heart health, the Federal Government is taking away one of those excuses, by extending the Heart Health Assessment rebate.
Many Australians don't know they are at risk of heart disease, as some factors – such as high blood pressure or high cholesterol – might not be noticeable without a medical assessment.
Every heart matters, and too much heart disease in Australia has been going undetected until it is too late.
"Heart disease is Australia's biggest killer, one Australian has a heart attack or stroke every four minutes.
About 2.5 million Australians have a high chance of suffering a heart attack or stroke in the next five years, and many don't know it," said Federal Health Minister, Mr Mark Butler.
"Talking to your GP about your heart health save lives, helping to prevent or catch heart disease early so that patients and doctors can take action to reduce the risk before it's too late."
To get your heart checked, talk to your GP. If you don't have a GP, you can find one using the
Health Direct website.
Older Australians; Budget 2023
Almost 8 million pensioners and Commonwealth concession card holders will benefit from the Government's $3.5 billion investment to triple bulk billing incentives. This will support GPs to continue to bulk bill those Australians who feel cost-of-living pressures most acutely, including those on the aged pension and self-funded retirees.
It will be of particular benefit to pensioners and Commonwealth concession card holders who generally use more GP services and have higher levels of chronic and complex health conditions.
As well as more affordable healthcare, older Australians will benefit from cheaper medicines, on the PBS for conditions like heart disease, high cholesterol and diabetes. GPs and nurse practitioners will be able to prescribe 2 months' worth of some PBS medicines, rather than the current one month supply. It will mean fewer visits to the pharmacy and fewer PBS co-payments, resulting in lower out-of-pocket costs. Concession card holders will save up to $43.80 a year for each medicine they take.
Under MyMedicare older patients with complex, chronic disease who go to hospital 10 or more times each year will be supported by comprehensive, team-based and tailored care they need, without needing to go to a hospital ($98.9 million). Those with a chronic wound and diabetes will have access to more affordable wound care ($47.8 million).
Australians living in an aged care home will receive more regular visits, health assessments and care planning through additional incentive payments to GPs and primary care clinics under MyMedicare ($112 million). Residents can choose their preferred provider or choose to be matched to a suitable one by their local Primary Health Network.
Older Australians, their carers and families will benefit from a stronger regulatory model ($59.4 million), greater transparency through Star Ratings and the Quality Indicator program ($139.9 million) and better nutrition in aged care ($12.9 million). A dedicated Food, Nutrition and Dining Advisory Support Unit will improve the quality of food in aged care, including through a food complaints hotline staffed by dietitians.
A new single assessment system will simplify and improve access to in-home and residential aged care services ($15.7 million).
Older Australians who want to live independently at home will be supported to do so with an additional 9,500 Home Care Packages (HCPs) added ($166.8 million). HCPs deliver a mix of personal care, clinical services and help with household tasks to meet their assessed aged care needs. By June 2024, there will be around 285,100 HCPs available to older people in Australia.
The budget will also support the Confederation of Australian Sport's bid to host the World Masters Games 2029 (WMG) in Perth ($5 million). The WMG is one of the largest international, multi-sport events in the world with more than 35,000 athletes competing in more than 50 sports, including para-sports.
Scientists Develop AI Tool To Predict Parkinson's Disease Onset
Scientists from UNSW Sydney with collaborators at Boston University have developed a tool that shows early promise in detecting Parkinson's disease years before the first symptoms start appearing.
In research published today in the journal ACS Central Science, the researchers described how they used neural networks to analyse biomarkers in patients' bodily fluids.
The researchers from UNSW School of Chemistry examined blood samples taken from healthy individuals gathered by the Spanish European Prospective Investigation into Cancer and Nutrition (EPIC). Focusing on 39 patients who developed Parkinson's up to 15 years later, the team ran their machine learning program over datasets containing extensive information about metabolites – the chemical compounds that the body creates when breaking down food, drugs or chemicals.
After comparing these metabolites to those of 39 matched control patients – people in the same study who didn't go on to develop Parkinson's – the team were able to identify unique combinations of metabolites that could prevent or potentially be early warning signs for Parkinson's.
As UNSW researcher Diana Zhang explains, she with Associate Professor W. Alexander Donald developed a machine learning tool called CRANK-MS, which stands for Classification and Ranking Analysis using Neural network generates Knowledge from Mass Spectrometry.
"The most common method of analysing metabolomics data is through statistical approaches," says Ms Zhang.
"So to figure out which metabolites are more significant for the disease versus control groups, researchers usually look at correlations involving specific molecules.
"But here we take into account that metabolites can have associations with other metabolites – which is where the machine learning comes in. With hundreds to thousands of metabolites, we've used computational power to understand what's going on."
A/Prof. Donald says that in addition to looking at combinations of metabolites, the researchers used an unedited list of data.
"Typically, researchers using machine learning to examine correlations between metabolites and disease reduce the number of chemical features first, before they feed it into the algorithm," he says.
"But here we feed all the information into CRANK-MS without any data reduction right at the start. And from that, we can get the model prediction and identify which metabolites are driving the prediction the most, all in one step. It means that if there are metabolites which may potentially have been missed using conventional approaches, we can now pick those up."
How this could be significant for Parkinson's disease
At present, Parkinson's Disease is diagnosed by observing physical symptoms such as a resting hand tremor. There are no blood or laboratory tests to diagnose non-genetic cases of it. But atypical symptoms such as sleep disorder and apathy can present in people with Parkinson's decades before the motor symptoms show up. CRANK-MS, therefore, could be used at the first sign of these atypical symptoms to rule in or out, the risk of developing Parkinson's in the future.
However, A/Prof Donald emphasises that validation studies are needed using much larger cohorts and conducted in multiple parts of the globe before the tool could be used reliably. But in the limited cohort examined for this study, results were promising, with CRANK-MS able to analyse chemicals found in blood to detect Parkinson's disease with an accuracy of up to 96 per cent.
"This study is interesting at multiple levels," he says.
"First, the accuracy is very high for predicting Parkinson's disease in advance of clinical diagnosis. Second, this machine learning approach enabled us to identify chemical markers that are the most important in accurately predicting who will develop Parkinson's disease in the future. Third, some of the chemical markers that drive accurate prediction the most have been previously implicated by others to Parkinson's disease in cell-based assays but not in humans."
There were some interesting findings when examining the metabolites of people who went on to develop Parkinson's in the study.
For example, triterpenoids were found in lower concentrations in the blood of those who later developed Parkinson's disease compared to those who did not. Triterpenoids is a known neuroprotectant that regulates oxidative stress and is commonly found in foods such as apples, olives, and tomatoes. A future study could examine whether eating these foods could naturally protect against developing Parkinson's disease.
Also worthy of further exploration was the presence of polyfluorinated alkyl substances (PFAS) in people who went on to develop Parkinson's, which could be linked to being exposed to industrial chemicals.
"We have evidence to suggest that it is PFAS, but we need more characterisation data to be 100 per cent sure," says A/Prof Donald.
CRANK-MS is a tool that is publicly available to any researchers who would like to use machine learning for disease diagnosis using metabolomics data.
"We've built the model in such a way that it's fit for purpose," says Ms Zhang.
"The application of CRANK-MS to detect Parkinson's disease is just one example of how AI can improve the way we diagnose and monitor diseases. What's exciting is that CRANK-MS can be readily applied to other diseases to identify new biomarkers of interest.
"The tool is user-friendly where on average, results can be generated in less than 10 minutes on a conventional laptop."
'Queue Jumpers' Who Opt To Retire Early Are Catching Companies Off Guard
There's a new trend emerging in Australia that organisations need to heed – the 'queue jumpers', defined as healthy workers aged 50+ who are preparing to abandon unsupportive organisations well before retirement age.
Around age 50, older people experience a growing awareness that 'life is finite' and an active, meaningful retirement may be preferential to staying in a job where they are not valued or receiving much support.
That's the consensus from a new national study published in the Journal of Organizational Behavior identifying a shift in retirement intentions among many healthy older adults who can support themselves financially without working.
Study co-author Professor Carol Kulik from the University of South Australia says despite increases in life expectancy and the official retirement age – 67 years in Australia, the statistics* show that more healthy older people are leaving work earlier than in previous generations, and this has consequences for organisations.
Prof Kulik and colleagues from UniSA and the University of Melbourne analysed survey responses from almost 500 workers aged 50 and older to find out why so many people were considering retirement.
"Retirement intentions are no longer linked to a fixed age, when pensions become available," Prof Kulik says.
"Changes in wealth and income, longer life spans and a desire among active older adults to make the best of their life before poor health sets in, are all reasons why people might choose retirement over work.
"In the past, health, wealth, workplace-related factors, and family variables were major predictors of retirement, but there is a new motivation that hasn't been previously considered – the passage of time.
"Growing awareness that life is finite sets in around 50 years when people start to reassess their priorities. They become less concerned with future work goals and more interested in the present. Relationships with family and friends also become more important."
But that awareness is greatest among healthy older workers who are not supported by their line managers. If workplaces do not value older employees, or discriminate* against them, organisations risk losing the experienced, older workers who would be most productive, the study authors say.
If manager support is high and healthy older workers are valued, employees are less likely to consider retirement.
The researchers say a change in working arrangements due to the COVID-19 pandemic could also persuade older workers to press pause on their retirement plans.
"Hybrid office and working from home arrangements often suit older employees as they are removed from onsite discrimination that is prevalent in many workplaces. This also gives them a bridge into retirement, allowing them to reduce their hours but continue working," Prof Kulik says.
"When time is running out: a growth curve analysis of older workers' retirement intentions" is authored by Prof Christina Cregan from the University of Melbourne, and UniSA Business researchers Prof Carol Kulik, Dr Sanjeewa Perera and Assoc Prof Shruti Sardeshmukh.
*By 2018, average retirement ages in almost all OECD countries were below the traditional pension age.
*According to the Australian Human Rights Commission, 26 per cent of Australians aged 50 years and older experience some form of employment-related discrimination.
We Need To Talk About Ovarian Cancer; Our Deadliest Gynaecological Cancer
It's time to improve treatments and raise survival rates for people with ovarian cancer, says an honorary academic from UNSW Arts, Design & Architecture.
We must urgently increase research funding and awareness of ovarian cancer if we want to improve survivability for future generations, says an honorary academic at UNSW Sydney. Ovarian cancer has been left behind in the last 45 years of modern cancer research. It has the lowest survival rate of all gynaecological cancers, yet inequities in our healthcare system have seen it chronically underfunded, says Associate Professor – and ovarian cancer patient – Siobhan O'Sullivan.
"The five-year survival rate for ovarian cancer is stubbornly low [at 48%], while great advances have been made in the survivability of many other cancers," she says. "We need funds. We need research. And we need solutions now so we can draw a line under this insidious, relentless disease."
Greater awareness will help drive greater investment, and increased research funding will improve detection, treatment and support for people diagnosed with ovarian cancer, she says.
A/Prof. O'Sullivan is a political scientist and theorist whose research focuses on animal welfare policy and the welfare state. While academia has been a vocation for her, she has retired early from UNSW's School of Social Sciences. A/Prof. O'Sullivan has terminal ovarian cancer. She has been advocating for improved outcomes for people with ovarian cancer since her stage III diagnosis in August 2020.
Despite enduring non-stop treatment over the last two and a half years, A/Prof. Sullivan did not make it to remission; she is now in out-patient palliative care. She has had all the chemotherapy currently available to treat ovarian cancer, as well as a chemotherapy drug intended to treat breast cancer, she has had fifteen rounds of radiotherapy, and is having a second course in April and May, and she has taken part in a drug trial. But heartbreakingly, her cancer has spread to her abdomen, chest and liver.
Unlike screenings for cervical, bowel and breast cancer, there is no early detection test for ovarian cancer. "Often, it feels like nothing. For that reason, most women are diagnosed when they are Stage III or IV," A/Prof. O'Sullivan says. For many, late diagnosis is a death sentence; only 29% of women diagnosed at a late stage (III or IV) will survive past five years.
A/Prof. O'Sullivan was diagnosed following Sydney's first COVID lockdown; she'd started attending a local bootcamp and was getting stronger, but began to feel "bloated", "heavy", "just not right". She put it down to COVID weight gain – its redistribution around her middle perhaps a sign of ageing – and the emotional stress of navigating her father's rapidly deteriorating health.
When she visited her local general practice, she was misdiagnosed with constipation. Four days later she returned feeling physically incapacitated and highly distressed; she was sent for blood tests "to rule out the worst options". Her CA-125 levels, a proxy marker for ovarian cancer and other endometrial issues, came back highly elevated (~470, with normal levels below 25). Her doctor sent her directly to emergency.
After a CT scan, an emergency physician told her, "Your life is going to change forever. You have ovarian cancer." A/Prof. O'Sullivan was not aware an ovarian cancer diagnosis was very often terminal; this speaks to the lack of education around the disease, she says.
She would spend the next few weeks at Chris O'Brien Lifehouse due to a debilitating nausea condition, leaving just briefly to visit her father one last time. He passed shortly after her visit, at which she was accompanied by her mother and brother. She was back in hospital the following day, once again overcome with nausea. But the treatment team held off her first round of chemotherapy so she could attend her father's funeral, held a few days later.
She underwent four rounds of chemotherapy before seven-and-a-half-hour surgery. Unfortunately, she suffered two strokes – one during surgery and one post-op – leaving her partially blind.
"Also, when they cut me open, my surgeon saw something that she had never seen before. The cancer lower in my abdomen had shrunk during chemo, but the cancer higher up had continued to grow aggressively," she says. "At first my surgeon thought that perhaps they were dealing with two different cancers. But no. Tests revealed it all to be ovarian cancer."
The mystery was later resolved when her treating team concluded that she is chemo refractory, or non-responsive to chemotherapy. People who are chemo refractory, and suffering from ovarian cancer, are normally given a year to live. A/Prof. O'Sullivan has outlived expectations, but she says these kinds of prognoses need to change.
"My oncology team are just trying to do whatever they can," she says. "I don't want to suffer too much but I still have enough quality of life that I want to try to live a bit longer, if I can."
Early detection is critical for improving outcomes for people with ovarian cancer
Ovarian cancer symptoms are often dismissed as a normal part of perimenopause and menopause, which makes an early detection test ever more critical, says Professor Caroline Ford from UNSW Medicine & Health.
"Symptoms can include pelvic pain, bloating, weight loss or gain, changes in toileting and feeling full very quickly… Everyone has fluctuations in these things, feels tired or bloated or has weight gain. When these symptoms persist for more than a week or two, people should see their doctor."
Prof. Ford leads UNSW's Gynaecological Cancer Research Group (GCRG) that aims to understand why gynaecological cancers (cancers of the female reproductive system) develop, how and why they spread, and how best to treat them. Its current focus is ovarian and endometrial cancers.
Prof. Ford and her team are developing an early screening test that detects circulating tumour DNA in blood. In the last 12 months, they have identified strong candidate biomarkers, bringing their research closer to clinical trials.
They are also developing additional treatments for those already diagnosed with ovarian cancer, including the repurposing of drugs that have already been developed and shelved.
"Using AI technology, we can look at, for example, a heart disease drug and see if it might hit a target that's important in ovarian cancer," she says. "Rather than starting from square one and taking the typical 15 to 20 years to take it through laboratory work to clinical trials, we can build on thousands of drugs that are available with well-known safety profiles and see if they can help women with ovarian cancer in the next few years."
Screening and new treatments would allow people like A/Prof. O'Sullivan a greater chance of earlier diagnosis and recovery.
A/Prof. O'Sullivan is currently home, surrounded by family, friends, and her two rescue cats, Gracie and Tom Tom. "I look at the fact that I'm not in hospital as a gift," she says, allowing her to vie for victory at her local trivia, snorkel at Clovelly and spend time with her loved ones.
Advocating for increased funding and awareness helps to give her meaning and purpose, she says. She works with Survivors Teaching Students to help tomorrow's health professionals better understand the experience of ovarian cancer, and she is writing a book about cancer and navigating oncology systems with co-authors Scientia Professor Louise Chappell and Dr Naama Carlin from UNSW, who have also experienced cancer firsthand. The researchers are conducting interviews with people impacted by cancer to share diverse perspectives, she says.
After the relentless treatment and experience of the disease, she would like to decide when she has suffered enough. Together with Go Gentle Australia and other organisations, she lobbied for the Voluntary Assisted Dying law reform, that comes into effect in New South Wales from November.
She says the taboo around speaking about death needs to change – in both social and medical spheres – so impacted people can make informed decisions about their lives.
"I have survived longer than anybody thought possible yet it's too late for me. Ovarian cancer will take my life. But I'll be damned if the next generation die too," she says. "Research is essential and urgently needed. I will support that research via my will.
"I am doing it for people like my niece. We need urgent action now. Hope is out there. There are green shoots, but we need [research] money now so we can get the results we need and save lives."
Why Are Electricity Prices Rising Again?
Despite government intervention to reduce electricity prices, energy regulators indicate power bills will still increase this year.
Around 5 million households will be eligible to receive up to $500 relief on their electricity bills under a $1.5 billion assistance package confirmed in the federal budget. But Australians struggling with the rising cost of living might still face more pain, with electricity prices expected to rise again soon
.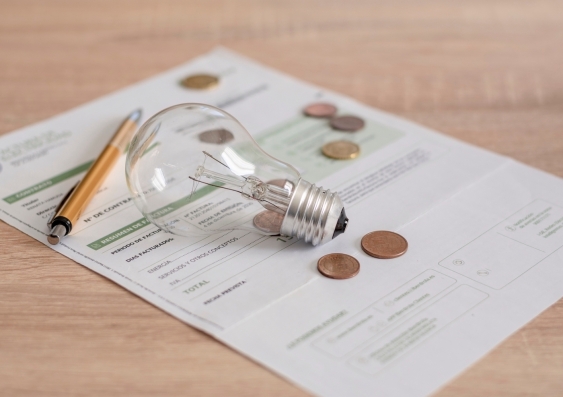 Customers on standard energy plans in New South Wales, Queensland, and South Australia could see increases of up to 24 per cent on their bills next financial year
, according to a draft determination by Australian Energy Regulator (AER) – the body which manages wholesale electricity and gas markets across Australia. The Victorian regulator – the Essential Services Commission – has also flagged a hike of up to 30 per cent in the state.
The final determination on the proposed raise in benchmark prices is expected to be announced this month.
"Multiple political and economic factors have driven global energy shortages, which has seen some record increases in prices in coal, oil and markets," says Dr Dylan McConnell, renewable energy and energy systems analyst at the School of Photovoltaic and Renewable Energy Engineering, UNSW Sydney. "This has pushed up the price of electricity for retailers, and therefore the price of electricity for customers."
About a million customers are estimated to be on default contracts, known as standing offer contracts. This is a basic plan that a household defaults to if they don't negotiate with their energy retailer. The default market offer is the maximum total billing amount a customer on the standing offer can be charged based on average usage.
"The default market offer is a benchmark price designed to make it easier for customers to compare energy plans across providers, as well as a safety net for those not engaged with their retailer," Dr McConnell says. "It was introduced in 2018 following a review by the Australian Competition and Consumer Commission (ACCC) that found competition between retailers was not sufficiently lowering energy prices."
The AER reviews the price of the default market offer annually, taking into account several factors, including network costs, operating costs and wholesale prices. The upcoming increase flagged is due mainly to a rise in wholesale prices – the price retailers pay large generators for the electricity they then supply to their customers.
"Around 90 per cent of customers are on market energy plans – a rate which is usually a discount on the default market offer," Dr McConnell says. "So if the price of the default market offer increases, the price for those on market plans may as well."
Wholesale electricity prices rose substantially last year, as many European countries rejected oil and gas exports from Russia following the war in Ukraine. An increase in global energy demand emerging from the pandemic also exacerbated shortages.
"There was and to some extent still is a lot of volatility in the global energy market, largely following the war in Ukraine and slow supply recovery post-pandemic. These dynamics are factored into the default market offer calculation by the AER," Dr McConnell says.
Volatile wholesale pricing
Australia extracts enough gas to sustain its own energy needs, but most of it is exported. Because of this, domestic gas prices are tied to the volatility of the global energy market.
"Around three-quarters of our gas is exported, which has added a huge demand to eastern seaboard gas supply, especially without a gas reserve policy in place," Dr McConnell says. "Those export commitments cannot be waived easily, so Australia remains linked with international markets and is exposed to global supply shortages and volatility."
The futures commodities market, where retailers can hedge – or fix – wholesale gas prices for an extended period, experienced a significant spike in 2022. Those inflated prices are locked in now and will flow through to households in electricity bills.
But the wholesale price hasn't increased as much as originally forecasted after intervention from the Federal Government to temporarily cap prices and provide rebates on bills for some low-income households.
"The price controls introduced by the federal government on coal and gas seem to have had some impact on the futures price, which are lower than expected," Dr McConnell says.
Longer-term, adopting renewable energy may offer more consistent relief and insulate customers from volatile price increases in the wholesale market. However, more investment in transmission and energy storage is needed.
"Energy independence requires significant infrastructure development, which takes time," Dr McConnell says. "But there's little operating and maintenance costs once renewable energy is up and running. So, it is a natural hedge against commodity price volatility and introduces more supply into the system.
"The savings from generators then trickle down to retailers and eventually customers."
Greater government support to improve home energy performance would also help reduce power bills without directly subsidising high electricity prices.
"There are many challenges, including upfront capital, but the government may be better placed in the long run to improve the quality and energy efficiency of housing stock, particularly low-income housing and rentals," Dr McConnell says.
"That doesn't do anything to electricity prices directly but can significantly lower the cost for households struggling with cost-of-living challenges."
For households looking to save on their bills, finding ways to reduce consumption and shopping around for a better energy offer can also help.
T Cells Can Activate Themselves To Fight Tumours
When you need a bit of motivation, it often has to come from within. New research suggests cancer-fighting immune cells have found a way to do just that.

Scientists at University of California San Diego have discovered a property of T cells that could inspire new anti-

tumour

therapeutics. Through a previously undescribed form of cell auto-

signalling

, T cells were shown to activate themselves in peripheral tissues,

fuelling

their ability to attack

tumours

.
The study, published May 8, 2023 in Immunity, was led by study first author and postdoctoral fellow Yunlong Zhao, PhD, and co-senior authors Enfu Hui, PhD, professor in the School of Biological Sciences at UC San Diego and Jack D. Bui, MD, PhD, professor of pathology at UC San Diego School of Medicine.
T cells are a type of white blood cell that protect against infection and help fight cancer. In the lymph organs, T cells are trained by antigen-presenting cells, which, as their name suggests, present an antigen (a piece of tumor or pathogen) to T cells, stimulating an immune response.
A key part of this process is the binding of B7, a protein on the surface of antigen-presenting cells, with CD28, a receptor on T cells. This B7:CD28 interaction is a major driver of the T cell immune response. Once trained, T cells leave the lymph organs and travel through the body to find and attack their targets.
More recent work has since revealed that T cells can actually produce their own B7 or take the B7 protein from the antigen-presenting cells and bring it along with them, but exactly why they do this has remained unclear. This also led the researchers to wonder whether T cells, now equipped with both a receptor and its ligand, might be able to activate themselves.
Through a series of experiments, the researchers found that T cells could indeed self-activate by puckering their cell membrane inwards to allow the B7 protein and the CD28 receptor to bind each other.
"People often assume the cell membrane is flat, but it actually looks more like a coastline with lots of coves and bays," said Hui. "We found that local membrane curvatures are actually a rich dimension of T cell auto-signalling, which is paradigm-shifting in a field that assumed this only happened across cells."
The researchers then confirmed that this auto-stimulation was indeed effective in boosting T cell function and slowing tumour growth in a mouse model of cancer.
"When a T cell exits a lymph organ and enters a tumour environment, it's like leaving home and going for a long trek in the woods," said Bui. "The same way a hiker brings snacks to sustain them through the trip, the T cells bring their own signal to keep them going. Now the exciting question is, how much farther will they go if we can provide more food?"
Refuelling the T cells could be achieved by either providing more sources of B7 in the lymph organs or in the tumour itself. Another option, the authors say, would be to develop a cell therapy in which engineered T cells with enhanced auto-signalling capabilities were delivered directly to a patient.
The researchers also suggest this system could be used as a cancer biomarker, in that patients whose tumours contain many T cells with B7 may be doing better at fighting the disease.
On the other hand, in patients with autoimmune diseases such as lupus or multiple sclerosis, physicians could prescribe endocytosis inhibitors to prevent the cell from forming concavities, effectively blocking the B7:CD28 interaction to reduce overactive T cell function.
"We've found a way that T cells are able to live outside of their normal homes and survive in the foreign environment of a tumor, and we can now develop clinical strategies for increasing or decreasing these pathways to treat disease," said Hui.
Yunlong Zhao, Christine Caron, Ya-Yuan Chan, Calvin K. Lee, Xiaozheng Xu, Jibin Zhang, Takeya Masubuchi, Chuan Wu, Jack D. Bui, Enfu Hui.
cis-B7:CD28 interactions at invaginated synaptic membranes provide CD28 co-stimulation and promote CD8+ T cell function and anti-tumor immunity.
Immunity, 2023; DOI:
10.1016/j.immuni.2023.04.005
Researchers Discover A Cause Of Rapid Ice Melting In Greenland
While conducting a study of Petermann Glacier in northwest Greenland, researchers at the University of California, Irvine and NASA's Jet Propulsion Laboratory uncovered a previously unseen way in which the ice and ocean interact. The glaciologists said their findings could mean that the climate community has been vastly underestimating the magnitude of future sea level rise caused by polar ice deterioration.
Using satellite radar data from three European missions, the UCI/NASA team learned that Petermann Glacier's grounding line -- where ice detaches from the land bed and begins floating in the ocean -- shifts substantially during tidal cycles, allowing warm seawater to intrude and melt ice at an accelerated rate. The group's results are the subject of a paper published in Proceedings of the National Academy of Sciences.
"Petermann's grounding line could be more accurately described as a grounding zone, because it migrates between 2 and 6 kilometers as tides come in and out," said lead author Enrico Ciraci, UCI assistant specialist in Earth system science and NASA postdoctoral fellow. "This is an order of magnitude larger than expected for grounding lines on a rigid bed."
He said the traditional view of grounding lines beneath ocean-reaching glaciers was that they did not migrate during tidal cycles, nor did they experience ice melt. But the new study replaces that thinking with knowledge that warm ocean water intrudes beneath the ice through preexisting subglacial channels, with the highest melt rates occurring at the grounding zone.
The researchers found that as Petermann Glacier's grounding line retreated nearly 4 kilometers -- 2½ miles -- between 2016 and 2022, warm water carved a 670-foot-tall cavity in the underside of the glacier, and that abscess remained there for all of 2022.
"These ice-ocean interactions make the glaciers more sensitive to ocean warming," said senior co-author Eric Rignot, UCI professor of Earth system science and NASA JPL research scientist. "These dynamics are not included in models, and if we were to include them, it would increase projections of sea level rise by up to 200 percent -- not just for Petermann but for all glaciers ending in the ocean, which is most of northern Greenland and all of Antarctica."
The Greenland ice sheet has lost billions of tons of ice to the ocean in the past few decades, the PNAS paper stresses, with most of the loss caused by warming of subsurface ocean waters, a product of Earth's changing climate. Exposure to ocean water melts the ice vigorously at the glacier front and erodes resistance to the movement of glaciers over the ground, causing the ice to slide more quickly to the sea, according to Rignot.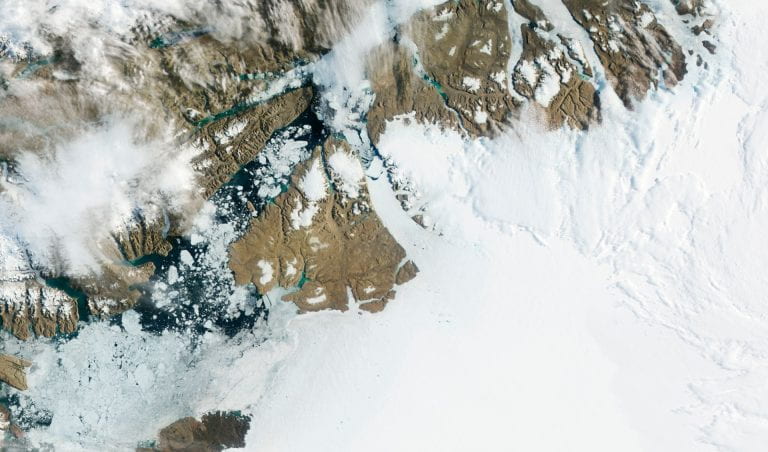 In the center of this NASA photograph taken in 2012, Petermann Glacier in northwest Greenland gradually moves toward the ocean, with large segments breaking off and drifting away as icebergs. Researchers at UCI and NASA JPL used satellite data from three European missions to learn how warm ocean water is causing the migration of the glacier's grounding line, leading to its rapid deterioration. NASA

Enrico Ciracì, Eric Rignot, Bernd Scheuchl, Valentyn Tolpekin, Michael Wollersheim, Lu An, Pietro Milillo, Jose-Luis Bueso-Bello, Paola Rizzoli, Luigi Dini.
Melt rates in the kilometer-size grounding zone of Petermann Glacier, Greenland, before and during a retreat.
Proceedings of the National Academy of Sciences, 2023; 120 (20) DOI:
10.1073/pnas.2220924120
Smallest Shifting Fastest: Bird Species Body Size Predicts Rate Of Change In A Warming World
Birds across the Americas are getting smaller and longer-winged as the world warms, and the smallest-bodied species are changing the fastest. That's the main finding of a new University of Michigan-led study scheduled for online publication May 8 in the journal Proceedings of the National Academy of Sciences.
The study combines data from two previously published papers that measured body-size and wing-length changes in a total of more than 86,000 bird specimens over four decades in North and South America. One study examined migrating birds killed after colliding with buildings in Chicago; the other looked at nonmigrating birds netted in the Amazon.
Though the two datasets are nonoverlapping in both species composition and geography, and the data were collected independently using different methods, the birds in both studies displayed similarly widespread declines in body size with concurrent increases in wing length.
Now, a new analysis of the combined data has revealed an even more striking pattern: In both studies, smaller bird species declined proportionately faster in body size and increased proportionately faster in wing length.
"The relationships between body size and rates of change are remarkably consistent across both datasets. However, the biological mechanism underlying the observed link between body size and rates of morphological change requires further investigation," said U-M ornithologist Benjamin Winger, one of the study's two senior authors, an assistant professor of ecology and evolutionary biology, and an assistant curator at the Museum of Zoology.
Both the Chicago and Amazonian studies attributed the reductions in species body size to increasing temperatures over the past 40 years, suggesting that body size may be an important determinant of species responses to climate change.
Even so, exactly why smaller-bodied species are changing faster remains an open question, according to the researchers.
It could be that smaller-bodied birds are adapting more quickly to evolutionary pressures. But the available data did not allow the U-M-led team to test whether the observed size shifts represent rapid evolutionary changes in response to natural selection.
"If natural selection plays a role in the patterns we observed, our results suggest that smaller bird species might be evolving faster because they experience stronger selection, are more responsive to selection, or both," said co-senior author Brian Weeks, an evolutionary ecologist at the U-M School for Environment and Sustainability.
"Either way, body size appears to be a primary mediator of birds' responses to contemporary climate change."
So, if larger-bodied birds are responding more slowly to global change, what's the prognosis for the coming decades, as temperatures continue to climb?
"Our results suggest that large body size could further exacerbate extinction risk by limiting the potential to adapt to rapid, ongoing anthropogenic change," said study lead author Marketa Zimova, a former U-M Institute for Global Change Biology postdoctoral researcher now at Appalachian State University.
"In contrast, the body-size effect on evolutionary rates might increase persistence of small taxa if their rapidly changing morphology reflects a faster adaptive response to changing conditions."
The new study analysed data from 129 bird species: 52 migratory species breeding in North America and 77 South American resident species. The 86,131 specimens were collected over roughly the same period using different techniques.
The smallest bird among the Chicago species was the golden-crowned kinglet (Regulus satrapa) at an average size of 5.47 grams, and the largest was the common grackle (Quiscalus quiscula) at 107.90 grams. Among the Amazonian species, the fork-tailed woodnymph (Thalurania furcata) was the smallest at 4.08 grams, and the largest was the Amazonian motmot (Momotus momota) at 131.00 grams.
The North American dataset was derived from birds retrieved by staff and volunteers at Chicago's Field Museum after collisions with city buildings. For each of the 70,716 individuals, Field Museum ornithologist David Willard measured bill length, wing length, body mass and the length of a lower leg bone called the tarsus.
"The birds collected from window collisions in Chicago are providing insights into morphological changes related to the changing climate. It is extremely gratifying to see data from these birds analyzed for a better understanding of the factors driving these changes," said Willard, collections manager emeritus and a co-author of the new PNAS study.
The Amazonian dataset contains measurements of 15,415 nonmigratory birds captured with mist nets in the rainforest, measured, then released. Two measurements were consistently recorded throughout the study period: mass and wing length.
The large and complementary datasets provided a unique opportunity to test whether two fundamental organismal traits -- body size and generation length -- shaped the birds' responses to rapid environmental change.
Among biologists, it is broadly assumed that a species' generation length, defined as the average age of individuals producing offspring, is an important predictor of its ability to adapt to rapid environmental change.
Shorter-lived organisms that reproduce on relatively short time scales, such as mice, are predicted to evolve faster than creatures with longer generation lengths, such as elephants, because the mice have more frequent opportunities to make use of the random genetic mutations generated during reproduction.
The authors of the new PNAS study used statistical models to test the importance of both generation length and species body size in mediating rates of morphological change in birds.
After controlling for body size, they found no relationship between generation length and rates of change in the North American bird species. Generation-length data were not available for the South American birds, so they were not included in that part of the analysis.
At the same time, the new analysis showed that a species' mean body size was significantly associated with the rates of change measured in both the Chicago and Amazonian birds.
"Body size may be a valuable predictor of adaptive capacity and the extent to which contemporary evolution may reduce risk of extinction among species," the authors wrote.
Marketa Zimova, Brian C. Weeks, David E. Willard, Sean T. Giery, Vitek Jirinec, Ryan C. Burner, Benjamin M. Winger.
Body size predicts the rate of contemporary morphological change in birds.
Proceedings of the National Academy of Sciences, 2023; 120 (20) DOI:
10.1073/pnas.2206971120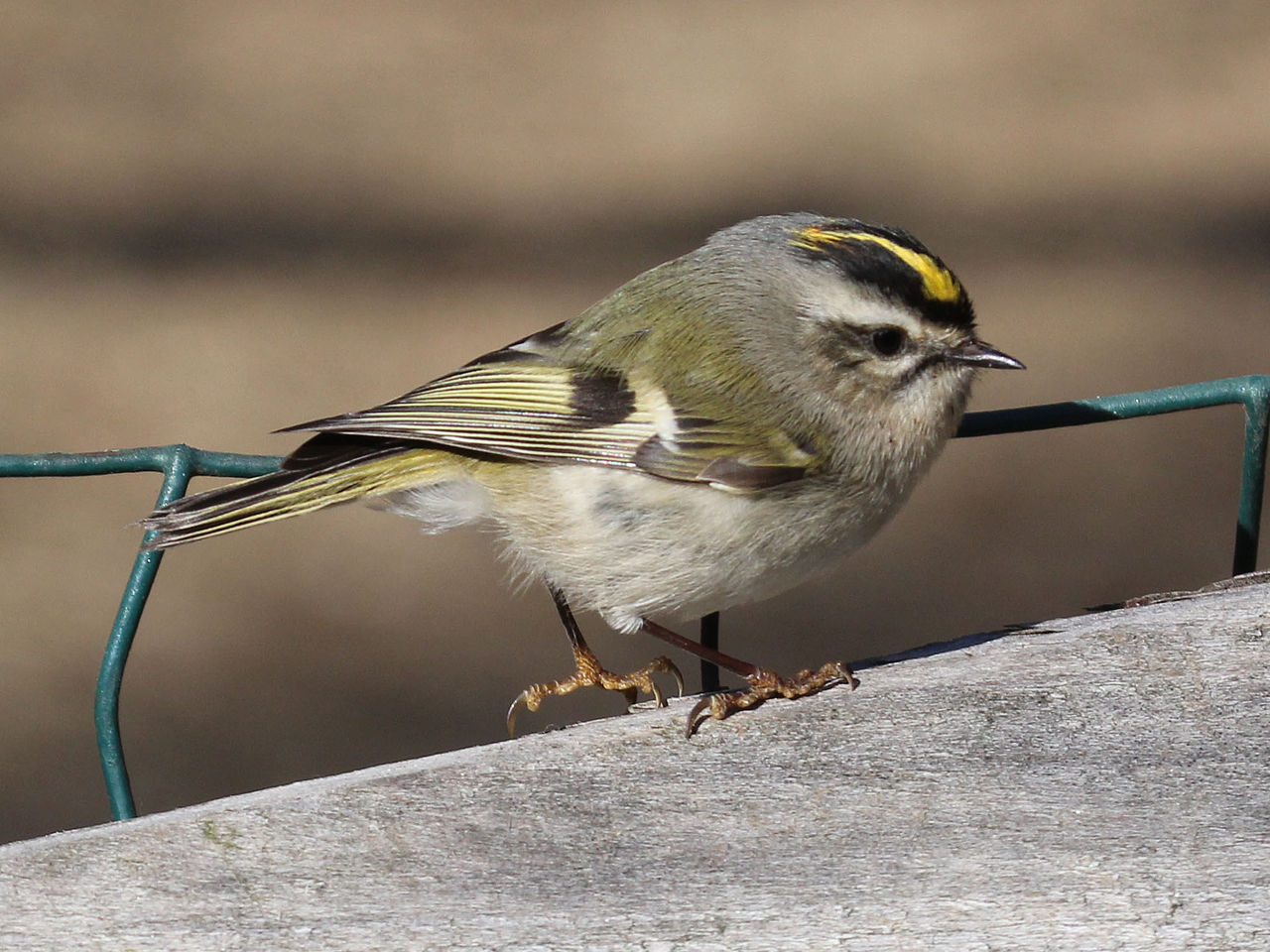 The golden-crowned kinglet is a widespread migratory bird throughout North America. Its breeding habitat is coniferous forests across Canada, the northeastern and western United States, Mexico and Central America. It migrates to the United States in the non-breeding season. Some birds are permanent residents in coastal regions and in the southern parts of their range. Northern birds remain further north in winter than the ruby-crowned kinglet.
Photo: DickDaniels - Golden-crowned Kinglet (Regulus satrapa) - Scotland Neck, North Carolina
Potential Found To Counter Depression By Restoring Key Brain Rhythm
Led by researchers from NYU Grossman School of Medicine and University of Szeged in Hungary, a new study in mice and rats found that restoring certain signals in a brain region that processes smells countered depression.
Publishing in the journal Neuron online May 9, the study results revolve around nerve cells (neurons), which "fire" -- or emit electrical signals -- to transmit information. Researchers in recent years discovered that effective communication between brain regions requires groups of neurons to synchronize their activity patterns in repetitive periods (oscillations) of joint silence followed by joint activity. One such rhythm, called "gamma," repeats about 30 times or more in a second, and is an important timing pattern for the encoding of complex information, potentially including emotions.
Although its causes remain poorly understood, depression is reflected in gamma oscillation changes, according to past studies, as an electrophysiological marker of the disease in brain regions that manage the sense of smell, which have also been tied to emotions. These regions include the olfactory bulb adjacent to the nasal cavity, which is thought to be a source and "conductor" of brain-wide gamma oscillations.
To test this theory, the current study authors shut down the function of the bulb using genetic and cell signalling techniques, observed a related increase of depression-like behaviours in study rodents, and then reversed these behaviours using a device that boosted gamma signals of the brain at their natural pace.
"Our experiments revealed a mechanistic link between deficient gamma activity and behavioural decline in mice and rat models of depression, with the signal changes in the olfactory and connected limbic systems similar to those seen in depressed patients," says corresponding study author Antal Berényi, MD, PhD, adjunct assistant professor in the Department of Neuroscience and Physiology at NYU Langone Health. "This work demonstrates the power of gamma-enhancement as a potential approach for countering depression and anxiety in cases where available medications are not effective."
Major depressive disorder is a common, severe psychiatric illness often resistant to drug therapy, the researchers say. The prevalence of the condition has dramatically increased since the start of the pandemic, with more than 53 million new cases estimated.
Gamma Waves Linked to Emotions
Disease-causing changes in the timing and strength of gamma signals, potentially caused by infections, trauma, or drugs, from the olfactory bulb to other brain regions of the limbic system, such as the piriform cortex and hippocampus, may alter emotions. However, the research team is not sure why. In one theory, depression arises, not within the olfactory bulb, but in changes to its outgoing gamma patterns to other brain targets.
Removal of the bulb represents an older animal model for the study of major depression, but the process causes structural damage that may cloud researchers' view of disease mechanisms. Thus, the current research team designed a reversible method to avert damage, starting with a single, engineered strand of DNA encapsulated in a harmless virus, which when injected into neurons in the olfactory bulbs of rodents caused the cells to build certain protein receptors on their surfaces.
This let the researchers inject the rodents with a drug, which spread system-wide, but only shut down the neurons in the bulb that had been engineered to have the designed drug-sensitive receptors. This way the investigators could selectively and reversibly switch off the communication between the bulb partner brain regions. These tests revealed that chronic suppression of olfactory bulb signals, including gamma, not only induced depressive behaviours during the intervention, but for days afterward.
To show the effect of the loss of gamma oscillation in the olfactory bulb, the team used several standard rodent tests of depression, including measures of the anxiety that is one of its main symptoms. The field recognizes that animal models of human psychiatric conditions will be limited, and so uses a battery of tests to measure depressed behaviours that have proven useful over time.
Specifically, the tests looked at how long animals would spend in an open space (a measure of anxiety), whether they stopped swimming earlier when submerged (measures despair), whether they stopped drinking sugar water (took less pleasure in things), and whether they refused to enter a maze (avoided stressful situations).
The researchers next used a custom-made device that recorded the natural gamma oscillations from the olfactory bulb, and sent those paced signals back into the rodents' brains as closed-loop electrical stimulation. The device was able to suppress gamma in healthy animals or amplify it. Suppression of gamma oscillations in the olfactory lobe induced behaviours resembling depression in humans. In addition, feeding an amplified olfactory bulb signal back into the brains of depressed rats restored normal gamma function in the limbic system, and reduced the depressive behaviours by 40 percent (almost to normal).
"No one yet knows how the firing patterns of gamma waves are converted into emotions," says senior study author György Buzsáki, MD, PhD, the Biggs Professor in the Department of Neuroscience and Physiology at NYU Langone Health and a faculty member in its Neuroscience Institute. "Moving forward, we will be working to better understand this link in the bulb, and in the regions it connects to, as behavior changes."
Qun Li, Yuichi Takeuchi, Jiale Wang, Levente Gellért, Livia Barcsai, Lizeth K. Pedraza, Anett J. Nagy, Gábor Kozák, Shinya Nakai, Shigeki Kato, Kazuto Kobayashi, Masahiro Ohsawa, Gyöngyi Horváth, Gabriella Kékesi, Magor L. Lőrincz, Orrin Devinsky, György Buzsáki, Antal Berényi.
Reinstating olfactory bulb-derived limbic gamma oscillations alleviates depression-like behavioral deficits in rodents.
Neuron, 2023; DOI:
10.1016/j.neuron.2023.04.013
Kangaroo Island Ants 'Play Dead' To Avoid Predators
They're well known for their industrious work, but now a species of ant on Kangaroo Island is also showing that it is skilled at 'playing dead', a behaviour that University of South Australia researchers believe is a recorded world first.
Accidentally discovered as researchers were checking pygmy-possum and bat nest boxes on Kangaroo Island, a colony of Polyrhachis femorata ants appeared to be dead… until one moved.
Researchers believe the ants were 'playing dead' as a defensive strategy to avoid potential danger.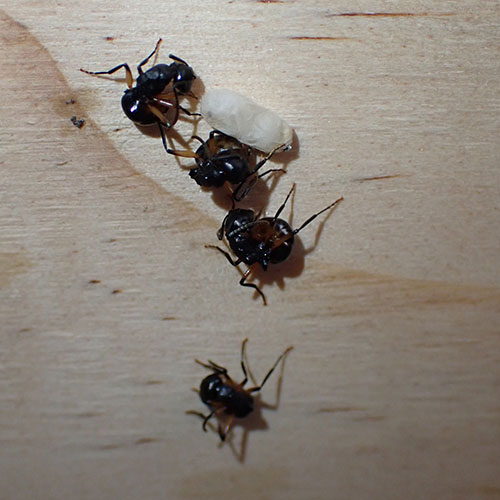 Polyrhachis femorata ants feigning death (Photo: S. 'Topa' Petit)

Published by CSIRO, this is the first time that a whole colony of ants has been recorded feigning death, and the first record of the Polyrhachis femorata ant species for South Australia.
Wildlife ecologist, UniSA's Associate Professor S. 'Topa' Petit, says she was surprised to discover a colony of what appeared to be dead ants in one of the nest boxes.
"The mimicry was perfect," Assoc Professor Petit says. "When we opened the box, we saw all these dead ants…and then one moved slightly.
"This sort of defensive immobility is known among only a few ant species -- in individuals or specific casts -- but we don't know of other instances when it's been observed for entire colonies.
"In some of the boxes containing colonies of Polyrhachis femorata, some individuals took a while to stop moving, and others didn't stop. The triggers for the behaviour are difficult to understand."
Assoc Prof Petit says that nest boxes may present an opportunity to study the ants' death-feigning behaviours, which are of great interest to many behavioural ecologists investigating a diversity of animal species.
The discovery was made during the Kangaroo Island Nest Box Project, where 901 box cavities have been monitored across 13 diverse properties as part of wildlife recovery efforts following the devastating 2020 bushfires.
Co-researcher at the Kangaroo Island Research Station, Peter Hammond, says that he used to call the Nest Box Project 'Friends of the Invertebrates', because invertebrates were often the only occupants of the bat and pygmy-possum nest boxes.
"We are learning a lot about invertebrates as well as targeted vertebrates," Hammond says.
"Most of our several hundred boxes are on burnt ground, but we also have some on unburnt properties as controls because our aim is to determine the value of nest boxes in bushfire recovery.
"Polyrhachis femorata is strongly associated with the critically endangered Narrow-Leaf Mallee community, where it colonised several boxes very quickly. However, we also have records for two other properties further west, indicating that the ants will use other habitats.
"We believe that the Polyrhachis femorata species was strongly affected by the bushfires."
Assoc Prof Petit says there is a lot to discover about this species.
"Polyrhachis femorata is a beautiful arboreal ant that tends to be quite shy, but little else is known about its ecology or behaviour," Assoc Prof Petit says.
"We have a relatively unknown world of ants under our feet and in the trees. Ants provide crucial ecosystem services and are a vital part of functional ecosystems on Kangaroo Island and elsewhere.
"It is very exciting that such an endearing species as Polyrhachis femorata is living on Kangaroo Island and we look forward to finding out more about its ecology.
"We have no doubt that other ants with similar death-feigning behaviours will be discovered in Australia, but it is thrilling to be among the pioneers."
Sophie Petit, Peter A. Hammond, Brian Heterick, John J. Weyland.
Polyrhachis femorata (Hymenoptera: Formicidae) habitat and colony defensive immobility strategy.
Australian Journal of Zoology, 2023; 70 (4): 126 DOI:
10.1071/ZO22042
Disclaimer: These articles are not intended to provide medical advice, diagnosis or treatment. Views expressed here do not necessarily reflect those of Pittwater Online News or its staff.