inbox and environment news: Issue 589
June 25 -
July 15 2023: Issue 589
Winter School Holidays
We're taking our Winter School holidays break - but we will be back on Sunday July 16th. There's a few items and reports running this Issue that may be of interest to you, even if we haven't overloaded your page.
We hope you all have a lovely break and have some great fun, even if it's cold!
Whether it's taking time to spot whales migrating north off our beaches, playing in a local park or heading south to go skiing or see the snow, we're sure you will all have a great time and as always we ask that you please look after yourselves and look out for each other.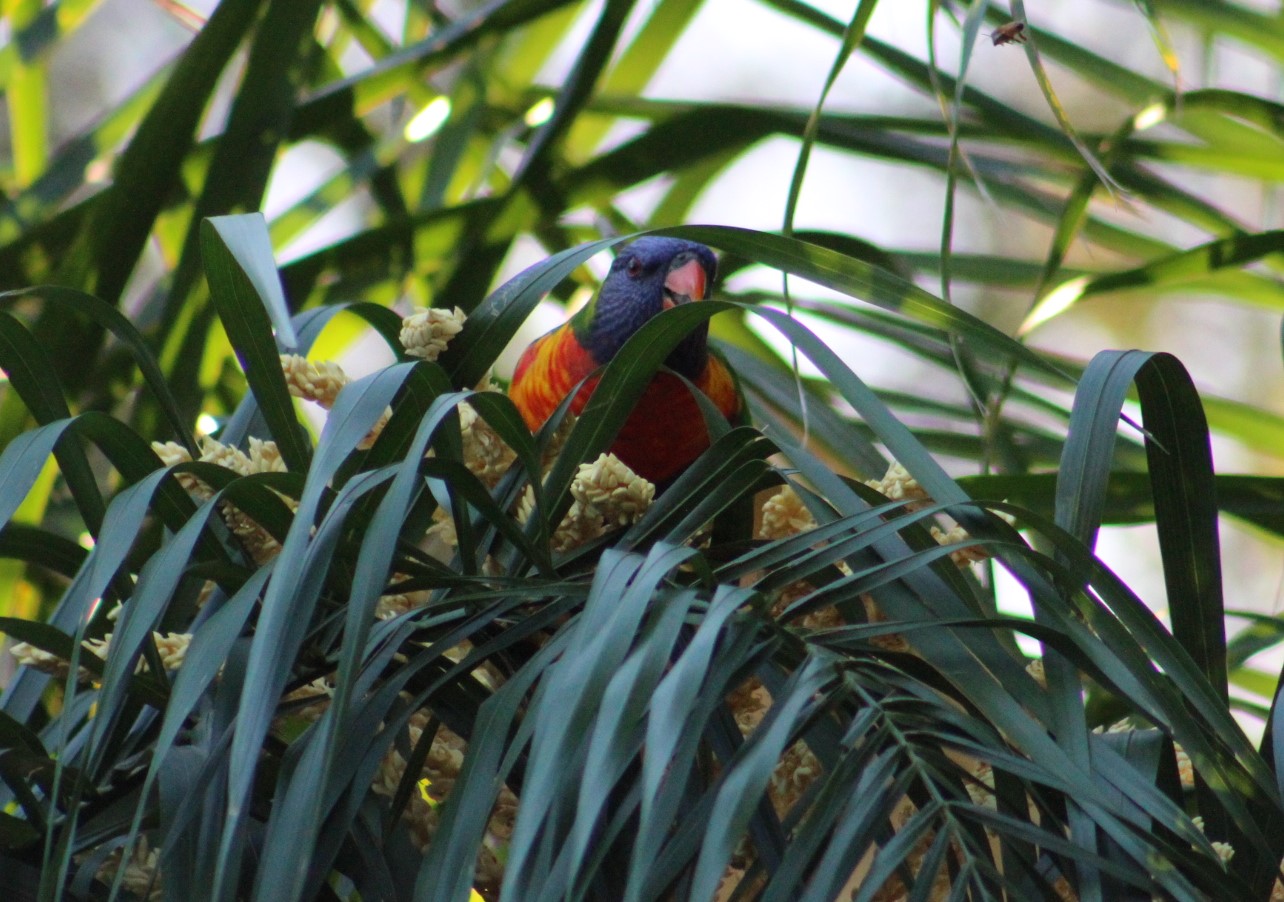 NSW Health Mental Health Youth Advisory Group: Members Wanted - Paid Opportunity
NSW Health is establishing its first Mental Health Youth Advisory Group to give young people a say on child and youth mental services and help shape its work.
NSW Health want to hear from a diverse range of voices aged 16 – 24 years old who live in NSW, particularly if they have lived experience of mental health issues and feel passionate about improving the mental health and wellbeing of young people.
People are especially encouraged to apply if they are an Aboriginal young person, live with a disability or identify as LGBTIQA+.
To apply to be a part of the Advisory Group please complete the online application form.
What is the NSW Health – Mental Health Youth Advisory Group?
The NSW Health – Mental Health Youth Advisory Group will play an important role in advising NSW Health on the real-life experiences of young people living with mental health issues.
The Advisory Group is a paid opportunity for 12 diverse young people aged 16 – 24 across NSW.
We're looking for young people who have a lived experience of mental health issues and a strong interest in improving the mental health and wellbeing of young people.
The 12 member Advisory Group will provide a direct avenue of communication between young people and NSW Health on issues that are relevant to young people accessing child and youth mental health services across the state.
The Advisory Group will meet at least six times throughout the year with a mix of in-person and online meetings. In-person meetings will be held in Sydney and we will support you with travel if needed.
Who is eligible to apply for the Mental Health Youth Advisory Group?
Young people aged between 16 – 24 years of age living in NSW;
With a lived experience of mental health issues OR
Have struggled with social or emotional wellbeing OR
Have accessed any child and youth Mental Health Services
About you:
Passionate about improving mental health outcomes for young people
Prepared to contribute to meeting discussions and communications
Can relate, identify and connect with youth/peers
Enjoy working in a team
Capable of working with culturally and diverse groups
Adhere to NSW Health values of Collaboration, Openness, Respect and Empowerment
Key dates
13th June 2023 – Applications Open

16th July 2023 – Applications Close

Mid-July 2023 shortlisted and unsuccessful applicants notified
9th August 2023 – online recruitment event for shortlisted applicants. This is mandatory for all shortlisted applicants
Late August 2023 – successful applicants from online recruitment event notified
Early September 2023 – Unsuccessful round 1 applicants notified
15th & 16th September 2023 – First face to face meeting
Applications close Sunday 16th July 2023.
If you need any assistance with completing the application, please phone Josephine Ivancsik on (02) 9859 5236 or email MOH-MHYAG@health.nsw.gov.au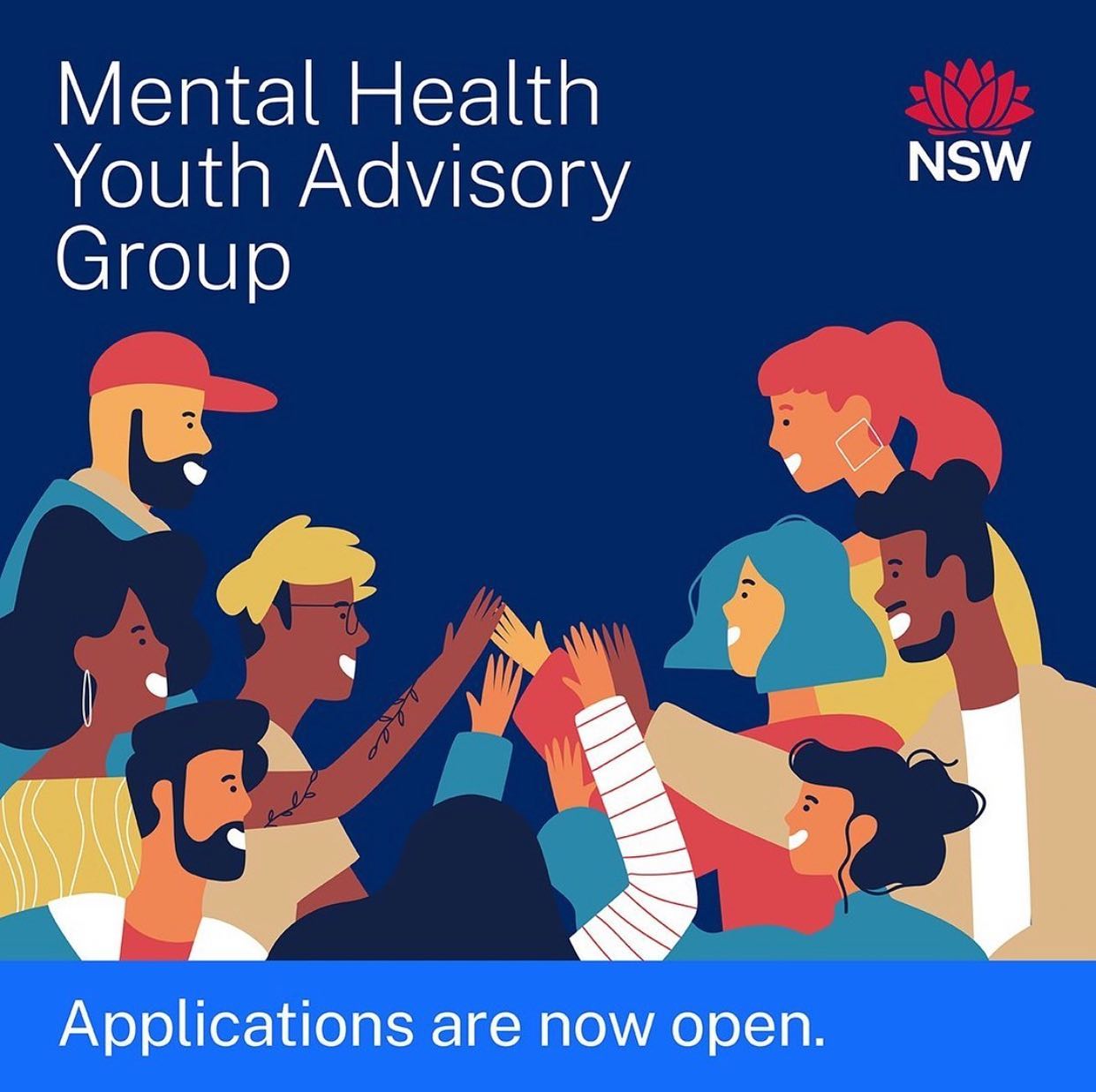 Applications Open For 150 Apprentice Scholarships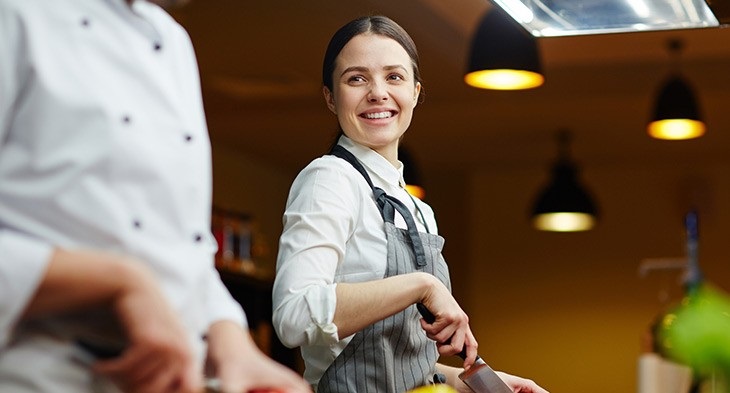 Apprentices facing financial or personal hardship will be supported to undertake their trade and study through a $2.25 million NSW Government scholarship program.
Applications are now open until 21 July for the 2023 Bert Evans Apprentice Scholarships program that will support 150 people with $15,000 each to complete their training and further their career.
The scholarships support apprentices who are experiencing financial or personal hardship, demonstrate a high aptitude for vocational education and training, and are committed to their on- and off-the-job training in metropolitan and regional NSW.
The scholarship program is named in honour of the late Bert Evans AO, a passionate advocate of vocational education for more than 30 years. A total of 751 Bert Evans Apprentice Scholarships have been awarded since 2014.
These scholarships greatly assist first year apprentices to undertake their trade and study to achieve their career goals.
The NSW Government-run program offers grants of $5000 annually over 3 years to help people overcome personal barriers to finish their apprenticeships and go onto rewarding careers.
The scholarships are awarded to apprentices in NSW who have demonstrated:
financial hardship and/or personal hardship
capability for vocational education and training, and
a positive attitude and application in the workplace and in off-the-job training.
Minister for Skills, TAFE and Tertiary Education Tim Crakanthorp said, "With demand for vocational education high, this year we have increased the number of Bert Evans scholarships on offer to help more apprentices through their training.
"Whether you need to purchase new tools, cover fuel or car maintenance costs, or pay for additional training courses, these scholarships have helped people overcome personal barriers to finish their apprenticeships and go onto rewarding careers.
"Apprenticeships are vital in ensuring NSW has a pipeline of skilled workers, and we want to give our apprentices a helping hand to complete their training, so they can make a strong contribution in their jobs and in the lives of their families and communities."
Visit Bert Evans Apprentice Scholarships or phone 13 28 11 for more information and to apply.
At: https://education.nsw.gov.au/skills-nsw/apprentices-and-trainees/support-with-your-apprenticeship-or-traineeship/bert-evans-apprentice-scholarships
Dorothea Mackellar Poetry Awards 2023: Optional Theme This Year 'The Winding Road'
HOW TO ENTER: https://dorothea.com.au/how-to-enter/
PLEASE SEE HERE FOR A DETAILED PDF ON ENTRY INSTRUCTIONS FOR TEACHERS AND PARENTS.
ONLINE SUBMISSION
Primary school and secondary school entries can be submitted anytime during the competition period.
1. Teacher/parent register account online *If you have already created an account, skip to step 3 and log in*
2. Check email for link to verify account and create password
3. Log in to your account
4. Purchase tier of entries *Please note we're only able to accept credit card payments at this time*
5. Enter student details and submit poem(s) (cut and paste or type in poem content direct to the webpage)
6. Repeat step 5 for every student/individual poem.
*PLEASE NOTE: If you're registering as an individual student, put your HOME address in your personal details and not your SCHOOL'S address! The address you list is where your participation certificate will be posted!*
Please read our Conditions of Entry here before registering for the competition.
USEFUL TIPS
Have a read of the judges' reports from the previous year. They contain some very helpful advice for teachers and parents alike!
It is recommended for schools to appoint a coordinator for the competition.
Only a teacher/parent can complete the registration form on behalf of the student/child.
Log-in details: username is the email address and a password of your choice.
Log-in details can be given to other teachers/students for poem submission in class/at home.
Log-in as many times as necessary during the competition period.
Teachers can view progress by monitoring the number and content of entries.
Individual entries are accepted if the school is not participating or a child is home schooled. Parent needs to complete the registration form with their contact details. Please indicate 'individual entry' under school name and home postal address under school address.
Invoice for the entry fee will be sent to the registered email address within 2 weeks.
'Participation certificate only' option available for schools where pre-selection of entries has been carried out. Poems under this option will not be sent to judges, students will still receive participation certificate for their efforts.
Please read the Conditions of Entry before entering. Entries accepted: March 1 to June 30, results announced during early September.
NEED SOME INSPIRATION?
Check out our learning resources or browse the previous years' themes and winning entries.
For more information contact our Project Officer on 02 6742 1200 or email dorothea.mackellar@outlook.com.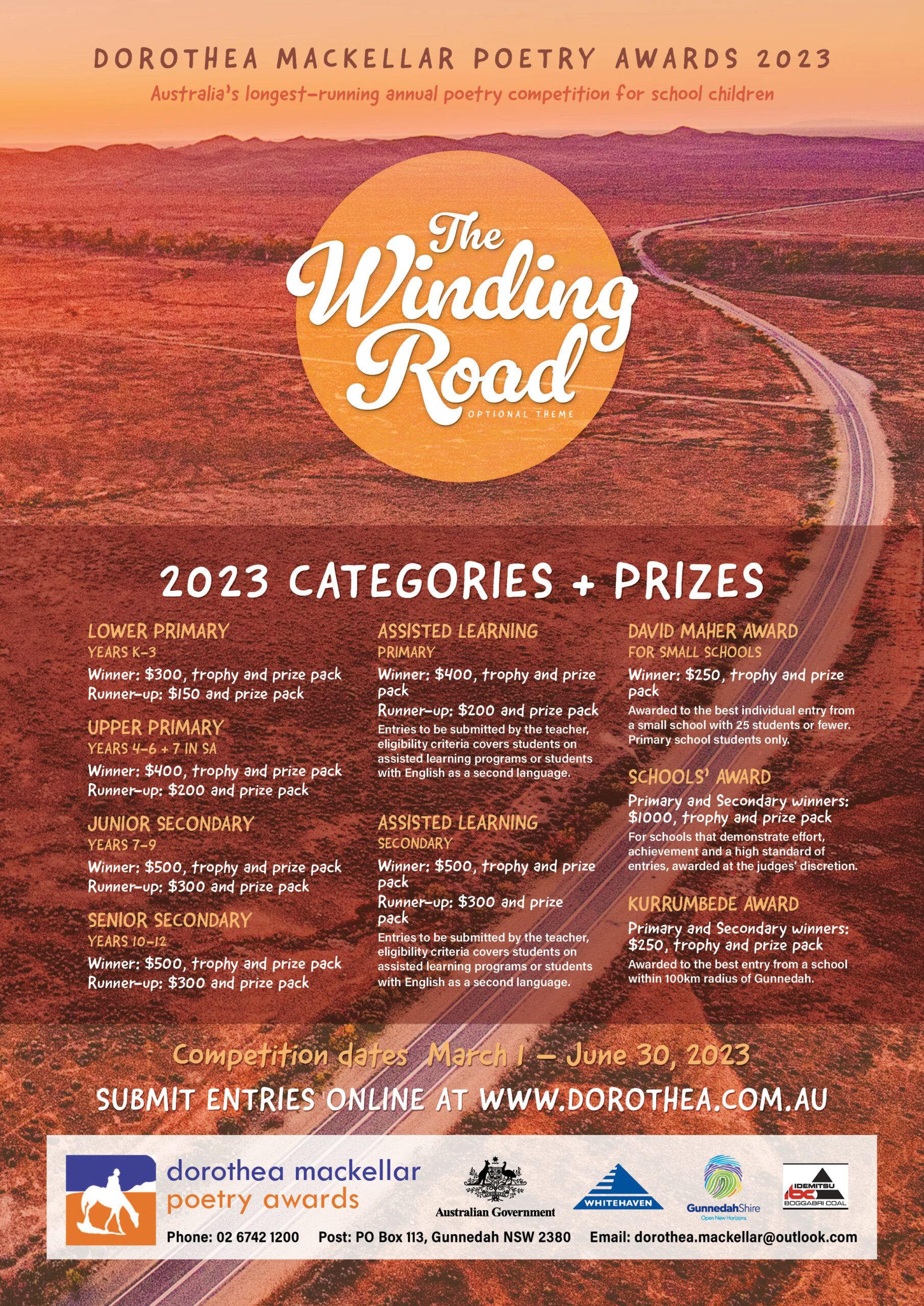 School Leavers Support
Explore the School Leavers Information Kit (SLIK) as your guide to education, training and work options in 2022;
As you prepare to finish your final year of school, the next phase of your journey will be full of interesting and exciting opportunities. You will discover new passions and develop new skills and knowledge.
We know that this transition can sometimes be challenging and the COVID-19 pandemic has presented some uncertainty. With changes to the education and workforce landscape, you might be wondering if your planned decisions are still a good option or what new alternatives are available and how to pursue them.
There are lots of options for education, training and work in 2022 to help you further your career. This information kit has been designed to help you understand what those options might be and assist you to choose the right one for you. Including:
Download or explore the SLIK here to help guide Your Career.
School Leavers Information Kit (PDF 5.2MB).
School Leavers Information Kit (DOCX 0.9MB).
The SLIK has also been translated into additional languages.
Download our information booklets if you are rural, regional and remote, Aboriginal or Torres Strait Islander, or living with disability.
Support for Regional, Rural and Remote School Leavers (PDF 2MB).
Support for Regional, Rural and Remote School Leavers (DOCX 0.9MB).
Support for Aboriginal and/or Torres Strait Islander School Leavers (PDF 2MB).
Support for Aboriginal and/or Torres Strait Islander School Leavers (DOCX 1.1MB).
Support for School Leavers with Disability (PDF 2MB).
Support for School Leavers with Disability (DOCX 0.9MB).
Download the Parents and Guardian's Guide for School Leavers, which summarises the resources and information available to help you explore all the education, training, and work options available to your young person.
School Leavers Information Service
Are you aged between 15 and 24 and looking for career guidance?
Call 1800 CAREER (1800 227 337).
SMS 'SLIS2022' to 0429 009 435.
Our information officers will help you:
navigate the School Leavers Information Kit (SLIK),
access and use the Your Career website and tools; and
find relevant support services if needed.
You may also be referred to a qualified career practitioner for a 45-minute personalised career guidance session. Our career practitioners will provide information, advice and assistance relating to a wide range of matters, such as career planning and management, training and studying, and looking for work.
You can call to book your session on 1800 CAREER (1800 227 337) Monday to Friday, from 9am to 7pm (AEST). Sessions with a career practitioner can be booked from Monday to Friday, 9am to 7pm.
This is a free service, however minimal call/text costs may apply.
Call 1800 CAREER (1800 227 337) or SMS SLIS2022 to 0429 009 435 to start a conversation about how the tools in Your Career can help you or to book a free session with a career practitioner.
Word Of The Week: Winter
Word of the Week returns in 2023 simply to throw some disruption in amongst the 'yeah-nah' mix.
noun
1. the coldest season of the year, in the northern hemisphere from December to February and in the southern hemisphere from June to August. 2. (figuratively, poetic) The period of decay, old age, death, or the like. 3. (countable, fashion) Someone with dark skin, eyes and hair, seen as best suited to certain colors of clothing. 4. (obsolete) An appliance to be fixed on the front of a grate, to keep a kettle warm, etc. 5. (India, archaic) The rainy season.
adjective
(of fruit) ripening late in the year - "a winter apple"
verb
(especially of a bird) spend the winter in a particular place.
The name comes from an old Germanic word that means "time of water" and refers to the rain and snow of winter in middle and high latitudes.
From Old English winter (plural wintru), "the fourth and coldest season of the year, winter," from Proto-Germanic wintruz "winter" (source also of Old Frisian, Dutch winter, Old Saxon, Old High German wintar, German winter, Danish and Swedish vinter, Gothic wintrus, Old Norse vetr "winter"), probably literally "the wet season," from wend-, form of root *wed- (1) "water; wet"). Cognate with Gaulish vindo-, Old Irish find "white."

'Winter in America' by Doug Ashdown
Douglas "Doug" Wesley Ashdown is an Australian singer-songwriter who had a minor hit in Australia with "Winter in America", so even though the lyrics speak of America, this is an Australian song as well.
Avalon Beach Ladies Probus Club: July 2023 Speaker

Avalon Beach Ladies Probus Club meets on
1st Tuesday of each month at Club Palm Beach at 10am
, followed by a delicious lunch!
Our Guest Speaker for July is Food Historian Diana Noyce, author of A Pub with no Beer: Coffee Palaces in Australia - the rise and demise of coffee palaces associated with the temperance movement.
Join us for monthly outings including Central Station and Eternity Cafe, the Auburn Botanic Gardens, and celebrate Christmas in July!
Call President Margaret White on 0416 182 393 for any further information.
24/7 Registered Nurse Cover And Care Minutes
From 1 July 2023, residential aged care homes across Australia will be required to have a registered nurse on-site and on duty 24 hours a day, 7 days a week, unless granted a 12-month exemption.
From 1 October 2023 residential aged care homes will be required to deliver at least 200 care minutes per resident per day
,
including 40 minutes with a registered nurse.
Care minutes are the direct care time delivered to residents by registered nurses, enrolled nurses and personal care workers (including nursing assistants).
24/7 registered nursing and care minutes were key recommendations from the Royal Commission into Aged Care Quality and Safety.
The Commission will be taking a fair and sensible approach to the regulation of the new responsibilities for every residential aged care service to have at least one registered nurse (RN) on-site and on duty 24/7 (from 1 July 2023) and to meet care minutes targets (from 1 October 2023). We understand the challenges being experienced by many providers, and especially those located outside urban population centres, in attracting and retaining a suitably qualified workforce.
On 14 April 2023, the Aged Care Quality and Safety Commissioner, Janet Anderson PSM, wrote to all approved providers of residential aged care on the Commission's regulatory approach to the new 24/7 registered nurse cover and care minutes.
Boost To Aged Care Workforce Welcomed By Southern Cross Care Qld
Aged care workers from Papua New Guinea who will fill critical roles in Queensland centres have been welcomed by Southern Cross Care Queensland (SCCQ).
The workers are the first to arrive from PNG and be employed in the aged care sector under the Pacific Australia Labour Mobility (PALM) scheme and have arrived PNG provinces including Western Highlands, New Ireland and Morobe.
CEO Jason Eldering said that SCCQ was delighted to welcome the new staff, who will take up roles at their aged care homes in Chinchilla, Murgon and Taroom.
"We are grateful to have skilled, professional staff from PNG to provide safe, quality care in areas where we have been experiencing workforce shortages," Mr Eldering said.
"Expanding this program into the aged care sector is something we welcome, as an industry who is facing challenges in recruitment and retention, particularly in our rural and remote communities where it is even more difficult for people to access high quality care and support.
"The arrival of these workers will be enormously beneficial, and they will be warmly welcomed by our residents, families and loved ones, staff and within the communities where they will live"
SCCQ was delighted to welcome Consulate-General of Papua New Guinea Joanne Waine to its support centre in commemoration of this important development.
"We will ensure that our new arrivals feel valued for the important contribution they make by bringing their skills, vibrancy and diversity to our homes," Mr Eldering added.
Mr Eldering added that the support for expanding the program from Minister Conroy, as well as Minister for Aged Care Anika Wells has been most welcome.
"The PALM scheme has already successfully brought more than 600 aged care workers from Pacific nations and Timor Leste into Australian centres where they have been well received and we look forward to the expertise in caring for older generations our PNG workers will bring," Mr Eldering said.
"At SCCQ we have an unwavering commitment to providing quality care in a respectful and compassionate way and we are pleased to be expanding our workforce with carers who understand and share those values."
Southern Cross Care Qld employs over 1,000 staff who provide services for more than 2,000 people through a network which includes thirteen aged care facilities, five retirement villages, and home care services across Queensland.
This is the first time that PALM scheme workers from PNG have been employed in Australia's aged care sector and is part of an Australian Government commitment in support of PNG's ambitions to increase its participation in the PALM scheme.
The total number of Pacific and Timorese workers under the PALM scheme in Australia has risen from just over 24,400 a year ago to just over 38,000 today.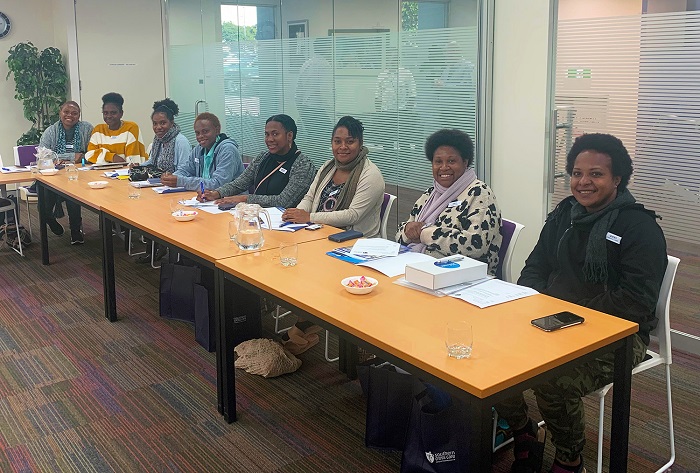 "Pacific and Timorese workers have earned a positive reputation in the aged care sector, and now we welcome the first workers from Papua New Guinea," said Minister for Aged Care Anika Wells. "Their strong passion for caring will only enhance the wellbeing of older Australians."
The Albanese Government is supporting an additional 500 PALM scheme workers to attain formal aged care qualifications while working in Australia, with placements to start this month.
As well, in the 2023-24 budget, the government announced improvements to the PALM scheme, including:
increasing support to make it easier for PALM scheme workers to access their superannuation savings when they return home
providing access to Medicare for an initial 200 families who will participate in the PALM scheme family accompaniment pilot.
Minister for International Development and the Pacific Pat Conroy said he hoped to see more Papuans come to the country under the PALM program.
"I hope this paves the way for more PNG aged care workers to come to Australia, sending home remittances to their families, helping Australian regional communities facing labour shortages and bringing our people closer together."
Inquiry Into The Recognition Of Unpaid Carers
The federal government is seeking submissions to an inquiry that aims to make sure the nation's 2.65 million unpaid carers get the support they need.
Minister for Social Services Amanda Rishworth said the inquiry had been launched by the House of Representatives Standing Committee on Social Policy and Legal Affairs, with a view to amend the Carer Recognition Act 2010.
Minister Rishworth said, "Anyone can become a carer, whether it is planned or unexpected.
"A whole-of-government approach is needed to ensure carers are recognised across all of our services and are not falling through the cracks or missing out on access to the vital services they may need, whether that is respite, peer support, counselling or other support services.
"The Carer Recognition Act has not been reviewed since its introduction in 2010 despite calls from the sector for the government to review and strengthen the Act over the past few years.
"Carers deserve better and the recommendations of this Inquiry will provide the basis for better coordination of carer policy across the Commonwealth."
The inquiry is limited to the objects of the current Carer Recognition Act 2010 that aims to increase awareness of the role carers play in providing daily care and support to people with disability, medical conditions, or mental illness or who are frail due to age.
The terms of reference include how to better identify the role of unpaid carers in society and the role of a reformed Act with regard to:
Understanding the value of unpaid care.
The needs of specific cohorts such as young carers, First Nations carers, LGBTIQA+ carers, and culturally and linguistically diverse carers.
The meaningful role that flexible workplaces play in unpaid care.
The government's broad agenda in relation to the care and support economy, the importance of employment participation, and a strong focus on gender equity.
Any other related matters, noting that the adequacy of payments for carers is out of scope for this inquiry.
Minister Rishworth encouraged carers to have their say over the next two months.
"Unpaid carers already have a lot on their plate, but I would urge them to make a submission to the Inquiry and share their experiences so that their needs can be at the heart of future reforms," she said.
The committee is seeking submissions from individual carers, advocates and representative organisations
until Friday 11 August 2023.
You can opt to submit anonymously.
Dementia Australia Awards $95,000 In Funding To Help 12 Communities Become More Dementia-Friendly
A dozen communities from across Australia will benefit from Dementia Australia grants to support efforts to become more dementia-friendly.
Each community will focus on different activities that suit the issues and opportunities in their area, working closely with local people living with dementia.
Dementia Australia CEO Maree McCabe said dementia-friendly communities play a critical role in encouraging inclusivity, respecting the rights of people with dementia and facilitating access to the services, supports, activities and spaces to which every Australian is entitled.
"An estimated 400,000 Australians live with dementia and of these, it is estimated two thirds of people live within the community," Ms McCabe said.
"Limited knowledge and understanding about dementia can have widespread repercussions. Most significantly, it may result in people with dementia, their families and carers experiencing stigma and discrimination in a wide range of settings from community and retail spaces to the health care sector.
"These grants are designed to support community-based organisations to actively engage and include people living with dementia as they design and deliver local solutions to make their region dementia-friendly."
The grants will also support community groups to collaborate with dementia alliances, councils, businesses, and education and community organisations over a 12-month period.
A full list of the community groups awarded a grant of up to $10,000 each can be found
here
.
Community Home Australia, Pennant Hills.
Rotary Club of Gerringong Sunrise Inc, Gerringong.
Dementia Australia is the source of trusted information, education and services for the estimated more than 400,000 Australians living with dementia, and the more than 1.5 million people involved in their care. We advocate for positive change and support vital research. We are here to support people impacted by dementia, and to enable them to live as well as possible. No matter how you are impacted by dementia or who you are, we are here for you.
For support, please contact the National Dementia Helpline on 1800 100 500. An interpreter service is available. The National Dementia Helpline is funded by the Australian Government. People looking for information can also visit dementia.org.au
January To March 2023 Aged Care Quality And Safety Commission's Sector Performance Report
The January to March 2023 Aged Care Quality and Safety Commission's sector performance report records the number of complaints about aged care services continues to rise while the number of providers failing to comply with standards continues to fall.
According to the quality commission's latest performance report there were
2,446 complaints directed against aged care services
during the January-March 2023 quarter – 1,316 residential care; 1,102 home care; 28 flexible care.
The majority of complaints were made by family members or representatives of residents (773), anonymous (283), other (175) and care recipient (85). Complaints were made against 844 residential aged care services covering 2,972 issues – medication administration and management drew the most complaints (175).
The commission received 12,793 reportable incidents during the period – 4,747 priority 1 and 8,046 priority 2.
Of concern, unreasonable use of force was by far the most reported incident with 7,704 cases recorded.

Source: Aged Care Quality and Safety Commission Sector performance report January-March 2023

Between January and March 2023, the commission actioned 1,004 regulatory responses to reportable incidents:
958 – monitoring and engagement
3 – directed actions to providers
33 – investigation by the commission
10 – enforceable regulatory action.
During the report period the commission conducted 490 site audits. The audits are carried out to check providers' ongoing compliance with their aged care responsibilities, including the Aged Care Quality Standards.
New South Wales received the most site audits (190), followed by Victoria (151), Queensland (64), Western Australia (39), South Australia (24), Tasmania (17), Australian Capitol Territory (4) and Northern Territory (1).
Aged care services found to be non-compliant with one or more quality standard dropped during quarter three – 88 compared to 133.
Complaints made against
home care providers
continued to rise with 1,102 recorded during the period. Of these, 977 regarded home care packages. Lack of consultation or communication drew the most complaints (269), then fees and charges (151), and reimbursements (123).
Care recipients made up the largest complainant group (537), followed by representative or family member (474), others (54), anonymous (37). During the quarter, the commission finalised 1,042 complaints.
The commission conducted 121 quality audits during the period with 36 services found to be non-compliant – down from 45 the previous quarter.
The number of services where non-compliance was found with each quality standard shows: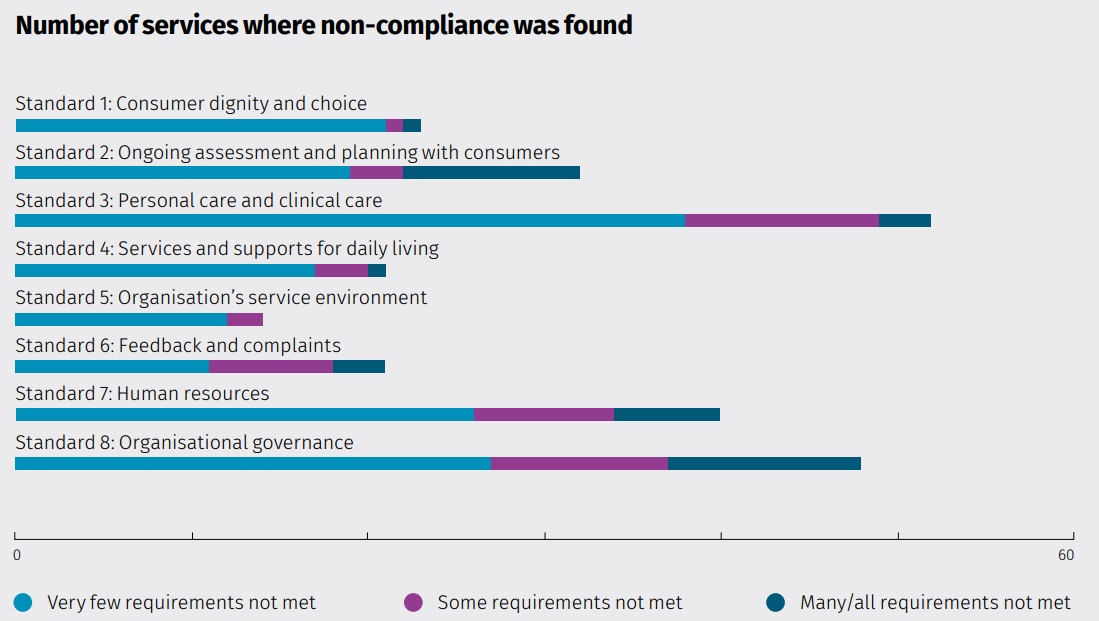 During the period, 45 non-compliance notices were lodged against home care providers.
Read/Download the:
Cheaper Medicines From 60-Day Dispensing
From September 1, Australians with a chronic condition will benefit from cheaper medicines on around 100 common medicines listed on the Pharmaceutical Benefits Scheme (PBS) under the first stage of the Federal Government's new 60-day dispensing policy.
The list of medicines in stage one has today been confirmed, with the legislative instrument to enable the policy change registered on the Federal Register of Legislation, ahead of being tabled in the Senate next month.
This first stage includes 92 medicines for a wide range of conditions, including:
Cardiovascular disease
Crohn's disease
Gout
Heart failure
High cholesterol
Hypertension
Osteoporosis
Ulcerative colitis
The change means patients living with a chronic, stable condition will be able to buy two months' worth of these medicines for the price of a single prescription, rather than the current 30-day supply.
People with a Medicare card buying just one of these medicines will save up to $180 every year. Concession card holders will save $43.80 a year for each eligible medicine.
The change to 60-day dispensing was first recommended by the independent experts at the Pharmaceutical Benefits Advisory Committee (PBAC) back in 2018, but was never implemented by the former government, costing Australians hundreds of millions. The PBAC reaffirmed and expanded its recommendation in 2022.
The full list of medicines recommended for longer dispensing intervals will include more than 300 common medicines and will be implemented in three stages over 12 months, starting 1 September 2023.
When fully implemented, at least 6 million Australians will halve their medicine costs and need fewer visits to the GP to get the medicines they use the most, easing the cost of living and putting millions back into the pockets of Australian patients.
The decision to write a script with two months' worth of medicine will be made by a patient's GP or other prescriber, based on their professional clinical judgement. The option to prescribe a one month supply remains.
The new arrangements are supported by consumers, including the Consumer Health Forum, the Heart Foundation, the Lung Foundation, Breast Cancer Network, and by all major doctors' associations, including the Rural Doctors Association, Australian Medical Association and the Royal Australian College of General Practitioners, among others.
Every single dollar saved by the Government from lower dispensing fees will go back into pharmacy services. More than $1.2 billion will be re-invested into expanded services such as vaccinations, medication safety, and support for opioid dependent patients, and increased financial support to pharmacies in regional, rural and remote Australia.
Community pharmacists will be financially supported to deliver more advanced clinical services, so they can play an even more central role in the healthcare of Australians.
The Albanese Government will continue to consult with the pharmacy sector over the implementation of 60-day dispensing.
The Hon Mark Butler MP, Minister for Health and Aged Care, said
"Every year, nearly a million Australians are forced to delay or go without a medicine that their doctor has told them is necessary for their health.
"The Government is delivering cheaper medicines through 60 day dispensing for more than 6 million Australians. This will halve the cost of medicines for millions of Australians, including pensioners, who are living with a chronic condition.
"The Government continues to work with all parts of the pharmacy sector on the implementation of this policy.
"Australian pharmacies already do much more than just dispense medicine and the Government is supporting our trusted pharmacists to play an even bigger role in the healthcare of Australians."
60-Day Dispensing Is Good For Patients And It's Time To Make It Work: AMA
The AMA says 60-day dispensing is a key health policy that will halve medicine costs for many poorer Australians; improving access and helping patients who "fall off" their regular medicines.
Sixty-day dispensing will halve the cost of medicines for many Australians, particularly low-income earners and pensioners, the AMA said last week.
AMA President Dr Danielle McMullen said "it's a really important policy change to help people deal with the cost of their regular medicines, give them easier access to medicines and stay on their medication because we all know people who have run out of their medicines don't get back to the pharmacy or back for another script and then just fall off of their regular medicines".
"So it is definitely sensible health policy, which is good for patients and it's now time to make it work."
Dr McMullen said the AMA also had questions about some of the assumptions made by the Pharmacy Guild's recently commissioned study on the issue.
"There is different modelling about how widely this policy will be taken up because we need to remember that the longer dispensing interval is at the discretion of the usual doctor who will have a conversation with patients whether it's appropriate for them to have a longer dispensing interval," she said.
"I know from my own patients if it is a new medicine or their condition has been a bit unstable, they will be sticking with 30-days and it's really only those most stable patients where the 60-day dispensing makes sense."
Dr McMullen said pharmacies, particularly in regional and rural areas, played a vital community role.
"As a GP, I talk to our community pharmacists every day and we work in collaboration for patient care, so we certainly want to see pharmacists be able to spend more time with their patients, get out from behind the dispensing counter," she said.
"We have heard from pharmacists themselves that this will free-up their time to be able to spend more time on medicines, medication reviews, things like dose administration aids or Webster packs."
Dr McMullen said the government had undertaken to reinvest savings back into community pharmacy and the focus should be on how reinvestment would support community pharmacies to remain open.
Australian Of The Year – Have Your Say
If you can think of somebody who deserves to be named Australian of the Year, Senior Australian of the Year, Young Australian of the Year or the Local Hero of the Year, you have until the end of July to nominate them.
By putting someone forward, you are showing that the efforts of a fellow Australian have not gone unnoticed. It takes only one nomination to elevate their voice, help them access more support, or give them the recognition they deserve.
Shortlisted nominees will be considered – and the four category recipients selected – by State or Territory selection panels comprised of people who reflect the diversity of the population.
National recipients will then be selected by the National Australia Day Council Board.
Nominations for the 2024 Awards close at midnight Australian Eastern Standard Time on 31 July 2023.
State and Territory winners will be announced in October and November, ahead of the main event in January, which will see all finalists invited to Canberra for four days of activities.
Change Food Choices To Increase Chances Of Tackling Global Warming
Action to protect the planet against the impact of climate change will fall short unless we reduce greenhouse gas (GHG) emissions from the global food system, which now makes up a third of man-made GHG emissions, a new study reveals.
The largest emission increase within food supply chains is triggered by beef and dairy consumption in rapidly developing countries, such as China and India, whilst emissions per head in developed countries with a high percentage of animal-based food declined.
The United Nations projects that an additional 70 percent of the current food demand will be needed to feed the world's estimated population of 9.1 billion by 2050.
Publishing their findings in Nature Food, an international group of scientists led by the Universities of Groningen and Birmingham, say that the growth of the global population and rising demand for emission-intensive food are likely to boost emissions further.
"A global shift in diets, including reducing excessive intake of red meat and improving shares of plant-based protein -- will not only reduce emissions but avoid health risks such as obesity and cardiovascular disease" stated corresponding author, Prof. Klaus Hubacek from the University of Groningen.
Another corresponding author, Dr Yuli Shan, from the University of Birmingham, commented: "The agrifood system drives global land use and agricultural activities -- contributing to around one-third of global anthropogenic greenhouse gas. Population growth, expansion of food production, and an increase in animal-based diets are likely to further increase emissions and squeeze the global carbon budget.
The first author, Yanxian Li, a PhD student at the University of Groningen added that "Mitigating emissions at every stage of food supply chains from production to consumption is critical if we are to limit global warming. However, widespread and lasting diet shifts are very difficult to achieve quickly, so incentives that encourage consumers to reduce red meat or buy products with higher environmental dividends could help to reduce food emissions."
Researchers analysed data linking emissions to consumers between 2000 and 2019, revealing that in 2019, food consumption in the five highest emitting countries, China (2.0 Gt CO2-eq), India (1.3 Gt), Indonesia (1.1 Gt), Brazil (1.0 Gt) and the USA (1.0 Gt), was responsible for more than 40% of global food supply chain emission.
Annual global GHG emissions associated with food increased by 14% (2 Gt CO2-eq) over the 20-year period. The substantial increase in consuming animal-based products contributed to some 95% of the global emissions rise, accounting for almost half of total food emissions. Beef and dairy contributed 32% and 46% of the increase in global animal-based emissions.
Consumption of grains and oil crops is responsible for 43% (3.4 Gt CO2-eq in 2019) and 23% (1.9 Gt CO2-eq) of global plant-based emissions respectively, whilst rice contributes to over half of the global grain-related emissions (1.7 Gt CO2-eq), with Indonesia (20%), China (18%), and India (10%) being the top three contributors.
Soybean (0.6 Gt CO2-eq) and palm oil (0.9 Gt CO2-eq) have the largest shares in global emissions from oil crops with 30% and 46%, respectively. Indonesia, the world's leading consumer of palm oil, has the largest emissions from palm oil (35% of the global total in 2019), followed by Southeast Asia (13%), Western Europe (10%), and China (9%).
The study reveals considerable differences regarding emission patterns and the reasons behind these trends -- classifiable as follows:
Countries with high per capita food emission levels and dominant livestock emissions (mainly from red meat) (North America, Australia, Latin America & Caribbean);
Developed countries which heavily rely on imports and outsource substantial amounts of food-related emissions (Japan and Europe);
Rapidly developing countries with substantial emission increase driven by rapid population growth or improved living standards (China, South Asia, Near East & North Africa); and
Countries with emission-intensive production, mainly with extensive land-use change activities (Brazil, Indonesia, and South and Central African regions).
The researchers also note that a series of trade policies are accelerating emissions through increasing food imports from countries/regions with emission-intensive production -- for example, the EU's Green Deal encourages less intensive agriculture in Europe and increasing imports of agricultural products from countries such as Brazil, USA, Indonesia, and Malaysia.
Yanxian Li, Honglin Zhong, Yuli Shan, Ye Hang, Dan Wang, Yannan Zhou, Klaus Hubacek.
Changes in global food consumption increase GHG emissions despite efficiency gains along global supply chains.
Nature Food, 2023; DOI:
10.1038/s43016-023-00768-z
Climate Action Plans Mobilize Limited Urban Change, Researchers Report
The Intergovernmental Panel on Climate Change Fifth Assessment Report (AR5), released just prior to an international climate convention in 2015, explicitly stated that human-caused greenhouse gas emissions were the highest in history, with clear and widespread impacts on the climate system. Since then, hundreds of cities across the world have published their own climate action plans (CAPs), detailing how their urban areas will handle climate change. How do the plans stack up against one another and against the recommended guidelines established by the United Nations-Habitat Guiding Principles for City Climate Action Planning?
To better understand the content and structure of these CAPs -- and what lessons may be learned from them -- researchers from Hiroshima University analyzed 278 urban CAPs established since 2015.
They published their findings on May 10 in Urban Climate.
"There is limited knowledge about the global situation of the content and structure of urban CAPs adopted or published after AR5 -- most existing studies are either limited in geographical scope or thematic focus," said first author Prince Dacosta Aboagye, a doctoral student in Hiroshima University's Graduate School of Humanities and Social Sciences. "In this study, we critically analyze the content and structure of urban CAPs adopted or published post-AR5 and examine how these urban CAPs align with selected climate action planning best practices."
According to Aboagye, cities are vulnerable to climate change, but city governments also possess the local knowledge and close community connections to effectively engage with their citizens to achieve urban climate targets. They also wield the authority to adopt laws and legislation to reduce urban emissions and adapt as needed.
"Our study extends the analysis and presents a global perspective on the content and structure of urban CAPs and the extent to which urban CAPs align with selected climate action planning best practices," Aboagye said. "This critical analysis of the content and structure of urban CAPs across a taxonomy and typology of cities provides additional insights for local climate decision-making and the development of more robust climate planning frameworks."
Using international databases of urban city plans and Google, the researchers identified 278 CAPs that were published in English between 2015 and 2022. According to Aboagye, while there was initial concern that the English requirement may introduce bias, the final sample included cities from across Africa, Asia, Europe, the Americas and Oceania.
The researchers applied a qualitative analysis to identify key climate action planning elements, such as the co-benefits, synergies, trade-offs and conflicts in the reports. They also identified trends in urban CAP adoption, areas of focus, pledges to reduce greenhouse gas emissions and to achieve zero carbon, as well as how baseline greenhouse gas emission inventory is reported.
"There have been variations in the adoption or publication of urban CAPs post-AR5 across city types and world regions," said corresponding author Ayyoob Sharifi, professor in Hiroshima University's IDEC Institute. "Cities have transitioned from developing only mitigation-related plans to both mitigation and adaptation. Almost half of the sampled mitigation-related urban CAPs have a deep decarbonization target, with less than a quarter likely to be achieved by 2030."
The researchers found that CAPs were increasingly adopted and published from 20 in 2015 to 56 in 2020, with cities leveraging social media and teleconferencing platforms to adopt or publish their plans. Most of the 278 plans included both mitigation and adaption plans, but 3% focused solely on adaption and 16% on mitigation. Of the sectors targeted to achieve climate objectives, 268 CAPs focused most on transportation, followed closely by the energy, buildings and waste sectors. The researchers also analyzed connections between the sectors and how cities considered potential co-benefits in their planning, finding that cities are more likely to focus on these linked sectors over others: transport and energy; transport and waste; energy and waste; transport and urban governance/policy/planning; and energy and urban governance/policy/planning.
According to Sharifi, the researchers plan to use their findings to develop an integrated and comprehensive urban climate planning framework to serve as a guiding tool for developing robust climate action plans with globally accepted benchmarks, criteria and standards.
"We hope the paper's evidence will shape future urban climate planning since it highlights lessons from urban CAPs adopted or published from 2015 to 2022," Sharifi said. "Next, we will use the planned framework to evaluate the suitability of urban CAPs and build the capacity of local governments and urban planners to adopt the framework to develop suitable city-specific CAPs."
Prince Dacosta Aboagye, Ayyoob Sharifi.
Post-fifth assessment report urban climate planning: Lessons from 278 urban climate action plans released from 2015 to 2022.
Urban Climate, 2023; 49: 101550 DOI:
10.1016/j.uclim.2023.101550
Exposure To Dioxins Can Worsen Thyroid Function
Exposure to dioxins can negatively impact thyroid function, according to a study presented at ENDO 2023, the Endocrine Society's annual meeting in Chicago, Ill.
Dioxins are highly toxic compounds that are primarily produced by industrial processes, and their persistence in the environment makes them a significant public health concern. They are produced through a variety of incineration processes, including improper municipal waste incineration and burning of trash. They can be released into the air during natural processes, such as forest fires and volcanoes. Strict regulatory controls on major industrial sources of dioxin have greatly reduced emissions into the air.
Today people are exposed to dioxins primarily by eating food, in particular animal products, contaminated by these chemicals. Dioxins are absorbed and stored in fat tissue and, therefore, accumulate in the food chain. More than 90 percent of human exposure is through food, according to the National Institute of Environmental Health Sciences.
Recently, scientists have begun to study the potential impact of exposure to environmental chemicals, such as dioxins, on thyroid function. Thyroid dysfunction affects a significant portion of the population and can have a range of adverse health effects.
Previous studies of the relationship between dioxin exposure and thyroid function have produced inconsistent results, according to researcher Cheng Han, M.D., of the Boston University Chobanian & Avedisian School of Medicine in Boston, Mass.
In the new study, the researchers used three different statistical methods to investigate the combined effects of 20 environmental dioxins on thyroid function. They used data from the National Health and Nutritional Examination Survey (NHANES) from 2007 to 2010.
A total of 20 dioxins and levels of thyroid stimulating hormone (TSH) were measured in the blood of 2,818 adults. The researchers found that dioxins were significantly associated with high TSH. A high TSH level indicates that the thyroid gland is not making enough thyroid hormone.
"Although more research on how dioxins affect thyroid function is needed, efforts to reduce exposure to dioxins and other toxic chemicals could help to reduce the risk of thyroid dysfunction and improve public health outcomes," Han said.
High-Quality Child Care Contributes To Later Success In Science-Math
Children who receive high-quality child care as babies, toddlers and preschoolers do better in science, technology, engineering and math through high school, and that link is stronger among children from low-income backgrounds, according to research published by the American Psychological Association.
"Our results suggest that caregiving quality in early childhood can build a strong foundation for a trajectory of STEM success," said study author Andres S. Bustamante, PhD, of the University of California Irvine. "Investing in quality child care and early childhood education could help remedy the underrepresentation of racially and ethnically diverse populations in STEM fields."
The research was published in the journal Developmental Psychology.
Many studies have demonstrated that higher quality caregiving in early childhood is associated with better school readiness for young children from low-income families. But not as many have looked at how the effects of early child care extend into high school, and even fewer have focused specifically on STEM subjects, according to Bustamante.
To investigate those questions, Bustamante and his colleagues examined data from 979 families who participated in the National Institute of Child Health and Human Development Study of Early Child Care and Youth Development, from the time of the child's birth in 1991 until 2006.
As part of the study, trained observers visited the day cares and preschools of all the children who were enrolled for 10 or more hours per week. The observers visited when the children were 6, 15, 24, 36 and 54 months old, and rated two aspects of the child care: the extent to which the caregivers provided a warm and supportive environment and responded to children's interests and emotions, and the amount of cognitive stimulation they provided through using rich language, asking questions to probe the children's thinking, and providing feedback to deepen the children's understanding of concepts.
The researchers then looked at how the students performed in STEM subjects in elementary and high school. To measure STEM success, they examined the children's scores on the math and reasoning portions of a standardized test in grades three to five. To measure high school achievement, the researchers looked at standardized test scores and the students' most advanced science course completed, the most advanced math course completed, GPA in science courses and GPA in math courses.
Overall, they found that both aspects of caregiving quality (more cognitive stimulation and better caregiver sensitivity-responsivity) predicted greater STEM achievement in late elementary school (third, fourth and fifth grade), which in turn predicted greater STEM achievement in high school at age 15. Sensitive and responsive caregiving in early childhood was a stronger predictor of high school STEM performance for children from low-income families compared with children from higher income families.
"Our hypothesis was that cognitive stimulation would be more strongly related to STEM outcomes because those kinds of interactions provide the foundation for exploration and inquiry, which are key in STEM learning," Bustamante said. "However, what we saw was that the caregiver sensitivity and responsiveness was just as predictive of later STEM outcomes, highlighting the importance of children's social emotional development and settings that support cognitive and social emotional skills."
Overall, Bustamante said, research and theory suggest that high-quality early care practices support a strong foundation for science learning. "Together, these results highlight caregiver cognitive stimulation and sensitivity and responsiveness in early childhood as an area for investment to strengthen the STEM pipeline, particularly for children from low-income households."
Andres S. Bustamante, Vanessa N. Bermudez, Karlena D. Ochoa, Ashlee B. Belgrave, Deborah Lowe Vandell.
Quality of early childcare and education predicts high school STEM achievement for students from low-income backgrounds
. Developmental Psychology, 2023; DOI:
10.1037/dev0001546
Clean Sustainable Fuels Made 'From Thin Air' And Plastic Waste
Researchers have demonstrated how carbon dioxide can be captured from industrial processes -- or even directly from the air -- and transformed into clean, sustainable fuels using just the energy from the Sun.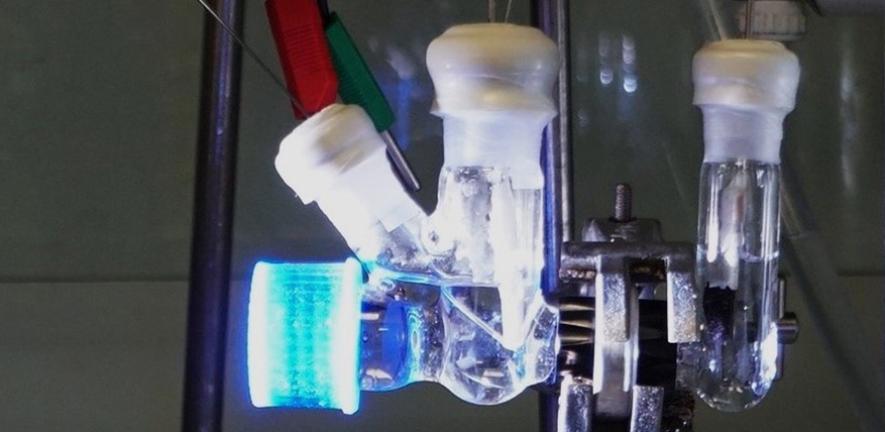 The researchers, from the University of Cambridge, developed a solar-powered reactor that converts captured CO2 and plastic waste into sustainable fuels and other valuable chemical products. In tests, CO2 was converted into syngas, a key building block for sustainable liquid fuels, and plastic bottles were converted into glycolic acid, which is widely used in the cosmetics industry.
Unlike earlier tests of their solar fuels technology however, the team took CO2 from real-world sources -- such as industrial exhaust or the air itself. The researchers were able to capture and concentrate the CO2 and convert it into sustainable fuel.
Although improvements are needed before this technology can be used at an industrial scale, the results, reported in the journal Joule, represent another important step toward the production of clean fuels to power the economy, without the need for environmentally destructive oil and gas extraction.
For several years, Professor Erwin Reisner's research group, based in the Yusuf Hamied Department of Chemistry, has been developing sustainable, net-zero carbon fuels inspired by photosynthesis -- the process by which plants convert sunlight into food -- using artificial leaves. These artificial leaves convert CO2 and water into fuels using just the power of the sun.
To date, their solar-driven experiments have used pure, concentrated CO2 from a cylinder, but for the technology to be of practical use, it needs to be able to actively capture CO2 from industrial processes, or directly from the air. However, since CO2 is just one of many types of molecules in the air we breathe, making this technology selective enough to convert highly diluted CO2 is a huge technical challenge.
"We're not just interested in decarbonisation, but de-fossilisation -- we need to completely eliminate fossil fuels in order to create a truly circular economy," said Reisner. "In the medium term, this technology could help reduce carbon emissions by capturing them from industry and turning them into something useful, but ultimately, we need to cut fossil fuels out of the equation entirely and capture CO2 from the air."
The researchers took their inspiration from carbon capture and storage (CCS), where CO2 is captured and then pumped and stored underground.
"CCS is a technology that's popular with the fossil fuel industry as a way to reduce carbon emissions while continuing oil and gas exploration," said Reisner. "But if instead of carbon capture and storage, we had carbon capture and utilisation, we could make something useful from CO2 instead of burying it underground, with unknown long-term consequences, and eliminate the use of fossil fuels."
The researchers adapted their solar-driven technology so that it works with flue gas or directly from the air, converting CO2 and plastics into fuel and chemicals using only the power of the sun.
By bubbling air through the system containing an alkaline solution, the CO2 selectively gets trapped, and the other gases present in air, such as nitrogen and oxygen, harmlessly bubble out. This bubbling process allows the researchers to concentrate the CO2 from air in solution, making it easier to work with.
The integrated system contains a photocathode and an anode. The system has two compartments: on one side is captured CO2 solution that gets converted into syngas, a simple fuel. On the other plastics are converted into useful chemicals using only sunlight.
"The plastic component is an important trick to this system," said co-first author Dr Motiar Rahaman. "Capturing and using CO2 from the air makes the chemistry more difficult. But, if we add plastic waste to the system, the plastic donates electrons to the CO2. The plastic breaks down to glycolic acid, which is widely used in the cosmetics industry, and the CO2 is converted into syngas, which is a simple fuel."
"This solar-powered system takes two harmful waste products -- plastic and carbon emissions -- and converts them into something truly useful," said co-first author Dr Sayan Kar.
"Instead of storing CO2 underground, like in CCS, we can capture it from the air and make clean fuel from it," said Rahaman. "This way, we can cut out the fossil fuel industry from the process of fuel production, which can hopefully help us avoid climate destruction."
"The fact that we can effectively take CO2 from air and make something useful from it is special," said Kar. "It's satisfying to see that we can actually do it using only sunlight."
The scientists are currently working on a bench-top demonstrator device with improved efficiency and practicality to highlight the benefits of coupling direct air capture with CO2 utilisation as a path to a zero-carbon future.
Sayan Kar, Motiar Rahaman, Virgil Andrei, Subhajit Bhattacharjee, Souvik Roy, Erwin Reisner.
Integrated capture and solar-driven utilization of CO2 from flue gas and air.
Joule, 2023; DOI:
10.1016/j.joule.2023.05.022
Disclaimer: These articles are not intended to provide medical advice, diagnosis or treatment. Views expressed here do not necessarily reflect those of Pittwater Online News or its staff.