Inbox and environment news: Issue 579
April 16 - 22 2023: Issue 579
History Of The Suspension Bridge / Northbridge Tramline Of The Sydney Tramway System
Published April 6, 2023 by the BackTracks Channel
Youth Week 2023
NSW Youth Week 2023 will take place from 20 to 30 April. There will be a range of activities, opportunities and events for young people to enjoy throughout the State.
This year's theme, as set by the NSW Youth Advisory Council, is Connect. Participate. Celebrate.
Council's activities, which include a whole one event for the area of Narrabeen and north of there, a trivia session at Mona Vale library, are listed at:
School Holidays Movie: Genius
Rated PG for some thematic elements and suggestive content.
Genius is a 2016 biographical drama film directed by Michael Grandage and written by John Logan, based on the 1978 National Book Award-winner Max Perkins: Editor of Genius by A. Scott Berg. The film stars Colin Firth, Jude Law, Nicole Kidman, Laura Linney, Dominic West, and Guy Pearce.
Plot
In 1929, in New York City, Maxwell Perkins is a successful editor at Scribner's and discoverer of great authors such as F. Scott Fitzgerald and Ernest Hemingway. He lives in a cottage just outside the city with his wife and five daughters.
One day, in his office, he reads the drafts of O Lost, a novel by Thomas Wolfe. Struck by the content, Perkins decides to publish it and begins to collaborate with the author. It is eventually published as Look Homeward, Angel and proves to be a commercial success: 15 thousand copies sold in a month.
Perkins and Wolfe become best friends, while Wolfe's relationship with Aline Bernstein, a married woman twenty years his senior, is severely tested after the novel's publication. Max manages to publish Wolfe's successful second novel, Of Time and the River, after several years of exhausting revision.
Wolfe is in Paris where he follows the events remotely, thanks to news received from Perkins. On his return to New York, he immediately goes to work, writing his new book. His turbulent character leads him to quarrel with Perkins, destroying the relationship between them, resulting in Wolfe turning to another editor.
Aline finally leaves Wolfe, because she feels he needs to experience how to be truly alone. After Perkins has reconciled himself with Wolfe's absence, a phone call comes from Wolfe's mother: he has contracted miliary tuberculosis. Despite surgery, Wolfe shows no signs of improving. After a few weeks he dies but before dying he writes a letter to Max, expressing his immense affection for him.
Scouts Are Out & About
Over the past few months, all age groups in Scouting across Sydney North Region have been doing everything from canoe trips, hikes, and abseiling, to craft and community cleanups.
There's no better time to get into Scouting, with sections for ages 5-25, plus lots of satisfying leadership opportunities for adults.
Young people can have a four-week trial period, and Active Kids vouchers can be used towards membership fees.
Scouts are everywhere! Connect with your local Scout Group via sydneynorthscouts.com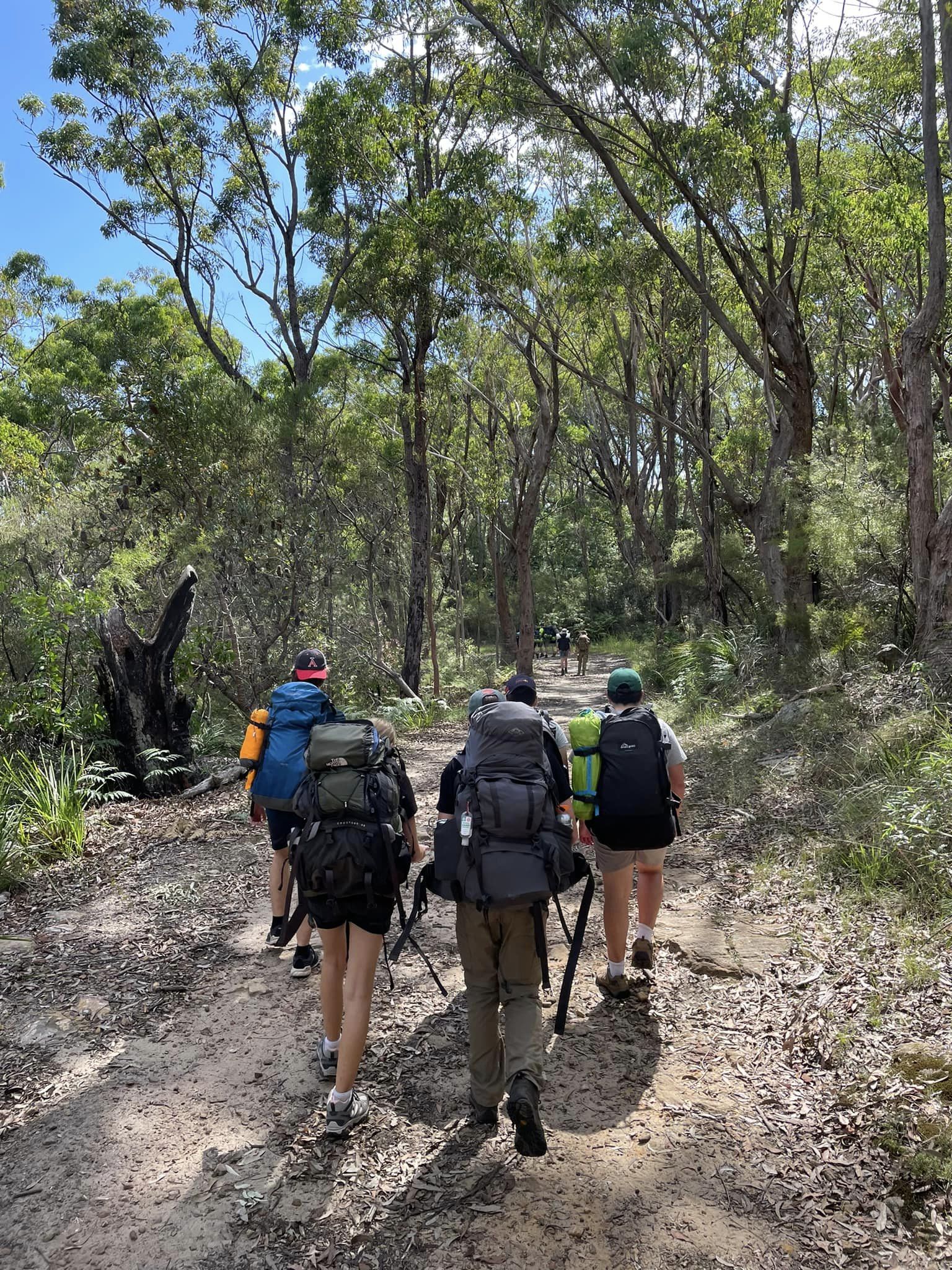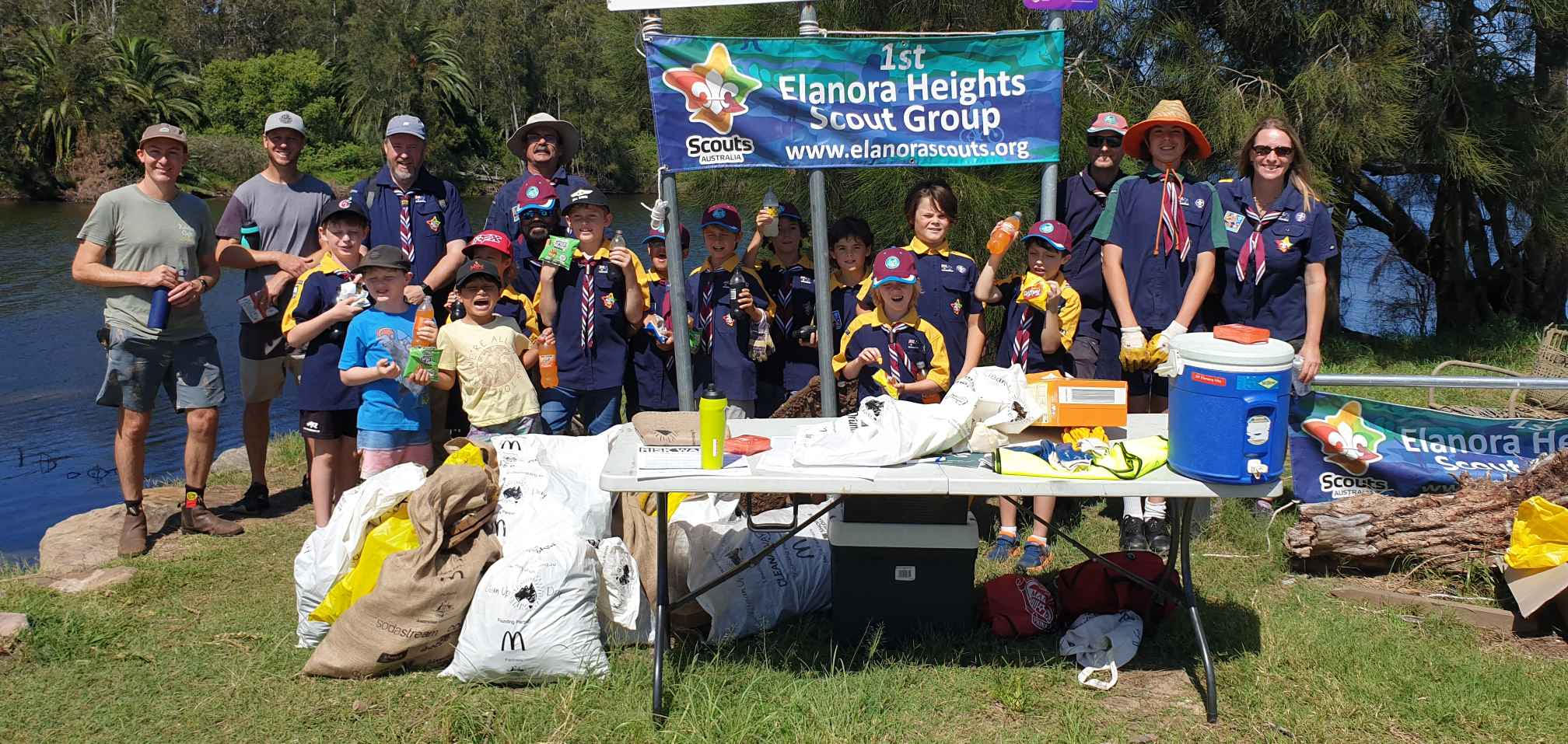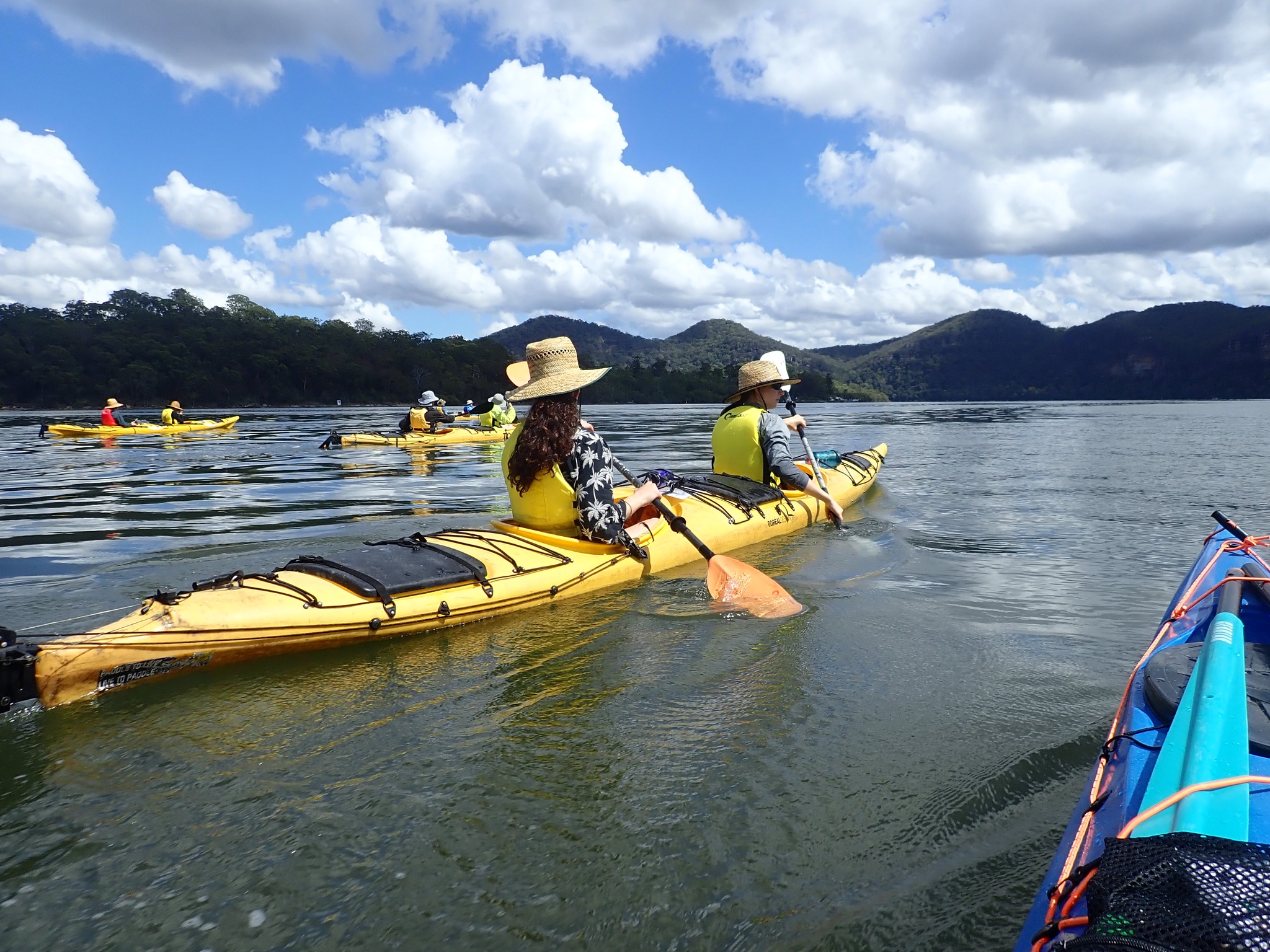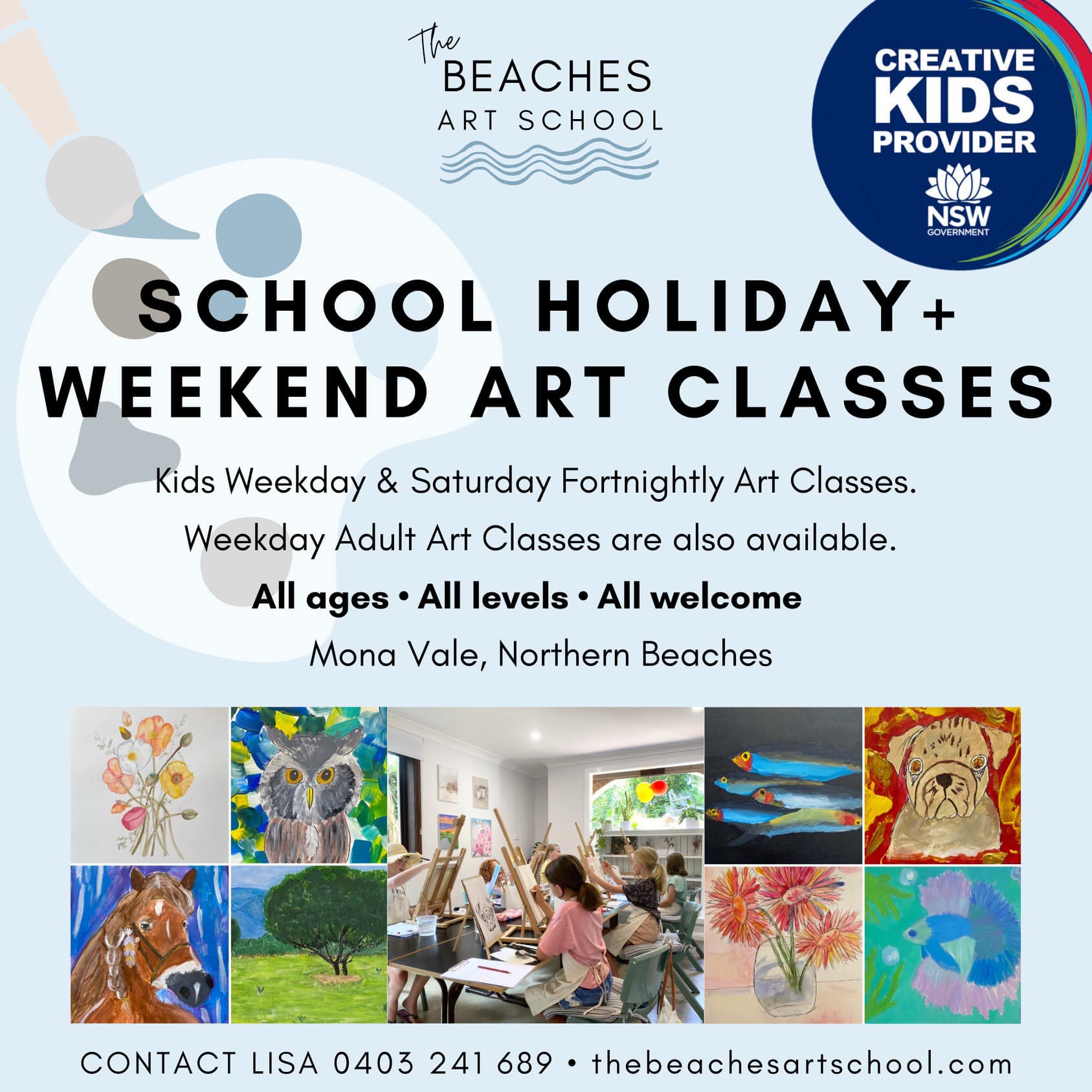 Narrabeen Lakes Sailing Club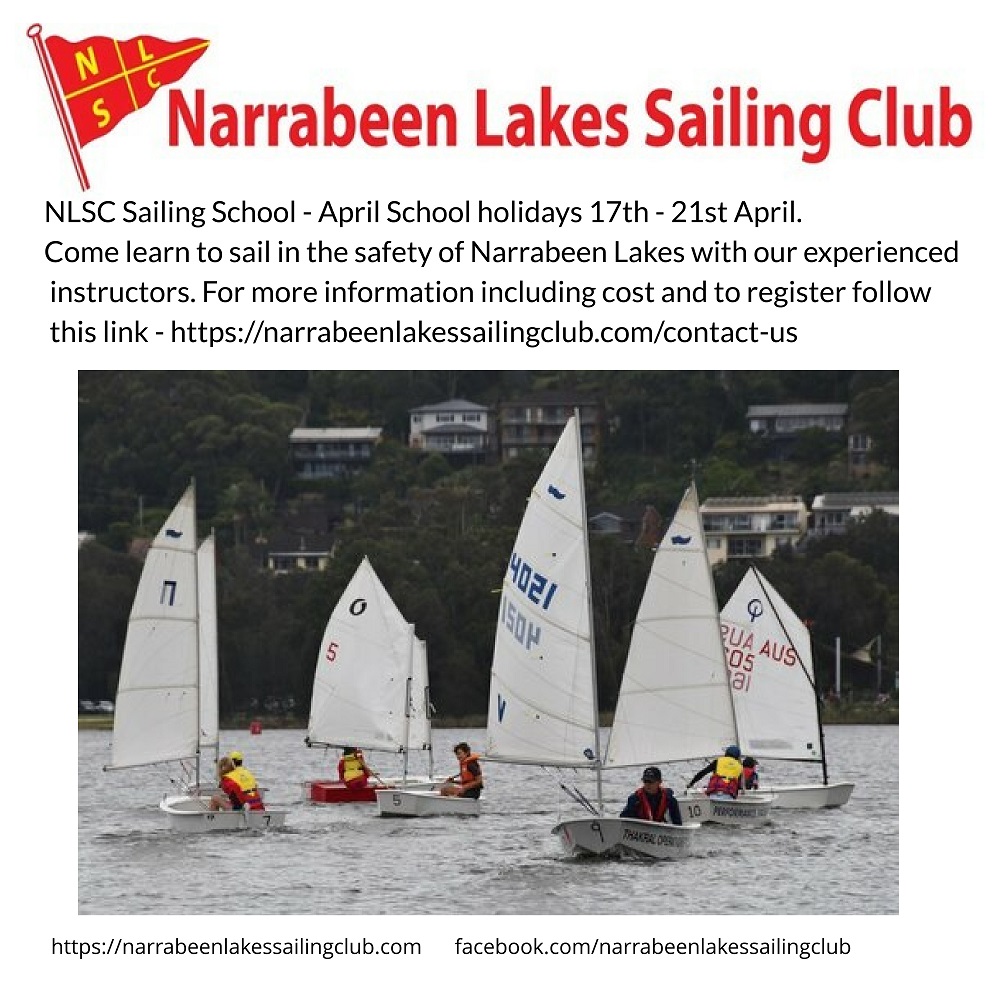 Northern Composure Band Competition 2023
Due to the pandemic, Council have had the 20th anniversary on hold but pleased to say that the competition is open and running again.
Northern Composure is the largest and longest-running youth band competition in the area and offers musicians local exposure as well as invaluable stage experience. Bands compete in heats, semi finals and the grand final for a total prize pool of over $15,000.
Over the past 20 years we have had many success stories and now is your chance to join bands such as:
Ocean Alley
Lime Cordiale
Dear Seattle
What So Not
The Rions
Winston Surfshirt
Crocodylus
And even a Triple J announcer plus a wide range of industry professionals
About the Competition
In 2023, the comp looks a little different.
All bands are invited to enter our heats which will be exclusively run online and voted on by your peers and community by registering below and uploading a video of one song of your choice. (if you are doing a cover, please make sure to credit the original band) We are counting on you to spread the word and get your friends, family, teachers voting for you!
The top 8-12 bands will move on through to our live semi finals with a winner from each moving on to the grand final held during National Youth Week. Not only that but we have raised the age range from 19 to 21 for all those musicians who may have missed out over the past two years.
Key dates
Voting open for heats: Mon 13 Feb – Sun 26 Feb
Band Briefing: Mon 6 March, Dee Why PCYC
Semi 1: Sat 18 March Mona Vale Memorial Hall
Semi 2: Sat 25 March, YOYOs, Frenchs Forest
Grand Final: Fri 28 April, Dee Why PCYC
For more information contact Youth Development at youth@northernbeaches.nsw.gov.au or call 8495 5104
Stay in the loop and follow Northern Composure Unplugged on KALOF Facebook.
School Leavers Support
Explore the School Leavers Information Kit (SLIK) as your guide to education, training and work options in 2022;
As you prepare to finish your final year of school, the next phase of your journey will be full of interesting and exciting opportunities. You will discover new passions and develop new skills and knowledge.
We know that this transition can sometimes be challenging and the COVID-19 pandemic has presented some uncertainty. With changes to the education and workforce landscape, you might be wondering if your planned decisions are still a good option or what new alternatives are available and how to pursue them.
There are lots of options for education, training and work in 2022 to help you further your career. This information kit has been designed to help you understand what those options might be and assist you to choose the right one for you. Including:
Download or explore the SLIK here to help guide Your Career.
School Leavers Information Kit (PDF 5.2MB).
School Leavers Information Kit (DOCX 0.9MB).
The SLIK has also been translated into additional languages.
Download our information booklets if you are rural, regional and remote, Aboriginal or Torres Strait Islander, or living with disability.
Support for Regional, Rural and Remote School Leavers (PDF 2MB).
Support for Regional, Rural and Remote School Leavers (DOCX 0.9MB).
Support for Aboriginal and/or Torres Strait Islander School Leavers (PDF 2MB).
Support for Aboriginal and/or Torres Strait Islander School Leavers (DOCX 1.1MB).
Support for School Leavers with Disability (PDF 2MB).
Support for School Leavers with Disability (DOCX 0.9MB).
Download the Parents and Guardian's Guide for School Leavers, which summarises the resources and information available to help you explore all the education, training, and work options available to your young person.
School Leavers Information Service
Are you aged between 15 and 24 and looking for career guidance?
Call 1800 CAREER (1800 227 337).
SMS 'SLIS2022' to 0429 009 435.
Our information officers will help you:
navigate the School Leavers Information Kit (SLIK),
access and use the Your Career website and tools; and
find relevant support services if needed.
You may also be referred to a qualified career practitioner for a 45-minute personalised career guidance session. Our career practitioners will provide information, advice and assistance relating to a wide range of matters, such as career planning and management, training and studying, and looking for work.
You can call to book your session on 1800 CAREER (1800 227 337) Monday to Friday, from 9am to 7pm (AEST). Sessions with a career practitioner can be booked from Monday to Friday, 9am to 7pm.
This is a free service, however minimal call/text costs may apply.
Call 1800 CAREER (1800 227 337) or SMS SLIS2022 to 0429 009 435 to start a conversation about how the tools in Your Career can help you or to book a free session with a career practitioner.
Word Of The Week: Suffrage
Word of the Week returns in 2023 simply to throw some disruption in amongst the 'yeah-nah' mix.
noun
1. the right to vote in political elections. (in the Book of Common Prayer) the intercessory petitions pronounced by a priest in the Litany. Archaic; intercessory prayers, especially those for the dead.
From: derives from the Latin word "suffragium," meaning the right or privilege to vote. From late Middle English (in the sense 'intercessory prayers', also 'assistance'): from Latin suffragium, reinforced by French suffrage.
The basic qualifications for suffrage are similar everywhere, although there are minor variations from country to country. Usually only the adult citizens of a country are eligible to vote there, the minimum age varying from 18 to 25 years. Most governments insist also on the voter's affiliation to a certain locality or constituency.
Before the evolution of universal suffrage, most countries required special qualifications of their voters. In 18th and 19th century Britain, for instance, there was a property or income qualification, the argument being that only those who had a stake in the country should be allowed a voice in its public affairs - so even adult men who did not own property or have an income above a certain amount could not vote. At one time, only landed property or those who were rich and men qualified for suffrage. Many newly independent countries of Asia and Africa, during the transition from colony to self-government, had a literacy qualification for the suffrage. Some countries limited it to certain racial or ethnic groups. For example, South Africa, at one time, and the Old South of the United States did not permit their Black populations to vote.
Compare suffragette - A suffragette was a member of an activist women's organisation in the early 20th century who, under the banner "Votes for Women", fought for the right to vote in public elections in the United Kingdom. The term refers in particular to members of the British Women's Social and Political Union (WSPU), a women-only movement founded in 1903 by Emmeline Pankhurst, which engaged in direct action and civil disobedience. In 1906, a reporter writing in the Daily Mail coined the term suffragette for the WSPU, derived from suffragistα (any person advocating for voting rights), in order to belittle the women advocating women's suffrage. The militants embraced the new name, even adopting it for use as the title of the newspaper published by the WSPU.
Women had won the right to vote in several countries by the end of the 19th century; in 1893, New Zealand became the first self-governing country to grant the vote to all women over the age of 21.
The Women's Franchise Act 1902 (NSW) gave women the right to vote, and by s4 provided that nothing in that Act should be taken to "enable or qualify a woman to be nominated as a candidate at any election or to be elected as a member" of the Legislative Assembly.
Due to the Legal Practitioners Act 1898 (NSW) which established a Board comprising the judges of the Supreme Court, the Attorney General and two barristers to approve "properly qualified persons" for admission as barristers, under which qualified women were not a "person" for the purposes of the that Act, women, although qualified, could not practice law or be admitted to the bar. The Acts Interpretation Act 1897 (NSW) provided that "[w]ords importing the masculine gender shall include females" but it was soon apparent that legislation was necessary to remove the disqualification to women's admission to the bar .

See: The NSW Women's Legal Status Bill 1918: How The 'Petticoat Interference In Government' Came Of Age - A 100 Years Celebration Of Women Alike Our Own Maybanke Selfe-Wolstenholme-Anderson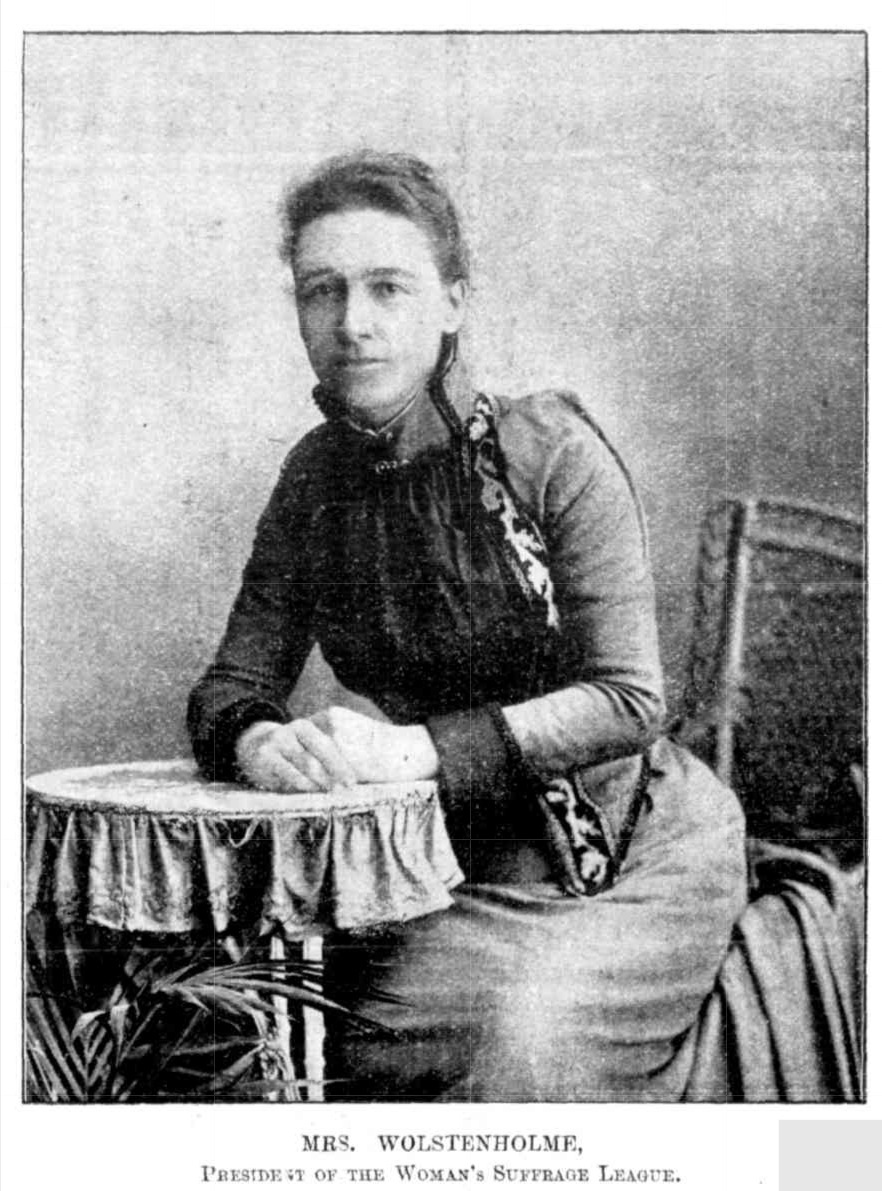 Maybanke - From November 4th, 1893 Article.
When by 1903 women in Britain had not been enfranchised, Pankhurst decided that women had to "do the work ourselves"; the WSPU motto became "deeds, not words". The suffragettes heckled politicians, tried to storm parliament, were attacked and sexually assaulted during battles with the police, chained themselves to railings, smashed windows, carried out a nationwide bombing and arson campaign, and faced anger and ridicule in the media. When imprisoned they went on hunger strike, not eating for days or even a week, to which the government responded by force-feeding them. The first suffragette to be force fed was Evaline Hilda Burkitt.
In 1903, the Australian suffragist Vida Goldstein adopted the WSPU colours for her campaign for the Senate in 1910 but got them slightly wrong since she thought that they were purple, green and lavender. Goldstein had visited England in 1911 at the behest of the WSPU. Her speeches around the country drew huge crowds and her tour was touted as "the biggest thing that has happened in the women movement for sometime in England". The correct colours were used for her campaign for Kooyong in 1913 and also for the flag of the Women's Peace Army, which she established during World War I to oppose conscription.

Colours of the suffragette movement. Purple represents loyalty and dignity, white for purity, and green for hope.

During International Women's Year in 1975 the BBC series about the suffragettes, Shoulder to Shoulder, was screened across Australia and Elizabeth Reid, Women's Adviser to Prime Minister Gough Whitlam directed that the WSPU colours be used for the International Women's Year symbol. They were also used for a first-day cover and postage stamp released by Australia Post in March 1975. The colours have since been adopted by government bodies such as the National Women's Advisory Council and organisations such as Women's Electoral Lobby and other women's services such as domestic violence refuges and are much in evidence each year on International Women's day.

The death of one suffragette, Emily Davison, when she ran in front of the king's horse at the 1913 Epsom Derby, made headlines around the world. The WSPU campaign had varying levels of support from within the suffragette movement; breakaway groups formed, and within the WSPU itself not all members supported the direct action.
The suffragette campaign in Britain was suspended when World War I broke out in 1914. After the war, the Representation of the People Act 1918 gave the vote to all British men, finally, and women over the age of 30 who met certain property qualifications. Ten years later, women gained electoral equality with men when the Representation of the People (Equal Franchise) Act 1928 gave all women the right to vote at age 21.
Australia was far more advanced in allowing all men the right to vote:
In 1856, under a new Constitution, the New South Wales Parliament became bicameral with a fully elected Legislative Assembly and a fully appointed Legislative Council with a Government taking over most of the legislative powers of the Governor. On 22 May 1856, the newly constituted New South Wales Parliament opened and sat for the first time. The right to vote for Legislative Assembly was extended to all adult males in 1858. However, women still could not - nor could they own property in their own right or seek divorce.
When the colonial constitutions of New South Wales, Victoria, South Australia and Tasmania were framed in the 1850s, voting rights were granted to all male British subjects over the age of 21, which included Aboriginal men. Western Australia and Queensland specifically barred indigenous people from voting. However, few Aborigines were aware of their rights and hence very few participated in elections.

All women in South Australia were granted the right to vote in South Australian elections in 1894, followed by women in Western Australia in 1899.
In 1901, the six Australian colonies united to form the federal Commonwealth of Australia. The first election for the Commonwealth Parliament in 1901 was based on the electoral laws at that time of the six colonies, so that those who had the right to vote and to stand for Parliament at state level had the same rights for the 1901 Australian federal election. Only in South Australia (since 1895) and Western Australia (since 1899) did women have a vote. Tasmania retained a small property qualification for voting, but in the other states all male British subjects over 21 could vote. Only in South Australia (which included the Northern Territory) and Tasmania were indigenous Australians entitled to vote. In some areas of South Australia the Aboriginal vote may have influenced the poll outcome. Western Australia and Queensland specifically barred indigenous people from voting.
In 1902, the Commonwealth Parliament passed the Commonwealth Franchise Act 1902, which established a uniform franchise law for the federal Parliament. The Act declared that all British subjects over the age of 21 years who had been living in Australia for at least 6 months were entitled to a vote, whether male or female, and whether married or single. Besides granting Australian women the right to vote at a national level, it also allowed them to stand for election to federal Parliament.
This meant that Australia was the second country, after New Zealand, to grant women's suffrage at a national level, and the first country to allow women to stand for Parliament. However, the Act also disqualified Indigenous people from Australia, Asia, Africa and the Pacific Islands, with the exception of Māori, from voting, even though they were British subjects and otherwise entitled to a vote. By this provision, Indian people, for example, were disqualified to vote. The only exception was in relation to those who were entitled under Section 41 of the Australian Constitution to a vote. Section 41 states that any individual who has gained a right to vote at a state level, must also have the right to vote in federal elections. The then Solicitor-General, Robert Garran, interpreted the provision to mean that Commonwealth voting rights were granted by section 41 only to people who were already State voters in 1902. The effect was not to enable those who subsequently acquired the right to vote at a State level, but who were expressly excluded from the franchise by the 1902 Act, such as Indigenous Australians, to also vote at the federal level. Also, those otherwise entitled voters who are subject to a crime which carries a penalty of over one year in prison are disqualified to vote. There was also no representation for any of the territories of Australia.
In the meantime, State franchise laws continued in force until each one chose to amend them.
In 1897, in South Australia, Catherine Helen Spence was the first woman to stand as a political candidate. The restrictions on voting by indigenous Australians were relaxed after World War II, and removed by the Commonwealth Electoral Act in 1962. Senator Neville Bonner became the first Aboriginal Australian to sit in the federal Parliament in 1971. Julia Gillard became the first female Prime Minister of Australia in 2010.
For indiegenous people the situation became murkier when the Commonwealth Franchise Act was passed in 1902. The Act gave women a vote in federal elections but Aboriginal people and people from Asia, Africa or the Pacific Islands (except for Māori) were excluded unless entitled under Section 41 of the Australian Constitution. Section 41 states that any individual who has gained a right to vote at a state level, must also have the right to vote in federal elections. The Solicitor-General, Sir Robert Garran, interpreted it to mean that Commonwealth rights were granted only to people who were already State voters in 1902. What transpired was a situation where Aboriginals who had already enrolled to vote were able to continue to do so, whereas those who had not were denied the right. This interpretation was challenged in Victoria in 1924 by an Indian migrant, where the magistrate ruled that Section 2 meant that people who acquired State votes at any date were entitled to a Commonwealth vote. The Commonwealth government in 1925 changed the law to give natives of British India living in Australia the vote (there were only about 100 in Australia at the time), but continued to deny other non-white applicants.
Campaigns for indigenous civil rights in Australia gathered momentum from the 1930s. In 1938, with the participation of leading indigenous activists like Douglas Nicholls, the Australian Aborigines' League organised the "Day of Mourning", which marked in protest the 150th anniversary of the arrival of the First Fleet to the Australian continent and launched its campaign for full civil rights for all Aboriginal Australians. In the 1940s, the conditions of life for Aboriginals could be very poor. A permit system restricted movement and work opportunities for many Aboriginal people. In the 1950s, the government pursued a policy of "assimilation" which sought to achieve full civil rights for Aboriginal but also wanted them to adopt the mode of life of other Australians (which very often was assumed to require suppression of cultural identity).
In 1949, the right to vote in federal elections was extended to all Indigenous people who had served in the armed forces, or were enrolled to vote in state elections (Queensland and Western Australia still excluded indigenous people from the vote). Remaining federal restrictions were abolished in 1962, though enrolment was voluntary.
In the 1960s, reflecting the strong civil rights movements in the United States and South Africa, many changes in Aboriginals' rights and treatment followed, including removal of restrictions on voting rights. The Menzies Government Commonwealth Electoral Act of 1962 confirmed the Commonwealth vote for all Aboriginals. Western Australia gave them State votes in the same year, and Queensland followed in 1965.
The 1967 referendum was held and electors overwhelmingly approved the amendment of the Constitution to remove discriminatory references and giving the national parliament the power to legislate specifically for Indigenous Australians. Contrary to frequently repeated mythology, this referendum did not cover citizenship for Indigenous people, nor did it give them the vote: they already had both. However, transferring this power away from the State parliaments did bring an end to the system of Indigenous Australian reserves which existed in each state, which allowed Indigenous people to move more freely, and exercise many of their citizenship rights for the first time.
The first MP for Mackellar, Bill Wentworth, who lived at Newport and married a Mona Vale girl, was also Minister in Charge of Aboriginal Affairs, the first Minister to hold this office, and who ensured the success of the 1967 Referendum - he had already spent decades campaigning for the rights of this land's first custodians.
More in: The Baird Family Of Mona Vale - The Wentworths Of Newport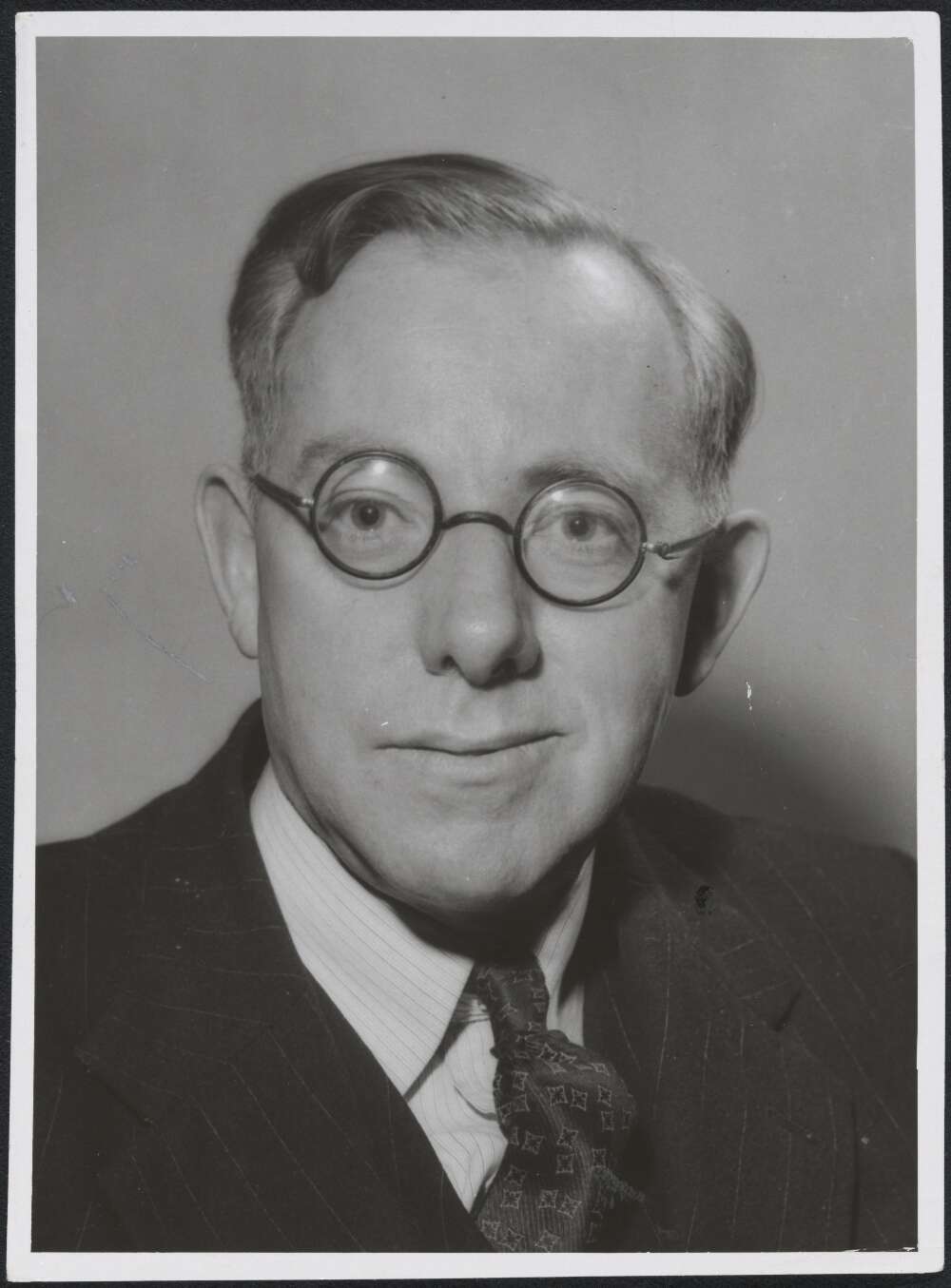 (1950). Portrait of William Charles Wentworth, Liberal member for Mackellar, New South Wales, June 1950 Retrieved from http://nla.gov.au/nla.obj-138002864
Book Of The Month - April 2023: Poor Man's Orange by Ruth Park
Poor Man's Orange is a novel by New Zealand born Australian author Ruth Park. Published in 1949, the book is the sequel to The Harp in the South (1948) and continues the story of the Darcy family, living in the Surry Hills area of Sydney.
The title Poor Man's Orange refers to having to make do with second best.
The story has its beginnings in the awkward courtship of dreamily innocent Margaret Kilker and unwilling hero Hugh Darcy in the dusty country towns of rural Australia. After their marriage, the couple moves to Sydney and raises a family amid the brothels, grog shops and run-down boarding houses of inner-city Surry Hills, where money is scarce and life is not easy. Here their daughter Roie grows up all too quickly, while younger daughter Dolour tries to make sense of a world in which loss and love go hand in hand. Filled with beautifully drawn characters that will make you laugh as much as cry, Ruth Park's Australian classics take you from the barren landscapes of the outback to the colourful slums of Sydney with convincing depth, careful detail and great heart.
Continuing the history of the Irish Darcys begun in Missus and continued in The Harp in the South, this third instalment of a trilogy reacquaints readers with the vicissitudes of slum life in a Sydney suburb. An unforgettable family and a cast of unforgettable characters enliven a story that is sometimes tragic but often humorous in a time of poverty and destitution, hope and promise.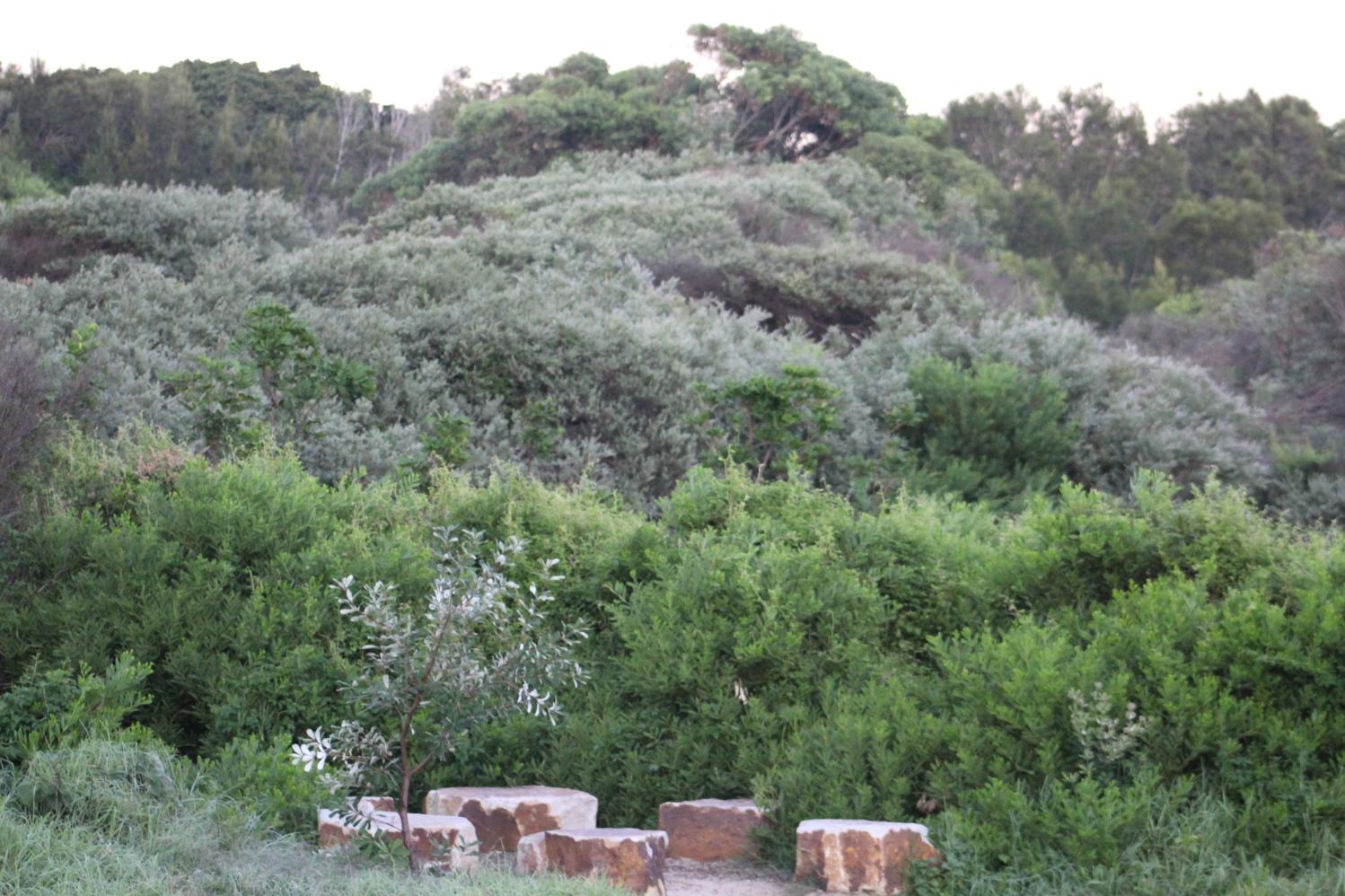 Covid Cases Increasing In Aged Care Homes
Covid cases are on the rise in residential aged care amid warnings of new waves of infection.
According to the
latest government figures
, as of 6 April, there were 1,513 active cases of Covid-19 across 236 aged care homes around Australia – 1,078 among residents, 435 among staff.
The latest data confirms an upward trend in outbreaks in aged care homes with an increase in cases recorded week on week over the past six weeks.
There were around 900 Covid cases recorded in aged care homes in the first couple of weeks of March. This grew to 1,300 cases during the remainder of the month before landing at just over 1,500 cases during the first week of April – an increase over the period of more than 65 per cent.
Since Covid restrictions were lifted late last year, the onus has been on aged care providers to implement rules for visitors of residents in aged care.
The rise has prompted a warning from Minister for Health and Aged Care Mark Butler that the pandemic "was not over" and "future waves of Covid" would likely occur across the course of the year.
In response, the government has expanded measures to protect vulnerable populations.
From the 1st of April, Australians aged 60 to 69 with only one risk factor – rather than two – have been granted free access to the antiviral treatment Paxlovid - see item below.
Also from the 1st of April, new aged care worker Covid leave payment grants of $750 have been made available to support staff caring for those most at risk of severe illness.
The grants:
reimburse providers for leave paid to directly permanent or casual aged care workers
cover employees who cannot work due to Covid-19 and have no other leave entitlements.
Go-It-Alone Pharmacists' Prescribing Not The Answer To GP Shortages: AMA
The AMA today launched its 'You deserve more' campaign, highlighting the flaws in go-it-alone pharmacy prescribing models and outlining solutions to access and affordability issues that will make a real difference to Australians, without putting their health and safety at risk.
AMA President Professor Steve Robson said patients deserve more than trials that threaten safety, fragment care, and undermine Australia's world-class health system.
"Governments should be investing in evidence-based solutions to improve access to general practice and affordability of medicines," Professor Robson said.
"Patients deserve access to the full range of treatments and holistic doctor-led care, rather than being treated as customer at a counter. They deserve the care of someone who has the qualifications to properly diagnose them, who can take the time to ensure they get the best health outcomes."
Professor Robson said international evidence does not support autonomous pharmacy prescribing, which is being rolled out in several states and territories, often with no appropriate trial or governance.
"We've looked at comparable countries and Australia is an outlier in progressing with autonomous pharmacy prescribing. At a time when governments should be developing policies that strengthen general practice and embrace team-based care, they have chosen to short-change the community and resorted to experimenting with models like this.
"Allowing pharmacists to unilaterally prescribe medicines has the real potential to harm patients and turns on its head the time-honoured principles of separating prescribing and dispensing to prevent conflicts of interest."
Professor Robson said the approach in some jurisdictions undermines years of development, consultation and agreement on national tried and tested governance frameworks overseen by the Therapeutic Goods Administration and the Pharmacy Board of Australia.
"The move by states and territories to allow autonomous pharmacy prescribing sidesteps independent and expert advice intended to protect patients, including clinical guidelines. Patients deserve more. We should be looking at what's effective, including funding to improve access to care including after-hours; supporting GPs to deliver care in aged care facilities, and supporting them to spend longer with patients.
"There are also immediate solutions to improve access to and affordability of medicines, including implementing the recommendations of the independent Pharmaceutical Benefits Advisory Committee on two-month dispensing and 12-month prescribing, as well encouraging competition by changing pharmacy ownership and location rules and allowing pharmacies to discount the co-payment by more than $1.
"We want governments to look at the evidence and work with doctors to design safe and robust models that are backed by evidence and won't further fragment care. Our You deserve more campaign clearly explains why these go-it-alone models aren't in patients' best interest and, more importantly, outlines the solutions governments are looking for."
StewartBrown Aged Care Financial Performance Survey (December 2022)
The StewartBrown December 2022 (six months) Aged Care Financial Performance Survey incorporates detailed financial and supporting data from 1,138 aged care homes (92,312 beds/places) and 66,703 home care packages across Australia. The quarterly survey is the largest benchmark in the aged care sector and provides invaluable insight into the trends and drivers of financial performance at the sector level and at the aged care home or programme level.
The Summary states the Survey for the six months ending December 2022 confirms the continued declining financial sustainability of the sector, with residential aged care continuing to be at a
critical financial sustainability position
for many providers.
The average operating results for residential aged care homes in all geographic sectors was an operating loss of $15.98 per bed day (Dec-21 $10.31 pbd loss) for mature homes (which exclude the outliers). This represents a loss of $5,295 per bed per annum, and a continuation of losses for over 5 successive years.
Extrapolating the deficit per bed represents a residential sector loss in excess of $575 million for the six month period.
Staffing shortages have been required to be managed with increased levels of agency staff and overtime for existing staff. Agency staff now represents $15.33 per bed day, an increase of $8.81 per bed day compared to the same period in 2021 (Dec-21 $6.52 per bed day).
Occupancy has further declined to be 90.8% of available beds for mature homes (Dec-21 91.5%). The fixed costs per bed increase when occupancy declines to these levels and further erodes financial performance.
This all equates to the concerning statistic that 63% of aged care homes operated at a loss (60% at Dec-21) and 42% operated at an EBITDA (cash loss) (35% at Dec21) with these percentages being lower due to the short-term benefit of the ANACC subsidy.
Home Care continues to operate in a climate of operating issues. Uncertainty as to design of the Support at Home program (implementation date is 1 July 2024) and the potential implications, have caused a policy void which has led to a stagnation of innovation for many providers.
Consistent with residential aged care, staffing remains the most crucial concern, and this coupled with the current complicated regulatory environment has seen the financial performance declining. The current operating result has decreased to a surplus of $2.54 per client per day (Dec-21 $4.51 pcpd). Revenue utilisation has decreased to 84.5% of available package funding and unspent funds have increased to an average of $11,241 for every care recipient (unspent funds are now in excess of an aggregate $2.4 billion).
Click here
to download a PDF copy of the Stewartbrown Aged Care Financial Performance Survey report for December 2022 (six months).
AMA (NSW) Urges Newly Elected Labor Government To Step Up To Healthcare Challenges
The Australian Medical Association of New South Wales has welcomed the NSW Labor government and the new Premier of NSW, Chris Minns. AMA (NSW) President Dr Michael Bonning said the association looks forward to a productive relationship with the State Government on addressing the challenges facing our health system.
"We welcome the Minns Government's commitment to reduce elective surgery wait times through their surgical care taskforce pledge," Dr Bonning said. "We must see that promise coupled with sustained investment.
"The delay in care caused by long elective surgery waiting lists has a profound impact on patients as it can lead to a further deterioration of their health and quality of life," Dr Bonning said.
"There is an urgent need to recruit, train and retain doctors in the NSW public healthcare system," Dr Bonning said.
"Ambulances are ramped outside of hospitals; emergency departments are overflowing; and wards are at capacity. The public expects to have timely care from a doctor in hospital, as part of a fully staffed healthcare team.
"The Minns Government's commitment to addressing ambulance ramping is imperative to ensure the best outcomes for our community and health workforce," Dr Bonning said.
"The new Labor Government must take immediate and direct action on rural and regional health. The rural health inquiry further characterised that Australians living in rural and remote areas have higher rates of hospitalisations, deaths and injury. To improve healthcare access in rural NSW, we need clear training pathways and solutions to rural medical workforce needs and distribution.
"In addition, rural and regional communities face the compounding impact of natural disasters," Dr Bonning said.
The AMA announced a policy resolution declaring rural health services as essential services for the purposes of support and recovery in the event of a disaster and has called on the Government to recognise the essential nature of all health practitioners in regional and rural areas in the event of a natural disaster.
"The state health system's efforts will be undone if general practice becomes financially unsustainable. The State government must take this opportunity to protect patient access to affordable healthcare by providing general practices with a payroll tax exemption," Dr Bonning said.
AMA (NSW) looks forward to working with the new health minister, and as he retires from politics acknowledges the service of former Health Minister, Brad Hazzard.
Australia Post Keeps The Torch Burning For Legacy
Australia Post is honouring 100 years of Legacy Australia through a commemorative stamp issue featuring the iconic Legacy torch symbol.
Legacy was established in 1923 by a small group of World War I veterans and continues to offer much-needed support to women, children, and veterans who have been affected by the death or serious injury of their loved one.
Today, in its centenary year, Legacy cares for 40,000 beneficiaries through its network of 3,400 volunteers across Australia. Offering mentorship and care to those in hardship, Legacy volunteers embody the ethos of "keeping the promise", wearing the Legacy torch symbol upon a pin with pride.
Australia Post Group Manager Philatelic, Michael Zsolt, said: "Australia Post is proud to continue championing the work of Legacy. The torch represented on this stamp issue signifies the undying flame of service and sacrifice of those who gave their lives for their country."
Legacy Chairman, Eric Easterbrook said: "For 100 years, Legacy has been dedicated to providing care and support to Australian veterans' families, ensuring they receive the emotional, social, and financial support they deserve.
"This stamp issued by Australia Post is a wonderful way to pay tribute to all the people that have been involved with Legacy over the past 100 years, from beneficiaries to volunteers," said Mr. Easterbrook.
To commemorate the centenary year, Legacy will carry out the Legacy Torch Relay over a six-month period, beginning in Pozières, France in the lead up to ANZAC Day 2023 and then throughout the city of London, before returning home to Australia and stopping at all 44 Legacy clubs, starting in, Western Australia in May 2023.
The stamps and associated collectables, comprising a first-day cover, 4 booklets of 10 x $1.20 stamps and 4 x maxicards, sheetlet pack, postal numismatic cover and magnetic badge prestige cover are available for purchase. To find out more information about the stamp issue, customers can visit:
https://auspost.com.au/shop/sending/stamps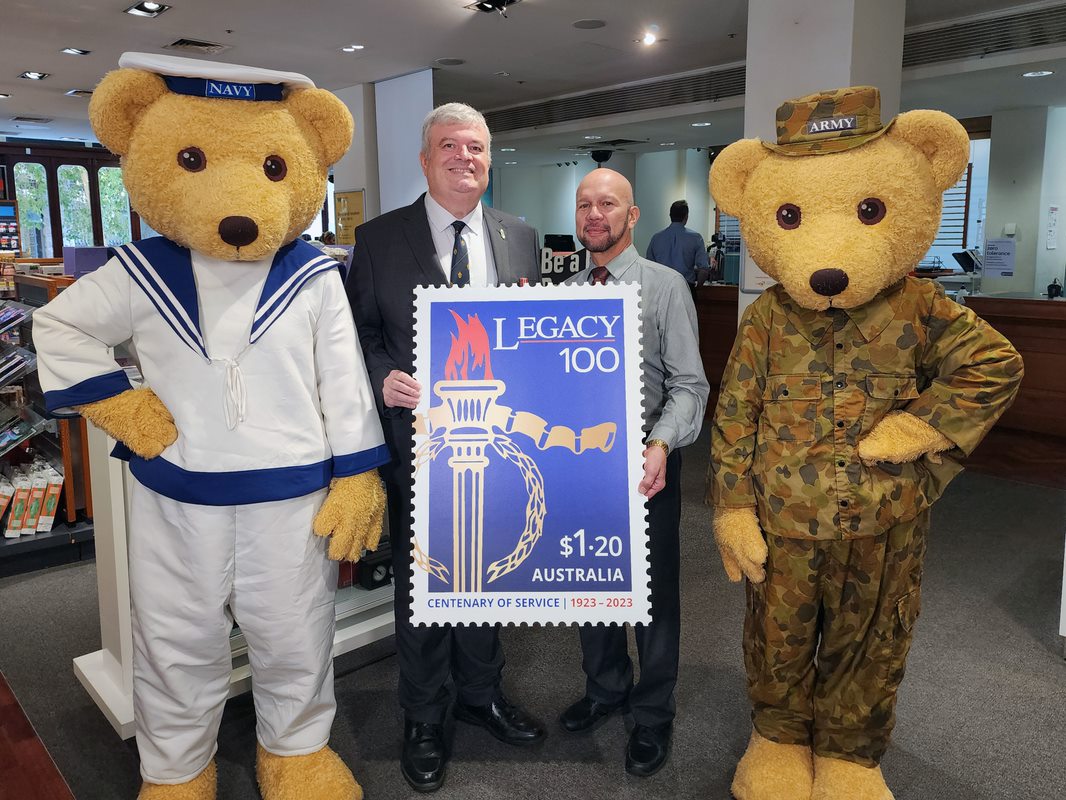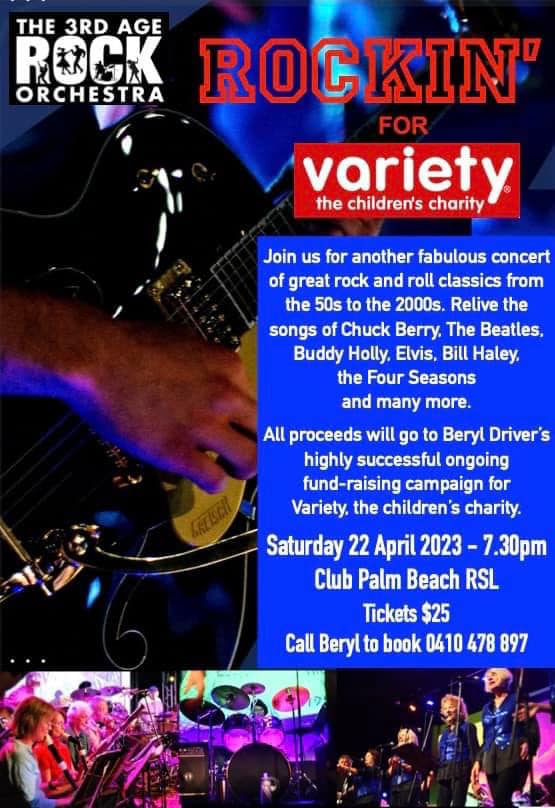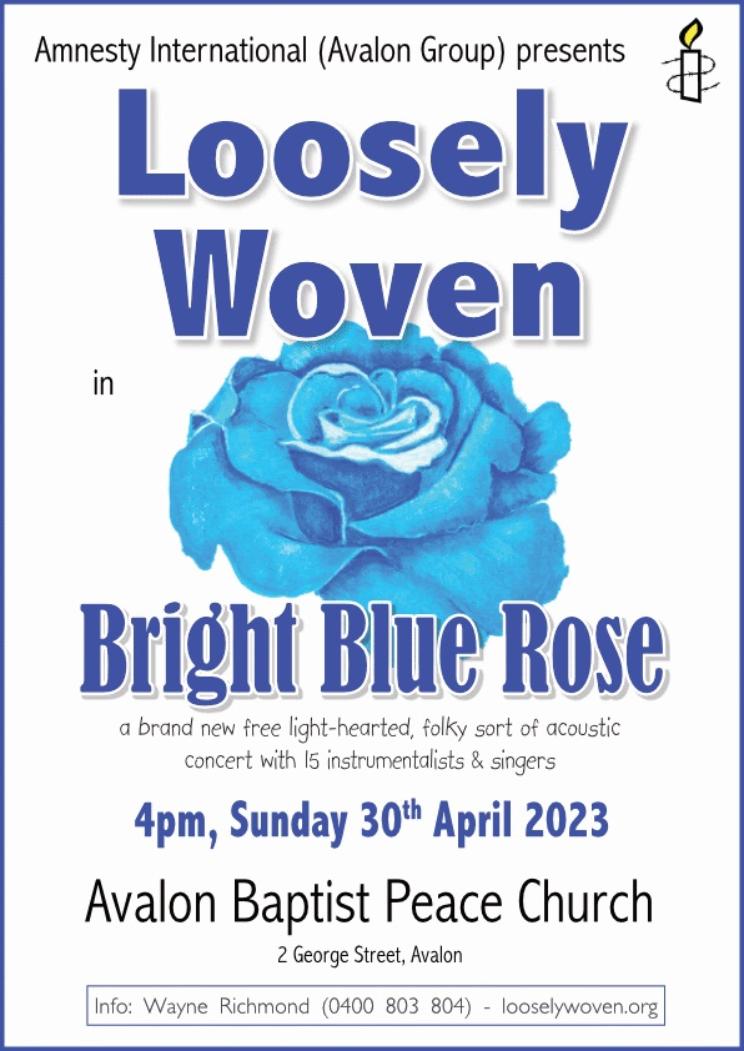 Expanded Access To Subsidised Oral Antiviral Paxlovid And Other COVID-19 Supports
From 1 April, more than 160,000 people aged 60 to 69 will have access to the antiviral treatment Paxlovid as the Albanese Government expands eligibility under the Pharmaceutical Benefits Scheme (PBS).
The change was recommended by the independent Pharmaceutical Benefits Advisory Committee (PBAC) and means Australians in this age group with only one risk factor for severe illness – instead of two – will get access to PBS-subsidised Paxlovid.
Individuals should have early discussions with their doctor or nurse practitioner about whether an oral antiviral treatment suits their health needs, and develop a plan should they test positive.
New milestone reached as ad campaign for the 2023 booster dose launches
Australia's COVID-19 vaccination rollout has reached a significant milestone with more than one million people receiving their 2023 booster dose.
Around 7 in 10 Australians who've taken up the 2023 booster are aged 60 and over.
With the risk of serious illness from COVID-19 increasing with age, particularly for those over 70, this will provide important protection as Australia moves into the cooler months, when other viruses circulate.
In February this year, the Australian Technical Advisory Group on Immunisation (ATAGI) advised that all adults who have not had a COVID-19 infection or vaccine in the past 6 months can top up their protection with the latest vaccine, irrespective of how many other doses they have had.
Accordingly, from 31 March the Government will update its methodology for reporting vaccine uptake to match ATAGI's shift from numbered to time-based doses.
The weekly statistics will transparently report on how many adults have received a 2023 booster dose; how many have received a dose in the past 6 months; how many have received one more than 6 months ago, and how many are completely unvaccinated.
To further support the 2023 booster campaign, on April 2, the Government will launch a new advertising campaign across a range of media, including television, radio, cinema, billboards, digital and social media.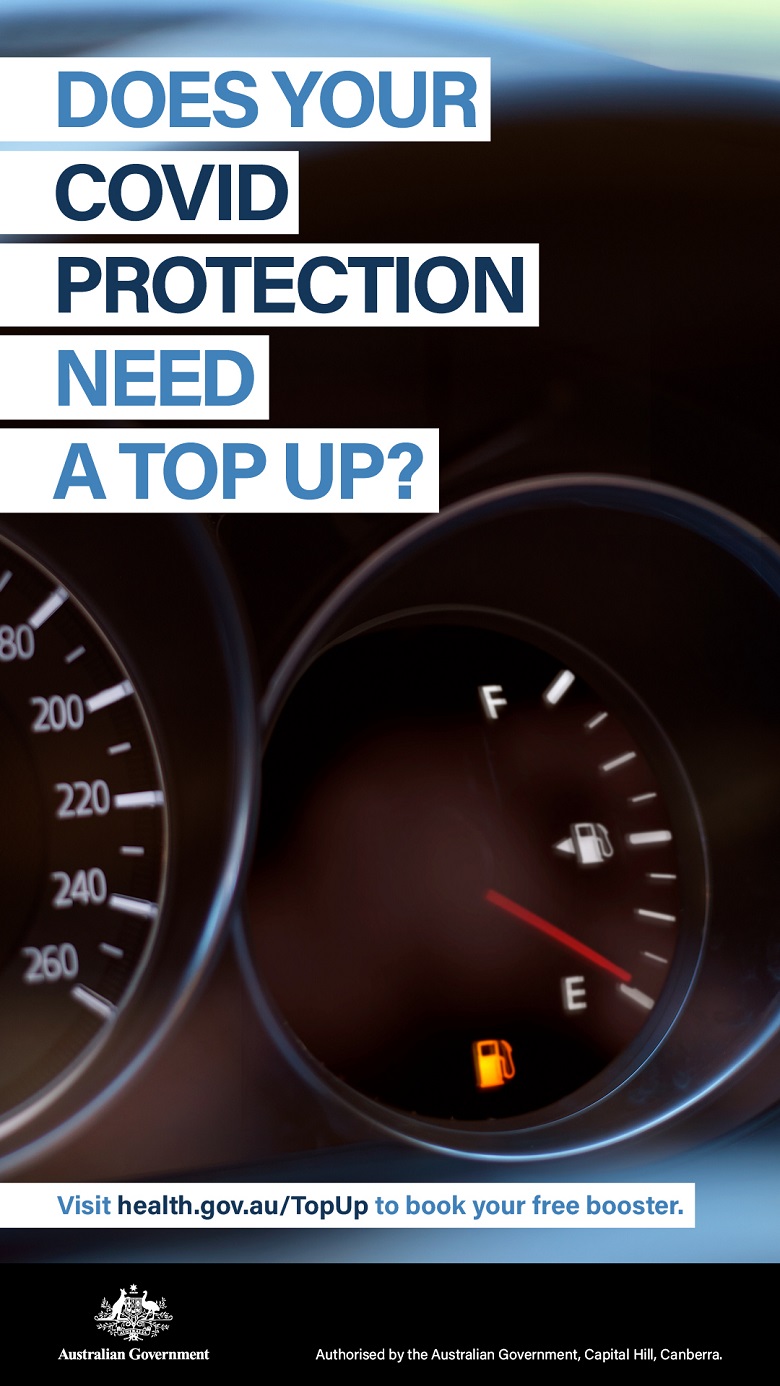 COVID-19 leave grants to support aged care workers
From 1 April, new Aged Care Worker COVID-19 leave grants will be available to support permanent or casual aged care workers caring for older Australians most at risk of severe illness.
Workers can receive a payment of up to $750 directly from their employer when they are required to take leave related to COVID-19 and have no leave entitlements available.
The grants will help to further protect people living in residential aged care, or those receiving home care packages, by allowing staff who test positive to COVID-19 to stay home while unwell. 
Providers of Australian Government-funded residential aged care homes and approved home care packages will be able to apply for reimbursement for payments made from 1 April 2023, every three months through the Department of Health and Aged Care.
The High Risk Settings Pandemic Payment scheme ends on 31 March 2023.
Chief Medical Officer's fourth wave report
The Government has released a report by the Chief Medical Officer, Professor Paul Kelly, on the lessons of the fourth wave of the Omicron variant.
Professor Kelly's report notes the fourth wave, which ended in late February, was longer than previous waves but led to less severe illness than the third wave in winter 2022.
Professor Kelly says the focus of Australia's response to the pandemic should continue to be on improving health outcomes for those at greatest risk of severe illness from COVID-19, including older Australians, those with disability, those with complex pre-existing medical conditions, and the immune-compromised.
Minister Butler said:
"More than one million Australians have already received their 2023 COVID-19 booster dose and around 7 in 10 of those boosters have gone to people aged 60 and over."
"If it has been six months since your last COVID vaccine or infection, you can now top up your protection with the latest vaccine."
"If you're newly-eligible for the oral antiviral Paxlovid, I encourage you to talk to your doctor or nurse practitioner and develop a plan for if you test positive."
Don't Lock Vulnerable Older Australians Out Of Banking: COTA
The closure of cash services at bank branches risks cutting off access to vital and basic banking services for many older Australians, particularly our most vulnerable, COTA Australia – the advocacy organisation for older Australians – says.
COTA Australia Chief Executive Officer, Patricia Sparrow, said the move towards digital and cashless banking, which includes the most recent announcement that ANZ is moving to make some of its bank branches cashless, is a worrying trend for many older Australians.
"It's important that everyone can access banking and other essential services no matter what their circumstances or location," Ms Sparrow said.
"There's been a trend towards making in-person banking less accessible for many years and the recent move by ANZ is just the latest example of that.
"With advancements in technology it's only natural to see a shift to digitisation. Of course that's not a problem for many older Australians, but we can't let that shift come at the expense those in the community who still rely heavily on in-person services.
"There are many vulnerable older people who don't have bank cards and prefer, for a number of reasons, to get their money out over the counter with the assistance of staff members.
"During Covid-19 it was revealed that there were tens of thousands of accounts without active debit cards attached to them, many of which belonged to older Australians.
"It's not just a matter of convenience, it's a matter of financial inclusion and accessibility for everyone. Ms Sparrow said that the reality of bank branch closures and changes to banking at branches is that access is being increasingly difficult for many, particularly those in regional areas.
"It's important to note that many older Australians are very happy to use new banking technology and of course we need to find ways to include everyone in technological advancements, but we can't ignore the fact that physical banking is still important to many people.
"The government and banking sector need to work together to come up with solutions that work for everyone. Forcing people to deal with a lack of access to basic services is not the answer."
Priority Groups Urged To Book In For Free Influenza Vaccine
Priority groups are encouraged to book in now for their free influenza vaccine, ahead of the flu season.
While everyone aged 6 months and over is urged to get their influenza vaccine as soon as possible, it is particularly important for those at higher risk of severe illness from the virus.
The influenza vaccine is free for priority groups, including children aged 6 months to under 5 years, people aged 65 and over, Aboriginal people from 6 months of age, pregnant women and those with serious health conditions such as diabetes, cancer, immune disorders, obesity, severe asthma, kidney, heart, lung or liver disease.
NSW Premier Chris Minns said vaccination is the best way to protect yourself from the harmful effects of flu.
"Influenza is highly contagious and can be deadly for some people, so if you are in one of these priority groups, please take advantage of the free flu vaccine as soon as possible," Mr Minns said.
NSW Health Minister Ryan Park said influenza vaccines are available through GPs for any age group, as well as through pharmacies for everyone aged 5 years and over.
"When people book, they should ask their pharmacist or GP if they are eligible for a free flu vaccine. There is plenty of stock available throughout the state, so now is the time to book your shot," Mr Park said.
NSW Chief Health Officer Dr Kerry Chant said it is difficult to predict the full impact of the flu season ahead, but vaccination is the way to ensure you are protected.
"If you are aged 65 and over, or at higher risk of severe illness, we also recommend you receive a 2023 COVID-19 vaccine booster, as both flu and COVID-19 vaccines can be given at the same time," Dr Chant said.
All adults can get a 2023 COVID-19 vaccine booster if it's been 6 months or longer since their last COVID-19 booster or confirmed infection (whichever is most recent) for additional protection against severe illness from COVID-19.
We can all take steps to help protect ourselves and our loved ones from COVID-19 and flu, including:
Stay up to date with your recommended flu and COVID-19 vaccinations
Stay home if you have cold or flu symptoms and get tested
Wear a mask in crowded, indoor places
Get together outdoors or in large, well-ventilated spaces with open doors and windows
Wash or sanitise your hands often
Talk with your doctor now if you are at higher risk of severe illness from COVID-19 or flu to make a plan about what to do if you get sick, including what test to take, and discussing if you are eligible for antiviral medicines
Don't visit people who are at higher risk of severe illness if you have cold or flu symptoms or have tested positive to COVID-19 or flu.
Take a rapid antigen test to test for COVID-19 before visiting vulnerable loved ones.
Flu Season 2023: What You Need To Know
You may have been concerned by recent reports that Australia had 100 times as many influenza cases in the first two months of 2023 than at the same time the previous year.

That, partly, is because the rates of flu in the first part of 2022 were artificially low because of the precautions we were taking at that time to combat COVID-19.
Hand-washing, mask-wearing, use of sanitisers and physical distancing helped tackle the flu as well as COVID.
And because people weren't moving around the world as much as usual, there was less of the flu virus coming into the country.
Things have pretty much returned to normal this year, with open borders meaning that the flu virus is heading our way from the northern hemisphere.
Some experts predict that our usual levels of immunity will be weakened this year, making it even more important for seniors to consider having a flu vaccine.
Yes, but you should still get vaccinated.
There are prescription medications called "antiviral drugs" that can be used to treat flu illness.
Antivirals are not sold over the counter. You can only get them if you have a prescription from a health care provider.
They are different from antibiotics, which fight against bacterial infections. Flu antiviral drugs only treat flu — they are different to antivirals used to treat other infectious diseases such as COVID-19.
What should I do if I think I've got the flu?
If you are at higher risk of serious flu complications due to age or other medical conditions, and you develop flu symptoms, check with your doctor promptly.
Flu signs and symptoms can include having a fever, cough, sore throat, runny or stuffy nose, body aches, headache, chills, and fatigue. However, not everyone with the flu has a fever.
Should I still get a flu vaccine?
Yes. Antiviral drugs are not a substitute for getting a vaccine. While a vaccine can vary in how well it works, it is best way to help prevent seasonal flu and its potentially serious complications.
Everyone six months and older should receive a flu vaccine every year. Antiviral drugs are a second line of defence that can be used to treat flu (including seasonal flu and variant flu viruses) if you get sick.
In mild cases, the flu is best managed by:
Bed rest.
Drinking plenty of fluids.
Over-the-counter medication, taken only as directed to help relieve symptoms.
Why vaccination is important
Vaccination is the best way to reduce the risk of getting flu and its possible complications. Being vaccinated builds immunity to the virus and helps prevent transmission to other people.
It is extremely important for people who are in a high-risk group — and that includes all people over 65 — to be vaccinated. It is proven to reduce risk of contracting the flu and suffering from its possible complications.
The flu vaccine is free under the National Immunisation Program for several groups of people, including seniors over 65, and the rollout of the 2023 version is happening this month (April).
People who are not eligible for a free vaccine can purchase the vaccine from vaccination providers, including local GPs and many pharmacies.
Australia Post At The Crossroads
Your chance to tell the government which postal services matter most.
Technology has changed the way we live, affecting all parts of the community from individuals to social groups and corporations.
Jobs and entire industries have disappeared as "smart" devices revolutionise the way things are done.
One enterprise facing huge challenges is Australia Post, which is expected to register a loss this financial year – its first since 2015. Projections indicate that further, deeper losses will eventuate if changes are not made.
Australia Post, and the Postmaster General's Office before it, has served us well since federation in 1901, connecting people over vast distances by the prompt delivery of letters and packages.
But advances in technology — from telegrams to telephones, faxes, emails and instant messaging — have fundamentally changed the postal service's business model and maybe even its raison d'être.
The volume of letters being sent through traditional mail has dropped significantly in recent years, but Australia Post is obliged by law to deliver a daily postal service to 98% of households.
The current cost of a stamp — $1.20 — does not reflect the actual cost of delivery.
Meanwhile, the boom in internet shopping has created greater demand for parcel delivery – an area in which Australia Post competes with private operators.
With this in mind, the federal government has begun public consultation on the future of Australia Post.
Communications Minister Michelle Rowland said the government wanted broad feedback before it started considering various options.
She said the consultation "will ensure Australia Post maintains the long-term financial stability it needs to continue supporting small businesses and providing essential community services — particularly in our rural, regional and remote communities".
Which postal services matter most to you? The Australian Government wants to hear from you about the postal services you want and need now, and into the future.
Your input will help the government understand how to modernise postal and related services so that Australia Post can deliver the services people want, while also supporting its long-term financial sustainability.
You can have your say by:
• Writing to: Department of Infrastructure, Transport, Regional Development, Communications and the Arts GPO Box 594 Canberra ACT 2601, marking it Attention: Director, Postal Policy — Communications Services and Consumer Division.
Submissions close on 27 April 2023.
'Nature Prescriptions' Can Improve Physical And Mental Health: Study
According to new research from UNSW Sydney, a dose of the outdoors may be what the doctor ordered.
Imagine that your doctor prescribes you a new treatment. It's pleasant and enjoyable, and you can have as much as you want. Potential side effects include spontaneous euphoria and being in a good mood. Not to mention, it's free and available all around you.
It's not a drug or some other medical procedure that your doctor has recommended. Instead, it is a 'nature prescription' – a recommendation to spend time in nature.
Researchers from UNSW Sydney assessed international evidence for nature prescriptions and their ability to improve health. They analysed 28 studies that tested nature prescriptions in real-world patients. This research was led by Professor Xiaoqi Feng from UNSW Medicine & Health and Professor Thomas Astell-Burt from the University of Wollongong, who are the Co-Directors of the Population Wellbeing and Environment Research Lab (PowerLab).
The systematic review and meta-analysis, '
Effect of nature prescriptions on cardiometabolic and mental health, and physical activity: a systematic review
',
published in The Lancet Planetary Health
, found that nature prescriptions provided both physical and mental health benefits. Patients had reduced blood pressure, as well as lower depression and anxiety scores – and they had a higher daily step count.
"The evidence shows that nature prescriptions can help to restore and build capacities for better physical and mental health. What we need now is to work out how to make nature prescriptions happen in a sustained way for those people with high potential to benefit, but who currently spend little time in nature," said Prof. Feng.
Nature makes us healthier
Research shows that contact with nature reduces harms, including those from poor air quality, heatwaves, and chronic stress, while encouraging healthy behaviours such as socialising and physical activity. This can help to prevent issues including loneliness, depression and cardiovascular disease.
"This study is built upon a long-term program of research that we are doing, where we show contact with nature – and trees especially – is really good for strengthening mental and physical health across our lives," said Prof. Feng.
Previous research by Prof. Feng shows that living close to certain types of green space can improve health. For example, in a study of almost 47,000 adults in New South Wales (NSW), those living in areas with 30 per cent or more tree canopy reported better general health and reduced psychological distress. This research has informed the City of Sydney's $377 million strategy to reach 40 per cent green cover by 2050.
"But even if you have a high-quality green space like a park nearby, it doesn't mean that everyone will visit and benefit from it," said Prof. Feng.
"How can we encourage and enable people to (re)connect with nature? That's where the idea of a nature prescription comes in."
Taking nature prescriptions mainstream
Nature prescriptions are emerging as a supplement to standard medical care. For example, the UK Government recently invested £5.77 million in a pilot program for 'green social prescribing' and Canada has a national nature prescription program.
In Australia, there is growing public interest in nature prescriptions. A recent survey of Australian adults led by Prof. Feng showed that over 80 per cent of people were receptive to the idea.
However, there are no large-scale nature prescription programs in Australia yet. More research is needed to understand how nature prescriptions could be implemented in our local context.
"So how long should the nature prescription be for? What should be in the prescription? How should we deliver it, and by whom? These questions don't have firm answers yet," said Prof. Feng.
"If we want nature prescriptions to become a national scheme, we really need to provide the evidence."
It's also important for nature prescriptions to be accessible to all Australians. Previous research from Prof. Astell-Burt and Prof. Feng has shown that low-income communities are least likely to have access to green space. Yet, these communities are more at risk of chronic health issues like type 2 diabetes, obesity and cardiovascular disease.
"We don't want nature prescriptions to be a luxury item for the rich who already have access to beaches and a lot of high-quality green space," Prof. Feng said. "We want these benefits for everyone."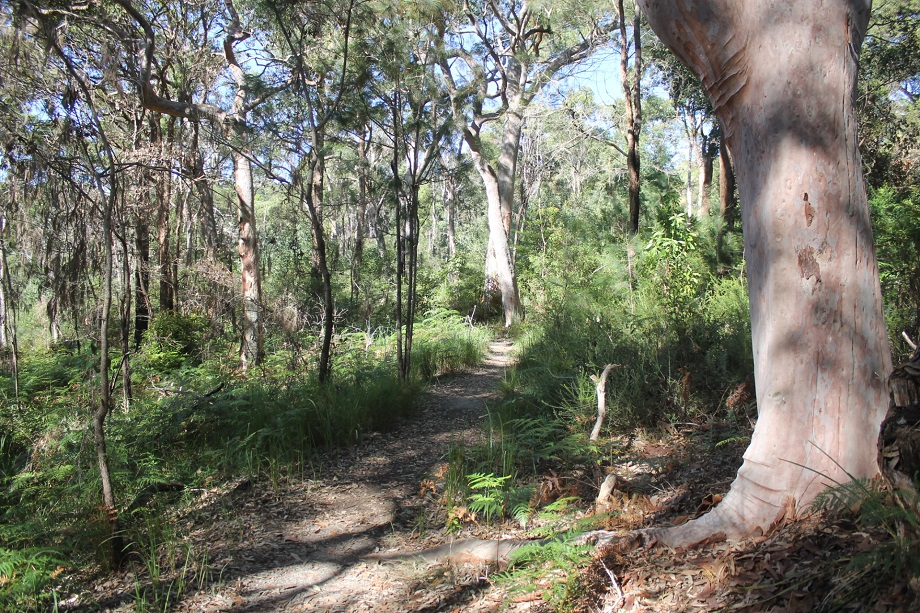 Angophora Reserve. Photo: AJG
Fasting Diet Reduces Risk Markers Of Type 2 Diabetes
A fasting diet which focuses on eating early in the day could be the key to reducing the risk of developing type 2 diabetes.
Researchers from the University of Adelaide and South Australian Health and Medical Research Institute (SAHMRI) compared two different diets: a time restricted, intermittent fasting diet and a reduced calorie diet to see which one was more beneficial for people who were prone to developing type 2 diabetes.
"Following a time restricted, intermittent fasting diet could help lower the chances of developing type 2 diabetes," said senior author the University of Adelaide's Professor Leonie Heilbronn, Adelaide Medical School.
"People who fasted for three days during the week, only eating between 8am and 12pm on those days, showed a greater tolerance to glucose after 6 months than those on a daily, low-calorie diet.
"Participants who followed the intermittent fasting diet were more sensitive to insulin and also experienced a greater reduction in blood lipids than those on the low-calorie diet."
Type 2 diabetes occurs when the body's cells don't respond effectively to insulin and it loses its ability to produce the hormone, which is responsible for controlling glucose in blood.
It's estimated that nearly 60 per cent of type 2 diabetes cases could be delayed or prevented with changes to diet and lifestyle.
Almost 1.3 million Australians are currently living with the condition, for which there is no cure.
There were more than 200 participants recruited from South Australia in the 18-month study, which was published in scientific journal, Nature Medicine.
Participants on both the time restricted, intermittent fasting diet and the low-calorie diet experienced similar amounts of weight loss.
"This is the largest study in the world to date and the first powered to assess how the body processes and uses glucose after eating a meal, which is a better indicator of diabetes risk than a fasting test," said first author Xiao Tong Teong, a PhD student at the University of Adelaide.
"The results of this study add to the growing body of evidence to indicate that meal timing and fasting advice extends the health benefits of a restricted calorie diet, independently from weight loss, and this may be influential in clinical practice."
Further research is needed to investigate if the same benefits are experienced with a slightly longer eating window, which could make the diet more sustainable in the long term.
Xiao Tong Teong, Kai Liu, Andrew D. Vincent, Julien Bensalem, Bo Liu, Kathryn J. Hattersley, Lijun Zhao, Christine Feinle-Bisset, Timothy J. Sargeant, Gary A. Wittert, Amy T. Hutchison, Leonie K. Heilbronn. I
ntermittent fasting plus early time-restricted eating versus calorie restriction and standard care in adults at risk of type 2 diabetes: a randomized controlled trial.
Nature Medicine, 2023; DOI:
10.1038/s41591-023-02287-7
Predatory Dinosaurs Such As T. Rex Sported Lizard-Like Lips
A new study suggests that predatory dinosaurs, such as Tyrannosaurus rex, did not have permanently exposed teeth as depicted in films such as Jurassic Park, but instead had scaly, lizard-like lips covering and sealing their mouths.
Researchers and artists have debated whether theropod dinosaurs, the group of two-legged dinosaurs that includes carnivores and top predators like T. rex and Velociraptor, as well as birds, had lipless mouths where perpetually visible upper teeth hung over their lower jaws, similar to the mouth of a crocodile.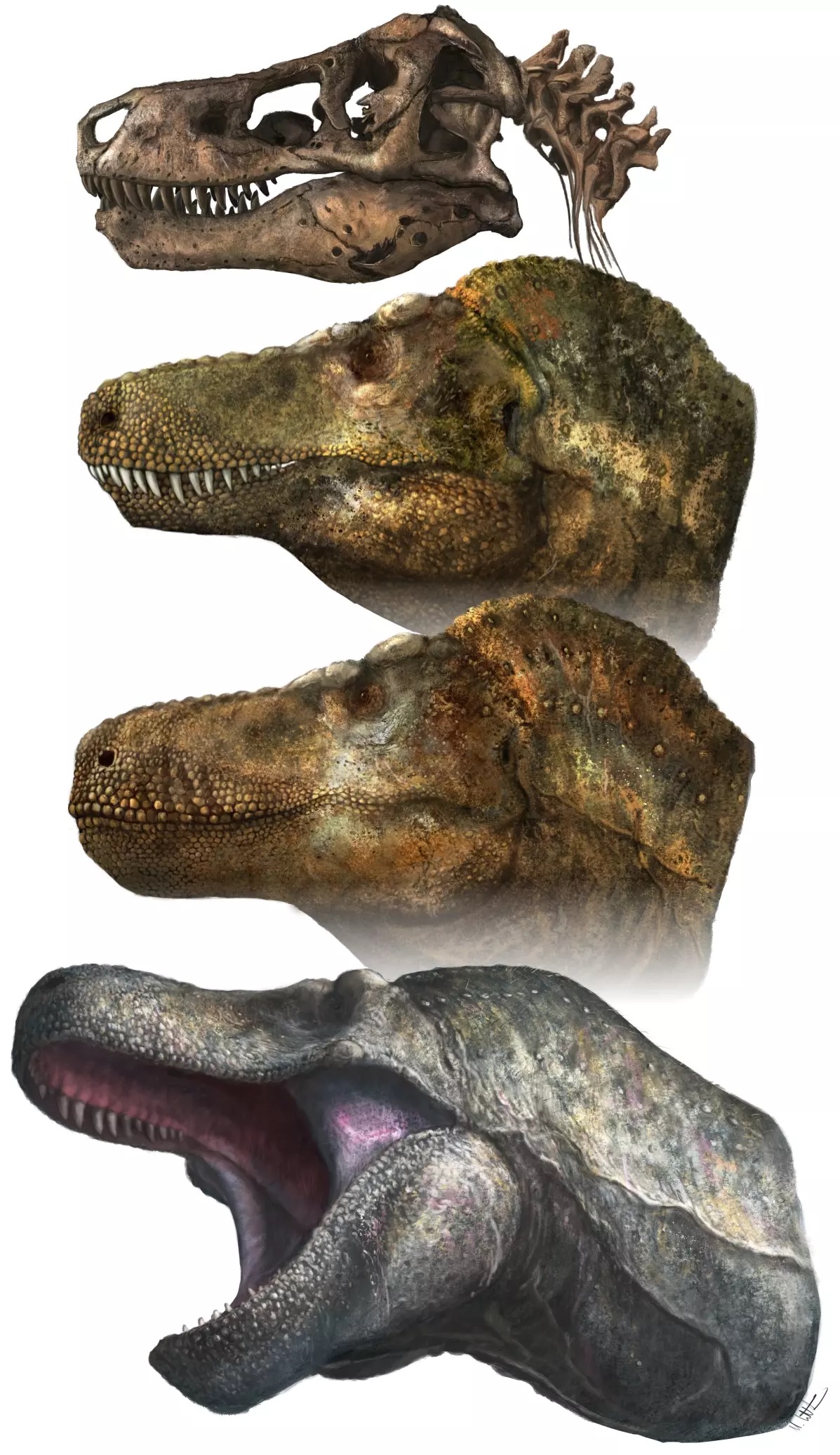 T. rex skull and head reconstructions. Credit Dr Mark Witton

However, an international team of researchers challenge some of the best-known depictions, and say these dinosaurs had lips similar to those of lizards and their relative, the tuatara -- a rare reptile found only in New Zealand, which are the last survivors of an order of reptiles that thrived in the age of the dinosaurs.
In the most detailed study of this issue yet, the researchers examined the tooth structure, wear patterns and jaw morphology of lipped and lipless reptile groups and found that theropod mouth anatomy and functionality resembles that of lizards more than crocodiles. This implies lizard-like oral tissues, including scaly lips covering their teeth.
These lips were probably not muscular, like they are in mammals. Most reptile lips cover their teeth but cannot be moved independently -- they cannot be curled back into a snarl, or make other sorts of movements we associate with lips in humans or other mammals.
Study co-author Derek Larson, Collections Manager and Researcher in Palaeontology at the Royal BC Museum in Canada, said: "Palaeontologists often like to compare extinct animals to their closest living relatives, but in the case of dinosaurs, their closest relatives have been evolutionarily distinct for hundreds of millions of years and today are incredibly specialised.
"It's quite remarkable how similar theropod teeth are to monitor lizards. From the smallest dwarf monitor to the Komodo dragon, the teeth function in much the same way. So, monitors can be compared quite favourably with extinct animals like theropod dinosaurs based on this similarity of function, even though they are not closely related."
Co-author Dr Mark Witton from the University of Portsmouth said: "Dinosaur artists have gone back and forth on lips since we started restoring dinosaurs during the 19th century, but lipless dinosaurs became more prominent in the 1980s and 1990s. They were then deeply rooted in popular culture through films and documentaries -- Jurassic Park and its sequels, Walking with Dinosaurs and so on.
"Curiously, there was never a dedicated study or discovery instigating this change and, to a large extent, it probably reflected preference for a new, ferocious-looking aesthetic rather than a shift in scientific thinking. We're upending this popular depiction by covering their teeth with lizard-like lips. This means a lot of our favourite dinosaur depictions are incorrect, including the iconic Jurassic Park T. rex."
The results, published in the journal Science, found that tooth wear in lipless animals was markedly different from that seen in carnivorous dinosaurs and that dinosaur teeth were no larger, relative to skull size, than those of modern lizards, implying they were not too big to cover with lips.
Also, the distribution of small holes around the jaws, which supply nerves and blood to the gums and tissues around the mouth, were more lizard-like in dinosaurs than crocodile-like. Furthermore, modelling mouth closure of lipless theropod jaws showed that the lower jaw either had to crush jaw-supporting bones or disarticulate the jaw joint to seal the mouth.
"As any dentist will tell you, saliva is important for maintaining the health of your teeth. Teeth that are not covered by lips risk drying out and can be subject to more damage during feeding or fighting, as we see in crocodiles, but not in dinosaurs," said co-author Kirstin Brink, Assistant Professor of Palaeontology at the University of Manitoba.
She added: "Dinosaur teeth have very thin enamel and mammal teeth have thick enamel (with some exceptions). Crocodile enamel is a bit thicker than dinosaur enamel, but not as thick as mammalian enamel. There are some mammal groups that do have exposed enamel, but their enamel is modified to withstand exposure."
Thomas Cullen, Assistant Professor of Paleobiology at Auburn University and study lead author, said: "Although it's been argued in the past that the teeth of predatory dinosaurs might be too big to be covered by lips, our study shows that, in actuality, their teeth were not atypically large. Even the giant teeth of tyrannosaurs are proportionally similar in size to those of living predatory lizards when compared for skull size, rejecting the idea that their teeth were too big to cover with lips."
The results provide new insights into how we reconstruct the soft-tissues and appearance of dinosaurs and other extinct species. This can give crucial information on how they fed, how they maintained their dental health, and the broader patterns of their evolution and ecology.
Dr Witton said: "Some take the view that we're clueless about the appearance of dinosaurs beyond basic features like the number of fingers and toes. But our study, and others like it, show that we have an increasingly good handle on many aspects of dinosaur appearance. Far from being clueless, we're now at a point where we can say 'oh, that doesn't have lips? Or a certain type of scale or feather?' Then that's as realistic a depiction of that species as a tiger without stripes."
The researchers point out that their study doesn't say that no extinct animals had exposed teeth -- some, like sabre-toothed carnivorous mammals, or marine reptiles and flying reptiles with extremely long, interlocking teeth, almost certainly did.
Thomas M. Cullen, Derek W. Larson, Mark P. Witton, Diane Scott, Tea Maho, Kirstin S. Brink, David C. Evans, Robert Reisz.
Theropod dinosaur facial reconstruction and the importance of soft tissues in paleobiology.
Science, 2023; 379 (6639): 1348 DOI:
10.1126/science.abo7877
New Findings That Map The Universe's Cosmic Growth Support Einstein's Theory Of Gravity
Research by the Atacama Cosmology Telescope collaboration has culminated in a groundbreaking new image that reveals the most detailed map of dark matter distributed across a quarter of the entire sky, reaching deep into the cosmos. Findings provide further support to Einstein's theory of general relativity, which has been the foundation of the standard model of cosmology for more than a century, and offers new methods to demystify dark matter.
For millennia, humans have been fascinated by the mysteries of the cosmos. Unlike ancient philosophers imagining the universe's origins, modern cosmologists use quantitative tools to gain insights into the universe's evolution and structure. Modern cosmology dates back to the early 20th century, with the development of Albert Einstein's theory of general relativity.
Now, researchers from the Atacama Cosmology Telescope (ACT) collaboration have created a groundbreaking new image that reveals the most detailed map of dark matter distributed across a quarter of the entire sky, extending deep into the cosmos. What's more, it confirms Einstein's theory of how massive structures grow and bend light, over the entire 14-billion-year life span of the universe.
"We have mapped the invisible dark matter across the sky to the largest distances, and clearly see features of this invisible world that are hundreds of millions of light-years across, says Blake Sherwin, professor of cosmology at the University of Cambridge, where he leads a group of ACT researchers. "It looks just as our theories predict."
Despite making up 85% of the universe and influencing its evolution, dark matter has been hard to detect because it doesn't interact with light or other forms of electromagnetic radiation. As far as we know dark matter only interacts with gravity.
To track it down, the more than 160 collaborators who have built and gathered data from the National Science Foundation's Atacama Cosmology Telescope in the high Chilean Andes observe light emanating following the dawn of the universe's formation, the Big Bang -- when the universe was only 380,000 years old. Cosmologists often refer to this diffuse light that fills our entire universe as the "baby picture of the universe," but formally, it is known as the cosmic microwave background radiation (CMB).
The team tracks how the gravitational pull of large, heavy structures including dark matter warps the CMB on its 14-billion-year journey to us, like how a magnifying glass bends light as it passes through its lens.
"We've made a new mass map using distortions of light left over from the Big Bang," says Mathew Madhavacheril, assistant professor in the Department of Physics and Astronomy at the University of Pennsylvania. "Remarkably, it provides measurements that show that both the 'lumpiness' of the universe, and the rate at which it is growing after 14 billion years of evolution, are just what you'd expect from our standard model of cosmology based on Einstein's theory of gravity."
Sherwin adds, "our results also provide new insights into an ongoing debate some have called 'The Crisis in Cosmology,'"explaining that this crisis stems from recent measurements that use a different background light, one emitted from stars in galaxies rather than the CMB. These have produced results that suggest the dark matter was not lumpy enough under the standard model of cosmology and led to concerns that the model may be broken. However, the team's latest results from ACT were able to precisely assess that the vast lumps seen in this image are the exact right size.
"When I first saw them, our measurements were in such good agreement with the underlying theory that it took me a moment to process the results," says Cambridge Ph.D. student Frank Qu, part of the research team. "It will be interesting to see how this possible discrepancy between different measurements will be resolved."
"The CMB lensing data rivals more conventional surveys of the visible light from galaxies in their ability to trace the sum of what is out there," says Suzanne Staggs, director of ACT and Henry DeWolf Smyth Professor of Physics at Princeton University. "Together, the CMB lensing and the best optical surveys are clarifying the evolution of all the mass in the universe."
"When we proposed this experiment in 2003, we had no idea the full extent of information that could be extracted from our telescope," says Mark Devlin, the Reese Flower Professor of Astronomy at the University of Pennsylvania and the deputy director of ACT. "We owe this to the cleverness of the theorists, the many people who built new instruments to make our telescope more sensitive, and the new analysis techniques our team came up with."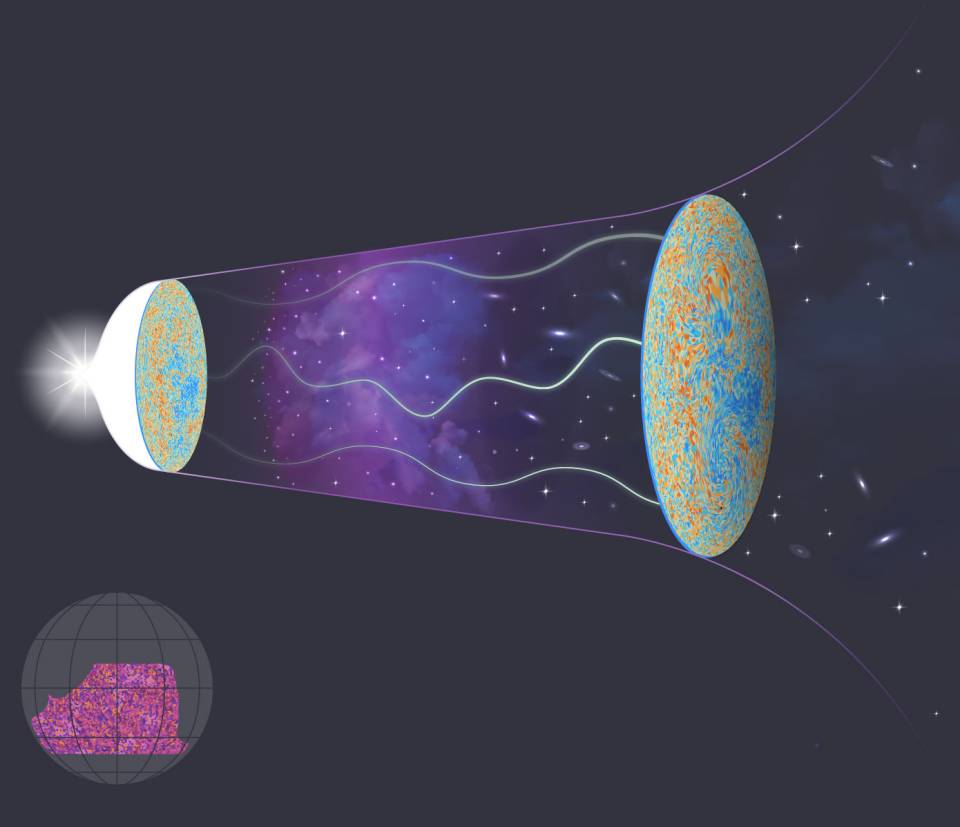 The cosmic microwave background (CMB) radiation, ancient light emitted when the universe was in its infancy, has travelled billions of years, witnessing the formation of stars, galaxies and galaxy clusters. The gravitational fields of these massive objects have influenced the path of CMB light. At the left is the Big Bang; the wavy lines illustrate the distortion caused by the dark matter and regular matter of galaxies; at the right is an image of the warped light received by the Atacama Cosmological Telescope (ACT). At the lower left is the new map of the dark matter made by the ACT team, a visualization of all the matter in the path of the CMB light. The orange regions show where there is more mass; purple where there is less. Image by Lucy Reading-Ikkanda / Simons Foundation and the ACT Collaboration
ACT, which operated for 15 years, was decommissioned in September 2022. Nevertheless, more papers presenting results from the final set of observations are expected to be submitted soon, and the Simons Observatory will conduct future observations at the same site, with a new telescope slated to begin operations in 2024. This new instrument will be capable of mapping the sky almost 10 times faster than ACT.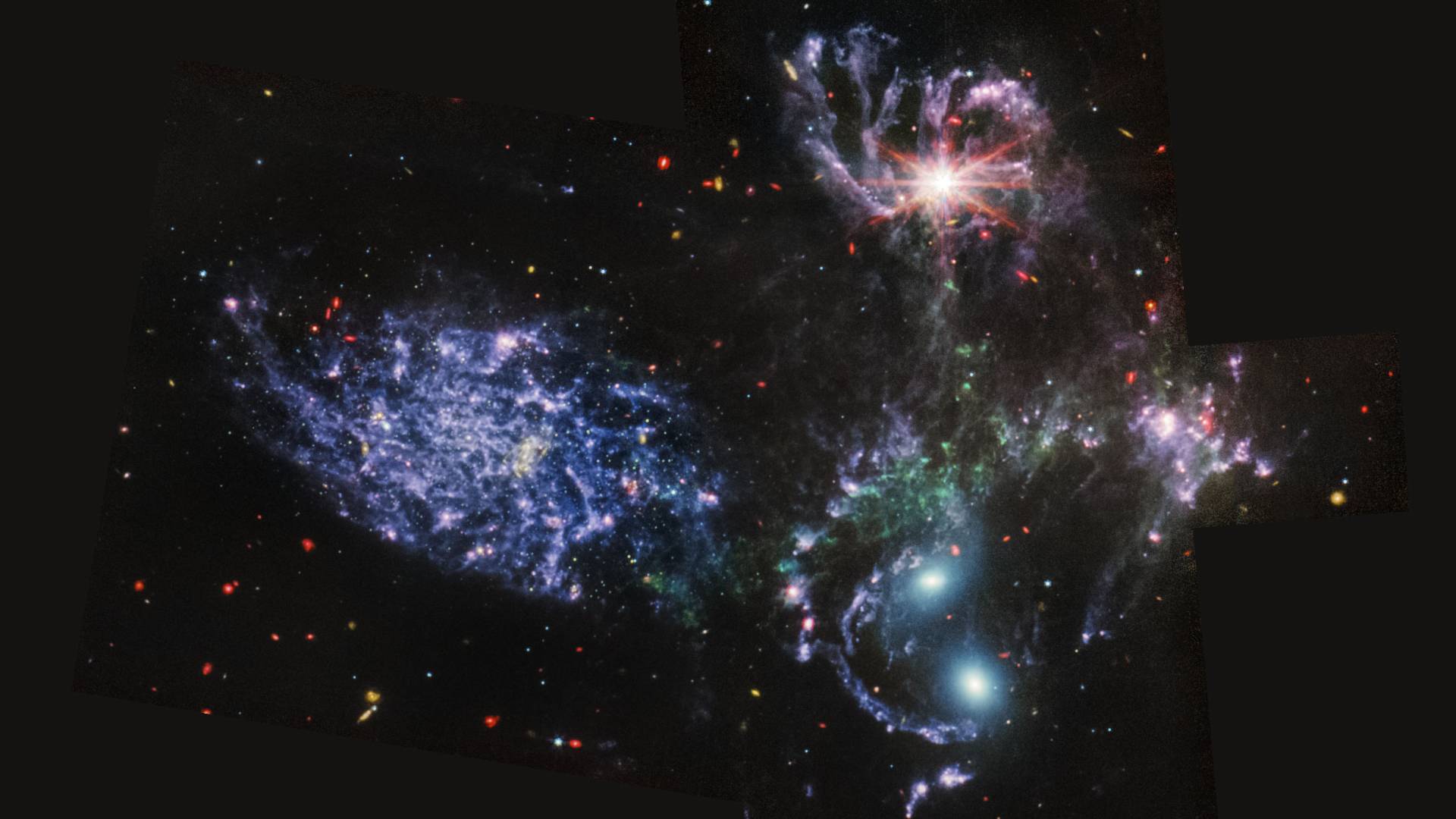 A view of Stephan's Quintet, a visual grouping of five galaxies from the James Webb Telescope. Image courtesy of NASA, ESA, CSA, STScI
The pre-print articles highlighted in this release are available on act.princeton.edu and will appear on the open-access arXiv.org. They have been submitted to the Astrophysical Journal. This work was supported by the U.S. National Science Foundation (AST-0408698, AST-0965625 and AST-1440226 for the ACT project, as well as awards PHY-0355328, PHY-0855887 and PHY-1214379), Princeton University, the University of Pennsylvania, and a Canada Foundation for Innovation award. Team members at the University of Cambridge were supported by the European Research Council.
This Elephant's Self-Taught Banana Peeling Offers Glimpse Of Elephants' Broader Abilities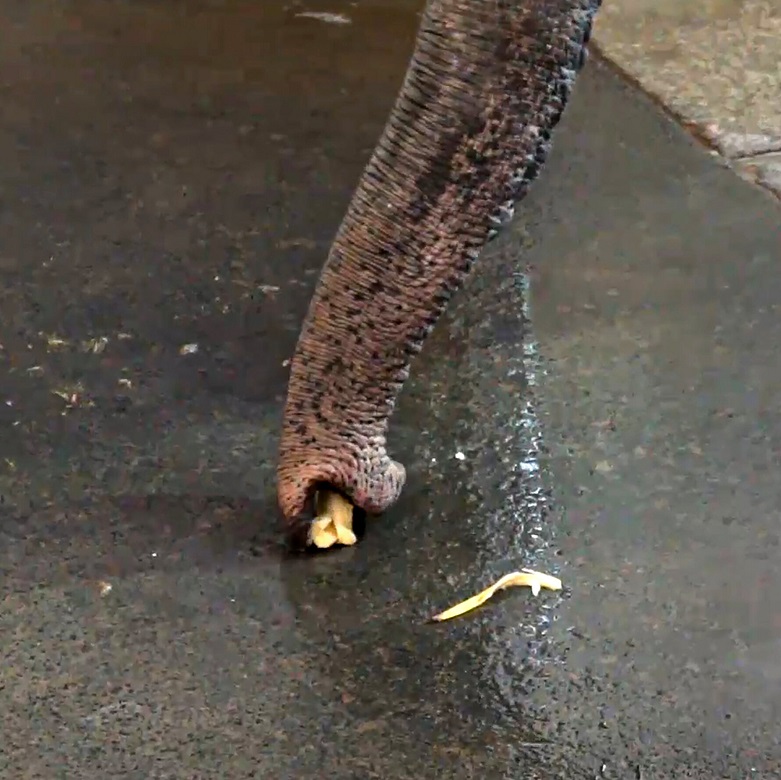 Elephants like to eat bananas, but they don't usually peel them first in the way humans do. A new report in the journal Current Biology on April 10, however, shows that one very special Asian elephant named Pang Pha picked up banana peeling all on her own while living at the Berlin Zoo. She reserves it for yellow-brown bananas, first breaking the banana before shaking out and collecting the pulp, leaving the thick peel behind.
The female elephant most likely learned the unusual peeling behaviour from watching her caretakers peel bananas for her, the study authors report. The findings in a single elephant show that elephants more broadly have special cognitive and manipulative abilities, they say.
"We discovered a very unique behaviour," said Michael Brecht of Humboldt-Universität zu Berlin's Bernstein Center for Computational Neuroscience.
"What makes Pang Pha's banana peeling so unique is a combination of factors -- skilfulness, speed, individuality, and the putatively human origin -- rather than a single behavioural element."
Like other elephants, Pha eats green or yellow bananas whole. She rejects brown bananas outright. But when it comes to yellow bananas spotted with brown -- the kind one might reserve for banana bread -- she eats after peeling them first.
Brecht and colleagues including Lena Kaufmann, also at Humboldt-Universität zu Berlin, and Andreas Ochs, Berlin Zoological Garden, made the discovery after learning from Pha's caretakers about her unusual banana-peeling talent. At first, they were confused. They brought Pha nice yellow and green bananas, and she never peeled them.
"It was only when we understood that she peels only yellow-brown bananas that our project took off," Brecht said.
When yellow-brown bananas are offered to a group of elephants, Pha changes her behaviour, they report. She eats as many bananas as she can whole and then saves the last one to peel later.
Banana-peeling appears to be rare in elephants as far as anyone knows, and none of the other Berlin elephants engage in peeling. It's not clear why Pha peels them. The researchers note, however, that she was hand raised by human caretakers in the Berlin Zoo. They never taught her to peel bananas, but they did feed her peeled bananas.
Based on this, the researchers suggest she acquired peeling through observational learning from humans. Earlier reports on African elephants suggest elephants can interpret human pointing gestures and classify people into ethnic groups, but complex human-derived manipulation behaviours, like banana-peeling, appear rather unique, according to the researchers. The findings in Pha nevertheless suggest that elephants overall have surprising cognitive abilities and impressive manipulative skill.
"Elephants have truly remarkable trunk skills and that their behaviour is shaped by experience," says Brecht.
The researchers find it surprising that Pha alone picked up on banana peeling. It leads them to wonder if such habits are normally passed on through elephant families. They're now looking into other sophisticated trunk behaviours, such as tool use.
Lena V. Kaufmann, Rolf Becker, Andreas Ochs, Michael Brecht.
Elephant banana peeling.
Current Biology, 2023; 33 (7): R257 DOI:
10.1016/j.cub.2023.02.076
A Miniature Heart In A Petri Dish: Organoid Emulates Development Of The Human Heart
A team at the Technical University of Munich (TUM) has induced stem cells to emulate the development of the human heart. The result is a sort of "mini-heart" known as an organoid. It will permit the study of the earliest development phase of our heart and facilitate research on diseases.
The human heart starts forming approximately three weeks after conception. This places the early phase of heart development in a time when women are often still unaware of their pregnancy. That is one reason why we still have little knowledge of many details of how the heart is formed. Findings from animal studies are not fully transferable to humans. An organoid developed at TUM could prove helpful to researchers.
The team working with Alessandra Moretti, Professor of Regenerative Medicine in Cardiovascular Disease, has developed a method for making a sort of "mini-heart" using pluripotent stem cells. Around 35,000 cells are spun into a sphere in a centrifuge. Over a period of several weeks, different signaling molecules are added to the cell culture under a fixed protocol. "In this way, we mimic the signaling pathways in the body that control the developmental program for the heart," explains Alessandra Moretti. The group has now published its work in the journal Nature Biotechnology.
First-ever "epicardioids"
The resulting organoids are about half a millimetre in diameter. Although they do not pump blood, they can be stimulated electrically and are capable of contracting like human heart chambers. Prof. Moretti and her team are the first researchers in the world to successfully create an organoid containing both heart muscle cells (cardiomyocytes) and cells of the outer layer of the heart wall (epicardium). In the young history of heart organoids -- the first were described in 2021 -- researchers had previously created only organoids with cardiomyocytes and cells from the inner layer of the heart wall (endocardium).
"To understand how the heart is formed, epicardium cells are decisive," says Dr. Anna Meier, first author of the study. "Other cell types in the heart, for example in connecting tissues and blood vessels, are formed from these cells. The epicardium also plays a very important role in forming the heart chambers." The team has appropriately named the new organoids "epicardioids."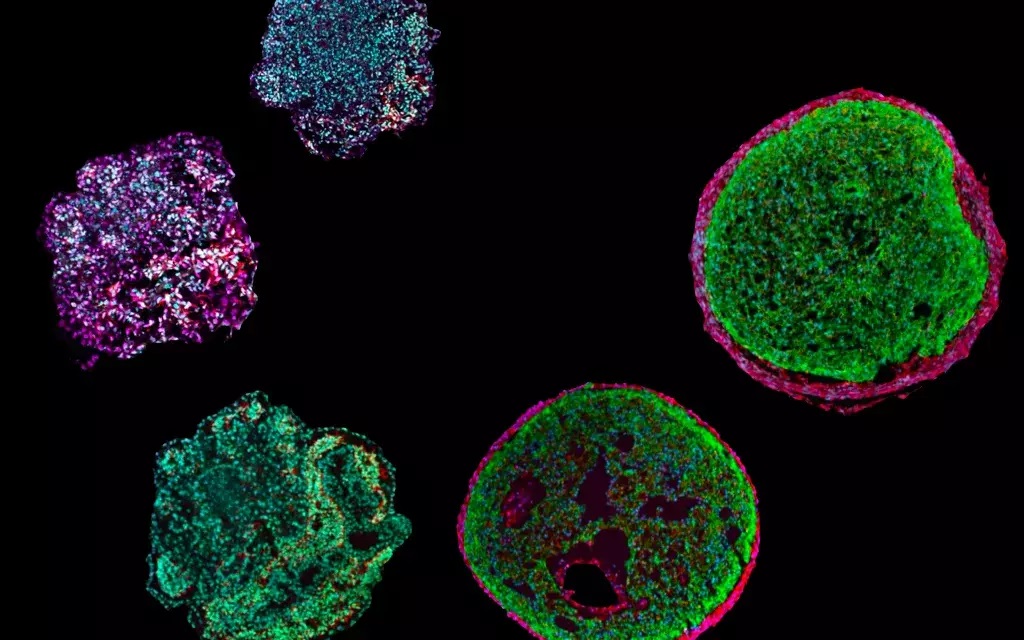 These "epicardioids" - organoids made from pluriopotent stem cells - are just 0.5 millimeters in size. Researchers can use them to mimic the development of the human heart in the laboratory and study hereditary heart diseases.

Along with the method for producing the organoids, the team has reported its first new discoveries. Through the analysis of individual cells they have determined that precursor cells of a type only recently discovered in mice are formed around the seventh day of the development of the organoid. The epicardium is formed from these cells. "We assume that these cells also exist in the human body -- if only for a few days," says Prof. Moretti.
These insights may also offer clues as to why the foetal heart can repair itself, a capability almost entirely absent in the heart of an adult human. This knowledge could help to find new treatment methods for heart attacks and other conditions.
Producing "personalised organoids"
The team also showed that the organoids can be used to investigate the illnesses of individual patients. Using pluripotent stem cells from a patient suffering from Noonan syndrome, the researchers produced organoids that emulated characteristics of the condition in a Petri dish. Over the coming months the team plans to use comparable personalized organoids to investigate other congenital heart defects.
With the possibility of emulating heart conditions in organoids, drugs could be tested directly on them in the future. "It is conceivable that such tests could reduce the need for animal experiments when developing drugs," says Alessandra Moretti.
Organoid research is a key research area at TUM
The researchers have registered an international patent for the process of creating heart organoids. The Epicardioid model is one of several organoid projects at TUM. At the Center for Organoid Systems work groups from various departments and chairs will collaborate. They will conduct interdisciplinary research into pancreas, brain and heart organoids with state-of-the-art imaging and cellular analysis to study the formation of organs, cancer and neurodegenerative diseases and achieve progress for medicine with human 3D systems.
Anna B. Meier, Dorota Zawada, Maria Teresa De Angelis, Laura D. Martens, Gianluca Santamaria, Sophie Zengerle, Monika Nowak-Imialek, Jessica Kornherr, Fangfang Zhang, Qinghai Tian, Cordula M. Wolf, Christian Kupatt, Makoto Sahara, Peter Lipp, Fabian J. Theis, Julien Gagneur, Alexander Goedel, Karl-Ludwig Laugwitz, Tatjana Dorn, Alessandra Moretti.

Epicardioid single-cell genomics uncovers principles of human epicardium biology in heart development and disease.

Nature Biotechnology, 2023; DOI: 10.1038/s41587-023-01718-7
Dorota Zawada, Jessica Kornherr, Anna B. Meier, Gianluca Santamaria, Tatjana Dorn, Monika Nowak-Imialek, Daniel Ortmann, Fangfang Zhang, Mark Lachmann, Martina Dreßen, Mariaestela Ortiz, Victoria L. Mascetti, Stephen C. Harmer, Muriel Nobles, Andrew Tinker, Maria Teresa De Angelis, Roger A. Pedersen, Phillip Grote, Karl-Ludwig Laugwitz, Alessandra Moretti, Alexander Goedel.

Retinoic acid signaling modulation guides in vitro specification of human heart field-specific progenitor pools.

Nature Communications, 2023; 14 (1) DOI: 10.1038/s41467-023-36764-x
Resistance-Fighting Antimalarial Drug Candidate Enters The Clinic
April 2023
: Walter and Eliza Hall Institute
A new antimalarial drug candidate, discovered through a longstanding collaboration between WEHI and global biopharmaceutical company MSD has entered Phase 1 clinical testing in healthy participants.
The candidate inhibits two essential enzymes required for the growth of malaria parasites and the spread of the disease through human-to-mosquito transmission.
The initiation of this first-in-human trial is a crucial step in the development of a novel agent for the fight against malaria – a disease that kills more than 600,000 people each year.
At a glance
New antimalaria drug candidate discovered by WEHI and MSD researchers has entered into a first-in-human clinical trial.
Pre-clinical studies have shown the candidate can inhibit growth of the malaria parasite and prevent transmission through the mosquito, reducing spread of the disease.
Given the increasing incidence of resistance to current antimalarial drugs, new treatment options are badly needed to alleviate the global burden of disease.
This initial first-in-human study is designed to assess safety, tolerability and pharmacokinetics. The results from this study will inform the need for clinical development of this compound.
In pre-clinical studies the dual-targeting mechanism appears to confer a high barrier to the generation of resistance, an important criterion for malaria drug candidates.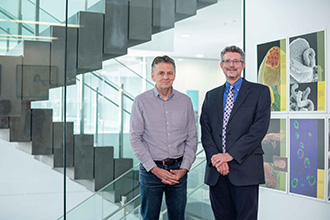 Malaria remains one of the largest killers of pregnant women and children under the age of five in most resource-poor countries. One child in Africa dies from malaria approximately every two minutes, according to the World Health Organization (WHO).
Professor Alan Cowman, an international malaria expert who recently won the CSL Florey Medal for his outstanding research contributions to the field, said that the preclinical profile observed to date makes it a promising new antimalarial drug candidate.
"In pre-clinical studies we've shown this compound inhibits two enzymes that process and activate key proteins that enable the parasites to move in and out of red blood cells," Professor Cowman, deputy director at WEHI and a Laboratory Head in the Infectious Diseases and Immune Defence Division, said.
"The pre-clinical studies indicate that inhibiting these two enzymes – Plasmepsin IX (PMIX) and Plasmepsin X (PMX) – effectively disables the parasite from carrying out its key function of replicating and multiplying in the bloodstream.
"The successful initiation of these first-in-human trials is an important milestone towards developing urgently-needed new treatments that could alleviate this major global health burden."
Targeting drug resistance
As new malaria parasites increasingly becoming resistant to available drugs, the development of vaccines and novel antimalarial compounds to block transmission is vital in the fight against this killer disease.
MSD scientist and US team lead Dr David Olsen said: "Efforts to develop drugs for malaria typically focus on disrupting a novel parasitic process or pathway to avoid pre-existing drug resistance and, ideally, are active at multiple stages of the lifecycle.
"By inhibiting two essential parasitic enzymes, this molecule met both criteria with the potential to provide a high barrier for the development of drug resistance."
The compound is the result of an eight-year collaboration between WEHI and MSD, dedicated to discovering new widely applicable malaria drug candidates.
In 2022, the research collaboration published findings from preclinical experiments that revealed how a new class of antimalaria compounds worked to stop parasites from spreading in the blood.  
The team plans to present the results from this initial clinical trial at a future scientific meeting and further clinical trials are being planned.
The research underpinning this work was supported by the Wellcome Trust (grant: 202749/Z/16/C), the Victorian Government and the National Health and Medical Research Council (NHMRC).
Photo: Professor Alan Cowman (L) and Dr David Olsen (R)
Iron Link Offers New Treatment Hope For Incurable Blood Cancer
April 2023: Walter and Eliza Hall Institute
A landmark discovery linking iron regulation to a rare blood cancer has led to clinical trials of a potential new treatment for patients with the incurable disease.
The study focused on polycythemia vera (PV), a blood disorder causing excessive red blood cells, and found that restricting iron access to the bone marrow could reduce the production of red blood cells in this disease.
The research, led by WEHI in collaboration with the University of Melbourne, the Peter MacCallum Cancer Centre (Australia) and the University of Cambridge and Silence Therapeutics (UK), has led to new clinical trials of a drug that has the potential to control iron regulation in patients with PV.
At a glance
Researchers discover new way to potentially treat polycythemia vera (PV), a rare form of blood cancer characterised by too many red blood cells.
Study found raising hepcidin, a hormone that regulates how your body uses iron, reduces the production of red blood cells and complications from the disease in pre-clinical models.
Recruitment for clinical trials based on this landmark research has begun, investigating the effect of a drug that has the potential to control iron regulation in patients with PV.
An estimated 250 Australians are diagnosed with polycythemia vera (PV) each year. PV is a chronic disease and there currently is no cure.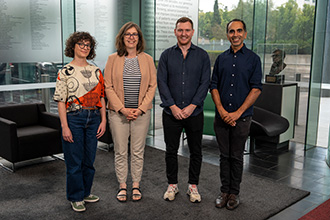 Without treatment, PV can be life-threatening as an overproduction of red blood cells causes thicker blood, elevating a patient's risk of developing blood clots and cardiovascular conditions like heart attacks and stroke.
The cancer is currently treated with venesection, where about 500mL of blood is taken from a patient multiple times a month, to rapidly reduce their red cell count and blood thickness.
The new study, published in Blood, provides a promising new treatment avenue that could see the often painful and disruptive blood draws replaced with a simple injection every few months.
First author, Dr Cavan Bennett, said discovering that restricting iron access to the bone marrow could reduce the disease severity of PV was a gamechanger.
"Through our pre-clinical studies, we found the hormone hepcidin, which is the master regulator of iron availability, is critical for controlling red blood cell production in models of this disease," Dr Bennett said.
"The more hepcidin you have in the body, the more you restrict iron access to the bone marrow.
"This iron restriction is critical to preventing an excess of blood cell production and this is what is crucial to alleviate the severity of the disease in PV patients."
Patients with PV often develop iron deficiency when treated with venesection, but they are also advised against taking iron supplements as this would further accelerate the production of red blood cells in their body.
Dr Bennett said targeting hepcidin could also help combat the iron deficiency symptoms faced by PV patients.
"This approach restricts iron access only to the bone marrow, without depleting iron from other organs, such as the liver," he said.
The research is being translated into Phase 1/2 clinical trials taking place across Australia, Malaysia and the United States.
The trials will use SLN124, a new drug developed by London-based Silence Therapeutics, in hopes of controlling hepcidin expression in PV patients for the first time.
Senior author and Head of WEHI's Population Health and Immunity Division, Professor Sant-Rayn Pasricha, said the trials involved PV patients receiving an injection every few weeks, in hopes of replacing their need for regular venesections.
"A treatment option like this would simplify long-term therapy for this disease for patients and the health care system," Professor Pasricha said.
SLN124 is a gene silencing therapy that works by inhibiting a gene responsible for hepcidin regulation in the liver. The clinical trials will investigate the effect of temporarily 'silencing' this geneto increase production of hepcidin by the liver, which is expected to reduce disease severity.
"We recognised the opportunity to adapt an emerging clinical therapeutic initially designed for other hematological diseases such as b-thalassemia and apply it to polycythemia vera.
"To go from a concept to a clinical trial in less than four years is quite astounding.
"Our work has laid the essential foundation needed to hopefully transform patient care options for people with PV and provides unique insight that could lead to better understanding the disease."
Recruitment for the clinical trials has begun.
The study also uncovered a genetic link between a disorder that causes excess iron accumulation (hemochromatosis) and PV, made possible through WEHI's analysis of extensive population genetics databases including the UK Biobank.
The research team was able to leverage this data to conduct a genome-wide association study that analysed data from 440 PV patients to further examine the role of iron in the blood cancer.
Professor Melanie Bahlo, laboratory head in WEHI's Population Health and Immunity Division, said having access to the UK Biobank was key to these discoveries.
Analysis of a second dataset, the Finnish FinnGen Biobank, confirmed the findings -- highlighting the power of these databases to help formulate and test novel biological hypotheses.
"We were the first research team to use the UK Biobank to solely focus on PV samples, which led us to this powerful and novel insight about iron status and PV," she said.
"This saw us further discovering that the genetic mutations which cause hemochromatosis are one of the strongest risk-factors for diagnosis of PV -- an insight that will help the research field better understand this rare disease."
Dr Victoria Jackson, a postdoc in Professor Bahlo's lab, performed the genetic analysis using a method called genome-wide association study.
The research conducted at WEHI was funded by the National Health and Medical Research Council (NHMRC).
Cavan Bennett, Victoria E Jackson, Anne Pettikiriarachchi, Thomas Hayman, Ute Schaeper, Gemma L Moir-Meyer, Katherine Louise Fielding, Ricardo Ataide, Danielle Clucas, Andrew James Baldi, Alexandra L Garnham, Connie SN Li-Wai-Suen, Stephen John Loughran, E Joanna Baxter, Anthony R Green, Warren S Alexander, Melanie Bahlo, Kate Burbury, Ashley P Ng, Sant-Rayn Pasricha.
Iron homeostasis governs erythroid phenotype in Polycythemia Vera
. Blood, 2023; DOI:
10.1182/blood.2022016779
Photo in text: WEHI researchers (L-R): Dr Victoria Jackson, Professor Melanie Bahlo, Dr Cavan Bennett and Professor Sant-Rayn Pasricha.
Disclaimer: These articles are not intended to provide medical advice, diagnosis or treatment. Views expressed here do not necessarily reflect those of Pittwater Online News or its staff.