inbox and environment News: Issue 578
April 2 - 15 2023: Issue 578
Youth Week 2023
NSW Youth Week 2023 will take place from 20 to 30 April. There will be a range of activities, opportunities and events for young people to enjoy throughout the State.
This year's theme, as set by the NSW Youth Advisory Council, is Connect. Participate. Celebrate.
Council's activities, which include a whole one event for the area of Narrabeen and north of there, a trivia session at Mona Vale library, are listed at:
TEXStyle 2023
Congratulations to local student Alex E. (Class of 2022) for being awarded the Excellence Award at the 2023 TEXStyle Exhibition for demonstrating exceptional creativity and quality in her Major Work. This award is a significant achievement and a testament to Alex's hard work, dedication, and talent.
Showcasing major projects from HSC Textile and Design students, TEXStyle celebrates outstanding young talent. The exhibition features innovative works from across NSW including garments, wall hangings and 3D textile pieces, which truly push the boundaries of creativity. The exhibition is supported by a comprehensive events program for teachers and students. TEXStyle is organised by the Technology Educators Association, a not-for-profit body run by full-time educators who volunteer their time to provide engagement with exemplary work and drive educational improvement.
About TEANSW and the TEXStyle exhibitions
Technology Educators Association (
TEANSW
) is a not-for-profit association run by full-time educators who volunteer their time to support Technology teachers and students.
For over 15 years, supported by partnerships and sponsors, TEA has delivered the TEXStyle Exhibition in a variety of iterations, all designed to showcase excellence and promote textiles and fashion in both the education sector and wider communities. It provides opportunities for students and teachers to engage with exemplary work samples and deepen teaching practice to drive improved student outcomes.
Since 2018, the exhibition and seminars have been held at The Muse in Ultimo TAFE in a collaboration with the staff from Fashion Design Studio at TAFENSW. This year, TEANSW has collaborated with the Embroiderers' Guild NSW to deliver a physical exhibition at Gallery 76 based in Concord West.
This Exhibition is not only a partnership with educators and sponsors, it is a collaboration with the student exhibitors. Student voice has driven the content; providing descriptions, highlighting key manufacturing and surface decoration techniques that are of significance for them. All annotations have been written by the student, providing deeper insight into their project development process, trials and celebrations. We have used a combination of professional photographs and ones provided by the students at the nomination stage. As a legacy, this exhibition provides a page that each student exhibitor can refer to when preparing portfolios and applications for future studies and/or employment.
The major project is a highly valued component of Technology subjects, allowing students the opportunity to develop and demonstrate their depth of understanding and skills in the application of knowledge. For the HSC Course, Textiles and Design students undertake a Major Textiles Project worth 50% of the HSC Mark. The 40 projects showcased in the Virtual TEXStyle Exhibition were selected from Major Textile Projects submitted for the practical Textiles and Design examination.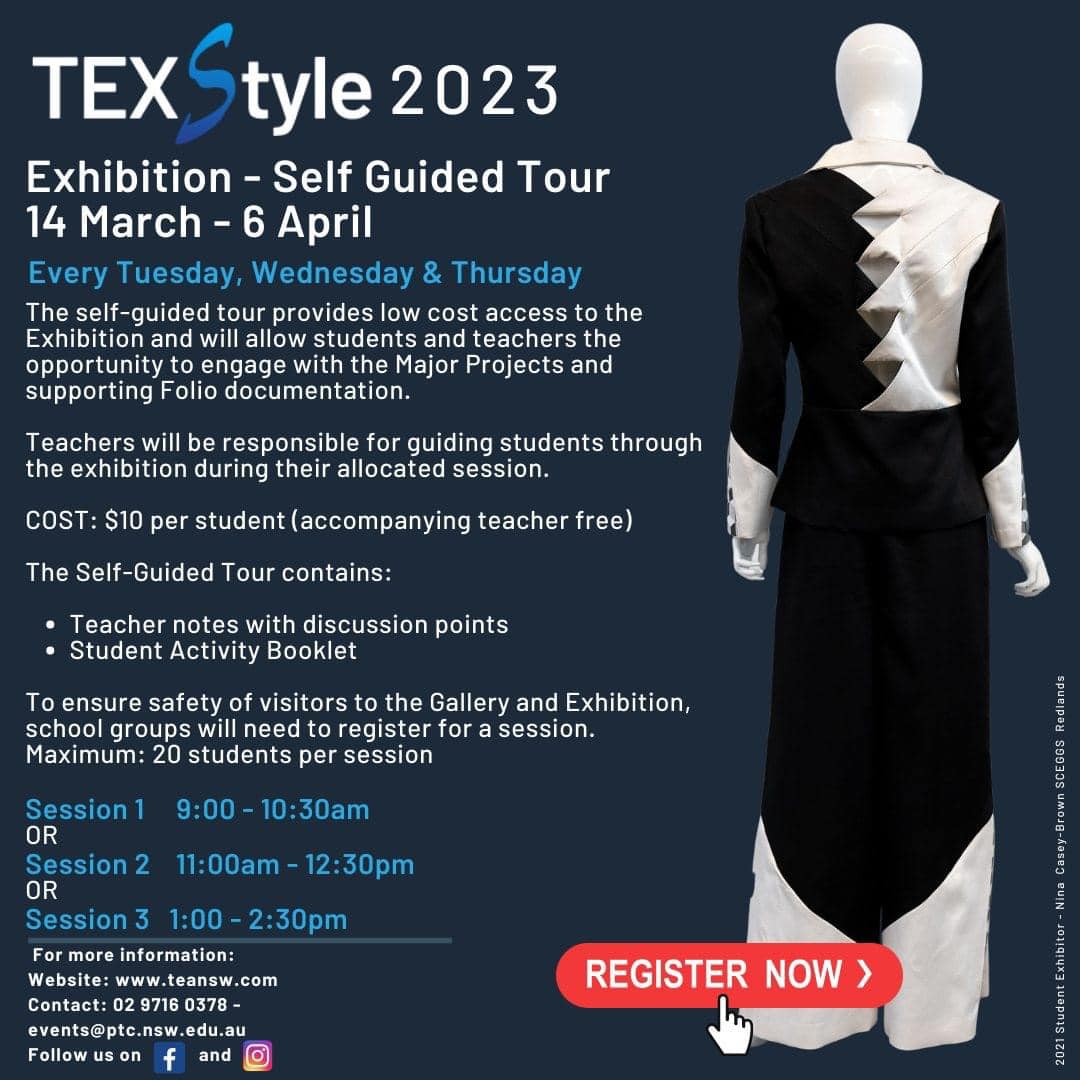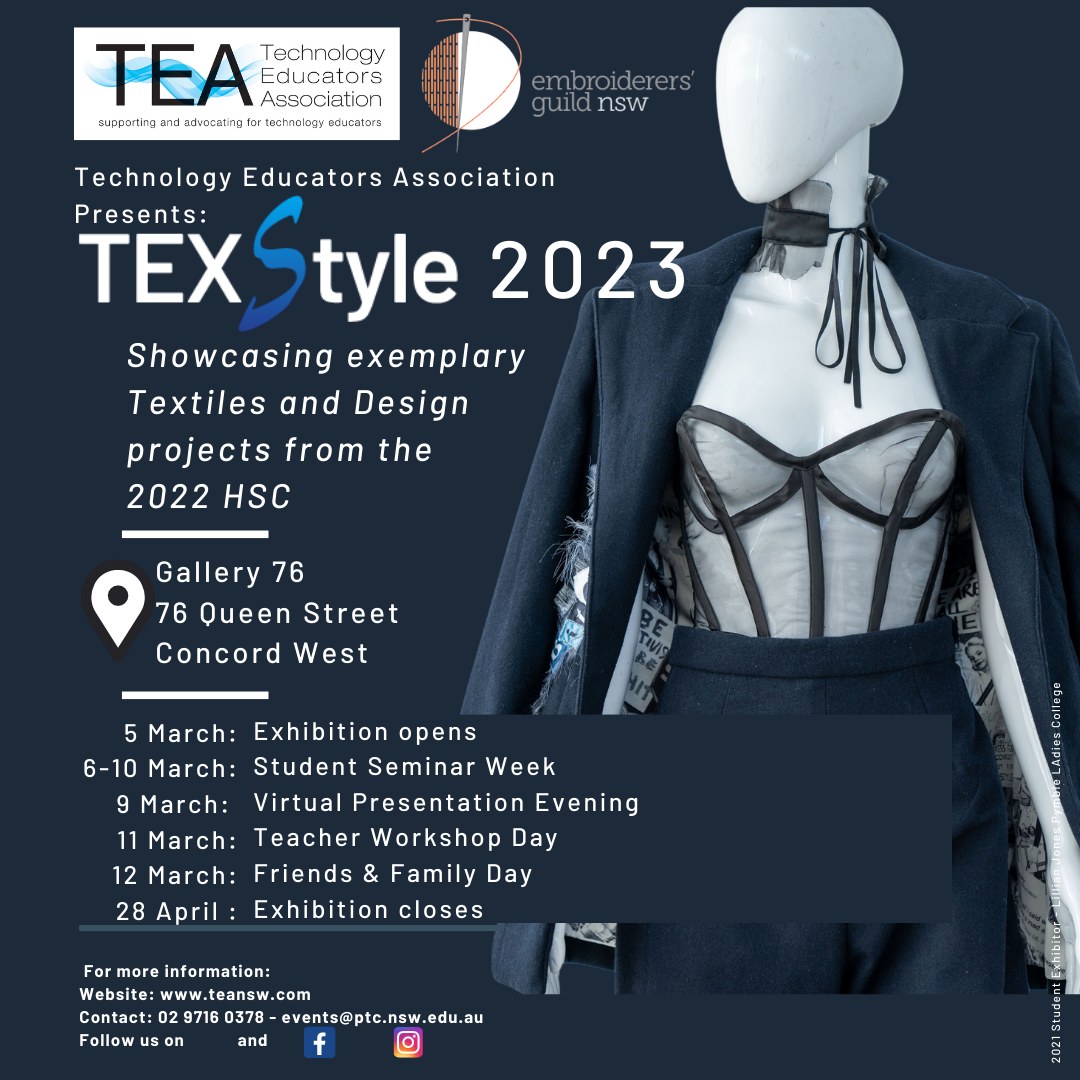 The selected focus area allows students to explore in detail one area of interest through a creative textile design process that integrates the areas of Design, Properties and Performance of Textiles and the Australian Textile, Clothing, Footwear and Allied Industries.
Something that can be worn, is functional and can be easily cared for. Examples include: Daywear, evening wear, children's clothing, lingerie, sleepwear, protective wear, sportswear, bags, hats and shoes.
Related to a particular culture, historical period or occasion. Examples can include: National costume, theatre/film costume, fancy dress party, dance costume, Mardi Gras costume and themed ball.
Textile items for interiors. These can include: cushions, lampshades, quilts, tablecloths, curtains and chairs.
Textile items that are functional. Examples can include bags, wall hangings, umbrellas, tents, sleeping bags, surfboard covers.
A textile item that is highly decorative and can be from any of the focus areas. Wearable and Non-wearable, apparel, costume, furnishing or a non-apparel item.


The 2023 TEA Textile Art Piece (TAP) Challenge
The 2023 TEA Textile Art Piece (TAP) Challenge sponsored by S&S will again offer two design briefs. This will allow teachers of textiles the opportunity to incorporate this highly successful design project into both Stage 5 and Stage 4 programs and into extra-curricular activities which may be offered, such as 'Sewing Club'.
The theme for 2023 is……COUNTRY – identity, purpose, belonging
– may be a hanging art quilt, decorative mat, a sculpture, an ornament, a cushion cover, etc.
– should be no larger than a volume equivalent to 40cm x 40cm x 5cm
– include a minimum of 75% textile materials
– incorporate at least 3 decorative techniques and demonstrate creativity in design and construction
– able to be easily displayed on a wall or table
– respect Indigenous and cultural protocols
– each school may enter a maximum of two (2) entries for each of Stage 4 and Stage 5
Learning across the curriculum
Learning across the curriculum content assists students to achieve the broad learning outcomes defined in the NESA K-10 Curriculum Framework and Statement of Equity Principles, and in the Melbourne Declaration on Educational Goals for Young Australians.
Cross-curriculum priorities enable students to develop understanding about and address the contemporary issues they face. A cross-curriculum priority identified by NESA is Aboriginal and Torres Strait Islander histories and cultures
Theme-specific opportunities
The NSW Aboriginal Education Consultative Group (AECG) https://aecgservices.com.au/
The NSW AECG began in 1977 as a committee of Aboriginal people invited by the Department of Education to advise it on Aboriginal Education.
The AECG, through its local and regional network promotes respect, empowerment and self-determination and believes the process of collaborative consultation is integral to equal partnerships and is fundamental to the achievement of equality.
The AECG offers Professional Learning such as 'Connecting to Country', an Aboriginal community cultural awareness teaching programme. This programme connects the NSW teaching fraternity with Aboriginal peoples and communities. Teachers are offered a unique opportunity to engage directly with Aboriginal Australians at the local community level.
TAP Challenge 2023 – Guidelines & Criteria
Full Guidelines and Criteria can be found via the link below
Only online entry forms will be accepted for the TAP competition. Please follow the link below, or find the link on the TEA website and social media (Facebook and Instagram pages).
TAP2023 entries should be posted to arrive by Friday 22nd September 2023 (term 3, week 10) at the following address –
2023 Textile Art Piece Challenge
c/o TEANSW
PO Box 699
Lidcombe NSW 1825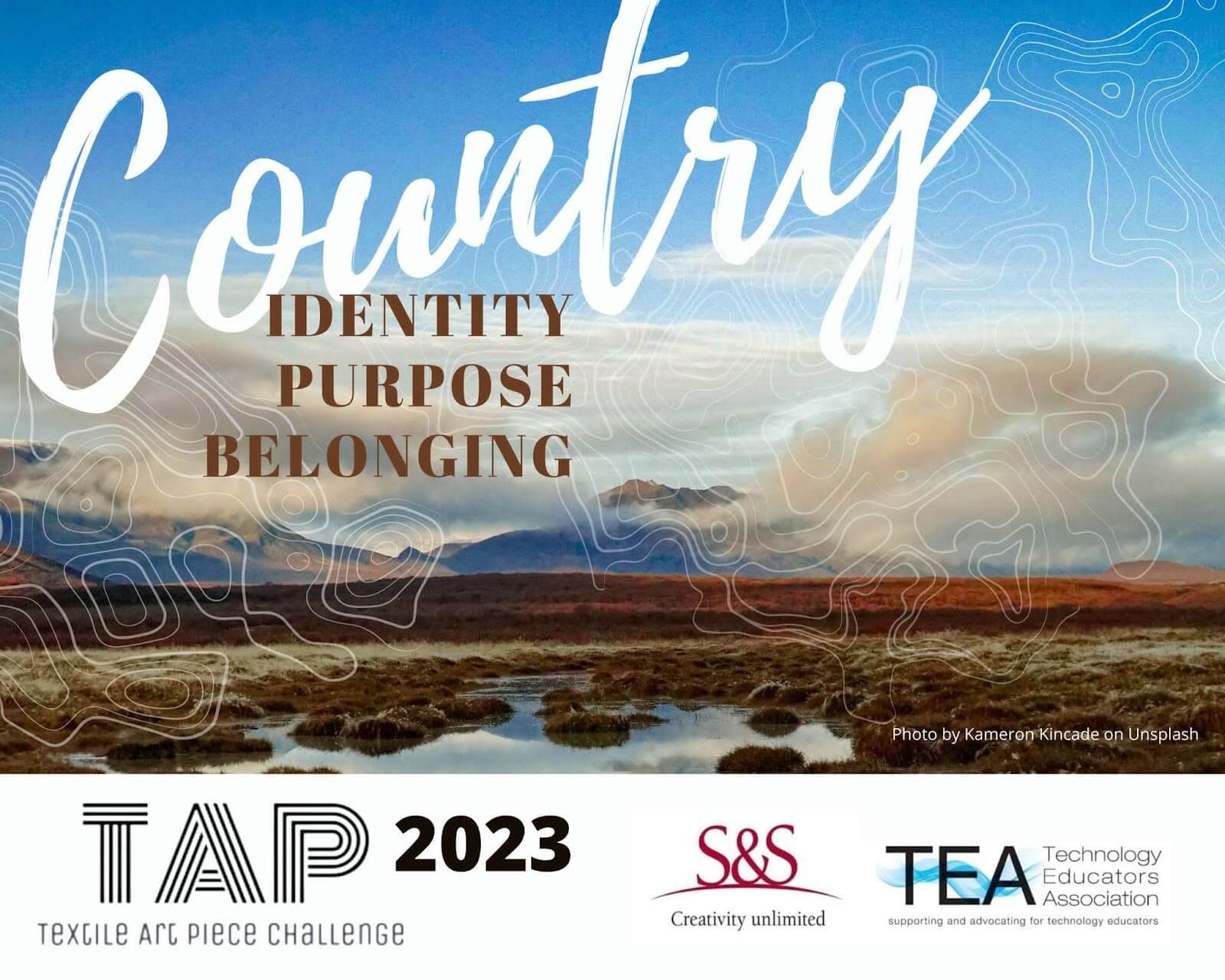 School Holidays Movie: Genius
Rated PG for some thematic elements and suggestive content.
Genius is a 2016 biographical drama film directed by Michael Grandage and written by John Logan, based on the 1978 National Book Award-winner Max Perkins: Editor of Genius by A. Scott Berg. The film stars Colin Firth, Jude Law, Nicole Kidman, Laura Linney, Dominic West, and Guy Pearce.
Plot
In 1929, in New York City, Maxwell Perkins is a successful editor at Scribner's and discoverer of great authors such as F. Scott Fitzgerald and Ernest Hemingway. He lives in a cottage just outside the city with his wife and five daughters.
One day, in his office, he reads the drafts of O Lost, a novel by Thomas Wolfe. Struck by the content, Perkins decides to publish it and begins to collaborate with the author. It is eventually published as Look Homeward, Angel and proves to be a commercial success: 15 thousand copies sold in a month.
Perkins and Wolfe become best friends, while Wolfe's relationship with Aline Bernstein, a married woman twenty years his senior, is severely tested after the novel's publication. Max manages to publish Wolfe's successful second novel, Of Time and the River, after several years of exhausting revision.
Wolfe is in Paris where he follows the events remotely, thanks to news received from Perkins. On his return to New York, he immediately goes to work, writing his new book. His turbulent character leads him to quarrel with Perkins, destroying the relationship between them, resulting in Wolfe turning to another editor.
Aline finally leaves Wolfe, because she feels he needs to experience how to be truly alone. After Perkins has reconciled himself with Wolfe's absence, a phone call comes from Wolfe's mother: he has contracted miliary tuberculosis. Despite surgery, Wolfe shows no signs of improving. After a few weeks he dies but before dying he writes a letter to Max, expressing his immense affection for him.
Scouts Are Out & About
Over the past few months, all age groups in Scouting across Sydney North Region have been doing everything from canoe trips, hikes, and abseiling, to craft and community cleanups.
There's no better time to get into Scouting, with sections for ages 5-25, plus lots of satisfying leadership opportunities for adults.
Young people can have a four-week trial period, and Active Kids vouchers can be used towards membership fees.
Scouts are everywhere! Connect with your local Scout Group via sydneynorthscouts.com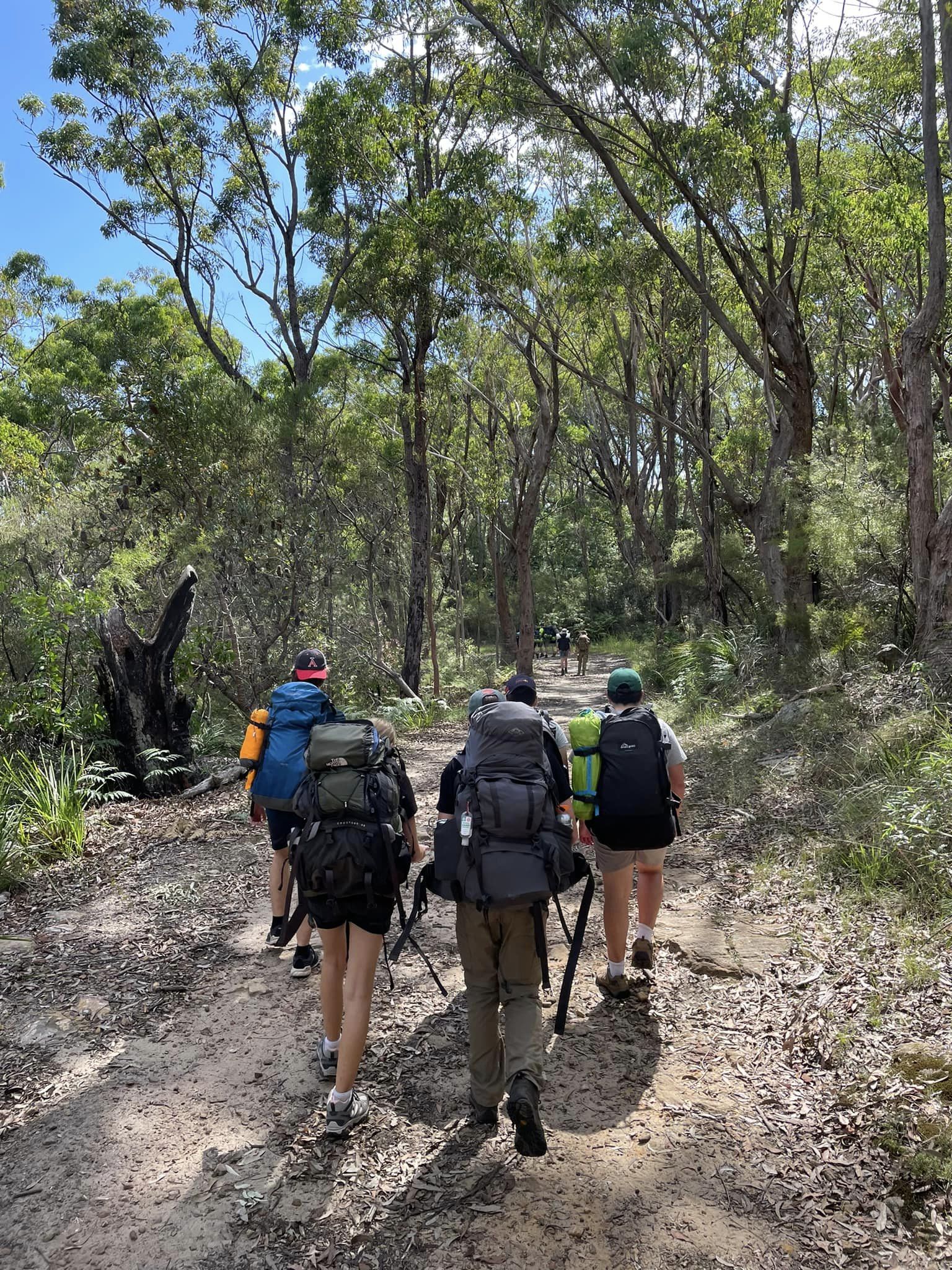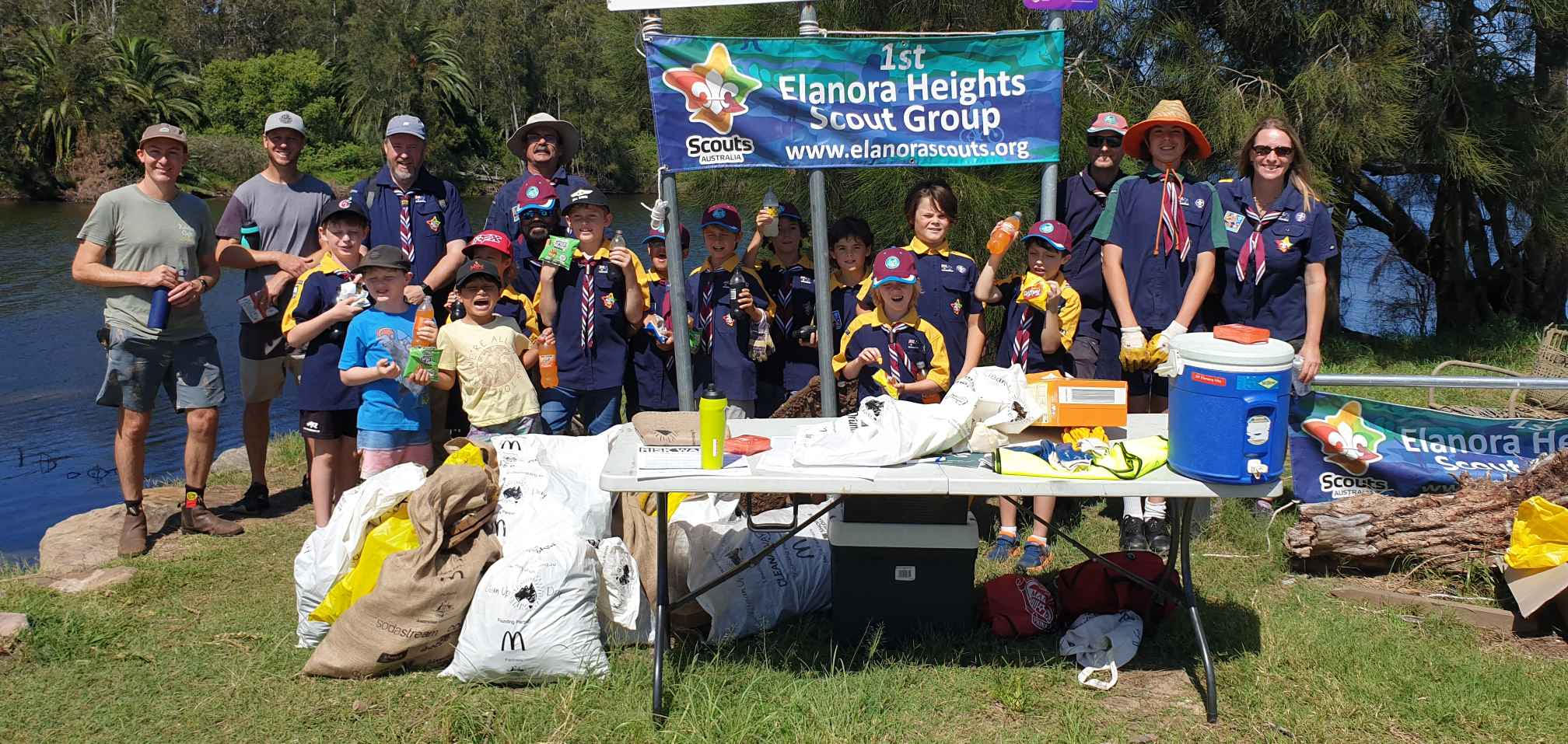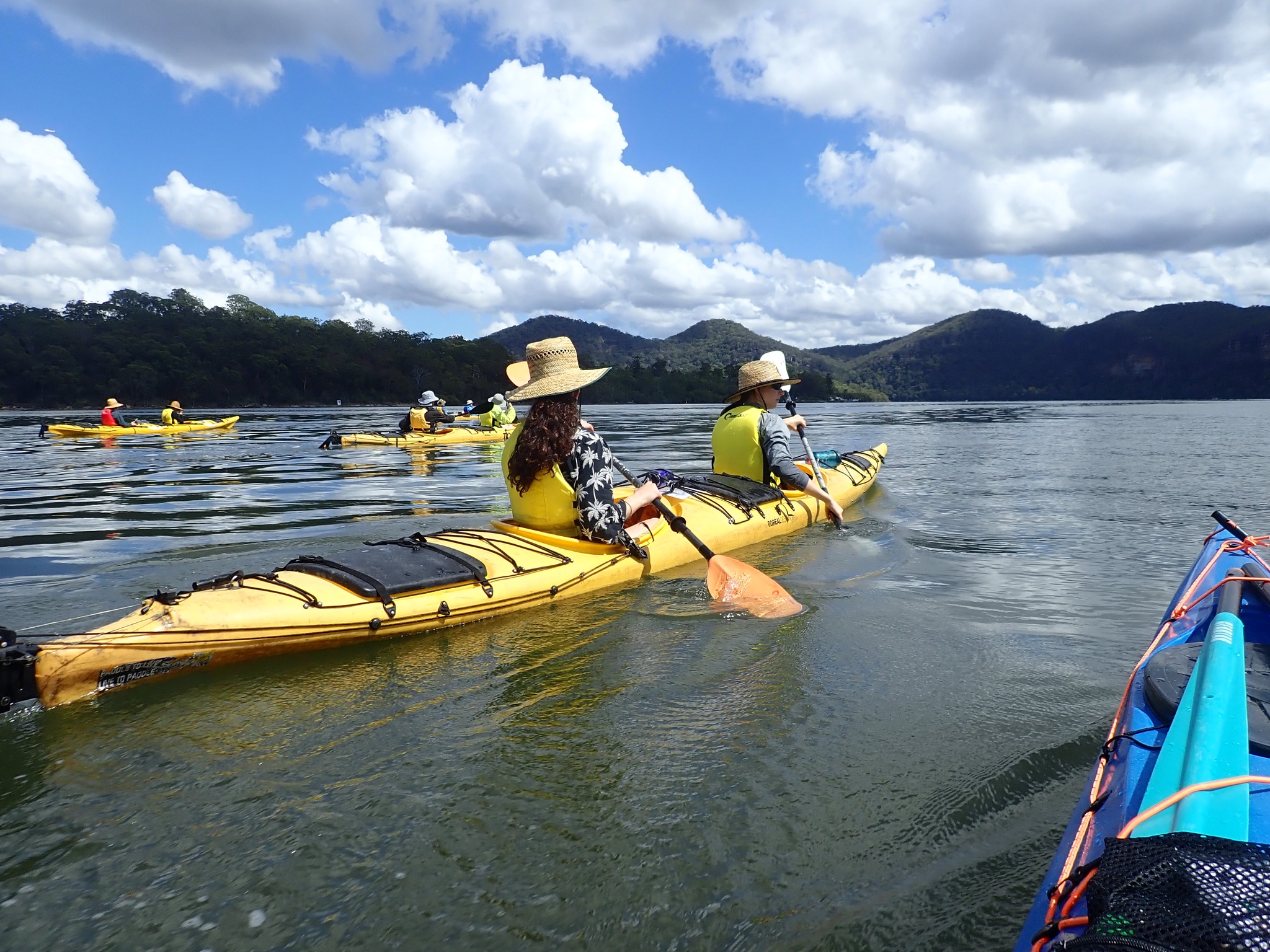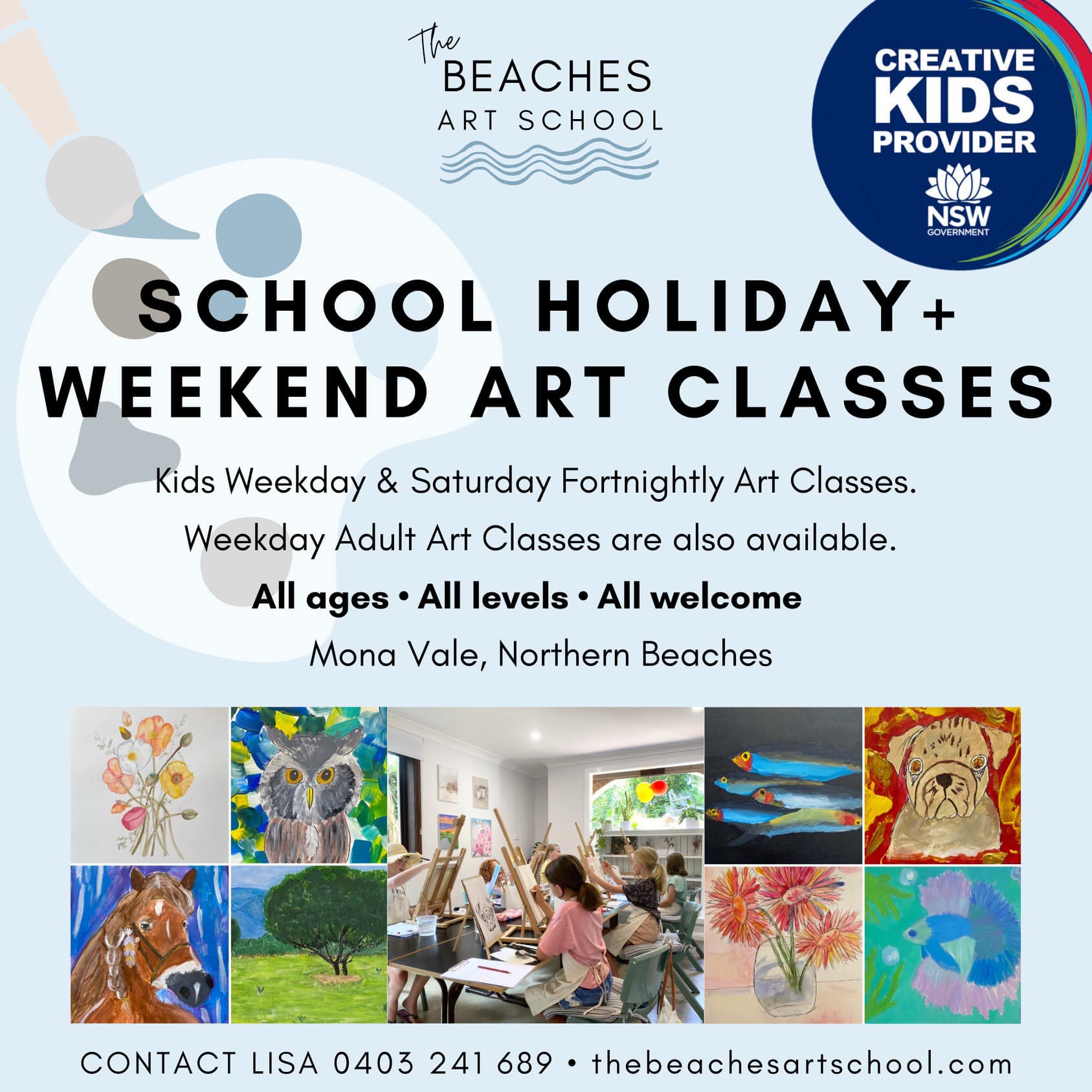 Narrabeen Lakes Sailing Club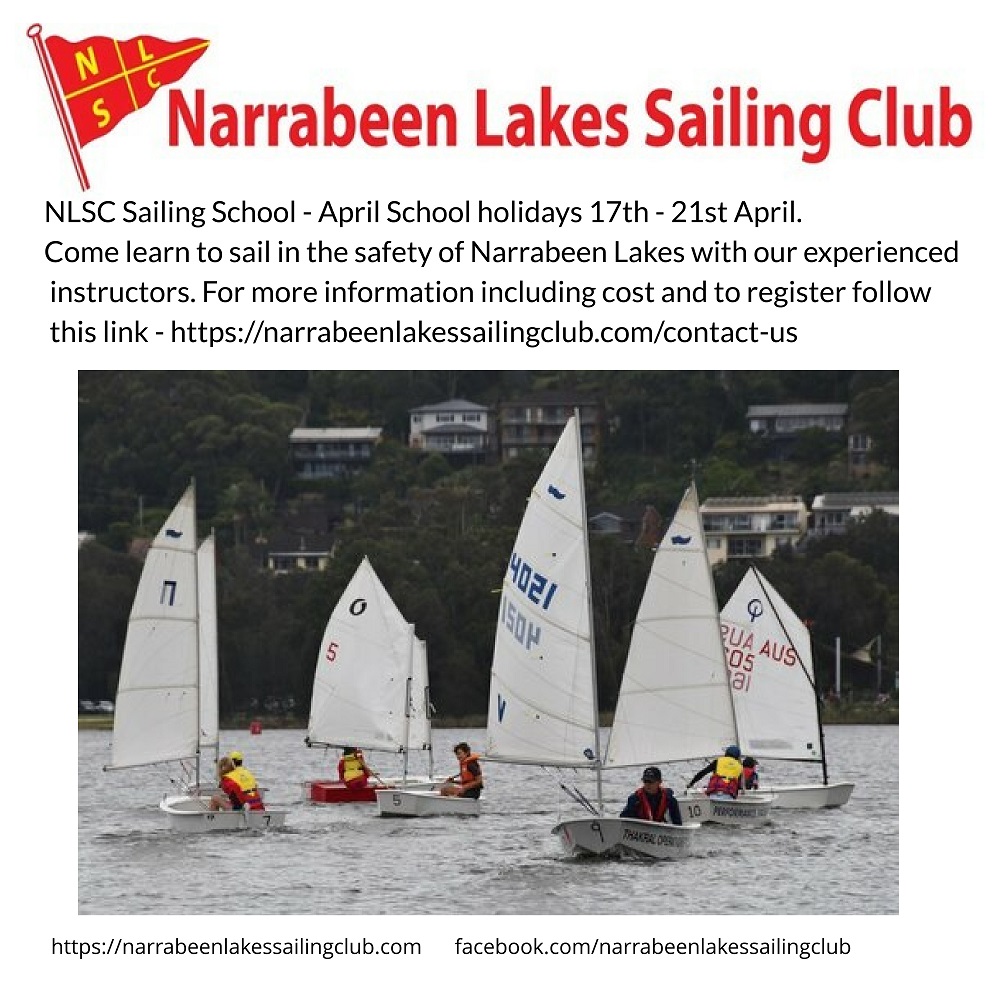 Northern Composure Band Competition 2023
Due to the pandemic, Council have had the 20th anniversary on hold but pleased to say that the competition is open and running again.
Northern Composure is the largest and longest-running youth band competition in the area and offers musicians local exposure as well as invaluable stage experience. Bands compete in heats, semi finals and the grand final for a total prize pool of over $15,000.
Over the past 20 years we have had many success stories and now is your chance to join bands such as:
Ocean Alley
Lime Cordiale
Dear Seattle
What So Not
The Rions
Winston Surfshirt
Crocodylus
And even a Triple J announcer plus a wide range of industry professionals
About the Competition
In 2023, the comp looks a little different.
All bands are invited to enter our heats which will be exclusively run online and voted on by your peers and community by registering below and uploading a video of one song of your choice. (if you are doing a cover, please make sure to credit the original band) We are counting on you to spread the word and get your friends, family, teachers voting for you!
The top 8-12 bands will move on through to our live semi finals with a winner from each moving on to the grand final held during National Youth Week. Not only that but we have raised the age range from 19 to 21 for all those musicians who may have missed out over the past two years.
Key dates
Voting open for heats: Mon 13 Feb – Sun 26 Feb
Band Briefing: Mon 6 March, Dee Why PCYC
Semi 1: Sat 18 March Mona Vale Memorial Hall
Semi 2: Sat 25 March, YOYOs, Frenchs Forest
Grand Final: Fri 28 April, Dee Why PCYC
For more information contact Youth Development at youth@northernbeaches.nsw.gov.au or call 8495 5104
Stay in the loop and follow Northern Composure Unplugged on KALOF Facebook.
School Leavers Support
Explore the School Leavers Information Kit (SLIK) as your guide to education, training and work options in 2022;
As you prepare to finish your final year of school, the next phase of your journey will be full of interesting and exciting opportunities. You will discover new passions and develop new skills and knowledge.
We know that this transition can sometimes be challenging and the COVID-19 pandemic has presented some uncertainty. With changes to the education and workforce landscape, you might be wondering if your planned decisions are still a good option or what new alternatives are available and how to pursue them.
There are lots of options for education, training and work in 2022 to help you further your career. This information kit has been designed to help you understand what those options might be and assist you to choose the right one for you. Including:
Download or explore the SLIK here to help guide Your Career.
School Leavers Information Kit (PDF 5.2MB).
School Leavers Information Kit (DOCX 0.9MB).
The SLIK has also been translated into additional languages.
Download our information booklets if you are rural, regional and remote, Aboriginal or Torres Strait Islander, or living with disability.
Support for Regional, Rural and Remote School Leavers (PDF 2MB).
Support for Regional, Rural and Remote School Leavers (DOCX 0.9MB).
Support for Aboriginal and/or Torres Strait Islander School Leavers (PDF 2MB).
Support for Aboriginal and/or Torres Strait Islander School Leavers (DOCX 1.1MB).
Support for School Leavers with Disability (PDF 2MB).
Support for School Leavers with Disability (DOCX 0.9MB).
Download the Parents and Guardian's Guide for School Leavers, which summarises the resources and information available to help you explore all the education, training, and work options available to your young person.
School Leavers Information Service
Are you aged between 15 and 24 and looking for career guidance?
Call 1800 CAREER (1800 227 337).
SMS 'SLIS2022' to 0429 009 435.
Our information officers will help you:
navigate the School Leavers Information Kit (SLIK),
access and use the Your Career website and tools; and
find relevant support services if needed.
You may also be referred to a qualified career practitioner for a 45-minute personalised career guidance session. Our career practitioners will provide information, advice and assistance relating to a wide range of matters, such as career planning and management, training and studying, and looking for work.
You can call to book your session on 1800 CAREER (1800 227 337) Monday to Friday, from 9am to 7pm (AEST). Sessions with a career practitioner can be booked from Monday to Friday, 9am to 7pm.
This is a free service, however minimal call/text costs may apply.
Call 1800 CAREER (1800 227 337) or SMS SLIS2022 to 0429 009 435 to start a conversation about how the tools in Your Career can help you or to book a free session with a career practitioner.
Word Of The Week: Autumn
Word of the Week returns in 2023 simply to throw some disruption in amongst the 'yeah-nah' mix.
noun
The word autumn is derived from Latin autumnus, archaic auctumnus, possibly from the ancient Etruscan root autu- and has within it connotations of the passing of the year. Alternative etymologies include Proto-Indo-European h₃ewǵ- ("cold") or h₂sows- ("dry").
After the Greek era, the word continued to be used as the Old French word autompne (automne in modern French) or autumpne in Middle English, and was later normalised to the original Latin. In the Medieval period, there are rare examples of its use as early as the 12th century, but by the 16th century, it was in common use.
Before the 16th century, harvest was the term usually used to refer to the season, as it is common in other West Germanic languages to this day (cf. Dutch herfst, German Herbst, and Scots hairst). However, as more people gradually moved from working the land to living in towns, the word harvest lost its reference to the time of year and came to refer only to the actual activity of reaping, and Autumn began to replace it as a reference to the season.
The Australian Bureau of Metrology has shared some insights into the indigenous terms in our land for this season. Autumn is 'Warnka-mageny' (cold weather time) in the Miriwoong calendar, 'Bjeran', (cool begins) in the Nyoongar calendar and 'Marrai'gang', (wet becoming cooler) in the D'harawal calendar.
To the people of D'harawal Country during Marrai'gang, when the cries of the Marrai'gang (quoll) seeking his mate can be heard, is the time when the lilly-pilly fruit begins to ripen on trees. However, when the lilly-pillys start to fall, it is time to mend the old warm cloaks from the last cold season, or make new ones, and begin the yearly trek to the coastal areas. Marrai'gang commences in April and runs through June.

The D'harawal Country and language area extends from the southern shores of Port Jackson (Sydney Harbour) to the northern shores of the Shoalhaven River.
a Pittwater lilli pilli, also spelt Lillypilly
This fruit features widely in traditional Aboriginal medicine, used as a treatment for sore ears, wounds and skin conditions, and generally consumed as an immune system booster as it is very high in Vitamin C. It is very bitter to eat just from the tree - try making some jam or use it in an apple crumble if you'd like to try it. Do not pick fruit from beside a road though as this will be covered in fumes.

SATURDAY AFTERNOON TRIP. Dee Why and Narrabeen.
The picnicking germ is abroad, for in these autumn days,
though the enervating atmosphere of summer is gone, the air Is but chilly enough to be exhilarating, and round Sydney, despite what our English visitors say, there are roads and- views charming enough to please even the most Insular taste.
T
ake the Pittwater-road, for instance. It is Saturday afternoon, and the Spit ferry Is crowded with a well-governessed girls' school, a motor cyclist, and one or two motor cars. As the ferry puffs across you catch glimpses that almost persuade you to abandon the proposed afternoon at Pitt-water for a rowboat and blistered hands up .the green echoing reaches of Middle Harbor. But wherever you look there are temptations. On the Manly side a ruined stone house clamors for exploration (they say it Is haunted), and down the harbor a motor launch fusses along, leaving distressed opal waters in Its foamy wake. At last you are on the Manly-road, with purple distances to the left, while the right-hand side continually surpasses Itself with peeping blue bays, finally achieving an epitome with a view of the Heads, the sea, and a miniature pine-clad Manly.
And now for the Pittwater-road that opens out before you. Even on the outskirts of Manly, the city and suburbs become as un
real as a memory grown old, for on either side of the road are grassy paddocks enclosed by two-railed fences, and further out glossy green hedges gay with scarlet autumn berries. There is nothing here to intimate that you are within easy distance of a city. A motor car comes honking along, and a small boy wheeling a billy-cart becomes so agitated that he tips his baby brother on to the grass at the side of the road. A policeman goes by riding a bicycle,' and falls to understand the Interest his. mode of loco motion arouses in the motoring tourist. Far away where the road rises red between an avenue of blue gums one sees a high wheeled sulky drawn by a contented moke that would not know a cab if he saw one. His master, a bearded man in a dilapidated felt hat, occasionally touches him with the whip, apparently with that courteous motive of saying Dobbin the trouble of flicking his tail to remove the flies.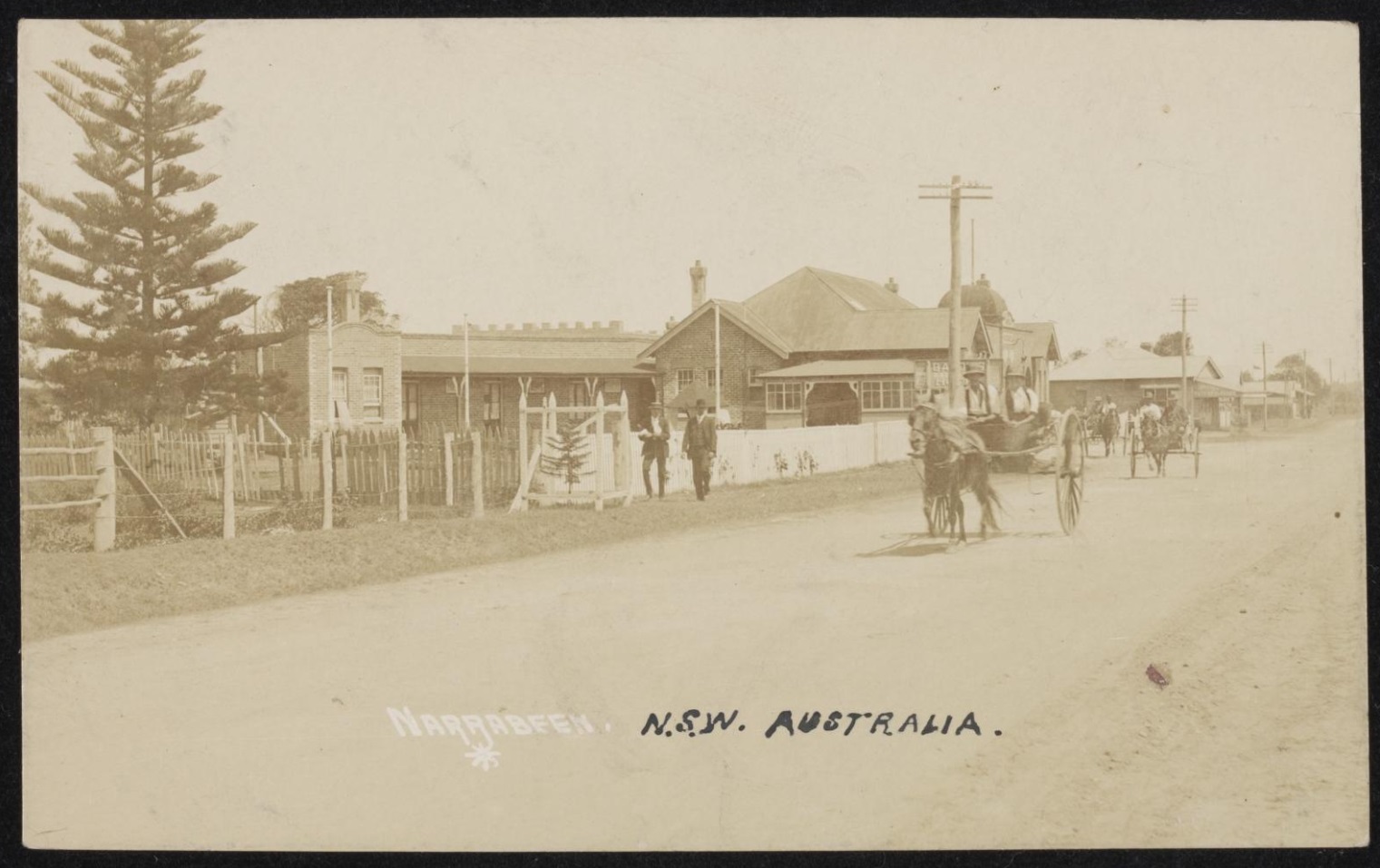 Narrabeen Road circa 1913 -
Josef Lebovic Gallery collection no. 1 . courtesy National Museum of Australia
And soon Dee Why comes into view, lying low along the beach— a reedy lagoon dotted with black swans. It is pretty enough now, but on the homeward journey you may be fortunate enough to see it with the sand left wet by the outgoing tide, and reflecting the afterglow of the sunset. The ocean is at its bluest on autumn days, and the sails of a yacht not far out become dazzlingly white in contrast. On the horizon several plumes of smoke indicate the track of ocean liners. Colors are vivid and outlines sharp, so that even your English cousin is constrained to pronounce the view "ripping."
But you cannot wait long here, for the afternoons close in quickly now, and
19 miles is a long way from home.
So on again through Narrabeen, where a mongrel runs out barking from a high piled weatherboard cottage, and the children stop making sand-pies for a minute to watch you pass. Skirting the lagoon, you get a cameo view of the narrow isthmus of sand between the sea and the brackish water of the lagoon, and beyond that the surf breaks in gleaming spray at the foot of a rocky promontory. To the left as the road continues there is French's Forest, thick and green and glossy, but you must keep straight on, since you have decided this afternoon for Pittwater.
Gum trees and grassy paddocks, with an occasional reed-choked swamp, and now and again a tiny redwood cottage, unpainted, and perched upon a hill slope, and by the way a wattle tree that has mistaken autumn for September, and burst into bloom in company with a stray boronia and a red bottle, brush — so the road goes winding on quite unaffectedly, with a surprise at every turn, until you come to your journey's end, a little way out of Pittwater. And now, not very far from Barrenjoey, where on a green patch, with sand hills and the sea on one side, and thickly foliaged hills on the other, you encourage a smoky little fire with pungent smelling woods until the billy boils and your eyes weep unrestrainedly. PITTWATER-ROAD. (
1914, May 24
).
The Sun
(Sydney, NSW : 1910 - 1954), p. 20 (SUNDAY EDITION). Retrieved from
http://nla.gov.au/nla.news-article224645958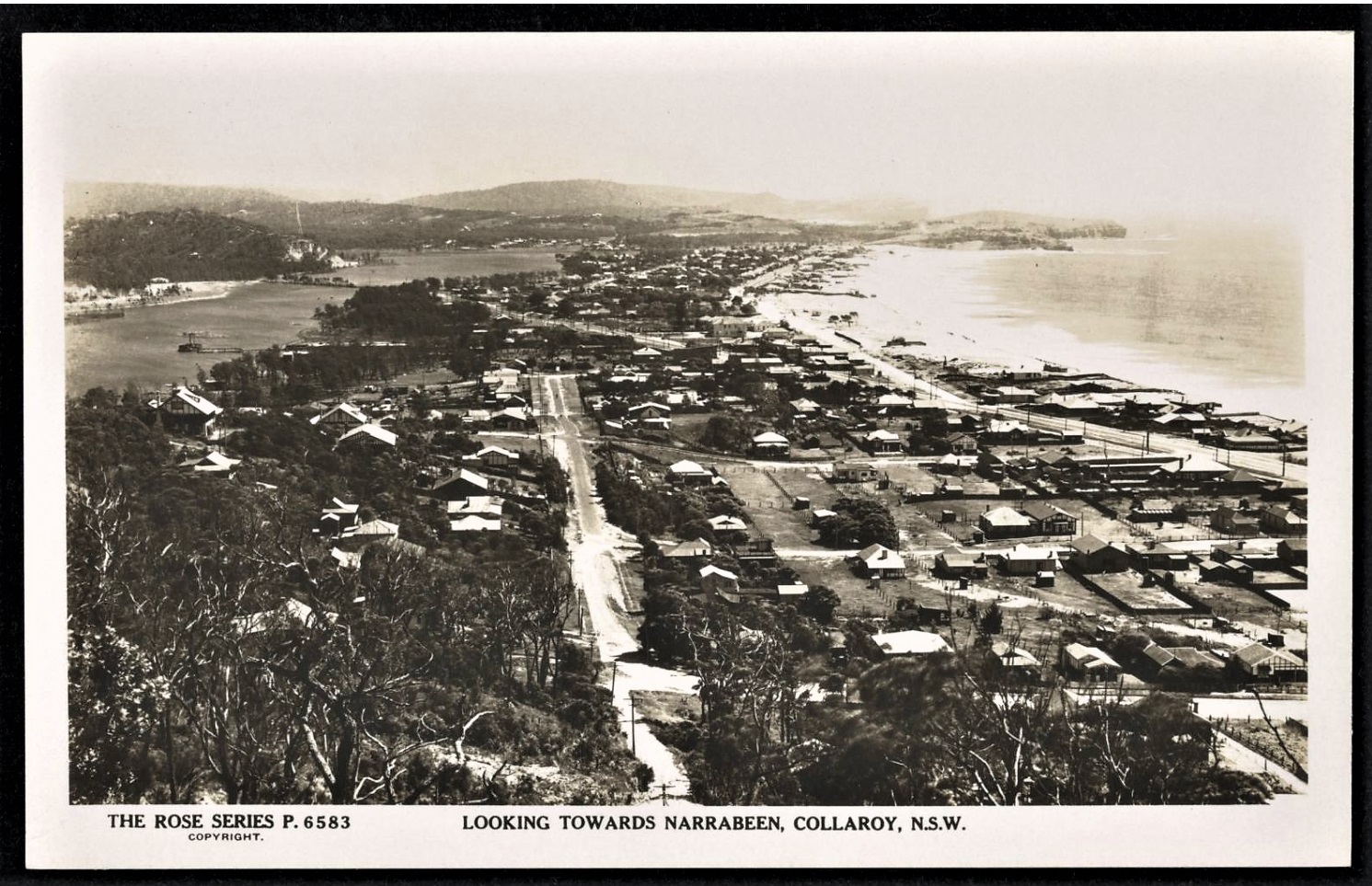 Sepia photographic postcard titled "LOOKING TOWARDS NARABEEN (sic), COLLAROY, N.S.W." circa 1915-1924. The Rose Series. The postcard is unused. Josef Lebovic Gallery collection no. 1 . courtesy National Museum of Australia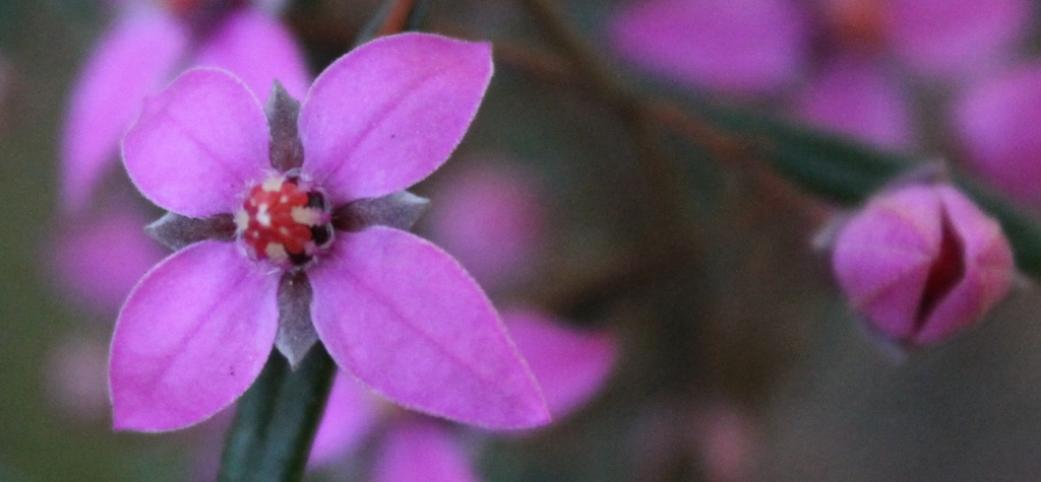 Boronia ledifolia - Sydney Boronia - photographed at Ingleside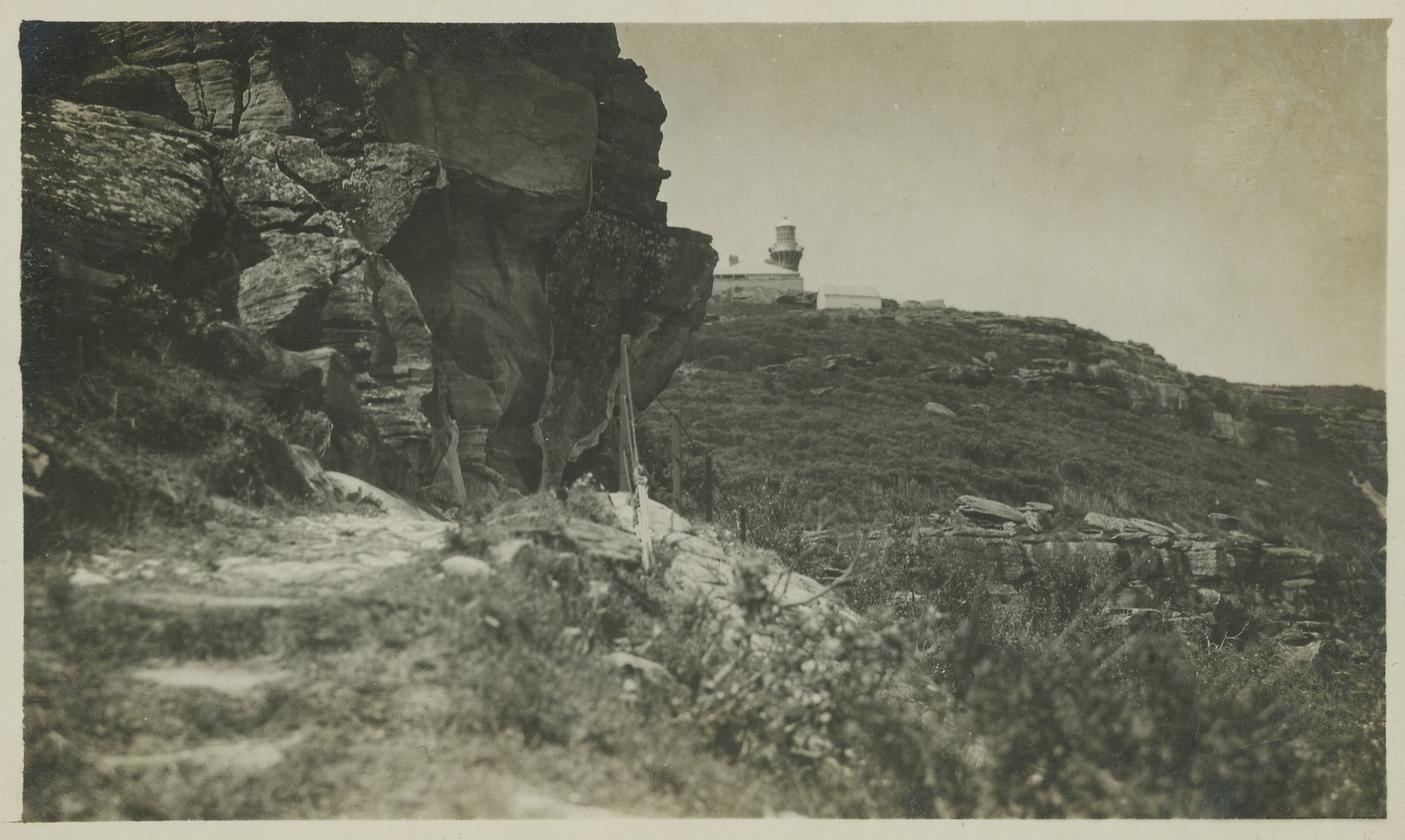 Barren Joey Lighthouse (Burrin Ju) [picture]. A. J. Vogan (Arthur James), 1859-1948,[ca. 1910 - ca. 1915] Image H82.254/8/34, courtesy State Library of Victoria.
Book Of The Month - April 2023: Poor Man's Orange by Ruth Park
Poor Man's Orange is a novel by New Zealand born Australian author Ruth Park. Published in 1949, the book is the sequel to The Harp in the South (1948) and continues the story of the Darcy family, living in the Surry Hills area of Sydney.
The title Poor Man's Orange refers to having to make do with second best.
The story has its beginnings in the awkward courtship of dreamily innocent Margaret Kilker and unwilling hero Hugh Darcy in the dusty country towns of rural Australia. After their marriage, the couple moves to Sydney and raises a family amid the brothels, grog shops and run-down boarding houses of inner-city Surry Hills, where money is scarce and life is not easy. Here their daughter Roie grows up all too quickly, while younger daughter Dolour tries to make sense of a world in which loss and love go hand in hand. Filled with beautifully drawn characters that will make you laugh as much as cry, Ruth Park's Australian classics take you from the barren landscapes of the outback to the colourful slums of Sydney with convincing depth, careful detail and great heart.
Continuing the history of the Irish Darcys begun in Missus and continued in The Harp in the South, this third instalment of a trilogy reacquaints readers with the vicissitudes of slum life in a Sydney suburb. An unforgettable family and a cast of unforgettable characters enliven a story that is sometimes tragic but often humorous in a time of poverty and destitution, hope and promise.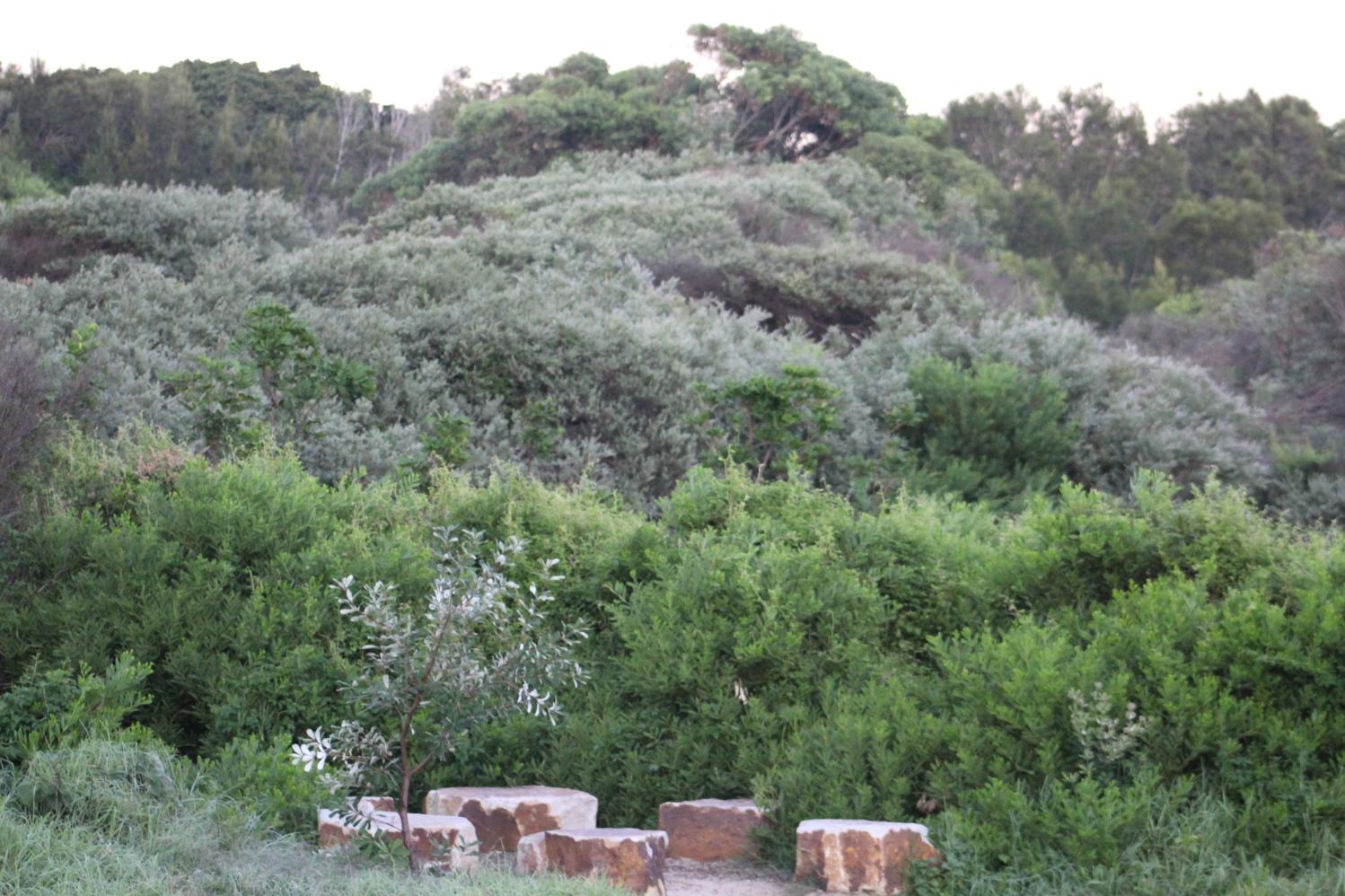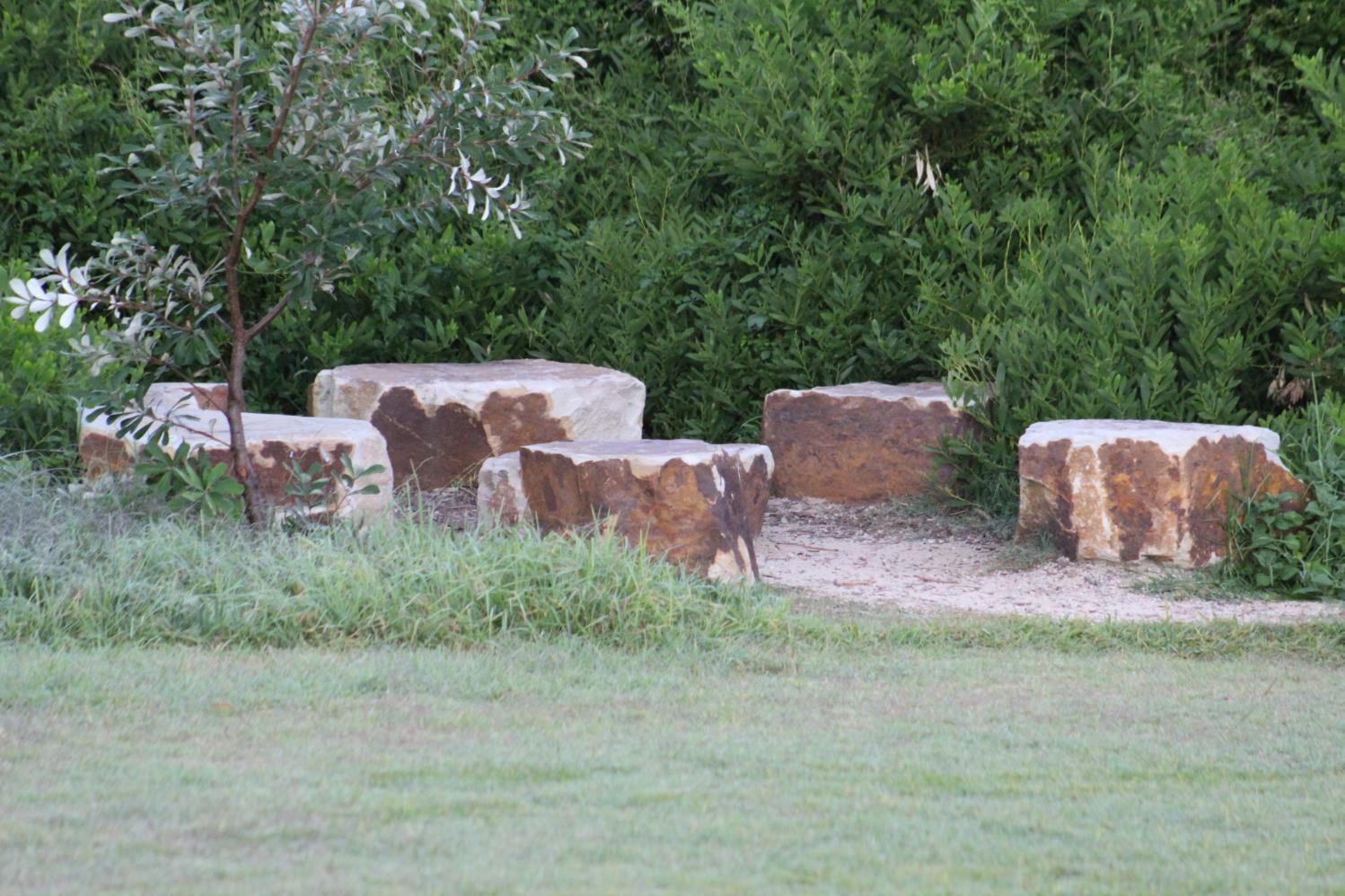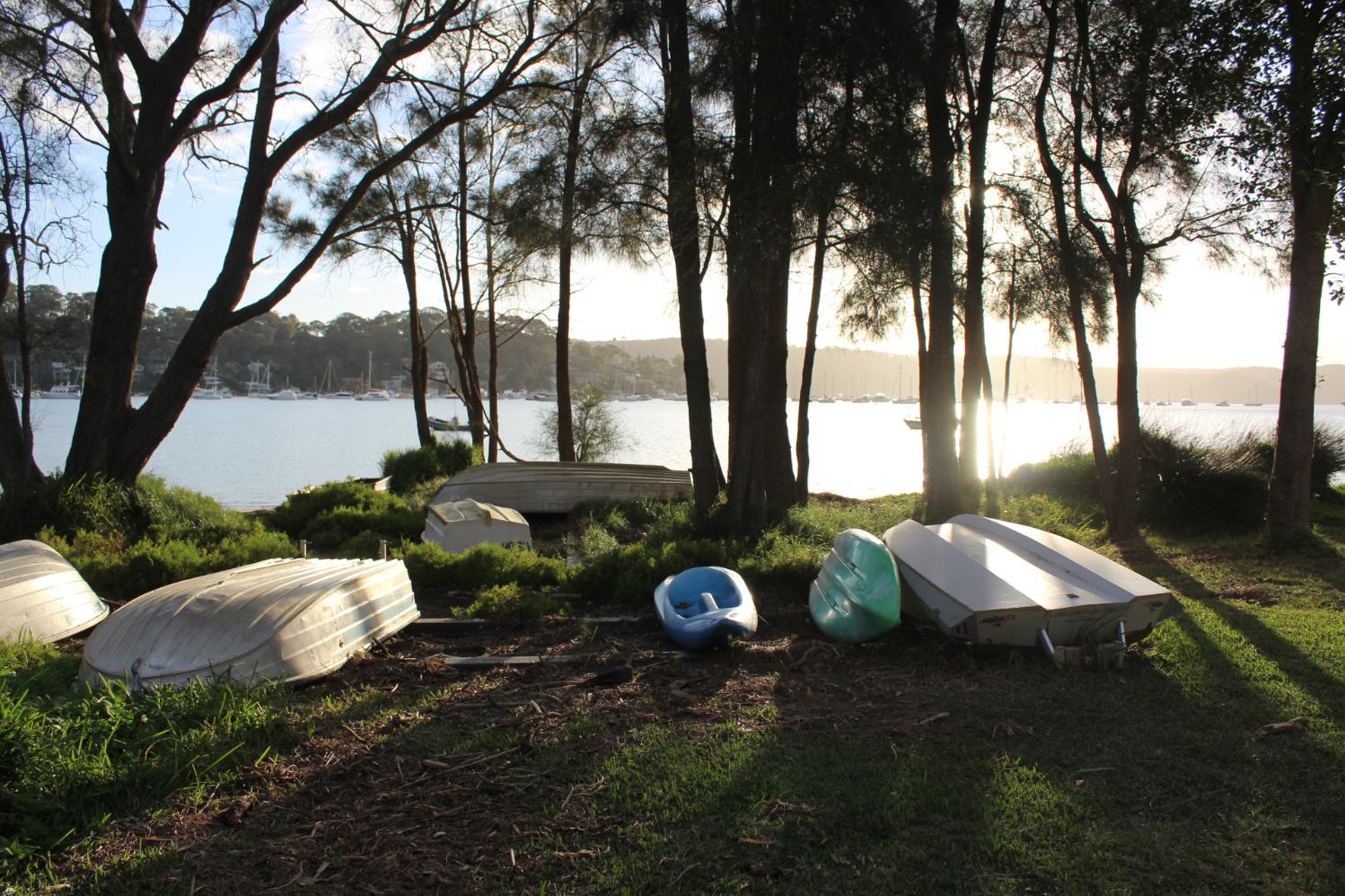 Expanded Access To Subsidised Oral Antiviral Paxlovid And Other COVID-19 Supports
From 1 April, more than 160,000 people aged 60 to 69 will have access to the antiviral treatment Paxlovid as the Albanese Government expands eligibility under the Pharmaceutical Benefits Scheme (PBS).
The change was recommended by the independent Pharmaceutical Benefits Advisory Committee (PBAC) and means Australians in this age group with only one risk factor for severe illness – instead of two – will get access to PBS-subsidised Paxlovid.
Individuals should have early discussions with their doctor or nurse practitioner about whether an oral antiviral treatment suits their health needs, and develop a plan should they test positive.
New milestone reached as ad campaign for the 2023 booster dose launches
Australia's COVID-19 vaccination rollout has reached a significant milestone with more than one million people receiving their 2023 booster dose.
Around 7 in 10 Australians who've taken up the 2023 booster are aged 60 and over.
With the risk of serious illness from COVID-19 increasing with age, particularly for those over 70, this will provide important protection as Australia moves into the cooler months, when other viruses circulate.
In February this year, the Australian Technical Advisory Group on Immunisation (ATAGI) advised that all adults who have not had a COVID-19 infection or vaccine in the past 6 months can top up their protection with the latest vaccine, irrespective of how many other doses they have had.
Accordingly, from 31 March the Government will update its methodology for reporting vaccine uptake to match ATAGI's shift from numbered to time-based doses.
The weekly statistics will transparently report on how many adults have received a 2023 booster dose; how many have received a dose in the past 6 months; how many have received one more than 6 months ago, and how many are completely unvaccinated.
To further support the 2023 booster campaign, on April 2, the Government will launch a new advertising campaign across a range of media, including television, radio, cinema, billboards, digital and social media.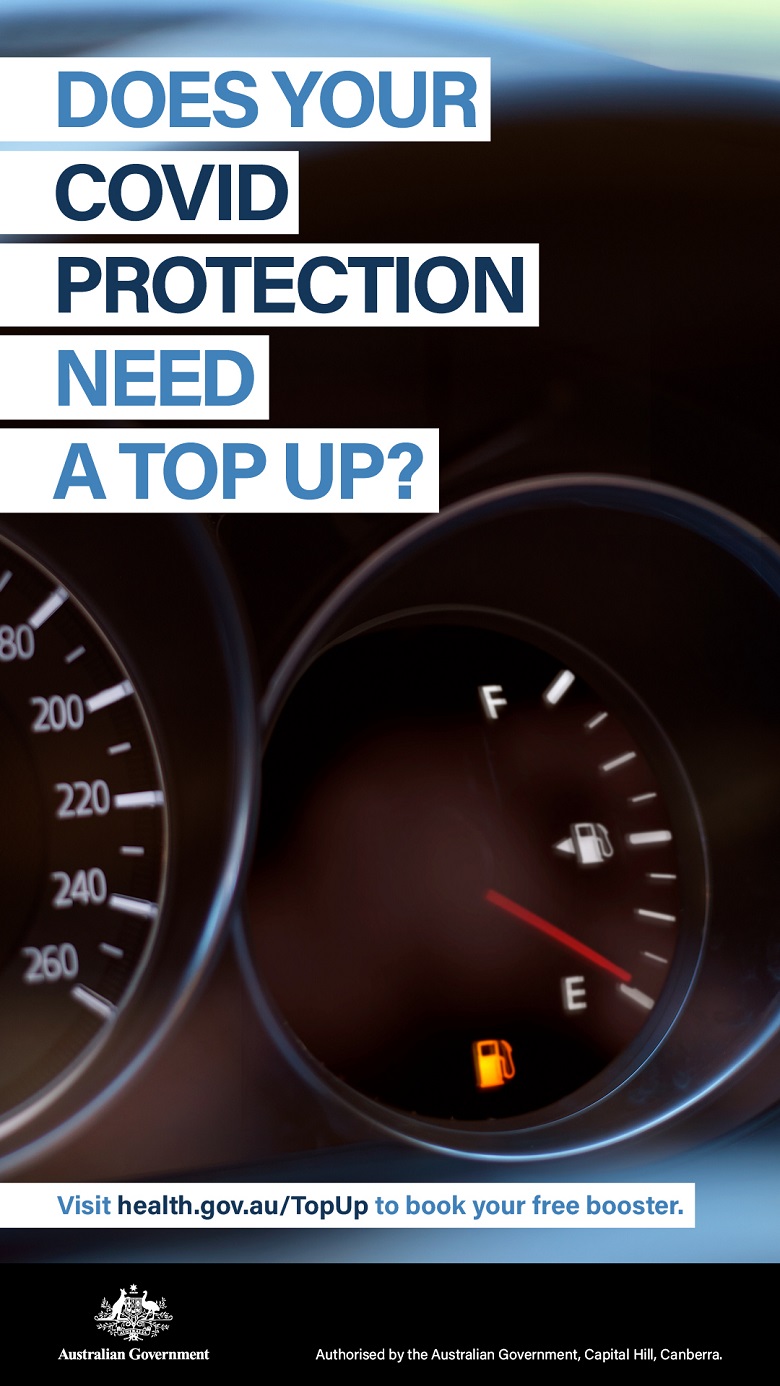 COVID-19 leave grants to support aged care workers
From 1 April, new Aged Care Worker COVID-19 leave grants will be available to support permanent or casual aged care workers caring for older Australians most at risk of severe illness.
Workers can receive a payment of up to $750 directly from their employer when they are required to take leave related to COVID-19 and have no leave entitlements available.
The grants will help to further protect people living in residential aged care, or those receiving home care packages, by allowing staff who test positive to COVID-19 to stay home while unwell. 
Providers of Australian Government-funded residential aged care homes and approved home care packages will be able to apply for reimbursement for payments made from 1 April 2023, every three months through the Department of Health and Aged Care.
The High Risk Settings Pandemic Payment scheme ends on 31 March 2023.
Chief Medical Officer's fourth wave report
The Government has released a report by the Chief Medical Officer, Professor Paul Kelly, on the lessons of the fourth wave of the Omicron variant.
Professor Kelly's report notes the fourth wave, which ended in late February, was longer than previous waves but led to less severe illness than the third wave in winter 2022.
Professor Kelly says the focus of Australia's response to the pandemic should continue to be on improving health outcomes for those at greatest risk of severe illness from COVID-19, including older Australians, those with disability, those with complex pre-existing medical conditions, and the immune-compromised.
Minister Butler said:
"More than one million Australians have already received their 2023 COVID-19 booster dose and around 7 in 10 of those boosters have gone to people aged 60 and over."
"If it has been six months since your last COVID vaccine or infection, you can now top up your protection with the latest vaccine."
"If you're newly-eligible for the oral antiviral Paxlovid, I encourage you to talk to your doctor or nurse practitioner and develop a plan for if you test positive."
80% Of Over 50s Hit By Cost-Of-Living
New research from National Seniors Australia and Challenger reveals 80% of older people are feeling the impact of higher living costs. The number 'severely' impacted is expected to rise over the next 12 months.
The National Seniors Social Survey (NSSS) of 5,700 people aged 50 and over also asked people about their concerns around cost-of-living increases.
The results show 90% of survey respondents are 'concerned' about keeping up with rising living costs, with one quarter 'extremely concerned'.
Health costs, energy prices and groceries are the three top worries. Housing affordability is also a concern, particularly in the long term.
Severe cost-of-living impacts are felt across all income levels and age groups. However, certain types of older people are hit hardest:
renters
low-income households
people in their 50s
larger households (3+ people)
people in rural and remote areas
National Seniors Australia Chief Advocate Ian Henschke said the survey results confirm what we have long suspected, "If you're an older person renting or on a low income, you're more likely to be hit hard by rising living costs."
"Older people in rural and remote areas, those in larger households (3+) and people in their 50s are more likely to be struggling."
The findings reinforce National Seniors' federal budget call to index the Age Pension quarterly during times of high inflation.
"The Age Pension is adjusted twice a year in March and September. Rather than have pensioners wait six months, government should increase payments quarterly when inflation is high," Mr Henschke said.
"Another key measure would be to exempt work income from the income test for all government payments, so recipients can work more without penalty. Simply let people work, pay tax, and get Centrelink out of the way. Increasing Commonwealth Rent Assistance would also help address rising cost-of-living pressures for those struggling the most."
The 11th National Seniors Social Survey was conducted from 1 - 19 February 2023.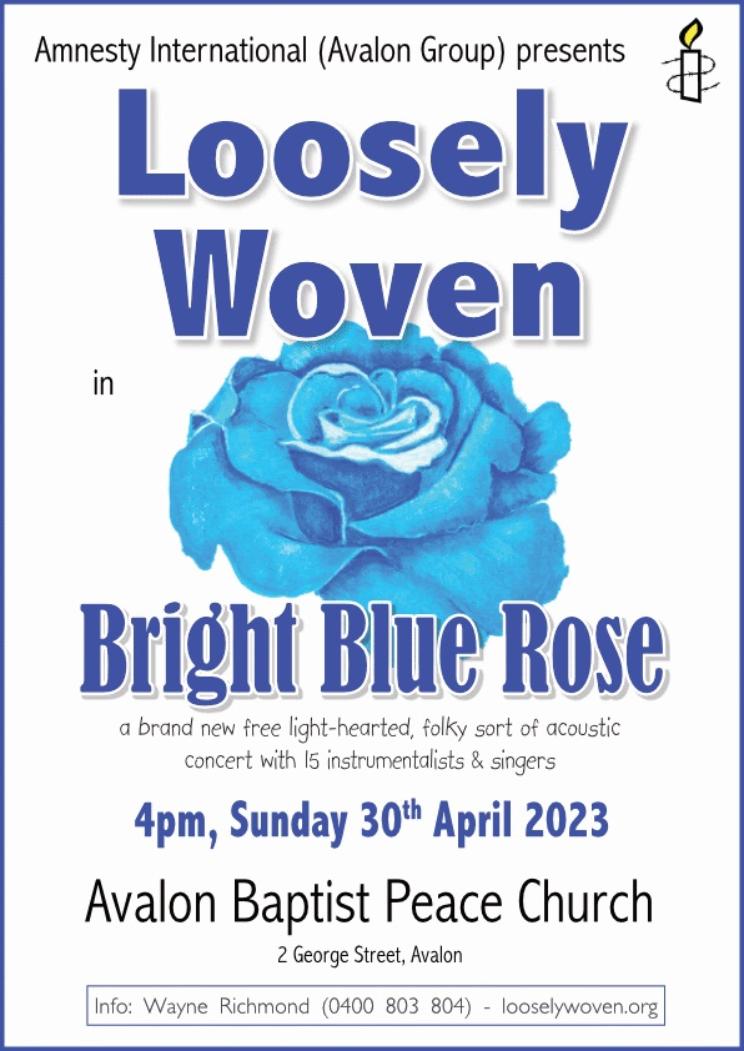 How To Apply For The Age Pension
You'll have to apply online or in person and provide qualifying documents before your payments begin.
You've worked towards it all your life, you've earnt it, you've reached retirement age, and now it's time to apply for the Australian Age Pension.
But it's not as easy as phoning up Centrelink and asking to be added to a list. You'll have to make a formal application and answer a few questions, which may require some back-up documents.
The first step is to check your eligibility to receive the pension in terms of your age, assets and length of residence in this country.
Until 1 July 2023, the youngest eligibility age is 66 years and 6 months; after that, it is 67 years.
You must also:
Be an Australian resident (that is, living in Australia on a permanent basis).
Be in Australia on the day the claim is lodged.
Satisfy government requirements on the length of time spent in Australia over your lifetime. In general, you will only qualify if you have spent 10 years or more in this country, five of them in a row.
Aged pensions are also subject to income and assets tests.
According to the Department of Social Services, a pensioner can receive an amount of income before their benefit starts to be reduced. This amount may comprise income from investments, earnings or other sources, and is known as the "income free area".
For each dollar of income over the income-free area, the single pension is reduced by 50 cents. Couples' combined pensions are reduced by 50 cents. This means that for a pensioner couple, their individual pensions are reduced by 25 cents a fortnight for each dollar of income that the couple has over the income-free area. 
The "Work Bonus" allows seniors to earn $7,800 a year without facing any penalty. Until 31 December 2023, that maximum has been increased to $11,800. National Seniors Australia is advocating an extension of this scheme, to allow pensioners to earn more.
There is also a pension assets test to ensure that people with substantial assets—property or possessions (not including the family home or other exemptions)—use those assets to meet their day-to-day living expenses before calling on the social security system for support.
You may need to produce certain documents to support your claim, including your birth certificate, passport, tax file number, and details of your income and assets.
You can submit your claim through the myGov website or by calling Services Australia on 132 300.
You may qualify to use the self-service facility or be required to attend an appointment at Centrelink to provide additional information and supporting documents.
Services Australia (formerly the Department of Human Services) will assess your claim and determine whether you are eligible for the Age Pension. They will notify you of their decision and the amount of pension you will receive.
Once you start receiving the pension, you must report any changes to your income, assets or personal circumstances to Services Australia to ensure you continue to receive the correct amount of pension.
If you disagree with a decision on your eligibility or amount of pension, you're entitled to ask for an explanation and/or appeal the decision.
Once you begin receiving your pension, remember that you are obliged to notify the government if your financial circumstances change.
You may also need to advise of your travel plans if you intend to be away from the country for more than six weeks, as it can affect your pension supplement and energy supplement.
All insights and information provided should be considered general advice for educational purposes only. As we are unaware of your personal circumstances, the information in this article should not be misconstrued as personalised financial advice. We recommend seeking advice from a qualified financial professional before making any major financial decisions.
Tasmanian Tapestry (1953)
Published March 27 2023 by NFSA
From the Film Australia Collection. Made by the National Film Board 1953. Directed by Hugh McInnes. In this 1950s tourism promotional film Tasmania, set like a scenic tapestry in the Southern Ocean, has much to attract tourists from the mainland of Australia.
Reminiscent of England in its cultivated fields, old architecture and sheltered rivers, industry too, has its place, in the mountain rivers and lakes, which provide the water for the Island's great hydro electric systems. Fishing is a popular pastime, especially at the time of the year when the phenomenon known as the "Shannon Rise" occurs and there is trout for the taking in the waters of the Myeena Dam, on the Shannon River - one of the many lovely threads that runs through Tasmania's scenic tapestry.
MEN'S TABLE FOR PITTWATER, MONA VALE AND SURROUNDING AREAS
The Men's Table in an organisation made up of groups of 8-12 men who meet over dinner in the same place and same time of the month to share the highs and lows of their lives. There are now more than 100 Tables all over Australia with more than 1,000 men of all age groups, professional and personal backgrounds and orientations, stories and histories who are enjoying this unique experience and making friends, potentially for life. In the northern beaches there are now 3 Tables in Manly and 1 in Dee Why. As requested, they are now forming a Tables for areas further up from the existing Tables!
The Men's Table are holding an Entrée or an intro dinner at the Pittwater RSL on the evening of Tuesday, May 30.
You don't pay for anything except your own meal. But registration is required as seats are limited.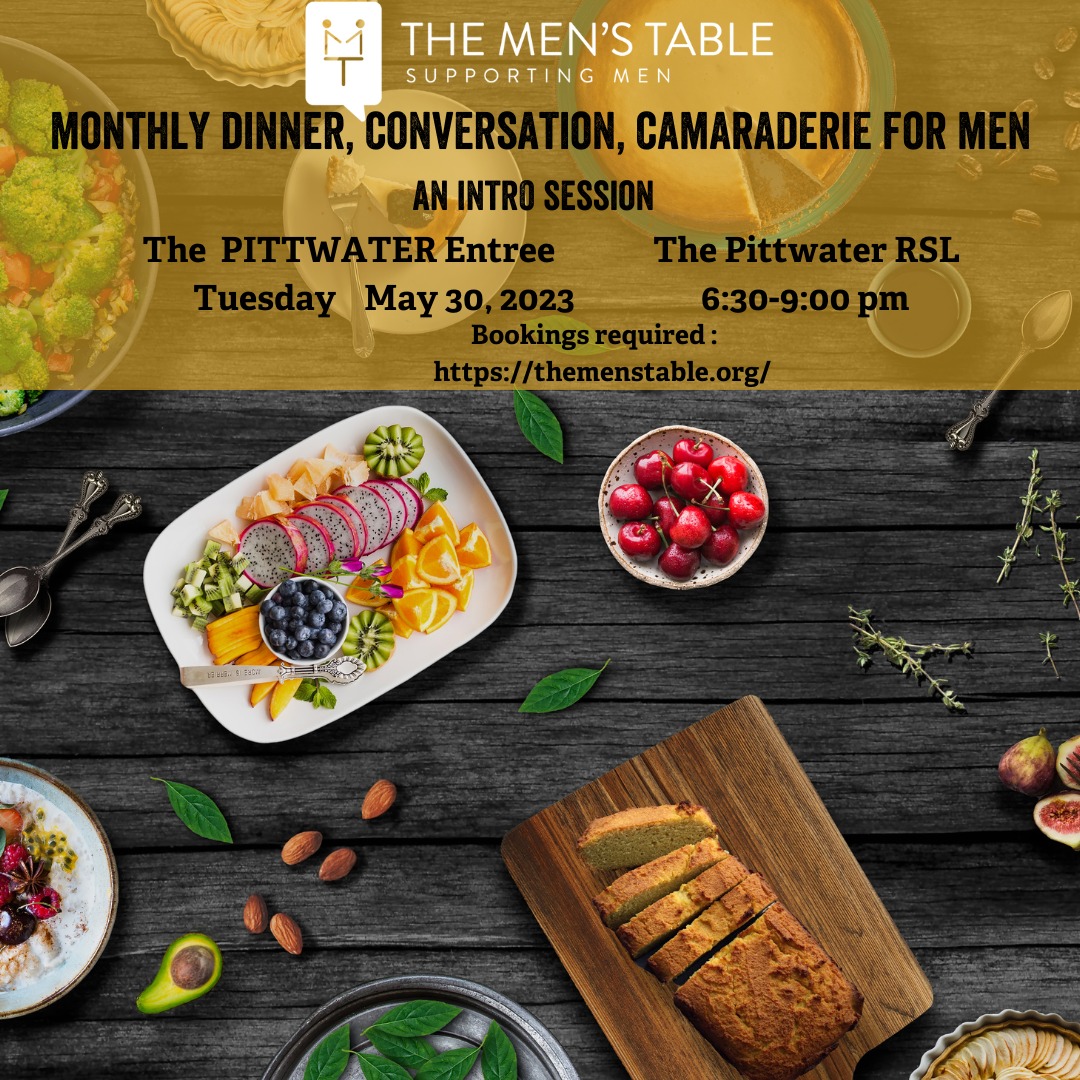 A Higher Dose Of Magnesium Each Day Keeps Dementia At Bay
More magnesium in our daily diet leads to better brain health as we age, according to scientists from the Neuroimaging and Brain Lab at The Australian National University (ANU).
The researchers say increased intake of magnesium-rich foods such as spinach and nuts could also help reduce the risk of dementia, which is the second leading cause of death in Australia and the seventh biggest killer globally.
The study of more than 6,000 cognitively healthy participants in the United Kingdom aged 40 to 73 found people who consume more than 550 milligrams of magnesium each day have a brain age that is approximately one year younger by the time they reach 55 compared with someone with a normal magnesium intake of about 350 milligrams a day.
"Our study shows a 41 per cent increase in magnesium intake could lead to less age-related brain shrinkage, which is associated with better cognitive function and lower risk or delayed onset of dementia in later life," lead author and PhD researcher Khawlah Alateeq, from the ANU National Centre for Epidemiology and Population Health, said.
"This research highlights the potential benefits of a diet high in magnesium and the role it plays in promoting good brain health."
It's believed the number of people worldwide who will be diagnosed with dementia is expected to more than double from 57.4 million in 2019 to 152.8 million in 2050, placing a greater strain on health and social services and the global economy.
"Since there is no cure for dementia and the development of pharmacological treatments have been unsuccessful for the past 30 years, it's been suggested that greater attention should be directed towards prevention," study co-author Dr Erin Walsh, who is also from ANU, said.
"Our research could inform the development of public health interventions aimed at promoting healthy brain ageing through dietary strategies."
The researchers say a higher intake of magnesium in our diets from a younger age may safeguard against neurodegenerative diseases and cognitive decline by the time we reach our 40s.
"The study shows higher dietary magnesium intake may contribute to neuroprotection earlier in the ageing process and preventative effects may begin in our 40s or even earlier," Ms Alateeq said.
"This means people of all ages should be paying closer attention to their magnesium intake.
"We also found the neuroprotective effects of more dietary magnesium appears to benefit women more than men and more so in post-menopausal than pre-menopausal women, although this may be due to the anti-inflammatory effect of magnesium."
Participants completed an online questionnaire five times over a period of 16 months. The responses provided were used to calculate the daily magnesium intake of participants and were based on 200 different foods with varying portion sizes. The ANU team focused on magnesium-rich foods such as leafy green vegetables, legumes, nuts, seeds and wholegrains to provide an average estimation of magnesium intake from the participants' diets.
Khawlah Alateeq, Erin I. Walsh, Nicolas Cherbuin.
Dietary magnesium intake is related to larger brain volumes and lower white matter lesions with notable sex differences.
European Journal of Nutrition, 2023; DOI:
10.1007/s00394-023-03123-x
Applications Now Open For Inaugural $10,000 Military History Prize
Applications are now open for the inaugural $10,000 Anzac Memorial Trustees Military History Prize – a new annual award within the prestigious NSW Premier's History Awards.
Minister for Transport, Veterans and Western Sydney David Elliott said the establishment of the award highlighted the importance of recording our military history to honour and remember our veterans.
"Capturing our military history is vital in ensuring future generations are educated on the service and sacrifice of Australians in armed conflicts," Mr Elliott said.
"This prize is not only an important acknowledgement of the work which is already being done to record the events and stories of those who served in conflict and peacekeeping missions but also provides an avenue for that work to be shared more widely.
"This is another step in ensuring the sacrifices of all those who have served in the defence forces and military operations continue to be profiled as part of the nation's military history, so our veterans will not be forgotten.
"I encourage all historians with an interest in our military history to apply for this award as it will help future generations learn about and understand the bravery, dedication and legacy of our veterans," Mr Elliott said.
The Military History Prize is for a work of non-fiction on the involvement of Australians in wars, campaigns, battles and/or peacekeeping operations which are represented in the Anzac Memorial's Hall of Service. The Hall of Service displays 100 international sites of military significance for NSW service personnel from the 19th Century to more recent military operations.
Preserving The Stars: Light Pollution And What You Can Do About It
By Lilly Matson, UNSW Science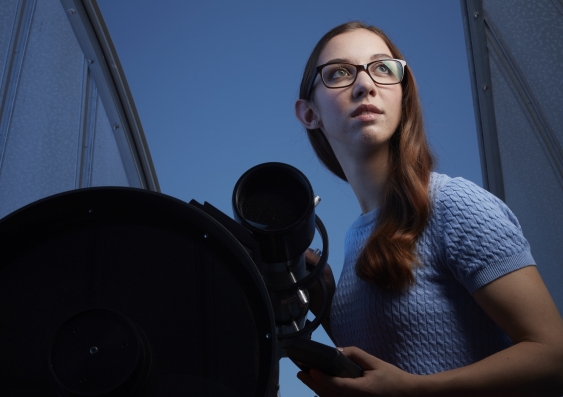 Astrophysicist Ms Kirsten Banks explains what we can do to reverse the impact of "light glow". Photo: UNSW Sydney.
Astronomer Carl Sagan famously said that there were more stars in the universe than grains of sand on earth.
It has been estimated that there are over 100 billion stars in the Milky Way galaxy. While there is a limit to how many stars we can see from earth with the naked eye, that number is dramatically reducing due to light pollution.
"We should be able to see around 2500 stars with the naked eye on any night, and we can see about 125 of them at best in Sydney," says astrophysicist, proud Wiradjuri woman and UNSW PhD candidate Ms Kirsten Banks.
In fact, in a recent study published in
Science
, data collected by citizen scientists around the world found light pollution is increasing at a rate that is equivalent to the brightness of the sky doubling every eight years.
This latest research continues to expose the extent to which we're losing the darkness of our night sky. Not being able to look up and see the stars will have significant cultural impacts, but there are steps we can all be taking to reduce the effect of light pollution.
What causes 'light glow'?
Artificial lighting that escapes and seeps into the sky causes what is known as "light glow" – a form of light pollution that stops humans from seeing the stars.
"Light glow is this extra light that is not actually useful for seeing when you're walking in the dark, for example. And it's this glow of light that spreads out and leaks into the sky in a way that washes out fainter lights that are usually stars," says Ms Banks.
This latest study involved over 51,000 citizen science observations of stellar visibility with the naked eye, revealing the change in global sky brightness over an 11-year period – from 2011 to 2022.
The data showed that the number of visible stars decreased by an amount that can be explained by an increase in sky brightness of seven to 10 per cent per year.
This study was done on a global scale, but around 68 per cent of the observations were from North America and Europe, with a one-off campaign in Australia in 2020, and a scattering of data collected across Asia, Africa and South America.
Although the data was primarily collated from elsewhere, Ms Banks explains that light pollution is still a problem in Australia. "In Sydney, the light pollution that we experience is almost the same light pollution as the moon emits. This means if you're in a place with no light pollution, and there's a full moon out, you have the same sort of night sky visibility that you would in Sydney."
Everyone is an astronomer
You don't need any fancy machinery or special equipment to observe the stars.
"I think it's important for everyone to be able to look up into the stars, because it's one of the most accessible sciences out there," says Ms Banks. "All you need to do is look up and you can see it, you are doing astronomy by looking up into the night sky. And when we take that away with light pollution, that takes a whole science away from people."
Many different cultures around the world have a rich history and connection to the stars and the night sky.
In Australia alone, there are over 250 Indigenous groups that have understood and used the stars for the last 65,000 years, and their knowledge is still exercised to this day, says Ms Banks.
Ms Banks speaks about Gugurmin, the Celestial Emu – a constellation based on the dark space around the Milky Way – in her 2019 TEDx talk on the great history of
Australian Aboriginal Astronomy.
"The night sky is really important to Aboriginal peoples.
"We're losing culture because of the stars we're losing sight of in these bright cities. All of these stars have cultural importance within stories and lessons. And some of them we just can't see anymore. So through that, and, of course, all of the other effects of colonisation, we're losing all those stories."
Reversing the impact of light glow
Unlike many other forms of pollution, light pollution is reversible and there are measures we can take to restore the deep darkness of the sky.
"There are lots of ways to reduce the amount of light pollution that we put out into the sky," says Ms Banks.
"One good example is by creating very directional streetlights. So, when you walk around, you may see some streetlights that are just these big lights that shine in all directions. But really, you only need light to shine down on the path that you're walking on, because that's where it's actually useful. So we can change the design of our lights to be more proactive about where we actually want the light to be."
As well as the direction and brightness of the lights we use, we can also change the colour to a more amber/orange hue which reduces light glow, explains Ms Banks.
While some of these measures have been adopted on a local scale, there is lots more that can be done. In recent years, awareness of light pollution has led some policymakers to introduce measures that attempt to control it.
"These measures have already been taken in places like Coonabarabran," says Ms Banks. "There are very strict guidelines for all sorts of lights and they have certain regulations so that they preserve the night sky for that area, because of the observatory nearby."
As Ms Banks explains, everyone can have a part to play. "One way that people can get involved is just turning off lights that are unnecessary, like really bright floodlights on your backyard or your patio.
"There are simple solutions to this that people can take every single day."
Severe Respiratory Infections Linked To Some Congenital Cardiovascular Defects: UNSW Study
by Maddie Massy-Westropp, UNSW Medicine & Health
Experiencing severe respiratory infections during the first trimester of pregnancy triples the risk of some cardiovascular defects at birth, a UNSW Sydney study has found.
Maternal infections during pregnancy can have serious implications for babies, including the development of congenital anomalies (also called congenital defects). These are anomalies in the body's structure or function that are present at birth, for example Down syndrome and neural tube defects, which can have lifelong impacts.
Some infections, often referred to as TORCH (Toxoplasmosis, Other (syphilis, varicella-zoster, parvovirus B19), Rubella, Cytomegalovirus (CMV), and Herpes virus), are known to cause congenital anomalies. However, there have been conflicting findings about the impact of acute respiratory infections, for example, influenza.
New research from UNSW, published in
BMC Pregnancy and Childbirth
, shows severe respiratory infections during the first trimester are associated with higher risk of some heart defects.
"There is limited evidence around this issue," said lead author Dr Abrar Chughtai, from UNSW Medicine & Health. "But our study supports that there is an association between severe respiratory infections during pregnancy and selected cardiovascular anomalies in babies."
Analysing 1.5 million NSW births
In previous studies, the link between respiratory infections and congenital anomalies has been difficult to prove. The studies often involved asking new mothers, whose babies were healthy or had congenital issues, whether they had experienced a respiratory infection when pregnant.
"The strength of our study is that we used hospital records only and didn't rely on participants' memory," Dr Chughtai said.
The researchers analysed data from almost 1.5 million births in NSW from 2001-2016, linking health records for mothers and babies. The health data included hospital admissions during pregnancy for severe respiratory infections, births, and congenital issues.
Controlling for other factors like age, smoking and other illnesses, the researchers analysed the association between respiratory infections during pregnancy and various congenital abnormalities.
Increased risk of cardiac defects
The researchers found that there was a link between severe respiratory infections and some types of cardiovascular abnormalities. For the 1547 mothers who were hospitalised for respiratory infections during the first trimester of pregnancy, seven (0.45%) had babies with these heart and circulation issues. Whereas for the other 1,441,327 mothers in the study, 1724 (0.12%) had babies with these cardiovascular abnormalities.
"After controlling for other factors, still respiratory infections were associated with selected cardiovascular defects," Dr Chughtai said.
"The risk is three times higher if the mother had an infection during the first trimester of pregnancy."
Rates of selected major cardiovascular anomalies were also higher in babies if the mother had influenza during the first trimester of pregnancy, but this was not statistically significant.
Respiratory infections may harm foetal development
Why was there a link between respiratory infections early in pregnancy and cardiac defects? According to the researchers, there are many potential reasons.
"For example, some infectious diseases may pass directly to the baby across the placenta, leading to problems in development," Dr Chughtai said.
"Another reason is use of medications," Dr Chughtai said. "The mother may need to take antibiotics or some other drugs to treat infections. These may indirectly affect the baby."
The researchers were not able to analyse the impact of medications taken by the mother to treat respiratory infection in this study. In future research, they plan to use Medicare and Pharmaceutical Benefits Scheme (PBS) data to do this.
"Moreover, if the mother has a fever due to infection, there are metabolic changes in the body, and these metabolites may cross the placenta which may affect the baby," Dr Chughtai said. "High fever may also impair protein synthesis and causes cell death, resulting in congenital anomalies."
Several other questions remain, including the impacts of COVID-19, which emerged after the study period of 2001-2016.
"Of course, it's an interesting question and we want to address this issue in a follow-up study," Dr Chughtai said.
"So far from other studies there is no evidence that COVID-19 increases the risk of congenital abnormalities. But this is only initial research."
Implications for pregnancy
The researchers recommend avoiding respiratory infections during pregnancy as much as possible, to protect against congenital abnormalities.
"There are well-established risk factors, for example, X-rays and smoking, but infection is also a risk," Dr Chughtai said.
"One of the important methods of prevention is influenza vaccination, which is available and effective and very safe in pregnant women."
Diet And Exercise Programs Alone Won't Tackle Childhood Obesity
Focusing on immediate fixes such as diet and exercise programs alone won't curb the tide of childhood obesity, according to a new study that for the first time maps the complex pathways that lead to obesity in childhood.
Coordinated by the University of Sydney's Charles Perkins Centre the study finds children whose parents did not complete high school and who live with social disadvantage, were more likely to be affected by overweight or obesity in mid-adolescence. High school completion is a strong indicator of socio-economic status.
These factors were 'on ramps' which flow down to influence the body mass index (BMI) of parents, in turn providing immediate lifestyle impacts (diet, sedentary time) on a child's risk of developing obesity.
Paediatrician Professor Louise Baur of the University of Sydney said the research explains why most current public health policies to prevent childhood obesity have had limited success.
"We tend to ignore the root causes of childhood obesity which include social disadvantage, and of course, this is not something parents or children choose for themselves," said Professor Baur, co-author from the University's Charles Perkins Centre.
"While healthy eating and activity interventions are important, the solutions lie not just in the domain of health departments. We need to see many government departments working together to consider how to make structural changes to reduce social inequality if we want to change Australia's current trajectory."
Other interesting findings from the research include how different drivers of obesity play out at different life stages, particularly the influence of free time activity after the age of eight.
There are also different influences on how free time is spent and influenced for boys versus girls. For boys, more electronic gaming leads to less active free time. For girls, better sleep quality leads to longer sleep time and more active free time.
Childhood obesity occurs when a child is significantly overweight for their age and height. It can lead to a higher risk of cardiovascular disease, insulin resistance, psychological effects and even premature death.
In Australia, 1 in 4 school-aged children and adolescents are affected by overweight or obesity, with 1 in 12 affected by obesity. It is more common in those living in regional and remote areas, those from lower socioeconomic areas, those from one-parent families and those with a disability.
How was the study conducted?
The study, published in BMC Medicine, drew on data from 'Growing up in Australia: The Longitudinal Study of Australian Children,' a nationally representative sample of over 10,000 Australian Children.
The team of leading scientists and clinicians -- bringing together the fields of data science, biology, paediatrics and public health -- spent close to two years using state-of-the-art statistical modelling (Bayesian network modelling) and informed analysis to untangle a complex web of on-ramps and causal factors, many of which interplay.
Senior author Professor Sally Cripps of the University of Technology Sydney said the knowledge gained from this study is vital for policy makers moving forward and could not have been achieved without this diverse skill-set.
"This is a truly multidisciplinary piece of research. Data alone is never enough to uncover the complex set of interacting factors which lead to childhood obesity. But by combining the skills of mathematicians and computer scientists with obesity and nutritional experts we have been able to predict and model what has never been clearly articulated before -- showing the complex interplay between multiple upstream, downstream and causal factors, and how these play out over time for children and families," said Cripps, Director of Technology at the Human Technology Institute.
Lead author and statistician Wanchuang Zhu, also of the University of Technology Sydney and an affiliate of the Charles Perkins Centre said: "To our knowledge this is first time anyone has used the advanced statistical network modelling to analyse the complex factors that lead to childhood obesity. It provides us with a much more complete picture."
Childhood obesity is largely a by-product of socio-economic status
Parental high school levels (both paternal and maternal) serve as on-ramps to childhood obesity
When children are aged 2 to 4 years the causal pathway is: socio-economic status/parental high school level -> parental BMI -> child BMI
When children are aged 8 to 10 years an additional pathway emerged focused on how children spend their leisure time: parental high school level /socio economic status -> electronic games ->free time activity-> child BMC
The upstream influences on free time activity were different in boys compared with girls.
The strong and independent link between parent's BMIs and childhood BMI suggests a biological link -- high weight runs in families, and this is in part because of shared genes.
The work is a collaboration between scientists and clinicians from the University of Sydney, University of Technology Sydney and CSIRO -- brought together by the Charles Perkins Centre, a research initiative committed to collaborative and multidisciplinary research to tackle obesity, diabetes, cardiovascular disease and related conditions.
"This study is exactly why the Charles Perkins Centre was founded, to bring together people with special skill sets from different academic and clinical backgrounds to find new ways of thinking about and solving the most complex challenges of our time," said Professor Stephen Simpson, Academic Director of the Charles Perkins Centre and Executive Director of Obesity Australia.
The authors express sincere gratitude to the families who contributed their data and acknowledge the generous support of Paul Ramsay Foundation.
Wanchuang Zhu, Roman Marchant, Richard W. Morris, Louise A. Baur, Stephen J. Simpson, Sally Cripps.
Bayesian network modelling to identify on-ramps to childhood obesity.
BMC Medicine, 2023; 21 (1) DOI:
10.1186/s12916-023-02789-8
Dieting: Brain Amplifies Signal Of Hunger Synapses
Many people who have dieted are familiar with the yo-yo effect: after the diet, the kilos are quickly put back on. Researchers from the Max Planck Institute for Metabolism Research and Harvard Medical School have now shown in mice that communication in the brain changes during a diet: The nerve cells that mediate the feeling of hunger receive stronger signals, so that the mice eat significantly more after the diet and gain weight more quickly. In the long term, these findings could help developing drugs to prevent this amplification and help to maintain a reduced body weight after dieting.
"People have looked mainly at the short-term effects after dieting. We wanted to see what changes in the brain in the long term," explains Henning Fenselau, a researcher at the Max Planck Institute for Metabolism Research, who led the study.
To this end, the researchers put mice on a diet and assessed which circuits in the brain changed. In particular, they examined a group of neurons in the hypothalamus, the AgRP neurons, which are known to control the feeling of hunger. They were able to show that the neuronal pathways that stimulate AgRP neurons sent increased signals when the mice were on a diet. This profound change in the brain could be detected for a long time after the diet.
Preventing the yo-yo effect
The researchers also succeeded in selectively inhibiting the neural pathways in mice that activate AgRP neurons. This led to significantly less weight gain after the diet.
"This could give us the opportunity to diminish the yo-yo effect," says Fenselau. "In the long term, our goal is to find therapies for humans that could help maintaining body weight loss after dieting. To achieve this, we continue to explore how we could block the mechanisms that mediate the strengthening of the neural pathways in humans as well."
"This work increases understanding of how neural wiring diagrams control hunger. We had previously uncovered a key set of upstream neurons that physically synapse onto and excite AgRP hunger neurons. In our present study, we find that the physical neurotransmitter connection between these two neurons, in a process called synaptic plasticity, greatly increases with dieting and weight loss, and this leads to long-lasting excessive hunger," comments co-author Bradford Lowell from Harvard Medical School.
Katarzyna Grzelka, Hannah Wilhelms, Stephan Dodt, Marie-Luise Dreisow, Joseph C. Madara, Samuel J. Walker, Chen Wu, Daqing Wang, Bradford B. Lowell, Henning Fenselau.
A synaptic amplifier of hunger for regaining body weight in the hypothalamus
. Cell Metabolism, 2023; DOI:
10.1016/j.cmet.2023.03.002
Phthalate Alternative May Harm Brain Development And Health
Growing concerns over the potential health effects of exposure to phthalates, a component of many plastics and also known as a plasticizer, have led to a search for safer alternatives. In a new study conducted in cell cultures, researchers found that the chemical acetyl tributyl citrate (ATBC) might not be the best replacement because it appears to interfere with the growth and maintenance of neurons.
"In the past, industries have promptly shifted away from the usage of toxic chemicals only to produce an equally toxic chemical, so this is something we are actively trying to avoid repeating," said Kyle Sease, a graduate student at Central Washington University in Ellensburg, Washington. "Our study suggests that ATBC, but not other non-phthalate alternatives, could interfere with cells that maintain brain health. We think this finding warrants further testing of ATBC at different doses, in different settings and in whole organism models."
Sease presented the new research at Discover BMB, the annual meeting of the American Society for Biochemistry and Molecular Biology, March 25-28 in Seattle.
Phthalates are used in hundreds of products, often to enhance durability or allow materials to bend and stretch. Studies have shown that phthalate exposure can affect the reproductive system and early development in a range of animals, although the health impacts in humans are not clear. ATBC has emerged as a leading phthalate alternative as companies seek to shift away from phthalates and is currently used in a variety of materials and products, including food and food packaging.
For the study, researchers grew cultures of neuroblastoma cells, which, in terms of growth and division, behave similarly to the glial cells that support and protect neurons in the brain. They then used molecular methods to study how ATBC and other chemicals affect genes and processes involved in cellular division. They found that neuroblastoma cells exposed to ATBC increased their expression of two genes associated with cellular stress (known as Nrf2 and p53) and also increased their production of an enzyme associated with cellular senescence (B-galactosidase), which can cause cells to stop growing and dividing.
The findings suggest that ATBC could interfere with the ability for glial cells to regenerate, which can reduce their ability to protect neural cells and lead to neurodegeneration and accelerated aging. It is also possible that ATBC exposure during early development -- when neurons are actively growing and dividing -- could affect neurons directly and interfere with brain development, the researchers said. Since neurons do not typically regrow once damaged, any effects on the brain likely would be permanent.
Two other phthalate alternatives, bis (2-ethylhexyl)-1, 4-benzenedicarboxylate (GPO) and dioctyl adipate (DOA), did not show the same effects as ATBC. "We found that two other plasticizers did not appear to affect cell division in these cells, so further understanding the different effects of different plasticizers will allow us to understand better how to make safe ones," Sease said.
___________________________________________
NB: Phthalates are a group of man-made chemicals used to make plastics more durable. They are often called plasticizers. Some phthalates are used to help dissolve other materials. Phthalates are in hundreds of products, such as vinyl flooring, lubricating oils, and personal-care products (soaps, shampoos, hair sprays).
Ingestion, inhalation, skin absorption, and intravenous injection are all potential pathways of exposure. The ever-present use of phthalates as an additive to PVC (polyvinyl chloride) products to make them flexible and to personal care products to make fragrances last longer in the past 50 years has resulted in widespread general population exposure.
Phthalates are readily absorbed into the human body and are converted quickly to their respective metabolites. Unlike some chemicals, they tend to pass out of the body quickly in urine and faeces. Phthalates can interact with each other and increase the exposure effect.
Phthalates can be released from a product by heat, agitation, and prolonged storage. The release can occur during all the stages of the product lifecycle - from production, through use, to disposal.
All plastics are not the same.
One easy way to recognize plastic toys, clothing, bottles, food and beverage storage containers, and/or food wrap that may contain phthalate compounds is to look for the number 3 inside the universal recycling symbol usually moulded into the plastic on the bottom of the product.
Avoid products with the number 3 within the arrows and the letters "V" or "PVC" below the arrows.
Disclaimer: These articles are not intended to provide medical advice, diagnosis or treatment. Views expressed here do not necessarily reflect those of Pittwater Online News or its staff.