inbox and environment news: Issue 577
March 26 - April 1 2023: Issue 577
Common Crow Butterfly Euploea Core
You may be seeing a few of these butterflies around our area at the moment, the Common Crow Butterfly Euploea core.
It belongs to the crows and tigers subfamily Danainae (tribe Danaini). E. core is a glossy-black, medium-sized 85–95 mm (3.3–3.7 in) butterfly with rows of white spots on the margins of its wings. E. core is a slow, steady flier. Due to its unpalatability it is usually observed gliding through the air with a minimum of effort. As caterpillars, this species sequesters toxins from its food plant which are passed on from larva to pupa to the adult. While feeding, it is a very bold butterfly, taking a long time at each bunch of flowers. It can also be found mud-puddling with others of its species and often in mixed groups. The males of this species visit plants like Crotalaria and Heliotropium to replenish pheromone stocks which are used to attract a female during courtship.
It is found in southern Pakistan, Sri Lanka, India, Bangladesh, Myanmar, Russia, and Australia. In its range E. core is found at all elevations, right from sea level up into the mountains to 2,400 metres (8,000 ft). It can be observed in all layers of vegetation and in all types of regions from arid land to forested areas. It can as commonly be seen gliding over the treetops as flitting about a foot off the ground searching for nectar flowers. In thick forests it is often seen moving along open tracks or following the course of a river.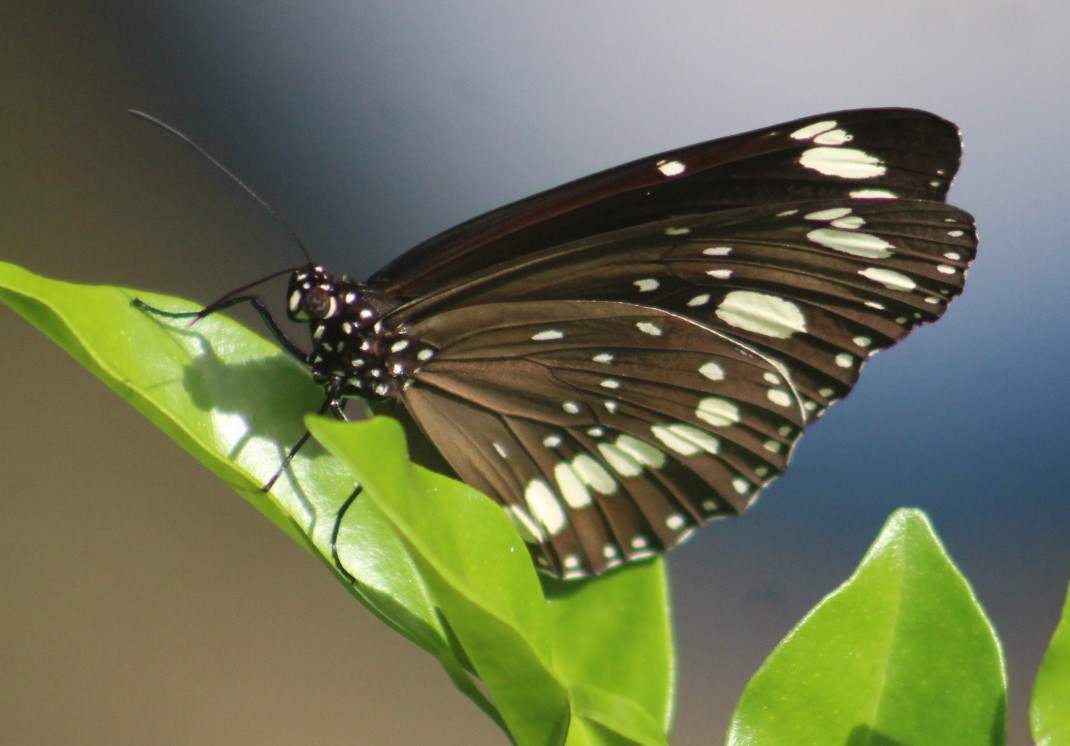 Photo taken in Careel Bay, March 2023. Pic; AJG
The butterfly, being protected by its inedibility, has a leisurely flight. It is often seen flying about shrubs and bushes in search of its host plants. It visits a large variety of flowering plant species. When gliding E. core holds its wings at an angle just greater than the horizontal plane, maintaining its flight with a few measured wingbeats.
E. core is a nectar lover and visits flowers unhurriedly. It seems to prefer bunches to individual flowers. When feeding the butterfly is unhurried and is not easily disturbed. It can be approached closely at this time. On hot days large numbers of these butterflies can be seen mud-puddling on wet sand. E. core is an avid mud-puddler often congregating in huge swarms along with other Euploea species as well as other danaids.
Eggs are laid on the underside of young leaves of the host plants. The egg is shiny white, tall and pointed, with ribbed sides. Just before hatching the eggs turn greyish with a black top. Throughout its life the caterpillar stays on the underside of the leaves. The caterpillar is uniformly cylindrical, vividly coloured and smooth. It has alternate white and dark brown or black transverse bands. Just above the legs and prolegs, along the entire body is a wide orangish-red band interspersed with black spiracles.
The adult butterfly has a life span of 11 - 13 weeks. The adults feed upon nectar from various flowering plants, including eucalypts.
Warringah Zone School Surfing
Congratulations to everyone who took part in the
Warringah
Zone school
surfing
competition last
Thursday
, March 23, in fun, small smooth waves at south Avalon Beach.
Narrabeen Sports
High
School
had great success winning the U16 boys, U16 Girls and Under 19 girls - great stuff! We didn;t get any results in for other divisions and individual results but are sure you all are CHAMPIONS!
Warringah Zone is leading the way with developing a school pathway for competitive surfing. The Tag Team format is the planned format for the developing Combined High Schools (CHS) pathway. Stay tuned for more information!
Congratulations Sateki Latu: Waratahs Cap
Congratulations to
Sateki Latu,
former Forest HS Sports Captain (2016), where he represented at NSWCHSSA Rugby and former Warringah Rugby player Sateki Latu, Prop, who joined the Colts program and was awarded the 2019 Mal Grey Trophy - Best & Fairest Player (1st Grade), on being selected for the Waratahs.
Waratahs: Congratulations to our newest capped Waratah
Sateki Latu -

Waratah No. 1721.
On March 10th 2023 he made his Super Rugby debut against Melbourne's Rebels. Despite the Waratahs not triumphing that time, Sateki was grateful for his run and that all the hard work and passion he has put into his sport is paying off.
In 2022 Sateki was among a selection of eight Shute Shield players a practice match against an ACT Brumbies XV at St Edmunds College in Canberra on Saturday 24 September.
A strong proponent of the Shute Shield, Waratahs Head Coach Darren Coleman was delighted to invite eight of the strongest performers in the competition to help bolster the numbers for the match.
"We are fortunate in NSW to have the Shute Shield which we believe is the strongest club competition in Australia and our first port of call for talent. It is, and always will be, the lifeblood of the Waratahs and Australian rugby," Coleman said
"We wanted to use this match as a means to have a look at some players that were both position appropriate and had dominant club seasons and provide an opportunity for them to come into our environment, get to know them, in case we hit some injuries in the future"
The Shute Shield players joined the Waratahs squad, allowing them to acquaint themselves with the coaching staff and team in the weeks leading up to the match.
Shute Shield players joining the Waratahs for the clash with the Brumbies XV were:
Sateki Latu (Warringah), Ben Houston (Randwick), Ratu Tuisese (Eastwood), Hunter Ward (Manly), Michael Icely (Eastwood), Jack McGregor (Gordon), Alex Pohla (Gordon), James Hendren (Randwick), Dan O'Brien (Randwick), Esera Chee-Kam (Warringah).
Congratulations
Sateki - !
TEXStyle 2023
Congratulations to local student Alex E. (Class of 2022) for being awarded the Excellence Award at the 2023 TEXStyle Exhibition for demonstrating exceptional creativity and quality in her Major Work. This award is a significant achievement and a testament to Alex's hard work, dedication, and talent.
Showcasing major projects from HSC Textile and Design students, TEXStyle celebrates outstanding young talent. The exhibition features innovative works from across NSW including garments, wall hangings and 3D textile pieces, which truly push the boundaries of creativity. The exhibition is supported by a comprehensive events program for teachers and students. TEXStyle is organised by the Technology Educators Association, a not-for-profit body run by full-time educators who volunteer their time to provide engagement with exemplary work and drive educational improvement.
About TEANSW and the TEXStyle exhibitions
Technology Educators Association (
TEANSW
) is a not-for-profit association run by full-time educators who volunteer their time to support Technology teachers and students.
For over 15 years, supported by partnerships and sponsors, TEA has delivered the TEXStyle Exhibition in a variety of iterations, all designed to showcase excellence and promote textiles and fashion in both the education sector and wider communities. It provides opportunities for students and teachers to engage with exemplary work samples and deepen teaching practice to drive improved student outcomes.
Since 2018, the exhibition and seminars have been held at The Muse in Ultimo TAFE in a collaboration with the staff from Fashion Design Studio at TAFENSW. This year, TEANSW has collaborated with the Embroiderers' Guild NSW to deliver a physical exhibition at Gallery 76 based in Concord West.
This Exhibition is not only a partnership with educators and sponsors, it is a collaboration with the student exhibitors. Student voice has driven the content; providing descriptions, highlighting key manufacturing and surface decoration techniques that are of significance for them. All annotations have been written by the student, providing deeper insight into their project development process, trials and celebrations. We have used a combination of professional photographs and ones provided by the students at the nomination stage. As a legacy, this exhibition provides a page that each student exhibitor can refer to when preparing portfolios and applications for future studies and/or employment.
The major project is a highly valued component of Technology subjects, allowing students the opportunity to develop and demonstrate their depth of understanding and skills in the application of knowledge. For the HSC Course, Textiles and Design students undertake a Major Textiles Project worth 50% of the HSC Mark. The 40 projects showcased in the Virtual TEXStyle Exhibition were selected from Major Textile Projects submitted for the practical Textiles and Design examination.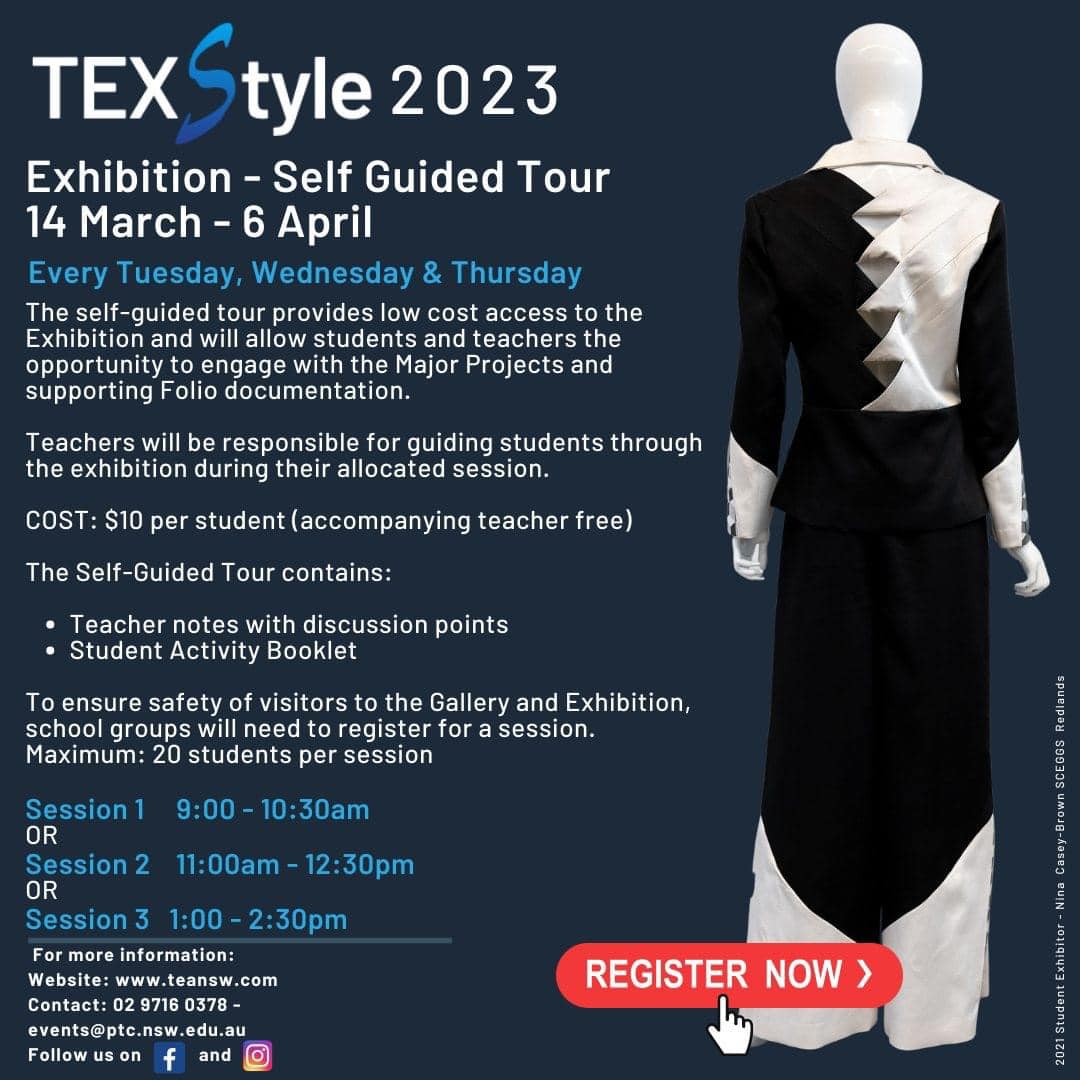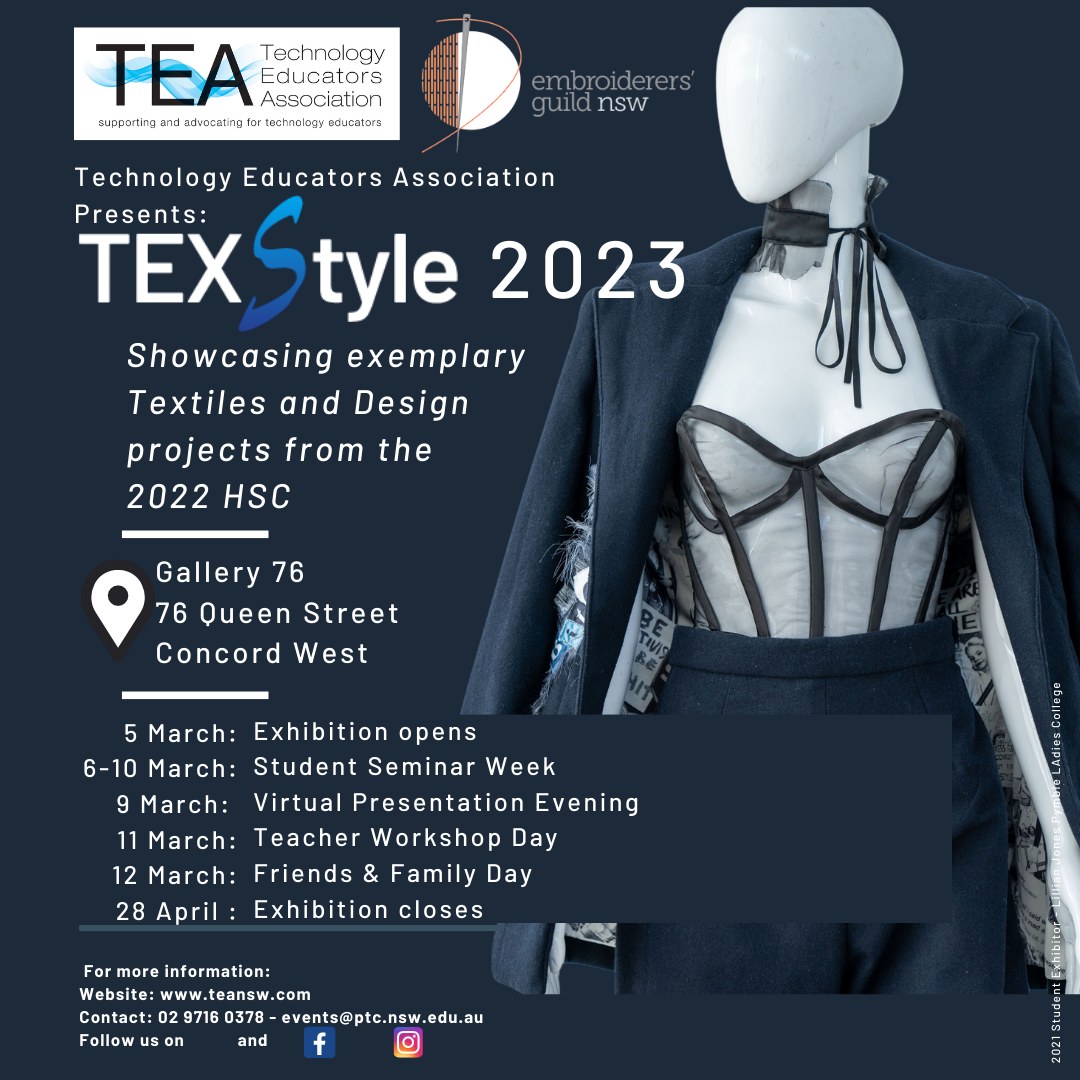 The selected focus area allows students to explore in detail one area of interest through a creative textile design process that integrates the areas of Design, Properties and Performance of Textiles and the Australian Textile, Clothing, Footwear and Allied Industries.
Something that can be worn, is functional and can be easily cared for. Examples include: Daywear, evening wear, children's clothing, lingerie, sleepwear, protective wear, sportswear, bags, hats and shoes.
Related to a particular culture, historical period or occasion. Examples can include: National costume, theatre/film costume, fancy dress party, dance costume, Mardi Gras costume and themed ball.
Textile items for interiors. These can include: cushions, lampshades, quilts, tablecloths, curtains and chairs.
Textile items that are functional. Examples can include bags, wall hangings, umbrellas, tents, sleeping bags, surfboard covers.
A textile item that is highly decorative and can be from any of the focus areas. Wearable and Non-wearable, apparel, costume, furnishing or a non-apparel item.


The 2023 TEA Textile Art Piece (TAP) Challenge
The 2023 TEA Textile Art Piece (TAP) Challenge sponsored by S&S will again offer two design briefs. This will allow teachers of textiles the opportunity to incorporate this highly successful design project into both Stage 5 and Stage 4 programs and into extra-curricular activities which may be offered, such as 'Sewing Club'.
The theme for 2023 is……COUNTRY – identity, purpose, belonging
– may be a hanging art quilt, decorative mat, a sculpture, an ornament, a cushion cover, etc.
– should be no larger than a volume equivalent to 40cm x 40cm x 5cm
– include a minimum of 75% textile materials
– incorporate at least 3 decorative techniques and demonstrate creativity in design and construction
– able to be easily displayed on a wall or table
– respect Indigenous and cultural protocols
– each school may enter a maximum of two (2) entries for each of Stage 4 and Stage 5
Learning across the curriculum
Learning across the curriculum content assists students to achieve the broad learning outcomes defined in the NESA K-10 Curriculum Framework and Statement of Equity Principles, and in the Melbourne Declaration on Educational Goals for Young Australians.
Cross-curriculum priorities enable students to develop understanding about and address the contemporary issues they face. A cross-curriculum priority identified by NESA is Aboriginal and Torres Strait Islander histories and cultures
Theme-specific opportunities
The NSW Aboriginal Education Consultative Group (AECG) https://aecgservices.com.au/
The NSW AECG began in 1977 as a committee of Aboriginal people invited by the Department of Education to advise it on Aboriginal Education.
The AECG, through its local and regional network promotes respect, empowerment and self-determination and believes the process of collaborative consultation is integral to equal partnerships and is fundamental to the achievement of equality.
The AECG offers Professional Learning such as 'Connecting to Country', an Aboriginal community cultural awareness teaching programme. This programme connects the NSW teaching fraternity with Aboriginal peoples and communities. Teachers are offered a unique opportunity to engage directly with Aboriginal Australians at the local community level.
TAP Challenge 2023 – Guidelines & Criteria
Full Guidelines and Criteria can be found via the link below
Only online entry forms will be accepted for the TAP competition. Please follow the link below, or find the link on the TEA website and social media (Facebook and Instagram pages).
TAP2023 entries should be posted to arrive by Friday 22nd September 2023 (term 3, week 10) at the following address –
2023 Textile Art Piece Challenge
c/o TEANSW
PO Box 699
Lidcombe NSW 1825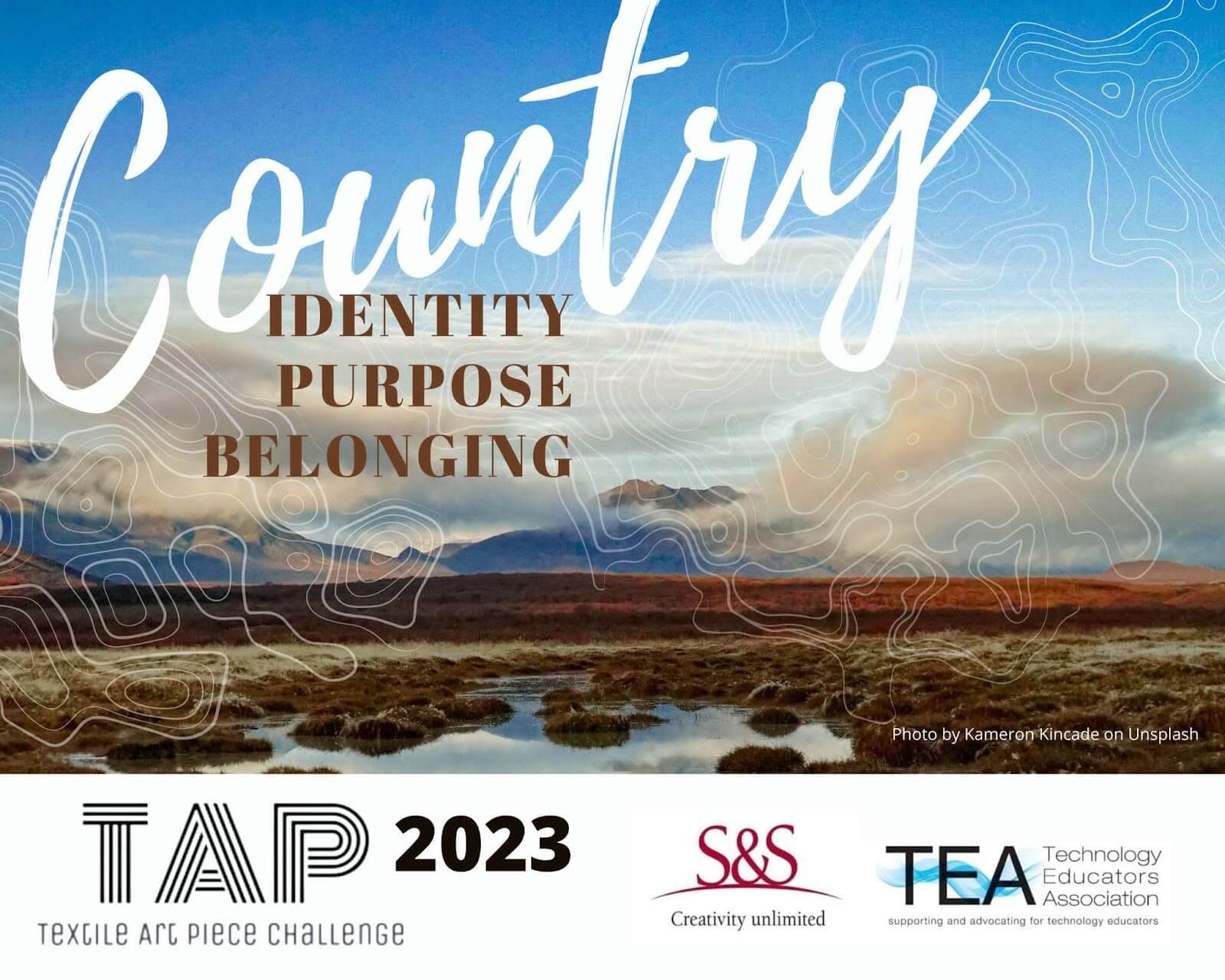 Major Upgrade Of Athlete Change Rooms Ahead Of FIFA Women's World Cup 2023™
Accor Stadium's athlete change rooms, officials area and media conference room have undergone a multimillion-dollar upgrade ahead of the venue's first NRL games for the season and in the countdown to the FIFA Women's World Cup 2023™ in July-August.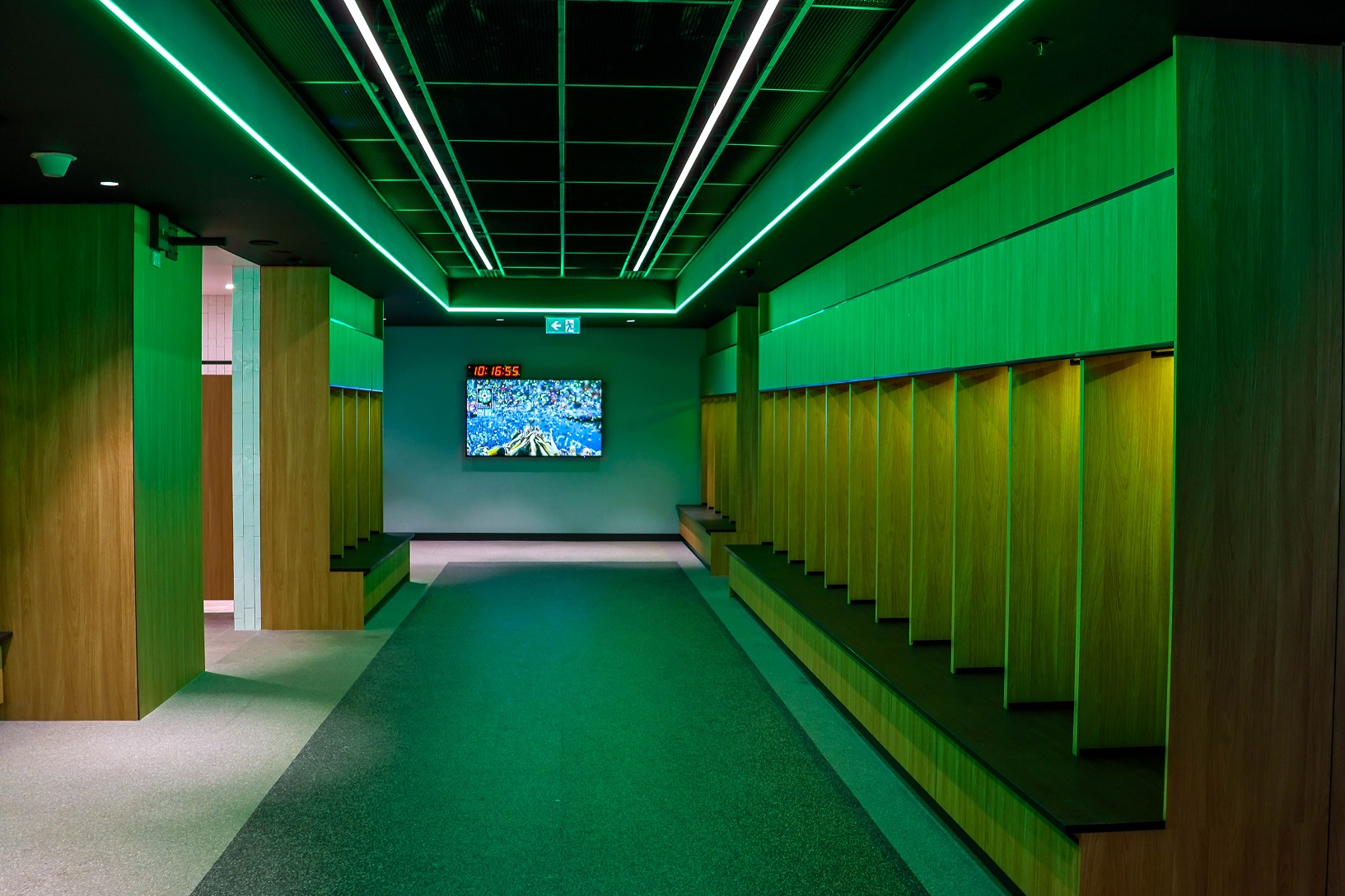 Having hosted almost 500,000 fans during an unprecedented Summer of Concerts season, Accor Stadium has transitioned from major concert venue to sporting arena ahead of an exciting winter of events.
The sleek and modern upgrade of facilities was designed by the original architects of the stadium, Populous, and has created four gender-neutral change rooms suitable for all codes, along with new recovery pools.
Adding to the match-day zone and home ground feel is the ability for every team to bring their club or national identity to life, quickly and efficiently using new lighting infrastructure.
Officials and media will also enjoy new and improved facilities with upgrades to the officials' change rooms, match-day office and medical areas, as well as the media conference room on Level 0.
Venues NSW CEO Kerrie Mather said it's the last stage of an $81.4 million investment in upgrades at Accor Stadium ahead of the FIFA Women's World Cup 2023™, the biggest sporting event to come to Sydney since the 2003 Rugby World Cup.
"We have invested significantly in Sydney's major event stadium, Accor Stadium, to enhance the spectator experience for the millions of fans who attend live events each year," Mather said.
"It's fantastic to extend that world-class experience to the areas used by our athletes, officials and media, providing the very best event-day environment possible.
"We've just witnessed arguably the biggest concert season ever, and there's a lot more to look forward to at Accor Stadium with rugby league returning before the FIFA Women's World Cup comes to town."
Accor Stadium has also completed a number of other recent upgrades. The 120m-long Great Southern Screen, sports lighting and parapet LED on Level 3 has elevated the spectator and event-day experience for fans inside the stadium.
Venues NSW has also completed Accor Stadium's roof and primary structure restoration project to extend the longevity of the venue, while supporting the potential installation of a retractable roof in the future.
In preparation for the return of winter football to Accor Stadium, Head Curator Graeme Logan and his grounds team have completed a full pitch turf replacement, upgraded the arena irrigation system and installed the NRL posts in the countdown to the Rabbitohs v Sea Eagles Round 4 NRL fixture this Saturday night.
"We have come through our major concert period in good shape and rolled out ready-to-play turf as we welcome back NRL footy," Logan said.
"We have had this pitch growing in Western Sydney in preparation for the football season. The posts are now up and it's all systems go for a big season ahead."
Accor Stadium is gearing up for an exciting winter of sport, highlighted by an NRL double-header at Easter featuring the Canterbury-Bankstown Bulldogs v South Sydney Rabbitohs on Good Friday 7 April and Wests Tigers v Parramatta Eels on Easter Monday 10 April. This will be followed by a potentially series-deciding State of Origin Game 3 on Wednesday 12 July.
Immediately following State of Origin is the FIFA Women's World Cup 2023™, with Accor Stadium hosting the CommBank Matildas' opening night game against the Republic of Ireland on Thursday 20 July, along with four major games including the World Cup Final on Sunday 20 August.
Accor Stadium will revert to its generic name Stadium Australia for the FIFA Women's World Cup 2023™ under FIFA regulations.
Avalon Youth Hub In Avalon Beach: Join Us!
Bring your dreams, ideas, concerns or anything about what it's like living, working or studying in the Avalon/Pittwater area. Contribute to our community events, local workshops and development opportunities.
Open to young people aged between 14 and 24.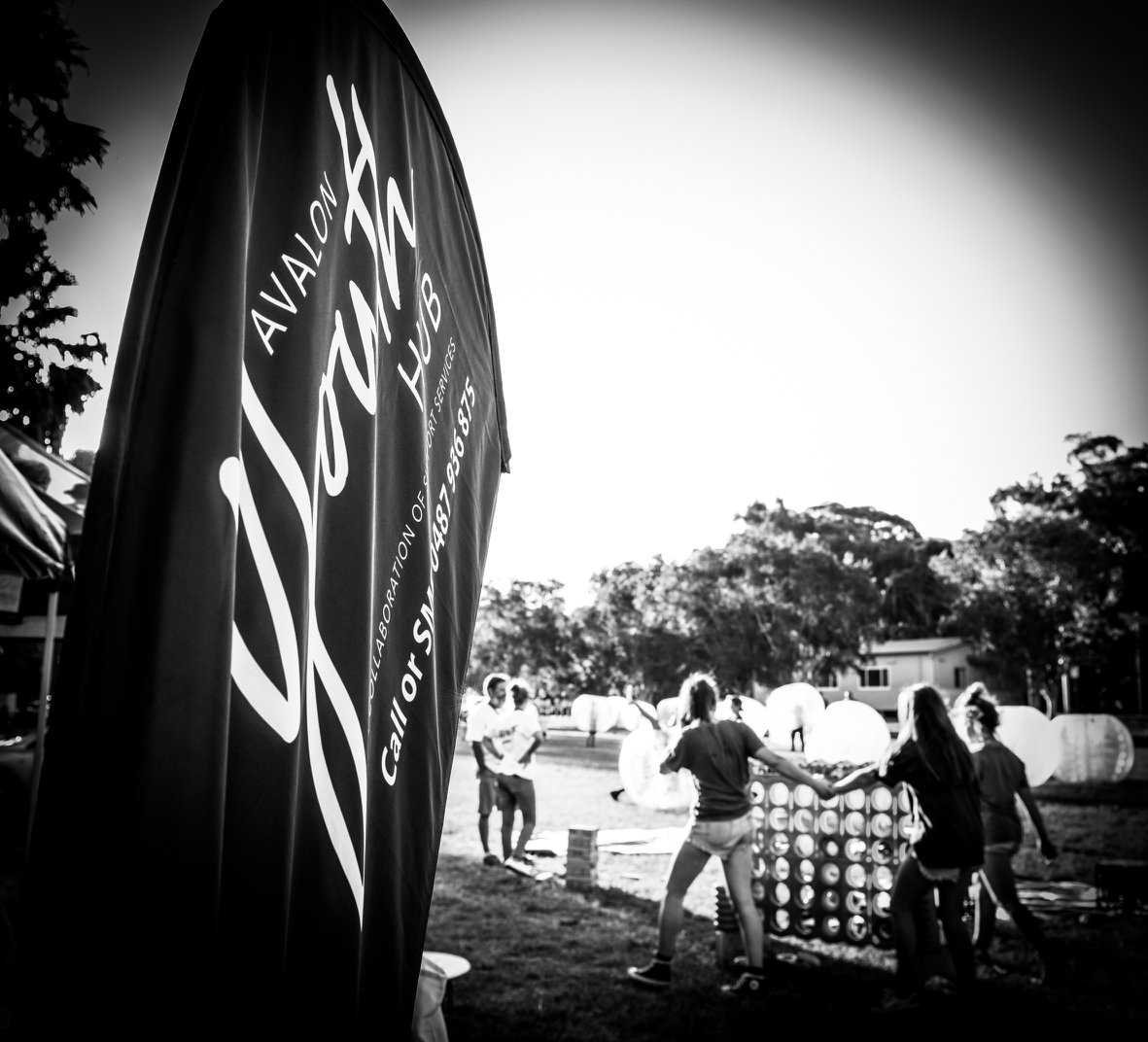 A History Of Pittwater Part 4: West Head - West Head Fortress Remastered 2023
Published March 2023 by Pittwater Pathways, John Illingsworth
This 2023 version updated to include the flight of David Geer's Sea Rey light seaplane. Essential to the production it has become part of it. Definition and video stability is further improved.
The story of the WWII fortress at West Head up to March 1941, including the installation of the guns as told by the man who was there - Jack 'Bluey' Mercer. The history of Commodore Heights, attempts by speculators to subdivide Ku-ring-gai Chase and the building of the Hawkesbury River railway bridge. An over-arching strategic theme from 1882 onwards reveals how the defence of Pittwater, Broken Bay and the Hawkesbury River railway bridge was essential to the war effort and the defence of Sydney.
Scouts Are Out & About
Over the past few months, all age groups in Scouting across Sydney North Region have been doing everything from canoe trips, hikes, and abseiling, to craft and community cleanups.
There's no better time to get into Scouting, with sections for ages 5-25, plus lots of satisfying leadership opportunities for adults.
Young people can have a four-week trial period, and Active Kids vouchers can be used towards membership fees.
Scouts are everywhere! Connect with your local Scout Group via sydneynorthscouts.com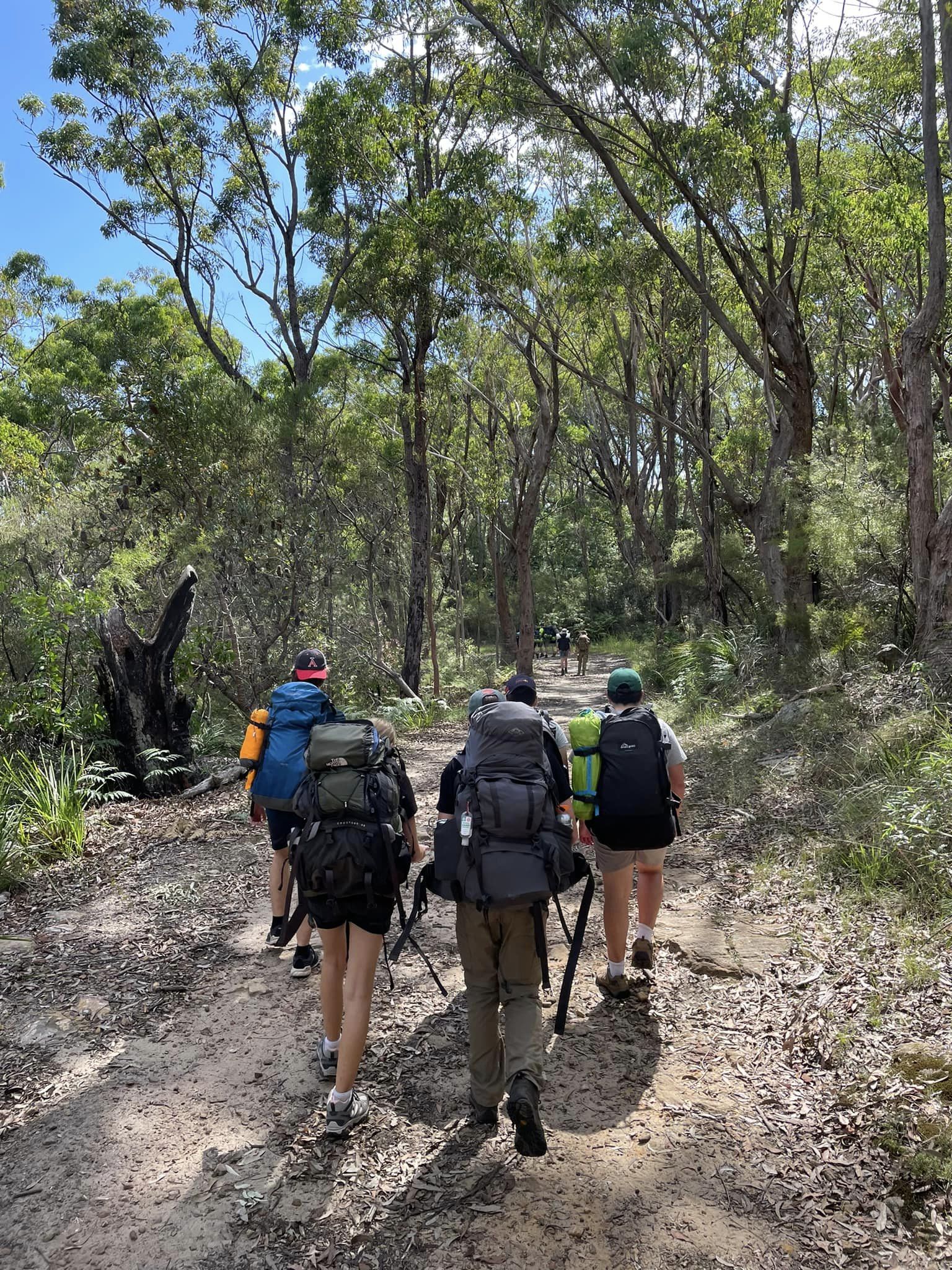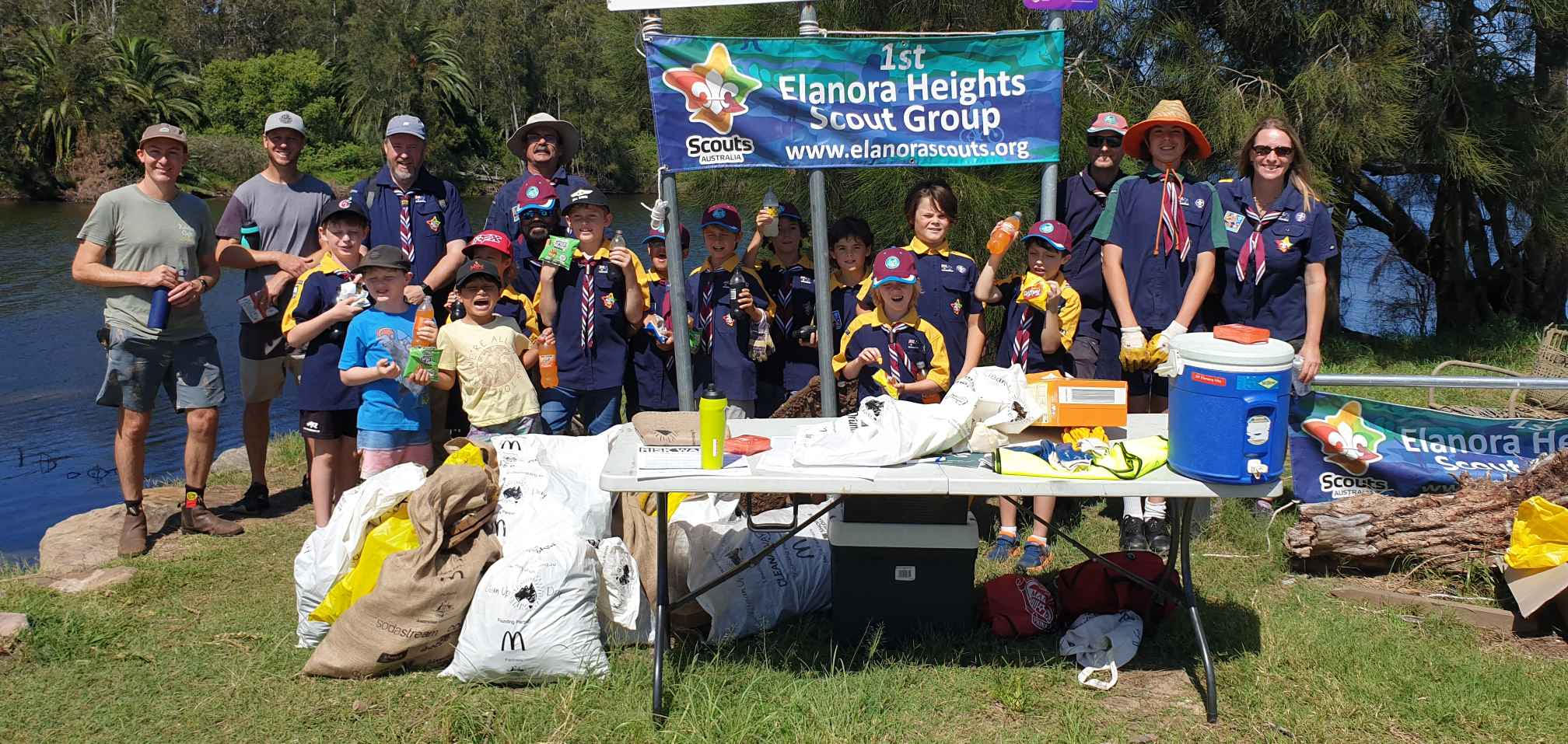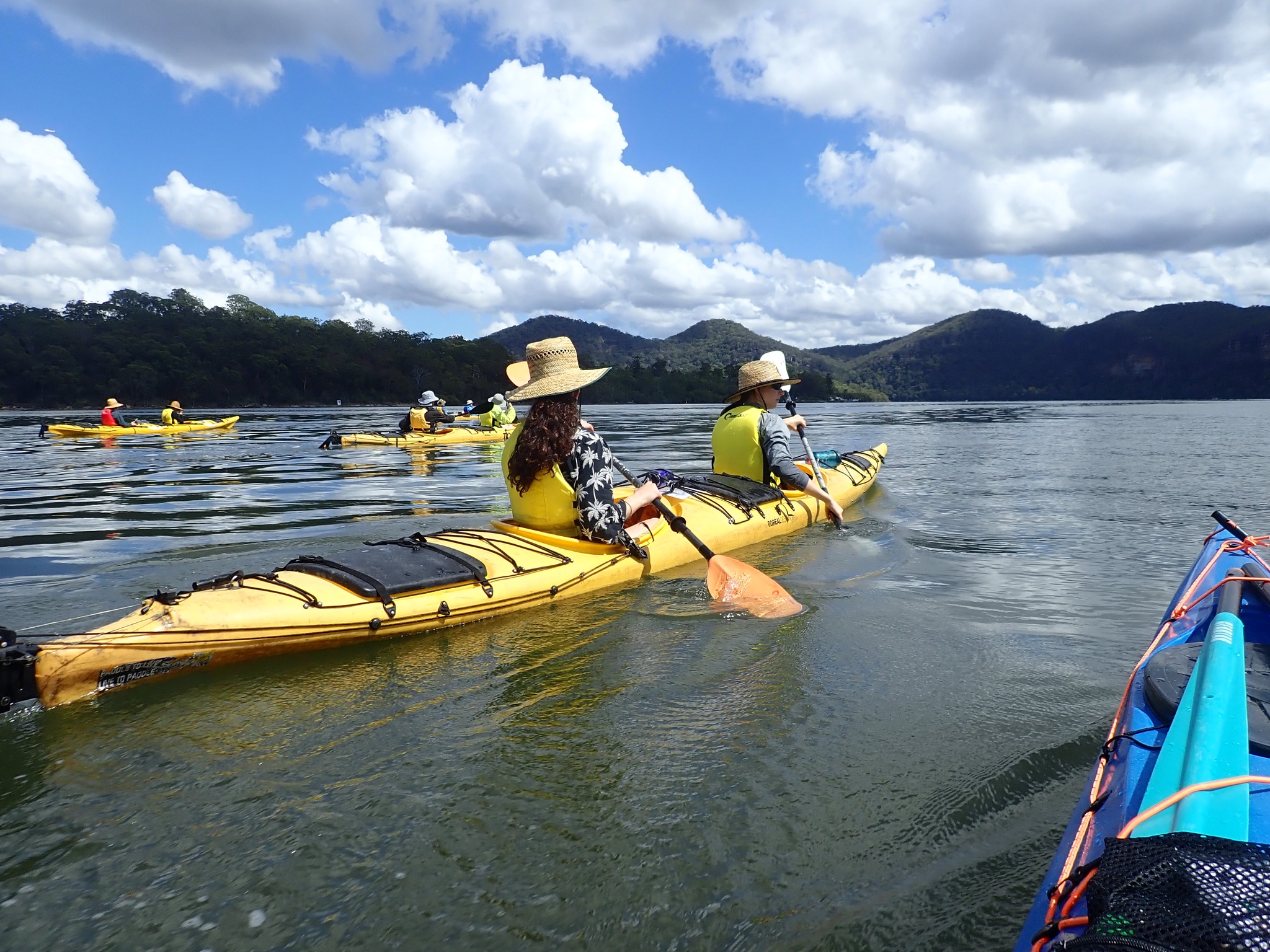 Northern Composure Band Competition 2023
Due to the pandemic, Council have had the 20th anniversary on hold but pleased to say that the competition is open and running again.
Northern Composure is the largest and longest-running youth band competition in the area and offers musicians local exposure as well as invaluable stage experience. Bands compete in heats, semi finals and the grand final for a total prize pool of over $15,000.
Over the past 20 years we have had many success stories and now is your chance to join bands such as:
Ocean Alley
Lime Cordiale
Dear Seattle
What So Not
The Rions
Winston Surfshirt
Crocodylus
And even a Triple J announcer plus a wide range of industry professionals
About the Competition
In 2023, the comp looks a little different.
All bands are invited to enter our heats which will be exclusively run online and voted on by your peers and community by registering below and uploading a video of one song of your choice. (if you are doing a cover, please make sure to credit the original band) We are counting on you to spread the word and get your friends, family, teachers voting for you!
The top 8-12 bands will move on through to our live semi finals with a winner from each moving on to the grand final held during National Youth Week. Not only that but we have raised the age range from 19 to 21 for all those musicians who may have missed out over the past two years.
Key dates
Voting open for heats: Mon 13 Feb – Sun 26 Feb
Band Briefing: Mon 6 March, Dee Why PCYC
Semi 1: Sat 18 March Mona Vale Memorial Hall
Semi 2: Sat 25 March, YOYOs, Frenchs Forest
Grand Final: Fri 28 April, Dee Why PCYC
For more information contact Youth Development at youth@northernbeaches.nsw.gov.au or call 8495 5104
Stay in the loop and follow Northern Composure Unplugged on KALOF Facebook.
School Leavers Support
Explore the School Leavers Information Kit (SLIK) as your guide to education, training and work options in 2022;
As you prepare to finish your final year of school, the next phase of your journey will be full of interesting and exciting opportunities. You will discover new passions and develop new skills and knowledge.
We know that this transition can sometimes be challenging and the COVID-19 pandemic has presented some uncertainty. With changes to the education and workforce landscape, you might be wondering if your planned decisions are still a good option or what new alternatives are available and how to pursue them.
There are lots of options for education, training and work in 2022 to help you further your career. This information kit has been designed to help you understand what those options might be and assist you to choose the right one for you. Including:
Download or explore the SLIK here to help guide Your Career.
School Leavers Information Kit (PDF 5.2MB).
School Leavers Information Kit (DOCX 0.9MB).
The SLIK has also been translated into additional languages.
Download our information booklets if you are rural, regional and remote, Aboriginal or Torres Strait Islander, or living with disability.
Support for Regional, Rural and Remote School Leavers (PDF 2MB).
Support for Regional, Rural and Remote School Leavers (DOCX 0.9MB).
Support for Aboriginal and/or Torres Strait Islander School Leavers (PDF 2MB).
Support for Aboriginal and/or Torres Strait Islander School Leavers (DOCX 1.1MB).
Support for School Leavers with Disability (PDF 2MB).
Support for School Leavers with Disability (DOCX 0.9MB).
Download the Parents and Guardian's Guide for School Leavers, which summarises the resources and information available to help you explore all the education, training, and work options available to your young person.
School Leavers Information Service
Are you aged between 15 and 24 and looking for career guidance?
Call 1800 CAREER (1800 227 337).
SMS 'SLIS2022' to 0429 009 435.
Our information officers will help you:
navigate the School Leavers Information Kit (SLIK),
access and use the Your Career website and tools; and
find relevant support services if needed.
You may also be referred to a qualified career practitioner for a 45-minute personalised career guidance session. Our career practitioners will provide information, advice and assistance relating to a wide range of matters, such as career planning and management, training and studying, and looking for work.
You can call to book your session on 1800 CAREER (1800 227 337) Monday to Friday, from 9am to 7pm (AEST). Sessions with a career practitioner can be booked from Monday to Friday, 9am to 7pm.
This is a free service, however minimal call/text costs may apply.
Call 1800 CAREER (1800 227 337) or SMS SLIS2022 to 0429 009 435 to start a conversation about how the tools in Your Career can help you or to book a free session with a career practitioner.
Word Of The Week: Textile
Word of the Week returns in 2023 simply to throw some disruption in amongst the 'yeah-nah' mix.
noun. any cloth or goods produced by weaving, knitting, or felting. a material, as a fibre or yarn, used in or suitable for weaving: Glass can be used as a textile. adjective. woven or capable of being woven: textile fabrics.

The word 'textile' comes from the Latin adjective textilis, meaning 'woven', which itself stems from textus, the past participle of the verb texere, 'to weave'. Originally applied to woven fabrics, the term "textiles" is now used to encompass a diverse range of materials, including fibres, yarns, and fabrics, as well as other related items.

A "fabric" is defined as any thin, flexible material made from yarn, directly from fibres, polymeric film, foam, or any combination of these techniques. Fabric has a broader application than cloth. Fabric is synonymous with cloth, material, goods, or piece goods.
The word 'fabric' also derives from Latin, with roots in the Proto-Indo-European language. Stemming most recently from the Middle French fabrique, or "building," and earlier from the Latin fabrica ('workshop; an art, trade; a skilful production, structure, fabric'), the noun fabrica stems from the Latin faber; " artisan who works in hard materials', which itself is derived from the Proto-Indo-European dhabh-, meaning 'to fit together'.
Cloth is a flexible substance typically created through the processes of weaving, felting, or knitting using natural or synthetic materials. The word 'cloth' derives from the Old English clað, meaning "a cloth, woven, or felted material to wrap around one's body', from the Proto-Germanic kalithaz, similar to the Old Frisian klath, the Middle Dutch cleet, the Middle High German kleit and the German kleid, all meaning 'garment'.
It is worth noting that although cloth is a type of fabric, not all fabrics can be classified as cloth due to differences in their manufacturing processes, physical properties, and intended uses. Materials that are woven, knitted, tufted, or knotted from yarns are referred to as cloth, while wallpaper, plastic upholstery products, carpets, and nonwoven materials are examples of fabrics.
The textile industry grew out of art and craft and was kept going by guilds, an association of artisans and merchants who oversee the practice of their craft/trade in a particular territory.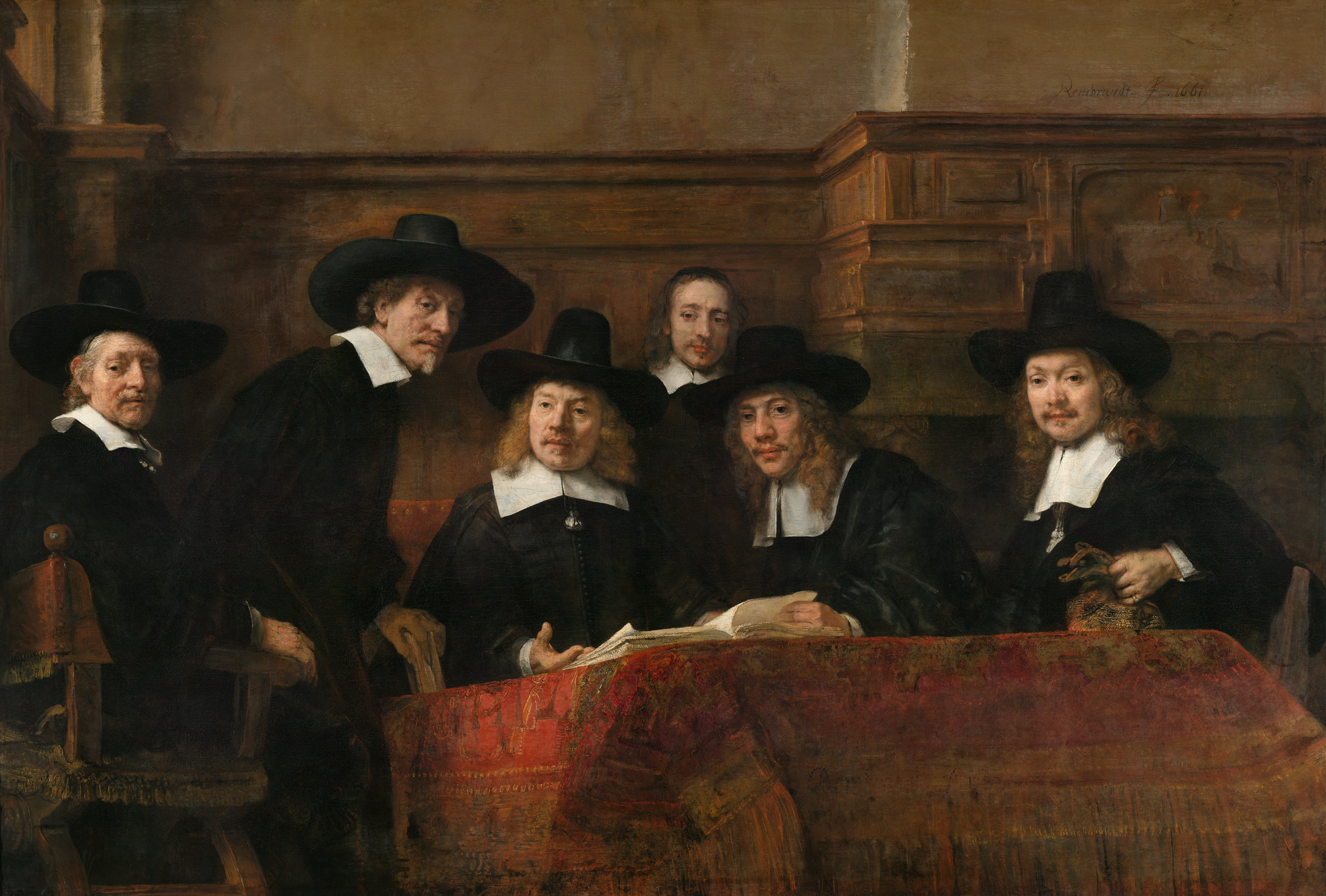 The Syndics of the Drapers' Guild by Rembrandt, 1662.
The men (with the exception of Bel who is an attendant as indicated by his calotte) are drapers who were elected to assess the quality of cloth that weavers offered for sale to members of their guild. Their one-year terms in office began on Good Friday and they were expected to conduct their inspections thrice weekly. The Dutch word staal means 'sample' and refers to the samples of cloth that were assessed. The inspectors used pliers to press the seals of their city (front) and guild (reverse) into penny-sized slugs of lead that were specially affixed to record the results of the inspection. There were four grades of quality, the highest was indicated by pressing four seals and the lowest by pressing only one.
The men, who are appraising a length of Persian-style fabric against exemplars from a swatch book, are (from left to right): Jacob van Loon (1595–1674), Volckert Jansz (1605 or 1610–1681), Willem van Doeyenburg (ca. 1616–1687), Frans Hendricksz Bel (1629–1701), Aernout van der Mye (ca.1625–1681), Jochem de Neve (1629–1681). The guild commissioned this portrait and it hung in their guildhall, the Staalhof (nl), until 1771.
In the 18th and 19th centuries, during the industrial revolution, textiles manufacture became increasingly mechanised. In 1765, when a machine for spinning wool or cotton called the spinning jenny was invented in the United Kingdom, textile production became the first economic activity to be industrialised. There are numerous accounts and stories you may read of the impact of that on individuals and communities.
The precursor of today's textiles includes leaves, barks, fur pelts, and felted cloths. The first clothes, worn at least 70,000 years ago and perhaps much earlier, were probably made of animal skins and helped protect early humans from the elements. At some point, people learned to weave plant fibres into textiles. The discovery of dyed flax fibres in a cave in the Republic of Georgia dated to 34,000 BCE suggests that textile-like materials were made as early as the Palaeolithic era.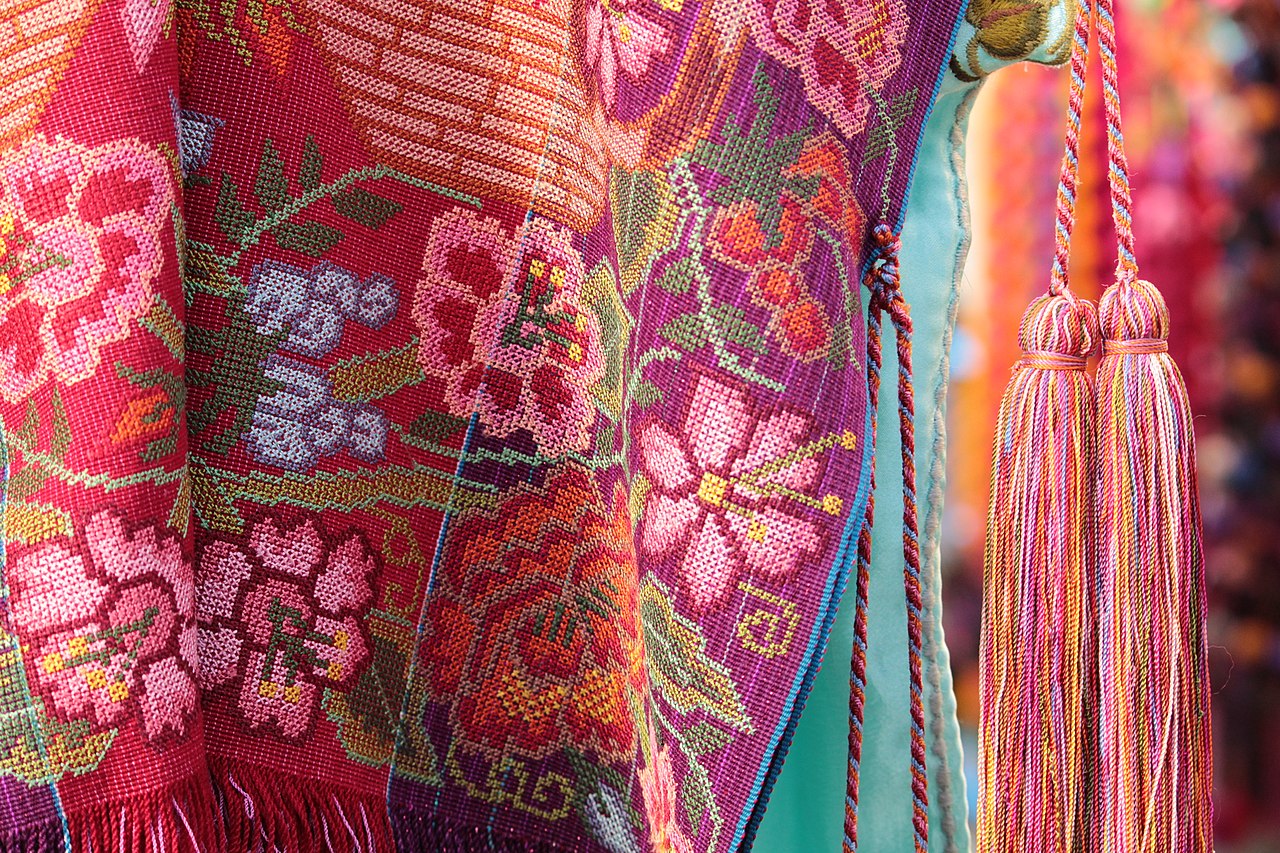 Handmade floral patterns on textiles, The production of textiles which were initially artisanal work, has grown into a vast field today that includes the production of fibers, yarns, fabrics, and various fibrous products for different domestic and industrial usages. Photo: Lily Sanchez
Some fashionable songs from 1953 onwards:
Seniors Call For Fairer Pension Indexation
National Seniors Australia's federal budget submission calls for more frequent indexation to lift the pension during times of high inflation. But that's just the start.
As the independent voice of older Australians, National Seniors Australia calls on the federal government to use the 2023 budget to give seniors the confidence to save and spend.
Older Australians contribute the economy, but with inflation above 7%, market volatility and rising cost of living, the government would do well to boost seniors' confidence.
As part of our ongoing advocacy, we have put forward 12 key policies to help older Australians help build a better nation.
One of the most important things governments can do is strengthen the retirement income system and address pension poverty.
That is why we are calling on the government to provide for more regular indexation of the pension during times of high inflation, rather than every six months as is currently the case.
We believe increases in inflation and cost of living should be factored into pension payment recalibrations in June or December. This will help stop those on the Age Pension from falling behind when it comes to meeting day-to-day living costs.
We also call for improvements to rent assistance for pensioners facing difficulty with rising housing costs. Ultimately, an Independent Pension Tribunal would be the best way to regularly assess and set pensions and other government payments.
Such a tribunal would take the politics out of the pension!
As we have been proposing for many years, government should do more to help older people help themselves by taking the handbrake off and reforming the rules around work. While we welcomed the temporary $4,000 increase to the Work Bonus, the government should reform income test rules so there is no disincentive for pensioners to work more if they need to.
Industries, including health, aged care and agriculture would benefit from our policy and the resulting injection of much needed workers.
Pensioners would retain more of their payments when working, to encourage greater workforce participation to fill labour shortages.
Speaking of workers, we are calling for a traineeship scheme so mature-age workers can fill the many vacancies in home care. As one provider recently told us, he was not willing to take on new home-care clients unless he can be sure there will be workers to deliver these services.
Another important focus of our budget submission is the need for housing. Unless there are incentives to downsize, and the construction of age-suitable housing, many older Australians will either remain in unsuitable and potentially unsafe homes or be forced into residential care.
That's why we are calling for proceeds from the sale of the family home to be exempt from the pension assets test. We also propose a capital grants scheme to fund rental housing and smaller-scale residential care homes.
Also, a more generous dedicated home-care loans scheme that allows older people to fund additional health care and support services would enable them to stay in their homes for longer.
Major costly reforms to the aged care system are underway and there is a need to ensure taxpayer monies are well spent and not subject to petty politics. We believe the establishment of an independent expert body can achieve this. The body would assess the fairest and most efficient way to fund the many reforms that will roll out over coming years.
While there is, as always, a big focus on what government can do for you, we are conscious many of you want to know what you can do for others.
That's why we continue to advocate for clean energy bonds to give older Australians a way to invest safely in the solutions required to meet our emissions targets. Interestingly, this policy aligns with the Treasurer's recent calls for greater investment in social and environmental projects, so we hope this might get some attention.
Lastly, pension gifting limits should be lifted to encourage more seniors to help younger people meet housing and education costs.
Government States New Bill Increases Aged Care Transparency
The Federal Government has today introduced key legislation to further drive transparency and accountability across the aged care sector.
Once passed, the Inspector-General of Aged Care Bill will establish an independent body with coercive information gathering powers to review the Commonwealth's administration and regulation of the aged care system.
The bill will give the Inspector-General the necessary powers to investigate systemic issues across the aged care system, including complaints management processes.
The Inspector-General will report findings and recommendations to Government, to Parliament, and to the public, to facilitate positive change for older Australians.
The Inspector-General will also have powers to report on the Government's implementation of the Royal Commission into Aged Care Quality and Safety's recommendations.
Importantly, the Inspector-General will operate autonomously, at arm's length from the Australian Government.
Ian Yates AM will continue as interim Inspector-General pending legislation passage and the appointment of a permanent Inspector-General is expected in the second half of this year.
Minister for Aged Care, Anika Wells stated;
"The Albanese Government is ambitious for aged care and demands accountability and transparency from the sector.
"The Inspector-General of Aged Care Bill will establish an independent Inspector-General of Aged Care, who will monitor and investigate the Commonwealth's administration and regulation of the aged care system.
"This Bill reinforces the Albanese Government's commitment to hold ourselves to the same high standards that we expect of the sector."
Older Australians' Health Put At Risk By Lack Of Government Action On Dental Care
The oral health of older Australians is being put at risk by a lack of government action on dental care for at risk older people as part of Medicare, the Council on the Ageing – Australia's leading advocate for older Australians – says.
Marking World Oral Health Day, COTA Chief Executive Officer, Patricia Sparrow, says it's time for the Federal Government to improve access to dental care by developing a publicly funded senior dental health program bulk billed through Medicare.
"A lack of government action is resulting in many older Australians being forced to deal with long-lasting health consequences due to a lack of affordable and accessible dental care," says Patricia Sparrow.
"One of the key recommendations of the Aged Care Royal Commission was the introduction of a publicly funded senior dental scheme, but we're still yet to see meaningful action on its introduction.
"It is not just a matter of cosmetic appearance; oral health is an essential measure of overall health and quality of life. Good oral health is vital to overall health and well-being, yet many older Australians face challenges accessing basic dental health services.
"We need locally available, affordable and accessible dental care so people have the ability to get their oral health needs met before they spiral out of control.
"We see too many older Australians getting sick and ending up in hospitals because they cannot afford to see a dentist. They are often forced to live with toothache, missing teeth, and other oral health problems that make eating, speaking, and going about their daily lives difficult.
"For those lucky enough to access a public dental clinic, treatment wait times can last over two years, and services are limited to essential treatments. These problems were further amplified due to the pandemic and the ongoing cost of living crisis.
"The time to invest in a national dental program is now. We need to see the government develop a publicly funded senior dental health program, bulk billed through Medicare. In the first instance, the scheme should target those who need it most – older people on low incomes, all people living in a residential aged care home or receiving a home care package.
"A Senior Dental Benefits Schedule will prove an immeasurable investment for the Government, improving the dental and overall health of older Australians whilst reducing the overall long-term costs created by the lack of access to dental care.
"It was a Labor Government that delivered the Children's Dental Benefit Scheme. Now it's time to protect older Australians' oral health too."
Tackling The Housing Crisis: New Report Outlines Comprehensive Strategy
COVID turbo-charged Australia's existing housing problems, but policy solutions are available, says a new report.
A newly-published UNSW Sydney research report provides a comprehensive roadmap to confront Queensland's housing and rental crisis, with many of its recommendations applicable and adaptable Australia-wide.
The report, A blueprint to tackle Queensland's housing crisis, was commissioned by the Queensland Council of Social Service (QCOSS) with support from a coalition of partner agencies. It is one of the most wide-ranging housing policy reviews to date.
"The report lays out an evidence-backed reform package that tackles the housing crisis at state level, with suggestions on federal input as well," says Professor Hal Pawson, Housing Research and Policy expert from UNSW's City Futures Research Centre and lead author on the report.
"In a nutshell, the housing crisis comprises declining home ownership, growing private rental stress, rising homelessness and shrinking social housing capacity," says Dr Andrew Clarke, lecturer in sociology and social policy at UNSW's School of Social Science and co-author of the report.
"The pandemic exacerbated all these problems, but Premier Palaszczuk's action in convening her Queensland Affordable Housing Summit last year is really encouraging evidence that the state recognises the gravity of the challenge and has the ambition to tackle it."
"Our report for QCOSS highlights a wide range of feasible and realistic policies that can effectively confront aspects of the housing policy challenge affecting Queensland and other states – many of which can be actioned at no cost to the government," says Prof. Pawson.
Australia-wide trends of higher intensity in Queensland
As emphasised by the report, problems such as the declining rate of young adult home ownership have been gradually intensifying for decades. Equally, recent years have seen a new surge in housing stress in Queensland, more marked than in any other part of the country.
"In Queensland, a majority of new private lets are unaffordable to low-income households, and homelessness has been rising faster than in any other mainland state," says Prof. Pawson.
"Governments have failed to grow the social housing portfolio in line with population, and private rent inflation has been recently rampant.
"These negative trends are happening in most parts of the country but are of a higher intensity in Queensland, partly due to high rates of migration from other states and partly due to other factors such as the conversion of long-term rentals into short-term lettings through platforms like Airbnb."
Unlike most other states, Queensland's population is evenly split between region and city – and it's regional Australia where the post-COVID housing crisis has generally been most intense.
"Our report adds to the evidence of the scale and the profile of unmet housing need," says Prof. Pawson. "It also reveals the uneven geography of rental stress, indicating that several coastal and central mining areas in Queensland have experienced the most intense rent increases and declines in rental affordability over the past few years."
"The sheer scale of housing issues facing regional Queensland is quite alarming," says Dr Clarke, who conducted stakeholder interviews as part of the report. "There's a lot of anecdotal chatter about a post-COVID housing crisis, but it's glaringly apparent from our hard evidence that the regional housing problem is worse than we thought."
Key findings of the report – all specific to Queensland – include:
A recent burst of rental inflation has seen private rents growing at rates faster than in any other Australian jurisdiction.
Homelessness in Queensland rose by 22 per cent in the four years to 2021-22, compared with only 8 per cent across Australia.
Rising homelessness has been particularly evident in regional areas, where the average monthly number of Specialist Homeless Service users increased by 29 per cent from 2017-18 to 2021-22.
Declining rental affordability for low-income households has been most marked in regional Queensland, where this trend has been ongoing since at least 2017-18, with the proportion of lettings affordable to this population cohort falling from 36 per cent to 17 per cent over this period.
The sharpest private rent increases have been seen in regional markets, where over the past five years, median rents rose by 80 per cent in Gladstone, by 51 per cent in Noosa, and by 33 per cent in the Gold Coast.
Overall, there are approximately 150,000 households across Queensland whose needs for affordable housing are currently unmet – that is, they are either homeless by ABS Census definitions or otherwise low-income recipients living in private rental housing and paying more than 30 per cent of household income in rent. As of the 2021 census, this 'backlog need' includes over 102,000 households who would typically be eligible for social housing.
Ad hoc housing policy approach to date
The report argues that Australia is in urgent need of a coherent housing policy reform package.
"Right now, we have a piecemeal approach in housing policy that involves isolated housing initiatives that only look at specific aspects of the housing problem," says Dr Clarke. "These alone are not enough to make a significant difference.
"Our report is pushing policymakers to think of housing as a system and address the root of the housing problem, recognising that both levels of government need to give greater priority to tackling the issue and to do so collaboratively."
"Tax reform and co-contributions at a federal level can greatly assist states in tackling the housing crisis," says Prof. Pawson. "Extraordinary, although it might seem, it is only in 2023 that Australia's first-ever national housing strategy is being developed.
"We just have to hope that the Albanese Government's National Housing and Homelessness Plan, currently taking shape in Canberra, turns out to be fit for purpose."
Snapshot of policy recommendations
Meet social housing need by further expanding housing investments funds (state and federal responsibility), phasing in meaningful inclusionary zoning, examining scope for land value extraction via public housing estate renewal, mandating the inclusion of social/affordable housing for non-estate public land disposal, building community housing capacity, with special emphasis on Indigenous community housing organisations and establishing a permanent supportive housing funding framework.
Both state and Commonwealth governments can assist with affordability and security for low-income private tenants by reforming rent assistance, further strengthening rental regulation, reviewing the scope for stronger short-term rental regulation and facilitating build-to-rent development.
The Commonwealth government should reform private landlord tax concessions that negatively impact broader housing affordability.
State governments should phase out stamp duty and replace it with a broad-based land tax.
State and Commonwealth governments to re-establish housing entity within government.
Establish annual publication of key social and affordable housing statistics.
Real-World Studies Confirm Effectiveness Of Bulevirtide To Treat Chronic Hepatitis D
In 2020,bulevirtide (BLV) was conditionally approved for treating chronic hepatitis delta (CHD), an inflammation of the liver caused by hepatitis D virus (HDV). Now real-world studies of patients treated outside of clinical trials confirm that long-term suppressive therapy with BLV monotherapy has the potential to reduce viral replication and improve liver tests of these difficult-to-treat patients for the first time in 45 years, report investigators in the Journal of Hepatology and its companion journal JHEP Reports.
Two of the studies, led by Pietro Lampertico, MD, PhD, Division of Gastroenterology and Hepatology, Foundation IRCCS Ca' Granda Ospedale Maggiore Policlinico, Milan, Italy, were designed to assess the effectiveness and safety of patients with advanced HDV-related compensated cirrhosis being treated with BLV 2mg monotherapy and the consequences of discontinuing this treatment.
"HDV is the most severe form of chronic viral hepatitis," explained Dr. Lampertico. "For many years, the only therapeutic option was the off-label administration of pegylated-interferon-alpha (PegIFNa), an approach characterized by suboptimal efficacy, an unfavorable safety profile and several contraindications."
In a study of 18 patients with HDV-related advanced cirrhosis treated with BLV 2 mg/day for 48 weeks, Dr. Lampertico and colleagues demonstrated significant virological, biochemical and combined response rates associated with improvement of liver function.
"The efficacy and safety of BLV monotherapy in patients with advanced compensated cirrhosis were unknown before this study. Virological and biochemical responses to BLV monotherapy that we observed in our difficult-to-treat patients with HDV-related compensated cirrhosis were similar to those shown in the phase III registration study," Dr. Lampertico noted.
In a case report, Dr. Lampertico and co-investigators demonstrated that HDV could be successfully eradicated from both serum and liver following a three-year course of BLV monotherapy, despite the persistence of HBsAg, in a patient with HDV-related compensated cirrhosis and esophageal varices. During the 72-week off-BLV follow-up, liver biopsy, intrahepatic HDV RNA and hepatitis D antigen were undetectable, less than 1% of hepatocytes were HBsAg positive and all were negative for hepatitis B core antigen.
"We were surprised to demonstrate that HDV can be eradicated following a finite course of an entry inhibitor administered as monotherapy such as BLV 2mg/day, despite the persistence of HBsAg positivity," commented Dr. Lampertico.
In a study in JHEP Reports led by PD Dr. med. Katja Deterding, MD, Department. of Gastroenterology, Hepatology and Endocrinology at Hannover Medical School, Hannover, Germany, investigators report the first data from the largest multicenter cohort of patients to date who were treated with BLV under real-world conditions, including 50 patients with signs of significant portal hypertension, elevated pressure in the major vein that leads to the liver.
The retrospective analysis of 114 cases covered 4,289 patient weeks of BLV treatment. Viral response was observed in 87 cases while hepatic inflammation improved, and treatment was well tolerated. More than 50% of patients showed a virologic response with less than 10% of patients not achieving an HDV RNA drop of at least 90% after 24 weeks. An improvement of biochemical hepatitis activity as measured by the liver enzyme alanine transaminase (ALT) values was observed regardless of virologic response. Investigators concluded that treatment was safe and well tolerated and associated with improvements in liver cirrhosis and portal hypertension with prolonged treatment.
"In line with other real-world cohorts and clinical trials our real-world study confirms the antiviral activity of BLV," noted Dr. Deterding. "We were surprised to see an improvement in biochemical hepatitis activity even in cases without viral response. Potential explanations for this phenomenon include anti-inflammatory properties of BLV."
"This is the first time that patients with HDV-related chronic advanced liver disease can be treated with an antiviral therapy since 1977 when HDV was discovered. Long-term suppressive therapy with BLV 2 mg/day has the potential to improve survival, of these difficult-to-treat patients for the first time in 45 years," concluded Dr. Lampertico. "We also found that BLV treatment can be successfully discontinued in some HDV patients who achieved long-term viral suppression while on therapy."
HDV infection occurs when people become infected with both hepatitis B and D virus either simultaneously (co-infection) or acquire the hepatitis D virus after first being infected with hepatitis B (super-infection). According to the World Health Organization, HDV affects nearly 5% of individuals with a chronic infection resulting from hepatitis B virus (HBV). Populations that are more likely to have HBV and HDV co-infection include indigenous populations, recipients of hemodialysis and individuals who inject drugs.
Elisabetta Degasperi, Maria Paola Anolli, Sara Colonia Uceda Renteria, Dana Sambarino, Marta Borghi, Riccardo Perbellini, Caroline Scholtes, Floriana Facchetti, Alessandro Loglio, Sara Monico, Mirella Fraquelli, Andrea Costantino, Ferruccio Ceriotti, Fabien Zoulim, Pietro Lampertico.
Bulevirtide monotherapy for 48 weeks in patients with HDV-related compensated cirrhosis and clinically significant portal hypertension.
Journal of Hepatology, 2022; 77 (6): 1525 DOI:
10.1016/j.jhep.2022.07.016
High Rates Of Physical And Mental Health Problems Found In Children Held In Detention On Nauru: Study
Paediatric clinicians observed a range of health difficulties in children and young people seeking asylum who were subjected to offshore processing.
A sample of asylum seeking children and young people (CYP) held on Nauru were found to have high rates of physical and mental health problems around the time of transfer from Nauru, according to new research. The study also found that most had multiple adverse childhood experiences in their lifetime, including disruptions to education, family separation and witnessed trauma.
For the study, researchers retrospectively analysed detailed health assessments of 62 CYP completed by paediatricians and child and adolescent psychiatrists from 10 health services across Australia.
The research, published in
Archives of Disease in Childhood
, found physical and/or mental health difficulties in almost all CYP in the sample. The CYP were subjected to Australia's offshore immigration policy for asylum seekers arriving by boat with more than half of the sample held on Nauru for four or more years.
Lead author of the study Dr Lahiru Amarasena, a paediatrician and PhD student at the School of Women's and Children's Health, UNSW Medicine & Health, says the research adds to the evidence that immigration detention is a harmful practice for children.
"These poor health outcomes were almost universal in our sample of CYP who experienced forced migration and were exposed to the policy of indefinite mandatory detention." Dr Amarasena says.
Immigration detention is a known adverse childhood experience and may contribute to or exacerbate detrimental outcomes in CYP seeking asylum.
Previous studies have documented harmful consequences
of the practice, including physical, psychological, neurodevelopmental and educational difficulties.
Of those in the current study, physical health problems were present in 55 CYP (89 per cent), most commonly malnutrition (24 per cent), dental disease (21 per cent) and abdominal pain (16 per cent). Mental health conditions were also formally diagnosed in 27 CYP (44 per cent), but most of the study sample had one or more mental health symptom (79 per cent) – including self-harm ideation or attempts (45 per cent).
"Poor health outcomes were almost universal in our sample of CYP who experienced forced migration and were exposed to the policy of indefinite mandatory detention."
The rates are comparable to previous studies of CYP exposed to immigration detention and far higher than in non-detained refugees or general Australian populations.
"Our study involves a small sample of detained CYP, but contextualised in other national and international studies and reports, we know that no time in detention has been determined to be safe, and the United Nations recommends avoidance of detention practices for children." Dr Amarasena says.
The research also found 58 CYP (94 per cent) had exposure to one or more adverse childhood experience (ACE) in their lifetime, including 13 CYP (21 per cent) with exposure to four or more ACEs. Twenty-five CYP had exposure to one or more types of abuse or neglect (40 per cent). Most (63 per cent) had witnessed trauma in their lifetime.
Most school-aged children had also experienced disruptions to their schooling (77 per cent). Eleven CYP (18 per cent) were separated from one or more primary relative on Nauru.
"For health services, it also highlights the need to be aware of these adversities when caring for kids already exposed to immigration detention and forced migration," Dr Amarasena says.
The researchers also acknowledge the study design with recruitment through health services, while necessary to minimise further trauma, has limitations given the challenges of working with vulnerable, mobile populations, particularly during COVID-19 restrictions.
Since mid-2013, under offshore immigration policy, all of those seeking asylum by boat, including children, were sent offshore and were prevented from ever permanently resettling in Australia regardless of their refugee status.
The majority of asylum-seeking CYP were transferred to Nauru, where a maximum of 222 were held at any one time, between 2013 to 2019. Some were released into the Nauruan community after Nauru recognised their refugee status and a small proportion were eventually resettled in other countries.
Most were transferred to Australia on temporary visas. All children were transferred from Nauru by early 2019 but the policy of offshore processing and indefinite mandatory detention continues to be in effect.
"Some recipient countries continue to employ immigration detention for children and young people, even though it breaches international human rights conventions. Immigration detention of children is a preventable adverse childhood experience," Dr Amarasena says.
Humans Are Altering The Diet Of Tasmanian Devils; Which May Accelerate Their Decline
The Tasmanian devil roams the island state of Australia as the apex predator of the land, feeding on whatever it pleases as the top dog -- or the top devil. But some of these marsupial scavengers could be starting to miss out on a few items from the menu.
According to a study led by UNSW Sydney, living in human-modified landscapes could be narrowing the diet of the Tasmanian devil. The research, published recently in Scientific Reports, suggests devils have access to vastly different cuisines depending on the type of environment they live in.
"We found Tasmanian devil populations had different levels of variation in their diet depending on their habitat," says Anna Lewis, a PhD candidate at UNSW Science and lead author of the study. "The more that habitat was impacted by humans, the more restrictive the diet became."
A previous study by the team found most devils are individual specialists, feeding on the same food items consistently over time. But human impacts could be influencing whether they have access to their favourite foods.
"How humans change the environment impacts the animals within them," says Professor Tracey Rogers, an ecologist at UNSW Science and senior author of the study. "Even small changes can have significant consequences for devils, so we need to be mindful of the consequences of our actions."
The devil is in the details
For the study, the researchers investigated the diets of devil populations across habitats of differing levels of disturbance, from cleared pasture to undisturbed rainforest. They did this by analysing chemical stamps called stable isotopes in whisker samples taken from Tasmanian devils in different environments.
"It's similar to how tree rings capture chemical signals about atmospheric elements over time. We're doing the same thing with the devils, matching up the biochemical signatures in the whiskers to the prey so we can learn more about what the devils are eating," Prof. Rogers says.
They found devils in human-impacted landscapes, such as cleared land and regenerated native forests, fed on the same food items, primarily medium-sized mammals. Meanwhile, in environments like rainforest areas, devils ate a broader range of prey and incorporated smaller animals, such as birds, into their diets.
"We found devils in heavily altered areas like cleared land fed on a smaller range of prey compared to populations living in ancient undisturbed regions, who had much more variety in their diet," Ms Lewis says. "They may be turning to human-derived sources of food, such as highway roadkill, which are more readily available."
Interestingly, devils living in regenerated native eucalypt forests also ate a smaller variety of food items. Comparatively, their diets were closer to the devils in cleared agricultural land than those from undisturbed forest regions.
"These regenerated forests not logged for many decades may look like natural landscapes to us, but the devils that live there have similar simple diets to the devils that live on cleared agricultural pastures," Prof. Rogers says.
"The regenerated land doesn't have the complex features such as tree hollows in large old trees to support diverse bird life and small mammals that the devil eats in the rainforest."
Restrictive diets could increase threat
Devils that all maintain the same diet run the risk of interacting more frequently around carcasses, which is of particular concern for spreading the highly contagious and fatal cancer, Devil Facial Tumour Disease (DFTD). The disease has already reduced local devil populations by 82 per cent and spread to most of Tasmania.
"The highest rate of cancer transmission other than during the mating season occurs when they're feeding around these large carcasses," Ms Lewis says. "So, there could be an increased chance for the disease to spread amongst devils, and the devils themselves are also at risk of being hit while feeding."
The researchers say the findings highlight the urgent need to protect what remains of untouched landscapes for both the devils and the species they eat.
"It's apparent there is much more diversity of species available in these old-growth forests, and the devils are shining a light on how vital these pristine areas are, and the urgent need to preserve what remains from the constant threat of clearing and mining," Prof. Rogers says.
In the next stage of the research, they hope to investigate the eating habits of devils in native grasslands to better inform conservation efforts across more habitats.
"By better understanding what is impacting devil diets, we can work to protect this iconic Australian animal and ensure their continued survival in the face of ongoing environmental change," Ms Lewis says.
Anna C. Lewis, Channing Hughes, Tracey L. Rogers.
Living in human-modified landscapes narrows the dietary niche of a specialised mammalian scavenger.
Scientific Reports, 2023; 13 (1) DOI:
10.1038/s41598-023-30490-6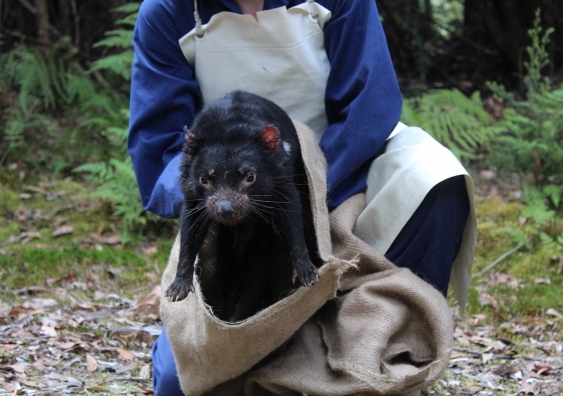 The study found the diet of Tasmanian devils became more restrictive the more their habitat was impacted by humans. Photo: Ariana Ananda.

Bird Flu Associated With Hundreds Of Seal Deaths In New England In 2022
Researchers at Cummings School of Veterinary Medicine at Tufts University found that an outbreak of highly pathogenic avian influenza (HPAI) was associated with the deaths of more than 330 New England harbour and grey seals along the North Atlantic coast in June and July 2022, and the outbreak was connected to a wave of avian influenza in birds in the region.
The study was published on March 15 in the journal Emerging Infectious Disease.
HPAI is more commonly known as bird flu, and the H5N1 strain has been responsible for about 60 million poultry deaths in the U.S. since October 2020, with similar numbers in Europe. The virus was known to have spilled over from birds into mammals, such as mink, foxes, skunk, and bears, but those were mostly small, localized events. This study is among the first to directly connect HPAI to a larger scale mortality event in wild mammals.
The co-first authors on the paper -- virologist and senior scientist Wendy Puryear and post-doctoral researcher Kaitlin Sawatzki, who both work in the Runstadler Lab at Cummings School -- have been researching viruses in seals for years. They credit their findings in the new study to a unique and robust data set made possible by a collaboration with wildlife clinics and rehabilitation and response organisations in the region, in particular with Tufts Wildlife Clinic and director Maureen Murray, V03, associate clinical professor at Cummings School, and an author on the paper.
"We have a better resolution and greater depth of detail on this virus than before because we were able to sequence it and detect changes almost in real time," said Puryear. "And we have pairings of samples, sometimes literally from a bird and a seal on the same beach."
The clinic has been conducting avian influenza surveillance on birds and some mammals since January 2022, shortly after this strain of avian influenza took a trans-Atlantic journey from Europe into the U.S. Through this testing, the team found a wide range of flu viruses, including at least three strains that crossed the Atlantic, and they witnessed consistent waves of infection in birds.
At the same time, in collaboration with NOAA's Greater Atlantic Region Marine Mammal Stranding Network, they were able to screen nearly all seals that came through the network, whether or not the animal appeared sick. The stranding network is composed of experts from state and federal wildlife and fisheries agencies, non-profit rehabilitation and response facilities, aquariums, and academic institutions who respond to strandings.
"Because of the genetic data that we gathered, we were the first to see a strain of the virus that's unique to New England. The data set will allow us to more meaningfully address questions of which animals are passing the virus to which animals and how the virus is changing," said Sawatzki.
In addition to poultry, H5N1 also has had a huge impact on wild birds, especially sea birds. Multiple locations around the globe have experienced large die-offs, such as recently in Peru, where the virus killed 60,000 pelicans, penguins, and gulls.
At the time of the seal mortality event in New England, the virus was hitting gulls particularly hard, the researchers found. There are lots of ways gulls and other birds may transmit the virus to seals, they said. Seals and sea birds are coastal animals living in the same areas that have environmental contact, if not direct contact, since they share the same water and shoreline. A seal may contract the virus if it comes in contact with a sick bird's excrement or water contaminated by that excrement, or if it preys upon an infected bird.
The accepted knowledge is that H5N1 is nearly 100% fatal for domestic and wild birds other than waterfowl, and the same is proving true when it comes to spillover in wild mammals. All the seals that tested positive for HPAI were deceased at the time of sampling or succumbed shortly after. None of the animals that tested positive recovered. However, it's possible some asymptomatic or recovered cases never came into the stranding networks.
In addition to the seal mortality event in New England, which was the first time H5N1 was detected in marine mammals in the wild, other locations have lost marine mammals to the virus. Peru announced about 3,500 sea lions died from the virus, Canada reported a seal mortality event along the St. Lawrence Estuary, and there was a similar event with seals in the Caspian Sea, according to news reports from Russia.
A hotly debated topic among scientists is whether there has been mammal-to-mammal transmission of HPAI between seals.
"It's not surprising that you might have transmission between the seals, because it has happened with low pathogenic avian influenza," said Puryear. "However, we can't say definitively whether or not there has been mammal-to-mammal transmission of HPAI."
"To get strong evidence of mammal-to-mammal transmission, you need two things: lots of infected animals and time," explained Sawatzki. "Time for the virus to mutate, and time for the mutated virus to be transmitted to another seal. As the virus acquires mutations, we can see shared mutations in the sequences that are specific only to mammals and that haven't been seen in a bird before. We had the numbers, but this outbreak didn't last long enough to provide evidence for seal-to-seal transmission."
The research team found evidence that the virus mutated in a small number of seals. But fortunately, they have not seen a case of bird flu in seals along the Atlantic coast since the end of last summer. However, stranding season is about to start for harbour seals and grey seals, so they are bracing themselves for what might happen.
Prevention and Risk to Humans
The risk to the public remains low, according to the Centers for Disease Control and Prevention. Since December 2021, less than 10 human cases of H5N1 have been reported globally, and those cases occurred in people with direct exposure to infected poultry. There are no documented cases of human transmission for this variant.
However, there is the possibility it could become a larger issue for human health. Avian influenza emerged in 1996, and since 2003, 868 cases of human infection with H5N1 have been reported worldwide, according to the World Health Organization. Of those, 457 were fatal, roughly a 50% fatality rate.
"And that's why people get nervous about it," Puryear said.
There is a single-dose vaccine available for poultry, but it's not currently administered on a large scale -- in part because of cost and logistics, and in part because there's some concern it may make future surveillance of the virus more difficult. There's not much that can be done in terms of responding to the virus for wildlife, particularly given the scale at which infection is occurring.
Biosecurity is important in limiting the ways in which the virus can spread between and within species, the researchers said. For example, wild birds should be kept separate from domestic birds, such as backyard chickens. In addition, thorough and timely surveillance of domestic animals and wildlife is key to understanding how the virus is evolving to prepare the best possible vaccines and treatments.
Research reported in this article was supported by the National Institutes of Health's National Institute of Allergy and Infectious Disease under award 75N93021C00014. Complete information on authors, funders, and conflicts of interest is available in the published paper.
Puryear W, Sawatzki K, Hill N, Foss A, Stone JJ, Doughty L, et al.
Highly pathogenic avian influenza A(H5N1) virus outbreak in New England seals, United States
. Emerg Infect Dis., 2023 DOI:
10.3201/eid2904.221538
Jellyfish Size Might Influence Their Nutritional Value
Drifting along in ocean currents, jellyfish can be both predator and prey. They eat almost anything they can capture, and follow the typical oceanic pattern of large eats small. Now a recent University of British Columbia study on these gelatinous globs suggests jellyfish may get more nutritious as they get bigger.
As jellyfish grow, their size changes largely due to the chances of prey encounter, the length and number of tentacles, and their bells (the umbrella-like part of them). As a result, smaller jellyfish eat phytoplankton, microzooplankton, and eggs, while larger jellyfish can eat all of that plus shrimp and even fish. However, jellyfish are also largely preyed upon by animals in and out of the water. Jellyfish are important prey because they are easy to digest due to their high water content, and they are easy to catch.
"Our study looked more closely to see if there was any information we could draw about nutrition in jellyfish," said Jessica Schaub, lead author and a UBC PhD student at the Institute for the Oceans and Fisheries and the Department of Earth, Oceans and Atmospheric Sciences.
"This information helps us understand the true value of jellyfish as food. We looked at how the energy that moves through a food web might look as it moves through jellyfish. What they eat, what they are composed of, and how this might affect what eats them." In Heriot Bay, B.C., for example, the moon jelly may often find themselves being eaten by other jellyfish, fish and other invertebrates.
Schaub, and her team, which includes associate professor Dr. Brian Hunt, who heads the Pelagic Ecosystem Lab at the Institute for the Oceans and Fisheries, took a look at how jellyfish size, diet and nutritional quality all mesh together. Nutritional quality can reflect an organism's life history -- the composition of a jellyfish can change in response to individual changes in diet and physiological changes.
The team, over two one-day periods in July and September 2019, collected 150 moon jellyfish and measured their size. After drying them, they measured the jellyfish for specific compositional elements.
Schaub described what they discovered.
"First, we confirmed what was already known: jellyfish eat bigger prey as they grow, which means they also occupy a higher position in the food web as they grow," she said. "We also found that some of the concentrations of 'healthy fats,' increase as jellyfish grow. We found some evidence that these changes might be influenced by their diet, and as they feed on bigger prey with higher levels of fatty acids, the jellyfish accumulate more of these fatty acids."
"This means bigger jellyfish might be considered more nutritious," said Schaub.
The study found size-trends which emphasize just how important it is to consider jellyfish size when we are talking about marine food webs. Including these creatures will not only help their representation in food web models, but can also inform other studies.
Looking towards the future, Schaub described what may come next.
"Our recommendation for future studies on jellyfish predators is to consider size more thoroughly. Feeding on a young, small jellyfish is different than feeding on a larger and older jellyfish."
Jessica Schaub, Anna K. McLaskey, Ian Forster, Brian P. V. Hunt.
Size‐based changes in trophic ecology and nutritional quality of moon jellyfish ( Aurelia labiata )
. Ecosphere, 2023; 14 (3) DOI:
10.1002/ecs2.4430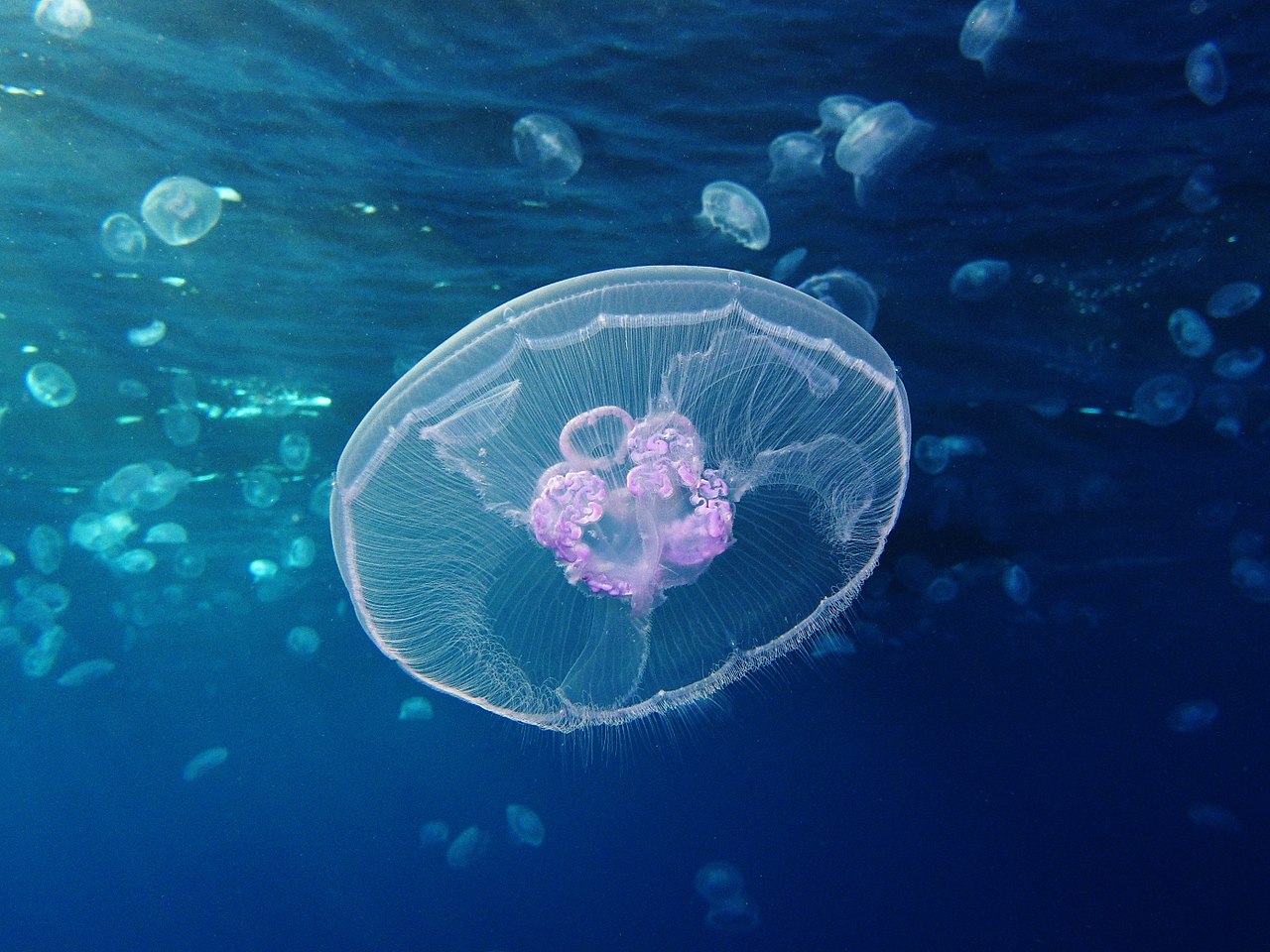 Moon jellyfish (Aurelia aurita) at Gota Sagher (Red Sea, Egypt). Photo: Alexander Vasenin

Recycling: Researchers Separate Cotton From Polyester In Blended Fabric
In a new study, North Carolina State University researchers found they could separate blended cotton and polyester fabric using enzymes -- nature's tools for speeding chemical reactions. Ultimately, they hope their findings will lead to a more efficient way to recycle the fabric's component materials, thereby reducing textile waste.
However, they also found the process need more steps if the blended fabric was dyed or treated with chemicals that increase wrinkle resistance.
"We can separate all of the cotton out of a cotton-polyester blend, meaning now we have clean polyester that can be recycled," said the study's corresponding author Sonja Salmon, associate professor of textile engineering, chemistry and science at NC State. "In a landfill, the polyester is not going to degrade, and the cotton might take several months or more to break down. Using our method, we can separate the cotton from polyester in less than 48 hours."
According to the U.S. Environmental Protection Agency, consumers throw approximately 11 million tons of textile waste into U.S. landfills each year. Researchers wanted to develop a method of separating the cotton from the polyester so each component material could be recycled.
In the study, researchers used a "cocktail" of enzymes in a mildly acidic solution to chop up cellulose in cotton. Cellulose is the material that gives structure to plants' cell walls. The idea is to chop up the cellulose so it will "fall out" out of the blended woven structure, leaving some tiny cotton fiber fragments remaining, along with glucose. Glucose is the biodegradable byproduct of degraded cellulose. Then, their process involves washing away the glucose and filtering out the cotton fiber fragments, leaving clean polyester.
"This is a mild process -- the treatment is slightly acidic, like using vinegar," Salmon said. "We also ran it at 50 degrees Celsius, which is like the temperature of a hot washing machine.
"It's quite promising that we can separate the polyester to a clean level," Salmon added. "We still have some more work to do to characterize the polyester's properties, but we think they will be very good because the conditions are so mild. We're just adding enzymes that ignore the polyester."
They compared degradation of 100% cotton fabric to degradation of cotton and polyester blends, and also tested fabric that was dyed with red and blue reactive dyes and treated with durable press chemicals. In order to break down the dyed materials, the researchers had to increase the amount of time and enzymes used. For fabrics treated with durable press chemicals, they had to use a chemical pre-treatment before adding the enzymes.
"The dye that you choose has a big impact on the potential degradation of the fabric," said the study's lead author Jeannie Egan, a graduate student at NC State. "Also, we found the biggest obstacle so far is the wrinkle-resistant finish. The chemistry behind that creates a significant block for the enzyme to access the cellulose. Without pre-treating it, we achieved less than 10% degradation, but after, with two enzyme doses, we were able to fully degrade it, which was a really exciting result."
Researchers said the polyester could be recycled, while the slurry of cotton fragments could be valuable as an additive for paper or useful addition to composite materials. They're also investigating whether the glucose could be used to make biofuels.
"The slurry is made of residual cotton fragments that resist a very powerful enzymatic degradation," Salmon said. "It has potential value as a strengthening agent. For the glucose syrup, we're collaborating on a project to see if we can feed it into an anaerobic digester to make biofuel. We'd be taking waste and turning it into bioenergy, which would be much better than throwing it into a landfill."
Jeannie Egan, Siyan Wang, Jialong Shen, Oliver Baars, Geoffrey Moxley, Sonja Salmon.
Enzymatic textile fiber separation for sustainable waste processing.
Resources, Environment and Sustainability, 2023; 13: 100118 DOI:
10.1016/j.resenv.2023.100118
Mind-Control Robots A Reality
Researchers from the University of Technology Sydney (UTS) have developed biosensor technology that will allow you to operate devices, such as robots and machines, solely through thought control.
The advanced brain-computer interface was developed by Distinguished Professor Chin-Teng Lin and Professor Francesca Iacopi, from the UTS Faculty of Engineering and IT, in collaboration with the Australian Army and Defence Innovation Hub.
As well as defence applications, the technology has significant potential in fields such as advanced manufacturing, aerospace and healthcare -- for example allowing people with a disability to control a wheelchair or operate prosthetics.
"The hands-free, voice-free technology works outside laboratory settings, anytime, anywhere. It makes interfaces such as consoles, keyboards, touchscreens and hand-gesture recognition redundant," said Professor Iacopi.
"By using cutting edge graphene material, combined with silicon, we were able to overcome issues of corrosion, durability and skin contact resistance, to develop the wearable dry sensors," she said.
A new study outlining the technology has just been published in the peer-reviewed journal ACS Applied Nano Materials. It shows that the graphene sensors developed at UTS are very conductive, easy to use and robust.
The hexagon patterned sensors are positioned over the back of the scalp, to detect brainwaves from the visual cortex. The sensors are resilient to harsh conditions so they can be used in extreme operating environments.
The user wears a head-mounted augmented reality lens which displays white flickering squares. By concentrating on a particular square, the brainwaves of the operator are picked up by the biosensor, and a decoder translates the signal into commands.
The technology was recently demonstrated by the Australian Army, where soldiers operated a Ghost Robotics quadruped robot using the brain-machine interface. The device allowed hands-free command of the robotic dog with up to 94% accuracy.
"Our technology can issue at least nine commands in two seconds. This means we have nine different kinds of commands and the operator can select one from those nine within that time period," Professor Lin said.
"We have also explored how to minimise noise from the body and environment to get a clearer signal from an operator's brain," he said.
The researchers believe the technology will be of interest to the scientific community, industry and government, and hope to continue making advances in brain-computer interface systems.
Shaikh Nayeem Faisal, Tien-Thong Nguyen Do, Tasauf Torzo, Daniel Leong, Aiswarya Pradeepkumar, Chin-Teng Lin, Francesca Iacopi.
Noninvasive Sensors for Brain–Machine Interfaces Based on Micropatterned Epitaxial Graphene.
ACS Applied Nano Materials, 2023; DOI:
10.1021/acsanm.2c05546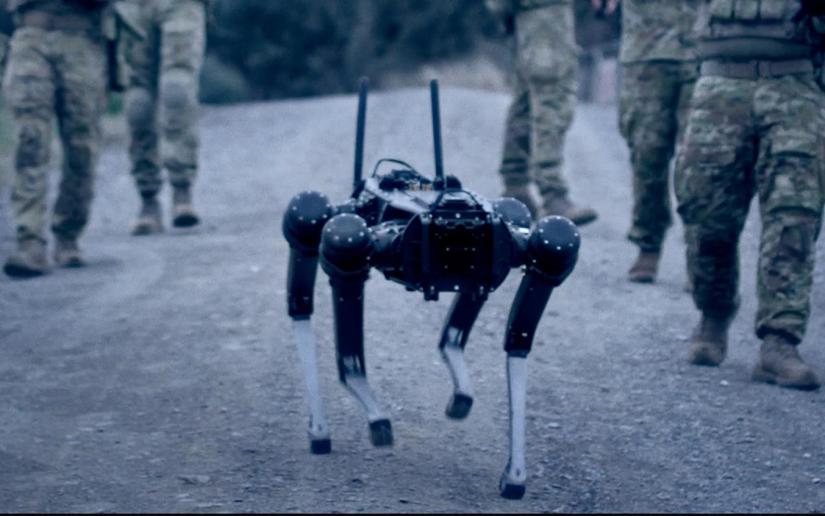 The technology was recently demonstrated by the Australian Army, where soldiers operated a Ghost Robotics quadruped robot using the brain-machine interface. Photo supplied by Australian Army.

Origin And Evolution Of The Grapevine
Cultivation and growth of grapevines have strongly influenced European civilizations, but where the grapevine comes from and how it has spread across the globe has been highly disputed so far. In an extensive genome project, researchers from the Chinese Yunnan Agricultural University have determined its origin and evolution from the wild vine to today's cultivar by analysing thousands of vine genomes collected along the Silk Road from China to Western Europe. The collection of wild vines of Karlsruhe Institute of Technology (KIT) played an important role in the project.
Grapevine is among the world's oldest crops. Wine was one of the oldest products traded all around the world. It pushed the exchange of cultures, ideas, and religions. At the end of the Ice Age, grapevine originated from the European wild vine, of which only a few relic populations have survived to date.
One of these populations can be found on the Ketsch peninsula on the Rhine river between Karlsruhe and Mannheim. So far, the traces of when and where exactly wild vines were domesticated, of whether grapes for wine production and table grapes have the same origin, and how thousands of vines developed have been hidden in the mist of the prehistoric era. Still, it is clear that grapevine survived partly drastic climate changes and gathered a number of genes from Asia as a result of early human migration movements.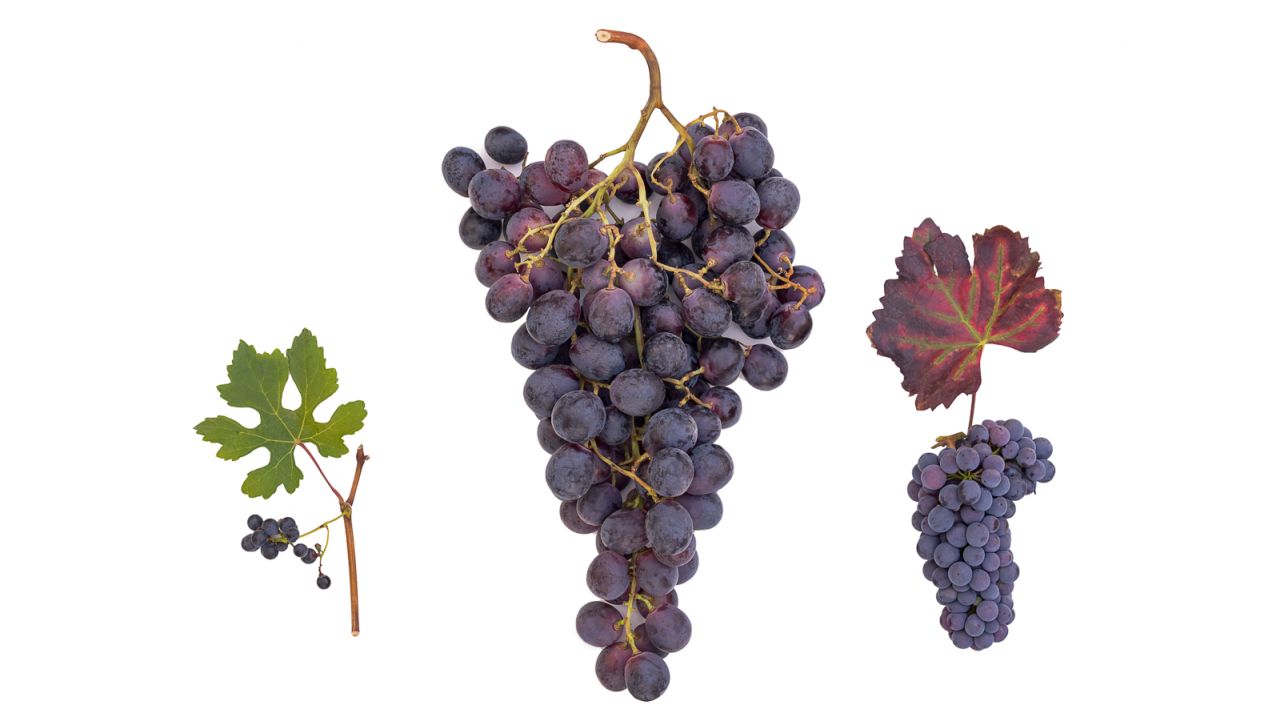 Vines (from the left, grapes of wild vine, table grapes, and grapes for wine production) have accompanied civilizations for thousands of years. A genome project has now determined the origin and evolution of vine. (Photo: Karlheinz Knoch, KIT)
"For some years now, it has been known that today's Silk Road once was a wine road.
The Chinese symbol for alcohol is derived from Georgian wine jugs, so-called Qevri," explains Professor Peter Nick of KIT's Joseph-Gottlieb Kölreuter Institut for Plant Sciences (JKIP).
Nick, who had already cooperated with Chinese researchers in a previous project to determine grapevine genomes, suggested to collect grapevines along the previous Silk Road and to analyze their genomes.
Most Detailed Model of the Evolution and Domestication of Grapevine So Far
Nick's idea gave rise to a network of researchers from 16 countries, who contributed not only wild vines and old species from their regions, but also knowledge on their origin and history. Under most difficult circumstances resulting from the global political situation, DNA samples of more than 3500 vines, including more than 1000 wild species, were sent to the State Key Laboratory for Conservation and Utilization of Bio-Resources of Yunnan Agricultural University.
There, the genomes were decoded under the direction of Dr. Wei Chen and the most detailed model of the evolution and domestication of grapevines so far was generated. As a result, a number of new findings have been obtained.
Now, the origin of winegrowing can be dated back to earlier than 11,000 B.C. in the South Caucasus. This means that wine is older than bread. Winegrowing technology very quickly spread across the Mediterranean to the west. Within shortest terms, cross-breeding with local wild vines produced a large variety of vines that were reproduced using cuttings. About 7000 years ago in the Middle East, large-berry species developed to table vines.
Domestication was accompanied by climatic changes, i.e. the end of the Ice Age, as well as by the warm and moist Atlantic, a climate period between 8000 and 4000 B.C. The resulting human migration movements left their traces in the genome of the vines. Medieval vines in Southwest Germany, for instance, contain genes of vines from Azerbaijan and Central Asia.
Yang Dong, Shengchang Duan, Qiuju Xia, Zhenchang Liang, Xiao Dong, Kristine Margaryan, Mirza Musayev, Svitlana Goryslavets, Goran Zdunić, Pierre-François Bert, Thierry Lacombe, Erika Maul, Peter Nick, Kakha Bitskinashvili, György Dénes Bisztray, Elyashiv Drori, Gabriella De Lorenzis, Jorge Cunha, Carmen Florentina Popescu, Rosa Arroyo-Garcia, Claire Arnold, Ali Ergül, Yifan Zhu, Chao Ma, Shufen Wang, Siqi Liu, Liu Tang, Chunping Wang, Dawei Li, Yunbing Pan, Jingxian Li, Ling Yang, Xuzhen Li, Guisheng Xiang, Zijiang Yang, Baozheng Chen, Zhanwu Dai, Yi Wang, Arsen Arakelyan, Varis Kuliyev, Gennady Spotar, Nabil Girollet, Serge Delrot, Nathalie Ollat, Patrice This, Cécile Marchal, Gautier Sarah, Valérie Laucou, Roberto Bacilieri, Franco Röckel, Pingyin Guan, Andreas Jung, Michael Riemann, Levan Ujmajuridze, Tekle Zakalashvili, David Maghradze, Maria Höhn, Gizella Jahnke, Erzsébet Kiss, Tamás Deák, Oshrit Rahimi, Sariel Hübner, Fabrizio Grassi, Francesco Mercati, Francesco Sunseri, José Eiras-Dias, Anamaria Mirabela Dumitru, David Carrasco, Alberto Rodriguez-Izquierdo, Gregorio Muñoz, Tamer Uysal, Cengiz Özer, Kemal Kazan, Meilong Xu, Yunyue Wang, Shusheng Zhu, Jiang Lu, Maoxiang Zhao, Lei Wang, Songtao Jiu, Ying Zhang, Lei Sun, Huanming Yang, Ehud Weiss, Shiping Wang, Youyong Zhu, Shaohua Li, Jun Sheng, Wei Chen.
Dual domestications and origin of traits in grapevine evolution.
Science, 2023; 379 (6635): 892 DOI:
10.1126/science.add8655
Disclaimer: These articles are not intended to provide medical advice, diagnosis or treatment. Views expressed here do not necessarily reflect those of Pittwater Online News or its staff.