July 25 - 31, 2021: Issue 503
Winter Mould & Mildew Inside Your Home: How to Keep the Air and Walls, Surfaces Healthier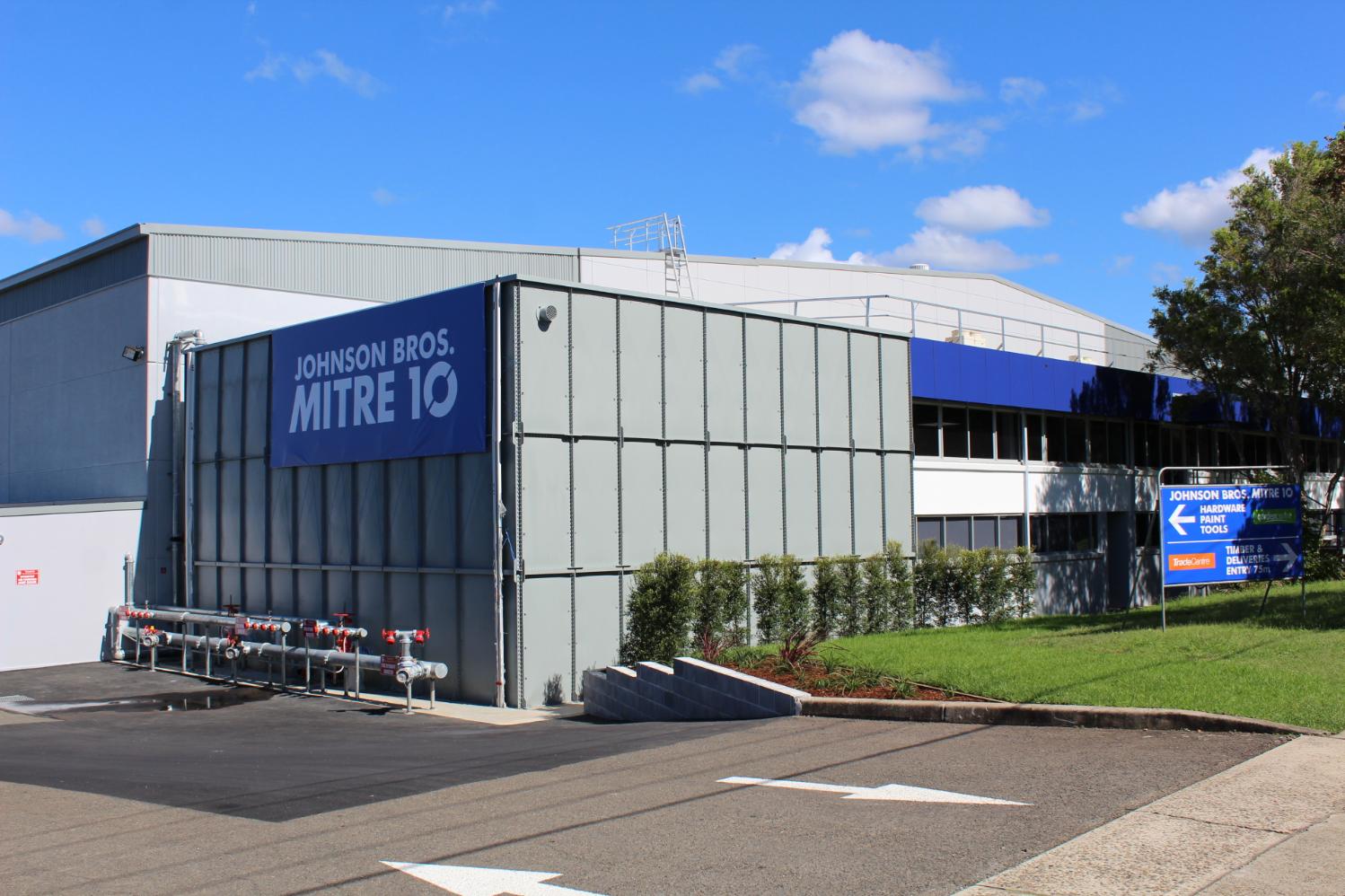 Johnson Bros Mitre 10 Is Open
We understand that this is a tough situation for everybody and implore the community to be supportive of each other.
Following the recent NSW Health advice, as a provider of hardware, garden supplies and building supplies, we're pleased to say that all Johnson Bros Mitre 10 stores, Harper Timber and Narrabeen Trade Centre are operating as per our usual hours.
We count ourselves fortunate to be considered essential and will work responsibly to serve the community to the best of our ability.
FREE Retail Deliveries.
Shop online 24/7 through mitre10.com.au and receive FREE delivery for all online retail orders over $100 and under $40kg or pick up in store with our Click 'n' Collect service.
We do remind customers that when instore to please adhere to the following: wear a mask, use the hand sanitiser provided, maintain social distancing, check in with the QR code.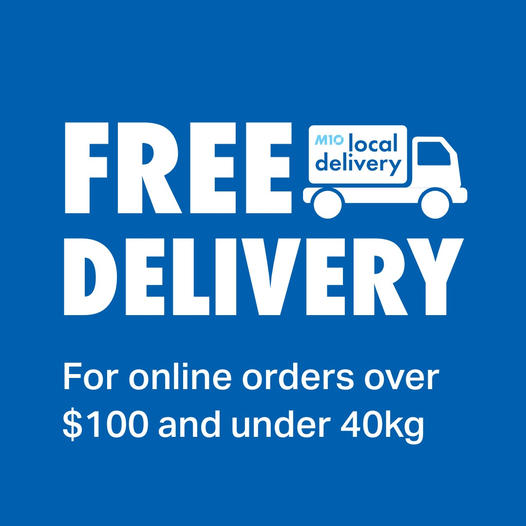 Cold damp Winters mean we close windows, draw curtains and blinds to keep warmth in and bring still damp clothes in off the line to 'air' them overnight inside before putting them in closets and drawers. We put down the
draught stops
, check seals on windows and slide a thicker mat over those bathroom drains that seem to filter a draught into the home.
However all these keeping warm measures provide the perfect environment for growing mould - those black spots on the bathroom ceiling, that green layer over the architraves is not good.
A 2018 study released by the
Medical Journal of Australia
showed that 26.1 per cent of Australian homes have dampness problems and that
exposure to dampness in homes is associated with health conditions such as childhood asthma.
This Issue we'd like to share a few tips on how to stop mould in your home.
If you see patches of mould, use either a mould killer or brown vinegar which is really helpful to wipe your benches down with.
Make sure the plumbing is working, so you don't have leaks.

If you look under the sinks in toilets or bathrooms, sometimes there's leakages and that area is full of mould.

Microfibre cloths are good to use and a

HEPA vacuum cleaners are specific filter vacuums that collect dirt other vacuum cleaners do not pick up.

Clean and Apply a Good furniture Polish to Wooden Furniture

Anti-bacterial wipes that are treated with a disinfectant to fight mould.

A few other ideas from experts on this field advise:
An exhaust fan in the bathroom will stop condensation build-up in the bathroom areas, or a laundry where a dryer is. Bathroom fans are essential for removing moisture and bad odours from the bathrooms in your home, preventing the growth of mould and mildew. By removing excess moisture from the air, you can also prevent wallpaper and paint from peeling and prevent doors and windows from becoming warped. If your bathroom doesn't have one, installing one will cut out cold and hot weather moisture. If you do have one and it's not been replaced for years, the great new products available may be a low cost of making the air and moisture inside your home healthier.
Installing or replacing a bathroom fan is a moderately easy DIY project for homeowners with basic electrical and carpentry skills. The only connection you can legally make to the fixed wiring in your home (unless you are a licensed
electrician) is to push a plug into a socket and flick the switch, so bear this in mind if you wish to self-install. Although electrical work seems simple,
there are many risks, including electrocution and circuit overload – which can lead to a
fire.
You can physically install the fan and other components, but you cannot legally make any electrical
connections. Follow exactly the instructions of your electrician and the manufacturer to ensure the
safety of your home.
Install self-closing exhaust fans and
ducts to prevent heat-loss in winter, the
loss of cool air in summer, and entry of
insects or vermin anytime.
The first thing you need to do when choosing a new bathroom fan is determine the CFM rating for your bathroom, so you can buy the appropriate strength fan.
CFM stands for "Cubic Feet per Minute" and refers to how much air the fan can move per minute. Small bathrooms will need low CFM fans, while larger bathrooms may require fans with a much higher CFM.
Fans are available in a range of sizes and
shapes, so each has different clearance requirements.
Make sure you read the manufacturer's instructions fully
before you start cutting into your ceiling.
To calculate the CFM for your bathroom, multiply the room's cubic footage (length x width x height). For example, if your bathroom measured 120 square feet, you would multiply that by the height of the ceiling (say 8') to get 960. THEN divide by 7.5 to get a CFM rating of 128.
You will find the CFM rating of a new fan printed on its box.
Consider the sound rating of your fan. The sound rating of your new fan, which is measured in sones.
New fans usually have a sound rating somewhere between 0.5 (very quiet) and 6 (very loud).
Some people prefer to have very quiet fans, while others value the privacy offered by louder fans, especially in public areas of the home.
Like the CFM, the sone ratings of new fans will be printed on the box
Choose the location of the fan. The location of your bathroom fan is important. It should be installed at the center point between your shower and toilet for optimum ventilation. However, if your bathroom is very large, you may need to install more than one fan.
Invest in a Good Hard Surfaces cleaner
Vacuuming and washing floors can still leave dust or cleaning products behind on hard surfaces. A few weeks ago Kärcher Australia launched the new and innovative FC5 Floor Cleaner. The Floor Cleaner FC 5's two-in-one function lets you mop and suction wet and dry dirt in just one step. No need to vacuum beforehand – mopping has never been easier, faster or more thorough. The automatically moistened, rotating microfibre rollers pick dirt up, while the water-dirt mixture is continuously suctioned off the rollers at the same time. This practical self-cleaning function keeps the rollers fresh and ready to use at all times. The FC 5 uses up to 85% less water while providing significantly better cleaning performance. The FC 5 can be used on all standard hard floors, whether they are made of wood, stone or plastic.
On all hard floors, such as parquet, laminate, cork, stone, linoleum or PVC
For hygienic cleaning applications in all areas (e.g. toilet, kitchen, bath, etc.)
For fast and effortless wet cleaning of hard floors
Also suitable for sealed, oiled and waxed parquet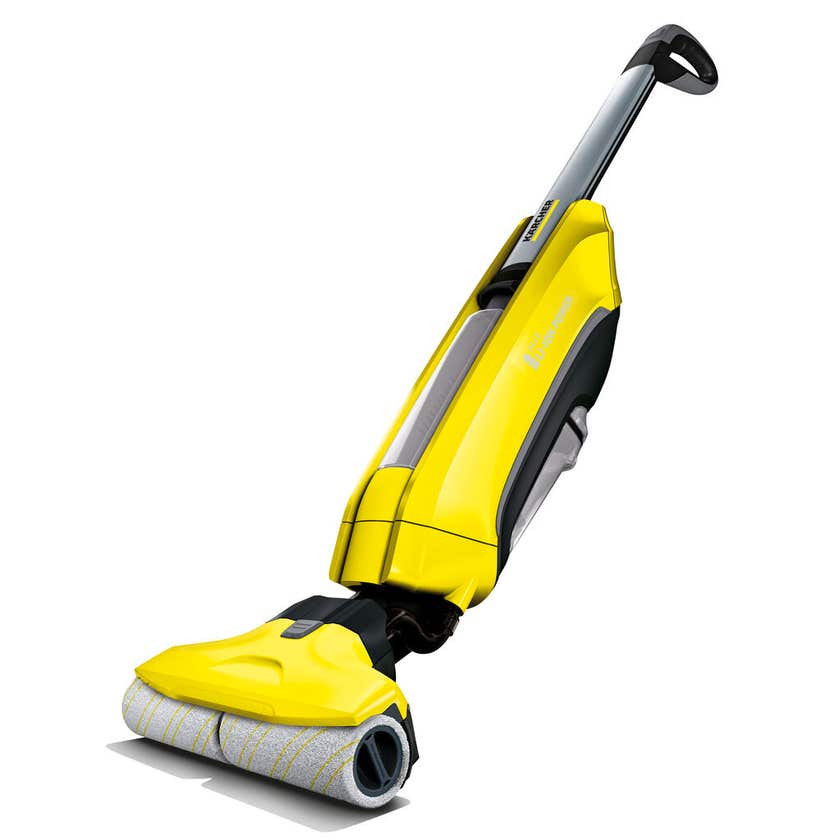 Karcher FC 5 Pet Hard Floor Cleaner: $399.00
2-in-1 sweeps and mops in one action. Twin tank technology - only uses fresh water while cleaning. Super soft microfibre rollers ensure no scratching. Superfast 2 minute drying time. Pet hair pickup functionality.

If you already have mould at your house the best way to get rid of it is with a good scrub of a white or brown vinegar and water solution.
Eight parts vinegar to two parts water and a microfibre cloth is the recommendation. Remember
to patch test on surfaces before cleaning them. Although b
leach for mould removal has been used in the past it does not kill the mould, it just bleaches the colour out.
If you are using this vinegar-water mix to remove white mould from wood surfaces, remember to apply a good polish afterwards to protect the item from further mould build-up.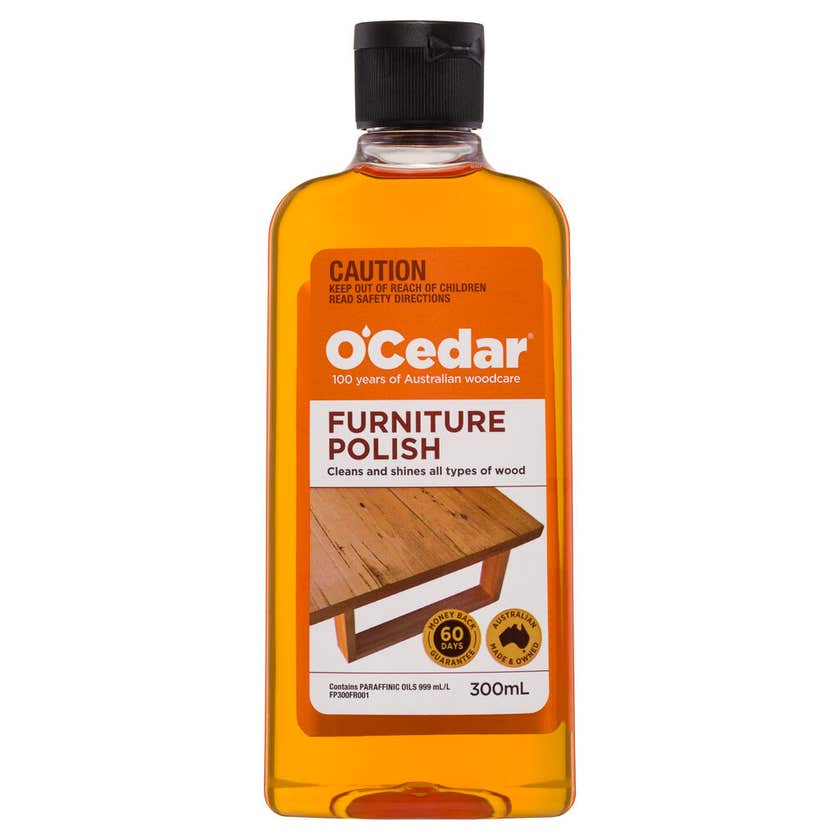 O'Cedar Furniture Polish 300ml: $7.95
Brings out the natural beauty of wood. Conceals scratches and removes stains without leaving any waxy build-up.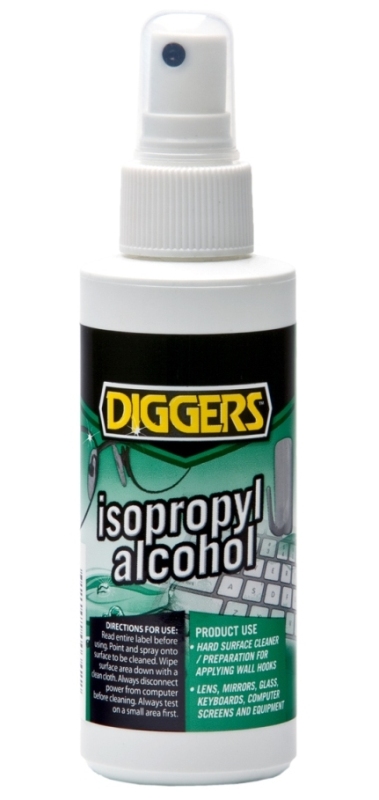 Diggers Isopropyl Alchohol: $9.20
High quality hard surface cleaner with a high evaporation rate.
For cleaning mould from carpet, two tablespoons each of bi-carb soda, white vinegar and methylated spirits, and two teaspoons each of eucalyptus and glycerine has proved successful for many - always spot test first though.
Moisture absorbing buckets you put in your cupboards are also effective at reducing the humidity and preventing mould in those areas where ventilation is not present.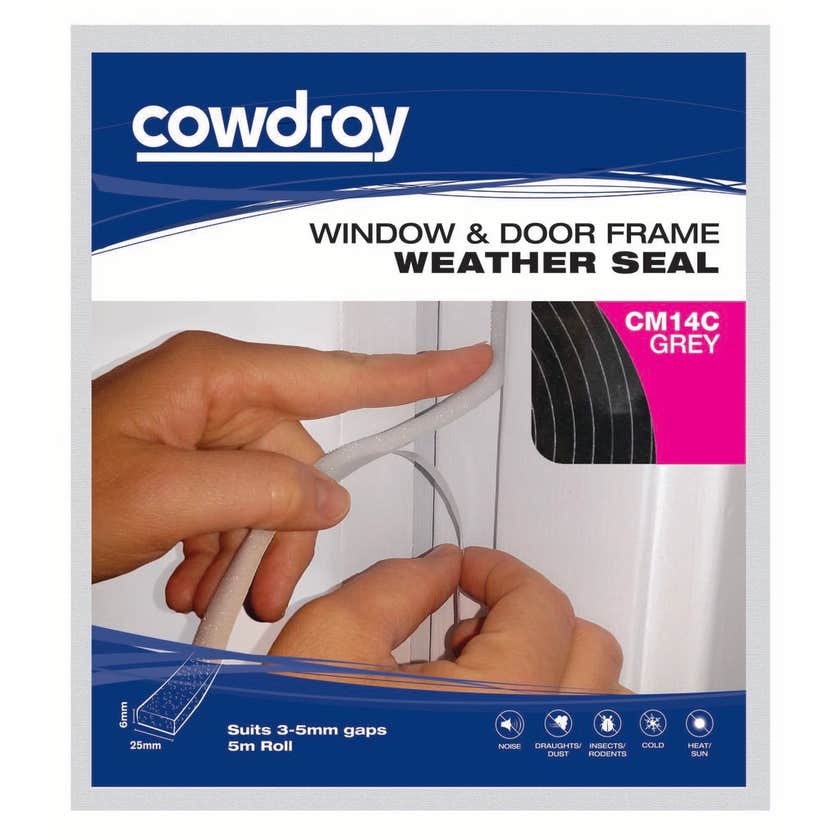 Cowdroy Window and Door Weather Seal Grey 6 x 25mm x 5m: $10.80
A foam seal for windows and doors. Suitable for use on jambs, frames, sills, faces and edges of windows and doors. Seals gaps from 3mm to 5mm. 6 x 25mm x 5m roll.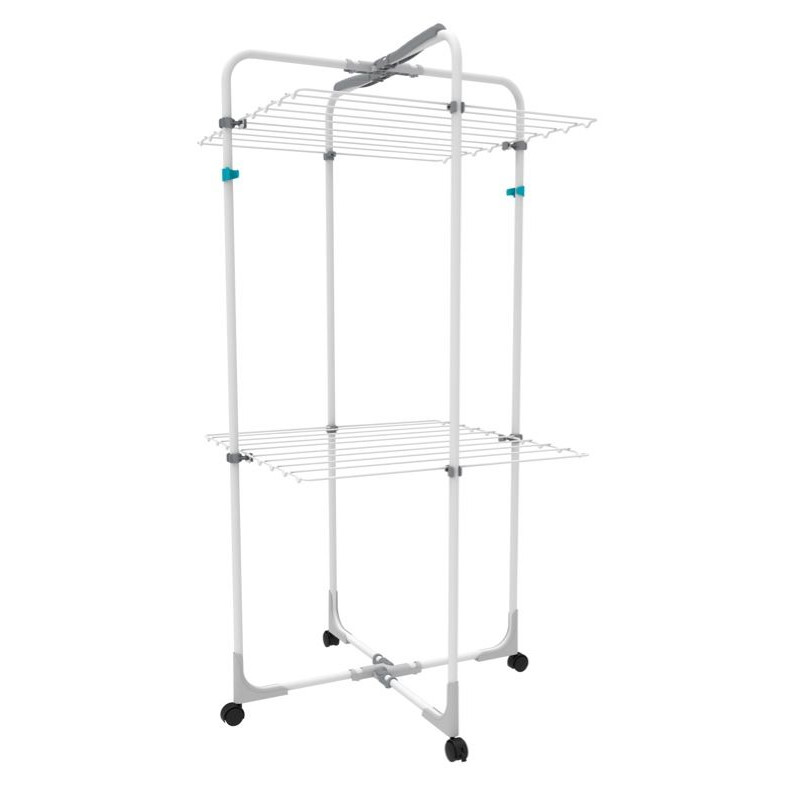 Hills Two Tier Mobile Tower Airer: $59.95
Perfect for medium wash loads and hanging longer items. Small foot print suits smaller rooms and even fits in the shower. Premium quality and robust design. Lockable wheels.
Products shown here are from Johnson Brothers Mitre 10
Johnson Brothers Mitre 10 Update: Shop Online Options
Intending to keep our customers and staff safe, we present some additional ways for both our retail and trade customers to do business with us.
Trade and Retail Pick Up
Express Pick up Mona Vale
- Call Johnson Bros Mitre 10 Mona Vale, and we will pick & pack your order and have it ready for you to pick up in 2 hours. (Stocked Lines Only)
- Drive into our undercover Trade Drive-Thru area at 73 Bassett St Mona Vale, and your order will be ready for pick-up.
- Our team members will help you with your load and finalise payment/paperwork
Express Pick up Avalon
- Call Johnson Bros Mitre 10 Avalon, and we will pick & pack your order and have it ready for you to pick up in 2 hours. (Stocked Lines Only)
- Drive into our back lane off Bellevue Avenue, and your order will be ready for pick-up.
- Our team members will help you with your load and finalise payment/paperwork
Online Retail Stores Go Live
We've launched two eCommerce sites offering 2hr pick up in-store and flat rate delivery options on the northern beaches*.
Jbhmv.com.au (Mona Vale)
Jbhav.com.au (Avalon)
With the ability to leave the product on your doorstep, this provides an option of an entirely contactless transaction.
*Flat rate delivery is not available to trade sales, building supplies and trade quantities
** The stock availability is updated nightly, which may mean the stock is unavailable when the order is placed
Trade Delivery to Site
Maybe not new, but certainly worth a mention again!
We can get almost anything delivered quickly onto site!
As always ring the trade desk direct on 9999 0333 and let them know what you need!
Final Thought
Like everyone, we have found ourselves in a new and uncertain environment, but we're setting up (and digging in) for the long haul!
We want to acknowledge that the decision to retain over 120 staff and meet any future challenges head-on, could not have happened without the continued support you provide us as customers.
Thank you and stay safe,
The Johnson Family

Available At Johnson Brothers Mitre 10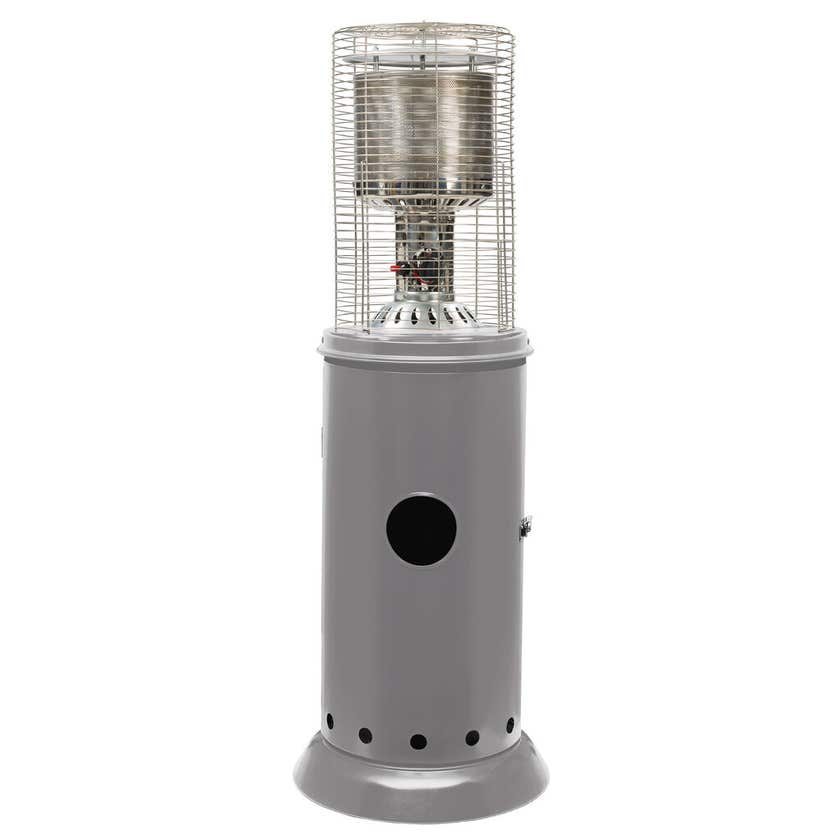 Gasmate Area Heater Light Grey: $229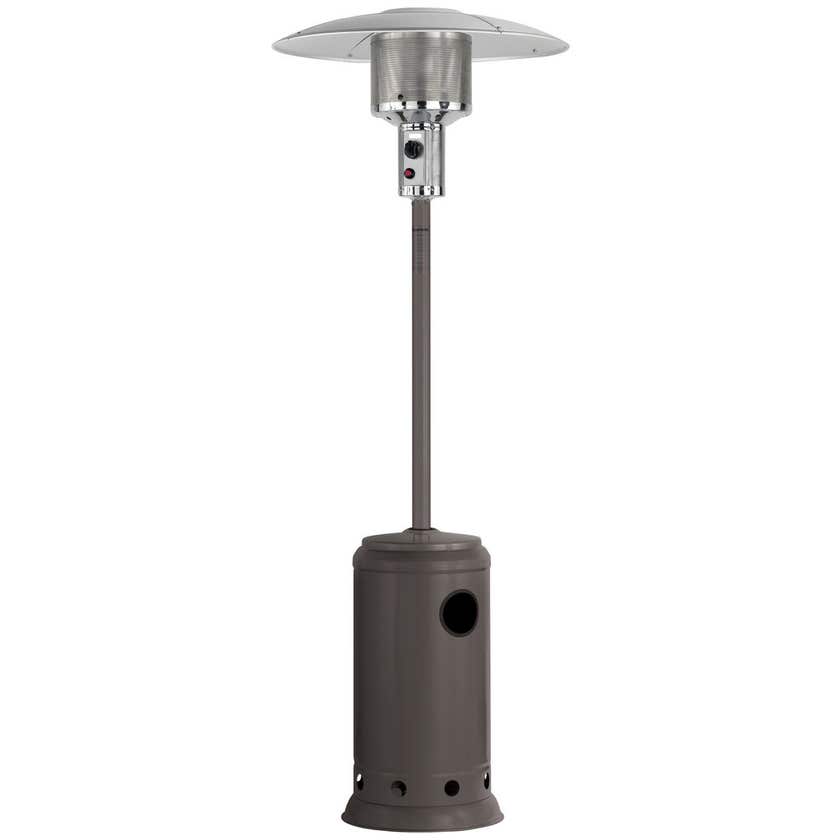 Gasmate Patio Heater Charcoal: $169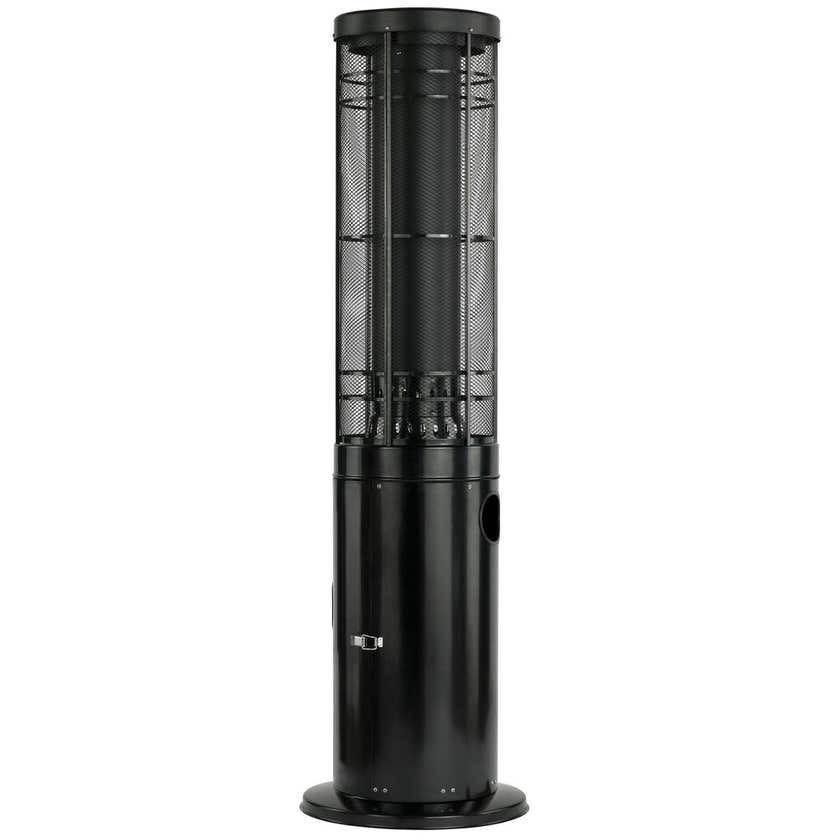 Column Patio Heater Black: $399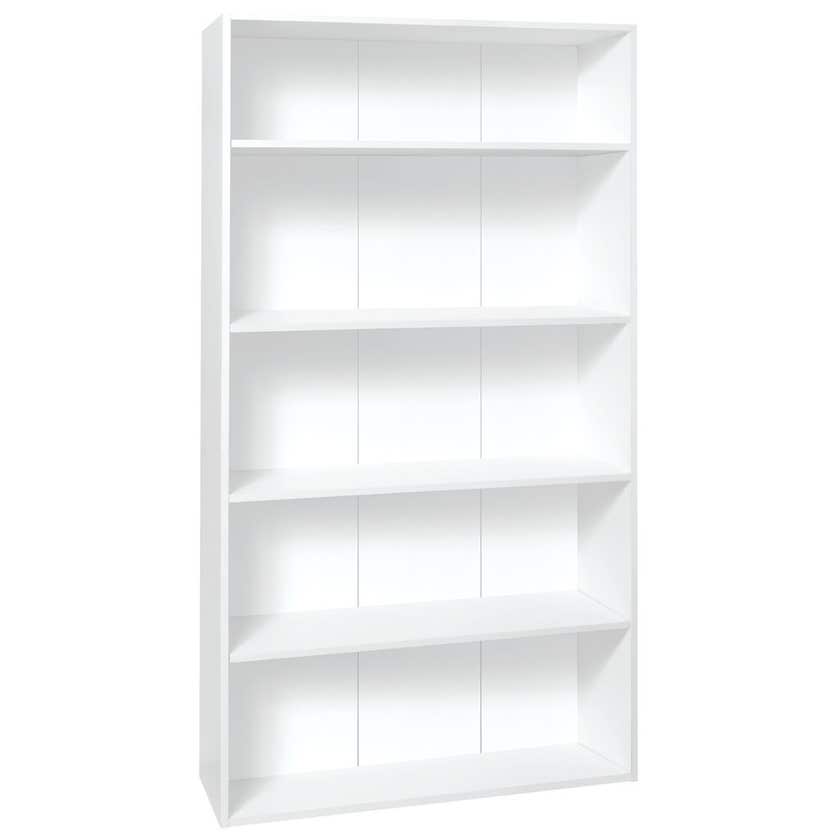 Faulkner™ 5 Shelf Storage Unit 900mm: $115.00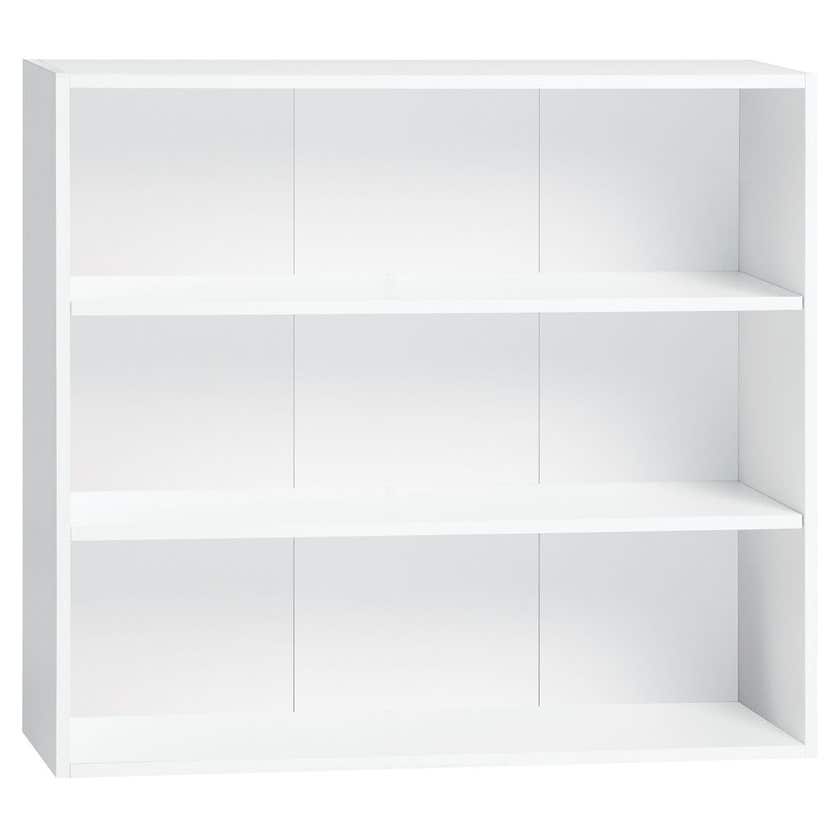 Faulkner 3 Shelf Storage Unit 900mm: $75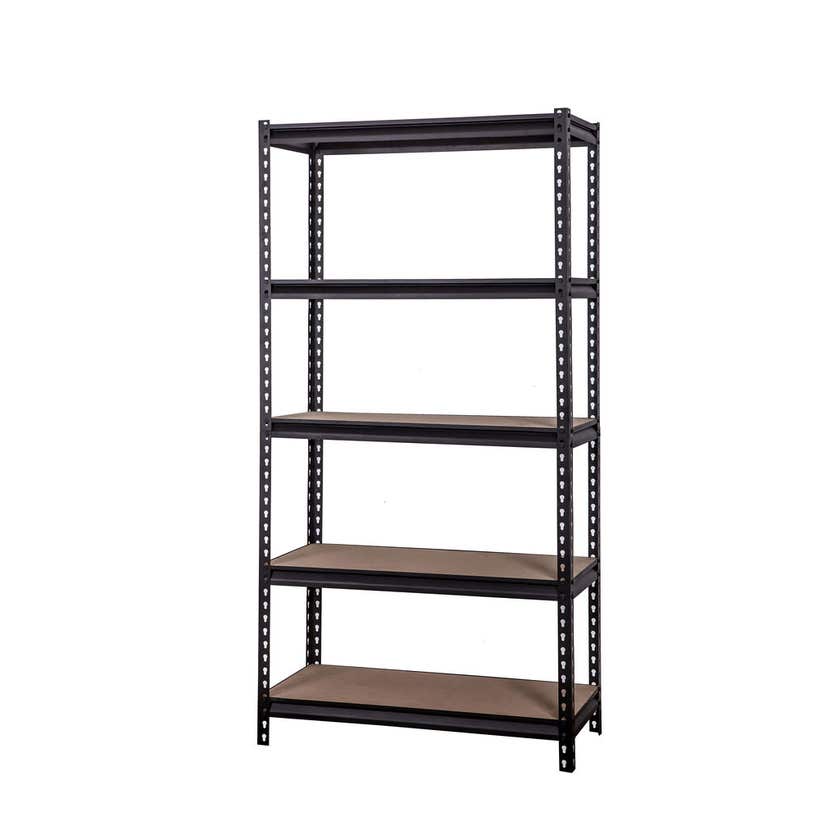 Storage Geelong 5 Tier Shelf Unit Black 1830 x 920mm: $105.00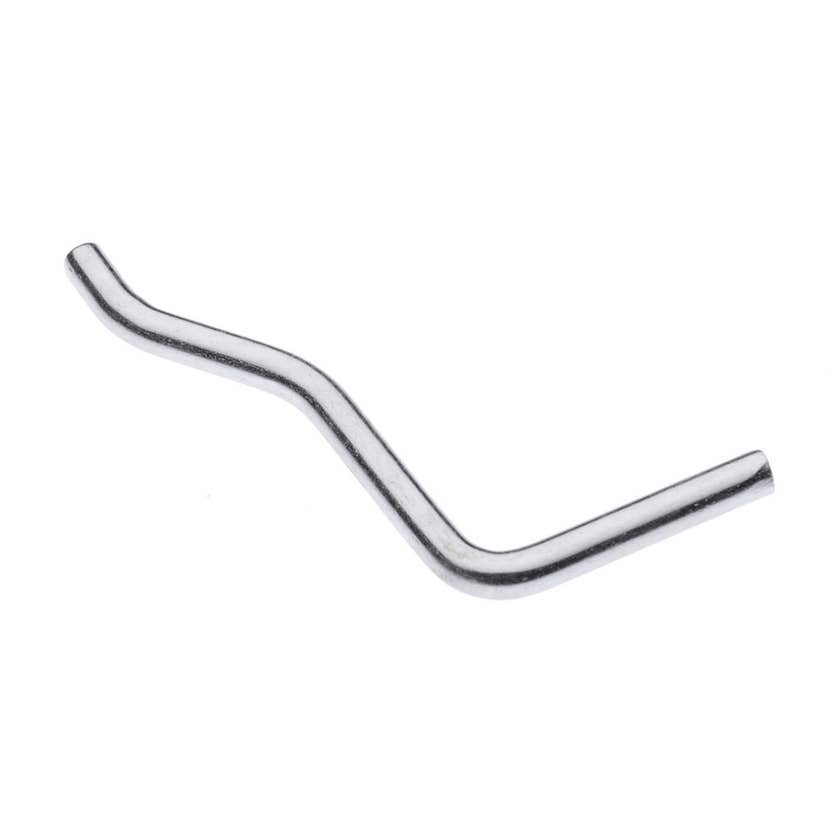 Zenith Pegboard Hooks Assorted - 32 Piece: $7.00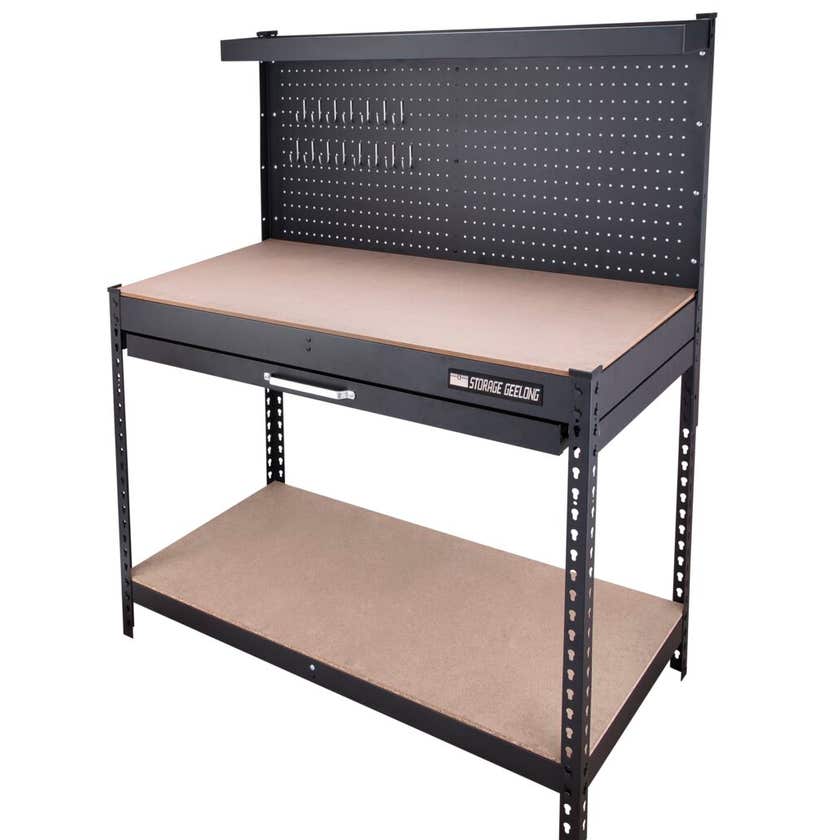 Storage Geelong Garage Workbench: $159.00
Garage or Tool Shed workbench with MDF benchtop. Particle board bottom shelf and drawer liners. Matte texture black powder coated steel frame. Includes underbench draw, bottom shelf, hooks, pegboard and small top parcel shelf.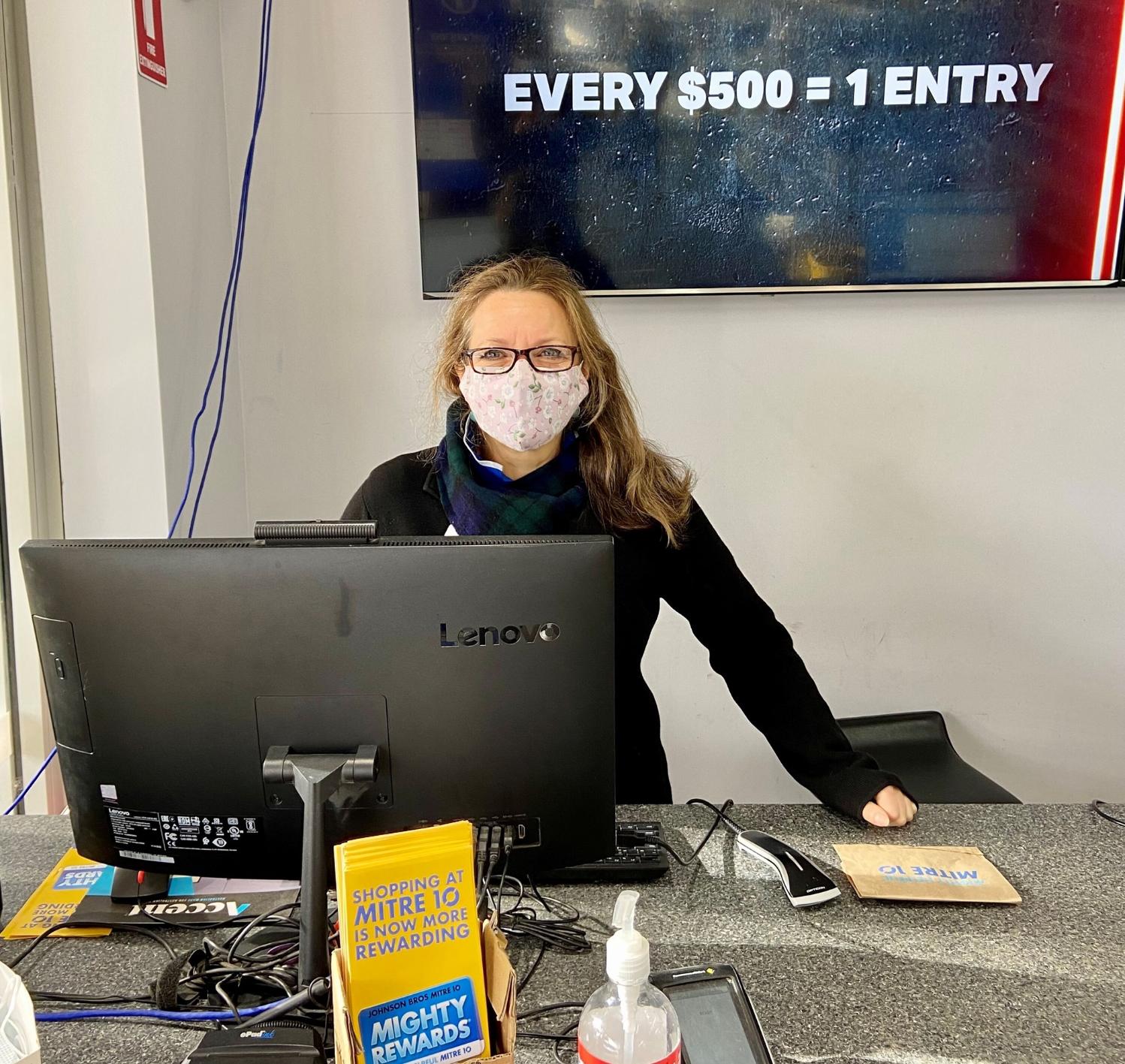 JBH Design Centre
JBH Design Centre is a tool for builders and DIY'ers to assist in the fit out of houses. It has displays of kitchens, Bathrooms, Doors and Storage as well as knowledgeable staff to assist in making house fit out painless.
Visit: http://jbhdc.com.au/
On Facebook: https://www.facebook.com/design.centre.jbh/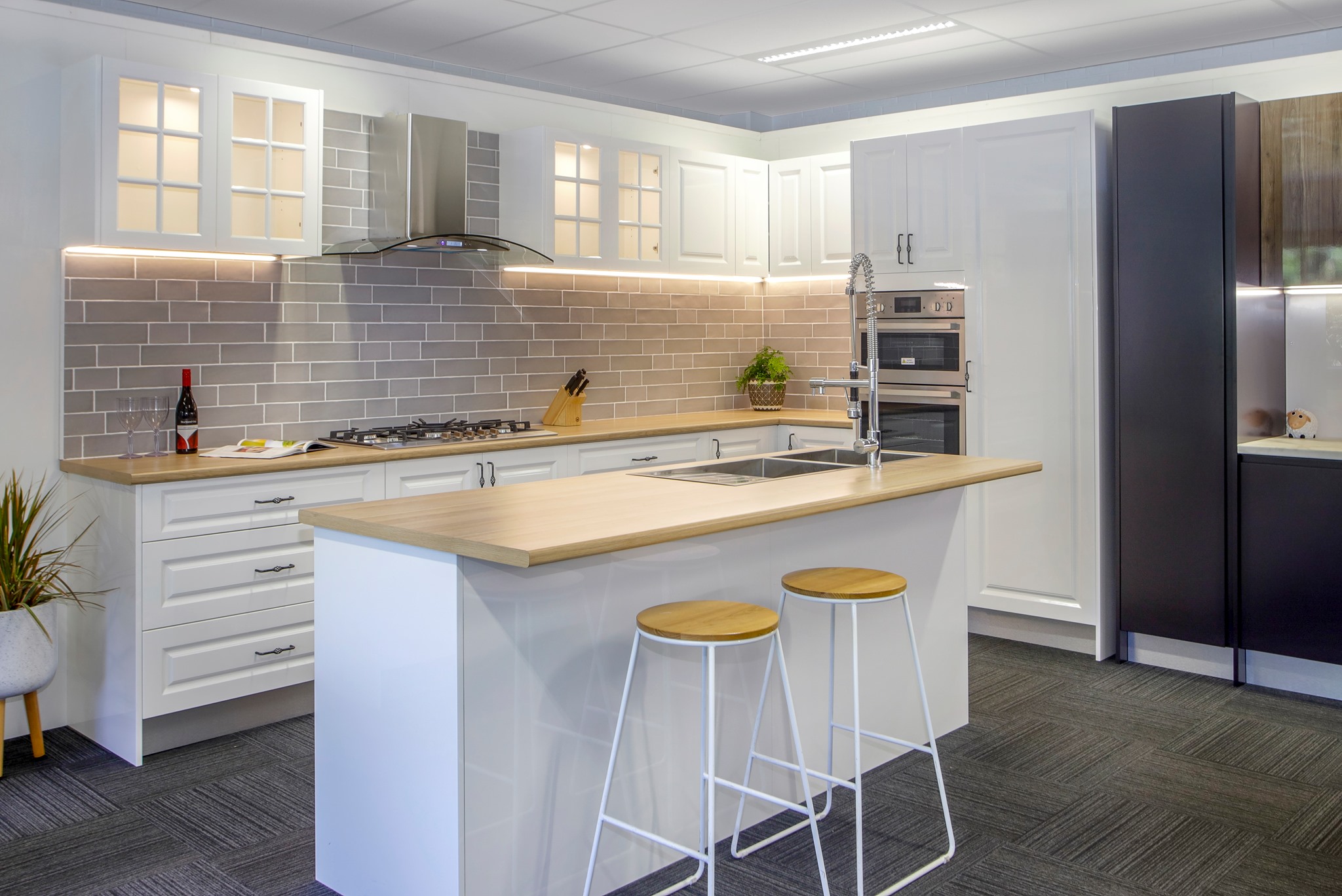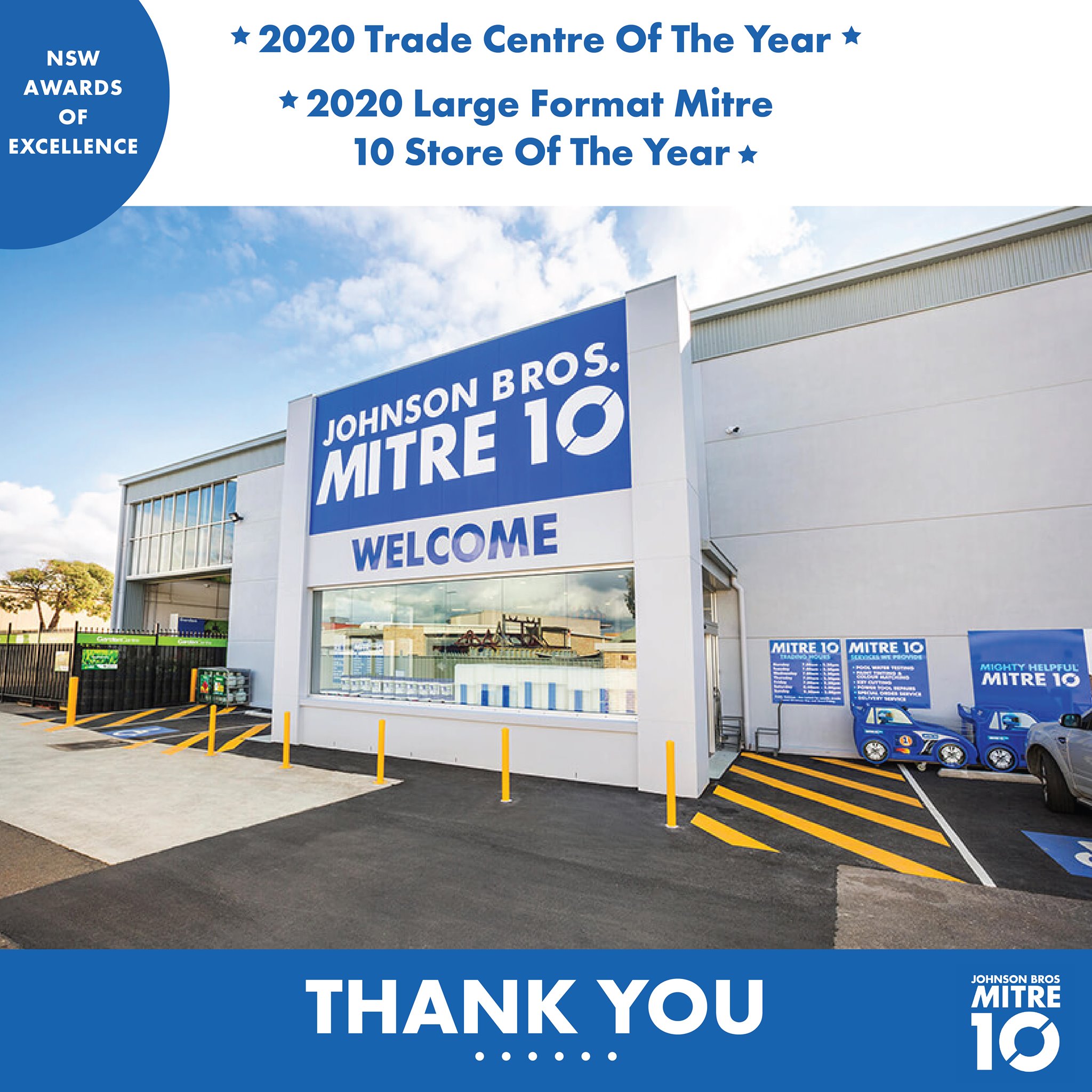 We want to thank all of you for supporting and trusting us through this 2020, without you we could not be receiving these two important awards.
Thank you for being our customer and thanks to all our great staff for making this possible especially though this full of surprises year.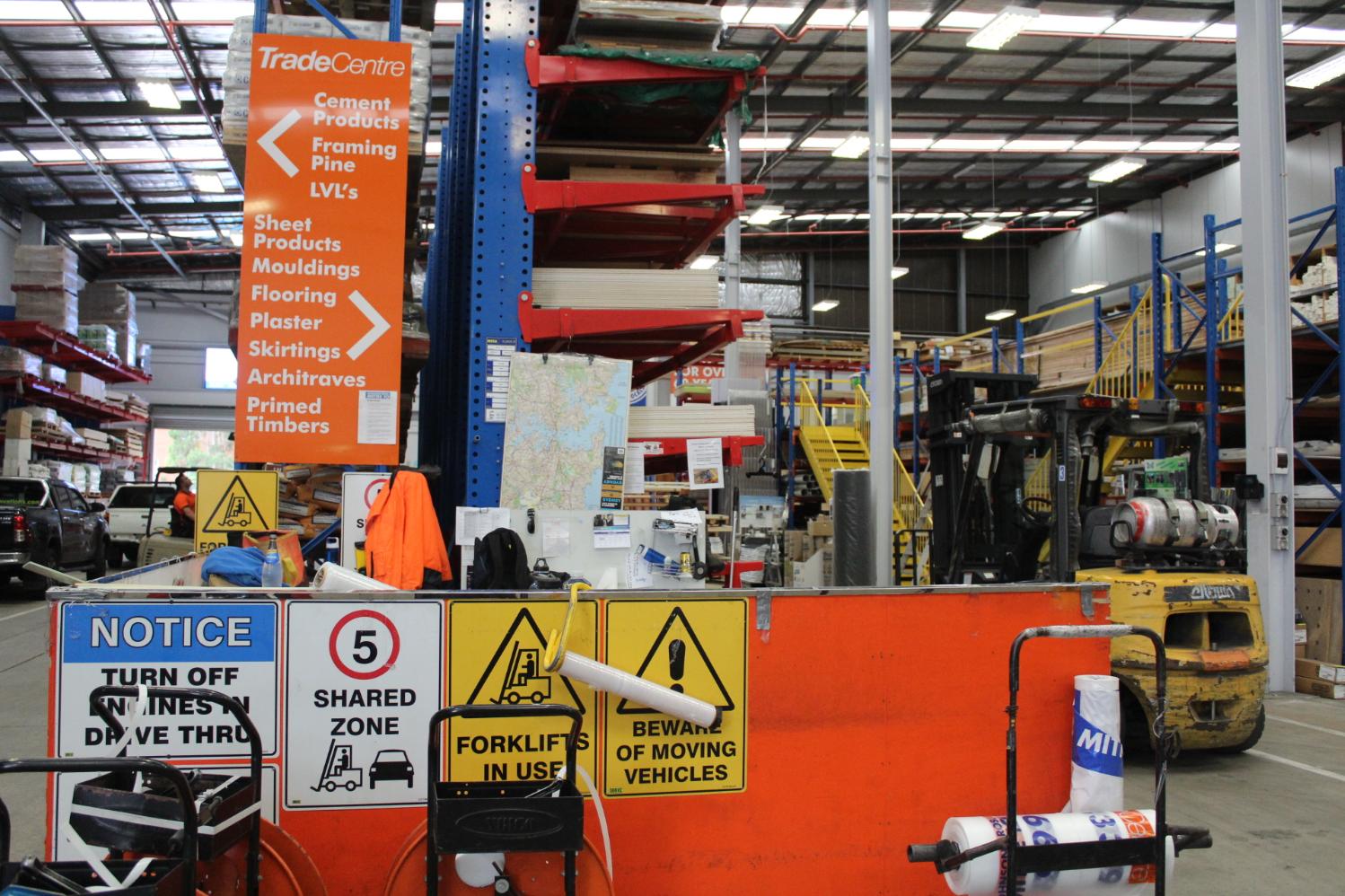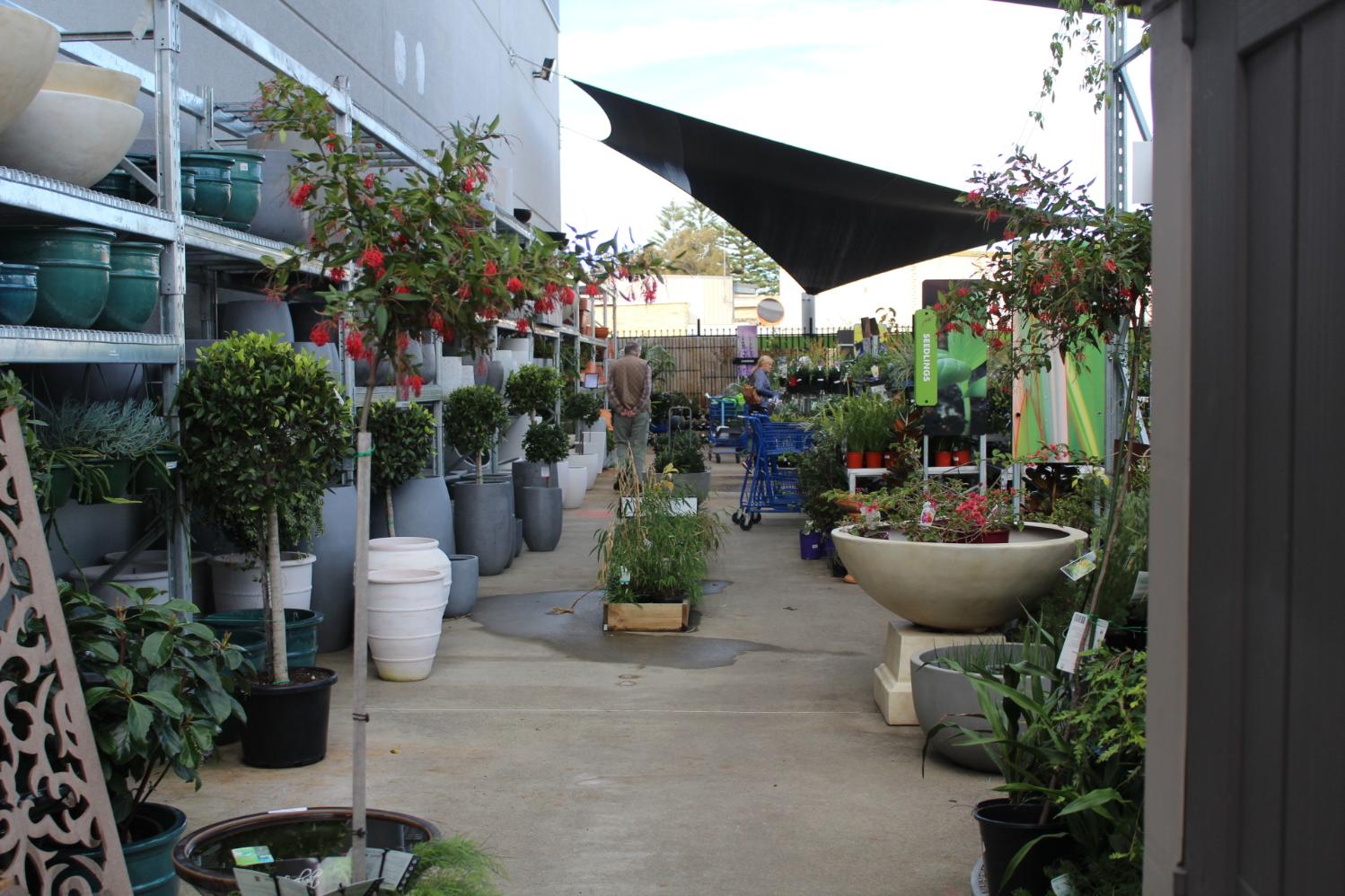 Green Life Garden Centre at Johnson Brothers Mona Vale has a great stock of seedlings, native and other plants and all you need to get gardening in brilliant Autumn weather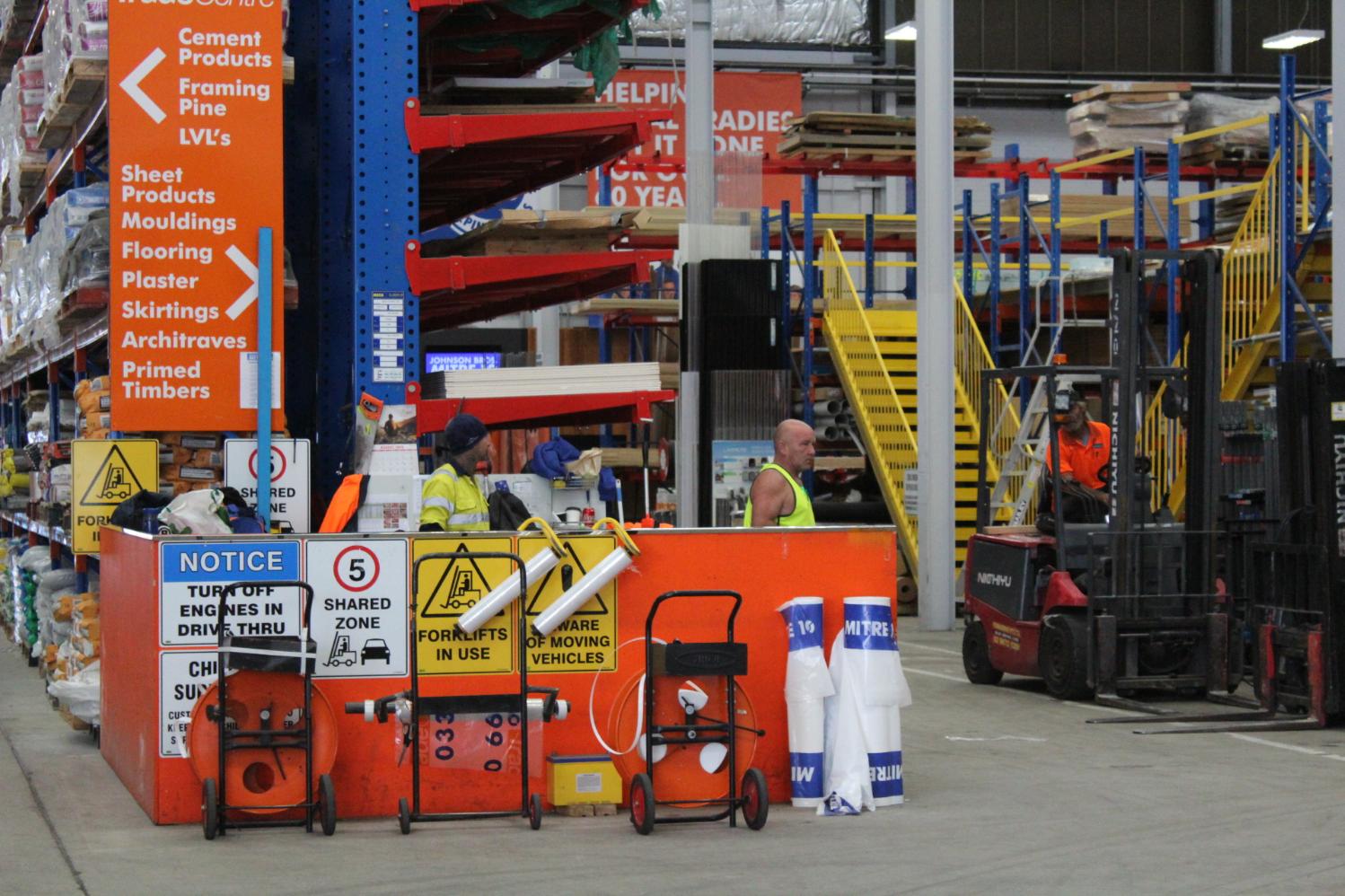 Johnson Brothers Mitre 10 Trade Centre at Mona Vale - everything you need under one roof.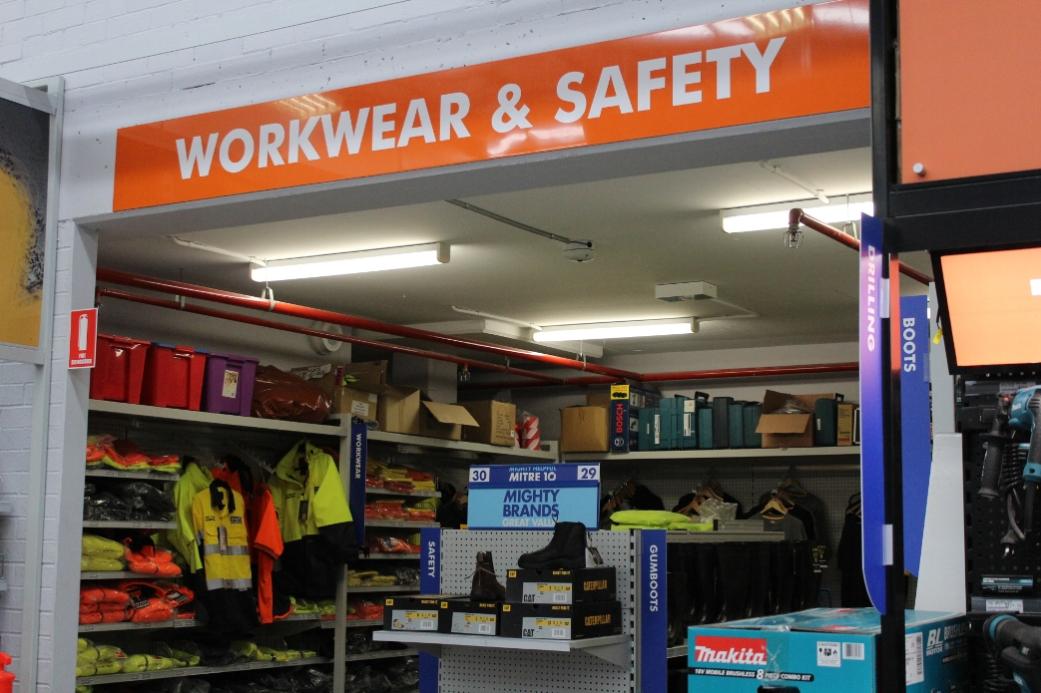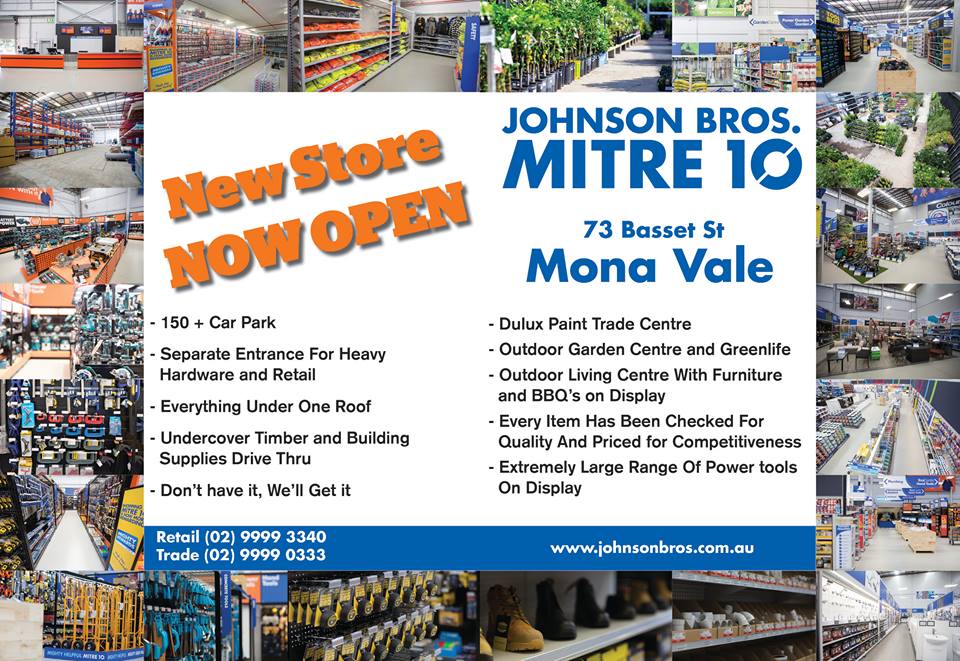 Johnson Brothers Mitre 10 New Store
73 Bassett Street
Mona Vale - Online Store: Jbhmv.Com.Au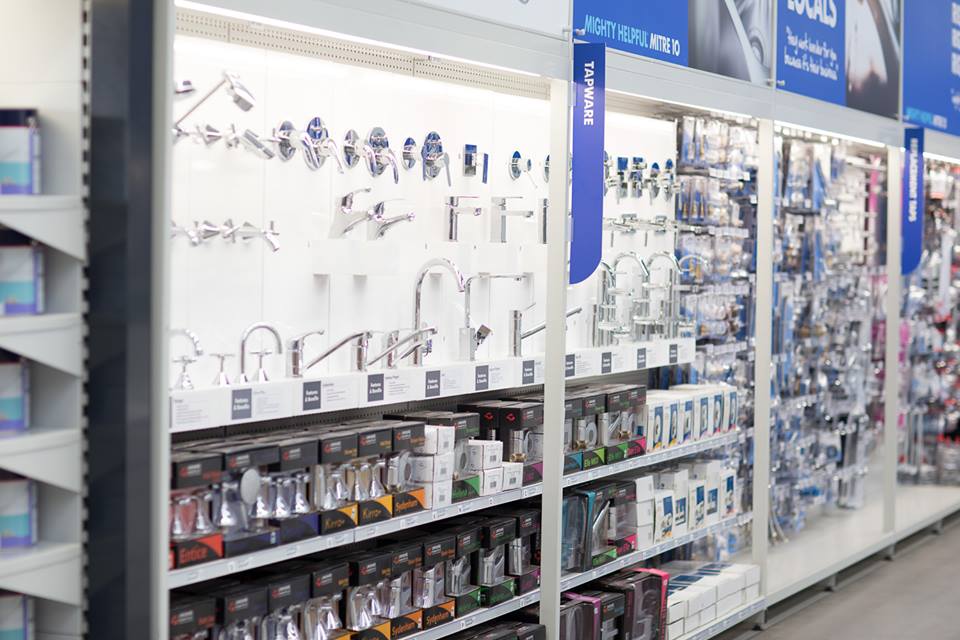 Products advice is available from the trained friendly staff at Narrabeen, Mona Vale and Avalon Johnson Brothers Mitre 10.
Click on logo to visit Johnson Brothers Mitre 10 website
Johnson Bros Mitre 10 - Avalon (02) 9918 3315
Johnson Bros Mitre 10 - Mona Vale (02) 9999 3340
JBH Timber & Building Supplies (02) 9999 0333
JBH Fencing & Landscape Supplies (02) 9970 6333
www.johnsonbros.com.au Online store: jbhmv.com.au

John, Bob and Robert Johnson, 2013 - photo by A J G.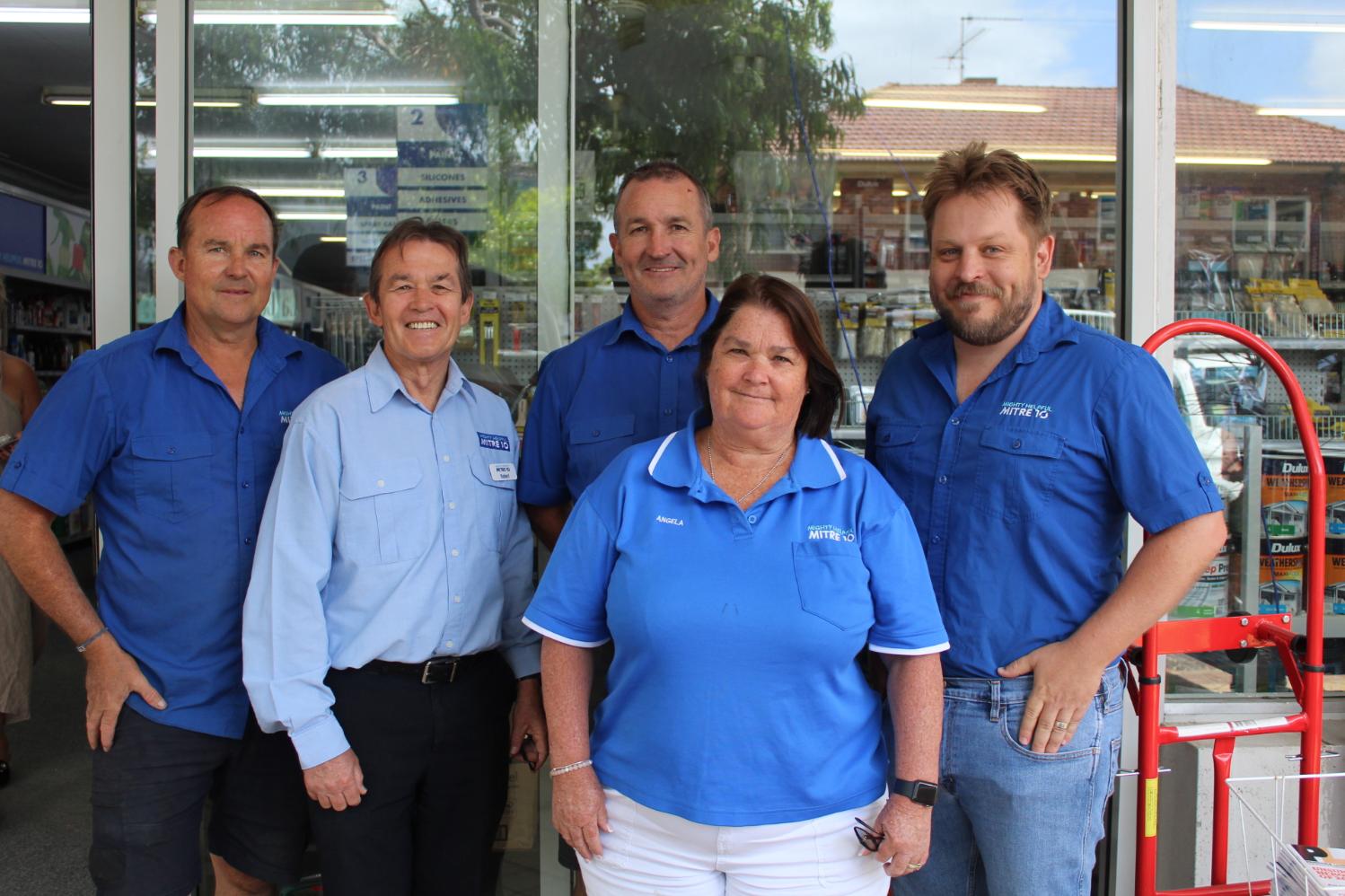 December 2020 - photo by A J G.
Important
All information and tips in this publication are of a general nature only and neither Johnson Brothers Mitre 10 or Pittwater Online News does not warrant the accuracy or completeness of the information and tips in this publication. This publication is not intended to be a substitute for expert advice.
Johnson Brothers Mitre 10
advises you to always consult an experienced and qualified person when undertaking jobs of this kind (including consulting a qualified tradesperson such as an electrician or plumber where relevant expert services are required).
You should also consider any safety precautions that may be necessary when undertaking the work described in this publication (including wearing any necessary safety equipment such as safety glasses, goggles or ear protectors or hard hats). The information and tips in this publication are provided on the basis that
Johnson Brothers Mitre 10
and
Pittwater Online News
excludes all liability for any loss or damage which is suffered or incurred (including, but not limited to, indirect and consequential loss or damage and whether or not such loss or damage could have been foreseen) for any personal injury or damage to property whatsoever resulting from the use of the information and tips in this publication.
Pittwater Online News and
Johnson Brothers Mitre 10
also advises there may be laws, regulations or by-laws with which you must comply when undertaking the work described in this publication. You should obtain all necessary permissions and permits from council and/or any other relevant statutory body or authority before carrying out any work. Major projects published in this publication always list these and/orlinks to where you may research what your own project requires to meet regulations.