community news: December 2021
December 12, 2021 - January 22, 2022: Issue 522
This Issue: full list in Contents page
PEP-11 Will NOT Go Ahead - Official Announcement

Mona Vale Road Upgrade: December 2021 Update - work ceased until January 4, 2022; second traffic switch change will take place from Thursday 20 January; pictorial update December 27, 2021

NSW Government Updates COVID Settings and Makes Rapid Antigen Tests Free + Community Venues Updates

Narrabeen SLSC Lifesavers First On Scene In Storm Tragedy

Community Demands Demerger In Inner West Poll: Call For Newly Elected Councillors To Support Communities To Have Their Say On Forcibly Amalgamated Councils

Avalon Residents Step Up To Support Pittwater's Tree Canopy

2021 Local Government Election: Official Results For Pittwater - Narrabeen

New NSW Cabinet Team Announced

New Years Eve Fireworks 2021: Details For Bayview, Manly, Dee Why, Frenchs Forest

Australia Win Home Sail Grand Prix In Sydney 2021

Pictures Pictures of the Year 2021
Mona Vale Place Plan 2022: Council Seeking Members For A Project Working Group - expressions of interest close 5pm December 2021

Manly Cove Upgrade Proposal Open For Feedback: until January 28th 2022

A Celebration Of Avalon Beach's Uniqueness – Past, Present and Future by Jayne Denshire

Sydney Wildlife and The Mobile Care Unit: Our Year In Pictures 2021 by Lynleigh Greig

Bilgola SLSC Hosts Round 3 Of SLS SNB Surf Boat Premiership + Updated Carnivals Calendar - photos by Malcolm Trees

Aloha Award In Memory Of John Shimooka Recipients Named

2021 Pismo Beach ISA World Para Surfing Championships - Mark Stewart and Jocelyn Neumueller secure a 1st place; Sam Bloom, Matt Formston and Kirk Watson among Pittwater winners

Final 2021 Woolworths Surf Groms Comp Run And Won At Palm Beach On Sydney's Northern Beaches

Sydney's Last Koala Population Being Killed As Mount Gilead Development Cuts Down Trees With No Fauna Passes: Pittwater Demonstration Falls On Deaf Ears

Biodiversity Offsets: Ecological Saviour Or Scam? - in the last episode of Wendy Frew's The Coast for 2021, airs December 17, Mayor Michael Regan states he wants the NSW Government's Biodiversity Offsets Scheme changed so that native vegetation lost to large developments in the area is, wherever possible, offset in the LGA
Australia's First Adolescent and Young Adult Hospice Offers Great Comfort To Families: Construction Works Commence

New Emerald Class Manly Ferry Hull Integrity Problems Prompts Return Of Freshwater Class 'Narrabeen' To Service

Minister Officially Opens $1.3M Marine Rescue NSW State Communications Centre At Belrose
Manly Fire Station Celebrates Its 100th Birthday With A $2.9M Heritage Facelift - Commenced Serving The Community 144 Years Ago (a few notes from the pages of the past)

Ten Marine Rescue Broken Bay Members Receive Service Awards Equalling 65 Years Of Serving Our Community - Get Ready For Safety On The Water This Summer: Log On/Log Off

Monika's DoggieRescue Calendar 2022: Give A Woofa A Chance!
Environment The Good - The Bad - The Ugly - The Ugliest: Pittwater Environment 2021, Ten New Canopy Trees Planted At Avalon Beach, Sydney's Last Koala Population Being Killed As Mount Gilead Development Cuts Down Trees With No Fauna Passes: Pittwater Demonstration Falls On Deaf Ears, White's Seahorse Signage At Palm Beach, Australian Wildlife Conservancy Harbour Trust's North Head Manly Update, Narrabeen Rock Platform: An Underwater Garden At Your Feet, Sydney Wildlife Rescue: Helpers Needed, Careel Creek: Dusky Moorhen + Chicks In Residence - Please Keep Your Dogs On Their Leads, BirdLife Australia Has Made An Album!; Currently Number #5 On Australian Charts, Governing Authority To Reconsider Regulation For Bird-Killing Rodenticides, Pesticides Regulatory Newsletter; December 2021, Action Plan For Australian Birds Released, Determined To Nest; Regent Honeyeaters, The Aussie Backyard Bird Count Results Are In!, Aussie Backyard Bird Count 2021 Local Stats, Migratory Bird Season, Boobook Owl And Baby Possum Rescue; Sydney Wildlife Rescue Volunteer - Nesting Boxes Available - All Sales To Sydney Wildlife, NSW Government To The (Genetic) Rescue Of The Endangered Eastern Bristlebird, Killalea Reserve Gets Parks Protection, Taronga Zoo Receives AFP Christmas Gift, Key koala habitat secured for Port Macquarie, NSW Sets The Bar For World's Best Public Spaces, Simplified Policies To Drive Planning Reform, Mice support extended into 2022, Looking after Liverpool's feathered friends, How more motorboat collisions are leaving turtles shell-shocked and mutilated, 100 years ago this man discovered an exquisite parrot thought to be extinct; What came next is a tragedy we must not repeat, Why climate change must stay on the news agenda beyond global summits, Dendrobium Coal Mine Declared State Significant Infrastructure, Draft Cycling Strategy For NSW's National Parks, BASIX Higher Standards: Feedback Open, Draft Marine Park Management Plan Released, Nature is hiding in every nook of Australia's cities – just look a little closer and you'll find it, Australian forests will store less carbon as climate change worsens and severe fires become more common, Making the tobacco industry pay for cigarette litter could stop 4.5 billion butts polluting the Australian environment, Why dingoes should be considered native to mainland Australia – even though humans introduced them, Australia's agriculture sector sorely needs more insights from First Nations people. Here's how we get there, Liquid marbles: how this tiny, emerging technology could solve carbon capture and storage problems, How much meat do we eat?; New figures show 6 countries have hit their peak, Bushcare In Pittwater, Community Gardens, Reserves

Inbox News Indigenous Voice Co-Design Process Final Report Released, There'll be a lot more talk before we hear the Indigenous Voice, WA's new Aboriginal Heritage Act keeps mining interests ahead of the culture and wishes of Traditional Owners, Legs For Days! Scientists Discovers World's First True Millipede In Western Australia, On the elegance and wry observations of Jeffrey Smart; one of Australia's favourite painters, Premier and Cabinet 2021: Audit Office Of NSW, NSW Economy Bouncing Back For A Stronger 2022: 2021-22 Half-Yearly Review, Prime Minister's Literary Awards: winners for 2021, First Glimpse Of Future Sydney Harbour Bridge Cycleway Ramp: Feedback Open Until January 16 2022, A history of destruction: why the WA Aboriginal cultural heritage bill will not prevent another Juukan Gorge-like disaster, The Secret Life Of Tasmanian Devils Is Hiding In Their Whiskers, We are professional fire watchers and we're astounded by the scale of fires in remote Australia right now, Focus On Future Generations As Construction Begins On New Tresillian Centre At Wollstonecraft, Rare fossil reveals prehistoric Melbourne was once a paradise for tropical pig-nosed turtles, Big Gaps In Quest To Sequence Genomes Of All Animals, The Australian lungfish, Denisovans Or Homo Sapiens: Who Were The First To Settle (Permanently) On The Tibetan Plateau?, The Sunshine Vitamin That 'D'elivers On Cardio Health, A Daily Dose Of Yogurt Could Be The Go-To Food To Manage High Blood Pressure, Monash University Researchers Develop An Antibody-Drug Delivery System, Common Arctic Finches Are All The Same Species, Melting Glaciers May Produce Thousands Of Kilometres Of New Pacific Salmon Habitat, Dinosaur embryo discovery: rare fossil suggests dinosaurs had similar pre-hatching posture to modern birds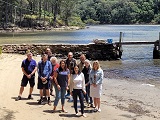 Profile of the Week
South West Lovett Bay Coastcare Group
In December 2019 the Lower Western Shores of Pittwater announced it had formed its first Coastcare group. The private properties in South West Lovett Bay sit between Ku-Ring-Gai Chase National Park and the shores of Pittwater. They also sit within a Pittwater Spotted Gum forest and on the edge of a coastal rainforest, both endangered ecological communities.
In May 2020 the South West Lovett Bay Coastcare (SWLBC) announced they had been successful in achieving support from Greater Sydney Local Land Services through funding from the NSW Government's Catchment Action program.
The grant of $20,000 was to support the rehabilitation of native vegetation on 11 ha of public and private lands leading to the iconic Linda Falls in Ku-ring-gai Chase National Park.
On December 7th the Greater Sydney Land Services tweeted on the South West Lovett Bay Coastcare Group; ''An honour to meet the volunteers from South West Lovett Bay Coastcare Inc and celebrate their great work to remove 14 ha of highly invasive bamboo threatening the beautiful natural environment of their home.''
Every single resident is a member of this group and every single resident has worked to achieve this outcome.
What an inspirational end of 2021 and start for 2022 the South West Lovett Bay Coastcare Group provides this Issue.
As so many love these old photos and will be diving deeper into enjoying the great outdoors of Pittwater itself during this Christmas-New Years break, this Issue there will be no mini-thesis or small book. A simple glance into what makes this place so special for all who came here marks our end of year celebration of Pittwater the beautiful. Some of these images have been enlarged to show you the details therein and are new to these pages.
We hope you have a wonderful time exploring these records and then step outside to stand on that ridge or beach or bush reserve and look in that same direction with the same breeze from the middle of the same season washing over your face, even if you are doing so over 100 years later
Pittwater Offshore Newsletter: December 1
Click on Logo to access the latest PON:

To contact Roy: editor@scotlandisland.org.au
Double Demerits Christmas-New Years
Christmas Eve, Christmas Day, Boxing Day and New Year's Day: 24 December 2021 to 3 January 2022
The demerit point system provides an incentive for drivers to improve their driving behaviour, obey road rules and comply with NSW traffic laws.
The double demerit point scheme applies for the following types of offences:
Speeding
Illegal use of mobile phones
Not wearing a seatbelt
Riding without a helmet
Double demerit periods were introduced in 1997 in NSW. Double demerit periods are advertised to ensure community awareness of long weekend periods during which double demerit penalties apply. Awareness campaigns are coordinated with traditional enforcement and increased police numbers.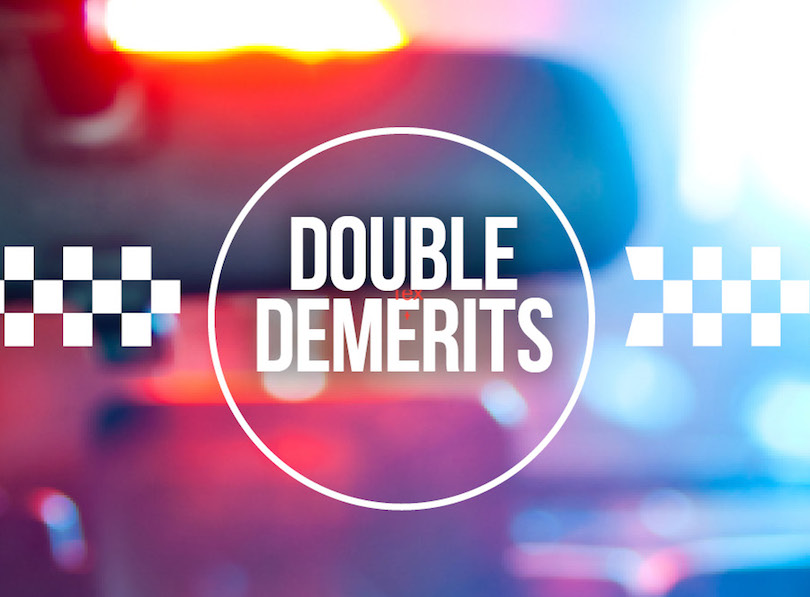 No Scotland Island Dog Race This Year
Announcement: 2021 Scotland Island Dog Swimming Race
It appears highly unlikely that the annual Scotland Island Dog Race will take place on Xmas Eve this year.
There are mixed messages and rumours that the race will proceed.
However, a spokeswoman for Northern Beaches Council responded to our request for clarification:
"Thank you for your enquiry. I have liaised with our Open Space Bookings Team and at this stage they have received no communications from the event organisers about the event.
In regards to COVID-19 restrictions, all event organisers are required to follow NSW Public Health Orders."
NSW Police Northern Beaches Police Area Command also confirmed that they've not yet been contacted to police the event.
We're deeply sorry to be the bearers of sad news and very much look forward to a resumption of the fantastic Scotland Island Dog Race in 2022.
Hope everyone has a safe and enjoyable festive season with your loved ones. All the best for 2022!
Scotland Island Dog Race Organisers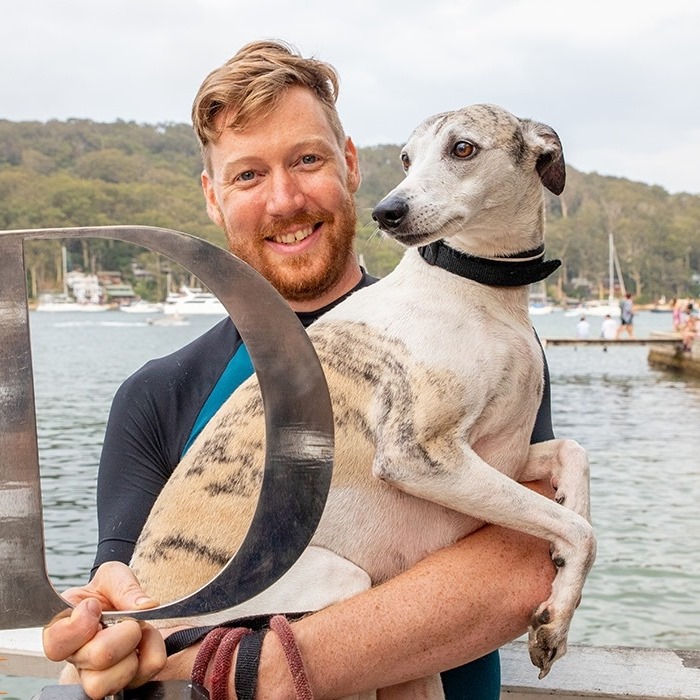 Photo: Bolt, the 2019 Diesel Trophy winner (fastest island dog), with owner Garrett in the Scotland Island Dog Swimming Race from Scotland Island to Church Point. Pittwater, Sydney, Australia. Photo: Alec Smart, Tuesday 24 December 2019
Rotary - Upper Northern Beaches Tree Of Joy At Warriewood: Thank You For Your Gifts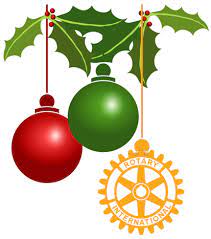 Rotary - Upper Northern Beaches would like to thank the people of our wonderful community for their amazing generosity in helping us bring some joy to people in need at Christmas.
For several years, Rotary - Upper Northern Beaches has been running The Tree Of Joy at Warriewood Square in the weeks leading up to Christmas. People purchase a gift of their choice, wrap it and label it with one of the cards provided and place it under the tree.
This year we collected over 700 gifts, which will be distributed to the following causes:
Vincentian House. Refuge for families, women and children.
Benevolent Society. Helps children exposed to parental difficulties and domestic violence.
Shine for Kids. Supports kids affected by imprisonment of one of their parents.
Asylum Seekers. Supports Asylum Seekers.
Homes for Heroes, Narrabeen. Supports veterans who are homeless due to the negative effects of their service.
Women & Children First, Dee Why - Refuge for women and children escaping family violence.
This really is an amazing outcome - 700 gifts that the beneficiaries of the above causes would otherwise have not received.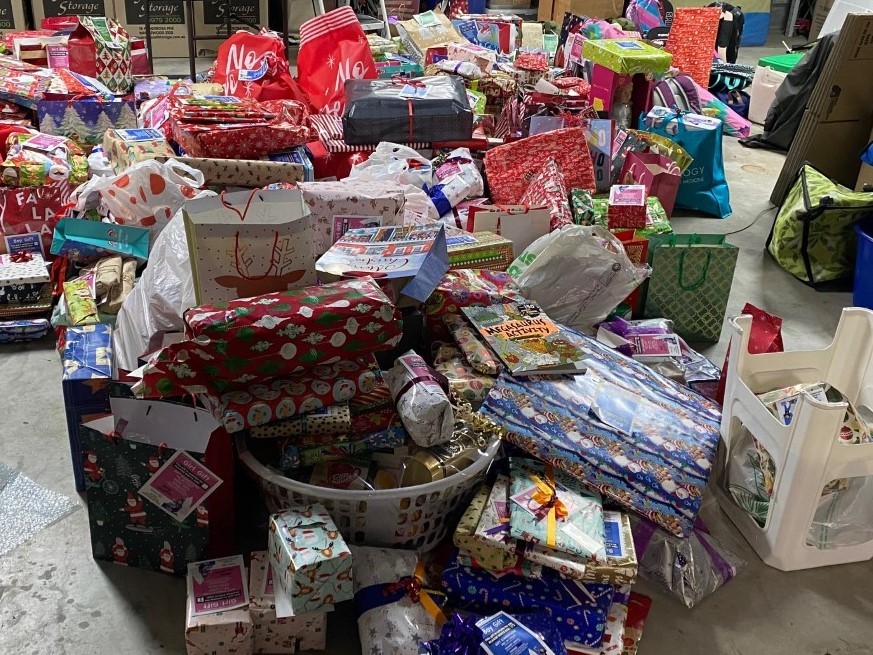 This is just one of the great initiatives and projects that Rotary is involved with in your local community.
We are having a short break over the Christmas period and will be back in action with
our next meeting being at The Sands Hotel Narrabeen on Wednesday January 19 2022.
The main feature for the evening will be a guest speaker from The Westpac Rescue Helicopter Service. A very relevant topic for anyone living on the beaches.
In the meantime have a very Merry Christmas!
New Year's Eve Fireworks Return
Council will proceed with fireworks for New Year's Eve this year in line with the easing of restrictions outlined in the State Government's NSW Roadmap.
The fireworks are being
planned in the traditional venues of Bayview, with the time to be confirmed, as well as Manly and Dee Why at 9pm. For the first time, a new 9pm event has been added for Lionel Watts Reserve in Belrose to support the crowd density restrictions and social distancing.
While the NSW Roadmap indicated that these events will be able to proceed, they will be subject to the NSW Health Orders in place at 31 December.
Mayor Michael Regan said he was thrilled fireworks would return to the Northern Beaches after COVID forced their cancellation last year and only Manly was able to go ahead the year before due to large swells and bushfires.
"2021 has been a tough year and what better way to mark its end than with firework events which bring our community back together.
"With the new addition of Lionel Watts to the program, no one on the Beaches is too far from being able to enjoy the NYE spectacle.
"Thanks to the community getting behind vaccination targets and with the government forecasting major restrictions easing from December 1st we can throw ourselves into planning our NYE events with more certainty.
"I know how many people look forward to these family friendly events on the Beaches and I am pleased we are in a position to deliver them."
North Palm Beach Surf Life Saving Club Buggy Bling
The skies are grey but who would notice when our buggy has a little Christmas bling.
Photo: North Palm Beach Surf Life Saving Club Buggy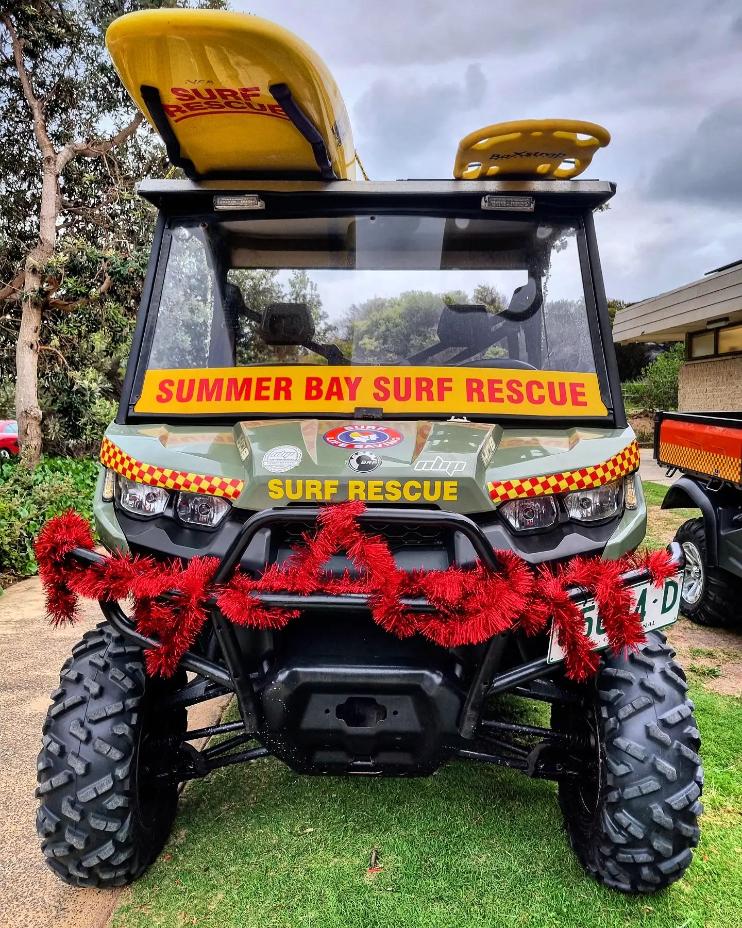 Church Point Ferry Service: Christmas Runs 2021
Please see timetable below: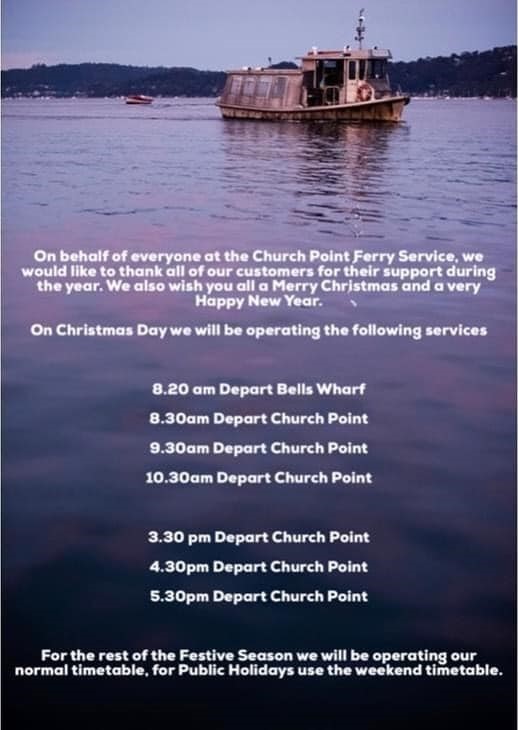 Greg Lee: Newport Breakers 1st Grade Coach For 2022
The Newport Breakers are pleased to announce that Greg Lee has been appointed 1st Grade Coach for Season 2022.
Greg comes to the Breakers with a rich rugby pedigree:
2021 1st Grade Shute Shield Western Sydney Two Blues
2016-2020 Warringah Rugby Club incl. 2018 Premiership
Ex- Waverley Suburban Rugby Player, Coach and Committee level including Barraclough and Kentwell Cup
The Breakers are looking for backs coaches to assist Greg for the upcoming season!
Please help us welcome Greg to Newport!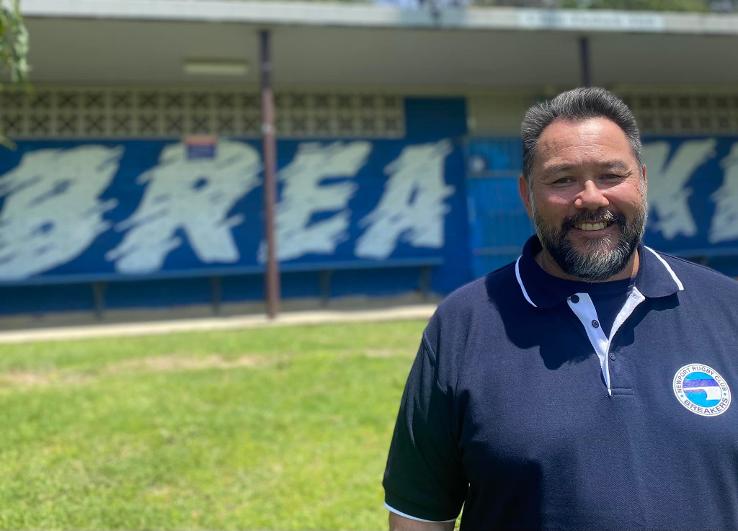 Ocean Sentinels Form Part Of Sea Museum's One Ocean, Our Future
Runs 1 Dec 2021 - 31 Oct 2022 at the Sea Museum
Ocean Sentinels is the fourth in a series of works by the Small Ocean Collaboration highlighting the social, cultural and environmental impact of human-induced climate change and ocean plastics on communities across the Pacific.
The original concept was born as a response to plastic pollution by UNSW Art and Design Alumni Jeremy Sheehan during a mobility course Selena griffith ran in Vanuatu in 2014. New Colombo Plan mobility funding made it possible to run other mobility courses in Palau, Kiribati which allowed the development of connections to artists around the Pacific to form the Small Ocean Collaboration and UNSW students and Alumni to join the collective.
Collaborators for this project come from Australia, Palau, PNG, Vanuatu, Solomon Islands, Federated States of Micronesia, Pakistan, The Philipines.
Selena explains;
''We focus on large scale public art events such as Sculpture by the Sea and VIVID to create works to challenge viewers to think about big social, environmental and cultural issues through humanising them. We use a visually engaging format to attract the audience, inspire interest, provide information, educate and inform the need for change
''
Ocean Sentinels
for
VIVID Lights 2019
comprised a series of traditional figures from Pacific Islands and Nation, including Australia, Papua New Guinea, Palau, Vanuatu, Solomon Islands, Nukouro Atoll, and The Philippines. Each represent the communities, environments and species under threat from sea level rise due to human-induced climate change and the impacts of ocean plastic pollution. We were able to leverage data produced by UNSW Prof. John Church and his team for UN reports on predicted ocean levels to identify locations to highlight.
Each totem was created by a local artist of the area it represents. Their small wooden carvings have been scanned, scaled, sectioned and then 3D printed from recycled PET bottles and recyclable plastic filament pushing 3D printing technology to its full limits.''
Ocean Sentinels now forms part of the One Ocean, Our Future exhibition that has been curated by the Sea Museum (Australian National Maritime Museum) in Darling Harbour.
Congratulations Selena, a great follow on from this year's
Little Obelia Centenary Celebration
of May Gibbs ocean loving character, still happening at Nutcote in Neutral Bay, launched November 2021, and the December 5th promotion of Artists works at Eramboo's Christmas Market in Terrey Hills.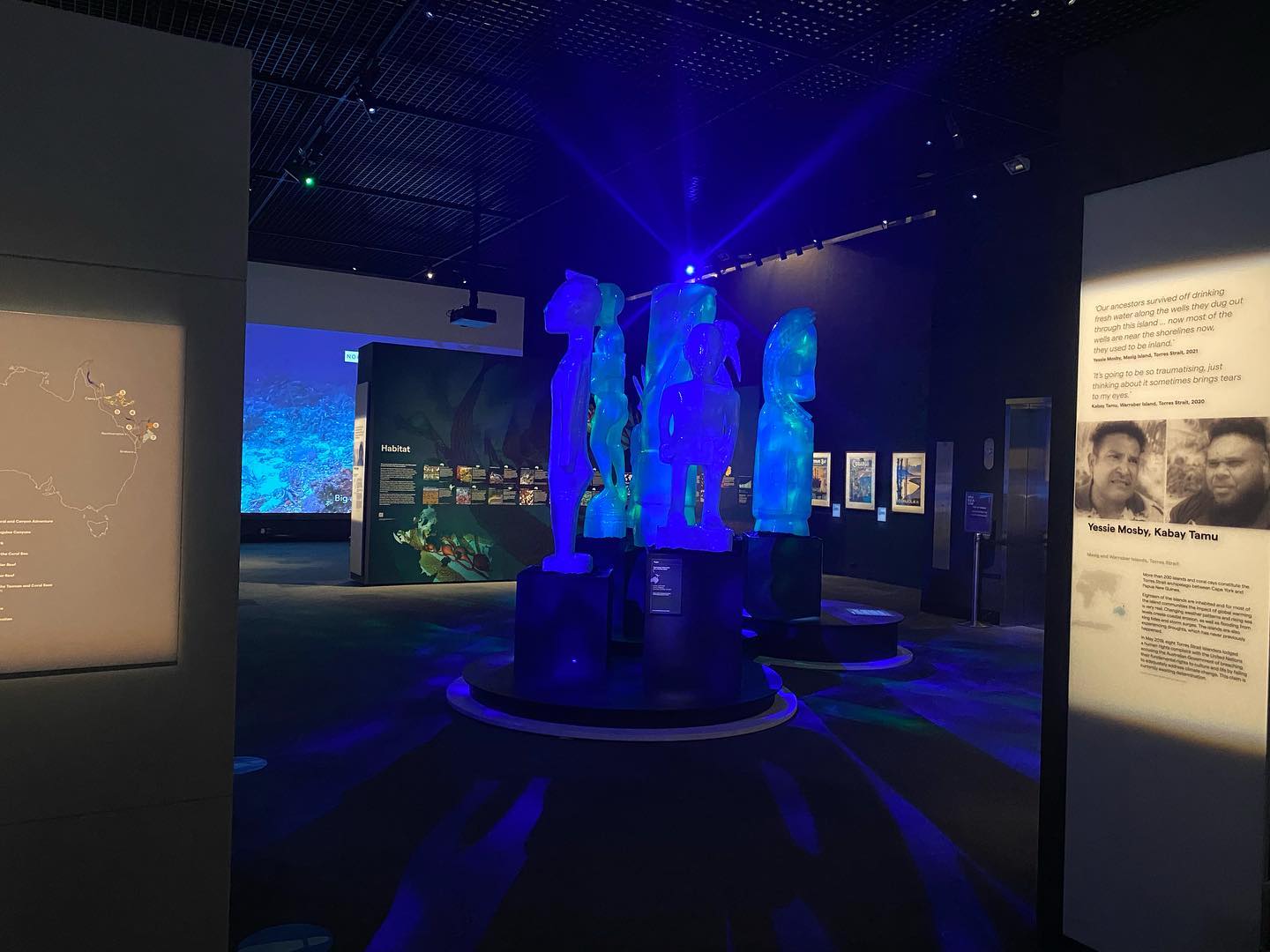 Ocean Sentinels in the Sea Museum
Sea Museum says;
Covering more than 70 per cent of the Earth's surface and supplying half its oxygen, the ocean is our planet's life support system.




The ocean provides 50 per cent of the air we breathe and affects our weather, climate, food supply, culture and wellbeing. Learn how we are intimately tied to the ocean in this immersive exhibition and how a changing climate, overfishing and pollution are affecting our future.




Marvel at the wonders of the ocean and the diversity of Australia's marine life revealed by Schmidt Ocean Institute's 2020 circumnavigation of Australia aboard their research vessel Falkor. Discover, manipulate and inspect 3D visualisations of five extraordinary deep-sea specimens, ponder on the climate record contained in a real Antarctic ice core, hear about the impacts of a changing planet and ocean from witnesses, and learn how two centuries of analysing and examining the ocean have given us the knowledge to make things change for the better.
Avalon Bowling Club Easing Of Restrictions Notice
A message for Avalon Bowlo Members and Guests:
With the fluctuating situation regards Covid infections, the Directors and management of Avalon Bowlo have voted to maintain a policy of allowing ONLY DOUBLE VACCINATED people in to the Club.
This is being done to reduce the potential impact on our double vaxxed staff and the apx 95% of locals who have made the effort to protect themselves and others by being double vaxxed.
There are many other licensed clubs across the Northern Beaches also taking this action and while we appreciate that some may not agree, we believe first and foremost for the safety of our staff, patrons and community.
The Club will continue to offer as much outdoor service and events as possible through the Christmas and New Year period and look forward to seeing you enjoy our new alfresco entertainment area.
The Bowlo will close only on Christmas Day over this festive holiday season.
Avalon Bowlo sincerely wishes everyone a happy and safe Christmas and hopefully a brighter 2022.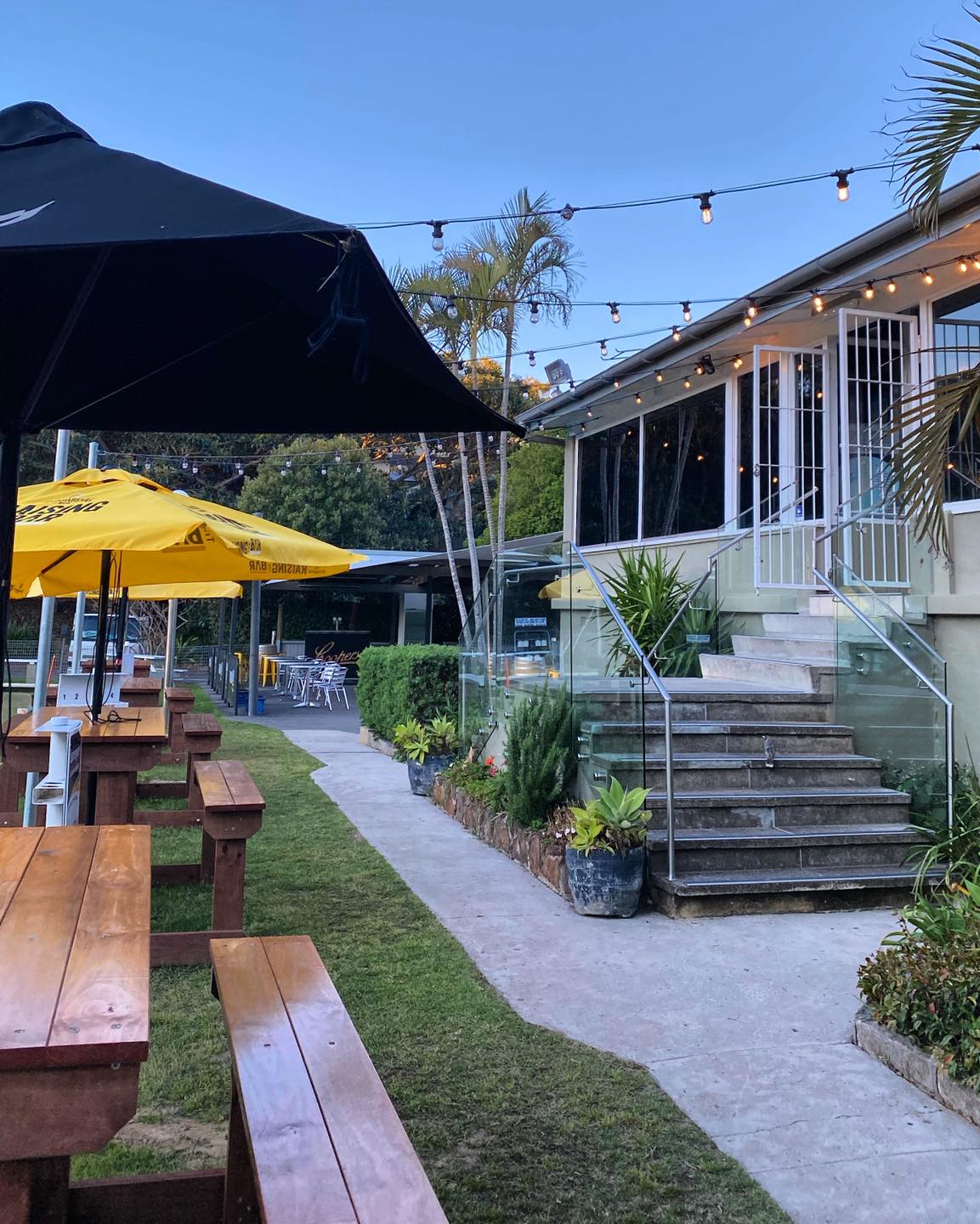 Royal Prince Alfred Yacht Club - RPAYC: Easing Of Restrictions
Although the NSW Govt has eased COVID-19 restrictions from yesterday, with face masks no longer required, the club's entry requirements will remain as follows:
All members and guests must continue to check-in with the Service NSW QR code which can be found around the club;
Members are required to swipe their member card on entry and guests will need to sign in with their Drivers Licence;
All patrons must show proof that you are fully vaccinated or provide a medical exemption upon entry – the Commodore's message regarding this club regulation can be seen at: https://mailchi.mp/rpayc/commodoresnotes-586582
Further information on NSW Government rules can be found at:
At Royal Prince Alfred Yacht Club, the health and safety of our Members, guests and staff is paramount, which is why we have made the decision to maintain the current mandatory COVID-19 vaccination entry restrictions after 15 December 2021. The Board will review the decision on restricted access for unvaccinated adults in January 2022.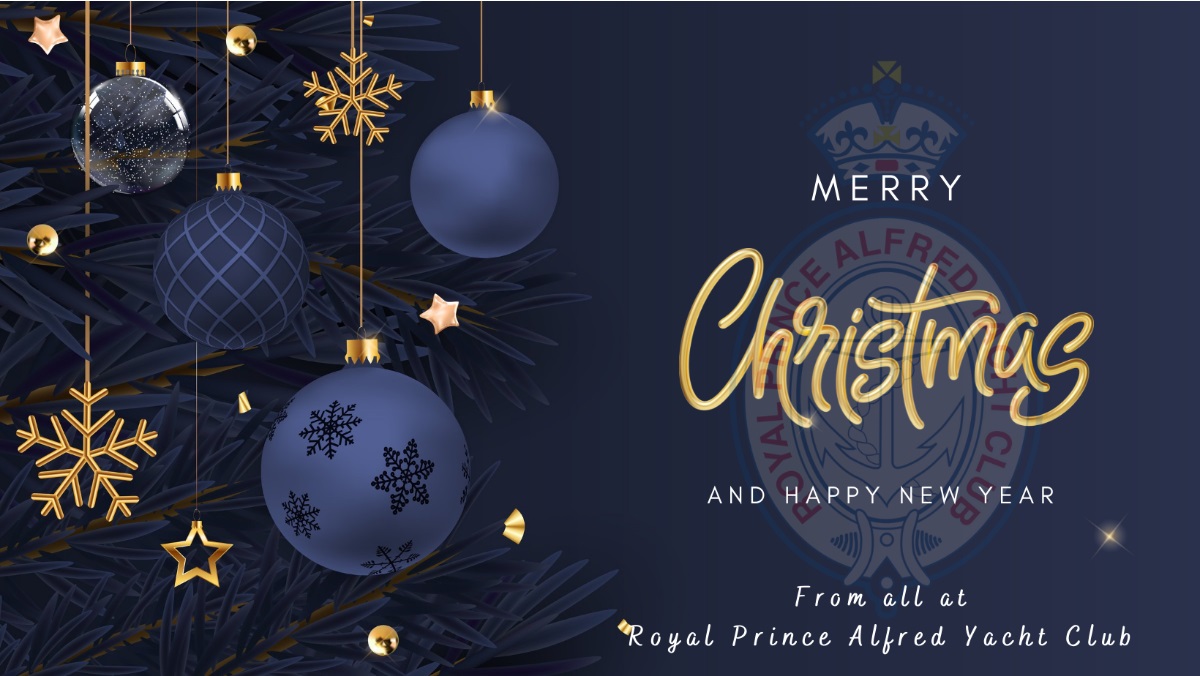 Narrabeen RSL: Vaccination Policy & Christmas Trading
Dear Members and Guests,
The President, Board of Directors, Management and staff thanks you for your ongoing support throughout this difficult year. It has been wonderful to see some new members as well as so many of our favourite faces back at the Club.
The Club's Board of Directors has unanimously voted to remain closed to unvaccinated people 18 years of age and over, unless they have medical documentation preventing them from being vaccinated. This will extend the 'vaccinated only' restrictions at the club until 31st January, 2022.
This decision was made after consultation with staff and members, Clubs NSW, our solicitors and our Club Directors. Currently there are 10 other clubs on the Northern Beaches, and many clubs across Sydney, that have also come to this decision.
Regrettably, we understand that some members of our community will be disappointed by this decision, but we believe it to be the correct option mindful of all the available information at hand.
We are hopeful that early 2022 will see a return to all our usual activities including the meat raffles and trivia.
DECEMBER AND JANUARY TRADING
Narrabeen RSL will remain open from Wednesday - Sunday until December 24th.
We will be closed from December 25th and will re-open Wednesday the 5th of January.
Sunk Cocktail Bar will operate for bookings and Saturday/Sunday trade until December 23rd and will re-open on Saturday January 8th
On behalf of the Board Of Directors, Management and staff at Narrabeen RSL wish you a happy and safe festive season spent with family and friends.
APA Woolies Survey
The Avalon Preservation Association are asking members and local residents to complete the attached survey to provide a clearer picture of the response to proposed changes to the Avalon Beach Woolworths store.
These changes involve converting this store to a 'Neighbourhood Metro store", which would include a delicatessen and a pre-prepared meal section, raising some concerns that the present product range may be reduced by space limitations, and everyday grocery items may not be so readily available, or prices may rise. This could mean it may then be necessary to travel to Woolworths in Mona Vale or Coles in Newport, or order online.
Palm Beach Whale Beach Association and Clareville and Bilgola Plateau Residents Association will be distributing the same survey and, depending on the results, a meeting will be set up with Woolworths at senior level to a. establish exactly what they are planning, and b. make it clear what residents want.
This survey form is designed to be: downloaded to your computer/opened, filled in, saved, then attached in a return email to APA -
avalonpreservationa@gmail.com
Alternatively, you can: print survey, fill in, scan, and attach to a return email to APA (address above).
We obviously need as large a membership and residents response as possible.
Avalon Preservation Trust
Incorporated as Avalon Preservation Association
'Water Access Only'
In a community brimming with artists, writers and photographers, it's no surprise that someone, sooner or later, would think of binding all that talent into a book. And so it was that in 2006 Juliette Robertson and John Hoffman put together the first anthology of works intended to reflect our Pittwater offshore world. The book was highly successful, frequently quoted at dinner parties and remains treasured by offshore and former offshore residents alike.
Now, 15 years later, we have the launch of 'Water Access Only: More Tales & Adventures from Pittwater'. Or, to put it more succinctly, WAO2. There are some changes this time. John Hoffman has been replaced in the editorial team by CB Floyd. WAO2, unlike its predecessor, is printed in colour throughout. And this time the book comes with a barcode that enables you to listen to a Spotify playlist of offshore musicians.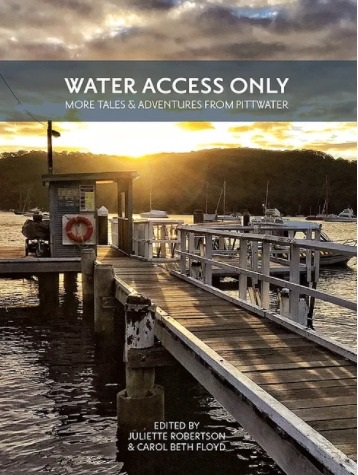 But the basic premise remains the same. WAO2 is a collection of stories, reminiscences, poems, drawings, cartoons, photos, paintings and other artworks, displaying the diverse talents within the offshore community. Contributors come from not only Scotland Island but from every part of the western foreshore, stretching from McCarrs Creek to Mackerel Beach. The mood of the works is equally varied, ranging from sombre through to comical, factual to fanciful. Just about every aspect of offshore life will be found somewhere: boats, buggies, sailing, septic, friendship, solitude, birth, death, bush fires and, of course, car parking.
Juliette and CB were supported by Jane Morgan and Jane Rich as assistant editors, plus Jane Matthews as designer. They deserve our praise. But thanks also go to the 70 or so contributors. All bared their creative souls to the scrutiny of their community. I know from writing the PON that that's not an easy thing to do.
The book contains hundreds of creative works, all for $35. If that's not value enough, there's a bonus. At the end of the book there's a paragraph of biography for each contributor. To a stickybeak like me the book is worth its price for that alone.
Copies
can be bought online here
. Assuming there are copies left, they can also be bought at the 12 December Two Catherines café event on Scotland Island. For people not on the island, copies will be stocked in local bookshops and at outlets at Church Point.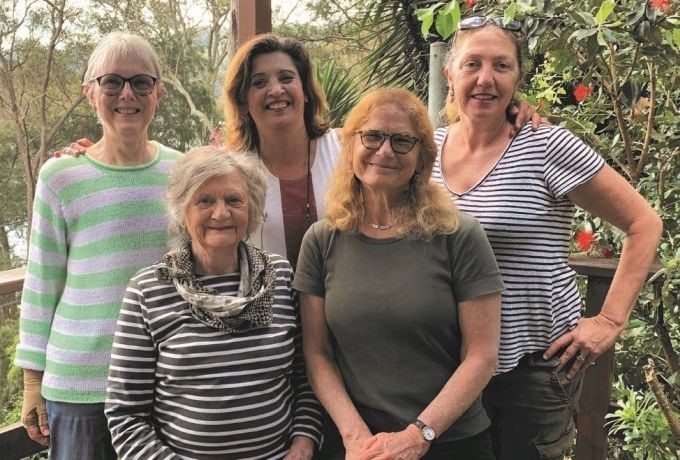 The production team, left to right : Jane Morgan and Jane Rich (assistant editors);
Juliette Robertson and CB Floyd (editors) and Jane Matthews, designer
To All Veterans
We are expanding our membership!
Would love to have all ADF veterans come on down and be a part of the Avalon Beach RSL Sub Branch family. If
you are, or know an ADF veteran, please encourage them to get in touch with
Andrew
Scully or Tamara Sloper- Harding. We'd love to welcome you to a wonderful, inclusive and supportive family of ex veterans.
Familia sumus.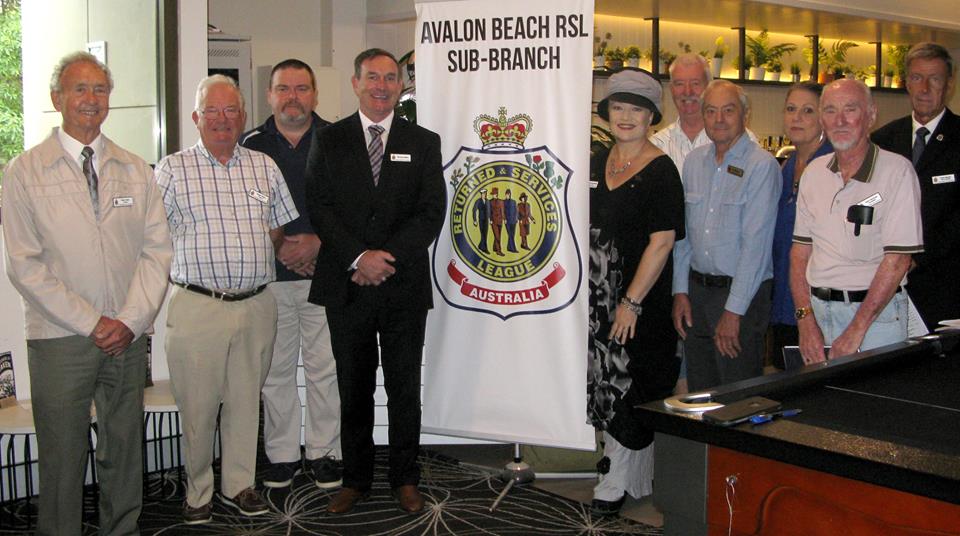 Back To What Matters!
Cr. Vincent De Luca OAM has attended the 2021 Gala dinner for the Cure The Future, raising money for cancer research.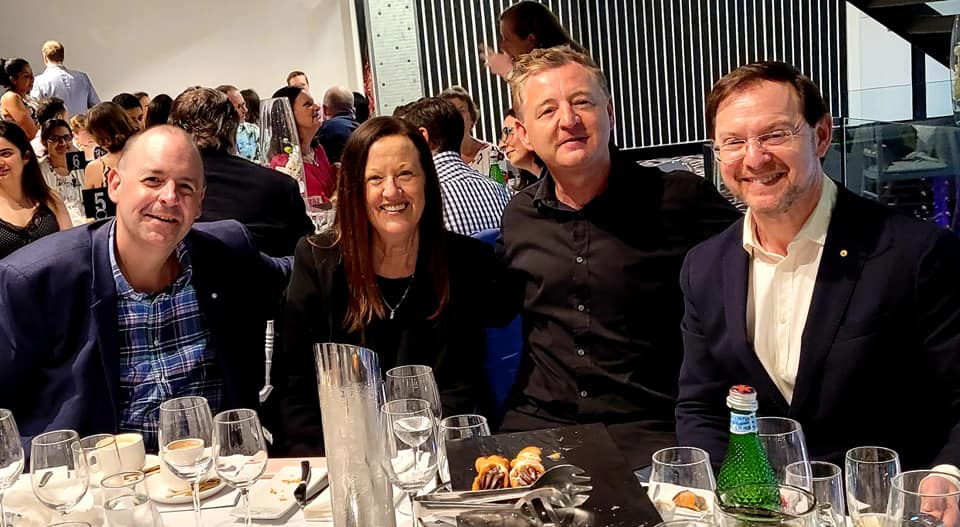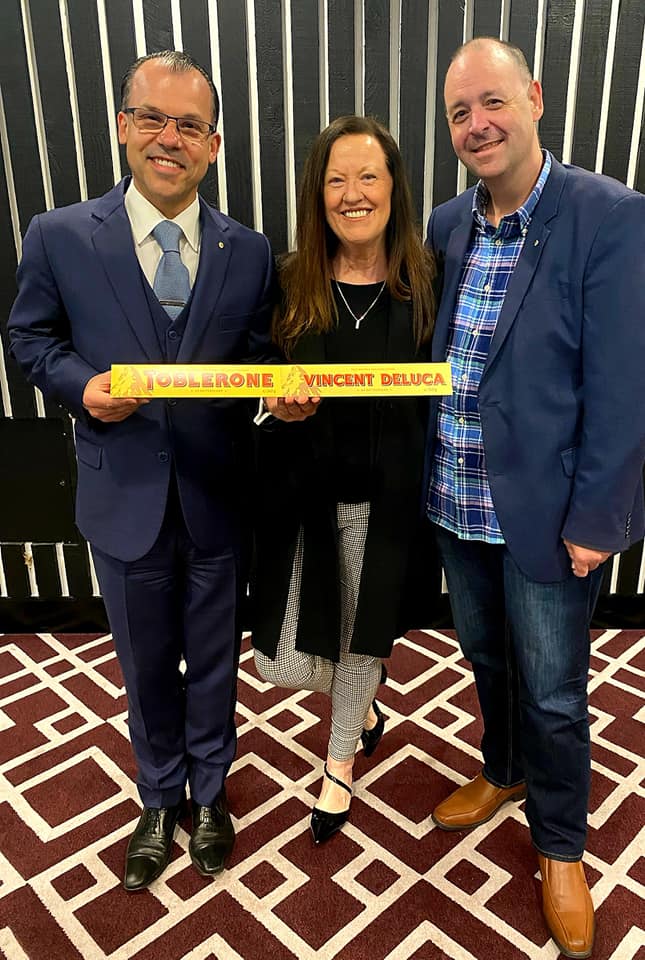 With Chair of Cure the Future and the Australian Gynaecological Cancer Foundation, Di Langmack OAM, Professor John Rasko, Luke Mangan OAM and Paul Signorelli OAM at Doltone House Jones Bay Wharf.
Over $100,000 was donated by the Biaggio Signorelli Asbestos Foundation (mesothelioma).
Cure The Future is a philanthropic foundation that funds pioneering research to cure inherited diseases and cancers through the world leading research and clinical work of Professsor Rasko AO and his team.
We fund equipment, services and the professional development of this inspirational team of scientists and researchers to enhance their ground breaking work, to have a greater impact now and for generations to come.
Pupular Manly Court Visitors Bark In Action
Manly Courthouse is the first location in NSW to bring back pats, cuddles and wagging tails with the Canine Court Companion Program (CCCP) resuming as the state recovers from the COVID-19 pandemic.
Attorney General Mark Speakman today announced that after a paws of nearly six-months due to COVID-19, therapy dogs have returned to Manly Courthouse one day per week.
"I'm doggone delighted to see these loveable Labradors bringing joy to Manly court users once again," Mr Speakman said.
"We can't wait to welcome more therapy dogs and their volunteer handlers back to courthouses across the state in the new year."
Member for Manly James Griffin said the pawpose of these gentle therapy dogs is to provide emotional support to children, vulnerable witnesses and victims of crime.
"Coming to court can be an overwhelming experience, but each friendly pooch has been expertly trained to pick up on signs of distress to provide a sense of calm and make people smile," Mr Griffin said.
"A 2017 trial of therapy dogs at Manly Courthouse was so successful the program was rolled out across the state."
Guide Dogs NSW/ACT CEO Dale Cleaver said there is evidence opens in new windowto support the use of therapy dogs to alleviate symptoms associated with trauma, including stress and anxiety.
"Our Court Companion Dogs have been wonderful lockdown partners for their volunteer handlers, but we know they are pulling at the leash to get back out in the community," Mr Cleaver said.
"We're so excited they're ready to spread the love and make a real difference, providing comfort and companionship once again."
The CCCP is an initiative from the NSW Department of Communities and Justice, with each helpful hound receiving up to two years of intensive training with Guide Dogs NSW/ACT.
Australian Surf Life Saving Championships To Swap Locations In 2022 And 2023
Surf Life Saving Australia has today announced the 2022 Australian Surf Life Saving Championships, held over nine days from 2 April, will relocate to Broadbeach on the Gold Coast.
Perth, which had planned to host the 2022 Championships, will swap event dates with the Gold Coast, which was to hold the Championships in 2023.  
Surf Life Saving Australia President John Baker ESM said the event swap would provide absolute clarity for surf clubs and members planning for next year's event.
"We are very pleased to be able to announce the success of negotiations which now allows a straight swap of locations between the 2022 and 2023 Australian Surf Life Saving Championships," Baker ESM said.
"The Gold Coast, Queensland is a location that is a well-known venue for the Aussies, and I'm sure that there'll be plenty of excitement about being able to return to Broadbeach a year earlier than planned.
"We would like to thank Tourism Western Australia, Tourism and Events Queensland and Major Events Gold Coast for their support and flexibility in helping to make this transition possible and ensuring that Surf Life Saving's pinnacle event has the greatest chance of success for the next two years."
Tourism and Sport Minister Stirling Hinchliffe said the event swap followed the Palaszczuk Government's recent ten-year deal to host the Australian Surf Life Saving Championships in Queensland.
"This will bring our decade-long deal with Australian Surf Life Saving to host the Championships forward a year to support tourism jobs on the Gold Coast for our Covid-19 Economic Recovery Plan," Mr Hinchliffe said.  
"We've worked closely with Surf Life Saving Australia to help them navigate around the pandemic's logistical challenges on the West Coast by bringing the Aussies to Broadbeach.
"Earlier this year, the Sunshine Coast hosted the Australian Surf Life Saving Championships and generated more than $16 million for the local visitor economy.
"We're expecting a similar economic boost for Gold Coast accommodation providers and tourism operators with more than 6,000 competitors plus Queensland and interstate spectators anticipated this April for the Aussies at Broadbeach.
Gold Coast Mayor Tom Tate was equally as excited to see the Aussies back on the Gold Coast.
"It is only fitting that the Aussies have found their home on the Gold Coast, as our city is famous for its hospitality, amazing weather and golden beaches," said Tate.
"This event boosts our reputation as a safe and welcoming host destination and showcases everything great about the Goldie. Bring it on."
Queensland will play host to eight editions of the Australian Surf Life Saving Championships between 2022 and 2031 with the exact locations still to be determined beyond 2022, but locations will be shared between the Gold and Sunshine Coasts.
2022 Australian Surf Life Saving Championships Gold Coast locations:
Open, U19, U17, Masters water events – Broadbeach SLSC
U13, U14 & U15 Youth Championships – North Kirra SLSC
Open, U19, U17, Masters beach events – Kurrawa SLSC
Locations for the next two Australian Surf Life Saving Championships:
2022 – Gold Coast, Queensland
2023 – Perth, Western Australia
Human Biosecurity Period Extended
December 10, 2021: The Hon Greg Hunt MP, Minister for Health and Aged Care
The human biosecurity emergency period under the Biosecurity Act 2015 will be extended for a further two months.
These arrangements, which have been in place since 18 March 2020 to protect Australians during the COVID-19 pandemic, will continue until 17 February 2022.
The extension of these arrangements made by the Governor-General was informed by specialist medical and epidemiological advice provided by the Australian Health Protection Principal Committee (AHPPC) and the Commonwealth Chief Medical Officer.
Continuation of these arrangement will allow the important measures currently in place to continue as the Government continues to reopen Australia and act decisively to respond to the emergence of the Omicron variant.
The extension means the four existing emergency requirement Determinations will remain in force for the duration of the extension period, with the ability to be revoked at an earlier time, depending on medical advice.
These Determinations include:
Mandatory pre-departure testing and mask wearing for international flights
Restrictions on international travel from high risk countries
Restrictions on outbound international travel for unvaccinated Australians
Restrictions on the entry of cruise vessels within Australian territory (this Determination will be reviewed monthly).
These arrangements have been a significant contributing factor in Australia's success in avoiding the catastrophic effects of COVID-19 seen in many other countries.
It has enabled Australia to respond quickly to moderate the number of inbound and outbound travellers, protect remote and indigenous communities from localised outbreaks, reduce the risk of spread of COVID-19 on flights and at international airports in Australia and further manage the number of cases in quarantine facilities.
The human biosecurity emergency period ensures the appropriate legislative powers are available to the Australian Government as further information is gained and understood about Omicron, as well as to protect vulnerable communities in Australia.
As has been the case throughout the COVID-19 pandemic, these arrangements will be reviewed regularly to take into account the latest medical advice.
The Government continues to work constructively with the cruise ship industry, with whom we remain actively engaged alongside state and territory governments to enable a phased resumption of cruising in Australia on the basis of medical advice.
As part of this work, the Government will continually review, on a monthly basis, whether the current restrictions on cruise ships can be safely lifted or amended.
The measures in place under the
Biosecurity Act 2015
can be repealed or amended at any time prior to the end of the human biosecurity emergency period and it will be continuously reviewed as a priority.
Pets Of The Week
Panda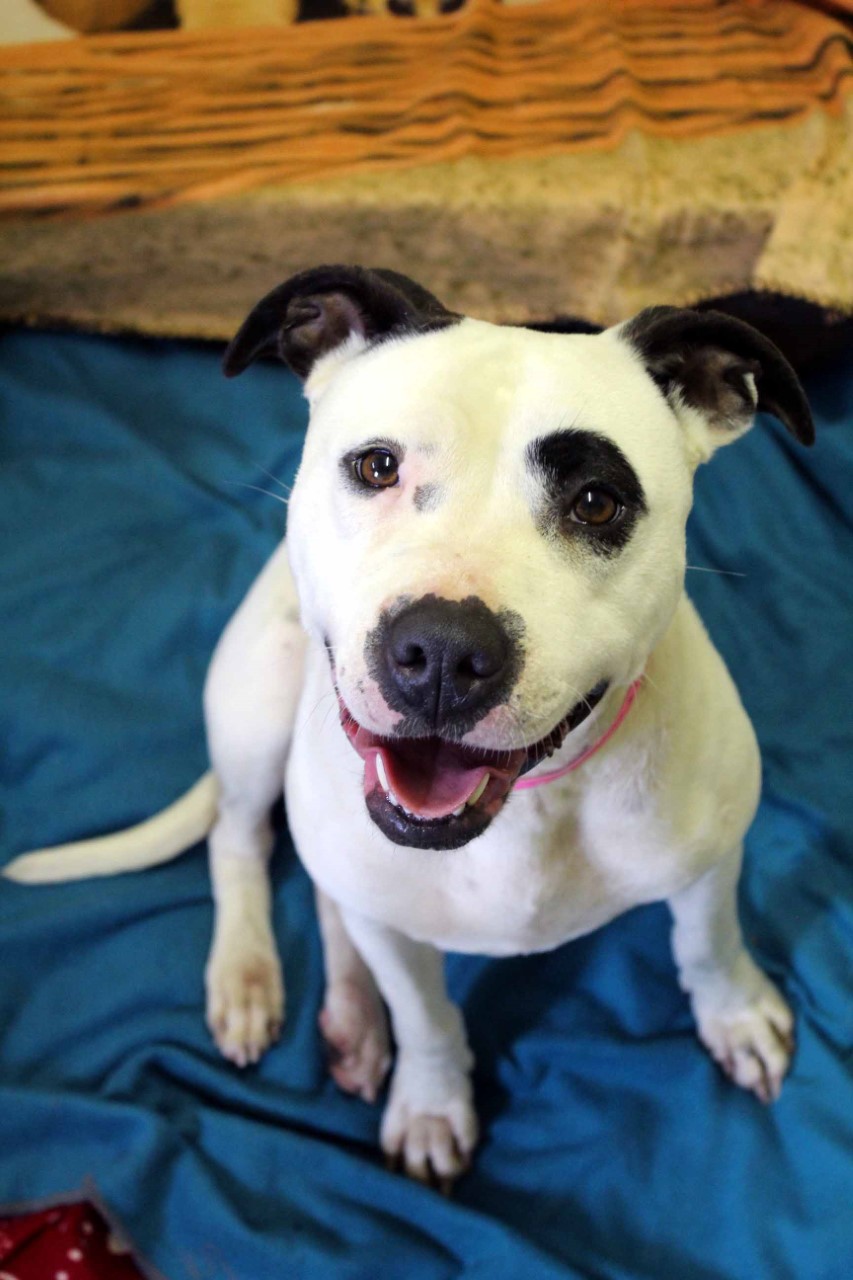 4yo Staffy X
Good with kids, PT hours, house with garden. Panda is an exceptionally friendly sweet dog. Her tail never stops wagging. She suits kids 10+yo. She does jump up but in a friendly manner. Our trainer says: "Copes with kids rough and tumble play". She can be a bit reactive to other dogs on lead and is not suitable around cats. She has a short coat and weighs about 22kg.
All our dogs come desexed, C5 vaccinated, heartworm free and microchipped. Also included for the love and health of our dogs is a free Health and Wellness Voucher with our DoggieRescue Vet. Her adoption fee is $400. For details please call DoggieRescue on 9486 3133 or email Monika@DoggieRescue.com. RON R251000024
Tweedy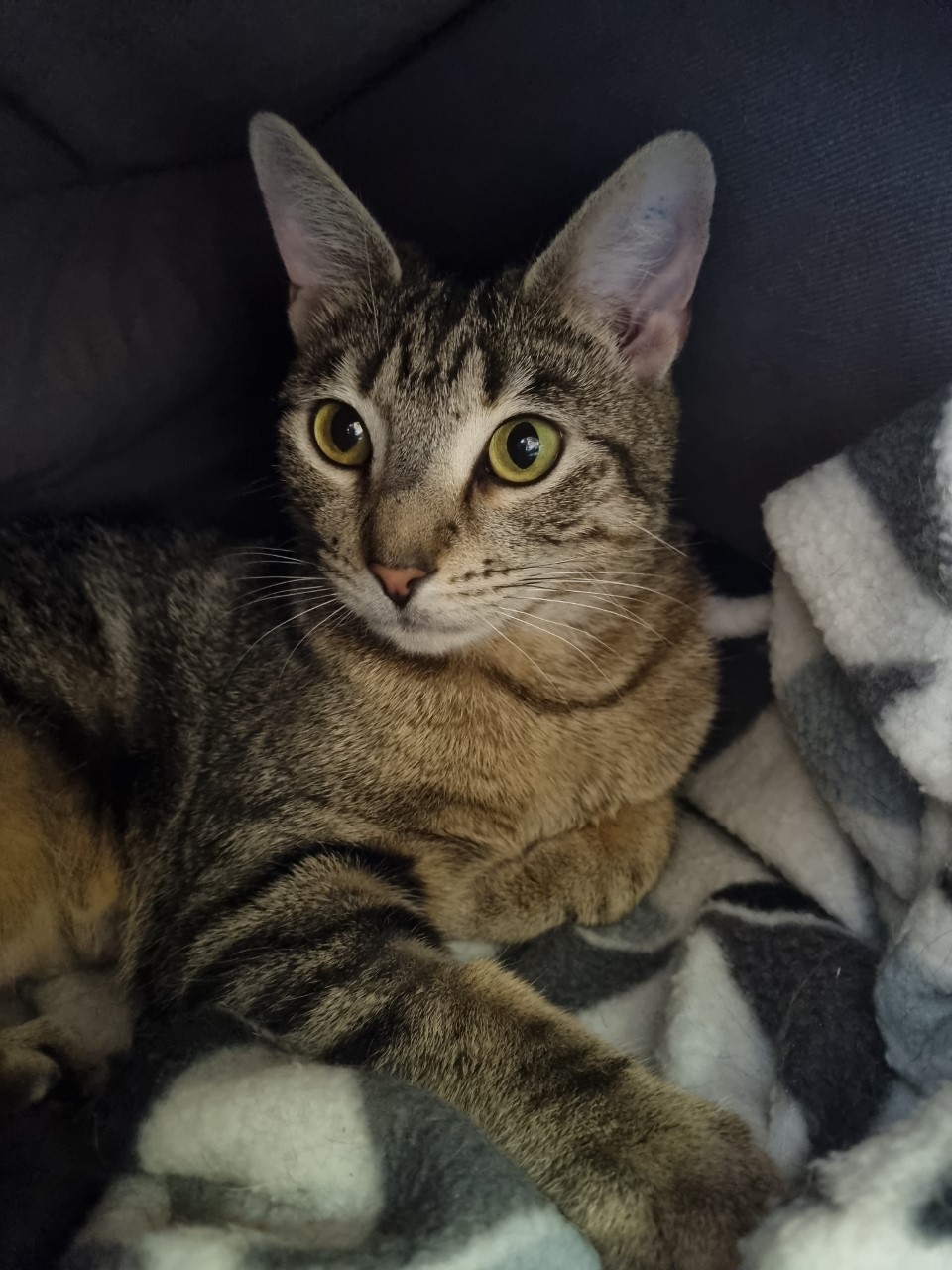 12mths Domestic Short Hair Tweedy is a sweet but shy 12month girl who is looking for the quiet life and a family with rescue experience to bring her out of her shell. She has a short coat and weighs 3.7kg. All our cats come desexed, wormed, F3 vaccinated, FIV/FeLV tested and microchipped. Her adoption fee is $220. For further details call DoggieRescue on 9486 3133 or email cats@doggierescue.com
Not everyone is in a position to adopt a dog, which is why DoggieRescue runs a foster program making it easy for caring dog lovers to make an immediate difference.
Rehoming Organisation No R251000024.
Pittwater Community Groups:
December 5 - 11, 2021: Issue 521
This Issue:
Ten Marine Rescue Broken Bay Members Receive Service Awards Equalling 65 Years Of Serving Our Community - Get Ready For Safety On The Water This Summer: Log On/Log Off

Pictures Avalon Beach 100th – Centenary Celebrations - Centenary Art Exhibition Opening Night
Narrabeen Lakes Sailing Club Fire: Members Launch Fundraiser To Get The Kids Back On The Water After Loss Of Equipment

Artist of the Month December 2021 - January 2022: Steve Jacobs Steve Jacobs is an Australian actor and film director who is married to actress and producer Anna Maria Monticelli. The two co-starred in Sky Trackers. Jacobs directed the movie La Spagnola (2001), which was written and produced by Monticelli. In 2008 he directed John Malkovich in a film adaptation of J. M. Coetzee's novel Disgrace, again produced and adapted by Monticelli. It premiered at the Toronto International Film Festival, where it won the Prize of the International Critics. Most recently they have produced and directed 'I've always wanted to direct', available to watch at: vimeo.com/ondemand/direct - As well as being a filmmaker I've been taking photographs all my life. Recently I've made a series of books of my images. Here are some samples with links to the books where you can preview all the photographs. - Steve Jacobs
Aquatics Surfers The Unsung Heroes Of Beach Rescues - UNSW scientists will be assessing the role surfers play in rescuing swimmers in distress as well as their broader contribution to society in a world-first, global survey. Are you a surfer? Add your voice to the global surfing community by completing the Global Surfer Study survey
DIY Ideas Christmas-New Years 2021 Checklists: Preparing The Garden & Home - Entertaining - Gift Ideas For Every Budget

What's In A Name? - Wendy Frew's The Coast, December 10 at 11am; Belrose resident Donal Carr and Professor Grace Karskens on colonial naturalist George Caley
Make A Splash With The Sydney Seahorse Art Project: For Youngsters This Summer
Environment Dendrobium coal mine declared State Significant Infrastructure, Government Must Release Natural Resources Commission's Forestry Report In Full, Threatened Species Habitat At Risk From A Hotter Climate, Draft Cycling Strategy For NSW's National Parks, Sounds-Signs Of Summer: Birdland, White's Seahorse Signage At Palm Beach, Careel Creek: Dusky Moorhen + Chicks In Residence - Please Keep Your Dogs On Their Leads, Canopy Keepers Offer 100 Trees For Avalon Beach 100 Celebration, Migratory Bird Season, Boobook Owl And Baby Possum Rescue; Sydney Wildlife Rescue Volunteer - Nesting Boxes Available - All Sales To Sydney Wildlife, BASIX Higher Standards: Feedback Open, Draft Marine Park Management Plan Released, New Plans To Protect Sydney's Koalas, Koala Underpasses Must Be Built Before Development: Greens, Novel Implants To Protect Australia's Wildlife From Feral Cats, More than 200 Australian birds are now threatened with extinction – and climate change is the biggest danger, Photos from the field: leaving habitats unburnt for longer could help save little mammals in northern Australia, Australia's Black Summer of fire was not normal – and we can prove it, Australia's biggest fossil fuel investment for a decade is in the works – and its greenhouse gas emissions will be horrifying, Labor's 2030 climate target betters the Morrison government but Australia must go much further much faster, Most Australian households are well-positioned for electric vehicles – and an emissions ceiling would help, Australia has a heritage conservation problem; Can farming and Aboriginal heritage protection co-exist?, 3 reasons the announcement to dump radioactive waste in South Australia is extremely premature, There's an enormous geothermal pool under the Latrobe Valley that can give us cheap clean energy, Bushcare In Pittwater, Community Gardens, Reserves History pages

Inbox News The Jenkins review has 28 recommendations to fix parliament's toxic culture – will our leaders listen?, His spirit will return to Country; Vale David Dalaithngu, the actor who shaped Australian cinema, Varenicline Vs Nicotine Patches: Heart Attack and Stroke Risks Similar, Curtin Celebrates First Cohort Of Medical School Graduates, Study Suggests Sun Is An Unaccounted Source Of The Earth's Water, Nibbling Prehistoric Herbivore Sheds New Light On Triassic Diversity, As LA Traffic Slowed Amid The Pandemic Researchers Gained New Insight Into Air Pollution, Butterfly Migration: Sun Compass On Demand

Canopy Keepers Offer 100 Trees For Avalon Beach 100 Celebration

Monika's DoggieRescue Calendar 2022: Give A Woofa A Chance!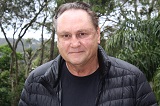 Profile of the Week
Steve Jacobs
The Pittwater Online News Artist of the Month for December 2021 to January 2022 is Palm Beach award-winning film Director Steve Jacobs and examples of his brilliant photography - something he has been doing since he was a teenager.
As many know, anyone who wishes to work in film must be adaptive, resilient and prepared to great distances for a long time to see any project through to fruition. It helps if you have more than one string to your bow as well.
This week a talk with someone who has gone the distance.
Pittwater's first two churches were built within a year of each other; St. John's Church of England had its inaugural Service on September 21st 1871 in the little chapel built atop North Mona Vale Headland, while the Methodist Church that gave Church Point its name and was used as a schoolhouse during the week, commenced Services in 1872.
St. Johns as a weatherboard chapel measuring 16 feet by 30 feet was built on what became Lot 40 Grandview Parade overlooking The Basin beach of Mona Vale – the land had been gifted from the Bassett-Darley Estate by Benjamin Darley, the husband of land heiress Katherine Wentworth. The land and farm itself, named 'Mona Vale' by David Foley when he was the tenant, was then occupied by the Wilson family. In the Autumn of 1888 the wooden church was moved to the corner of Cabbage Tree and then named Bay View road, now Pittwater road, Bayview.
This week a few insights into one of our oldest churches.
Pittwater Offshore Newsletter: December 1
Click on Logo to access the latest PON:

To contact Roy: editor@scotlandisland.org.au
Sandy Point Boat Ramp Upgrade Fail
Residents are not liking launching their boats at Sandy Point Palm Beach after the recently finished 'upgrade'.
The Council
closed the ramp for remedial works from November 1st 2021 to November 15th 2021. Works included an upgrade at the toe of the ramp ''to improve access for trailers and watercraft'' and the depositing of more bitumen in the lead to this concrete lip.
Unfortunately quite the opposite has occurred as a block of cement with a steep drop has been deposited on the sands' edge, already sharpening the slope of the sand as water and tides lap against it and doing damage to trailers and boats that use this popular spot to access the water.
A 'fix' has been proposed that will involve putting more concrete, sloped, at the edge of this lip that will further
exacerbate
erosion and ruin the beach profile.
Residents state
however
many thousands of dollars this slab of
concrete
cost it was money wasted and a previously unharmed beach is now going the way everywhere else the Council puts in concrete - destroyed.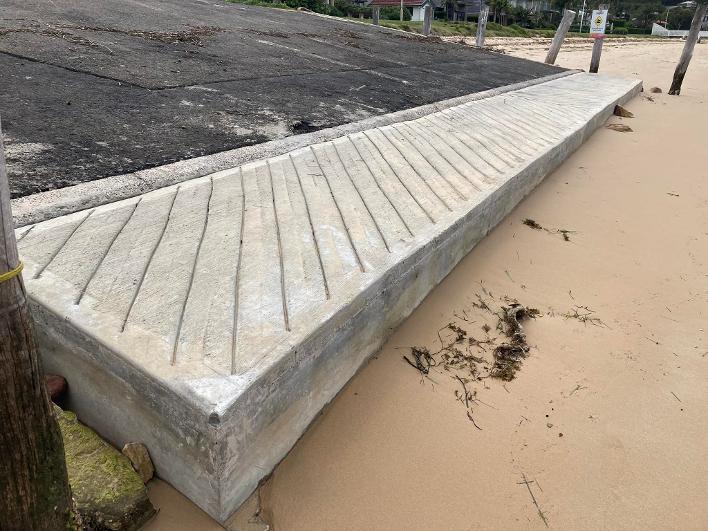 Rotary Meeting
Tuesday 7 December 6.00pm for 7.00pm
Venue: Sands Hotel Narrabeen
Pre meeting dinner: 6pm in the bistro
Meeting Time: 7pm upstairs - function room
Our special guest this week will be our District Governor for FY 2021-2022 - Lindsay May
Lindsay's introduction to Rotary was in 1977 on Group Study Exchange to Canada. He has been a member of the Lane Cove club since 1978 and has served in many roles, including 3 terms as Assistant Governor. He is a Paul Harris Society member and Major Donor and is committed to supporting The Rotary Foundation.
A 10-year Fundraising Institute Australia director, he is a Fellow and Certified Fundraising Executive and served as Director, Prostate Cancer Foundation Australia (founded by Lane Cove Rotary), receiving their inaugural PCFA Award for service to the organisation. He has numerous recognitions from community and vocational groups for his leadership roles.
We are looking forward to Lindsay sharing his insights on Tuesday night.
All members and guest are welcome.
For any new guests wanting to find out more about the evening or Rotary in general, please feel free to contact us:
Looking forward to seeing you there on Tuesday night, if you can make it.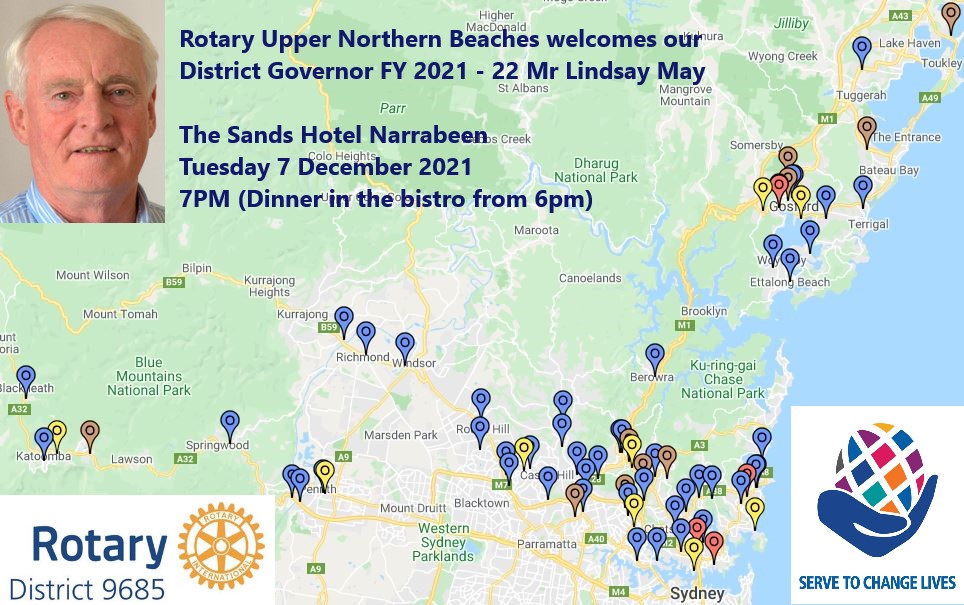 Save Sydney's Koalas Protest In Mona Vale Monday
You may be interested in a bit of local action...Monday the 6th December will be the first day Lendlease commences work on their disastrous new suburb at Mt Gilead South of Campbelltown which will destroy the habitat of the last healthy colony of Koalas in Sydney.
There will be a protest taking place at the same time at Mt Gilead as well.
Save Sydney's Koalas (SSK) along with the Bob Brown Foundation are planning
a protest outside Minister for Planning and Public Spaces Rob Stokes' office on Monday 6th Dec at 10am.
There will be Koala suits and core flutes. Protestors will be making a stand for 'our beautiful Australian icons, our precious koalas' and intend to show Rob Stokes that they care about Koalas.
WHERE: Outside Rob Stokes office Pittwater Electorate Office
1725 Pittwater Road Mona Vale
WHEN: Mon 6th Dec 10am- 11am
Annual General Meeting:
Save Mona Vale Hospital Community Action Group (SMVHCAG)
When: 6.30 pm Monday 13 December 2021
Where: The Auditorium, Club Palm Beach
The Save Mona Vale Hospital Community Action Group are still here!!!!
The site of our demolished hospital must not disappear under structures built or leased to private providers!
The past 20 months during the Covid 19 Pandemic have been difficult and often tragic. Hopefully the situation is improving as the vaccination rate increases and people can feel safer.
The pandemic has meant the suspension of much activity and the 2020 AGM for SMVHCAG was one of the casualties. However, now things are beginning to improve and restrictions are easing.
The 2021 AGM for Save Mona Vale Hospital Community Action Group will be held on Monday 13 December 2021 in the Auditorium at Club Palm Beach.
The main item of business will be the election of officers for the 2021-2022 Management Committee.
If you would like to nominate to become a member of the Save Mona Vale Hospital Management Committee, please contact
savemonavalehospital@gmail.com
for a nomination form.
Despite public anger, we have lost our hospital. Most Northern Beaches' residents now only have an Urgent Care Facility within a reasonable distance. The service provided is fine but limited.
Avalon Beach and Bondi Junction are the same distance from Private/Public Northern Beaches Hospital. However, residents of Bondi Junction have a number of hospitals from which to choose.
The closure of both Manly and Mona Vale Public Hospitals means that we now have just one hospital which is located beyond Wakehurst Parkway, a road badly in need of repair and upgrade.
The State Government won't admit it publicly but It is generally acknowledged, that population pressures on the Northern Beaches and issues at the private /public Northern Beaches Hospital mean that we will need another public hospital.
The main hospital building has now been demolished.
Our role and that of the community is to ensure that the footprint of the main building of Mona Vale Hospital is protected.
It must not be built on.
The site of our hospital must not disappear under structures built or leased to private providers.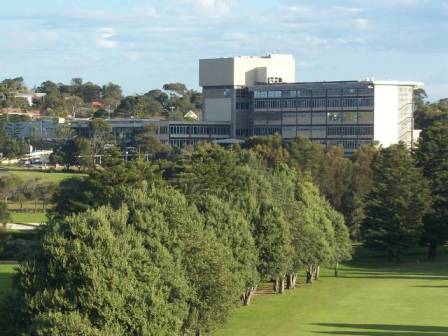 'Water Access Only'
In a community brimming with artists, writers and photographers, it's no surprise that someone, sooner or later, would think of binding all that talent into a book. And so it was that in 2006 Juliette Robertson and John Hoffman put together the first anthology of works intended to reflect our Pittwater offshore world. The book was highly successful, frequently quoted at dinner parties and remains treasured by offshore and former offshore residents alike.
Now, 15 years later, we have the launch of 'Water Access Only: More Tales & Adventures from Pittwater'. Or, to put it more succinctly, WAO2. There are some changes this time. John Hoffman has been replaced in the editorial team by CB Floyd. WAO2, unlike its predecessor, is printed in colour throughout. And this time the book comes with a barcode that enables you to listen to a Spotify playlist of offshore musicians.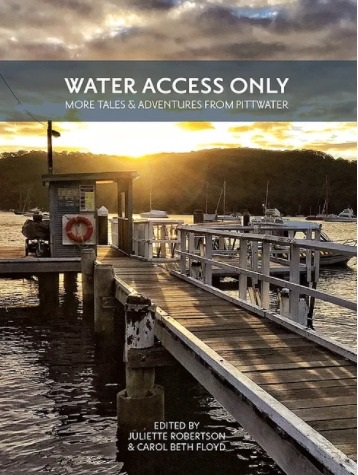 But the basic premise remains the same. WAO2 is a collection of stories, reminiscences, poems, drawings, cartoons, photos, paintings and other artworks, displaying the diverse talents within the offshore community. Contributors come from not only Scotland Island but from every part of the western foreshore, stretching from McCarrs Creek to Mackerel Beach. The mood of the works is equally varied, ranging from sombre through to comical, factual to fanciful. Just about every aspect of offshore life will be found somewhere: boats, buggies, sailing, septic, friendship, solitude, birth, death, bush fires and, of course, car parking.
Juliette and CB were supported by Jane Morgan and Jane Rich as assistant editors, plus Jane Matthews as designer. They deserve our praise. But thanks also go to the 70 or so contributors. All bared their creative souls to the scrutiny of their community. I know from writing the PON that that's not an easy thing to do.
The book contains hundreds of creative works, all for $35. If that's not value enough, there's a bonus. At the end of the book there's a paragraph of biography for each contributor. To a stickybeak like me the book is worth its price for that alone.
WAO2 will be officially launched at noon on Sunday, 5 December, in Scotland Island Recreation Centre. But it is on sale already.
Copies
can be bought online here
, and you can pick up your copy at the launch, or by arrangement. Assuming there are copies left, they can also be bought at the 12 December café. For people not on the island, copies will be stocked in local bookshops and at outlets at Church Point.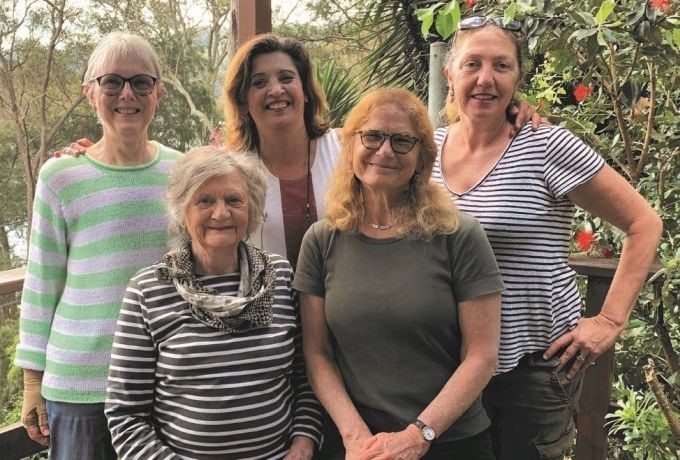 The production team, left to right : Jane Morgan and Jane Rich (assistant editors);
Juliette Robertson and CB Floyd (editors) and Jane Matthews, designer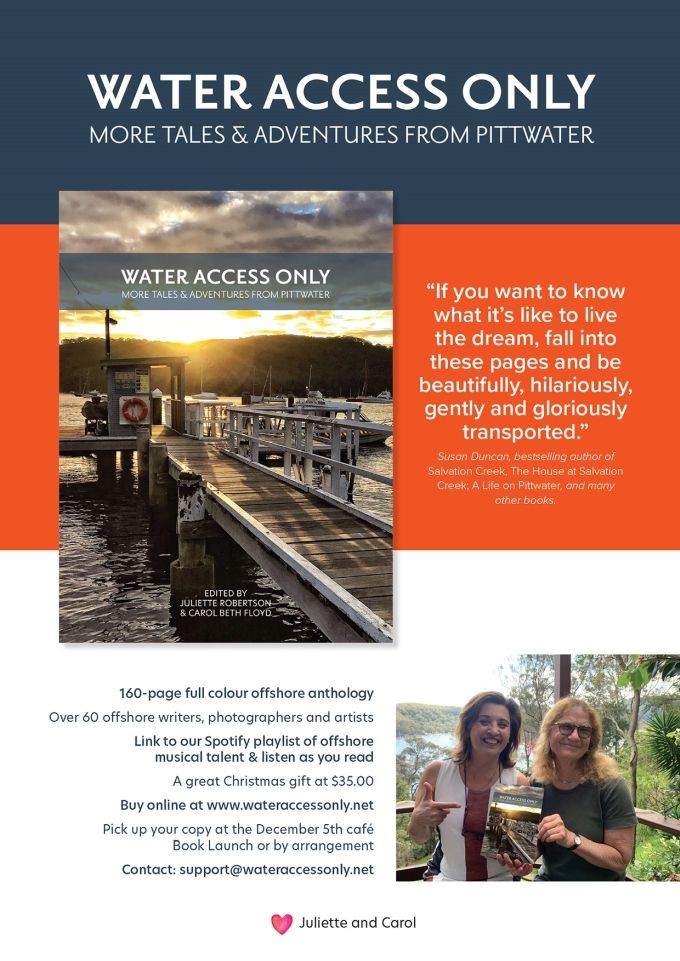 Contributors Luncheon 2021
Just some of the brains trust of elders who tell me each week 'you can't run that!'
No, just joking; thank you all - the rag would be crap without you.
And THANK YOU for all you have done for our community this year; songs, photos, history insights, advice!
Our thanks to Kevin and Glenys Murray, Joe and Gerry Mills, Peter and Ros Verrills, Brian Friend OAM, Pam and Michael OAM Mannington, Colette and Geoff OAM Searl, Warren Young OAM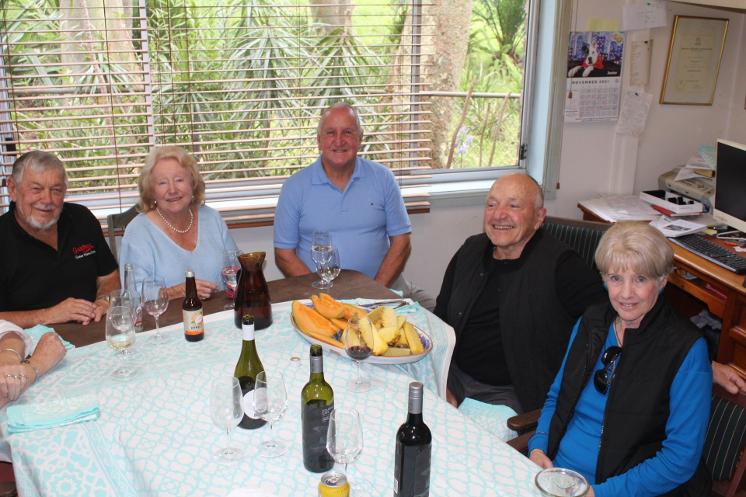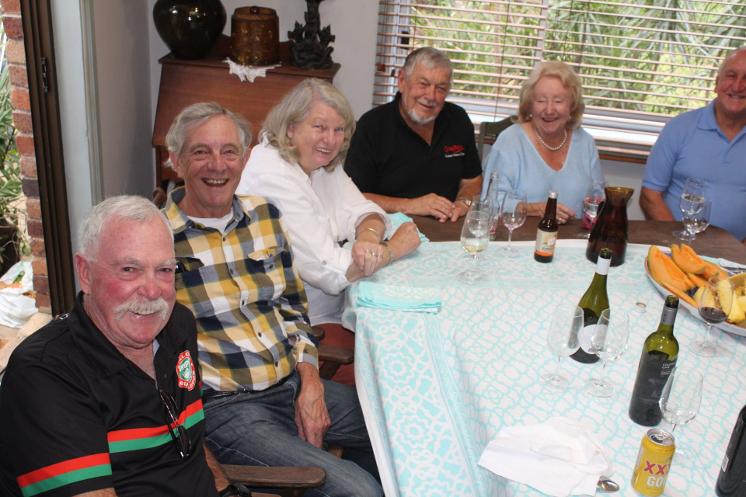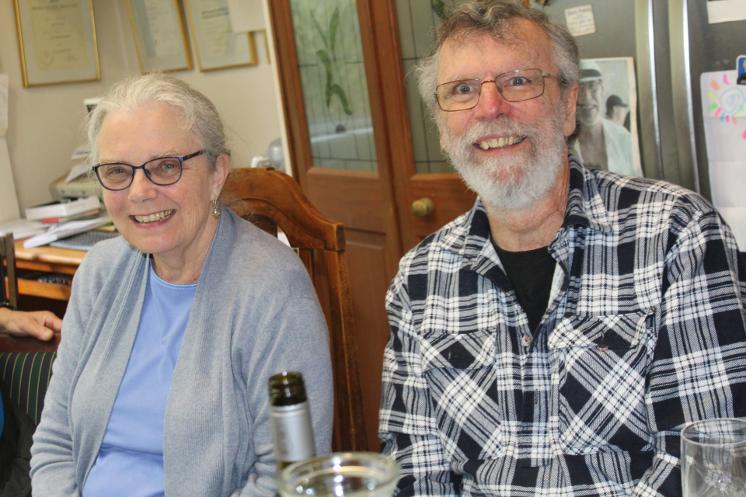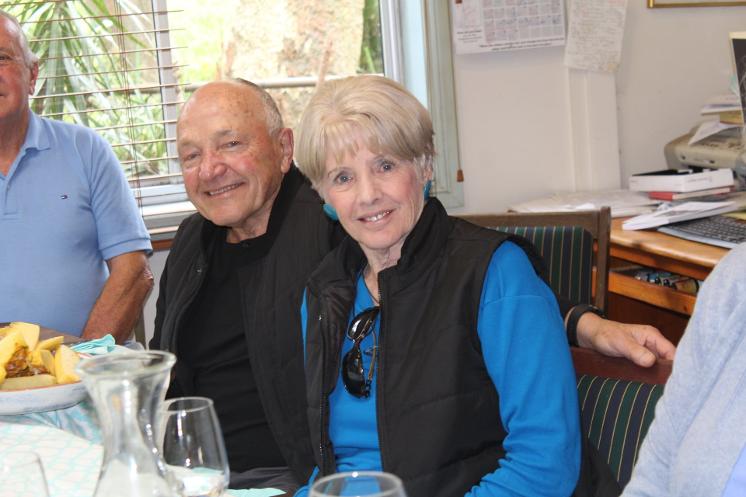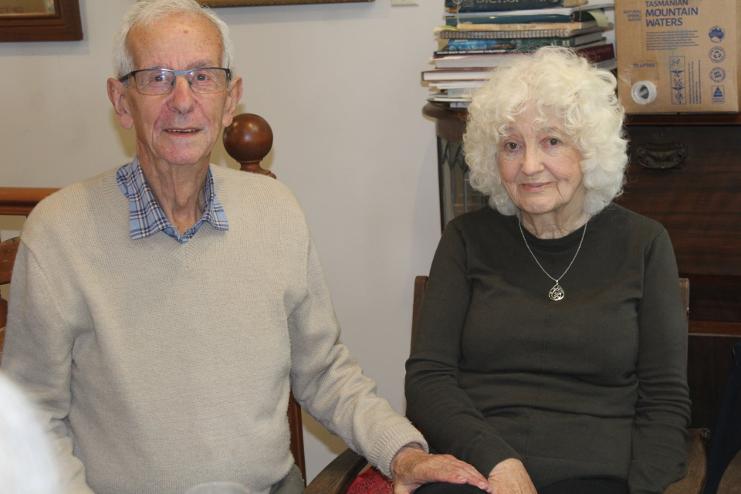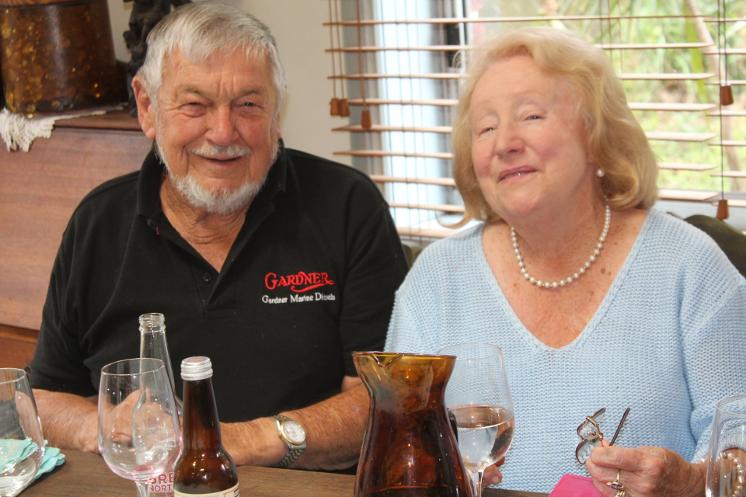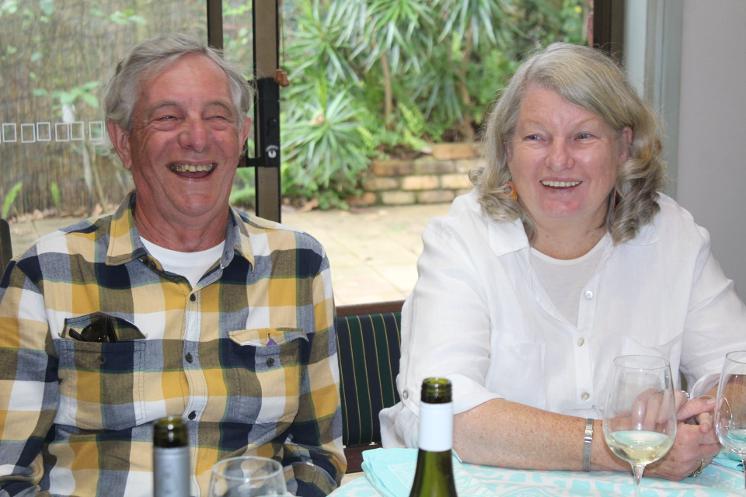 Church Point Ferry Service: Christmas Runs 2021
Please see timetable below: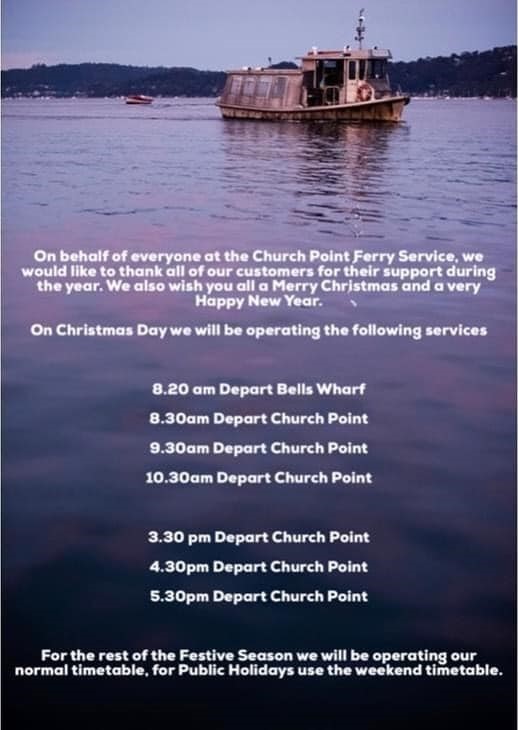 International Travel To And From NSW: Covid - Omicron Variant Update
New rules and restrictions apply to entering NSW from outside Australia and transiting through NSW from an international origin, particularly countries in southern Africa.
NSW recorded 325 new cases of COVID-19 in the 24 hours to 8pm last night. There is now a total of 13 cases of COVID-19 with the Omicron variant in NSW, and results on further likely cases are due later today.
Two cases have been excluded following further investigation, bringing the total number of cases in NSW since the beginning of the pandemic to 82,648.
Sadly, NSW Health is today reporting the death of a woman in her 50s from south western Sydney who died at Liverpool Hospital. She had received two doses of a COVID-19 vaccine and had underlying health conditions.
NSW Health expresses its sincere condolences to her loved ones.
There are currently 139 COVID-19 cases admitted to hospital, with 25 people in intensive care, eight of whom require ventilation.
There were 68,435 COVID-19 tests reported to 8pm last night, compared with the previous day's total of 80,930.
Of the 325 cases reported to 8pm last night, 100 are from South Western Sydney Local Health District (LHD), 70 are from Western Sydney LHD, 47 are from South Eastern Sydney LHD, 34 are from Sydney LHD,
19 are from Northern Sydney LHD,
14 are from Western NSW LHD, 12 are from Hunter New England LHD, nine are from Illawarra Shoalhaven LHD, five are from Nepean Blue Mountains LHD, three are from Central Coast LHD, three are from Northern NSW LHD, two are from Southern NSW LHD, one is from Far West NSW LHD, one is from Mid North Coast LHD, one is from Murrumbidgee LHD, and four are yet to be assigned to a LHD.
Definition of 'fully vaccinated'
To check if you meet the Australian definition of a fully vaccinated international passengers, please visit the
Australian Government website
. Other countries may have different definitions of what it is to be fully vaccinated.
Please refer to the Australian Government website to check whether you are fully vaccinated.
Children under the age of 12 who are not vaccinated but are accompanied by a fully vaccinated person over the age of 18 are considered to be fully vaccinated for quarantine purposes.
If you have a medical condition (contraindication) that means you cannot be vaccinated, you do not have to go into mandatory quarantine, unless you have been to a country of concern in the 14 days prior to your arrival in NSW.
You may be asked to provide evidence of vaccination to a police officer or border force official.
Vaccination evidence includes:
Fully vaccinated people arriving from overseas
If you've just arrived in NSW from overseas and have not been in a country of concern in the past 14 days, you must:
follow the NSW Health guidelines for recent fully vaccinated arrivals
get a PCR (nose and throat swab) test:
within 24 hours of arrival AND
on or after day 6 of arriving in NSW
not enter high risk settings like aged care or health care
COVID-19 tests are free at testing clinics.
travel to your home or a place where you can self-isolate by the most direct route
self-isolate for 72 hours – only leave isolation after you receive a negative COVID-19 nose and throat swab test result, even if that takes longer than 72 hours.
Do not:
use a self-testing kit – you must have a PCR (nose and throat swab) test
enter high-risk places such as healthcare facilities (unless you need medical attention), aged and disability care facilities, and correctional facilities, until you get a negative day 6 test result
use a bus to travel to your home or place where you can self-isolate.
Read the Health NSW rules for overseas passengers arriving in NSW.
Flight crew arriving in NSW
If you are a vaccinated flight crew member and you have been overseas in the previous 14 days, but not in a country of concern, you must:
self-isolate for 3 days, or
until you receive a negative COVID-19 nose and throat swab test.
If you are an unvaccinated flight crew member and you have been overseas in the previous 14 days, you must:
self-isolate for 14 days, or
self-isolate until you depart Australia by aircraft.
People who have arrived from countries of concern
These rules apply to people who are fully vaccinated as well as people who are not fully vaccinated.
Countries of concern are Botswana, Eswatini, Lesotho, Malawi, Mozambique, Namibia, South Africa and Zimbabwe.
If you have arrived in NSW on or after 28 November 2021 and in the past 14 days you have been to any of the countries of concern, you must go into mandatory 14-day quarantine.
Follow the rules for quarantine in NSW.
If you arrived in NSW before 28 November 2021 and in the past 14 days you have been to any of these countries of concern, you must:
get a PCR (nose and throat swab) test as soon as practicable after arriving
travel to your home or a place suitable to self-isolate
self-isolate for 14 days
immediately contact NSW Health on 1800 943 553.
How to self-isolate in home quarantine
If you live with other people, you must keep completely separated from them during your self-isolation period.
This means:
Stay and sleep in a separate room
Use a separate bathroom if available, or clean a shared bathroom after use
Do not be in the same room as another person (even if they are also in isolation)
Do not share household items including dishes, cups, towels and bedding. After using these items, wash them thoroughly with soap.
What should the people I live with do?
If you live with a person you cannot remain separate from – for example, a child or someone who needs care – and
they are fully vaccinated: they do not need to self-isolate with you, but they must not attend high-risk settings like health care, aged care, disability care, early childhood centres, primary school and correctional facilities during your isolation period. If they work in one of these settings, their employer may do a risk assessment to allow them to return to work.
they are not fully vaccinated: they must self-isolate with you for your isolation period.
People who are not fully vaccinated arriving in NSW from overseas
If you are not fully vaccinated and are arriving in NSW from an overseas location, you will need to go into 14-day mandatory quarantine.
To check if you are fully vaccinated, please visit the ATAGI or Australian Government website as other countries may have different definitions of what it is to be fully vaccinated.
People who cannot be vaccinated for medical reasons
People who cannot be vaccinated for medical reasons (have a medical contraindication) must carry a medical certificate that indicates they are unable to be vaccinated.
A COVID-19 medical contraindication is a valid medical reason for a person to not receive a COVID-19 vaccine, for example if a person has a history of anaphylaxis to a component of a vaccine. COVID-19 medical contraindication forms are only issued in rare circumstances.
The medical contraindication certificate must meet certain criteria, including:
the person's name (this must match their travel identification documents)
the date of the medical consultation and details of their medical practitioner
details that clearly acknowledge that they have a medical condition which means they cannot receive a COVID-19 vaccination (vaccination is contraindicated).
For further information, please refer to the Australian Government website.
People who have previously been diagnosed with COVID-19
If you have previously been diagnosed with COVID-19, you may be able to obtain a medical contraindication certificate from your doctor.
Evidence of previous COVID-19 infection (such as a previous positive result) is not considered a valid medical contraindication certificate. International passengers who are concerned about being vaccinated after recovery from COVID-19 should discuss their options with their doctor before travelling.
If you have had COVID-19 prior to travel and are fully vaccinated, you may continue to test positive for COVID-19 for some time. It is recommended that you carry evidence of your previous infection, in addition to evidence of your vaccination status. This may include a medical certificate from your doctor
For further information on what should be included on the certificate, please visit the Australian Government website.
Travel to and from New Zealand
From 28 November 2021, fully vaccinated passengers from New Zealand are required to follow the rules for fully vaccinated people arriving in NSW from overseas. If you have been in a country of concern you must follow the rules for people arriving in NSW from countries of concern.
Travel from New Zealand is not limited to Australian citizens and permanent residents. To be eligible, passengers must:
Travel from Australia to New Zealand remains subject to New Zealand Government quarantine and other requirements. Requirements for travel to New Zealand can be located on the
New Zealand Government website.
Leaving Australia to go to another country
From 1 November 2021, Australian citizens and permanent residents who are fully vaccinatedlaunch with a TGA recognised COVID-19 vaccine are allowed to leave Australia. No exemption is required.
Australian citizens and permanent residents who do not meet the eligibility requirements must continue to follow the current border processes when leaving Australia or coming to Australia.
COVID-19 testing for international travel clearance purposes is conducted at private pathology clinics only and charges apply for this service.
Only COVID-19 PCR (nose and throat swab) tests are accepted for international travel. Rapid antigen tests and self-administered COVID-19 tests taken at home are not accepted.
International passengers travelling intrastate or interstate
If you have been in a country of concern you must follow the rules for people arriving in NSW from countries of concern.
If you are an international passenger required to self-isolate at home or other accommodation appropriate for self-isolation, you must take the most practical direct route to your destination.
If you are transiting through NSW:
you can travel in a private vehicle, including taxi or rideshare, or travel by rail or air
you can obtain fuel or necessary supplies, take a rest stop, or deal with an emergency
you cannot travel by bus
you must get a nose and throat swab test within 24 hours of arriving and again on day 6.
If you arrive in NSW from overseas and you are not fully vaccinated, you must go into quarantine for at least 14 days before continuing your journey to another state or territory or travel home.
Across Australia, states and territories have their own quarantine rules in place. Some require approval to travel across the border from NSW, or even a second isolation period when you arrive.
Going to an international destination
International transit passengers who are not fully vaccinated and arriving in Australia can depart on another international flight if your transit time is less than 8-hours and you can stay airside (i.e. in the transit zone). This will be possible only if your bags have been checked through to your next destination. You do not need to apply for an exemption and are able to continue your journey to another country.
If you go through immigration and you are not fully vaccinated, you will require an exemption.
If your departure flight is between 8 to 72 hours after arrival flight, you will be taken to a quarantine hotel to wait until your departing flight. An exemption must be approved.
If you are experiencing symptoms of COVID-19 (symptoms include fever, cough, sore/scratchy throat, shortness of breath or loss of taste or loss of smell), let a member of the airline know immediately, or if you are in the airport tell a biosecurity officer or a health official.
Passengers who arrive by sea must be authorised to disembark by the Commissioner of Police or delegate and must go to a quarantine facility, hospital or other medical facility as directed by the Commissioner to undertake a
quarantine period
.
If leaving Australia by air, you will be directed to go to an airport (to get a flight out of Australia). You must follow the directions of the Commissioner while travelling to the airport.
November 28 - December 4, 2021: Issue 520
This Issue: full list in Contents page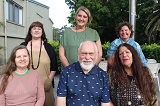 Profile of the Week
Avalon Beach Culture Collective Inc + Avalon Beach Centenary Events
On Facebook: www.facebook.com/AvalonBeachCultureCollective
Website: abculturecollective.com
Email: ABCCAvalon@gmail.com
Some 30 odd dedicated volunteers have been beavering away in the background since Roger Treagus called our first meeting of the Avalon Beach Centenary Committee, way back in June, pre lockdown.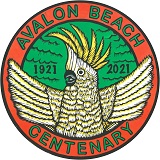 Both the Avalon Beach Art Exhibition (opening night Friday, 3 December, 2021) and Descendants of AJ Small with author Dr Jan Roberts of Remembering Avalon: Growing up in the 1940's and 50's – Avalon Golf Club (Sunday, 5 December, 2021) will be a soft launch opening. These will be followed by many events and interactive activities rolling out over the year December 21 – December 22, celebrating our Centenary, our indigenous and non indigenous history and culture, showcasing our local artists, musicians, performers and creatives, our wonderful volunteer community clubs and support groups, our local businesses and the wonderful natural environment we live in.

The initial list of planned events, projects and activities runs this week.
As our efforts have come from a dedicated group of community volunteers the challenge is always how to fund something wonderful out of nothing.
The Northern Beaches Council have approved our Grant Funding to cover some of our music events and fee waivers for the Dunbar Park Event.
Thankfully LJ Hooker Avalon Beach has come on board as our Gold Sponsor and this has allowed us to confirm a large number of event activities.
We are also grateful to Barrenjoey Insurance Brokers, Avalons Organics, Chambers Cellars, Oceana Traders for their sponsorship, Jen Hill at Avalon Art Gallery for the Graphic Design work and in collaboration with Cindy Goode for mounting a wonderful showcase of our local artists, and Barrenjoey Designs for design formatting and support for flag and banner production.
To begin with though, a little about the Avalon Beach Culture Collective.
As we no longer have a Business Chamber that can easily roll out these events, we have registered the Avalon Beach Culture Collective Inc. as an incorporated not-for-profit association.
The Mission Statement, which we have left as open as possible to cover a wide range of community activities/events is listed in our ABCC Profile page. This gives us a legal entity for fund raising, grants and sponsorship to cover some of the Avalon Beach Centenary events.
This also allows the capacity to offer a structure to set up sub committees to roll out other projects, i.e.; if a group of VERY dedicated volunteers wanted to run Avalon Market Day we could offer them a structure to organise the event.
We have left the definition of Culture open as we want to support people in the community to undertake a wide range of projects.
Membership is now open and set at $25 - the ABCC Avalon Beach 100 t-shirts are also available to order; details, Membership forms and order forms and more is in our ABCC profile this Issue.
Local volunteers have been working for months to bring the community Avalon 100 - a celebration of the 100th year of the naming of Avalon as such and the development of Avalon Beach as a community. There are a series of celebrations happening which will run well into 2022. One of the proposed projects is 'Framing Avalon' which seeks to show you images from Avalon's past located in their present places. Led by Jayne Denshire, this project would include the historic summer home of the Grant family, 'Gunjulla'.
The name 'Avalon' for this area, which had previously been known as 'Clareville', Careel Bay and even 'Burnes' beach, first turns up in Warringah Shire Council records in October 1921 when investor in these lands, Arthur Jabez Small makes a request to rename what was the 'Clareville' road and 'Arnold's road to 'Avalon Parade'.
The 11 acres surrounding Gunjulla were purchased in 1919 and a holiday home built by 1920. This Issue a great look into this place and the landscape, with lots of family photos, courtesy of the Grace-Grant Family.
Pittwater Offshore Newsletter: November 19
Click on Logo to access the latest PON:

To contact Roy: editor@scotlandisland.org.au
Vale Alexander 'The Wiz' Wye
It is with great sadness that we inform you that North Curl Curl SLSC's much-loved Director of Surf Life Saving and Life Member, Alexander "the Wiz" Wye, passed away this morning peacefully at home, November 25th, 2021.
The Wiz was one of a kind, a deeply valued leader and mentor to so many in our Club. He will be very sadly missed by all who knew and loved him. The Wiz gained his Bronze Medallion on 3rd February 1991 and has kept our beach safe ever since, completing more than 4000 patrol hours and holding the honour of being awarded 100% patrol attendance year upon year. Wiz achieved his 30 years National Patrol Award in the 2021 season and was awarded the Australian National Medal for his service to surf lifesaving in 2014.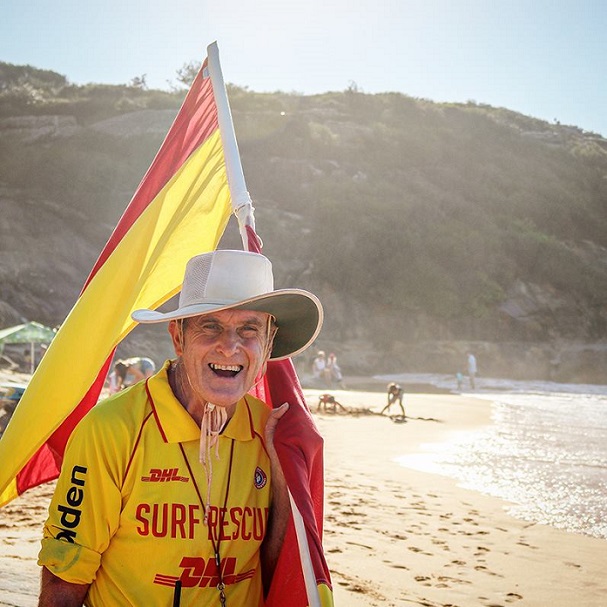 Alex - photo by Steve Dube
In addition to serving the community on patrol, the Wiz has also been heavily involved in the management and running of our Club over many years.
Director of Surf Life Saving 2003 - 2016
Director of Education 2017 - 2018
Director of Surf Life Saving 2018 - present
Wiz was awarded the Honour Blazer in the 2001-2002 and 2002-2003 seasons. In 2010 Wiz was awarded the greatest honour of "Life Membership".
The Wiz was loved by all who knew him. He had a heart of gold and was always willing to help anyone within our club.
On behalf of the Board of Directors and the Members of North Curl Curl SLSC we offer our sincerest condolences to Wiz's family, especially Stuart and the kids.
REST IN PEACE Wiz. You will be sorely missed by all that had the pleasure of knowing you and rest assured your legacy will always be held high at North Curly.
Vale David Peach
The Radio Northern Beaches community are sad to hear of the recent passing of David Peach.
David Peach joined RNB in 2012 and presented a Sunday morning IT show, was a co-presenter on Business on the Beaches and was a co-presenter on Classic Cars and Bikes.
David was a director of RNB for many years, he put in a lot of hard work in physically cutting sheets of Gyprock and helping build the Terrey Hills studios, pack up and setup at OBs, and helped with some difficult situations in managing RNB. He helped to resolve and talk through some problems at times with some difficult people. He was a great contributor to RNB and personally to those around him. He was a very entrepreneurial gentleman and also helped a lot with mental health issues for blokes. He had a great sense of humour and loved motorcycle riding.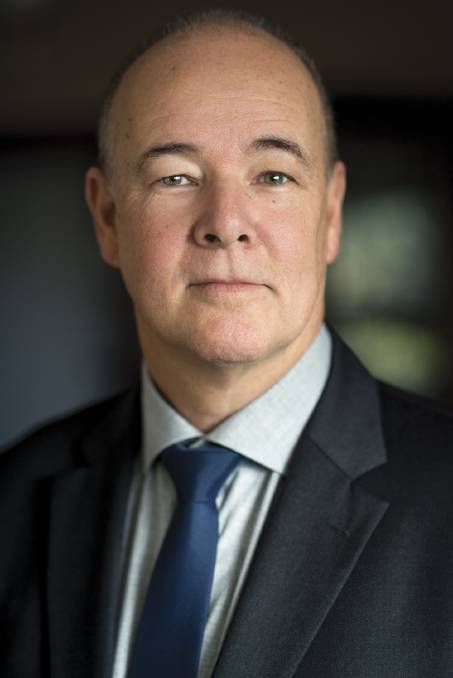 David helped with an OB at a car show at Warriewood Cinemas carpark which was an event to raise money for pancreatic cancer research.
He previously ran an IT business employing about 20 people and was the CEO of the Black Dog Ride and helped Epilepsy Action Australia with IT work.
Early in 2020, as Covid was having an impact in Sydney, he attained a role based in Tasmania as an executive at the Launceston Chamber of Commerce, and moved down there with his partner.
It is only in recent weeks that he was diagnosed with inoperable pancreatic cancer. He spent his last days with family in Sydney.
RNB have taken comfort in some of the messages and posts shared already and hope his family do also. You may also wish to support The David Peach Foundation and continue the good work he started.
A lovely man taken far too soon.
Vale Peachy.
Member For Pittwater's Tribute To Community Efforts: NSW Parliament
The last 2021 sitting day for the NSW lower house was on Friday November 26th. The Legislative Assembly next sits on February 15th 2022, the Legislative Council on February 22nd, 2022.
In a Private Members Statement given by Member for Pittwater Rob Stokes on Tuesday November 23rd, the efforts of community as well as community members during the year were recognised.
''The past couple of years have reminded the Pittwater community just how important the concept of community and supporting one another truly is. There are many people to thank for the incredible service they have provided over what has been a difficult 2021, and a difficult 2020 before it: The staff at our local hospitals—I am thinking particularly of Jennifer Parkin and her team at Mona Vale Hospital, but also the great team at Northern Beaches Hospital—who have served our community so incredibly well during the pandemic, staff at local general practice clinics, pharmacies and vaccine hubs who did a mighty job surging our vaccine delivery. Also, the Pittwater community who have rolled up their sleeves in their tens of thousands to surpass a vaccine rate of more than 95 per cent double dose. Thank you to everyone for this incredible team effort. '' Mr. Stokes said
''I thank our local emergency workers, our invaluable police under the brilliant leadership of Superintendent Pat Sharkey, our local firies and ambulance paramedics, our volunteer emergency workers, Rural Fire Service, Marine Rescue, surf life savers, State Emergency Service—many have had a very busy year—essential workers who kept our community going during lockdown such as local supermarket workers, bus drivers, cleaners, care workers and hospitality staff. Our community simply does not function without them.




''I thank the local school principals, like the wonderful Jane Ferris who retired this year after many years of service to Pittwater High School, teachers and staff who have had to modify how schooling was delivered and so astutely adjusted to rapidly changing situations during the pandemic; local parents, many of whom had to juggle working from home and assisting with remote learning; and school students who have had to adapt to the many challenges of the pandemic. The resilience they have demonstrated will stand them in very good stead in their future careers.




''Thanks also to the Northern Beaches Council for maintaining great local services despite COVID restrictions and the myriad challenges thrown at it.




''I particularly thank the outgoing Northern Beaches councillors for their service, Ian White and in particular Kylie Ferguson of Pittwater ward, who have been the epitome of effective and compassionate councillors; my Federal colleague, Jason Falinski, for being a tireless campaigner for the Beaches in Canberra; and Lynleigh Greig, the well-deserving 2021 Pittwater Woman of the Year, renowned as Pittwater's expert snake wrangler.




''I thank local organisations like the Avalon Youth Hub led by the wonderful Justene Gordon and great organisations like One Eighty, founded by Avalon local Paris Jeffcoat, Gotcha4Life and the irrepressible Gus Worland, Lifeline and the wonderful John and Lucy Brogden, Beyond Blue, Zonta, the Be Centre with Deb Killelea and her incredible team there, and volunteers at local churches like Link at Narrabeen and Narrabeen Anglican who generously put together food hampers for struggling local families. They have all played a particularly important role during a tough couple of years.




''I give a special mention to John and Jenny Reid who are moving on after more than 20 years' service at the Mona Vale Anglican Church, which turned 150 this year.




''Thanks go to all of the locals who have passionately put their time into helping to run community sporting groups through the challenges of lockdowns and those who selflessly volunteer in local community organisations like Meals On Wheels, Sailability, Manly Warringah Pittwater Care—and the list goes on. There are so many wonderful people whose ambitions are greater than themselves and who are practically demonstrating the love that they feel for their fellow citizens, and particularly the vulnerable in our community. My admiration could not be deeper.




''I also pay particular homage to my staff—Andrew Johnston, Jane Zietsman and Robert Johnston—all of whom have worked tirelessly through very challenging times to support the community of Pittwater.




''I also thank Bridge Housing, our local housing provider, which does such a great job identifying and supporting tenants in need.




The sum of our community and the strength of our civilisation is not based on what we acquire for ourselves; it is based on our capacity to serve one another. That is what sustains each of our communities in this place. It is so humbling and such a privilege to thank the people of Pittwater who do it on behalf of my community. ''
Avalon Beach 100th Year Celebration T-Shirts
Help celebrate Avalon Beach turning 100 and pre-order your T shirt now, featuring iconic local artist Bruce Goold's stunning logo design. Drop in and see Jen at Avalon Art Gallery/Art Depot in the Avalon Cinema arcade until November 30th to place your ore-order.
Pre order forms are available below and at Avalon Art Gallery-Cinema Arcade: Wed-Sat 10-5 and Sunday 10-2. Order Pick up is Sunday December 19th at Avalon Car Boot Sale – Dunbar Park.
No extra T shirts will be available on the day.
Choose from two options in black or white (see pictures) $40-$45 in sizes from XS to XXL.
So get your little piece of our 100 years and help support this fundraising effort to make Avalon Beach's centenary celebrations something to remember.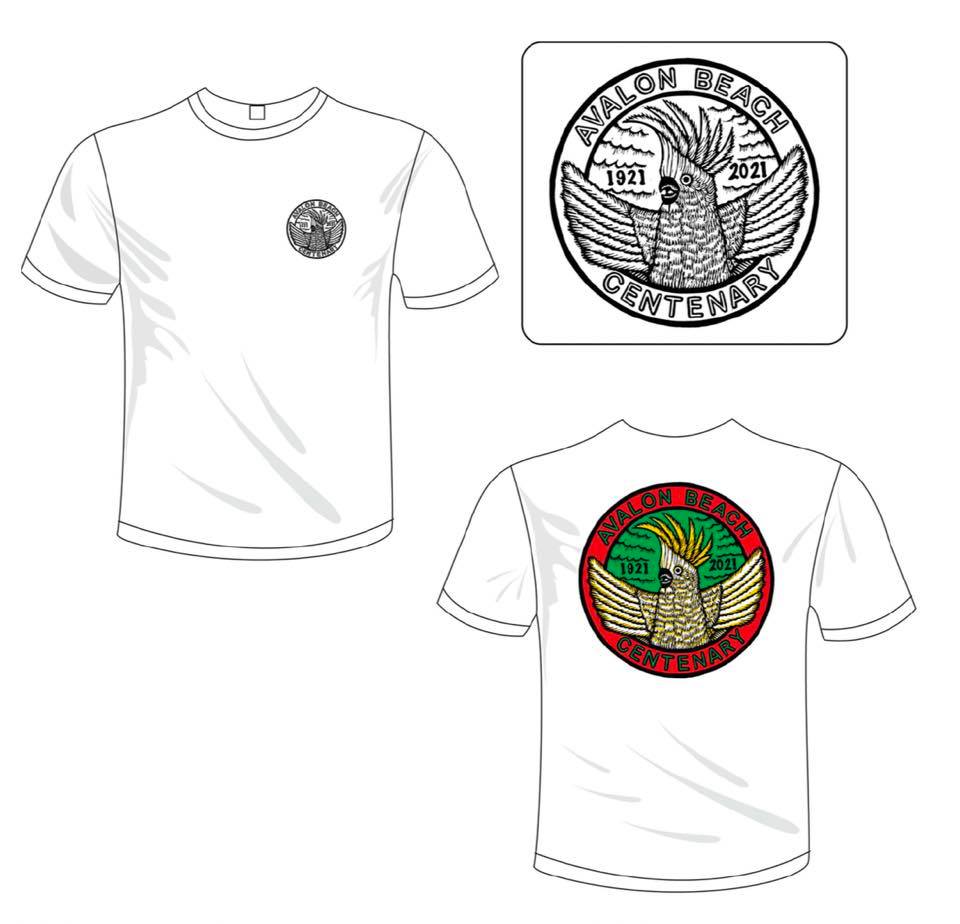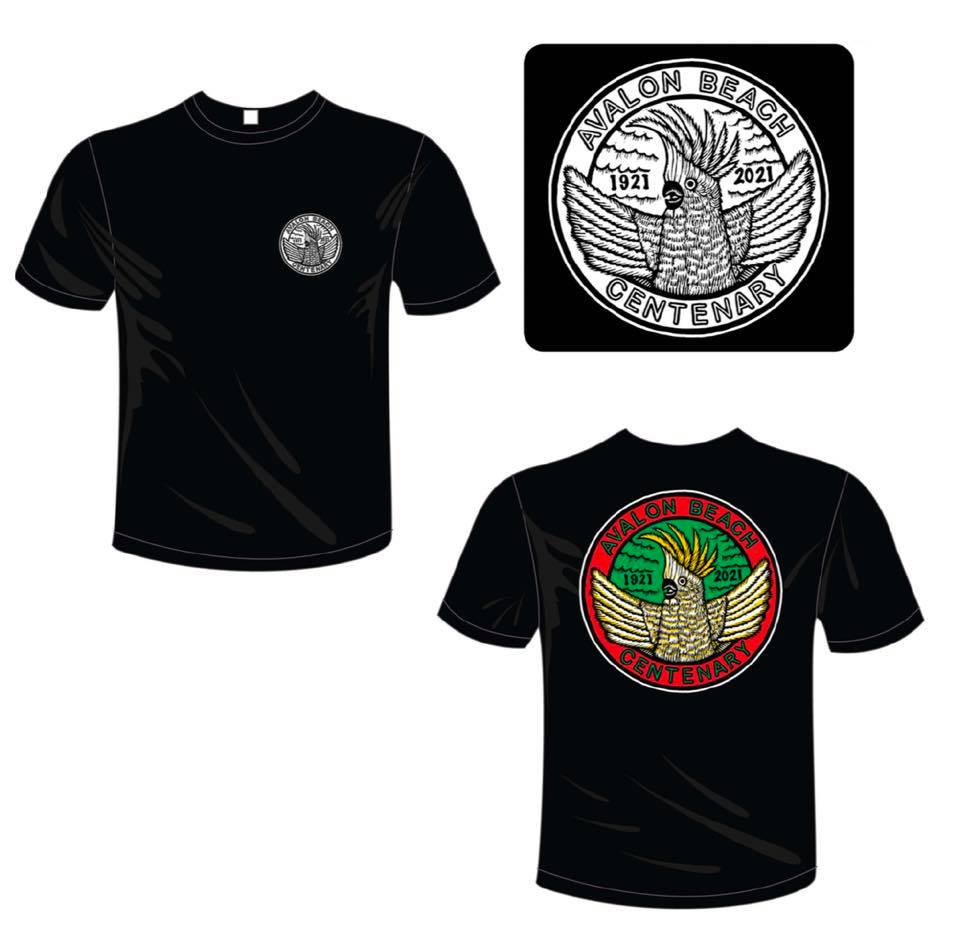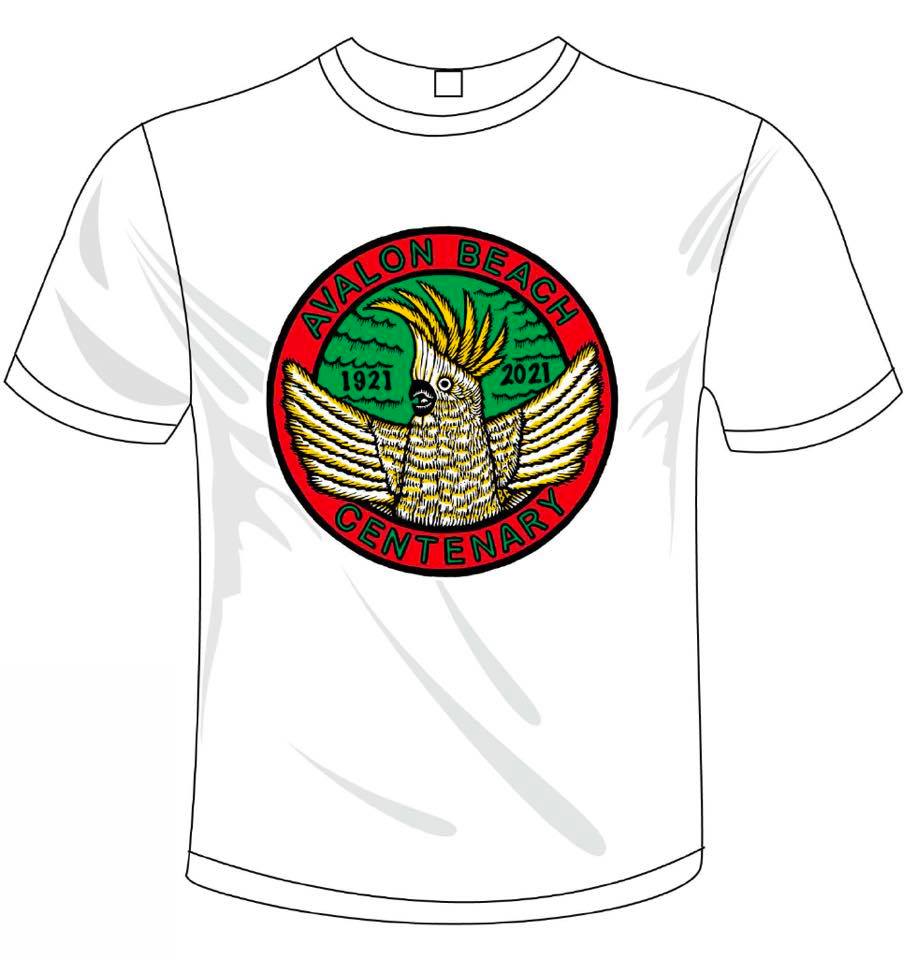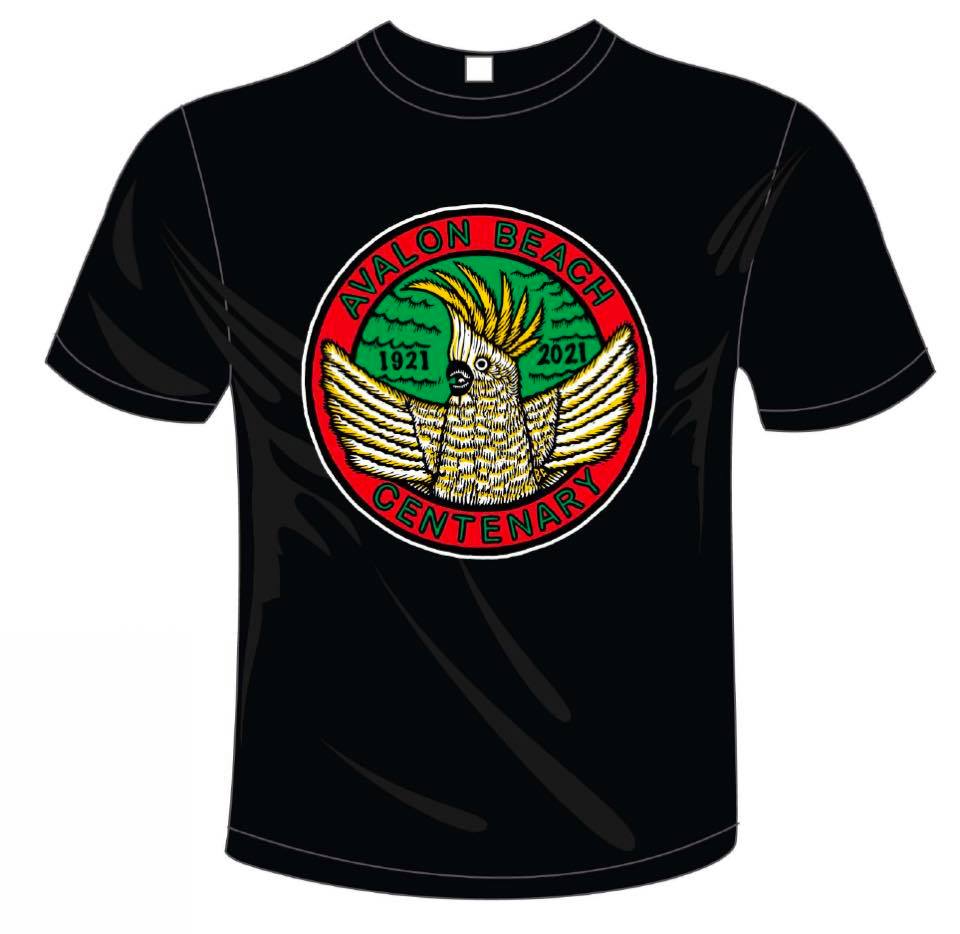 Palm Beach Longboarders: December Comp.: 5th
Last Comp for 2021 will be held on Sunday 5th December. Comp starts at 6.30am. Full round, Fancy dress, Tag team and Treasure Hunt. BBQ and Annual presentation held after events. RSVP 0419608188.

We're a longboarding club of mature groms and grommets meeting beachside at 7am on the first Sunday of each month.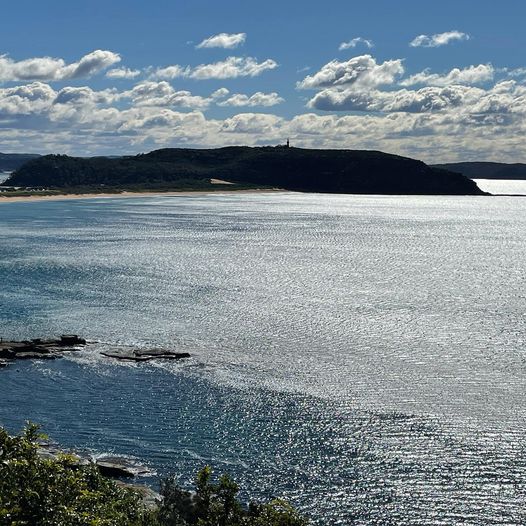 Photo: Adriaan van der Wallen
Narrabeen Lakes Sailing Clubhouse Impacted By Fire
Around 5.30 pm on Saturday November 27th a fire broke out at the rear of the Narrabeen Lakes sailing Club's facilities in Jamieson Park, on the lagoon.
Fire and Rescue NSW responders from the Narrabeen, Mona Vale and Avalon brigades attended. A
video posted on social media
by Ray Bush shows the extent of the blaze.
Narrabeen Lakes Sailing Club Statement
The NLSC committee and members of the club are deeply saddened by the fire at Jamieson Park. We are relieved that no one was injured in this tragic event.
We are working with authorities to understand the cause of the fire. It appears, at this stage, to have originated and significantly impacted the rear of the building which is occupied by Jamieson Park Paddle, a kayak hire business which is not affiliated with NLSC.
We do not yet know the extent of damage to NLSC and its equipment and while it's been reported on social media that the building housing the club is destroyed, we haven't been able to access the premises to confirm this reporting.
Photo: NLSC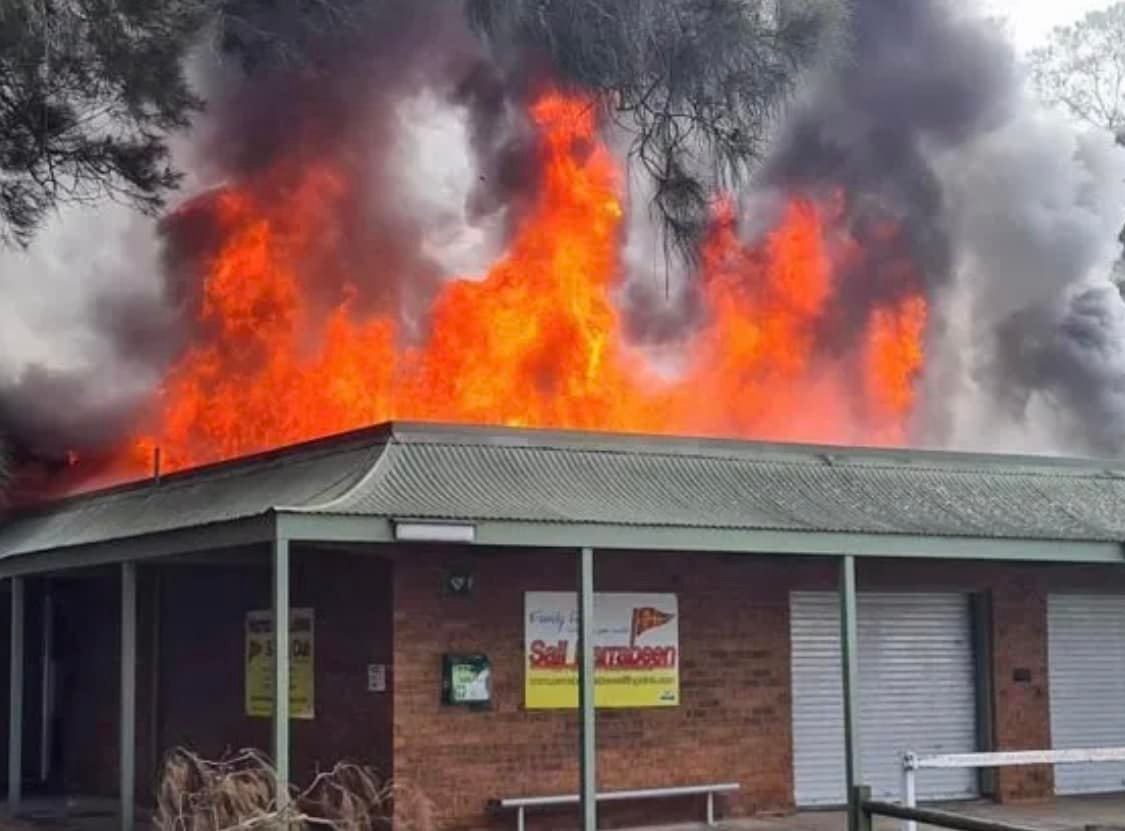 NSW Government Takes Precautionary Steps In Response To Omicron Variant
The NSW Government has taken precautionary steps in relation to quarantine arrangements for overseas arrivals following the introduction of additional national border security measures by the Australian Government.
Premier Dominic Perrottet said the new measures would help keep people safe as we work through this latest development with COVID.
"Authorities around the world are still investigating the risk posed by this new variant," Mr Perrottet said.
"As a result, the NSW Government will continue to put community safety first by taking these precautionary but important steps until more information becomes available."
The new measures, which will take effect at midnight tonight, are:
In line with Commonwealth measures, all travellers arriving in NSW who have been in South Africa, Lesotho, Botswana, Zimbabwe, Mozambique, Namibia, Eswatini, Malawi, and the Seychelles during the 14 day period before their arrival in NSW must enter hotel quarantine for 14 days, irrespective of their vaccination status;
All travellers who have been in any other overseas country during the 14 day period before their arrival in NSW must travel directly to their place of residence or accommodation and isolate for 72 hours, pending further health advice;
All flight crew who have been overseas during the 14-day period before their arrival in NSW must travel directly to their place of residence or accommodation and isolate for 14 days or until their departure on another flight that leaves Australia, consistent with the current rules for unvaccinated flight crew;
Anyone who has already arrived in NSW who has been in any of the nine African countries within the previous 14 days must immediately get tested and isolate for 14 days, and call NSW Health on 1800 943 553;
All unvaccinated travellers from any overseas country will continue to enter hotel quarantine.
Minister for Health Brad Hazzard said no cases of the Omicron variant have been identified in NSW to date, but urged everyone to stay vigilant.
"I remind the community that vaccination, social distancing and hand hygiene remain our best defence against COVID," Mr Hazzard said.
Public health advice on quarantine arrangements and isolation requirements will be provided as soon as new information emerges on the risk posed by the new variant and the extent of its international transmission.
People can get the latest information by visiting
nsw.gov.au
RMYC Timber Boat Festival 2021
Saturday and Sunday November 27-28: 9am to 4pm
Over 50 beautiful and unique wooden boats will be on display at this year's RMYC Timber Boat Festival.
Funds raised from this years' festival will be given to volunteer organisations Marine Rescue Broken Bay and Marine Rescue Cottage Point.
Last week Pittwater Online had a look at this historic WWII vessel being restored by Angus Gordon and his son.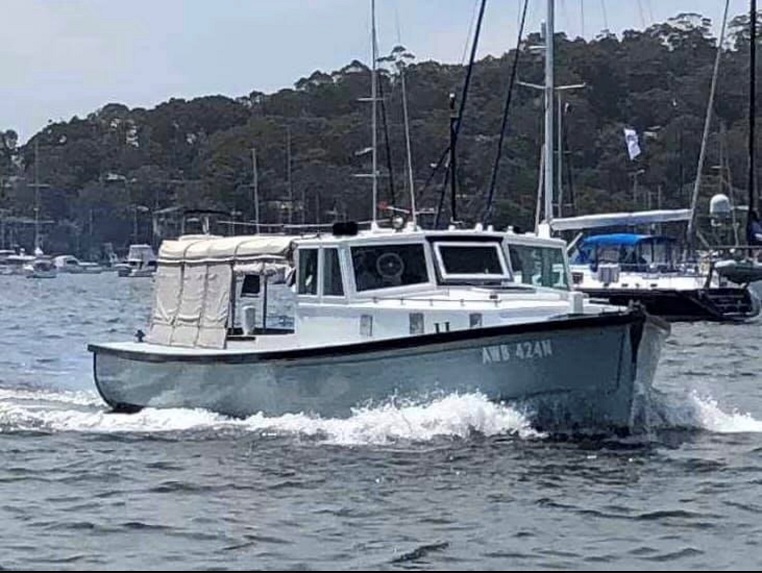 The Gordons have put their World War II 40 ft Army Work Boat (AWB number 424) in as part of this years' offerings. The Gordons purchased her off the Navy about 5 years ago. The vessel is partially restored (a labour of love) and they have put quite some effort in preparing her for the Timber Boat Festival (in fact they have been painting all week, so now are speckled white).
Angus says; ''This AWB has a 1940s Detroit 6 cylinder, 8 litre, 2 stroke supercharged diesel engine known as a "screaming Jimmy" because you definitely need earmuffs. The vessel does 9 kts…through anything!! and apart from some difficulties coaching it into life each time we use it (given it is old and crotchety …like the owner) is fantastic when underway, as you can see from the photo. She is rated to carry 10 ton….. a Clydesdale of the sea. ''
''AWBs did the run between Australia and New Guinea during the war and subsequently were used by the Navy to ferry people and explosive barges around Sydney Harbour. Most, if not all have been sold.
''Ours was one of the last to go to auction and unfortunately was in a pretty poor state when we purchased her…..she was basically sold for scrap given all the heavy brass fittings. The engine was not functional and couldn't even be turned over…..I have a beautiful piece of video when No 2 son and a mate eventually coached the engine into life…..lots of smoke and noise.''
NB: The RMYC is adhering to the government regulations. All visitors must be double vaccinated. They must QR code in on arrival and show proof of vaccination on arrival to enter the festival. It is a COVID safe event.
RMYC: Christmas Present Appeal 2021
The RMYC are a pickup point for the Salvo's Christmas Appeal. If you wish to donate, please place (unwrapped) gifts under the Christmas Tree located in the Garden Forecourt.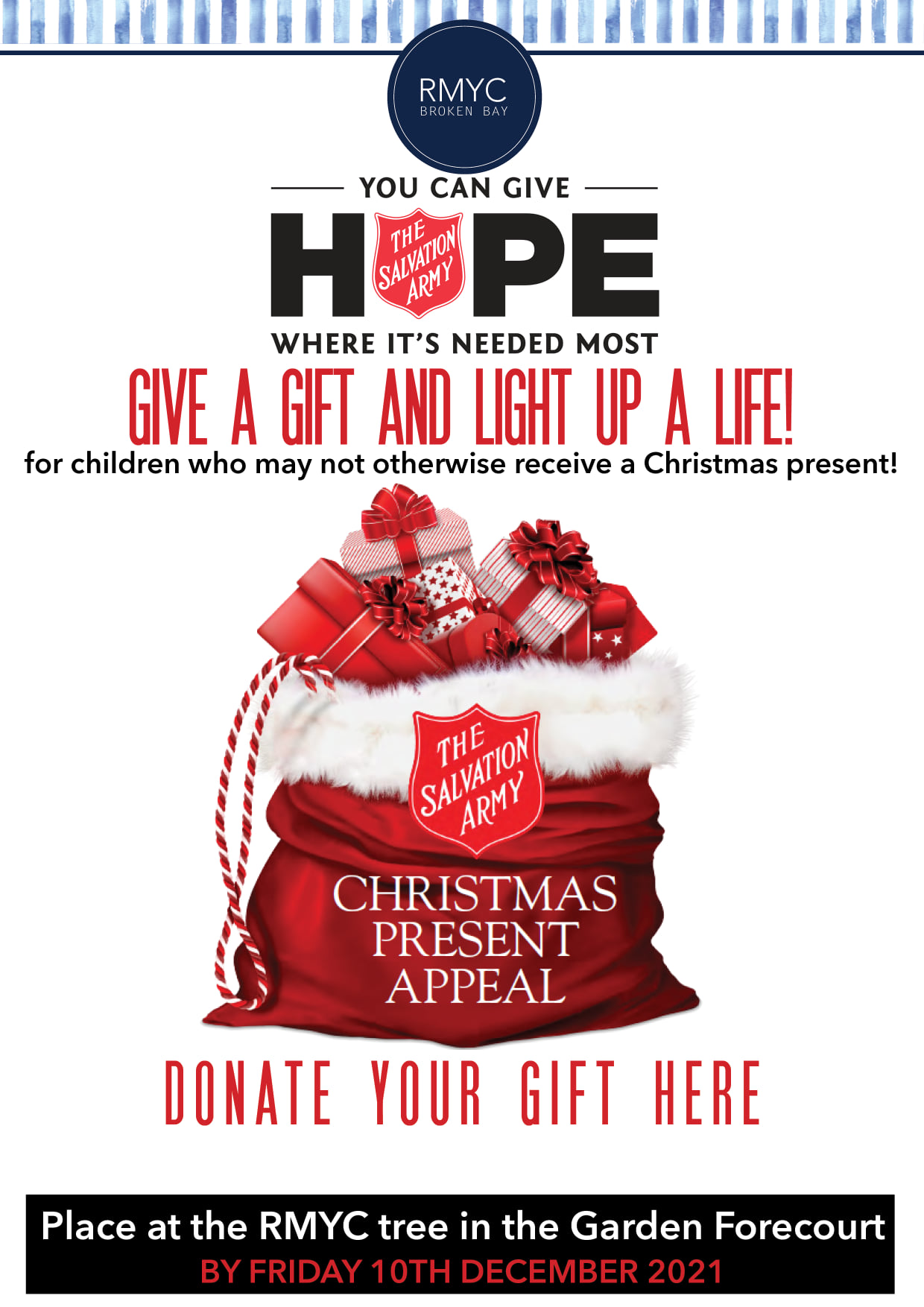 Sea Trials For Gen 2 Emerald Class Ferries - Manly To Circular Quay Route
Over the weekend 27-28 November, the conditions across Sydney Heads are predicted to be sufficient to undertake some of the testing required for the new Gen 2 Emerald Class ferries before their entry into full service.
''As a result of this testing, F1 services will run to an altered timetable over the weekend with 2 Freshwater Class ferries operating at 40-minute intervals. Additional services will operate if larger swells do not eventuate.'' a Transdev Sydney Ferries spokesperson said on Friday November 26th.
''While swells are not anticipated to allow testing at the full 4.5m capacity for which the vessels have been designed, successful testing will allow the risk assessment to be reviewed with the plan to increase the swell level at which the vessels are cleared to operate, improving the availability of the new fleet.''
Further tests and risk assessments will be undertaken when conditions are appropriate.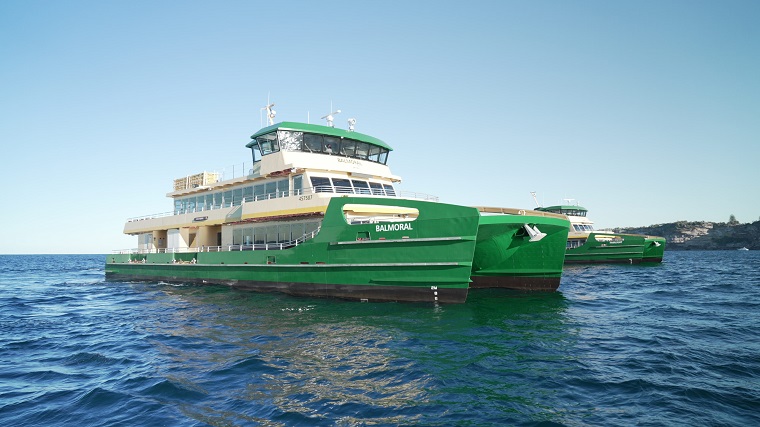 Rotary's Tree Of Joy 2021 At Warriewood And Christmas Trees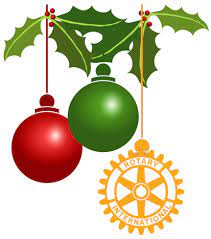 Rotary Upper Northern Beaches has launched into the festive season with two great initiatives in the community:
THE TREE OF JOY - WARRIEWOOD SQUARE
A regular feature leading into Christmas over the last several years. It is intended to bring some joy to children and families in need.
Purchase a gift of your choice, wrap it and label it with one of the cards provided (eg "Gift for 4 year old girl" ETC..) and place it under the tree.
This year we are supporting the following causes:
1. Vincentian House. Refuge for families, women & children.
2. Benevolent Society. Helps children exposed to parental difficulties and domestic violence.
3. Shine for Kids. Supports kids affected by imprisonment of one of their parents.
4. Asylum Seekers. Supports Asylum Seekers.
5. Homes for Heroes, Narrabeen. Supports veterans who are homeless due to the negative effects of their service.
6. Women & Children First, Dee Why - Refuge for women & children escaping family violence.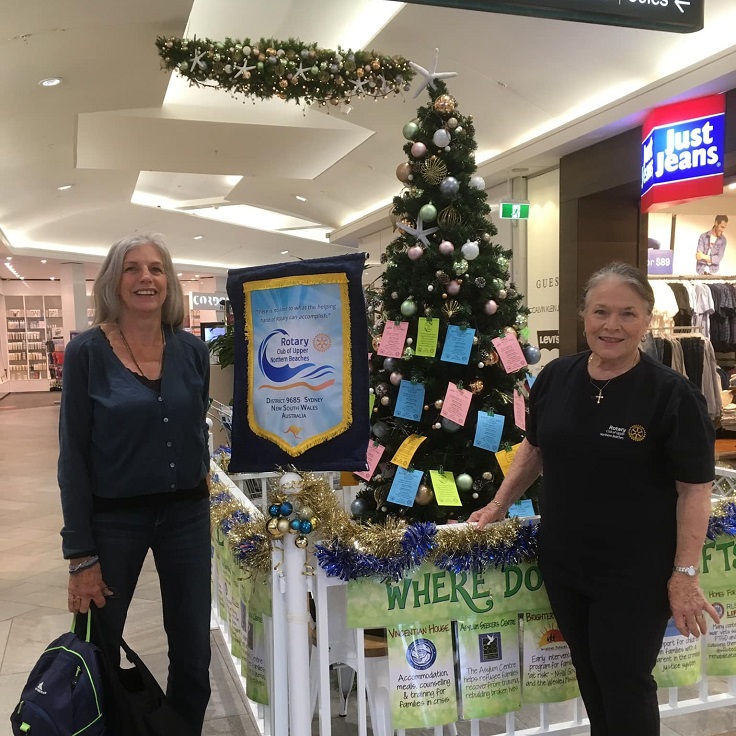 For over 20 years, we have been selling Christmas Trees in Terrey Hills to help fund many of the great causes that we support.
We often get comments that our trees are amongst the best on the Northern Beaches.
This year we are also offering delivery to selected suburbs (in the 2101 – 2108 postcode range). Christmas Trees - $110, Tree stands - $40 and delivery - $20 per order.
Delivery on 11th December 2021.
Or visit us in person on Saturday 11th December Cnr Mona Vale Road and Aumuna Road/Kamber Road, Terrey Hills from 8:00AM until sold out.
This week's Rotary meeting:
Date

Wednesday, 1 December 2021
Venue

Sands Hotel Narrabeen
Pre meeting dinner: 6pm in the bistro (for those who can make it)
Meeting Time

7pm upstairs - function room
The main focus of our meeting next week is our AGM and Election of 2022/23 Board.
We will also be hearing from our good friends from the Community Pantry - One of the great causes that we support. Should be a great talk.
Batteries Creating Fire Risk When Tipped To Landfill At Kimbriki
Kimbriki is appealing to the local community to ensure that all batteries are removed from household items prior to tipping at the Mixed Waste drop-off point following an increase in "smouldering events" onsite.
Over the last few months Kimbriki has experienced a rise in incidents caused by batteries being crushed and overheating in the landfill cell. Whilst recent "smouldering events" have been detected early and were easily doused to prevent a fire, in 2020, one battery left in a discarded power tool ignited a fire in over 50 tonnes of waste at Kimbriki sending a plume of smoke over neighbouring suburbs. Fortunately, the fire was brought under control by Kimbriki staff and the RFS before spreading to other areas and no injuries were reported.
Kimbriki CEO Peter Davis said, "these incidences are on the increase and with the warmer summer months approaching it is essential that we raise the community's awareness around the dangers of tipping items containing batteries at Kimbriki. These battery cells are extremely volatile and can start a fire by being punctured or crushed when being compacted for landfill."
Mr Davis outlined that "the community can help us to alleviate the risk of these smouldering events and potential fires by ensuring that they remove any batteries or battery packs from the following items before tipping them at Kimbriki:
Home appliances
Battery powered tools
Remote control toys
Vacuum cleaners
Electric bikes and scooter with a battery pack
Mr Davis thanked the community for their vigilance, noting that "at Kimbriki we are very fortunate that our community generally is very aware of what can and cannot be tipped at Kimbriki, however the challenge with batteries is that often don't realise that the item being tipped contains a hazardous battery".
If residents who plan on tipping items at the mixed waste to landfill drop-off are not sure whether they contain a dangerous battery, please ask a Kimbriki onsite team member who are always present at the mixed waste drop-off point before tipping the item. They will be able to inform you if there is a risk and how to best remove the battery and eliminate the risk.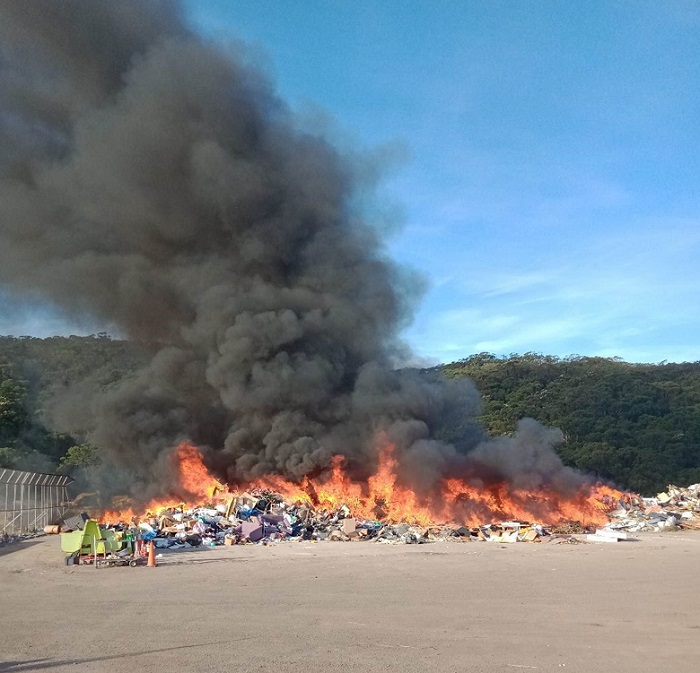 Photo: Fire at Kimbriki Mixed Waste to Landfill Drop Off Area in 2020 caused by battery left in discarded power tool
Kimbriki Environmental Enterprises Pty Ltd (Kimbriki) is an innovative waste and recycling centre on Sydney's northern beaches. The Kimbriki site receives over 330,000 tonnes of waste annually, with close to 80% currently being recycled into products such as mulch and gravels. Kimbriki is owned by Northern Beaches Council (96%) and Mosman Council (4%) and works with its community, shareholders, employees, partners and the waste industry to deliver and promote efficient services that reduce waste to landfill and increase resource recovery. Kimbriki aims to be a centre of excellence for environmental services associated with the generation of waste and to provide education to the community.
CABPRA AGM 2021
World renowned sailor, Iain Murray will be the Clareville and Bilgola Plateau Residents' Association's special guest at our AGM on November 30. We are excited to finally organise a get together in person. Put the date in your diary and come along and share a wine afterwards.
Starting 6.30 p.m. at Avalon Sailing Club Tuesday November 30.
Current Covid protocols apply.
Iain Murray AM was the CEO of Race Management and Race Director of the 36th America's Cup held in New Zealand in March this year. Iain Murray is a World Cup winning sailor. Amongst many other triumphs, Murray has won the 18ft Skiff World title, the JJ Giltinan International Trophy, for a record six consecutive years from 1977 to 1982. And he has won the Etchells World Cup – twice.
Iain is a yachting Olympian, an America's Cup yachtsman and a boat designer – he designed the modern version of the 18ft skiff.
And he is a world-renowned sailing manager: he was Regatta Director for the 34th America's Cup in 2013 and 35th America's Cup in 2017.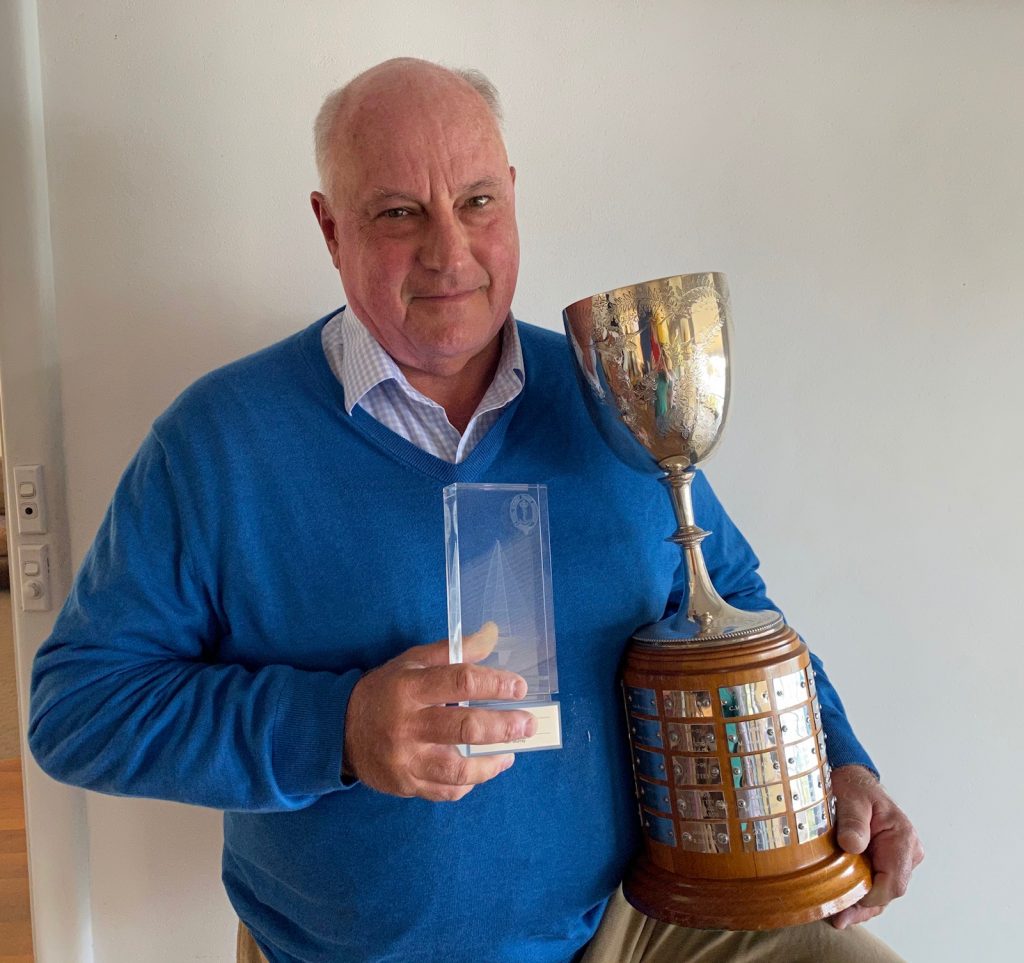 Photo: RSYS
Congratulations!
A huge congratulations to Manly Marlin Yool Yool on making the Aussie 7's squad for Dubai 7's.
This man has worked harder than ever coming back from a leg injury earlier this year and is an extremely deserving of this fantastic opportunity. We cannot wait to cheer him on next weekend!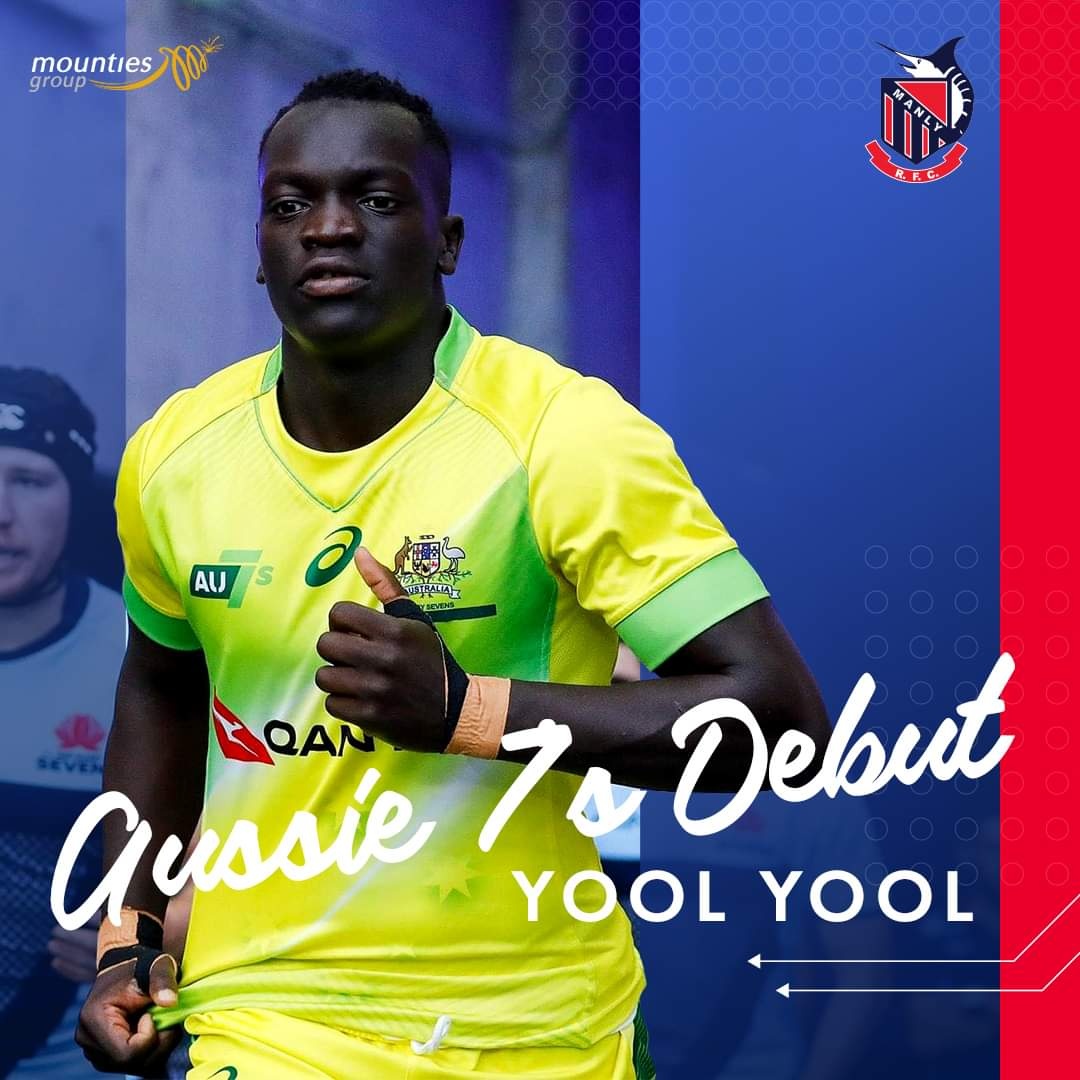 Broken Bay Water Police Rescue
On Sunday 21st of November evening, Broken Bay Water Police were called to assist a 13.9m ex naval tugboat taking on water in Brooklyn with the male owner onboard. Prior to contacting police, the owner attempted to pump water however was not successful. With water at knee level, water police were contacted and immediately headed toward the vessel.
During this time, the tugboat listed heavily to port and within a few seconds sank to the bottom with only the starboard side above water. On arrival, the uninjured owner was located on the exposed area of the vessel and assisted onboard the police launch where he was conveyed to a nearby marina. The owner will arrange salvage of his vessel.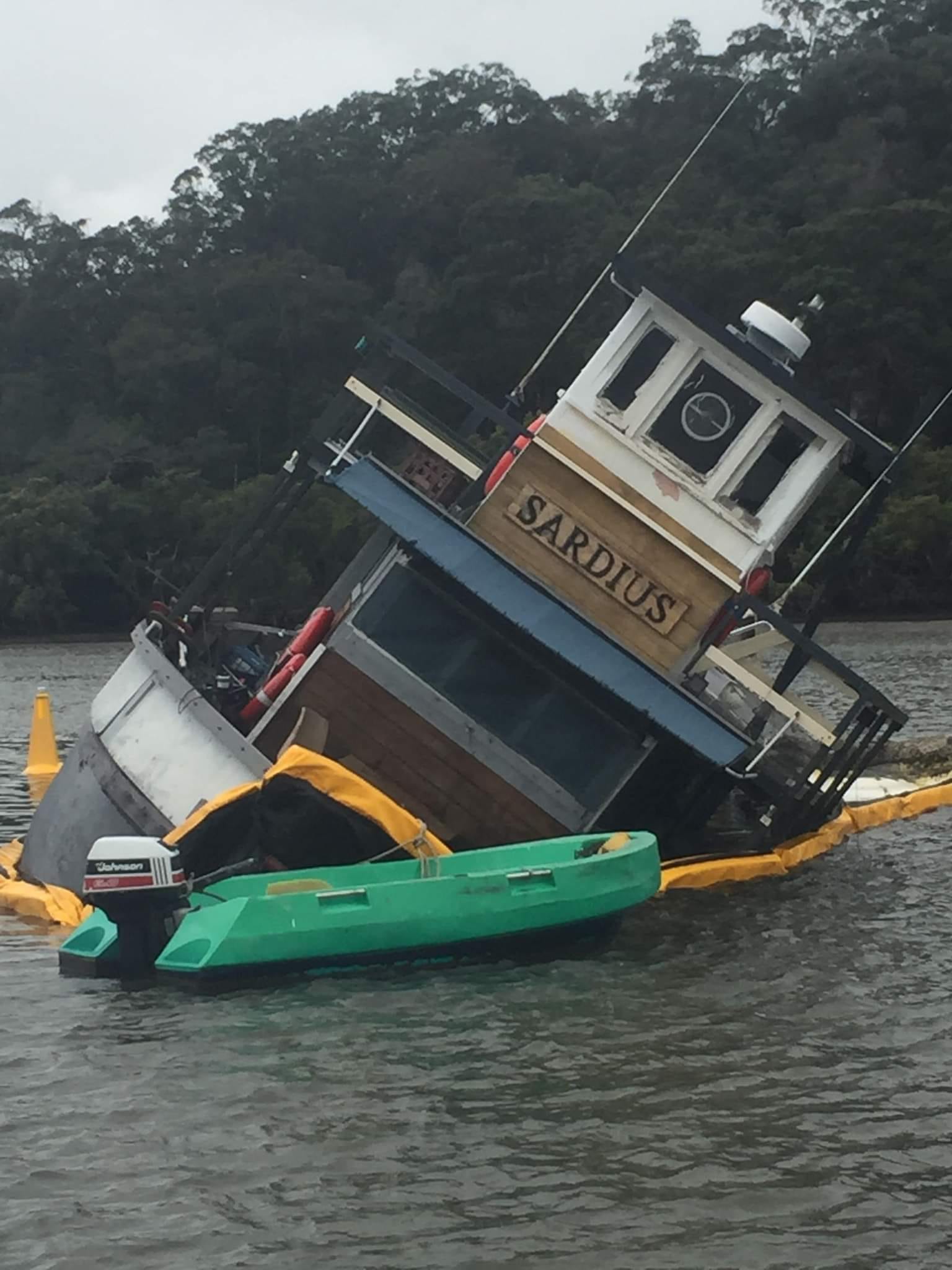 TB9 Sardius, Thursday November 25, 2021 - photo by Peter Duffy
This tug is the last of the Garden Island commissioned WW2 Commonwealth designed 45ft tugs. Whilst not an exact 'sister-ship' to the historic "Koala" by definition she is closer than a cousin. Design principles very similar, just different builders at the same time. - information courtesy Willis Spearsman
Our Water Police hold the distinction of being the first civilian form of policing established in NSW. In 1789, one year after the colony was founded, Governor Phillip created a 'Row Boat Guard' to patrol Sydney Cove for smugglers and convicts attempting to pass letters to ships anchored in the harbour.
By 1830 an independent Water Police Force was operating. It was merged, with all other Police units, into the NSW Police Department in 1862. In the late-19th century, the Water Police entered the 'modern era' of combustion engines with two steam launches, the 'Bileola' and the 'Argus'. These were used for nearly 35 years before they were replaced with motor launches.
With the introduction of the NSW Police Marine Area Command in July 1999, equipment includes 11 sea going craft and a number of smaller boats, all with electronic navigational aids. MAC employs 123 personnel, including operational water police, marine intelligence unit, marine crime prevention officer, divers, detectives and the marine operational support team (MOST).
With an increasing amount of commercial shipping and the immense expansion in the number and type of leisure craft on our waterways, the Water Police are being called on more and more to drive down marine crime.
Their duties include:
policing the waterways of NSW to reduce marine crime
protecting life and property, both at sea and on inland waters
overseeing aquatic events and controlling spectator craft
coordinating search and rescue off the coast of NSW
carrying out diving operations and underwater searches for missing persons and evidence
maintain and service police launches
addressing marine crime prevention issues
safety and compliance reinforcement
If you need assistance, please call: 1800 658 784
BBWP photo of tug listing
Better Flexibility For More Jobs Close To Home
The NSW Government is paving the way for more jobs closer to home through planning reforms to make it easier for businesses to set up, innovate and grow.
Minister for Planning and Public Spaces Rob Stokes said the system for identifying land for commercial and industrial activities had been simplified to provide more certainty, flexibility and support for businesses and their employees.
"The way businesses operate is evolving and that's been accelerated by the pandemic. We've seen how agile and innovative they can be as they've found new ways to reach customers and support their communities," Mr Stokes said.
"Our planning system needs to do the same. We've overhauled the employment zones to make it easier for businesses to set up and expand their operations and to compete in the global economy."
The reforms cut the number of employment zones from 12 to five core zones, with changes to better reflect the way businesses use land, providing better access for their customers and employees.
"Fewer zones that permit more uses mean more investment, less red tape, and better job opportunities closer to home for local communities," Mr Stokes said.
"This gives certainty to business, councils and the community about what can be built on land across NSW."
The new zones are:
E1 Local Centre: provides for a range of retail business, entertainment, community uses that service a local area;
E2 Commercial Centre: large-scale commercial, retail, business and service development in strategic centres;
E3 Productivity Support: mix of industrial, commercial, creative, warehousing and emerging new industries that need larger floor space;
E4 General Industrial: light and general industrial, warehousing uses providing important services like waste management and concrete batching; and
E5 Heavy Industrial: hazardous and industries with odour and noise impacts that need to be separated from other urban areas.
The new employment zones come into effect within the Standard Instrument Principal Local Environmental Plan on 1 December 2021.
This allows employment zones to be introduced after references to environment zones are updated, to reduce the risk of misinterpretation where environment zones are currently referred to by just the E prefix in environmental planning instruments.
See conservation zones for further information:
Mona Vale Hospital Auxiliary Stalls At Pittwater Place
We are finally able to return to Pittwater Place and are having a Christmas stall also at Pittwater Place on Saturday 4th December.
We will be selling sewing, knitting, craft, jam, books from 8am to 3pm outside the Magic Elbow.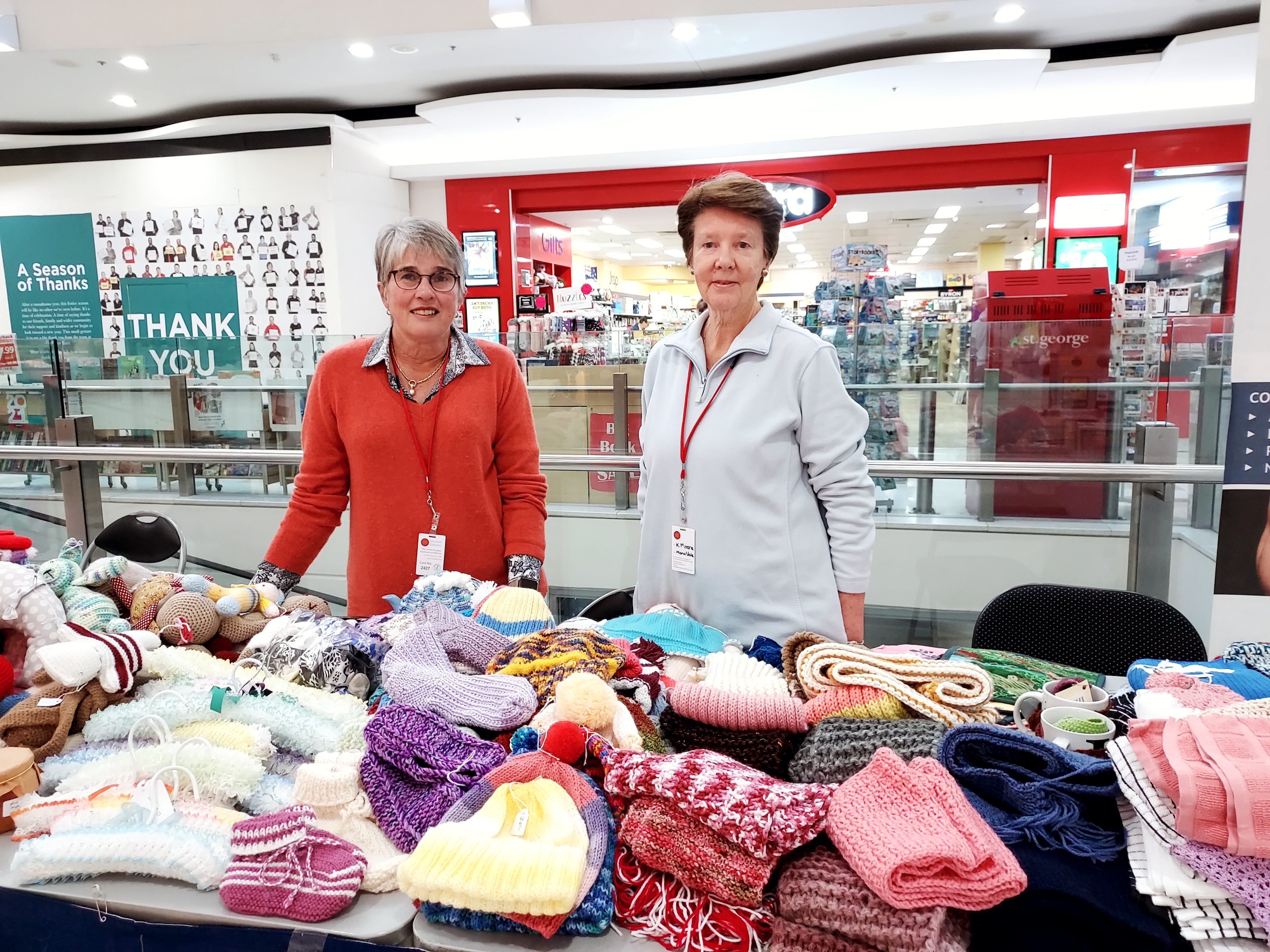 Pre-Polling Booths LG Election 2021
Mona Vale Memorial Hall
Pittwater Road, Mona Vale NSW 2103
22 Nov 2021 - 03 Dec 2021
Mon - Sat: 9:00am - 5:00pm
Avalon Recreation Centre
59A Old Barrenjoey Road, Avalon NSW 2107
22 Nov 2021 - 03 Dec 2021
Mon - Sat: 9:00am - 5:00pm
Zonta Club Of Northern Beaches 2022 Women's Day Breakfast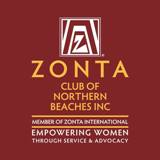 The Pittwater International Women's Day Breakfast 2022
will be held

at the Royal Price Alfred Yacht Club on Wednesday 2nd March 2022

in accordance with NSW Health Orders relevant at the time. Another interesting speaker is being arranged and The Pittwater Woman of the Year will be announced.
Bookings will open in late January.
Professional women who want to help other women in the local community and overseas, and who want to share in friendship and networks and are keen for the opportunity to share their skills.
Club members meet for dinner and Zonta business on the fourth Monday of each month.
We welcome anyone interested in our club to come to a meeting.
Please contact us at:
Zonta Club of Northern Beaches Inc. 6 Siobhan Place, Mona Vale NSW 2103
Congratulations!
Congratulations to retiring MRNSW Board member John Lynch, who has stepped down after ten years of distinguished service to Marine Rescue NSW and the boating community.
At the Annual General Meeting of the Board on November 20th, Mr Lynch was presented with a framed Appreciation of Service by the Commissioner of Marine Rescue NSW, Stacey Tannos, and the Chair of the Marine Rescue NSW Board, Jim Glissan.
Thank you John for your outstanding service.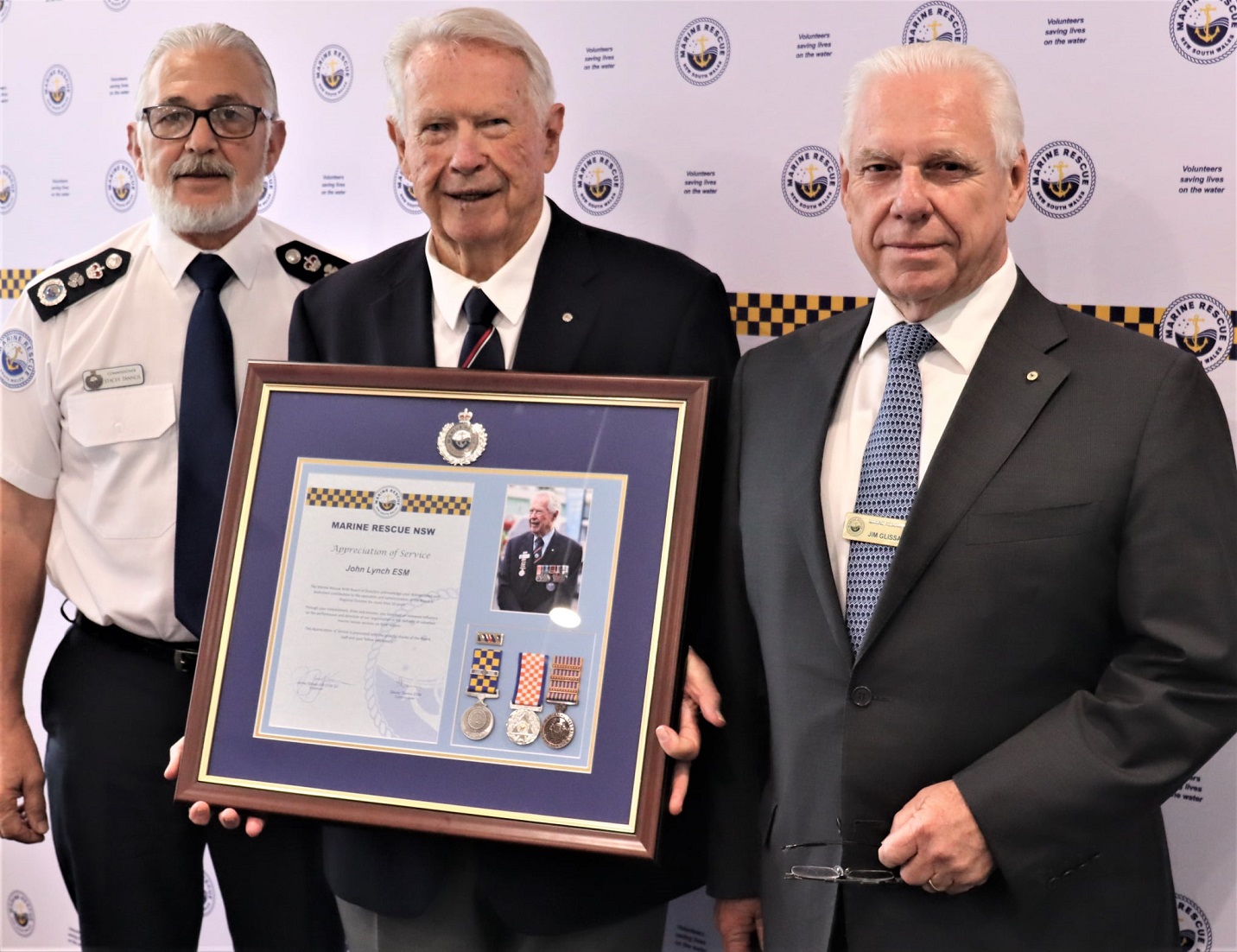 MRNSW photo
Celebrating Everyone's Abilities This IDPWD
Every year on December 3rd, people around the world take part in International Day of People with Disability (IDPwD).
In Australia, supported by the Australian Government, IDPwD's purpose is to make positive changes to the lives of 4.4 million Australians with disability.
This year the DSA Group's theme is 'Celebrating Everyone's Ability'.
On this day we acknowledge and celebrate the contributions and achievements of people with disability and promote awareness, understanding and acceptance in our community and across all our sites and services.
We join in the conversation online and in our communities about the issues and experiences of people with disability to challenge misconceptions and break down barriers.
Let's all act this December, and all year round, to help make Australia more inclusive for people with disability.
UN Secretary-General's Message 2021
Realising the rights, agency, and leadership of persons with disabilities will advance our common future.
We need everyone, including persons with disabilities, on board to achieve the Sustainable Development Goals. Around the world, persons with disabilities and their representative organisations are taking action to realise the call: 'Nothing about us, without us'.
COVID-19 has laid bare the persistent barriers and inequalities faced by the world's 1 billion persons with disabilities, who have been among the hardest hit by the pandemic.
A disability-inclusive pandemic response and recovery should be guided by persons with disabilities themselves, forge partnerships, tackle injustice and discrimination, expand access to technology and strengthen institutions to create a more inclusive, accessible, and sustainable post-COVID-19 world.
I urge all countries to fully implement the Convention on the Rights of Persons with Disabilities, increase accessibility, and dismantle legal, social, economic and other barriers with the active involvement of persons with disabilities and their representative organisations.
On this International Day of Persons with Disabilities, let us commit to build a sustainable, inclusive and just future for everyone, leaving no one behind.
___________________________________
Appointment Of The National Disability Insurance Scheme (NDIS) Quality & Safeguards Commissioner
Minister for the NDIS Senator the Hon. Linda Reynolds CSC today welcomed the appointment of Ms Tracy Mackey as the new NDIS Quality and Safeguards Commissioner.
Ms Mackey has been the Chief Executive Officer of the New South Wales (NSW) Environment Protection Authority since October 2019 and previously held senior executive positions with the NSW Department of Education and in the Commonwealth.
"On behalf of the Government, I congratulate Ms Mackey on her appointment and thank Ms Samantha Taylor PSM for her significant contribution while acting as NDIS Commissioner since July 1st 2021." Minister Reynolds said.
"Ms Mackey brings a wealth of knowledge and experience to her new position as Commissioner, following her previous senior role in the care and support sector and more recently as the primary environmental regulator in NSW."
As the NDIS Quality and Safeguards Commissioner, Ms Mackey will be responsible for upholding the rights of, and promoting the health, safety and wellbeing of, people with disability receiving supports under the NDIS.
Ms Mackey has been appointed for a three-year term commencing 10 January 2022.
The NDIS Commission brings together various quality, safeguarding and oversight functions under a single agency, and drives a nationally consistent approach to the registration, education and regulation of providers and workers in the NDIS market, consistent with its statutory functions under the NDIS Act 2013 and the NDIS Quality and Safeguarding Framework.
NSW Disability Inclusion Plan Unveiled
People with disability will live in more inclusive and accessible communities under the NSW Government's plan to remove systemic and attitudinal barriers to participation in society.
Minister for Families, Communities and Disability Services Alister Henskens said the NSW Disability Inclusion Plan 2021–2025 strengthens the State's accessibility framework and outlines work underway to improve outcomes for people with disability.
"NSW leads the nation when it comes to supporting people with disability – we were the first state to implement a Disability Inclusion Plan and have led the nation in the rollout of the National Disability Insurance Scheme (NDIS)," Mr Henskens said.
"This four-year plan builds on the work our Government has undertaken to create more accessible and inclusive communities, and provides the blueprint for increasing the social and economic participation of people with disability across NSW."
Under the NSW Disability Inclusion Plan, all public sector agencies and local councils are required to develop action plans to drive positive change in their communities.
Key deliverables under the Disability Inclusion Plan 2021-2025 include:
These initiatives are examples of the work our Government agencies and local councils are doing to create more inclusive communities, by improving access to services and removing barriers to participating in society," Mr Henskens said.
Projects delivered under the previous Disability Inclusion Plan include accessible stations along Sydney's Metro, lift upgrades at TAFE campuses and the Employable Me TV series, which promoted employment pathways for people with disability.
Proposal P1055 – Definitions For Gene Technology And New Breeding Techniques
P1055 is a proposal to amend the definitions for 'food produced using gene technology' and 'gene technology' in the Australia New Zealand Food Standards Code (the Code).
These definitions determine what foods are classed as genetically modified (GM) food under the Code. Currently, all GM food available for sale in Australia and New Zealand must have been assessed for safety by FSANZ and be expressly permitted and listed in relevant Code schedules.
FSANZ is proposing to update the definitions to make them clearer and better able to accommodate food produced by existing, emerging and future genetic technologies.
Public call for submissions - now open
In the first of two rounds of public consultation, FSANZ invites interested parties to comment on its proposed approach to:
revise and expand the process-based definition for 'gene technology' to capture all methods for genetic modification other than conventional breeding; and
revise the definition for 'food produced using gene technology' to include specific product-based criteria for

excluding certain foods from pre-market safety assessment and approval as GM food

. Foods that do not meet all relevant exclusion criteria would still require an application to FSANZ.
At this stage, FSANZ has not developed new definitions nor made any decisions on specific amendments to the Code. Work on proposed changes will be informed by feedback received through the first round of public consultation.
Over the last decade,
a variety of new breeding techniques (NBTs) have increasingly been applied to the production of food.
The emergence of these techniques has generated uncertainty about the regulatory status of food derived using NBTs (NBT food), because these techniques often result in genetic changes that are more similar to those from conventional breeding rather than from established GM techniques. Unlike GM food, conventional food does not require pre-market safety assessment and approval before it can be sold.
To address the uncertainty, FSANZ began a proposal to revise and update the GM food
definitions in the Code to:
make them clearer and better able to accommodate food produced by existing, emerging and future genetic technologies, and
ensure NBT foods are regulated in a manner commensurate with the risk they may pose.
Before the GM food definitions can be revised, it must first be determined whether justification exists for subjecting each new NBT food to pre-market safety assessment, similar to GM food.
To help inform a decision about how NBT food should be regulated, FSANZ applied an assessment approach that is typically used in GM food safety assessment. That approach relies on comparisons to conventional food, which serves as the benchmark for safety.
In response to these investigations, the assessment found that substantial genetic changes exist in all organisms used for food. Breeders rely on this genetic variation to produce food organisms or food with improved characteristics, for example higher yield or better flavour. The standard practice of screening and selecting for improved characteristics also serves to identify organisms with undesirable characteristics, some of which may impact food safety. Organisms with undesirable characteristics will be removed from the breeding program and will not enter the food supply. While both beneficial and harmful changes can and do occur, most genetic changes are neutral and do not change the organism or the food in any meaningful way, or significantly impact food safety. Conventional food thus has a long history of safe use. The assessment concluded that conventional food is a suitable benchmark against which to compare NBT food.
The assessment also found that a large variety of genetic changes can be generated using NBTs. In some cases these changes will be identical to those introduced using conventional breeding, while in other cases they may resemble changes introduced using established GM techniques. In terms of unintended changes, these are an expected outcome of all methods for modifying genomes, and those that arise from NBTs are no different to those from conventional breeding and GM techniques. As a result, some NBT food will be similar in characteristics, and in many cases identical, to conventional food.
When NBT food is equivalent in product characteristics to conventional food with a history of safe use, the NBT food can also be considered equivalent in risk. The same is true for certain refined ingredients derived from GM food, i.e. those products without novel DNA and novel protein in the food for sale and with characteristics identical to conventional products.
This
conclusion supports the exclusion of NBT foods and refined ingredients considered equivalent in risk to conventional food, from the requirement for pre-market safety assessment as a GM food.
For information about making a submission, visit the FSANZ website at
information for submitters
. All submissions on applications and proposals will be published on our website. We will not publish material that we accept as confidential, but will record that such information is held. In-confidence submissions may be subject to release under the provisions of the Freedom of Information Act 1991.
Submissions will be published as soon as possible after the end of the public comment period. Where large numbers of documents are involved, FSANZ will make these available through alternative means, rather than on the website.
Under section 114 of the FSANZ Act, some information provided to FSANZ cannot be disclosed. More information about the disclosure of confidential commercial information is available on the FSANZ website at information for submitters.
Submissions should be made in writing, be marked clearly with the word 'Submission' and quote the correct project number and name. While FSANZ accepts submissions in hard copy to our offices, it is more convenient to receive submissions electronically through the FSANZ website via the link on
documents for public comment
. You can also email your submission directly to
submissions@foodstandards.gov.au
.
There is no need to send a hard copy of your submission if you have submitted it by email or via the FSANZ website. FSANZ endeavours to formally acknowledge receipt of submissions within 3 business days.
DEADLINE FOR SUBMISSIONS: 6pm (Canberra time) 3 December 2021
Speciality NSW RFS Helicopter Already Serving The Community
A state-of-the-art firefighting helicopter, donated by the Goodman Foundation to the NSW Rural Fire Service (NSW RFS), has already been put to good use to help protect the community.
The helicopter was recently deployed to Forbes, in the state's west, to assist the NSW State Emergency Service (NSW SES) and local brigades with the emergency response to flooding in the region.
The chopper has been reconfigured to meet the specific needs of the NSW RFS, including the installation of winch, belly tank and a surveillance camera for use in firefighting operations, search and rescue, and down the wire insertions and extractions.
While government will always have a role in providing this kind of equipment, partnerships of this nature will help secure additional resources to help protect communities during fire seasons.
Greg Goodman, Group CEO at Goodman Group, said the helicopter is part of the Foundation's $6.5 million pledge to support Australian communities following the bush fires.
"The Goodman Foundation partners with like-minded local organisations to fund explicit projects and in doing so, provide real support where it is needed most," Mr Goodman said.
"The 2019/20 bushfires left a devastating imprint on all of us. By supporting the NSW RFS with this helicopter, we hope to make a tangible and sustainable difference to the NSW RFS and the lives of people in our community. "
NSW RFS Commissioner Rob Rogers said having the specialised aircraft was a valuable additional resource to combat fires across the state.
"We know helicopters can play a key role in providing early and impactful action against developing fires and, as recent events show, our aviation capabilities are able to assist other emergency service agencies during times of crisis," Commissioner Rogers said.
"We're very grateful for this generous donation by the Goodman Foundation as we enter the fire season. This welcome gift places us in a great position to continue to protect people in the communities we serve."
With rainfall expected to continue over the coming months, it's predicted to fuel grass and crop growth and increasing the likelihood of grass fires across the state. Grass fires can be especially dangerous because they start quickly and spread rapidly, destroying not only homes and stock, but also lives and livelihoods.
"While we are seeing a lot of rain currently, we cannot be complacent about preparing this fire season as bush and grass fires can strike at any time," Commissioner Rogers said.
"It is crucial that people prepare and take simple steps like cleaning your gutters, removing combustibles from your yard, ensuring hoses can reach all corners of your property and completing or updating your bush fire survival plan, so you and your family know what you will do in the event of a fire."
Photo: NSW RFS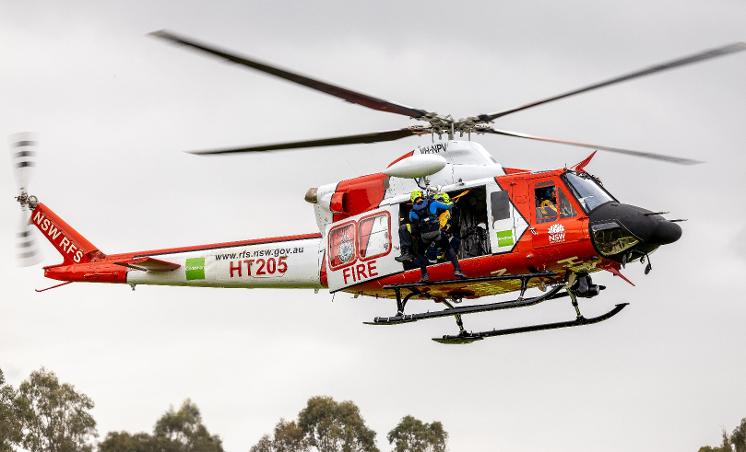 Pets Of The Week
Tubby
14yo Lab & Beagle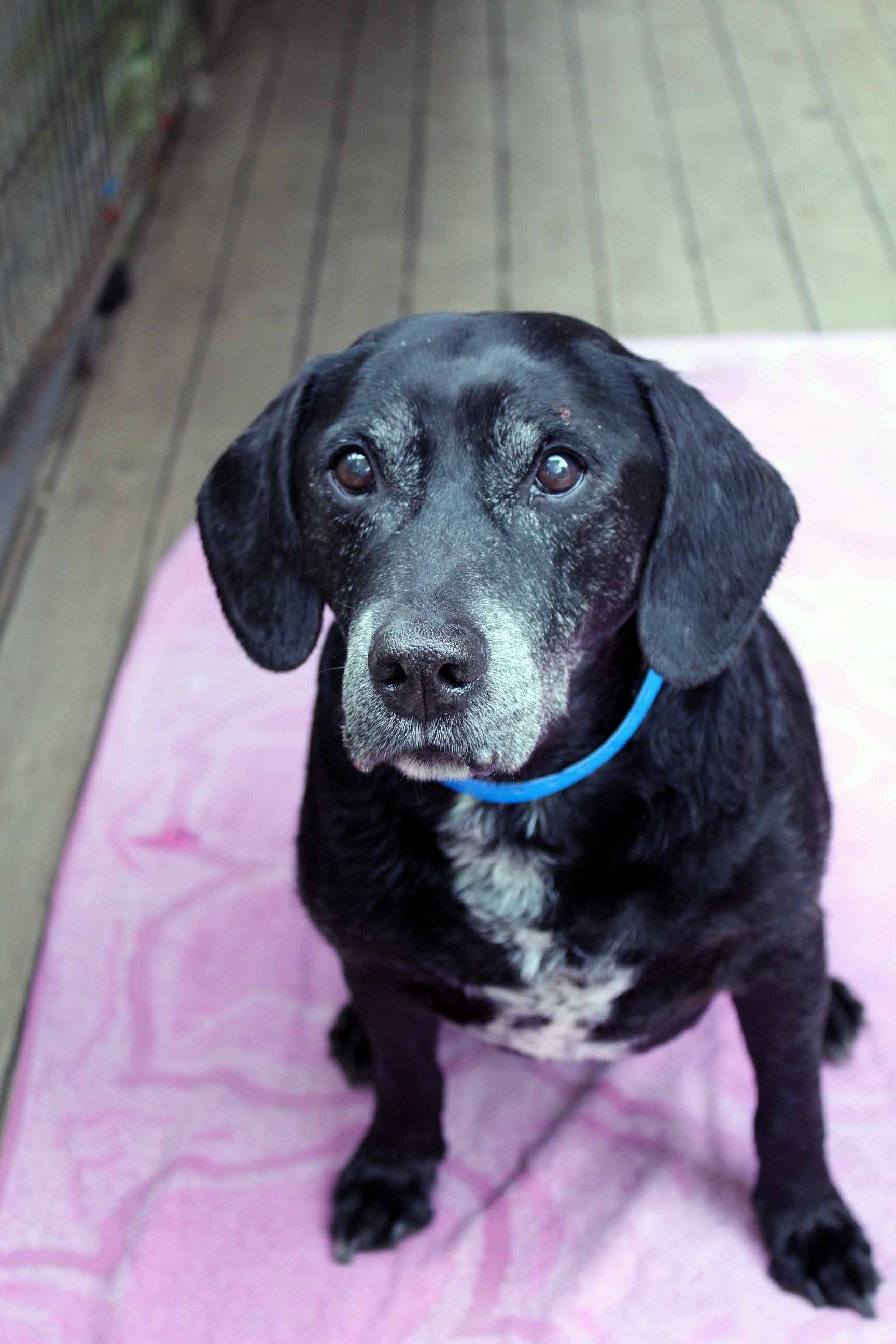 Tubby is a gentle affectionate boy. It is hard to believe he is 14 years old. He is so active for his age and loves his walks. He does have some frosty vision. He has just had a dental and no extractions and a good health report from our vet. He is social with other dogs and easy to handle and pick up. True to his breed, Tubby LOVES his food. He has a short coat and weighs 18.6kg. Tubby loves people around and is best when they are mostly around.
All our dogs come desexed, C5 vaccinated, heartworm free and microchipped. Also included for the love and health of our dogs is a free Health and Wellness Voucher with our DoggieRescue Vet. His adoption fee is $400. For details call DoggieRescue on 9486 3133 or email Monika@DoggieRescue.com. RON R251000024
Cream
12mth Domestic short hair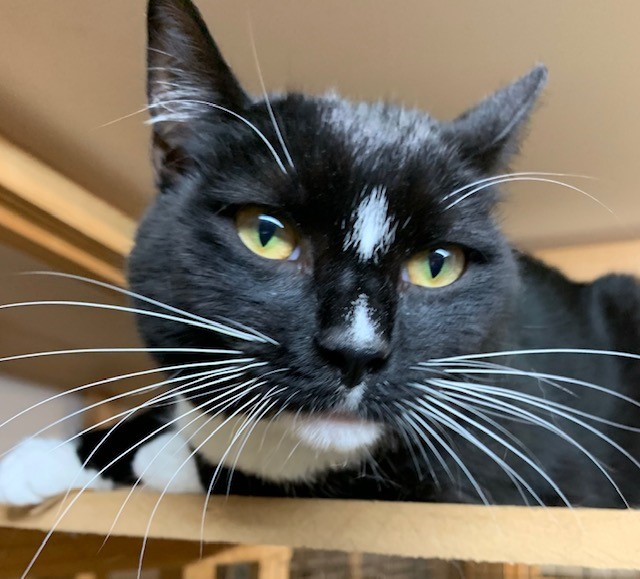 Cream is a gentle curious girl who was adopted from us as a kitten and returned at 12months. She seems social with other cats and is comfortable with experienced cat people handling her. She has a short coat and weighs 4.2kg. All our cats come desexed, wormed, F3 vaccinated, FIV/FeLV tested and microchipped. Her adoption fee is $220. For further details call DoggieRescue on 9486 3133 or email cats@doggierescue.com
Not everyone is in a position to adopt a dog, which is why DoggieRescue runs a foster program making it easy for caring dog lovers to make an immediate difference.
Rehoming Organisation No R251000024.
Monika's DoggieRescue's 2022 Calendar Is Out Now!
Monika's DoggieRescue's 2022 calendar has arrived! This is our biggest annual fundraiser and helps us continue to save the lives of dogs and cats on death row in NSW pounds. To date we have saved over 13,000 dogs and are home to around 100 dogs looking for their families. We rely on fundraising like our calendar to keep the doors open so please help us continue to save lives!
This year's calendar was photographed by our volunteer photographer Dave Pigeon from The Dog's Pyjamas. Dave has perfectly captured the different faces and emotions of our resident dogs, from Bowie looking hopefully to the future with a family of his own to sad Champ who isn't sure what to do with himself facing another year without a home of his own.
Winston stars on the cover he found his way to Monika's DoggieRescue from a Sydney pound and was discovered to be blind, his bandana reminds us all to be kind to those who have extract burdens to bear. Winston was lucky enough to be adopted just before the calendar arrived!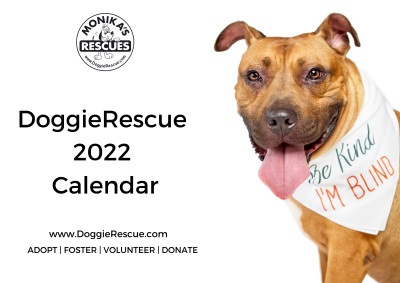 This year's calendar features 16 DoggieRescue dogs many of whom are still waiting at the shelter for their families to come.
At $20 the calendar is the perfect gift for dog loving friends and together we save more lives! Do something good for Christmas and give the gift of life.
About Monika's DoggieRescue
DoggieRescue is a Northern Beaches based no kill animal shelter, we've been in operation since 1998 with the primary objective of saving dogs and cats from death row in council pounds. We do not place a time limit on the lives of the animals we save and are often contacted about the more difficult animals in need.
You can grab your copy from the shelter or from our website by clicking here:
Sydney Wildlife Recycled Bottles For Wildlife 2021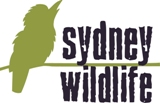 Sydney Wildlife Rescue is registered for return and earn in NSW. This time it is accessed by an App called My Tomra - which is the organisation that runs the recycling.
Once you have downloaded the
My Tomra App
. Just search "Our Wildlife" you will see Sydney Wildlife Rescue listed. You can set that as the payout.
So you just scan the bar code from the App at the recycling machine and the 10c will be donated to Sydney Wildlife Rescue. The machines can be located anywhere in NSW.
Please have a look it's a good way to support us to care for wildlife and do your bit to keep Australia Beautiful.

The purpose of www.westpittwater.com.au - is best defined by the vision of the West Pittwater Community Association.
To be a supportive community, encouraging and promoting civic pride, interest in community affairs and goodwill amongst residents.
To protect local fauna and flora and generally preserve West Pittwater and its environs.
To secure essential facilities including public wharves and reserves and to protect private and public property.
To speak with one voice and represent the interests of the Western Foreshore community when in discussion with Pittwater Council and other relevant government bodies. The WPCA website provides a forum for the better realisation of these objectives. Visit: www.westpittwater.com.au
Speed Humps On McCarrs Creek Rd: Please Share Wildlife Data
Local wildlife rescuers are asking all members of the public to report any roadkill
on McCarrs Ck Rd or any other road in the NB (Wakehurst Parkway or Mona Vale Road for instance) on www.wildlifemapping.org
It records the GPS position, date, sex, species. Photos can be added as they help in identification
The data is then forwarded to OEH and Transport NSW as it can help establish the best places to place mitigation.
Thanking
you all in advance for your help with
this
.
We need your help. Thank you for reporting wildlife road fatalities. There is so much wildlife on the move in our area at present due to various pressures. Although we have had pictures
sent to us
, many of these have no date or location.
There is a database that volunteers maintain but this needs three pieces of information:
The position via GPS or road and suburb
The date
The animal
The details can be entered into the database directly by you at:
The Forest High School Relocation - Community Information Session
Monday 6 December - 3:30pm to 6:00pm
At: The Forest High School Hall, 135 Frenchs Forest Road W, Frenchs Forest NSW
Please join us at a community information session for The Forest High School Relocation - this is the first opportunity to view one of the most exciting educational developments in the state.
Click on this link to book your viewing time:
Read detailed information about the project here:
At the community information session, you will be able to:
View the completed concept plan and find out about the design approach
Understand the project's timeline and next steps
Speak with the project team to provide feedback and ask questions about the project.
The new site at 187 Allambie Road, Allambie Heights, will include:
modern flexible learning spaces for up to 1500 students
the new library, canteen, and administration spaces
a multi-purpose sports hall
a performance hall
new outdoor sports courts and football field
landscaped recreation and outdoor learning spaces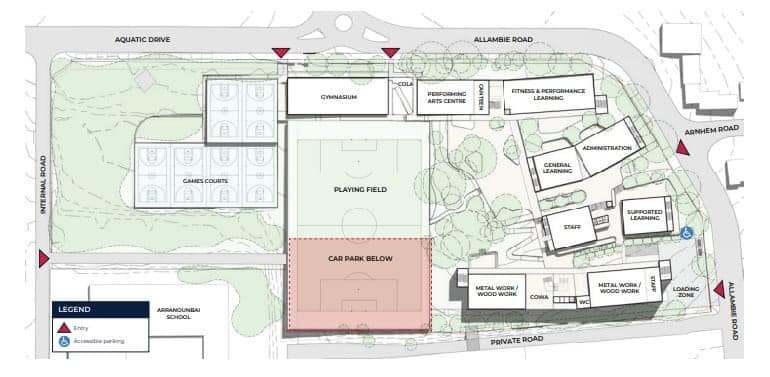 Resources For Families
The NSW Government is funding a program that will cover the entire Northern Beaches and provide immediate care and new support services to anyone impacted by the suicide of a loved one or friend.
For friends and family, the death of a loved one by suicide is not only heartbreaking and shocking, it can also create new challenges as well as making day-to-day tasks incredibly difficult.
This service we will provide a range of resources for loved ones and families impacted, including counselling to help them access financial assistance and guiding them through the coronial process.
The new services based on the Northern Beaches are being provided by StandBy, Australia's leading post-suicide support service, in partnership with Jesuit Social Services, Roses in the Ocean and University of New England.
StandBy is accessible 24 hours a day, seven days a week, providing free face-to face and/or telephone support at a time and place that is best for each individual.
The program offers coordinated evidence-based support and resources (including connections to local services and groups) that is individualised for each person's unique circumstance. This support is continued for up to two years to ensure those that engage with StandBy are not alone and receive ongoing support.
The state-wide rollout of post-suicide support services is thanks to a joint investment by the NSW and Commonwealth Governments.
To find out more or to access these services, please call 1300 727 247 at any time or visit standbysupport.com.au
CWA Manly Raising Funds For The Homeless This Christmas
The Manly branch of the Country Women's Association will hold its annual Christmas Stall in The Corso from 9am on Saturday, December 4.
"CWA of NSW is working with government at all levels to seek urgent action on social and affordable housing," said Robyn Grennan, President of CWA Manly. "Locally we will raise money at our Christmas stall for homeless programs on the Northern Beaches.
"We will also raise money for the CWA Disaster Relief Fund and Education Grants so we are supporting both local and remote members of our community."
The CWA Manly stall will be stocked with a range of beautiful, handmade Christmas decorations and gift ideas, handmade Christmas cards, home-baked treats and delicious preserves.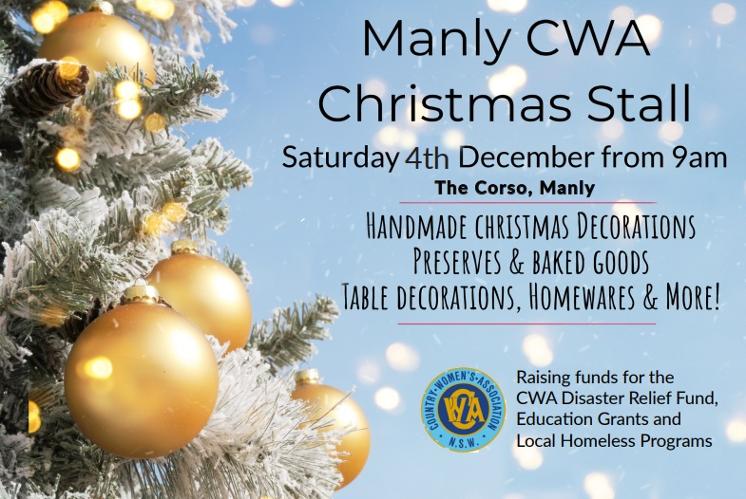 Men Of League Xmas Function
Will be
at Nth Narrabeen SLSC club commencing at 4pm, on Friday 3rd. December 2021.
The team at MOL have done a wonderful job over the years supporting their fellow members when they are down on hard times. Please make an effort to attend and support this wonderful cause.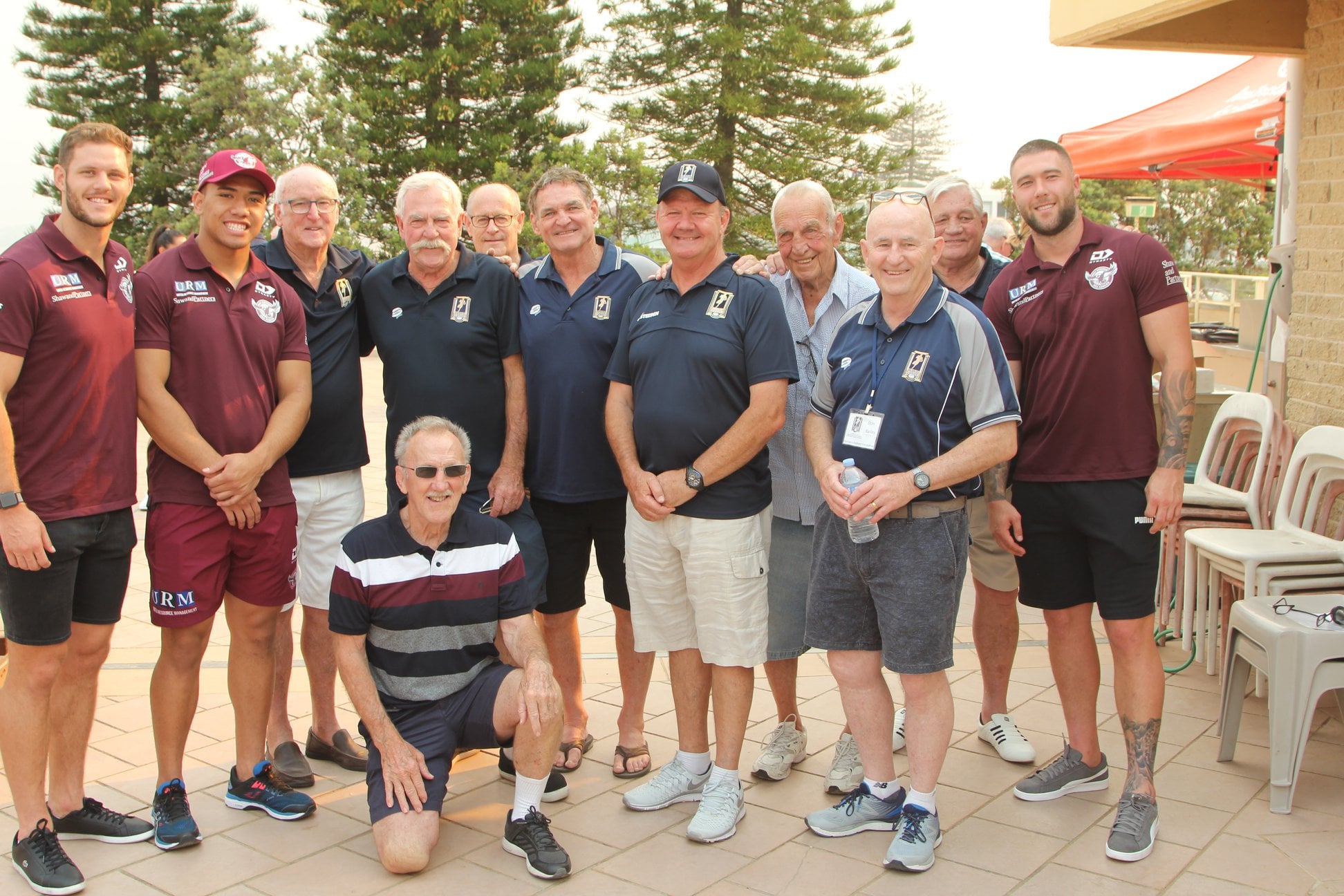 2019 MOL Xmas do - photo courtesy Brian Friend OAM
Storage Solution On The Horizon For NASA
The North Avalon Surfriders Association recently approached Council with a proposal to build an extension to the existing beach amenities block at the north end of Avalon Beach to provide storage for their equipment.
The proposed storage space use will be limited to the organisation's general storage needs including equipment for monthly competitions and regional events. Stored items will include surf boards, marquee, tents, flags, tables, BBQ, and first aid equipment and trailer.
The proposed extension will be approximately 27 sq. metres (about the size of a double garage) with the roofline and height aligned with existing amenities building.
It also includes:
an exterior that will be colour aligned with existing amenities and blend with surrounds
walls and roof insulation to control sound and heat
ventilation panels on the north end of the building
roofing finished in Colorbond®
a roller door.
The existing mural on the northern wall would be reinstated following storage extension.
Below run Artists Impressions of this storage solution.


La Niña Established In The Tropical Pacific
The Bureau of Meteorology has declared a La Niña has formed in the tropical Pacific and is likely to persist until at least the end of January. La Niña will result in stronger than average trade winds and more moisture over northern and eastern Australia.
Get Ready now for floods and storms, don't wait till it's too late.
La Niña Established In The Tropical Pacific- November 23, 2021: BoM
La Niña has become established in the tropical Pacific. The Bureau's ENSO Outlook has been raised to LA NIÑA. Climate models suggest this La Niña will be short-lived,
persisting until the late southern hemisphere summer or early autumn 2022.
La Niña events increase the chance of above average rainfall across much of northern and eastern Australia during summer.
Several indicators of the El Niño–Southern Oscillation (ENSO) now show clear La Niña patterns. Sea surface temperatures in the tropical Pacific are close to La Niña thresholds, with climate model outlooks expecting them to cool further. In the atmosphere, cloud and wind patterns are typical of La Niña, indicating the atmosphere is now responding to, and reinforcing, the changes observed in the ocean.
The negative Indian Ocean Dipole (IOD) is approaching its end, with oceanic index values in the neutral range. However, cloud and wind patterns across the eastern Indian Ocean suggest some IOD influence remains. All models indicate the IOD will remain neutral for the coming months, consistent with its typical seasonal cycle. A negative IOD increases the chances of above-average spring rainfall for much of southern and eastern Australia.
The Madden–Julian Oscillation (MJO) is currently over the Maritime Continent region at weak to moderate strength. The MJO is forecast to progress eastwards across the Maritime Continent and into the western Pacific over the coming fortnight, increasing the chances of above average rainfall across northern Australia and the Maritime Continent, to Australia's north.
The Southern Annular Mode (SAM) has generally been positive for several weeks. It is forecast to remain at positive levels to the end of the year. A positive SAM during summer typically brings wetter weather to eastern parts of Australia, but drier than average conditions for western Tasmania.
Climate change continues to influence Australian and global climate. Australia's climate has warmed by around 1.44 °C for the 1910–2019 period. Rainfall across northern Australia during its wet season (October–April) has increased since the late 1990s. In recent decades there has been a trend towards a greater proportion of rainfall from high intensity short duration rainfall events, especially across northern Australia.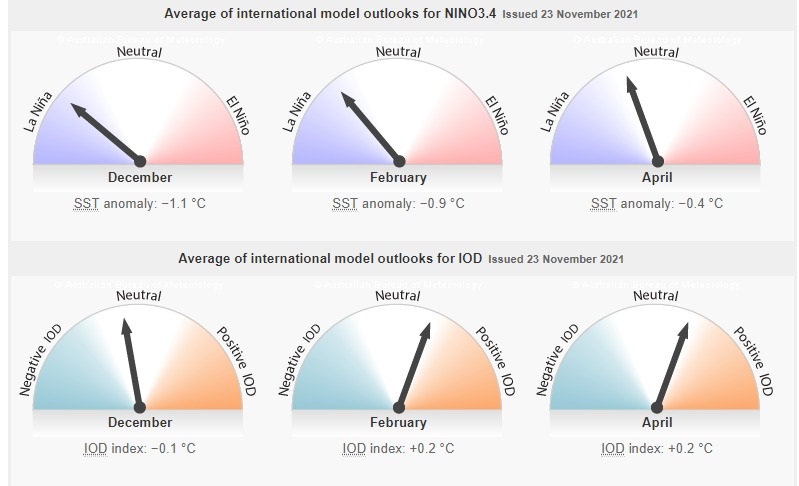 IPART: Climate Change Prioritised
IPART has adopted a statement and framework on climate change to help guide their work.
It sets expectations for stakeholders and regulated entities about how they will address climate change in their reviews and functions.
The framework comes out of IPART's Strategic Plan which sets a key aspiration that their decisions help NSW to tackle climate change.
Climate change is one of the most significant issues that will impact the lives of people in NSW now and into the future.
Climate change presents far-reaching economic, social, ecological, health and safety risks. These include direct physical risks, such as extreme weather events, and transitional risks from adjusting to a net zero economy.

These risks present challenges in the sectors we regulate including water, energy, transport and local government.

In this context, we aim to make decisions that mean the people of NSW and future generations will continue to benefit from safe, reliable and affordable services that meet their needs over the long term.
We consider climate change risks when undertaking our regulatory functions or reviews. We encourage solutions that mitigate or adapt to climate change by our regulated entities or industries based on science, innovation and economics.
We will identify the need to consider climate change when we undertake a regulatory function or review
We will identify whether the regulated entity or industry needs to consider, mitigate or adapt to climate change risks. We will do this within the relevant statutory framework or the terms of reference that applies to our work. For example there may be risks to a regulated entity or industry meeting its obligations for:
emissions reductions
standards for safe and reliable services
protecting the environment
acting in the long-term interests of consumers.
We will then consider how the regulated entity or industry is
managing the physical, transitional and liability risks of climate change to meet its obligations
acting consistently with the NSW Government policy on climate change.
We will do this by
communicating our expectation that regulated entities and industries meet their obligations to address the risks of climate change
considering information provided by the regulated entity or stakeholders that responds to climate change risks. This could include pricing proposals, compliance reports, energy savings proposals, risk assessments, asset management, safety management systems, and submissions from stakeholders
asking for further or specific information from the regulated entity if we do not have sufficient information to satisfy our consideration of a statutory obligation.
IPART's statement and framework for tackling climate change may be accessed and read in full here:
Leadership Team Changes For Central Coast Council
Wednesday, November 24 2021
Central Coast Council has today announced interim leadership team changes.
"As we move into the consolidation period of Council's Financial Recovery Plan, a decision has been made to refresh the executive leadership team of the organisation" said Council's CEO Mr David Farmer.
Mr Scott Cox, Director Environment and Planning and Julie Vaughan, Director Community and Recreation Services are leaving the organisation effective close of business on Friday 26th November 2021.
Two interim positions have been appointed for an approximate three-month period whilst Council undertakes a recruitment process. Mr Brian Bell will act in the role of Director Community and Recreation Services and Mr Farmer will shortly appoint a person to act in the role of Director Environment and Planning.
"The challenges that Central Coast Council have faced over the past few years have been well documented. Over the past 12 months drastic action such as emergency loans, deep cost-cutting and rate increases have had to be implemented to ensure that the Council could continue to deliver service to the community. Council is now back on track financially meeting all major milestones and targets in its recovery plan," said Mr Farmer.
"I sincerely thank Ms Vaughan and Mr Cox for their extended period of services to the Central Coast community, their extensive contributions to building a post-amalgamation new regional Council and in particular their roles in the very difficult financial recovery phase of this organisation over the past 12 months.
Pilot Of Specialist Approach For Sentencing Aboriginal Offenders
Eligible Aboriginal offenders will receive a more culturally-specific and community-based approach to sentencing, as part of a new pilot in the NSW District Court.
Attorney General Mark Speakman today announced the Walama List pilot will start operations in February 2022 at the Sydney Downing Centre District Court. Offenders will be drawn from Sydney, Parramatta, Campbelltown and Penrith District Courts.
"The Walama List pilot aims to bring more community involvement into the judge's sentencing process, building trust in the justice system and improving the diversion of Aboriginal and Torres Strait Islander offenders into critical support services that tackle the causes of offending behaviour," Mr Speakman said.
"This program harnesses the wisdom of Aboriginal Elders and respected community members in sentencing discussions, along with providing wraparound support services and intensive monitoring before sentencing.
"We're working hand-in-hand with Aboriginal communities to address the disproportionate rates of Aboriginal incarceration, drive down reoffending and find solutions that work."
Minister for Aboriginal Affairs Don Harwin said this pilot will support the whole-of-government commitment to improving the lives of Aboriginal people under the National Agreement on Closing the Gap.
"This groundbreaking initiative goes to the heart of our commitment under the National Agreement, by embedding Aboriginal customs and learnings into the justice system and supporting Aboriginal people to drive better outcomes."
Chief Judge of the District Court, Justice Derek Price AO, said the Sydney Walama List pilot is the next step in the District Court's commitment to developing a Walama Court, and with it, culturally appropriate responses in sentencing Indigenous offenders.
"The support of the Attorney General and funding for the pilot enables the essential involvement of Elders in sentencing conversations and importantly for Elders to be remunerated for their participation," Justice Price said.
"The pilot will be capably managed by her Honour Judge Dina Yehia SC, who brings all of the knowledge from her role as Chair of the Walama Court Working Group and from years of working with Aboriginal legal services early in her Honour's life in the Law."
The Walama List pilot will operate one week per month with the capacity to accommodate up to 50 participants at a time. Offenders who plead guilty can participate in a tailor-made program that includes drug and alcohol treatment, counselling and other therapeutic supports prior to being sentenced.
The Aboriginal Services Unit (ASU) in the Department of Communities and Justice will provide on-the-ground support for the operations of the pilot.
Director of the ASU, Edwina Crawford, said the pilot will build on the success of other Indigenous sentencing courts across NSW, which have been shown to reduce the risk of reoffending and improve community confidence in the criminal justice system.
"We know from the success of
Circle Sentencing
that sharing decision making between Aboriginal people and the judiciary can transform formal court proceedings and have a profound and lasting impact on offenders," Ms Crawford said.
Certain offences including prescribed sexual offences and a range of serious violent offences are excluded from the pilot.
Participants receive ongoing supervision by caseworkers, Community Corrections and the Walama List judge to ensure compliance with program conditions.
$50 Million To Play, Splash And Roam
NSW is set for an outdoor renaissance this summer, with the Government providing $50 million in new and improved parks and public spaces.
Premier Dominic Perrottet said the Government's economic recovery package would result in more places to play, splash and roam.
"We're setting aside $50 million for new places to swim or paddle, improved play spaces, and more trails that connect communities to their parklands," Mr Perrottet said.
"With Greater Sydney offering some of the most beautiful river, lake, and bushland environments, this package will mean everyone can discover more of the hidden gems in their own backyard.
"Lockdown showed us that we need more public spaces that are better connected with more recreation facilities, and that's exactly what this funding will help achieve."
Minister for Planning and Public Spaces Rob Stokes said the $50 million investment would go towards adventure, nature, and water play opportunities.
"While lockdown is over, it highlighted that people living closer to the coastline have far more natural swimming spots than those living in our west," Mr Stokes said.
"This program will create new opportunities to dive into places like our stunning harbour, Parramatta or Nepean Rivers, take a hike in the bush, or ride along a new nature trail."
"Children will have more opportunities to play and connect with nature and there'll be funding to create more community garden and greenway projects for everyone to enjoy."
The Government's $50 million Open Space program includes:
Places to Swim ($16.7 million): New swimming and kayaking locations across Greater Sydney's lakes, rivers, and harbour
Places to Play ($16.7 million): Additional public open spaces for play and adventure, for people of all ages, abilities and backgrounds across NSW
Places to Roam ($16.7 million): New and upgraded regional trails, better active transport corridors, and connected bushland, parks, and gardens across Greater Sydney.
Expressions of interest (EOIs) are being sought from Metropolitan Greater Sydney councils and eligible NSW Government agencies and entities
for pilot projects
that can commence immediately.
Applicants will be able to submit an EOI via a link on the website from 15 November 2021. Submissions will need to be submitted by 4pm Friday 30 November 2021.
Applications for round 1 grant program for Places to Swim will open 15 November 2021 and close 4 March 2022 at 4pm.
Developer Contribution Transparency A Good First Step; More To Do
A state-wide council campaign to ensure communities do not miss out on important local infrastructure is delivering results, with the NSW Government today going public with the detail of the proposed changes.
Local Government NSW President Linda Scott said the NSW government today placed its proposed Infrastructure Contributions Package on public exhibition for analysis and feedback from councils, property developers and communities.
"This is a real improvement on the rushed and secretive way this proposed package was last month pushed through the lower house of Parliament, buried in other legislation," Cr Scott said.
The Environmental Planning and Assessment Amendment (Infrastructure Contributions) Bill 2021 which passed the lower house gave no guarantees that contributions would be spent where they are collected.
"Infrastructure contributions are made by developers and are a critical co-funding measure to deliver footpaths and cycleways, parks, playgrounds, playing fields, skate parks, basketball courts, libraries, childcare centres and public pools – even street lighting, stormwater and drainage facilities," Cr Scott said.
"The community expects local infrastructure funds to be invested locally; no-one wants to see infrastructure funds hoarded for potential pork-barrelling."
More than 200 mayors, councillors and general managers came together last month to express outrage at the proposed reforms – described by the development body Urban Taskforce as a "tax grab".
LGNSW subsequently launched the Say No To The Contributions Cash Grab campaign, with 67 councils already passing minutes condemning the proposed changes.
"We need the Government to commit in the legislation that infrastructure contributions will be allocated fairly, transparently and locally.
"We need written, legislative guarantees the no council or community will be worse off as a result.
"As these government reforms have switched developer contribution payments to the end of a project, councils need funding to continue their infrastructure program, ensure jobs aren't lost and parks and playgrounds continue to be built.
"I thank the Minister for continuing to work with LGNSW to ensure no council is financially worse off under these reforms."
Australian Seabird Rescue Calendar 2022 + Sea Turtle Hospital Expansion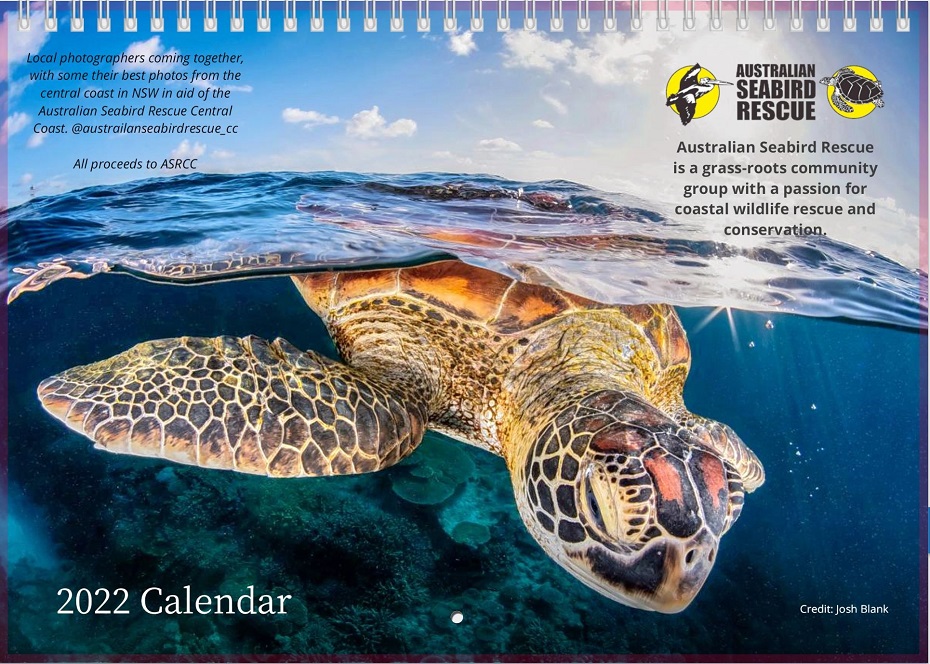 In 2022 Australian Seabird Rescue are aiming to rebuild and expand our Sea Turtle Hospital due to the rapid increase in sea turtle strandings in NSW.
We are starting our first fundraising campaign to help us get us there -
Raffle Raffle Raffle! Who doesn't love a good raffle and wait until you see the prizes.
1st prize - 3 night stay at Elements of Byron for 2 people
2nd prize - 2 tickets for Out of the Blue Adventures, Ballina.
3rd prize - A night in the spa room for 2 at the Ramada Suites, Ballina.
How to purchase a ticket online
- Scroll down and select the number of tickets you would like to purchase followed by Buy Now
- And follow the payment details.
If you wish to contribute to this project another way please head to our website to donate.
The raffle will be drawn 31st Jan 2022.
Grants Available For NSW Small Business Month Events
The NSW Government is helping small businesses bounce back from the pandemic with up to $640,000 in grants available to help organisations host events to generate new ideas and connect with fellow entrepreneurs.
Grants of up to $2,500 for local councils and $3,500 for chambers of commerce, industry associations and not-for-profit groups are available to help them organise events for the fifth NSW Small Business Month in March 2022.
Member for Manly, James Griffin said Small Business Month was a unique opportunity to help the State's hardworking small business owners by offering events that teach them new skills and inspire them with new ideas.
"Small businesses have been tested like never before with drought, floods, bushfires, the mouse plague and COVID-19. They've made enormous sacrifices to get where we are today and I want to acknowledge their hard work, effort and resilience," Mr Griffin said.
Minister for Small Business, Damien Tudehope said the theme of this Small Business Month was `Rebuild, Recharge, Renew'.
"This reflects the Government's determination to help small businesses recover and build a brighter, stronger future.
"The skills, resilience and ambition of NSW small businesses are vital to our economy and our communities," Mr Tudehope said.
Applications for event grants open on 1 November, and must be submitted by 10 December
with organisations encouraged to get online, review the grant guidelines and start preparing applications now. Grants are competitive and applications will be assessed against the published criteria.
The events must adhere to the relevant NSW Health advice, including having a COVID-safety plan, registration of all attendees, limiting the number of people in the venue, and attendees to remain seated as required at all events.
Further details on how small businesses and supporters can participate in NSW Small Business Month will be released in the coming weeks. For more information visit:
smallbusinessmonth.nsw.gov.au
Pittwater Community Groups:
JP Public Register
You can find a Justice of the Peace (JP) using the online Public Register. You can search by postcode, name of a JP, day of availability, language spoken and JP registration number.
The register lists a JP's location, availability and telephone number. Please note that JPs are volunteers and may not be available at all times.