July 12 - 18, 2015: Issue 222
Manly Warringah Netball Association


Manly Warringah Netball Association Celebrates 50th Year
On Friday July 3rd 2015 over 200 people gathered to celebrate the 50th Year of the Manly Warringah Netball Association (MWNA) at Miramare Gardens. The Manly Warringah Netball Association has over 5000 members and fields 519 Teams in the primary Winter competition.
This is an across the community family and an Association that is supported through sponsorship by community businesses that recognise how much MWNA contributes to community – and not just through love of the game and all that fosters and maintains in girls and women through promoting sportsmanship, good health and friendships that last a lifetime.
An example of this is the Gala Day open to 8yrs-15yrs, on behalf of Bear Cottage, on Sunday 26th July, 2015 to be held at John Fisher Park, Abbott Road, Curl Curl. First game commences at 8:30am sharp. Find out more here
The Manly Warringah Netball Association has contributed to the National game of Netball too, with Australian Representatives among its Members:
Australian Representatives
Australian Open Representative Players
Therese Kennedy
Anne Sargeant (Simmonds) OAM
Karan Smith (Bullock)
Wendy Glassman (Etherington)
Carissa Tombs (Dalwood) OAM
Mo'onia Gerrard
Australian Open Umpire
Maureen Boyle OAM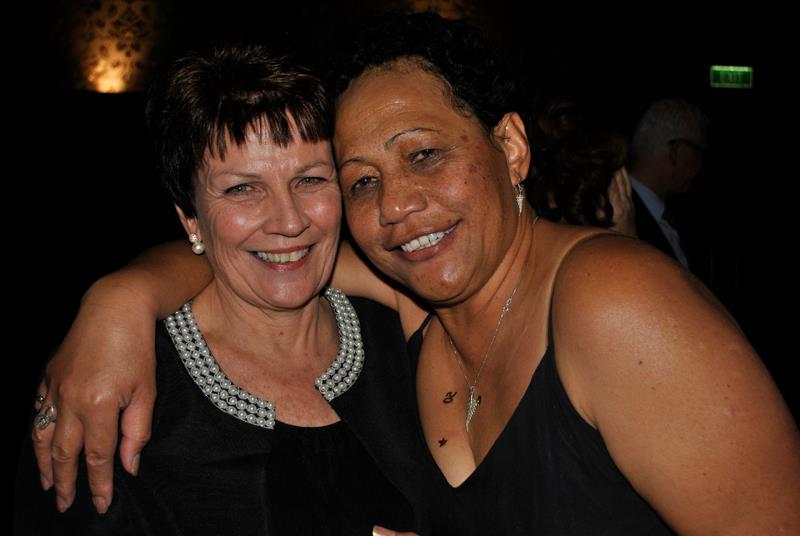 Maureen Boyle and Jo Trower
Australian U21 Representative Players
Wendy Glassman (Etherington)
Shelley Oates
Kellianne O'Shannassy (Ruddy)
Carissa Tombs (Dalwood) OAM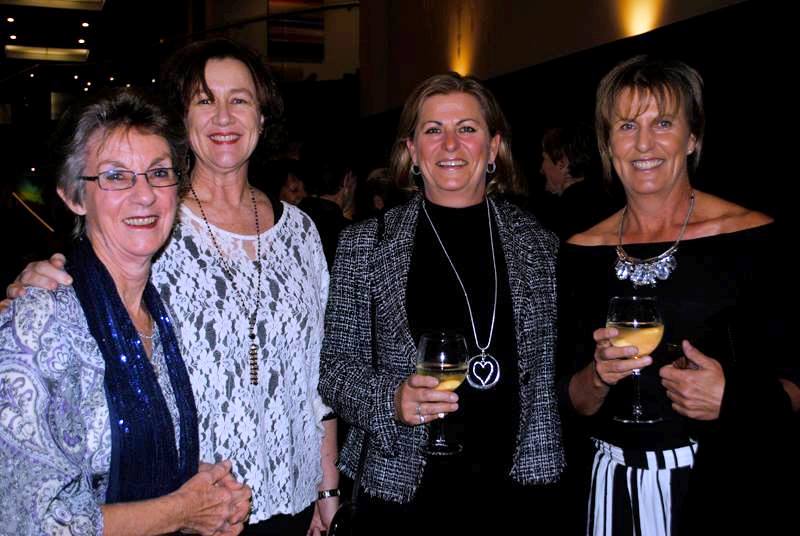 Margaret Cliff, Wendy Glassman, Cathy Meaney, Jenny Miller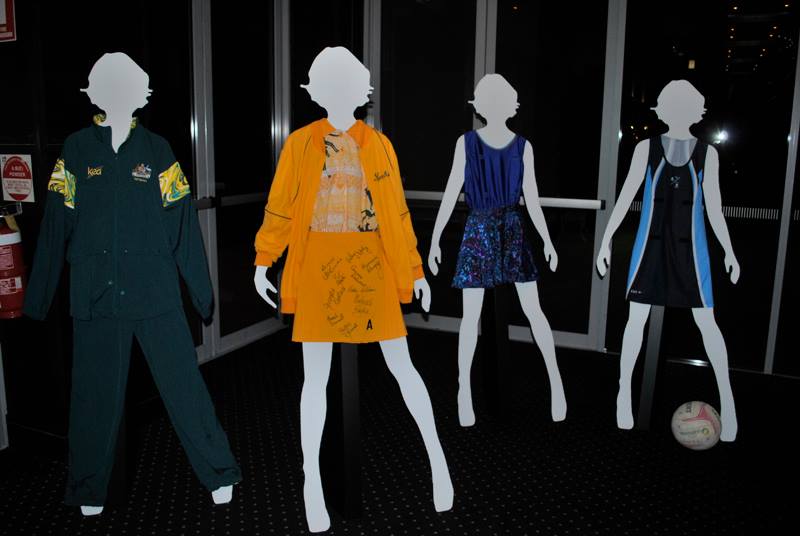 Representative Uniforms on Display at 50th MWNA Celebratory Dinner
Life Members
1965 Mrs. Marie Dundon (Devlin) dec
1971 Mrs Joy Lister
1976 Mrs Jean Gee OAM (dec)
1976 Mrs Pam Hall (dec)
1976 Mrs Beryl McDougall (Foder)
1978 Mrs Joan Alderson
1978 Mrs Evelyn Langbein
1979 Mrs Betty Hayes (Bushnell)
1984 Mrs Marjorie Simmonds (dec)
1985 Mrs Vera Wiltshire OAM
1986 Mrs Anne Sargeant OAM
1987 Mrs Clare Loughland (dec)
1988 Mrs Gwen Winsor
1990 Mrs Nancy Etherington
1993 Mrs Roz De Luca OAM
1993 Mrs Coralie Newman OAM
1996 Mrs Carissa Tombs OAM (Dalwood)
1998 Mrs Margaret Cliff
1999 Mrs Maureen Boyle OAM
2000 Mrs Noni Greentree
2000 Mrs Pat Wallace
2001 Mrs Helen Dean
2002 Ms Colette Longley
2007 Mrs Denise Booth
2007 Mrs Karan Smith
2008 Mrs Aileen Brodigan
2008 Mrs Beverley Dew OAM
2010 Mrs Maureen Stephenson OAM
2012 Mrs Jane Hauser
2012 Mrs Jean Williams
2013 Ms Debbie Philipson
Anne Sargeant, Maureen Boyle, Evie Langbein and Noelene Helman at 50th Celebrations
From Net Set Go to Talent Squad, Development Squads, State Age Teams, and Umpiring, the Manly Warringah Netball Association has worked hard for decades to serve its membership from its beginnings and into the future. On Wednesday, July 8th, the Manly Warringah Sapphires Premier League netball team was officially announced tonight as one of the eight licensees of the new Netball NSW Premier League (NNSWPL) competition.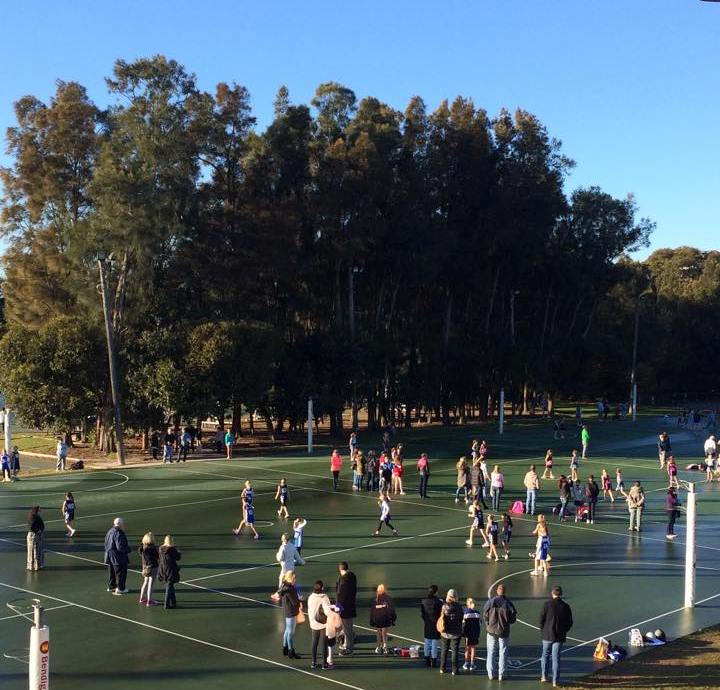 ANZ NetSetGO games underway in perfect conditions, July 11th, 2015 — at Manly Warringah Netball Association.
For the 25th Anniversary, Foundation Member, Mrs. Pam Hall documented her recollections on the history of Netball on the Northern Beaches.
Some excerpts from this work:
'For many years, as early as the 1930's, girls had been travelling to the City, Moore Park, University Park and Raleigh Park to play their games of Women's Basketball under the control of the NSW Women's Basket Ball Association.
By the 1950's the number of players had greatly increased and a few of us from West Dee Why Club were becoming very unhappy with all the travelling we had to do to play the game we loved. On seeing the number of girls travelling, the idea began to form in the minds of a few to try and do something about starting a competition in our own Manly Warringah area.
During the off season of 1954-55, Iris Gracie (Kavanagh) and I sat down and composed a letter which was sent out to all the Surf Clubs, Ladies Swimming Clubs, a few factories, the large department stores in Manly, North Shore Gas Co., Electricity Co., the few Girls High Schools, in fact anywhere we thought there might be seven girls who would be interested in forming a team.
Players were told to turn up at Manly District Park on a given Saturday and there they were pushed and shoved around the courts(three of which had been allocated top us by the Council) until they began to learn the basics of the game. From there they were placed into teams and 'graded'.
We approached the NSW Association and had meetings with delegates from the Executive Committee who did their best to talk us out of forming our own competition, pointing out how bad the competition would be, but they had not reckoned on our determination. Miss Anne Clark, President of NSW at that time, finally realised we were serious and approached a lady she knew from QLD who had retired from the Basket Ball administration up there and settled in Sydney.
This lady was Mrs. Marie Dundon (Devlin) who agreed to act as President of Manly Warringah for a year to guide us in the right direction. Mrs. Dundon remained at he helm for the 11 years we played as a basket ball group. Iris Gracie became the first Secretary and remained in that position for a few years.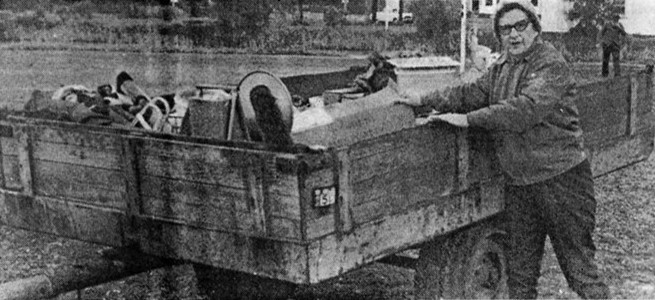 Marie Dundon - appointed first President, can be seen packing up after the courts at Manly District Park (Nolans Reserve) flooded, a common occurrence in the early days with heavy rain.
Disregarding all advice and opposition we commenced our competition in 1955 with 11 teams. The standard of play was very mixed as a lot of players had never played before, but with the help and coaching of we more 'experienced' players, we ran our own comp. and enjoyed our games and exercise and what's more, we had a lot of fun. It is interesting to note here that very few of the girls travelling to the city at the same time as the West Dee Why players joined us in the Manly Warringah competition at the start, although some did at a much later date.
There were lots of meetings and behind the scenes work to finally get us started and this is where our Thanks has to go to Marie Dundon.
The group continued to grow slowly but surely over the next few years and by 1959 we had approximately 17 clubs and about 30 teams. As our standard grew our top team had to once again travel to the City to play other top teams from other groups which had been formed in various areas. This was a club team, not a chosen representative team. Junior and Intermediate teams were added to our Comp. in 1962 and greatly increased our numbers.
As our top team still had to travel to the City, the move was made to have Manly Warringah become an affiliated Association of the NSW Association.
1966 was our first year as Manly Warringah Women's Basketball Association with 93 Senior Teams and 205 Junior/Intermediate Teams, approximately 3000 members in all.
Mrs. Dundon stood down as President and in recognition of her works was elected our first Life Member.
Mrs. Joy Waite (Lister) was elected first President of MWWBBA and Mrs. Beryl McDougall (Foder) was first Secretary, Mrs. Iris Gracie acting as Assistant Secretary and Mrs. Laurel Heyson (Watts) was first Treasurer.
We had been allocated 13 courts at Jackson Street, Narrabeen, and grown to 36 courts at Manly District from the original 3. lights were installed at District Park and a night competition organised for 53 Teams. We played our Night Comp., at various locations; District Park, Narrabeen, Mona Vale, Narraweena and anywhere there was sufficient lighting.
Toward the end of the 1966 season our fist representative team was chosen and attended carnivals in their dark blue tunics and light blue blouses. Mrs. Jeanette Melville was appointed Coach/Manageress. I must point out here that a lot of discussions took place before our colours were finally chosen.
In 1967 we were provided extra courts at Curl Curl and officials controlled the game from an old tin workman's shed with great gaps in the floor. If you dropped anything it went right through and we had to get the 'littlies' to retrieve it from under the shed.
At other venues we worked from tents which had to be erected and then taken down and returned to the storage shed by the Duty Officer.
Original clubs still affiliated today are West Dee Why, Dee Why Beach, Collaroy Plateau, Seaview, Seaforth, Forest, Narrabeen (Swallows), Queenscliff and Narraweena.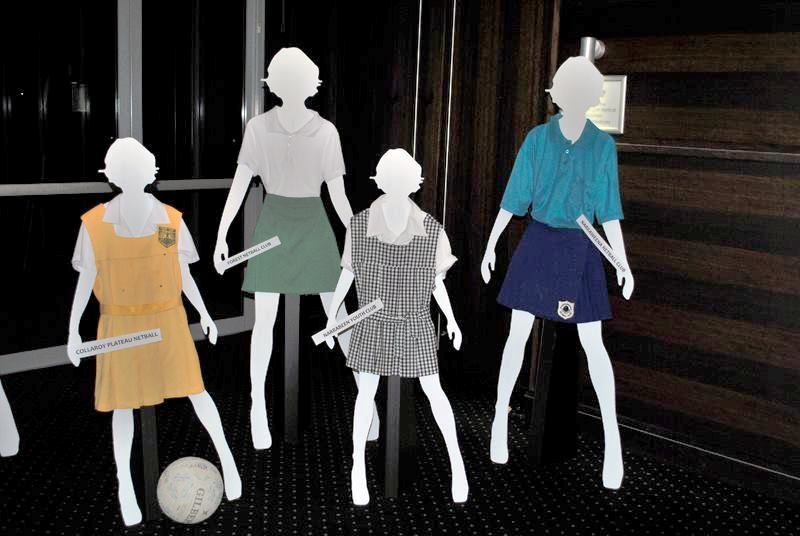 Some Foundation Clubs uniforms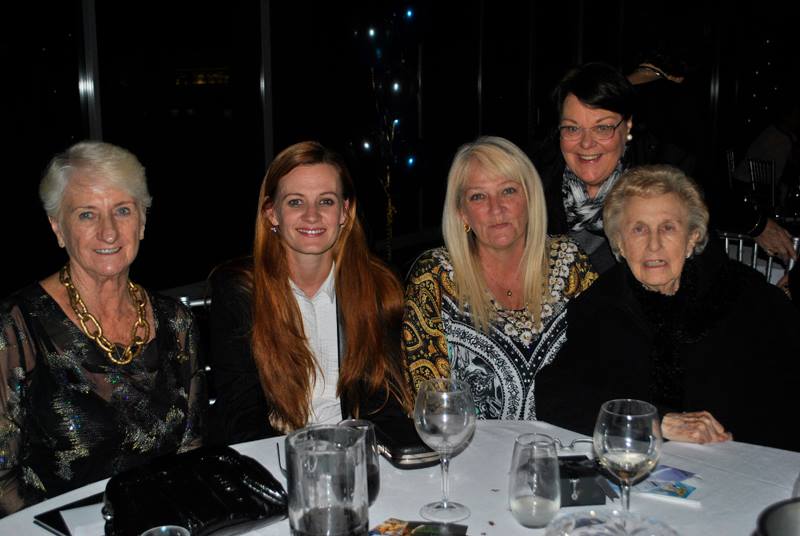 West DY

Collaroy Plateau NC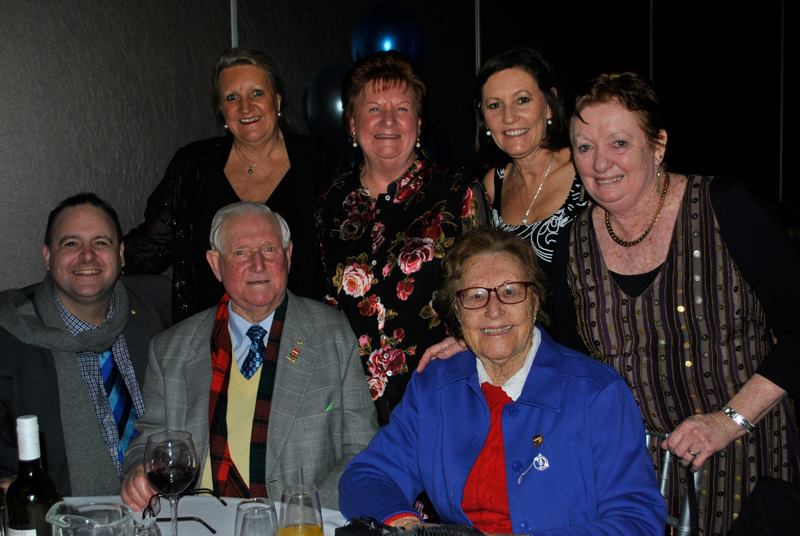 Queenscliff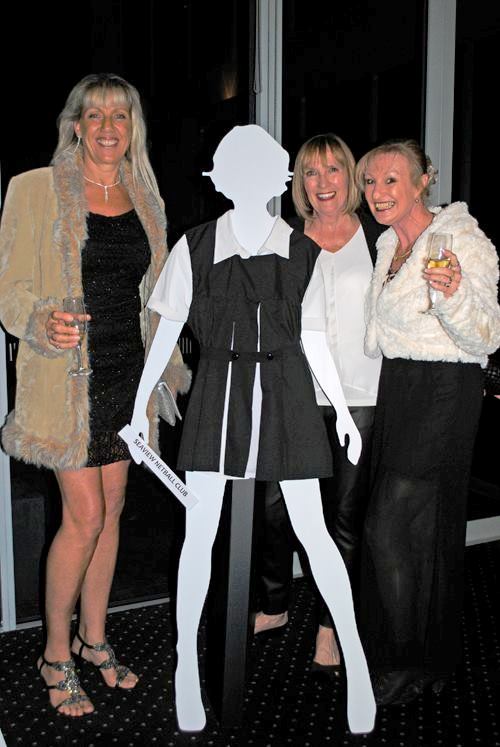 Seaview - currents girls with foundation uniform
Other clubs include: Allambie, Beacon Hill, Belrose, Comets, Cromer, Curl Curl Sports, Mona Vale Commodores, Narrabeen Youth Club, Newport Breakers, Pittwater Peninsula, St Lukes, Seaforth, Seaview, Valley United, Wakehurst.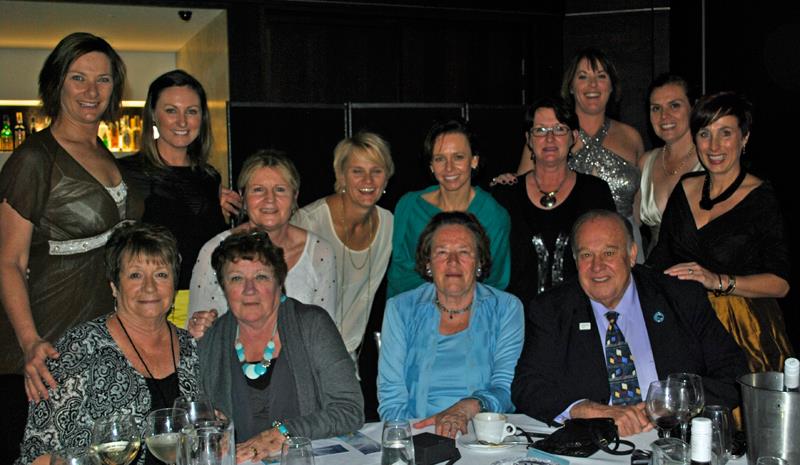 Allambie NC at 50th Celebratory Dinner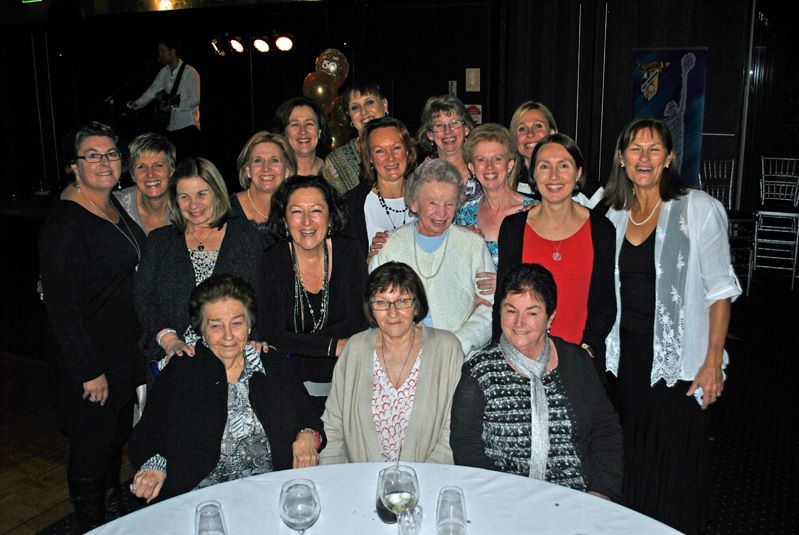 Curl Curl Sports at 50th Celebratory Dinner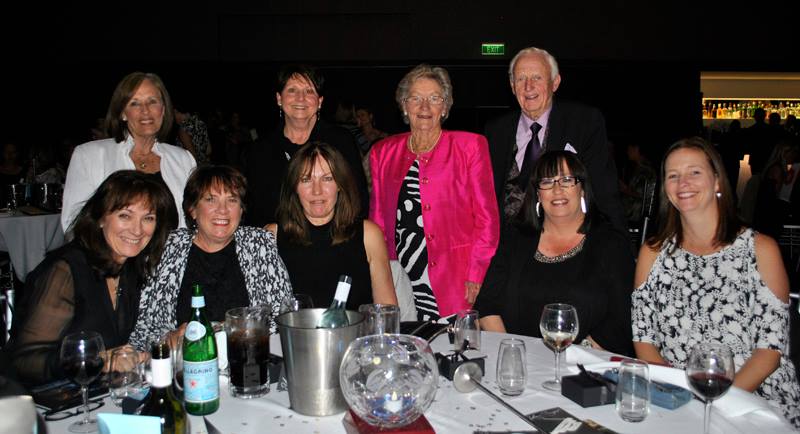 Wakehurst at 50th Celebratory Dinner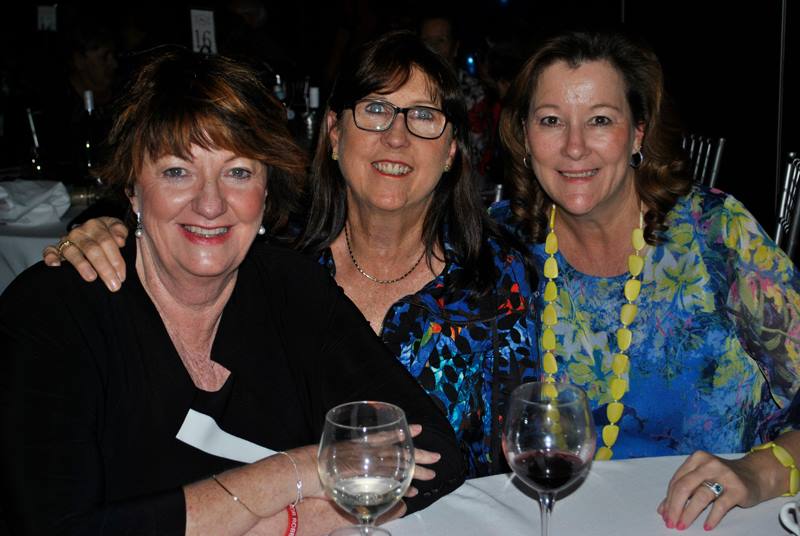 Denise Booth, Chris De Ceglie and Gail McDonough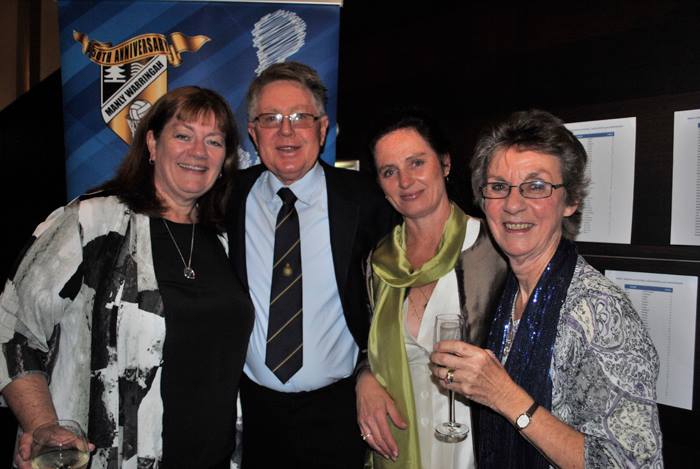 Deb Philipson, Mike & Suzanne Pawley, Margaret Cliff- Life Member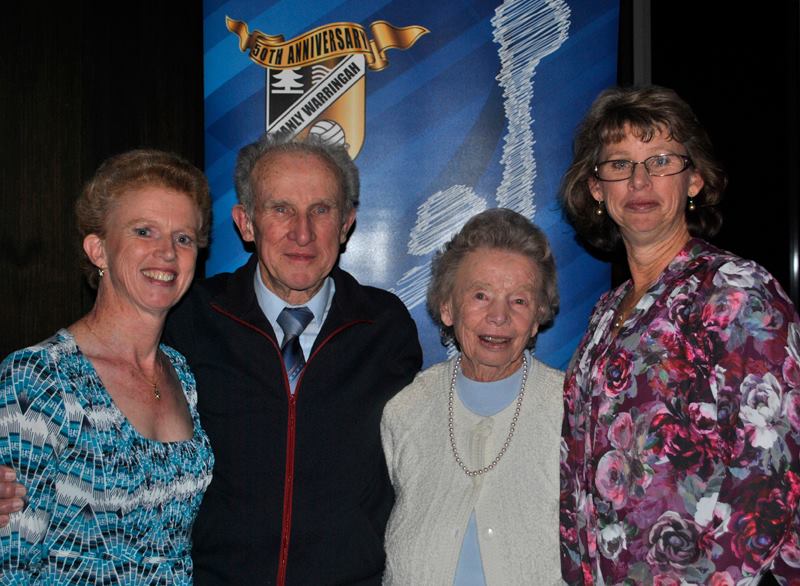 Greentree Family - Noni Greentree Life Member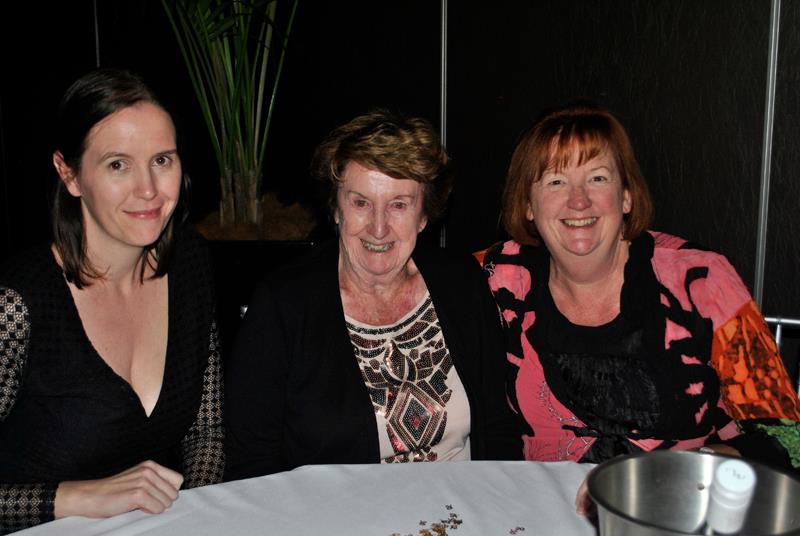 Katrina Hogan, Aileen Brodigan Life Member and Janene Palmer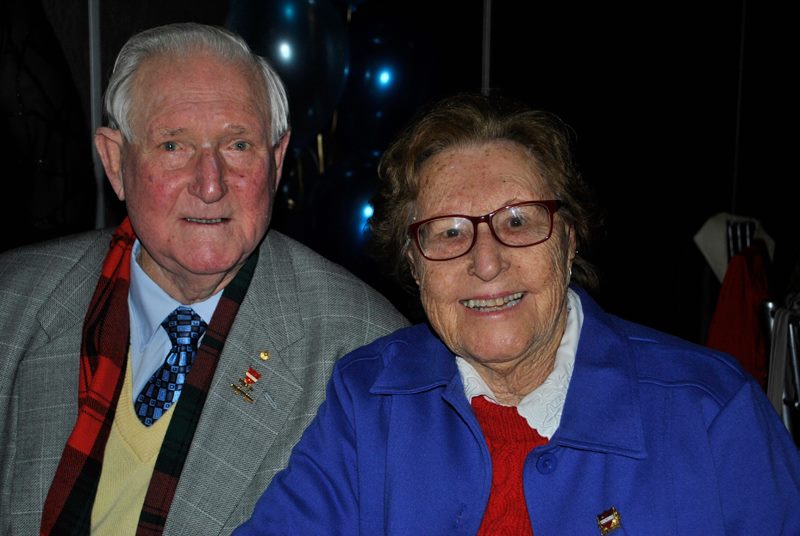 Les & Vera Wiltshire OAM: 'For service to netball'.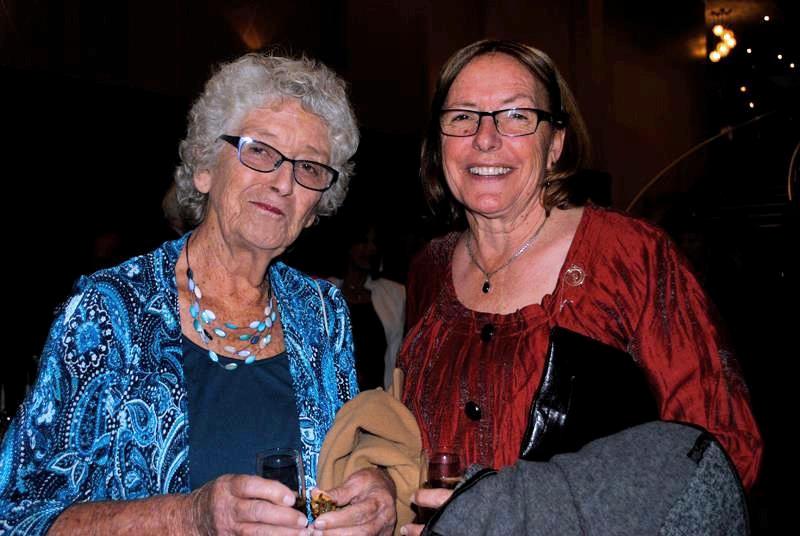 Noelene Helman and Jane Hauser - Past & Present Presidents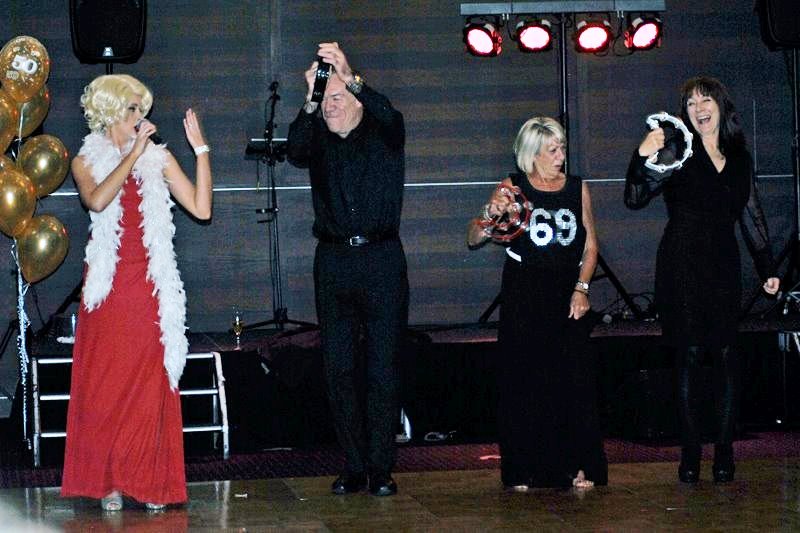 Diamond Divas with help from Pittwater's Robyn Friend and friends! - 50th Anniversary Celebratory Dinner.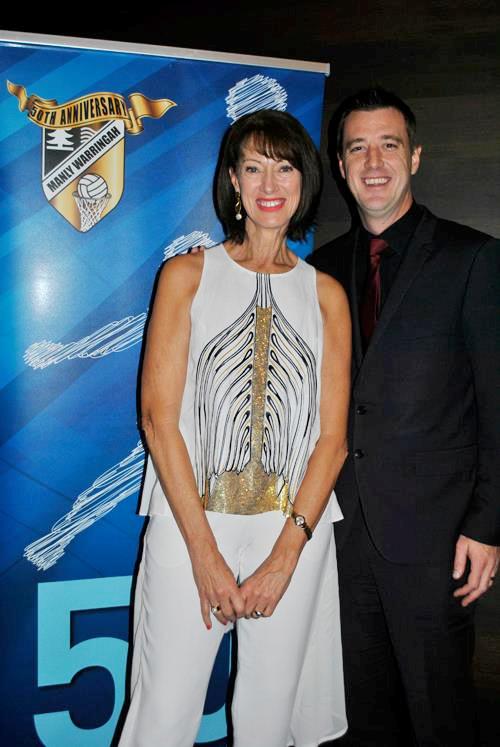 Anne Sargeant and Mayor of Warringah, Michael Regan - 50th Anniversary Celebratory Dinner.
Website: mwna.nsw.netball.com.au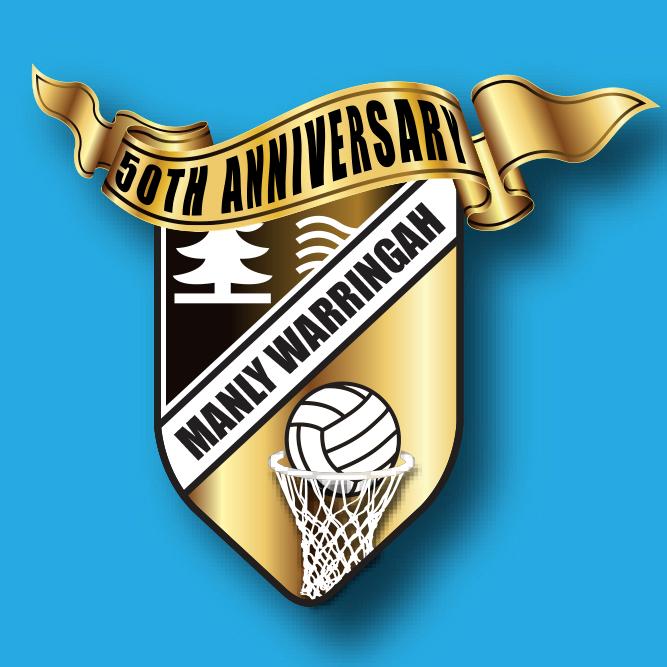 Extras
Netball NSW to introduce Netball NSW Premier League
July 8, 2015
Netball NSW this evening announced the introduction of the Netball NSW Premier League (NNSWPL) at a formal function held at the governing body's $35 million centre of excellence, Netball Central, Sydney Olympic Park.
The NNSWPL, which will commence in 2016, is a new competition to attract the best current and emerging talent within NSW. Its purpose is to offer a local, elite platform for players, coaches, officials and administrators, and provide bridging opportunities in to the Australian Netball League (ANL) and subsequent ANZ Championship.
Three years ago, Netball NSW proactively commenced an extensive review of its High Performance Programs, with the inclusion of such an elite competition in its pathway seen as a priority in the organisation's vision of producing State and Australian representatives.
"With participation and interest in netball at an all-time high, the introduction of the Netball NSW Premier League is an exciting development for the sport within New South Wales," said Netball NSW CEO and NNSWPL Commissioner, Carolyn Campbell.
"While we have, and will continue to run successful competitions, we see the Netball NSW Premier League playing a vital role in retaining our State's emerging and elite talent pool while providing the high level competition which aspiring athletes, coaches and officials require for higher accolades."
Through a robust application process, overseen by the NNSWPL Commission, the eight successful Franchises granted an initial two-year NNSWPL Licence are;
Blacktown City (Netball Association Incorporated)
Central Coast Heart (Incorporated)
Eastwood Ryde (Netball Association Incorporated)
Manly Warringah Sapphires (Premier League Netball Incorporated)
North Shore United (Limited)
Panthers (Premier League Netball Incorporated)
Sutherland Stingrays (Premier League Netball Incorporated)
UTS St George Sparks (Netball Association Incorporated)
The NNSWPL will be contested across two Divisions – Opens and Under 20s – with a Pre-Season tournament scheduled from 2 March through 23 March 2016, followed by the commencement of the 14-week regular season beginning 18 April 2016. The Finals Series will be contested over three weeks, with the Grand Final currently penned for week commencing 22 August 2016.
"I'm proud to say that more people play netball in NSW than any other State or Territory in Australia," said Netball NSW President Wendy Archer AM.
"Netball NSW is continually looking for ways to engage more people in our great sport, and to foster and support the ambitions of our members.
"The Netball NSW Premier League is a wonderful addition to our competitions calendar, and along with the eight Franchises, we look forward to delivering a competition which will be revered as the Premier State League in the country," concluded Archer.
With an official NNSWPL Launch scheduled for February 2016, Netball NSW and the eight Franchises are now engaging with the corporate sector to secure support ahead of the inaugural season.
All games in the NNSWPL will be played at Netball Central, the world's leading purpose built netball facility at Sydney Olympic Park.
_________________________
Netball emerged from early versions of basketball and evolved into its own sport as the number of women participating in sports increased. Martina Bergman-Österberg introduced a version of basketball in 1893 to her female students at the Physical Training College in Hampstead, London. The rules of the game were modified at the college over several years: the game moved outdoors and was played on grass; the baskets were replaced by rings that had nets; and in 1897 and 1899, rules from women's basketball in the United States were incorporated. Madame Österberg's new sport acquired the name "net ball". The first codified rules of netball were published in 1901 by the Ling Association, later the Physical Education Association of the United Kingdom. From England, netball spread to other countries in the British Empire. Variations of the rules and even names for the sport arose in different areas: "women's (outdoor) basketball" arrived in Australia around 1900 and in New Zealand from 1906, while "netball" was being played in Jamaican schools by 1909.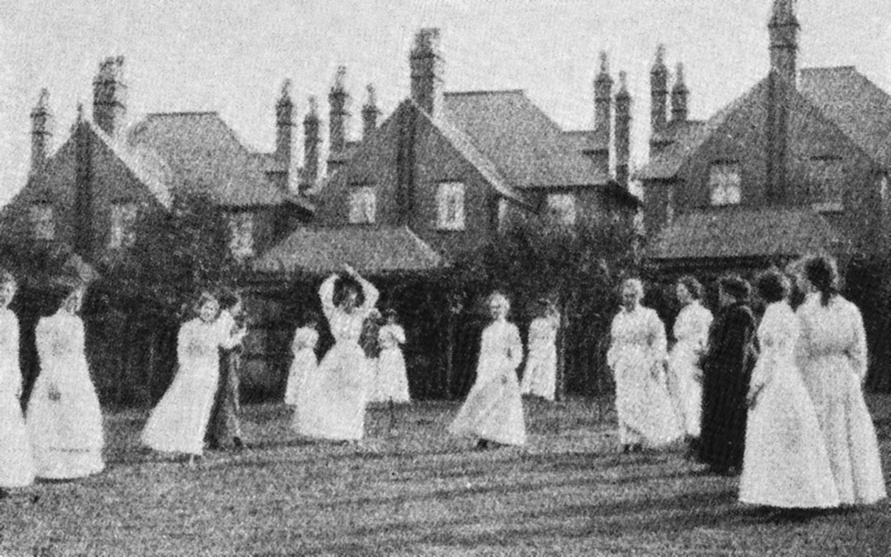 Women in England playing netball on a grass court, 1910 - Unknown - Published in All England Netball Association, Golden Jubilee book. Long skirt wearing netball players from Bournville Club in 1910.
School leagues and domestic competitions emerged during the first half of the 20th century, and in 1924 the first national governing body was established in New Zealand.[20] International competition was initially hampered by a lack of funds and varying rules in different countries. Australia hosted New Zealand in the first international game of netball in Melbourne on 20 August 1938; Australia won 40–11. Efforts began in 1957 to standardise netball rules globally: by 1960 international playing rules had been standardised, and the International Federation of Netball and Women's Basketball, later the International Netball Federation (INF), was formed to administer the sport worldwide. Representatives from England, Australia, New Zealand, South Africa, and the West Indies were part of a 1960 meeting in Sri Lanka that standardised the rules for the game.
In Australia, the term women's basketball was used to refer to both netball and basketball. During the 1950s and 1960s, a movement arose to change the Australian name of the game from women's basketball to netball in order to avoid confusion between the two sports.
Netball. (2015, May 28). In Wikipedia, The Free Encyclopedia. Retrieved from https://en.wikipedia.org/w/index.php?title=Netball&oldid=664462900
___________________________
WOMEN'S BASKET BALL. The following are the fixtures for to-day: Rozelle A. v Leichhardt, at Drummoyne (Mr. Wannan); Drummoyne v Chatswood, at Chatswood (Mr.Blanchard); Hunter Baillie v Rozelle. B., at Rozelle(Mr. - Gunn); Glebe v Parramatta, at Parramatta (Mr. Ramsay). WOMEN'S BASKET BALL. (1912, May 18). The Sydney Morning Herald (NSW : 1842 - 1954), p. 18. Retrieved fromhttp://nla.gov.au/nla.news-article15351352
BASKET-BALL: A GAME FOR ATHLETIC GIRLS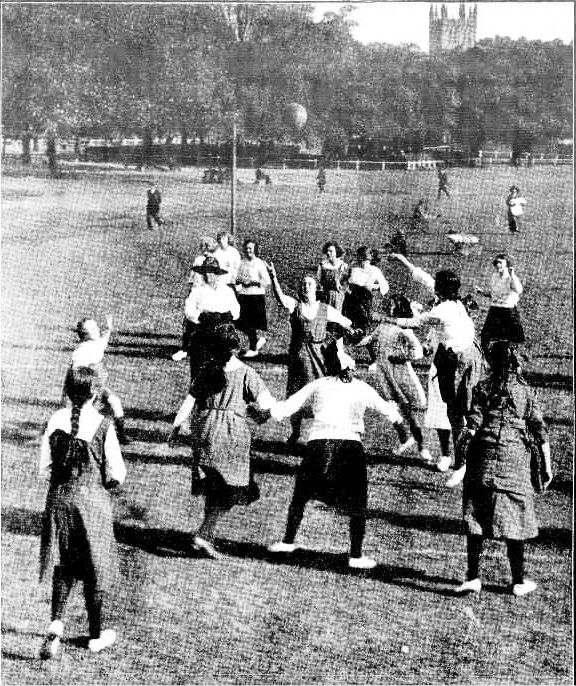 Many attempts have been made here and abroad to establish women's football clubs, but none of them has met with much success. Probably the latest effort in this direction in Sydney will prove just as ephemeral. Both Rugby and association football are too strenuous for women. For them basket-ball, which is making great progress in the State and High schools, is a much better game. Its rules are simple, its methods do not permit of roughness, yet it is strenuous and; exacting enough for any girl. Seven aside is the usual game, but sometimes teams are reduced to five or increased to eleven. Most of the players have to attack or defend within given areas, and each is responsible for the movements of her corresponding opponent. 1 here is only one free runner and one goal thrower aside. The ball is the ordinary association one. It is passed or thrown from player to player with a speed and vigour that afford plenty of excitement and plenty of scope for the development oi. initiative. The object is to throw the ball into a basket, which is elevated in the centre of the back line at each end. Our photograph shows one of the girls' school teams playing in the Domain. The game may also be played indoors, where the court may be anything from 75 to 150 feet long by 45 feet wide. BASKET BALL: A GAME FOR ATHLETIC GIRLS. (1921, June 15). Sydney Mail (NSW : 1912 - 1938), p. 5. Retrieved from http://nla.gov.au/nla.news-article159038953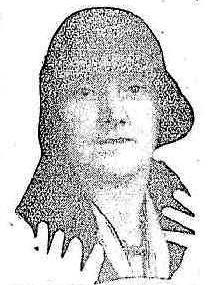 Basket Ball. MISS JEAN SPRUCE is the first president of the N.S.W. Women's Basketball Association, which was recently formed to linkup the various basketball and netball associations in New South Wales, and to play under the All Australian Women's Basketball Association Rules. She is a keen sports girl, well known on the forward line of the Vice-Regal hockey team, a member of the Centennial roller-skating hockey team, convener of the City Girls' Amateur Sports Association Basketball Club for the past two years, and manager of the State basketball team for1028. Her election as president was a popular one. Basket Ball. (1929, October 6). Sunday Times (Sydney, NSW : 1895 - 1930), p. 11. Retrieved fromhttp://nla.gov.au/nla.news-article131630803
Women's Basket ball. The annual report and balance sheet were presented to the general meeting of the N.S W Women's Basketball Association last night, and adopted. The season has been a most successful one, 32 teams competing in the grade competition. A gift, of £8 was voted to the Mrs. F.J. Davy Memorial Fund. Women's Basket ball. (1941, October 9). The Sydney Morning Herald (NSW : 1842 - 1954), p. 7. Retrieved from http://nla.gov.au/nla.news-article17768092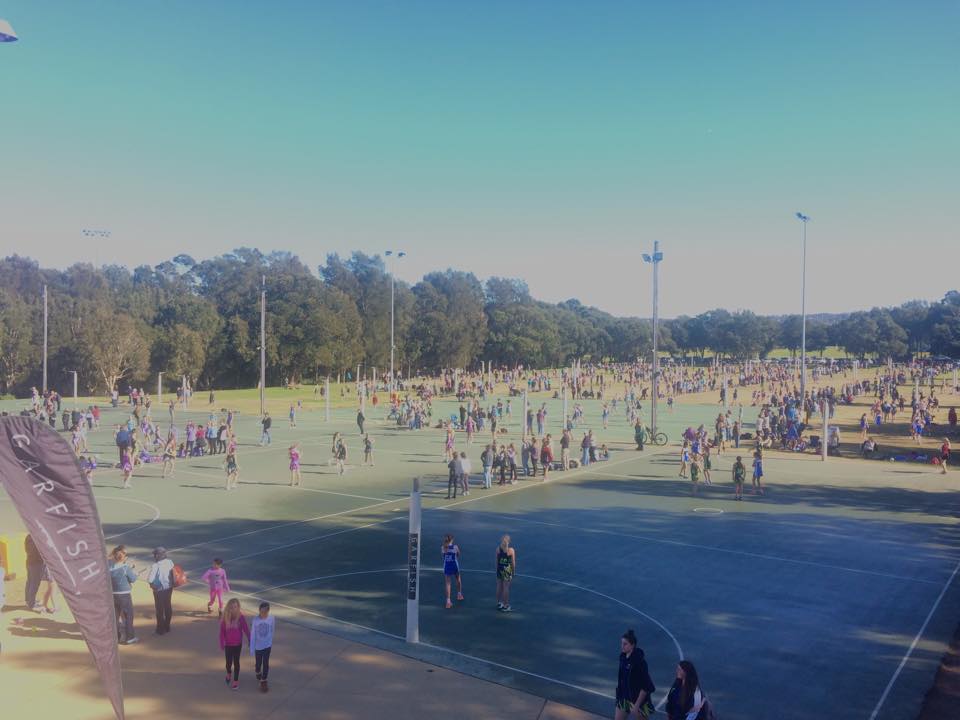 Manly Warringah Netball Association courts full - Saturday July 11th, 2015
Copyright Manly Warringah Netball Association, 2015.