October 11 - 17, 2020: Issue 469

NASA - North Avalon Surfriders Association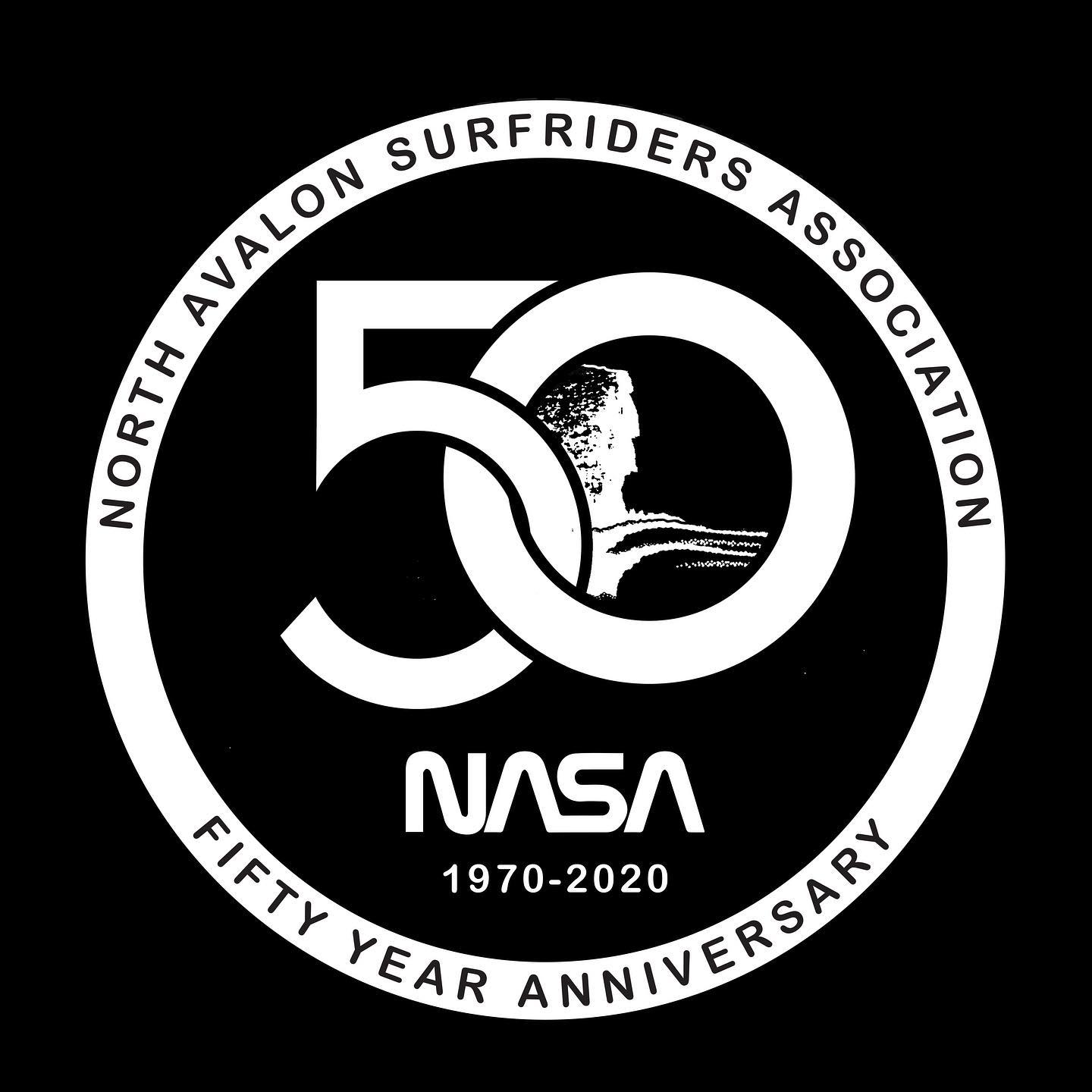 NASA - North Avalon Surfriders Association, is a local board riders surf club that runs monthly competitions across all age groups in Avalon Beach. NASA holds monthly local club surfing competitions for members on the last Saturday of every month from February to November. Email nasaboardriders@gmail.com for membership details.
In 2020 they are celebrating their 50th year with a get-together planned for 2021 and a book currently being worked on to share some insights into this great local club and its members. In the meantime, let's find out a bit more about NASA.
HUGE thanks to Phil Jones and all the team at NASA for answering the questions and putting together these photos.
When and how the club started?
NASA was formed in the summer of 1970, a few months after the Apollo 11 moon landing. The world was no doubt still buzzing after that amazing human feat, and our local boardriders club on the northern beaches of Sydney was named in honour of that mission.
The first meeting was held at the Avalon Community Centre, convened by Ron 'Captain' Ware, a direct descendent of Captain Bligh!
The main objectives for the club's formation were to nurture local surfing talent, establish monthly local competitions, enter teams in state and national competitions…and above all to have fun!
In its first year, the club entered the B-Grade division in the State Titles, and won! The average age of the NASA team was only 15 years of age.
Unfortunately, the success didn't last long, and within three years the fledgling NASA club folded.
However, in 1974 a new boardriders club was formed out of the ashes under the banner of North Avalon Boardriders, or NAB.
NAB ran successfully for a few years until 1977, when the club's committee decided to restore the original name, in honour of the club's founders.
Was there ever a clubhouse?
There's a house in Harley Road in North Avalon called the Sphinx. It is believed to be one of the first houses in North Avalon, and it has played a huge role not only for NASA but for surfing in Australia in general.
In 1963, the Sphinx's then owner Meryon Sumpter hosted a meeting that set up the Australian Surfing Movement (ASM). The ASM later became the Australian Surfriders Association (ASA), and now Surfing Australia, the country's official surfing governing body.
That first meeting of the ASM included some of the sports' pioneers and biggest names, including Midget Farrelly, Nat Young, Bob McTavish, John Witzig and Bob Evans.
The Sphinx became the official headquarters for the early Surfing Australia, and it was here that the first national surfing titles were conceived.
In 1970, the Sphinx was bought by John and Val Haymes. Coincidently, it was here that the North Avalon Boardriders club was formed by John and a bunch of locals including brothers Adam and David 'Wato' Watson.
The Sphinx became the official headquarters of the early NASA club, and money was raised by annual memberships and party nights at the house. Many live band nights were held in the backyard headlined by local band 'Bobby Sox', which included a number of local surfers.
As well as being the club's headquarters, the Sphinx was also home to John's surfboard shaping business, and a home away from home for a number of international surfing stars, including Reno Abellira, Greg 'Da Bull' Noll and Gerry Lopez.
John and Val still own the Sphinx today. Although he's stepped back from official duties at the club, many of the club's elders still consider the Sphinx as NASA's spiritual home.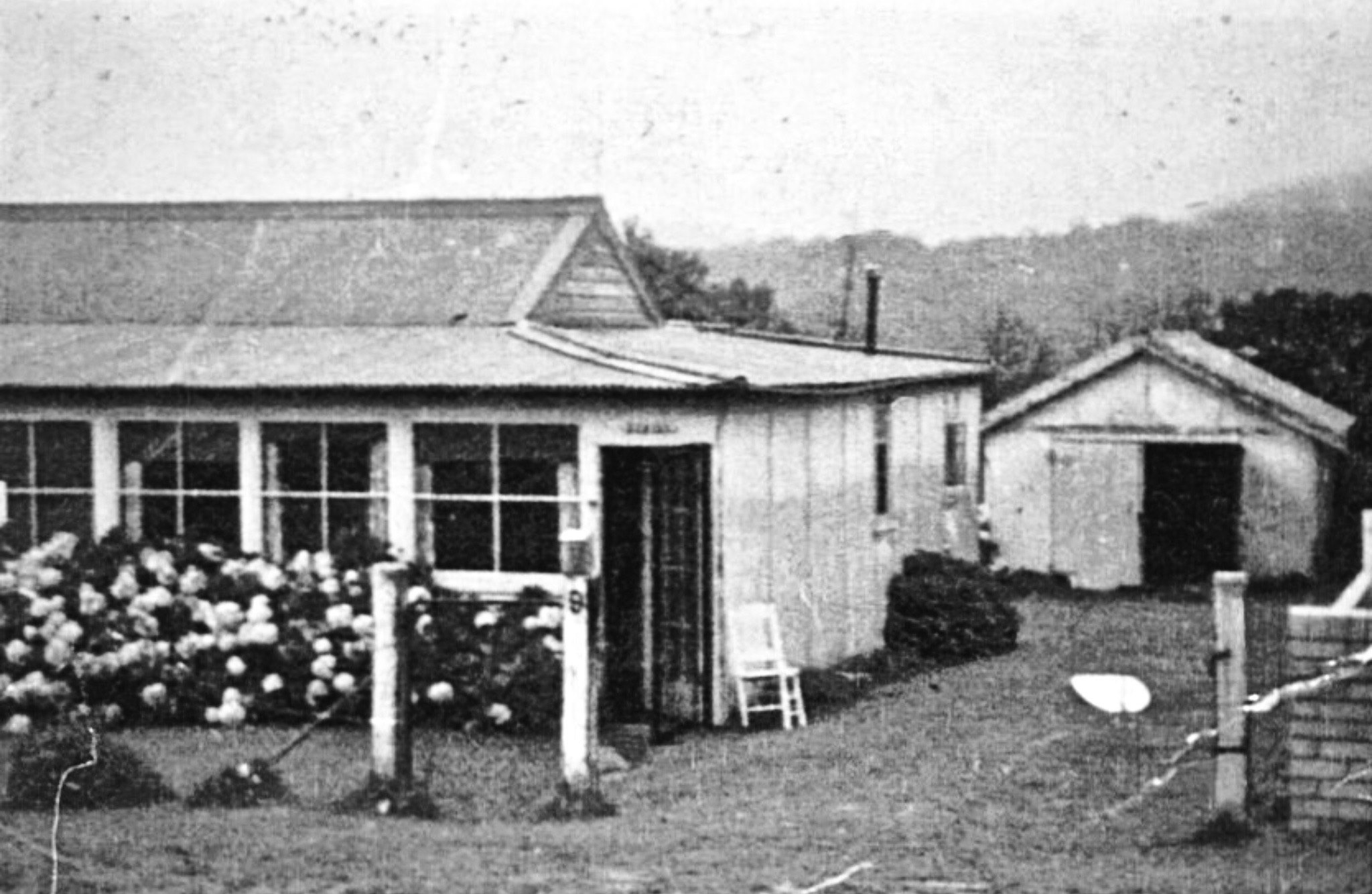 [Photo: The Sphinx, Courtesy John Haymes]
A bit about some founding members – and some who have helped develop local surfing industry:
In researching the book we're looking to create for the club's 50th anniversary, one thing that's become clear is that the history of surfing in Avalon, and north of the bends in general, is synonymous with the evolution of surfing in Australia, and has involved some of the sport's biggest names.
Midget, Nat, the Sumpters, Bob McTavish, John and Paul Witzig, Mick Dooley, Mick Mabbott, Pearl Turton, Captain Goodvibes, Barton Lynch, Martin Potter, Rob Bain, Michael Rommelse, Chelsea Georgeson – are just some of the names that have called this area home and have had a big influence on surfing in Australia. Even the GOAT himself, 11 times world champion Kelly Slater, has called Avalon home at some stage.
You could probably fill a book just on the life of NASA's founding President, Ronald 'Captain' Ware (1925-2011).
As a direct decedent of Captain William Bligh, Ron was a true waterman. He served in the British and Australian Navies during the Second World War and by the time he was just 18, had experienced the horror of having his ship blown out of the water several times. On one of those occasions, he spent 10 days floating on a raft off South Africa in shark-infested waters.
Ron began surfing in 1945. He was one of the original surf explorers, travelling to Bali and other exotic places before they were a thing. He later won a National Senior Title at Bells Beach, aged 45.
He later completed a masters degree in marine science, and in 1983 retraced the journey covered by Captain Bligh after the infamous mutiny on the Bounty. He did the journey in a boat that Ron built himself.
John Haymes, who resurrected the NASA club from that early stumble, was the club's longest serving President, from 1974 to 1990. John was instrumental in building the club into a (semi) professional organisation, while making sure that its roots were founded in community and good times.
David 'Wato' Watson has also been around since the beginning, and is still a big part of the club. Beach Without Sand, the surf shop empire run by Wato and Chris 'Kong' Friend, is the club's longest running sponsor, and is a massive part of the local surfing community in its own right.
The club was instrumental in some of the early surfing events here – a bit about those would be great:
It was before NASA started, but Avalon has played host to some really important events in the history of surfing in Australia.
Meryon Sumpter was instrumental in organising the first public demonstration of modern 'malibu' surfing in Australia, which took place at Avalon on Sunday 18 November 1956.
The event was put on by a group of Hawaiian and Californian surfers in the US Olympic team, who were on their way to the '56 Olympic Games in Melbourne.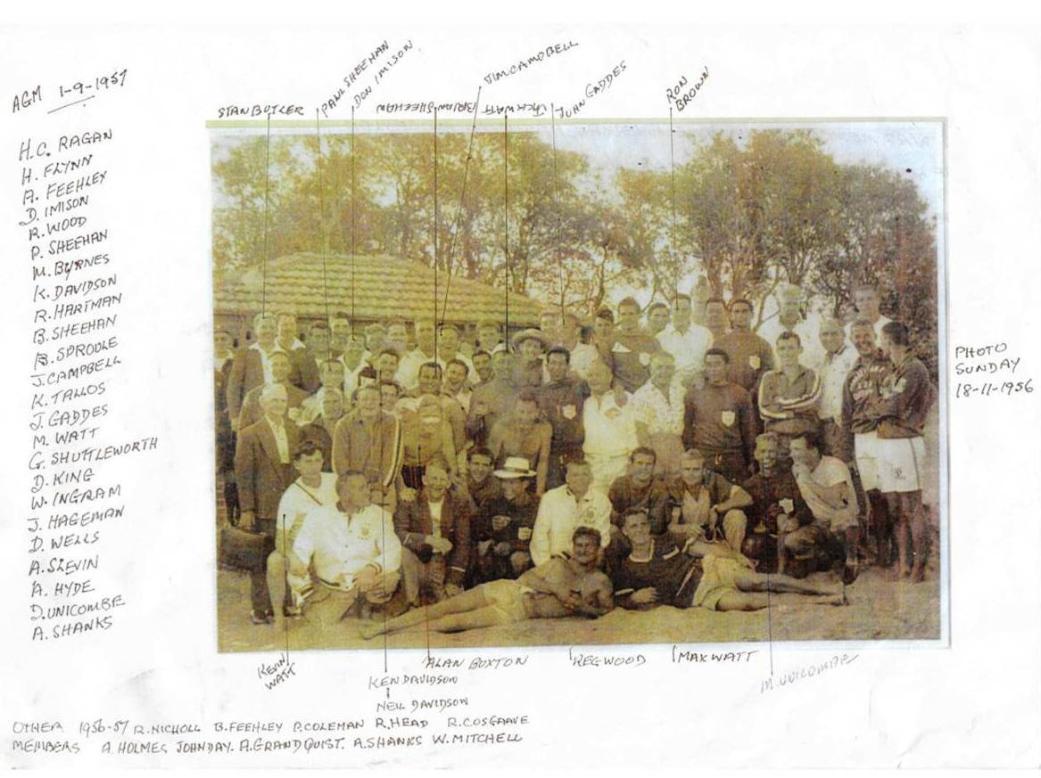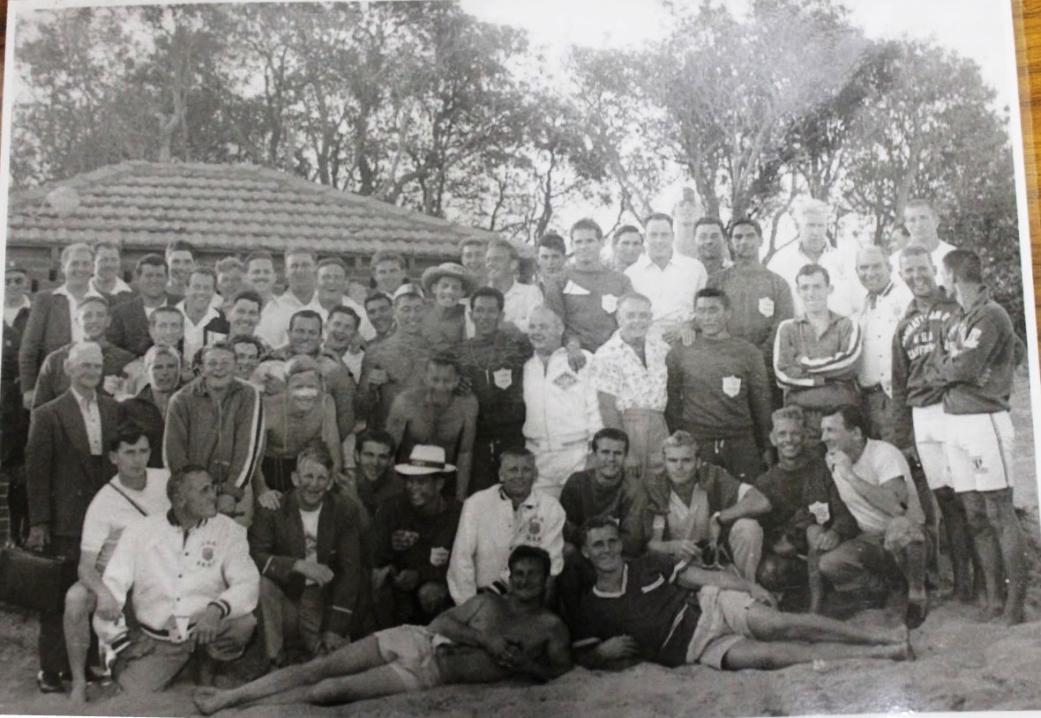 The post-Carnival photograph of Avalon Beach SLSC members and visitors. Courtesy ABHS.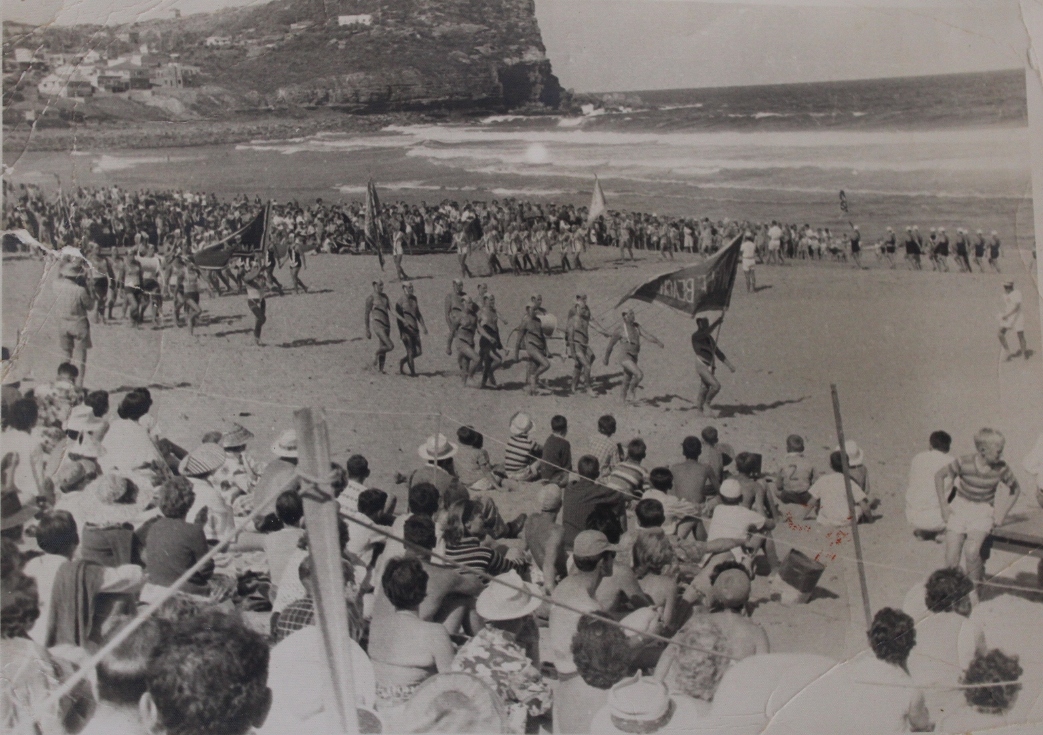 Avalon Beach SLSC Carnival Sunday, 18th Of November, 1956 - March Past - Whale Beach, NSW, Australia leads visiting American team (courtesy
Beryl and Don Imison
) - who also witnessed the display
Around 20,000 spectators turned out to watch the display. Amongst them was a 13 year old Bernard 'Midget' Farrelly. Midget later said that after watching the surfing that day, he made up his mind right there and then that he'd found what he wanted to do for the rest of his life.
Six years after that malibu demonstration event, in April 1963, the first national surfing titles were held at Avalon.
The event ran over two days and had senior and junior mens divisions and a ladies division.
The mens division was won by Doug Andrews, who had just won the second ever Bells Beach Classic. The juniors division was won by future world champion Nat Young, ahead of Avalon's Mick Mabbott and Rodney 'Gopher' Sumpter.
The ladies division was won by 16 year old Palm Beach beautician Pearl Turton.
The wins made all of these surfers into instant celebrities, with the 1960s surf mania in full swing. Gopher and Pearl even went on to have starring roles in the Aussie section of Bruce Brown's classic surf movie 'The Endless Summer'.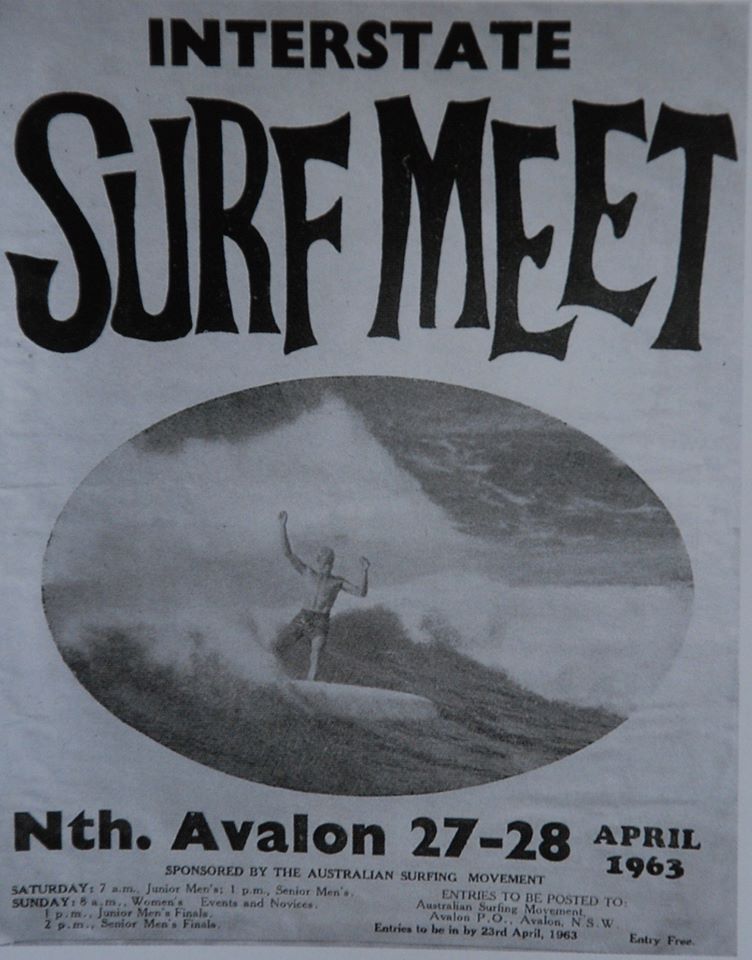 Photo courtesy Ron Turton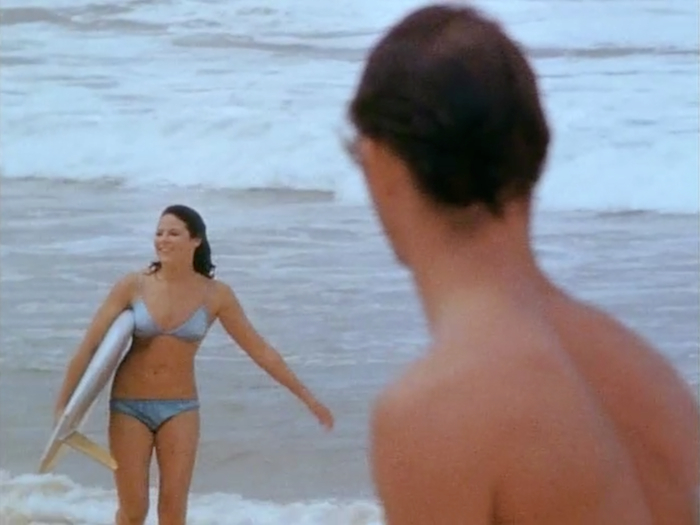 Pearl Turton in background - surfer Rob August in foreground at Palm Beach in a grab from The Endless Summer, 1964.
Knowledge of surfing's roots is also kept alive through such NASA events as the Retro (single fin) comp held a few years back, which younger members loved - why are these important?
Surfing has always had this internal conflict about whether it's a sport or an artform, whether it's about competition or escapism. That conflict was the key reason why the initial NASA club folded for a time in the early 70's, when the era of soul surfing arrived.
In reality, surfing is both of these things. And at its heart, NASA is all about community, respect, and fun.
We've been running these retro comps on and off for many years, going back to the 'Malibu Madness' and 'Iron Gut' comps in the 80s. I guess they are all about having fun, and paying respect to the surfing pioneers that have come before us. At the end of the day though, there's always a bit of healthy rivalry and competition that creeps into these fun days.
In recent years, we've been running a single fin comp in summer. We get a bunch of really old surfboards, mainly salvaged from Council clean-ups, and competitors have to spin a wheel to decide which of the boards they get to surf in the heat. It's not a completely fair playing field, as some of the boards barely float! Then again, it's always good when you get drawn in a heat against one of the opens division champions and he has to ride something that resembles a door.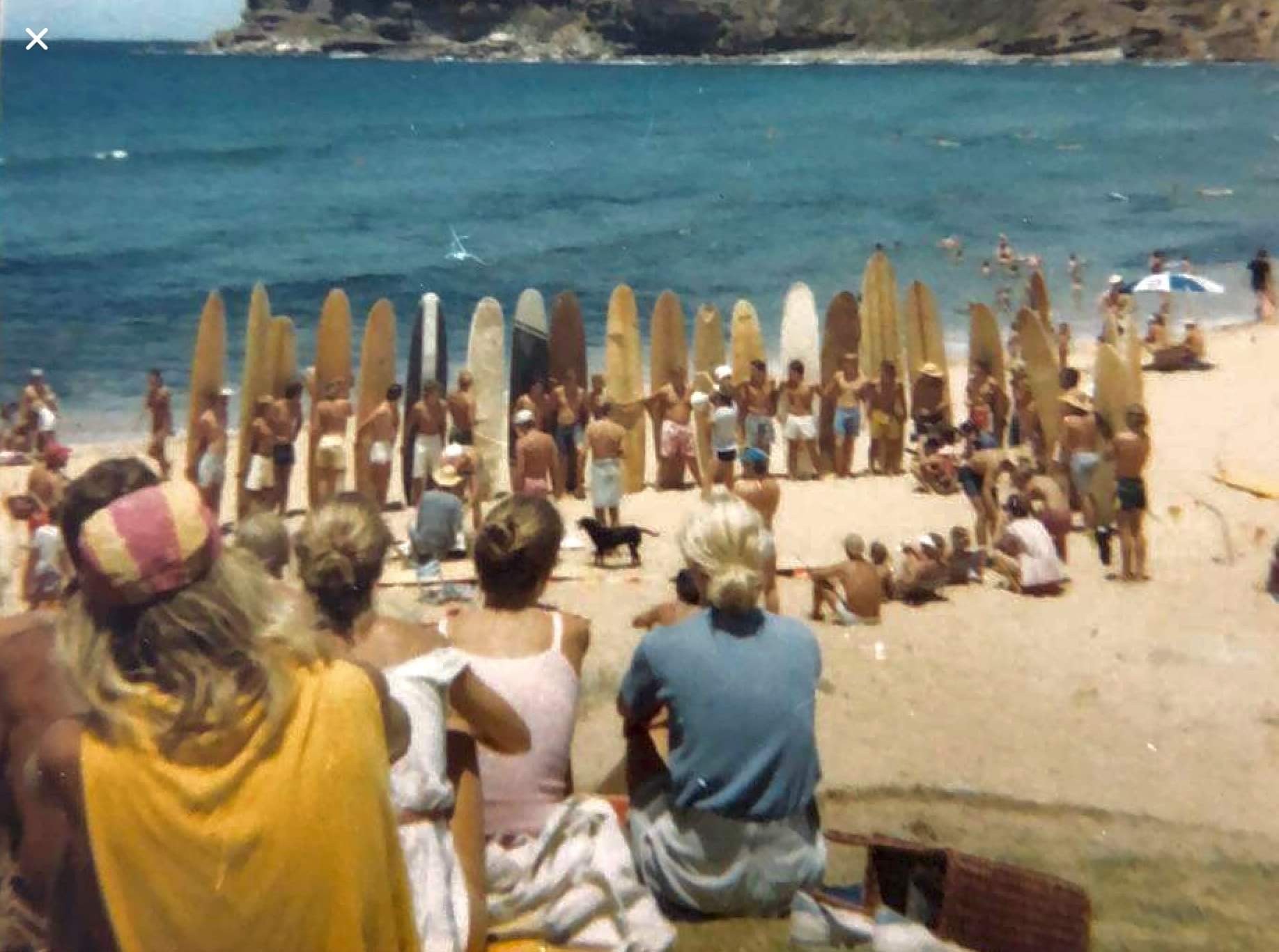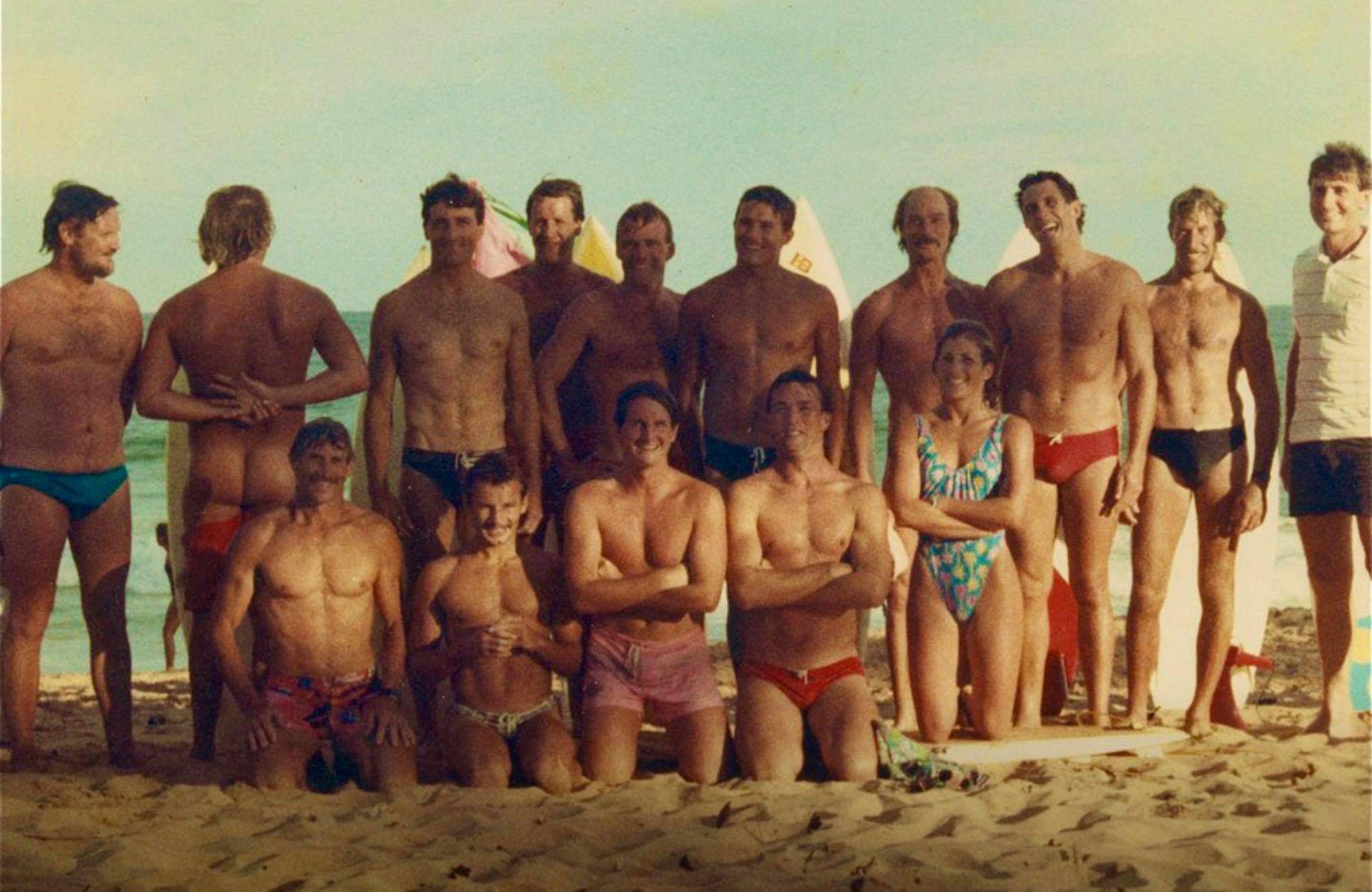 [Photos: Retro Comp Photos, Courtesy John Haymes]
Community engagement – the club and its members gets involved in local events - such as being present when a plaque was unveiled to celebrate the 1956 display on malibus or in its support for Lifeline Classic - why is community connection important to NASA?
NASA takes its role in the community seriously, particularly on issues like youth suicide, mental health and the environment.
We've partnered with mental health groups One Eighty and Man Anchor to provide support for our young members and the wider community.
A few years back one of our junior teams partnered with Living Ocean to win the inaugural Lifeline Classic fundraising competition, raising over $7,000 for Lifeline. All up, the event raised over $50,000 for the organisation.
Last year, we had a great example of how a small grass roots organisation like ours can make a big difference.
In late 2019, NASA organised a paddle out with Avalon SLSC and Surfrider Foundation, to raise awareness about the impacts of Norwegian oil company Equinor's plans to drill for oil in the Great Australian Bight. The 'Fight for the Bight' event attracted more than 200 paddlers, including former world champions, and received widespread media coverage.
The CEO of the Wilderness Society just happened to be on the beach at Avalon that day, and was so inspired to get behind the campaign, that they took Equinor to Court. Equinor ended up getting the message and backed out of their drilling plans.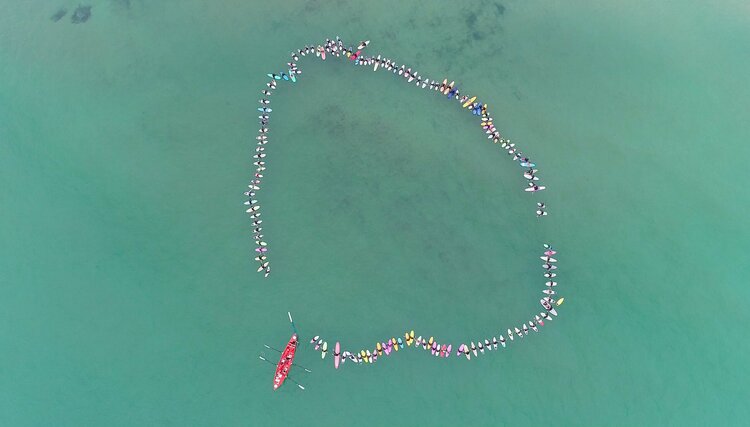 [Photo: Fight for the Bight, Courtesy Sally Mac]
Why are local boardriding clubs important?
Local boardriding clubs are important for a number of reasons.
They generally provide the first taste of competition experience that grommets get, helping to nurture local surfing talent at a young age in a friendly, but still fiercely competitive, environment. Everyone wants those local bragging rights.
The boardriding clubs provide a springboard for talented local surfers to take on the bigger regional, state, national and international competitions.
We've currently got guys like Letty Mortenson and Bodhi and Cedar Leigh Jones doing World Qualifying Series (WQS) events, and Arch and Van Whiteman lighting up the junior series.
We've also been really proud of our team's success in recent years. In February 2020, just before the COVID lockdown, NASA won the national Orica Teams Challenge at Surfest in Newcastle. And our second team reached the semis.
We've also bred previous stars including 2005 world champ Chelsea Georgeson and 1997 Triple Crown winner Mike Rommelse.
But boardriding clubs mean so much more than just competition. We are about providing a grassroots, focal point for local surfers. We're all about representing our local beaches and surfers, creating friendships and camaraderie, and bringing community together.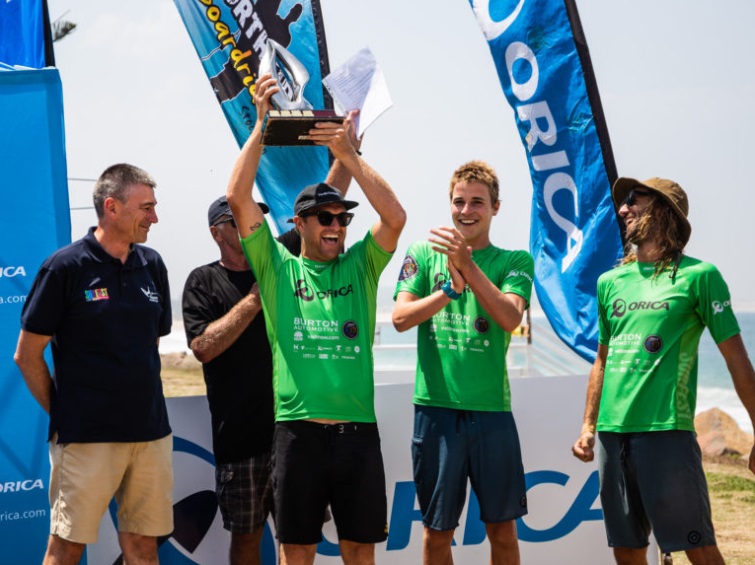 [Pic: Orica Teams Challenge Winners 2020 – Left to right Shane Carroll, Arch Whiteman and Chris Critta Salisbury]
What NASA events you can hold at present and how these are undertaken given the current Covid Protocols?
When the coronavirus epidemic hit, like all local sporting clubs, NASA went into hibernation. We lost a few months of our regular competitions.
We've been back on for a couple of months now, and our July comp was held in some of the best surf we've had in years!
We now have a COVID-Safe Plan in place for our events. Surfing NSW has been really good in helping local boardriding clubs to get back into competition, by developing protocols and plans to keep everyone as safe as possible.
This has meant a few changes for us that everyone has been more than willing to make, including limiting the number of people in the judging areas, and going without our canteen, which is a key source of fundraising for the club.
The restrictions have really hit the state and national competitions hard, with many of our teams events cancelled or postponed. However, the NSW State Junior Titles did run in August, with NASA's Cedar Leigh-Jones taking out 2nd place.
This week NASA took out 1st place in the inaugural Aloha Manly Junior Teams event presented by Hurley, and Cedar won her division in the Newcastle Rip Curl GromSearch Competition - so as 2020 progresses more time in the water and local comps are coming up!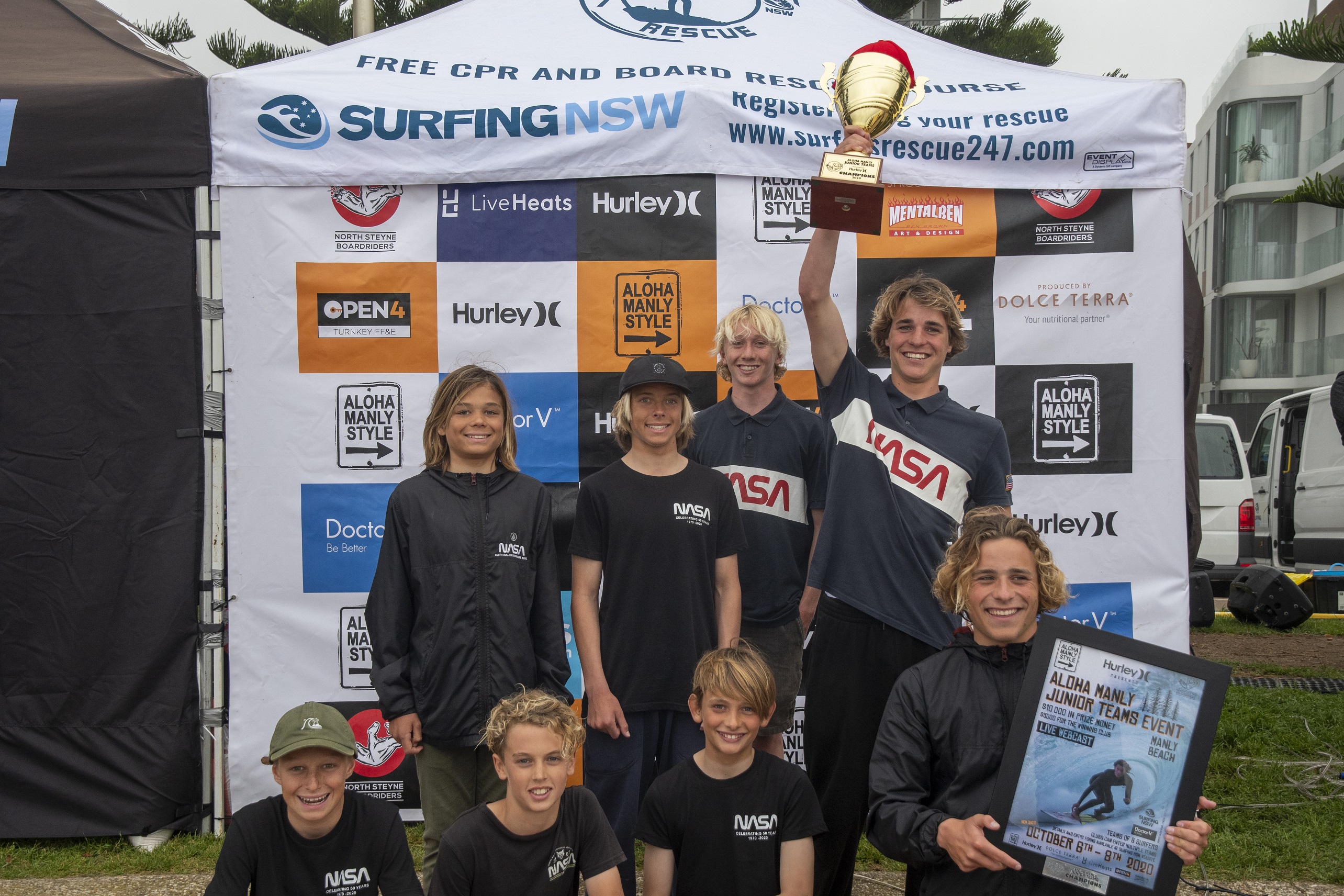 Aloha Manly Junior Teams - 1st: NASA! - photo by Ethan Smith/Surfing NSW

NASA Membership – what are the ages and how do people join in?
NASA has experienced a boom in membership in the last couple of years, to the point where we're starting to struggle to fit our monthly comps into a single day.
Our members range from the micros division (under 9s), where grommets generally paddle out with their dads and get sage advice after their heats from some of the club's elders, to our legends division (over 50s), which is more competitive than it should be.
In the last few years, we've moved to a completely electronic scoring and membership system, run by a great Aussie start-up called LiveHeats. All our comps and membership are run through the system. If anyone is interested they can join through www.liveheats.com/nasa, or email us at nasaboardriders@gmail.com.
What's coming up next year – a lot of which you've sent – but who is penning the book?
We were all set for a massive celebration in October 2020 for the club's 50th year anniversary, but have had to delay it until 2021 with the whole COVID thing going on.
We are planning a big reunion next year, as well as a book detailing the history of the club and surfing north of the bends in general. Phil Jones has been busy researching the book with a lot of help from John Haymes, David Watson, Scott Taylor and all the Avalon elders. If anyone out there has any good info or photos, we'd love to hear from you!
We've got to say that Pittwater Online News has been an invaluable source of historical information on the history of surfing in the area – thank you.