March 26 - April 1, 2017: Issue 306

A Rainbow at Bungan Beach (above) and Bungan Beach Rocks - photos by and courtesy of Nigel Howe


Much of Australia's competitive success on the world stage of surfing can easily be attributed to the boardrider club phenomenon. Our country's coastline is littered with clubs that host grassroots competitions for surfers across age groups and disciplines one weekend per month. At spots like Long Reef, North Narrabeen, Palm Beach and North Avalon, everyone who loves to surf can be found sharing their knowledge and experience with the next generation of surfers. For many Aussie surfing success stories, Boardriders contests were their first tastes of competition.
The Boardriding club is not just about learning how to compete though - these are places where everyone in the community can meet, from the young to mature, and share the wave, share the stoke, and look out for each other in the water.

These grassroots community groups care about their beach, they care about its environment, and mostly they care about the surfing and keeping that accessible to all who love the waves whether it's their first time in the water or their ten thousandth.
This week we share an insight into that wonderful and slightly hidden beach - Bungan, which Tom Carroll names as one of his all-time favourite beaches, and the Bungan Boardriders - our thanks to
Luca Elder and
Joel Shanahan for help in putting this page together.
When was the Bungan Boardriders formed?
Bungan Boardriders was originally conceptualised by best mates Luca Elder and Joel Shanahan in 2015. At the time we saw huge potential out of such a young group of boys and girls (younger than us - in there teens or younger). Our aim was and is to keep the Grommies stoked with a monthly competition to head towards. Moreover we aimed to create a tighter, positive community around surfing rather than an aggressive line up that is sometimes the bitter sweet reality of our sport. We took our concept and energy to an elder local, Steve Hansen who has had a lot of involvement with sporting clubs in the past. His expertise allowed us to push our original vision above and beyond. We had our debut year in 2016 with around 100 members and our second year kicked off this weekend with more than 100 members across 7 divisions. Our current team consists of Luca Elder and Joel Shanahan who are President and Vice President respectively, Steve Hansen, who looks after logistics, Adam Ginsburg, marketing and communications and Melissa Reeves, our secretary and book keeper.
Were there any earlier Boardriders groups at Bungan Beach?
We remember growing up and seeing a bunch of the older local boys hosting a monthly comp down at Bungan near the surf club - much like we do now. This was probably in the mid 2000s. It is remembered to be a relaxed monthly comp run by a group of mates which is awesome - most likely an early inspiration for Luca and myself. In our debut season, (2016) we had one of our eldest veterans come to Rego day in an original Bungan Boardriders shirt from over a decade ago. It was cool to see the stoke was still present amongst the elder locals at Bungan and hence with a bit of hustle we've managed to not only get an over 40s division but a over 55s division too.
Boardriders is for the Bungan community. In the last 12 or so months we've seen a huge change in the dynamics in the water. Luca and I see our 10 year olds sharing a yarn with our competitors in their 60s. Everyone knows everyone now and the overall energy in and out of the water is positive.
What age groups are there in Bungan Boardriders?
In 2017 we have;
Grommies: 10 & under
Juniors: 14 & under
Under 18s
Open girls
Opens
Over 40s
Over 55s
Registration
this year has been primarily done online through our communication platform called
Buzzy
. We hosted a Rego day in the middle of February for those who wanted to come share the stoke with Luca and I physically and lock their yearly Rego in hard copy. Our Rego fees are $100 for under 18s and $150 for adults (18 and over). This is for 9 events - free food and beverages at each event, insurance, stickers and a T-shirt.
Do you have regular competitions?
We have 9 competitions in our calendar Feb-November with a one month break in the middle of winter. Primarily they are on the 3rd Saturday of each month.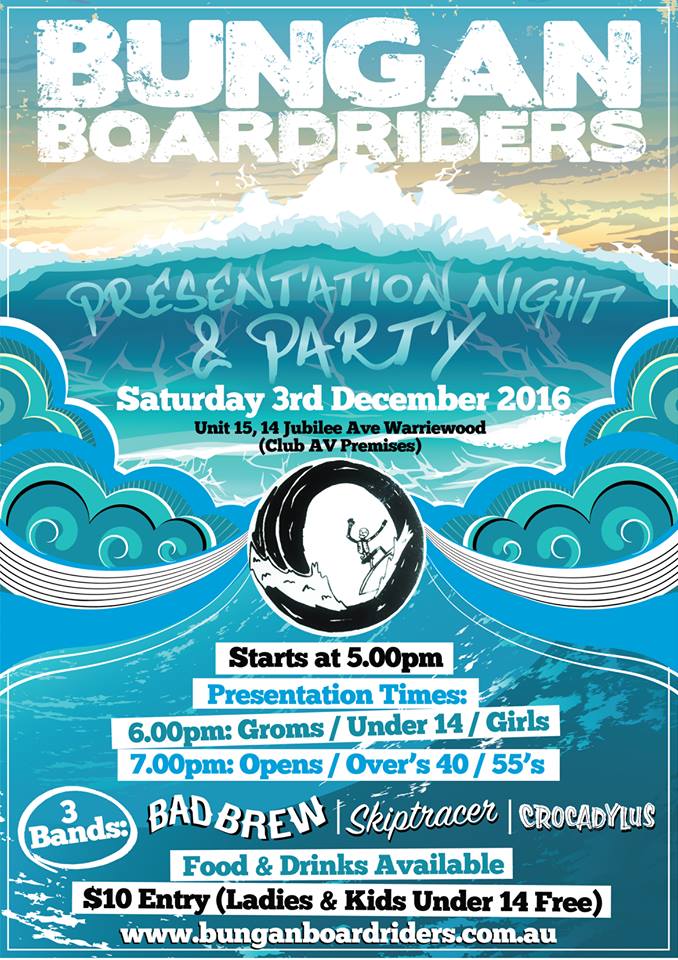 Are you part of the Boardriders Clubs that meet and compete on the Northern Beaches?
In 2016 we competed in a surf tag event but it was early days for us and we didn't get much of a result. We're happy where we are at the moment - we're having fun and we believe our standard is significantly high for such a young club. This year we will have more time devoted to creating a competitive club team that can compete at regional level with the intention to excel interstate in the future. The demographic of our club is so young that the future is looking bright. Offering guidance in competitive surfing at a young age is crucial in the modern competitive surfing era. That being said, right now our priority sits with creating and keeping smiles and that's going pretty well.
How can the community support this great club?
The support we've had over the last 24 months has been enormous. Firstly it's the competitors themselves showing up on a monthly basis, helping with set up, daily processes of BBQ duty, judging and more right through to pack up. Big ups to all the parents who stick it out through the rain hail or shine we are prepared to put the kids through. All the corporate support we've been given has been amazing too. Last year we had over 10k worth of prizes to share and this year it's looking like a fair bit more.
What we offer is the classic Aussie family beach culture rather than competitive surfing which has been taken on board by local businesses. It's been awesome to see support offered for boys and girls of all the ages - it's what keeps the kids coming back which is good!
What is Bungan Boardriders favourite place in Pittwater and why?
Bungan! Obviously, it's home!
Does Bungan Boardriders have a 'motto' or phrase it surfs by?
No official motto and as clichéd as it gets, we're in it for the smiles and at the end of the day, having fun is uppermost.
Check us out - share the love: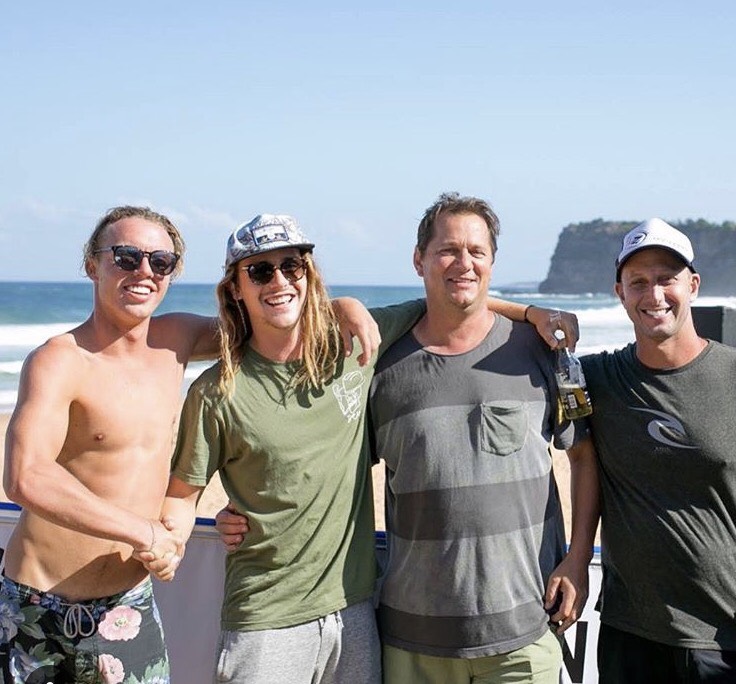 Photo left to right: Luca Elder, Joel Shanahan, Steve Hansen, Adam Ginsburg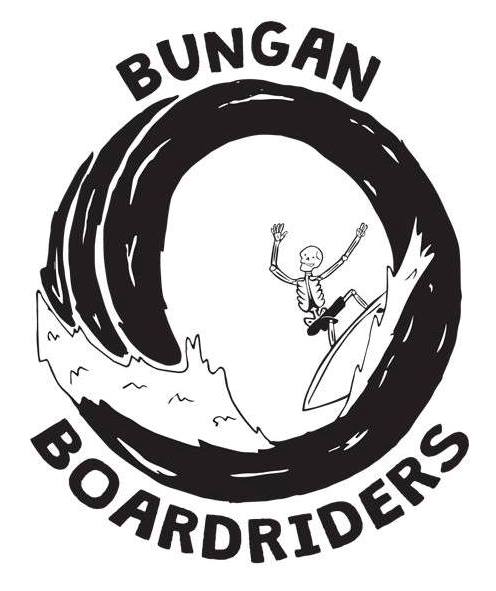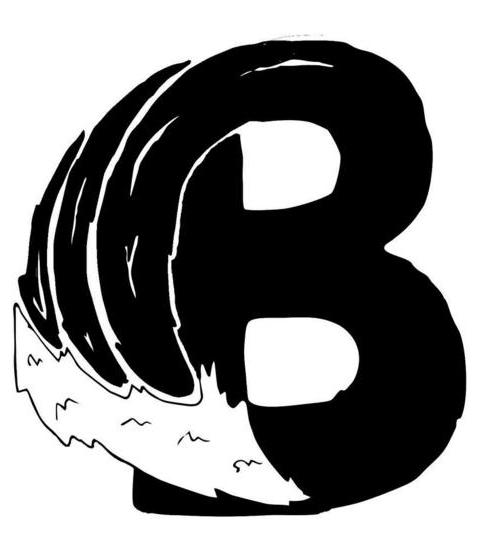 Bungan Boardriders Logo by the talented Sol Davey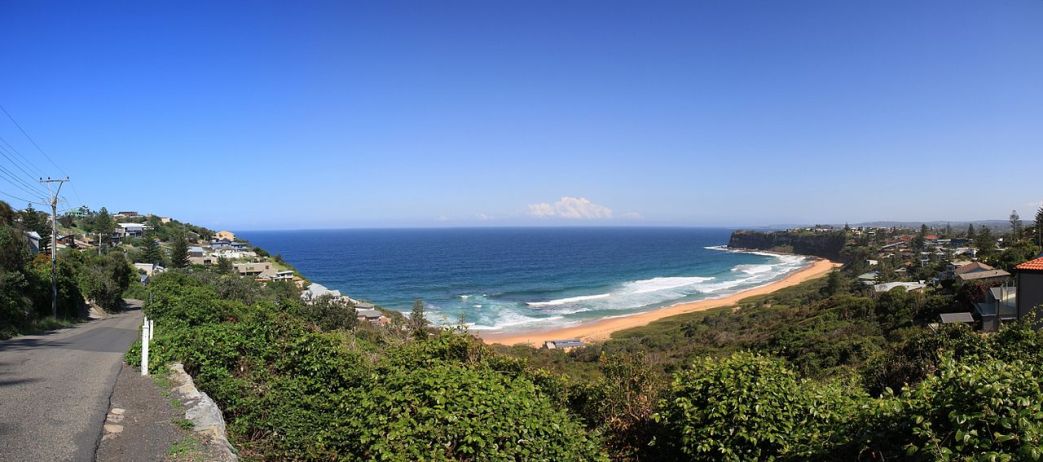 Bungan Beach - photo by and courtesy of Adam.J.W.C.