November 28 - December 4, 2021: Issue 520
World Surf League's Sydney Surf Pro heads to North Narrabeen for 2023 edition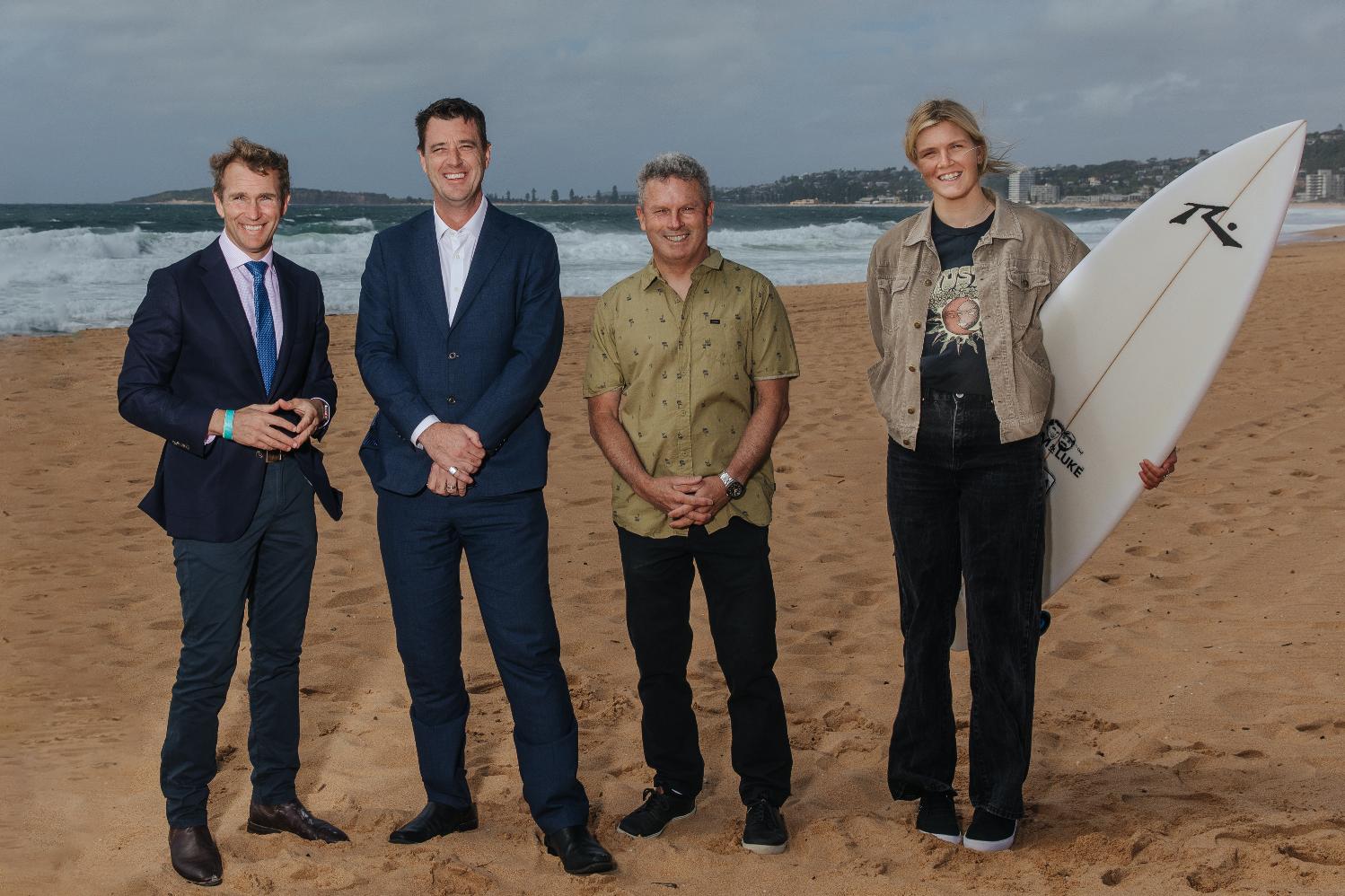 (L-R) Rob Stokes, Member for Pittwater, Northern Beaches Mayor Michael Regan, World Surfing Champion and North Narrabeen Boardriders President Damien Hardman and local surfer Kyla Whitfield.
Photo: WSL / Matt Dunbar
November 28, 2021
A NSW Government partnership with the World Surf League (WSL) will see the world's best surfers compete in the Sydney Surf Pro at the iconic break of North Narrabeen.
Secured through the NSW Government's tourism and events agency Destination NSW, the two-year agreement with the WSL will see one of Australia's premier surfing destinations return to the global stage as a world-class professional surfing location from 2023.
Minister for Jobs, Investment, Tourism and Western Sydney, and Minister for Trade and Industry Stuart Ayres said this was a great opportunity for the famous harbour city to also showcase its spectacular coastline.
"We are incredibly blessed in Sydney to have some of the most beautiful natural backdrops on the planet for hosting world-class sporting events, not least of which are our magnificent beaches," Mr Ayres said.
"The NSW Government is delighted to partner with the WSL in bringing the Sydney Surf Pro to North Narrabeen and the world's best surfers and their fans to an iconic Sydney surf break."
"Securing world-class events like the Sydney Surf Pro will showcase the natural beauty of our city to the world and help us achieve our goal of being the premier visitor economy of the Asia Pacific."
The Sydney Surf Pro will see an international field of over 150 elite male and female surfers descend on Sydney in a week-long battle for a spot on the Championship Tour.
Local Member for Pittwater Rob Stokes said the influx of competitors and support staff will provide a huge boost to the local economy and surf culture.
"North Narrabeen is regarded as one of the best beach breaks in Australia and has always been a spiritual home for surfers so it's only fitting to bring the Sydney Surf Pro to this beach," said Mr Stokes.
"The benefits to the local economy will be extraordinary and not to mention the experience for the young up and coming surfers from the area having the world's best back at their home beach."
The 2022 Sydney Surf Pro will be held at Manly from 17 – 24 May before relocating to North Narrabeen in 2023 and 2024, with dates to be announced later in 2022.
For more information please visit WorldSurfLeague.com
Pro Surfing To Make Triumphant Return to Australia in 2022
The World Surf League is excited to announce professional surfing's return at all levels to Australian shores in 2022 with a huge list of regional and international events commencing in February. It will be the biggest consecutive run of WSL events globally in nearly three years and will have the surfing world's eyes fixed firmly on Australia's coasts for 4 months.
"We're beyond happy to be welcoming professional competitive surfing back to Australian shores this summer," said WSL APAC General Manager Andrew Stark. "We had a good run of events earlier this year and are excited for even more action in the Summer and Autumn months of 2022. The spread across multiple tours is unprecedented with multiple junior, qualifying, Challenger Series and Championship Tour events taking place across four states in four months. It's going to be an exciting time not only for competitors, but for surf fans here in Australia and watching live around the world."
The 2022 Aussie Leg of WSL events will kick-off with a series of men's and women's regional Qualifying Series and Pro Junior events. These events will see the best up and coming talent from Australia and New Zealand duke it out for a spot at the Challenger Series and World Junior Championship levels respectively.
This back-to-back run of regional events will see a mix of old classics and fresh locations while giving aspiring professional surfers a unique opportunity to focus their energy and ambitions into a short, intense run. The QS will culminate at the Iconic City of Newcastle Pro with the top 10 men and 6 women on the regional rankings after this event being awarded a spot into the Challenger Series which will commence on the Gold Coast in early May.
Pro Junior Events
March 12 - 13 - Lake Mac Pro Junior, Newcastle NSW
March 21 - 23 - Tweed Coast Pro Junior, Tweed Coast NSW
May 4 - 6 - Gold Coast Pro Junior, Gold Coast Queensland
May 14 - 16 - Sydney Surf Pro Junior, Manly NSW
Qualifying Series Events
February 10 - 13 - Phillip Island Pro QS1,000, Phillip Island Victoria
February 22 - 25 - Carve Great Lakes Pro QS1,000, Pacific Palms NSW
February 27 - Mar 1st - Port Stephens Pro QS1,000, Port Stephens NSW
March 4 - 6 - Mad Mex Maroubra Pro QS1,000, Sydney NSW
March 14 - 19 - Vissla and Sisstrevolution Central Coast Pro, presented by Mad Mex QS3,000, Avoca NSW
March 21 - 27 - Tweed Coast Pro QS5,000, Tweed Coast NSW
March 28 - April 3 - City of Newcastle Pro presented by Burton Automotive QS5,000, Newcastle NSW
The focus will then shift to the elite Championship Tour which will land in Australia for the fourth stop of the season, the iconic Rip Curl Pro Bells Beach which will run for the first time since early 2019. The CT will continue on to the picturesque Margaret River for stop 5 of the 2022 season.
Championship Tour Events
April 10 - 20 - Rip Curl Pro Bells Beach CT, Bells Beach Victoria
April 24 - May 4 - Margaret River Pro CT, Margaret River Western Australia
The action won't stop there either as surfers unlucky to miss the mid-season cut in WA will join the best up and coming competitors from around the globe for the opening event of the 2022 WSL Challenger Series, the Gold Coast Pro at Snapper Rocks. Taking place at one of the world's most perfect waves, this event will set the stage for the 2022 CS Season which will continue the following week at the birthplace of surfing in Australia, Manly Beach for the Sydney Surf Pro.
Challenger Series Events
May 7 - 15 Gold Coast Pro Challenger Series, Coolangatta Queensland
May 17 - 24 Sydney Surf Pro Challenger Series, Manly New South Wales
Stay tuned for more exciting news to come around what is set to be a blockbuster Australian leg from February - June 2022.
For more information on any of these events, dates and the WSL tours, please visit WorldSurfLeague.com.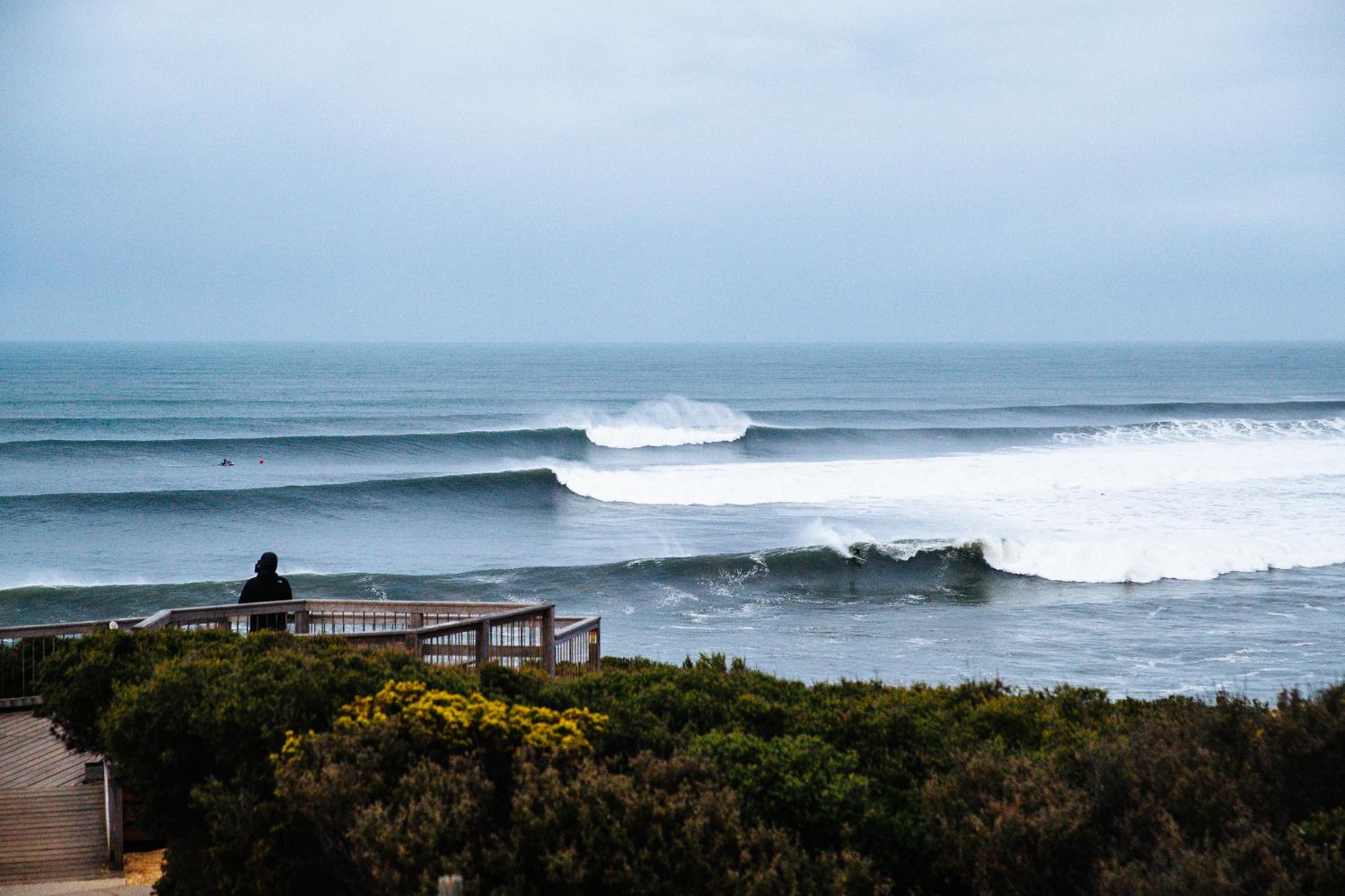 Bells' Lineup. Photo: WSL / Matt Dunbar