August 27 - September 2, 2017: Issue 327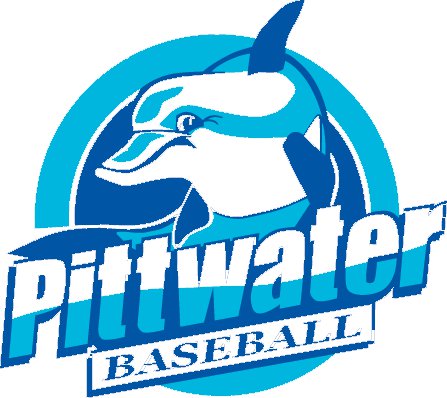 The Season Start for 2017/2018 Pittwater Baseball Club commences Saturday, September 9th.
Their Mission: Share a community spirit through the joy of our children engaging in baseball.
Baseball is a bat-and-ball game played between two teams of nine players each, who take turns batting and fielding. The batting team attempts to score runs by hitting a ball that is thrown by the opposing team's pitcher with a bat swung by the batter, then running counter-clockwise around a series of four bases: first, second, third, and home plate. A run is scored when a player advances around the bases and returns to home plate.
Players on the batting team take turns hitting against the pitcher of the fielding team, which tries to prevent runs by getting hitters out in any of several ways. A player on the batting team who reaches a base safely can later attempt to advance to subsequent bases during teammates' turns batting, such as on a hit or by other means. The teams switch between batting and fielding whenever the fielding team records three outs. One turn batting for both teams, beginning with the visiting team, constitutes an inning. A game is composed of nine innings, and the team with the greater number of runs at the end of the game wins. If scores are tied at the end of nine innings, extra innings are usually played. Baseball has no game clock, although almost all games end in the ninth inning.
Baseball evolved from older bat-and-ball games already being played in England by the mid-18th century. This game was brought by immigrants to North America, where the modern version developed. By the late 19th century, baseball was widely recognized as the national sport of the United States. Baseball is popular in North America and parts of Central and South America, the Caribbean, and East Asia, particularly Japan and here in Australia - where we love getting outdoors, meeting others and engaging in sports that promote fitness, sportsman and sportswomanship - this is a game for all people and all seasons.
This week an insight into our local club.
When was Pittwater Baseball Club formed?
Pittwater Baseball Club has been operating for over 40 years.
The club operates are groups from ages 4 up to 16 in the Manly Junior District Baseball Association.
Our youngest players from 4-7 commence in Rat Packers our learn to play program.
Then they move through the ranks into under 8, under 9, zooka (machine pitch), Little League, Junior League and finally Senior League.
Sunday, November 19 at 8 AM - 5 PM
North Narrabeen Reserve
Walsh St, Narrabeen
Great Day and Annual Tradition for Pittwater Baseball
This is a 1 day tournament for Under 9 T-Ball and Zooka.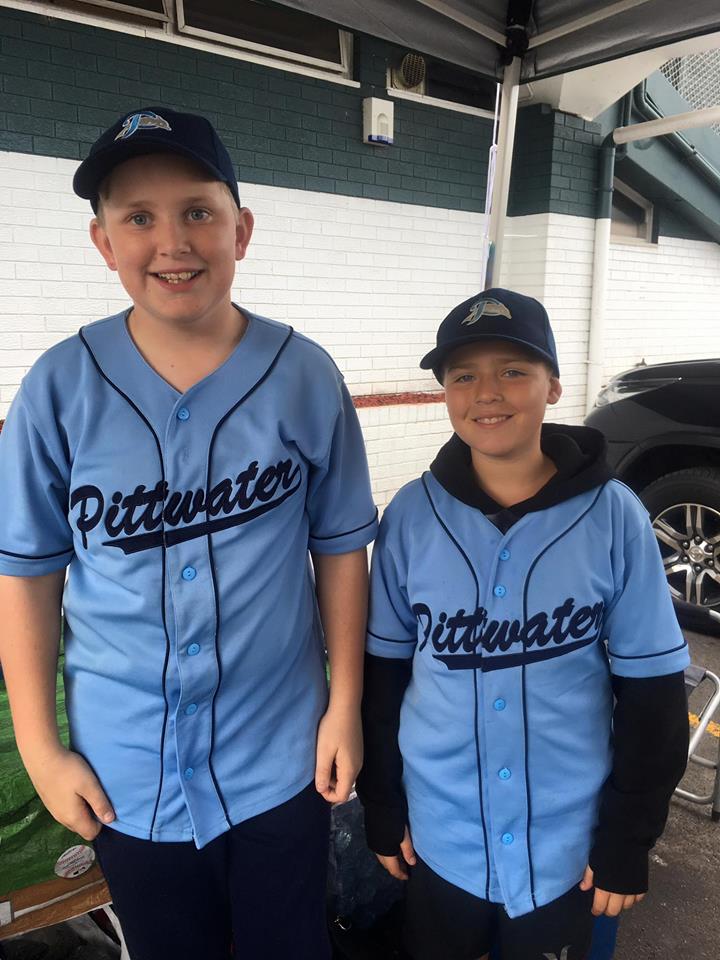 Team Pittwater

The club is based at North Narrabeen Reserve in Walsh Street North Narrabeen.
Our fields are behind Rat Park accessed via a service road within the Rat Park and Driving Range Complex.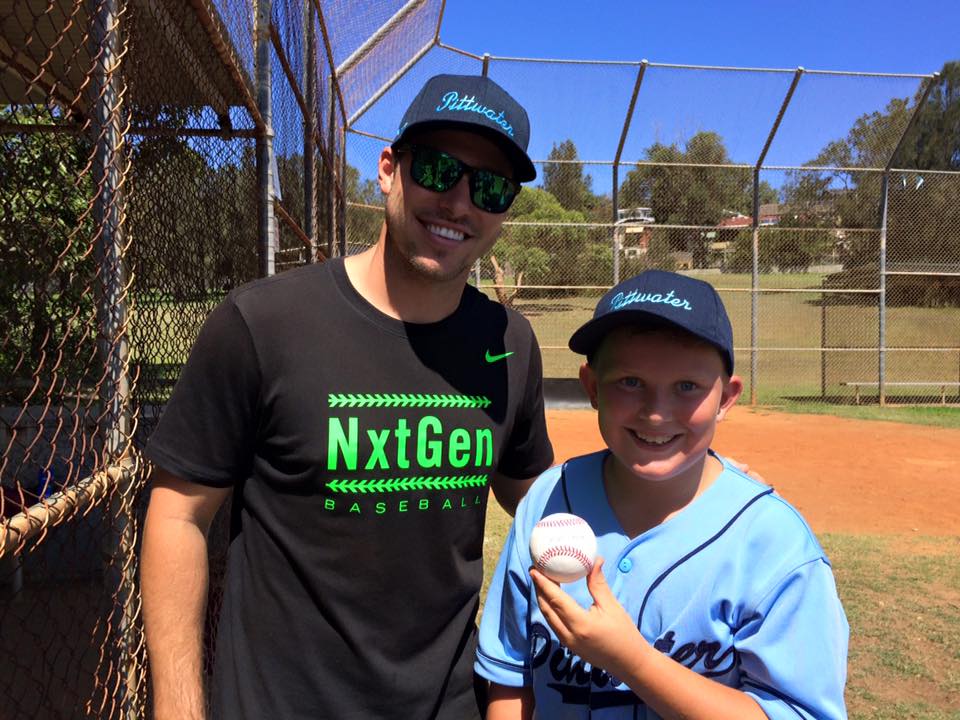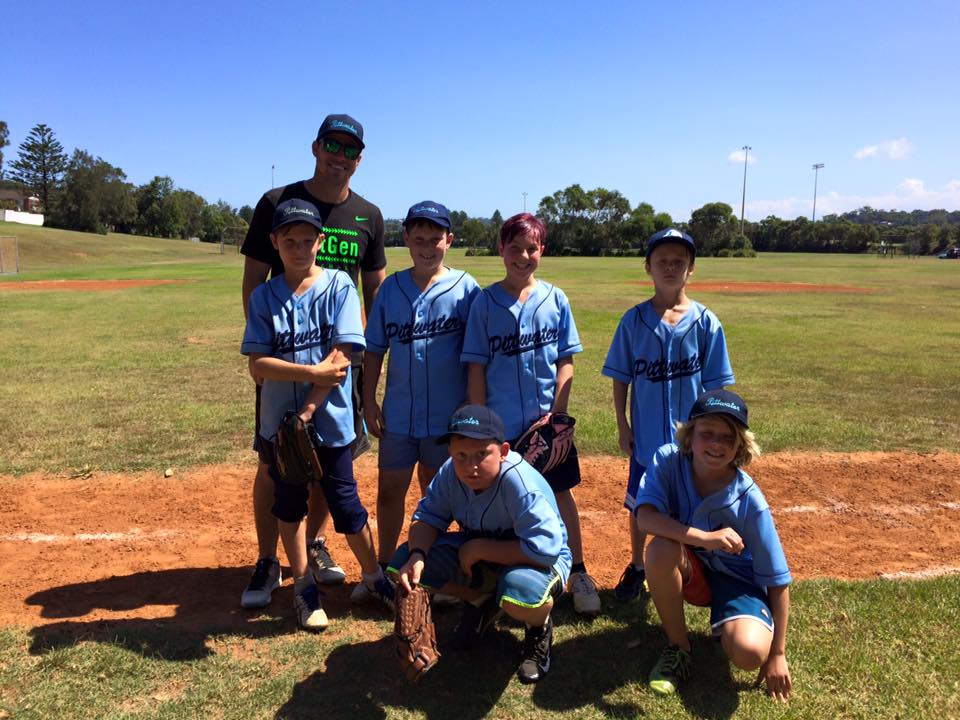 Being trained by Trent Oeltjen from Nxtgen baseball!!

What Competitions do club members compete in?
Our players compete in the Manly Junior District Baseball Competition.
A number of our players go on to represent Manly Junior Baseball at state and National Level Competitions. Also Pittwater Baseball are very successful in providing coaches for a number of these representative teams.
Pittwater Baseball is a very successful Baseball Club with our players both Male and Female representing Manly Baseball at State and National Level in competitions.
Also we have had players representing NSW in both Women's and Men's Baseball Competitions and finally we have had a number of players representing Australia in Junior Baseball. This is a wonderful achievement.
Has the club had any outstanding members go on to represent at other levels?
This year Wilson Spinks has represented Australia in USA at Cal Ripken Series.
Last year we had Zac Newbold and Josh Beesley representing Australia at this Cal Ripken Series. These 2 boys also were selected in Australian Under 12 team the year previously.
Last year Millie Atkinson was selected to represent Australia at the world Childrens baseball fair in Japan.
Pittwater have had a number of both NSW players and also players selected in touring USA and Japan teams over the last few years and in previous years.
In prior years Brad Tibbett was a Pittwater Junior who went on to play baseball in USA at the highest levels.
Rod Van Buizen is a former Pittwater Junior who has represented Australia at the Olympics.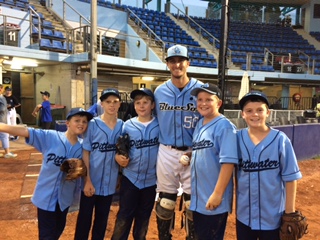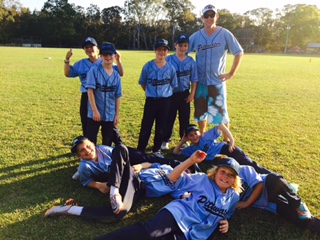 Pittwater Baseball players with Sydney Blue Sox player Rob Chessell, president, with his team
What is so great about Baseball?
Baseball is a great sport for boys and girls. We at Pittwater have always had a number of girls who stay and play baseball right from commencing at Rat packers till senior league. Baseball is also a very inclusive sport for children with disabilities, we are proud to encourage and support children to have a go at our club.
How can people get involved?
Past players and people who have a knowledge of baseball are always welcome to support us in whatever way at Pittwater Baseball. We love your help and support no matter how big or small it might be just a session to talk to our players or run a specialised pitching session for example or come and teach our junior players when they are just beginning any support is always welcome.
The northern beaches is home to some incredible past baseball talent that we would love to touch base with at any time. Please email our club secretary on
secretary@pittwaterbaseballclub.com.au
if you would like a call back please just let us know.
Does the Pittwater Baseball Club have a standard it wishes to pass on to members?
Pittwater Players leave it all on the field. Show respect to fellow players and officials and play with pride when in your Pittwater Uniform.
Most of all have fun.
Your baseball year is between 1st September through to 31st August following year: This allocates a Baseball Year to your child. In most age Groups your child is eligible for more than one division (exception to this is usually Senior League Players). Noted below is the age Divisions: When you go online to register it will give you what is available to your child based on date of birth.
Senior League -Games Played Friday 5:30pm or 7pm
Saturday 10:30am only for September Games
All games Friday from October
(Age Matrix Jan 01 to April 05)
Junior League -Games Played Saturday 8.15am
(Age Matrix Sep 03 to August 06)
Intermediate League - Games Played Saturday 10:30am
(Age Matrix - Sep 04 to Aug 07)
Little League Major - Games Played Wednesday Night
(Age Matrix - May 05 to Aug 09) (Only May 05 to Aug 08 can play in All Stars Team)
Little League Minor - Games Played Saturday 10:30am
(Age Matrix - Sep 06 to Aug 09)
Little League Zooka (also called Coach Pitch) - Games Played Saturday 8:30am
(Age Matrix - Sep 08 to Aug 11)
Under 9 T-Ball - Games Played Saturday 10:30am
(Age Matrix - Sep 09 to Aug 12)
Under 8 T-Ball - Games Played Saturday 8:30am
(Age Matrix - Sep 10 to Aug 12)
Under 7 Aussie T-Ball - We call this our RatPackers Program
This is run for 10 weeks commencing Sat 14th October at 8.30am
Age Group is Sep 11 to Aug 14 (some flexibility with this)