July 26 - August 1, 2020: Issue 459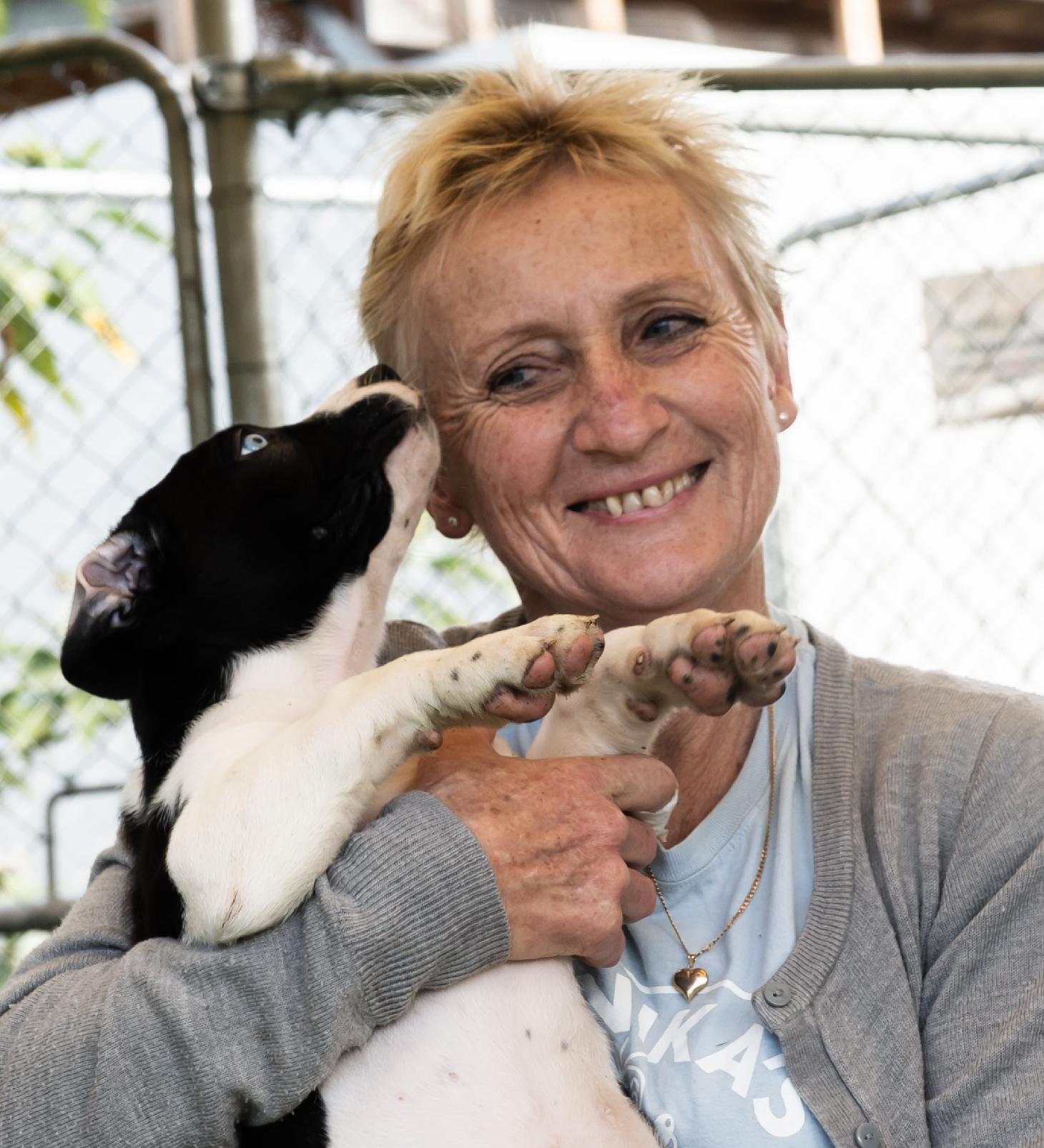 Ferrero & Monika Biernacki - photo by Michael Mannington, Community Photography
Monika's Doggie Rescue
2 Cowan Road, Ingleside
www.DoggieRescue.com
www.facebook.com/doggierescue
www.twitter.com/monikadogrescue
www.instagram.com/monikadogrescue/
Readers were happy to hear the great news that Sydney's largest NO KILL animal welfare organisation Doggie Rescue, had reached a new milestone and had saved 12,000 dogs from death row, re-homing each of them with loving families. That is 12,000 healthy, loving creatures who would otherwise have faced certain death and become a statistic.
These dogs have been rescued from pounds around NSW and represent what happens when they are given a second chance at life thanks to founder and CEO Monika Biernacki.
"The number of dogs facing death row every day in Australia is truly shocking. These beautiful animals all deserve the opportunity to find their forever home and I am so proud that 12,000 of them are now happily part of their new families", explains Monika.
Ms. Biernacki, a former scientist, gave up her work twenty years ago to begin Doggie Rescue when she saw a desperate need to prevent the unnecessary euthanasia of dogs that were perfectly healthy yet had been abandoned because their owners didn't want them anymore.
There are literally thousands of heartbreaking stories behind these animals, but it is the heartwarming result of every new adoption that provides the drive that keeps Monika and her loyal, dedicated volunteers going.
"Doggie Rescue was created to provide a viable NO KILL alternative in Sydney and to educate the public on their lifelong responsibilities when owning a dog. Dogs should never be an impulse purchase and people need to become educated about where their new addition has come from. Rescue dogs are very special, most adoptees tell us that in actual fact, the rescue dog has saved them! There is nothing like the love and dedication of a rescued animal." Monika adds.
Since then almost another one thousand dogs have been found a home. This week a little more on that Ingleside Doggiewood Home that each Issue lists Pets of the Week in the Community News page.
When did Monika's Doggie Rescue start?
We started in 1999, just from home rescuing one dog at a time and paying for costs from our pockets. In 2001 we registered the charity DoggieRescue.com and started to spread our wings.
Why did you start this?
We were in a bit of a recession and my hubby and I did not have a lot of work in our professions so I started a pet minding business to supplement income. I also did some kennel and vet nursing work. One clinic where I worked acted as a pound and it opened my eyes to what happens to dogs and cats when owners do not claim them.
What animals are you trying to find good homes for?
We started just rescuing dogs but have expanded to cats, rabbits and guinea pigs. We focus largely on dogs and cats that are in pounds and are facing euthanasia. These days most of our dogs, and many of our cats are classified by pounds as "rescue only", so they are not offered to the public for adoption as they have medical or behavioural issues. They have less chance of survival. They are sometimes the most challenging, but we are always up for a challenge.
How do you fund the housing, feeding, electricity and veterinarian bills as part of this work?
We are a registered charity and rely on donations from dog and cat lovers to keep our doors open. There is no government funding. We have fundraising activities to boost funds and kind people donate items we need. We have a wish list on our web site. Being largely a volunteer organisation we keep our costs as low as possible. Since Covid19, fundraising is very difficult however we have managed to do some on-line auctions to supplement income. We feed our dogs home cooked meals and all our basmati rice and veggies are donated.
Current: We are in urgent need of Topical Heartworm Treatment(Advocate or Revolution), Breeder's Choice Cat Litter, cat food, cable ties and latex gloves.
If people cannot adopt a dog/cat/bunny – how else can they help out?
We are always looking for volunteers as that is what DoggieRescue runs on. We have lots of volunteer activities all listed on our web site. Most jobs are on a rostered basis but we also have dog walking 6 days a week for those people who just want to pop in for a "doggy fix".
DOG WALKING is recommencing..
DoggieRescue is delighted to announce restrictions have been lifted on walking at our shelter, we are looking forward to welcoming you back onsite. We have had some changes occur during COVID-19 that we want you to be aware of. We no longer require you to sign up in advance for dog walking. However, due to the large number of successful adoptions we have very few child friendly dogs available to walk so we may not be able to accommodate walking for your family at this point, also due to the sheer number of adoptions we have fewer dogs onsite who are ready to walk with the public. This means there may be a delay in getting a dog for you to walk. We ask for your patience with our team at this time. We continue to practise social distancing onsite and have plenty of hand sanitiser ready for your return.
We look forward to seeing familiar faces and welcoming new ones to our shelter and appreciate your ongoing support during these difficult times
What are the requirements for becoming a home provider for an animal from Monika's Doggie Rescue?
For us a dog or cat is a commitment for life, something not to be taken lightly. We see it as a match making taking into consideration the needs and requirements of the family and what we know about the pets, behaviourally and medically. Pets these days have a life span up to 20 years if they reach old age so adopting is a big commitment.
Our Pet Adoption and Foster Carer Application forms are now online! You can either download the forms in Microsoft Word or .pdf format, or click on the link to load the form into your browser and print direct to your printer. Click here for our forms
The fees charged for the dogs and cats and bunnies adopted – what are they used for?
The fees only cover subsidised vet costs for desexing, vaccination, heartworm test and microchip for dogs. Everything else we need to fundraise for, like dentals, specialised surgeries and even at times trainers and behaviourists. For cats it is similar with costs barely covering desexing, vaccination, microchipping and FIV /FeLV tests. Rabbit costs cover desexing, vaccination and microchipping costs.
How it Works
Dogs rescued from the pound are microchipped, heartworm tested and vaccinated by a veterinarian, who also gives them a basic health check and provides us with an estimate of their age. The dogs are desexed (if required) and given any additional veterinary treatment to return them to good health.
All of the rescued dogs are then cared for, awaiting adoption into a permanent loving home. Once the dogs have completed 8-10 days quarantine (so we can observe them for any illnesses they may have picked up) they stay at our shelter, Doggiewood at Ingleside in the northern beaches of Sydney or can be placed into a foster home.
We have over 200 dogs up for adoption. They are all featured on the Doggie Rescue website. Over a year we save about 500 dogs.
We ask re-imbursement for the basic desexing, vaccination, microchipping and heartworm testing only - generally between $350 and $500.
Freedom Park – are the dogs enjoying this extra space to romp in?
The Freedom Park has made a huge difference to our big dogs, enabling them to stretch their legs, roll on grass and have fun playing with people and toys – all off lead. It is a great place to introduce new dogs together as well do some training.
When and why do you find people are abandoning animals to shelters?
Animals are abandoned more in school holidays, Christmas and Easter when people are thinking of going away. They do not want to cost of boarding and often at Christmas with the pressure of family and friends visiting they no longer have patience for their family pet.
How can people keep up to date on how they can help out with this work?
We continually post updates on what we are doing particularly on FB and Instagram the dogs and cats we are saving, the drivers that are needed, the new arrivals and also the special needs patients that require special care and surgeries. We work around the clock.
Visit:
www.twitter.com/monikadogrescue
www.instagram.com/monikadogrescue/

More On The DoggieRescue Freedom Park
In 2018 DoggieRescue founder Monika Biernacki and her team had a goal, to create a large space for rescue dogs to stretch their legs, play, make new friends and recover from past experiences.
In June of 2018 a fundraising campaign was started with the goal of raising $15,000 to fence in a large unused area at the back of DoggieRescue. This campaign raised over $25,000 which was incredible and much appreciated by everyone at the shelter. Over a period of months, the park began to take shape, fencing went up around the exterior and a shelter was built to protect the dogs from the sun on hot days. A smaller yard was attached to the park for slowly introducing dogs to each other.
The DoggieRescue Freedom Park has been in operation for several months now, dogs are given the opportunity to run and play without interaction with humans if they are not yet ready. Those who are social with other dogs get to play and interact with each other in a safe space.
On Sunday October 20th 2019, Monika and one of the key donors Joss Stewart officially opened the Freedom Park in an event which was live streamed on social media for all DoggieRescue supporters and followers to see. Two of the current residents of the shelter Olympia (a 5 year old female Dogue de Bordeaux) and Oscar (a 4 year old male Labrador x Wolfhound), were the first to enter the park after the official opening with Monika and kennel hands and they demonstrated why this park is so special. Olympia took the time to sniff and explore bushes whilst Oscar delighted in running around and chasing any ball, toy or Frisbee thrown for him by the volunteers.
Monika best described the park during her official opening "The dogs happily enjoy their freedom, released from leads and harnesses and being absolutely free to run and play and just enjoy life"
DoggieRescue is currently home to lots of dogs looking for their forever homes, these dogs and those we save after them will all benefit from this park so thank you to all our supporters, donors and volunteers. We look forward to seeing you at DoggieRescue soon!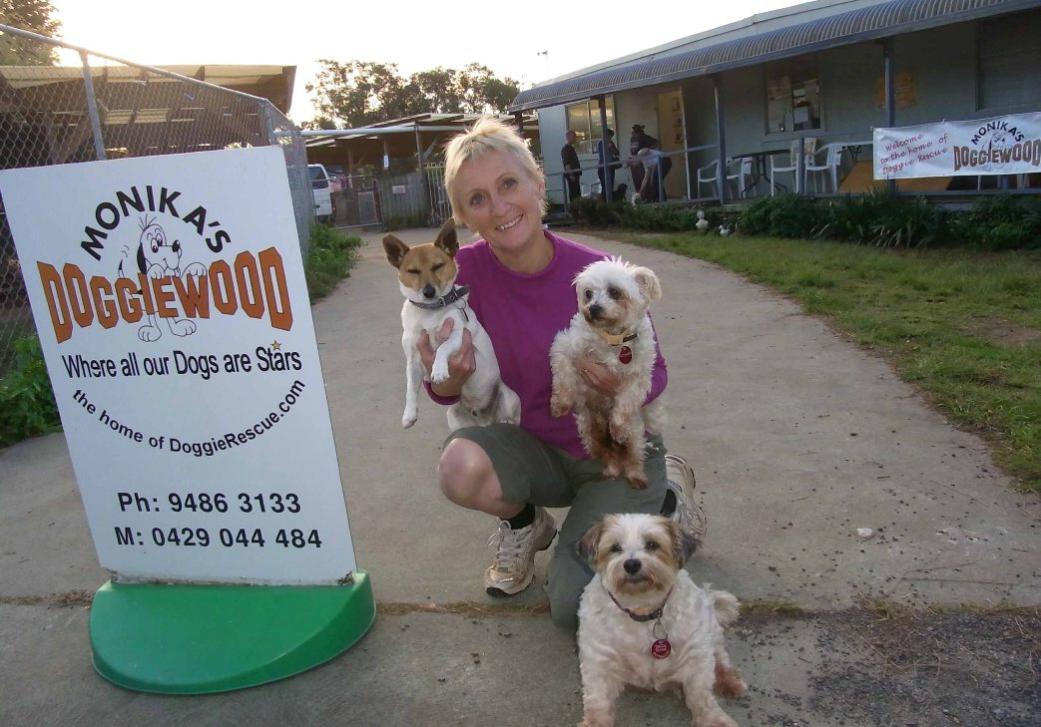 Doggie Rescue
CEO Monika Biernacki - photo by Corrine Daw