August 26 - September 1, 2012: Issue 73
Northern Beaches Orchestra
Website: www.nbo.org.au/about/
Pittwater has a dearth of local musical talent. The celebration of what many consider to be our first language is supported in the range of talented musicians, teachers and professional producers who invest their time and energy in sharing their skills. In our schools, and outside of them, the many groups, orchestras and wind ensembles, who also form friendships with overseas groups, enriches all those who attend each performance and concert. This week we share a few insights on the Northern Beaches Orchestra. Our thanks go to Joseph Nizeti of NBO for his help with this Profile.
How did the Northern Beaches Orchestra begin?
The NBO is a not-for-profit organisation and was created to provide opportunities for musicians on the Northern Beaches to excel musically, as well as to enhance the cultural life of the local community. It is a high quality amateur orchestra, accepting players of all ages who are grade 6 standard or above (or equivalent). Provided they have reached this standard, string and percussion players do not need to audition formally, while entry to the orchestra for woodwind and brass players is by audition. This system maintains the orchestra's very high standard, gives local musicians something to aspire to, and provides our audiences with very enjoyable concerts.
The orchestra started its life as a Youth Orchestra in 2008 after three local businesswomen sat down together for a coffee and lamented that there was no amateur symphony orchestra based on the Northern Beaches of Sydney. One of these women, Louise Brown, went on to establish the orchestra. The three local councils – Manly, Warringah and Pittwater – together provided three years of generous start-up funding and the NBYO was born.
What are the main changes that have occurred during this time?
Once the NBYO was established and its concerts enjoying great success as a local alternative to a night out in the City to see a professional orchestra, we started to receive enquiries from older amateur musicians in the area who had nowhere to play. With the wealth of talented musicians, both young and old, living on the Peninsula it seemed a great pity not to have an orchestra where all of these people could join together to make beautiful music. Therefore, in 2011, the orchestra will welcome not only young musicians but musicians of all ages – hence its renaming as the Northern Beaches Orchestra.
Please share with us examples of the range of music the orchestra plays;
Everything from 'serious' classical works (complete and challenging 40-minute Symphonies), to popular favourites (Strauss Waltzes) to cross-genre collaborations, such as with Lime Cordiale in 2012 at Lizotte's.
Who are the Conductors ?
The NBO employs two well-known and accomplished local conductors (Chief Conductor, Martin Hardy, and assistant conductor, Alex Pringle) who run the rehearsals and present the concerts. It also employs a number of instrumental tutors, who provide expert coaching to each section of the orchestra. This investment provides an environment in which the members of the orchestra can perform to their highest level, and can be guided, inspired and encouraged by professional musicians.
Alex Pringle Bio: Alex Pringle graduated from the Australian Institute of Music, Sydney in 2001 where he studied violin with Alice Waten. Since then he has maintained a busy career as a freelance violinist and violist playing with many of Sydney's finest ensembles including the Australian Opera and Ballet Orchestra, the Sydney Chamber Orchestra and Arco. He has performed with such prominent entertainers as Barry White, Michael Crawford & Susan Boyle and appears on many soundtrack recordings including Happy Feet and Happy Feet II. From 2005-2009 Alex was a participant in the Symphony Australia Young Conductors Program. Through this he conducted the Melbourne, Tasmanian and Adelaide Symphony Orchestras as well as the Queensland Orchestra and Orchestra Victoria. It gave him the opportunity to work with some of the finest conductors in the world, including Christopher Seaman, Johannes Fritzsch, Lutz Kohler and Arvo Volmer. He has also featured on ABC Classic FM's Rising Stars radio program in an Australian national broadcast conducting the Melbourne Symphony Orchestra. In 2010 Alex was selected to attend the Royal Northern College of Music in Manchester to study a Masters in Conducting. Alex is a passionate educator and maintains an active career as a youth conductor. Previously he has directed orchestras, string ensembles and choirs at Sydney Girls High School, Fort St High School and Killara High School. He has also worked extensively for the NSW Education Department Arts Unit, working as conductor to the Symphony Orchestra and as the assistant director to the Schools Spectacular.
Martin Hardy Bio: Martin is a passionate music educator and professional musician. His formal qualifications include a Bachelor of Music Education from the Sydney College of Advanced Education, a Master of Music from the University of New South Wales, an Associate of Music Australia (Trombone), and a PhD in instrumental education with The University of Western Sydney. As a trombonist, Martin has worked professionally in a variety of musical genres from small jazz ensembles to symphony orchestras.
Martin's career as a conductor has seen him work with many of the country's finest ensembles, including the New South Wales State School's Symphonic Wind Ensemble, the University of New South Wales Wind Ensemble, the Sydney Metropolitan North Schools Symphony Orchestra and Bands, as well as the newly formed Northern Beaches Youth Orchestra. Martin is a sought after adjudicator and guest conductor.
For a number of years, Martin worked in the Arts Unit of the New South Wales Department of Education and Training. In 2007, he returned his focus to local education, and was Head of the Creative and Performing Arts department of Pittwater High School. He is currently a deputy principal at Pittwater High School.
What have been two of the most memorable concerts so far ?
Richard Tognetti (2011) and Lime Cordiale (2012). Both amazing for totally different reasons. The Tognetti concert gave the young players of the orchestra a chance to play with Australia's most highly esteemed living musician (playing some absolutely incredible repertoire, such as Vaughn Williams' 'The Lark Ascending' and Mendelssohn's Violin Concerto). Working with Lime Cordiale, we were of course in a beautiful local venue (we set the record for largest number of musicians 'on stage' at Lizotte's ever!) and playing original arrangements to feature the orchestra and the local rock favourites together. A challenge in both cases, but well worth the effort and risk.
What is slated for your Spring Summer season 2012 ?
We have our upcoming concert with Rotary on September 12th, in a performance featuring Jane Rutter. This is a return performance for the NBO, having contributed to the same fundraising event in 2011, and we hope to develop a lasting relationship with Rotary in the years to come.
In the first week of December we will likewise be giving a return performance at the Manly Carols event, assisting a massed choir and a crowd of 5000+ sing their favourite carols. We've had some incredible talent perform with us in the past through the Manly Vocal Arts Centre (run by Margi Coen), such as the now-famous Jack Vidgen, who sang as a soloist with us in December 2010.
What is the NBO's 'motto for life' or a favourite phrase it tries to live by ?
Our mission statement runs as this: The NBO is a not-for-profit organisation and was created to provide opportunities for musicians on the Northern Beaches to excel musically, as well as to enhance the cultural life of the local community.
So from that I would say that our motto would be: Opportunity, Excellence and Culture!
What is the NBO's favourite place/s in Pittwater and why ?
Pittwater Uniting Church has served as a wonderful performance venue for us in the past, including our sold-out performance with Richard Tognetti in July 2012. They seem like a wonderful community, and have been very comfortable to work with. Barrenjoey High School (and their music teacher John Stone) have also proved extremely supportive of the orchestra, and have offered their hall as a performance venue in the past also, during their Sunday 'Music Room' concert series.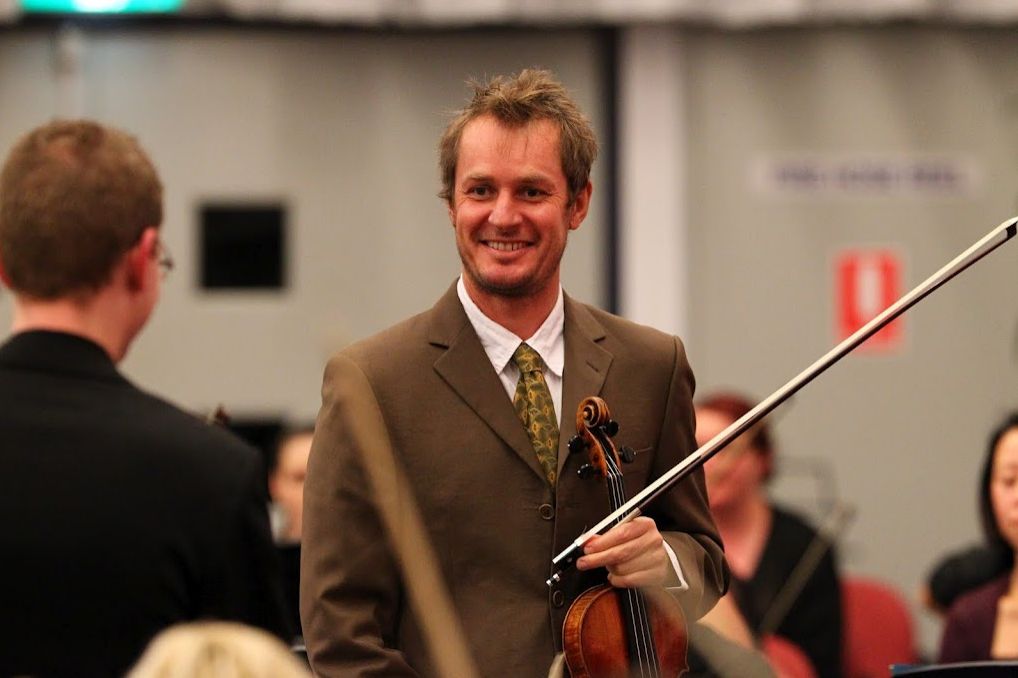 Richard Tognetti with NBO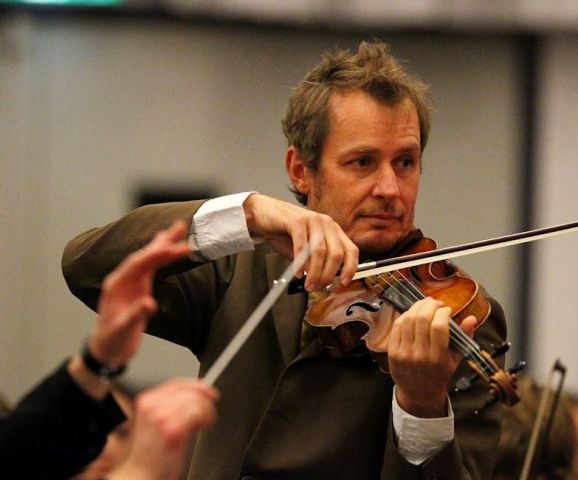 Richard Tognetti 2011 with NBO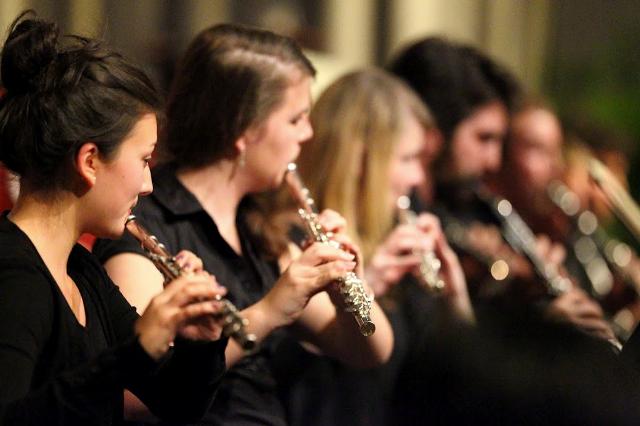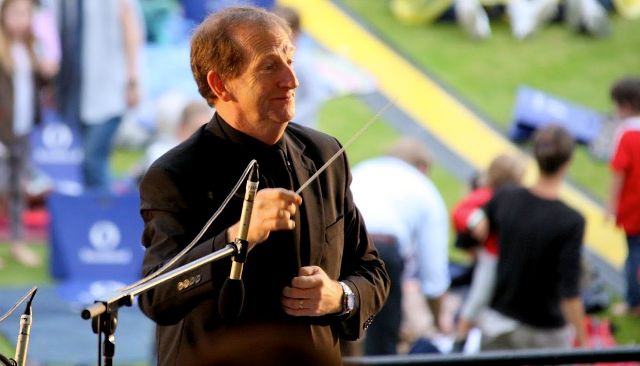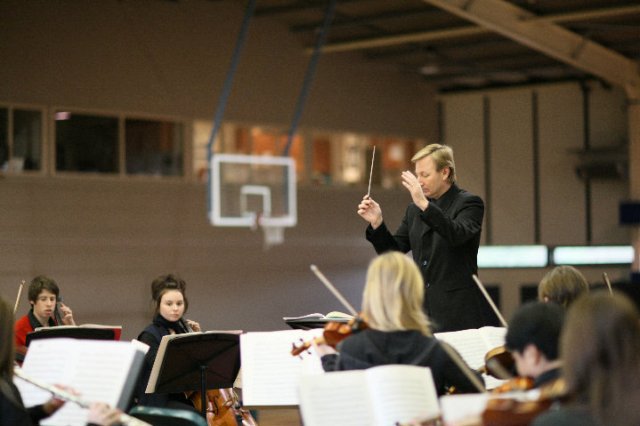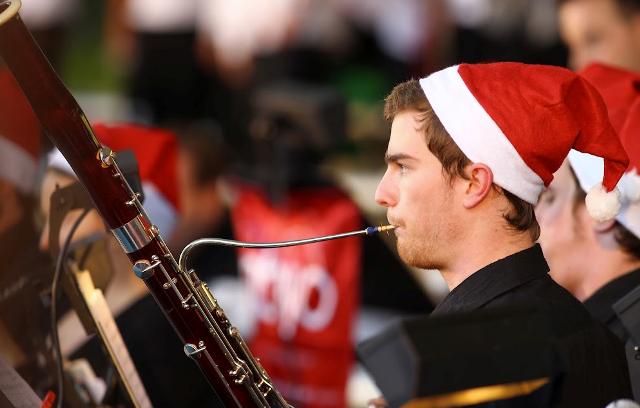 NBO Christmas Carols 2011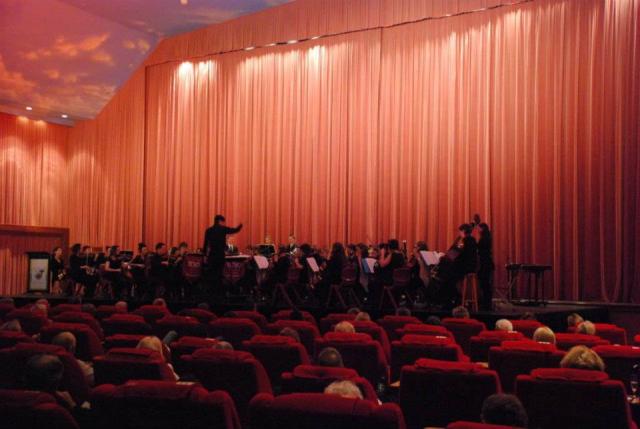 Rotary Club of Pittwater Spring Concert 2011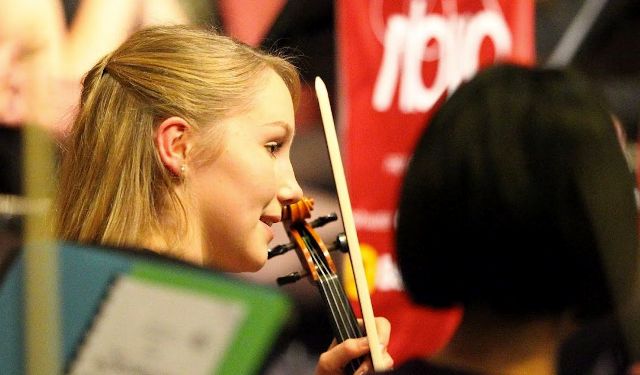 NBO Voilinist and Cellist