February 9 - 15, 2014: Issue 149
Couta Boat Club – Pittwater Chapter + the Wooden Boat School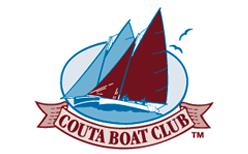 One of our regular family outings of a Sunday included a trip to Constitution Dock in Hobart to buy a slab of 'couta' for dinner. Years later, and still dreaming of this scrumptious fish, untasted since, wondering about the vessels they were caught from led to an investigation into Couta Boats.
For purists there is nothing like the wooden boat. Yachts, schooners, launches and cruisers, skiffs of all classes once plied our waterways as vessels of pleasure and trade and as working boats. Among these was the Couta Boat, a type of fishing boat sailed in Victoria, Australia, around Sorrento and Queenscliff and along Victoria's west coast as far west as Portland from 1870 until the late 1930's.
Couta Boats and racing them in Sydney can be ascribed to keen yachtsman Mark Foy, a gentleman who had a holiday home at Bayview, and attended the November 1888 Regatta on Port Philip Bay that was associated with the Exhibition that occurred during that same month, an event the draper had to attend in the line of his business interests. His other main interest, or passion, was flying fast over the water and so as soon as the Exhibition was attended off to the regatta he went. As years went on ensuring others without squillions to spend could sail too became a focus of Mr. Foy's and these little flyers fit the bill and preceded the famous skiffs he would later race. He was so impressed with the fleet fastness of one couta boat, that he bought her and she came back to Sydney: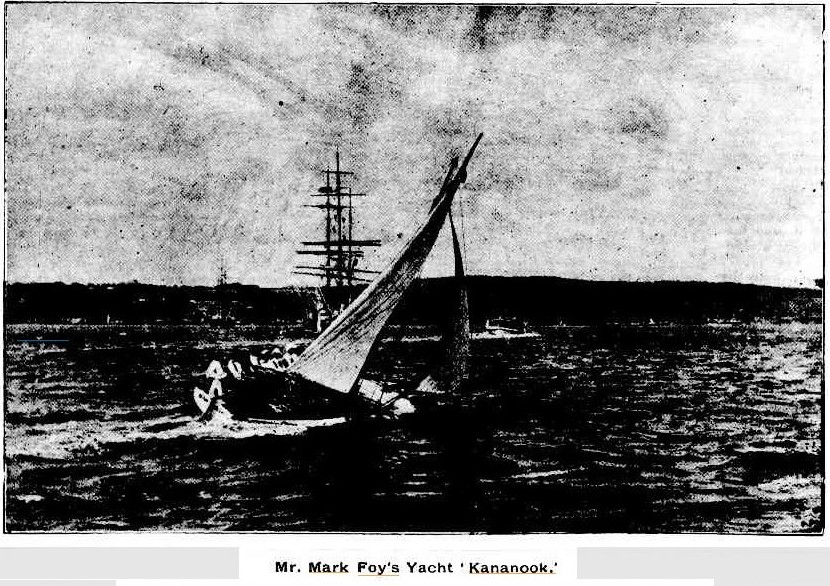 The Kananook, 26ft., quarter - deck, centre - board boat, hails from Melbourne, where she was first known to us as the ' Mayflower,' successfully competing at the Victoria Regatta Carnival, in November, 1888. On arrival here, her name was altered, and although taking part in a number of Sydney and Botany races, she has not been victorious. Her owner is Mr. Mark Foy, the well-known draper of this city, who has enrolled the ' Kananook ' in the Sydney Amateur, Port Jackson, East Sydney, and Botany Sailing Clubs. AQUATICS. (1891, April 11). Illustrated Sydney News (NSW : 1853 - 1872), p. 3. Retrieved from http://nla.gov.au/nla.news-article63616436
A tradition of racing these vessels stems from the very practical use they were put to in getting them back to port, filled with fish, for the markets. This race, where first in did best price-wise in selling their fish, was naturally extended to races purely for winning these too. Post World War II the commercial fishing industry coupled with a change in the public taste for eating shark (flake) as their fish in fish'n'chips, pushed the classic little boats aside.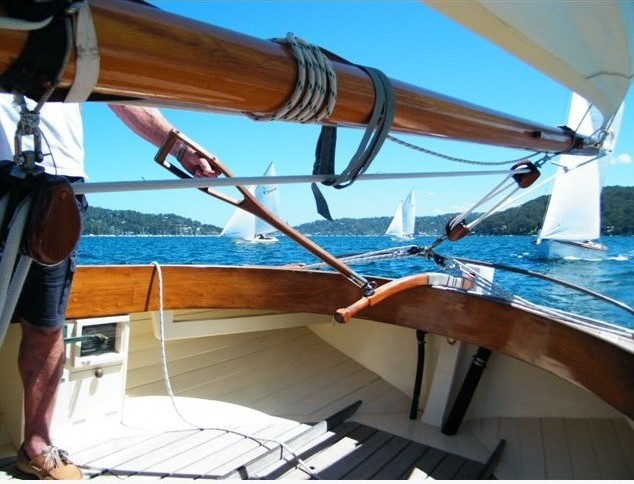 During the 1970's a revival of these began to take place. Larry Eastwood, of the Pittwater Wooden Boat School at Mona Vale ascribes to Victorian man Tim Philips the current building of these vessels in the traditional form.
When Tim Phillips first spotted "Mermerus" sailing in Port Phillip Bay she was one of only two Couta boats which remained afloat and in one piece. She was built in 1938 by Ken Lacco at Rosebud for the MacKinnon fishing family of Sorrento, who still own her today.
This encounter was a turning point for Tim who with considerable assistance from Ken Lacco set about turning his building skills to the preservation and restoration of the Couta boat fleet of Port Phillip Bay. With a committed kernel of enthusiasts the Couta Boat revival was started, an active fleet of over a hundred boats in three states of Australia are testament to their success.
Mr Philips is dedicated to producing couta boats along the lines of these originals and these are true handmade boats that incorporate specifics:
The Couta Boat Club have strict guidelines for new boats. "I consider the new boats we build are part of the evolution of the class", says Tim Phillips. "They're not built for racing. My design philosophy is to go back to the era prior to the influence of engines, to the time when the boats were purely commercial sailing and fishing vessels".
"Any new boat should have good sailing characteristics, be well balanced, and not too big down the stern. It should have good carrying capacity, and obviously, it should sail fast. The hull needs enough depth forward to drift well for flathead, which was also quite a big part of the early fishermen's activities. If the boat is too shallow forward it will drift off at the head".
"Attempting to follow the bottom-dwelling flathead fishermen would sail their Couta boats under a loose sheeted, luffing mainsail. The boats would drift along with tide and wind, lying ahull. They would occasionally luff up into the breeze, and if a hull was too shallow forward it would fall away, start sailing, and move too fast. Thus hull shape was (and is ) vitally important".
The ribs, laid deck, solid thwart and centreplate case have real substance. Rigging is simplistic and not over complicated. Controls run through wooden cheeked blocks, laced with white polyester line. A loop traveller hawse, cast rudder gudgeons and shrouds lashed to chain plates, carry on the traditional concept evident in boats old and new alike. Solid timber spars top of the classic look in first class style.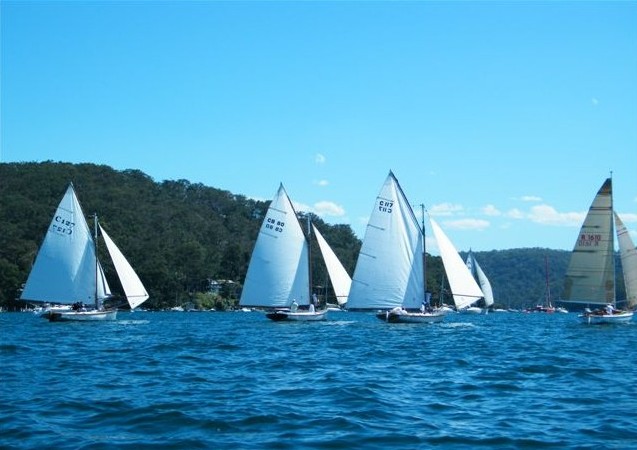 The materials these boats are built from is important – when we visited Larry Eastwood's Pittwater Wooden Boats – School during the week a Tasmanian dinghy, almost one hundred years old and made from Huon pine. Kauri, the indomitable New Zealand wood that was placed in salt water to 'season' for two years prior to being turned into a classic wooden yacht like the Bona, constructed by Charles Bailey junior, is now protected.
The Tenacity, one of the Pittwater fleet of couta boats, was constructed from Huon pine. Integrity in the materials is a vital part of this process.
The Pittwater Couta Boat Club chapter began with just one vessel a few decades ago. One of the first couta boats around was Sylvia which Philip Kinsella had built around 1989. This was in Pittwater and later taken down to Sydney Amateur Sailing Club on the harbour. The next boat on Pittwater was Cariad, which was Mick Morris' boat and the only one on Pittwater for quite a while. Larry Eastwood purchased Sylvia and brought her back to Pittwater. In the meantime Justus Veeneklaas, had a couta boat built called Tenacity and now there were three.
It was the dream of these sailors to build a Pittwater Fleet. When Terry Moran brought a 26ft couta boat Southerly up from Melbourne, one which was specially built to go racing, the fleet expanded. Along with Edward Brew's J'Aime (24ft) the fleet, which sails out of the Royal Prince Alfred Yacht Club on Wednesday afternoons, then to Avalon Sailing Club before sailing with the Woody Point Yacht Club twilights races on Wednesday, now numbers five regulars.
Perhaps this is not as large as the 100+ fleet in Victoria, but bringing and maintaining this part of Australia's maritime heritage and history right here on Pittwater for these predominantly offshore skippers and crews is in keeping with Pittwater's own long history of a maritime heritage.
The Pittwater Chapter of the Couta Boat Club has added a Regatta – the Wattle Regatta, to their annual runs. This stems from two men who owned the original Wattle couta boat, built in the early 1900's, and members of the Sorrento Sailing Couta Boat Club who came to Pittwater to challenge the fleet here, bringing a cup with them. Every year Victorian boats are invited. Last October, 2013, seven couta boats raced on Pittwater in the Wattle Cup hosted by the RPAYC.
What is the club's favourite places in Pittwater?
Clearly the RPAYC and Woody Point as well as the Avalon Sailing Club. These places still hold a lot of what the original couta boat clubs were like – family orientated, with the smaller clubs having vessels like couta boats, centre-boards, pulled up on the beach.
If people would like to learn more about building wooden boats in Pittwater, or have a go as crew on a couta boat, the place to start is at the Pittwater Wooden Boat School. An initiative of, and managed by Larry Eastwood, a wooden boat owner purist who wishes to see that his love and passion for wooden boats translated into improving the knowledge and understanding of construction and maintenance of wooden boats in order to add to the numbers of wooden boats owners – especially on Pittwater.
Larry is joined in this challenge by two legends in wooden boat building, Simon Sadubin of Sydney Wooden Boats and Ian Smith of Woodcraft Boats and formally of SWB Sydney Wooden Boats (formally Sydney Harbour Wooden Boats) which has recently relocated from Chowder Bay to Darley Street, Mona Vale. Both Simon and Ian bring a life-time knowledge and expertise to the School.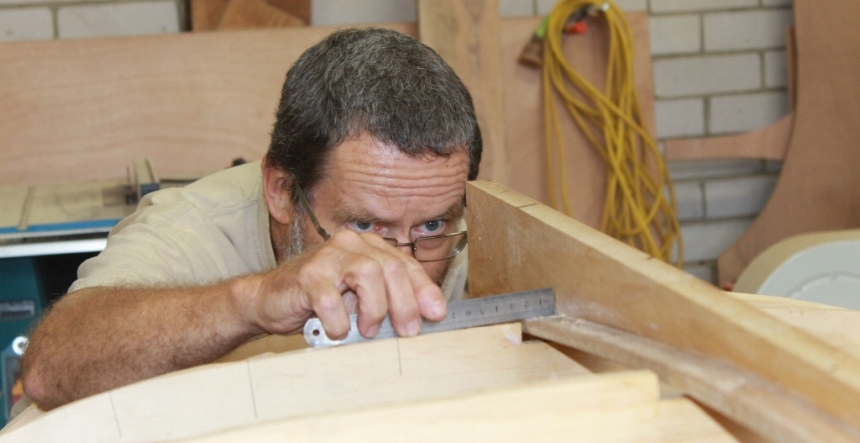 Ian Smith at work with the Clinker Boat class this week.
Their work includes the restoration of many notable harbour boats such as SAO, DAISEY, RIMINI, MERLIN, MONSOON.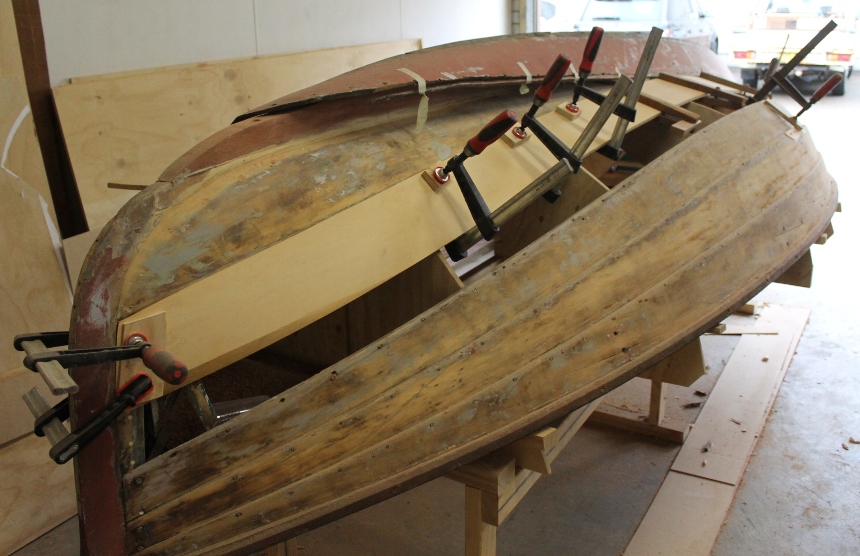 Tasmanian dinghy being restored at the Pittwater Wooden Boat School
The Pittwater Wooden Boat School has classes which aim to promote wooden boat ownership by giving participants the ability to create and build their own small craft or to be able to restore and maintain older craft. The courses are recreational in nature and are aimed at all levels of expertise, from student youths to retirees who have spent a life time pushing a desk.
An example of a work in progress is seen in OCEAN POINTER – RENAMED WOODY POINTER
The design for this boat comes from America and is based on a quite famous boat that used to go out lobster fishing. It has this really high bow and will look long and narrow and is very flat on the bottom which means that it planes very quickly without a huge motor. This is the largest of the projects with an expectation of needing in excess of 600 man hours. Simon Sadubin and his team of Terry, Stuart, Ian and Lock have been making good progress with full strip planking.
Larry tells us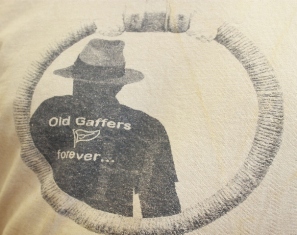 We will continue with the Group Build Classes of the Woody Pointer and have started a new Traditional Clinker Dinghy. The Pittwater Wooden Boat School has just commenced its 2014 classes and these are run as three hour evening and day sessions. I am expecting the 3 Own Projects to continue so will only have limited room for other Own Projects and they will need to be relatively small such as a canoes and kayaks etc.
I also have a 15 ft Whitehall style row/sail dinghy that is need of restoration if anybody is interested in joining me in a restoration project. This dinghy is also looking for a new home.
OTHER COURSES
I am interested in running other short courses if there is a demand. These include.
Model making – Build your own boat as a half model; Weekend courses - building something fast and simple such as a Stitch and Glue Dinghy; Techniques - Painting and varnishing; Tools – using the right one and keeping them sharp!; Looking after a wooden boat – general repairs and maintenance; Lofting
If any of these or others interests you – please let me know.
Please visit the website pittwaterwoodenboats.com.au for more detailed information on the courses and access to the enrolment forms.
You can contact Mr Eastwood at larry@pittwaterwoodenboats.com.au or telephone: 0417 244 406
Couta Boat Club: www.coutaboat.com.au Pittwater Wooden Boats: www.pittwaterwoodenboats.com.au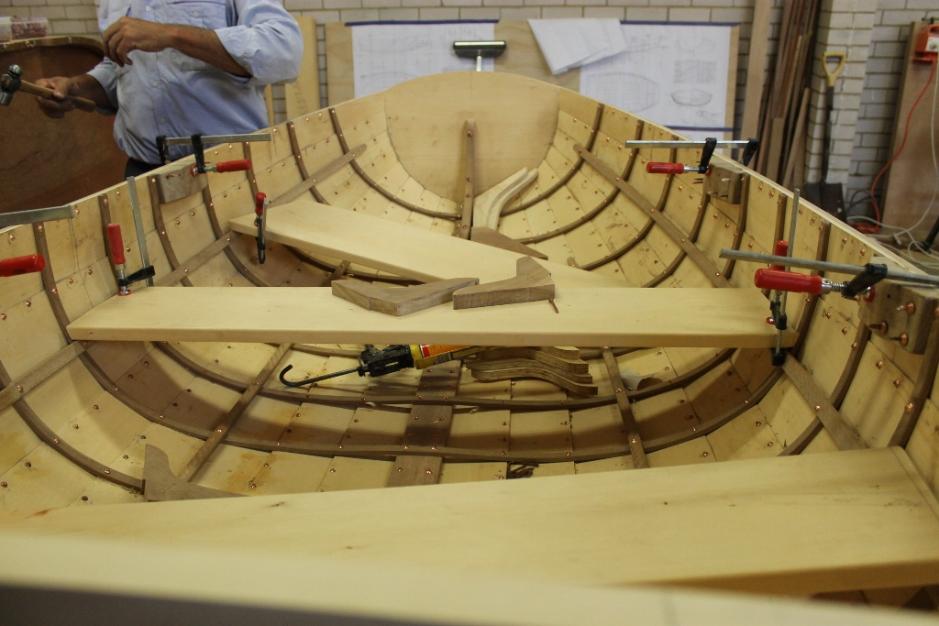 Traditional Clinker Dinghy - "PEE WEE" Pram Dinghy - planks of Tasmanian pine with ribs of spotted gum are steamed and moulded to fit, copper - Below: Larry Eastwood and Bruce Gosford work on this boat - Pittwater Wooden Boat School - February 2014.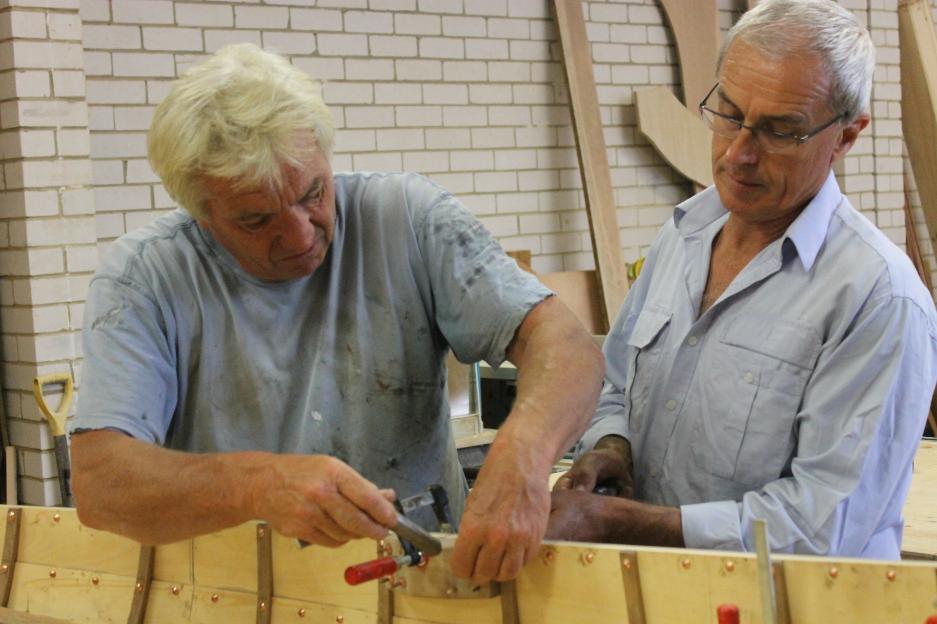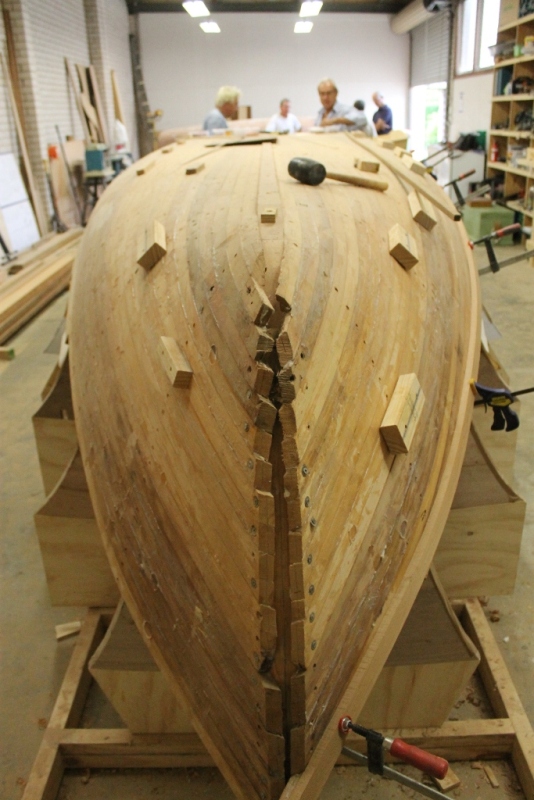 WOODY POINTER - work in progress.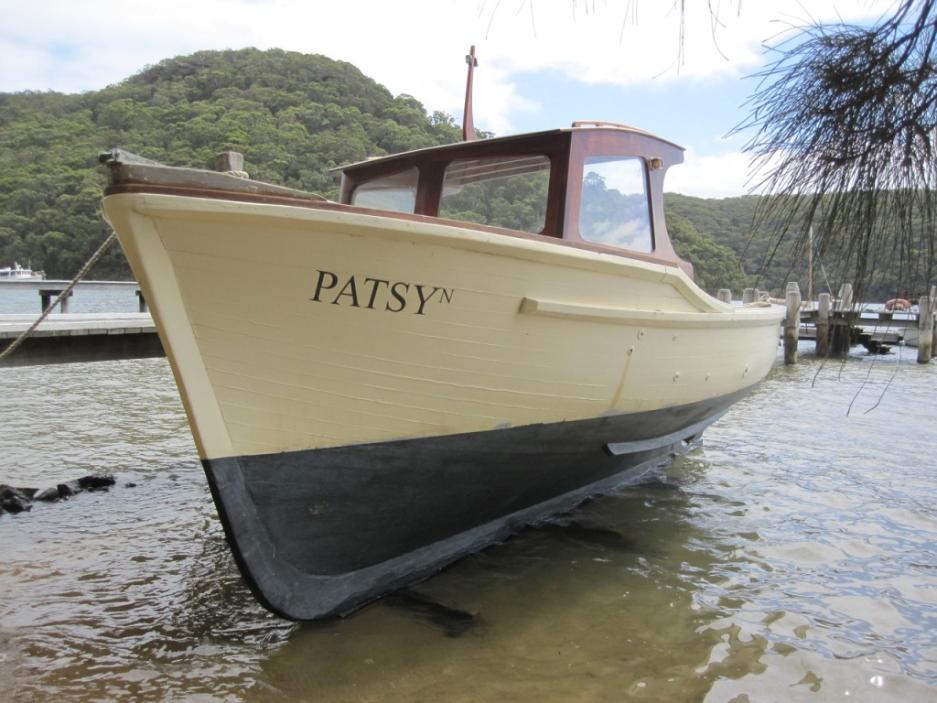 The Patsy – was the council workboat for many years that was used to push the garbage barge around. This too has been fully restored and rebuilt over the last four years by Larry. Photo: Larry.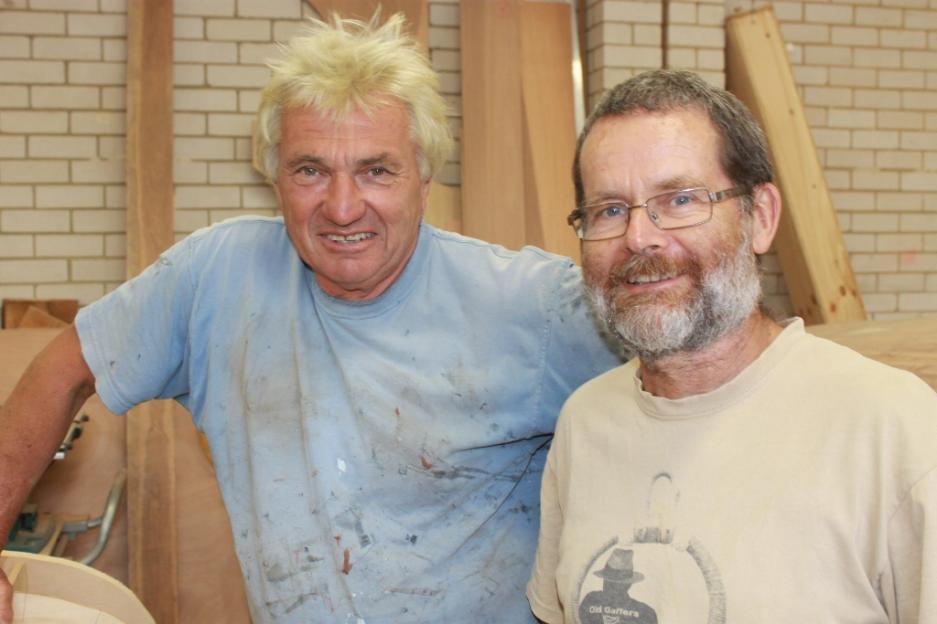 Larry Eastwood and Ian Smith.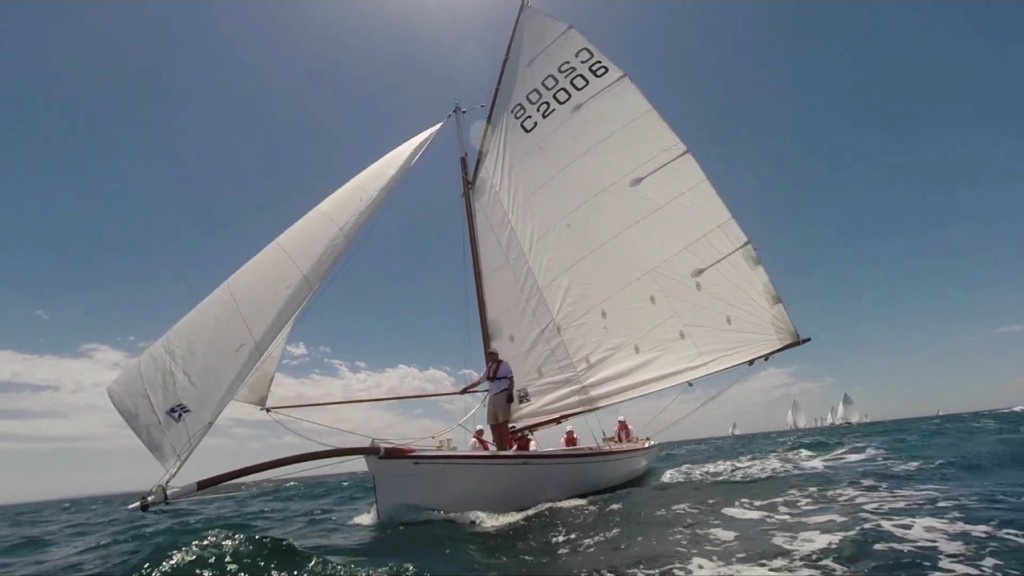 Couta Boat Club - Pittwater Chapter and Pittwater Wooden Boat School, + Wooden Boat School pics, A J Guesdon, 2014.