November 28 - December 4, 2021: Issue 520
covid-19 updates: issue 520 - Additional border security measures to protect Australians from the new 'Omicron' COVID-19 variant + Update On Further Easing Of Restrictions + Removing Disruptions For Schools And Families + School formals open to all HSC students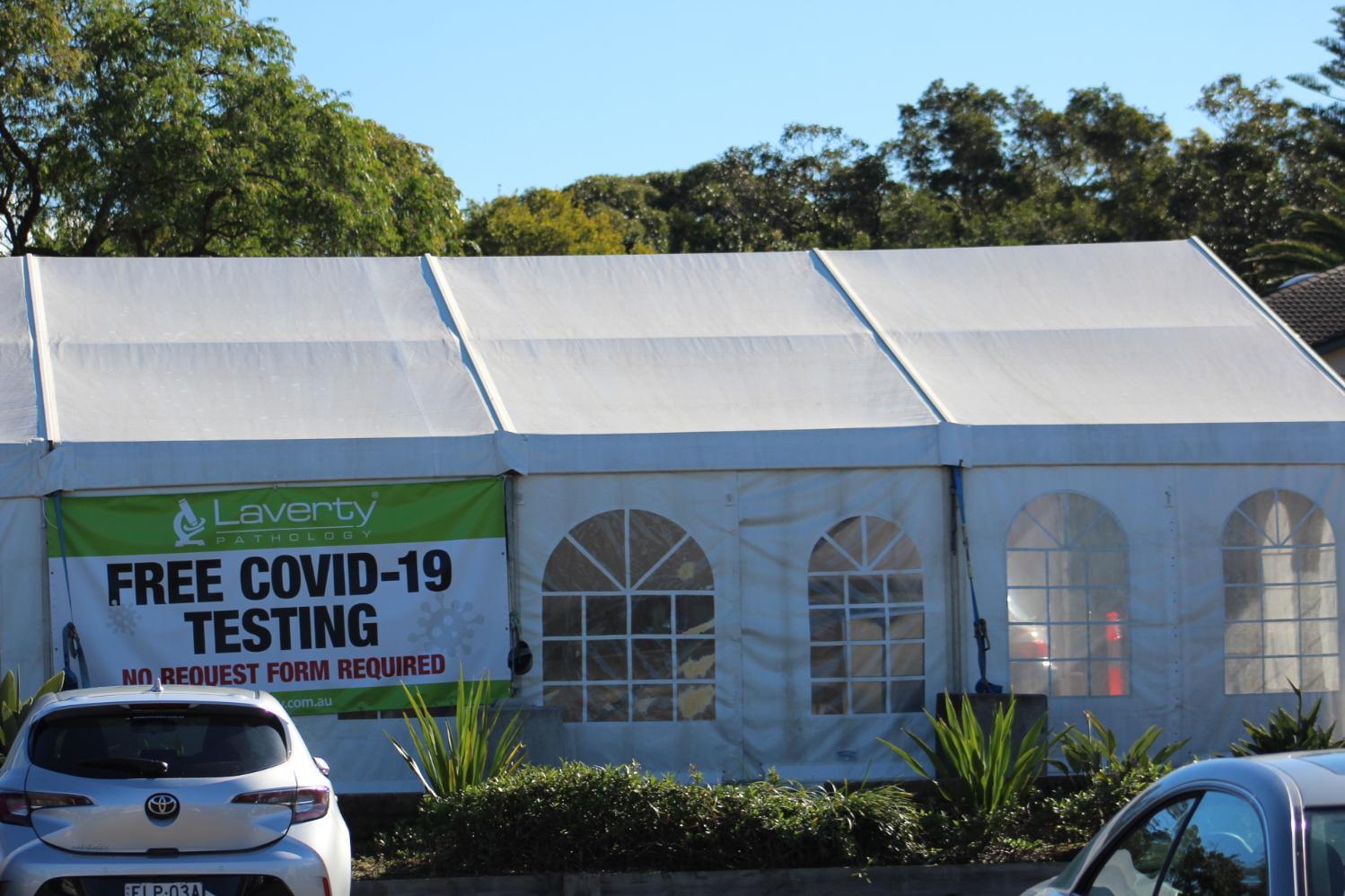 Covid-19 Testing Clinic at Avalon Bowling Club carpark.
COVID-19 (Coronavirus) statistics
November 25, 2021:
NSW recorded 276 new cases of COVID-19 in the 24 hours to 8pm last night.
Three cases have been excluded following further investigation, bringing the total number of cases in NSW since the beginning of the pandemic to 80,492.
There are currently 191 COVID-19 cases admitted to hospital, with 31 people in intensive care, 10 of whom require ventilation.
Of the 276 cases reported to 8pm last night, 69 are from South Eastern Sydney Local Health District (LHD), 47 are from South Western Sydney LHD, 36 are from Hunter New England LHD, 34 are from Western Sydney LHD, 20 are from Sydney LHD, 16 are from Northern Sydney LHD, 15 are from Nepean Blue Mountains LHD, 12 are from Murrumbidgee LHD, 11 are from Western NSW LHD, four are from Southern NSW LHD, four are from Mid North Coast LHD, two are from Illawarra Shoalhaven LHD, two are from Northern NSW LHD, two are from Far West LHD, one is in hotel quarantine and one is yet to be assigned to a LHD.
Additional border security measures to protect Australians from the new 'Omicron' COVID-19 variant
November 27, 2021
The Hon. Greg Hunt MP
Minister for Health and Aged Care
On the basis of medical advice provided by the Chief Medical Officer of Australia, Professor Paul Kelly, the Australian Government will implement additional border security measures as a precaution to protect Australians from the new Omicron variant of concern.
These actions are taken on the basis of prevention and are considered proportionate to the risk and consistent with actions being considered by other countries.
Effective immediately, anyone who is not a citizen or permanent resident of Australia, or their immediate family including parents of citizens, and who have been in African countries where the Omicron variant has been detected and spread – within the past 14 days – will not be able to enter Australia.
The countries are: South Africa, Namibia, Zimbabwe, Botswana, Lesotho, Eswatini, Seychelles, Malawi and Mozambique.
2. Australian citizens and permanent residents, immediate family members including parents arriving from these countries will need to go into immediate supervised quarantine for 14 days subject to jurisdictional arrangements.
3. Anyone who has already arrived in Australia and who has been in any of the nine countries within the past 14 days must immediately isolate themselves and get tested for COVID-19 and follow jurisdictional quarantine requirements which will include quarantine for 14 days from the time of departure from southern Africa.

4. These restrictions also apply to people, for instance international students and skilled migrants, arriving from the safe travel zones we have established with New Zealand, Singapore, Japan and Republic of Korea, who have been in any of the nine countries within the past 14 days.
5. The Government will suspend all flights from the nine southern African countries for a period of 14 days as a matter of precaution.
The World Health Organization has declared the B.1.1.529 strain of the virus, now known as the Omicron strain, to be a variant of concern. It was first detected in southern African countries.
The Omicron variant has a high number of mutations within its spike protein, which is particularly concerning.
There are currently no known cases of the Omicron variant in Australia.
The actions taken by the Australian Government to date are precautionary and will remain so until more is known about the severity and transmissibility of the new variant.
The emergence of the Omicron variant is another reason any eligible person in Australia who is not yet vaccinated against COVID-19 should make an appointment – today – to get vaccinated. If you have completed your two-dose primary course of vaccination at least six months ago and haven't yet had a booster dose, make a booking for the booster now.
People should also continue to practise COVIDSafe measures, including good hand washing and cough and sneeze hygiene and get tested if they have any symptoms of COVID-19.
These new measures were implemented on the recommendations of Australia's Chief Medical Officer which was informed by a comprehensive risk assessment. The Australian Health Protection Principal Committee (AHPPC) is aware and actively engaged in discussions.
Australians can be reassured the Australian Government is acting on the best medical advice available. If further actions are required the Government will not hesitate to take these actions.
The AHPPC is following international developments very closely and will continue to advise the Government on how to respond to the Omicron variant.
Australians are urged to get their COVID-19 information from trusted sources, such as: www.australia.gov.au
__________________________________________________________
NSW Government Takes Precautionary Steps In Response To Omicron Variant
November 27, 2021
The NSW Government has taken precautionary steps in relation to quarantine arrangements for overseas arrivals following the introduction of additional national border security measures by the Australian Government.
Premier Dominic Perrottet said the new measures would help keep people safe as we work through this latest development with COVID.
"Authorities around the world are still investigating the risk posed by this new variant," Mr Perrottet said.
"As a result, the NSW Government will continue to put community safety first by taking these precautionary but important steps until more information becomes available."
The new measures, which will take effect at midnight tonight, are:
In line with Commonwealth measures, all travellers arriving in NSW who have been in South Africa, Lesotho, Botswana, Zimbabwe, Mozambique, Namibia, Eswatini, Malawi, and the Seychelles during the 14 day period before their arrival in NSW must enter hotel quarantine for 14 days, irrespective of their vaccination status;
All travellers who have been in any other overseas country during the 14 day period before their arrival in NSW must travel directly to their place of residence or accommodation and isolate for 72 hours, pending further health advice;
All flight crew who have been overseas during the 14-day period before their arrival in NSW must travel directly to their place of residence or accommodation and isolate for 14 days or until their departure on another flight that leaves Australia, consistent with the current rules for unvaccinated flight crew;
Anyone who has already arrived in NSW who has been in any of the nine African countries within the previous 14 days must immediately get tested and isolate for 14 days, and call NSW Health on 1800 943 553;
All unvaccinated travellers from any overseas country will continue to enter hotel quarantine.
Minister for Health Brad Hazzard said no cases of the Omicron variant have been identified in NSW to date, but urged everyone to stay vigilant.
"I remind the community that vaccination, social distancing and hand hygiene remain our best defence against COVID," Mr Hazzard said.
Public health advice on quarantine arrangements and isolation requirements will be provided as soon as new information emerges on the risk posed by the new variant and the extent of its international transmission.
People can get the latest information by visiting nsw.gov.au
If you haven't received a COVID-19 vaccination yet, please don't delay. Even if you have had COVID-19 and recovered, you should get vaccinated.
NSW Health encourages everyone who is eligible to book into a NSW Health vaccination clinic or another provider without delay through the COVID-19 vaccine clinic finder.
If you are directed to get tested for COVID‑19 or self-isolate at any time, you must follow the self-isolation rules.
If you have any COVID-19 symptoms, no matter how mild, get tested immediately and self-isolate until you receive a negative test result.
There are more than 450 COVID-19 testing locations across NSW, many of which are open seven days a week. To find your nearest clinic visit COVID-19 clinics or contact your GP.
Update on further easing of restrictions
November 25, 2021
The NSW Government has updated the roadmap for easing restrictions after the State reaches the 95 per cent double dose vaccination target, or 15 December, whichever comes first.
Adjustments to previous settings scheduled for this milestone include:
Masks will only be required on public transport and planes, at airports, and for indoors front-of-house hospitality staff who are not fully vaccinated (previously all indoors front-of-house hospitality staff regardless of vaccination status). Masks will be strongly encouraged in settings where you cannot social distance;
No density limits (previously one person per 2sqm);
COVID safety plans will be optional for businesses and will be supported by SafeWork NSW;
QR check-ins will only be required at high-risk venues including hospitals, aged and disability care facilities, gyms, places of worship, funerals or memorial services, personal services (e.g. hairdressers and beauty salons), limited hospitality settings (including pubs, small bars, registered clubs and nightclubs), and for indoor music festivals with more than 1,000 people; and
Proof of vaccination will no longer be required by Public Health Order for most activities (businesses can still require proof at their own discretion). Proof of vaccination will still be required for indoor music festivals with more than 1,000 people.
With more than 92 per cent of people over 16 now vaccinated ahead of the summer festive season, NSW is continuing to take a responsible and measured approach to reopening.
To maintain high levels of immunity across the community, NSW Health is rolling out a booster vaccination program at its clinics to individuals aged 18 and older who received their second dose of a COVID-19 vaccine six months or more ago.
Premier Dominic Perrottet said the easing of restrictions was only possible because NSW is amongst the highest vaccinated populations in the world and the introduction of the booster shot program.
"We're leading the world when it comes to vaccinations and that is a tremendous achievement we can all be proud of because it has allowed us to return to normal as quickly and safely as possible," Mr Perrottet said.
"The easing of these restrictions will allow people to get out and enjoy summer providing a boost for some of our hardest industries as we do everything we can to ensure we keep people safe as we learn to live with COVID."
Deputy Premier Paul Toole said the roadmap was a staged and considered approach which ensured Regional NSW was able to welcome back visitors in a COVID safe way.
"Regional NSW is open for business thanks to high vaccination rates right across the state. I'd remind visitors to our beautiful beaches, countryside and outback this summer to be respectful and ensure they are abiding by safety measures, which include wearing masks on public transport, planes and at airports."
Minister for Jobs, Investment and Tourism Stuart Ayres said the updated plans for the next stage of the roadmap was great news for businesses still impacted by the remaining restrictions.
"This is a timely boost for businesses just before the busy Christmas and summer holiday periods," Mr Ayres said.
"I want to encourage everyone to go out and support NSW businesses – whether it's a meal out, booking a regional trip, or holiday shopping at your favourite local store, this is a prime time to enjoy the new freedoms and help NSW businesses bounce back."
Minister for Health Brad Hazzard said COVID booster shots would be an important part of keeping the community safe through the summer and new year.
"If you had your second COVID vaccination jab six months or more ago, you should book a booster right now. Don't' forget if you haven't been vaccinated at all go and get the jab to protect yourself and your family," Mr Hazzard said.
"By stepping up for a jab and a booster shot you help protect yourself and everyone around you, including the elderly, those with underlying health conditions, and young children who aren't yet eligible for vaccinations.
"We will also need to continue to get tested if we develop COVID symptoms, regardless of vaccination status, and continue to follow public health advice."
The NSW Government will continue to review the roadmap settings and make any appropriate changes based on the current case numbers and vaccination rates.
People aged 18 years and older can receive the Pfizer booster dose at least six months after receiving their second dose of any of the COVID-19 vaccines registered for use in Australia. You can book your COVID-19 vaccine or your booster shot, via Where and how to get your COVID-19 vaccination
Find information about the next stage of easing of restrictions on nsw.gov.au
Removing disruptions for schools and families
November 25, 2021
Close contacts of COVID cases at schools and outside school hours care services will no longer need to isolate as a result of changes in school COVID settings announced today by the NSW Government.
The changes were made following recent Doherty Institute and NSW Health advice, and will take effect from Monday 29 November.
From 29 November, students who are close contacts of a positive case will be required to get a PCR test as soon as possible after being notified of exposure. If the PCR test is negative, the student may return to school immediately, so long as they provide negative Rapid Antigen Home Test (RAHT) results for the next seven consecutive days.
In line with community settings, schools will no longer need to close while contact tracing occurs due to successful cohorting of year groups on school sites. The only exception may be if there are multiple cases at a school or complex settings in place.
NSW Health has also advised that schools do not need to close for deep environmental cleans as the enhanced cleaning in place at schools is sufficient.
Mask settings remain the same, meaning they are required for all staff and high school students, and are recommended for primary school students.
Further restrictions on music have also been lifted, with instruments that rely on breath and singing and chanting allowed to go ahead outdoors, within cohorts, and in line with other COVID-safe school settings from Monday.
Premier Dominic Perrottet said the changes give parents the confidence that schools will no longer be closing and their children will not be required to isolate at home.
"The people of NSW have worked hard to get to this point, and the government made a commitment that whenever possible we would reduce the disruption to schools," Mr Perrottet said.
"Schools have managed the pandemic extremely well, I want to thank all staff for the way they have conducted themselves and the efforts they have made to reduce the impacts of COVID on their students."
Minister for Education and Early Childhood Learning Sarah Mitchell said parents and students were keen to see less disruption in schools.
"I'm delighted we can reduce the disruption for students and families, while still maintaining the safety measures for students and staff on school sites," Ms Mitchell said.
"Students already in isolation can return to school from Monday under this new approach."
School formals open to all HSC students
November 25, 2021
All Year 12 students will be able to attend their end-of-year school celebration following a year of disruptions caused by the COVID-19 pandemic.
Health Minister Brad Hazzard today granted an exemption to enable all HSC students to attend their school's Year 12 formal, dinner, or graduation, regardless of their vaccination status.
"The HSC students of 2021 have had an incredibly tough 18 months, including substantial time without face-to-face teaching, and missing out on seeing friends and family," Mr Hazzard said.
"They deserve to be able to party with their friends and enjoy one of the biggest celebrations of their life."
Minister for Education Sarah Mitchell said the exemption gives all Year 12 students an opportunity to celebrate with their friends after their exams.
"I am so happy that all Year 12 students can celebrate with each other at the end of an incredibly turbulent year," Ms Mitchell said.
"Our Year 12 students have worked so hard and I want to commend them for the resilience they have displayed."
The exemption means Year 12 students who have not been vaccinated for COVID-19 will be able to celebrate with the rest of their cohort, if they abide by the public health requirements of the venue they're attending.
The HSC written exams end on 3 December, with students set to receive their ATAR on 20 January and results on 24 January.
For tips and advice on staying healthy throughout the exam period, visit the Stay Healthy HSC hub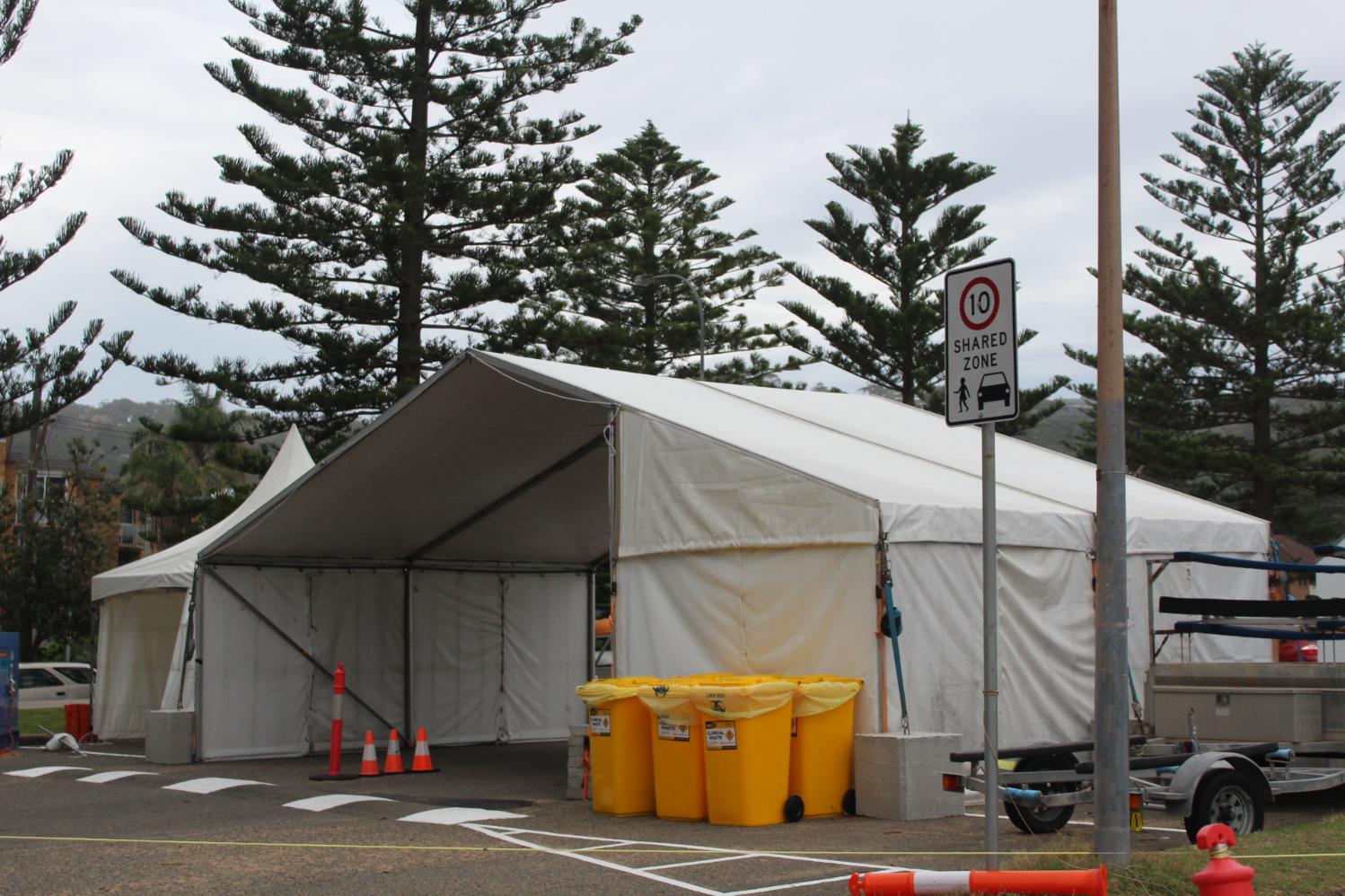 Newport Drive-through Covid-19 Testing Clinic. AJG photo.