April 27 - May 3, 2014: Issue 160
Palm Beach Surf Life Saving Club – Surf Boat Crews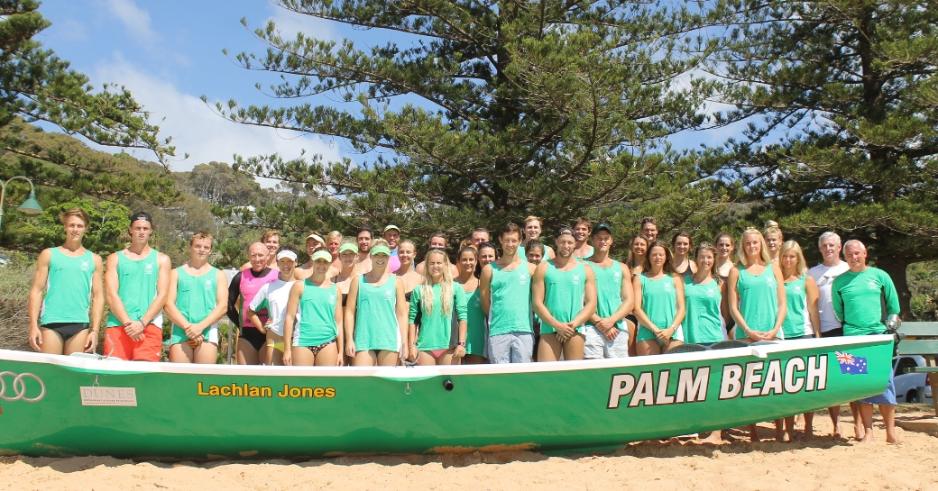 Palm Beach SLSC Boat Crew Members
Back Rows: Matt Wiadrowski, Angus Begg, John Rasmus, Phil Blacklaw, Peter Spence, Ant Serventi, Mark Highfield, James Raleigh, Nick Wiadrowski, Jenny Altherr, Dave Matthews, Greta Beale, Sarah Sackville, Grace Falkenmire.
Front Rows: James Riley, Ben Pratt, Oliver Harradine, Stephen Cox, Ingrid Haughton, Steph Brown, Surya Davey, Claudia Davey, Taylor Richards, Charley Nolan, Verity Boulton, Elly Reynalds, Kurt Spencer, Jordan Toombes, Tom Webster, Ollie Archibald, Alex Hill, Alex Tyrell, Jamie Lee Patterson, Bec Mobbs, Matty Giblin, John Vanderwallen.
Palm Beach Surf Life Saving Club – Surf Boat Crews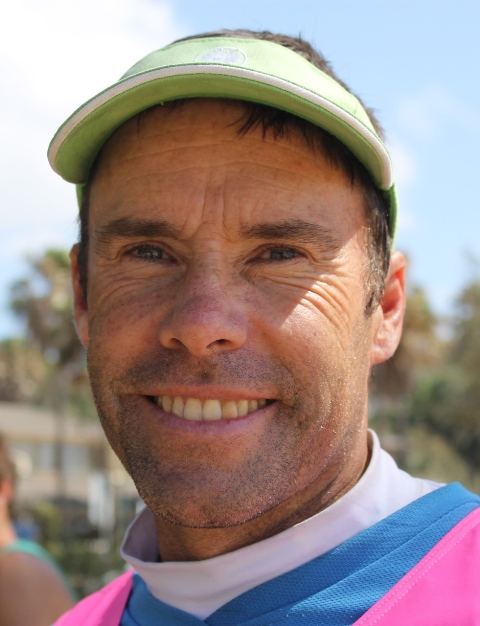 From the outset of Surf Life Saving in Australia the surf boat has played an integral role in saving the lives of people. When the line could not reach them, the boats, patrolling the waters further out, were those who went to their rescue. Our History pages are crammed with instances of Surf Clubs sending out boats and crews to rescue people out of hours too – their success at doing so demonstrated their level of skill, fitness and knowledge of local waters was second to none.
To maintain this high level surf sports in carnivals has been part of the movement from its earliest eras and has only grown in popularity. The current Surf Life Saving Sydney Northern Beaches Premiership is not only a brilliant display of skills and craft for spectators it is a chance for each boat crew member to test their mien against other clubs in their divisions each year.
At local, state and national carnivals it is the Pittwater men's and women's crews that feature throughout the heats and in all finals.
To close the 2013-2014 Surf Patrol Season we would like to celebrate this great aspect of surf life saving by sharing an insight, with huge thanks to Peter Spence, current Boat Captain at Palmy, and active member since the 1985-86 Season, on the Boat Club Division of Palm Beach SLSC.
We are also running a complementary page in Aquatics this week on the first boat crew at Palmy, with a number of firsts in this history too, including a boat named 'Tom Thumb' - built and launched by Robert Gow, the father of Carl Gow, in 1907 and regarded by Newcastle SLSC members as the genesis of surfboats, which was at Carl's Boatshed at Palm Beach until at least 1947.
The Boat Club Division of Palm Beach SLSC – how long has this been going?
The Palm Beach Surf Club was formed in 1921 and I know that they had a surfboat crew in the first year and have had one ever since, however we have been very strong for the last 15/16 years. This really kicked off when our Open Women won the 1998 Australian Title and then backed it up by winning again the year after in 1999. The Open Men then won the year after that in 2000, so Palmy had won three Australian Titles in three years.
In the last 10 years we've consistently been one of the largest and most competitive Surfboat Clubs in Australia. This year we took 13 crews to the Nationals (Aussies), which was the largest representation of any club and we had 18 crews formed and raced throughout the year.
Who was the original Boat Captain?
Arthur Goddard for the 1923-24 Season was our first official Boat Captain. Arthur was the father of local shipwright Jimmy Goddard and sweep for this first boat crew, which comprised members of another resident family, the Gonsalves. A Palm Beach resident and son of one of the first boatbuilders in the area, William Joseph Goddard (Goddard & Sons), he was also the gentleman called when vessels and those on them were in danger outside the season – day and night.
We've had many Boat Captains over the years of the club, I couldn't name them all. I've been Boat Captain now for approximately 11 to 12 years. Lachlan Jones a member of the club who rowed for us during the 1980's and 1990's was Boat Captain in the 1990's and he was person who got some great sweeps to the club in the late '90's and early '2000's which really helped kick start our boat section to where it is today.
The Sweeps that Lachlan got to join and helped shape the boat section to where it is today were Laurie Murphy, Ron Payne, Lyle Clark and Ross Jorgenson, all legends of the sport!
What does the role of a Boat Captain involve?
With 13 crews there's a lot of organising, making sure all the boat gear is up to scratch and in good order for training and racing; we have seven boats so this is plenty to keep us busy to keep in good condition and with so many crews using them each week. Each sweep is allocated a boat that they look after for the season, John Rasmus and myself help the sweeps look after them and fix little things as needed throughout the season I also order new gear each season and organised to get the gear repaired if it gets damaged
E.G. oars repaired, boat covers fixed, trailers in Rego etc.
I also book all the accommodation when we go to away carnivals, order and allocated clothing for all the new rowers each season and I make sure that all the rowers know what is going on each week with carnivals, training, patrols, club commitments etc so I do this communication through a weekly email every week over the 7 months of the season.
Training is the largest part of my role as I have five crews myself, so the training is quite full on! I train each crew twice midweek – usually Tues & Thurs mornings and afternoons – for approx. an hour each session with each crew so Tuesdays and Thursdays I can spend 4-5hrs on each day coaching/sweeping – all of this and work! We also have a weights circuit / Ergs at my place on Mondays that I take and we usually get about 15-20 rowers to these.
I look after the training for my crews and the other sweeps train/coach their crews so I just make sure that they have a boat allocated and they can get their crews on the water. They have similar commitments for their crews that I have in regards to training.
What happens in the off season?
At the end of the season we'll make sure we clean and pack all the boats, gear, tent, etc. away so they are in good order and ready to use when needed – the good boats are not used in Winter while the older boats are used by crews that want to catch some waves in the off season. Over the off season we start seeing who is going to row next year – if there are any gaps in crews and if so we start looking at recruitment. We put the onus back on the rowers themselves to find friends that want to row, so we get them to do most of the recruitment (it can take plenty of phone calls over Winter to make sure they are getting people!). Over the Winter we will get new rowers down to Palmy on a weekend, have a row, try it out and see if they can want to do it and commit for the summer season.
The rowers will also be keeping up their fitness over Winter, many members of the crews play other sports – plenty of the girls play netball, others do crossfit, some play hockey. Some of the boys play rugby, most go to the gym – most of our rowers keep relatively fit. I cycle in the off season and plenty of the rowers are now starting to ride with me to keep fit and build some good leg strength for the next rowing season – we all keep in relatively good shape.
We start again in the boat in September and it is important that people don't come back too unfit!
The surf boat crews go back to the beginning of surf life saving when whalers, open fishing boats and butcher boats were among the first rescue equipment used – how much of this tradition is part of why you continue?
The surf boats have been part of surf life saving pretty much since day one. At Palm Beach we had a boat crew form during the first year the club was formed – so we have a proud tradition like most clubs. Sydney's Northern Beaches have the strongest surfboat Branch in Australia, this has always been the case historically and still is today. Most clubs in our Branch race surfboats so we have great depth and numbers to race against each weekend in summer and this lifts our standards, you will always see our local clubs in the finals at the Australian Titles and most seasons a SNB Club will win one or more of the divisions at the Aussies.
It is a dramatic sport that is very addictive, it has its highs and lows –Nationals this season is a good case in point – but you keep coming back year after year.
It's a very close fraternity the SNB boat section, everyone gets on very well. The rivalry on the water is intense but off the water everyone is so respectful of the other crews – they all help each other when needed. They certainly cheer each other on (our Northern Beaches crews) at the Nationals when we see each other in a Final – if we're not in we certainly want to see our other fellow Northern Beaches clubs win. All the Northern Beaches clubs are close – there's a huge amount of respect for each other on and off the water.
It is like a big family in many ways – when you finish a carnival you all have a drink and a bite to eat together – it's a great part of the sport. I've got friends that aren't just Palm Beach members – they're members of others clubs. You run into them at other times either in Sydney or around Australia and you're always having a chat and catching up.
For the novice; what are the positions and roles of any Boat Crew?
Starting with the Sweep; they are pretty much the eyes and ears of the crew; steering the boat out through the surf – they constantly talk the crew through what is happening – they let them know when waves are coming, when runners are coming to chase them. They talk them through on the way out as to where they're positioned, talk them into a buoy turn to make sure they know we're coming up to the buoy and talk to them all the way around the turn and then chase runners home.
At Pittwater Festival 2014 - Inaugural Surf Boat Shoot Out
The first seat is the Stroke seat – their role is to set the tempo and the rhythm in the boat. The middle pair are the Second Stroke and Second Bow or the Three and Two seats, these seats are commonly referred to as the 'engine room' – these 2 seats provide the power for the boat and where it has to come from!. The Bow Seat is by far the most technical seat in the boat – it's a very tough seat and a very hard seat to fill in a boat because you have to have someone who has a good surf sense, they need to be able jump pretty high as sometimes it can be hard to get in the boat, they also need to be someone who can 'read' the water, someone that can feel the boat 'run' and someone that has great 'feel' for the water. Their role is to keep the boat smooth, keep the boat trim; which means we want the bow down, want it running forward, not bouncing around like a cork.
In concluding I would like to say that anyone should give surfboat rowing a go, you don't have to have had any experience rowing to do well in the sport, as long as you are athletic, willing to listen and learn and most importantly TRAIN HARD, you will do well, so get down to your local club and have a go!
Palmy Sweeps
Left to right: Mark Highfield, John 'Rastus' Rasmus, Stephen Cox, Peter Spence, Matt Giblin, John Vanderwallen.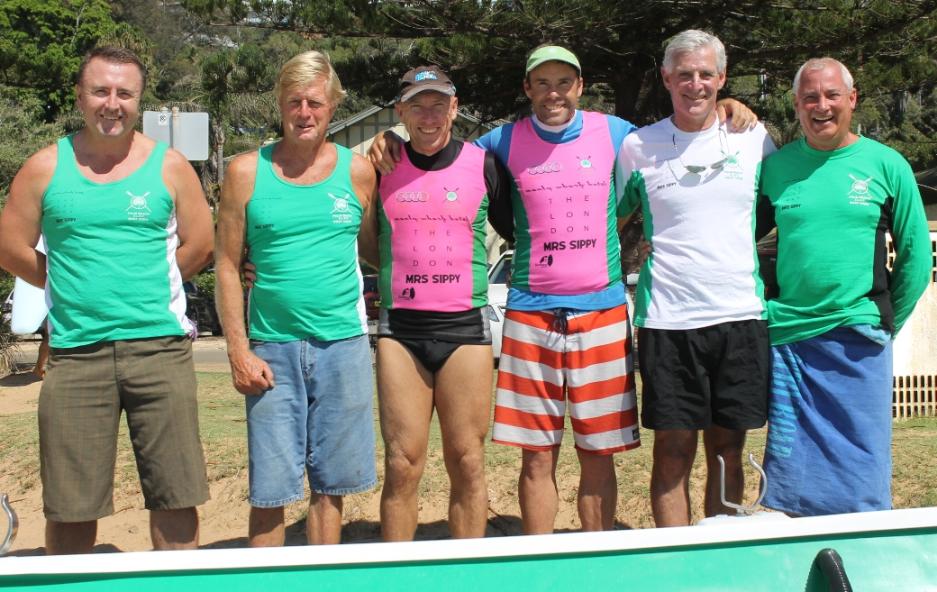 Palmy Pokopanos – Open Women
Left to right: Alex Tyrell, Bec Mobbs, Matty Giblin, Jamie Lee Patterson, Alex Hill. Also Open Women's Winning Crew: Palm Beach Pokopanos (2 mins, 23 secs) - Inaugural Surf Boat Shoot Out - Pittwater Festival 2014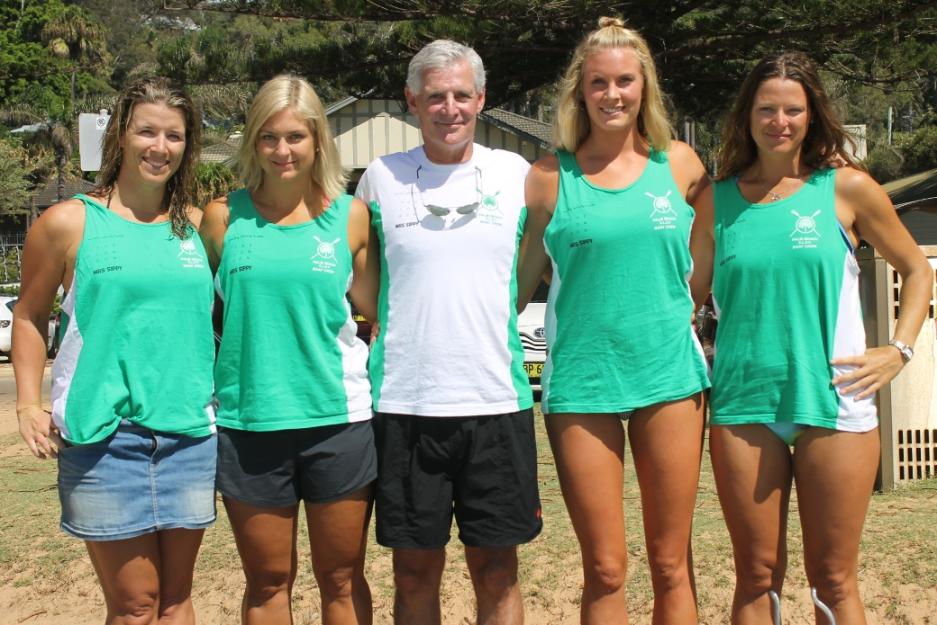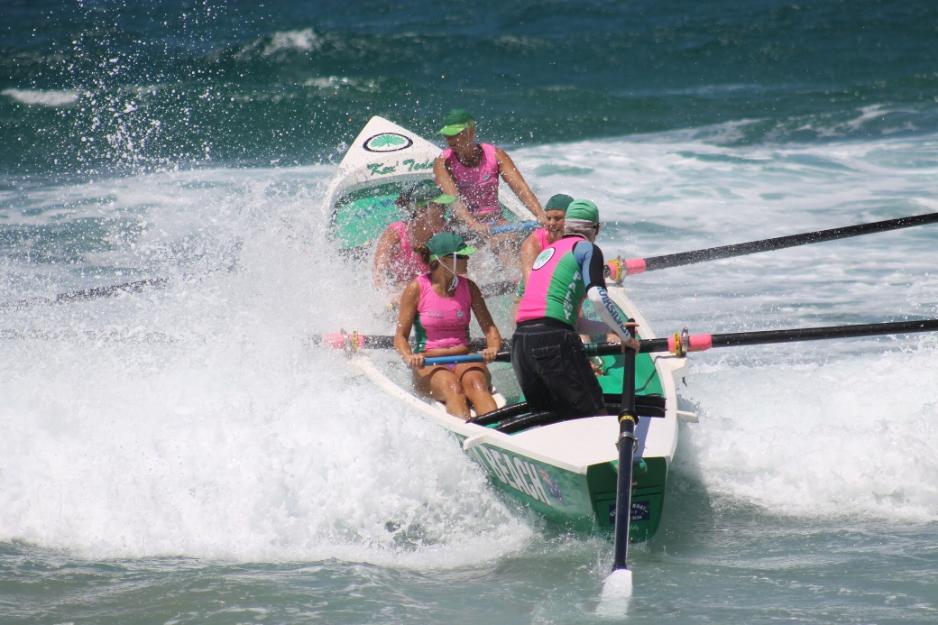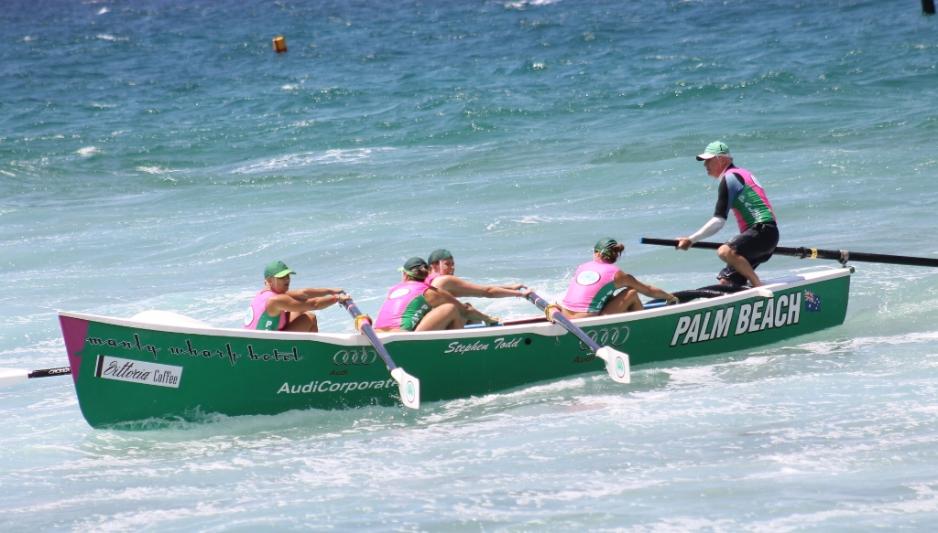 Palmy Poseidon – Open Women (last Season's Australian Champions U/23 Women)
Left to right: Charley Nolan, Jordan Toombes, Peter Spence, Greta Beale, Jenny Altherr.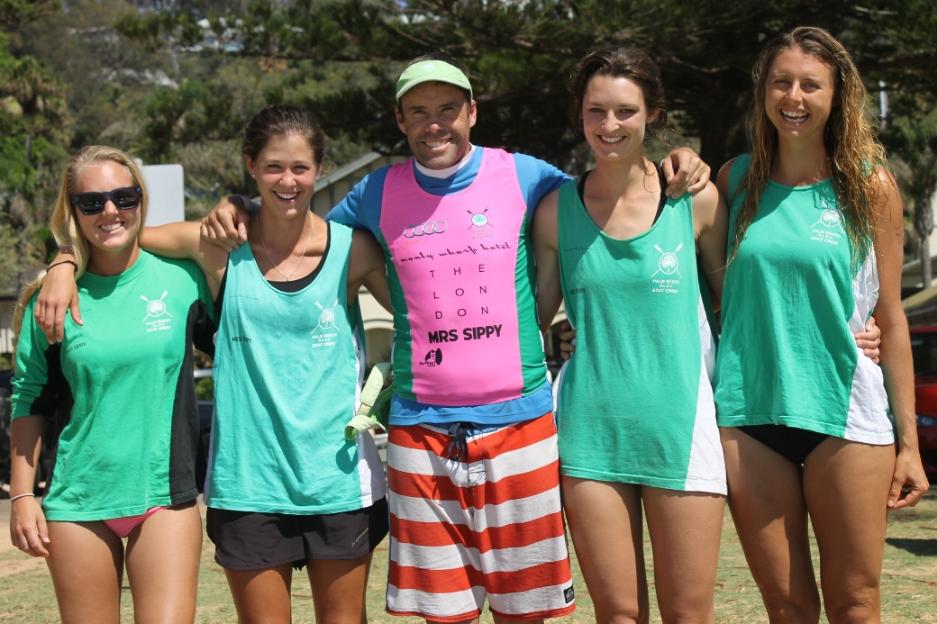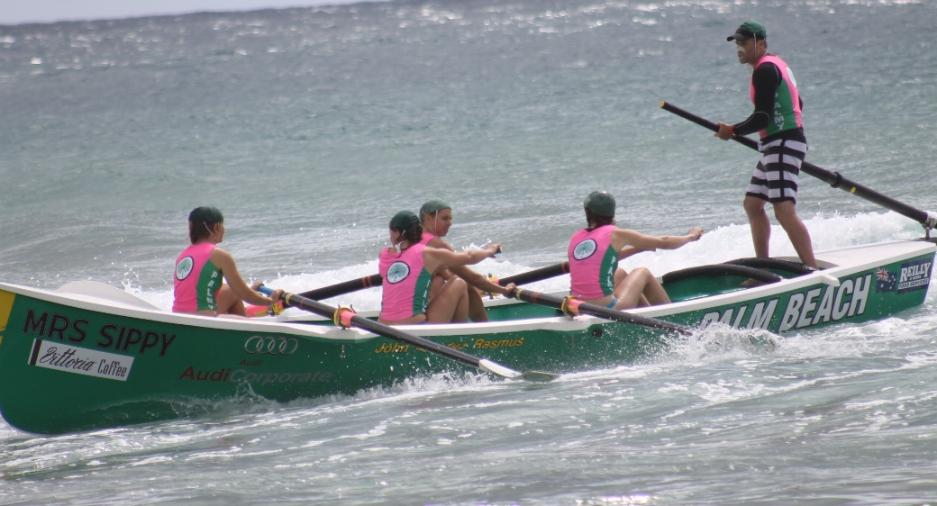 Palmy Persuaders – Reserve Grade Men
Left to right: Ollie Archibald, Tom Webster, Peter Spence, Nick Wiadrowski, Kurt Spencer.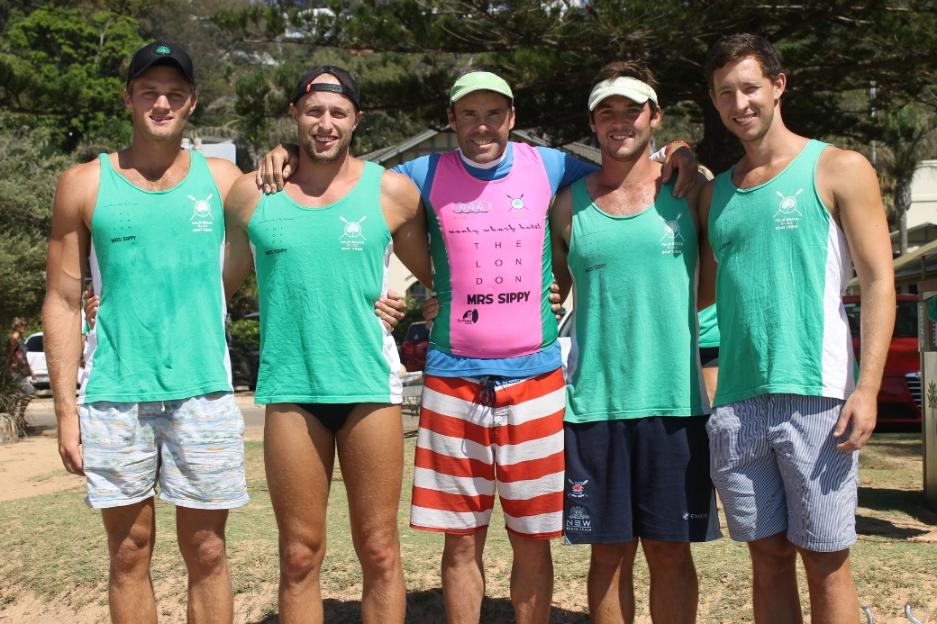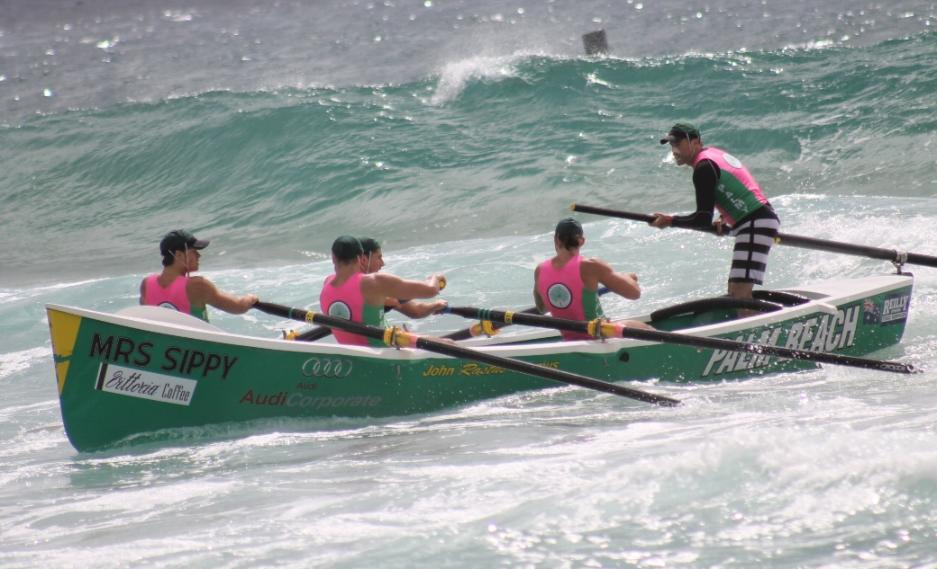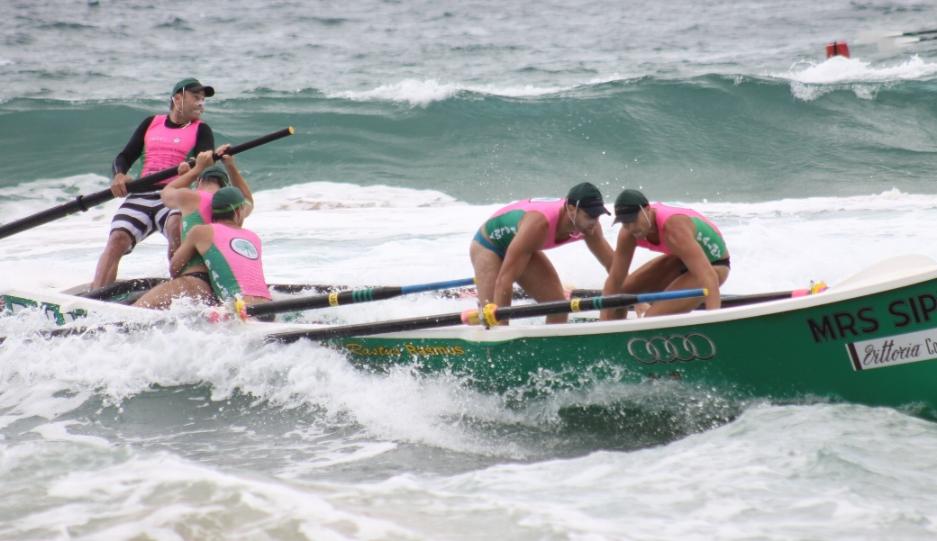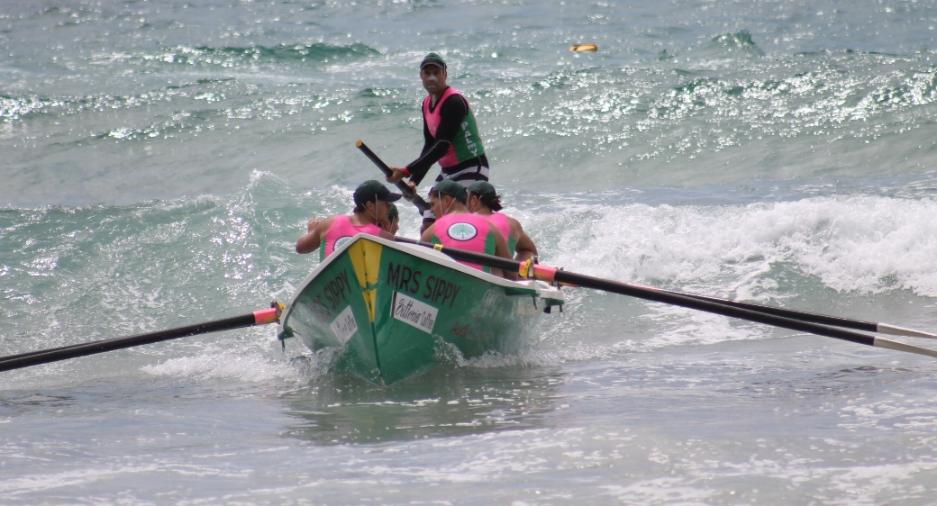 Palmy Pussycats – Open Women
Left to right: Claudia Davey, Surya Davey, Stephen Cox, Steph Brown, Ingrid Haughton.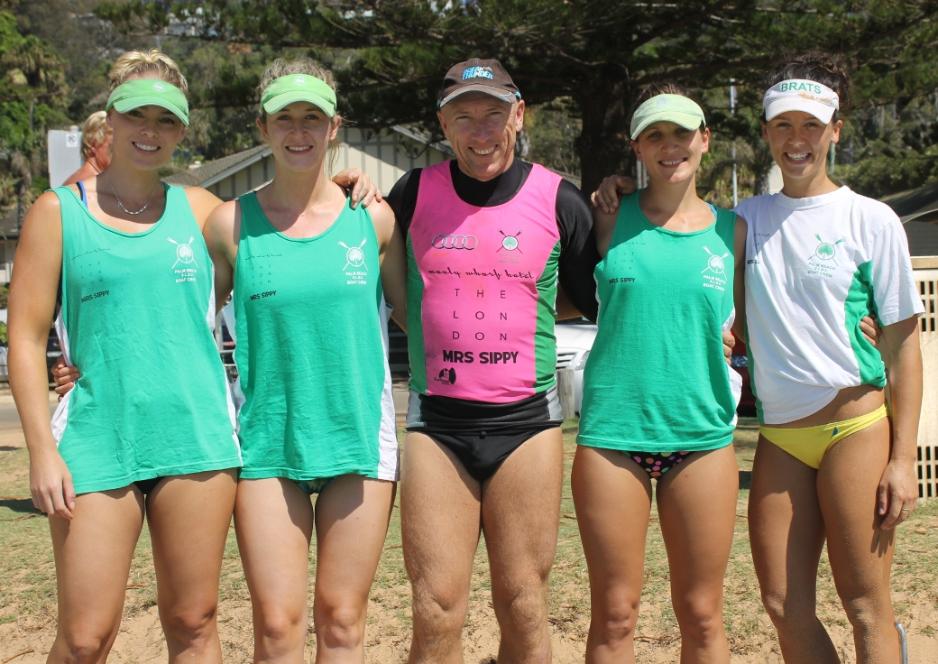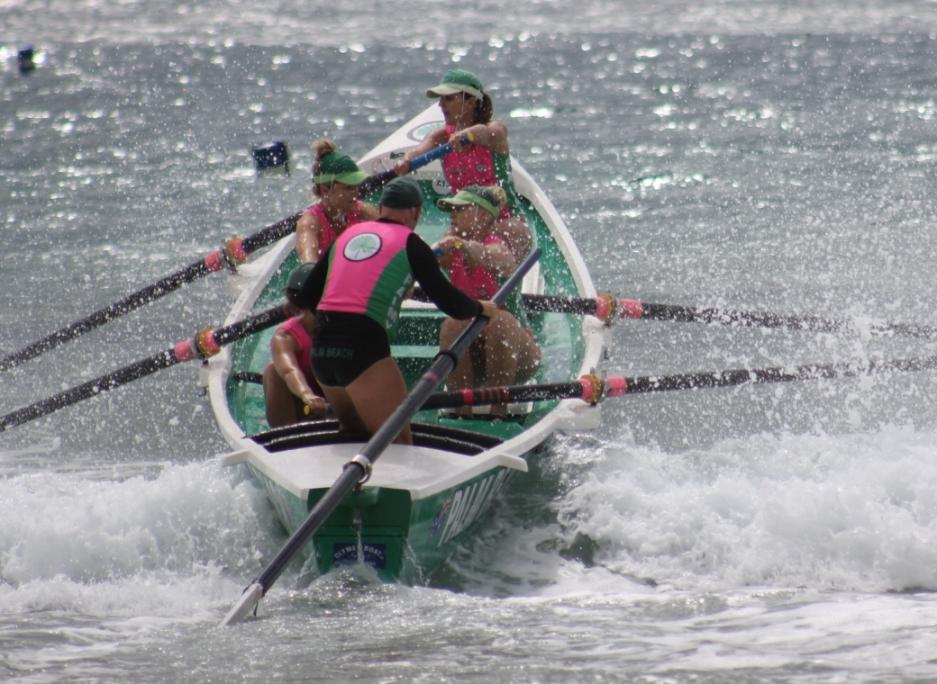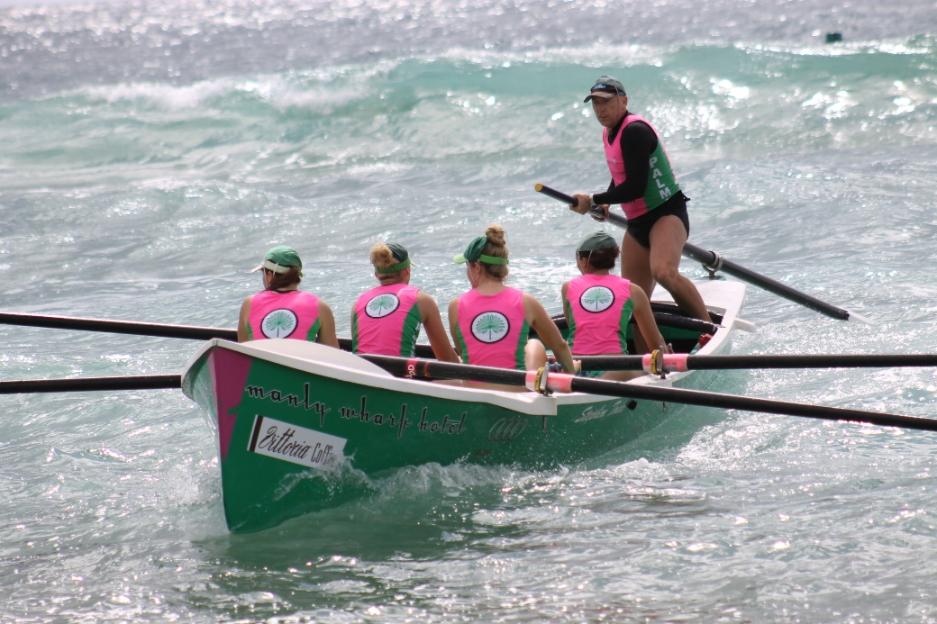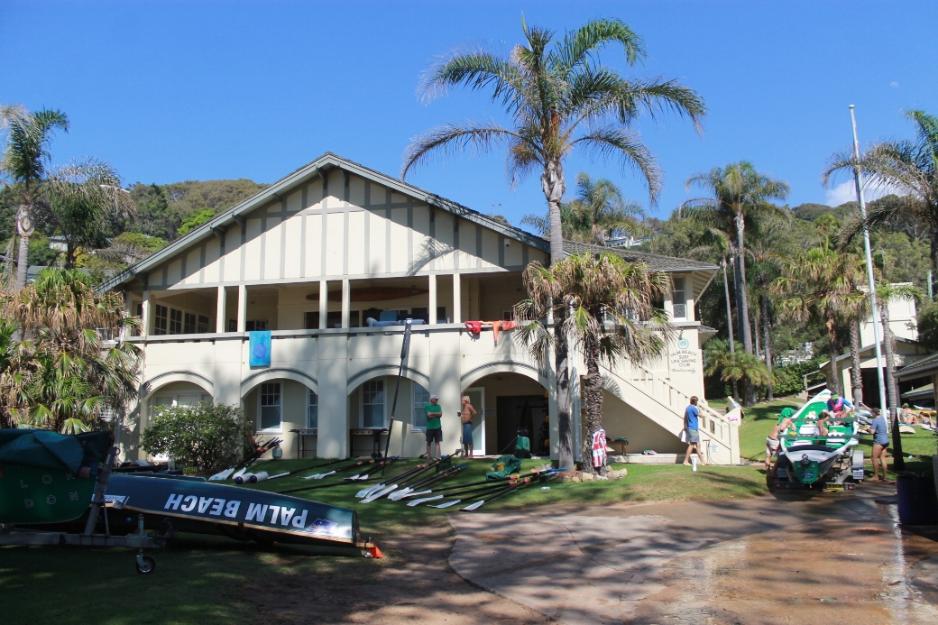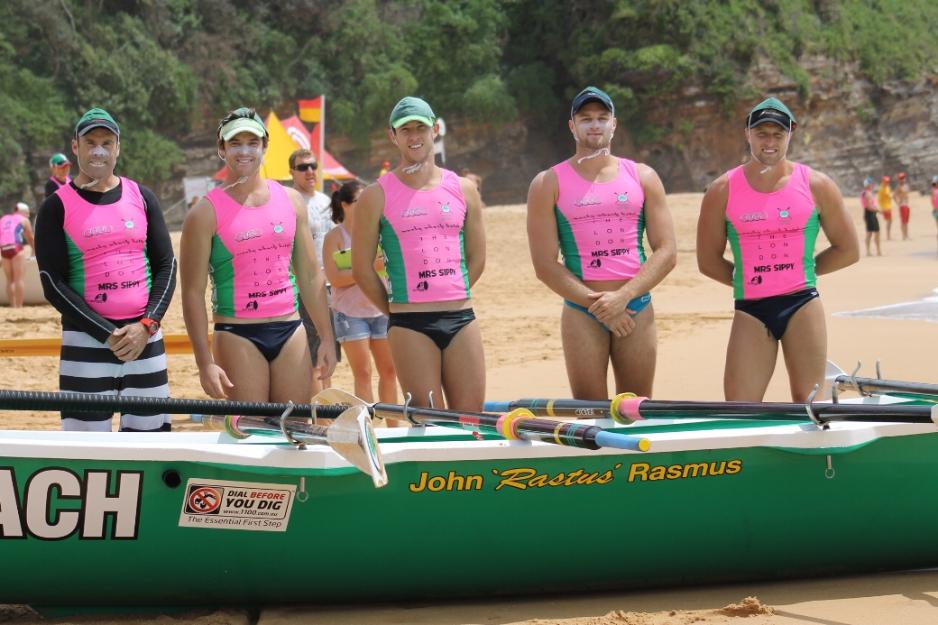 Copyright Palm Beach SLSC - with thanks to Peter Spence, 2014.