May 20 - 26, 2012: Issue 59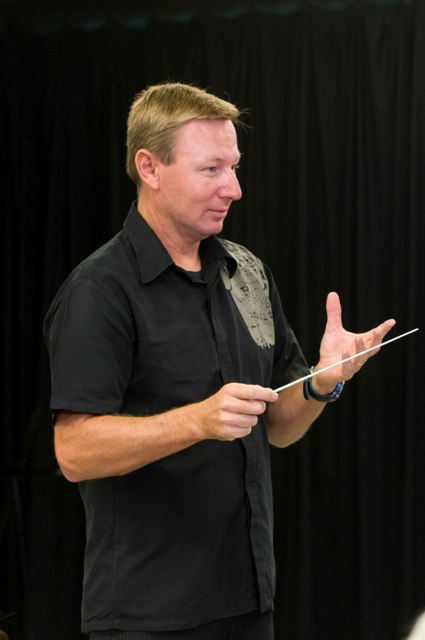 Above: Dr. Martin Hardy at rehearsals. Below: Pianist Anthony MacDermott. Below this: Brian Hayes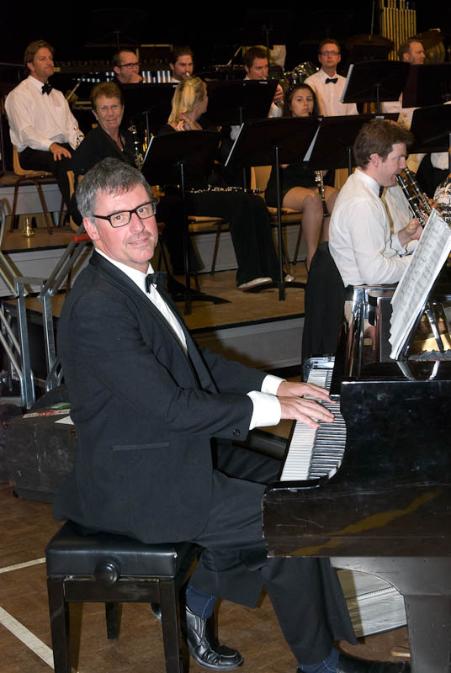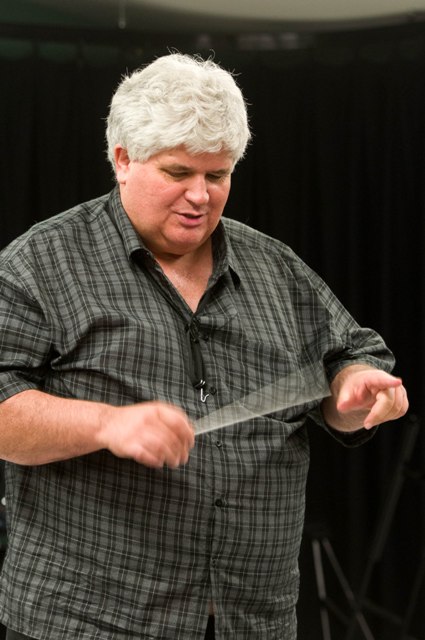 Above: 'Kosciuszko' by Brendan Collins for Concert Band available from www.reedmusic.com. Performance by Northern Beaches Symphonic Wind Ensemble, conducted by Dr Martin Hardy. This piece portrays the life and influence of Tadeusz Kosciuszko from his early Polish military life to his fight for freedom in the U.S.A. The piece concludes with a climb to the summit of Australia's highest peak, Mount Kosciuszko.
SNBSWE Membership 2012
Penny Coucill - Alto Saxophone, Maddie Finnigan - Alto Saxophone, Brian Hayes - Alto Saxophone, Ken Barnett - Baritone Saxophone, Hilrie Chan - Bass Clarinet, Peter Scaysbrook - Bass Clarinet; Contra flute, Lachlan Faulkner - Clarinet, Elizabeth Flynn - Clarinet, Carolyn La Motte - Clarinet, Denise Morgan - Clarinet, Dave Peter - Clarinet, Rachel Rule - Clarinet, Katrina Steedman - Clarinet, Jane Kemp - Clarinet; Alto Clarinet, David La Motte - Clarinet, Stephen Howard - Euphonium, Tanis McCulloch - Flute, Emma Smith - Flute, Andrew Terrey - Flute, Caroline Coram - Flute; Piccolo, Susie Sutcliffe - Flute; Piccolo, Ken Evanoff - French Horn, Cathy Miller - French Horn, Liz Whittell-Webb - French Horn, Tom Andrews - Musical Director; Clarinet, Martin Hardy - Musical Director; Trumpet, Sam Crispin - Percussion, Byron Waldron - Percussion, Filita Barker - String Bass, Ross Attrill -Tenor Saxophone, Richard Alston -Trombone, Adrian Ganon - Trombone, John Gillings - Trombone, Kelvin Anderson -Trumpet, Jonathon Gray -Trumpet, James Hill - Trumpet, Ben Swatton - Trumpet, Robert Johanson - Tuba, Anthony MacDermott - Pianist.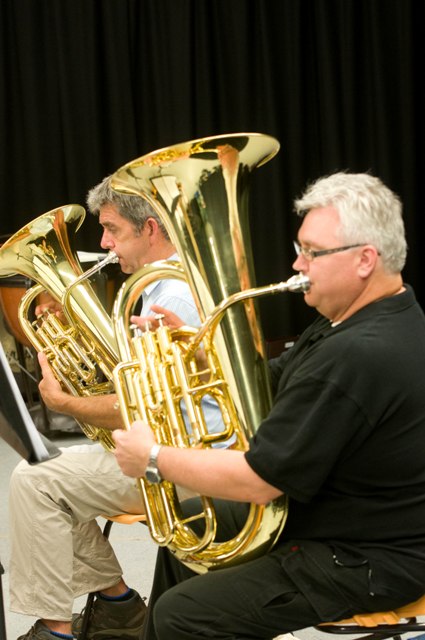 Sydney Northern Beaches Symphonic Wind Ensemble
In March this year Pittwater hosted a very special concert from visiting USA school New Trier: (Article Here). Apart from showcasing some of the great music these children were to play at Sydney's Opera House the following evening we were also treated to music from the Sydney Northern Beaches Symphonic Wind Ensemble. Led by current Deputy Principal at Pittwater High School and a gent with a wealth of musical knowledge, Dr Martin Hardy, this ensemble serves our local Northern Beaches community through regular concerts that lift the spirit and fire the imagination. The range and passion each musician brings wakes you up by what is best described as experiencing an essential breath of exhilaration.
The members of the SNBSWE are both professionals and amateurs who all share an abiding commitment to practicing and honing their skills and sharing the results. Many play more then one instrument. Dr Martin Hardy's formal qualifications include a Bachelor of Music Education from the Sydney College of Advanced Education, a Master of Music from the University of New South Wales, an Associate of Music Australia (Trombone), and a PhD in instrumental education with The University of Western Sydney. As a trombonist, Martin has worked professionally in a variety of musical genres from small jazz ensembles to symphony orchestras. As a conductor he has worked with many of the country's finest ensembles, including the New South Wales State School's Symphonic Wind Ensemble, the University of New South Wales Wind Ensemble, the Sydney Metropolitan North Schools Symphony Orchestra and Bands, as well as the Northern Beaches Youth Orchestra, now known as the Northern Beaches Orchestra as many of these members have matured. We attended one of their concerts at Barrenjoey High School last Sunday evening (13.5.2012), the first time they'd played a full symphony, led by Dr Hardy for the first two movements, and it was fantastic. Listening to wonderful music at home is great, immersing yourself in music played live is to experience it as a living espiritos, more so when it is an orchestra. It's as though every part of our own bodies corresponds with a particular instrument and is compelled to meet these and then rises as one whole harmony in celebration.
Curious yet? ... want to breathe that Breath? Denise Morgan, who plays clarinet with this Ensemble, helps us this week…
How did the SNBSWE begin ?
Sydney Northern Beaches Symphonic Wind Ensemble, or SNBSWE, was formed originally in the 1970's when it was known as the Collaroy Plateau Graduate Band. Originally the band was directed by a Collaroy Plateau Public School teacher Neil Buckley and was available to students who graduated from the school. During the mid 1980's, and still rehearsing at Collaroy Plateau Public School, the band expanded under the direction of Dr Martin Hardy to accommodate more senior musicians and musicians from other areas of Sydney's northern beaches.
From the mid 1990s SNBSWE moved further up the peninsula to rehearse at Pittwater High School and catered for the many excellent musicians who graduated from the local high schools. After a five year break from 2001 to 2006, the band reformed, still under the baton of Dr Martin Hardy.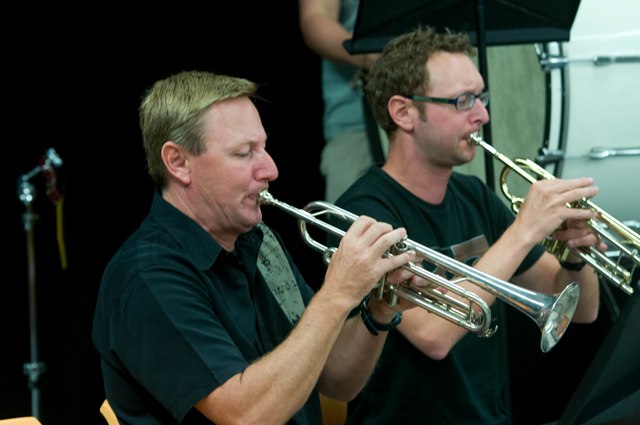 Why was the SNBSWE formed?
The band was formed to provide an avenue for local instrumental directors, instrumental teachers and experienced musicians who have graduated from high school to experience high grade symphonic repertoire.
How many concerts do you perform each year?
SNBSWE performs a minimum of 8 host symphonic concerts a year which have included guest ensembles from around the world and Australia. Additional gigs have included international music festivals in some of Sydney's best performing venues including the Sydney Opera House and Town Hall. The award winning USA New Trier High School Symphonic band, ensemble and choir featured at the first SNBSWE March concert this year. The second concert (April 1) featured the Northern Sydney Primary and Secondary Regional bands as well as the acappella choir, the Owls and the Pussycats.
If there were one or two pieces of music which epitomise or would be nominated as favourites for this Ensemble, what would they be?
Percy Grainger is always a popular composer and his "Colonial Song" would have to be a favourite. Other pieces such as selections from "Wicked", "Phantom" and "West Side Story", and Leonard Bernstein's "Overture to Candide" and "Slava!" are great to play and perform. Frank Ticheli's "Amazing Grace" and "Abracadabra" is also popular. Gershwin features as well including excerpts from Fascinating Rhythm, Embraceable you, Somebody Loves Me and I Got Rhythm. Kosciuszko by Brendan Collins celebrates the life of this Polish military commander and his fight for freedom and is featured on the YouTube link.
The SNBSWE also has concerts that incorporate overseas acts/groups. How do you choose whom to perform with, is there a common ground/group club that interacts ?
Dr Martin Hardy has close links with New Trier High School and has had trips to the States with various bands he is connected with. It's all largely done through networking amongst dedicated teachers and band directors. We perform with anyone who has an interest in performing great pieces of music with dedicated amateur and professional musicians.
Our mid week term end concerts usually include performing with high school or primary school bands, small groups or ensembles, who have a love of fine music and welcome the chance to perform to an appreciative audience.
Our Sunday term end concerts usually include local or regional advanced bands or, as with New Trier, special performances by overseas guests. It just happened this time that the concerts needed to be switched because New Trier commitments.
What is the SNBSWE's favourite place in Pittwater and why ?
Band director, Dr Martin Hardy, would say on Pittwater aboard his yacht. I would say the coastal walks from Narrabeen to Palm Beach finishing at the lighthouse on Barrenjoey Headland for a panoramic view of all that is Pittwater.
What is the SNBSWE's 'motto for life' or a favourite phrase it tries to live by ?
The underlying philosophy of SNBSWE is that music is for pleasure and for life.
It's something you never lose. Ensemble playing with SNBSWE provides wonderful opportunities to maintain and improve playing as well as enjoyment of great music.
Click on logo to visit their website:
Copyright Sydney Northern Beaches Symphonic Wind Ensemble, 2012. All Rights Reserved. All Images by Michael Mannington, Volunteer Photography, taken at rehearsals in February 2012 and at March Concert, 2012. All Rights Reserved.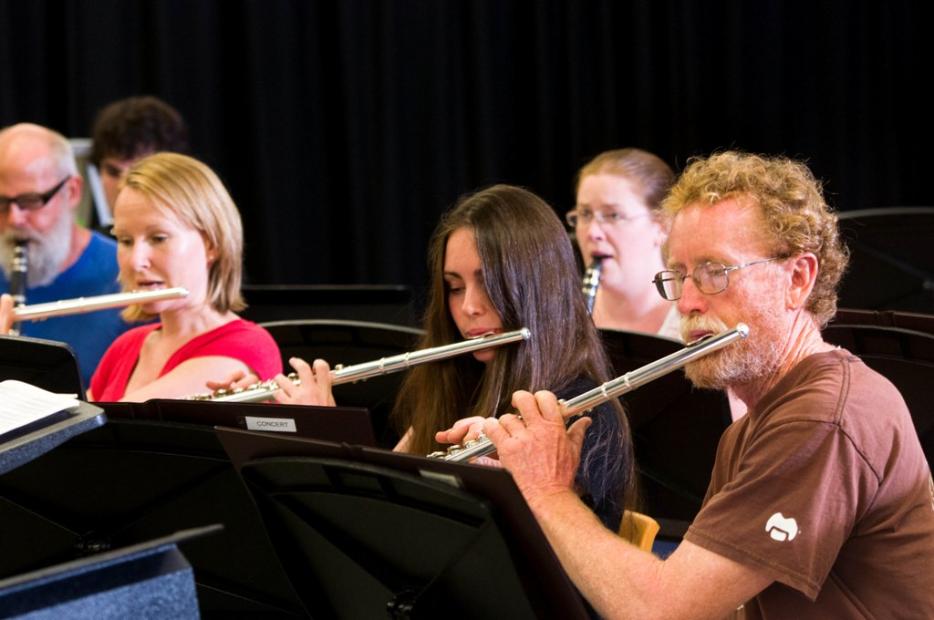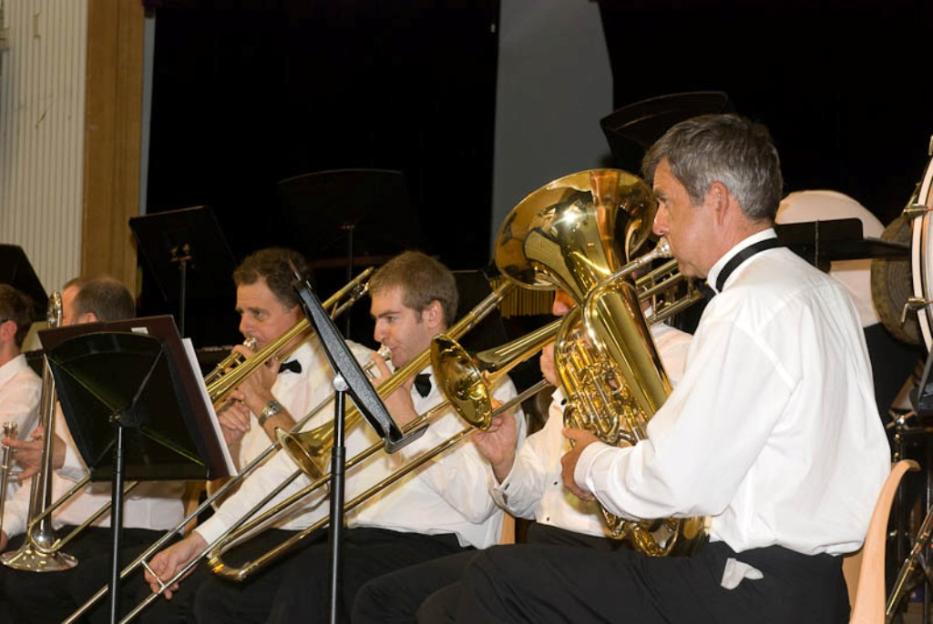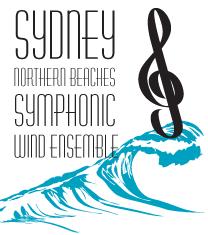 SNBSWE is a symphonic wind ensemble rehearses every Thursday evening during school terms. The band consists of adult amateur and professional musicians who play a wide repertoire of music. If you play an instrument and are looking for a great musical experience with good company, come and see if you like what we do. The Ensemble serves the local Northern Beaches community through regular concerts. It provides opportunities for experienced brass, percussion and woodwind musicians to play high grade symphonic repertoire. The Ensemble allows people to continue playing their instruments after leaving school, therefore giving the experience of music for life. Contact: Denise Morgan 9999 0655,
HOW DO YOU GET FROM PLAYING PIANO TO FRENCH HORN?
You join Monatones as Lorraine Rien did back in 1995. Monatones, a local community concert band, operating since 1993, gives adult musicians, both professional and amateur, the opportunity to try different instruments. New players are always welcome. The ability range is quite wide and there is a place for everyone. Lorraine joined Monatones mid 1995. She could only at that stage play piano. However, the criteria then was that you had to play something new so she was put on the Cymbals in Percussion.
Lorraine says "At first performance on opening the concert with a cymbal crash, I felt so exposed that I figured playing in a section would be less traumatic, so on trying different instruments, found I could get a sound from a trumpet. I thought if young kids could play a trumpet, I could too."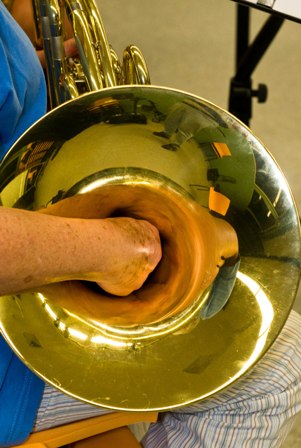 She finally got her trumpet and then the trumpet section expanded but the euphonium player left. So Lorraine switched to that thinking that as the fingering was the same as a trumpet, it wouldn't be too hard to learn. Then along came two more euphonium players!
As the trombone section was reduced to one player, Lorraine thought the mouthpieces seemed to be similar so she would have a go at trombone.
In 2002, 7 years after first joining Monatones Lorraine found her true love. French Horns. While looking after some French Horns for her children's local school band, she just had to figure out how to play one. 10 years later, Lorraine still loves the French Horn, owns her own instrument and isn't planning any more changes. She still gets nervous when Monatones is performing but the advantage of French Horn is that she's not sitting in the front row.
If you play a brass, woodwind or percussion instrument, come and join Lorraine at Monatones on Wednesday nights, 7.30 pm, Pittwater Music Room at Pittwater High School, Mona Street, Mona Vale. Our new term starts on Wednesday 2nd May and we would love to see new members there. Details 9999 0655 or 0414 560 263.