May 26 - June 1, 2013: Issue 112
Surfers against Suicide
www.surfersagainstsuicide.org/
A WORLD WHERE YOUNG PEOPLE HAVE SUCH HEALTH, RESILIENCE AND SUPPORT THAT SUICIDE IS NEVER AN OPTION.
On Saturday 13th April 2013 surfers Kelly Slater, Tom Carroll, Mark Occhilupo, Simon Anderson along with Owen and Taylor Wright joined NSW Waratahs rugby players on Manly beach for a celebrity surfing competition. The Komunity Project Surf Pro Am tournament's aim was to raise money for the charity Surfers Against Suicide (SAS).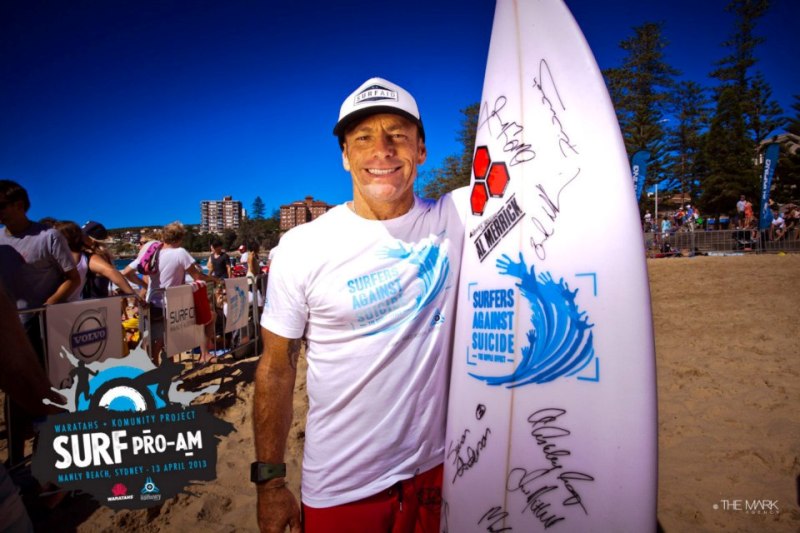 Tom Carroll at Kommunity -Waratah's Prom Am, April, 2013, photo by and Copyright: Jez Rozdarz
Every year, more than one million people die from suicide – around one every forty seconds. Suicide rates have increased by 60% worldwide in the last forty-five years and depression is now the leading cause of disability worldwide (Source World Health Organisation). For every death by suicide, there are another estimated 25-30 attempts (source US CDC and Australian National Survey of Mental health and Wellbeing).
We've seen massive publicity campaigns around HIV AIDS, soldiers dying in combat zones overseas and more recently gun control. But did you know more people in the States (especially young people from fifteen to fifty) die from suicide than from all these causes combined?
To compare:
• More US servicemen and women died by their own hand in 2012 than in combat, making suicide the number one killer in the US Military. 349 service personnel killed themselves last year, which exceeded the total combat fatalities in Afghanistan by 20% (295). Most of the suicides were young men aged under 25 (source Assoc. Press)
• Four times the number of Americans die by suicide than from HIV AIDS (in 2010, 38,000 people killed themselves compared to 8,369 in the same year. Source US Centre for Disease Control & Prevention)
• Two thirds of all gun-related deaths in the US are suicides. In 2010, there were 19,392 firearm-related suicide deaths, nearly double the number of gun-related deaths of 11,078 in the same year. (source US CDC)
• Here in Australia, five men and one women kill themselves every day on average. In 2010, 1,727 men and 546 women (2,273 in total) killed themselves compared to the national road toll of only 1,368. For every ten people that die in car accidents here, another seventeen die by their own hand. Nearly half of all suicide deaths in Australia are men aged from fifteen to fifty still in the prime of their lives with lots still to contribute to society. In fact, suicide is the leading cause of male death in every age group from 15 through to 45: more than cancer, more than car accidents, more than anything else (source Australian Bureau of Statistics)
• In 2010 1900 Aussies died from skin cancer. 2,300 committed suicide!
Surfers Against Suicide (SAS) is an initiative created by Komunity project. The objective of SAS is to galvanize the international surfing community to raise and distribute funds to support organizations that contribute to a reduction in death by suicide by promoting health and resilience amongst young people.
The objectives of SAS are as follows:
To engage the international surfing community in suicide prevention and health promotion.
To raise funding from donors, sponsors and supporters.
To distribute funds to organisations that contribute to a reduction in death by suicide by conducting research and promoting health and resilience amongst young people
To promote a healthy lifestyle amongst young people, particularly through surfing.
To raise awareness of the prevalence, individual cost and social cost of suicide amongst young people
To provide young people with access to the strategies and information required to prevent suicide
To increase the availability of services for young people.
To increase help seeking behaviour amongst young people in need of support
We thank Mark Whithear Director and founder of SAS, for his assistance in putting this Profile together.
How did Surfers against Suicide begin?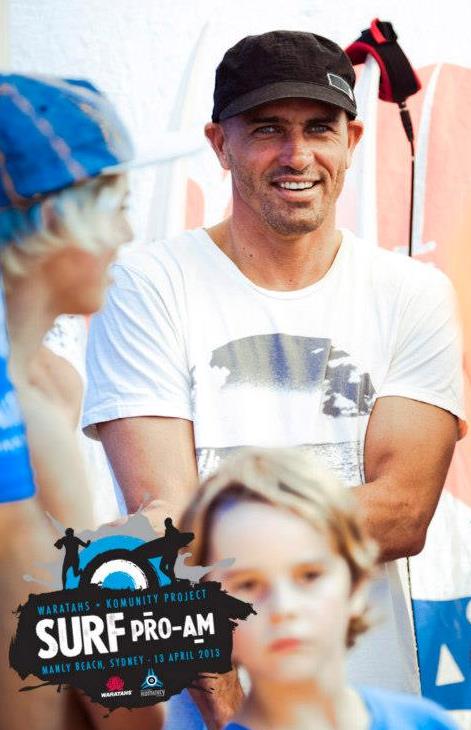 SAS began as a conversation around mentoring and what strategies we had for our kids and their friends. I tell my five kids when it all gets too tough, you lose a girlfriend or your job, just get your shorts and your board, head out the back catch a few waves. Surfing is so good for your mental health it has always helped me. One of the guys decided to reveal that he was a suicide attempt survivor and it prompted the name Surfers against Suicide. A few weeks later we consulted with Pat McGorry regarding the name, clinical governance etc. (he has since agreed to be our patron). I got started with some of my charity contacts and John set about gathering support in the surfing world. (John owns Komunity Project with Kelly Slater so we were off to a good start). Our first event was attended by over 30,000 people. We raised some funds but more importantly we got tens of thousands of people talking about the prevalence of suicide. People are ready to discuss it. The idea that we shouldn't talk about it is hopefully in the past.
Everyone wants to talk about surfing but not so many about suicide. Mixing the two seems to break down some significant barriers.
Patrick McGorry is an Australian psychiatrist known for his development of the early intervention services for youth. The Professor of Youth Mental Health at the University of Melbourne and Director of Orygen Youth Health and Orygen Youth Health Research Centre in Victoria, Australia, Prof McGorry is a world-leading clinician, researcher, and reformer in the areas of early psychosis, early intervention and youth mental health. Prof McGorry's work has played an integral role in the development of safe, effective treatments and innovative research involving the needs of young people with emerging mental disorders, notably psychotic and severe mood disorders. The result has been the creation, evaluation and upscaling of stigma-free, holistic and recovery oriented models of care for young people and their families. The work of Prof McGorry and key research colleagues at EPPIC and Orygen has influenced health policy in Australia and many other countries and he has advised governments and health systems in many jurisdictions. He is a Fellow of the Academy of the Social Sciences in Australia and has been the recipient of numerous awards, including the Australian Government Centenary Medal in 2003, the Founders' Medal of the Australian Society for Psychiatric Research in 2001 and he was the 2010 Australian of the Year. Retrieved from; http://www.findanexpert.unimelb.edu.au/display/person14906
We are at a tipping point for mental health reform in Australia. Not only can we no longer afford to do nothing, but we now have the opportunity, capacity and momentum to deliver genuinely transformational change.
Patrick McGorry
What does SAS do?
Raises awareness and funds for suicide prevention and to help those affected by suicide.
Please share a few examples of the scope of these works
Wherever we hold an event we fund one or more local charities. This week we are using some of the money raised from our first event (Waratahs + Komunity Project Surf Pro Am at Manly on April 13th, 2013) to fund Wings of Hope, a Manly based charity providing suicide prevention and postvention services. We are also funding a surf mentoring venture on the south coast.
What does the future holds for SAS?
We are planning a surf event in California later this year and are hoping for another in Portugal in late 2013 or early 2014.
How can everyone help?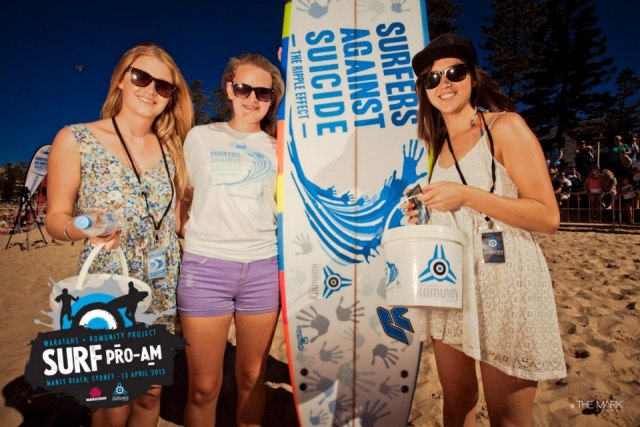 • Online donations to SAS, We have very few admin costs and can get the maximum amount of money to the ground. Even if it's just a few dollars.
• Host one of our donation buckets in your business.
• We are open to fundraising ideas. A lady emailed me from Memphis letting me know she would be making cupcakes and selling them at the local fair to help our cause.
• Like us on Facebook,
• Spread the word. Regularly discuss yours and your friends mental health. It's relationships and a sense of belonging that are the best preventers of suicide.

What is your favourite on the Northern Beaches and why ?
Hard to pick, The Left hand break out at the Wedge if I could pinch any waves off the groms. I'm a sucker for red wine and good coffee so plenty of likes; Manly Wine has to be my No 1 spot and favourite thing to do is swim with the Bold & Beautiful morning swim group; they swim round to Shelley from Manly every morning at 7am. Our family are from here and a few still live in Dee Why and Narraweena.
What is your 'motto for life' or a favourite phrase you try to live by?
I think of songs. It's a beautiful world by Colin Hay and Follow the sun by Xavier Rudd. But if I had to pick a single motto, Judge people by their standard of life, not their standard of living.
SAS on Facebook: www.facebook.com/pages/Surfers-Against-Suicide/128919160629773
Kommunity Project: www.facebook.com/komunityproject and Website: http://komunityproject.com/
Headspace (online help and information): www.headspace.org.au/
The Waratahs & Komunity Project Surf Pro Am by FuelTV AUS - Published on 2 May 2013 FUEL TV went behind the scenes for this charity event which aimed to raise awareness against suicide. FUEL TV is the voice of the younger, alternative generation of sports fans. Check us out on Foxtel channel 516. FUEL TV is available nationwide on subscription TV through FOXTEL DIGITAL or AUSTAR DIGITAL networks.
Copyright Surfers Against Suicide, 2013.