December 12, 2021 - January 22, 2022: Issue 522
New NSW Cabinet Team Announced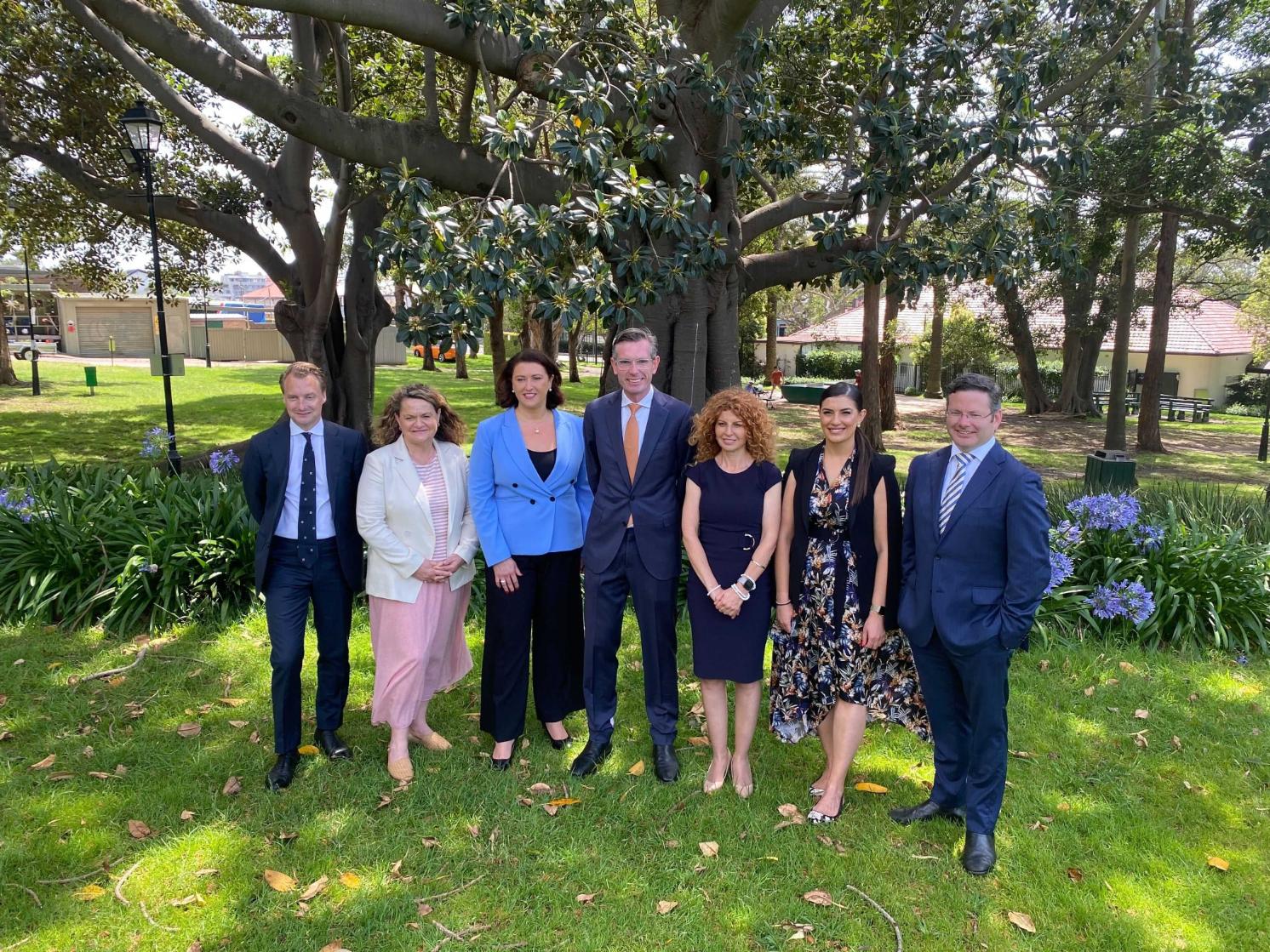 Premier Perrottet with first-time Ministers and Bridget Jajou Sakr. NSW Government photo.
December 20, 2021
Premier Dominic Perrottet and Deputy Premier Paul Toole have announced a new Cabinet team to focus on delivering the NSW Government's vision for the state.
The new Cabinet combines a wealth of experience with fresh energy at a critical time, leading NSW out of the pandemic and toward a stronger future, the government said in a statement.
"Our new Ministry harnesses experience, while allowing for renewal and injecting fresh energy into the team," Mr Perrottet said.
"It's a team with purpose, carefully shaped to deliver on our vision. My expectation is that every Minister will work hard to improve the lives of people across our state at a critical time in the history of our state."
There are nine first-time Ministers in the new-look Cabinet which includes the three new portfolios of Minister for Cities, Minister for Homes and Minister for Science, Innovation and Technology.
''First-time ministers Natasha Maclaren-Jones MLC, Eleni Petinos MP, James Griffin MP, Mark Coure MP, Wendy Tuckerman MP, have the passion and the energy to take our State from good to great.
"Four of our new Ministers are women and we hope they will help inspire our next generation of leaders," Mr Perrottet said.
"We've spelt out our vision and the new portfolios demonstrate our commitment to deliver more opportunity for home ownership, our Six Cities strategy, and great jobs through cutting edge research, innovation and local manufacturing."
''It was also a great pleasure to announce Bridget Jajou Sakr as the new candidate for Strathfield. She has shown immense courage and fortitude in the face of unspeakable tragedy.'' Mr Perrottet stated.
Bridget Jajou Sakrs' daughter Veronique Sakr, 11, was one of the four children tragically killed in Western Sydney on February 1st 2020 after an alleged drunk driver drove his car over them as they walked to shops to buy ice-cream.

Veronique's cousins, the Abdallah siblings–Antony, 13, Angelina, 12, and Sienna, 8, were also killed.
The Government's priority remains reopening and kick starting the economy in a safe and measured way while delivering its record infrastructure program.
Deputy Premier Paul Toole said the past three years have been some of the most challenging in our State's history, with the team's focus now on recovery and strengthening our resilience.
"We've gone through the darkest of days, but we are focused on building stronger regional communities – stronger for their services, their jobs and the opportunities we're unlocking for this generation and the next," Mr Toole said.
"Regional health has been a big focus of our Government since day one – and as a registered nurse from the bush, Bronnie Taylor will ensure regional communities get the investment in hospitals and health services and the quality of care they deserve.
"The new Emergency Services and Resilience portfolio combines our response and recovery efforts to ensure NSW can bounce back and lead our state to a better future."
NEW SOUTH WALES CABINET MINISTERS
The Honourable Dominic Francis Perrottet MP Premier
The Honourable Paul Lawrence Toole MP Deputy Premier, Minister for Regional New South Wales, Minister for Police
The Honourable Stuart Laurence Ayres MP Minister for Enterprise, Investment and Trade, Minister for Tourism and Sport, Minister for Western Sydney
The Honourable Bronwyn Taylor MLC Minister for Women, Minister for Regional Health, Minister for Mental Health
The Honourable Matthew John Kean MP Treasurer, Minister for Energy
The Honourable Damien Francis Tudehope MLC Minister for Finance, Minister for Employee Relations, Vice-President of the Executive Council, Leader of the Government in the Legislative Council
The Honourable Alister Andrew Henskens SC MP Minister for Skills and Training, Minister for Science, Innovation and Technology, Leader of the House in the Legislative Assembly
The Honourable Bradley Ronald Hazzard MP Minister for Health
The Honourable Sarah Mitchell MLC Minister for Education and Early Learning
The Honourable Mark Raymond Speakman SC MP Attorney General
The Honourable Robert Gordon Stokes MP Minister for Infrastructure, Minister for Cities, Minister for Active Transport
The Honourable Victor Michael Dominello MP Minister for Customer Service and Digital Government
The Honourable Anthony John Roberts MP Minister for Planning, Minister for Homes
The Honourable David Andrew Elliott MP Minister for Transport, Minister for Veterans
The Honourable Natalie Peta Ward MLC Minister for Metropolitan Roads, Minister for Women's Safety and the Prevention of Domestic and Sexual Violence
The Honourable Kevin John Anderson MP Minister for Lands and Water, Minister for Hospitality and Racing
The Honourable Dr Geoffrey Lee MP Minister for Corrections
The Honourable Natasha Maclaren-Jones MLC Minister for Families and Communities, Minister for Disability Services
The Honourable Samuel Farraway MLC Minister for Regional Transport and Roads
The Honourable Stephanie Anne Cooke MP Minister for Emergency Services and Resilience
The Honourable Eleni Marie Petinos MP Minister for Small Business, Minister for Fair Trading
The Honourable James Henry Griffin MP Minister for Environment and Heritage
The Honourable Mark Joseph Coure MP Minister for Multiculturalism, Minister for Seniors
The Honourable Dugald William Saunders MP Minister for Agriculture, Minister for Western New South Wales
The Honourable Benjamin Cameron Franklin MLC Minister for Aboriginal Affairs, Minister for the Arts, Minister for Regional Youth
The Honourable Wendy Margaret Tuckerman MP Minister for Local Government