December 12, 2021 - January 22, 2022: Issue 522
Narrabeen SLSC lifesavers first on Scene in storm tragedy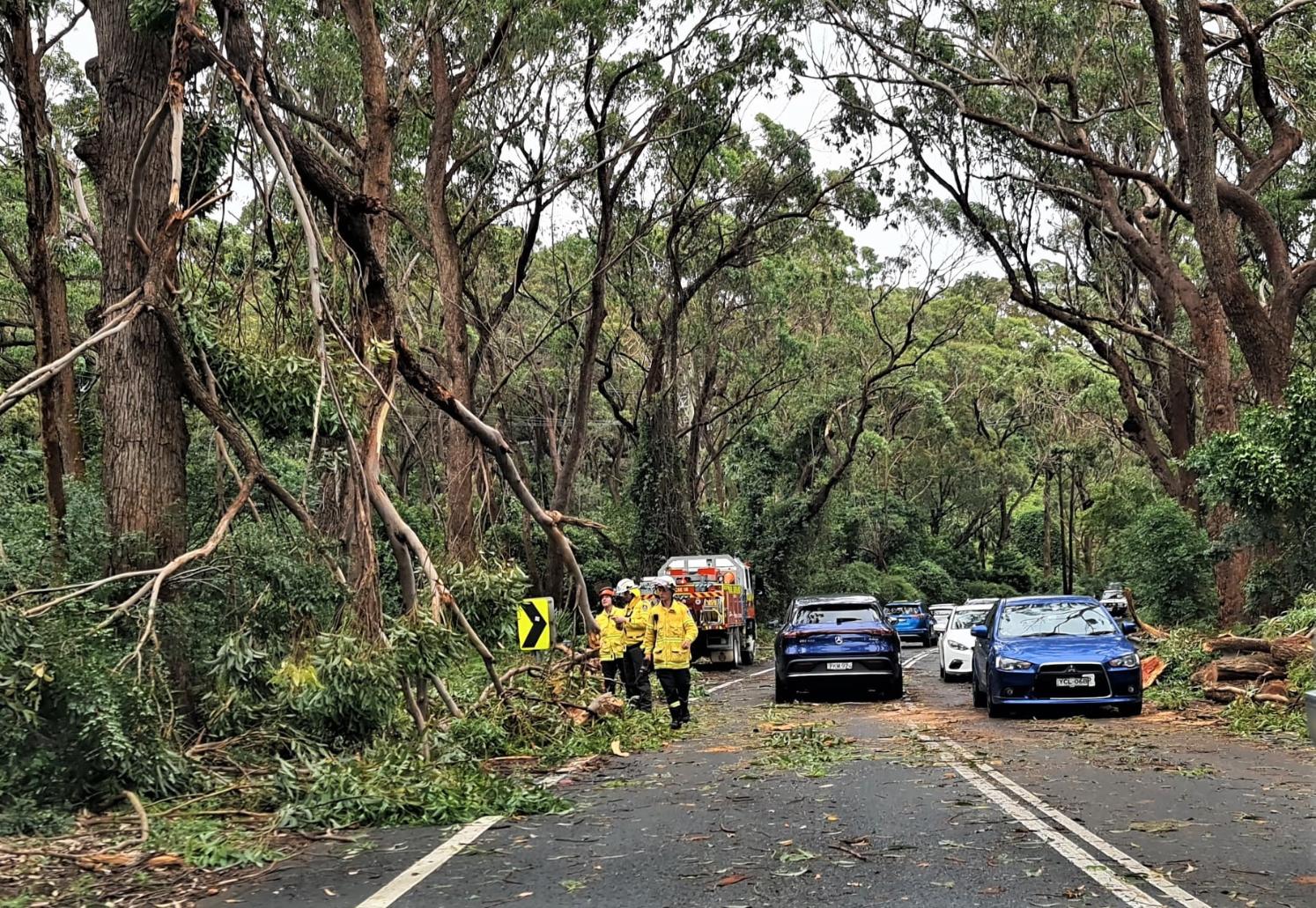 Wakehurst Parkway on Sunday. Photo: Joe Mills
One person has died, and two others have been critically injured by a fallen tree during a storm on the Northern Beaches on Sunday 19 December 2021,
From 3.30pm (Sunday 19 December 2021), emergency services received multiple reports of storm damage with trees and powerlines down across suburbs from Mona Vale to Forestville. Narrabeen, Dee Why and Curl Curl were severely impacted.
Of note, officers from Northern Beaches Police Area Command along with NSW Ambulance paramedics, Fire & Rescue NSW, and the Careflight and TOLL rescue helicopters responded to a carpark on Ocean Street, Narrabeen, after reports a tree and powerlines had come down.
One person was declared deceased, while two others were critically injured and transported to Royal North Shore Hospital.
The son of the 68-year-old woman who was killed in in the severe storm says his mother will be "sorely missed".

Susan Cobham died when winds toppled a large tree onto a powerline which then came down at a car park at the Narrabeen Surf Club on Ocean Street.
Her son, Ben Porter, paid tribute to his mother on Facebook.
He said she had been at a Christmas gathering near the Narrabeen surf club when the tragedy occurred.
"It is with a very heavy heart that I write to advise of my mother Susan's passing," Mr Porter said.
"Lightning hit a massive Norfolk pine which subsequently fell, crushing her and hitting two other women.
"It was an unlucky freak accident and she has left us far too early and will be sorely missed."
Sue taught Japanese yoga on Sunday mornings at the Avalon Yoga Co-op and will be sadly missed.

Two other women — aged 71 and 19 — received critical injuries. They were taken to Royal North Shore Hospital, where they remain in a serious but stable condition.
Mr Porter said her funeral could take up to two weeks as her body was with the Coroner.
The large pine tree outside the Narrabeen SLSC was ripped from the ground and flung onto powerlines, striking three women nearby.
Volunteer Narrabeen SLSC lifesavers on patrol and council lifeguards scrambled to assist the injured, administering first aid for the two injured women until paramedics and police arrived. One of the women sustained serious spinal injuries.
Duty Officer Tracey Hare-Boyd who attended the incident to support the patrol members said "it was like a bomb had gone off. There was so much damage and debris, smashed cars and of course the terrible situation with the woman trapped under the tree."
Paramedics praised the contribution of the lifesavers and said they were amazing, both in the way they remained calm in the chaos and the level of assistance they were able to provide other emergency services.
"This is an incredibly sad, freak accident and such a tragedy so close to Christmas," said Surf Life Saving NSW President George Shales. "Our deepest condolences are extended to the family of the deceased.
"I want to thank the lifesavers and duty officers who were there. This is what we train for, to respond to emergency situations both on and off the beach and I know that these members would be deeply saddened that the outcome was not the one they would have wanted."
All lifesavers involved in the tragedy have been offered critical incident support.
The brief storm had significant impact elsewhere, with damage to two apartment blocks in Dee Why where a roof lifted off and landed a street over. Winds estimated to be around 130km/hr ripped out or snapped trees, closing the Wakehurst Parkway. Roads and intersections were also covered in debris across suburbs including Mona Vale, Dee Why, Forestville, Curl Curl and Narrabeen.
Earlier on Monday, some families were told they may not be able to return to their homes in time for Christmas. As of Tuesday morning, December 21, almost 100 homes remain without power along the Narrabeen to Dee Why stretch with Ausgrid estimating the time to restore power poles and lines will not be achieved until 11.30pm.
More than 26,000 homes, some with their roofs torn off, were without power on Monday morning after the "mini-cyclone" but by late evening energy supplier Ausgrid stated that power was yet to be restored to 12,500 customers.
In a statement on their website the energy provider stated
''Ausgrid has restored power to almost 17,500 customers following Sunday's storm which caused over 500 hazards, like trees on powerlines, on Sydney's northern beaches.

Ausgrid expects the majority of customers to be restored in the next few days, however due to extensive damage at Dee Why, Collaroy, Naraweena and Wheeler Heights power outages could extend well into the week.''

''Additional crews from neighbouring network Endeavour Energy, and contractors, have been brought in to support Ausgrid's repair efforts to restore the 17,500 customers still without power.

It's a very difficult time of year to be without power, and we apologise for the delays. We are doing everything we can to turn the lights back on as soon as possible. Where we can, we are progressively turning power back on, and as always the safety of our customers and staff remains our number one priority.

Given the extensive damage from the storm, some parts of the network are being rebuilt.

Our customer teams are sending SMS to those affected and doing welfare checks on life support customers. ''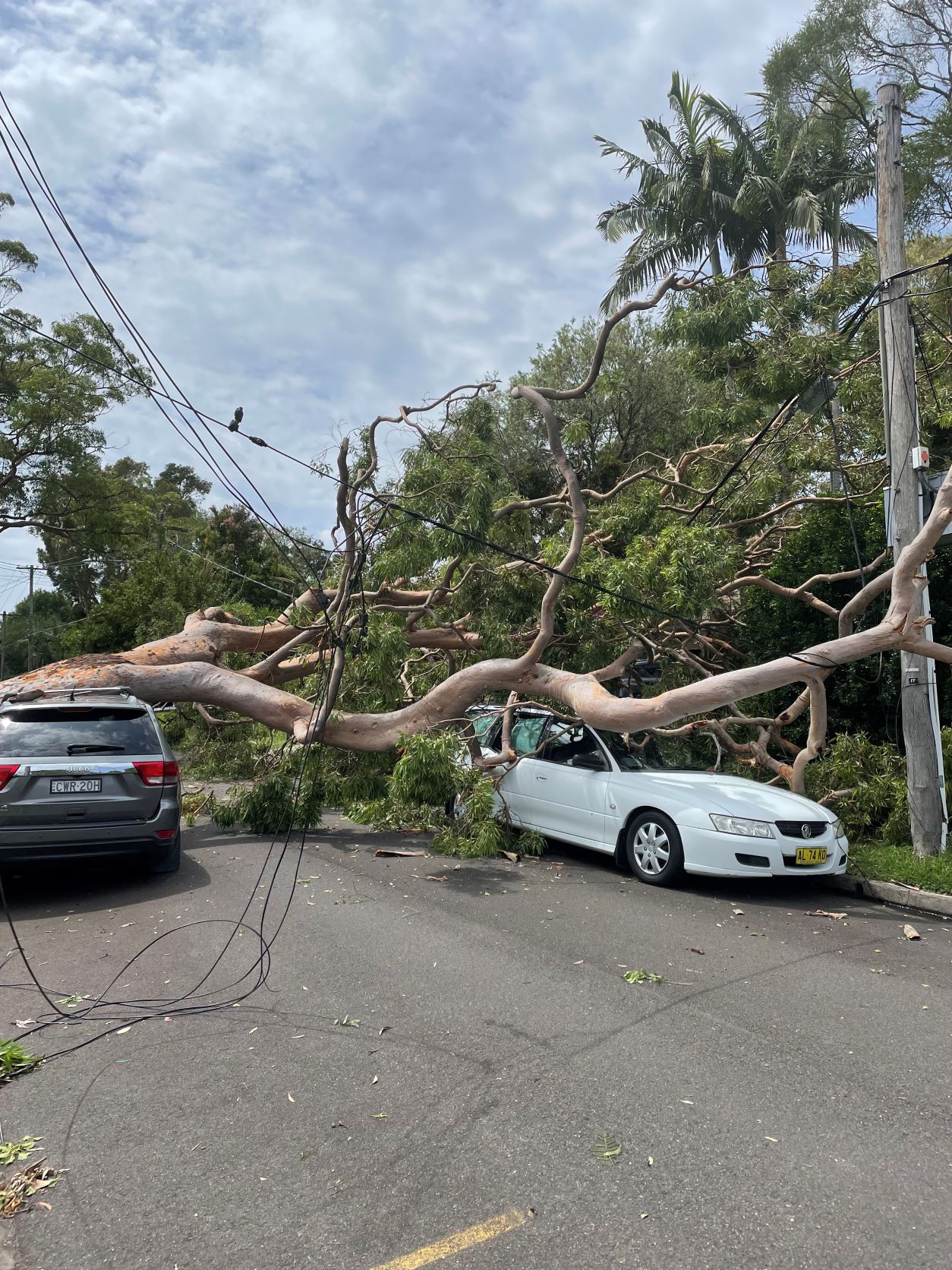 Power poles were among what needs to be replaced. Ausgrid photos
NSW State Emergency Services (SES) said more than 550 calls for assistance and 150 triple-0 calls were made in the past day. FRNSW also responded to the calls for help, along with crews from NSW Police, NSW Ambulance, and masses of volunteers from all the local Rural Fire Service Brigades and the NSW SES Warringah / Pittwater Unit. The NSW SES had 27 crews working to clear trees and attend to roof damage in the area on Sunday - and still had 15 crews going out to assist people on Tuesday morning.
The NSW SES Warringah / Pittwater Unit posted on their Facebook page at 7am:

Good morning Warringah Pittwater. Day 3 of the clean up operation and there are still 12,000 homes without power as well as traffic lights out from Narrabeen to Dee Why.

Please:
Be patient, all the emergency services are flat out trying to get jobs done
Take extra care through traffic lights
Check on your neighbours, especially the elderly and those that live alone
Council has stated Kimbriki tip will be accepting storm debris without charge and that libraries, apart from Dee Why, are open and available for people to bring chargers to power up their device. Council also advises that Narrabeen Lagoon Trail has been temporarily closed while staff complete safety assessments.
Narrabeen and Dee Why Children's Centre and Cromer Vacation Care are also closed to assess the damage and risk from fallen trees also currently no power.
Community centres in North Narrabeen, Cromer, Collaroy Plateau and the Tramshed are closed as there is currently no power at these facilities.
The Council has an Incident Management Team – a team of experts from across Council tasked with working with emergency services, assessing the damage, addressing traffic issues and coordinating the clean-up. They are supported by a team from Ku-ring-gai Council and others from Georges River and Willoughby have kindly agreed to assist tomorrow.
Disaster declaration
On Tuesday December 21st Council asked the NSW Government to declare the Northern Beaches LGA a Disaster area to assist in extensive clean-up efforts resulting from the storm on Sunday afternoon.
CEO Ray Brownlee said a Disaster Declaration allows affected communities and individuals to access a range of special assistance measures to support the clean-up and restore critical infrastructure.
"Sunday's storm has resulted in numerous homes damaged, roads blocked and power outages.
"It is requiring a massive and coordinated clean-up effort from multiple agencies which is expected to continue for many days yet.
"We have over 50 crews working alongside others from SES, RFS and FRNSW and have additional assistance from six other Councils.
"All are working hard to get homes, roads and public areas cleared before Christmas.
"This is being felt hard by business and residents who had Christmas plans abandoned last year thanks to the Northern Beaches COVID lock down.
"We are asking for NSW Government to support our Council, local businesses and residents to be able to access Disaster funding and support to assist as the clean-up and recovery continues." Mr. Brownlee stated.
With a disaster declaration for their area, affected communities and individuals can access a range of special assistance measures. The NSW government granted this for the 2021-2022 financial year. This provides assistance to local councils to restore essential public assets that have been damaged as a direct result of a natural disaster.

The NSW Government also provides financial relief and support for eligible small businesses following a natural disaster. You can find assistance available for you here:
https://www.nsw.gov.au/topics/disaster-relief-and-support/disaster-relief-and-support-for-small-businesses
For individuals and families here: https://www.nsw.gov.au/topics/disaster-relief-and-support/disaster-relief-and-support-for-individuals-and-families
Ausgrid's Power outages update of Wednesday 22nd December was:
''We're pleased to say, 34,100 customers now have their power back on, with 900 remaining.

It's been a hard few days and nights for the Northern Beaches community since the storm hit on Sunday. We want to assure those still without power that we are doing everything we can to get the lights back on for you today!

We've cleared debris and repaired extensive damage to more than 500 locations across the Northern Beaches.

It's always tough to be without power, but we are close to the end now, and we apologise for the inconvenience.

We will post another update at lunch time today.''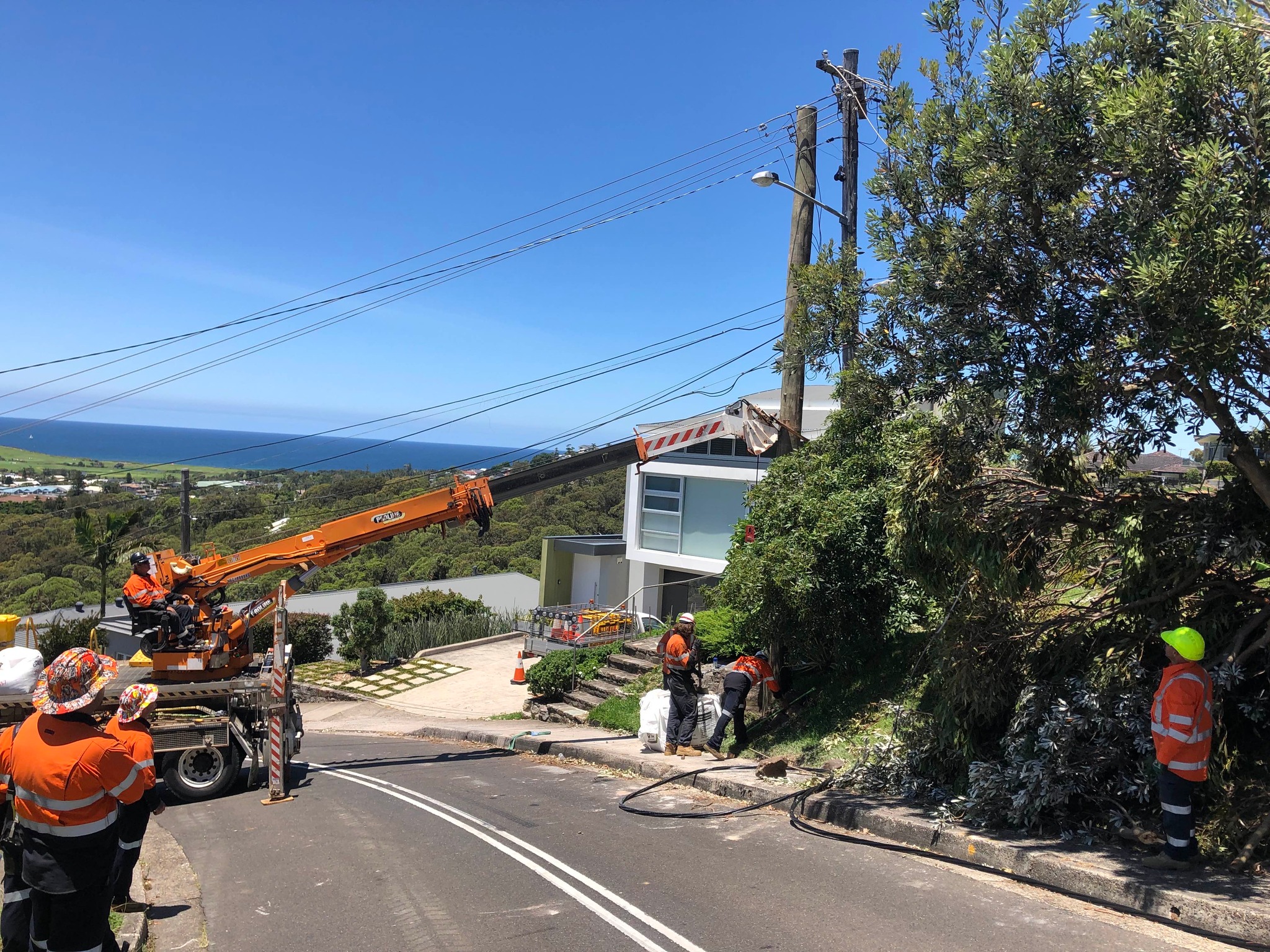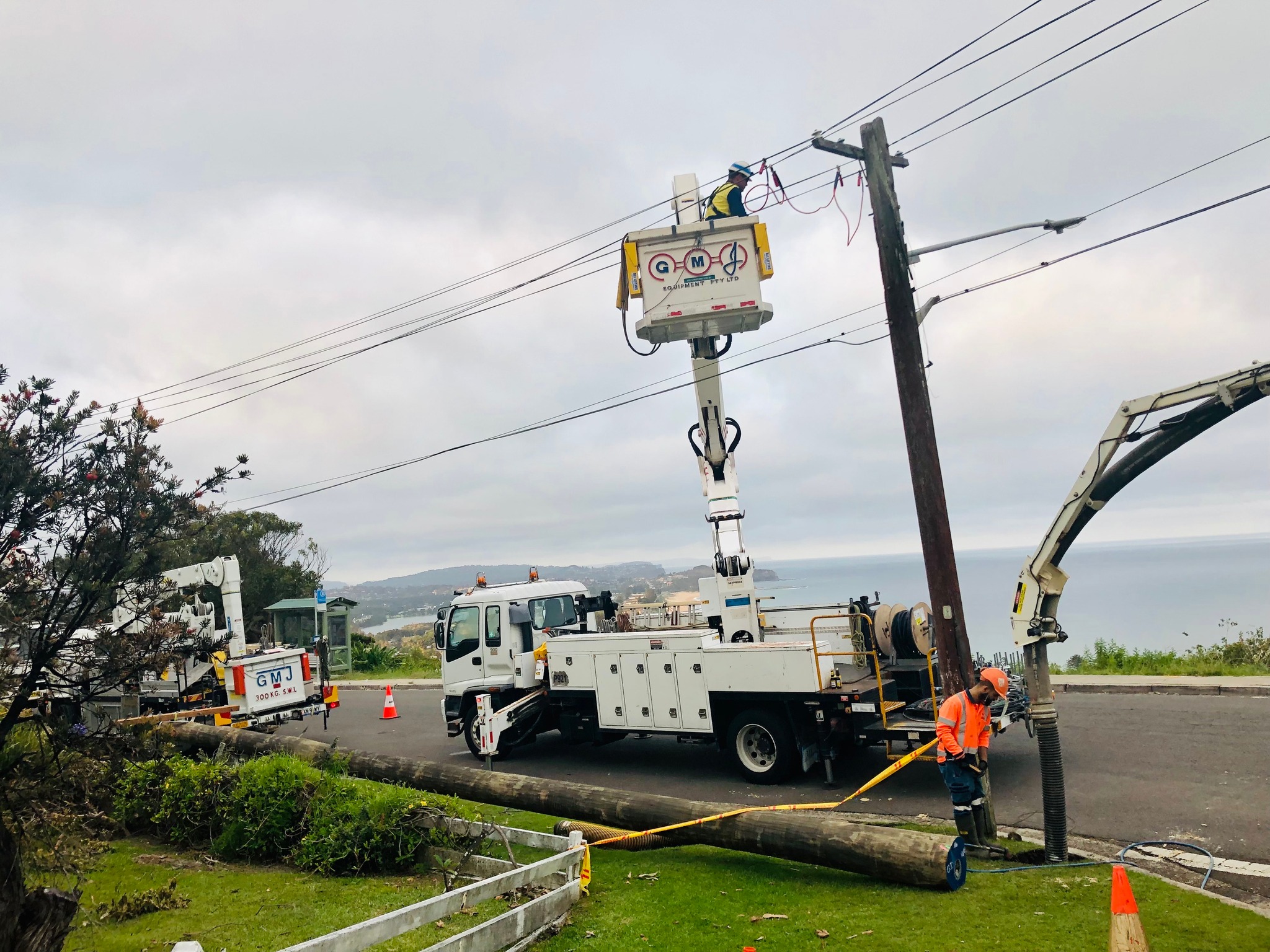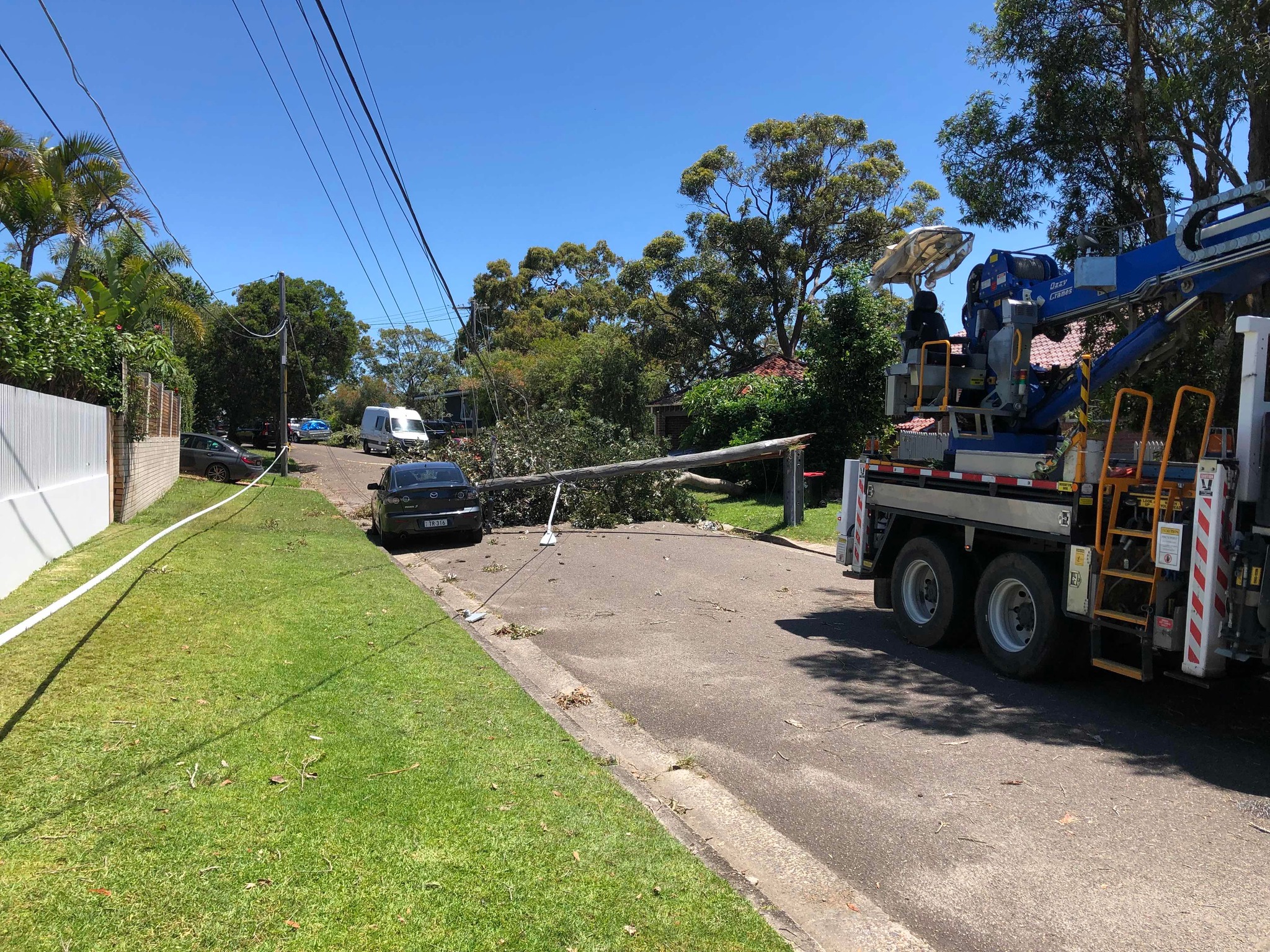 Power poles were among what needs to be replaced. Ausgrid photos

Recovery efforts are expected to continue through this week.

As it is in our community people have been looking after each other, offering fridge and freezer space for those whose without power and a big Christmas food shop to keep cold or offering the use of places to charge phones and devices or to do a load of washing.
Updates, as received, will be posted on the Pittwater Online News Facebook page.
Wakehurst Parkway on Sunday. Photo: Joe Mills