N
ovember 28 - December 4, 2021: Issue 520
2021 ARIA Awards: Local Winners include Lime Cordiale + Angus & Julia Stone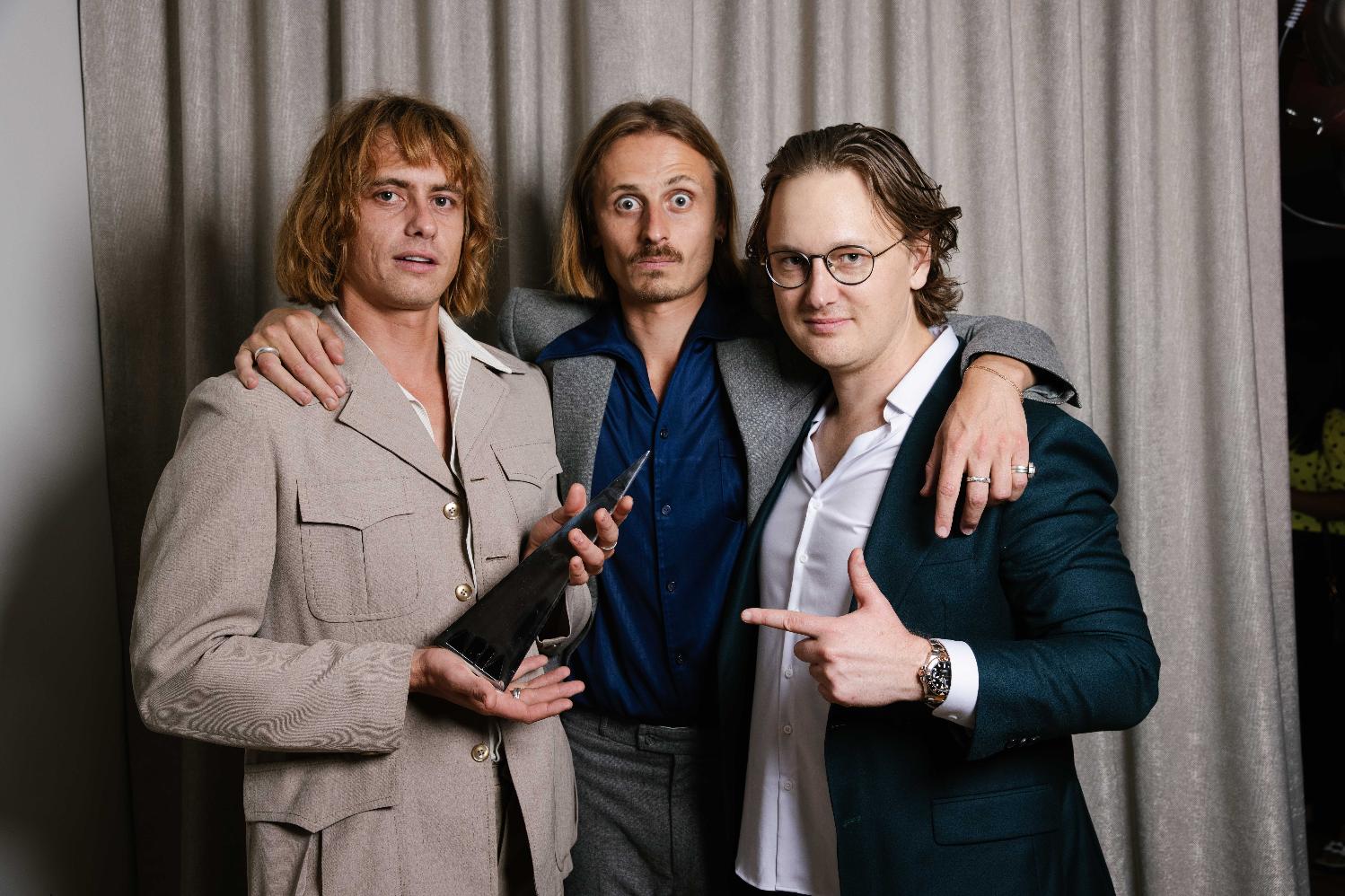 Louis and Oli Leimbach of Lime Cordiale and their manager Andrew Stone. Photo © ARIA - Australian Recording Industry Association Ltd.
The 2021 ARIA Awards in partnership with YouTube Music, was broadcast live from Sydney's iconic Taronga on Cammeraigal country and streamed around the world on YouTube on Wednesday November 24th.
This was a celebration of the incredible talent and diversity of this year's nominated artists, in what has been an extremely difficult year. Throughout the challenges and uncertainty 2021 has brought upon the music industry, Australian artists have continued to prove their extraordinary abilities to connect people through music.
For local artists its been a good ARIA's 2021 year.
Lime Cordiale won Best Australian Live Act presented by Heaps Normal for their 2021 Relapse Tour. The band played their biggest shows since the pandemic halted live music. Named after the deluxe edition of their 2020 album '14 Steps To A Better You (Relapse)', included six new songs or, as the band referred to them on social media, "6 more steps to better the you". This is Lime Cordiale's second ARIA Award after winning Best Breakthrough Artist in 2020.

In a nice twist, the award was presented by The Wiggles, with Anthony Field, Murray Cook and Jeff Fatt of former The Cockroaches fame, and sprung from Manly, beaming over the announcement. The newest member of The Wiggles, Tsehay Hawkins, 16, read out the winner.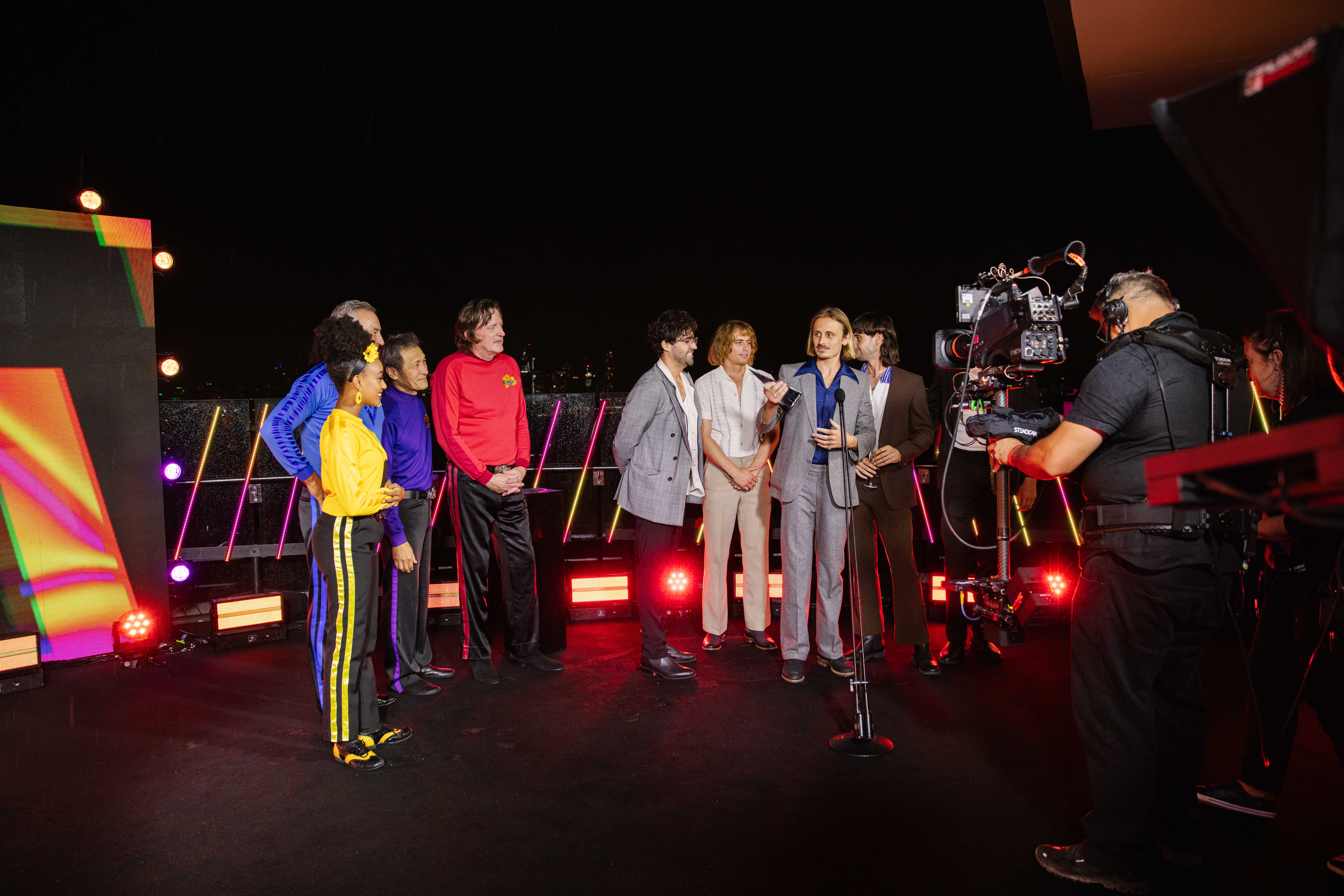 Photo © ARIA - Australian Recording Industry Association Ltd.

Angus and Julia Stone returned to the music scene together after almost four years and won Best Original Soundtrack or Musical Theatre Cast Album for their unexpected, unguarded, and unforgettable soundtrack to the Life Is Strange: True Colors video game. The sibling's hiatus allowed them to explore their own artistic endeavours, but their reunion on this soundtrack produced a piece that's a mix of their old and new work.
Life Is Strange: True Colors is a graphic adventure video game developed by Deck Nine and published by Square Enix's European subsidiary. It was released on September 10th 2021 for Microsoft Windows, PlayStation 4, PlayStation 5, Xbox One, Xbox Series X/S and Stadia and will be released for the Nintendo Switch in 7 December 2021. The plot focuses on Alex Chen, a young woman who can experience the emotions of others, as she tries to solve the mystery behind her brother's death. It is the fifth game in the Life Is Strange series, and the third main instalment, succeeding Life Is Strange 2. Unlike previous series' games, it was released in its entirety while still being structured into chapters.
The original soundtrack album by Angus and Julia Stone, titled Life Is Strange features 12 songs, and was released on August 20th 2021.
The In Memoriam segment of this Years' ARIAs featured Narrabeen-Collaroy Legend Doug Parkinson among other music luminaries such as Bert Newtown and the legendary Michael Gudinski and two members of the Party Boys, former Status Quo bassist Alan Lancaster and Warren McLean, Machinations, I'm Talking and the Divinyls, who used to rock out venues in our area.
That Tribute is embedded below. Thank you all for your music.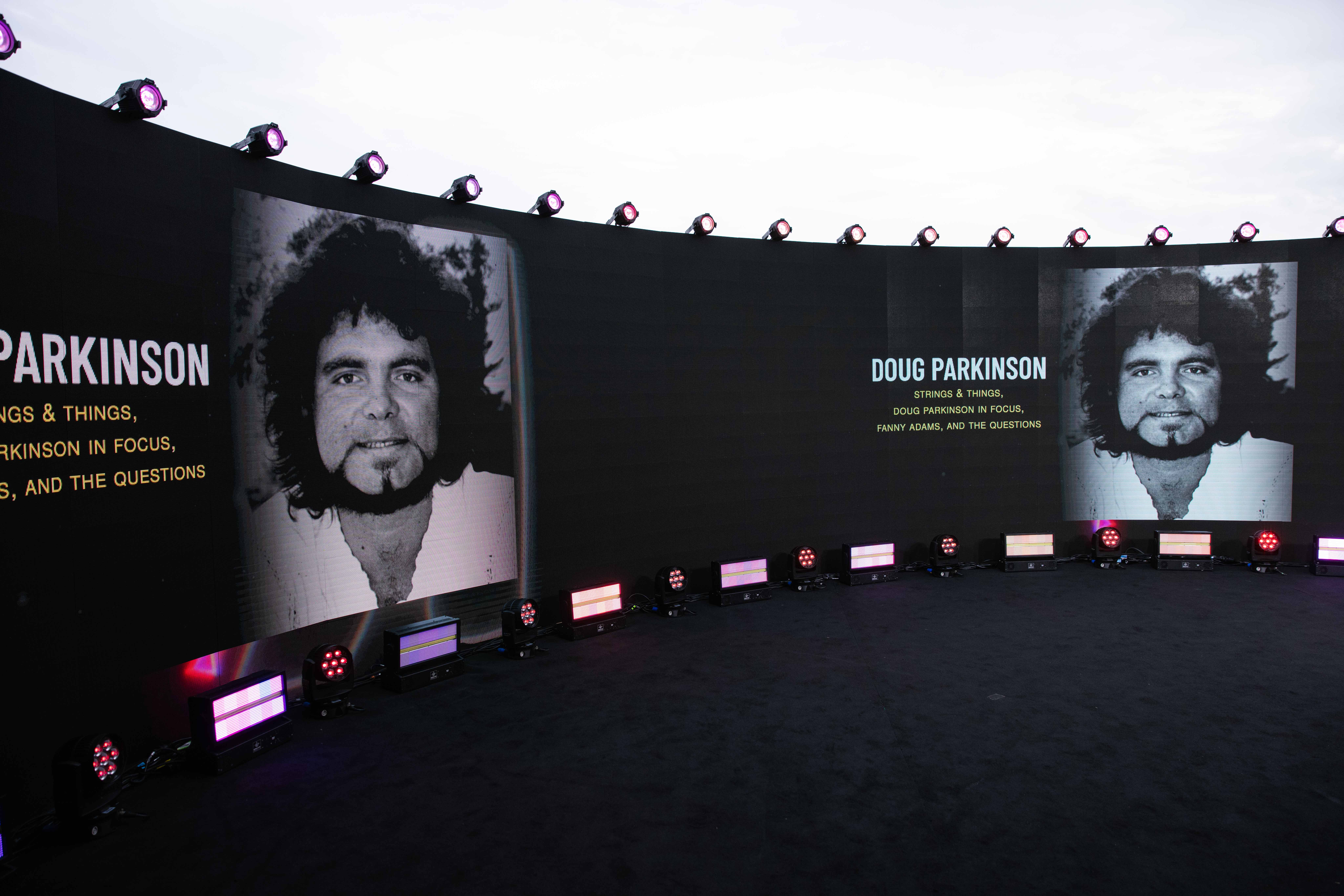 Photo © ARIA - Australian Recording Industry Association Ltd.

Independent artist Genesis Owusu was the big winner this year. Genesis, who performed an amazing medley of latest hits while also taking home a total of four ARIA Awards, won the biggest accolades in Australian music taking out Album Of The Year, Best Hip Hop Release Presented By Menulog, and Best Independent Release Presented by PPCA. The album Smiling With No Teeth impressed critics this year, entering the ARIA chart at 27, reached worldwide acclaim and won Album Of The Year at the 2021 J Awards. Best Cover Art was also awarded to Kofi Ansah & Bailey Howard for Genesis Owusu's Smiling With No Teeth album.

Lime Cordiale members Louis and Oli read the announcement for Best Independent Release Presented by PPCA, the non-profit organisation that protects the rights of musicians, and made the presentation: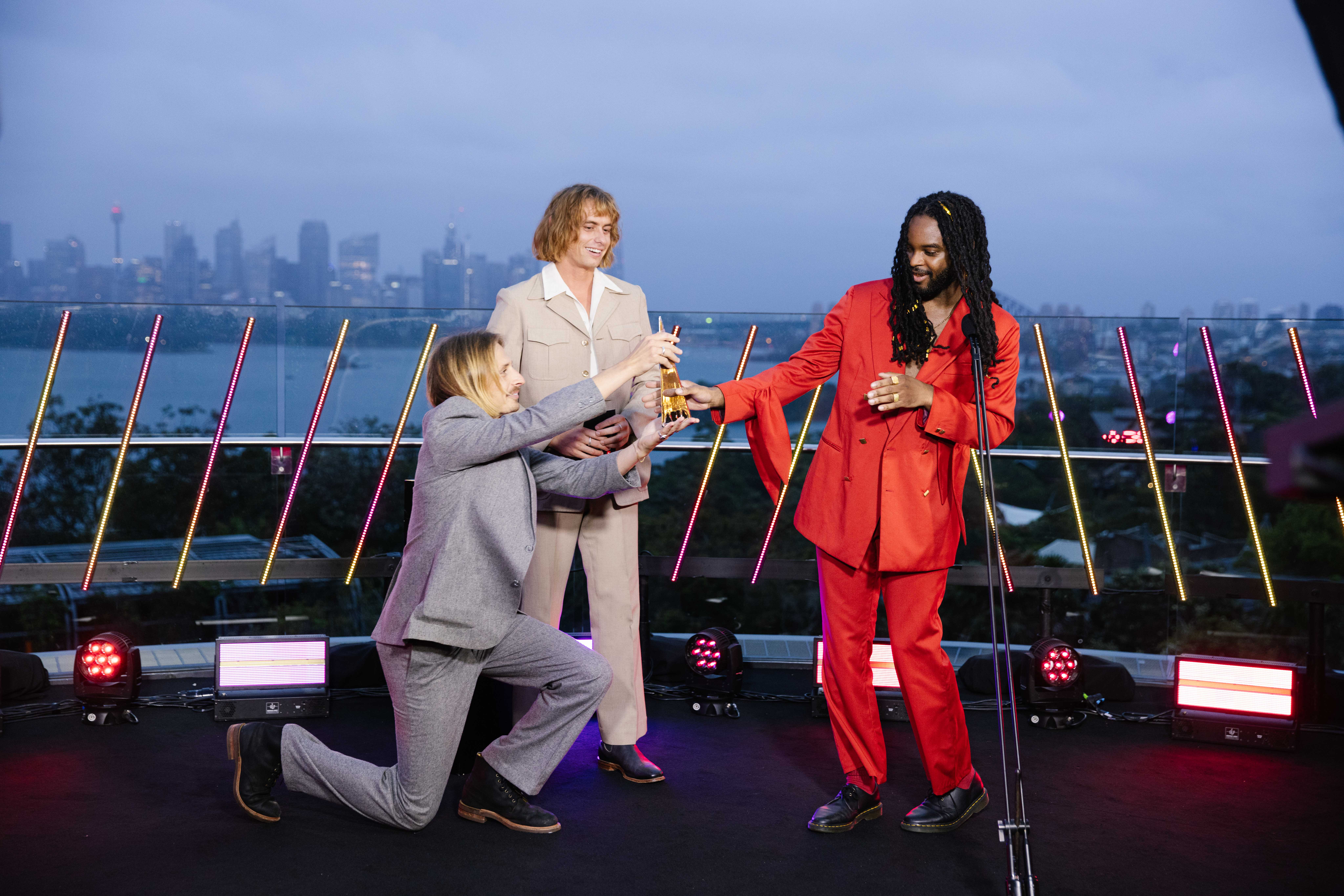 Photo © ARIA - Australian Recording Industry Association Ltd.

It's been a ground-breaking year for The Kid LAROI, not only in his homeland but across the globe, with over 3 billion global streams across his catalogue. The Sydney-born international superstar performed his hit single "Stay" at the 2021 ARIA Awards and won Best Artist and Best Pop Release for his 3x platinum single "Stay" a track that quickly hit 1 on both the Billboard 100 and the ARIA Charts for 14 weeks (the third highest weeks at 1 in ARIA Charts history) as well as a number of other countries. The Kid LAROI is also nominated for Best New Artist at the 64th Grammy Awards.
It was a night of many firsts. Budjerah performed his recent single "Missing You" and won his first ARIA Award for Michael Gudinski Breakthrough Artist for his debut EP Budjerah, which kicked off at number 72 on the ARIA Albums Chart after its physical release. Pop megastar Ed Sheeran presented the Michael Gudinski Breakthrough Artist award in a special video tribute to the late Michael Gudinski.
Gretta Ray, who was also nominated for the Michael Gudinski Breakthrough Artist, performed her recently released single "Love Me Right," which was an absolute highlight of the evening, following the release of her highly anticipated debut studio album, Begin To Look Around.
Zimbabwean-born Australian singer-songwriter and rapper Tkay Maidza came back this year to stake her claim as the Best Soul/R&B Release, for the third release in her EP trilogy, Last Year Was Weird, Vol. 3. This win adds to a stellar year for Tkay Maidza who performed to sold out headline shows in New York City and Los Angeles and went on to support Emotional Oranges along their Sad Fruit US tour. Keeping the momentum, Tkay also hit mega US festivals All Things Go (alongside HAIM, Charli XCX + more) and Day N Vegas (Doja Cat, SZA + more).
Taking home one of the biggest awards of the evening for Song of the Year presented by YouTube Music was indie rock band Spacey Jane, for their ARIA platinum single "Booster Seat." Their 2020 debut album Sunlight debuted at 2 on the ARIA Album Charts, while "Booster Seat" was voted as number 2 on the Triple J Hottest 100 countdown in 2020.
This year's ARIA Award for Best Video presented by YouTube Music went to Vance Joy for his outstandingly powerful video for his ARIA platinum single "Missing Piece" released earlier this year and directed by Annelise Hickey.
RÜFÜS DU SOL were successful in both of their nominated categories, taking the ARIAs for Best Dance Release and Best Group for their single "Alive" and gave a stunning performance of the track from LA. "Alive" is nominated for Best Dance/Electronic Recording at the 64th Grammy Awards. The Grammy-nominated trio released their fourth full length studio album Surrender in October, which peaked at #1 on the ARIA Album charts, 2 on the US Billboard Music Top Dance/Electronic album charts.
Taylor Swift fans delivered for the second time, voting her the recipient of this year's Most Popular International. Following the release of her critically acclaimed ninth album Evermore, released late last year, Taylor has since released her re-recorded version of her albums Fearless (Taylor's Version) and RED (Taylor's Version) this year. Swift also won the Award in 2019 for her seventh studio album Lover.
Middle Kids won their first ARIA for Best Rock Album for their second studio album Today We're The Greatest, which peaked at 5 on the ARIA Album charts.
A household name in the Australian music industry, Crowded House, won Best Adult Contemporary Album for Dreamers Are Waiting. Tropical F**k Storm won their first ARIA Award for Best Hard Rock/Heavy Metal Album, for their album Deep States, which debuted at 7 on the ARIA Charts.
Troy Cassar-Daley, won Best Country Album with The World Today. The World Today debuted at 3 on the ARIA Albums Chart and #1 on the Australian and Country Albums Chart. This is Troy's fifth time winning the Best Country Album award, after first winning in 1995 with Beyond The Dancing.
Last year's ARIA Hall of Fame inductee Archie Roach won Best Blues & Roots Album for his album The Songs Of Charcoal Lane, which featured re-recordings from his own home of the 10 impassioned songs that formed his landmark first studio album in 1990.
Bluey won her first ARIA Award for Best Children's Album with Bluey: The Album, the first soundtrack of the animated television series. The soundtrack was composed and performed by Joff Bush, the composer for the television program, alongside a team of musicians. Bluey: The Album debuted at 1 on the ARIA Albums Chart in February 2021. This was the first children's album to reach the 1 spot on the ARIA Albums Chart and a testament to this popular children's show and children's music.
Kofi Ansah and Bailey Howard won the Best Cover Art award for their work on Genesis Owusu's Smiling With No Teeth. The ARIA Award winning artwork features the Ghanaian-Australian singer from Canberra, Genesis Owusu.
Konstantin Kersting made a comeback this year with success in both of his nominated categories. Konstantin took home the ARIA for Engineer of the Year for his body of work with The Jungle Giants "Love Signs", and The Rubens "Masterpiece" and "202", and also shared the Producer of the Year Award with The Rubens for their combined efforts on The Rubens "Masterpiece" release. Konstantin was previously nominated for the two awards in 2019 for his work with Tones and I on "Dance Monkey." His work for the past 6 years with a variety of Australia's musical talents has led up to this moment.
The winners of the Fine Arts Awards included Genevieve Lacey and Marshall McGuire for Best Classical Album for their critically acclaimed album Bower, in which the recorder virtuoso and harpist collaborated in order to put together timeless pieces of music from different composers. Mildlife won Best Jazz Album for their album Automatic, a euphoric work of art that lives up to the expectations of those that are familiar with the Melbourne group's talent and vision after their powerful debut.
For a second consecutive year, Joseph Tawadros won Best World Music Album for Hope In An Empty City. This brings his ARIA Award count for Best World Music Album to a total of five, previously having won the award three consecutive years from 2012-2014.

Nine Network's Brooke Boney announced the winner of the Telstra ARIA Music Teacher Award, and Zoë Barry from Sacred Heart School, Melbourne VIC was the proud recipient.
Annabelle Herd, ARIA Chief Executive, said, post-show, "The 2021 ARIA Awards have shown once again what incredible world class music talent we have in Australia. Congratulations to all the winners and nominees for your outstanding success and achievement even through a really difficult time. Our artists are smashing it here and overseas and we can't wait to see them bringing the joy of live music back to audiences in 2022. The ARIAs would not happen without the amazing support of our partners YouTube Music, Destination NSW, PPCA, Telstra, Menulog and Heaps Normal and a special thank you to Taronga for providing the wild backdrop to this year's Awards. Congratulations and a huge thank you to the amazing ARIAs team for putting on an incredible awards show during a pandemic - a wonderful group of passionate people dedicated to recognising and showcasing our homegrown artists. The ARIA Awards will be back bigger and better than ever in 2022."
Natalie Waller, ARIA Chair, said "This year's ARIA Awards, in partnership with YouTube Music, has been a truly special event to support and celebrate those in the Australian music community who have given so much through their strength and tenacity in 2021. On behalf of everyone at ARIA, I would love to honour all of the talented winners and nominees with the gratitude and appreciation they deserve. There is no denying that the past 18 months have been exceptionally challenging, particularly in the arts sector, though our artists have soldiered on to give Australian's a token of hope. I'd especially like to thank our partners who allowed this event to go ahead, we couldn't have done it without them."
Marion Briand, Manager, Music Content Partnerships (AU/NZ), YouTube, stated, "What an incredible celebration - congratulations to all the winners, nominees and performers! We are so proud of the partnership between YouTube Music and ARIA, and to be able to showcase amazing homegrown talent through a YouTube stream, to fans across the country and around the world. I'm absolutely blown away by the immense impact local artists have both here and globally, and look forward to another massive year for our industry."
"Sydney and NSW have been the birthplace of many outstanding Australian artists, so what better way to showcase the convergence of culture and nature in NSW than by honouring our nation's finest musical talent against the spectacular backdrop of Sydney Harbour from Taronga Zoo. The NSW Government joins ARIA in congratulating the recipients of this year's ARIA Awards and celebrating the dedication and innovation in music that they represent. The ARIA Awards underscores the importance of music to the NSW visitor economy. We look forward to supporting large-scale music events and providing opportunities for our musicians to get back out and performing in front of their fans." NSW Minister for Jobs, Investment, Tourism and Western Sydney Stuart Ayres said
ARIA extends its thanks and gratitude to host Brooke Boney, as well as the wonderful presenters at the 2021 ARIA Awards: Baker Boy, Charli XCX, Ebony & Bryce, Ed Sheeran, Lime Cordiale, Peach PRC, Ruel, Troye Sivan, Vera Blue and The Wiggles.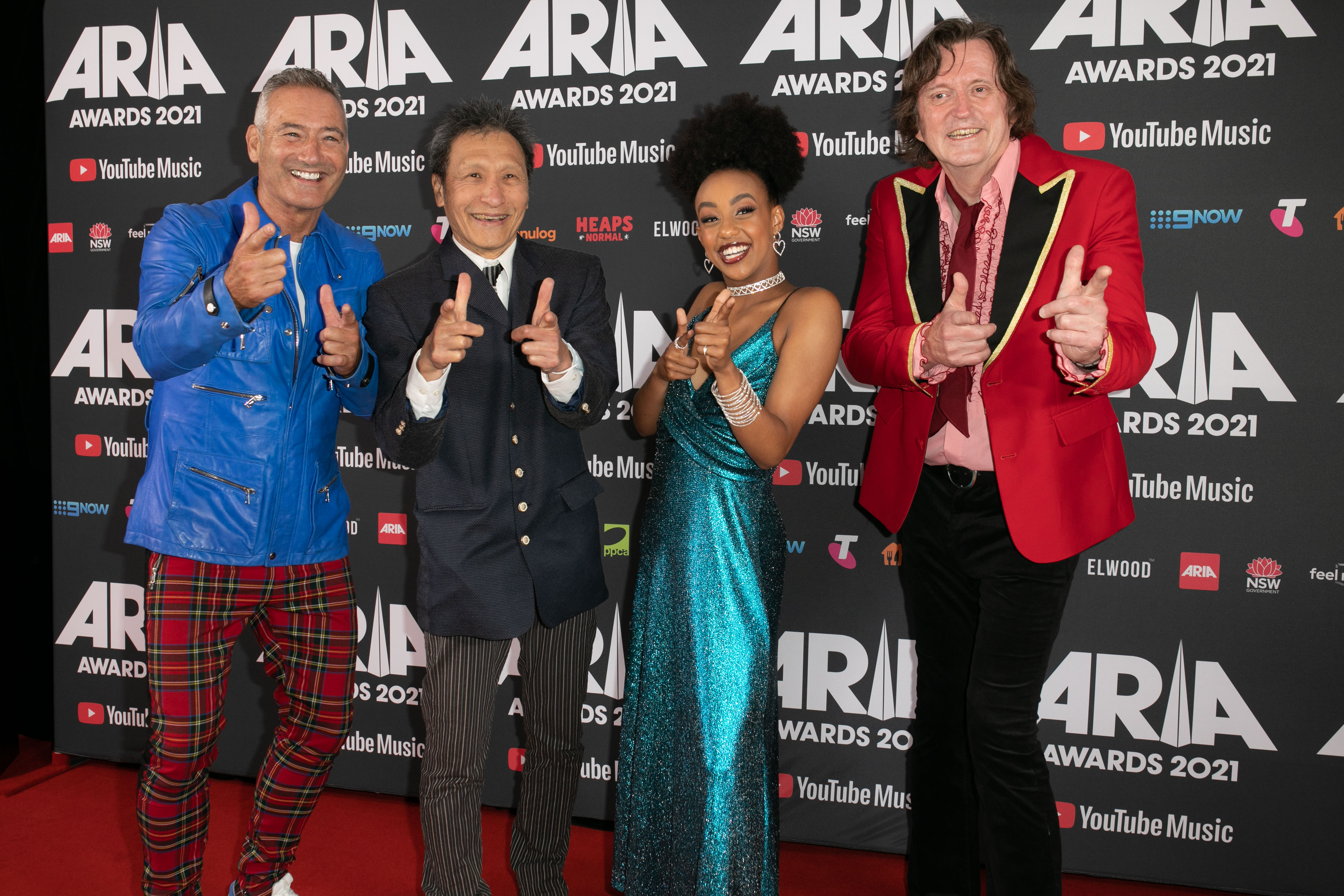 Photo © ARIA - Australian Recording Industry Association Ltd.

ARIA wishes to thank its partners and sponsors, without whom the ARIA Awards would not be possible: YouTube Music, NSW Government, Destination NSW, Menulog, Taronga Zoo, Heaps Normal, Elwood, 9Now, Telstra and PPCA.