November 28 - December 4, 2021: Issue 520
Sailability Pittwater: Making Dreams Come True
To Maria Dalmon it was just another challenge but one she had long wished to achieve.
Sailability Pittwater member Maria, who was born with cerebral palsy, tackled blustery southerly winds and dead calm to sail solo from Winnerrerremy Bay (Rowland Reserve) and around Scotland Island.
Maria, "anything is possible", sailed a specially designed dinghy with servo-assisted steering and sail trimming unassisted around the island. Her support crew helped her just once - to reef the sail as she was being blown sideways and water poured into the boat.
She sailed from Sailability's base at Rowland Reserve through the channel to Church Point, turned north towards Towlers Bay, barely moving at times in calm patches, and crossed the bay heading towards Taylors Point. Here she was struck by the full force of the southerly - double the forecast maximum wind of 10knots.
Once reefed she tacked back and forth across Pittwater and completed the circumnavigation off Bayview, whooping and waving her arms.
Also sailing dinghies solo in the round-island personal challenge were her husband, Lindsay, also born with cerebral palsy and who celebrated his 79th birthday on November 20 and a third member, a paraplegic.
He did not wish to be named but was taught to sail by Sailability Pittwater three years ago and making his first trip outside Winnerrerremy Bay - another great achievement.
Maria's odyssey was the latest in a long list of achievements, including competing in disability regattas overseas, summiting Mount Koscuiszko in her wheelchair and travelling by taxi with husband Lindsay and two cerebral palsy friends in a taxi from Sydney to Uluru.
Two years ago she published her memoirs 'Don't tell me I can't.''
The Scotland Island sail was supported by some 12 members of Sailability Pittwater with assistance from Sailability Crystal Bay, Royal Prince Alfred Yacht Club and Arthur Spithill who provided rib inflatable boats to escort the sailors.
Sailability is a worldwide volunteer organisation which enables disabled people of all ages to go sailing in specially designed boats.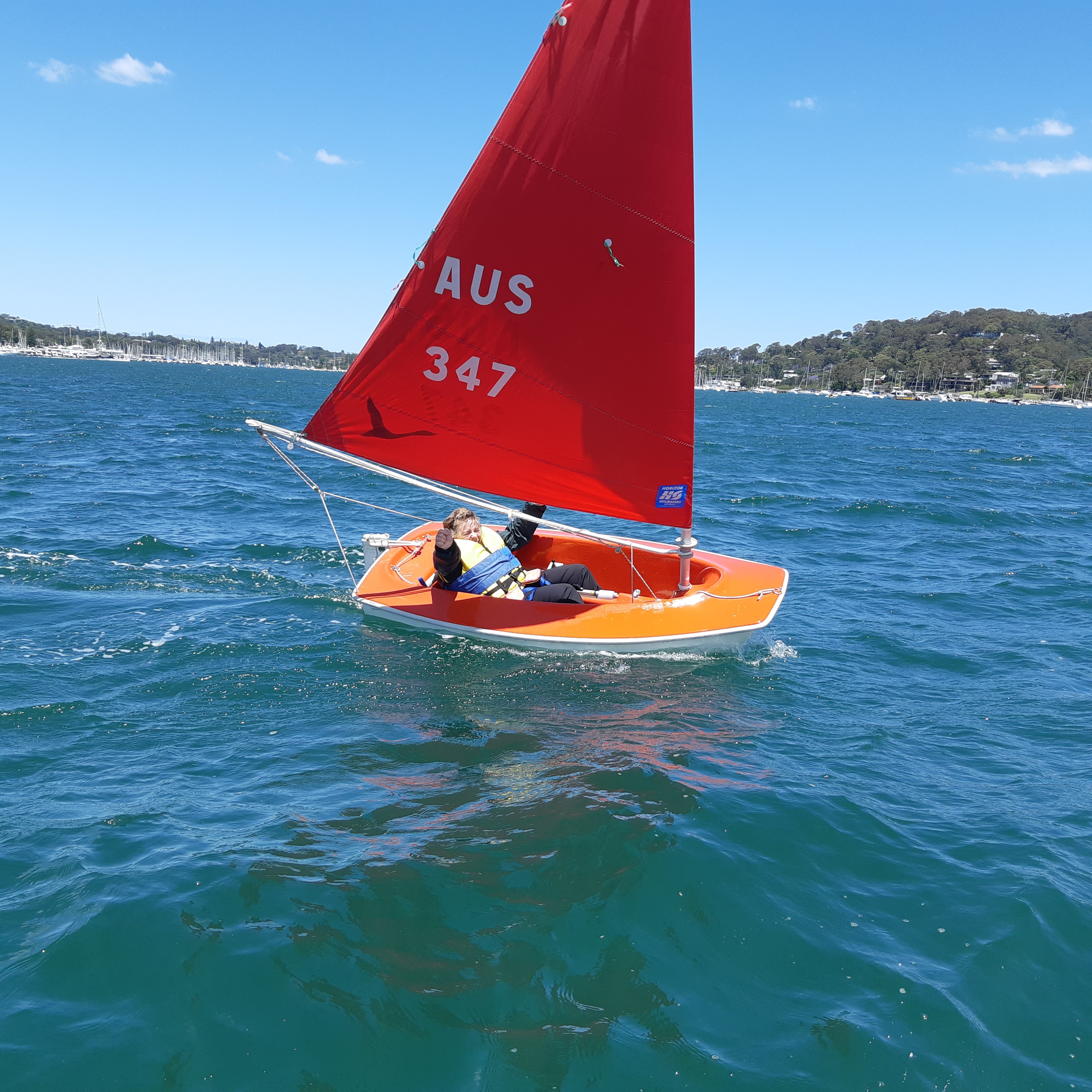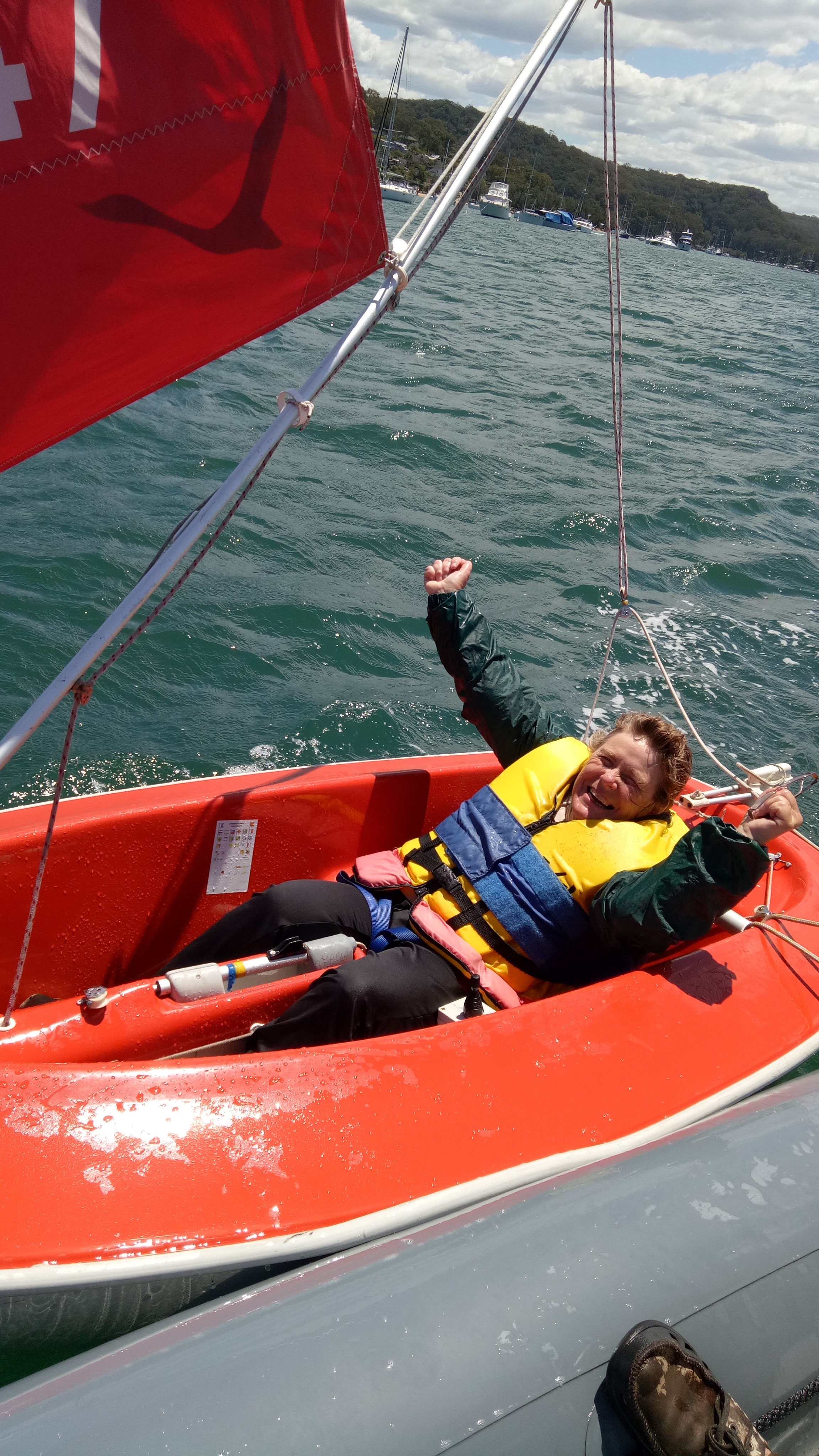 Maria Dalmon whoops with delight as she completes the circumnavigation of Scotland Island off Bayview.
Home and dry. Lindsay and Maria Dalmon back at Rowland Reserve after sailing solo around Scotland Island.
Sailability Pittwater operates our regular program of Recreational Sailing, from Rowland Reserve, Bayview.
We aim to provide a sailing experience for people of all ages and abilities, through recreational sailing. Those who wish to sail competitively will be directed to our sister branch Sailability Crystal Bay, out of RPAYC, Newport.
Sailability Pittwater is a part of Sailability NSW (Inc), which in turn is part of the worldwide Sailability organisation.
Sailability Pittwater operates from September to May each year with about 4 weeks break in Dec / Jan when people are very busy. There are 2 days each fortnight that we sail at Rowland Reserve, Wednesdays from 9am till 2pm and Saturdays 9am till 2pm. Light refreshments are provided but not lunch.
For these programs we have a friendly group of volunteers, many of whom are experienced sailors, who take a range of persons with a disability for recreational sailing. We do offer basic sail training for people with a disability, and aim to give our sailors as much control of the boats as they can manage.
Come down and have a look, you don't need to be a sailor, just a willingness to help others, particularly those with a disability.
Sailability Pittwater are always looking for volunteers to train in Rescue Boat operation, or to help rig the boats at the beginning of a sailing day, or put them away at the end of the day.We also need volunteers to assist people in and out of the boats, as well as sail with people in our two-seaters.
Sailability cannot function without a dedicated and skilled group of volunteers, as we are fully self- funded, not for profit organisation. It is some of the most satisfying volunteering work around, especially if you enjoy the outdoors.
To find out more, please visit: www.sailabilitynsw.pittwater
Report and photos: Michael Woolley, Sailability Pittwater