October 18 - 24, 2015: Issue 236
Pittwater Dragon Boat Racing Club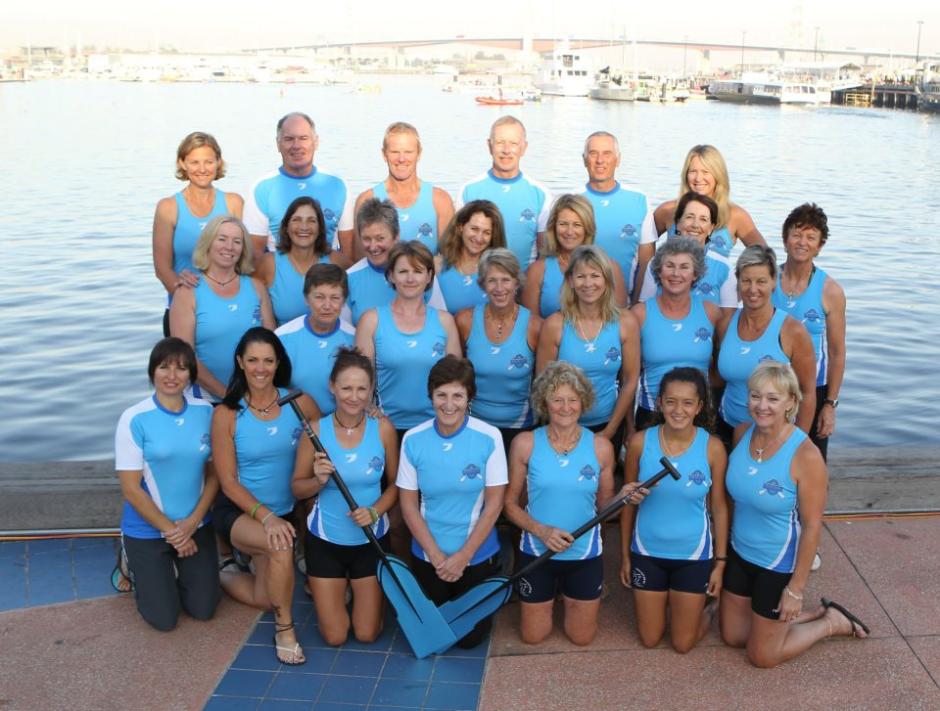 Pittwater Dragon Boat Racing Club Members At 2012 Australian Dragon Boat Championships, Melbourne.
At Rowland Reserve, Bayview, 2021
Dragon Boat racing is an exciting and fast paced sport. The sport originates from China 2000 years ago and is now one of Australia's fastest growing water sports.
The Pittwater Dragons is a competitive racing club and would love to hear from you if you enjoy training hard and racing hard!
We are especially looking to recruit more men with the hope of a full men's crew. Don't be fooled, the men we have know just what a beneficial workout you get from attending dragon boat training sessions!
About the Pittwater Dragon Boat Racing Club
Pittwater Dragons was formed in August 2011 as a competitive racing club.
We formed specifically to train hard and race hard. It is very important to us to know we are giving 100% at all times to ensure the best results.
We are located on the beautiful waters of Pittwater at Rowland Reserve in Bayview. The conditions are perfect on Pittwater and we can't complain about the view either!
The Dragon Boat season runs from October to April with at least one racing regatta per month and culminating with the Australian Championships to finish off the season. As a paddler you have the opportunity to represent your state and even your country. Many of our current paddlers have represented both and you could too.
Because we are a racing club it is important that you have some experience on the water. So, if you have and enjoy training hard - join us on Pittwater and get involved in a fast and furious sport.
Training
Winter Training: May to August
Day: Sunday
Time: 8am to 9.30am
Location: Rowland Reserve
Summer Training: September to April
Day: Tues & Thur
Time: 6pm to 7.30pm
Location: Rowland Reserve
Day: Sunday
Time: 7am to 8.30am
Location: Rowland Reserve
Please also note that these are on water times. Paddlers should make sure they arrive at least 15 minutes prior to times listed for warm up and to help get the boats on the water.
Because Dragon Boat racing is a popular sport you will find two clubs training from this location. We are located furthest away from the car park where you will see two boats in the compound. If you are unsure please just ask for Pittwater Dragons.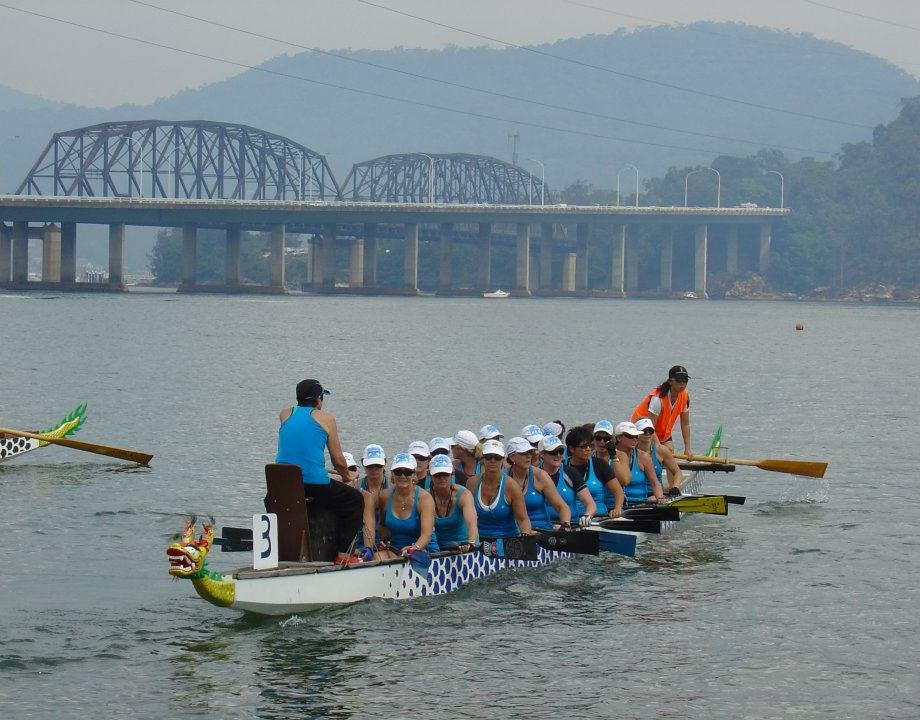 At Brooklyn - November 2011
The Nationals mascot checking out the action on the water with two Pittwater Dragons Members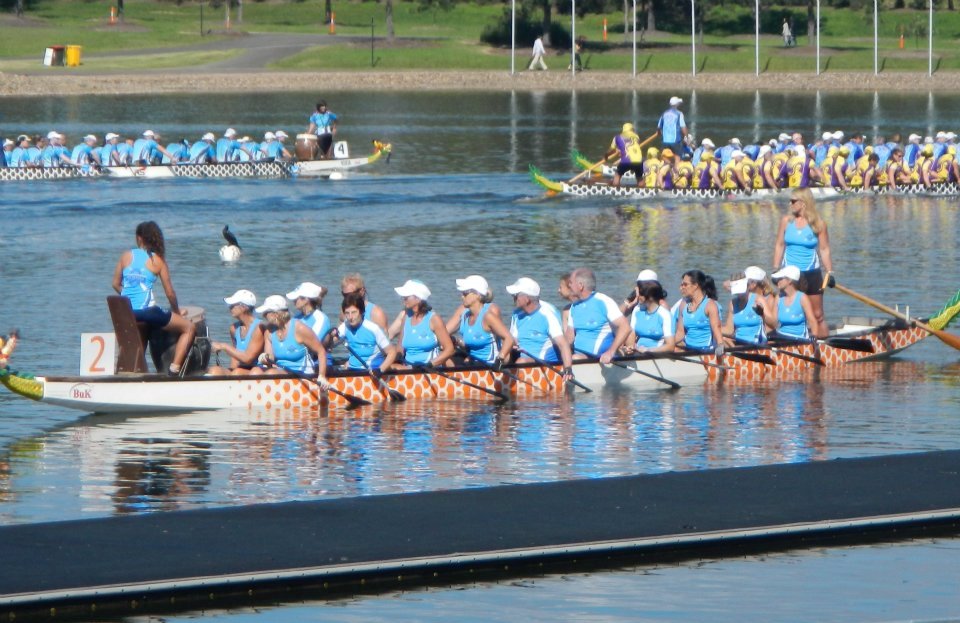 Mixed Crew at State Titles - March 2012
Favourite places in Pittwater and why?
Bayview on Pittwater. There's two good things about Pittwater;
One is that you have protected waters, there are many little bays and inlets you can row off to and have a nice smooth run.
Two when you want to do a hard Training Session you can go into the middle of the estuary and get some good wind to pull against to test yourself and stretch for more speed.
So you have the best of both worlds really. For example, just last night, Thursday October 15th, we had some good wind to row against. We did this then rowed to Crystal Bay where it was lovely and flat and like glass for the another kind of rowing.
Organisation Goal:
To be recognised as a competitive racing club at state, national and international levels.
To set a positive example in the community by demonstrating the benefits of a healthy and active lifestyle.
Mission statement:
To be fit, to be healthy and to be competitive in a socially inclusive environment.
For information
For any questions or information about Pittwater Dragon Boat Racing Club, please contact: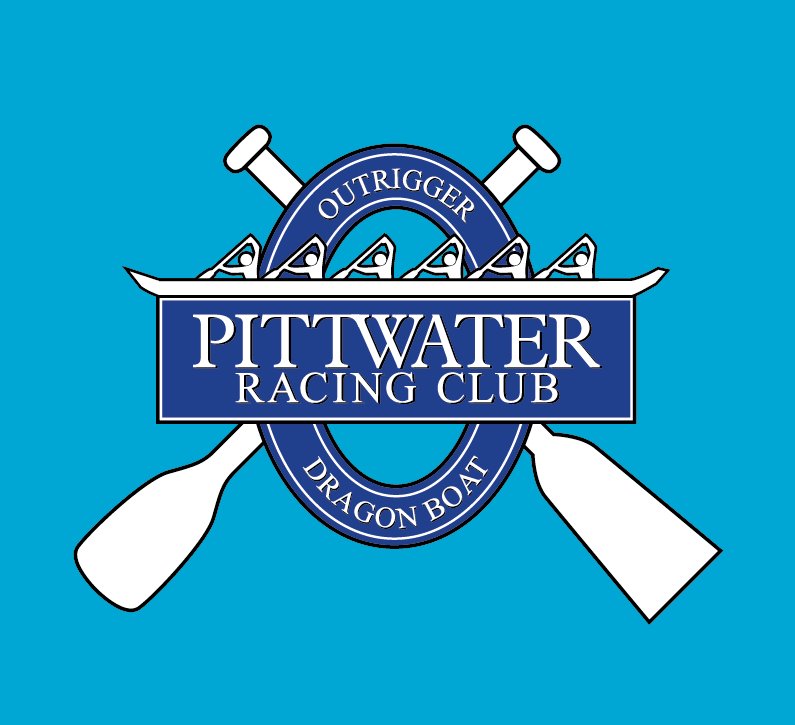 2015-2016 upcoming events (dates TBC)
Pittwater Dragons will compete at every sanctioned and accredited race throughout the season. Last season we qualified for the Club Crew World Championships and will be heading to Adelaide in 2016.
Sun.02.08.2015
Dobroyd 10's (Winter Warmer) Regatta (sanctioned)
Dobroyd Aquatic Club,
Henley Marie Drv, Rodd Park
Sun.13.09.2015
DBNSW Race 1 - Windsor (Accredited)
Macquarie Park
Sun.11.10.2015
DBNSW Race 2 -SIRC (accredited)
Sydney Regatta Centre
Sun.08.11.2015
DBNSW Race 3 (accredited)
Manly Dam
Sat.28.11.2015
Bei Loon - Newport Arms 8km Challenge (sanctioned)
Bayview
Sun.13.12.2015
DBNSW Race 4 - SIRC (accredited)
Sydney Regatta Centre
Sat.20.02 - Sun.21.02.2016
Chinese New Year (Accredited)
Cockle Bay, Darling Harbour
Tue.22.03 - Mon.28.03.2016
2016 AusDBF Australian and Asian Championships
West Lakes, SA
Wed.30.03 - Thu.07.04.2016
2016 IDBF CCWC
West Lakes, SA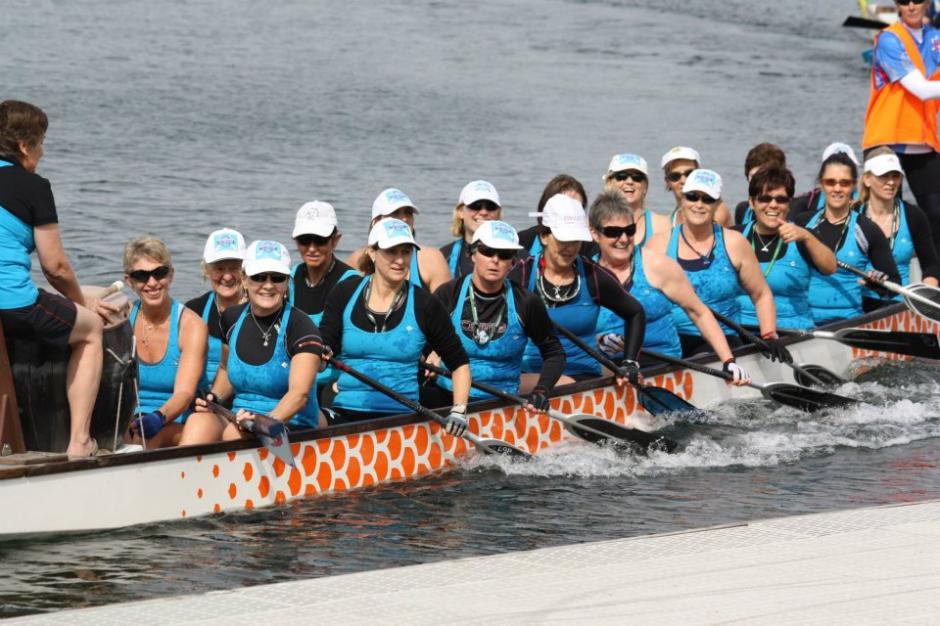 Copyright Pittwater Dragon Boat Racing Club, 2015.