August 18 - 24, 2013: Issue 124
Easy Transport Manly Warringah Pittwater
http://www.easytransportmwp.org.au/index.html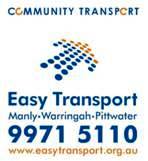 Think Transport? Think Easy Transport Manly Warringah Pittwater! A not-for-profit community group providing transport solutions for the residents of Manly Warringah and Pittwater LGAs. Easy Transport Manly Warringah Pittwater provides affordable transport solutions for frail-aged, people with a disability and their carers, plus others who cannot access mainstream transport services to medical and hospital appointments, shopping, social outings and activities.
Easy Transport operates a shuttle bus TO and FROM Royal North Shore hospital and Mater Hospitals four times a day Monday to Friday. All services are door-to-door providing reassurance to those who may need a little extra assistance. Fees apply. Bookings are essential.
Visit our great central location at 30 Howard Avenue Dee Why. You can also visit us ONLINE at www.easytransportmwp.org.au where you can quote, book, pay and confirm travel, to become a client or a volunteer
Who is the service for?
Community Transport services are designed for:
• frail aged people over 65 years
• younger people with disabilities
• and the carers of these people
Community Transport services are provided by cars and minibuses for purposes such as medical appointments, shopping and social outings.
Passengers are transported door-to-door by drivers trained to provide a supportive service for frail aged and disabled clients, and many of the vehicles used are wheelchair accessible.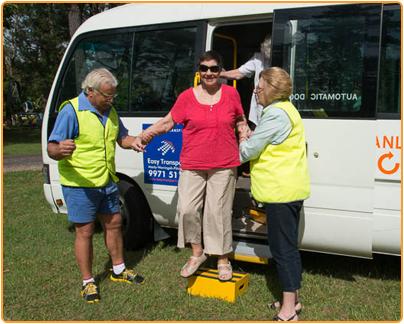 What are the Costs of Community Transport Services?
Community Transport providers are not-for-profit organisations that receive federal and state government funding as part of the Home and Community Care (HACC) Program. Community Transport providers charge passengers a small fee for services. However clients are not denied a service if they are unable to pay. Carers can accompany a frail aged or disabled passenger at no extra cost. Our Rates are listed below
A Shopping Trip; what does this involve?
We all need to get to the shops. Easy Transport provides a full range of shopping options for residents on the Northern Beaches. Regular group services provide access to each of the three major shopping centres, Warringah Mall, Warriewood Square and Forestway. These services go out each fortnight from different areas on the peninsula. Regular groups services also offer passengers the opportunity to catch up with friends or just have a cuppa.
On demand shopping is also available though our flexible transport service. You'll need to book a time to be there and also a time to be returned.
Bookings are essential and require a minimum of TWO days notice. Please note that bookings made with less than TWO day notice will incur an additional administration fee. A reminder call will be done before 3pm the working day prior to travel.
You can make a booking online on our new website just hit BOOKING REQUEST or you can phone the office on 9971 5110 between 11am and 3pm.
GROUP SHOPPING AND SOCIAL OUTINGS
The following is a general guide to areas covered. Please telephone to discuss the service best for you. Fortnightly SHOPPING TRIPS from individual homes to Warriewood Square, Warringah Mall and Forestway.
Day of week General Pick up Area
Monday Collaroy to Bayview
Tuesday Mona Vale to Avalon and Dee Why to Seaforth/Manly
Wednesday Collaroy to Beacon Hill and Allambie to Belrose
Thursday Forestville to Belrose
Friday Dee Why to Manly
The Mystery Tours and Saturday Outings; what are these about?
Easy Transport has Social Trips with a number of options if you want to get out and about.
Mystery Drives - Book on one of our regular Mystery Drives and discover the sights and sounds of Sydney. Services operate each fortnight from all over the Northern Beaches and Forest. Mystery Drives are full and half day outing taking in some of Sydney's finest attractions. Afternoon tea is supplied.
Fortnightly MYSTERY DRIVE outings full day or half day.
Day of week General Pick up Area
Tuesday Dee Why to Palm Beach
Wednesday Forestville to Belrose and Dee Why to Allambie
Thursday Narrabeen to Palm Beach and Dee Why to Seaforth/Manly
Friday Narrabeen to Palm Beach
Saturday Outings
Easy Transport has introduced Saturday Outings. Once a month Easy Transport takes out up to 45 passengers to a pre arranged destination for a scenic drive and a delicious two course lunch.
Please contact the office on 9971 5110 to enquire or reserve your seat.
SATURDAY LUNCHEON CLUB - 4th Saturday of each Month
Door to door transport which includes a scenic drive to various locations for 2 course lunch . All you need is to be a registered client (call 9971 5110 to become one if not already on the service). You will be picked up at home and taken back home at the end
of the day. COST $50 per person
Upcoming Outings are:
August 24 Ettalong Beach Club, Ettalong
September 28 Bowling Club, Wisemans Ferry
October 26 Bowling Club, South Cronulla or Camden Valley Inn, Camden
November 23 Mean Fiddler, Rouse Hill
BOOKINGS ESSENTIAL: Ring 9971 5110 between 11 am – 3 pm (48 hours required for cancellation otherwise $25 fee will apply)
You also provide assistance for people to and from Medical appointments; what does this involve?
Our flexible services aim to provide safe, reliable and cost effective transport to health facilities. Services are provided door to door for those who need it. Bookings are essential and require a minimum of TWO days notice. You will be asked to provide details of appointment and return time along with addresses and phone numbers. Please note that bookings made with less than TWO day notice will incur an additional administration fee.
You can make a booking here on line just hit BOOKING REQUEST or you can phone the office on 99715110 between 11am and 3pm.
Also note that reminder call will be done before 3pm the working day prior to travel. IF YOU HAVE NOT RECEIVED A CALL PLEASE CONTACT THE OFFICE before 4pm.
The North Shore Shuttle Service operates to a timetable (please see below). The pick-up spots for the Shuttle Service on the Northern Beaches are our office at 30 Howard Ave Dee Why and also Forestville Community Arts Centre Darley St Forestville.
Hospital Shuttle
You now have an Online Booking Facility; please explain to first time users how this works and how they use it
We have a new website. Those of you who are tech savvy can access the Website and book all your appointments on line. The website is an innovative way in which all users of the service can access information including getting a quote if you need a certain type of service, how to make a booking and also refer people who may need our services.
Simply click on what is appropriate for you on our Home page, either 'Get A Quote' or 'Booking Request'. Our new website makes it EASY for Service Providers, Community Members, Carers and Family Members to REGISTER, REFER, BOOK and QUOTE journeys ONLINE. This is a huge step forward not just for Easy Transport but for the industry.
People can also get involved as volunteers; what kind of positions are available?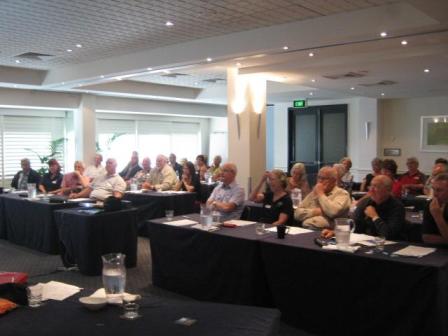 Easy Transport Manly Warringah Pittwater needs volunteers for a range of duties for those looking to make a difference. Easy Transport is always on the lookout for suitably qualified and committed Drivers, Bus Assistants, Fleet Assistants and Administration Assistants duties.
A great variety of volunteer opportunities with comprehensive volunteer's induction, training and a rewarding program. Join our great Volunteers' Team at Easy Transport and share the great community spirit!
To register your interest, please enter your details and we will call you to arrange an appointment to discuss a role that may best suit you or contact (02) 9971 5110 for more details. Register at: http://www.easytransportmwp.org.au/getinvolved/volunteers.html

What is Easy Transport MWP's 'motto'?
Easy Transport is a not for profit organisation providing transport solutions for those who are transport disadvantaged including frail aged, people with a disability and their carers.
Further: Easy Transport Manly Warringah Pittwater – New Name, New Website, New Premises – Better Fantastic Care - Issue 111
_________________________________________________
PRICE STRUCTURE
As of April 2013
GROUP TRANSPORT SERVICE:
Mystery Drives
Full day $15
Half day $10
Shopping Trips
Return $10
Saturday Luncheon Club
Transport and lunch $50
North Shore Shuttle (To/ From Transit Lounge)
One Way $5
INDIVIDUAL TRANSPORT SERVICE:
HACC & CTP passengers
Booking Fee $5 plus:
In area service: 50c km (Capped at $10 one way)
Saturday: $1.00 km (Capped at $15 one way)
Out of area: 80c km
Travel assistant: $5 one way
OTHER PASSENGERS
Booking Fee $5 plus:
In area service $1.50 km
Out of Area $1.50 km plus volunteer expenses
Or 80c km plus $40 ph worker charge
OTHER CHARGES
Booking within 42 hours (subject to availability) $5 one way
Tolls and parking
NORTH SHORE SHUTTLE (DEE WHY OR FORESTVILLE TO/ FROM TRANSIT LOUNGE)
One Way $5
Return $10
North Shore Service Timetable – Departure time
Morning
8.25am Dee Why Office
9.30am RNS
9.45am Mater Hospital
10.30am Dee Why Office
11.15am RNS
11.30am Mater Hospital
Afternoon
1.00pm Dee Why Office
1.45 pm RNS
2.00pm Mater Hospital
2.45pm Dee Why Office
3.30pm RNS
3.45pm Mater Hospital
4.30pm Dee Why Office
Bookings Essential: 9971 5110 Monday–Friday 11am–3pm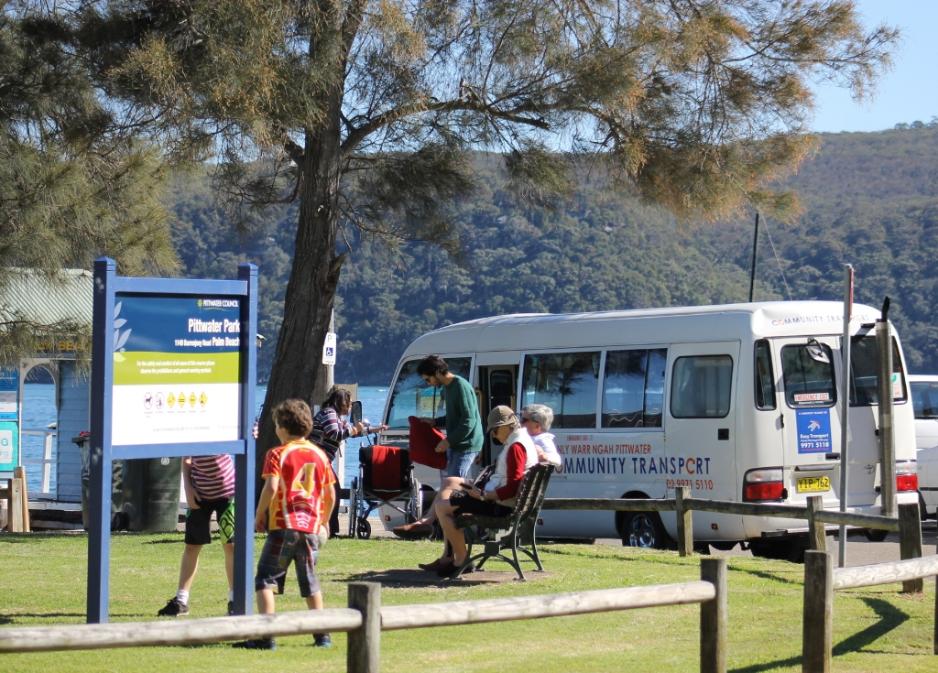 Easy Transport MWP at Palm Beach Ferry Wharf 11.8.2013. Photo by A J Guesdon.
Copyright Easy Transport Manly-Warringah-Pittwater, 2013.