March 18 -24, 2012: Issue 50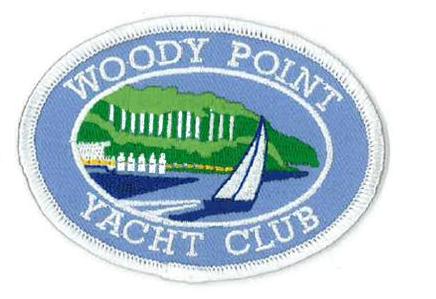 Above: The original Woody Point Yacht Club emblem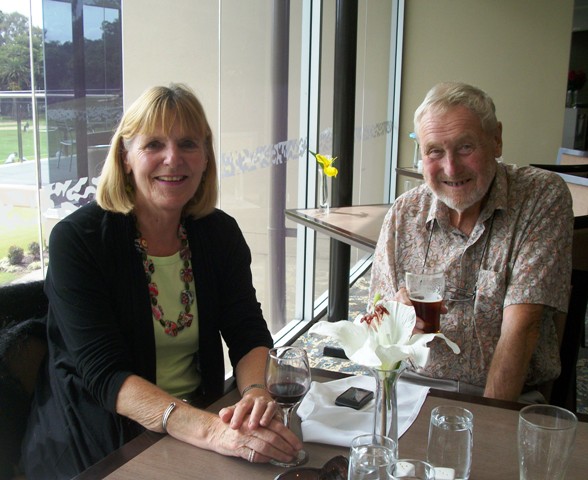 Above: Philip Bond and Trilby McIlveen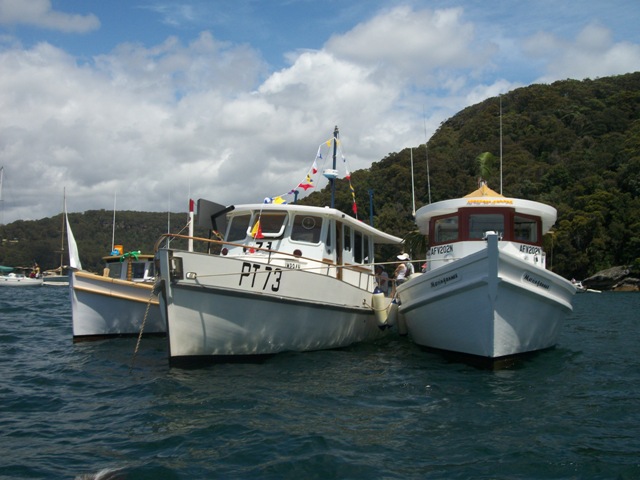 WPYC Putt-Putts and Gents Launch Regatta 2012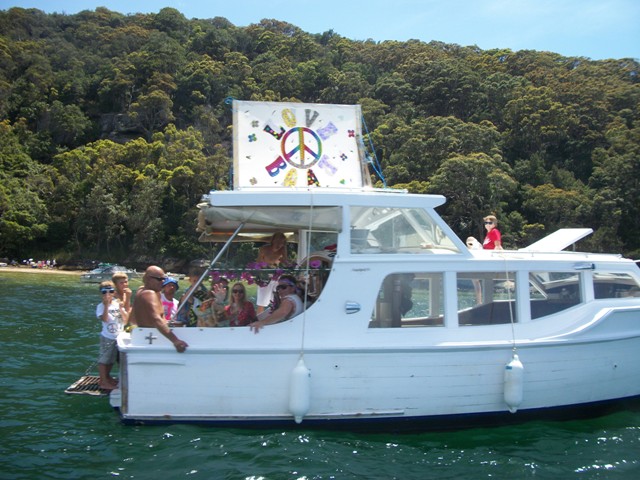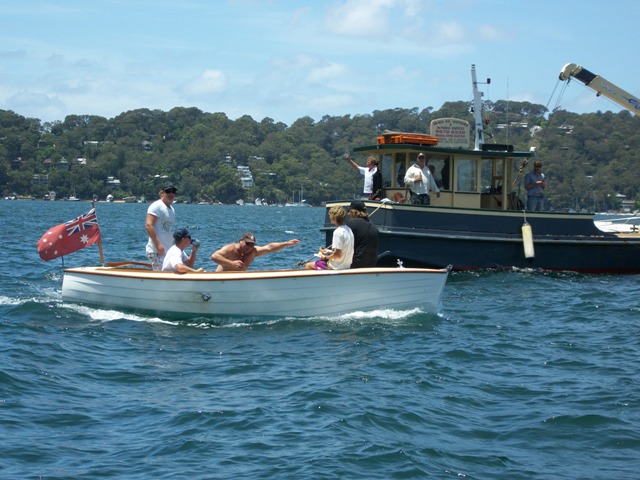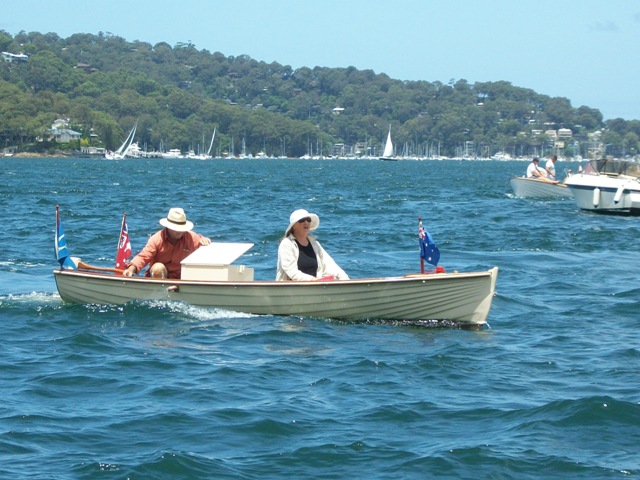 Woody Point Yacht Club
The Woody Point Yacht Club began around 1980 by gents gathering to do what gents do when they are fond of the water and watercraft; restoring a boat. The vessel they joined in restoring was the 'Pelican' an ancient Putt-putt owned by Tim Shaw. Anyone who knows a little about wooden boats, and these traditional originals, also knows that planking, sealing, caulking, sourcing original materials and putting together bits from several motors to make one work requires steady consideration, much deliberation, patience and endurance.
Michael Waller, David Lahm, Arthur Spithill, Philip Bond, John Hebden, Bruce Lane, David Yardley (an airline pilot at the time) and Barry Cozens on occasion, volunteered to assist with the restoration and would gather on Sunday mornings in Tim's boatshed at Woody Point. After a few hours toiling the gents would light a BBQ and make breakfast. This soon developed into a social gathering with the 'Pelican' becoming secondary to the BBQ.
Rules of Attendance, such as "bring something to throw on the BBQ, preferably a fish caught on the way across, and a bottle of champagne" were followed. Soon enough those gathering decided a very exclusive Club of eight may be formed. At the time none owned a yacht but all had a wooden craft of some description and thus, in one of the first instances of the quirky sense of humour that is still an inherent 'code' of this unique club, The Woody Point Yacht Club was formed with the eight aforementioned gents as Founding Members and Barry Cozens listed as Patron. Tim Shaw is listed in the WPYC Log as the first Commodore and had emblems made up for fun at the business next door to his own.
Membership Fees were set at $2.00. The 'Fee' covered the supplies needed at BBQ's such as gas and tomato sauce. Club Assets and 'fiscal responsibility' was established at this time, and this policy is still adhered to. At present it consists of A beer temp rite and three essential temp rite accessories - being a BBQ, a PA system, and a tarpaulin. The Club also has a commercial mooring in Lovett Bay which is available to members for short term occupancy . The Annual General Meeting, apart from nominating the next Commodore and 'office bearers', is 'to is to expend whatever funds have been accumulated during the year on beer, wine and food .' A WPYC quorum ("fixed number of members whose presence is necessary to transact business") consisted of one member and a bottle. Ladies, including Christine Hebden, June Lahm, Trilby McIlveen and Annette Freeland joined a little later.
Thirty people attended the launch of the Pelican, a celebration still recalled with smiles and also for being the day Arthur Spithill was renamed 'Splithead' after falling off the jetty.
After 1985 discussions held at Church Point between David Yardley, Tim Shaw and Mick Waller it was decided the Club should apply for official 'Registration' in order to enjoy 'club' privileges. The official 'Club Log' lists the first Commodore as being Tim Shaw in 1987, and the second as Tony Stackhouse, both unfortunately deceased. Bob Blackwood, is the third listed Commodore. The Club was not incorporated until this was imposed upon them for Insurance in racing, registering a WPYC course and fear of litigation purposes. Paul Burchall is credited with achieving this.
By 1990 the group of eight had become 100 with members who did possess yachts and raced them. Arthur Spithill and Philip Bond set themselves the task of compiling all records to date and writing the WPYC Charter.
The WPYC began in mateship, in camaraderie, and as a Social Group that would enjoy putt-putting to offshore areas for picnics, fishing, and parties. The original Breakfast is still held once a month. They were and are a community and family-orientated group with a passion for beautiful wooden boats. Membership is limited to 100 each year on a first come basis. Social racing Events, such as The Gentleman's Launch and Putt Putt Regatta, with a calendar of Summer Series (20 races), Winter Series (12 races) bring old friends and new together on the waters they love. The Putt Putt Regatta helps outsiders see what defines the heart of this club, scheduled for when Treharne Cove's beach will be accessible (IE: not invisible under a full tide in January) members deck out their boats and themselves in themed costumes and 'race' around Scotland Island and back to moor off the cove. Each deck has children as well as adults who are relaxed, happy and at home in this place. A BBQ on the beach afterwards continues this celebration of family, Pittwater waters, and the beauty of the offshore areas.
Treharne Cove, between Towler's Bay and Long Nose Point, was named by the WPYC in honour of the Treharnes, a well known yachting family of Pittwater and more particularly, Ian Treharne. A local moorings gent, former Pittwater Councillor and yachtsman who sailed on the winning 1987 Sydney to Hobart yacht, Ian is well known to offshore and Scotland Islanders for all the assistance he has given to anyone who needed a hand and is considered 'a true gentleman'. Offshore folk remark he was always 'the first to arrive and last to leave' whenever any community work needed doing. His barge was the 'flagship' of the Wooden Boat Races. Although not marked on maps as such as yet, this is how this watery nook is known and named by locals.
An annual Trophy Series (3 races), honours Tim Shaw, the gent who is revered, and sometimes blamed, as the Founder of the Woody Point Yacht Club. He will always be remembered and his spirit, attitude and the 'customs' he helped verse will always be carried on in the Club he initiated. In its tenets and customs the WPYC honours all that is truly and originally Australian and all that is pure Pittwater spirit and essence.
We would like to thank Paul Burchall (Past Commodore), Philip Bond (Past Commodore and Founding Member) and Ian Major, current Commodore for their kind assistance and insights in putting this History together.
Woody Point Yacht Club Website: http://www.wpyc.com.au/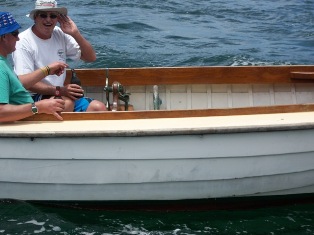 Written by Philip Bond. Copyright Woody Point Yacht Club and Pittwater Online News, 2012. All Rights Reserved.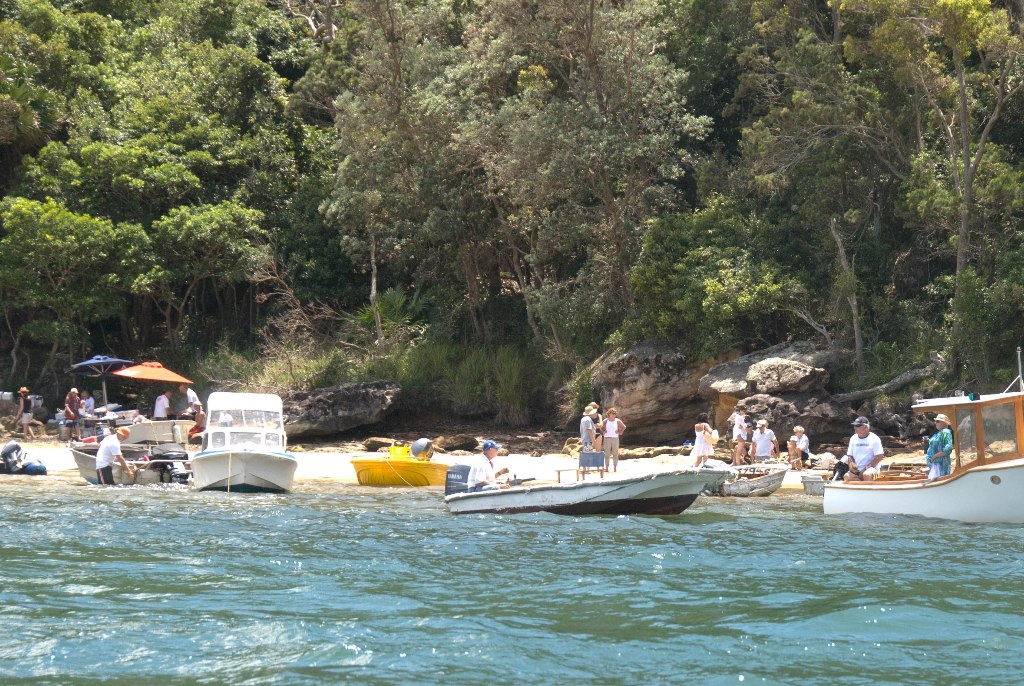 Treharne Cove, January 2012. Picture by Michael Mannington.