April 9 - 22, 2017: Issue 308
Warringah Touch Football Association Support Of Mona Vale Hospital Auxiliary And The Children's Ward Continues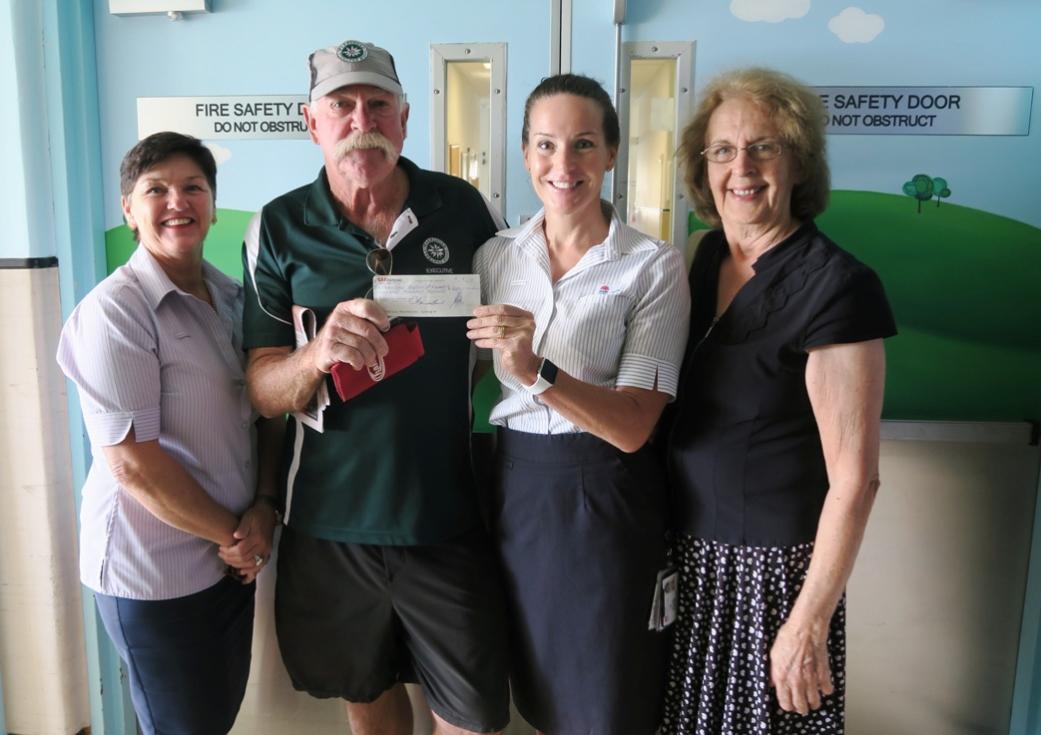 Warringah Touch Football Association Support of Mona Vale Hospital Auxiliary and the Children's Ward
Brian Friend OAM visited MVDH this week and gave the Children' Ward another $1,000 from Warringah Touch Football Association. Gail Carew, who is Vice President of the MVDH Auxillary, accepted the cheque with Sister Liz Kilpatrick who is from the Children's Ward.
Well over $15,000 has been donated to the Mona Vale Hospital Auxiliary for the Children's Ward over the years from the Warringah Touch Football Association to purchase equipment for the comfort and care of patients.
Warringah Touch Football Association has held many functions during the years to support the hospital.
In 2004 $6,900 was donated to MVDH Children's Ward, in 2005 $3,855 was raised, in 2006 $1,650 was raised through the WTFA (Inc.) Bowls day for MVDHA and the practice has continued every year.
This was Brian's last job as Secretary of the WTFA (Inc.) as he has retired gracefully after 68 seasons (34 years since 1983). The WTFA have two seasons per year "summer" and "winter" competitions down at Cromer and Dee Why.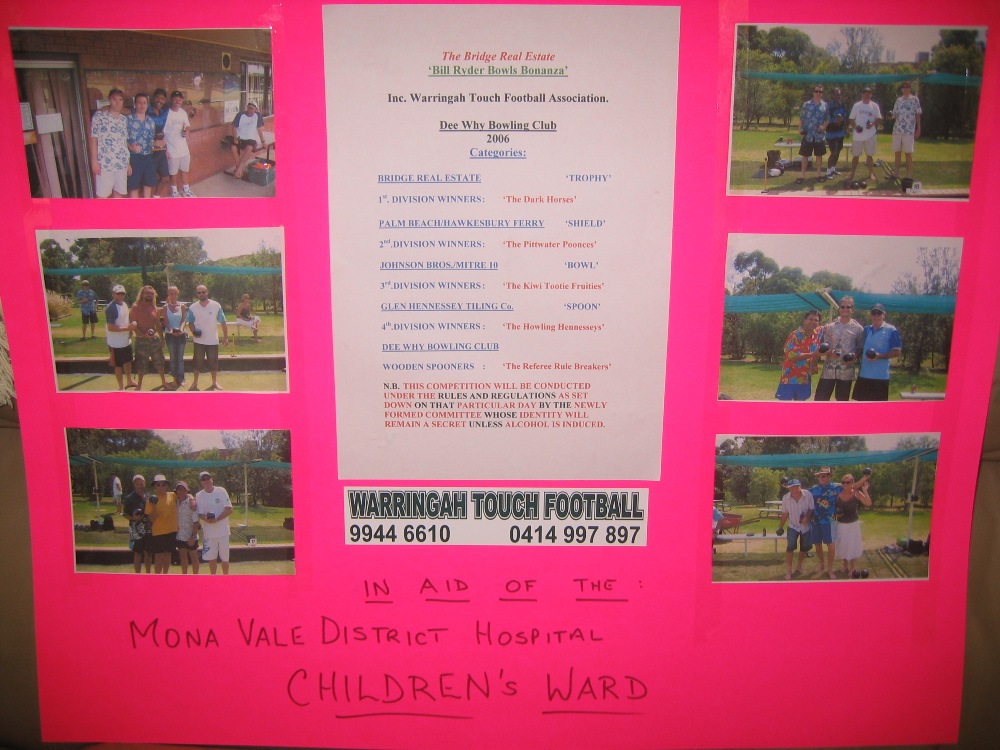 2006 Bowls Day for MVHAA Pediatric Ward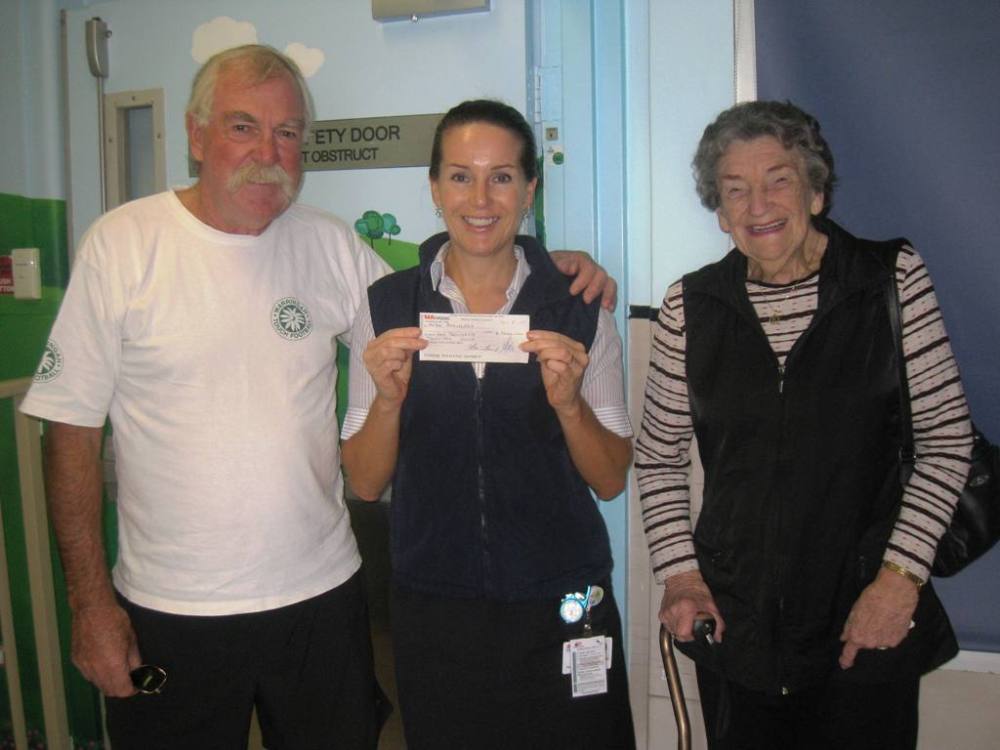 2015 $1000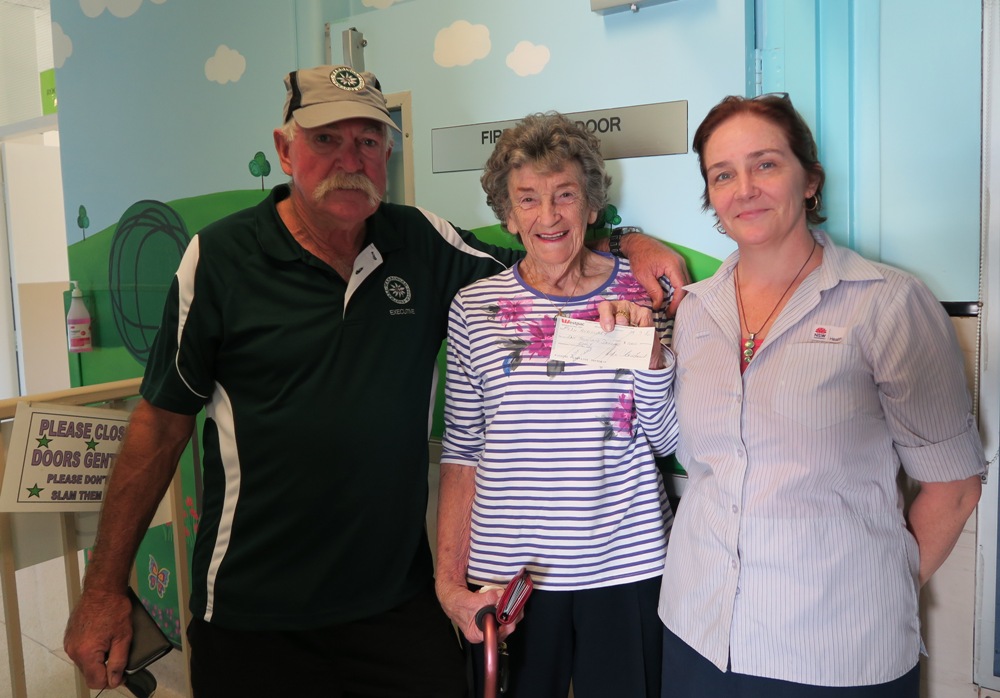 2016 $1000
About Mona Vale Hospital Auxiliary
The Mona Vale Hospital Auxiliary is active within the Northern Beaches
in Pittwater and Warringah.
United Hospital Auxiliaries of N.S.W. Incorporated is a registered charity and donations over $2.00 are tax deductible
Our membership comprises of volunteers of all ages who work in a voluntary capacity to raise funds which are used to purchase equipment for Mona Vale Hospital.
Our active team of volunteers help in the Assessment and Rehabilitation Unit and also the new Beachside Rehabilitation Unit, staff the Hospital kiosk, run raffles, stalls, fashion parades, sausage sizzles and other fund raising activities as they present to the committee. Many of our members knit, crochet, sew and bake goods for sale on stalls.
If you feel you would like to contribute to your community by becoming a member of the Auxiliary please join us for a meeting on the first Tuesday of the month at Pittwater RSL Club,
10.30am to 12 noon
.
New ideas and new friends, are always welcome.
Membership is $5.00 per financial year
2017 Meetings
7th February, 7th March, 4th April, 2nd May,
6th June, 4th July, 1st August, 5th September,
3rd October, 7th November, 5th December.
Please Contact: Hon. Secretary
Waveney Perman 9979 5115
About Warringah Touch Football Association
Manly Warringah Business Houses touch footy commenced in 1978, WTFA commenced in 1983 at Rat Partk and then proceeded to Cromer up until today.
Our Association has continually grown to be one of Australia's strongest, most historic and consistently stable touch Associations. We are a non-professional, "not-for-profit" organization.
We encourage and have participants and volunteers from all walks of the community.
MWTA provides one of the largest touch competitions in Sydney. Participants compete in both our Junior and Senior Competitions. Our Senior Competitions are held year round during Spring, Summer, Autumn and Winter months. Whereas our Junior Competition is held during the months of September thru to mid-December. Player's ages range between U/9 – U/17's in the Juniors and U/20 – over 50's in the Seniors.
There are three divisions in the MWTA Senior Open Competitions: Men's, Women's and Mixed. In our Junior Competition we conduct Boys and Girls Divisions in the following age groups: U/9, U/11, U/13, U/15 and U/17.
Our Competitions are held at David Thomas Reserve, Manly Vale and Nolans Reserve, North Manly.
We are one of Australia's most successful clubs on the Representative scene.
Over the past seven years alone we have been in the top four clubs in New South Wales in the Club Championship at both Junior and Senior levels. MWTA is the current NSW "Champion Club" for both the Juniors and the Seniors. We are one of the most recognizable clubsacross the Representative scene, with a massive 12 Senior Representative teams and 11 Junior Representative teams competing in State wide competitions. Scroll down for MWTA's "Club Championship" results at the Junior State Cup and the Senior State Cup.
Touch Football – History of the Game:

The first official game of touch was held in the traditionally strong rugby league area of South Sydney. The South Sydney Touch football Association was founded in 1968 and ran a competition in that year.
The New South Wales Touch Association was Constituted in 1972 and at that point there were six competitions and approximately 1500 players.
The matches were held at the aptly named Pioneer Park. Very soon after this, other associations were formed and an inter-district competition began in 1978.
In 1979 the Queensland Touch Association was formed with the four initial districts of North Queensland, Central Queensland, South East Queensland and Wide Bay. The game soon blossomed in New South Wales as well and in 1980 the inaugural National Championships were held. Only three divisions were contested in that year, being the Men's and Women's Open, and the Men's Over 35's. By 2005 the National Touch League (NTL) catered for Open, Under 20's and Senior Divisions.
Touch Football is one of the fastest growing sports in Australia for both Juniors and Seniors. It is already one of the largest participant sports in Australia. The real appeal of the sport is that it is a "minimal contact" sport and it covers both genders, all ages and is a "family" oriented sport (fathers, sons, mothers and daughters).
As at 2010 the number of registered players across New South Wales has reached over 110,000 with over 170 affiliated competitions.
There are currently 250,000 registered players and 500,000 school children playing the sport in Australia. The game has also expanded overseas with International events attracting teams from New Zealand, South Africa, England, Wales, Scotland, USA, Japan, Samoa, Fiji, Cook Islands, Lebanon and Papua New Guinea amongst others.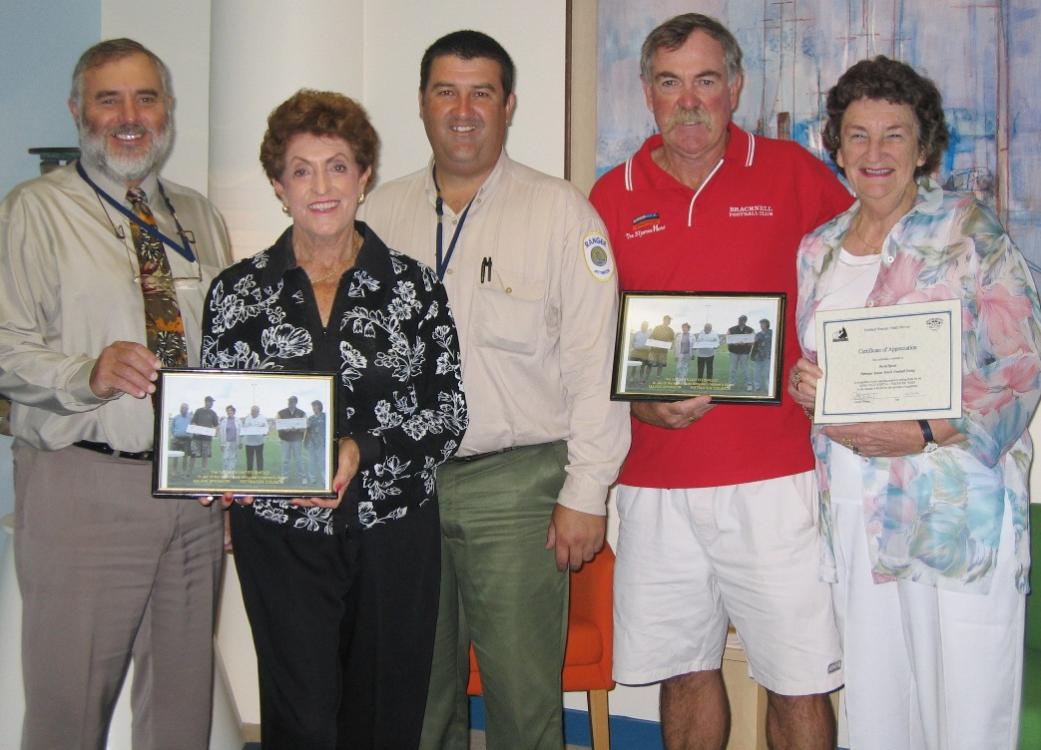 The 'Un-Affiliated Shield' in aid of the Mona Vale Hospital Children's Ward - Major Sponsor Pittwater Council, 2004, raised $6, 900.
Left to right: General Manager of Pittwater Council Angus Gordon, Mayor of Pittwater (1997-2004) Patricia Giles OAM, Pittwater Council Chief Ranger Steve Larson, Brian Friend OAM and Eileen Gordon MVHA, Pittwater Woman of the Year 2010.