December 5 - 11, 2021: Issue 521
Ten Marine Rescue Broken Bay members receive service awards equalling 65 years of serving our community - get ready for safety on the water this summer: Log on/log off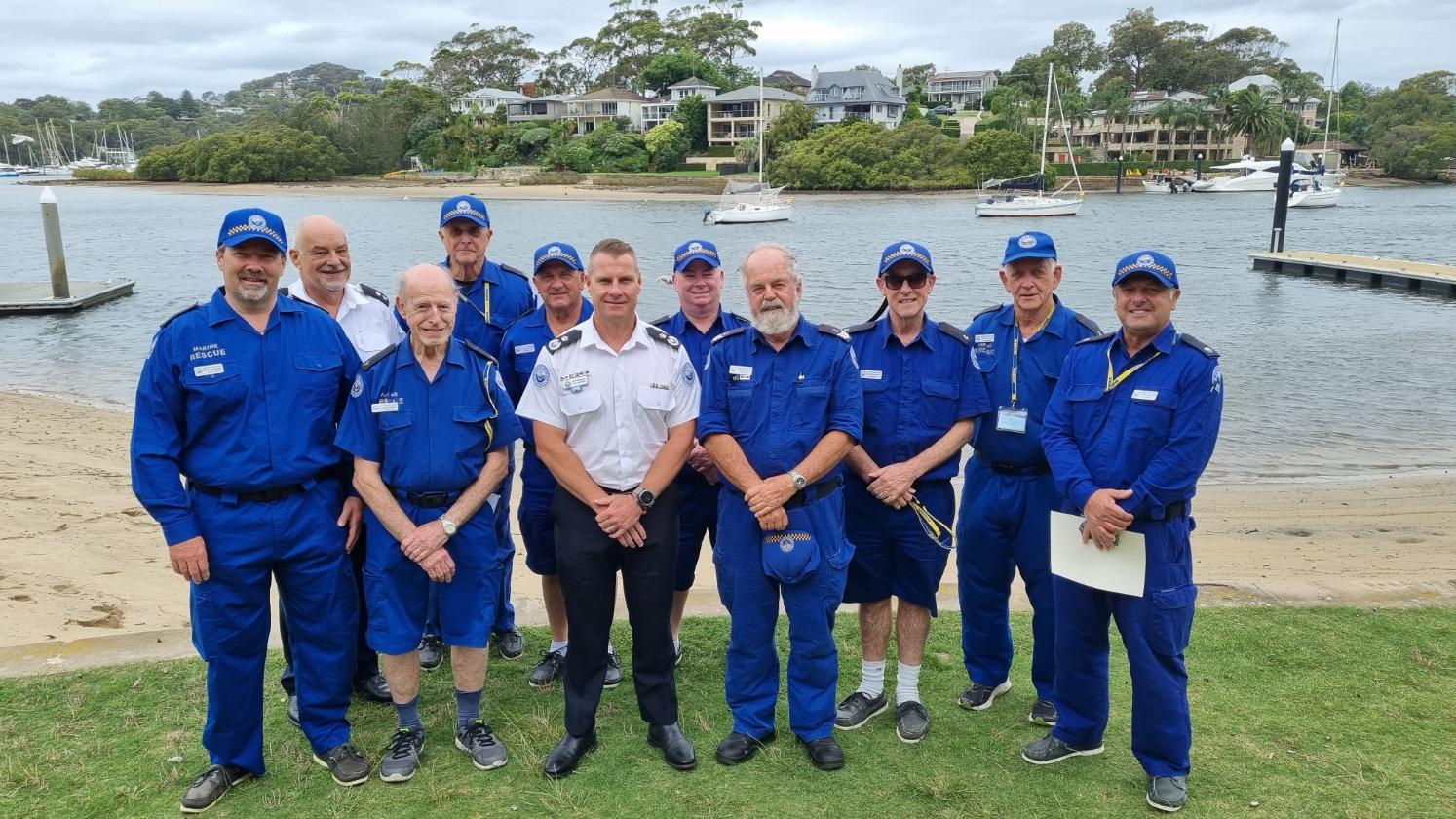 Marine Rescue Broken Bay photo.
On Saturday December 4th 2021 ten Marine Rescue Broken Bay members received service awards tallying up more than 65 years of volunteering to our community.
Marine Rescue New South Wales Deputy Commissioner Alex Barrell attended to congratulate the members individually and present the awards.
MRNSW Deputy Commissioner Barrell was appointed to his position in September 2020. Mr Barrell joined the NSW Police Force in 1994, initially serving in general duties before becoming a Police Diver. He then moved to the boats, being posted to the Eden Water Police before returning to Sydney, coordinating Botany Bay and Sydney Water Police sectors and leading Search and Rescue for the MAC.
He has spent time with the Police Emergency Management Unit, supporting the State Emergency Operations Controller and developing the Force's emergency management capacity.
Transferring across White Bay from MAC to NSW Maritime, he worked across recreational and commercial boating safety and legislation and policy areas, before stepping in as Acting Executive Director for MRNSW prior to becoming Deputy Commissioner.
"I was fortunate to grow up on and around the water and that's where I really got my passion for it. I didn't really join the police with the goal to get into marine but then I went into the Diving Unit and opportunities came to move and I find myself still in the maritime sector 25 years later," he said.
Mr Barrell is married with three children and lives in our area. He has a lengthy association with Surf Life Saving as a volunteer at the North Curl Curl and Pambula clubs and also worked as a lifeguard in Warringah and the Channel Islands, making him an excellent choice for understanding and supporting the work of our volunteers in Marine Rescue Broken Bay and all Marine Rescue units.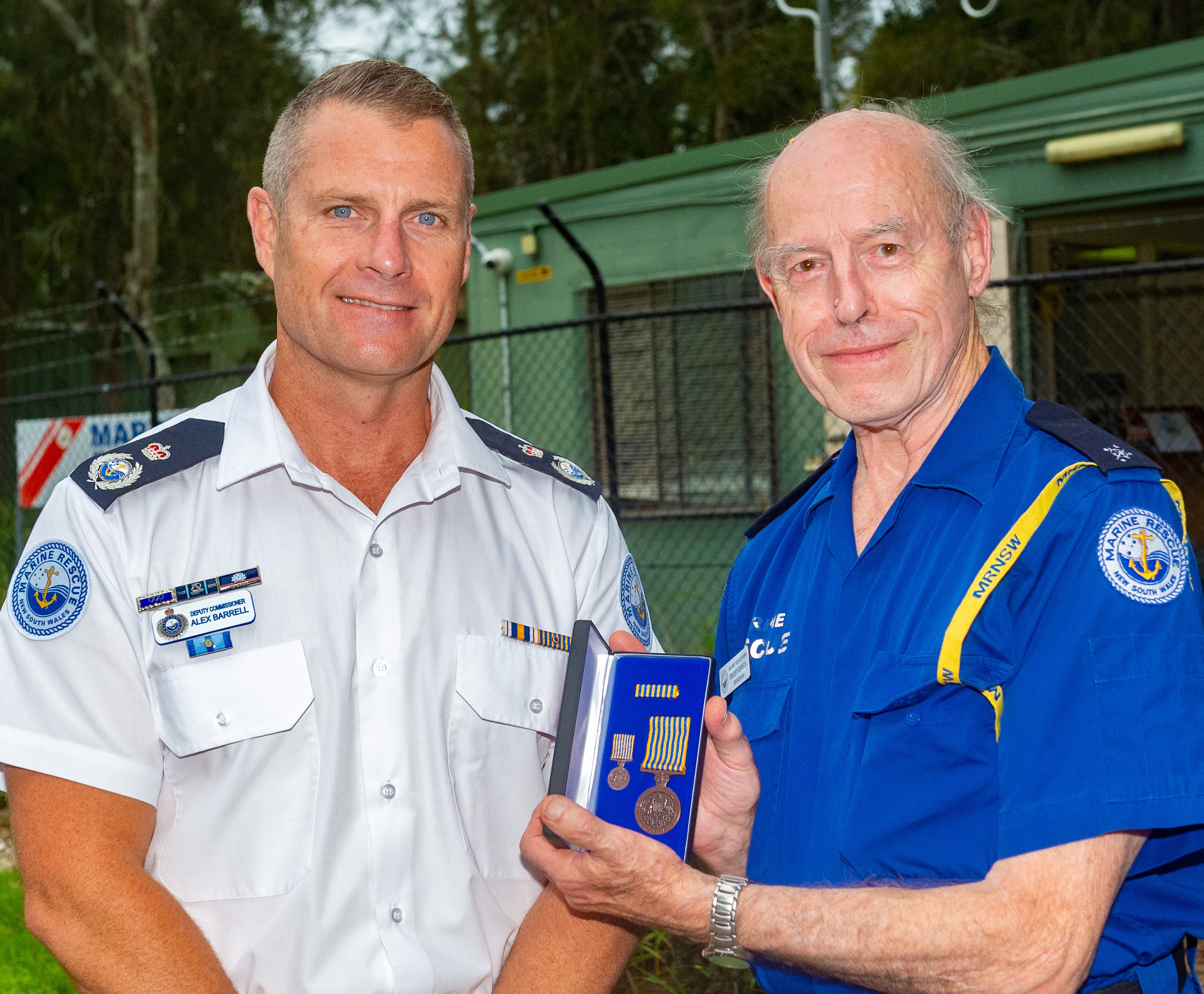 Congratulations to Gregory Robinson on achieving 15 years service medal and pin with MRNSW presented by Deputy Commissioner Alex Barrell. Photo: Michael Mannington, Community Photography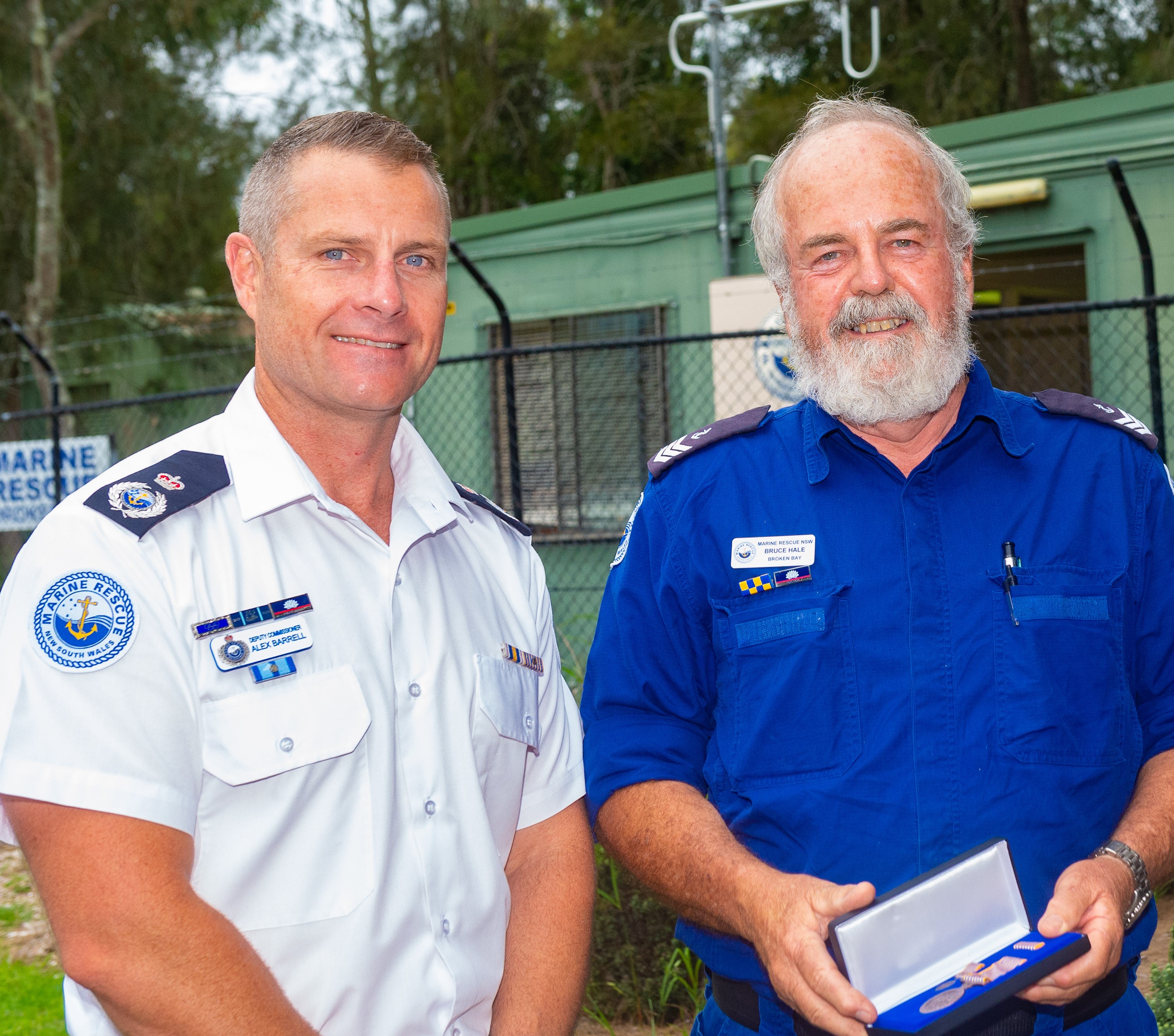 Congratulations to Bruce Hale on achieving 15 years service medal and pin with MRNSW, presented by Deputy Commissioner Alex Barrell. Photo: Michael Mannington, Community Photography
Congratulations to Tertius Bezuidenhout and John Weaver on receiving their 5 year service pins presented by MRNSW's Deputy Commissioner Alex Barrell.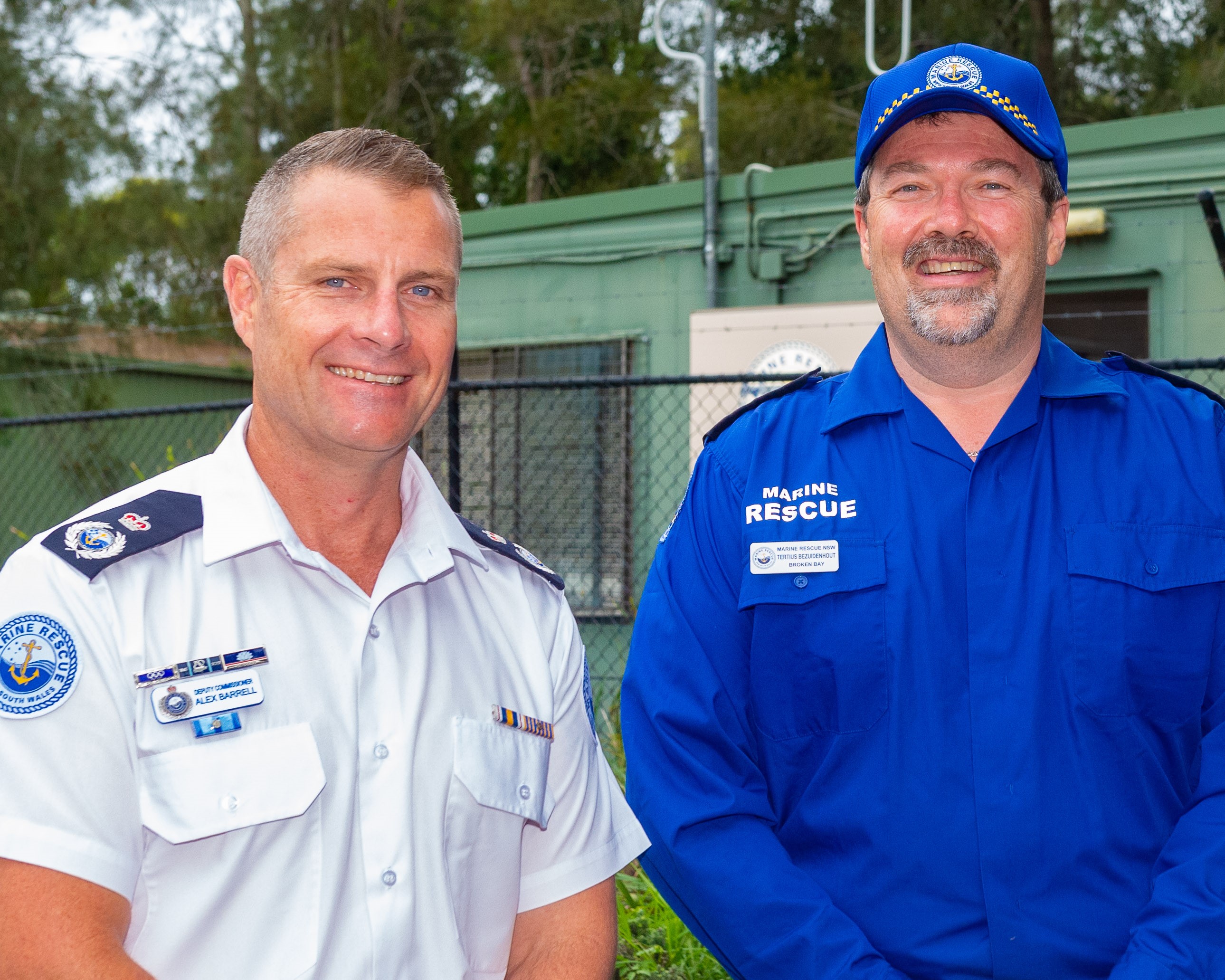 Tertius Bezuidenhout and Deputy Commissioner Alex Barrell. Photo: Michael Mannington, Community Photography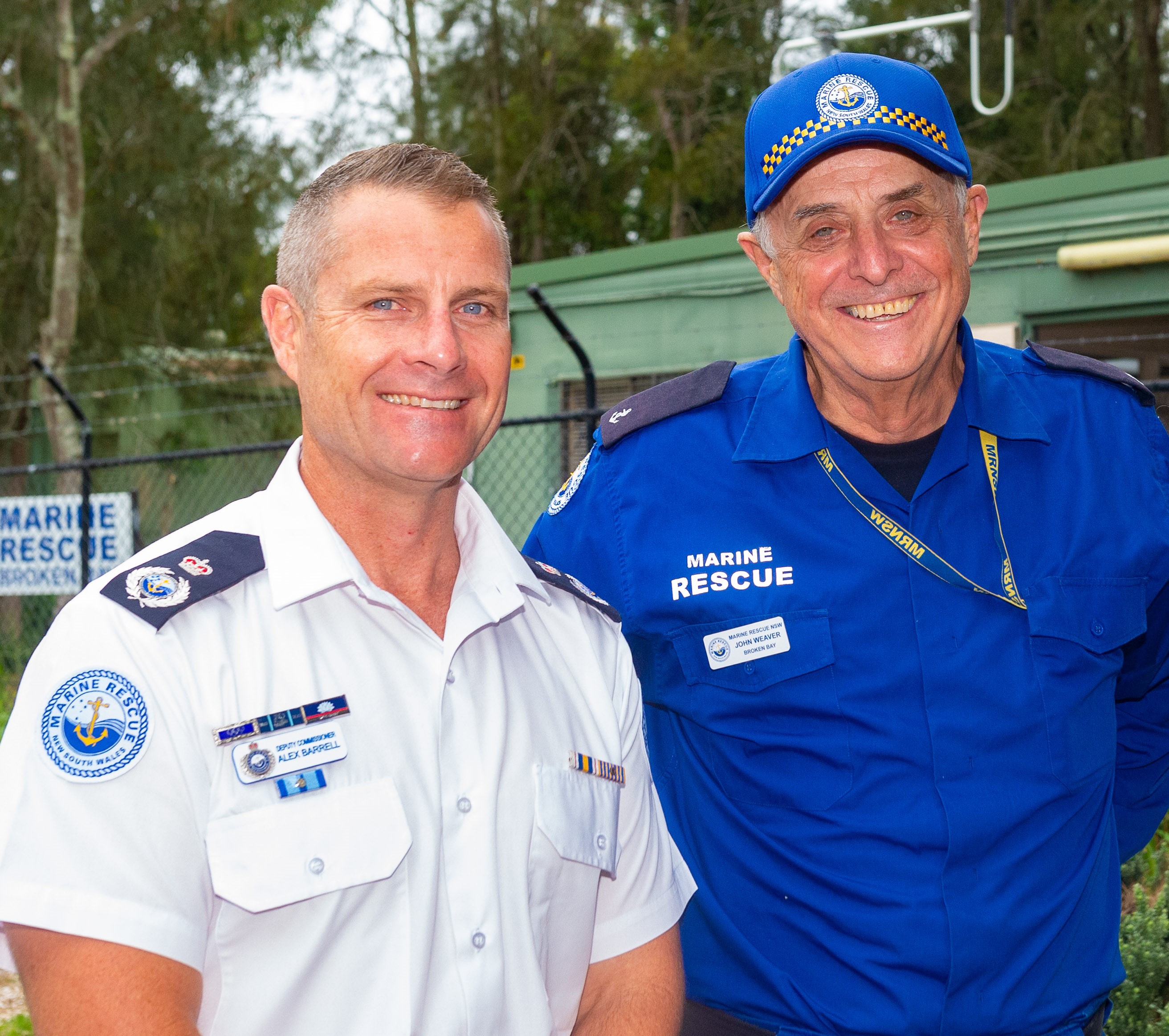 John Weaver and Deputy Commissioner Alex Barrell. Photo: Michael Mannington, Community Photography

Both members have not only contributed a large portion of their time volunteering with our Broken Bay unit, but helping our community keep safe and continually putting others first. Our members where lucky to have our Deputy Commissioner Alex Barrell (centre) available to present the awards. Thank you Gentlemen for your time and commitment.

Marine Rescue Broken Bay unit's new Competent Crew members David Calleja and Frank Costanzo were presented with their epaulettes.
Great work and thank you for your hard work to achieve your new rank.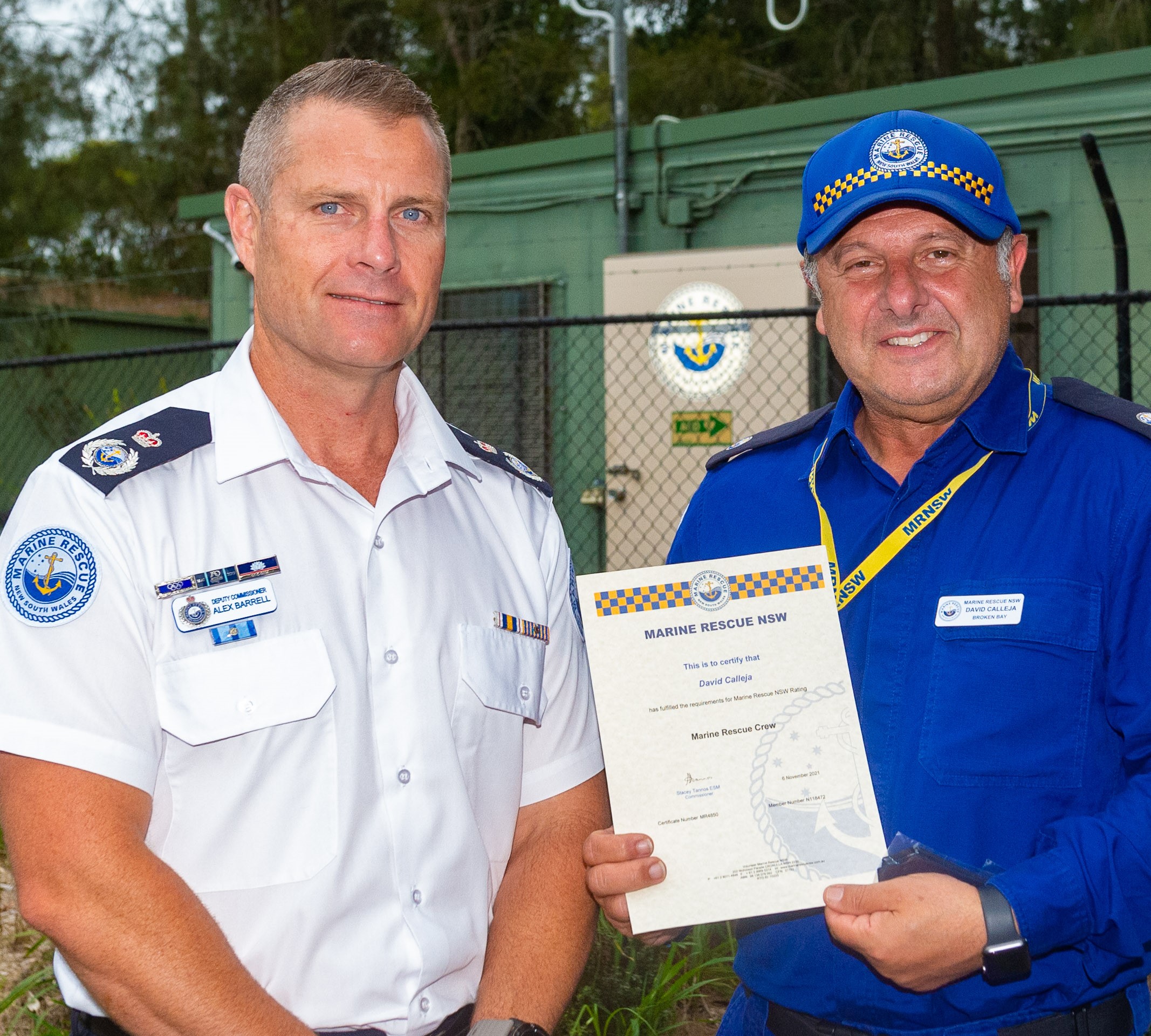 David Calleja and Deputy Commissioner Alex Barrell. Photo: Michael Mannington, Community Photography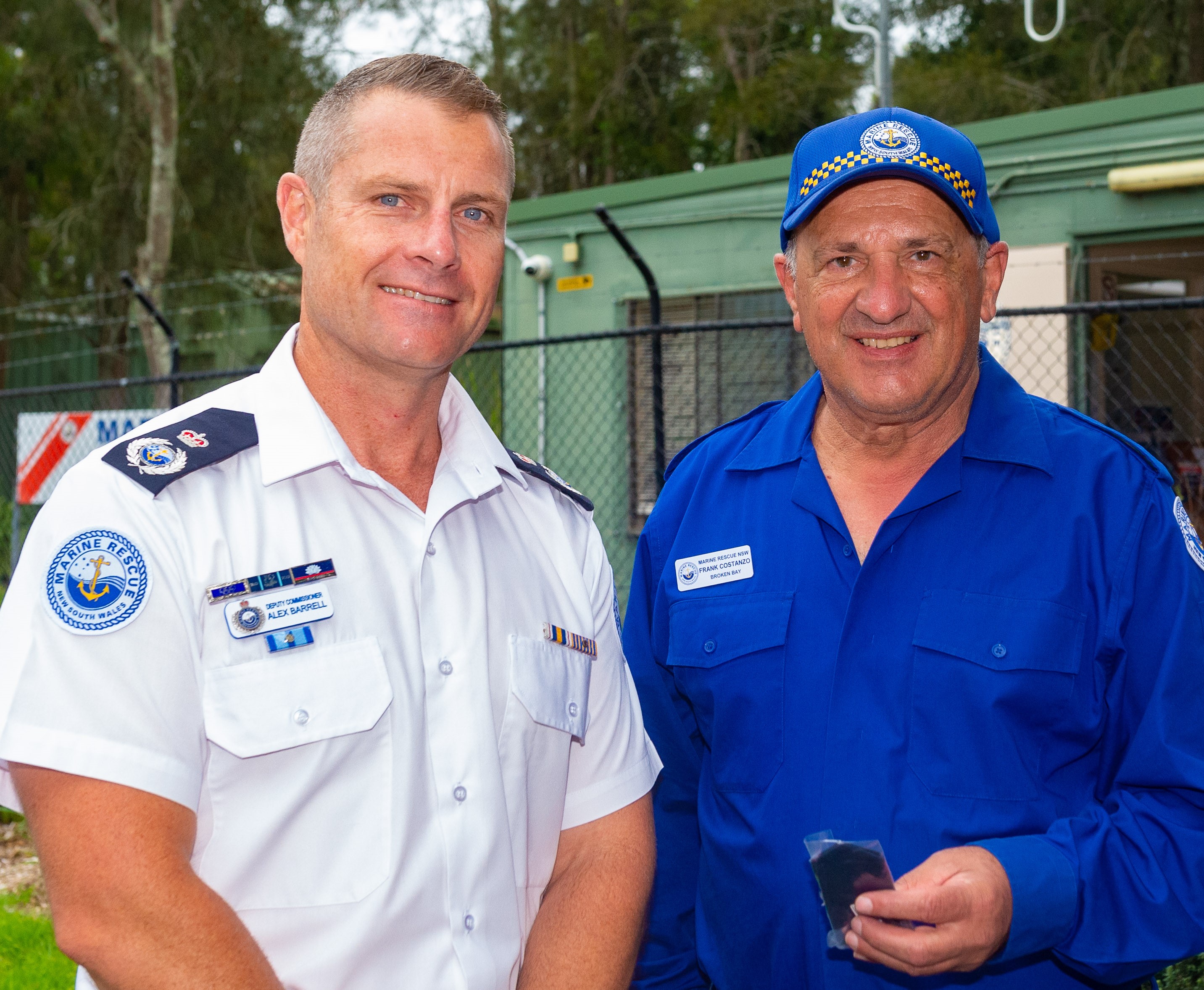 Frank Costanzo and Deputy Commissioner Alex Barrell. Photo: Michael Mannington, Community Photography

Jimmy Arteaga Unit Commander of Marine Rescue Broken Bay said:
''Thank you to all our 100 Broken Bay members who continually give up their time weekend after weekend, public holidays and miss those special family moments volunteering to keep our community safe by rescuing those in peril or providing assistance to ensure everyone gets back home to their loved ones. Your dedication and commitment to making sure everyone gets home safely is commendable.''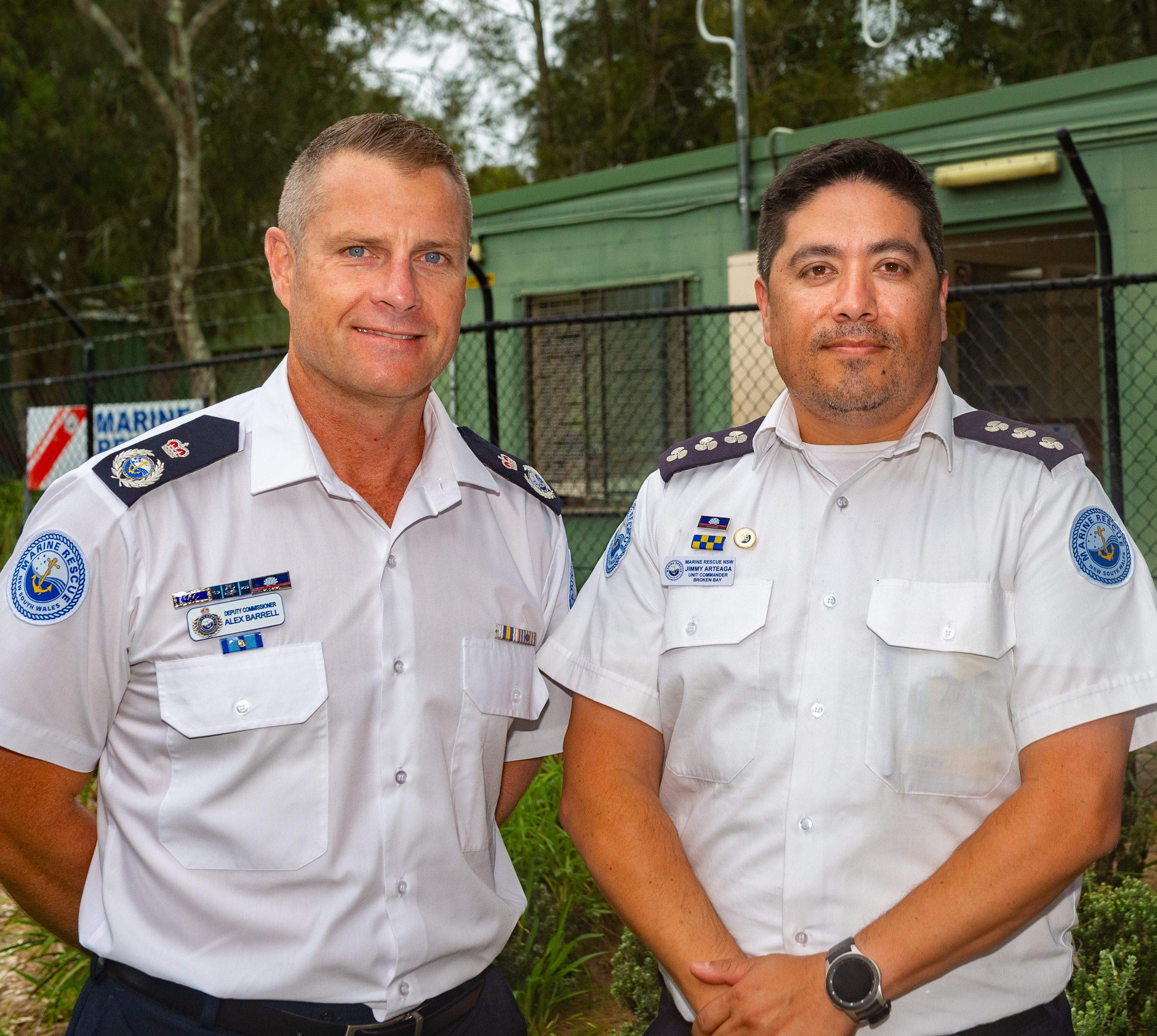 Deputy Commissioner Alex Barrell and Jimmy Arteaga. Unit Commander of Marine Rescue Broken Bay. Photo: Michael Mannington, Community Photography
Soon after these awards were presented the Marine Rescue vessel BB30 was activated to assist a disabled 30ft sailing vessel 1n.m. off Warriewood Beach, Due to poor sea conditions the tow back to safe harbour in Pittwater would be slow, estimated return back to safe harbour was 1800.
After a lumpy tow, BB30 rounded Barrenjoey Headland and made its way into Pittwater. The stricken vessel was towed to Scotland Island where it was be placed on its mooring.
Great work by the BB30 crew - thank you for your service.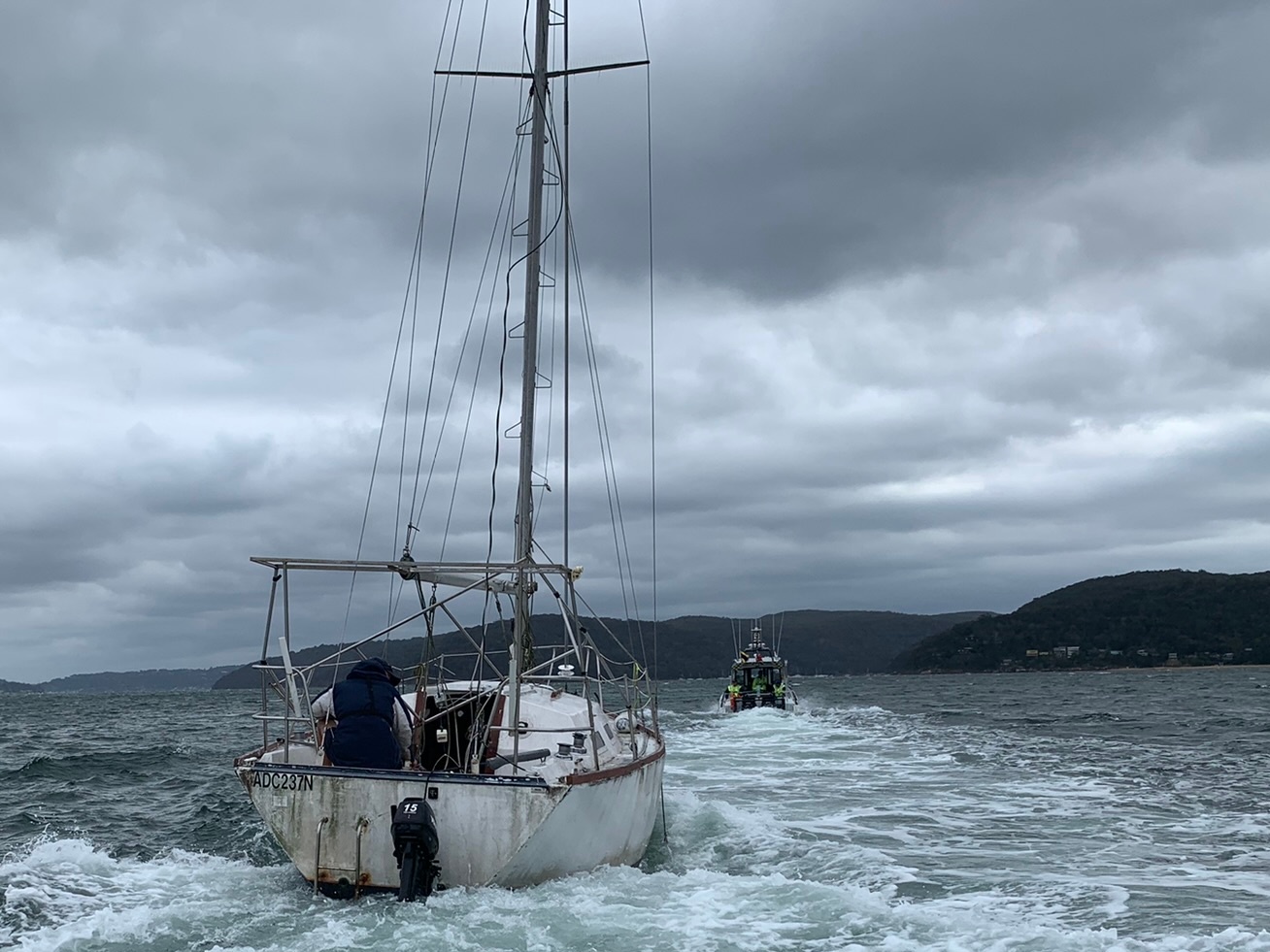 Rescued yacht being towed into Pittwater. Marine Rescue Broken Bay photo.
The rescue may one of several the Marine Rescue Broken Bay unit will be deployed to meet over the coming season and comes just days after Marine Rescue NSW Commissioner Stacey Tannos has urged boaters to be safer on the water at the 'Get Ready for Summer' media event hosted by the Minister for Police and Emergency Services on Wednesday December 1st, 2021 - the first day of Summer 2021-2022.
Get Ready for Summer
December 1, 2021
Make a bushfire survival plan, don't drive through floodwater, swim between the flags, make sure your home is fire safe this festive season and know the disaster risks where you plan to holiday – these are some of the summer safety tips NSW emergency service agencies have shared ahead of the 2021 summer season.
Minister for Police and Emergency Services David Elliott today joined emergency services leaders on Sydney Harbour to issue the timely reminders ahead of people decorating their homes for Christmas, planning holidays and enjoying hot days by the water.
"Aussie summers are iconic, but they can also be tragic. Over the past few years, the NSW community has been hit hard, by fire, flood and even a pandemic, but these aren't the only threats we face," Minister Elliott said.
"I urge you to use the start of summer to start a conversation with your friends and families about being prepared for other seasonal emergencies, including heatwaves, storms, boating and other water accidents."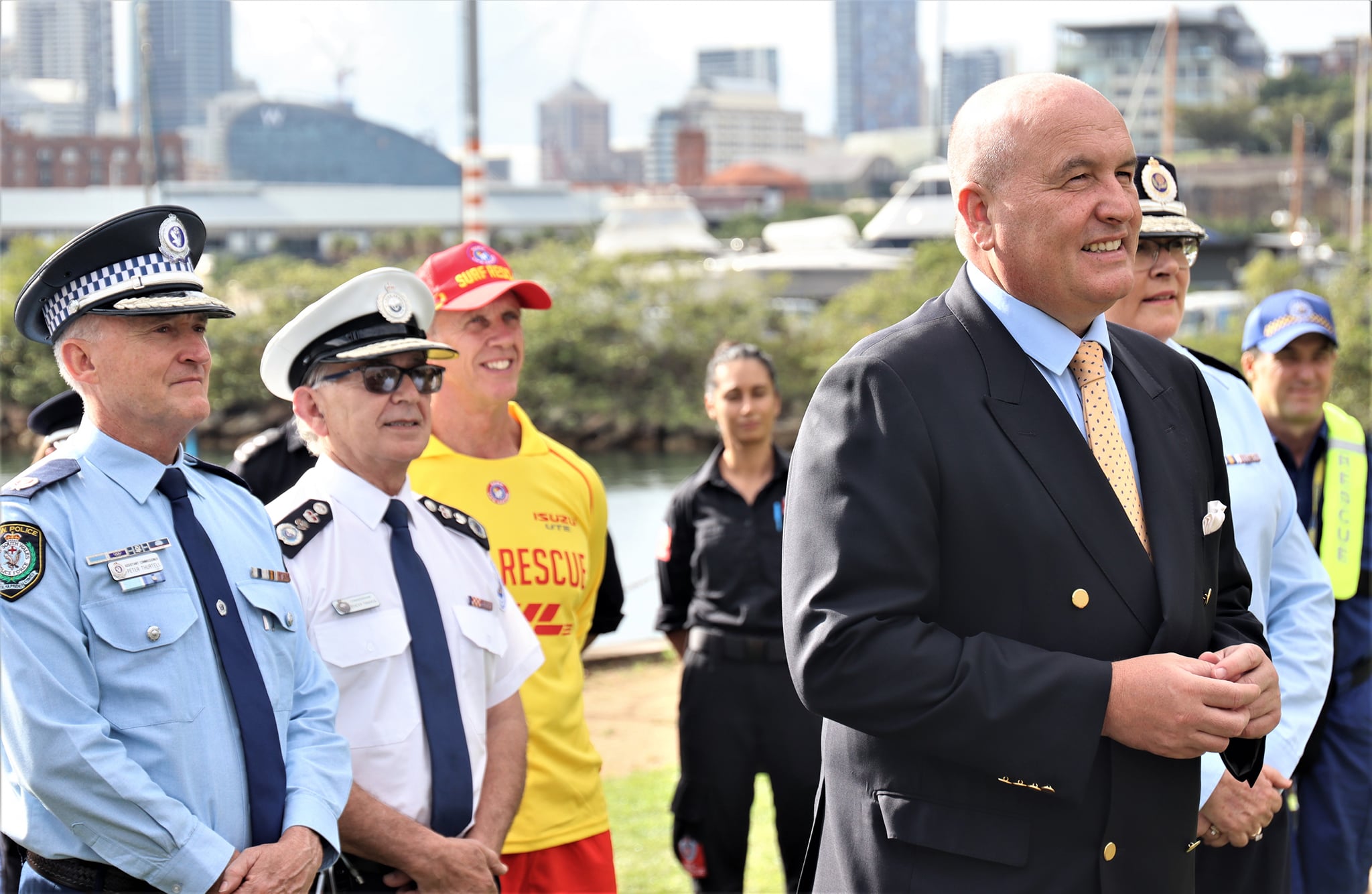 NSW Minister for Police and Emergency Services David Elliott at Get Ready for Summer launch. Photo: MRNSW
NSW Police Force Central Metropolitan Region Commander, Assistant Commissioner Peter Thurtell said summer is a particularly busy time of year for police and emergency services and urged the community to put safety first.
"With COVID restrictions eased, I know people are keener than ever to have fun with family and friends, but I do urge them to consider their safety and that of their loved ones," Assistant Commissioner Thurtell said. "If you plan to consume alcohol, know your limits and do not drink and drive. The roads will be busier than we have seen for a long time, so factor in extra time and remember that police will be out on the streets, on our roads, in, on and around the water, and even in the air. If we all put safety first, our holidays will be remembered for all the right reasons."
VRA Rescue NSW Commissioner Mark Gibson reiterated road safety messages: "Now is the time to complete a full safety check on your motor vehicle, the best present is to arrive home safely after each journey."
NSW SES Commissioner Carlene York said every year people risk their lives and the lives of others by driving through floodwaters.
"You wouldn't run into a bushfire, so never drive, walk or ride through floodwater – it's incredibly dangerous for both you and the volunteers who will need to rescue you," Commissioner York said. "It's vital to know your flood risk and have an emergency plan in place for what you will do in the event of a flood. Preparing by securing loose outdoor items, cleaning gutters and downpipes and trimming overhanging trees can also make a big difference when severe weather strikes."
NSW RFS Commissioner Rob Rogers said this bushfire season it is important that we all understand our level of risk and prepare accordingly.
"Now is the time to review you plans, prepare your properties and have the conversation with your family about what you will do during a fire," Commissioner Rogers said. "Talk about when you'll leave, where you'll go, what you'll take and what you'll do with animals."
Fire and Rescue NSW Assistant Commissioner Paul McGuiggan said decorative lights and summer barbecues also posed a fire risk around the home.
"Make sure you have a sufficient number of working smoke alarms throughout your home that are tested regularly and are supported by a home escape plan in case of fire," Assistant Commissioner McGuiggan said. "Ensure barbecues are in safe working order and always in the care of a responsible adult when in use. Only use decorative lights that have an Australian Standards label, follow manufacturer's instructions on setting up and operating and don't overload power boards."
Marine Rescue NSW Commissioner Stacey Tannos and Surf Life Saving NSW CEO Steve Pearce spoke about the importance of water safety.
"Boaters should always log on with Marine Rescue when heading out and log off when they return via VHF Channel 16 or the free Marine Rescue App. It's quick and simple and gives you the reassurance that our volunteers are watching out for your safe return," Commissioner Tannos said. "It's also vital to ensure that everyone on board is wearing a lifejacket and to check weather and sea conditions before and throughout your journey."
"In NSW we are so lucky to have beaches and waterways that are the envy of the world but spending time on and in the water comes with risks," Mr Pearce said. "My message to beachgoers this summer is to only swim at patrolled beaches, stay between the red and yellow flags, always check conditions before heading out, wear a life jacket when boating or rock fishing, and be sure to keep an eye on your mates."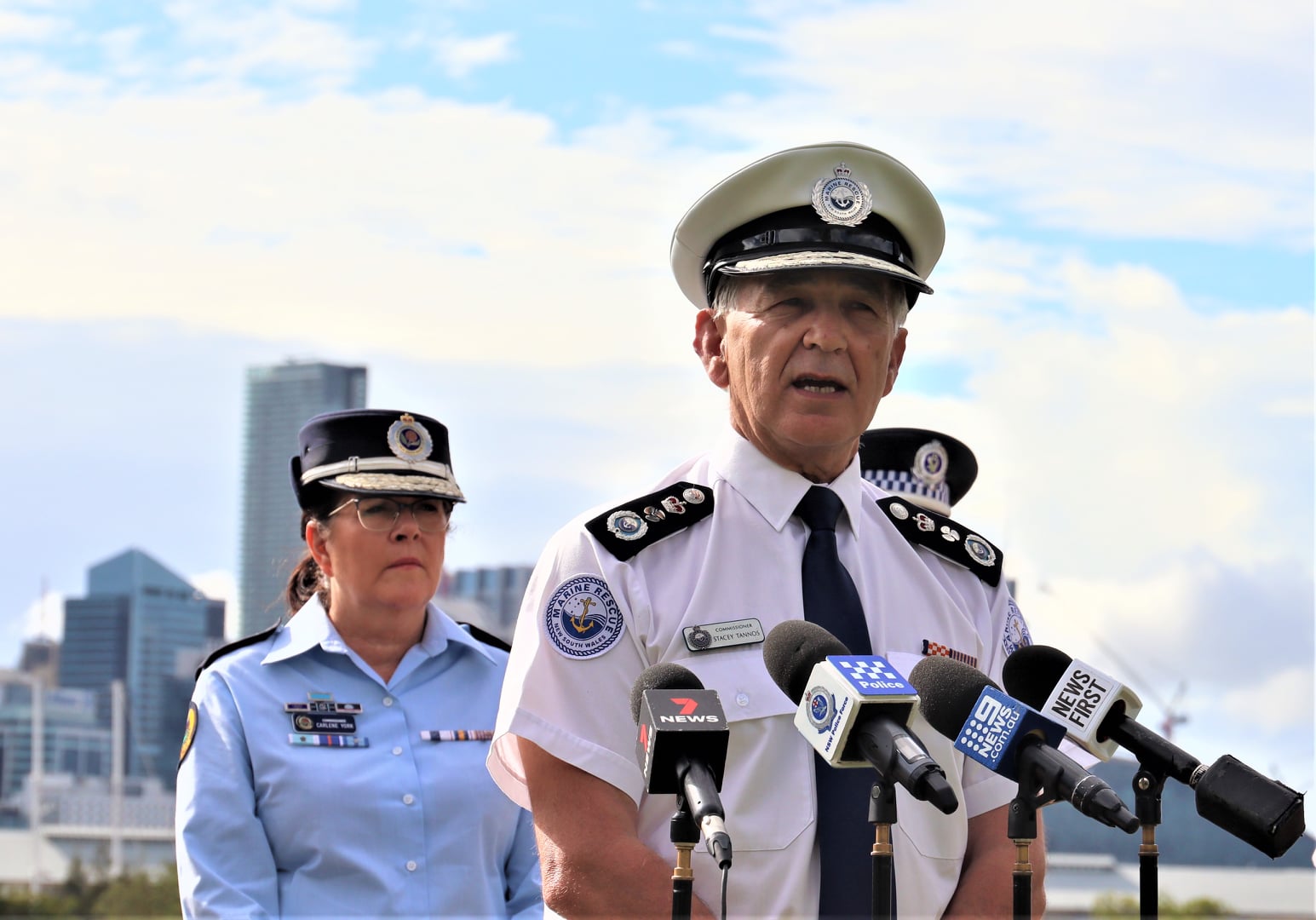 Marine Rescue NSW Commissioner Stacey Tannos at Get Ready for Summer launch. Photo: MRNSW

NSW Ambulance Commissioner Dr Dominic Morgan warned the community about the dangers of risk taking behaviour resulting from excessive alcohol consumption and drug taking as the economy opens.
"People have every right to enjoy a drink or two and let their hair down this summer, especially after a trying time during lockdown. But be smart and considerate about it. Make sure you stay safe and keep others safe while enjoying yourself in a responsible way, because there is nothing fun about ending your night in the back of an ambulance."
Commissioner of Resilience NSW, Shane Fitzsimmons said it was important to be aware of and prepared for emergencies that might happen in and around your home, as well as when you're away on holidays.
"We want the people of NSW to be prepared, not scared. Our emergency service organisations do an incredible job keeping us safe, but they can only do so much. Being aware of and prepared is everyone's responsibility, whether you're at home, at work or away on holidays," Commissioner Fitzsimmons said.
"Think about the area you're in and what types of emergencies could affect you and plan now for what you will do in an emergency. Get your home or business ready, connect with NSW emergency services to stay informed, and look out for each other.''
Log On to make every journey safer
Log On & Off with Marine Rescue. It's quick, simple and free. Log On whenever you're heading out on the water and Log Off when you return. We'll stand watch. If you don't Log Off as planned, our volunteers will start searching for you.
Download from the Apple store Download from the Google play store
To Log On, call your Marine Rescue NSW base on VHF Channel 16 or use the free MarineRescue App. You can download the App at the App Store for Apple devices or Google Play for Androids.
You can always Log On, whether you're out for a morning's fishing, a day trip around your local area or cruising along the coastline. And it doesn't matter if you're on a tinnie, a cruiser, a yacht, a kayak, a canoe or a jet ski.
When you Log On via, our radio operator will ask you for some basic information about your vessel, your destination and contacts.
You'll enter the same details on your smartphone or other device if you're using the MarineRescue app.If you don't Log Off, this information will help us find you, whether you've simply forgotten to Log Off when you returned to shore or you're caught in an emergency and need help fast.
Tell us:
Your boat registration number
Where you're leaving from
Where you're heading
What time you plan to return
The number of people on board
Your mobile phone number
If the fish are biting and you decide to stay out longer, simply call the base on VHF Ch 16 or use the MarineRescue App to update your arrival time.
Remember to Log Off when you're back on shore. If you haven't let us know you're back safely, we'll start to look for you. We'll try calling you first up, just in case you've forgotten to Log Off and headed home with your catch. That's the best outcome. If we get no answer, we'll step up the response.
When you Log On via the App, choose the live safety tracking option so your position is updated in our vessel tracking system every 30 minutes. This means that in an emergency, our rescue crews will have a starting point for a search operation, based on your last known position, saving valuable time when minutes can mean the difference between life and death.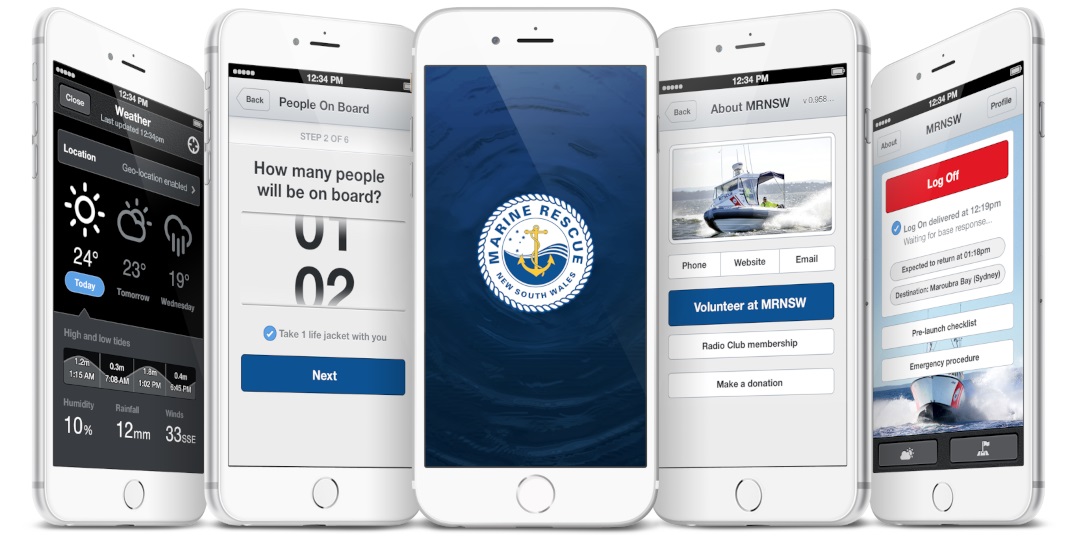 Skeds
If you're travelling along the coastline, we encourage you to establish a voyage plan with Marine Rescue NSW and an offshore tracking schedule for you to check in (to 'sked') with our bases along your route. This lets us know that you're travelling safely, on schedule and not in need of emergency help. We'll keep track of your progress until you safely arrive at your destination in NSW or we hand you over to the marine rescue service in the next State if you're travelling further north or south.
Preparing to go on the water
As the skipper, you're responsible for safety of the vessel and people on board. Be prepared to keep everyone safe and enjoy time on the water.
Carry enough lifejackets
Wearing a lifejacket can save your life. Make sure your vessel is carrying enough approved lifejackets for everyone on board. They must be in good condition and quick and easy to access.
Always wear a lifejacket while on the water. This means that you'll be more prepared for unexpected events, such as suddenly falling into the water.
The rules for wearing a lifejacket depend on your vessel, where you are and the level of risk.
Know the rules
Before you go out, make sure you know the rules and regulations for using NSW waterways. Key rules to help you stay safe and avoid collisions including:
keeping a proper lookout for hazards
knowing who you must give way to and when
identifying and obeying navigation marks, lights and sounds
travelling at a safe speed and keeping a safe distance between your vessel and other people, vessels and objects
staying under the legal limit for alcohol
knowing the rules for towing a person on the water and towing a trailer on the road.
Check the weather
Always check the weather before you head out. Be aware of warnings, marine conditions, storms, winds, waves and tides. This can make the difference between an enjoyable day and an emergency situation. If in doubt, don't go out.
Let someone know
Before you leave, contact a friend or relative or use your marine radio to log on with a coastal radio base. Tell them:
where you're going
your estimated return time
your vessel details
how many people are on board.
Take extra care to let someone know if you are going out alone.
Report in if you extend or change your trip.
You can also use the MarineRescue app to log on and log off with Marine Rescue NSW.
Know what to do in an emergency
Being on the water can be unpredictable and dangerous. Be prepared for an emergency or incident, and know what to do and who to contact if you run into trouble.
If you're involved in or witness an incident, you must always stop and give as much help as possible. Depending on the severity of the incident – for example, if someone is injured – you may need to give information to authorities.
Marine Rescue NSW provides important services, including safety education, marine radio communication, and emergency search and rescue services.
Check your vessel
Check your vessel is in good working order, including the engine and lights. Check you have all the correct equipment on board before you leave home or launch your vessel.
If your vessel is registered, check the registration has not expired.
Check your vessel is suitable for the waterways you want to travel on. For example, if the vessel is designed for enclosed waters, it may not suit open waters or along the coast where waves are larger.
Check all hatches can be opened from both the inside and outside of the vessel. Keep all hatches unlocked while the vessel is underway.
Anyone driving your vessel should have the skills and experience to handle the vessel on the waterway you're using.
Have the correct safety equipment
Check you have the correct safety equipment on board for where you're going and your vessel type.
Make sure every item is in good condition and easy to access. Everyone on board should know its location and how to use it.
Plan where you want to go
Plan where you're going and know how long the trip will take. Be aware of any special waterways or designated areas. Check the location of harbours, ports and potential refuges from bad weather.
Take extra care in cold water, especially alpine waters, where your risk of cold shock and hypothermia are increased.
Build your experience by starting out on calm, quiet waterways. Take a more experienced person with you, if possible.
Make sure you have enough fuel. Plan to use a third to get there, a third to get home, and have a third in reserve for unexpected events.
Make sure you have a compass and up-to-date chart (or map) for the waterways you will be using, especially if you're going out on open waters.
You must have a chart or map if you plan to go out on open waters.
Prepare children
If you're taking children out on your vessel:
Make sure they have a lifejacket and are wearing it when required.
Teach them emergency procedures and drills, such as what to do if they fall overboard or the

vessel capsizes.
Show them where the safety equipment is, and teach them how to use emergency items, such as the marine radio, EPIRB and flares. Make sure they understand they must only use them in an emergency.
Show them how to get in and out of dinghies and small boats while keeping them stable.
Make sure they do not have any part of their body out of the vessel when it's underway.
Teach them about keeping a proper lookout and a

safe distance from other vessels.
If you're planning to tow, make sure they know the rules for towing people aged under 16.
Carry everything they need to be prepared for all types of weather.
Consider the risk of seasickness, especially if you're going out on choppy water.
Teach children about lifejackets and sunscreen.
Download boating apps
Boating apps give you quick access to helpful information about waterways on your smartphone or tablet. For example, boat ramps, speed zones, navigation aids, weather, special events and safety advice.
Transport for NSW endorses Deckee, available for free via the Apple Store and Google Play. The Deckee app includes maps showing boat ramps, speed zones, navigational aids. It also has access to a live data feed from Transport for NSW that captures alerts, marine notices and campaigns.
Marine Rescue NSW
Marine Rescue NSW is the State's official volunteer marine rescue service. The Marine Rescue App allows you to register details of your next boating trip.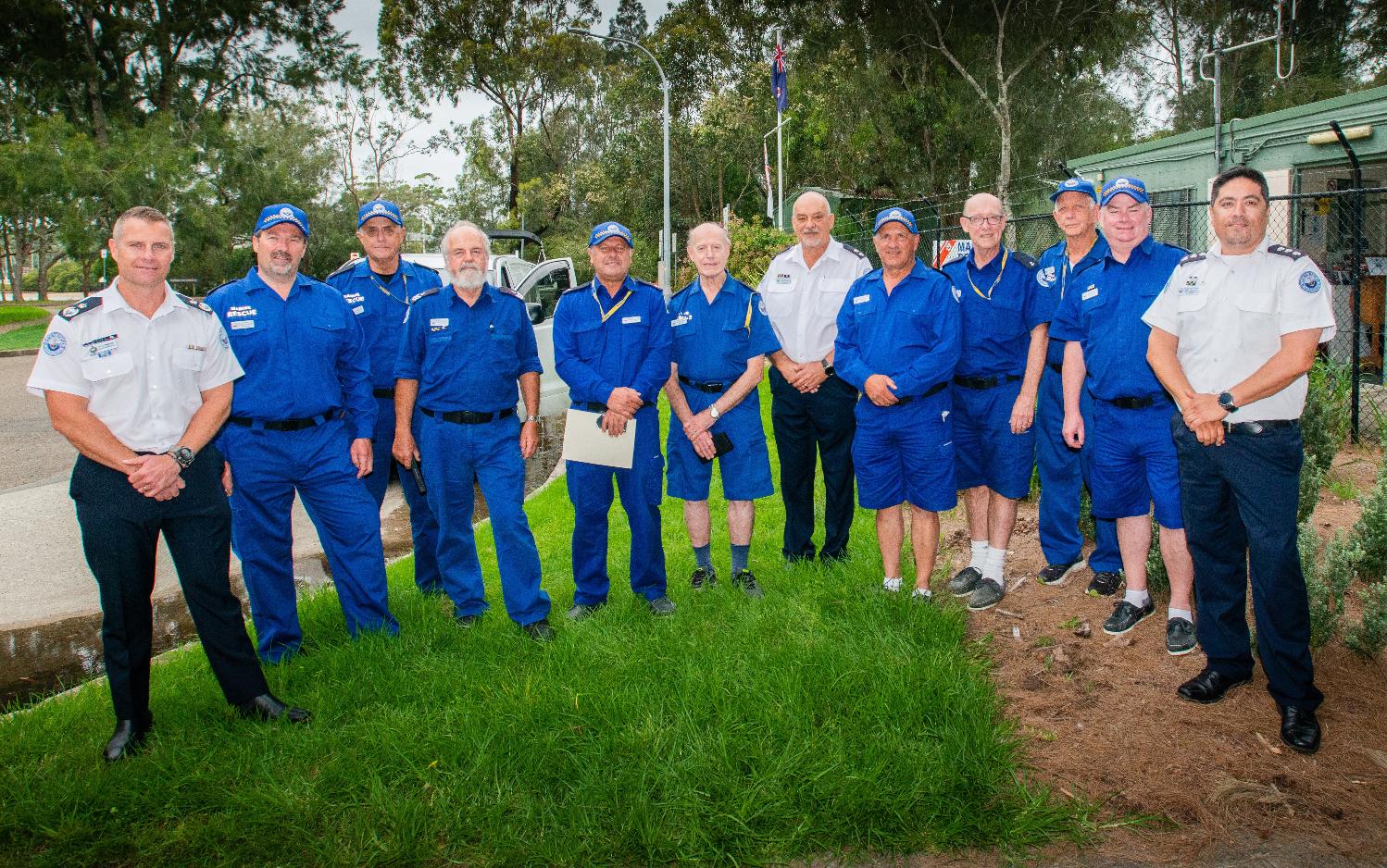 Part of the 100 strong volunteer members of Marine Rescue Broken Bay
Photo: Michael Mannington, Community Photography