December 5 - 11, 2021: Issue 521

Avalon Beach 100th – Centenary Celebrations - Centenary Art Exhibition Opening Night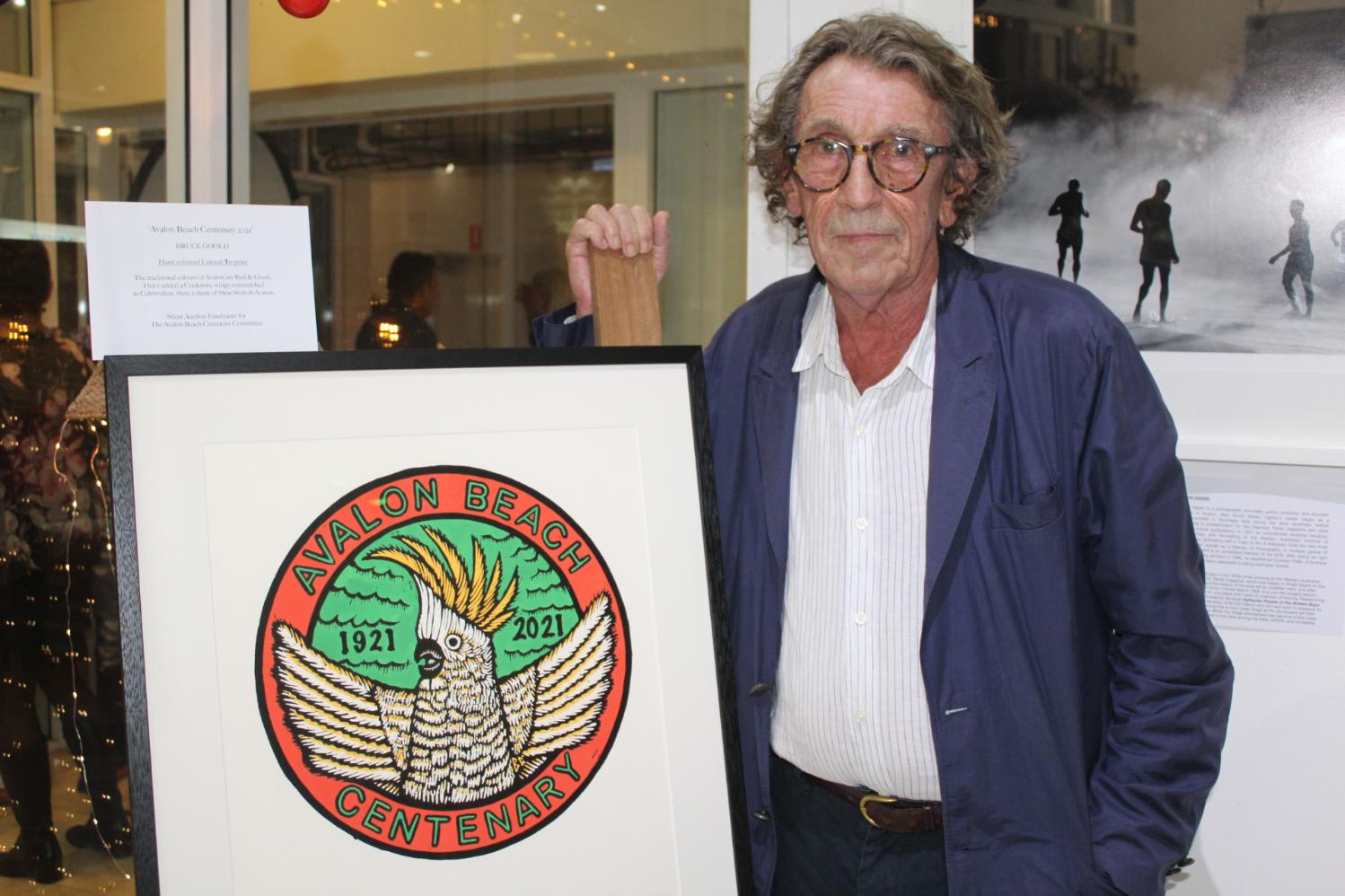 Artist Bruce Goold with the original No 1. Hand Coloured linocut.
Bruce says, ''The traditional colours of Avalon Beach are Red and Green. I have added a Cockatoo, wings outstretched, in Celebration. There are many of these birds in Avalon Beach.''
This No 1 print is a silent auction Fundraiser for the Avalon Beach Culture Collective Inc + Avalon Beach Centenary Committee.
The Committee says, ''The original Avalon Beach Centenary 2021 Logo linocut designed for The Avalon Beach Centenary Committee by Bruce Goold will be sold via a silent auction that will commence from Tuesday the 7th of December at Avalon Art Gallery in The United Cinema Arcade in the heart of Avalon.
This particular print is a one off as after it was printed and hand coloured, Bruce recut small sections of the Lino to lighten the wing section of the cockatoo.
Please come to the Exhibition to enter your bid or phone Jen at the Gallery on 0411 623 204 during business hours for more details.
The silent auction will run until the close of the Centenary Art Exhibition which finishes on the 19th of December. The money raised from this auction will go to the Centenary Committee in order to facilitate more events during the year long 100 year Celebrations.''
On the process, Bruce explained, ''These have been made using the Giclée method. Giclée is a French term meaning "to spray", referring to how an inkjet printer works and how giclée prints are usually produced. These large format inkjet printers use small spraying devices that can both match colour and apply ink precisely, giving artists a high-quality print of their original art with much more density in the colours.
I have hand-coloured these and this is an Edition of 100 from the original Linocut. These Archival Giclée prints, signed and numbered on 310 gsm Canson fine French etching paper, are available.''
Worth noting: To be able to make such a high-quality print, the camera or scanner used to capture or scan the art must be able to do so with a high level of resolution. To compare, most digital photos are recorded at a resolution of 72 DPI on the screen, or "dots per inch," and the image file of an art print needs to be at least 300 DPI—because the more dots of colour that can be printed in a small area, the more detailed your final image will appear.
As far as ink and paper go, they must be high quality and considered "archival." This is typically achieved using inks that are pigment-based instead of dye-based and any canvas, watercolour paper, or speciality printing paper designated as archival.
Arthur Jabez Small launched the Subdivision of Avalon Beach in December 1921 along with the provision of Dunbar Park, Avalon Golf Course, the Public Pathways, Angophora Park and many other reserves as part of his vison for the area.
Both the Avalon Beach Art Exhibition (opening night Friday, 3 December, 2021) and Descendants of AJ Small with author Dr Jan Roberts of Remembering Avalon: Growing up in the 1940's and 50's – Avalon Golf Club (Sunday, 5 December, 2021) will be a soft launch opening, followed by many events and interactive activities rolling out over the year December 2021 – December 2022, celebrating our Centenary, our indigenous history and culture, our local history and culture and showcasing our many talented artists, musicians and performers, and the many volunteer organisations that support our community and environment.
Profile: Avalon Beach Culture Collective Inc + Avalon Beach Centenary Events

Avalon Beach 100 Facebook page for updates: www.facebook.com/groups/Avalon 100
Website: avalonbeach100.com
Email: ABCCAvalon@gmail.com
Centenary logo by Bruce Goold
The Avalon Beach Centenary logo was designed by Bruce Goold, well-known Palm Beach-based artist/printmaker, featuring the Avalon Beach colours of red and green, and in a timely season of Christmas celebrations.
The concept: 'A Jubilant Cockatoo, Wings Outstretched in Celebration of the Centenary'
"Sulphur Crested Cockatoos are the 'bird of the moment' in Avalon, their raucous behaviour and happy demeanour seem ideal for a symbol to celebrate 100 years" Goold is quoted as saying. And truly, who hasn't gone outside Woollies in the dusk and can't hear themselves for the cockies in the trees!!
Avalon 100 Art Exhibition
Art Exhibition Location: Avalon Art Gallery – Avalon Cinema Arcade.
Opening Night: Friday, 3rd December, 2021 5:30-8:30pm Visitors wre fortunate in meeting the artists and enjoying the great music provided by the Ken Lloyd band, in a Covid safe environment supported by our gold sponsor for the Avalon Beach Centenary Celebrations, LJ Hooker-Avalon Beach. Refreshments sponsored by Chambers Cellars Avalon Beach, and supported by Northern Beaches Council.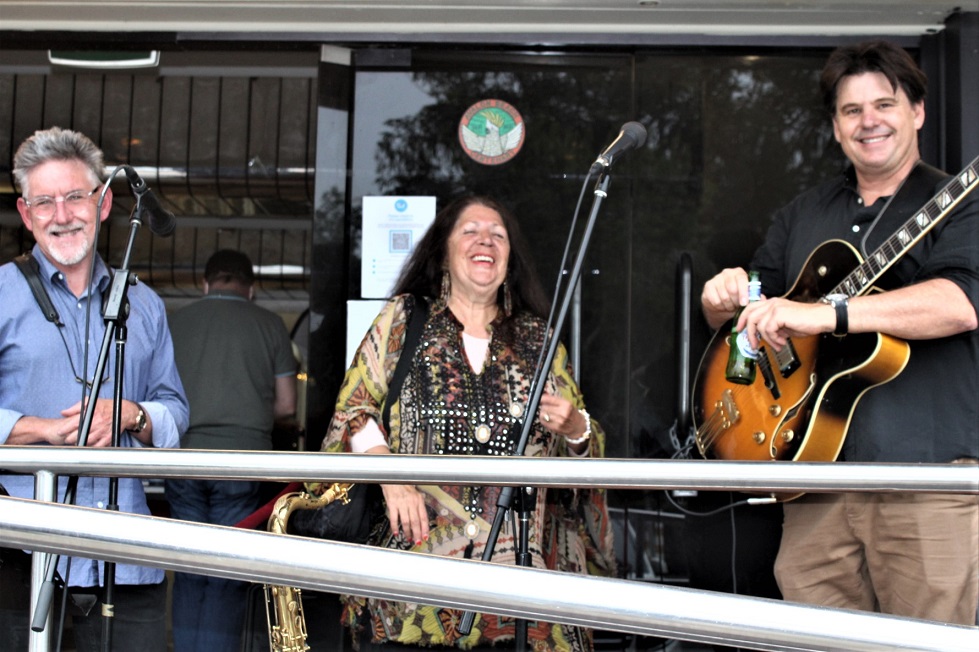 Ken Lloyd band members with Ros Marsh, Avalon Beach Culture Collective Inc + Avalon Beach Centenary Events member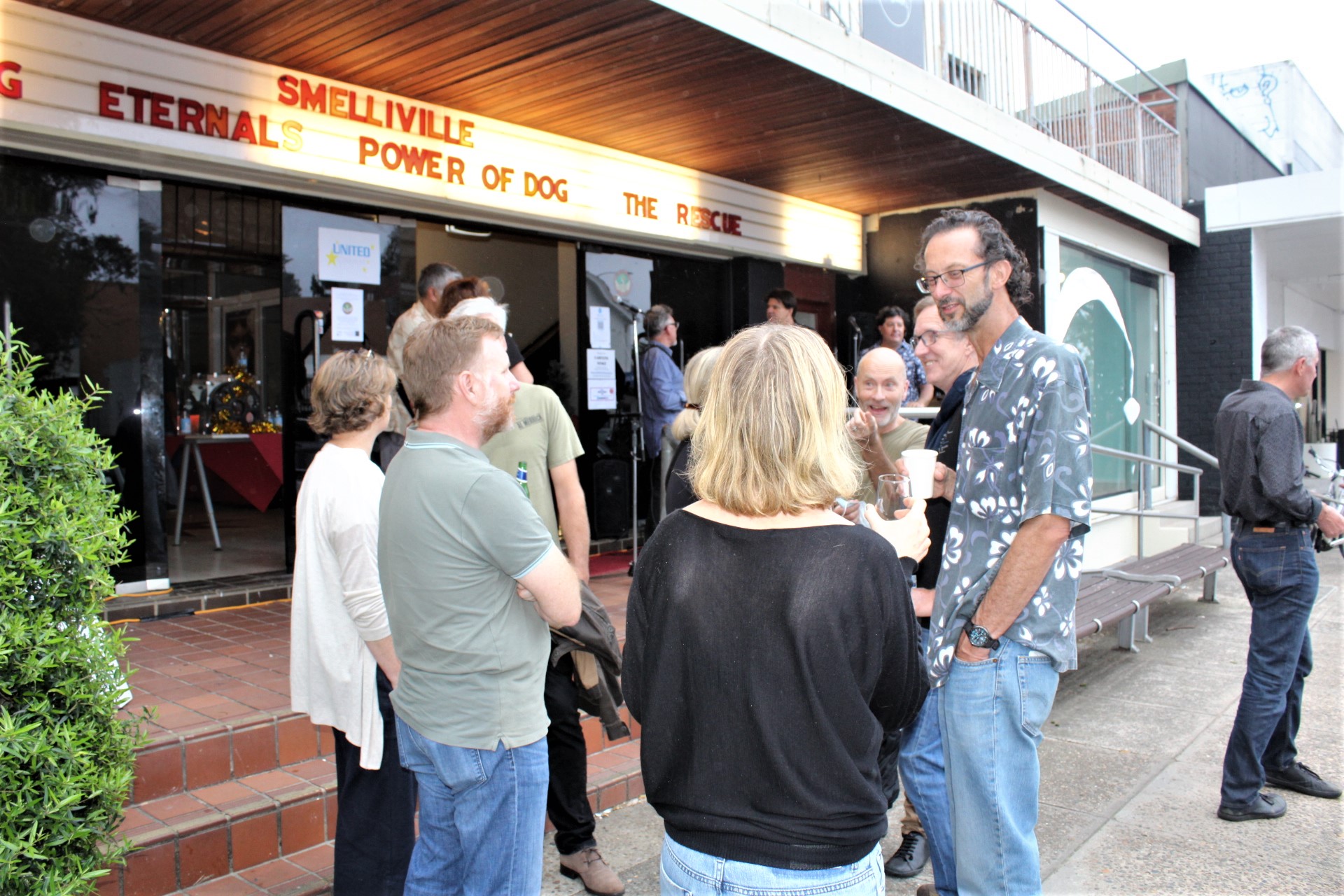 Exhibition open 4 – 19 December, 2021. Tuesday to Saturday 10am – 5pm and Sunday 10am-2pm
Exhibition Overview: Avalon Beach Centenary Art Exhibition features 22 x 2107 based artists featuring a range of works from ceramic sculptures, wood and bronze sculpture, photography, print, collage, photography and paintings inspired by living in Avalon and what they love about Avalon.
"The artists are beyond excited after a tough few years, but the beautiful community we call home was the strongest source of inspiration, awe and wonder through these times and their works reflect the deep well of the beauty of Avalon Beach, 2107! " says Jen Hill Owner, Avalon Art Gallery
Artists: Claire Armstrong, Alyson Bell, Gerry Colley, Coco Elder, Cindy Goode Milman, Guy Hawson, Nada Herman, Jennifer Hill, Madi Luschwitz, Helen Mackay, Sally Mayman, Deb Mundell, John Ogden, Michele Petrie, Gilbert Schultz, Katika Schultz, Tim Schultz, Chris Searl, Tim Seaton, Blue Stuart, Cecille Weldon, Katarina Wells.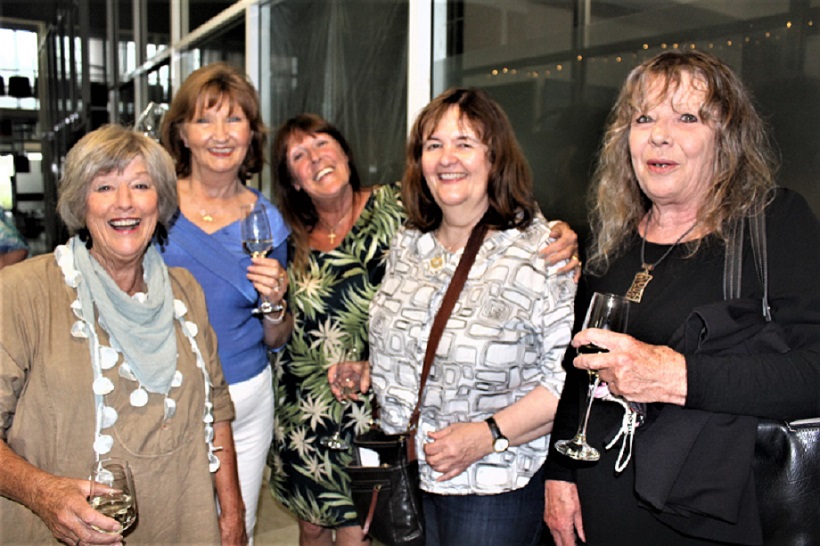 Opening Night: Michele Petrie, Louise Alston, Kitty Spence, Jane Rawlings and Blue Stuart
Below run some of those who visited the Opening Night of this exhibition.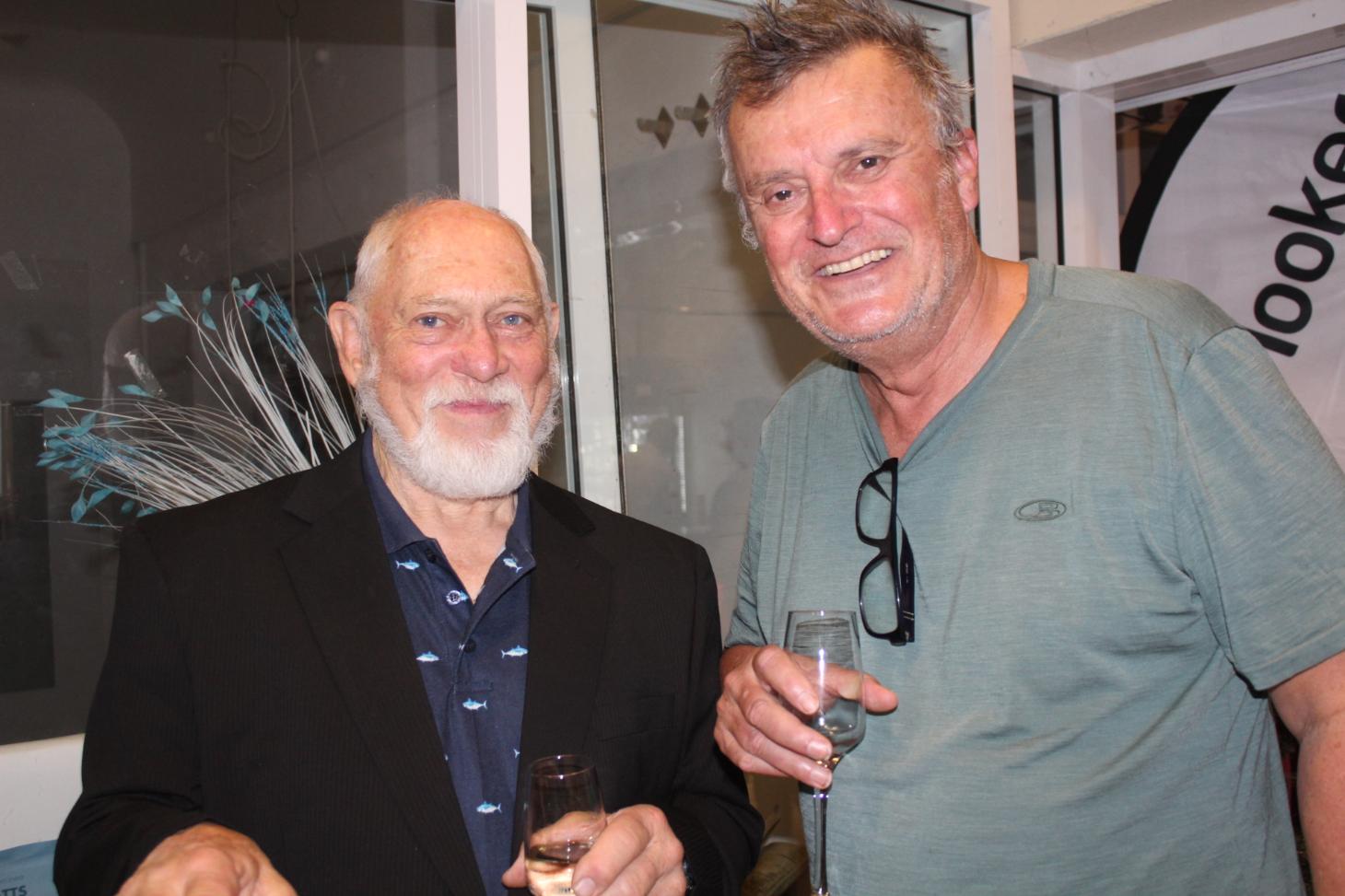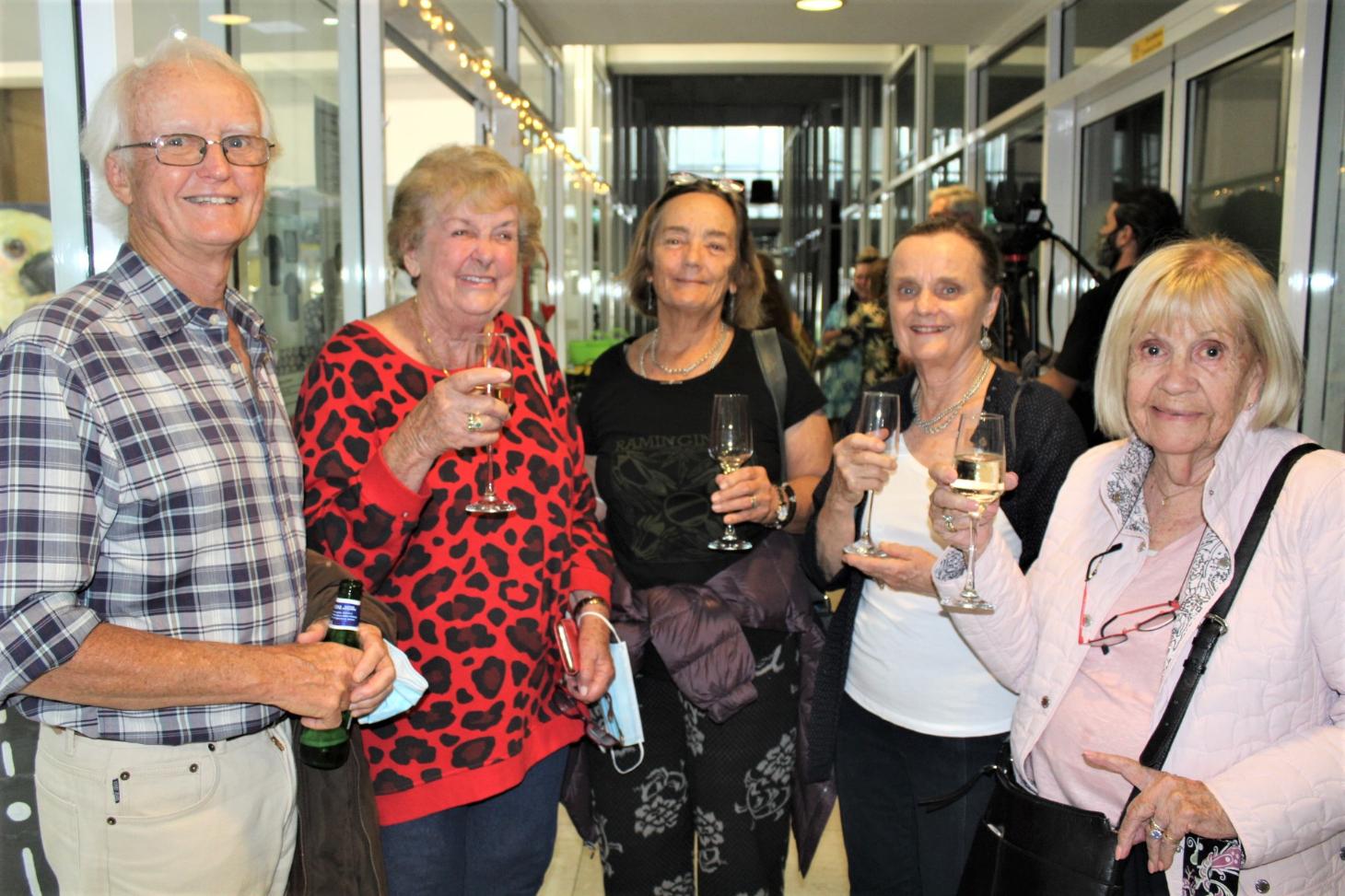 John Stephenson, Marion Lee, Jill Stephenson, Sue Anderson and Joyce Rawlings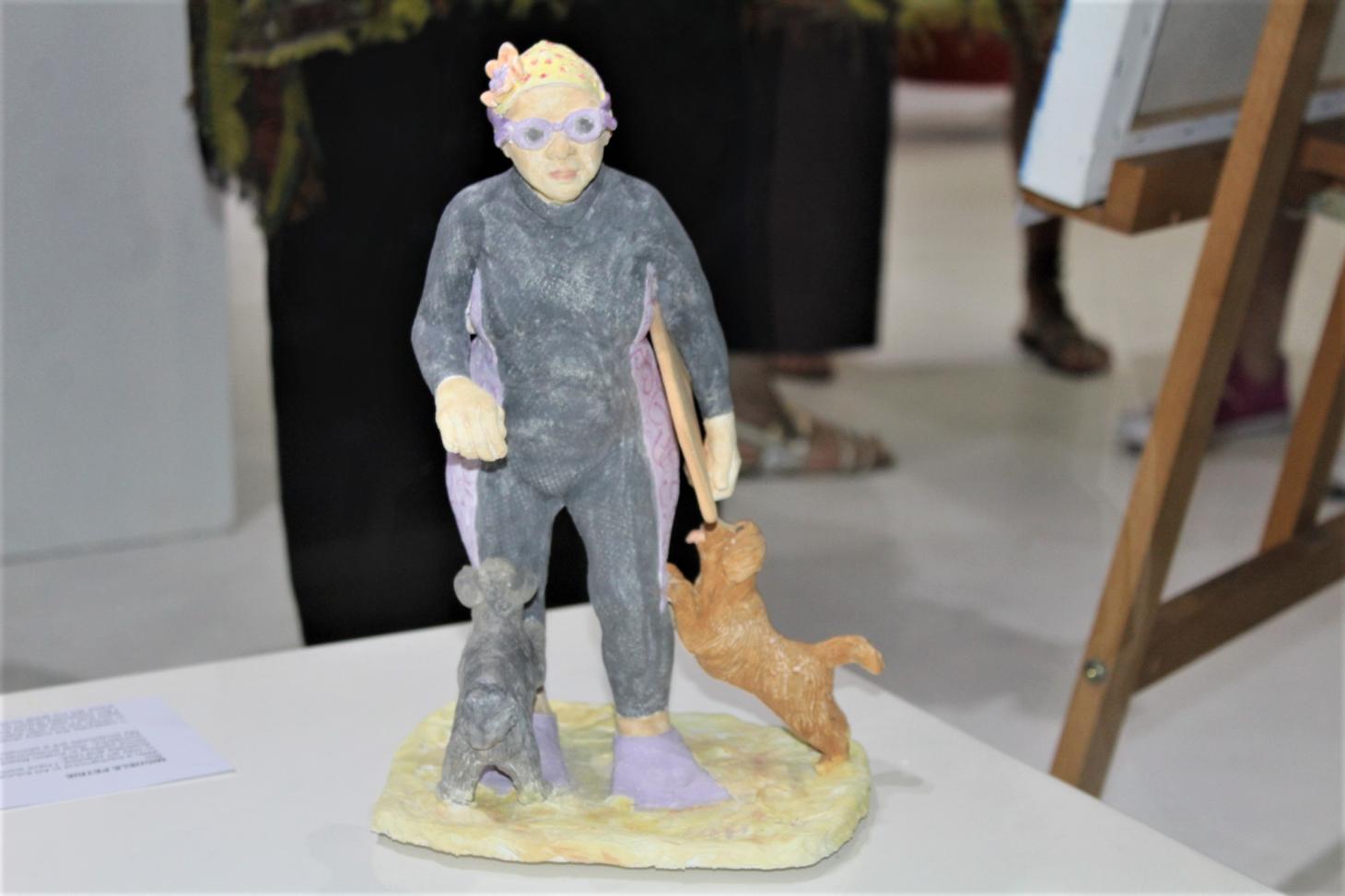 'Don't Go Marion!' by Michele Petrie, Ceramic Artist based on Marion Lee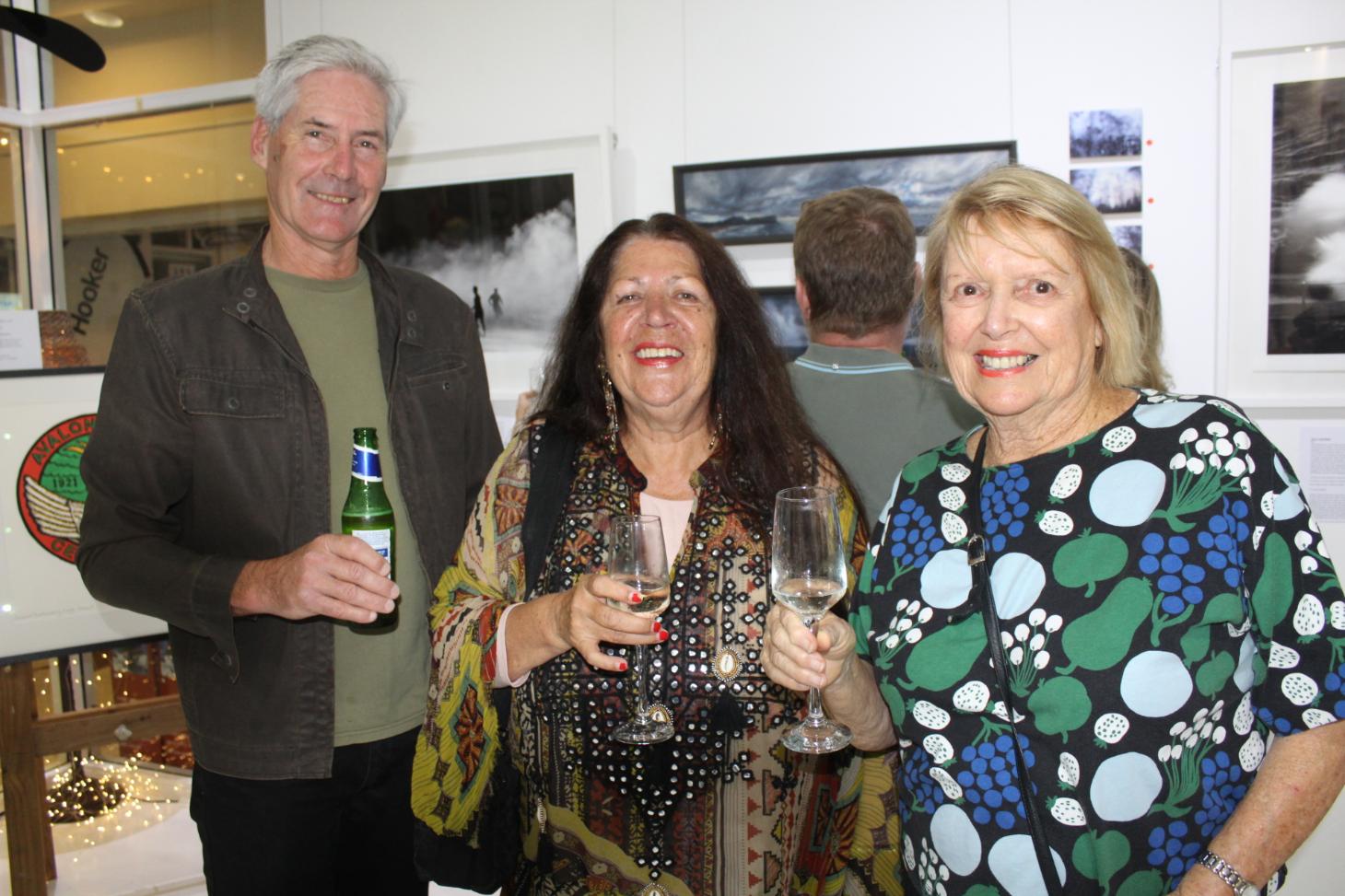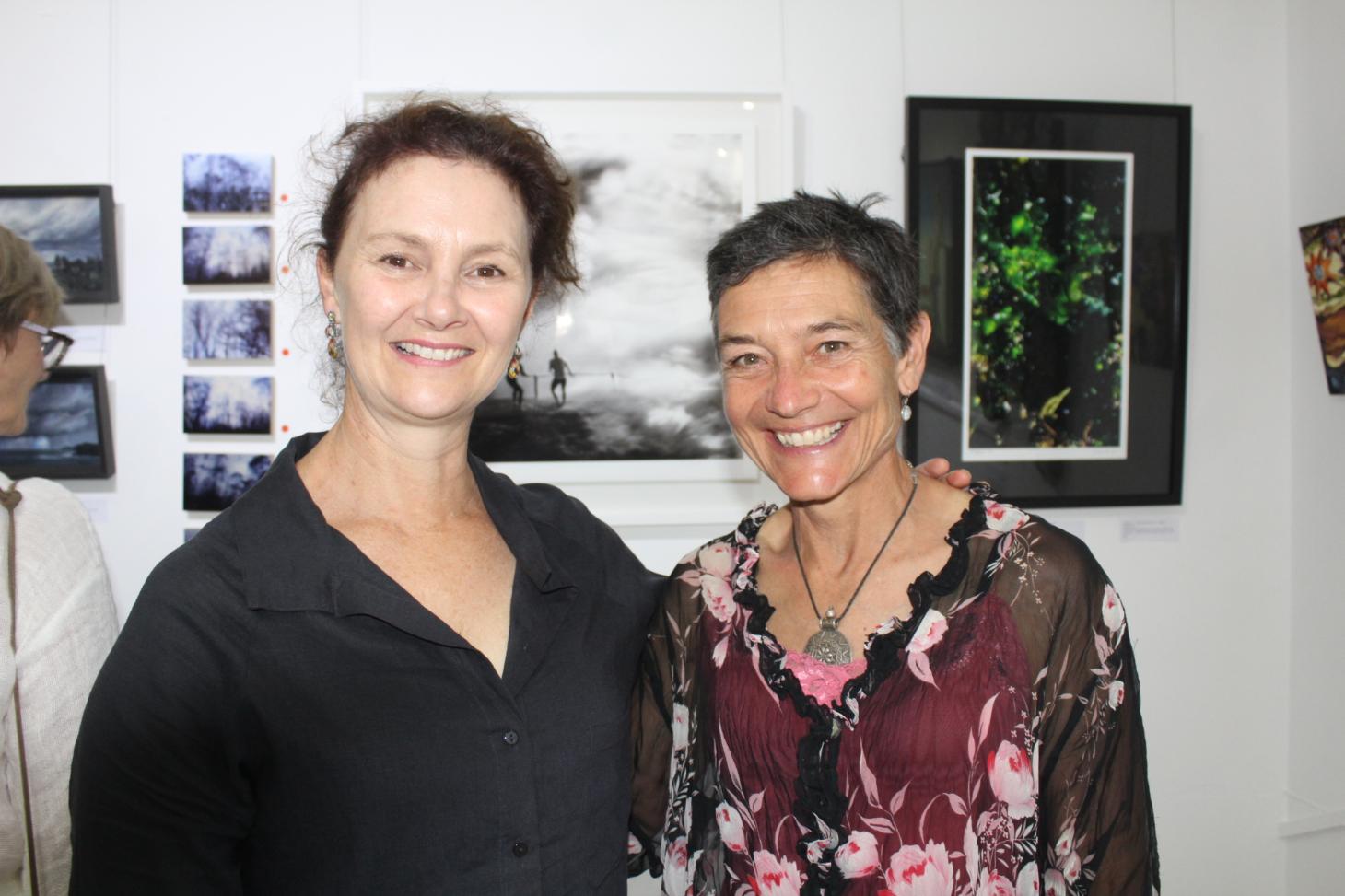 Wendy and Matt Sierp - who came from Tathra on the South Coast to celebrate Sally Mayman's contribution to the Avalon Beach 100 Centeneray Art Exhibition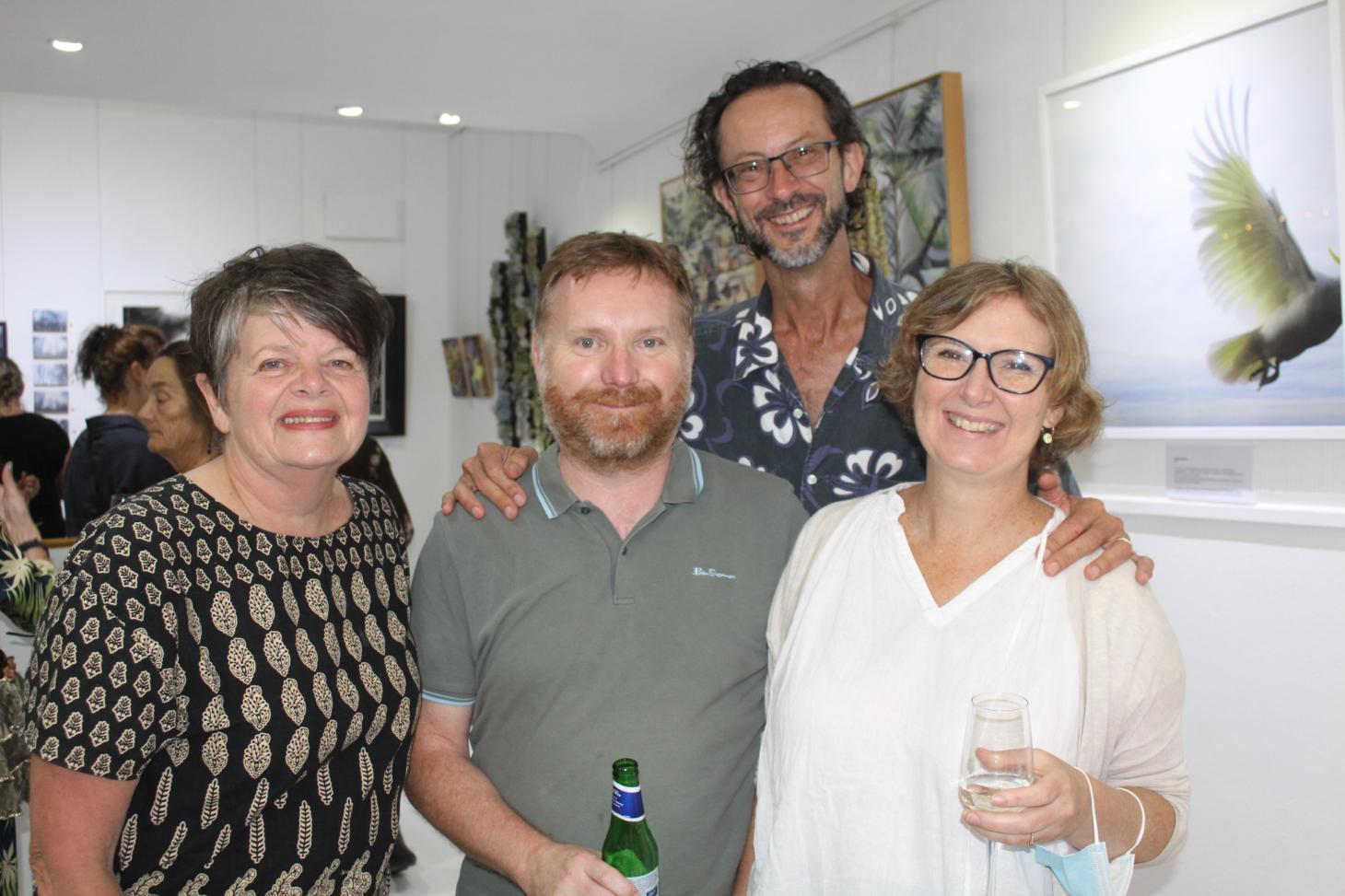 Claire Armstrong, Guy Hawson (also a brilliant Artist - Medium: Painter), Robert and Tiffany Chapman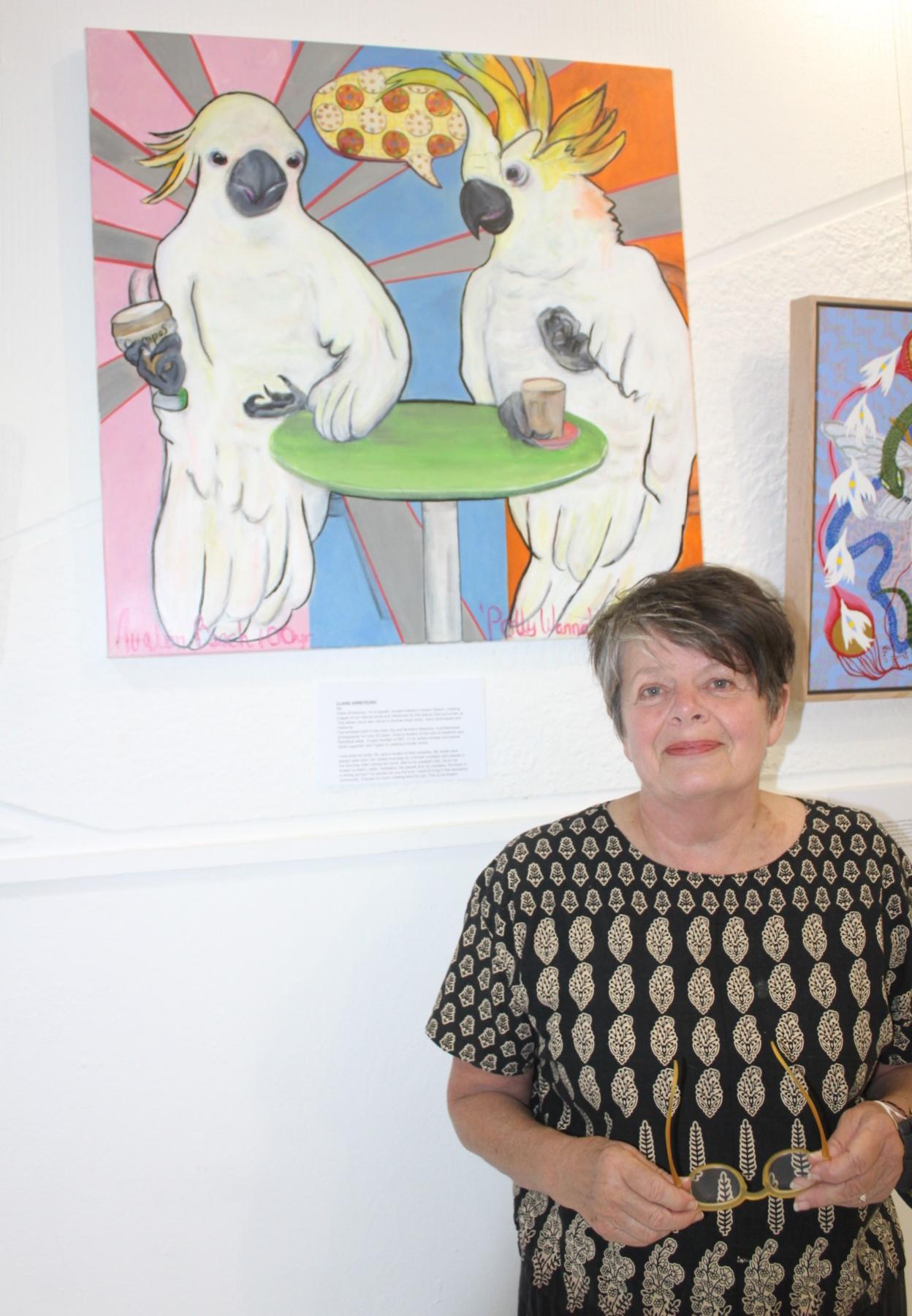 Claire Armstrong in front of her work; 'These are for fun' Claire said.
''I love birds all kinds. My yard in Avalon is their paradise. My studio door always open and I am visited everyday by a female cockatoo who stands in the doorway often raising her comb. She is my greatest critic. So, to me Avalon is beach, cafés, meditation, the people and my cockatoo. Put them in a mixing pot and I've painted for you the love I have of living in this wonderful community. Enjoyed so much creating them for you. This is my Avalon.''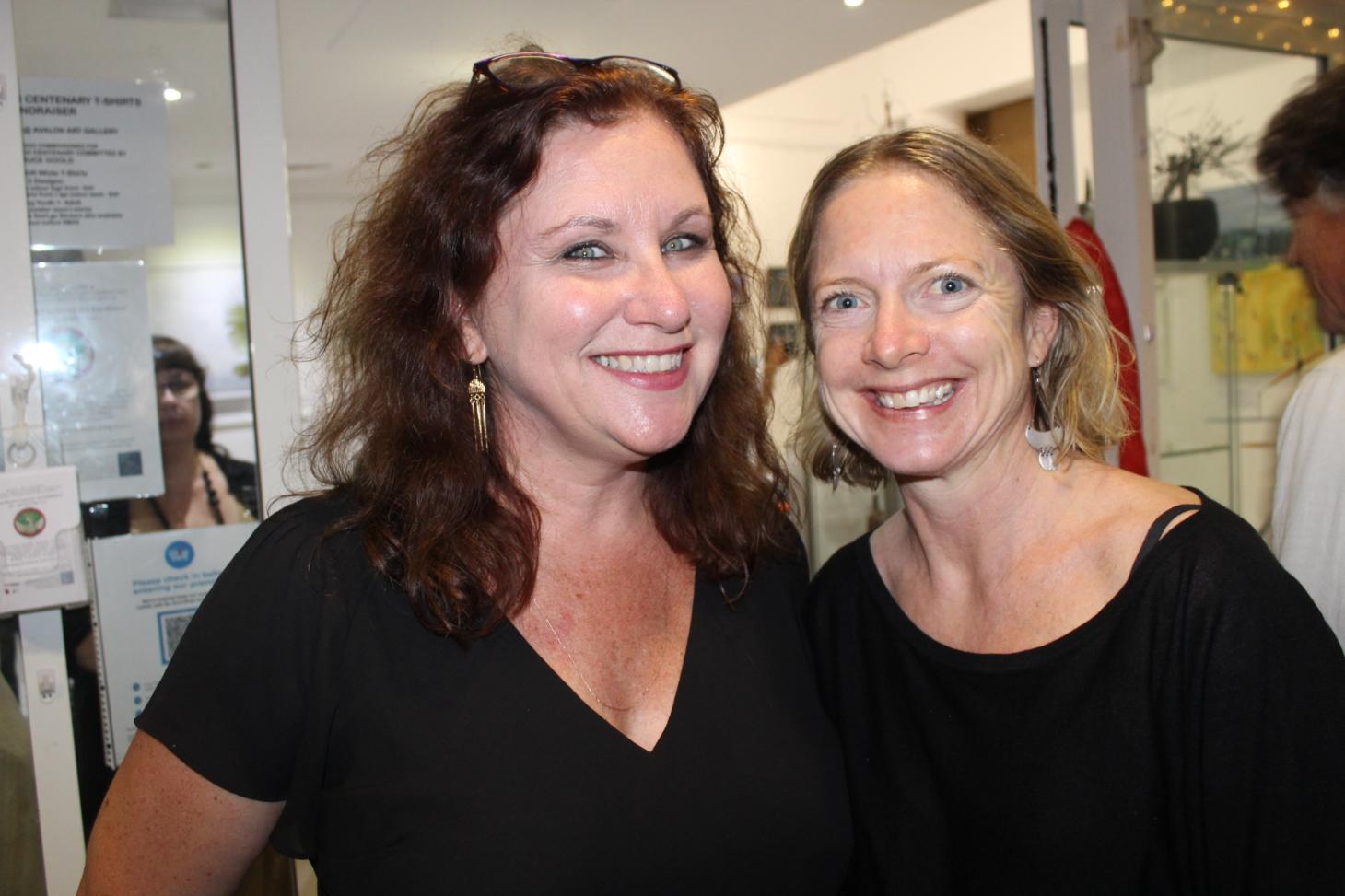 Kalinda Hawson and Janelle Amet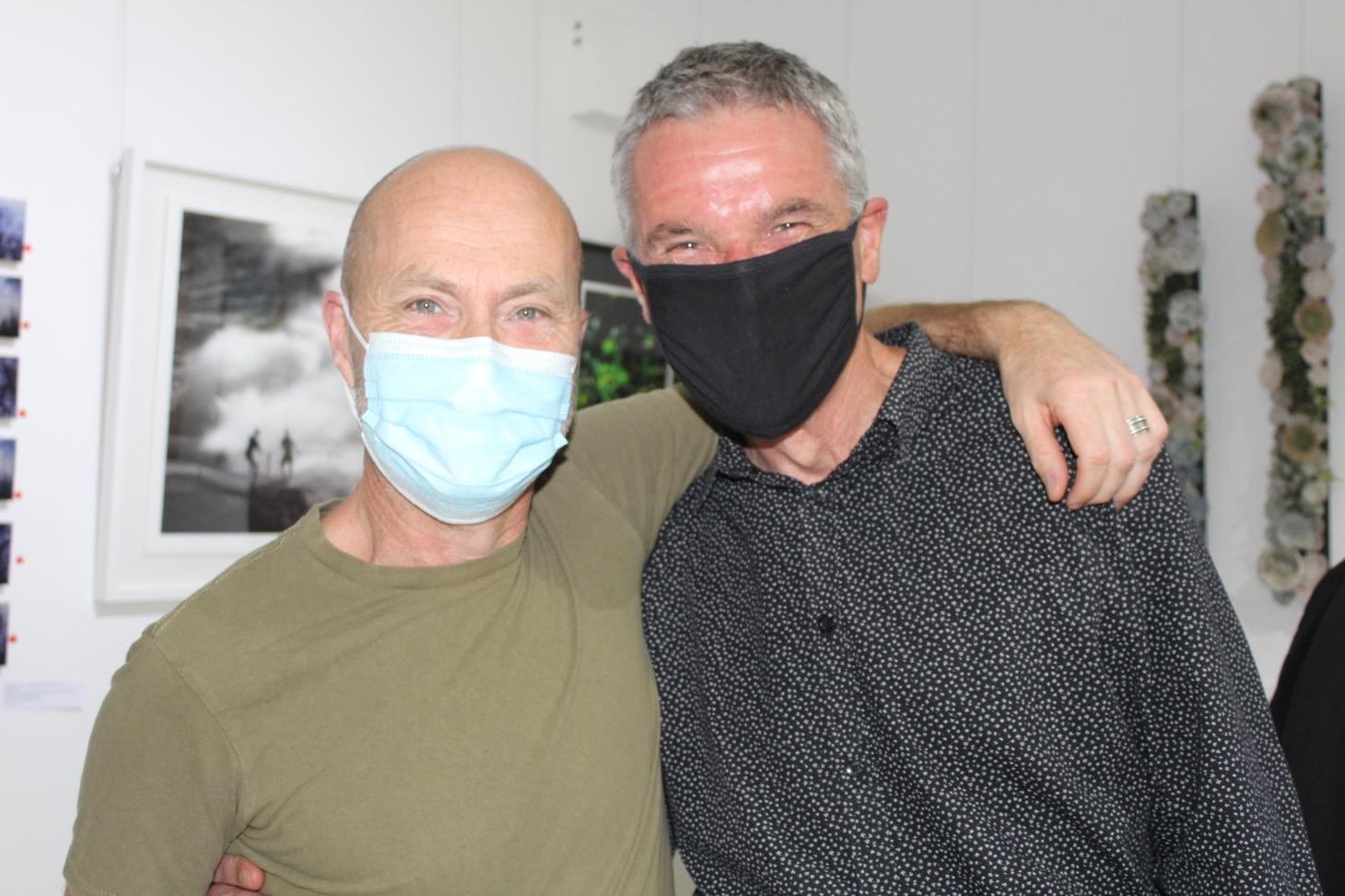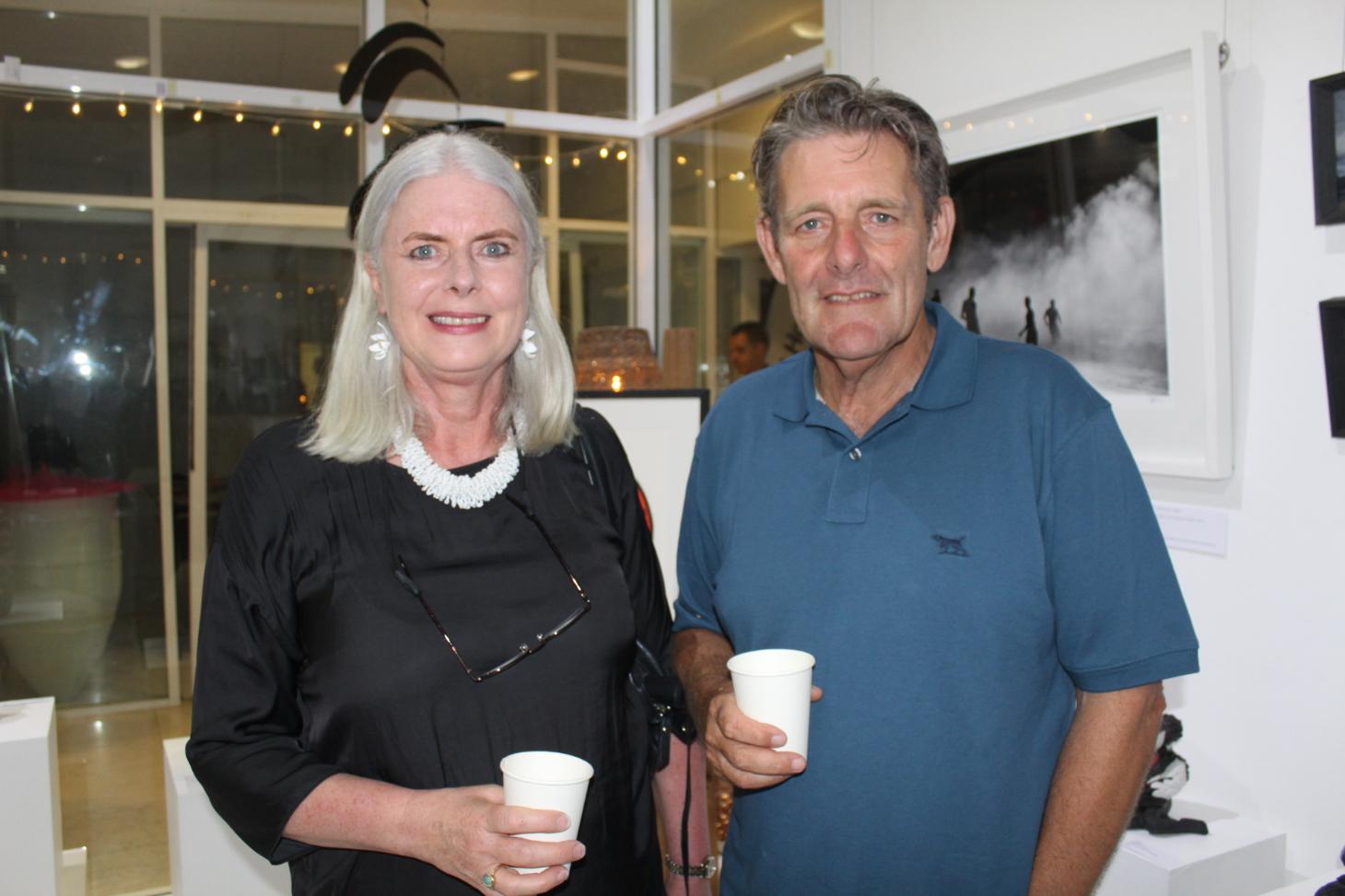 Elizabeth and Rick Nelmes
Music For Our Ears: Saturday December 4, 2021
The - Avalon Beach Culture Collective Inc + Avalon Beach Centenary Events committee hope to have some Music/singers and performers around the Village over Summer. They are also looking to roll out some music concerts.
Sam Shaw's son Oscar Browne, along with Sam Wilkins have been liaising with our local talent and we hope to launch at least 2 concerts in March 2022.
On Saturday December 4th Liz Player (Elizabeth) and Jacob Jayasena played outside the Avalon Beach picture theatre, enticing all to listen as well as visit the Avalon 100 Art Exhibition.
On Avalon's Village Green, Dunbar Park, Sam Shaw and The Big Sing members entertained those lining up to vote in local council elections.
Liz Player (Elizabeth) and Jacob Jayasena playing for residents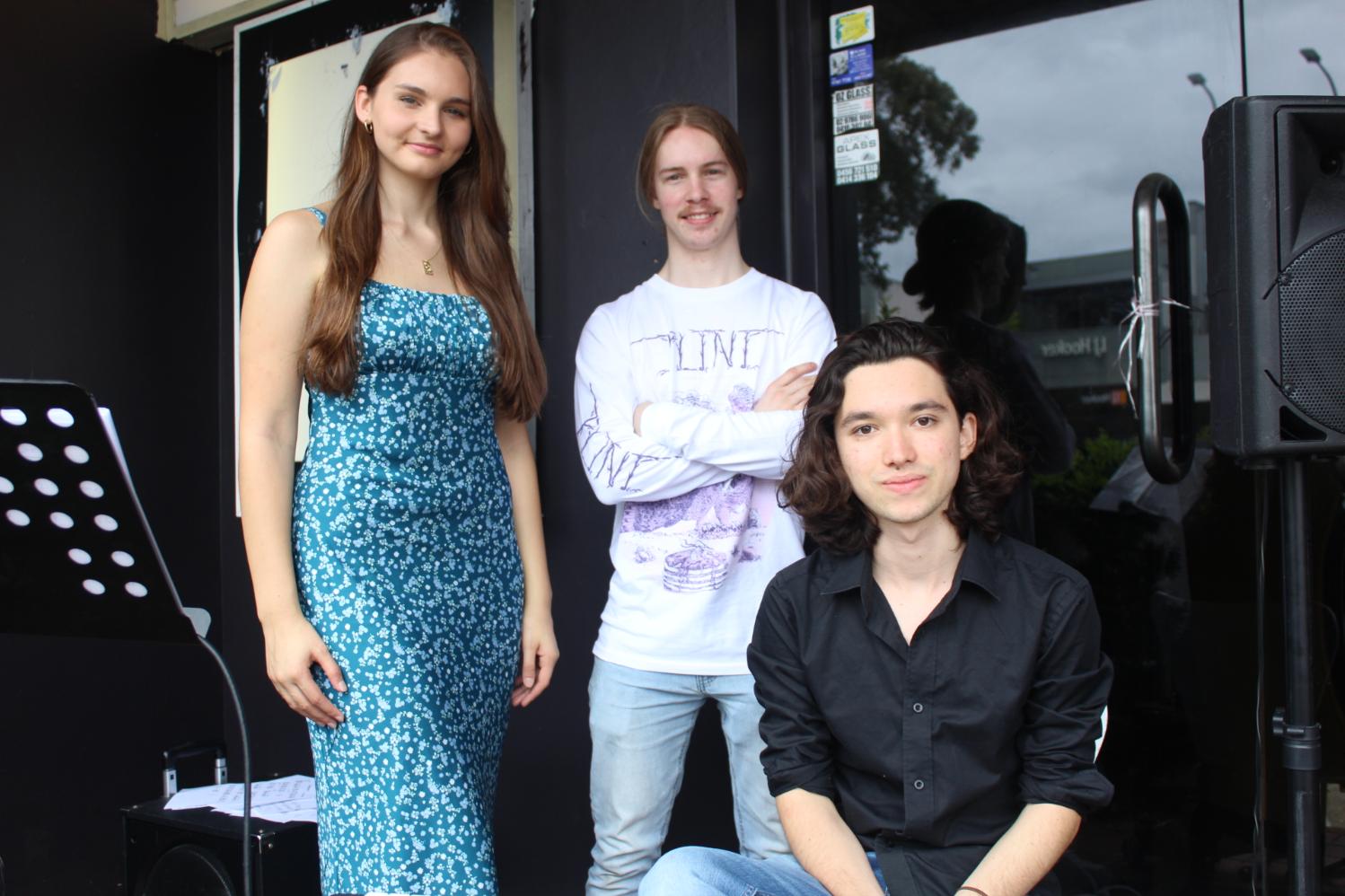 Liz Player (Elizabeth) and Jacob Jayasena with Oscar Browne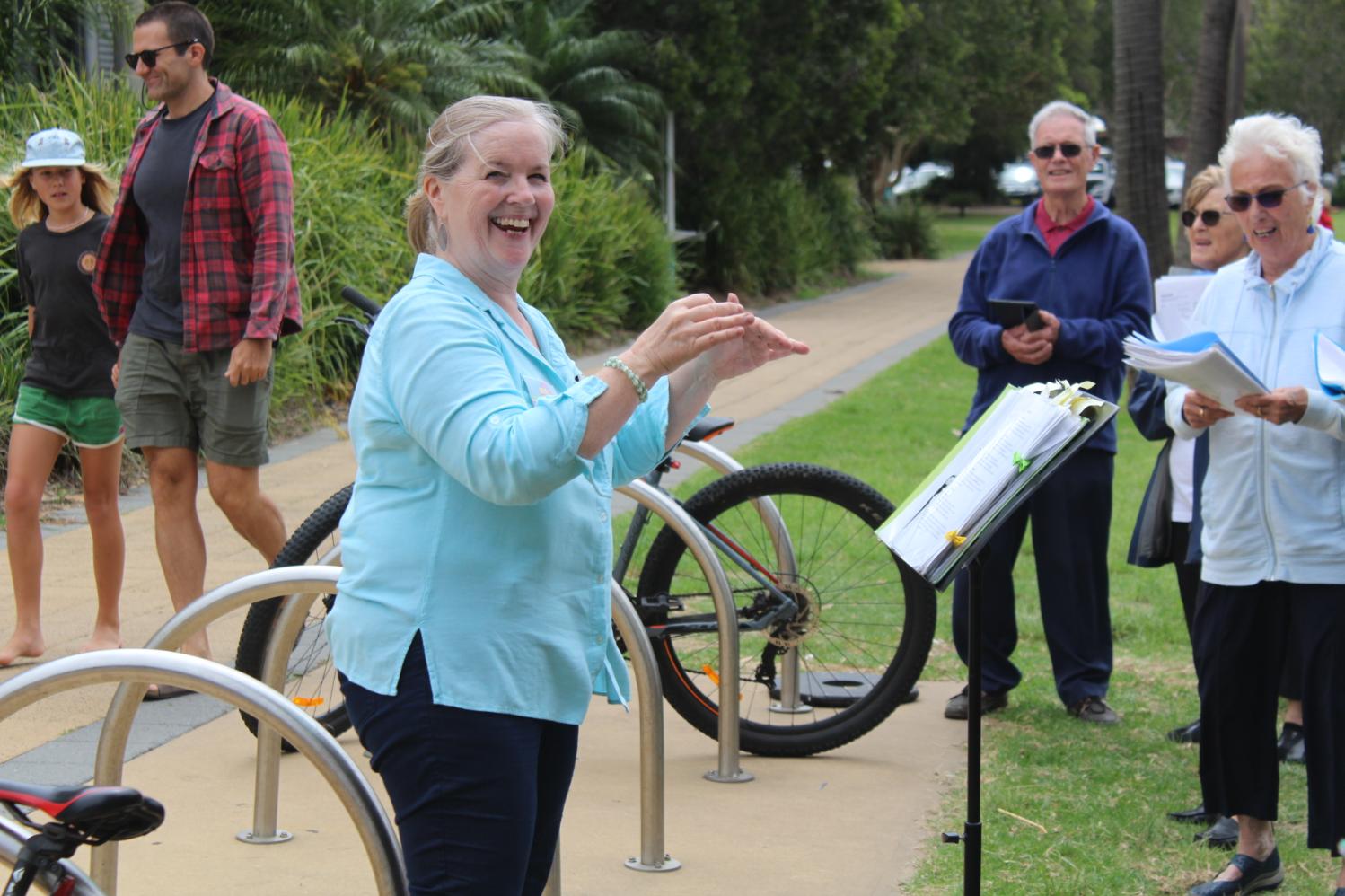 Sam Shaw in action on Saturday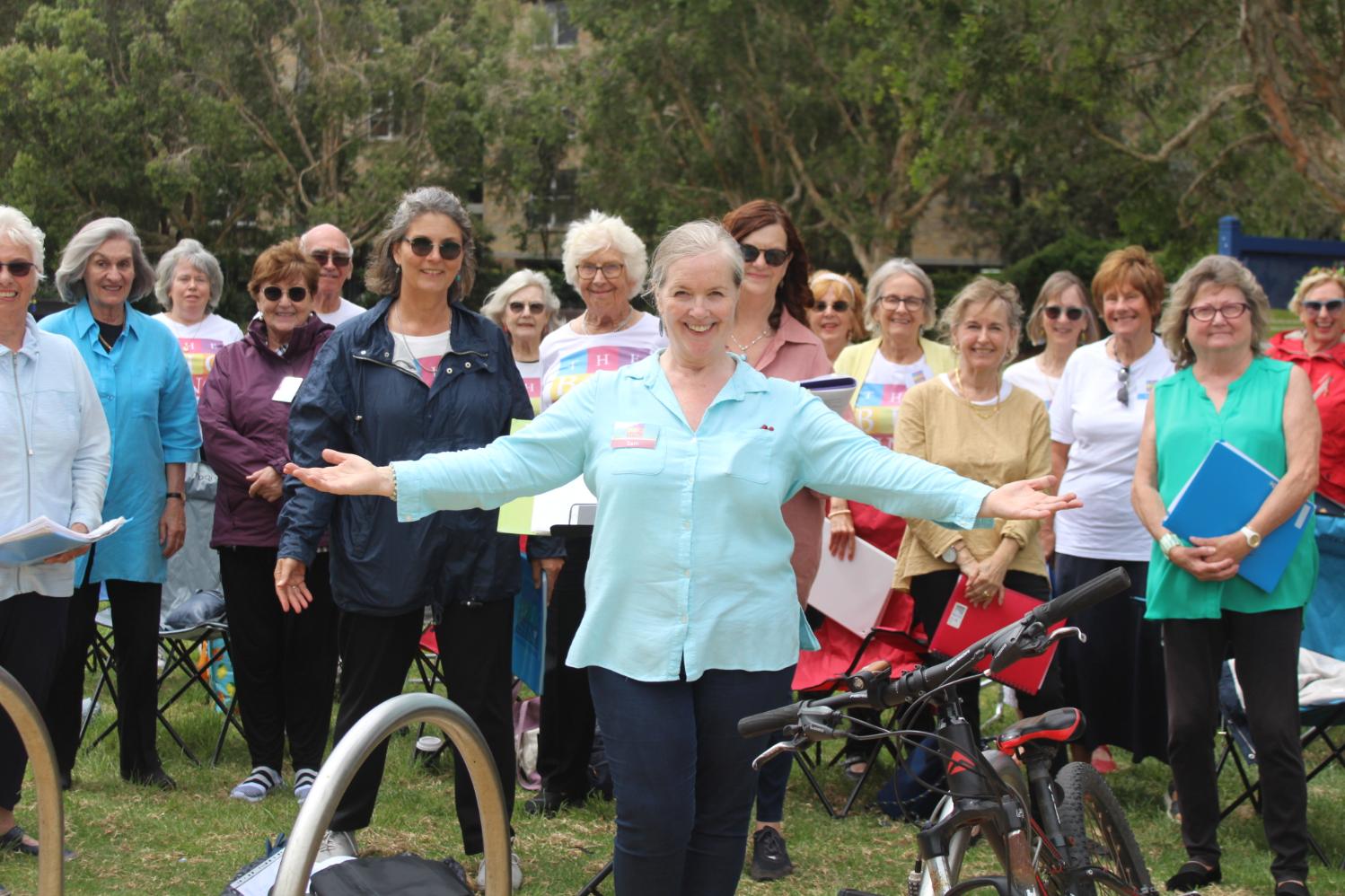 Sam Shaw and some of The Big Sing - post giving a few numbers (there were some wonderful gentleman singers as well - out of picture here)