February 19 - 25, 2012: Issue 46
One thing we all think hard about as we get older is the importance of dignity and maintaining the independence of our elders. A non-profit organisation that works to ensure this occurs and also offers a way to invest in community as a volunteer is Community Connect.
The Pittwater Community Hub on the evening of the official opening by Pittwater Mayor Harvey Rose.
Pittwater Community Hub
Shop 17, 20 Bungan Street, Mona Vale
T: (02) 9999-6062
Contact email: info@norbeachconnect.com.au
Website: http://www.northsideconnect.com.au/contact-us.html

Dementia Carers Support Group Pittwater
Date: Monday, February 27, 2012 - 10:00 am
Duration: 2 Hours
Contact Info: If you are interested in joining this group please phone: 9931-7750
Email: info@norbeachconnect.com.au

This Group is held on the Last Monday of every month
Venue: St. John's Anglican Church, 1624 Pittwater Road, Mona Vale
Disability Carers Support Group
Date: Friday, March 16, 2012 - 10:30 am
Duration: 2 Hours
Contact Info: If you are interested in joining this group please phone: 9931-7750
Email: info@norbeachconnect.com.au
This Group is held on the 3rd Friday of every month except in school holidays
Venue: Cromer Community Centre, 150 Fisher Road, Cromer
Volunteer Opportunities:
Friendly Visitor
Volunteer needed to enrich the quality of life of a lady in a nursing home on Northern Beaches ;from Queensland, well travelled, loves animals, enjoys knitting, crochet, movies & news. A person with a nursing background would be the most suitable.

Disability Group Assistant
Join a group of friendly volunteers that support people with physical disabilities and who actively participate in leisure and learning opportunities - Warriewood area. Assist with craft projects, meal preparation and outings which include picnics, movies bus or ferry trips! Join us last Sunday of the month 11am - 3pm.

Drivers - Bus & Car
Do you have an LR drivers licence? Friendly, confident volunteer drivers needed for popular community organisation that provides mystery tours and outings for elderly people in the Northern Beaches area. We also need volunteer drivers with normal car licence to take our clients to medical and other appointments in Manly, Warringah and Pittwater LGAs.

Gardening Team
Our gardening teams need more volunteers to transform the gardens of elderly and disabled clients throughout the Northern Beaches. If you are active, friendly and enjoy being outdoors, come and join the team on a Tuesday or a Thursday morning. No experience necessary.

Shopping Helper
Volunteer needed to accompany a man with an intellectual disability in Hostel bus to shops at Warriewood Mall for 2 hours on a Monday morning. Transport is provided there and back.
To find out more about volunteering and the above opportunities please phone for an interview at Community Connect Northern Beaches
DEE WHY or MANLY 9931 7777 or MONA VALE 9999 6062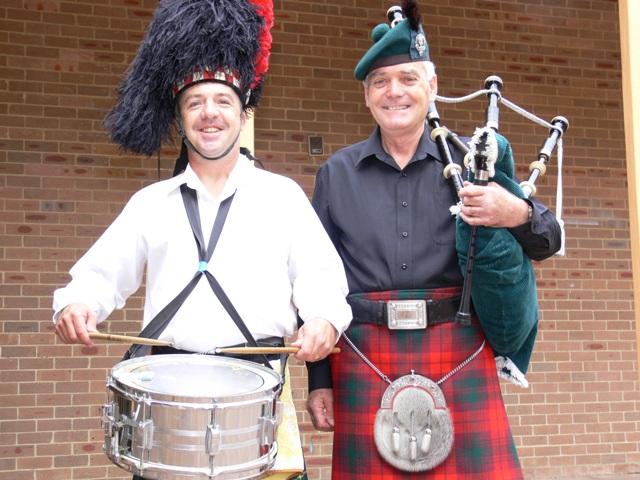 Left: Peter Risby Manager of Community Connect Gardening a program designed to keep older folk in their homes longer and John Gillham Executive Officer of Community Connect Northern Beaches.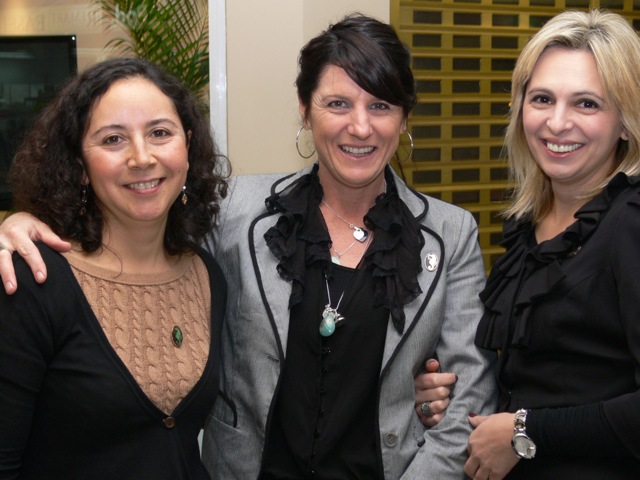 From Left: Valera Van Elmpt the Multi Cultural Carers Coordinator with Suzette Barrack the Information Officer for the Community Hubs at Dee Why and Mona Vale with Vesna Perisic the Volunteer Coordinator.
Pittwater Community Hub
by Reg Barlow
How long has Community Connect Northern Beaches been going ?
Northern Beaches Community Services Ltd trades as Community Connect Northern Beaches. It has been offering services to the Northern beaches for almost 43 years. The current site at 30 Howard Avenue, Dee Why has been going for 20 years plus.
What are the main aims of this Community Service Organisation ?
Our mission statement is: "To provide appropriate community services creatively, efficiently and effectively." This is the main focus of what we do is to give clients the dignity and respect they so richly deserve. This is especially the carers, gardening and the volunteer programs. The gardening and carers programs deal with people in the latter years of their lives. The volunteer program also helps older people who want to give something back to the community by searching for the volunteer opportunity that best suits them.
This means all our staff and volunteers are focused on helping the community commensurate with our funding guidelines.
What's coming up this year that our residents should know about ?
We moved to Mona Vale in July last year. During Senior's Week we are holding a seminar in conjunction with Pittwater Council and Centrelink on the aged pension bonus scheme. The date is 22 March at the Mona Vale library from 2 to 4pm. I believe this will benefit a lot of seniors who have found their superannuation won't cover their retirement needs. If a person defers going on the aged pension for up to five years there are cash bonuses available for single and partnered couples. Centrelink will provide all the details on the day.
The services we provide differ between centres. As the demographic in Pittwater LGA does not have the potpourri of nationalities there is really no need for English classes at the Pittwater Community Hub (PCH).
However, regarding the other services like Community Connect Gardening (CCG) which is aimed at keeping older people in their homes longer without resorting to hostel or aged care programs. Peter Risbey runs CCG along with Kim Ald and Caroline Carter. CCG has about 180 volunteer gardeners who garden on a regular basis. CCG often will garden six days a week. The wait for the first service is about three months but once you have been serviced you will get your garden done every year around the same time.
The Carers, Volunteer and Information programs are aimed at the whole of society.
Vesna Perisic is the coordinator of the volunteer program. This program sources volunteers for all NGOs across the northern beaches. If Lifeline, Community Transport etc need new volunteers Vesna gets the word out. Volunteer Interviewers access a prospective volunteer and then refers them on to that agency.
Robyn Brooks, Ana Kardum and Valeria VanElmpt run the Carers and Multicultural Carers Program.
These Programs provide information, referral to services and advocacy as well as individual and social support. We run courses such as:-
Dementia Education, information courses for carers which includes stress management.
Events for Seniors Week, Dementia Awareness Week and Carers Week.
In addition we have monthly carer support groups as follows:-
Dementia carers (3) General carers, Disability carers, Mental Health carers and a Social Interest group
We also have Serbian, Spanish, Italian and Chinese carers groups.
Reg Barlow is the manager of information services and has oversight of the Dee Why and Mona Vale facilities. Apart from connecting people with information we offer advocacy for those who struggle to understand state or federal government forms. (Centrelink, NSW Housing and other forms).
We will be providing a free legal advice service on a Saturday morning and appointments are necessary. While we offer free English conversation classes and English for beginners at Dee Why there has been no enquiries for that service at PCH.
What is the age range for those who may use these services ?

The age range is across the spectrum but we do not do any youth work because funding bodies require a large premises that can provide a full range of pastimes like computer gaming, video and audio studios and a host of other physical activities like Gym and other activities designed to help improve a person's self esteem.
What is CCNB's favourite place in PITTWATER and why ?
As far as our favourite place across the northern beaches my personal favourite is Newport along the waterfront where the pier is because you can look across a sea of yachts and other pleasure craft. This is especially the case as the sun rises in the morning and sets in the evening. My hobbies are audio visual work and taking digital stills and HD video at these special times of the day is a treat that's hard to describe.
Does the CCNB have a motto' or favourite phrase it tries to live up to ?
Our mission statement at the beginning of this piece is a goal that everyone aspires to when helping people who need a helping hand no matter what it is.
"To provide appropriate community services creatively, efficiently and effectively."
Pittwater Community Hub
Shop 17, 20 Bungan Street, Mona Vale
T: (02) 9999-6062
Contact email: info@norbeachconnect.com.au
Website: http://www.northsideconnect.com.au/contact-us.html
Copyright Reg Barlow, 2012. All Rights Reserved.