April 8 - 14, 2018: Issue 355

Lycett, Joseph & Lycett, Joseph. (1817). [
Distant view of Sydney and the harbour, Captain Piper's naval villa at Eliza Point
] Retrieved from
http://nla.gov.au/nla.obj-138499223
Budawa
Aboriginal Signage Group
Celebrating the rich Aboriginal heritage of Sydney's north side
On Monday 9th April 2 pm at
Mona Vale Library the l
aunch of the first sign celebrating Aboriginal presence and heritage in our local area will take place. The event will include a
Welcome to Country, Smoking Ceremony and afternoon tea.
The Budawa Aboriginal Signage Group has been working with Northern Beaches Council and the Aboriginal Heritage Office to develop appropriate signage throughout the whole Northern Beaches area. Currently most existing signage refers to people and events since 1788.
Budawa formed in 2014 to work consultatively with Northern Beaches First Peoples local communities, organisations and Northern Beaches Council to develop a plan for Aboriginal cultural and heritage signage in our Local Government Area.
The Budawa Group includes direct descendants and representatives of the Aboriginal people of this area. The group is supported by the Aboriginal Support Group Manly Warringah Pittwater and Friends of Narrabeen Lagoon Catchment.
We Are On Aboriginal Land
We celebrate Aboriginal (Koori) heritage, culture, history, sites and stories and wish to share this place with all visitors and local inhabitants. Join us in respecting the natural environment, elders and our ancient Aboriginal culture.
The diverse Aboriginal clans that have custodianship of this area are:
Kayimai
(Manly, harbour),
Borogegal
(Bradleys Head),
Cannalgal
(Manly, coast),
Garigal
(Broken Bay),
Cammeragal
(Cammeray). Each clan or nation celebrates shared caring for Aboriginal sites, ceremonies, Dreamtime and food gathering.
The Sydney Metropolitan Land Council has legal responsibility for protection of Aboriginal archaeological sites. In NSW, all Aboriginal Archaeological Sites as well as Aboriginal Places of Cultural Significance are protected by government legislation. It is illegal to destroy or damage sites or objects. Please help us to preserve these sites.
Today, the Northern Beaches are home to many Aboriginal and Torres Strait Islander people from all over Australia and people from diverse cultural backgrounds. We can all embrace the custodianship of this beautiful place.
Aboriginal people have lived in NSW for 60,000 years. The earliest period for human occupation in the Sydney region is radio carbon date 14,700 BP (before present). On the northern beaches, between 10,500 and 6,500 years ago, Aboriginal people moved to higher ground as the sea level rose. The Darug People to the west allowed the coastal tribes such as the Guringai to occupy part of their land. There is a rock shelter in Avalon that has evidence of human occupation dated to 2,500 years ago. It has precious middens and fire hearths that contain hundreds of artefacts and animal evidence. An Aboriginal skeleton discovered at Narrabeen in 2005 was found to be about 4,000 years old. Northern beaches sites include: Burials; middens of shells, stone artefacts and tools, animal and fish bones; rock engravings, drawn and stencilled art in rock shelters.
Jessica Birk's artwork was used as the background of this sign. She is a proud descendant of the Yaegl people from The Clarence Valley in the Northern Rivers region of NSW. Born on the Northern Beaches, Jessica uses her art to explore belonging and heritage in the imagery of her work.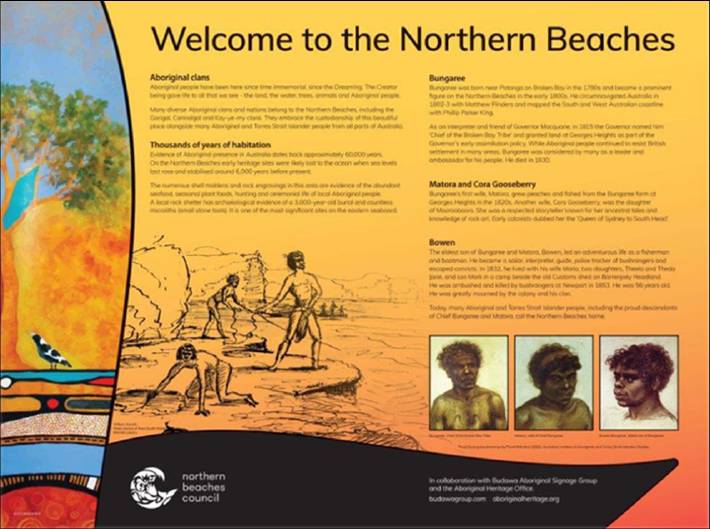 "Giving names that are meaningful actually brings that spirit to those places in the way that naming always has for Aboriginal people. The place is being curated, cared for and loved in the way it always has been." [Professor Jakelin Troy, Ngarigu academic, University of Sydney].
Budawa is collaborating with Northern Beaches Council and the Aboriginal Heritage Office to introduce signage across Sydney's Northern Beaches. Budawa is committed to community discussion about appropriate local signage and has held workshops and information evenings in the area. For instance: Budawa wants Aboriginal heritage acknowledged alongside existing signage for "Governor Phillip Park". For many Aboriginal people and their supporters, signage that neglects Aboriginal history, culture and continuing presence represents ongoing colonising.
There is an existing National Parks & Wildlife sign at Basin Track, West Head in Guringai Language:
Bikalabarley murraring walla giballee yaddung Guringai Wanangini Wahroong yennieubu
Let us / walk / together / in / Guringai / Country / as one.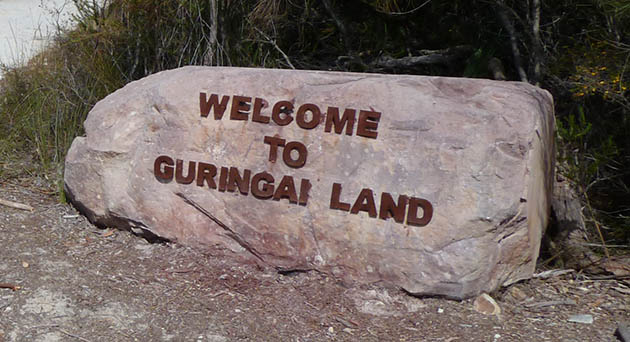 Guringai (Kuringai) speakers are thought to be inhabitants of northern Sydney and the inner eastern Harbour regions from 1817 onwards. Small pox epidemics had killed many Aboriginal people from clans such at Garigal in the first ten years of British settlement. Chief Bungaree, a Guringai chief from Broken Bay, was invited to establish a farm at Georges Heights on Sydney Harbour by Governor Lachlan Macquarie. He was accompanied by his wives Matora and Goosberry and several children, including Bowen who became a famous Aboriginal constable working and living on Pittwater at Palm Beach near the Customs building.
Guringai-speaking clans of about 40 to 60 people were made up of smaller extended family groups of perhaps a dozen people. Bungaree's family clan inhabited the north shore of Sydney Harbour, living along the coast from Kirribilli then north to Manly up along the northern beaches to Broken Bay and as far as Wyong.
The word for man or person is kuri (Koori) and kuringga, the possessive means 'belonging to kuri'. Ngai (ng/guy) means 'woman'. The name Guringai was coined by ethnographer John Fraser in 1892 as the original name of the tribal group was not known.
Of the clans: Kayimai (Manly, harbour), Borogegal (Bradleys Head), Cannalgal (Manly, coast), Garigal (Broken Bay), Cammeragal (Cammeray). The Cammeragal were considered by the first fleet author Collins as "by far the most numerous tribe of any within our knowledge" (Collins '1798 Manners, Etc. of the Natives of New South Wales', p.673). Richard Hill of the Aborigines Protection Board wrote that the "Cammera" people extended from the northern part of Sydney Harbour, "say from North Head to Lane Cove River or estuary, right away north to the Hawkesbury, and away east to the sea coast" (Hill and Thornton 1892). Cammeragal seems to have been a collective name for a strong alliance of clans on the north Harbour of Port Jackson.
We celebrate Aboriginal (Koori) heritage, culture, history, sites and stories and wish to share this place with all visitors and local inhabitants. Join us in respecting country, elders, custodians and Aboriginal culture and heritage.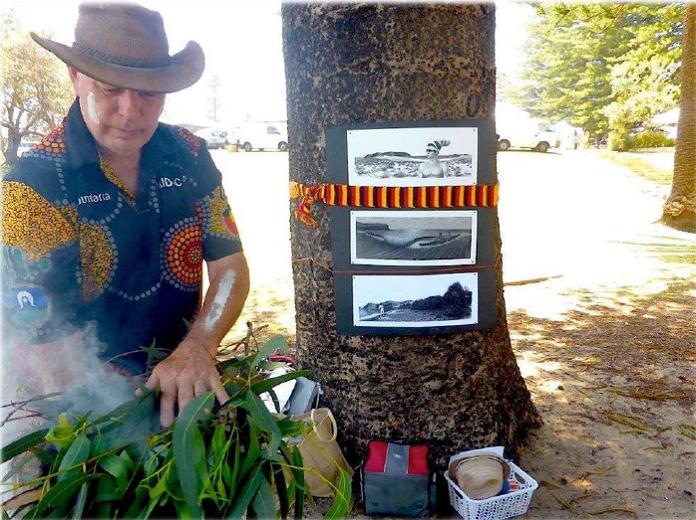 Smoking Ceremony (by Bungaree descendant Laurie Bimson) celebrating the life of Bowen Bungaree 1802-1853, Governor Phillip Park Palm Beach, 2016.

P O Box 1235, Newport 2106
Budawa acknowledges the traditional owners of the lands and the waters of this area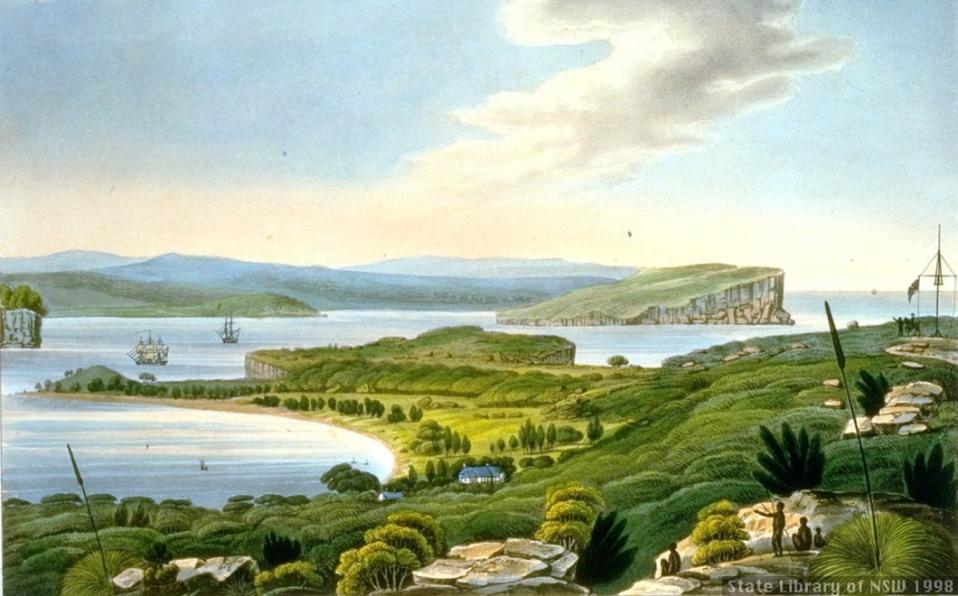 View of the Heads by J. Lycett, Image no.; 62864h
, courtesy Dixson Galleries State Library of NSW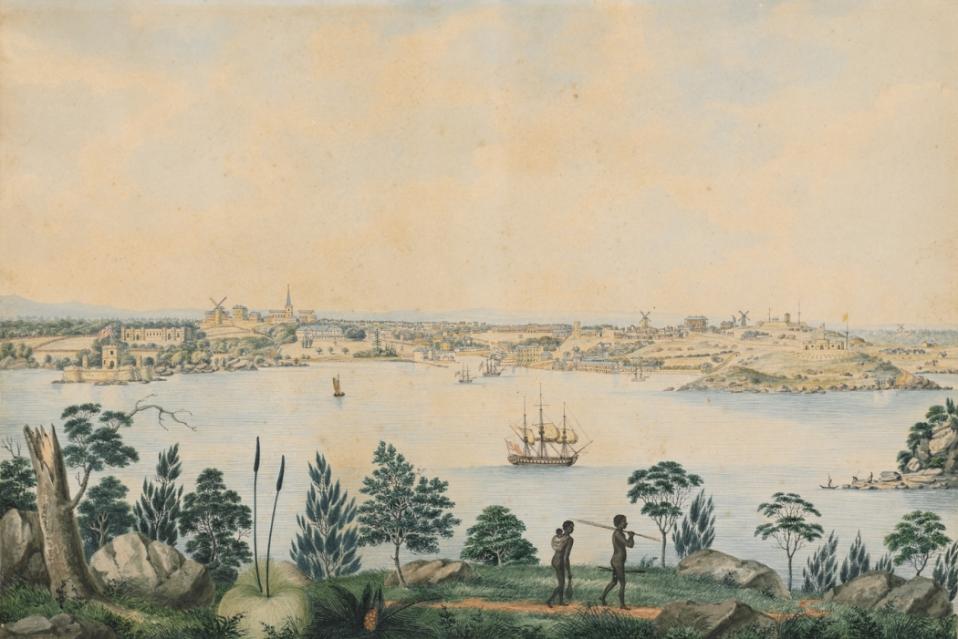 [Sydney from the North Shore], 1827 J. Lycett Image No.; a928340h, courtesy Dixson Galleries State Library of NSW