December 12, 2021 - January 22, 2022: Issue 522
bilgola SLSC hosts round 3 of sLS sNB Surf Boat Premiership + updated carnivals calendar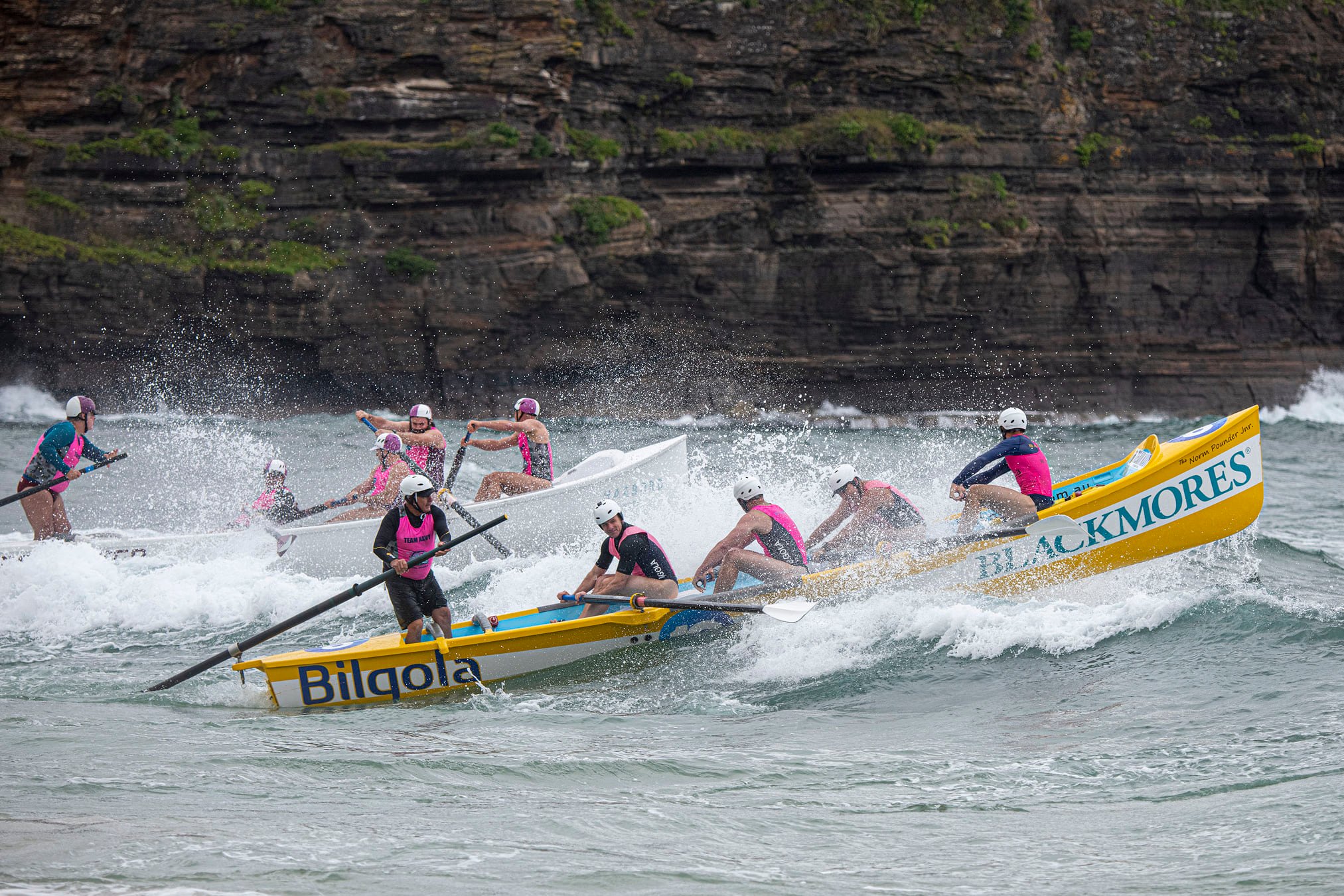 Blackmores Billy Boat Carnival was very successfully held on Saturday December 4 2021, with a large contingent of crews from Sydney Northern Beaches clubs as well as Maroubra (Sydney Branch) and Windang (Illawarra Branch). The conditions were small, but the shore dump made up for the lack of swell creating some interesting starts and finishes. A great day for all involved.
Thanks must go to the SLSSNB officials and the many volunteers from Bilgola.
Setup team: Craig Poppleton, Mark Scott, Dave Madew, Ian Turner, Karri Turner, Greg Wood, Mark Parsons, Norm Pounder, Mark Hooley, Grant Jacobs
First Aid: JP Mather and Caity Lowe
Jet Ski: Jarrah Turner
IRB Team: Greg Wood, Marc Bernard, Greg Franks, Bill Hawkins and Peter Finch and "Sponge" from Newport SLSC.
BBQ: Matt Evans
Blackmores Display: Zac Cracknell and Rowan Jacob.
The SNB Surf Boat Carnival at Bilgola is the last before Chrismas and follows on from the 22nd Annual Newport Surf Boat Carnival - November 20, 2021. Freshwater hosed Round 1 on November 13th.
Full results can be found on ASRL app on your mobile/tablet under 'all results'.
The winners were;
Under 19 Male - Collaroy Magnets
Under 19 Female - Avalon Beach Aperols / Mona Vale Venom
Under 23 Male - Palm Beach Plumbers
Under 23 Female - Collaroy Beastmode
Reserve Male - Collaroy Knights
Reserve Female - Windang Wenches
Open Male - Collaroy Big Macs
Open Female - Avalon Beach Brumbies
Coming up in Surf Life saving Sydney Northern Beaches branch events;
Sun Dec 12th - Junior Beach Carnival at North Narrabeen
Sat Dec 18th - Final Round Bennett Fast Five at Dee Why
Sat Dec 18th - Metro Beach Series Rd 3 at Cronulla; Surf Boats State Selection at North Cronulla
Fri Jan 7th - Palm Beach Masters (the Adrian Curlewis Twilight Carnival)
Sun Jan 9th - Junior Beach Carnival at Narrabeen
Sun Jan 9th - Young Guns Surf Boats at Collaroy
Sat Jan 15 - U19/U23 Boats at Queenscliff (selection)
Sun Jan 16th - Manly Nipper NATS; Reserves and Opens at Queenscliff (selection)
Sat Jan 22 - Australia Day Surf Boast at North Steyne
Branch Championships commence January 30th and run consecutive weekends until February 13th.
SLS SNB Branch's updated (November 2021) calendar may be access HERE
The State Championships commence Thursday February 24th and run until Sunday March 13th. These will be hosted here this season, as announced in November:
Over 21,000 competitors, spectators and volunteer officials will descend on Sydney's Northern beaches when the 2022 NSW Surf Life Saving Championships, proudly supported by Your local club, returns to metropolitan Sydney after five years based at Lake Macquarie.
Taking place from 24 February through to 13 March, the biggest event on the NSW surf sports calendar will see members from clubs across the state compete over an extended 12 days of fierce competition.
Queenscliff, North Steyne and Freshwater SLSCs will play host to what promises to be the biggest and best surf competition in years, starting with Junior Championships and moving through Lifesaving, Masters and Open Championships before closing with the always spectacular Surfboat competition.
Northern Beaches Council has thrown its support behind this major event and looks forward to welcoming competitors and families from all over NSW to the vibrant and iconic Manly area.
Northern Beaches Council Mayor Michael Regan said the event could not come at a better time for the local community.
"We are so proud to host the NSW Surf Life Saving Championships, showcasing Surf Life Saving at its very best," Mayor Regan said. "This major event will drive our local economy and support local businesses as they recover from the Covid-19 pandemic – especially our hospitality and accommodation providers.
"We expect thousands to attend competitive events across three big weekends and three spectacular locations – Freshwater, Queenscliff and North Steyne. We are so pleased that it will be an accessible and inclusive event so all people in the community can get involved.
"Supporting events like this is all part of our broader plan to grow our visitor economy, while protecting our environment and serving the best interests of our community."
The NSW Surf Life Saving Championships, proudly supported by Your local club, is the marquee event for Surf Life Saving NSW and is expected to bring an economic benefit well in excess of $10 million to the host region through accommodation, hospitality and associated local and visitor spend.
"We're very excited to be bringing this event back to Sydney," Surf Life Saving NSW President, George Shales said.
"We are looking forward to working with the local community over the duration of the Championships to add to the vibrancy of this historic stretch of beach. With three great beaches preparing to host thousands of people over the three-week period, we're certain that 2022 will produce the best event we've ever had."
The Championships will showcase the athletic abilities and core Surf Life Saving rescue skills of members from Under 9s through to Masters.
NSW leads the other states in surf sports and the Championships will be packed full of talent across all age categories and race disciplines.
Headlining the Open Championships will be names familiar to the sporting public such as champion Ironperson competitors Kendrick Louis (Manly LSC) and Jemma Smith (Newport SLSC) who both feature prominently on the national professional Ironperson circuit. They will be joined by specialists across all disciplines including former and aspiring Olympians for whom Surf Life Saving is still their greatest passion.
In keeping with Surf Life Saving NSW's commitment to inclusion and the previous success of such events in recent years, a series of Junior, Youth and Senior inclusion events in swim, board, wade, sprint and flags will be held for competitors aged seven and above who have a physical, intellectual, or sensory disability.
The NSW Championships is proudly supported by Your local club, the naming rights partner for the eighth consecutive year.
"The club industry has supported Surf Life Saving for over 100 years and is proud to continue that strong relationship," said Josh Landis, ClubsNSW CEO.
"Your local club is excited to sponsor the 2022 NSW Surf Life Saving Championships. It's a great opportunity to celebrate volunteer surf lifesavers and the fantastic work that they do."
The NSW Surf Life Saving Championships, proudly supported by Your local club, is expected to bring together more than 6500 competitors, all volunteer surf lifesavers, from over 100 clubs in NSW.
With State titles on the line, competitors aged 8 to 70-plus will fiercely contest the full range of events, from swim, ski, board and ironperson racing, through to beach sprints, flags, relays and surfboats. Other events include the Champion Lifesaver, first aid and rescue/resuscitation competition and of course the colourful and spectacular club March Past. - Report and photo by Surf Life Saving New South Wales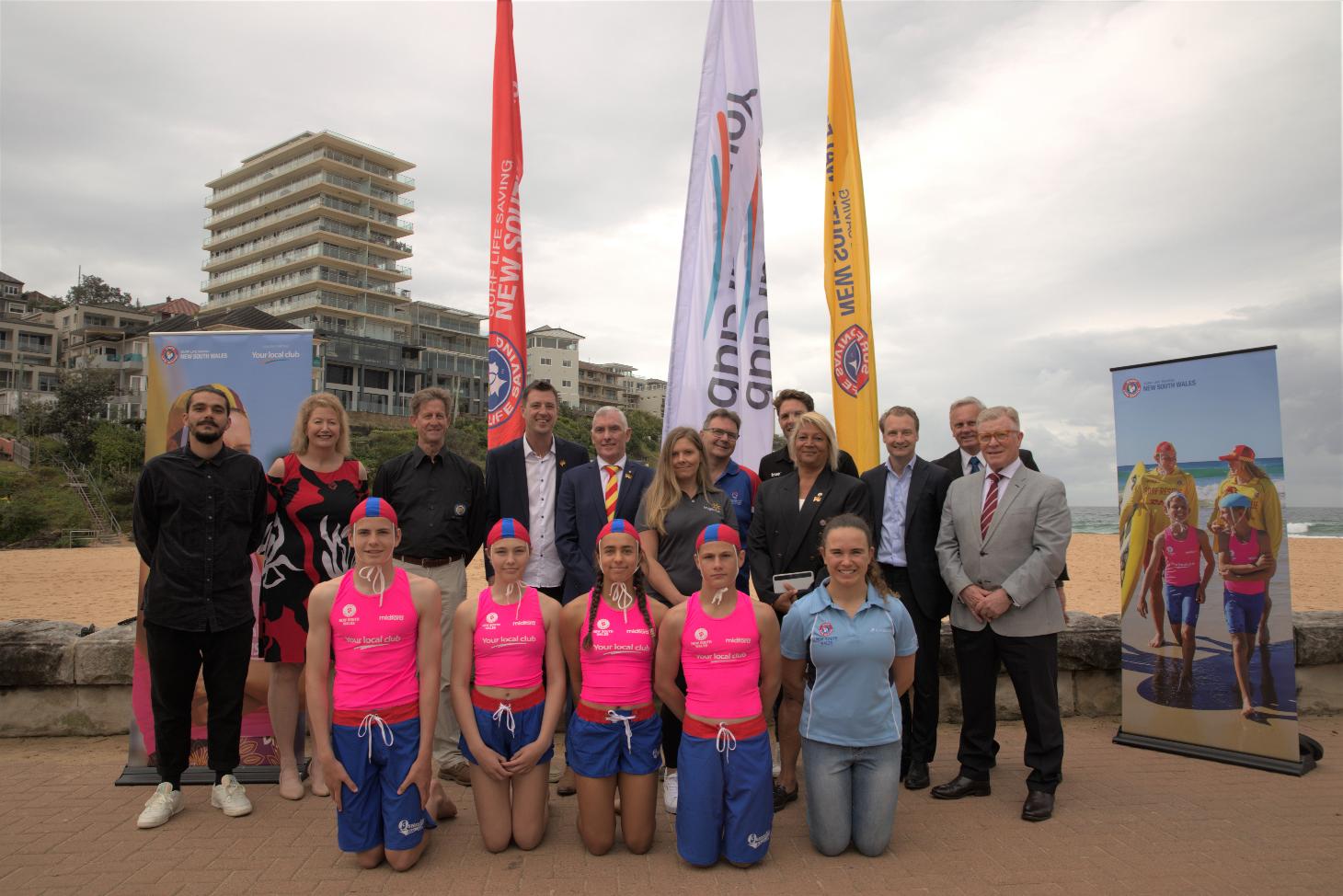 The Big carnival for Surf Boat members will be the 2022 Australian Surf Rowers League (ASRL) Open will be held at Cronulla's Elouera beach from 17 – 20 February 2022, with over 350 surf boat crews from almost 100 clubs expected to attend. This equates to thousands of surf life savers from across Australia who will head to Elouera for four days of exhilarating surf boat racing. This is the biggest stand-alone surf boat racing event in Australia with divisions of surf boat racing being contested including Open Male, Open Female, Reserve Male, Reserve Female, Under 23 Male, Under 23 Female, Under 19 Male, Under 19 Female and Masters. The event also features finals on all four days of racing including Masters finals on Thursday, the Interstate Championships on Friday, Reserve finals on Saturday and the remaining finals to be held during the action packed Sunday afternoon.
Some of the action from the 2021 Bilgola Boat Carnival, Photos courtesy of the great Malcolm Trees!, runs below.