January 28 - February 3, 2018: Issue 345

Northern Beaches Art Society

Northern Beaches Art Society
The Northern Beaches Art Society is a non-profit community organisation run by a volunteer group of people interested in visual arts. The Society aims to promote and encourage artists to exhibit their paintings through several art exhibitions held during the year. There is also a program of demonstrations and workshops held at the end of each month.
We welcome traditional and contemporary artists and non-exhibiting art lovers. If you would like to join our society please download the Application for Membership Form.
Membership is $50.00 for Exhibiting Members and $30.00 for Social Members. For New Members joining May to October it's $35.00 for Exhibiting Members and $20.00 for Social Members. The year runs from January to December.
The Northern Beaches Art Society was formerly known as North Shore Art Society.
The North Shore Art Society was formed back in 1946, in Mosman by Dr. Elliot Smith. Meetings and exhibitions were held at Mosman Town Hall till the mid 1980's when the Society moved to the Narrabeen Tramshed. Previously we held demonstrations and workshops at the Avalon Recreation Centre and the Scout Hall, Bilarong Reserve, Narrabeen. For 2018 we have moved to the Terrey Hills Community Centre, 15 Yulong Avenue, Terrey Hills.
The purpose of the Society has always been to gather together artists and painters of the North Shore and Northern Beaches for an exchange of views, to hold public art exhibitions and to invite other artists to give demonstrations and workshops.
Over the years many well known artists have been members – Sir Eric Langker, Allan Hansen, Molly Flaxman, Lionel Lindsay, Richard Ashton, Betty Belcher, Harold Hanke, Frank Spears, Fred Goss, Allan Waite, Charmaine McGregor, Alan Greave and Elsie Dangerfield and many others.
Usually three exhibitions are held each year at various venues when members can exhibit and sell their works. A percentage of the sales go towards the running costs of the Society. Exhibitors assist with the running of these events either by helping to set up or by being on duty during exhibition hours. These times are very sociable and great fun, while at the same time raising funds for the Society.
The Society runs demonstrations and workshops at the end of each month. These events are advertised in our monthly Newsletter. Members are charged a small fee to help cover the cost of hall rental and demonstrator fees.
As we are based on the Northern Beaches of Sydney, members decided that the more appropriate name of Northern Beaches, be adopted. So, as of June 1st 2017, we officially became the Northern Beaches Art Society.
The Northern Beaches Art Society acknowledges, recognizes and honours the support of our members by hosting art exhibitions throughout the year.
Members must be financial members of the Society and over 18 years of age.
Members need to complete and sign the Exhibition Entry Form and return it by the date advised in the Newsletter. (An Entry Form will be attached to the Newsletter prior to an Exhibition or can be downloaded from the website).
Entry Fee is non-refundable and is charged as per the Entry Form for each Section. This entitles you to submit paintings in each section as follows:-
– One painting in Section 1 (please bring your own easel)
– Three paintings in Section 2,
– Four paintings in Section 3,
– Section 4 an additional fee of $5 per painting
Please note the overall maximum size for paintings in each section is stated on the Entry Form.
Payment can be made by direct deposit into the society's bank account, by sending a cheque with your completed and signed Entry Form or by cash on the delivery of paintings.
Paintings should be presented in a professional manner with quality frames, clean matt boards and glass where appropriate and ready for hanging. D hooks on back with framer's cord accepted (no wire or ring hooks will be accepted). Wet paintings will not be accepted.
All paintings must be your own original works and for sale (no prints). Under Copyright Laws you cannot submit a painting for sale that has been copied in any way from another artist OR a painting that has been done during a workshop/demonstration, the tutor owns the image or subject of the painting.
Price Labels – adhere one to the bottom right hand side of the frame and tape another on the back of the painting. Your name should also be written on the back of the painting.

Roster Duty is mandatory for the safety of all artists' paintings. Please nominate your preferred roster time on your Entry Form.
Roster times for both days are generally 9 -11 am, 11 – 1 pm, 1 – 3 pm.
A nametag will be provided for you to wear when on duty. While on roster a keen eye and a friendly attitude to the public goes a long way to a sale.
Hanging of Paintings – Artworks will be selected and hung as space allows by a designated Selection Committee.
All paintings must be delivered and unsold works collected, in the times stated in the Newsletter.
A Commission of 25% is charged by the Society on all artworks sold.
Northern Beaches Art Society and its participating artists will take utmost care in handling paintings. Northern Beaches Art Society shall bear no responsibility whatsoever for any loss or damage to paintings entered into an exhibition. Participating artists agree to waive any claim to the Society in the case of loss or damage.
Download the Exhibition Entry Form below, complete and return to our Treasurer.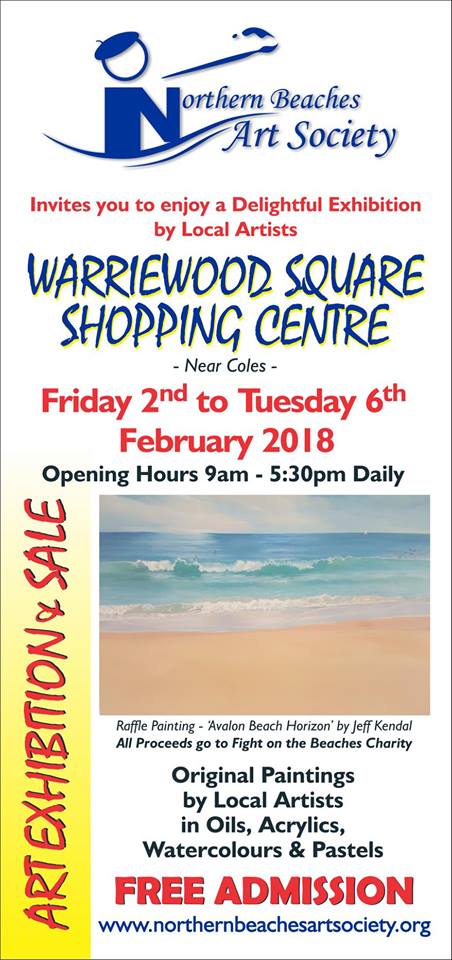 SPECIAL EXHIBITION & PROMOTIONAL EVENT
WARRIEWOOD SHOPPING CENTRE – Near Coles
2 to 6 February, 2018:

9am to 5:30pm daily
All Members of the Northern Beaches Art Society are welcome to enjoy a morning of Painting En Plein Air. Generally, we venture out on 1st and 3rd Thursdays of the month. We do take a break over winter, when it gets a little too chilly, and in the height of summer, when it gets a little too hot. We like to paint when the temperature is 'just right'!
We also have rainy day locations, for those who still want to brave inclement weather.
Plein Air Painting Months – 9:30am to 12:00pm:
February
March
April
May
June
September
October
November
Details of upcoming locations are published in the monthly Newsletters that all members receive.
Following our morning of painting, we head to a local café, nearby, for coffee and/or lunch. It's a great way to get to know your fellow members as well as enjoy artistic conversation.
All Members are welcome
First En Plein Air: 1st February, 2018
Workshops are held each month. These are either half day or full day events with skilled Artists guiding and informing Members.
Previous Workshops have included a range of topics and mediums including Pen & Wash Drawing Workshop with Joe Penn; Full day Watercolour Workshop with John Haycraft "Think before you Paint"; Pamela Fairburn Acrylics/Abstract; Acrylic Seascape Workshop with Gwendoline Kowalski; Watercolour Landscape Workshop with Guy Troughton.
72nd ANNUAL GENERAL MEETING – INC. FREE DEMO BY Graeme Biddel, Caricaturist/Cartoonist/Entertainer http://caricature.net.au/faqs/
Time: 9:30am to 11:10am/12:00pm
Venue: Terrey Hills Community Centre, 15 Yulong Avenue, Terrey Hills
Morning Tea Provided
SEASCAPE IN OILS WITH GEOFF BUCKLE
Venue: Terrey Hills Community Centre,
15 Yulong Avenue, Terrey Hills
Cost: $45pp Members; $60pp Non-Members
Geoff Buckle, who was the Judge at our last exhibition, is a landscape and still life artist based on the Northern Beaches of Sydney, Australia. Spending much of his early childhood sailing with his father as members of the Royal Sydney Yacht Squadron, Geoff quickly grew to love Sydney's picturesque harbours and beaches.
In his near four decades of painting Geoff has worked with many well-known and respected Australian Impressionist artists including John Santry, James Wynne and more recently John Wilson. He has exhibited in galleries around New South Wales and Queensland. Geoff has also held solo exhibitions and is an exhibiting member of the Ku-ring-gai Art Society, where he was recently awarded First Prize for Oils at the 48th Annual Art Awards Exhibition.
Though having developed his own impressionistic style, painting the ocean and the countryside has remained a constant passion for Geoff. He continues to produce inspired work whether painting plein air or in his northern beaches studio.
Keep up to date with upcoming Events and Workshops by visiting:

From The Pages Of The Past
Almost the same fear to express emotional reactions is shown, in the paintings of the
North Shore Art Society
at the Mosman Town Hall.
Suburban art exhibitions necessarily are of limited-standard, so they should be doubly careful what they display. Many visitors will not be accustomed to art shows and the ideas thus formed may sooner or later reflect upon the community.
It is far better to select loan exhibitions from the best painters in the State.
However, Mosman, which recently held an art exhibition, is to be commended for its interest.
Outstanding in this exhibition is "Lane Cove River," by Enid Cambridge, which suggests the mists and the fleeting masses of trees so essentially English in character. It conveys a lyrical comprehension missing from Freda Robertsha's inflexible "Minto Landscape." Mistiness realistically presented takes the place of lyricism in Lance Solomon's "Mulgoa Landscape," a scene emasculated with milky tones.
"The White Bridge," by Eric Langker, has a mellow air, but "Interior," by John Baird, while technically very assured, savours too much of magazine illustrating. Both his "Ermington" and T. Rafty's "Stranded Barge" have the charm of rapid notation.
Other exhibitors include Richard Ashton, Howard Ashton, H. E. Badham, Mary Edwards, Alan Grieve, H. A. Hanke, and Douglas Pratt. At Mosman(
1947, October 28
).
The Sydney Morning Herald
(NSW : 1842 - 1954), p. 9. Retrieved from
http://nla.gov.au/nla.news-article18038719
The North Shore Art Society is arranging an exhibition of pictures, including a memorial panel of work by the late Harry Wann
, in the small hall, Mosman Town Hall, from Monday, April 28, until May 10. ART SHOW (
1952, April 23
).
The Sun
(Sydney, NSW : 1910 - 1954), p. 5 (LATE FINAL EXTRA). Retrieved from
http://nla.gov.au/nla.news-article230710950