November 28 - December 4, 2021: Issue 520
Batteries creating fire risk when tipped to landfill at Kimbriki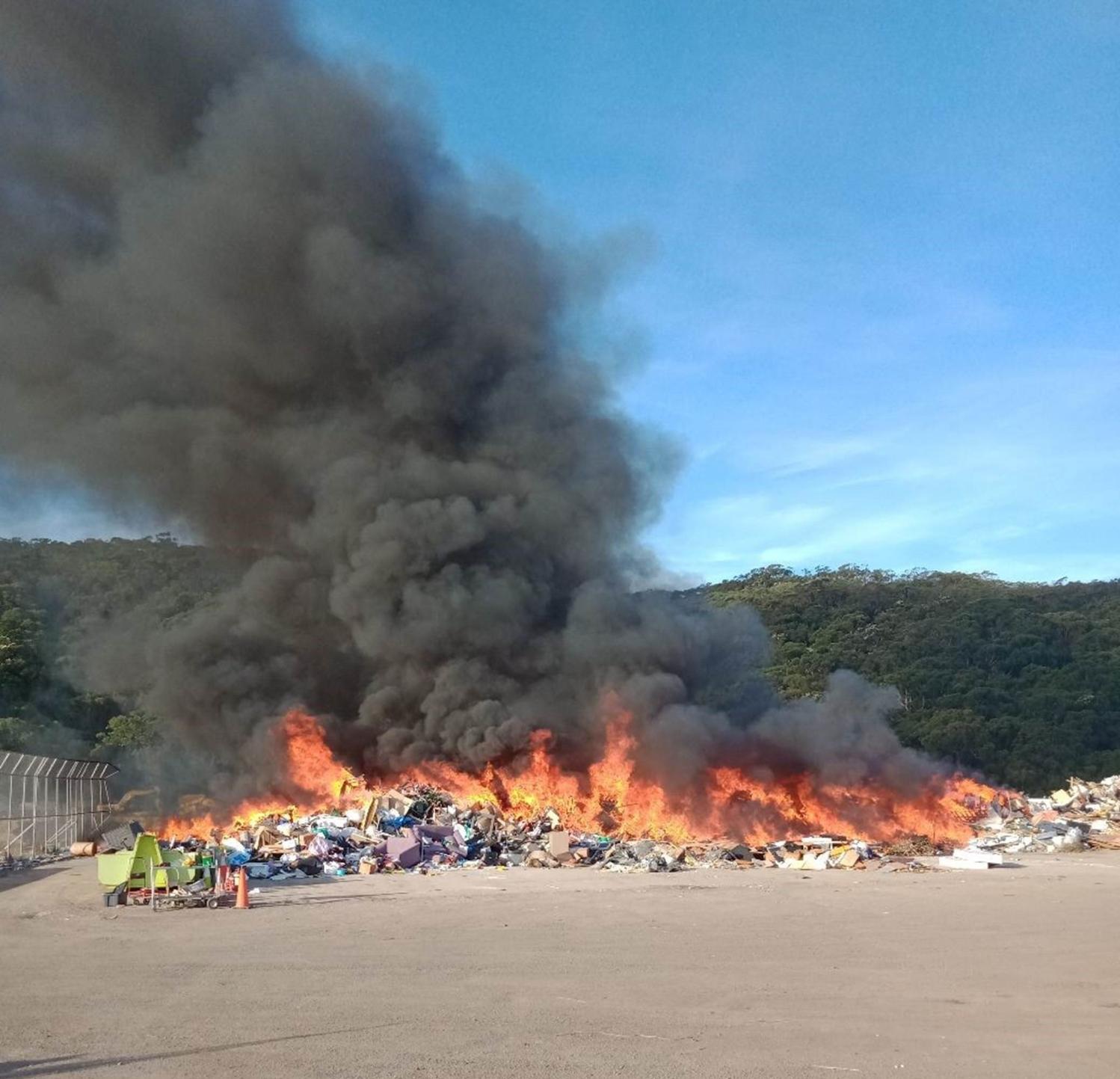 Photo: Fire at Kimbriki Mixed Waste to Landfill Drop Off Area in 2020 caused by battery left in discarded power tool
Kimbriki is appealing to the local community to ensure that all batteries are removed from household items prior to tipping at the Mixed Waste drop-off point following an increase in "smouldering events" onsite.
Over the last few months Kimbriki has experienced a rise in incidents caused by batteries being crushed and overheating in the landfill cell. Whilst recent "smouldering events" have been detected early and were easily doused to prevent a fire, in 2020, one battery left in a discarded power tool ignited a fire in over 50 tonnes of waste at Kimbriki sending a plume of smoke over neighbouring suburbs. Fortunately, the fire was brought under control by Kimbriki staff and the RFS before spreading to other areas and no injuries were reported.
Kimbriki CEO Peter Davis said, "these incidences are on the increase and with the warmer summer months approaching it is essential that we raise the community's awareness around the dangers of tipping items containing batteries at Kimbriki. These battery cells are extremely volatile and can start a fire by being punctured or crushed when being compacted for landfill."
Mr Davis outlined that "the community can help us to alleviate the risk of these smouldering events and potential fires by ensuring that they remove any batteries or battery packs from the following items before tipping them at Kimbriki:
Home appliances
Battery powered tools
Remote control toys
Vacuum cleaners
Electric bikes and scooter with a battery pack
Mr Davis thanked the community for their vigilance, noting that "at Kimbriki we are very fortunate that our community generally is very aware of what can and cannot be tipped at Kimbriki, however the challenge with batteries is that often don't realise that the item being tipped contains a hazardous battery".
If residents who plan on tipping items at the mixed waste to landfill drop-off are not sure whether they contain a dangerous battery, please ask a Kimbriki onsite team member who are always present at the mixed waste drop-off point before tipping the item. They will be able to inform you if there is a risk and how to best remove the battery and eliminate the risk.
____________________________________
Kimbriki Environmental Enterprises Pty Ltd (Kimbriki) is an innovative waste and recycling centre on Sydney's northern beaches. The Kimbriki site receives over 330,000 tonnes of waste annually, with close to 80% currently being recycled into products such as mulch and gravels. Kimbriki is owned by Northern Beaches Council (96%) and Mosman Council (4%) and works with its community, shareholders, employees, partners and the waste industry to deliver and promote efficient services that reduce waste to landfill and increase resource recovery. Kimbriki aims to be a centre of excellence for environmental services associated with the generation of waste and to provide education to the community.