October 23 - 29, 2016: Issue 286

Pittwater Pinks Dragon Boat Club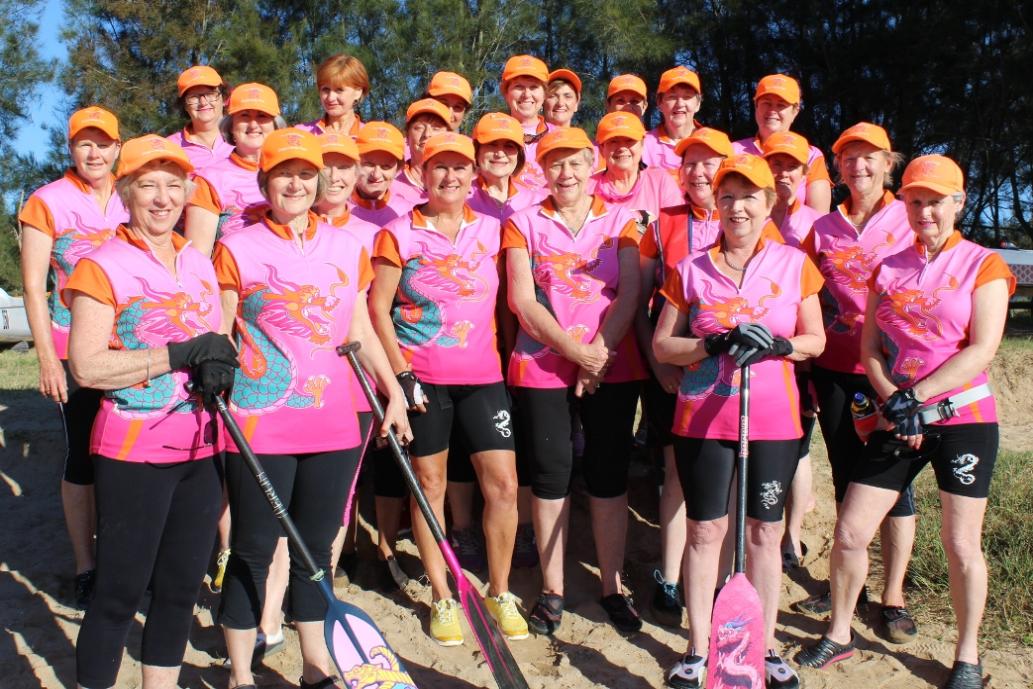 Pittwater Pinks Dragon Boat Club
October is Breast Cancer Awareness Month.
According to World Health Organisation figures cancer remains one of the highest causes of death worldwide, with the 5 most common sites diagnosed in women being breast, colorectum, lung, cervix, and stomach cancer. In men the 5 most common sites of cancer diagnosed in 2012 were lung, prostate, colorectum, stomach, and liver cancer. [
WHO
]
In 1996 Sports Medicine Physician, Dr Donald McKenzie, from the University of British Columbia in Canada went against the then prescribed norm that women diagnosed with breast cancer should avoid upper body exercise and in doing so discovered that by following a special exercise and training program, women could avoid
lymphedema
and enjoy active, full lives. He chose dragon boat paddling as that activity as this involves repetitive use of the upper body. His 3-month dragon boat training program was carefully monitored by a sports medicine physician, a physiotherapist and a nurse. Dr McKenzie's theory was proven correct. No new cases of lymphedema occurred and none of the existing cases became worse. [
IBCPC
]
What's more, the women stated the added the benefits of camaraderie and support from those going through or having gone through a similar experience, along with gaining fitness, happiness and healthiness and a means to raise awareness about breast cancer survivors could be never be measured.
As one Australian doctor recently stated, among many advocates: 'Regular exercise has been demonstrated to not only hasten recovery from breast cancer treatment, but it may also reduce the risk of recurrence. Dragon boating has positive benefits on muscle strength, body composition, self-esteem, and the participants' quality of life. Participating women also have the opportunity to form lifelong connections with other breast cancer survivors, and promote awareness of breast cancer through the community.'
That same year, 1996, those first 24 volunteers for Dr. McKenzie's program knew dragon boat paddling could become a means to raise awareness of breast cancer and of the ability of survivors to lead normal lives. They named their team '
Abreast In A Boat
' and invited other survivors to share their exciting experience.
Abreast In A Boat
was established. Its membership grew and involved more and more breast cancer survivors; and then later on inspired new teams to be formed. This journey continues in this, its 20th year, with a mission of: "
We paddle to raise breast cancer awareness and to demonstrate that women living with breast cancer can lead full and active lives
."
The International Breast Cancer Paddlers' Commission or
IBCPC
holds a seat in the International Dragon Boat Federation (IDBF) Commission Chair under Protocol, Culture and Heritage Commission (PC&HC). IBCPC governs the BCS Participatory Festivals and the Combined Racers Division in the Club Crew World Championships (CCWC). This division is open for entry for Breast Cancer Survivors Crew (BCS), All Cancer Survivors Crew (ACS), and Paradragons/Adaptive Paddlers Crew (APC).
The International Breast Cancer Paddlers' Commission Participatory Dragon Boat Festival or IBCPC PDBF is held every three or four years. The first race took place in Vancouver, Canada (2005). The succeeding venues were: Caloundra, Australia (2007), Peterborough, Canada (2010), and Sarasota, Florida, United States (2014). The next event will be held in Florence, Italy from
July 6 to 8, 2018. Early bird registrations were all filled by October 18th this week.
Across the world there are 183 IBCPC Member Teams as of October 2016. In Australia there are 34 teams.
We have a resident chapter of this wonderful enterprise - the Pittwater Pinks Dragon Boat Club, a great group of women first met when the Bei Loon Dragon Boat Club was a
Profile
feature.
The girls are taking part in
Dragons Abreast Australia Festival
at Cockle Bay, Darling Harbour, on Saturday October 22nd
as we finish this page
. This is the 9th
annual Dragons Abreast Australia Festival and 35 teams took part.
Two weekends ago the Pittwater Pinks Draon Boat Club took part in another regatta and came home with some medals.
They went to Florida in 2014 and are most
definitely
going to Florence in 2018!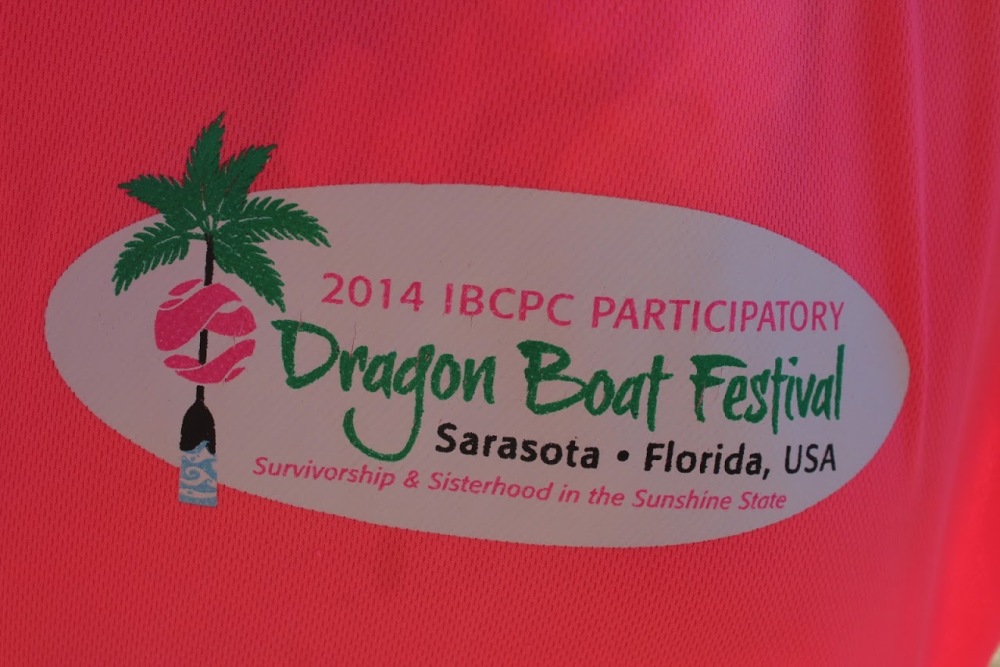 Florida 2014 shirt worn by one of the girls at Bayview for paddle session
When we went to visit them at Bayview pre a Sunday paddling session you begin to understand something
positive
- something incredibly great is going on here... in tiny moments that add up to minutes, hours, years...
'One girl is getting married...' they laugh
'One girl is paddling without a wig this week...' another beams
'Yes, this is the first time in a while I can paddle with my own hair ...and look, my own nails too, that's been months...'
'You're getting there...'
'I'm definitely getting there....'
We're getting there... and won't stop trying.
The girls get in their Pittwater Pinks Dragon Boat... a count takes place, each member sounding off a number until...
'22 in the boat!' from the sweep
The Pittwater Pinks girls are also about support, about friendship, about relaxing and letting off steam - and this calls for social functions - whether it's a coffee or cool juice after a paddle session, or something a little more fancy, such as nails, hair, dress, makeup, perfume and off to the races we go...
The Pittwater Pink Ladies are celebrating Oaks Day this year with a special fundraiser for the Pittwater Pinks at The Beach Club, Collaroy on Thursday the 3rd of November. Oaks Day, traditionally acknowledged as 'ladies day' in Melbourne and at venues throughout Australia, is your chance to dress up to the nines, have a wonderful time and sidestep that end of Melbourne Cup day messiness. With a two course meal, prize for best dressed and that great view, and one step closer to the weekend, Oaks Day this year is sure to be one worth celebrating!
This week we get to celebrate The Pittwater Pinks Dragon Boat Club with a small insight into this great local
IBCPC Member Team - our thanks to Wynette and Angie for their help in putting this page together
: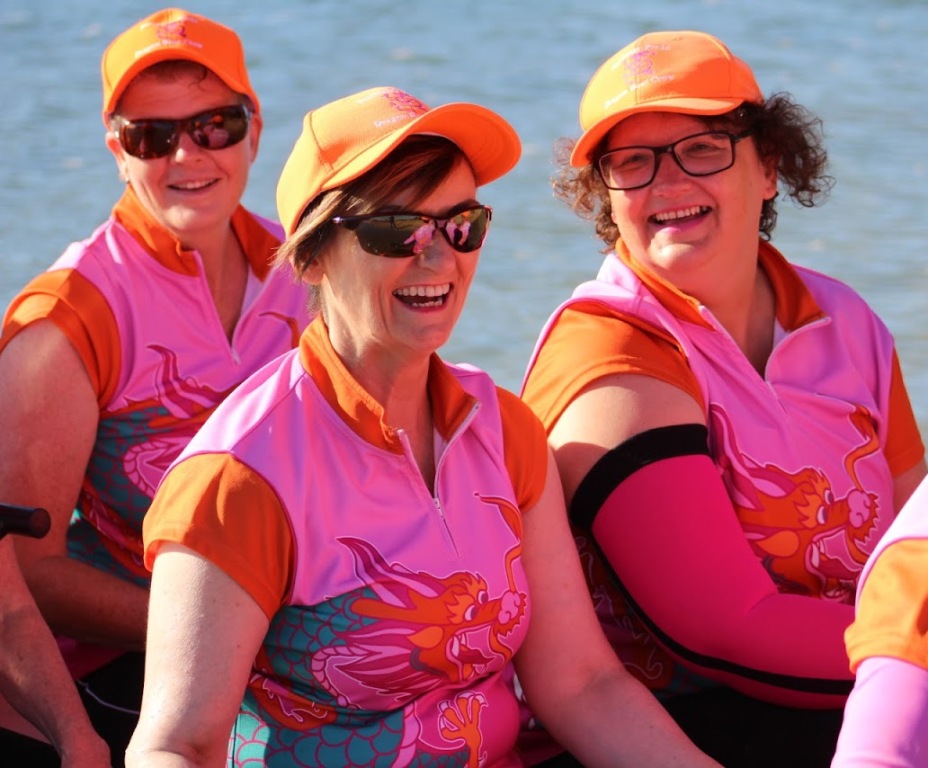 About the Pittwater Pinks Dragon Boat Team
We are a friendly team of breast cancer survivors who come together each Sunday, paddling on the beautiful waters of Pittwater, Bayview. Our emphasis is on fun, fitness and friendship. We hope after three guest paddles you'll join our club and enjoy being a "Pink".
The Pittwater Pinks are an integral part of the
Bei Loon Dragon Boat family
. Solely made up of breast cancer survivors, the team is a mixture of paddlers from social to competitive. If you are are a breast cancer survivor there will be a place for you in the team.
A fantastic group of ladies who get out on the water and enjoy life after cancer. They don't dwell on the past or even talk about it, but make the most of their new future. A lot of the survivors have never been involved in group sports before let alone ongoing physical activity but it doesn't take them long to catch the dragon boating bug and build up their fitness and friendships. The Pittwater Pinks have many events off the water as well which helps with the camaraderie. They compete as a team on race days and sometimes also join Bei Loon in the mainstream boats.
Social or serious - it's up to you:
Training is every Sunday 8am to 10am all year round.
During summer extra training is on Tuesday and Thursday 6pm – 7.30pm.
During winter extra training is on Wednesday 6am – 7am.
Arrive 15 minutes beforehand to catch up with each other, join in the gentle warm up exercises and for those who are able, help take the boats into the water.
All members must be able to swim 50 metres, if not, a safety vest must be worn at all times on the water. Please ask Team Manager Glenda Rogers for the use of a club vest.
We meet in Rowland Reserve, Bayview. You'll find the boats nestled between the boat ramp and the dog park. Parking permits are not valid in Rowland Reserve, pay and display only. Free parking is available on the street or near Bayview tennis courts.
Be prepared….paddles up!
A paddle and gloves will be lent to you. Wear a tee shirt or quick dry top, quick dry shorts or gym pants, reef/aqua shoes or old sneakers, a cap, a bottle of water (a bottle in a waist holder is ideal, available from sports stores), sunscreen, sunglasses and a towel for after.
When you decide to join the Pinks, custom fitted paddles, gloves and saddle seats can be purchased from local dragon boat paddling outfitters. Give them a call for friendly advice.
Registrations for the Pittwater Pinks are open all year round.
On joining Pittwater Pinks you will become a registered member of Bei Loon Dragon Boat Club (Bei Loon). You'll be contacted by Siew McKeogh Bei Loon Registrar on how to register. Club membership fee is $150 and Dragon Boats NSW (DBNSW) fee is $115.
We're proud to wear our team uniform. It's available to purchase, the shirt is $55 and the cap is $20. Please ask Uniform Co-ordinator Brenda Davie or Team Manager Glenda Rogers.
Our team meetings are held approximately every 6 weeks, 7pm at The Beach Club, Collaroy. Some members enjoy dinner before the meeting or stay for a chat after. As the Beach Club is our major sponsorship partner we ask that you join the club at your first meeting. Membership subscription is 1 year $10, 3 years $25 and 5 years $40.
Where we fit with Bei Loon:
Pittwater Pinks are members of Bei Loon Dragon Boat Club. Bei Loon and the Pinks train together and compete together. Wearing a Bei Loon shirt you can experience fast and furious racing with a touch of friendly rivalry competing at DBNSW regattas. The Pinks also compete in various cancer survivor and supporter regattas held in Darling Harbour Sydney, interstate and overseas. This is where we shine, celebrating our friendships, how far we've come since diagnosis and all things wonderful about being a dragon boat paddler.
After Sunday training we stroll around to Bayview Marina for a coffee and if you're peckish, some breakfast.
The Pinks are a very social team and together with Bei Loon's social calendar there are many fun events to attend throughout the year.
We keep in touch by email and Team App. Find Team App in the App Store and download to your mobile. Search for www.teamapp.com on your computer and save in your favourites bar. Please ask Coach Sal Carmody or Team Manager Glenda Rogers if you need assistance. Team App is a great way to RSVP to events and communicate in the open chat room. You'll also be emailed a team contact list.
Pittwater Pinks: Coach - Sal Carmody, Manager - Angie O'Reilly, Assistant Manager - Fran Foster, Treasurer - Jenny Jones, Secretary – Moira Payne, Sponsporship - Megan Tozer, Pink Liaison to Bei Loon - Angie O'Reilly, Friendship - Sue Spargo & Iris Cox.