December 12, 2021 - January 22, 2022: Issue 522
Sydney Wildlife and the Mobile Care Unit: Our Year in Pictures 2021
Nobody will deny that 2021 was a challenging year. Most people list the seemingly endless lockdowns as the most trying part of getting through the year intact. Oddly, however, the wildlife probably enjoyed a few new freedoms when the humans were locked away. The roads were not as scary to cross when the traffic decreased considerably. People who were incarcerated in their homes were suddenly finding joy in the colourful birds that arrived on their balconies and window-sills, rather than concentrating on the negatives. People became more tolerant towards the visiting wildlife as they provided entertainment and an escape from the endless online meetings. And with all the extra time that people were spending in nature trying to keep their mental health in check, a new appreciation for all things wild and free was born.
Of course, the wildlife also had to navigate a few new challenges. With humans being home more, a spike in DIY landscaping and extreme gardening resulted in a multitude of whipper snipper injuries and habitat disturbance, resulting in displacement. And the introduction of 'Lockdown Pets' into their territories caused a fair bit of havoc. Not to mention the sudden onslaught of humans out 'exercising' in their droves in bushland areas and lakeside regions.
These new challenges meant that wildlife was still in need of help and our team was there to provide the essential services required.
_____________________________________________________________________________
In early January - as is customary - the Mobile Care Unit did the annual pilgrimage to Waverley for the Future Vet Kids Camp. We always present at this event as we like our vets-of-the-future to start with an appreciation for ALL animals, not just companion animals. We teach them about restraint, examination and treatment of wild animals which varies a greatly compared to dealing with pets.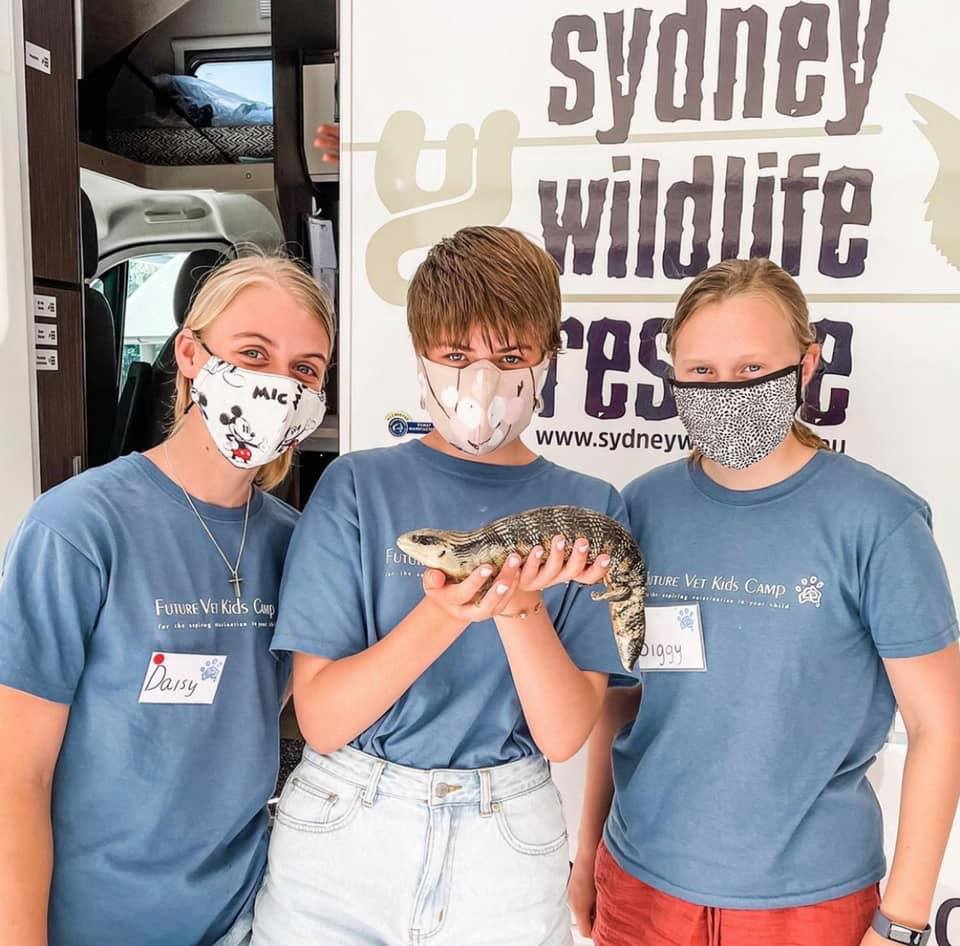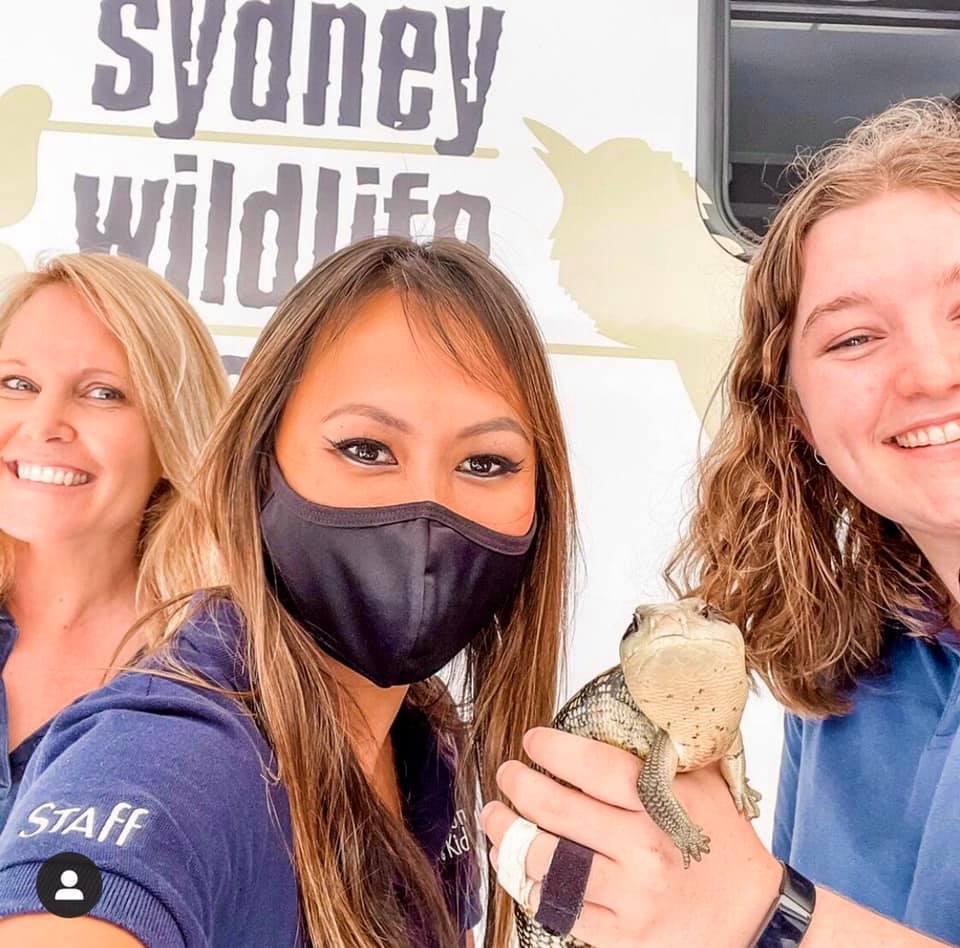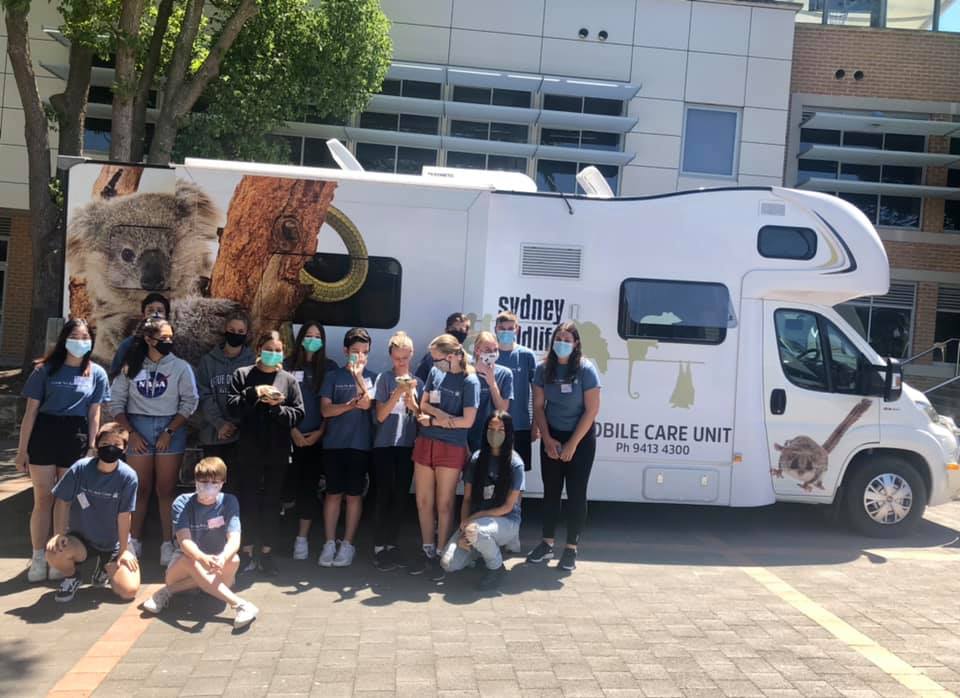 It was a great year for awards for our team. On Australia Day, two of our Sydney Wildlife Rescue members won Australia Day Awards for their services to wildlife in a lovely ceremony led by our esteemed Mayor, Michael Regan, and held at the Glen Street Theatre. Georgie Campbell and Lynleigh Greig were both honoured to have been chosen.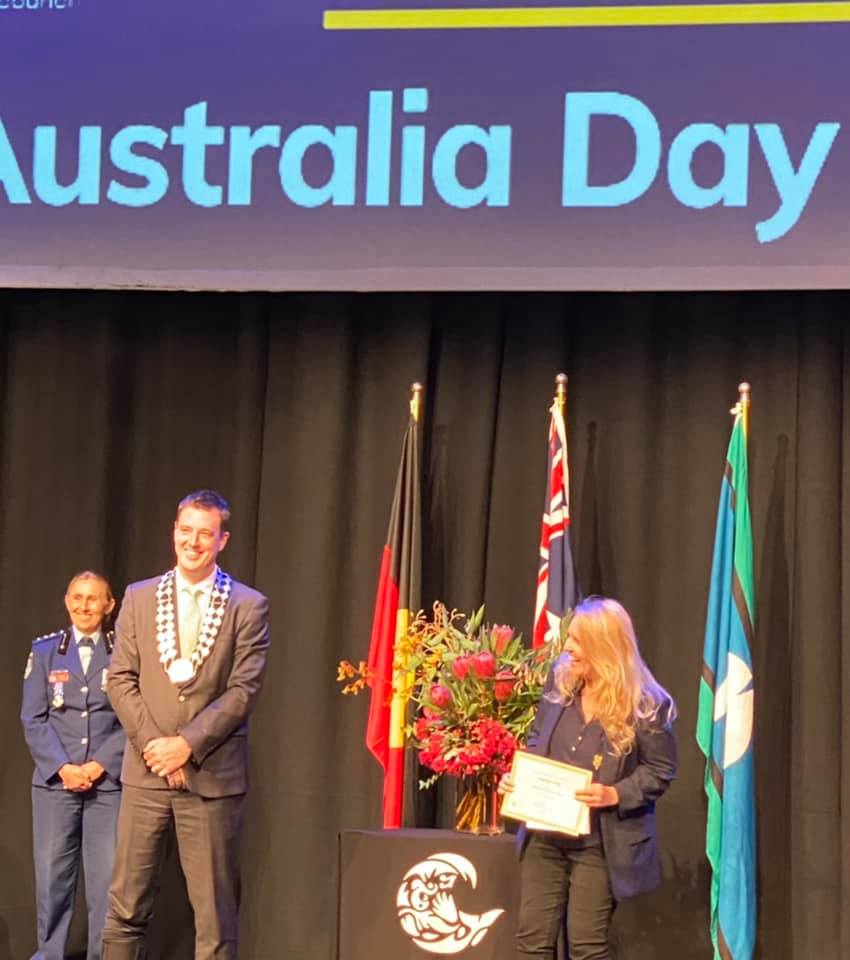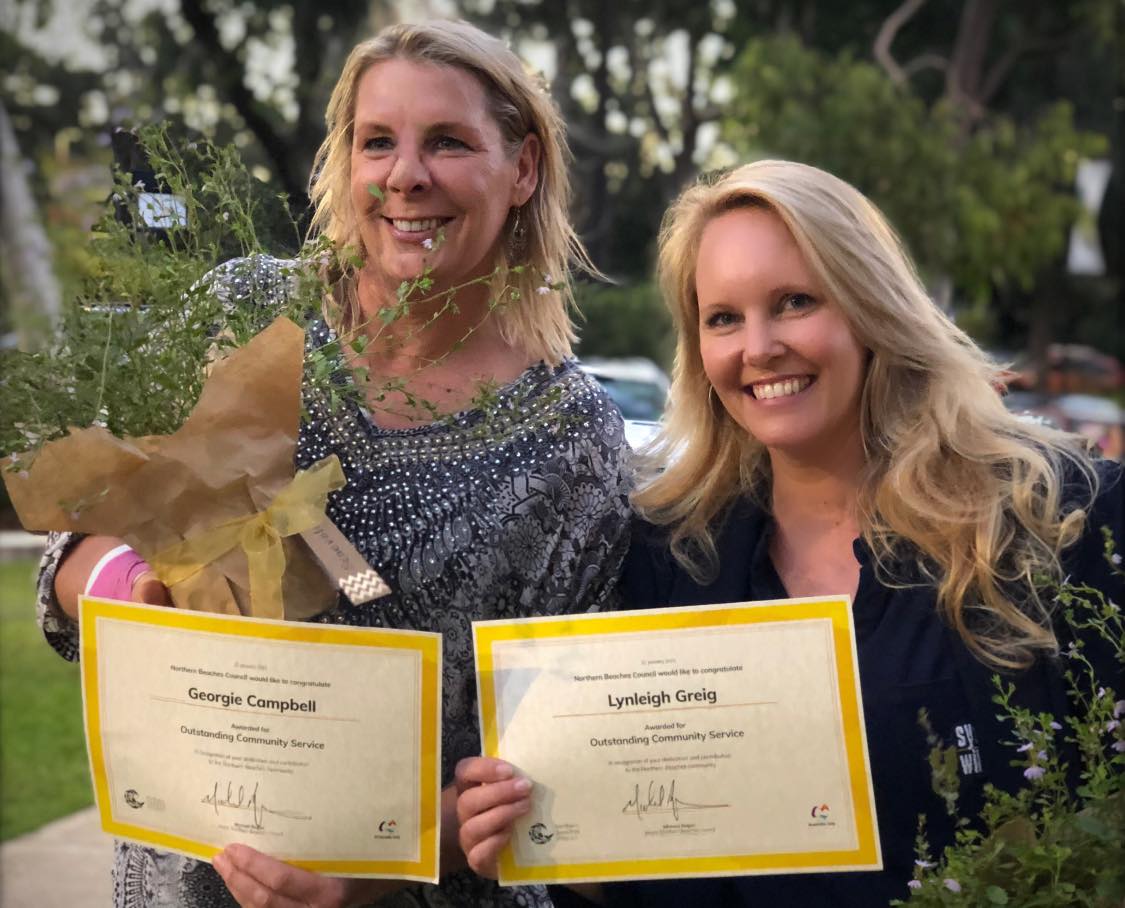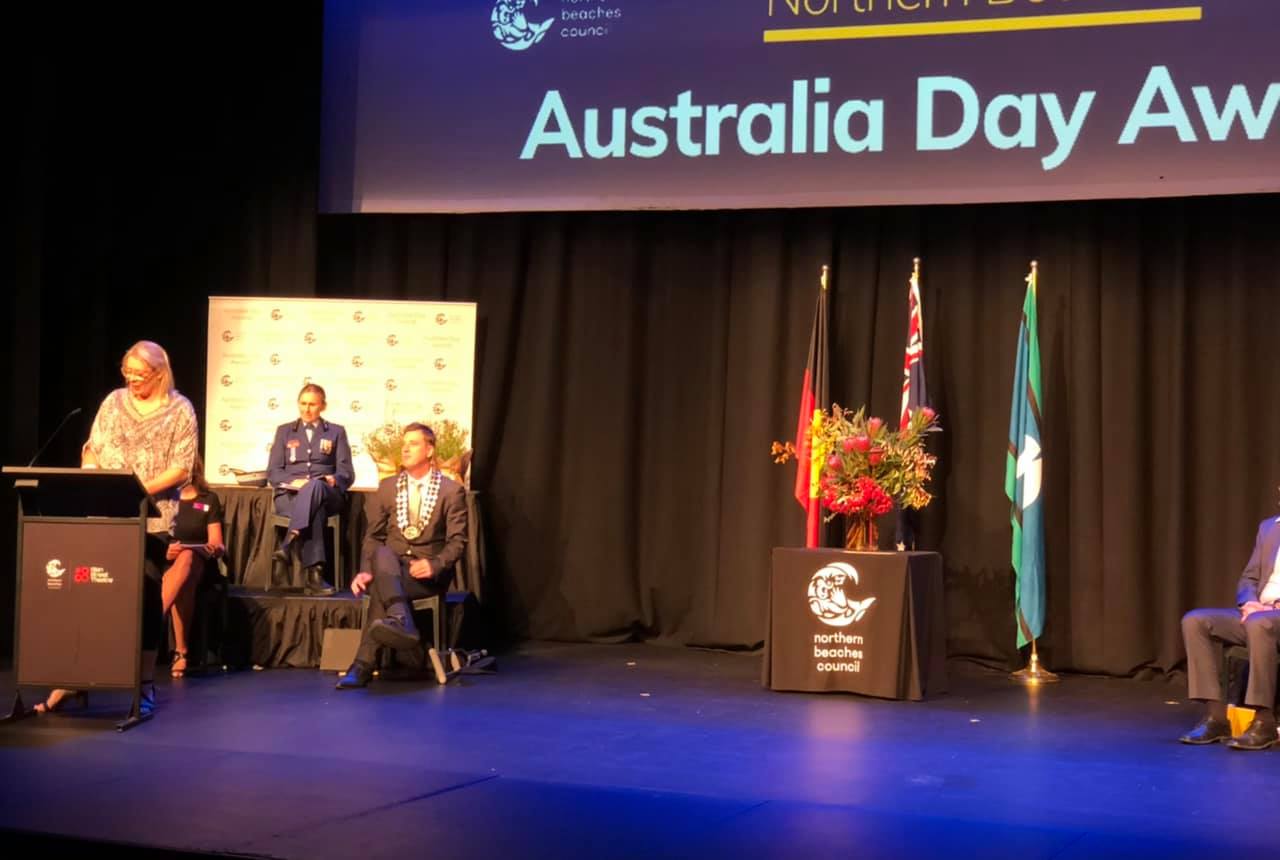 In March, Lynleigh won the Pittwater Woman of the Year Award for Services to Wildlife and in May, three of our Sydney Wildlife Rescue members won Eco Awards – Justine Steward, Joan Reid and Anne Jackson - for excellence in environmental services. Whoot! Whoot!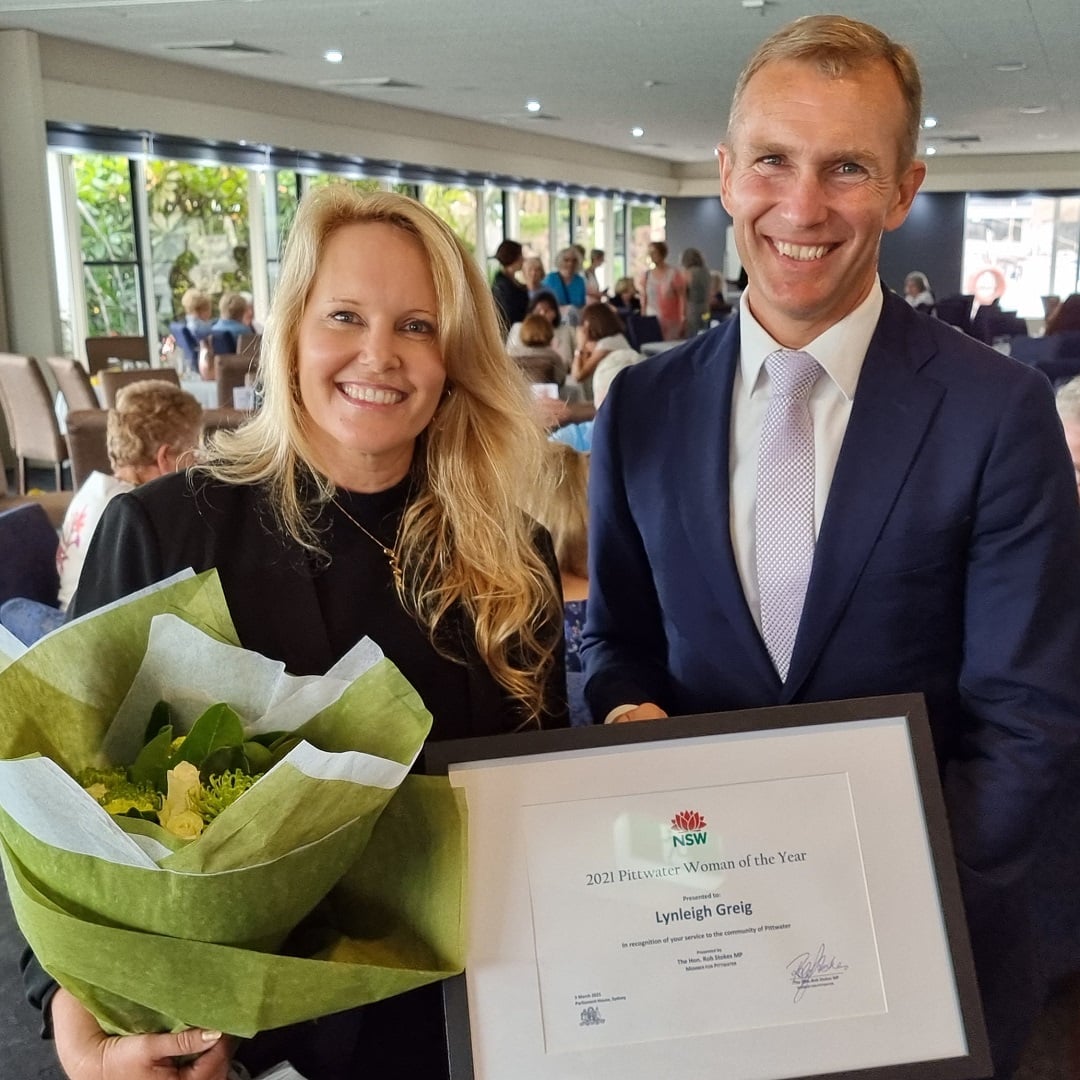 Lynleigh and Rob Stokes, MP for Pittwater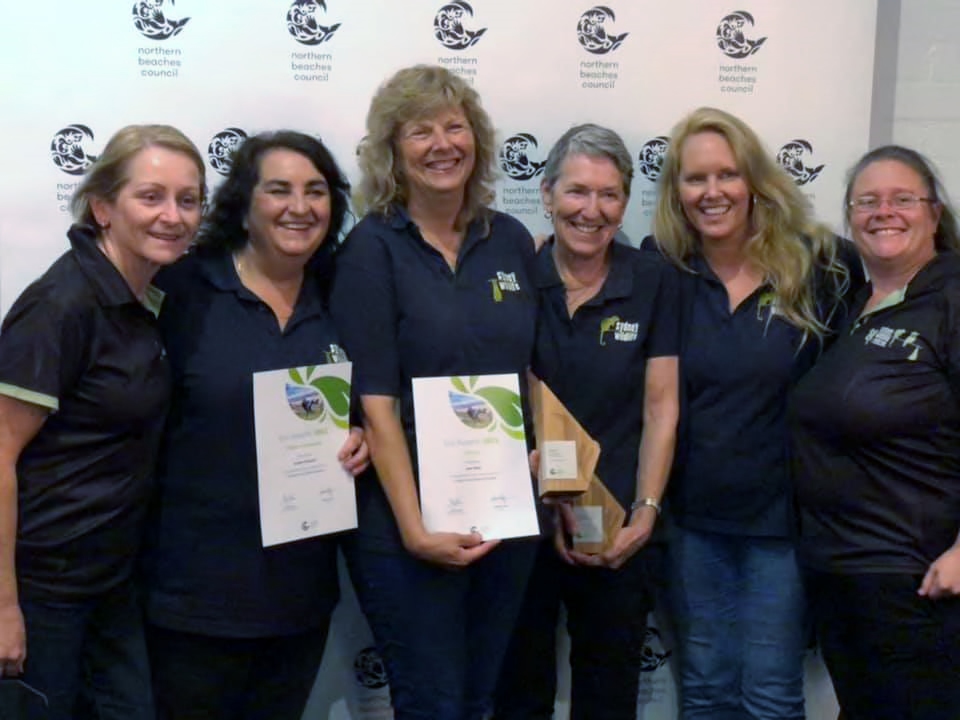 Throughout the year, we relied heavily on our amazing Water Police and National Parks staff to assist our members with boat-access-only rescues. Several injured or sick wallabies required darting and transportation back to the mainland for treatment. We also needed help releasing a beautiful yellow-bellied sea snake back into open water after she had been through rehabilitation.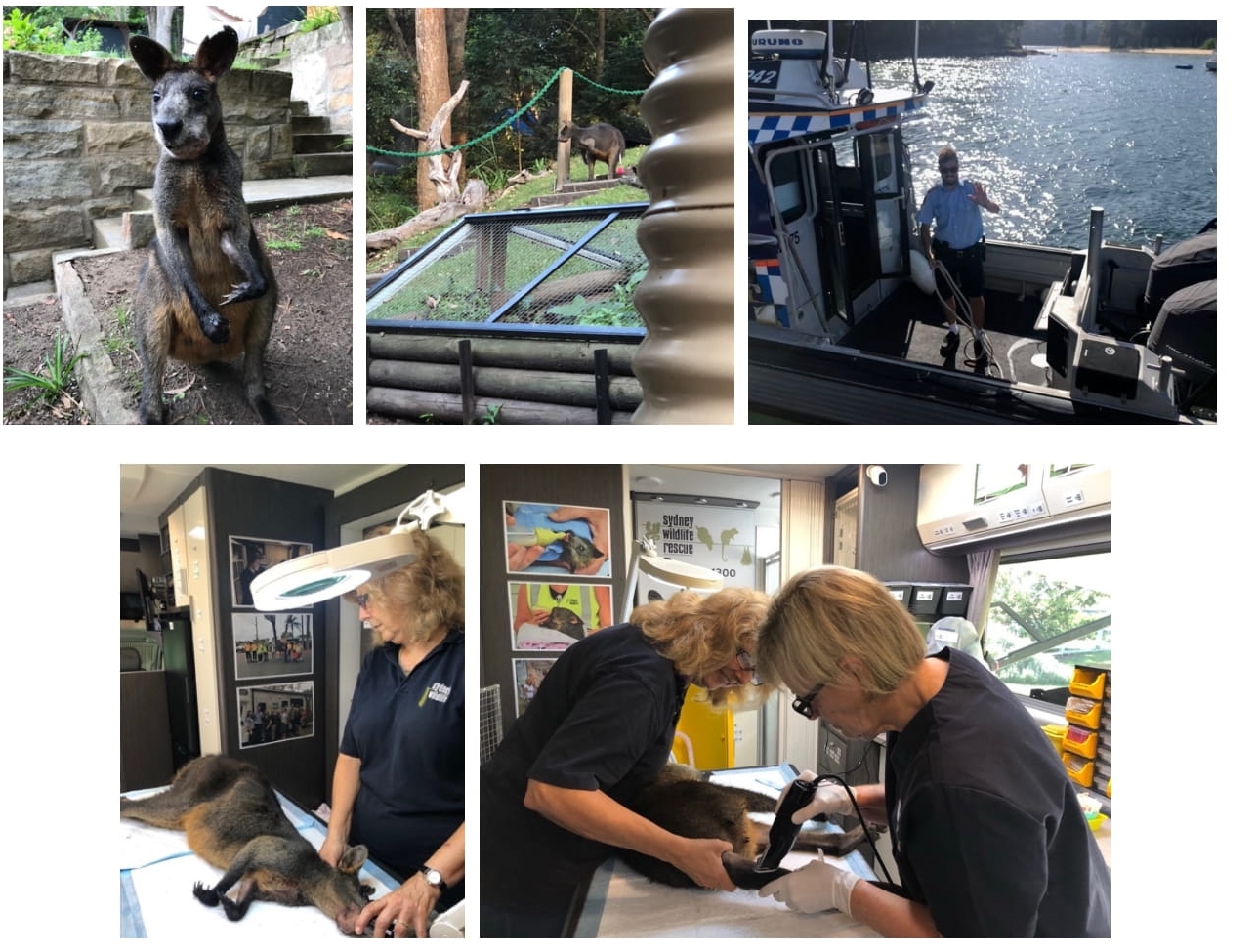 This dapper old gentleman, affectionately known as 'Bentley' by the Coaster's Retreat residents, had developed a lump on his jaw and needed to be darted for examination and xrays. The Water Police gave our rescuer/darter a lift across the waters to help Bentley. It is estimated that Bentley was almost 20 years old! With his very notable 'bent' left paw, he was always easy to identify. Residents who lived in Coaster's 20 years ago remember him!
Scylla, the yellow-bellied sea snake also needed the assistance of the Water Police. Scylla was found lifeless on Narrabeen Beach by two lovely young ladies who stayed with her until help arrived. After a couple of weeks in care, she was ready to be returned to the sea. As yellow-bellied sea snakes are 'pelagic' (meaning of the open ocean) she needed to be taken far out into open water. Who better to take us out through the Heads than our wonderful Water Police? We were even treated to a viewing of seals basking on the rocks just before going through the Heads.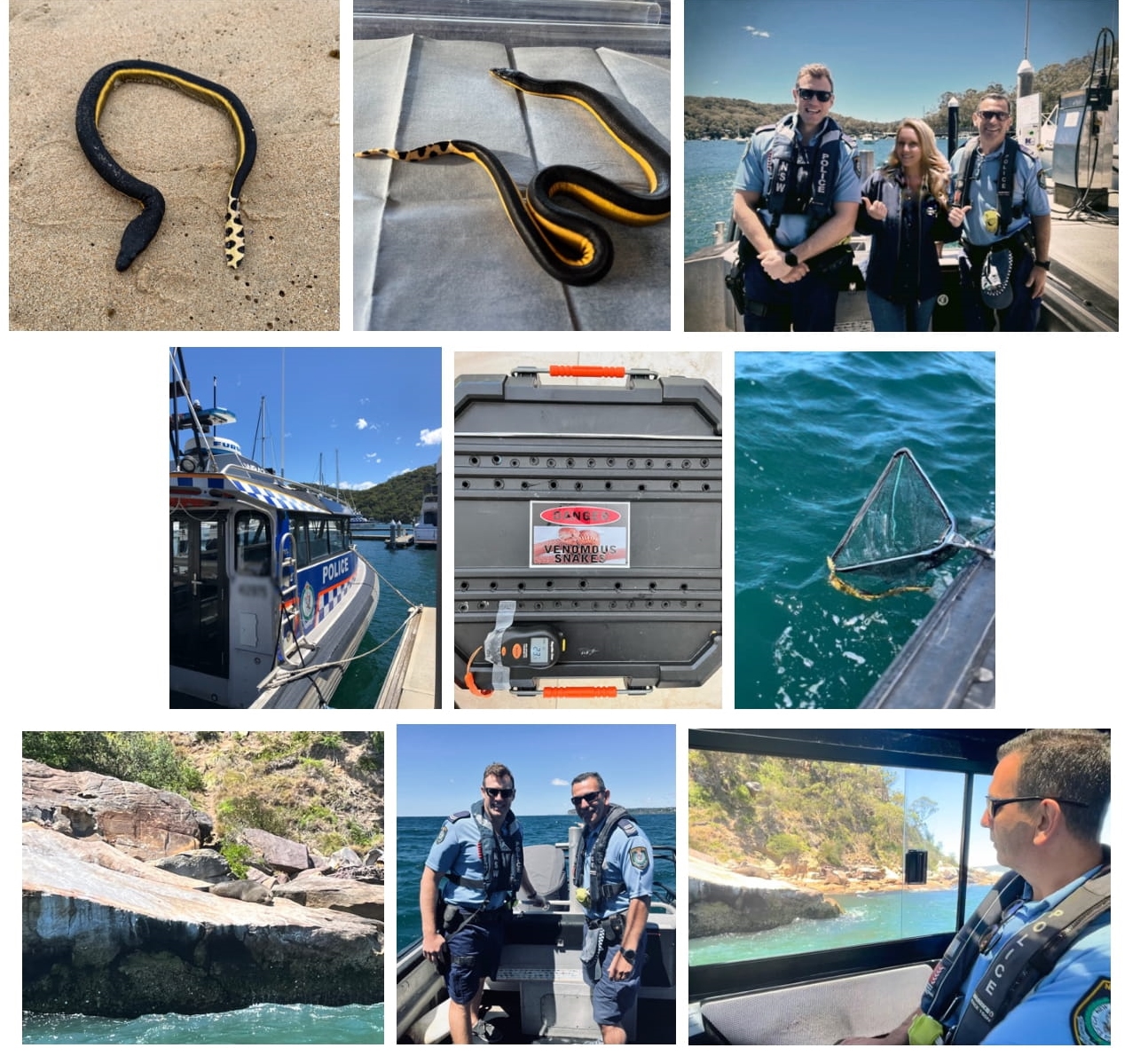 In March, flash flooding caused havoc for wildlife and our rescuers. So many water-logged animals were displaced when their homes were flooded and many just needed to dry off and be in care until the rains subsided.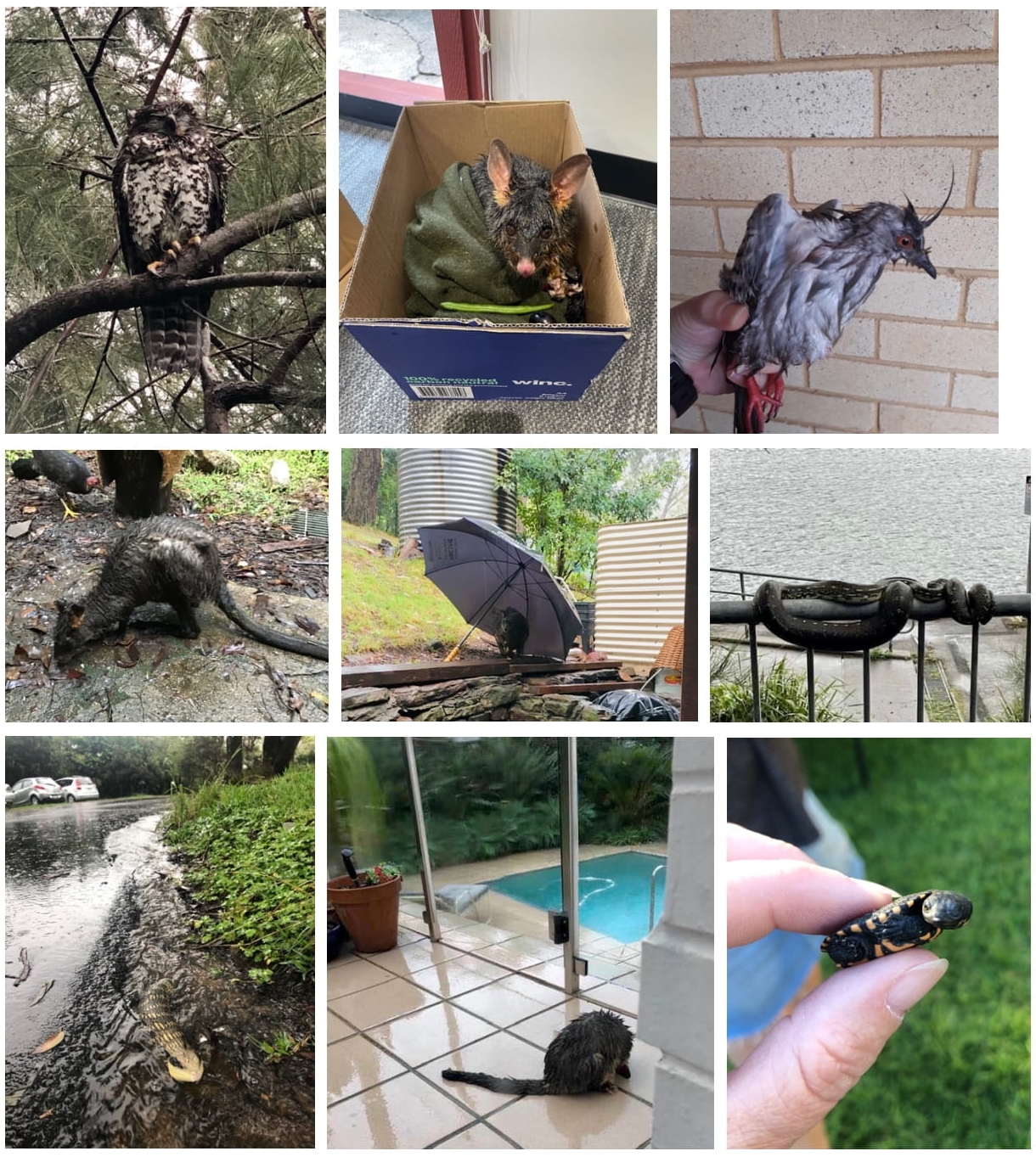 A powerful owl, multiple brushtail possums, a variety of birds, many wallabies, reptiles and even tiny gliders were in need of dry homes. Residents at Coaster's Retreat put up umbrellas for their local wallabies and provided food for the duration of the rains. (Wallaby under umbrella photo provided by Jeff Bulpitt.)
There was the usual assortment of wildlife in weird places requiring help: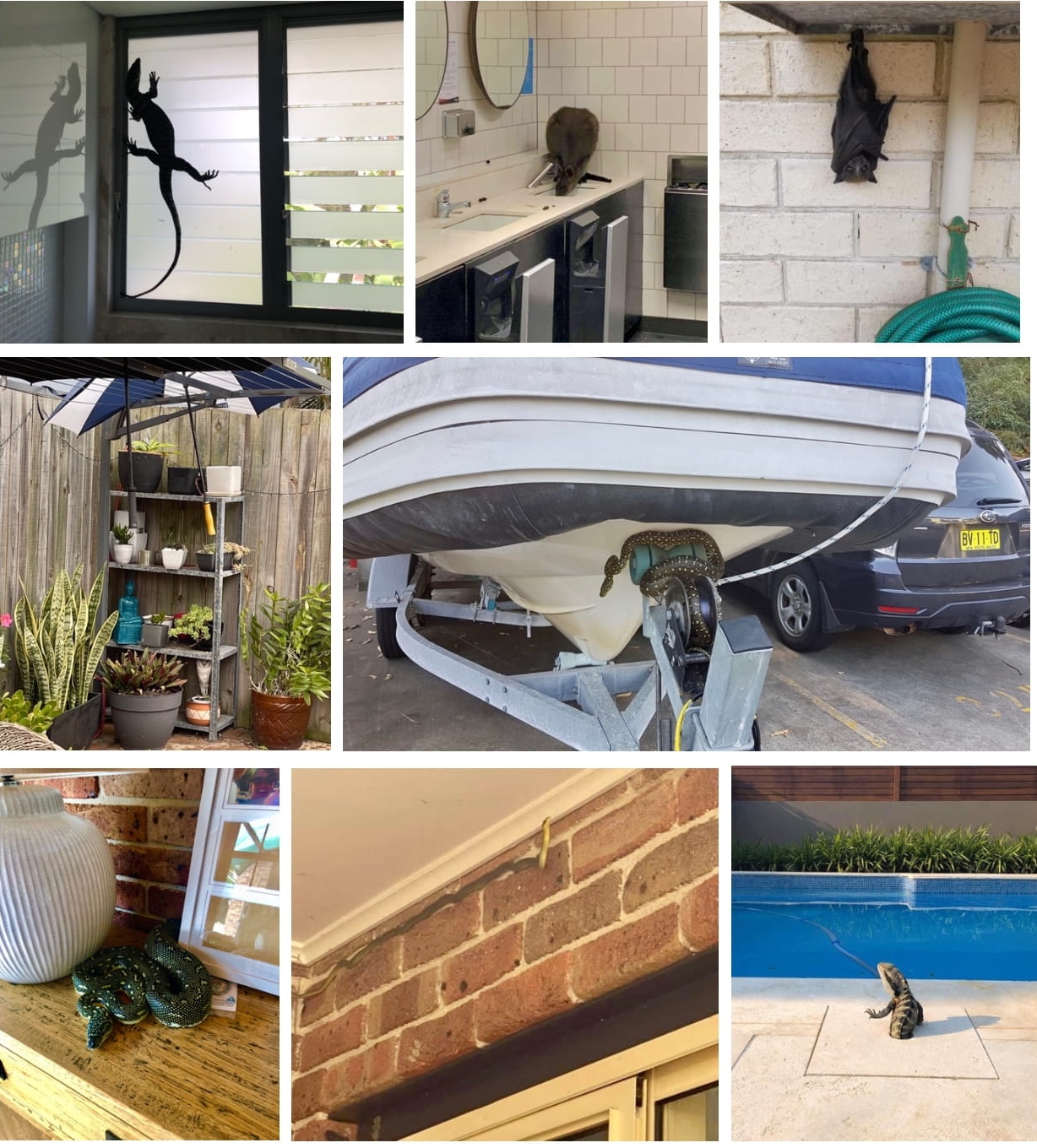 Goannas in bathrooms, wallabies in the mall, bats hanging from garden objects, barn owls in plant shelving, water dragons stuck in places that their bodies can go, but where their giant frog-legs can't follow… and snakes in every conceivable place…!
We held our first Sydney Wildlife online Rescue and Care Course for new volunteers and had our Northern Beaches practical day in May. We welcomed a sensational new cohort of rescuers – many of whom had already been 'unofficial' members since they were kids!

We also held FIVE Venomous Snake Handling Courses throughout the year! This means we welcomed at least 20 new snake handlers into the team and 'refreshed' some of our already experienced members. Our Snake Training team was exhausted by the end of the year but very excited to have some newbies to send out to all the snake rescues.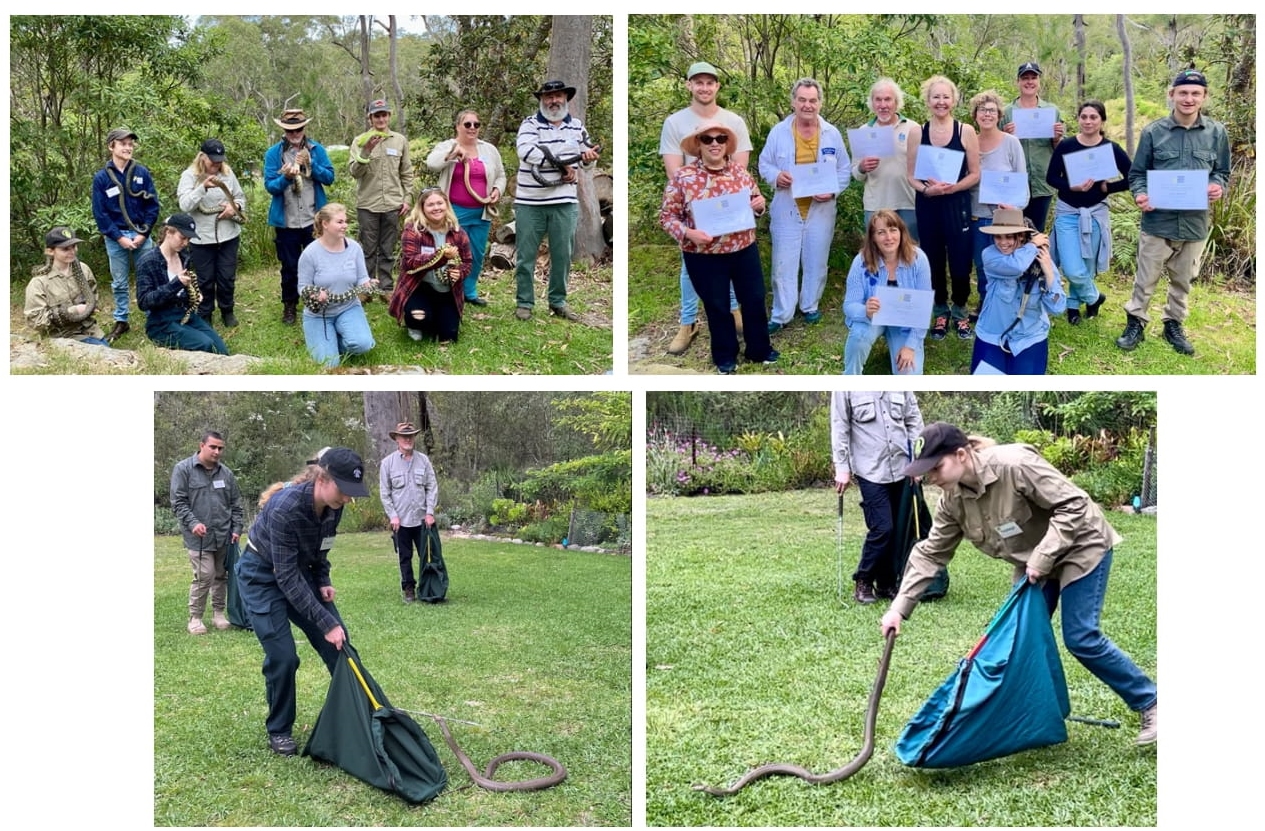 As Lockdown came to an end, Spring arrived with its usual fervour and frenzy. The beautiful bush flowers burst forth and many of our wild babies began making an appearance.
Nestling birds began learning to fledge, little marsupials peered from pouches, toying with the idea of venturing out and our reptilian critters shook off their winter dormancy and started to wander in search of love and a snack. As a result of all this activity, we were rather busy with patients who were getting into strife!
With so many baby animals pouring in, Dr Izi joked that we needed a paediatric wing for the van!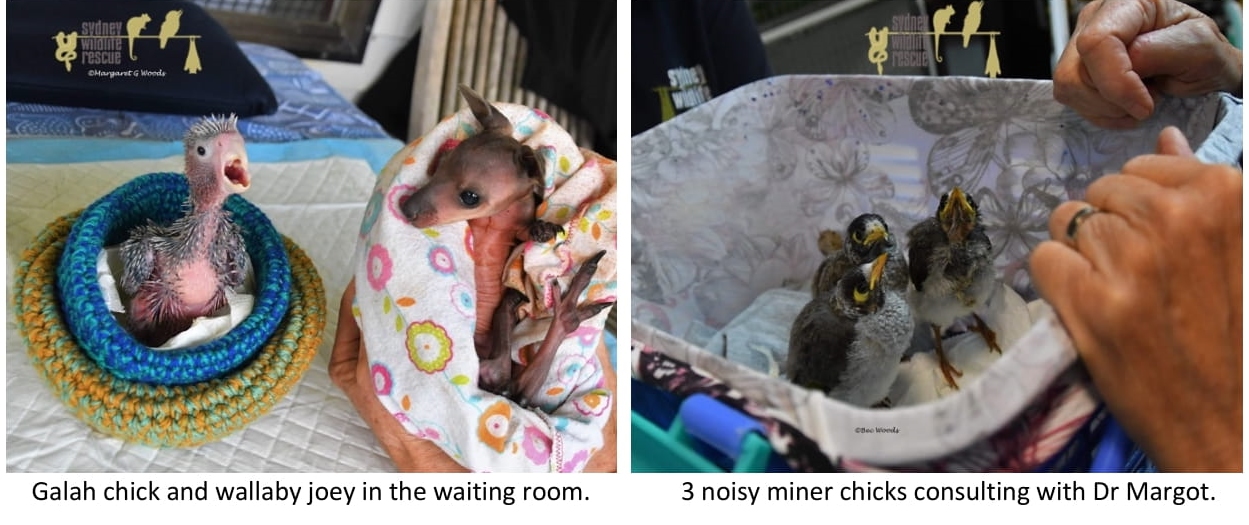 In October, we were filmed by NHK World News - Japan's public broadcaster. A small crew joined us for a day in the van and met some of our patients – a large python, a bandicoot, a wallaby joey and a ringtail possum.

Our team was enhanced throughout the year with several final year Vet Students who came to learn about our wildlife, using the best methods for restraining them for examination, diagnosing their illnesses and treating a variety of species.
Athena, Alex, Aislinn, Steph and Maya all came along and learnt different hands-on skills and were involved with treating everything from death adders to antechinus.
Steph is now Dr Steph Blank BVSc and we are thrilled to say she is not only an exceptional (wildlife) veterinarian, but also a brand new rescuer for Sydney Wildlife!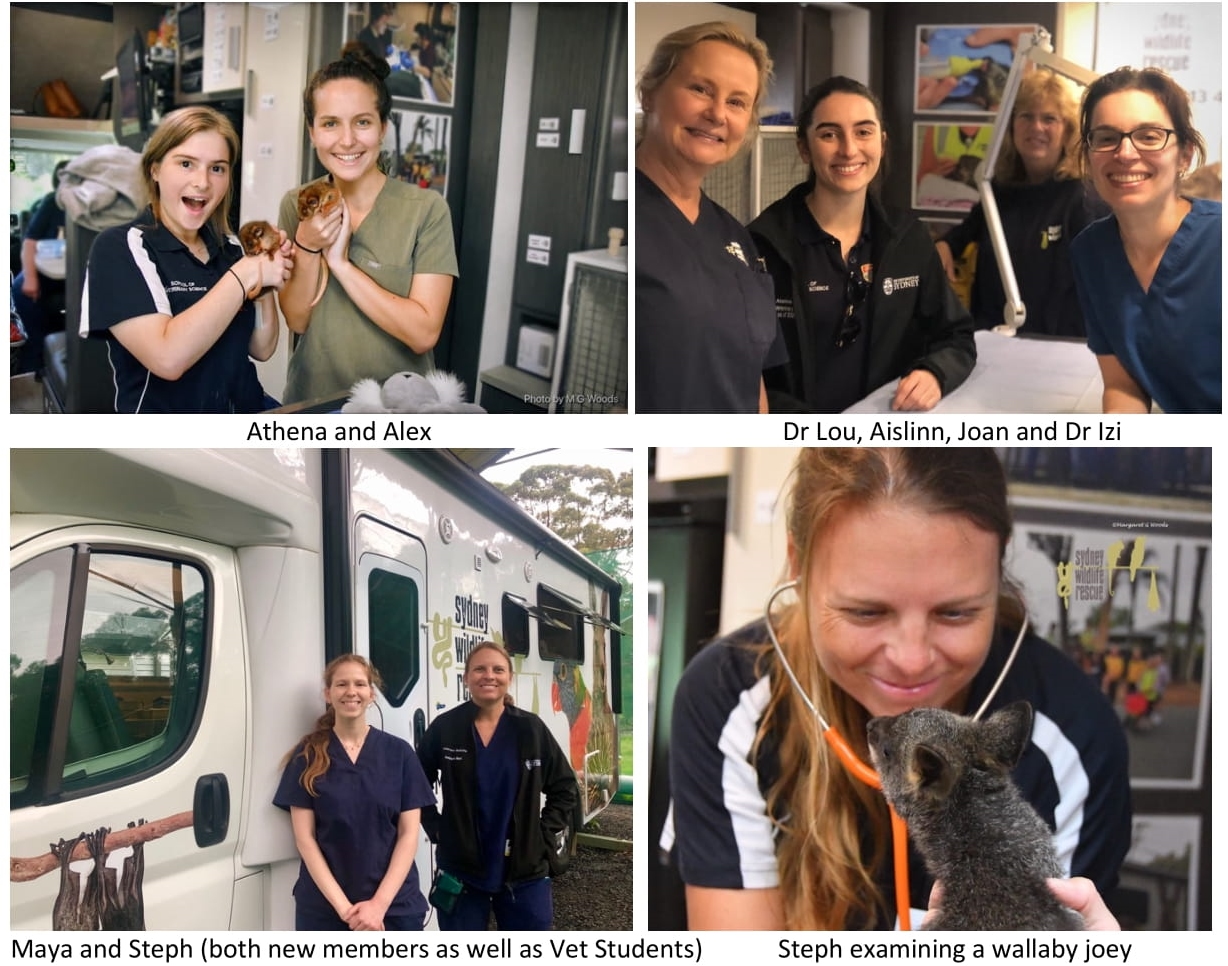 In addition to our steadfast and dynamic team of Dr Margot, Dr Izi, Dr Lou and Dr Kath, we were also joined by Dr Juliet, Dr Mikayla, Dr Manuela, Dr Derek and Dr Jade at different times throughout the year. Thank you to all these spectacular vets who donated their valuable time and expertise to treat our injured and sick wildlife.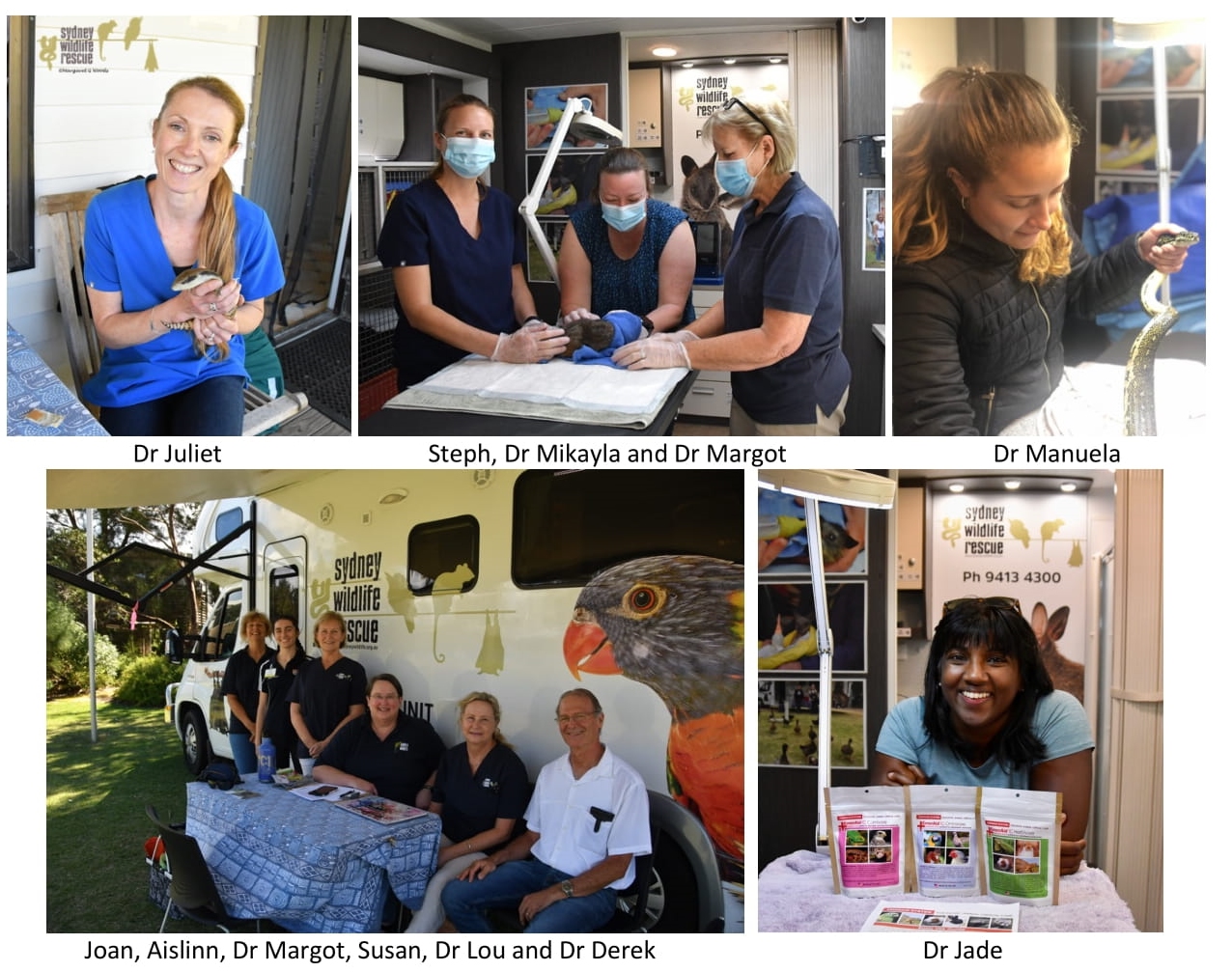 As always, our patients were the highlight of the year! Always amazing us with their ability to conquer almost insurmountable odds.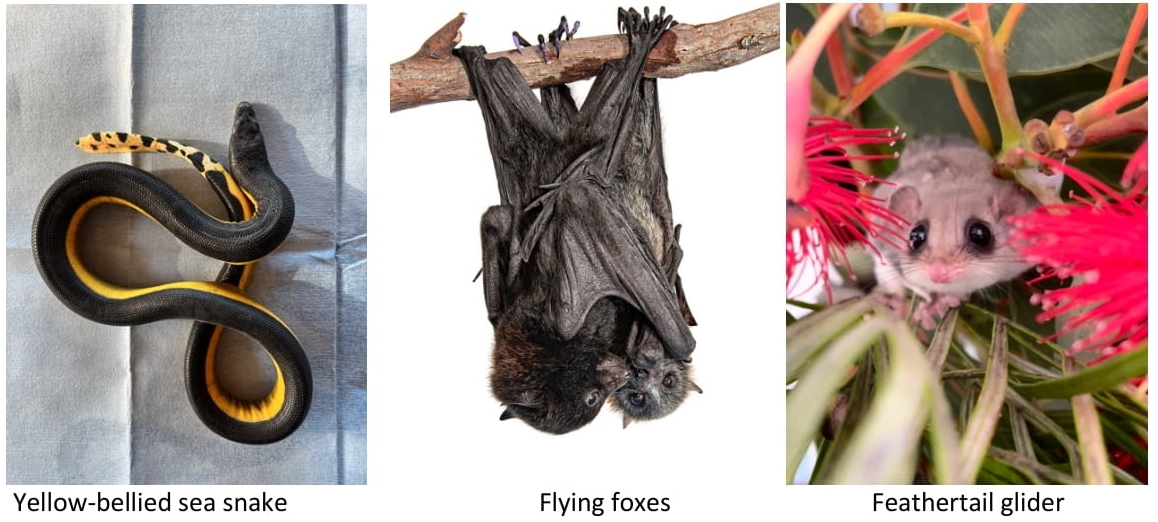 And our gratitude goes out, as always, to the team at the Coastal Environment Centre and the Northern Beaches Council for allowing us to share their amazing premises with us!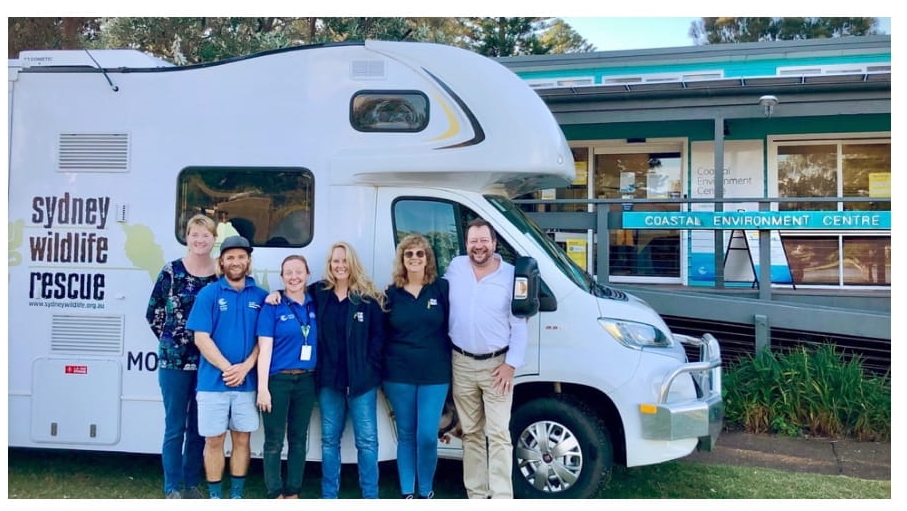 In the lead-up to Christmas, we have a song playing in our heads…..
4 tawny chicks
3 bandicoots
2 turtle bubs
And a goanna going up a gum-treeeeeeeee…

Merry Christmas and Happy Holidays from our team!!!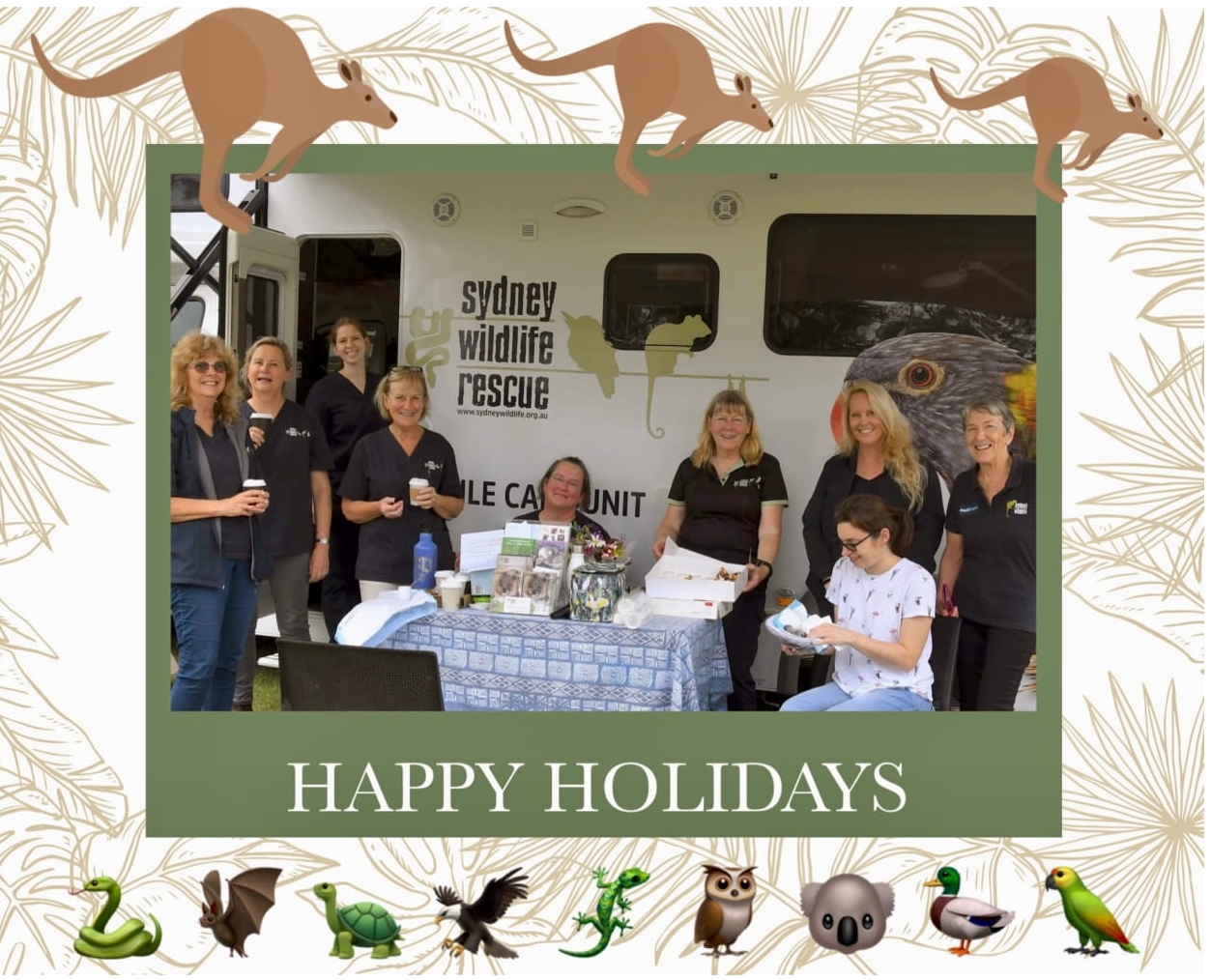 Photos by Margaret G Woods, Peter Sharp of Tame and Wild Studio and Lynleigh Greig
Report by Lynleigh Greig
Brought to you by Sydney Wildlife Rescue, the Mobile Care Unit is staffed by volunteer veterinarians who are experienced at treating wildlife.
When our pets get hurt or sick, we rush them to a veterinarian and are happy to pay whatever it takes to make our furry/feathery/scaly family member all better, right?
But what happens to our wildlife when they get sick? They don't have owners to rush them to the vet or pay for their treatment. Who takes care of them when they are in pain and in need of care?
Volunteer
What's Involved?
As a member you must be at least 18 years of age, not a member of another wildlife organisation and be willing to comply with COVID-19 restrictions. Members are required to be available for animal rescues when possible and to care for wildlife in their own homes. Members are also expected to meet the costs of travel, animal food, equipment, and to commit to working on Sydney Wildlife's Rescue Line.
The 24/7 Rescue Line
The 24/7 Rescue Line is operated remotely from members' homes or from our office in Lane Cove National Park. Answering the Rescue Line is interesting and rewarding - exposing members to a wide range of scenarios and rescue situations. The Rescue Line is the lifeblood of our organisation - if the phone isn't answered, animals don't get rescued.
Interested? Please email training@sydneywildlife.org.au
To become a volunteer, please visit: www.sydneywildlife.org.au/become-a-volunteer
We are Sydney Wildlife Rescue www.sydneywildlife.org.au
Here's our current stats for Sydney Wildlife Rescue for this year!
3623 Rescues
556 Releases
1410 In Care
Sydney Wildlife Mobile Care Unit

We are an organisation made up purely of volunteers - and we rescue these wild animals and care for them. However, we are not veterinarians and sometimes they need treatment that can only be provided by a professional. Instead of burdening our local vet clinics with all the costs of treating wildlife, we fundraised, bought and fitted out a Jayco home which is now our Mobile Care Unit.
The Sydney Wildlife Mobile Care Unit provides first-class treatment to our injured and sick wildlife. It is staffed by volunteer veterinarians who are experienced at treating wildlife. We also provide hands-on training for veterinary students who are learning how to treat wild animals. This will be very advantageous for future wildlife patients.
The van has already been deployed to areas where natural disasters have occurred.
With so many dangers to face - vehicle-strike, entanglement, habitat loss, attack from feral and domestic animals, human interference etc - our wildlife are in desperate need of our help.
In a world of problems, our Sydney Wildlife Mobile Care Unit is the answer. As we are fully operated by hard-working, unpaid volunteers, 100% of your donations will be used for the benefit of wildlife, either in the clinic or for providing other essential care to wildlife in need.
Thank you for saving their little hurt paws, their sore bodies and their precious little lives.
Please give the gift of life and love this Festive Season to support this vital work: https://www.gofundme.com/22abqws