inbox and environment news: Issue 521
December 5 - 11, 2021: Issue 521
Sounds-Signs Of Summer: Birdland
Adult Crimson Rosellas (Platycercus elegans) have a single post-breeding moult each year, from December to May. This moult is complete except in some bids, mostly females, that defer moult of outer primaries until the following year. Birds fledge in juvenile plumage, pass into pre-adult plumage when two to six months old with a moult of the head and body feathers and pass into adult plumage when twelve to eighteen months old with a complete moult. Replacement of primaries starts with middle primaries and progresses inwards and outwards from this focus. Average duration of primary moult is 114 days
Edmund Wyndham, John Le Gay Brereton & Robert J.S. Beeton (1983) Moult and Plumages of Eastern Rosellas Platycercus Eximius, Emu - Austral Ornithology, 83:4, 242-246, DOI: 10.1071/MU9830242
Almost all rosellas are sedentary, although occasional populations are considered nomadic; no rosellas are migratory. Outside of the breeding season, crimson rosellas tend to congregate in pairs or small groups and feeding parties. The largest groups are usually composed of juveniles, who will gather in flocks of up to 20 individuals. When they forage, they are conspicuous and chatter noisily. Rosellas are monogamous, and during the breeding season, adult birds will not congregate in groups and will only forage with their mate.
Nesting sites are hollows greater than 1 metre (3.3 feet) deep in tree trunks, limbs, and stumps. These may be up to 30 metres (98 feet) above the ground. The nesting site is selected by the female. Once the site is selected, the pair will prepare it by lining it with wood debris made from the hollow itself by gnawing and shredding it with their beaks. They do not bring in material from outside the hollow. Only one pair will nest in a particular tree. A pair will guard their nest by perching near it and chattering at other rosellas that approach. They will also guard a buffer zone of several trees radius around their nest, preventing other pairs from nesting in that area.
The breeding season of the crimson rosella lasts from September through to February, and varies depending on the rainfall of each year; it starts earlier and lasts longer during wet years. The laying period is on average during mid- to late October. Clutch size ranges from 3–8 eggs, which are laid asynchronously at an average interval of 2.1 days; the eggs are white and slightly shiny and measure 28 by 23 millimetres (1+1⁄8 in × 7⁄8 in). The mean incubation period is 19.7 days, and ranges from 16–28 days. Only the mother incubates the eggs. The eggs hatch around mid-December; on average 3.6 eggs successfully hatch. There is a bias towards female nestlings, as 41.8% of young are male. For the first six days, only the mother feeds the nestlings. After this time, both parents feed them. The young become independent in February, after which they spend a few more weeks with their parents before departing to become part of a flock of juveniles. Juveniles reach maturity (gain adult plumage) at 16 months of age.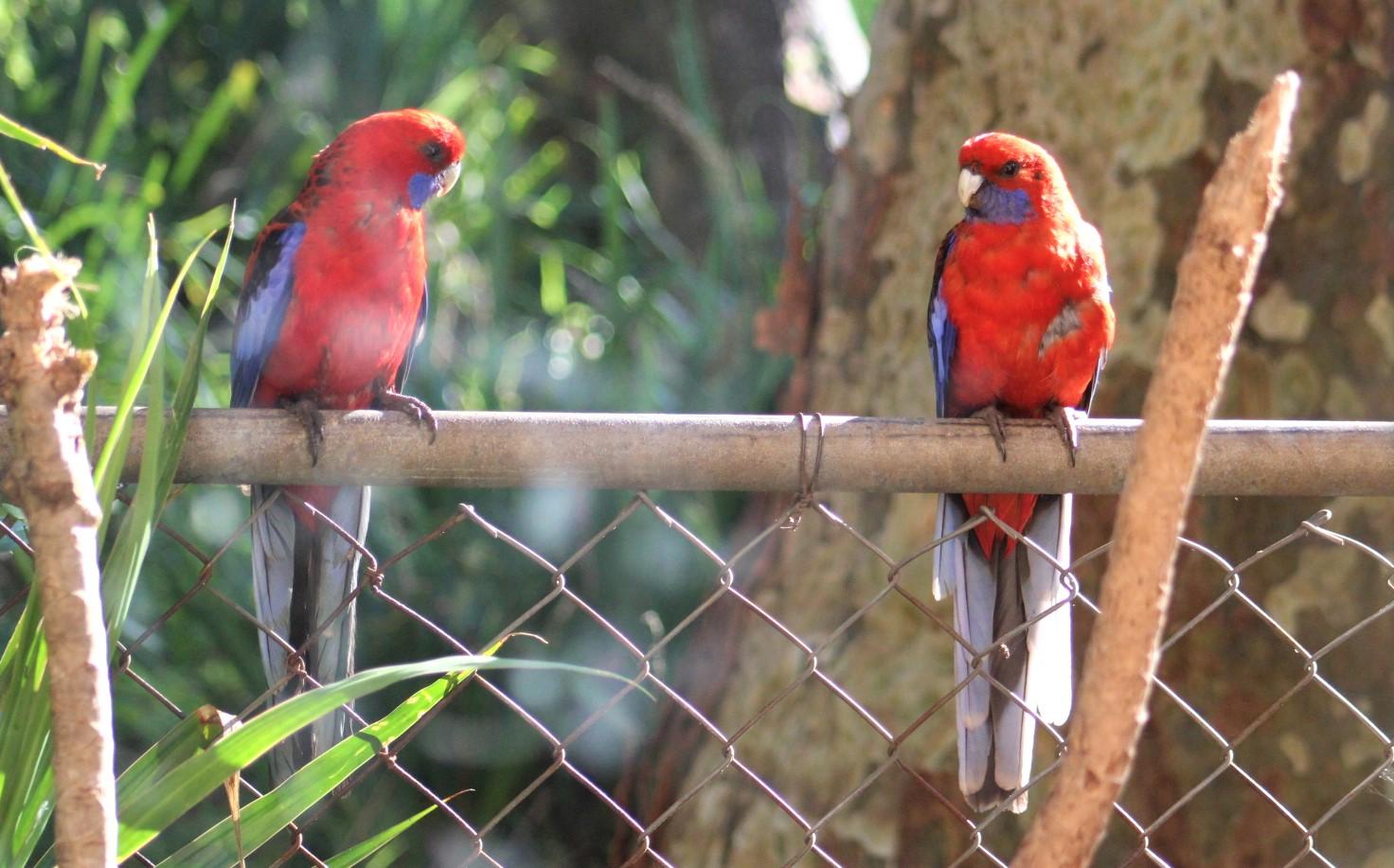 Channel Billed Cuckoo being harassed by miner birds
The channel-billed cuckoo (Scythrops novaehollandiae) is a species of cuckoo in the family Cuculidae. It is monotypic within the genus Scythrops. The species is the largest brood parasite in the world, and the largest cuckoo. It is found in Australia, New Guinea and Indonesia.
The channel-billed cuckoo is often shy, remaining hidden in tree canopies feeding on fruit and most active in early morning and evening. Its loud raucous call makes it more often heard than seen. Other birds such as crows harass and chase it when they encounter it; Miner birds and crows and some other species also swoop them.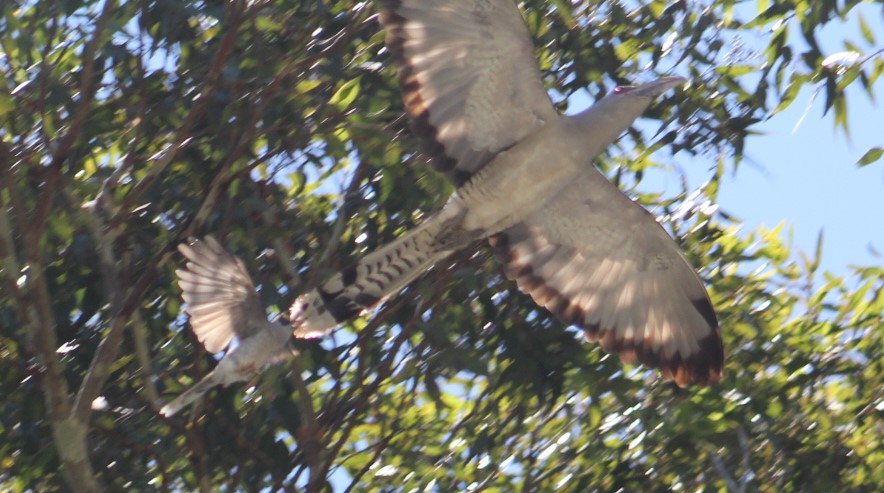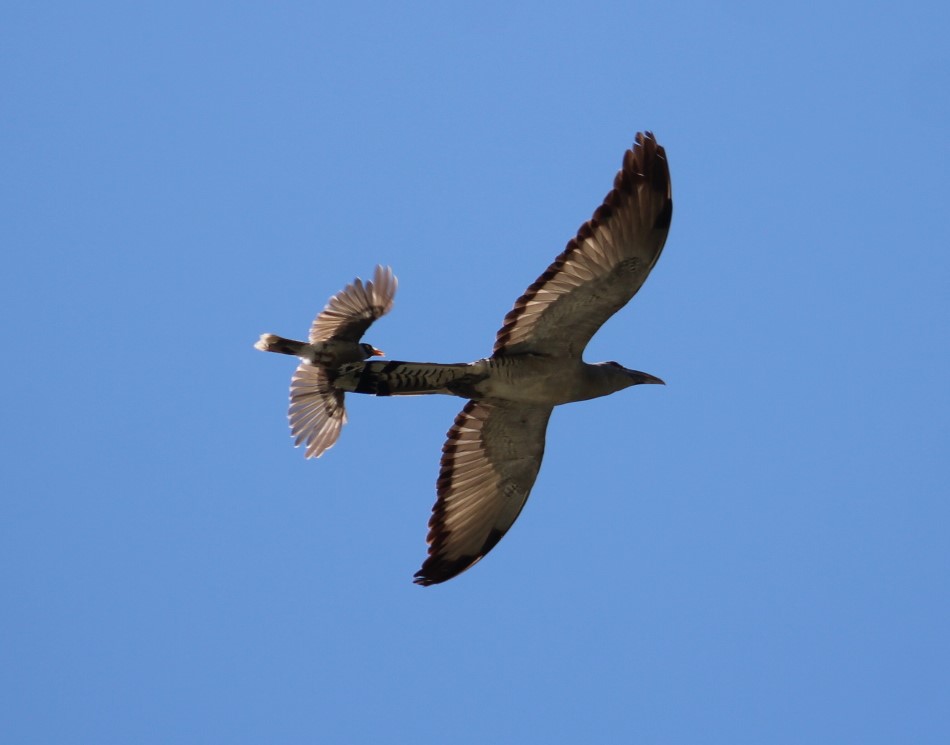 Channel-billed cuckoos are brood parasites; instead of raising their own young, they lay eggs in the nests of other birds. They are thought to form pair bonds for the duration of a breeding season.[20] Their mating behaviour has been described as involving calling and gift-giving, with the male presenting items of food such as insects to the female. Pairs also work together in order to aid the laying of eggs in host nests; the male will fly over the nest in order to provoke the nest occupants into a mobbing response, whereupon the female will slip into the nest and lay an egg. Alternatively the pair may work together by attacking an incubating bird, driving it off the nest and allowing the female to lay.
The host species varies depending on the location; the most commonly targeted hosts are ravens, currawongs, butcherbirds and Australian magpies. Several eggs can be laid in a single nest, sometimes by different females. Often resembling those of currawongs and magpies (but not ravens), the eggs vary in colour and pattern, measuring 48 x 32 mm. They can be a reddish- or yellowish-brown to dull white, with darker brown splotches. The incubation period for this species is unknown. Upon hatching the chicks are altricial, being blind and naked. Unlike many other cuckoos, the chicks of the channel-billed cuckoo do not eject the other host eggs upon hatching or kill the host's chicks, but these seldom survive as the cuckoo chick is able to monopolise the supply of food. The chicks are fully feathered within four weeks, and leave the nest to clamber about on the branches, although chicks are fed for a number of weeks by the host parents after fledging. - BirdLife Australia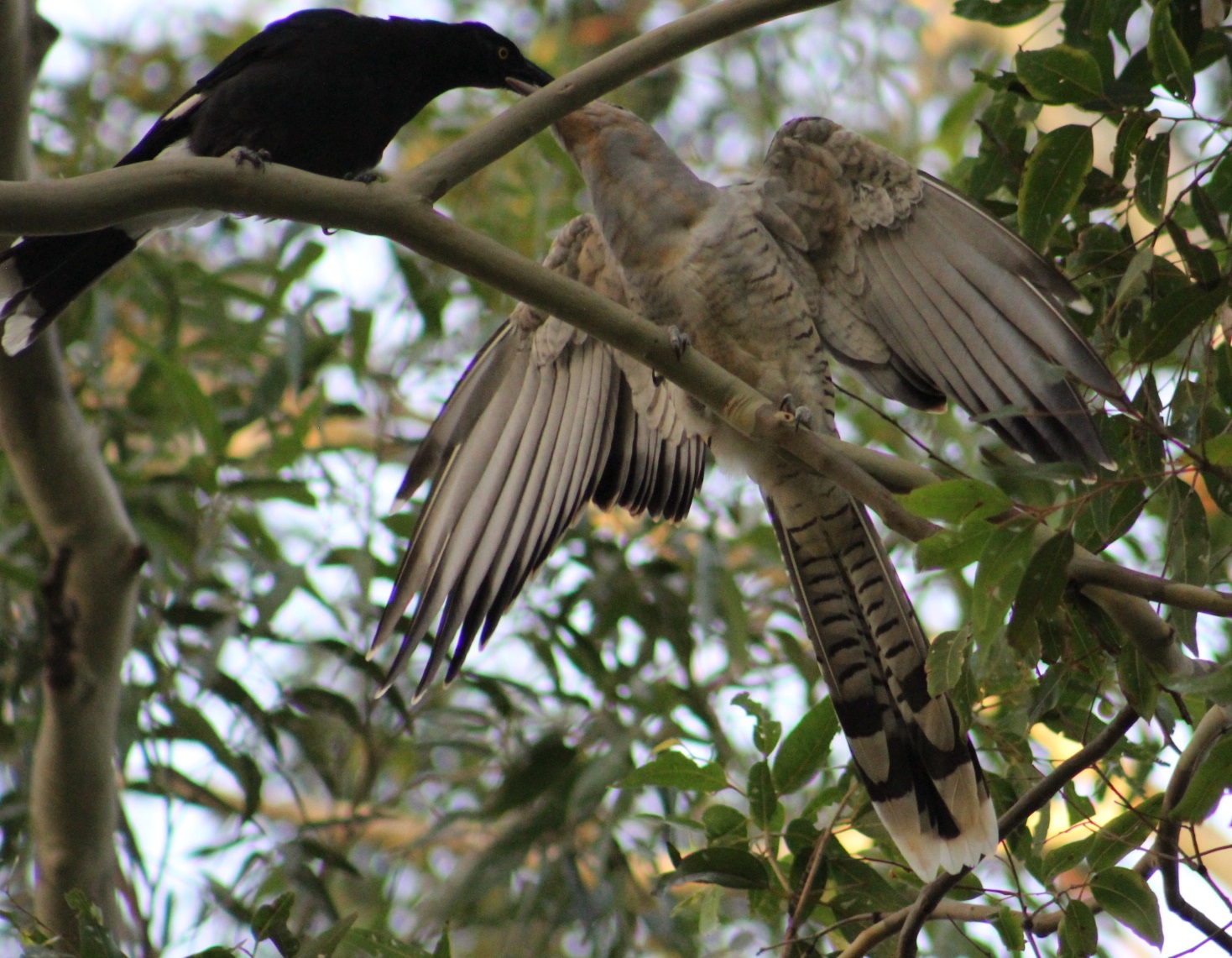 Fledgling Butcher Bird being fed this week; our garden:
Photos by A J Guesdon, 2021.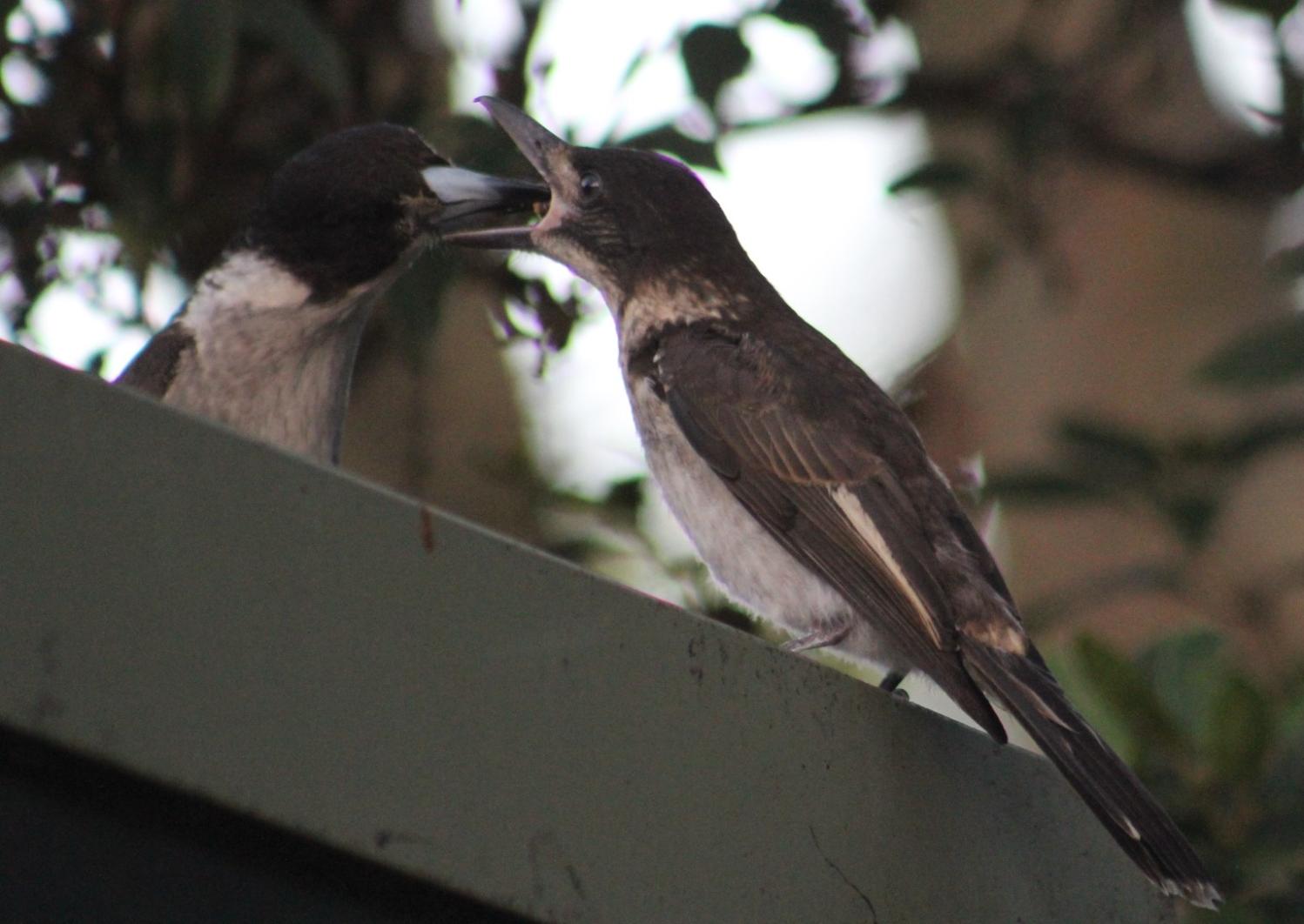 White's Seahorse Signage At Palm Beach
White's Seahorse, also known as the Sydney Seahorse, is a medium-sized seahorse that is endemic to the east coast of Australia. The species is named after John White, Surgeon General to the First Fleet, and is one of four species of seahorses known to occur in NSW waters. Favouring shallow-water estuarine habitats, it is currently known to occur in eight estuaries on the NSW Coast, but is most abundant in Port Stephens, Sydney Harbour and Port Hacking. Its northern limit is Hervey Bay in Queensland and it has been historically recorded as far south as St Georges Basin in NSW.
Some of the characteristics of the White's Seahorse are:
17-18 dorsal-fin rays,
16 pectoral-fin rays
34-35 tail-rings
coronet is tall arranged in five pointed star at apex
spines are variable ranging from low to moderately developed and from round to quite sharp
a long snout
They have a very small anal fin which is used for propulsion, however, they are known to be one of the slowest swimming fishes in the ocean.
The White's Seahorse is considered to be endemic to the waters of southern Queensland (Hervey Bay) to Sussex Inlet NSW where it can be found occurring in coastal embayments and estuaries. It is known to occur from depths of 1 m to 18 m. Habitats that are considered important habitat for the White's Seahorse include natural habitats such as sponge gardens, seagrass meadows and soft corals. It is also known to use artificial habitats such as protective swimming net enclosures and jetty pylons.
The primary cause for the decline in abundance of White's Seahorse is the loss of natural habitats across their range in eastern Australia. The seahorses occur within coastal estuaries and embayments which are areas subject to population pressure.
Below: the signage at Palm Beach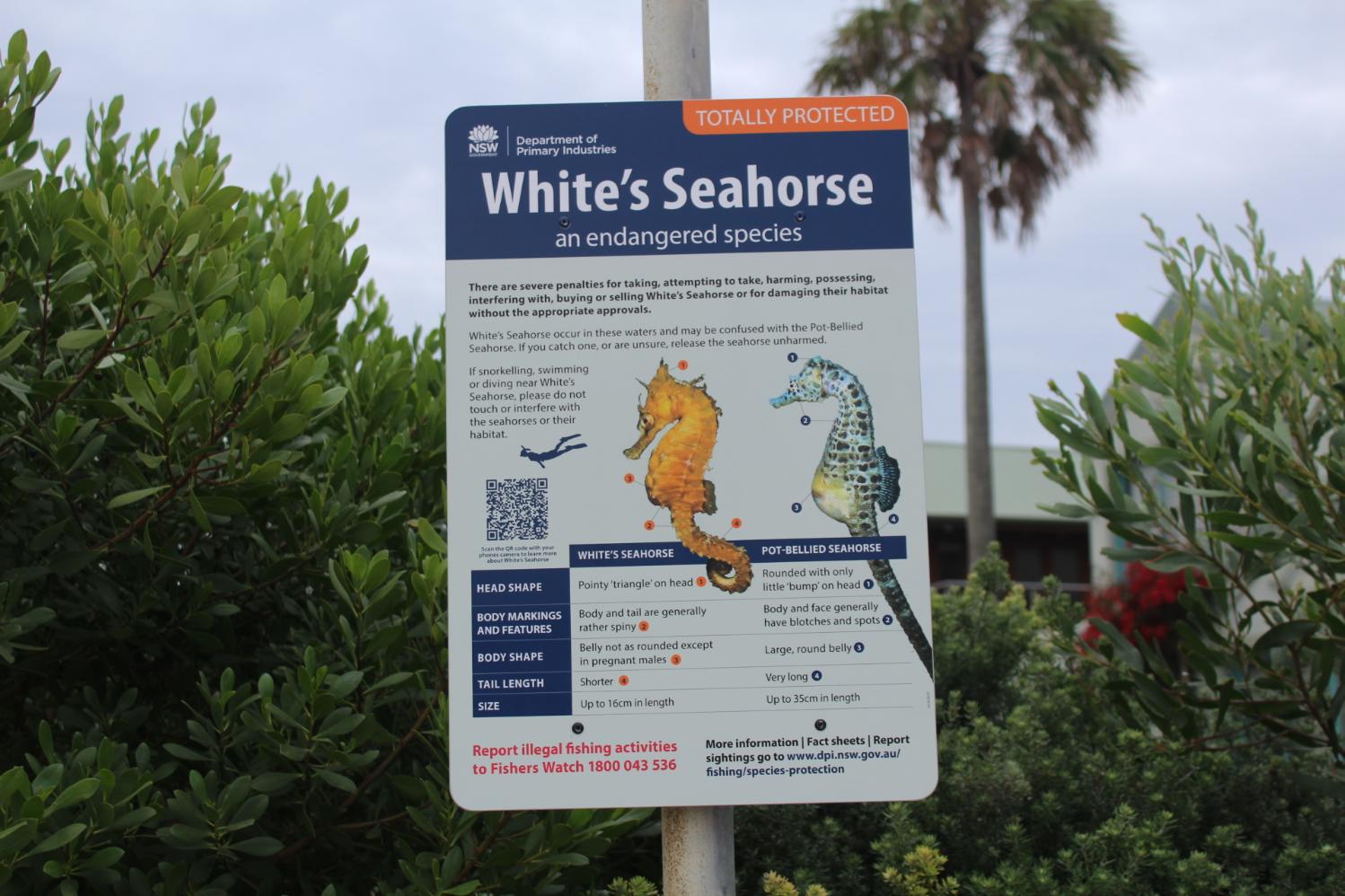 Careel Creek: Dusky Moorhen + Chicks In Residence - Please Keep Your Dogs On Their Leads
A dusky moorhen has taken up residence in Careel Creek during the past few weeks and now has a clutch of babies in the nest. These are known to be poor fliers, with laboured wing beats and a slow and weak flight. In general, moorhens are capable of flying but tend to not be good at it.
Unfortunately this a gentleman was encountered with his foxy terrier, a hunting dog breed, off the leash, the dog having just spotted the bird. When it was pointed out that this is an on-leash area, with clear signage of this, and that there are birds nesting here, as it is bird breeding season, the dog owner stated 'I will do what I like'.
However, he subsequently put his dog back on its lead, and proceeded towards Avalon. Council have been alerted to the fact that there is an almost flightless protected bird in this creek and the gentleman's misconception that the rules to protect wildlife, and other human residents and their dogs, don't apply to him.
The dusky moorhen (Gallinula tenebrosa) is a bird species in the rail family and is one of the eight extant species in the moorhen genus. It occurs in India, Australia, New Guinea, Borneo and Indonesia. It is often confused with the purple swamphen and the Eurasian coot due to similar appearance and overlapping distributions. They often live alongside birds in the same genus, such as the Tasmanian nativehen and the common moorhen.
Breeding season is from August to January in the south of Australia, with generally one brood, and January to June in the north, often brooding twice. This species builds a bulky nest of reeds or grasses at the water's edge or a few centimetres above the water, often at the base of a Melaleuca and lays a clutch of 5–11 matte whitish eggs that are covered with red-brown dots and splotches. Tapered oval in shape, they measure 53 mm long by 36 mm wide each and have more prominent markings at the larger end. It is territorial when breeding, but otherwise gregarious. The dusky moorhen may nest alongside the purple swamphen.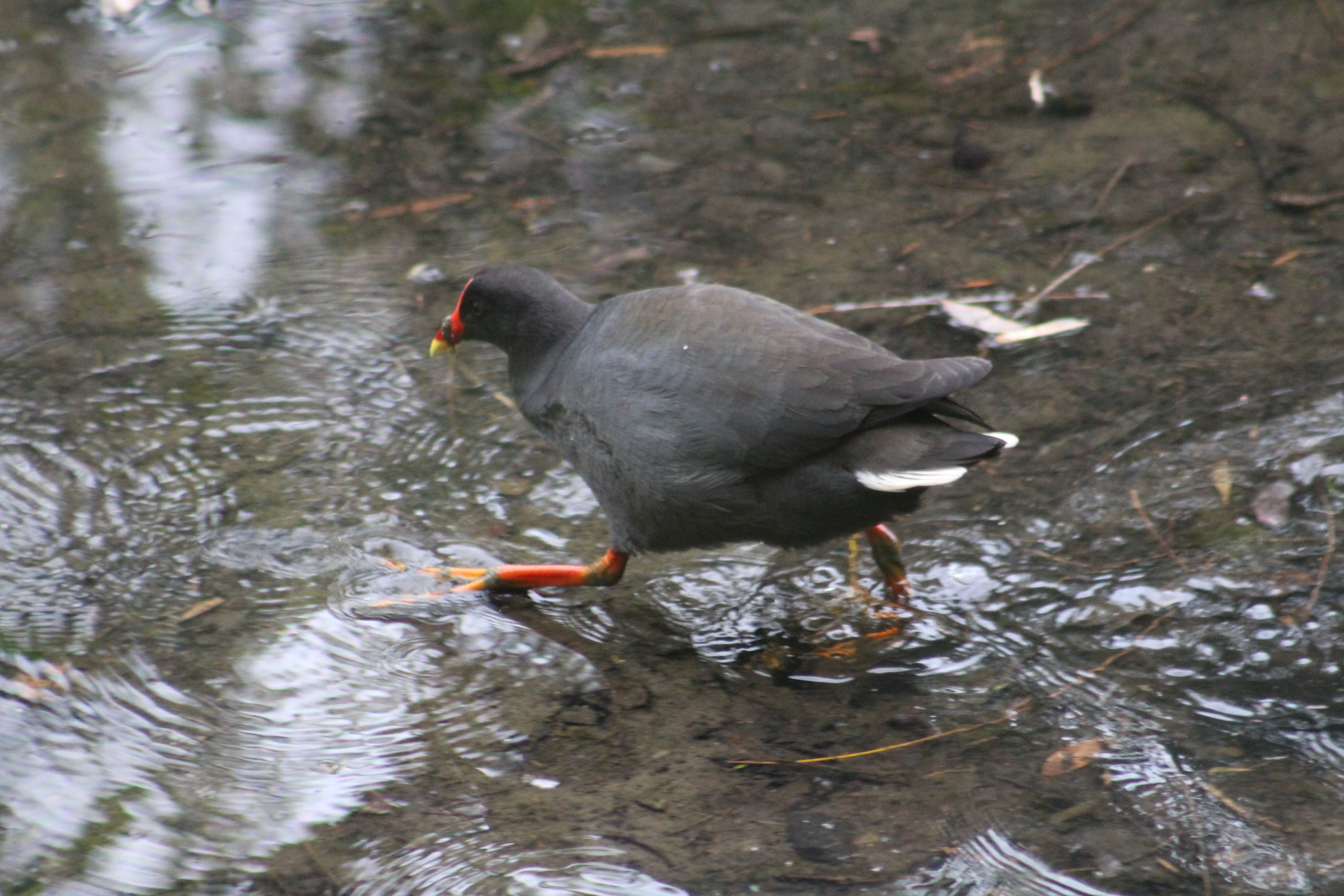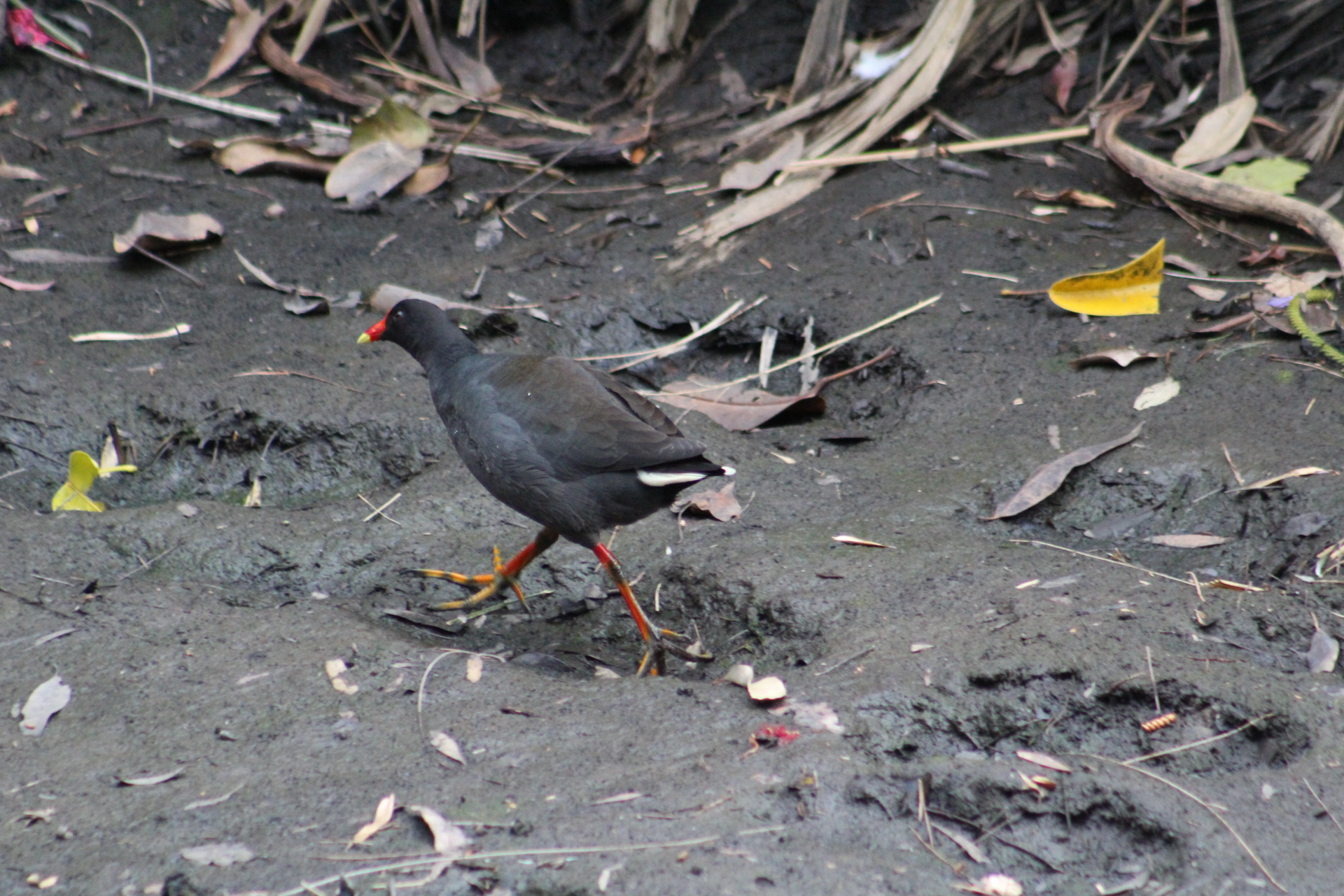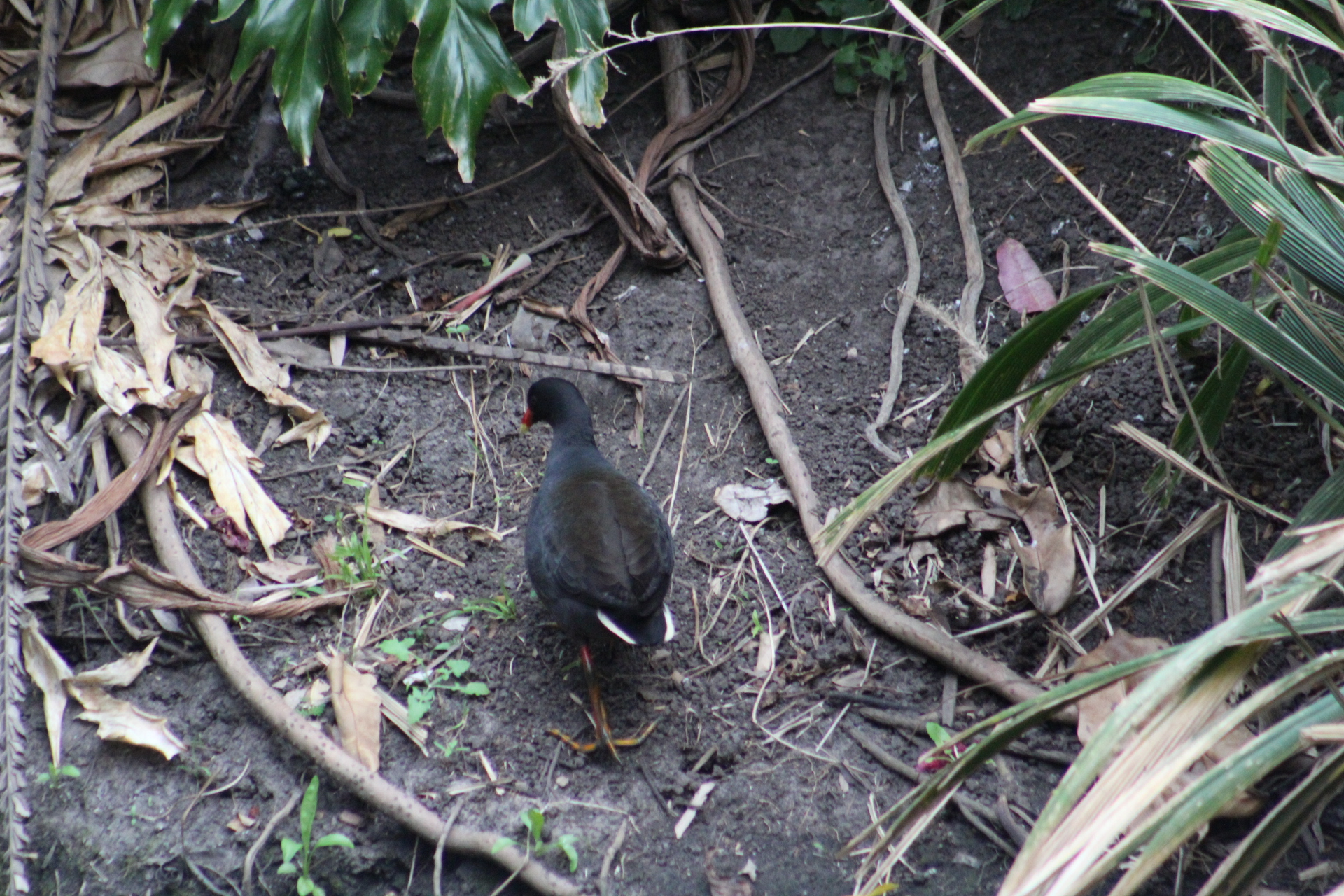 Dusky Moorhen in Careel Creek, Saturday October 30, 2021 - photos by A J Guesdon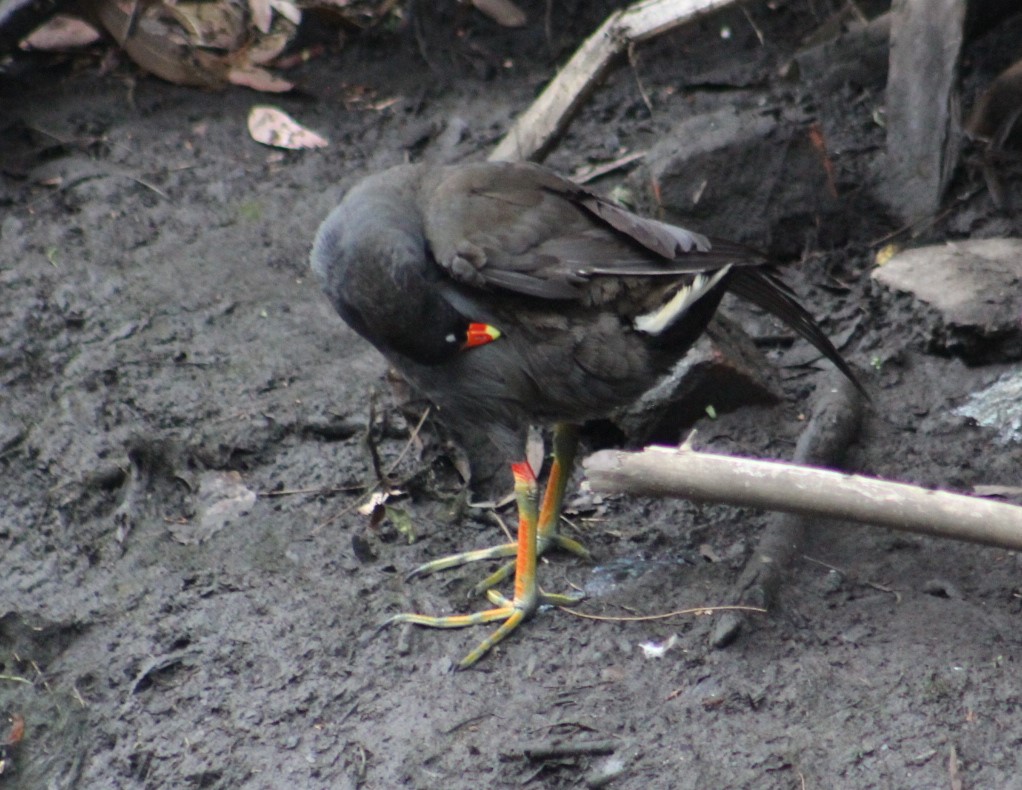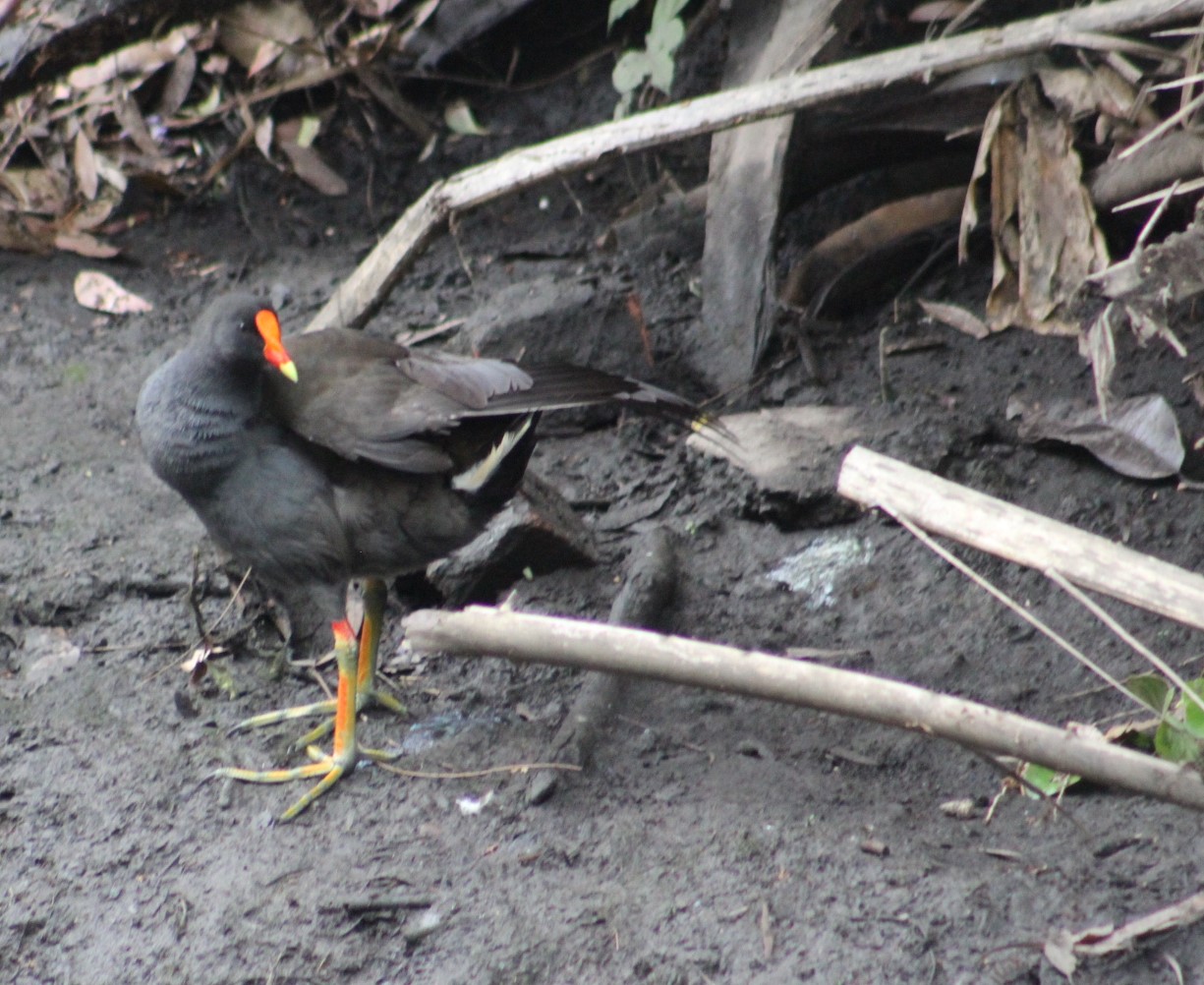 Dusky Moorhen in Careel Creek, Thursday November 30, 2021 - photos by A J Guesdon
Dusky moorhens are diurnal, and roost at night-time alone, in breeding groups, or in non-breeding flocks. They roost on platforms constructed in reeds set above the water, on branches over the water, and more rarely on the ground in the reeds. During the day they rest at these places, and may also sit on floating vegetation, rocks, logs, and on the banks. In hot weather they may sit high up in trees.
The moorhens frequently flick their conspicuous white and black tail. This may be a signal of alertness or of social status, depending on the context.
The dusky moorhen feeds both on land and in water. It diet consists of seeds, the tips of shrubs and grasses, algae, fruits, molluscs, and other invertebrates. It will also consume carrion, bread, and droppings from birds including gulls and ducks. The chicks are fed mostly on annelid worms and molluscs, with plant matter gradually being given in increasing proportions by the parents as the young mature.
The territorial call is a loud kurk or krik, which may be repeated or run together, sounding like kurruk-uk. This call is taken up by birds in surrounding territories and can be heard from over two kilometres away. The birds also make a series of short, sharp squawks and squeaks as alarm calls. Swimming and preening birds may make a series of short, stacatto, widely spaced noises.
Both sexes make a soft mewing noise, or a soft kook noise before and during courtship. Adults may make a quiet hissing noise when their eggs are disturbed. Chicks under the age of three months make a repeated shrill piping noise when begging, when an adult approaches with food, and when they are separated from adults. Adults also make short clicking noises when separated from chicks, and the young give a series of descending whistles in response.
Canopy Keepers Offer 100 Trees For Avalon Beach 100 Celebration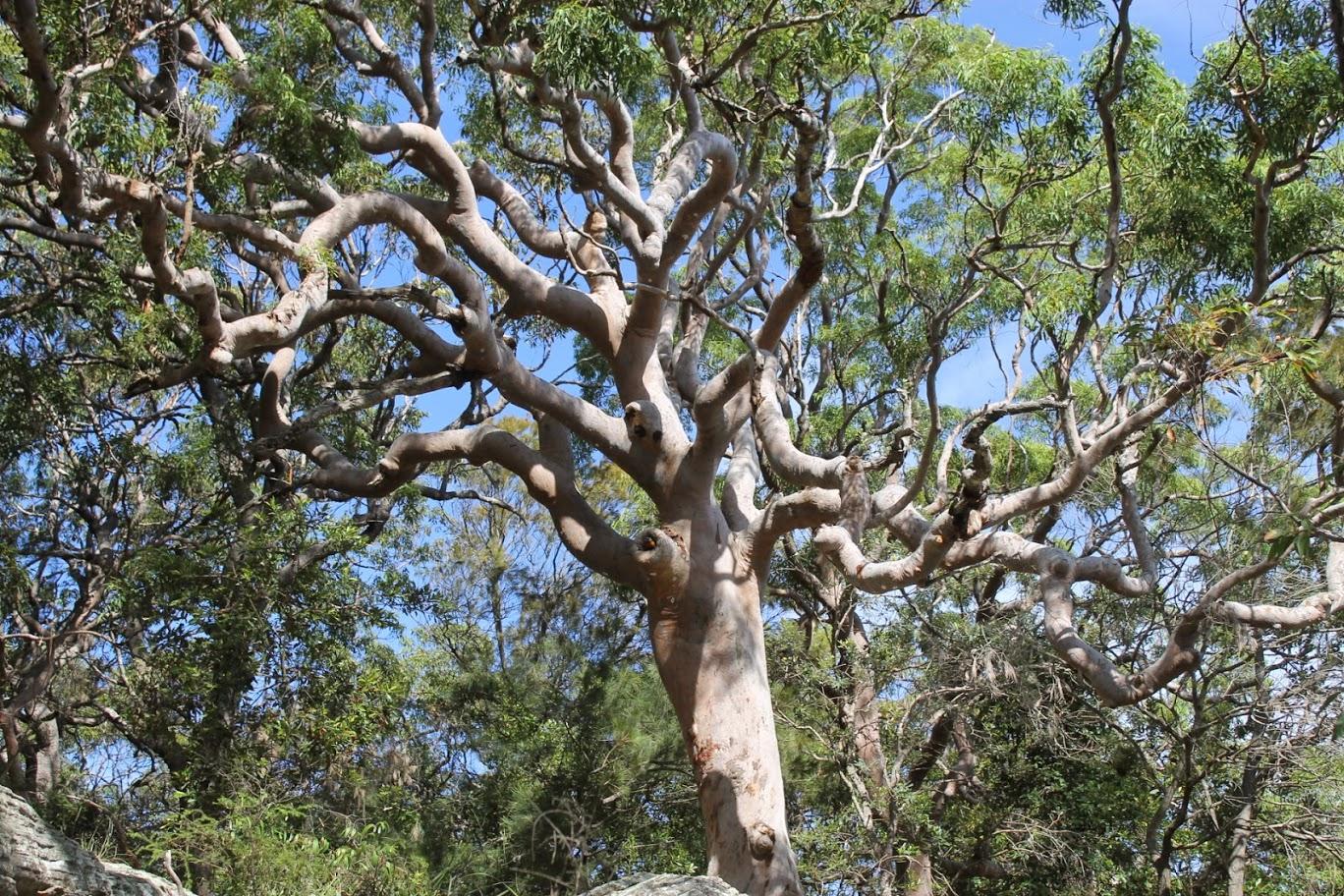 A group of local tree enthusiasts is inviting Avalon Beach residents to celebrate the suburb's 100th anniversary by planting a tree.
Canopy Keepers convenor Deb Collins said Pittwater residents are surrounded by a unique urban tree canopy covering nearly 60 per cent of the area.
However, between 2009 and 2016 the Pittwater Local Government Area lost more canopy than any other in NSW - due to development and the removal of trees from residential land.
So to celebrate the naming of Avalon Beach 100 years ago, Canopy Keepers will plant at least 100 trees in the 2107 postcode in coming months, Ms Collins said.
Avalon Beach residents and others in the postcode area are therefore invited to apply for one of these trees at no cost, to plant and care for the next generation of canopy, she said.
"We are looking for 100 recipients - 100 new Canopy Keepers," Ms Collins said.
"Will you help us grow the future and become a canopy keeper, so that we can ensure our children and grandchildren enjoy the benefits of our wonderful urban forest?" Ms Collins said.
"The radical changes to our environment are not just upsetting residents.
"Forty per cent of all wildlife relies on a connected canopy to nest, raise their young and travel between food and water sources.
"The simple removal of 'just one tree' can break a critical link in a canopy pathway and threaten the habitat of wildlife such as Squirrel gliders, Powerful owls, and of course the much loved Koala, now extinct from our area but remembered here by so many of us from our childhood.
"We can do much to prevent our wildlife and trees from suffering the same fate as the Koala.
"But it will take a noisy village to achieve this.
"Please join our growing community and ensure Avalon and Pittwater in 100 years are as beautiful as they are today."
Residents are asked to fill in the following form before December 10 and Canopy Keepers will offer you a tree that is best suited to where you live.
https://forms.gle/hPAVdU5qYT4YzgAc6
Otherwise please email Canopy Keepers at 100trees@canopykeepers.org.au
Find Canopy Keepers at the Avalon car boot sale, on Sunday December 19, where registered tree recipients will be able to pick up their trees for planting.
Canopy keepers is a local group dedicated to the preservation and regeneration of tree canopy in our local area. We want to link arms with all our neighbours and bring to life the vision of homes amongst the trees not shrubs along the edge.
Find out more at: www.canopykeepers.org.au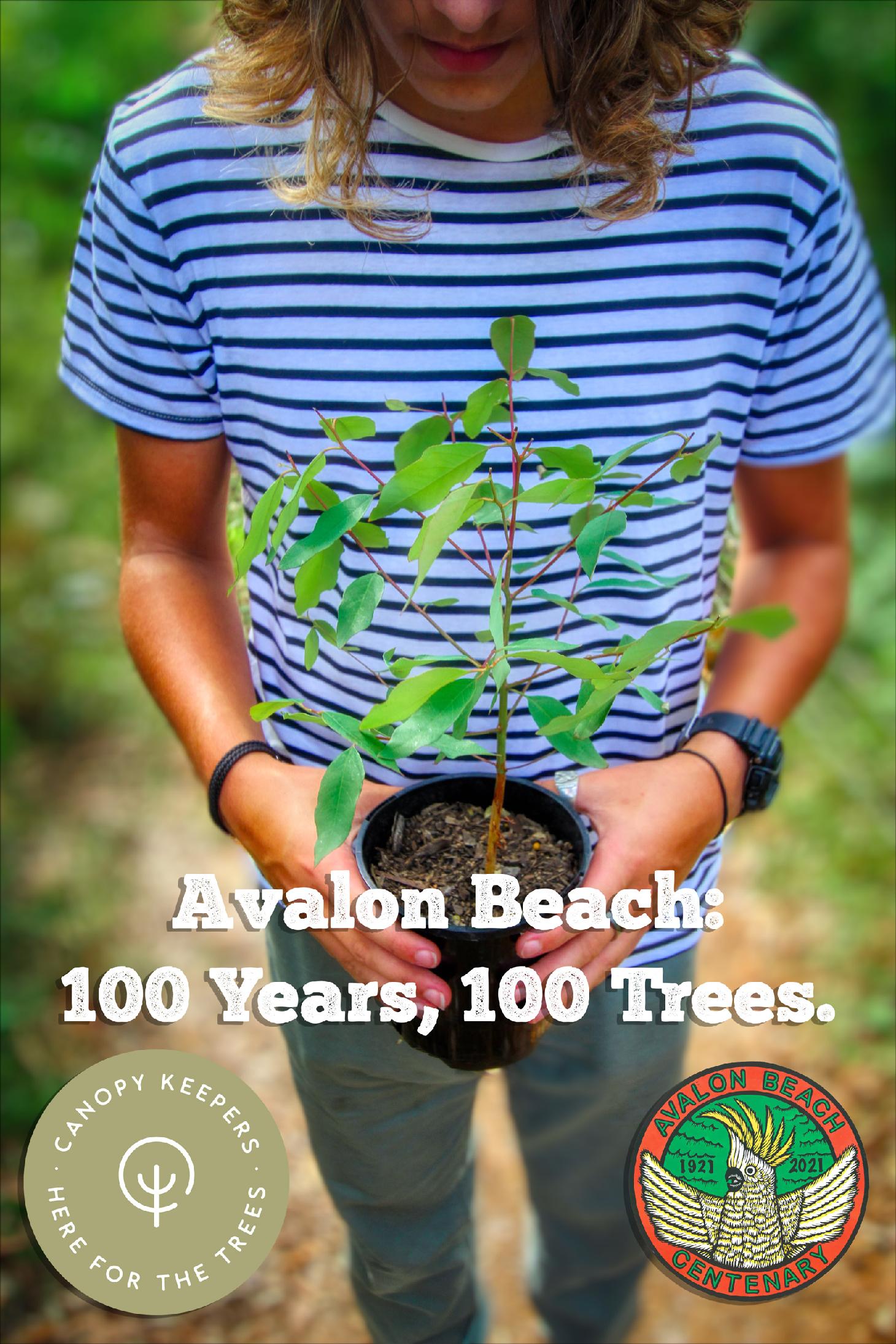 Migratory Bird Season
A reminder that many of the birds that migrate to our area are arriving exhausted from having flown thousands of miles to be here. Please keep yourselves and your pets away from these shores during these months. They need their rest.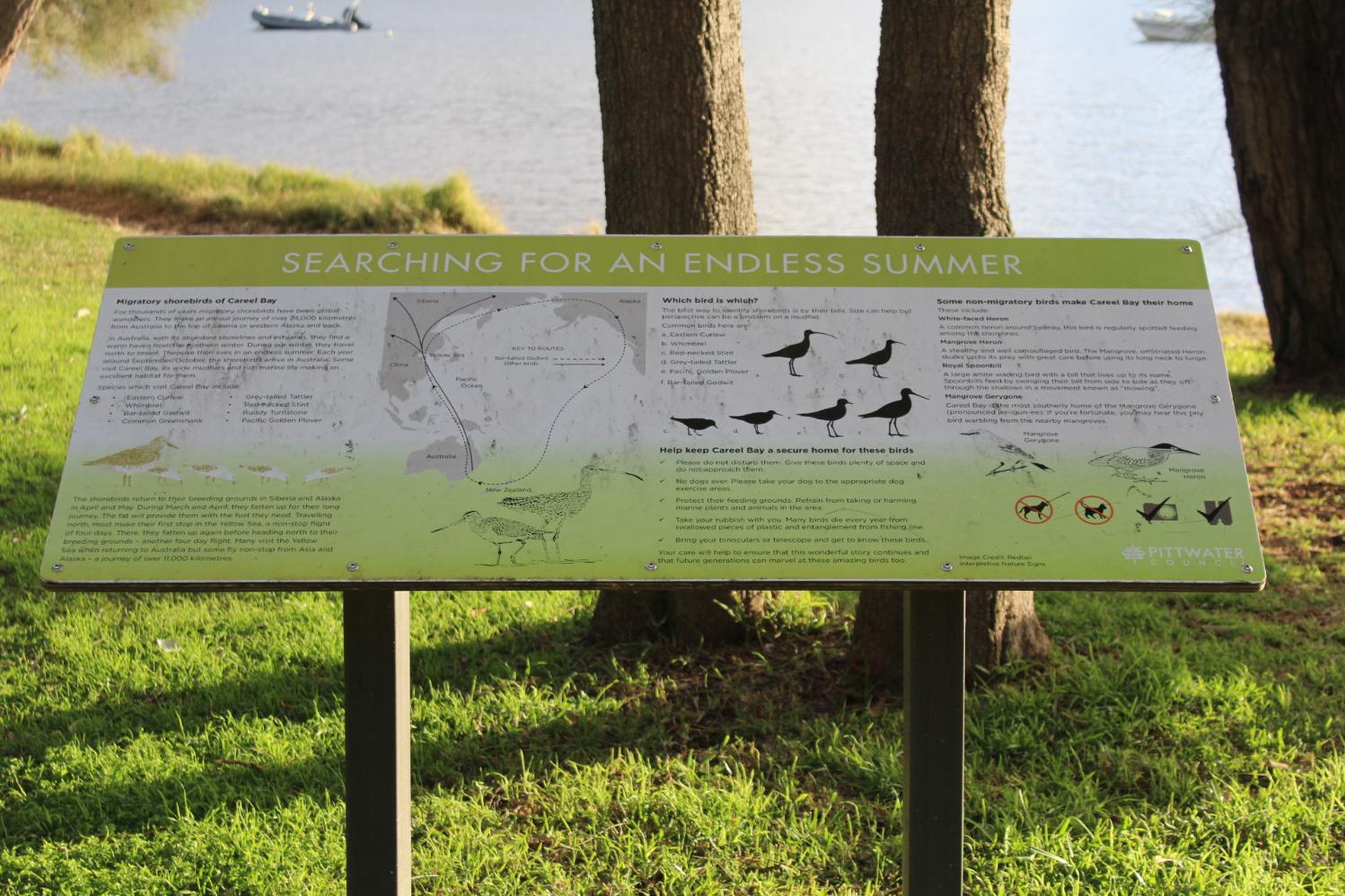 Boobook Owl And Baby Possum Rescue; Sydney Wildlife Rescue Volunteer - Nesting Boxes Available - All Sales To Sydney Wildlife
Helen Pearce is one of our local Sydney Wildlife volunteers - last week she got a call for a raptor rescue.
Helen says; ''As a licensed wildlife rescuer, I get to deal with some pretty cool animals, but today was a beautiful privilege.
Sydney Wildlife Rescue had a call at about 8:30 this morning for an owl on the ground. Thinking it'd be a Tawny chick (who is not an owl, not even a nightjar, but has very recently been reclassified in its own classification order), but preparing for a Powerful Owl, I set out with all necessary equipment. When I arrived, I found the most gorgeous fledgling Boobook owl. What a cutey!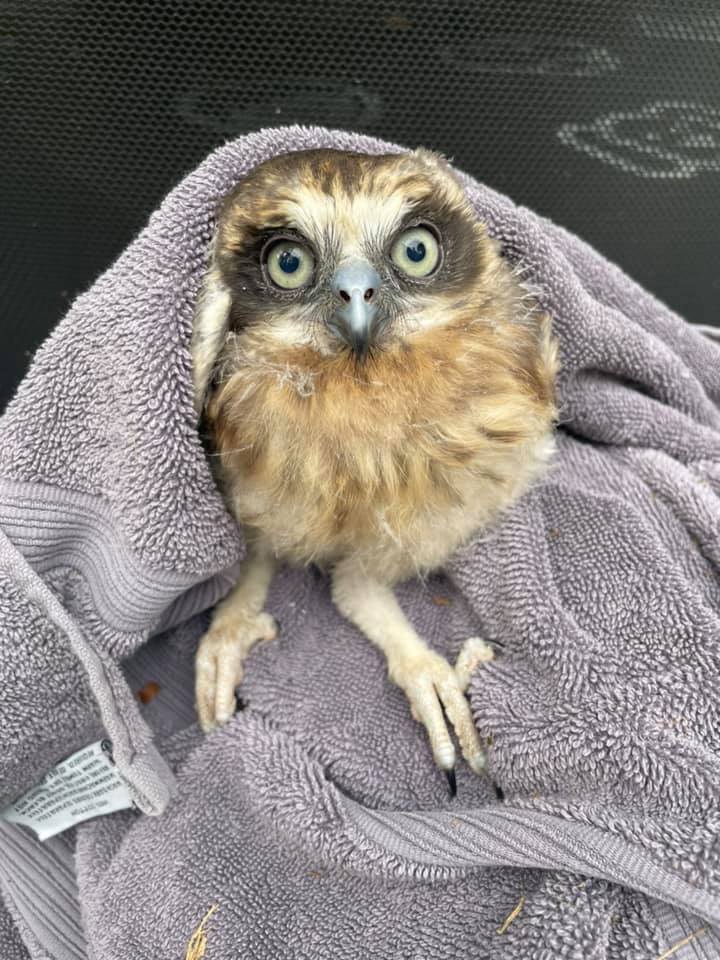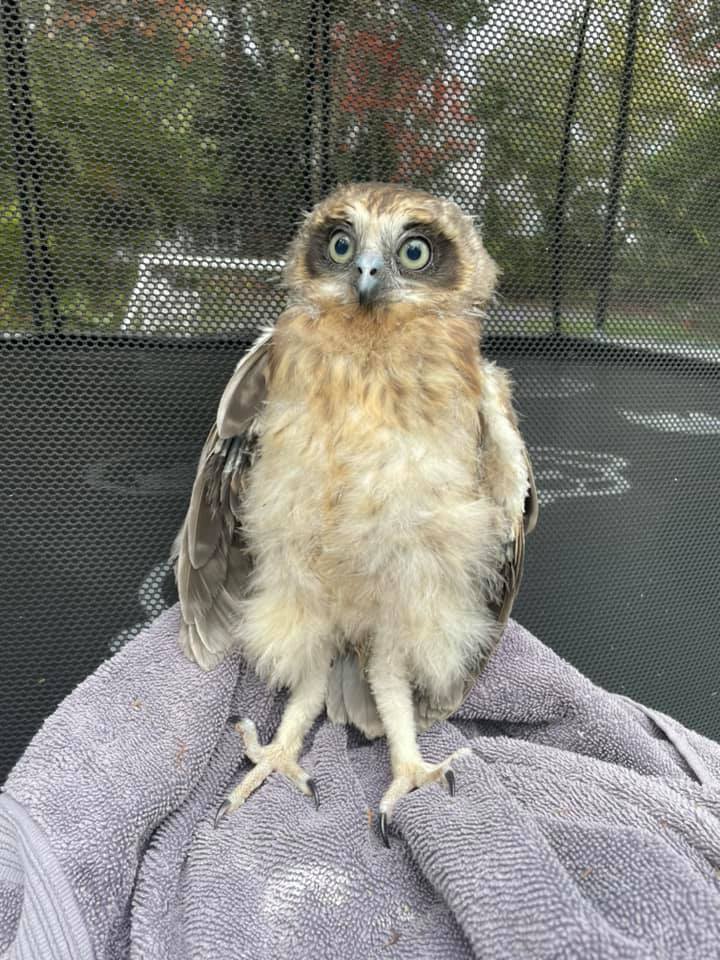 The parents were around and watching and rather concerned as to what we were going to do with their precious baby. Fluttering between Jo's and Lisa Yost Palmer 's garden, I caught the petrified little fluffball of claws and sharp beak and we formulated a plan.
Having consulted with SWR's experienced raptor coordinator, we made a make-shift nest and Jo and Lisa's amazing husbands scaled a tree and started fixing the new 'nest' as high as we practically could and placed 'Fluffy' in.
This evening, mum and dad have tended to the chick and there's a second chick still in the original nest!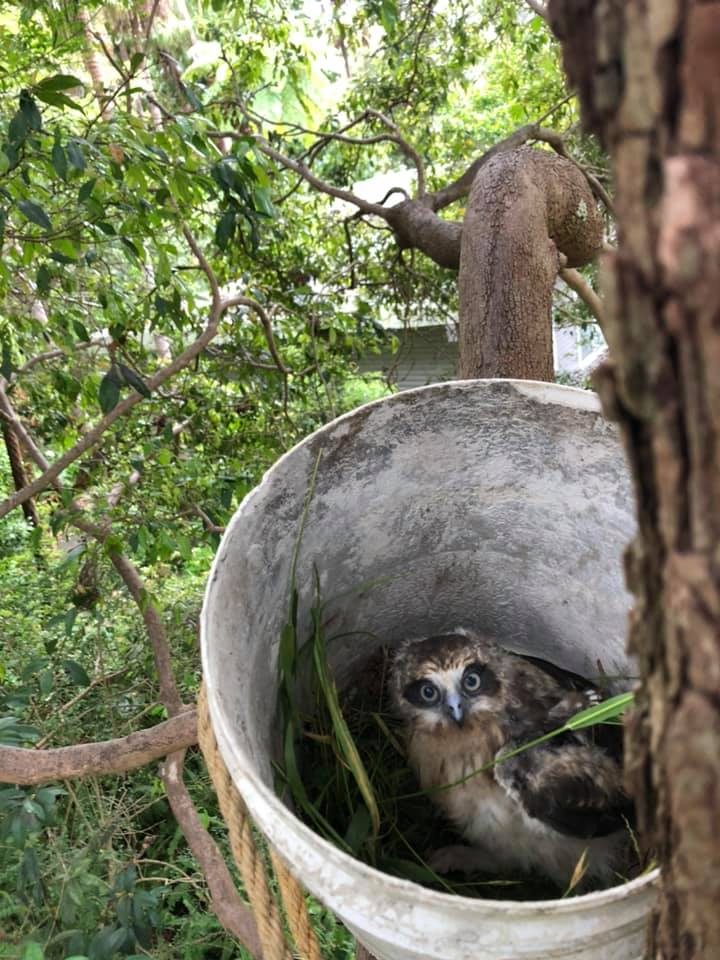 I'd like to extend my massive thanks to all involved for the effort made to help these birds. It's great to know there's people like these guys who care so deeply about our wildlife. Chicks of all species are fledging at the moment and may need a little extra help from us humans.''
The other recent rescue Helen has attended is a baby possum. More and more of these are coming into care as their tree homes are cut down without any checking to see if they are already inhabited by our wildlife.
Helen says;
''It's baby season! And I have a huge soft spot for brushtail possums.
The little guy in this photo is a 300g brushtail Joey. He was found all alone, in the middle of the day on a concrete slab by the side of a building. How he wasn't already dead, I don't know. Cats, dogs, birds, snakes, humans……hunger, dehydration, exposure to the sun, wind, cold……either way, he's a very lucky boy. What happened to his mum is unknown.
He's very scared. He doesn't know what's happened to him, who this strange thing is who's trying to feed a funny-tasting milk to him, where his mum is. He cries at night, calling for his mum, but she doesn't come.
He will settle in a day or two and get used to the new milk (which is a specialised marsupial milk, purely for his stage of development. Other various types of milks can kill him) and he'll begin to trust me, but I can't replace his mum.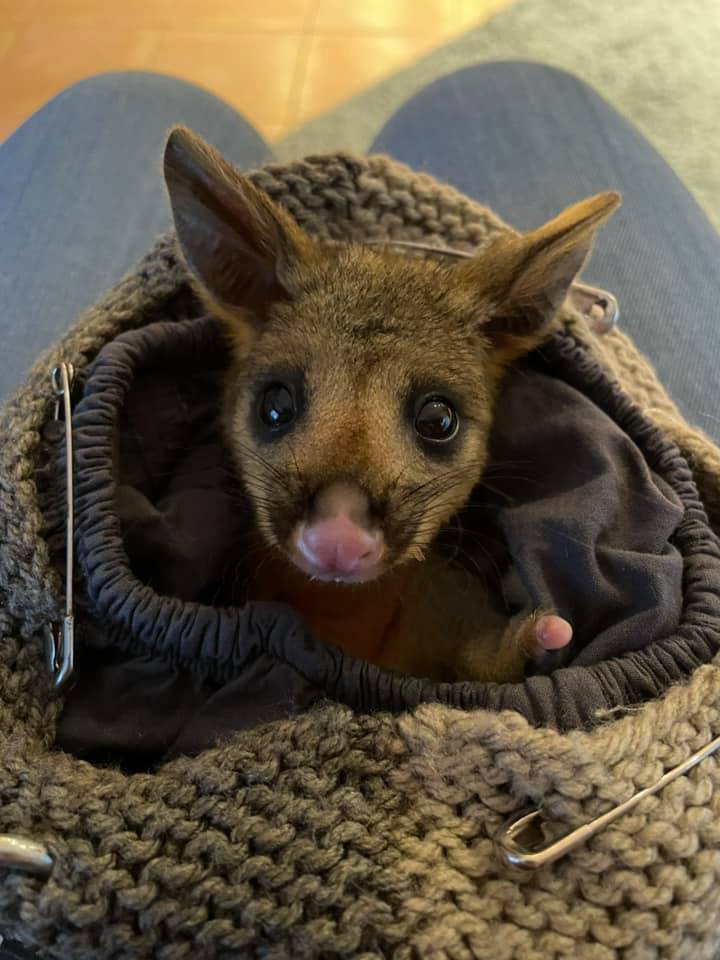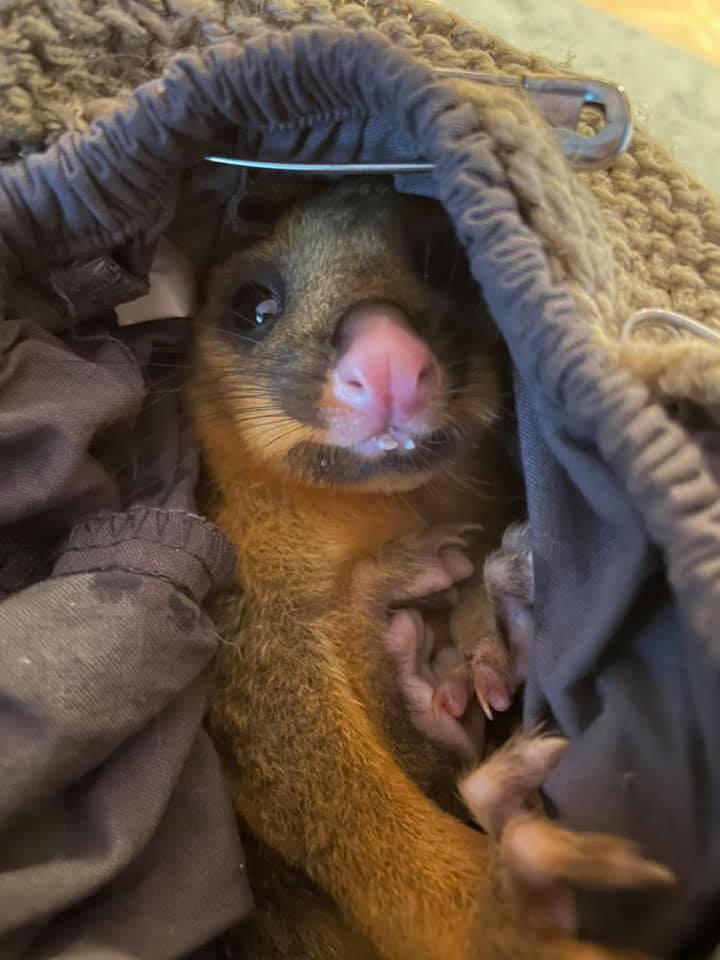 If you find a Joey on its own, it needs help. If you find one, please try to contain it and keep it safe from predators and exposure and call either Sydney Wildlife (Sydney Metropolitan Wildlife Services) or WIRES. If you find a dead possum (ringtail or brushtail), please check the pouch for a Joey. Brushies generally have one but ringtails will have 2, sometimes three. If you are unable to, that's ok, but please call it in to a wildlife organisation so someone can attend to it.
If you find a native animal in need, or if you have concerns, please call either
Sydney Wildlife Rescue - 02 9413 4300
Or WIRES - 1300 094 737
NB: Please do not attempt to handle a raptor, snake or other wild animals unless you are trained as you may cause injury to them or yourself.
Nesting Boxes Available
We are licensed wildlife rescuers with Sydney Wildlife Rescue and have been making more and more wildlife boxes, both for our releases and for members of the public.
As fewer nesting areas are available and tree hollows are becoming rarer, as development takes over, our native wildlife are struggling. We have decided to make more boxes and sell them to the community with all profits going back to Sydney Wildlife.
They can either be painted and sealed to make them weatherproof or unsealed for you to paint yourself as a fun activity for the family to add your own personal touch.
The possum boxes will all have an access branch on the front. The Kookaburra boxes have an access tunnel to mimic a tree hollow.
Please email me if you'd like to purchase one at helenjanepearce@yahoo.com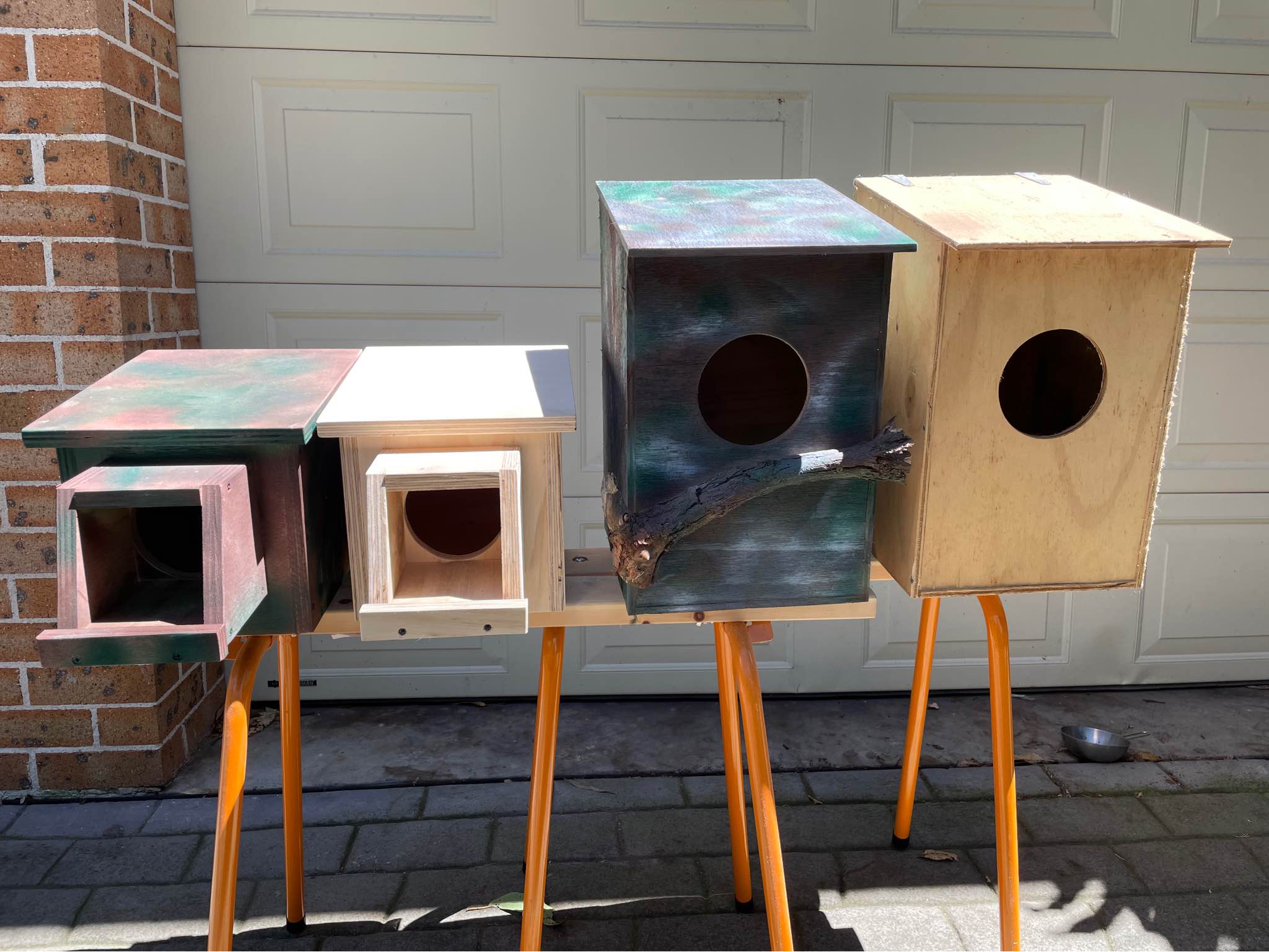 Photos: Helen Pearce
Dendrobium Coal Mine Declared State Significant Infrastructure
On Saturday December 4, 2021 Deputy Premier and Minister responsible for Resources Paul Toole said a proposal to extend Dendrobium coal mine had been declared State Significant Infrastructure (SSI) given its importance to Port Kembla steelworks and its thousands of employees.
"Dendrobium is a critical source of coking coal for the Port Kembla steelworks and the decision to declare the project SSI will provide thousands of workers with greater certainty on the future of their jobs," Mr Toole said.
"This decision recognises the proposal's potential economic benefits, with the mine already contributing $1.9 billion to the State's economy each year, employing 4,500 workers and supporting another 10,000 jobs across the Illawarra."
On February 5 of this year the Independent Planning Commission refused the company's proposed extension under the Sydney Water Catchment.
South32 wants to extract an additional 78 million tonnes of coal from its Dendrobium mine, west of Wollongong, through to 2048.
The company had received approval from the state Department of Planning for the $956 million project but was blocked by the IPC.
The state's planning authority found the impacts of the project outweighed the benefits.
In its reasons it said "the level of risk posed by the project has not been properly quantified and based on the potential for long-term and irreversible impacts — particularly on the integrity of a vital drinking water source for the Macarthur and Illawarra regions, the Wollondilly Shire and Metropolitan Sydney drinking water — it is not in the public interest".
The IPC also raised concerns about the longwall design, the degradation of watercourses and loss of swampland.
WaterNSW also "strongly opposed" the extension, finding it would cause significant environmental impact in watercourses and "would fundamentally change the hydrological and ecological functions" of upland swamps.
Then the proponents, South32, stated that as many as 2,000 jobs in the region were at risk if a reworked mine plan was not considered.
The company then commenced proceedings in the Land and Environment Court, seeking a judicial review of the IPC assessment of the Dendrobium mine.
Minister for Planning and Public Spaces Rob Stokes said Dendrobium mine's proponent, South32, had taken into consideration concerns raised by the Independent Planning Commission.
"The decision to declare Dendrobium SSI followed support for a motion passed in the Legislative Council early this year. It will now go through a rigorous assessment process and the community will still have their say," Mr Stokes said.
An SSI declaration does not change the Department of Planning, Industry and Environment's rigorous assessment of the proposal to extend Dendrobium coal mine.
South32 can now request assessment requirements to prepare an Environmental Impact Statement which will then go on public exhibition for community feedback and detailed assessment.
Government Must Release Natural Resources Commission's Forestry Report In Full
November 25, 2021
The NSW Government must explain why it ignored the advice of the independent Natural Resources Commission and kept logging forests in regions hit hardest by the 2019-20 Black Summer Bushfires.
The government has kept the Commission's report secret since June 2020 but extracts have been published today by Guardian Australia. [1]
"It is now clear the government was advised it should suspend timber harvesting for at least three years in extreme risk zones, including Narooma, Nowra and Taree," Nature Conservation Council Chief Executive Chris Gambian said.
"The leaked extracts from the NRC report validate what the conservation movement has said since day one – logging must stop in burnt native forests to give them a chance to recover.
"For some unknown reason, the government and its logging company, Forestry Corporation, chose to ignore the expert advice and put wildlife at extreme risk.
"It's quite astonishing. If you were looking for a case study of environmental negligence, you wouldn't need to look any further than this.
"The government must explain why it has kept this report secret for almost six months and also why it has not fully implemented the recommendations."
[1] Extract from Advice on Coastal IFOA operations post-2019-20 wildfires, June 2020, NSW Natural Resources Commission. Published on The Guardian Australia.
Secret document urges native logging halt in NSW regions hit hard by black summer bushfires, 25-11-21, The Guardian Australia
Threatened Species Habitat At Risk From A Hotter Climate
October 12, 2021
New research released today has found climate change will expose larger areas of forest in coastal NSW to higher frequency and more intense fires, amplifying the changes to fire regimes brought about by the 2019/20 fires.
Leading researchers at the University of the Wollongong, a partner at the NSW Bushfire Research Hub, conducted the research using the latest data on behalf of the NSW Natural Resources Commission.
According to the lead researcher, Emeritus Professor Ross Bradstock, "The 2019/20 fires mean now only 10 percent of forested areas are currently within their recommended fire frequency thresholds. We found half of the state forest and national park area is now classified as 'vulnerable' in coastal NSW. This means the 2019/20 fires effectively doubled the extent of vulnerable forested vegetation on these tenures."
The research also modelled what would happen to the habitat of 24 threatened species under a climate change scenario of hotter temperatures and little change in rainfall. Of the 24 species, seven species are predicted to have their habitat reduced by over 75% by 2070.
NSW Natural Resources Commissioner Professor Hugh Durrant-Whyte said. "This is an important report, one that highlights consequences of the 2019/20 bushfires and future climate for NSW's forests and provides guidance for future planning of our forests".
The research team evaluated:
the specific risks to achieving the Coastal IFOA objectives and outcomes as result of the legacy landscape scale impacts of the NSW 2019/20 wildfire season
the broad implications of predicted changing fire regimes on the achievement of the Coastal IFOA's objectives and outcomes options to mitigate risks.
The researchers found:
The 2019/20 fires impacted about 3.6 million hectares of forests across all tenures within the mapped Coastal IFOA region.
Around 60 percent of the total state forest and national park area within this region was burnt, almost half of which was subject to high or extreme fire severity.
Previous timber harvesting did not increase the fire extent or severity of the 2019/20 fires. However, there is potential for cumulative impacts in harvested landscapes that are subject to fire.
The 2019/20 fires mean now only 10 percent of forested areas are currently within their recommended fire frequency thresholds.
Half of state forest and national park area is now classified as 'vulnerable', meaning the 2019/20 fires effectively doubled the extent of vulnerable forested vegetation on these tenures.
Under the climate change scenario of hotter temperatures and little change in rainfall, of the 24 assessed threatened species, seven species are predicted to have their habitat reduced by over 75% by 2070.
However, there is potential for cumulative impacts in harvested landscapes that are subject to fire, particularly in the next 5 to 10 years.
This research supports the recommendations of the NSW Bushfire Inquiry, and through the implementation of those recommendations, the NSW Government can lead efforts to mitigate the impacts and risks from changing fire regimes and climate.
The ful University of Wollongong report is available here: ''Risks to the NSW Coastal Integrated Forestry Operations Approvals Posed by the 2019/2020 Fire Season and Beyond: A Report to the New South Wales Natural Resources Commission''
Draft Cycling Strategy For NSW's National Parks
The Draft Cycling Policy, Draft Cycling Strategy and Draft Cycling Strategy: Guidelines for Implementation is on public exhibition until 30 January 2022.
The scope of this new strategy is broad. It includes all types of cycling experiences in our parks. It is complemented with a more detailed set of guidelines for implementation and updates to our Cycling policy.
The Draft Cycling policy builds upon our experience from previous versions and has been updated in parallel to the draft strategy. It identifies in a legislative framework where cycling is permissible in parks.
The Draft Cycling Strategy outlines our vision, objectives and priorities for the provision of cycling experiences.
The Draft Cycling Strategy: Guidelines for Implementation provides further details on the processes and procedures that National Parks and Wildlife Service (NPWS) will apply to assess, approve, manage and monitor cycling opportunities within NPWS estate as detailed in the Cycling Strategy.
The draft Cycling Strategy sets a precedent for managing the conservation of natural and cultural heritage values in our parks as a priority and then allows for the development of compatible cycling opportunities. Not all cycling activities will be suitable in all parts of parks.
The draft Cycling Strategy details a clear framework for how we seek to provide for, and manage, cycling opportunities within parks. The processes for cyclists to work with National Parks and Wildlife Service are made clear. We intend to work collaboratively with stakeholders and other land managers to tackle key challenges including, unauthorised tracks, the safety and enjoyment of visitors on multi-use trails and the provision of park visitor facilities.
The draft Guidelines for Implementation address the way we will deliver the Cycling Strategy, including the approval process for new tracks and networks, the rehabilitation of unauthorised tracks, how we will work with external parties (including volunteer groups) and our management of cycling experiences. These documents will replace the Sustainable Mountain Biking Strategy 2011.
Public online presentation
You are invited to an online public presentation on Wednesday, 1 December, 12:00 – 1:00pm. Please register to attend this presentation.
Your feedback on the draft Cycling Policy, strategy and implementation guideline documents is valued. Our response to your submission will be based on the merits of the ideas and issues you raise rather than just the quantity of submissions making similar points. For this reason, a submission that clearly explains the matters it raises will be the most effective way to influence the finalisation of the plan.
Submissions are most effective when we understand your ideas and the outcomes you want for park management. Some suggestions to help you write your submissions are:
write clearly and be specific about the issues that are of concern to you
note which part or section of the document your comments relate to
give reasoning in support of your points - this makes it easier for us to consider your ideas and will help avoid misinterpretation
tell us precisely what you agree/disagree with and why you agree or disagree
suggest solutions or alternatives to managing the issue if you can.
Have your say by Thursday 30 January 2022.
There are three ways to provide feedback:
Formal submission: Address: Manager, NPWS Planning Evaluation and Assessment Locked Bag 5022 Parramatta NSW 2124
BASIX Higher Standards: Feedback Open
The NSW Government are improving BASIX standards to build more comfortable homes, cut energy costs and contribute to our target of net zero homes by 2050.
This is part of the Trajectory for Low Energy Buildings, a national plan that aims to achieve zero energy and carbon-ready buildings. The plan proposes increases to the energy efficiency provisions in the National Construction Code (NCC) for residential buildings from 2022.
What do the proposed new standards mean:
Cheaper energy bills. You'll use less electricity so your bills will be cheaper – saving as much as $980 a year on energy bills.
More comfortable homes. Your home will be naturally cooler in summer, warmer in winter, which means you won't be turning the heater or air conditioner on as often
Fewer carbon emissions. This contributes towards our goal of net zero homes by 2050
The proposed higher standards
Te NSW Department of Planning welcome feedback on the proposed increases to BASIX standards. The proposed changes can be found in the Proposed BASIX Higher Standards document. This document shows a map of the climate zones in NSW.
The proposed thermal performance and energy standards vary according to climate zones.
The tables show the proposed maximum allowable thermal loads and the energy standards for the climate zones.
Technical information about the changes
The proposed BASIX thermal performance and energy standards vary depending on;
location based on climate
building type for apartment buildings
Standards for most new residential buildings are proposed to increase across NSW from late 2022. Exceptions include apartment buildings up to 5 storeys and properties in the NSW North Coast climate zone.
The North Coast climate zones where standards won't be changed are climate zones 9, 10 and 11 defined by the Nationwide House Energy Rating Scheme (NatHERS). They are predominantly on the NSW North Coast but also include Port Stephens and Maitland.
Other documents
Proposed BASIX Higher Standards
Cost Benefit Analysis report
BASIX Higher standards FAQ
Have your say
The government welcome your feedback on the proposed BASIX higher standards from Wednesday, 17 November until January 17 2022. The BASIX higher standards exhibition aligns with the Design and Place SEPP exhibition.
The exhibitions will close on the same day, currently expected in January 2022.
Visit: www.planningportal.nsw.gov.au/draftplans/exhibition/basix-higher-standards
Home Design To Drive Energy Bills Down
November 22, 2021
New sustainability standards for homes will save residents up to $980 a year on energy bills and reduce the State's carbon footprint as we move to net-zero emissions by 2050.
The Building Sustainability Index (BASIX) is a key assessment tool that ensures new homes are comfortable to live in regardless of the temperature, are more energy efficient and save water.
Minister for Planning and Public Spaces Rob Stokes said BASIX had prevented 12.3 million tonnes of greenhouse gas over the past 17 years – equivalent to taking 2.5 million cars off the road.
"These proposed increases in standards will see more energy-efficient homes from Double Bay to Dubbo and beyond, with better design, better insulation, more sunlight and more solar panels," Mr Stokes said.
"We want to lift BASIX standards even higher to drive down emissions further, saving another 150,000 tonnes a year and helping to achieve net-zero emissions by 2050.
"Better design will keep your home naturally cooler in summer and warmer in winter, so you won't be turning the heater or air conditioner on as often.
Energy bills are expected to reduce significantly as a result of the new BASIX standards:
Savings of up to $190 each year for people living in high-rise apartments;
Savings of up to $850 each year for people living in new Western Sydney houses; and
Savings of up to $980 a year for people living in new houses in the regions.
"To showcase the benefits of these new measures, we're inviting up to 10 builders to test the proposed BASIX requirements ahead of its official roll out next year," Mr Stokes said.
These new targets complement work underway, such as planting one million trees and investing $4.8 million to make building materials more environmentally friendly.
The community is encouraged to provide feedback on the proposed BASIX changes by Monday 31 January, 2022 at planningportal.nsw.gov.au/BAS IX- standards
Draft Marine Park Management Plan Released
The NSW Government has today,
November 1, 2021,
released its draft Management Plan for the NSW Mainland Marine Park Network (2021-2031), which has been developed to guide the management of the state's five existing mainland marine parks.
Environment Minister Matt Kean said our marine parks are a precious and valuable asset that provide habitat for dozens of threatened and endangered species up and down the NSW coast.
"Marine parks are valued for their environmental, social and economic benefits – ranging from diving and recreational fishing to tourism and cultural use of Sea Country," Mr Kean said.
"This draft plan strikes the right balance between conservation and recreation."
Minister for Agriculture Adam Marshall said the draft would unlock more opportunities for all members of the community to engage in more low impact and low threat activities like recreational fishing while protecting the environmental values of our marine parks.
"The first step in improving the management of marine parks is to ensure we get the 10-year framework right and so this draft plan was informed by evidence on the community's values of the park network and the threats posed to those values," Mr Marshall said.
"The plan outlines management objectives and actions to ensure the community, including fishers and aquaculture operators, can get the best out of marine parks without being locked out.
"Up until now, marine parks have been managed by political decisions around lines on maps, but the draft plan is about making evidence-based decisions.
"This is certainly not about creating new marine parks, but rather making sure we get the settings right before looking at the rules of how they're regulated."
Mr Marshall said the draft plan will be out for a minimum of two months of community consultation. Following consultation on the draft management plan, we will consult the community separately on the rules and regulations.
"The community is now invited to have its say on the management of the state's five mainland marine parks, which provide a range of biodiversity conservation, cultural, commercial and recreational benefits," Mr Marshall said.
The five mainland marine parks in NSW include Cape Byron, Solitary Islands, Port Stephens-Great Lakes, Jervis Bay and Batemans marine parks. A management plan for Lord Howe Island Marine Park will be developed separately.
The draft plan does not include any specific proposals around changes to rules or zones. The detail of any proposed changes to rules or zones will be developed in stage 2 after the draft plan is finalised and will be subject to further community consultation.
For more information and to complete the survey visit www.marine.nsw.gov.au/yoursay. The plan will be open for consultation until 31 January 2022.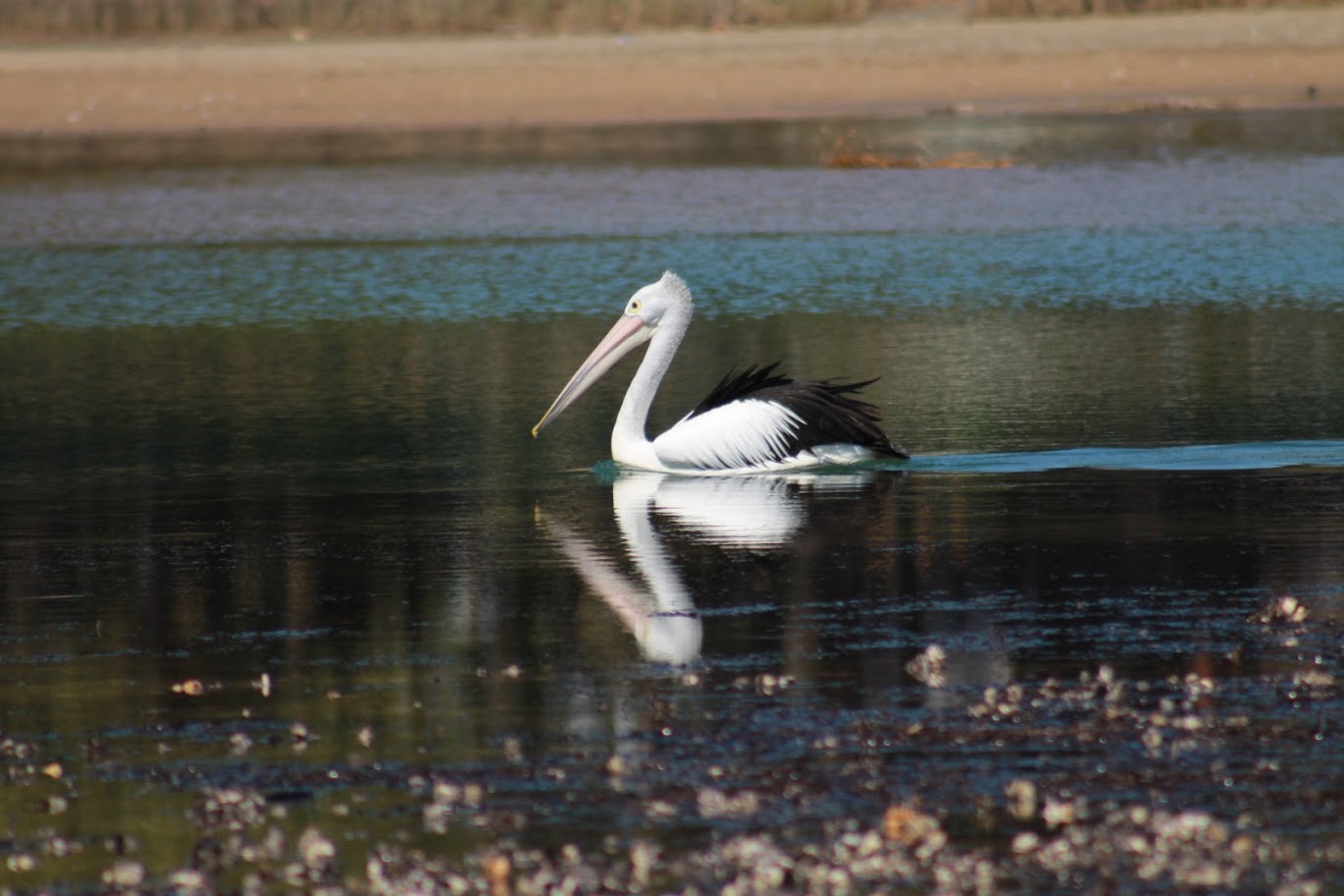 New Plans To Protect Sydney's Koalas
December 2, 2021
Sydney's largest, and one of the state's healthiest, koala populations will be further protected under new measures being implemented as part of the Cumberland Plain Conservation Plan (CPCP).
Minister for Planning and Public Spaces Rob Stokes said the changes put the protection of one of Australia's most iconic threatened species at the heart of planning in south-west Sydney.
"After seeking advice from the NSW Chief Scientist & Engineer on the draft Plan, I'm pleased to confirm we are adopting all 31 recommendations to protect our critical koala population," Mr Stokes said.
"We have updated the Plan to protect additional areas of habitat and ensure that wildlife corridors are suitable for koala movement.
Member for Penrith and Minister for Western Sydney Stuart Ayres said the koala population of the Greater Macarthur region is one of healthiest colonies in the state and one which continues to grow.
"It's important that we support the region's koala population, while also managing a growing community in Sydney's south-west," Mr Ayres said.
"This area is also rich in significant Aboriginal culture and history, and we're committed to working more closely with Local Aboriginal Land Councils and Traditional Custodians to preserve this in our planning for the community."
Environment Minister Matt Kean said one of the leading threats to koala populations in the wild, is the loss and fragmentation of their habitat.
"South West Sydney is home to the only disease-free koala populations in the Sydney basin and it is one of the most important koala populations anywhere in the state," Mr Kean said.
"This advice from the NSW Chief Scientist & Engineer is crucial in protecting koala habitat in the Campbelltown and Macarthur regions as we finalise the implementation of the CPCP.
"As this part of Sydney continues to grow these recommendations will guide future development in the area and ensure koala habitat and wildlife corridors are protected in perpetuity."
The Greater Macarthur 2040 Plan is also being finalised which will work alongside the CPCP to create koala movement corridors, improve connections and allow koalas to travel more safely throughout the region.
The CPCP and Greater Macarthur 2040 Plan are expected to be finalised and released in 2022.
For more information on the CPCP visit the CPCP web page.
_________________________________
Koala Underpasses Must Be Built Before Development: Greens
December 2, 2021
Today's commitment by the NSW Government to enact all 31 of the Chief Scientist & Engineer's recommendations to protect Campbelltown's Koalas is welcome news for the community and koalas, however underpasses must be built and koala corridors protected before Lendlease starts any development, says Cate Faehrmann Greens MP and spokesperson for Environment and Wildlife.
The new measures will form part of the Cumberland Plain Conservation Plan and include commitments to build koala underpasses on Appin road and protect the east-west koala corridors. The commitment comes after the NSW Legislative Council passed a Greens motion calling on the Government to ensure the underpasses are built and corridors protected prior to the development.
"This is a welcome news for local residents who have been working tirelessly to see Campbelltown's koalas protected for years now. They've been demanding more be done to protect this vital koala population from development and they're being heard," said Ms Faehrmann.
"There is a serious desire to see Campbelltown's koalas protected from the threats posed by development in the south west Sydney Growth centre.
"Just a few weeks ago, the NSW Upper House overwhelmingly supported my motion calling for Appin Rd koala underpasses and corridors to be in place before construction begins.
"This latest commitment by the government is welcome but there are still questions over when the corridors and crossings will be completed. The government has known about how deadly Appin Rd has been for koalas for years and have sat on their hands while koalas continue to be killed.
"If the necessary protections aren't in place before development begins the koala population will be hugely impacted by construction activities.
"Lendlease should not be allowed to put a shovel in the ground until these underpasses are in place," said Ms Faehrmann.
Novel Implants To Protect Australia's Wildlife From Feral Cats
New technology developed by the University of South Australia may put an end to predatory cat behaviours in native environments and help control Australia's feral felines.
Using polymer chemistry principles, researchers at UniSA's Applied Chemistry and Translational Biomaterials Group have created novel Population Protecting Implants (PPIs) to provide a targeted method for controlling invasive and problem feral cats.
The rice-sized implants are injected just under the skin of native animals, where they remain inert, only activating when digested by a feral predator. The result is deadly.
UniSA PhD student and 2021 recipient of an Australian Wildlife Society research grant, Kyle Brewer, says the PPIs could save hundreds of native animals that have been decimated by feral cats.
"Feral cats present a catastrophic threat for Australia's wildlife as they occur across more than 99 per cent of Australia's land area and kill more than 815 million mammals each year, the majority of which are native species," Brewer says.
"Smaller, 'meal size' mammals are most at risk, especially ground-dwellers such as the bilby, bettong and quoll.
"Efforts to remove feral cats from a native landscape have had limited success, making it near impossible to re-establish threatened native populations outside a fenced area. Invariably, when native mammal reintroduction schemes are activated, they're swiftly wiped out by an incursive feral cat.
"By injecting native species with the PPI before they are reintroduced to their natural environment, we're providing a protective buffer that aims to take out the feral invader in one stroke.
"If a feral cat successfully preys upon one of the PPI-injected mammals, it eats the implant, which activates in the cat's gastric system causing poison release and death. Ultimately, this protects the remaining native animal population."
The PPIs are covered by a protective coating and contain a toxin derived from a natural poison in native plants. They present no danger to tolerant native mammals but are deadly once the toxin is activated in the introduced predator's stomach.
Brewer's project is a collaborative effort, with researchers from local ecology groups, Ecological Horizons and Peacock Biosciences, and the University of Adelaide, already trialling PPIs in South Australia.
Currently, 30 bilbies have been implanted with PPIs at Arid Recovery, a 123 km2 wildlife reserve in South Australia's north. Results from this trial are expected to demonstrate the effectiveness of the technology and lead to its commercialisation.
Feral cats threaten the survival of more than 100 native species in Australia and have caused the extinction of many ground-dwelling birds and small to medium-sized mammal species.
"We need to pounce on any opportunity to protect our native species. Nine lives no more for feral cats."
Bushcare In Pittwater
For further information or to confirm the meeting details for below groups, please contact Council's Bushcare Officer on 9970 1367
BUSHCARE SCHEDULES
Where we work Which day What time
Avalon
Angophora Reserve 3rd Sunday 8:30 - 11:30am
Avalon Dunes 1st Sunday 8:30 - 11:30am
Avalon Golf Course 2nd Wednesday 3 - 5:30pm
Careel Creek 4th Saturday 8:30 - 11:30am
Toongari Reserve 3rd Saturday 9 - 12noon (8 - 11am in summer)
Bangalley Headland 2nd Sunday 9 to 12noon
Bayview
Winnererremy Bay 4th Sunday 9 to 12noon
Bilgola
North Bilgola Beach 3rd Monday 9 - 12noon
Algona Reserve 1st Saturday 9 - 12noon
Plateau Park 1st Friday 8:30 - 11:30am
Church Point
Browns Bay Reserve 1st Tuesday 9 - 12noon
McCarrs Creek Reserve Contact Bushcare Officer To be confirmed
Clareville
Old Wharf Reserve 3rd Saturday 8 - 11am
Elanora
Kundibah Reserve 4th Sunday 8:30 - 11:30am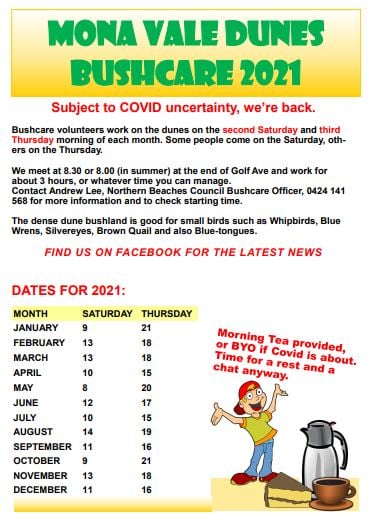 Mona Vale
Mona Vale Beach Basin 1st Saturday 8 - 11am
Mona Vale Dunes 2nd Saturday +3rd Thursday 8:30 - 11:30am
Newport
Bungan Beach 4th Sunday 9 - 12noon
Crescent Reserve 3rd Sunday 9 - 12noon
North Newport Beach 4th Saturday 8:30 - 11:30am
Porter Reserve 2nd Saturday 8 - 11am
North Narrabeen
Irrawong Reserve 2nd Saturday 2 - 5pm
Palm Beach
North Palm Beach Dunes 3rd Saturday 9 - 12noon
Scotland Island
Catherine Park 2nd Sunday 10 - 12:30pm
Elizabeth Park 1st Saturday 9 - 12noon
Pathilda Reserve 3rd Saturday 9 - 12noon
Warriewood
Warriewood Wetlands 1st Sunday 8:30 - 11:30am
Whale Beach
Norma Park 1st Friday 9 - 12noon
Western Foreshores
Coopers Point, Elvina Bay 2nd Sunday 10 - 1pm
Rocky Point, Elvina Bay 1st Monday 9 - 12noon

Gardens And Environment Groups And Organisations In Pittwater
Avalon Golf Course Bushcare Needs You
We're so short of helpers we've had to cancel for the time being. Meanwhile the weeds will go gangbusters.
We used to meet on the second Wednesday afternoon of each month. Could you come if we worked on another day or time? say a morning, or on a weekend day?
Contact Geoff Searl on 0439 292 566 if you'd like to help. He'd love to hear from you.
We have fun using the Tree Popper, here with our supervisor from Dragonfly Environmental. We can lever out quite big Ochnas, aka Mickey Mouse plant from Africa. We want to bring back the bush, not let the weeds win!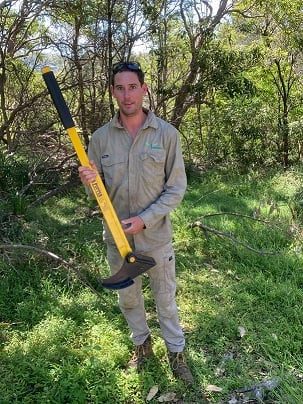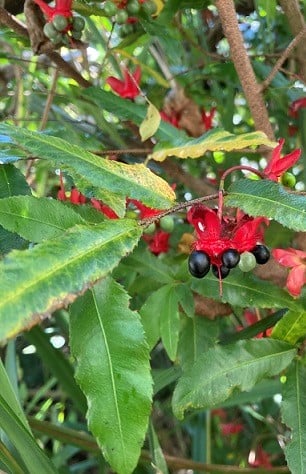 Ochna or Mickey Mouse plant has yellow flowers in spring, then lots of green berries that turn black when ripe. Seedlings come up in hundreds. Ochna has a very strong taproot but the steady pressure of the Tree Popper lifts the plant out of the ground easily. The alternative control is repeated scraping and painting with Roundup, very slow and time consuming. If you have an Ochna you cant remove, you can enjoy the flowers, then PLEASE prune it so that berries can't develop.
New Shorebirds WingThing For Youngsters Available To Download
A Shorebirds WingThing educational brochure for kids (A5) helps children learn about shorebirds, their life and journey. The 2021 revised brochure version was published in February 2021 and is available now. You can download a file copy here.
If you would like a free print copy of this brochure, please send a self-addressed envelope with A$1.10 postage (or larger if you would like it unfolded) affixed to: BirdLife Australia, Shorebird WingThing Request, 2-05Shorebird WingThing/60 Leicester St, Carlton VIC 3053.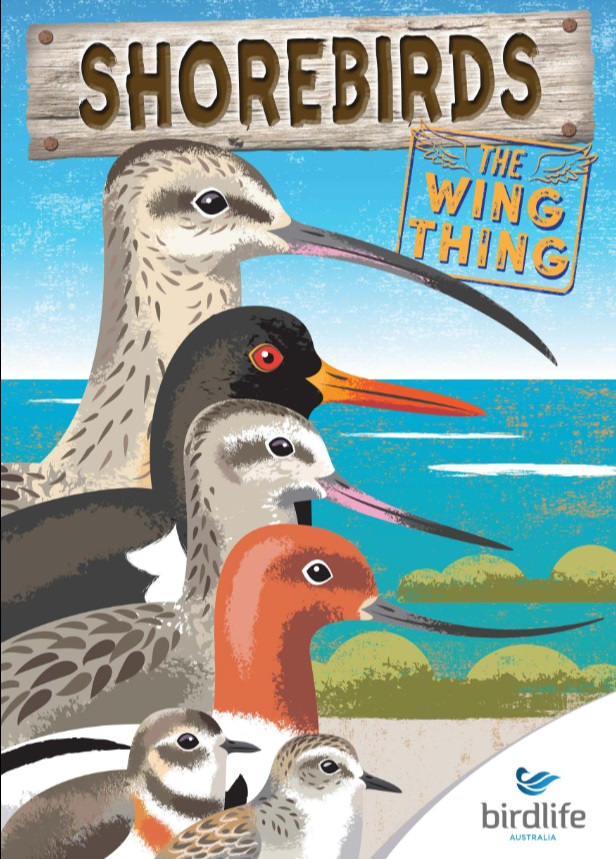 Shorebird Identification Booklet
The Migratory Shorebird Program has just released the third edition of its hugely popular Shorebird Identification Booklet. The team has thoroughly revised and updated this pocket-sized companion for all shorebird counters and interested birders, with lots of useful information on our most common shorebirds, key identification features, sighting distribution maps and short articles on some of BirdLife's shorebird activities.
The booklet can be downloaded here in PDF file format: http://www.birdlife.org.au/documents/Shorebird_ID_Booklet_V3.pdf
Paper copies can be ordered as well, see http://www.birdlife.org.au/projects/shorebirds-2020/counter-resources for details.
Download BirdLife Australia's children's education kit to help them learn more about our wading birdlife
Shorebirds are a group of wading birds that can be found feeding on swamps, tidal mudflats, estuaries, beaches and open country. For many people, shorebirds are just those brown birds feeding a long way out on the mud but they are actually a remarkably diverse collection of birds including stilts, sandpipers, snipe, curlews, godwits, plovers and oystercatchers. Each species is superbly adapted to suit its preferred habitat. The Red-necked Stint is as small as a sparrow, with relatively short legs and bill that it pecks food from the surface of the mud with, whereas the Eastern Curlew is over two feet long with a exceptionally long legs and a massively curved beak that it thrusts deep down into the mud to pull out crabs, worms and other creatures hidden below the surface.
Some shorebirds are fairly drab in plumage, especially when they are visiting Australia in their non-breeding season, but when they migrate to their Arctic nesting grounds, they develop a vibrant flush of bright colours to attract a mate. We have 37 types of shorebirds that annually migrate to Australia on some of the most lengthy and arduous journeys in the animal kingdom, but there are also 18 shorebirds that call Australia home all year round.
What all our shorebirds have in common—be they large or small, seasoned traveller or homebody, brightly coloured or in muted tones—is that each species needs adequate safe areas where they can successfully feed and breed.
The National Shorebird Monitoring Program is managed and supported by BirdLife Australia.

This project is supported by Glenelg Hopkins Catchment Management Authority and Hunter Local Land Services through funding from the Australian Government's National Landcare Program. Funding from Helen Macpherson Smith Trust and Port Phillip Bay Fund is acknowledged.
The National Shorebird Monitoring Program is made possible with the help of over 1,600 volunteers working in coastal and inland habitats all over Australia.
The National Shorebird Monitoring program (started as the Shorebirds 2020 project initiated to re-invigorate monitoring around Australia) is raising awareness of how incredible shorebirds are, and actively engaging the community to participate in gathering information needed to conserve shorebirds.
In the short term, the destruction of tidal ecosystems will need to be stopped, and our program is designed to strengthen the case for protecting these important habitats.
In the long term, there will be a need to mitigate against the likely effects of climate change on a species that travels across the entire range of latitudes where impacts are likely.
The identification and protection of critical areas for shorebirds will need to continue in order to guard against the potential threats associated with habitats in close proximity to nearly half the human population.
Here in Australia, the place where these birds grow up and spend most of their lives, continued monitoring is necessary to inform the best management practice to maintain shorebird populations.
BirdLife Australia believe that we can help secure a brighter future for these remarkable birds by educating stakeholders, gathering information on how and why shorebird populations are changing, and working to grow the community of people who care about shorebirds.

To find out more visit: http://www.birdlife.org.au/projects/shorebirds-2020/shorebirds-2020-program
Aussie Bread Tags Collection Points
Collecting bread tags enables us to provide wheelchairs that change the life of disabled people in need, as well as keeping the tags out of landfill to help to preserve the environment.
Bread Tags for Wheelchairs was started in South Africa in 2006 by Mary Honeybun. It is a community program where individuals and organisations collect bread tags, which are sold to recyclers. The money raised pays for wheelchairs for the less fortunate which are purchased through a local pharmacy. Currently about 500kg of bread tags are collected a month in South Africa, funding 2-3 wheelchairs.
We have been collecting bread tags nationally in Australia since September 2018 and now have more than 100 collection points across the country. In February 2019 we started local recycling through Transmutation - Reduce, Reuse and Recycle in Robe, SA, where our tags are recycled into products such as door knobs and bowls. Tags from some states are still sent to South Africa where a plastics company called Zibo recycles them into seedling trays.
These humble bits of polystyrene can make a real difference so get your friends, family, school, workplace and church involved. Ask school tuck shops and boarding school kitchens, child care centres, aged care facilities, hospitals, cafes and fast food outlets to collect for you - they get through a lot of bread!
All the information and signage for collecting or setting up a public collection point is
on our website
.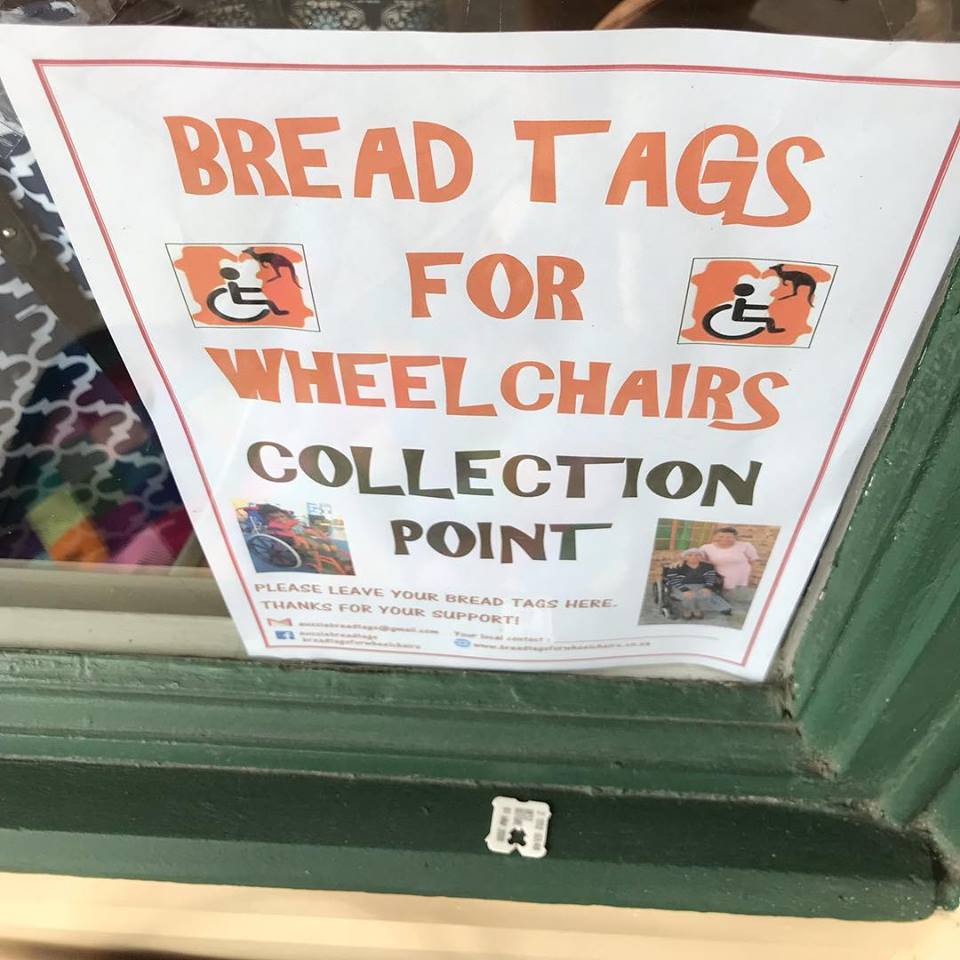 Class Of 2021 Conquer HSC Exams
The 2021 Higher School Certificate exams are officially over at 12:30 today, when 3,756 Food Technology students finish their final exam.
Minister for Education Sarah Mitchell said this is a momentous day for the Class of 2021, who have shown incredible resilience and hard work to get to this point.
"Today officially marks the end of 13 years of schooling for 69,000 Year 12 students and I am incredibly happy to see them so triumphantly reach the finish line," Ms Mitchell said.
"HSC students should be very proud of what they have achieved over the past two years. The resilience, focus and adaptability they have shown will serve them well in the next chapter of their life, whether that is university, vocational training, or employment.
"To safely deliver 400,000 individual exam sessions statewide with no disruption amidst a global pandemic is a huge success.
"I thank the school sectors, principals, teachers, school staff, exam supervisors and invigilators, students and their families for their engagement and adherence to the COVID-safe HSC exam guidelines."
Over the past four weeks, students sat 110 exams across 750 exam venues, with strict COVID-safe protocols in place.
Chief Executive Officer of the NSW Education Standards Authority (NESA) Paul Martin said the 2021 HSC was a huge success, with all exams going ahead safely even when a small number of schools closed due to COVID-19.
"Having a robust set of COVID-safe exam protocols in place was vital to the success of exams this year," Mr Martin said.
"The protocols and plans in place also proved effective in mitigating against other issues throughout the exam period, including flooding in parts of the state. Students in the impacted areas were able to safely get to alternate exam venues.
"My sincerest gratitude goes to the school community and exam staff for delivering a COVID-safe HSC this year."
Marking is already underway, with results to be delivered via SMS and email on Monday 24 January.
Students can get their school assessment ranks from this afternoon via Students Online until 30 December.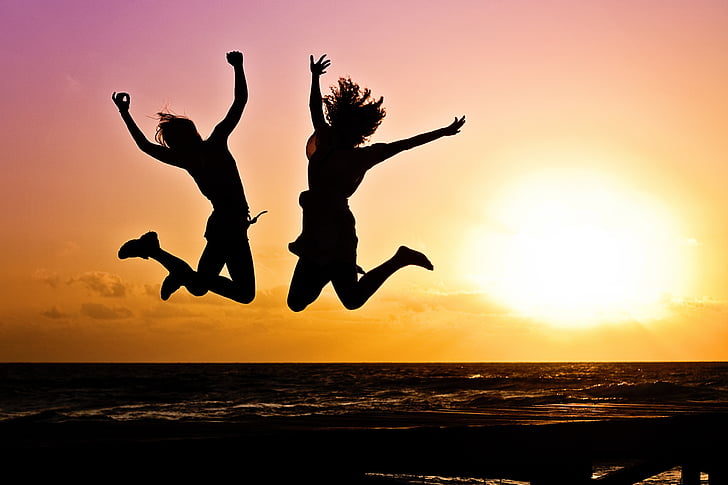 How To Host A Safe Party: Tips And Advice
For your information the NSW Police Force have listed some suggestions for you to consider when having a party or gathering. By following the advice below, you can help minimise the risks and help make your party successful, enjoyable and a safe time for everyone.
Consider how the party will be advertised. Don't use Internet, SMS or email distribution lists, online notice boards or social networking sites. If word of the party has spread, you will need to take extra preventative measures (ie. Change venue, more adult supervisors, hire a security guard, ask neighbours to notify you of any unusual behaviour).
Guest lists should be kept to a manageable size. If you are hosting a young person's party, and you are expecting a large number of people, consider asking other responsible adults to assist with supervision, or consider hiring security officers.
Consider numbering your invitations or have the guests produce their invitation at the door in order to get entry. Accompany this with a door list to ensure only those invited are allowed to enter. This is relevant for adolescent parties.
Ask your guests to ensure that other people are not invited without the host's permission.
Personally hand out invitations and let people know that it is an exclusive party, strictly invitation only. That way you can control who is at the party - the door list will help with this.
Make sure your party has a definite start and finish time, and that your guests know what these times are.
If your party is to be held in a hall or sporting facility, contact your local council or community group regarding the hiring conditions, public liability, restrictions etc. This may end up saving you money in the long run.
Go to the location beforehand and check it out. Know where the entrance(s) and exit(s) to the venue are. It is wise to avoid buildings with multiple entrances if you don't want gatecrashers.
Talk to your neighbours and give them a contact number should an emergency occur.
Find out about local noise regulations (contact your Local Council or Police if in doubt).
Lock away items that can be broken or damaged like the TV, laptop and electrical items. Also put things away that may be easily stolen such as jewellery, mobile phones, and cameras. If you can pick it up, so can others.
If your guests are under 18 years old, you can't serve them alcohol. It's an offence and the consequence is a hefty fine.
If uninvited people attend the party, ask them to leave, if they don't leave contact police on 131 444. If it is an emergency call Triple Zero (000).
Think about the party size and venue. Is your home too small? Would a hall/function centre be a more appropriate and controlled environment?
Consider appropriate lighting (particularly any dark hidden-away areas you may have).
Are there sufficient toilets so people don't go outside?
What about parking and nearby public amenities?
Where will people put their valuables when they arrive and during the party?
Allocate a lockable room for valuables and close off rooms you do not want people to use.
If gatecrashers arrive, ask them to leave. If they won't leave, call the police on 131 444 or if there is an emergency call Triple Zero (000).
Remember, you have the right to refuse entry to your property. It is an offence for people to trespass if you have refused them entry.
Have emergency numbers handy.
Locate band and speaker systems as far away from neighbours as possible, and try to keep noise to a minimum. Excessive noise is most likely to be the reason that police will be called to attend a party.
Plan a wind-down time leading up to the finish, turning down music etc.
Think about adult supervision/security for your party. Who will you use? How many?
Will you use other parents or hire licensed security officers?
If the party is for a young person, please ensure parental supervision is not about "spying" on the young people attending, but just having adults on hand to deal with potential trouble.
Make sure that the supervision is visible, as this will also deter "gatecrashers".
Be aware that it is an offence for alcohol to be served or provided to people under the age of 18.
Ensure under 18's do not have access to alcohol. Confiscate BYO alcohol from under 18's
If under 18's do consume alcohol/drugs, contact their parents and have them collected from the party
Discourage guests from bringing their own alcohol to the party as this will give you greater control over drink distribution and the amount consumed.
Should you decide to allow guests to bring their own alcohol, avoid providing open containers that can be "spiked" or used to disguise the volume of alcohol being consumed.
Supervise responsible serving of alcohol for over 18's. Consider nominating a parent or responsible adult to supervise the service or serve the alcohol so that the intoxication and behaviour of your guests can be monitored.
For over 18's parties, make sure there is plenty of alternative non-alcoholic drinks and water.
Crowd management techniques
Have only one entrance or exit to make it easier to control who attends your party. Consider how you will monitor and control this.
Don't allow people to wander around or congregate out the front of your house. Try to confine the party to a backyard, building or enclosed area as it is easier to control your guests. Avoid using front yards or street frontages as this attracts uninvited guests/gatecrashers and can cause complaints from neighbours.
Have visible supervision or security.
Take into account that many people smoke. It is best to make accommodation for this within the confines of the party venue. This keeps guests from having to go outside, which ensures better crowd management.
Remember that it is your party and you have the right to set the standard of acceptable behaviour and to see that it is maintained.
You also have the right to ask people to leave.
If required contact the police on 131 444. In an emergency always contact Triple Zero (000).
Happy Dragon Off To Antarctica This Summer
There's a new ship in town...Happy Dragon is an ice-strengthened heavy cargo vessel that will help us resupply Casey and Davis research stations this summer.
Welcome to Hobart and the Australian Antarctic Program!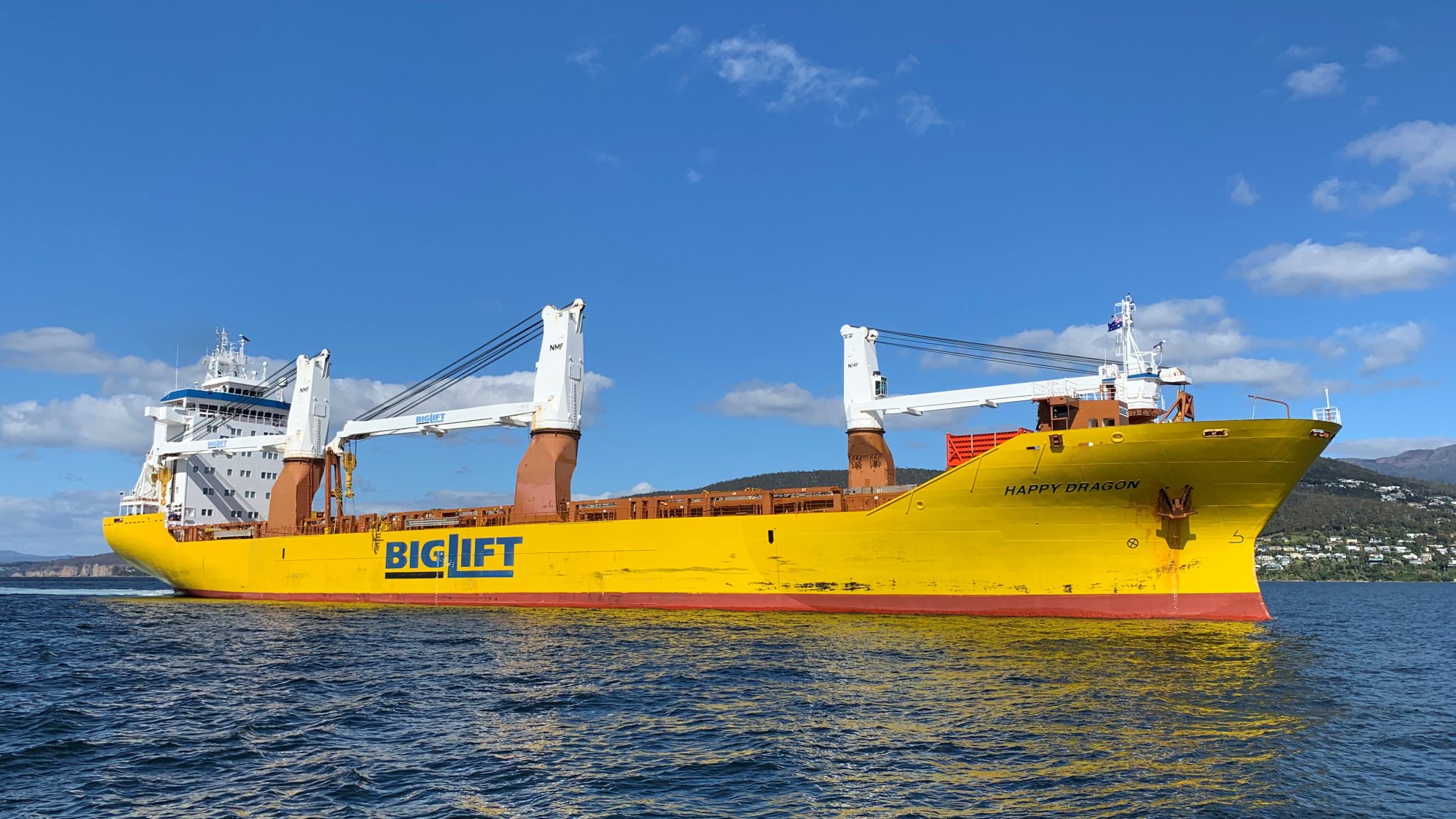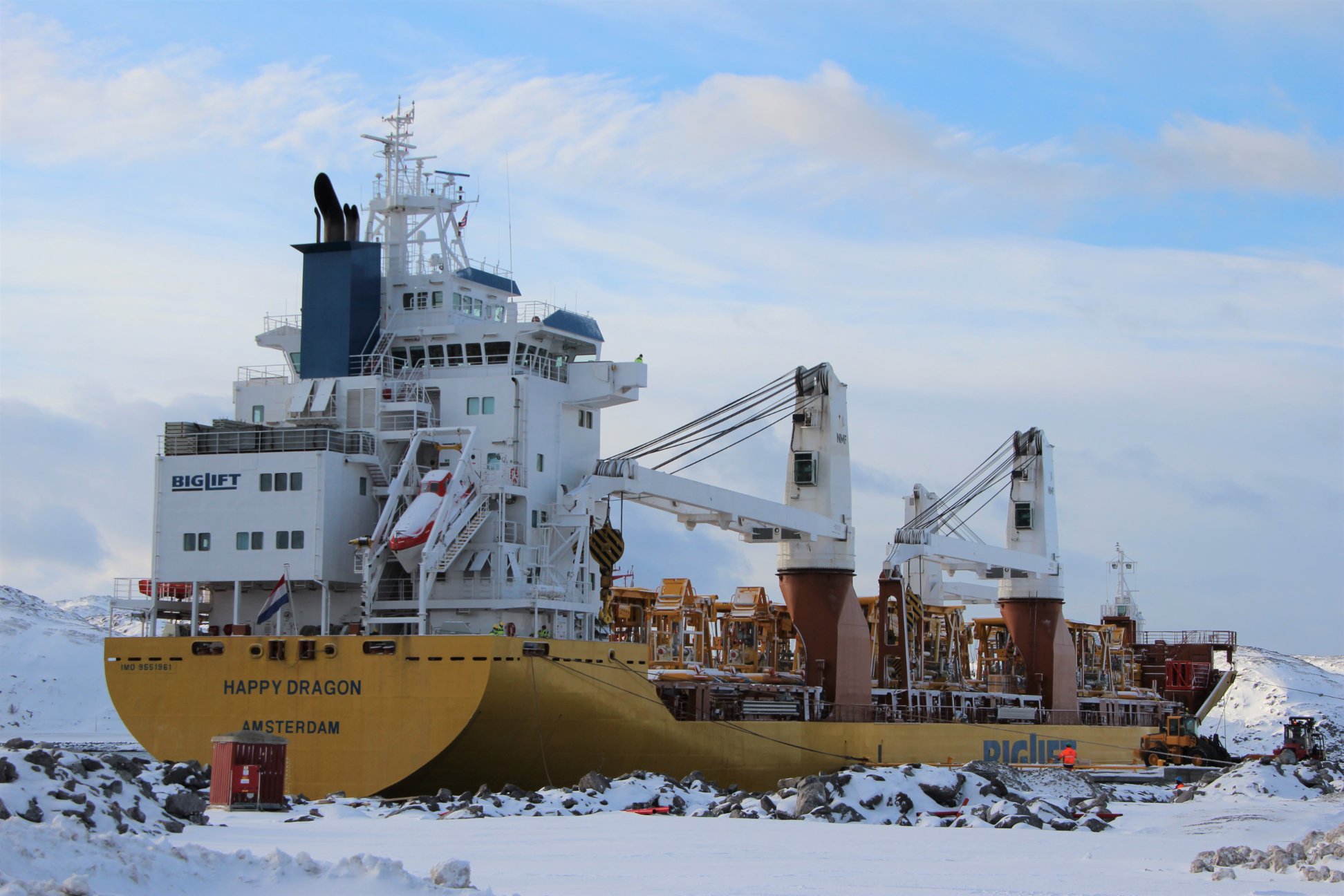 Photos: BigLift Shipping
Sydney's Sunny Beaches
Published by NFSA December 2, 2021
From the Film Australia Collection. Made by the Cinema and Photographic Branch 1925. Directed by Bert Ive. Huge crowds enjoy mixed bathing, playing games and relaxing on Bondi Beach. Women with parasols parade on promenade. Men form a human pyramid, young girls do cartwheels, and lifesavers demonstrate a surf rescue and resuscitation techniques. Shows 'flappers' at South Bondi as well as scenes at Bronte and Tamarama Beaches.
Royal Australian Navy Commissions Replenishment Ship HMAS Stalwart
Published by the Department of Defence Australia
The Royal Australian Navy's newest ship HMAS Stalwart was commissioned at a ceremony at Fleet Base West on 13 November 2021. Stalwart is the second of two Supply class Auxiliary Oiler Replenishment (AOR) ships built for Navy and will be homeported at Fleet Base West, Rockingham, Western Australia. The Supply Class AORs' primary role is to provide logistics replenishment to naval combat units while at sea.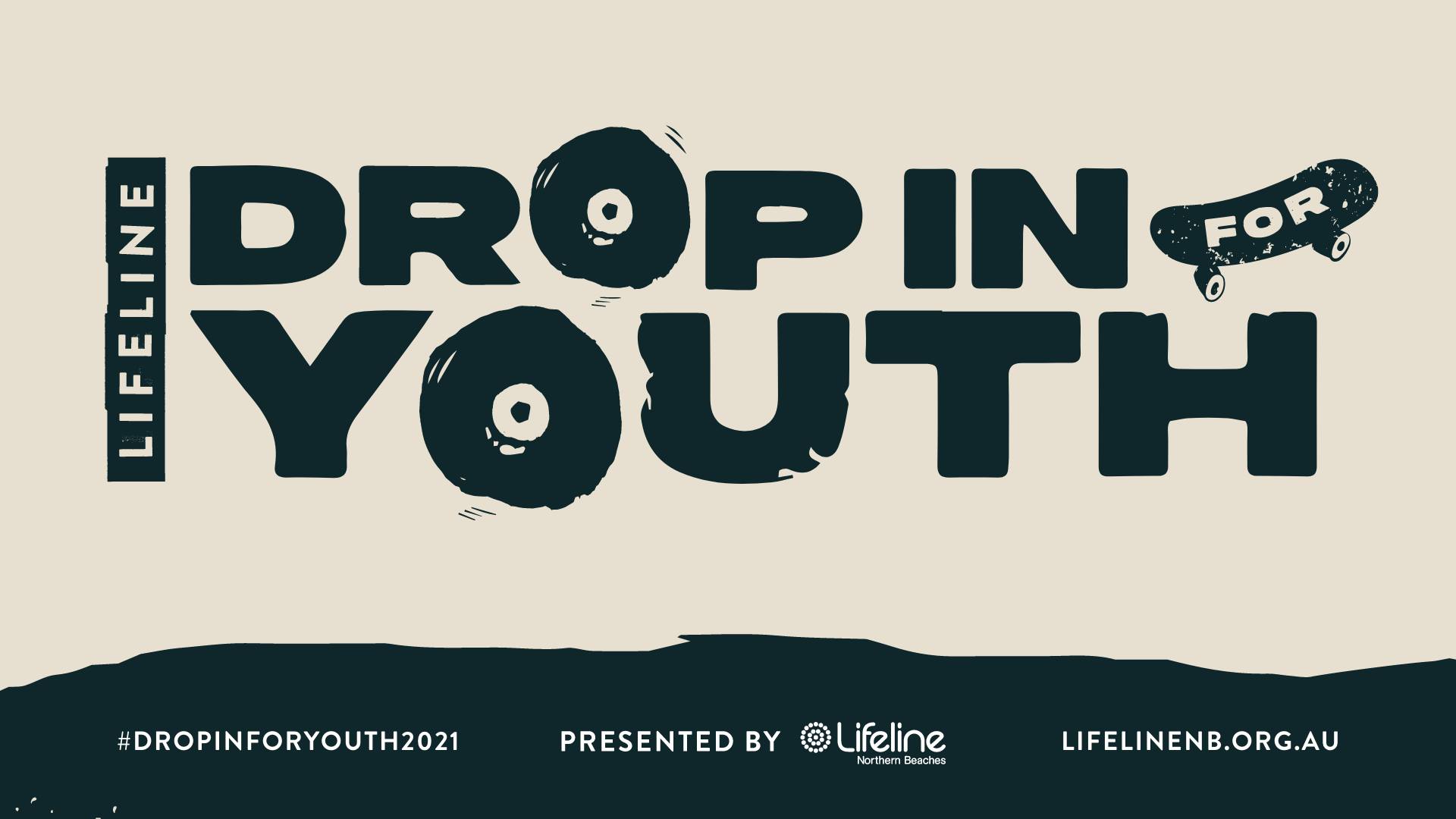 JOIN Ruby "Rockstar" Trew at DROP IN for YOUTH 2021
SKATE VERT COMP
+ Skate Park Fun - BEST Limbo, Highest Ollie, Board Jump and Trick Jam
OVER $10,000 in CASH - PRIZES - GIVEAWAYS to be WON!
DJ - FOOD TRUCKS - CAFE
SATURDAY 11 DECEMBER 2021 9:30AM
@MONA VALE SKATE PARK, 1604 Pittwater Road, Mona Vale
Saturday, 11 December 2021; 09:30 am- $15 entry online. $20 entry on event day, rego opens 9:30am. Vert Comp kicks off 10:30am.
Tickets: https://lifelinenb.grassrootz.com/drop-in-for-youth-2021
SKATE VERT COMP Kicks off 10:30am
Divisions:
- 6 & Under - Girls and Boys
- 8 & Under - Girls and Boys
- 12 & Under - Girls and Boys
- 16 & Under - Girls and Boys
- Open Women's - All Ages
- Open Men's - All Ages
- Masters 45+ - Women's and Men's
EVENT T&C's
Participants can only compete in a single category for the event. Age Group participants are competing for prizes. Entry into the Open category is for anyone who wants to compete for prize money.
Open and Masters participants are competing for ca$h and GLORY!
Skate Park Fun - BEST Limbo, Highest Ollie, Board Jump and Trick Jam competitions are for everyone to have some fun!
Presented by: Avalon Youth Hub - Business Education Network (THE BEN) - Hurley ANZ - Lifeline Northern Beaches - Modest Eyewear Co - Monster Skate Park - Rotaract - Skater HQ
Lifeline Northern Beaches is offering FREE face-to-face counselling at the Avalon Youth Hub for people aged 15-24. Counselling is safe and confidential, and our service is available with or without a referral. For more information, visit www.lifelinenb.org.au/avalon-youth-hub. To book an appointment, call Lifeline Northern Beaches on 9949 5522 or email counselling@lifelinenb.org.au
TAFE NSW Offers Thousands Of Free Training Places
November 22, 2021
School leavers and jobseekers in the Northern Beaches now have access to thousands of free course places in the NSW Government funded Summer Skills, Lockdown Learning, and Job Trainer programs at TAFE NSW.
TAFE NSW is offering free training in courses aligned to meet the skills needs of businesses in NSW, such as aviation, construction, cyber security and hospitality.  
TAFE NSW Managing Director Steffen Faurby said more than 20,000 people have already enrolled in fee-free Lockdown Learning courses, with almost 10,000 people studying with TAFE NSW for the first time. 
"TAFE NSW has assisted thousands of people with free training to upskill themselves or their staff, enhance their job prospects, or begin retraining for a new career," Mr Faurby said.
"With HSC exams underway, Summer Skills offers school leavers free short courses to upskill over the summer months, in courses such as Medical Terminology, Design and Build a Website, and Retail Customer Service."
TAFE NSW Northern Beaches will be offering the free Summer Skills course: Statement of Attainment in Introduction to Cookery Skills.
Leading employment marketplace Seek currently has 1,200 kitchenhand jobs in NSW on its site, with North Shore & Northern Beaches accounting for more than 140 of them.    
TAFE NSW Head Teacher of Commercial Cookery Richard Etherington said the Statement of Attainment in Introduction to Cookery Skills is fully subsidised for eligible students and allows them to launch a career in the fast-paced hospitality industry.
"TAFE NSW is offering many Summer Skills courses via online learning or virtual classrooms, which means that no matter where you are located you can take up the opportunity to boost your employability and gain new skills," Mr Etherington said.  
"The Statement of Attainment in Introduction to Cookery Skills is being offered at the local Northern Beaches campus, and is a great opportunity for school leavers to learn practical cookery and kitchen organisational skills.
"Students will learn how to prepare dishes using basic methods of cookery, use hygienic practices for food safety, participate in safe work practices, and use food preparation equipment."
For more information about studying at TAFE NSW, visit www.tafensw.edu.au or phone 131 601. 
Seniors Stories: Volume 7 Now Available
NSW Seniors Card introduced the Seniors' Stories writing competition in 2013 as a way of recognising and valuing the experiences of NSW seniors and building connections between the young and old.
For each edition the top 100 stories are selected and published by NSW Seniors Card and distributed to the authors and libraries across the state.
These stories illustrate the substantial contributions made by older people and emphasise the need to ensure seniors are afforded ongoing opportunities to participate in our community and impart their knowledge and wisdom to younger generations.
.he theme of this year's edition is ''What's age got to do with it'', and each story reflects this theme in its own unique and inspiring way. NSW Seniors Card would like to thank the 100 authors whose stories are published in this volume, and the many other seniors who contributed to the overwhelming number and quality of stories we received. We would also like to thank Colleen Parker and the project team from the Fellowship of Australian Writers NSW Inc., including those involved in the design and printing of the book.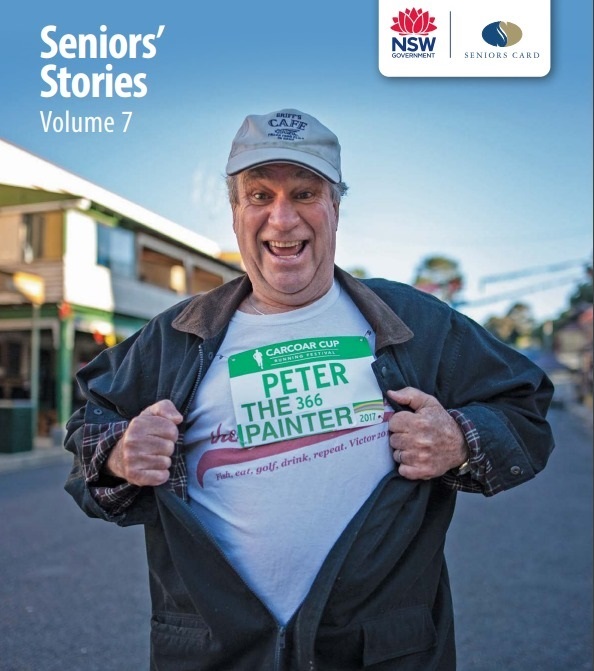 Front cover photo: ART OF AGEING 2020 EXHIBITION
image by Tim White
Peter Griffen b. 1948
Peter was a school teacher until 1979, when he quit to become a full-time abstract artist. He now has had exhibitions across the globe, and is always busy painting, running classes, teaching and travelling. His works adorn their Leichhardt warehouse home, The floor is covered with decades of paint, and there is a constant ordered chaos of paintings, equipment, projects and life.
"I believe that to make discoveries risks must be taken, the traveller must get lost. A well planned journey can only lead to an already known destination."
Free Diary Helps Seniors Know Their Rights
Scams, retirement planning and e-safety are covered in a free 2022 diary for seniors to help them understand their legal rights.
Attorney General Mark Speakman encouraged seniors to pick up a copy of the Legal Topics for Older People 2022 Diary, which can now be pre-ordered online.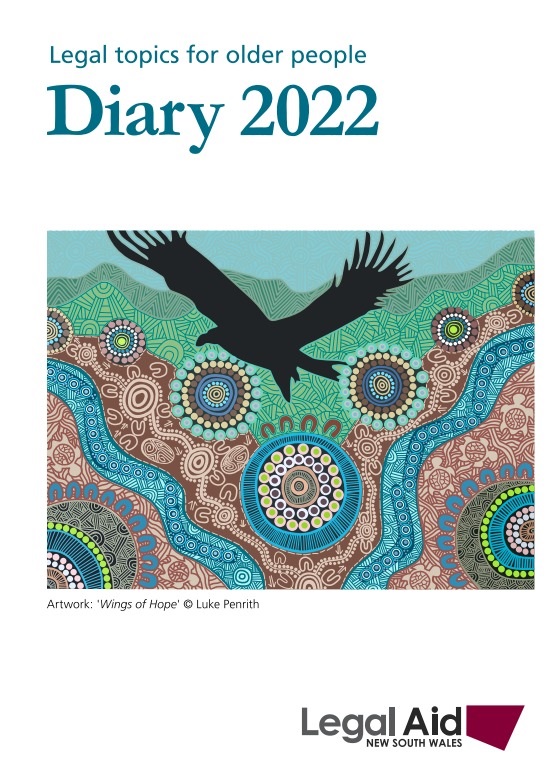 "We're supporting NSW residents to age with dignity, and part of that is ensuring older people know where to turn if they're experiencing elder abuse or discrimination," Mr Speakman said.
"This fantastic publication produced annually by Legal Aid NSW provides details for legal and non-legal support services to help seniors stay connected and informed."
Minister for Seniors Natalie Ward said some older people may be unaware of the legal avenues available to them.
"This diary helps break down the barriers which may prevent our seniors from asking for help and to arm them with the tools they need to access services available to them," Mrs Ward said.
"It also keeps readers up to date with events like the popular NSW Seniors Festival and school holidays."
Legal Aid NSW's Acting CEO Monique Hitter said the diary was a critical resource for older people and the most popular publication the agency produces.
"It's a great way to start some of those tough but important conversations about wills and planning for the future," Ms Hitter said.
President of the Law Society of NSW Juliana Warner supported the production of such a critical legal resource for seniors.
"There are many legal issues impacting older people, including powers of attorney, aged care, housing, consumer rights and of course elder abuse. This diary covers them all," Ms Warner said.
Pre-order the diary or calendar now, or pick up a copy from your local Legal Aid NSW office, state MP or library by 15 December.
(put 'older people' in search box)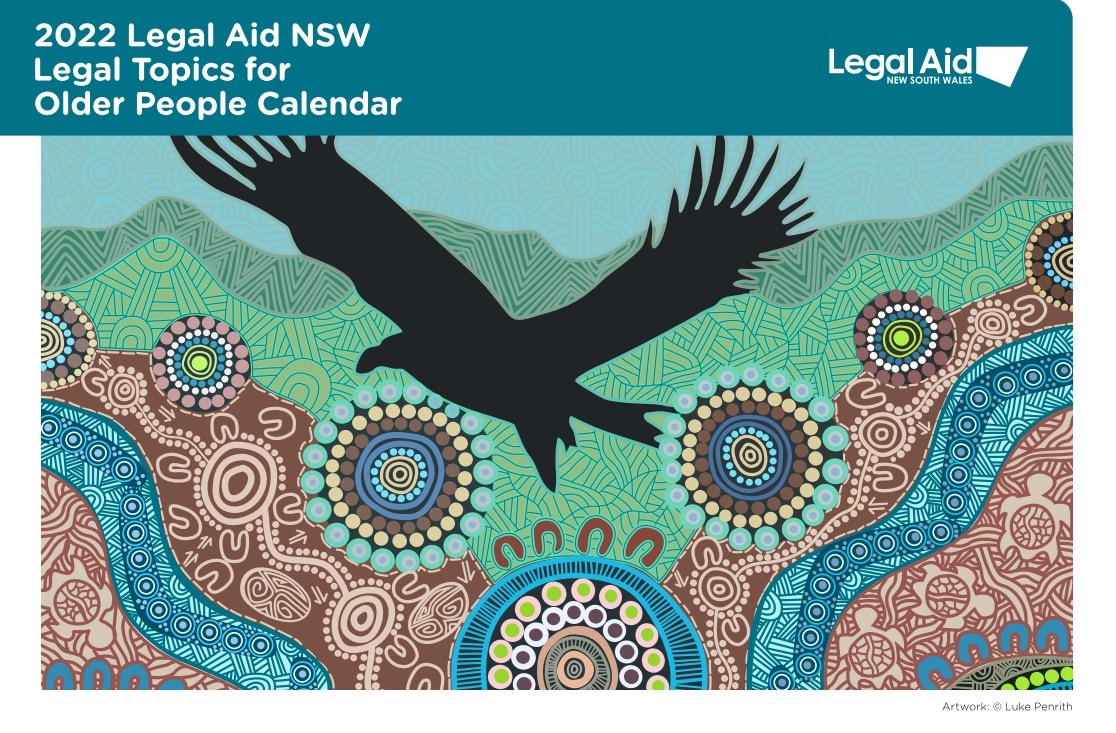 Cut In Home Care Wait List Welcomed; But Where Are The Workers?
National Seniors welcomed news the home care wait list has decreased by 25 percent in twelve months helping to ease an unacceptable wait time for 41,000 older Australians.
Chief Advocate Ian Henschke said the latest figures from the Home Care Packages Program Data Report show the number who accessed home care packages grew to 204,146 in September 2021 – an increase of more than 41,000 in 12 months.
"National Seniors has been urging the Federal Government to take action to better support older Australians with the appropriate level of support they need and when they need it," Mr Henschke said.
"After years of delays, exposed shamefully during the Royal Commission, we're finally starting to see a significant drop in the wait list which has seen as many as 16,000 people die waiting, in one twelve-month period."
Mr Henschke cautioned while the wait list is clearing, there are still thousands of people waiting for home care support at a time of unprecedent labour shortages.
"While National Seniors is encouraged by today's news, we urge the government or whoever wins the next election, to urgently address the shortage of quality workers.
There's already a successful pilot program to train mature age workers in home care. This must be rolled out across the country to entice mature workers, particularly women, back into the workforce.
"We also need to let pensioners work if they want to." Mr Henschke added
"New Zealand has a Labour force participation rate of almost 25% among those aged 65 and over. Ours is less than 15%.
Only 3.4% of Age Pension recipients work in Australia. Many want to work but are discouraged because they lose 50c in the dollar from their pension when they work more than 1 day per week.
The workers are there, they just need incentives and training.
National Seniors is pushing for changes through a range of policies in the run up to the election and we're continually reminding those in charge that older Australians want to stay in their own homes for as long as possible. This is becoming a key election issue."
More Seniors Access Home Care Packages As Waiting List Decreases
The number of people waiting to receive a home care package continues to decrease as the Australian Government ensures more senior Australians can live at home for longer.
The Home Care Packages Program Data Report (1st Quarter 2021-22) shows the number of people accessing a home care package grew to 204,146 at 30 September 2021 - an increase of over 41,000 older Australians in 12 months.
The number of people waiting for their approved home care package also dropped by 25 per cent from 30 September 2020 to 30 September 2021.
Minister for Senior Australians and Aged Care Services, Richard Colbeck, said it underlined the action taken by the Morrison Government in its comprehensive response to the final report of the Royal Commission into Aged Care Quality and Safety.
"Senior Australians want more choice, they want support to remain in control, to stay connected to their community and to remain as independent as possible, in their own home," Minister Colbeck said.
"We have seen a 25 per cent decrease in the number of people who are waiting for a home care package at their approved level since 30 September 2020.
"The significant investment in home care packages and a shorter waitlist shows the Government is ensuring senior Australians have access to this kind of support when they need it."
The Government is investing $6.5 billion for an additional 80,000 home care packages to support senior Australians who choose to remain in their own home.
Minister Colbeck said the packages, which commenced roll out from 1 July 2021, are expected to further reduce waitlist and wait times.
Importantly, 99 per cent of senior Australians waiting for a package at their assessed level have also been offered support from the Government, including an interim package or Commonwealth Home Support Programme and continue to have access to Australia's world-class health care system.
"We're rolling out the packages quickly" Minister Colbeck said.
"In addition to the 40,000 packages released in 2021-22, another 40,000 packages will become available in 2022-23.
"This means that by 30 June 2023 there will be around 275,600 packages available.
"This allocation continues to significantly reduce the wait list while we work through the design phase of the new home care system which we aim to implement by July 2023."
Minister Colbeck said the Government remained committed to ensuring the health and wellbeing of senior Australians remained a priority.
"We are working hard to make sure more senior Australians than ever before are able to receive the support they need to live at home and in the communities they love."
Scoping Study To Identify Key Issues For The Mental Health Of Older People
Researchers at the National Ageing Research Institute are working with the National Mental Health Commission to understand the key issues for older adults to maintain mental health and support those living with mental illness and their carers.
The research team is currently seeking participants to contribute to the study, including;
Focus Groups
(time commitment: 1.5 hours)
General community members aged 65 years+, or aged 50 years+ if they are from Aboriginal and Torres Strait Islander background, live with HIV/AIDS or have an experience of chronic homelessness (participants will receive a $40 gift card for their involvement)
An adult (18 years+) family or friend carers of older person living with mental health problems and using mental health services (participants will receive a $40 gift card)
Providers who work with older people with mental illness.
Individual interviews
(time commitment: 40-60 minutes)
Persons aged 65 years+ (or aged 50 years+ if they are from Aboriginal and Torres Strait Islander background, live with HIV/AIDS or have an experience of chronic homelessness) who have used mental health services in the past 12 months (participants will receive a $75 gift card).
To learn more, visit the National Ageing Research Institute website:
Recruitment will end on December 8, 2021 or when the desired number of participants has been reached
Is The Pension Fair?
With a federal election not far away, National Seniors Australia (the peak consumer group for older Australians), will host a free webinar titled, Is the pension fair? on Wednesday 8 December.
Panellists include Dr David Knox, Dr Deborah Ralston and Noel Whittaker, with National Seniors Chief Advocate, Ian Henschke chairing the event.
"This is a rare chance to hear three of Australia's leading experts on the ins and outs of our retirement system. We'll look at the big questions: Should we have a universal pension? Why do we penalise pensioners who work? Is the pension fair?" said Mr Henschke.
"People can expect a robust and informative discussion on the adequacy of the pension and how we can improve the system as a whole."
"I'm excited to hear from Dr Knox, Dr Ralston and Noel Whittaker – three people who've demonstrated over decades a commitment to improving outcomes for ALL older Australians."
The webinar will also offer a platform for people to have their say.
"We want to make sure retirees are kept up to date about the key issues, particularly in the lead-up to the next budget and federal election," said Mr Henschke.
"It's a great opportunity to give your views and join our campaigns to lobby government and drive real change. Together, we can make a difference. Remember you have to speak to get heard."
Registration is free and open to members and non-members.
FREE - register here:
www.eventbrite.com.au/e/is-the-pension-fair-tickets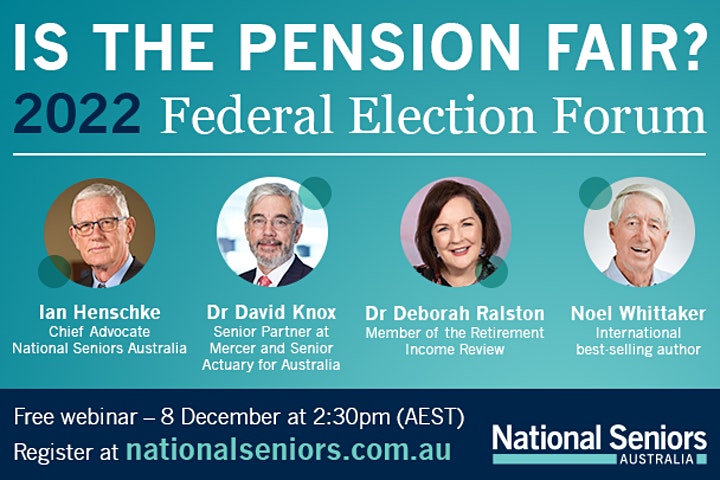 Unorthodox 'Exercise In A Pill' Could Offer Simple Solution For At-Risk Patients
Researchers from The Australian National University (ANU) have identified unique molecular signals in the body that could hold the key to developing a supplement capable of administering the health benefits of exercise to patients incapable of physical activity.
The molecular messages are sent to our brain and potentially our eyes immediately after we exercise.
The ANU team is conducting research to better understand what impact these molecular messages have on retinal health, but also the central nervous system and eye diseases such as age-related macular degeneration (AMD).
Associate Professor Riccardo Natoli, Head of Clear Vision Research at ANU, says the molecules could potentially be hijacked, recoded and "bottled up" in a pill and taken like a vitamin.
"The beneficial messages being sent to the central nervous system during exercise are packaged up in what are known as lipid particles. We are essentially prescribing the molecular message of exercise to those who physically aren't able to," he said.
"We think that as you age, the ability to communicate between the muscles and the retina starts to be lost. Similar to taking supplements, maybe we can provide genetic or molecular supplementation that enables that natural biological process to continue as we age.
"Our goal is to figure out what these molecules are communicating to the body and how they're communicating."
New ANU research has examined existing literature into the effects of exercise on the central nervous system and eyes. Specifically, the researchers set out to discover what impact exercise has on the retina -- the light-sensing part of the eye -- and whether exercise can help maintain good eyesight as we age.
Dr Joshua Chu-Tan, also from the ANU Clear Vision Research Lab, says further research is needed to understand how these molecular signals, which are sent from the rest of the body when we exercise, actually reach our brain and eyes.
He says the team's preliminary research into the benefits of exercise on the retina has unearthed some "promising" results.
"We know exercise is good for our eyesight, but to what extent is still unknown. Our aim is to understand the benefits of exercise at the molecular level and how it is beneficial for the central nervous system and the retina," Dr Chu-Tan said.
"We found the benefits of exercise extend far beyond what has traditionally been known, however this has been largely understudied in the retina, despite the retina being an extension of the brain.
"One of the main goals of doing this review was to determine what's going on inside the body after we exercise that gives us the benefits of exercise, and why physical activity is so good for our brain and eyes."
The futuristic therapy could one day help patients suffering from neurological diseases such as Alzheimer's and Parkinson's.
"It's been suggested that prescribing exercise to patients suffering from neurodegenerative diseases such as Alzheimer's and Parkinson's can help improve and slow down the disease progression," Dr Chu-Tan said.
"We know that from looking at diseases like Alzheimer's and Parkinson's if you exercise in a particular fashion you can potentially stimulate neuronal activity.
"That hasn't really been looked at in the retina at the level we're thinking of. We want to understand the molecular messages that underpin the benefits of exercise."
The researchers say the supplement would be intended only for patients who have restricted movement that renders them unable to exercise at an intensity needed to reap the rewards. It is not intended for the general public.
"We can't possibly package all the effects of exercise into a single pill, there are too many benefits that stretch throughout the entire body beyond what we could 'prescribe' and that's not the goal," Dr Chu-Tan said.
Dr Chu-Tan, Tuckwell Scholar Max Kirkby and Associate Professor Natoli's systematic review of existing literature into the benefits of exercise on the central nervous system and eyes, including the retina, is published in Clinical and Experimental Ophthalmology.
Joshua A. Chu‐Tan, Max Kirkby, Riccardo Natoli.
Running to save sight: The effects of exercise on retinal health and function.
Clinical & Experimental Ophthalmology, 2021; DOI:
10.1111/ceo.14023
National Aged Care Advocacy Expanded As Reforms Gain Momentum
A new funding agreement that increases total program funding from $52.6 million to $151.1 million over four years will significantly expand the National Aged Care Advocacy Program (NACAP) to support greater choice and quality safeguards for senior Australians.
The Australian Government committed to an increase of $99.6 million for the NACAP program, as part of its $17.7 billion aged care reform package, announced in the 2021-22 Budget.
This responds to the Royal Commission into Aged Quality and Safety recommendation to expand aged care advocacy, recognising advocacy support that identifies and actively considers consumer needs is essential to an aged care system that delivers respect, dignity, and consumer choice and control.
Minister for Senior Australians and Aged Care Services, Richard Colbeck, said the role of the NACAP was as important as ever.
"Our five-year, five pillar reform package is transforming aged care by prioritising the individual needs of senior Australians," Minister Colbeck said.
"An expanded National Aged Care Advocacy Program will ensure those seeking support are empowered to make informed decisions about their care, understand their rights, and have support to resolve complaints when they arise, in a time of great change."
The expanded NACAP will improve access to face-to-face and virtual aged care advocacy through:
doubling the workforce to support more than 15,000 additional advocacy cases and adding more than 1,000 local networking and education sessions each year;
new community advocacy activities, including increased capability for self-advocacy, home and community care vulnerability check-ins, and education around home care service costs;
support for aged care reform and emergencies, including extending COVID-19 response advocacy activities, and
education for providers to better understand the diversity of the community they are serving and help remove any related barriers to access.
The NACAP will continue to be provided by the Older Persons Advocacy Network (OPAN), which builds on its record since 2017 of effectively delivering essential free, independent and confidential advocacy support and information to seniors and their families of choice or representatives.
Minister Colbeck said OPAN had a strong track record of advocacy for senior Australians through the NACAP, particularly since the emergence of COVID-19.
"OPAN is providing critical advocacy and support services to aged care residents and their families throughout the COVID-19 pandemic, including those in facilities that have had an outbreak," Minister Colbeck said.
OPAN delivers NACAP through its network of nine service delivery organisations across Australia.
People in need of advocacy or information can contact an OPAN member organisation in their area on 1800 700 600 (free call), or via OPAN's website at
www.opan.com.au/opan-network
.
Famous Beach Is Popular Summer Playground: Australian Diary 16
Published by NFSA
As the first day of the Australian summer looms, the temperature soars and the seas turn ominously red with a mysterious bloom, we look back to 1948 and take a day trip to Manly Beach. Made by The National Film Board 1948. Does this film bring back any memories or do you see anyone here that you recognise?
See more Manly Surf Club Bungan Beach artefacts here:
Varenicline Vs Nicotine Patches: Heart Attack And Stroke Risks Similar
This is the first study to compare the cardiovascular safety of two popular quit smoking medicines.
Smoking cessation medicines varenicline and nicotine patches present similar risks of major cardiovascular events like heart attack and stroke, a big data study published today in
JAMA Network Open
shows.
The study has implications for clinical practice and, in the long term, could contribute to lower smoking rates.
The research team used data of just over 200,000 Australians in NSW who were using either of the two most popular quit smoking medicines between 2011 and 2015.
"We did this study because there have previously been some concerns about the cardiovascular safety of quit smoking medicines," says lead author Dr Alys Havard from UNSW Sydney's National Drug and Alcohol Research Centre (NDARC) and the Centre for Big Data Research in Health.
"It's now generally accepted that if there is any cardiovascular risk associated with the use of quit smoking medicines, it's outweighed by benefits of quitting smoking. So really, these medicines should be offered to anyone who wants to quit. But even so, it's helpful for prescribers to know whether one is safer than another so they can minimise risk to their patients."
In this study, the researchers compared the risk of major cardiovascular events in people who were using varenicline with people who chose nicotine replacement therapy (NRT) patches.
"We found that there was no difference between varenicline and NRT in terms of major events like heart attacks and stroke," Dr Havard says.
"The risk of death from cardiovascular causes was actually slightly reduced among people using varenicline compared to those using NRT – albeit small in absolute magnitude (1.5 fewer cardiovascular deaths per 1000 person years).
"We know that varenicline is the most effective of the smoking pharmacotherapies – so our results suggest that prescribers can choose that one over nicotine and not worry about increasing patients' risk of major cardiovascular outcomes."
This is the first time that varenicline and NRT have been compared in terms of cardiovascular outcomes while patients were using therapy.
"Researchers have looked at longer term effects in other studies, but that's not so much about safety – that's more about whether the medicine helped someone to quit, and then what kind of health outcomes you have from that," Dr Havard says.
Varenicline worries 'put to bed'
Dr Havard says there have been concerns about varenicline having psychiatric side effects.
"But other evidence has pretty much put that to bed now. There have been a number of trials and similar work to this using routinely collected data sets that show that varenicline doesn't increase the risk of psychiatric side effects. But I think that's always meant that people have thought of it as not the safest option.
"With nicotine, it's seen as just a replacement for the smoking – there's this perception that if anything, you're taking away some of the toxins that are associated with smoking, so it's always been thought to be quite safe in comparison.
"So it's interesting to see that actually, varenicline is no worse, and in some cases may be better for some outcomes."
Study limitations unlikely to change conclusions
Dr Havard says while they tried to account for every possible factor you could measure in the healthcare data that informed the study – pharmaceutical dispensing, hospital and death records – there were some unknown factors they weren't able to include.
"This study was based on data that are collected through healthcare interactions. So we knew everything about what medicines the people in our study were prescribed, and what diagnoses they'd had in their hospital admissions – and could therefore control for these factors.
"One key thing we're missing is data on how much they smoke, which might influence cardiovascular outcomes. Obviously, all people in our study smoked to a level that meant they were struggling to quit, and they want a medicine to help them with that. So we think they're fairly similar in that sense."
Another limitation worth highlighting is that the team used data relating to prescribed medicines only.
"There are other nicotine replacement therapies available over the counter. We didn't have data on those – so it's possible that people in either the varenicline group or nicotine group were also using nicotine purchased over the counter. I don't think it will change the conclusions, though," Dr Havard says.
Implications for clinical practice and future research
Dr Havard says clinicians always need to consider several things when they prescribe, and it won't just be cardiovascular safety.
"But there are a number of clinical guidelines out there, and if this evidence could be incorporated into those so that prescribers now know that in terms of cardiovascular safety varenicline stacks up pretty well, that would be useful," she says.
She says the research might also have positive effects on quit smoking efforts.
"Because we already know varenicline is the most effective, if it is prescribed in preference to nicotine, then ultimately, that's going to improve smoking cessation, and fewer people will be smoking."
Smoking remains among the leading preventable causes of morbidity and premature mortality, accounting for 6.4 million deaths worldwide in 2015.
Dr Havard's next step is to look at how varenicline and nicotine compare in terms of reducing longer term cardiovascular effects through being effective quit smoking aids.
Curtin Celebrates First Cohort Of Medical School Graduates
The first cohort of graduates from Curtin's Medical School are ready to join WA's new generation of doctors after completing the five-year, full-time Bachelor of Medicine, Bachelor of Surgery (MBBS).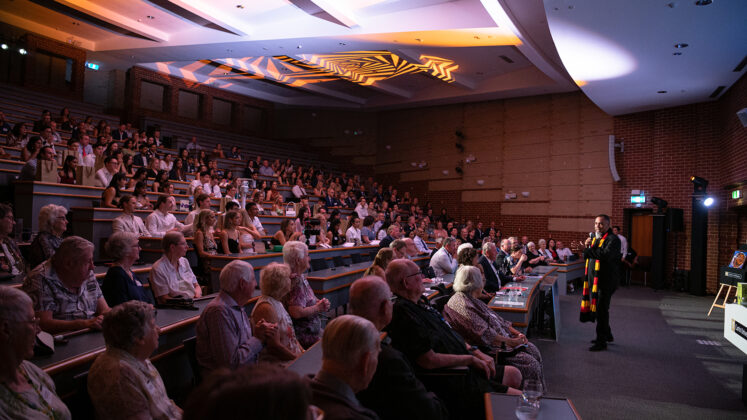 Curtin Medical School graduand celebration event.
The 51 graduates were inaugural domestic students at Curtin Medical School when it opened in 2017, offering the only undergraduate entry program available in Western Australia.
Renowned health researcher and advocate Professor Fiona Stanley AC was keynote speaker at the Curtin Medical School graduand celebration event on November 26.
Curtin University Vice-Chancellor Professor Harlene Hayne said the new graduates had been trained to meet the needs of currently under-serviced areas of health care, with a strong emphasis on primary care, chronic disease, ageing, Indigenous and regional health.
"Curtin first established its Medical School to help address the health and workforce needs of West Australians. We are now incredibly proud to celebrate the first graduating cohort of Curtin-trained doctors, who are eager and ready to provide competent and compassionate medical care, particularly to those people who currently have inadequate access to healthcare," Professor Hayne said.
"They have had the benefit and privilege of being able to train, and gain practical clinical experience, at hospitals across the State, and in Curtin's own purpose-built health campus at Midland and recently our new Kalgoorlie Rural Health Campus."
Medical School Dean, Professor Sandra Eades said the graduands had been trained to the highest standards of the Australian Medical Council, and were ready and capable to take on internships and future specialisation anywhere in WA or across Australia.
"We are excited to be celebrating this significant milestone with our first cohort of graduating students who are a credit to themselves and to our School," Professor Eades said.
"The key purpose and mission of the Curtin Medical School has remained unchanged from the time it was established- that is to increase the availability of high-quality medical care and to educate doctors that are well-prepared for primary care, rural, and Aboriginal and Torres Strait Islander healthcare settings.
"We are very proud to have nurtured this first graduating cohort of cared and skilled doctors who can now transition into their chosen profession and into the communities they serve."
As part of their studies, many of the graduating cohort have completed clinical placements in rural areas across the state, including Broome, Kalgoorlie, Geraldton and Albany.
Graduating student Christopher Chi of Carlisle said he was looking forward to beginning his medical career.
"Practising medicine has been a life-long dream of mine and after five years of excellent teaching and learning, I am excited to be able to put it all into practice when I begin my internship at St John of God Midland Public Hospital," Mr Chi said.
"As the first graduating class of Curtin Medical School, we have had the privilege of learning from one of the best medical programs in Australia.
"Our smaller cohort size has created a collegial atmosphere of trust and camaraderie between students. This has enabled us to learn, develop, and practice the skills necessary to become capable doctors for the future."
Medical School student Amie Ringuet is just one of the Curtin graduates heading to the regions.
"I am delighted to have a placement at Bunbury Hospital and I will live and work among the Bunbury community," Ms Ringuet said.
"Through Curtin Medical School, I spent much of the last few years embedded in WA hospitals where I learned from some of the best doctors in Australia and was able to talk with and learn from many wonderful patients.
"These experiences have given me genuine insight into the healthcare needs of Western Australians and have inspired me to do my part to address the disadvantage that many country people face in terms of access to healthcare."
Since its opening Curtin Medical School has attracted wide interest from students, with the University now offering 120 places for next year.
It has quickly become a school of choice for aspiring medical practitioners, with students consistently rating it number one in Australia in its field for overall experience, according to the 2022 Good Universities Guide.
For more information on the MBBS visit here and Curtin Medical School,
visit here
.
Study Suggests Sun Is An Unaccounted Source Of The Earth's Water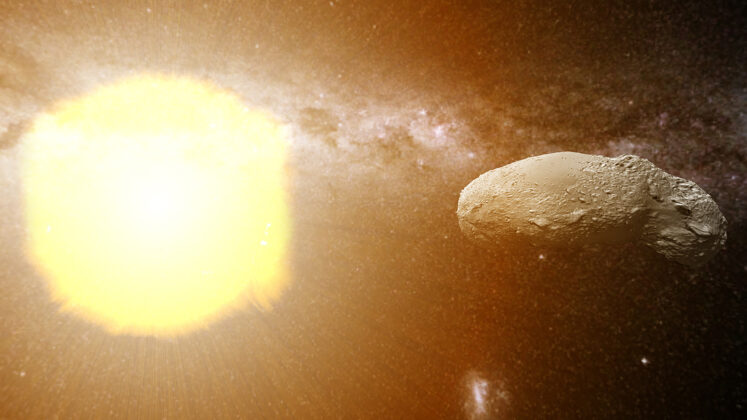 Curtin University researchers have helped unravel the enduring mystery of the origins of the Earth's water, finding the Sun to be a surprising likely source.
A University of Glasgow-led international team of researchers including those from Curtin's Space Science and Technology Centre (SSTC) found the solar wind, comprised of charged particles from the Sun largely made of hydrogen ions, created water on the surface of dust grains carried on asteroids that smashed into the Earth during the early days of the Solar System.
SSTC Director, John Curtin Distinguished Professor Phil Bland said the Earth was very water-rich compared to other rocky planets in the Solar System, with oceans covering more than 70 percent of its surface, and scientists had long puzzled over the exact source of it all.
"An existing theory is that water was carried to Earth in the final stages of its formation on C-type asteroids, however previous testing of the isotopic 'fingerprint' of these asteroids found they, on average, didn't match with the water found on Earth meaning there was at least one other unaccounted for source," Professor Bland said.
"Our research suggests the solar wind created water on the surface of tiny dust grains and this isotopically lighter water likely provided the remainder of the Earth's water.
"This new solar wind theory is based on meticulous atom-by-atom analysis of miniscule fragments of an S-type near-Earth asteroid known as Itokawa, samples of which were collected by the Japanese space probe Hayabusa and returned to Earth in 2010.
"Our world-class atom probe tomography system here at Curtin University allowed us to take an incredibly detailed look inside the first 50 nanometres or so of the surface of Itokawa dust grains, which we found contained enough water that, if scaled up, would amount to about 20 litres for every cubic metre of rock."
Curtin graduate Dr Luke Daly, now of the University of Glasgow, said the research not only gives scientists a remarkable insight into the past source of Earth's water, but could also help future space missions.
"How astronauts would get sufficient water, without carrying supplies, is one of the barriers of future space exploration," Dr Daly said.
"Our research shows that the same space weathering process which created water on Itokawa likely occurred on other airless planets, meaning astronauts may be able to process fresh supplies of water straight from the dust on a planet's surface, such as the Moon."
The research was supported by funding from the Science and Technologies Facilities Council (part of UKRI), and conducted by researchers from the University of Glasgow, Curtin University, the University of Sydney, the University of Oxford, the University of Hawai'i at M?noa, the Natural History Museum, Idaho National Laboratory, Lockheed Martin, Sandia National Laboratories, NASA Johnson Space Center, the University of Virginia, Northern Arizona University and Purdue University.
Other Curtin authors were Dr David Saxey, Dr Denis Fougerouse, Dr William Rickard, Dr Lucy Forman, Associate Professor Nick Timms, Professor Fred Jourdan, Professor Steven Reddy, Dr Zakaria Quadir and Morgan Cox.
Luke Daly, Martin R. Lee, Lydia J. Hallis, Hope A. Ishii, John P. Bradley, Phillip. A. Bland, David W. Saxey, Denis Fougerouse, William D. A. Rickard, Lucy V. Forman, Nicholas E. Timms, Fred Jourdan, Steven M. Reddy, Tobias Salge, Zakaria Quadir, Evangelos Christou, Morgan A. Cox, Jeffrey A. Aguiar, Khalid Hattar, Anthony Monterrosa, Lindsay P. Keller, Roy Christoffersen, Catherine A. Dukes, Mark J. Loeffler, Michelle S. Thompson.
Solar wind contributions to Earth's oceans.
Nature Astronomy, 2021; DOI:
10.1038/s41550-021-01487-w
Image: The sun, solar winds and asteroid Itokawa. Curtin Univbersity
Nibbling Prehistoric Herbivore Sheds New Light On Triassic Diversity
A Triassic herbivore, known for its supposed similarities to a modern-day ostrich, has been revealed to have entirely different approach to feeding from previously thought, according to research at the University of Birmingham.
The new discovery reveals a much broader diversity of herbivore behaviour during the Triassic period than has been recognised to date.
Called
Effigia
, the animal was about the size of a gazelle and lived in North America around 205 million years ago. Its fossil remains were found in the Ghost Ranch Quarry in New Mexico in the 1940s, although the material was not formally described by palaeontologists until 2006.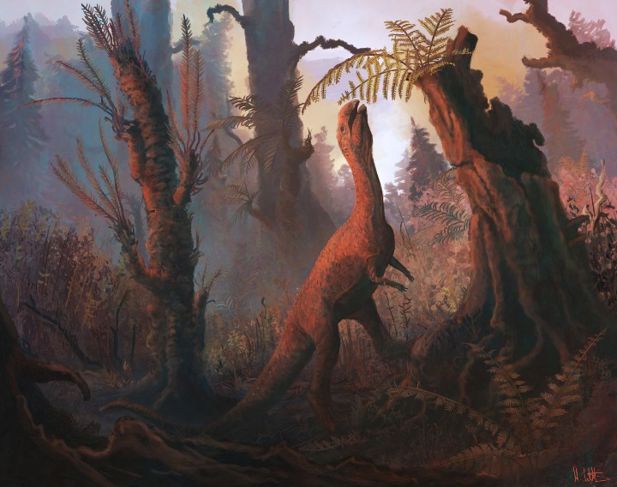 Effigia.
Credit: Mark Witton
The remains had been relatively poorly preserved in the quarry and the skull, in particular, was quite badly deformed, making accurate reconstruction problematic. Early analysis of the specimen concluded that it belonged to the group of reptiles that includes crocodylians and birds and which started to flourish in the Triassic period.
Although more closely related to crocodylians, Effigia's lightweight body, elongated neck, large eyes and beak shared many similarities with a modern-day ostrich, leading researchers to believe the animal fed by pecking plant material from the ground.
But new analysis of the specimen, by experts at the University of Birmingham, has revealed this animal was probably an entirely different type of herbivore than previously thought. The work, carried out in partnership with experts at the University of Bristol, University College London, University of York, Virginia Tech and the Natural History Museum, is published in The Anatomical Record.
The team used new CT scans of Effigia's skull which revealed a much more accurate reconstruction of the animal. This included new information about the shape of the skull, such as a more rounded, bulbous brain cavity and curved upper and lower jaws. Unlike an ostrich bill, which is more rounded, Effigia's bill is more concave with jaws that open and close a bit like a pair of shears.
The team used this information to model the effects of different forces acting on the skull, including what happens when the animal pecks at the ground. By modelling the forces the skull would need to withstand in order to feed by pecking, the researchers calculated that Effigia's skull would probably have shattered. Instead, they suggest, the animal would be more likely to use its jaws to snip off and nibble pieces of soft plant material such as young shoots, or ferns.
Lead researcher, Dr Jordan Bestwick, said: "The herbivores we already recognise in the Triassic period fed either by digging for roots, such as the pig-like aetosaurs, or reaching for leaves high up in the treetops, like the long-necked sauropods. These two-legged browsers with a weak bite are unique to this period and show a previously unrecognised diversity among the herbivores of this period."
Jordan Bestwick, Andrew S. Jones, Sterling J. Nesbitt, Stephan Lautenschlager, Emily J. Rayfield, Andrew R. Cuff, David J. Button, Paul M. Barrett, Laura B. Porro, Richard J. Butler.
Cranial functional morphology of the pseudosuchian Effigia and implications for its ecological role in the Triassic.
The Anatomical Record, 2021; DOI:
10.1002/ar.24827
As LA Traffic Slowed Amid The Pandemic Researchers Gained New Insight Into Air Pollution
As coronavirus cases popped up across California in March 2020, the previously impossible happened in Los Angeles County: The region's normally bumper-to-bumper traffic slowed by roughly 24%. Lucky drivers were now, suddenly, able to make it from Burbank to Santa Monica at rush hour on the 101 and 405 in less than 50 minutes.
A team of scientists led by CU Boulder are using the once-in-a-lifetime event to answer an unusual question: How much do vehicles in a city like Los Angeles add to the ammonia emissions that can hang in the air and sicken residents?
The group's findings, published Nov. 23 in the journal Environmental Science & Technology Letters, may spell bad news for a region that loves its cars. Ammonia is a common pollutant that can react to form small particles in the air that are a major cause of respiratory and cardiovascular disease, especially in densely populated areas. The researchers show that city vehicles may spew a lot more of these molecules than state and federal agencies have believed.
The study is the first to explore how vehicles churn out ammonia across an entire urban center using satellites in space.
"The tricky question has always been: How do we separate out ammonia concentrations owing to traffic from the ammonia emitted from sources like agriculture?" said Daven Henze, a co-author of the new study and professor in the Paul M. Rady Department of Mechanical Engineering at CU Boulder. "Then the COVID lockdown suddenly provided us with a natural experiment."
In other words, the pandemic gave the researchers an accidental before and after picture -- with a smoggy, car-filled Los Angeles on one side and a clearer, relatively empty urban area on the other.
Henze and his colleagues took advantage of that situation by drawing on satellite images to track the ammonia concentrations in the air above Los Angeles before and during the lockdown of March 2020. The team discovered that cars may churn out as much as 95% of this harmful pollutant throughout the city at any one time.
"Our estimates for vehicle ammonia emissions are higher than federal and state inventories by a factor of two to five," said Hansen Cao, lead author of the study and a postdoctoral researcher at CU Boulder.
The research sheds light on what may be an underappreciated pollutant: Molecules of ammonia, the odor you detect when you pass a smelly farm.
Henze explained that scientists have long known that agricultural operations, from corn fields to chicken farms, churn out huge amounts of this chemical. Once in the air, ammonia can mix with nitrogen oxides to form what researchers call "fine particulate matter."
"Those emissions come from, to put it politely, the downstream processes," Henze said. "The feedlots, poultry and swine manure -- they all give off a lot of ammonia."
There's another source of that pollution, too: Your car's tailpipe. Estimates suggest that ammonia emissions from vehicles can lead to roughly 15,000 premature deaths across the United States every year. Recent research has also hinted that those numbers may miss the real toll of urban pollution.
Henze and his colleagues tapped data from two satellites, the United States' Suomi National Polar-orbiting Partnership and Europe's Sentinel-5 Precursor to further explore the ammonia question.
In early March 2020, the team spotted two clear hotspots for ammonia in the Los Angeles region -- one above downtown L.A. and one just north of Riverside, California, a hub for livestock and agriculture. By the end of the month, the hotspot over downtown had all but disappeared as traffic petered out.
"I think we were almost surprised that we could see the downtown hotspot and the impact of the pandemic," Henze said. "We weren't just taking measurements at one road. We were looking at the entire urban area from space."
That ultimate bird's eye view paid off. The team calculated that vehicles produce at least 60% of the ammonia emissions in urban Los Angeles. Estimates from state and national regulators, in contrast, had pegged those numbers at less than 25%. Next, Cao said she and her colleagues want to apply the same techniques to explore the effects of the pandemic on the air above other cities.
The results could underscore the importance of regulating cars and their engines so that they churn out less of this dangerous pollutant, she said.
"Vehicles can be the dominant sources of ammonia emissions over urban areas," she said. "If we're underestimating those emissions, then previous estimates of premature deaths owing to ammonia emissions might also be underestimated."
Colin Harkins and Muhammad O. Nawaz, both graduate students at CU Boulder, were co-authors of the new study. Other co-authors included researchers at Atmospheric and Environmental Research, Inc.; the U.S. National Oceanic and Atmospheric Association; University at Buffalo; NASA's Jet Propulsion Laboratory; and the Southern University of Science and Technology in China.
Hansen Cao, Daven K. Henze, Karen Cady-Pereira, Brian C. McDonald, Colin Harkins, Kang Sun, Kevin W. Bowman, Tzung-May Fu, Muhammad O. Nawaz.
COVID-19 Lockdowns Afford the First Satellite-Based Confirmation That Vehicles Are an Under-recognized Source of Urban NH3 Pollution in Los Angeles
. Environmental Science & Technology Letters, 2021; DOI:
10.1021/acs.estlett.1c00730
Butterfly Migration: Sun Compass On Demand
Monarch butterflies are famous for their annual long-distance migration, which takes them over several thousand kilometres from the north of the USA to their overwintering habitat in central Mexico. On their migration, the conspicuously orange-black-white coloured butterflies use sun information as main orientation reference.
But how is sun information processed in the butterfly's brain? Previous studies have already described cells that process the solar azimuth. "However, we didn't know these cells encode the sun during flight," says Jerome Beetz from the Biocentre at Julius-Maximilians-Universität Würzburg (JMU) in Bavaria, Germany.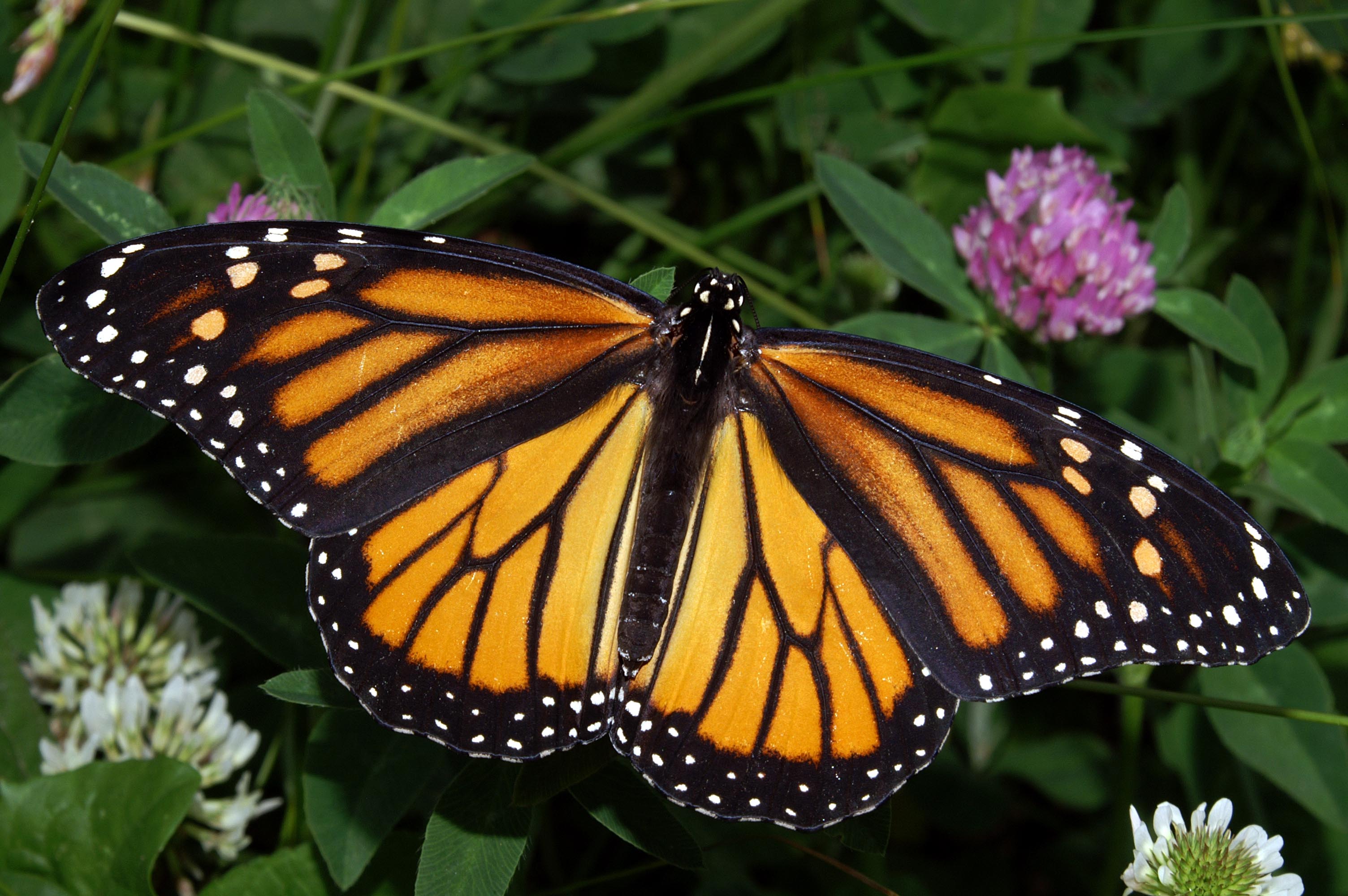 Photograph of a female Monarch Butterfly. Photo: Kenneth Dwain Harrelson

Until now, it was assumed that the sun compass always works -- irrespective of whether the insects sit, walk or fly. A team led by JMU researchers Jerome Beetz and Basil el Jundi shows in the scientific journal Current Biology that this is not the case and that the compass is established at the onset of flight: "Surprisingly, the nerve cells change their coding strategy during flight, so that the neural network represents the heading direction of the butterflies relative to the sun in a similar way to a compass. This only happens when the animals can control their own direction of flight."
Butterflies in a flight simulator
How was this gap in knowledge closed? The team led by Beetz and el Jundi measured for the first time the neural activity in actively flying monarch butterflies and examined the influence of the animal's orientation behaviour on the processing of sun information. Such measurements had previously only been carried out in restrained butterflies.
The JMU researchers took advantage of a technical trick: "We tethered the butterflies to a freely rotatable rod in the centre of a flight simulator, which enables the butterflies to actively choose a flight direction. The sun was mimicked with a green light spot. While the tethered butterfly was flying, we monitored the brain activity with ultra-fine microelectrodes."
The experiments prove: Active movement of the butterflies is necessary to process sun information as compass information in the butterfly brain during migration.
"Our results emphasize the importance of performing neuronal recordings in actively moving animals in order to understand how the brain solves complex orientation tasks," says Beetz, who is first author of the publication in Current Biology. Other researchers from the Biocentre as well as from the universities of Lund (Sweden), Bielefeld and Texas were involved in the project. The work was funded by the German Research Foundation (DFG).
Brain the size of a grain of rice with amazing abilities
Beetz admires his research subjects: "Our publication uniquely demonstrates that even a brain with the size of a grain of rice is a highly complex organ that enables insects to perform such amazing behaviors. With their brain, monarch butterflies manage the enormous migration by using an efficient internal compass. Such a long-distance migration without using modern navigation devices is hard to imagine for us, humans and this is one major reason that drives my fascination for these enigmatic butterflies."
Next, Jerome Beetz and Basil el Jundi plan to investigate how the butterflies' sun compass operates when the butterflies have access to the natural sky than when simply using a light spot as reference for orientation. To do this, the neural recordings must be carried out in open air flight simulators.
M. Jerome Beetz, Christian Kraus, Myriam Franzke, David Dreyer, Martin F. Strube-Bloss, Wolfgang Rössler, Eric J. Warrant, Christine Merlin, Basil el Jundi.
Flight-induced compass representation in the monarch butterfly heading network.
Current Biology, 2021; DOI:
10.1016/j.cub.2021.11.009
Disclaimer: These articles are not intended to provide medical advice, diagnosis or treatment. Views expressed here do not necessarily reflect those of Pittwater Online News or its staff.