December 12, 2021 - January 22, 2022: Issue 522
New Emerald class Manly Ferry Hull Integrity Problems prompts return of freshwater class 'Narrabeen' to service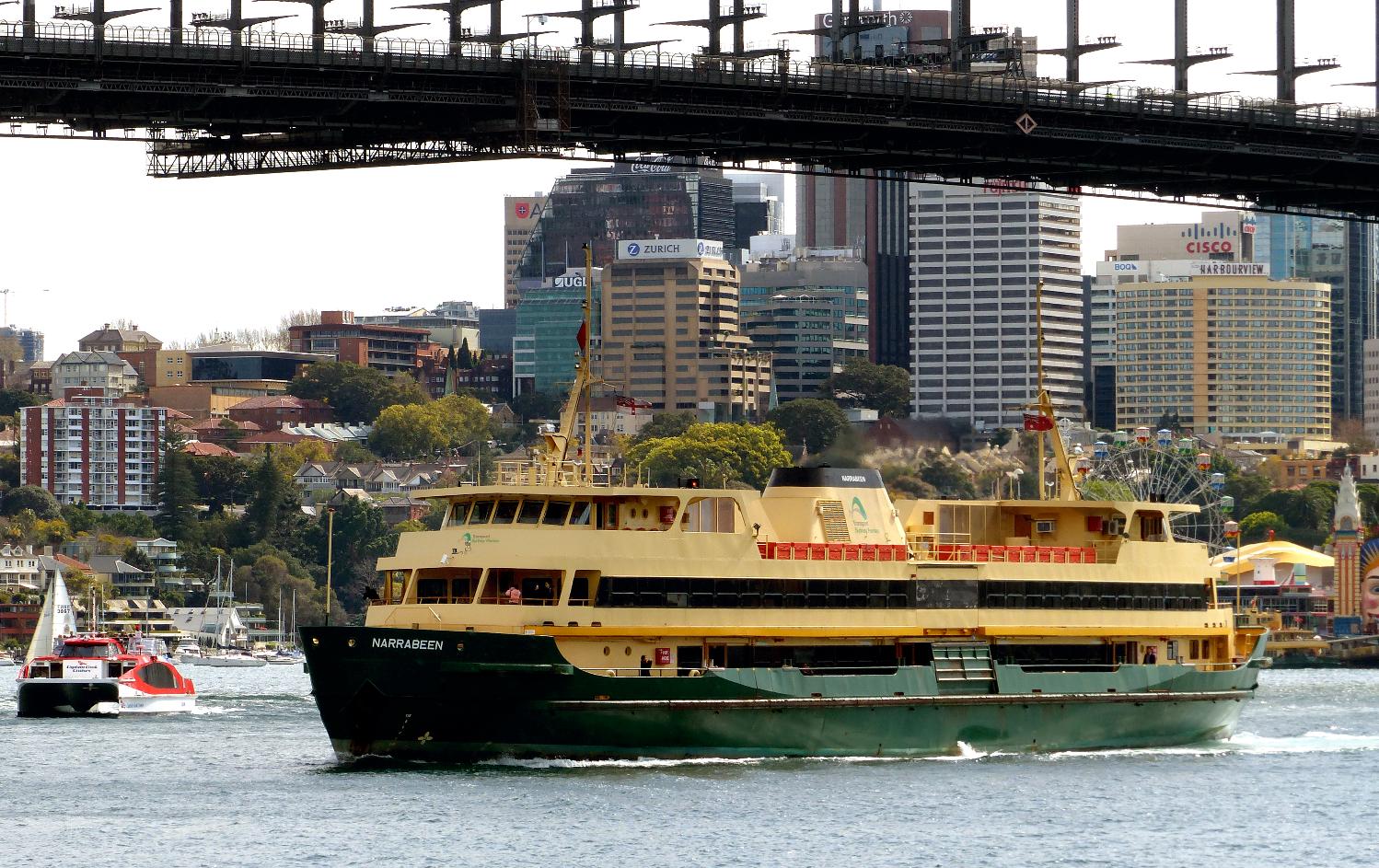 MV Narrabeen was one of four Freshwater class ferries that operate the Manly ferry service between Circular Quay and Manly on Sydney Harbour - photo by and courtesy Bernard Spragg from NZ
Problems with the replacements for the Freshwater class of Sydney ferries will see the service life of at least one ferry prolonged by having its engine re-fitted to operate on the Harbour again.
The ''Narrabeen'' Freshwater-class ferry was due to be retired sometime next year.
NSW Transport Minister Rob Stokes posted on social media on December 9, 2021;
''Good news for all the ferry enthusiasts - particularly those on the Northern Beaches.

I've ordered an engine re-fit of the Narrabeen Freshwater-class ferry to retain it in our fleet.''



Mr Stokes told 2GB on Thursday afternoon, December 9th some of the issues with the new ferries are "not good enough".
"With any new fleet you're going to have issues as you're commissioning them, but I'm not going to make excuses," Mr Stokes says.
Cracks were found in hulls, windows shattered on the water, and the ferries have struggled to operate safely in high swells, or dock at very low tides.
It has not been announced when the Narrabeen will be fit for service again and how often it will run. The problems with the Emerald Class ferries will also need to be addressed.
Transport for NSW ferry timetables has published:
F1 Manly Ferry Timetable Changes
Friday 10 December 2021: Transport for NSW
From Monday 13 December 2021, additional ferry services will run on F1 Manly to Circular Quay route.
Service frequency between Circular Quay and Manly will be improved from every 30 minutes to every 20 minutes on weekdays and up to every 15 minutes on weekends and public holidays.
These should see journey time improve to around 22 minutes by Emerald Class ferries, 10 minutes faster than the current Manly ferry service.
Above:
Emerald Class Balmoral. Photo: Transport for NSW
More than 20 cracks and several welding defects have been found on board one of the newly introduced ferries on Sydney's popular Circular Quay to Manly route.
A spokseperson for the private ferry operator Transdev confirmed the issues on Tuesday December 7th, and said they were identified on the Emerald Class Balmoral vessel during a routine inspection.
However, a surveyor report concluded the defects would not compromise the "overall structural integrity" of the ferry, adding that they were "minor and isolated".
"A potential defect was identified in the weld of a secondary support structure inside a hull void of the Emerald Class vessel Balmoral during a routine inspection," the spokeswoman said.
The Indonesian-made ship is one of three Emerald Class ferries which have only been operational since October. The 400-passenger vessels replaced the 1100-passenger Freshwater Class ferries which have been travelling the Circular Quay to Manly route for 40 years.
Currently, two out of the four original Freshwater ferries are still in action and operational on weekends and public holidays.
In the November 23rd in the NSW Parliament session Opposition transport spokeswoman Jo Haylen asked NSW Transport Minister Mr. Stokes were told they (the new ferries) could withstand 4.5 metre swells.
''Last weekend they were knocked out of action by swells half that size and passengers were forced onto buses yet again. When will the Minister admit that his policy of buying substandard assets from overseas is not working?'' Ms Haylen said
Mr. Stokes replied that the second generation Emerald class ferries—the three that will operate on the Manly route, of which two have already been introduced to that route—are purpose built to operate the F1 Manly service and are designed to operate in swells of up to 4.5 metres. They have also been specifically engineered with reinforced hulls to enable operation on the larger swells experienced when crossing the Sydney Heads.
The NSW Transport Minister explained although the Fairlight and Balmoral vessels have been fully commissioned, they have been temporarily restricted to operate only in swells of up to 2.5 metres until the contractor completes further testing and risk assessments in larger sea states. The issue is that since arriving in Sydney on July 31st, there had been no opportunity to carry out that testing because experiencing those swells in Sydney Heads is not always possible. In other words, we have not had the swell conditions that enable the ferries to be tested at that level.
Mr Stokes stated that does not mean the second generation Emerald class vessels are not able to handle larger swells.
''The testing those new vessels in larger sea states for the very first time should be carried out by experienced crews, without customers on board''
Mr. Stokes explained that he had been advised that swell conditions on 27th and 28th November may be conducive to the trial and that the full trial cannot be completed until swells of 4.5 metres are experienced.
On November 23rd 2021 a Transdev spokesperson told Pittwater Online News;
''Over the weekend 27-28 November, the conditions across Sydney Heads are predicted to be sufficient to undertake some of the testing required for the new Gen 2 Emerald Class ferries before their entry into full service.
''As a result of this testing, F1 services will run to an altered timetable over the weekend with 2 Freshwater Class ferries operating at 40-minute intervals. Additional services will operate if larger swells do not eventuate.
''While swells are not anticipated to allow testing at the full 4.5m capacity for which the vessels have been designed, successful testing will allow the risk assessment to be reviewed with the plan to increase the swell level at which the vessels are cleared to operate, improving the availability of the new fleet.''
''Further tests and risk assessments will be undertaken when conditions are appropriate.''
Since then the problems with the integrity of the hull of the
Emerald Class Balmoral have emerged.
Mr. Stokes
announcement
has
received
appreciative
thanks from the many residents of
Manly
and all those further afield who love these trips to Manly on these older style ferries each Summer.
The Freshwater class 'Narrabeen' is one of three
Sydney
ferries that have been christened with the name of this popular place along our beaches.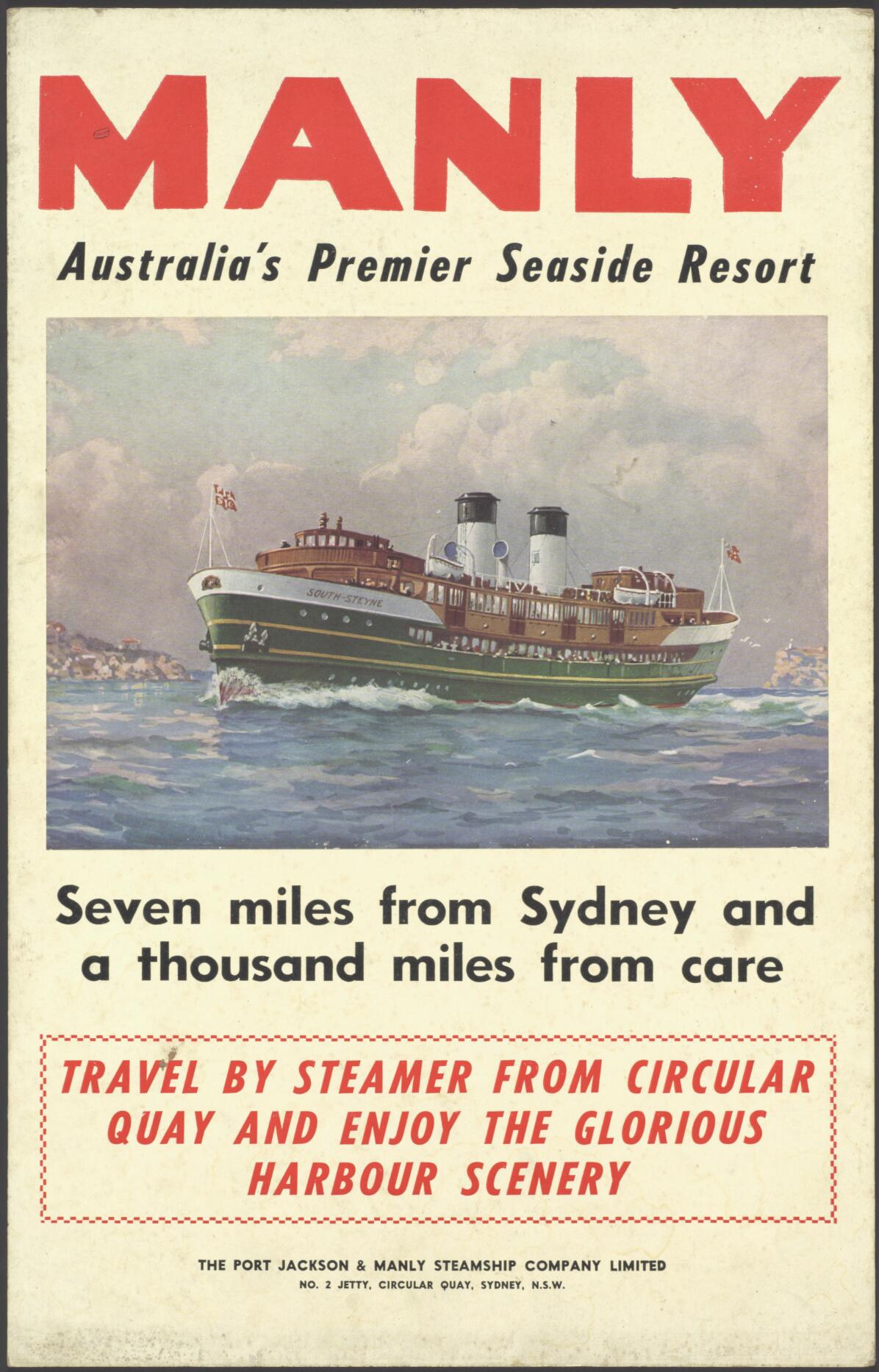 By Manly and Port Jackson Steamship Company - courtesy National Library of Australia [nla.aus-vn3304093-13x]